The 16 Best Restaurant Wedding Venues in London for Foodie Couples
Calling all foodie couples! Where better to celebrate your marriage than in one of London's best restaurant wedding venues?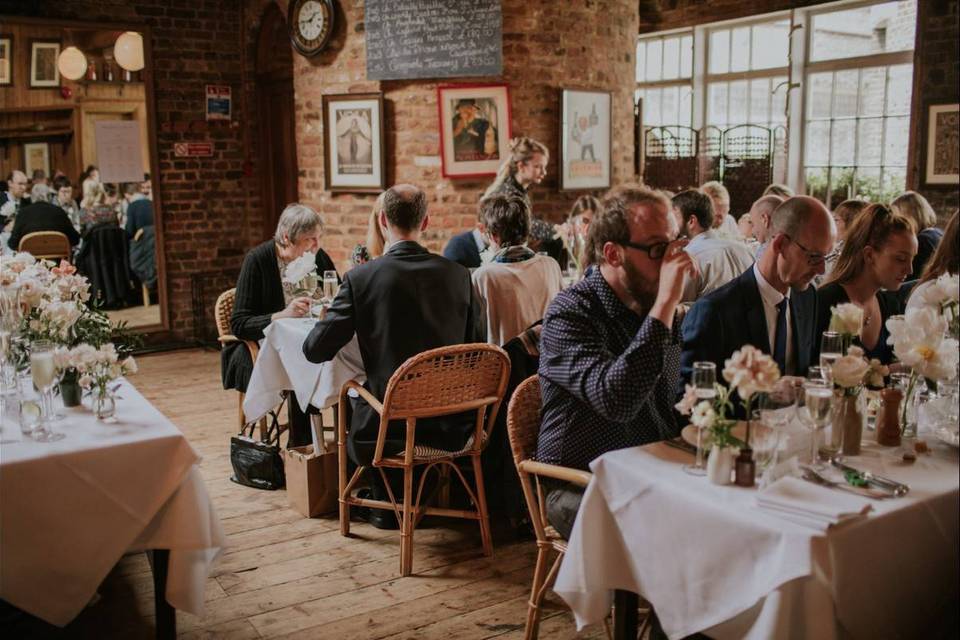 Choosing the right wedding venue can help you to convey your unique relationship and personality, which is why it makes total sense for food connoisseurs to celebrate their nuptials at a restaurant wedding venue.
Not only do restaurants offer the best menus in town, they also often come with extensive bars including craft beers, fine wines and even expertly mixed cocktails. Add to that the ready-made atmosphere that comes with a London restaurant and you've got the recipe for a winning wedding day.
If you're keen to plan a wedding in one of the capital's finest eateries, then you're going to want to take a look at our roundup. From upmarket restaurants in fancy Fitzrovia to a French café and a dining delight situated in the heart of one of London's largest transport hubs, this list of the best restaurant wedding venues in London will certainly tempt your tastebuds!
READ MORE
1. The Anthologist – South East London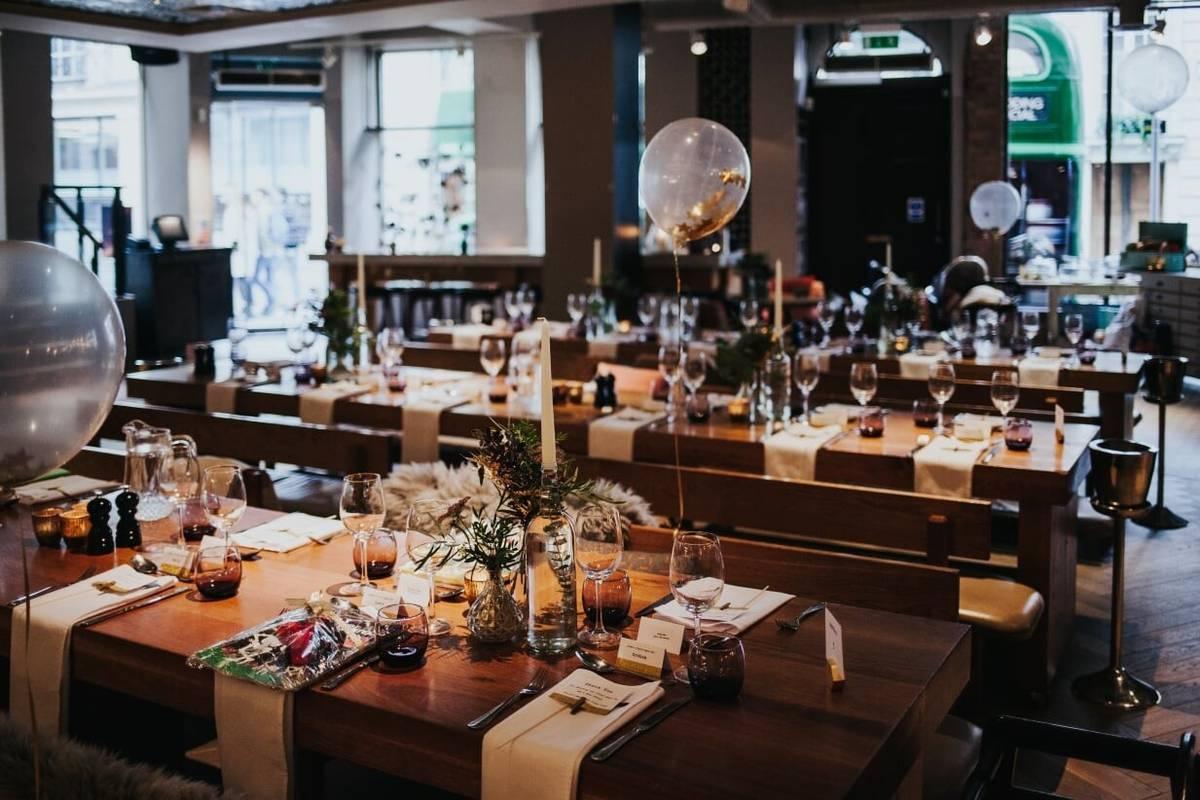 This unique restaurant wedding venue is located in South East London, just outside the central hub of the city. Licensed for wedding ceremonies, you can host your entire wedding day here saving time and money on travelling within the capital – win!
The Anthologist's modern décor combines industrial touches like exposed pipes and brickwork with wooden bench-style seating that lends itself perfectly to laid-back wedding themes. The venue can hold up to 60 in its Studio 58 private room and you can party until 1.30am thanks to the late license.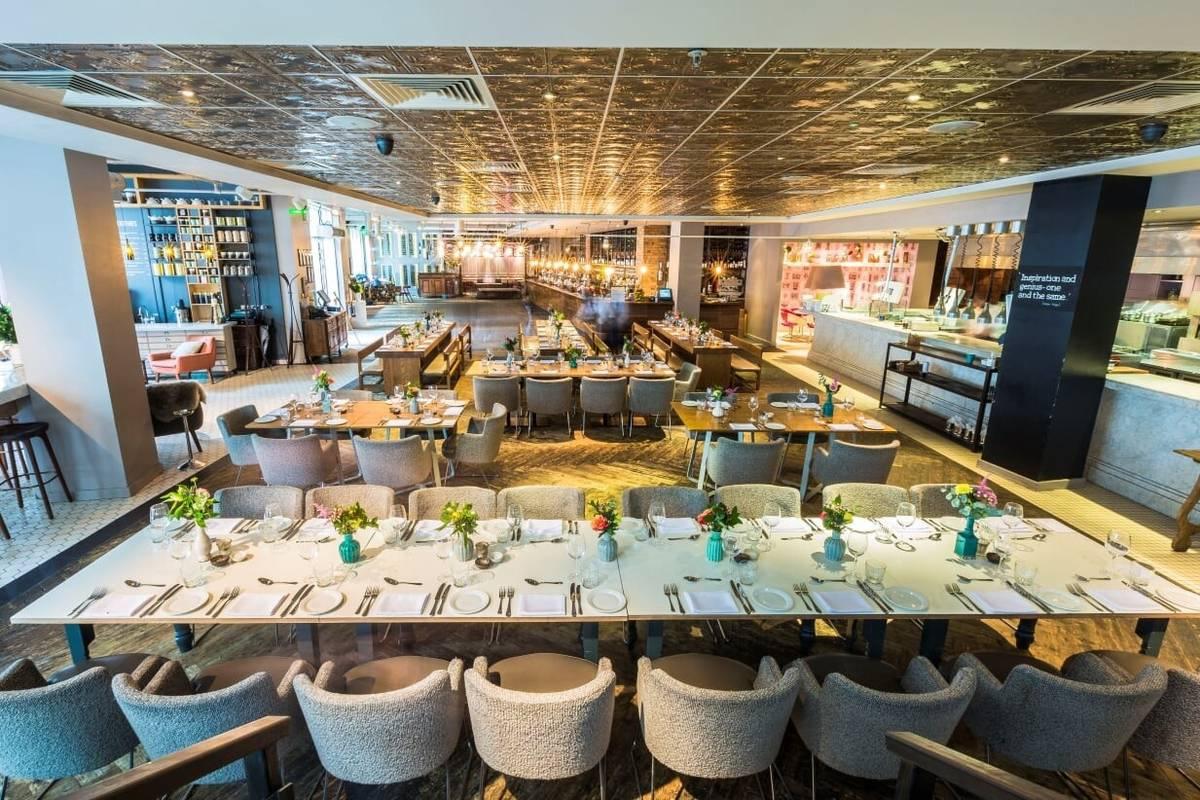 A master mixologist will be on-hand to create cocktails on the day along with a chef to create delectable dishes chosen by you. Your food and drink spend is all you need to worry about here as The Anthologist work on a minimum spend and service charge basis.
2. Percy & Founders – East Central London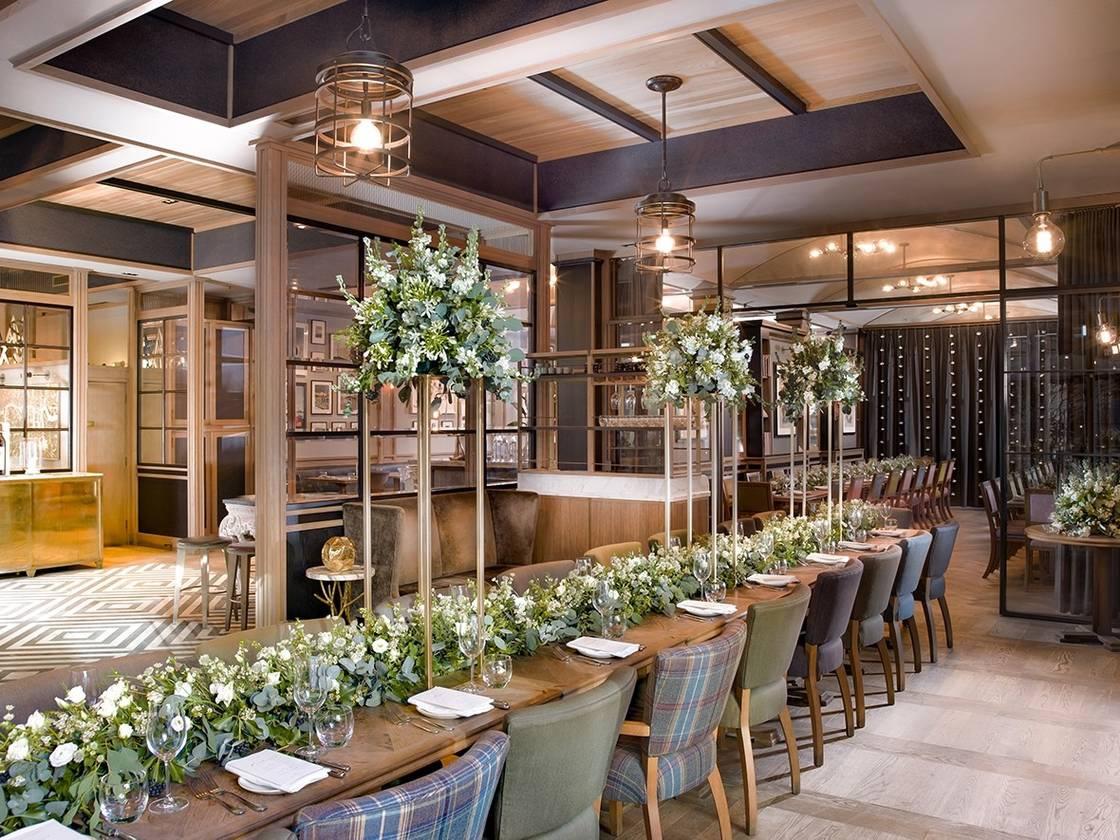 Situated in exclusive Fitzrovia and adjoining the stunning grade II listed Fitzrovia Chapel, Percy & Founders is a chic and stylish London wedding venue. While ceremonies in the atmospheric chapel are certainly tempting, you can also choose a more laid-back ceremony in the restaurant – both are fully licensed.
As a thriving restaurant venue in the capital, Percy & Founders know a thing or two about throwing events that wow guests. The events manager here will guide you through the planning process, helping you to create your bespoke day with everything just how you imagined it would be.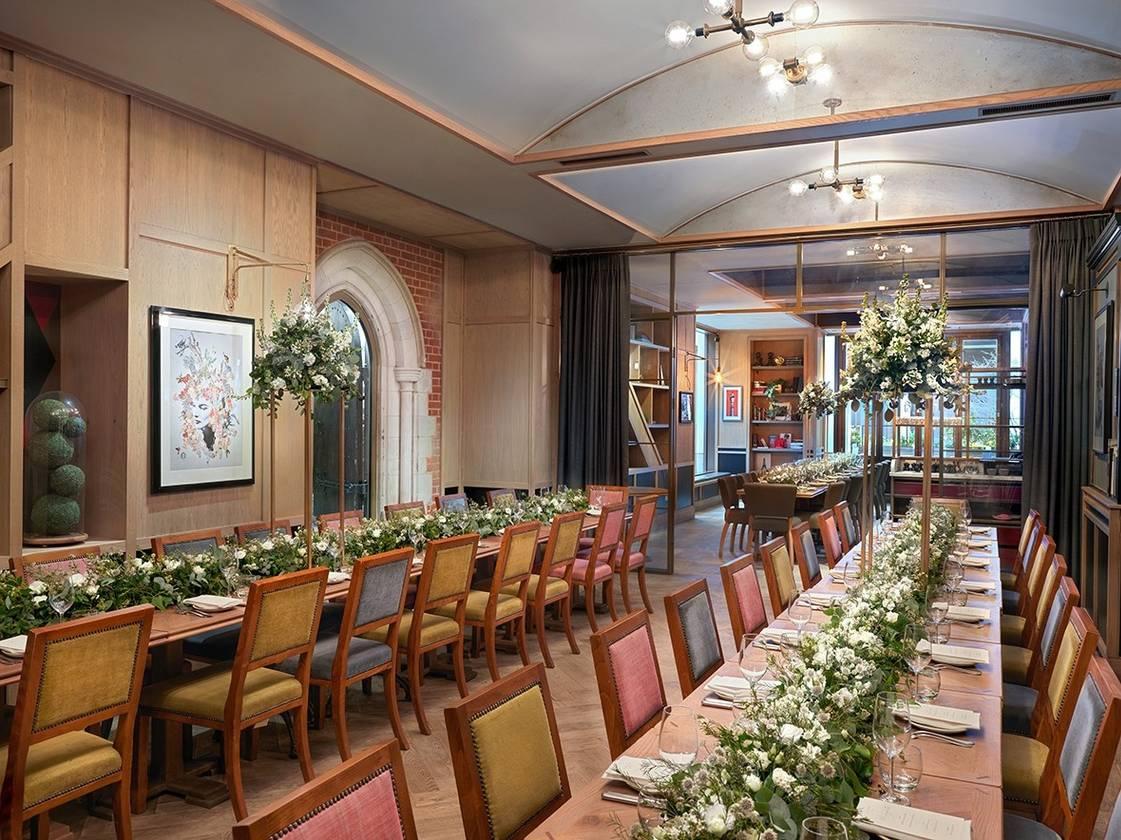 You can host up to 60 guests for your ceremony here and up to 250 for a standing reception on an exclusive hire basis.
READ MORE: 23 of the Best London Pub Wedding Venues for City Couples
3. Antillean – South East London
Foodie couples looking for a unique and relaxed setting to celebrate their special day will adore Pan-Caribbean restaurant and bar Antillean.
Sitting just minutes away from Southwark and Waterloo train stations, this chic urban venue is divided into four spectacular spaces for you and up to 150 seated and 300 standing guests to enjoy - The Cocktail Bar, The Island, The Loft and the Main Restaurant.
Renowned for its delicious food, chef Michael Hanbury and his dedicated team will serve up a mouthwatering menu with culinary influences along the Caribbean, France, Spain, Africa and more. After dinner, get ready to take to the dance floor as there is ample room to accommodate live music facilities whether you are after a DJ, solo musician or a band.
4. The Fable – East Central London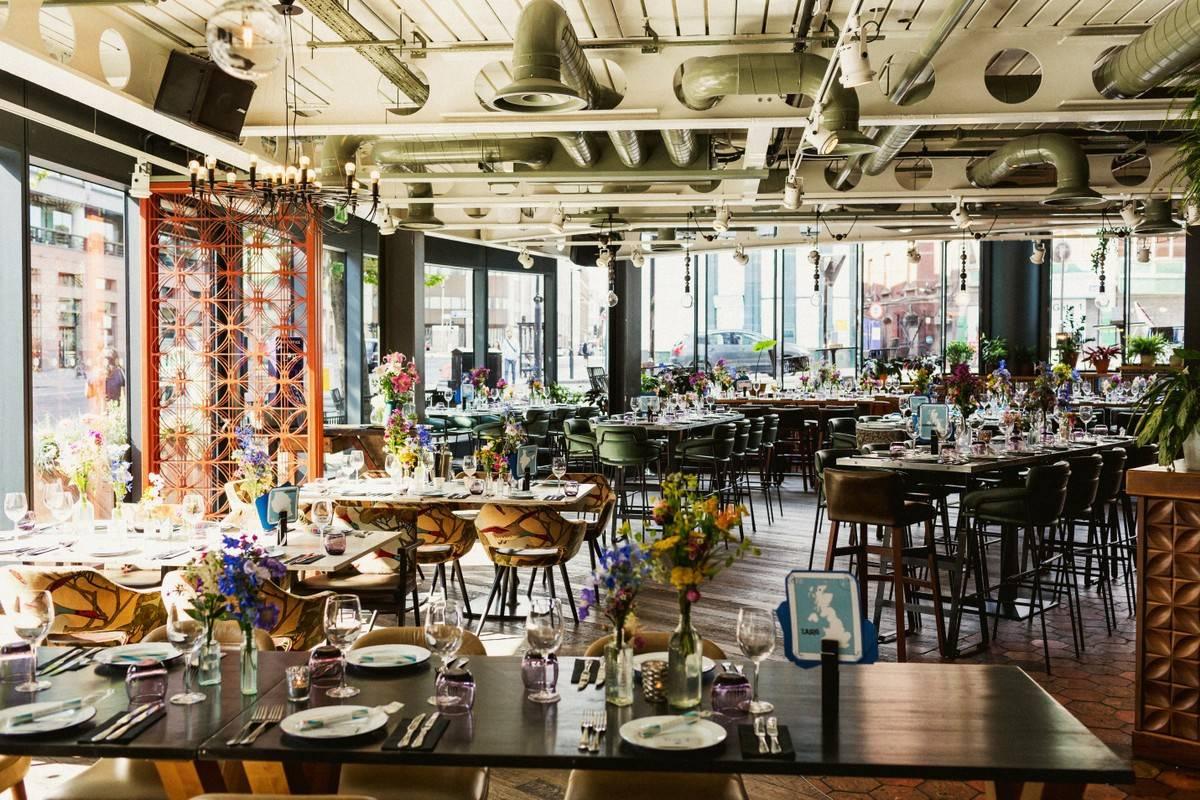 Inspired by fairy tales and Aesop's fables, The Fable is the perfect London restaurant venue for weddings. With three floors including a library, wine shop, florist and boutique this London gem is far more than just a place to toast your nuptials.
The team here will craft the perfect day for you - whether you fancy utilising the skills of one of their master mixologists or hosting a traditional Champagne reception, The Fable will make it happen. They will also point you in the direction of the very best suppliers, ensuring planning your wedding reception is stress-free.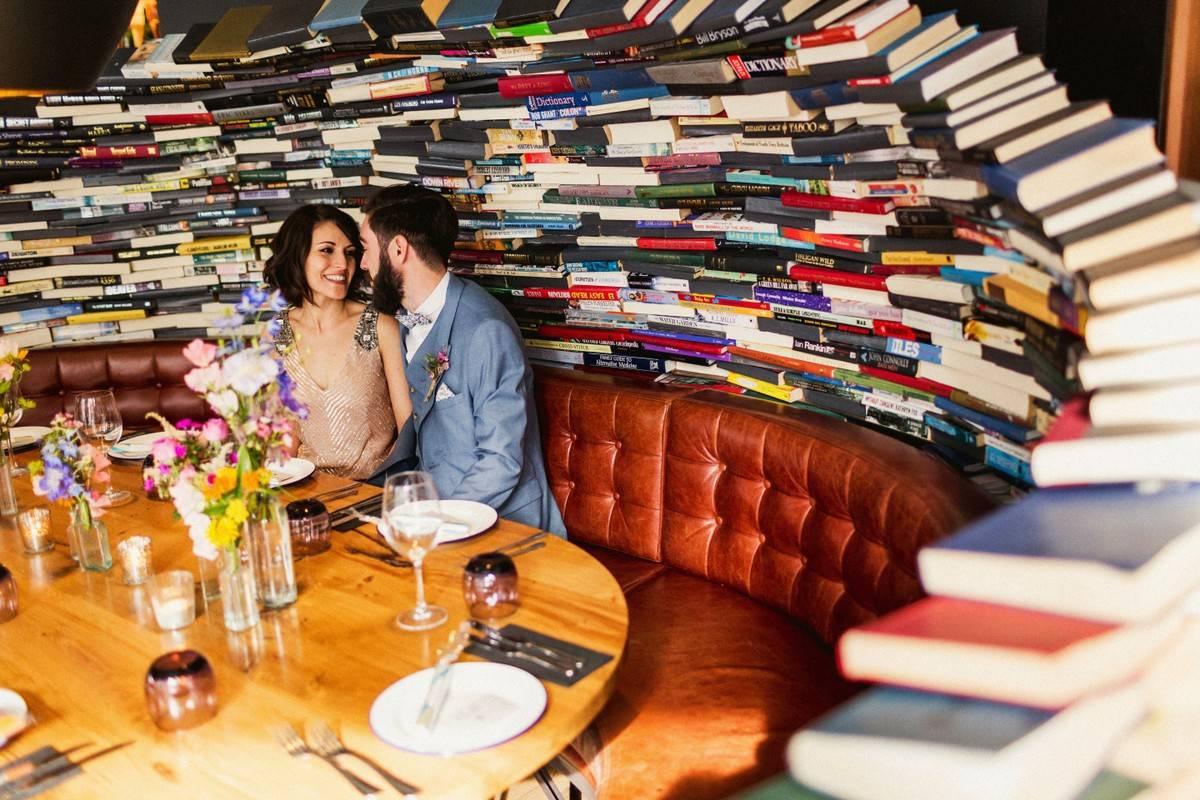 The Fable works on a minimum spend basis, so there's no up-front costs. Simply agree on a bespoke menu or package and enjoy!
5. The Kitty Hawk – East Central London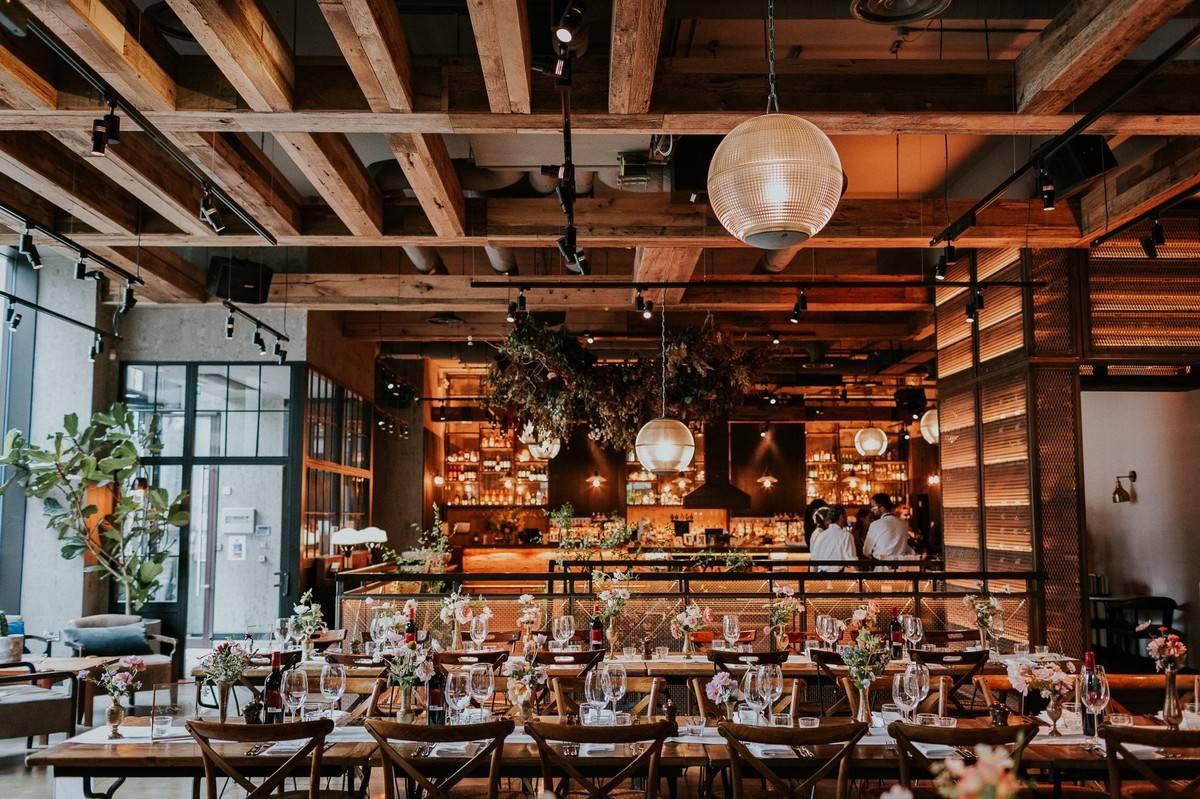 If rustic spaces with industrial vibes get your heart racing that little bit faster, then you'll want to check out The Kitty Hawk. Situated in the cosmopolitan City of London, this amazing space has a cool city atmosphere that will suit laid-back London-loving couples down to the ground.
As guests enter through the glass doors and join you at banquet-style tables, surrounded by open kitchens, they'll instantly fall into the party spirit. If it's a big party you're lusting after, then you can certainly host it here thanks to its enormous 250 guest standing capacity.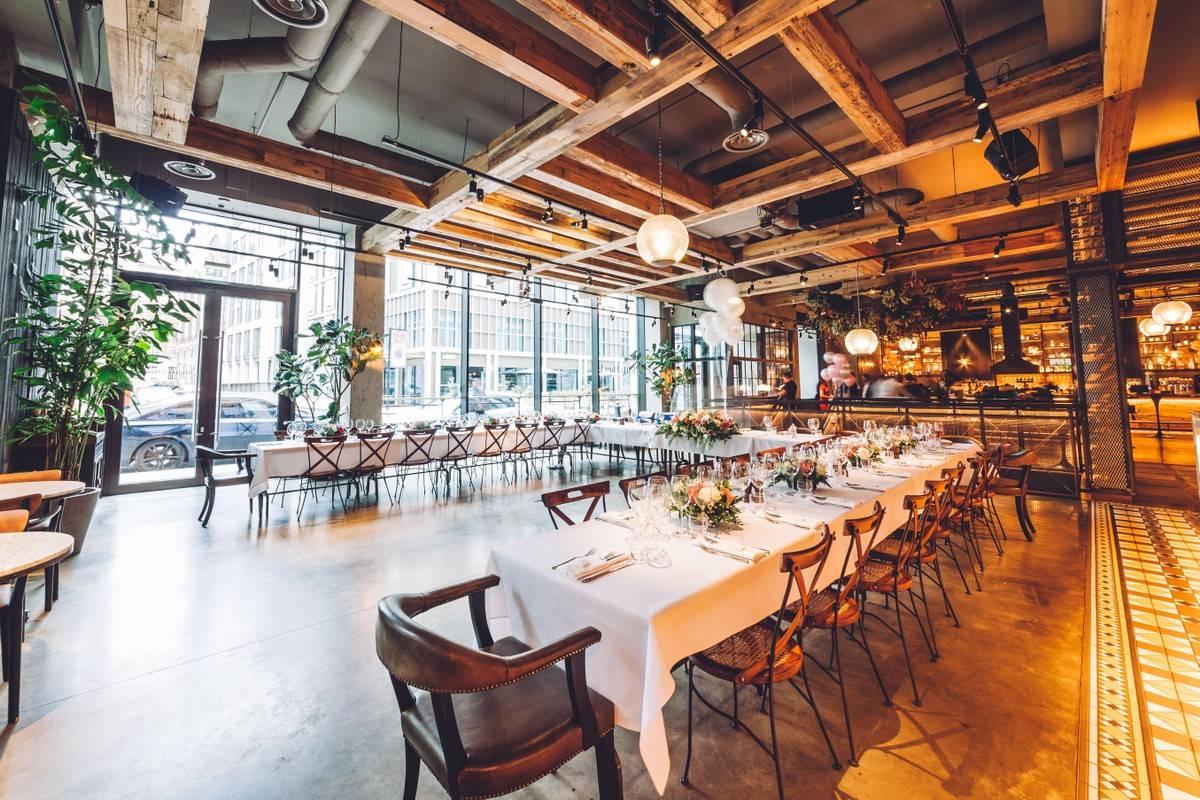 Locally-sourced suppliers, recommended by The Kitty Hawk, will help bring all the other details together, allowing you both to sit back and simply enjoy the ultimate city celebration.
6. Le Café du Marché – South West London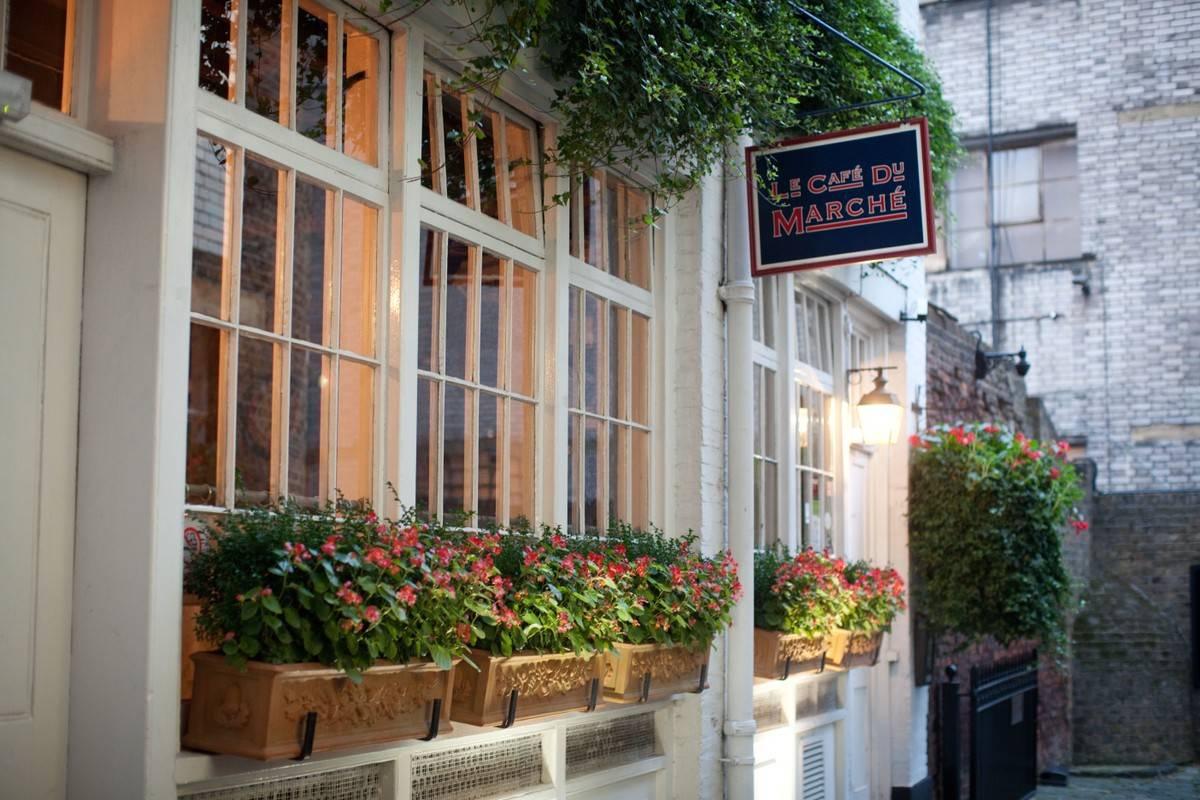 This characterful and cosy restaurant wedding venue serves up authentic French food within a cobbled mews in Smithfield. Run by the same family for a whopping 30 years, it's safe to say that the team at Le Café du Marché know exactly what they're doing when it comes to hosting large parties.
You can hire the first-floor dining room, Le Grenier, with a private entrance, bar, toilets and kitchen. Le Grenier seats up to 62 guests and has space for 120 standing guests. Alternatively, you can host up to 35 seated guests in Le Rendezvous. If you fancy booking out the whole place, you can do so and invite 95 people to join you.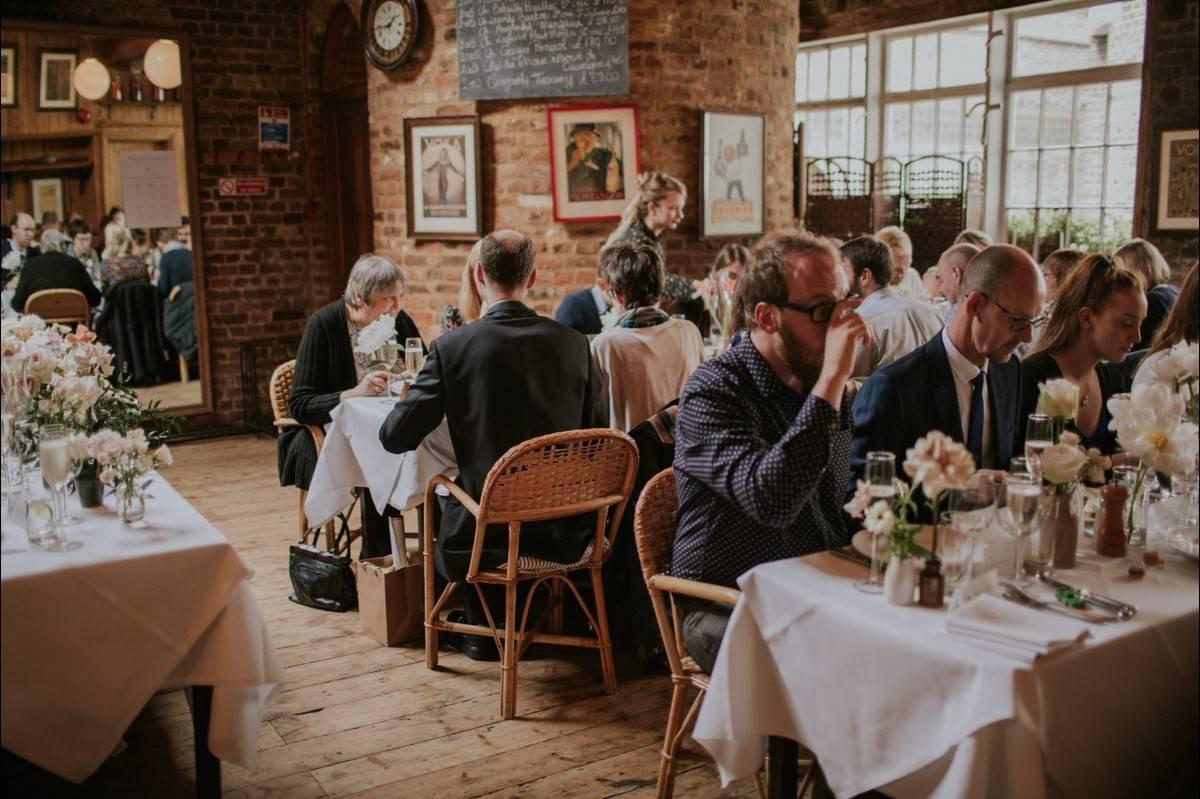 The team here will work with you on a set or bespoke menu which will include the option to swap a traditional wedding cake for a deliciously decadent French dessert. They can also source French floral arrangements and favours, giving your wedding that certain je ne sais quoi.
READ MORE: 13 of the Dreamiest French Château Wedding Venues
7. The Oyster Shed – South West London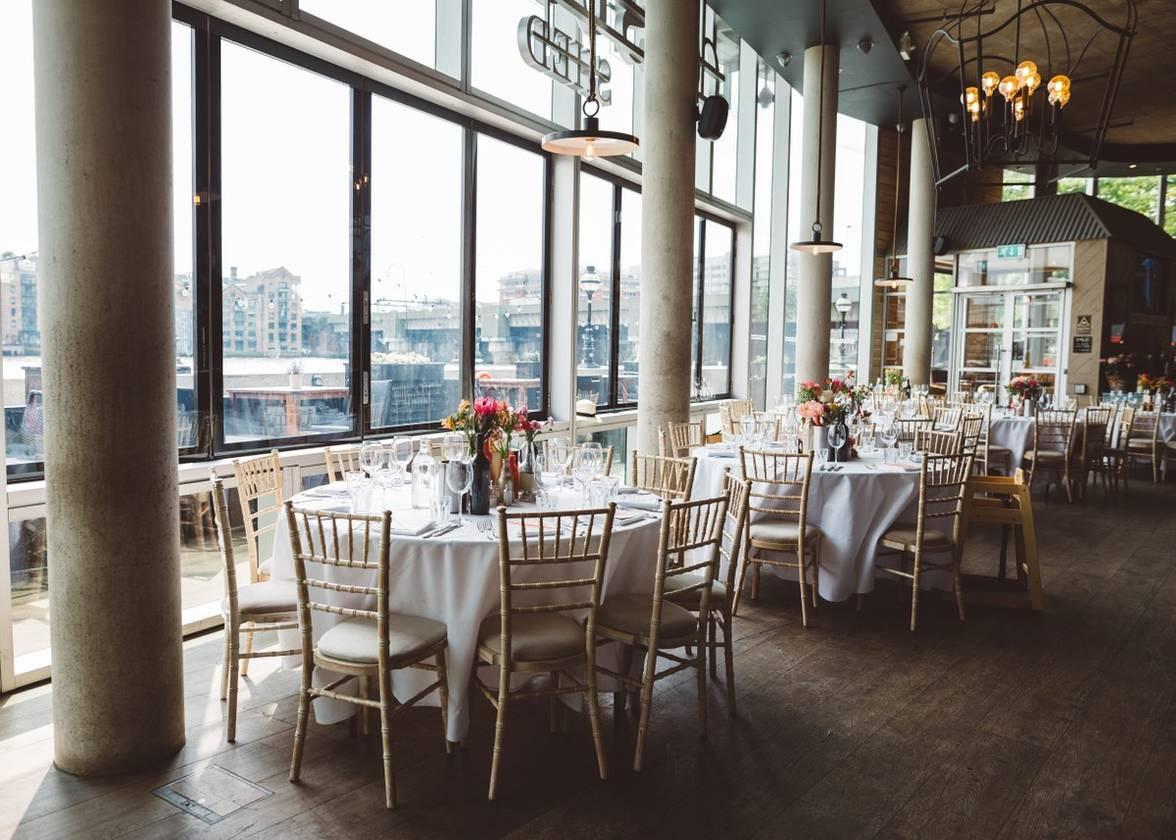 Set on the banks of the River Thames, The Oyster Shed enjoys magnificent views across the city, including the impressive Shard. Floor to ceiling windows ensure guests can take in every detail as they sip Champagne and tuck into your bespoke wedding menu.
Up to 160 guests can enjoy a formal or informal wedding breakfast here with 400 able to join you for an evening reception. However large your celebration, this flexible venue features a variety of spaces across its two floors, allowing couples to select their favourite spots.
An outdoor terrace area allows celebrations to spill outside and a late license ensures that guests can continue to celebrate your nuptials long after the final course of your wedding breakfast has been eaten.
8. Altitude 360 – South West London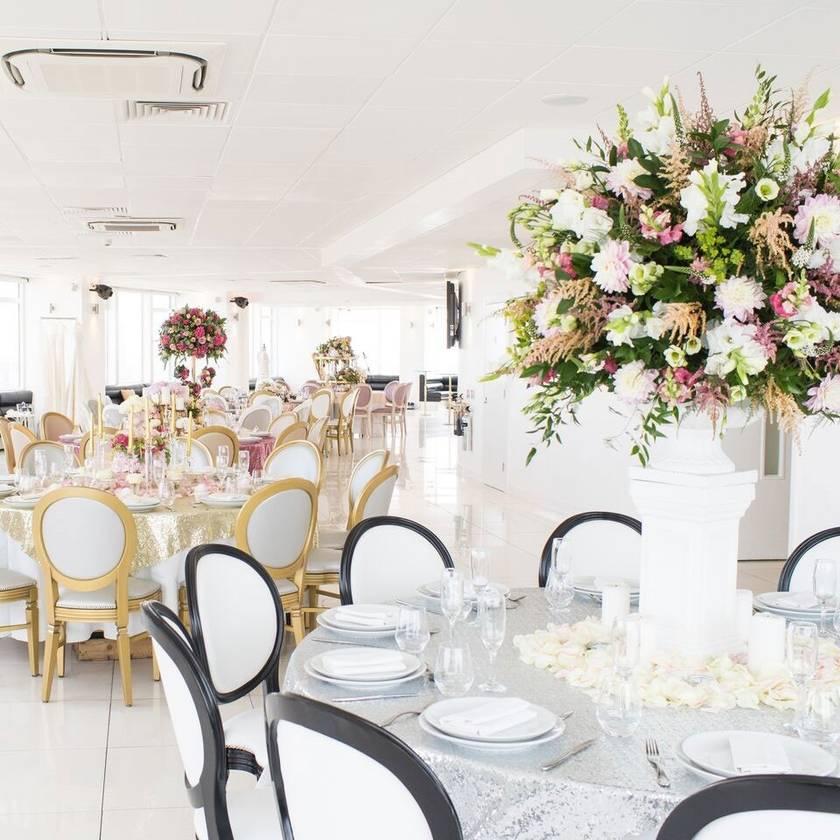 With a name like Altitude 360, it's easy to imagine what sets this London restaurant wedding venue apart from the rest. Situated on the 29th floor of Westminster's tallest building and with windows that wrap around the entire building, you'll feel as though you're starting married life on top of the world.
The restaurant is a sleek and neutral space, perfect for couples wishing to transform a venue and really make it their own. Whether you fancy LED mood lighting or industrial touches, you can do it here and invite up to 600 people to enjoy it with you.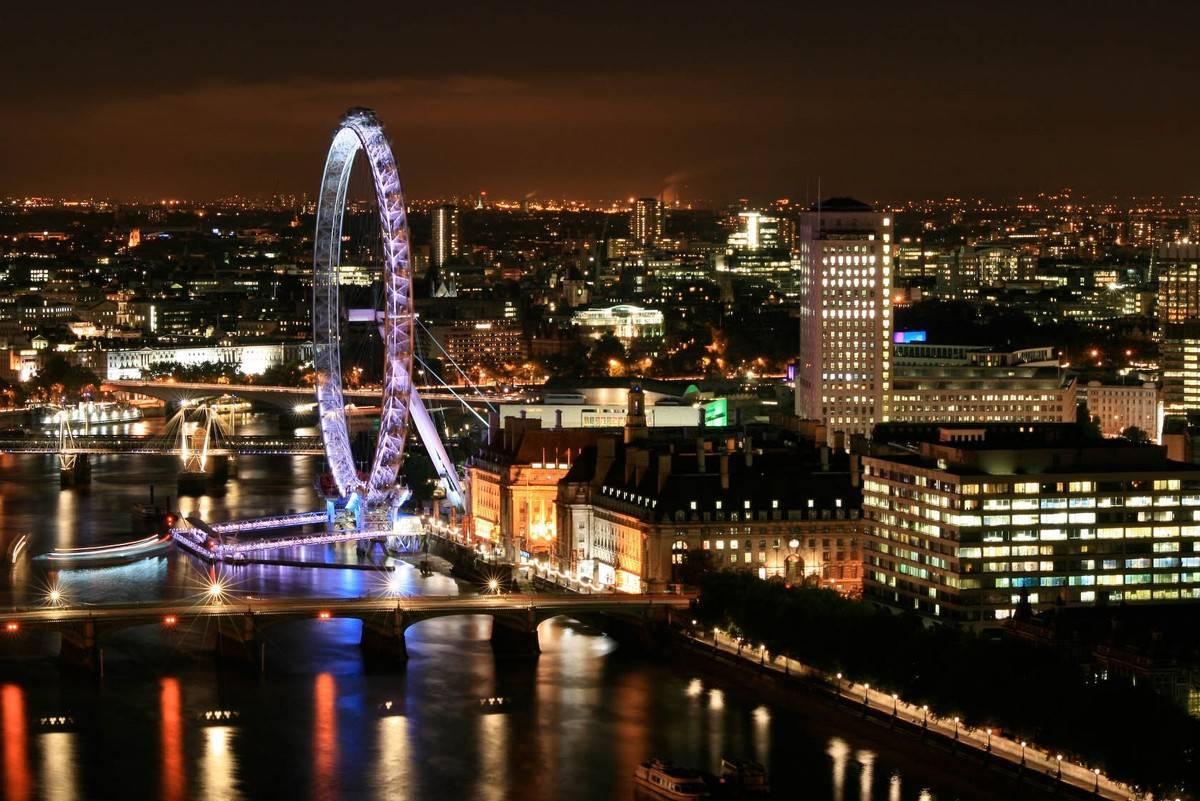 You can hire the space along with the services of the in-house catering team or you can bring in your own caterers, weddings are totally flexible here.
READ MORE: The 30 Most Unusual Wedding Venues in London
9. Bluebird Restaurant – South West London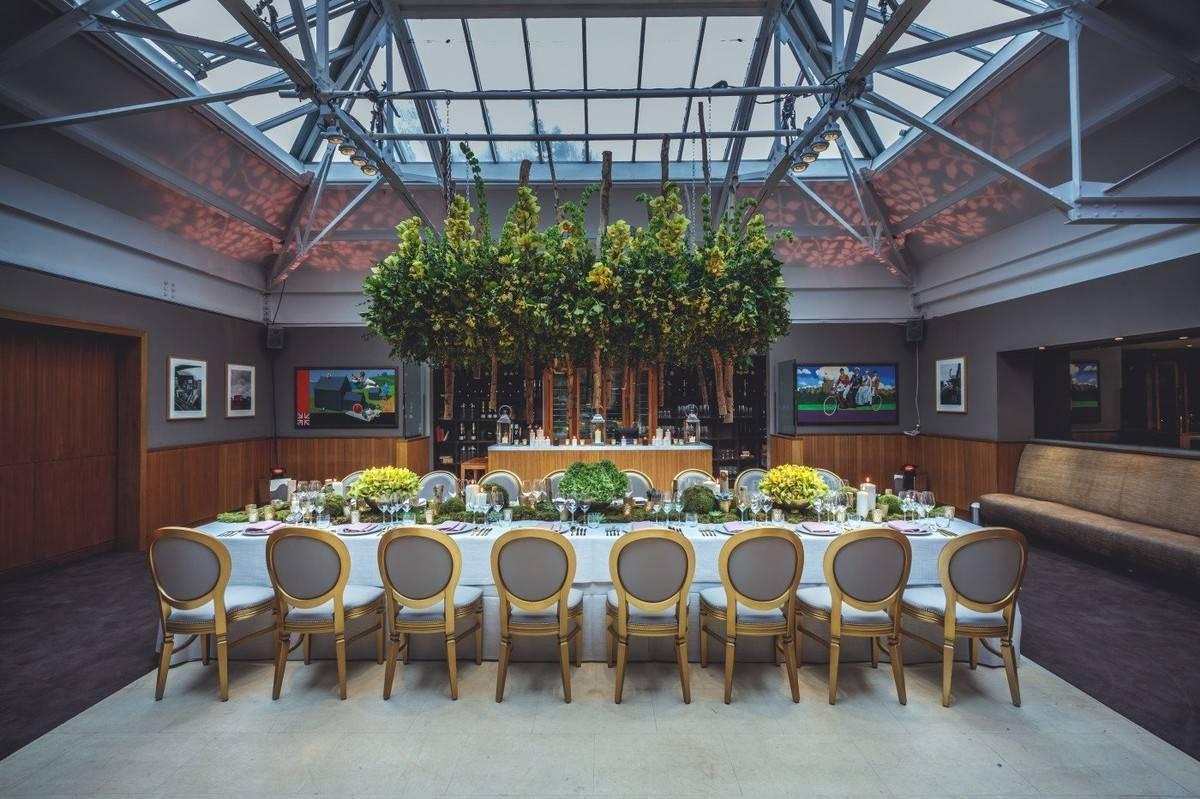 Situated on the famous King's Road, Chelsea and with a reputation as a hot spot for discerning young socialites, Bluebird Restaurant is a wonderful wedding venue choice. The restaurant is licensed for civil ceremonies and offers the choice of the intimate Beaufort Room or The Bluebird Dining Rooms for larger parties.
You can remain in the function room of your choice for your wedding reception where you'll be fed some of the Bluebird's famously varied and delicious food. Before tucking in, you can also offer guests something from your very own cocktail menu.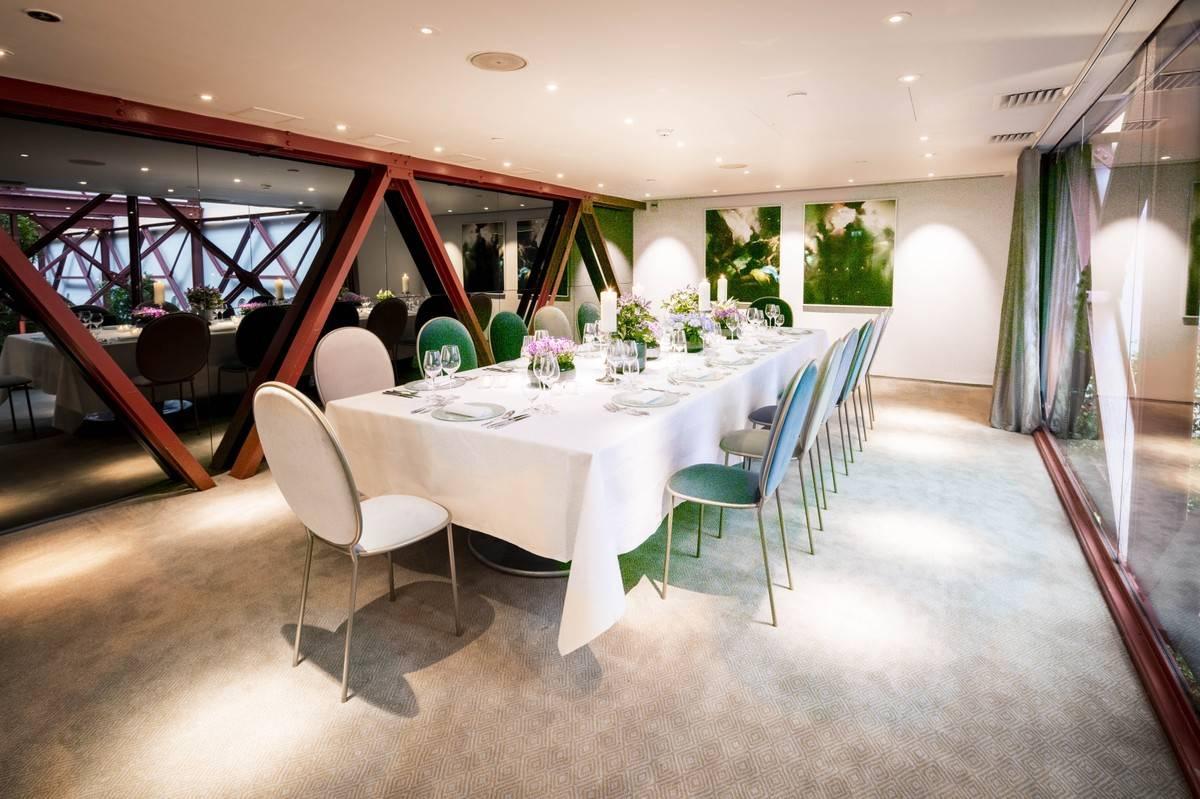 If you fancy really making the most of the venue (and your guest list!) you can hire the entire restaurant on an exclusive-use basis for a full day of renowned Bluebird hospitality just for you and your loved ones.
10. Hawksmoor – Guildhall – South East London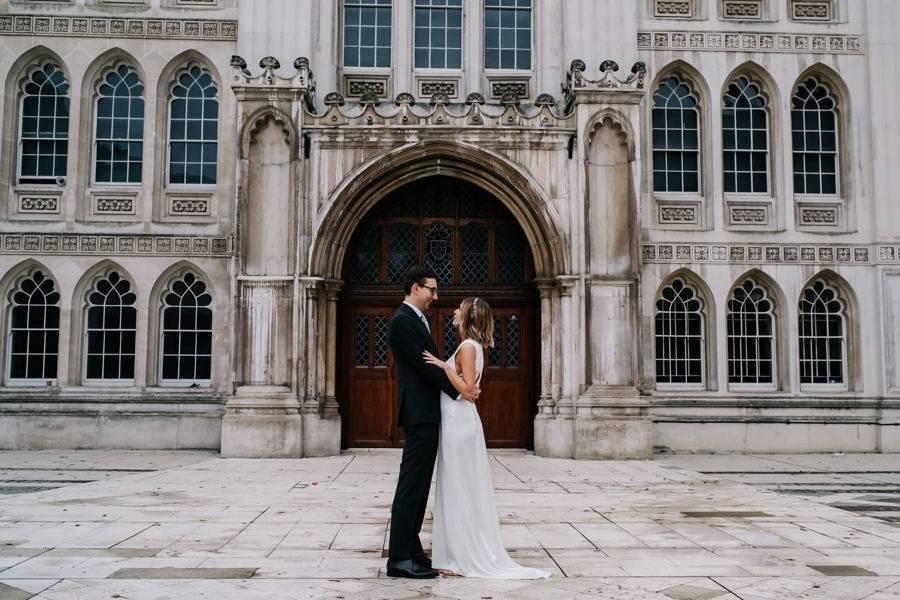 The award-winning Hawksmoor – Guildhall is the ideal choice for foodie couples. Situated in the medieval heart of London and boasting a civil ceremony license, guests will be almost as wowed by the surroundings as they will be by the incredible menu.
You can marry at Hawksmoor in the company of 140 guests and following your nuptials you can serve up Champagne, cocktails, beers or wine from the extensive menu in the atmospheric bar area. Following drinks, you'll move into the warm and inviting restaurant area for the main event: the magnificent meat dishes the restaurant is famed for.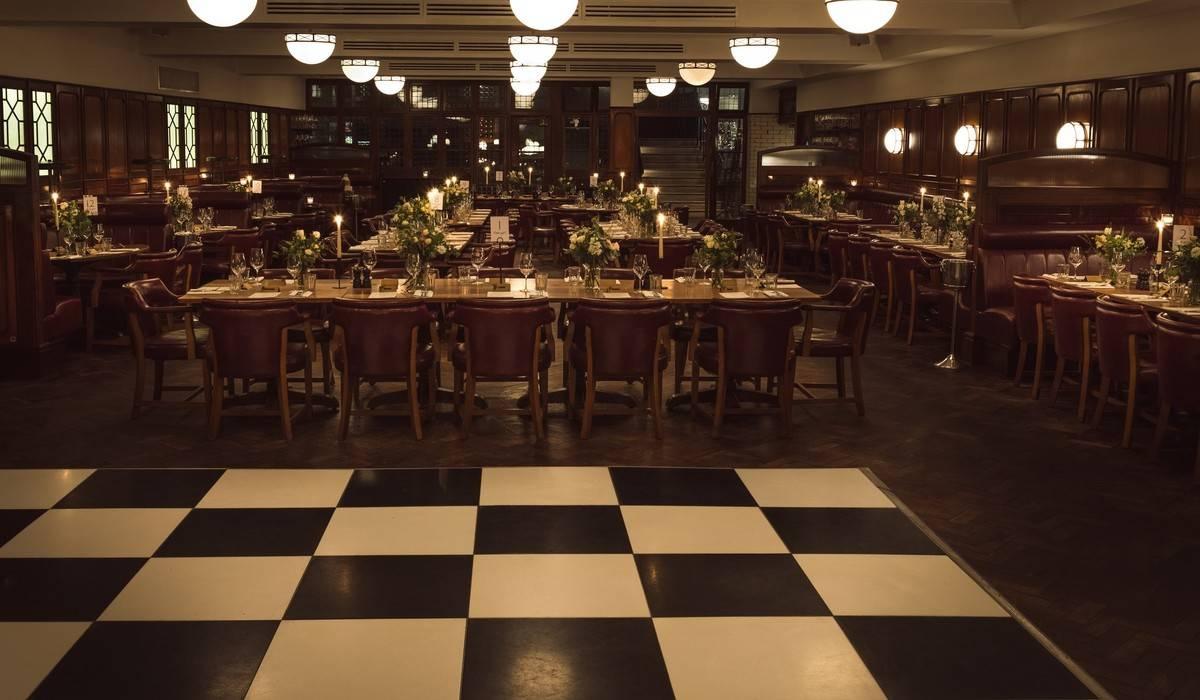 Complete event management is offered at Hawksmoor as the team help to iron out all of the details, ensuring you're totally happy with your personalised celebration here.
11. Austin Friars – East Central London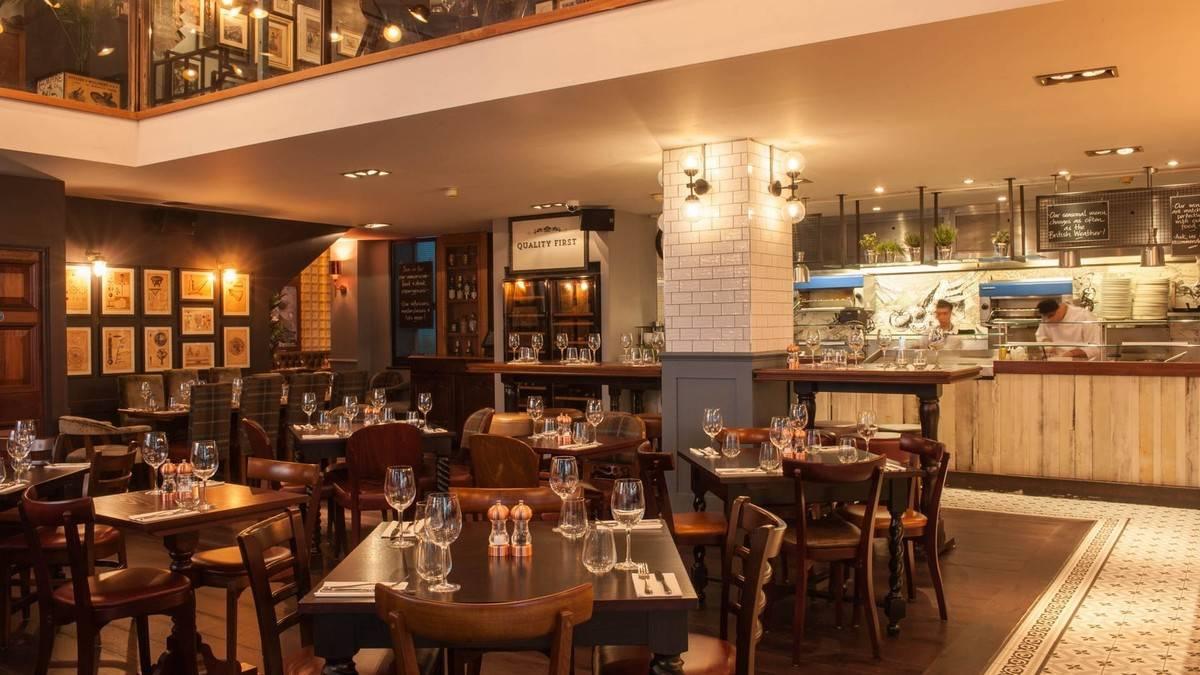 Situated close to Liverpool Street Station, this well-connected wedding venue is the perfect pick for a chic and cosmopolitan wedding. Couples can marry in one of the many nearby churches or registry offices before heading into Austin Friars for an unforgettable celebration.
The large open plan space can host up to 400 guests across its downstairs restaurant and galleried seating area. As guests enjoy a tipple from the extensive bar menu, they can take in the contemporary surroundings and watch as chefs set to work on the delectable wedding breakfast from the open-fronted kitchen.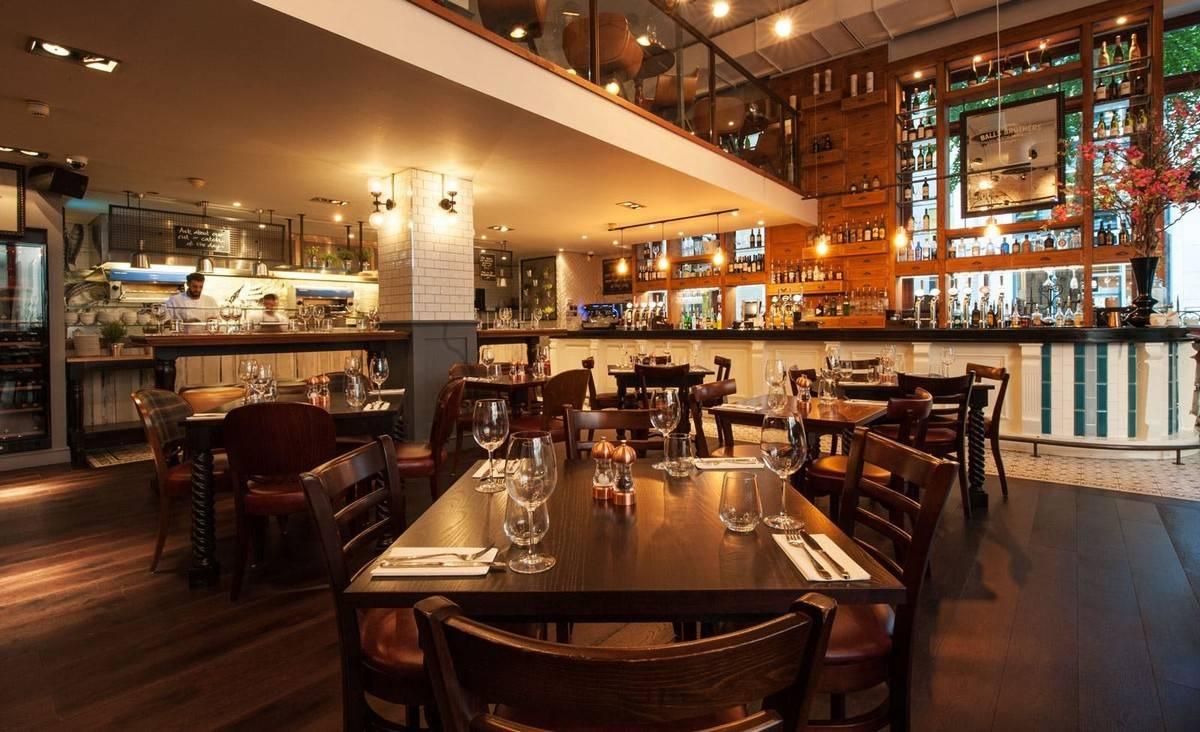 If you fancy something a little more low-key, you can always hire the intimate Green Room and enjoy a relaxed dining experience with those closest to you. Either way, the team will be on-hand to make sure your celebration is everything you dreamed it would be.
12. Roast Restaurant – East London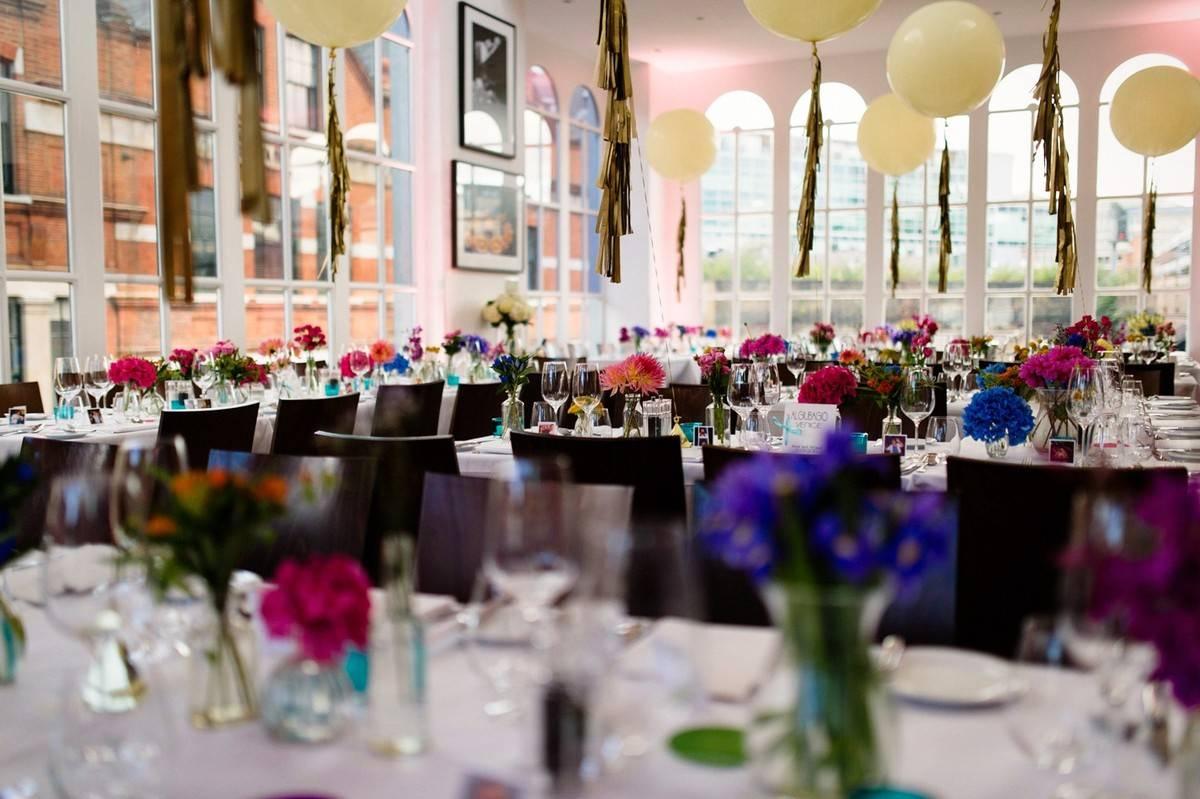 What better restaurant wedding venue choice than an eatery located on top of London's oldest food market? In place of the old Floral Hall at Borough Market is Roast Restaurant, a venue for fans of the finer things in life.
Licensed for civil ceremonies, Roast can host up to 120 guests for the day and 180 standing guests for the evening. You can say your 'I dos' in front of the arched floor to ceiling windows, with the charming buildings of the market as your backdrop.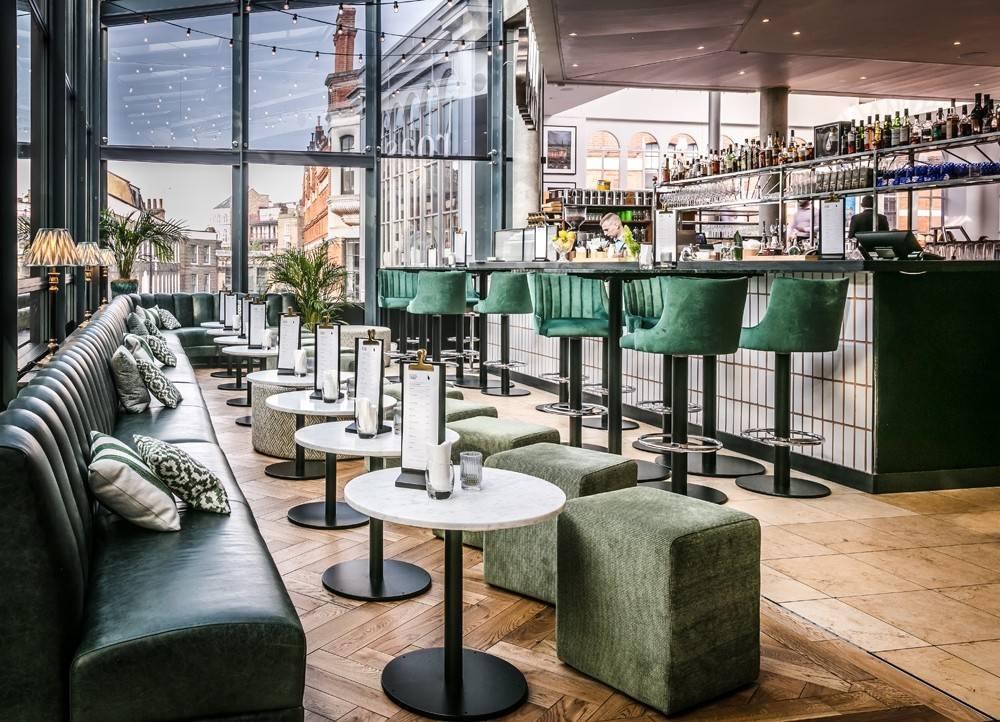 After the vows, you and your guests can sip on the wide selection of wines, beers and gins before tucking into a best of British menu that's guaranteed to be as exceptional as you might expect from one of the city's best restaurants.
13. The Depot – North London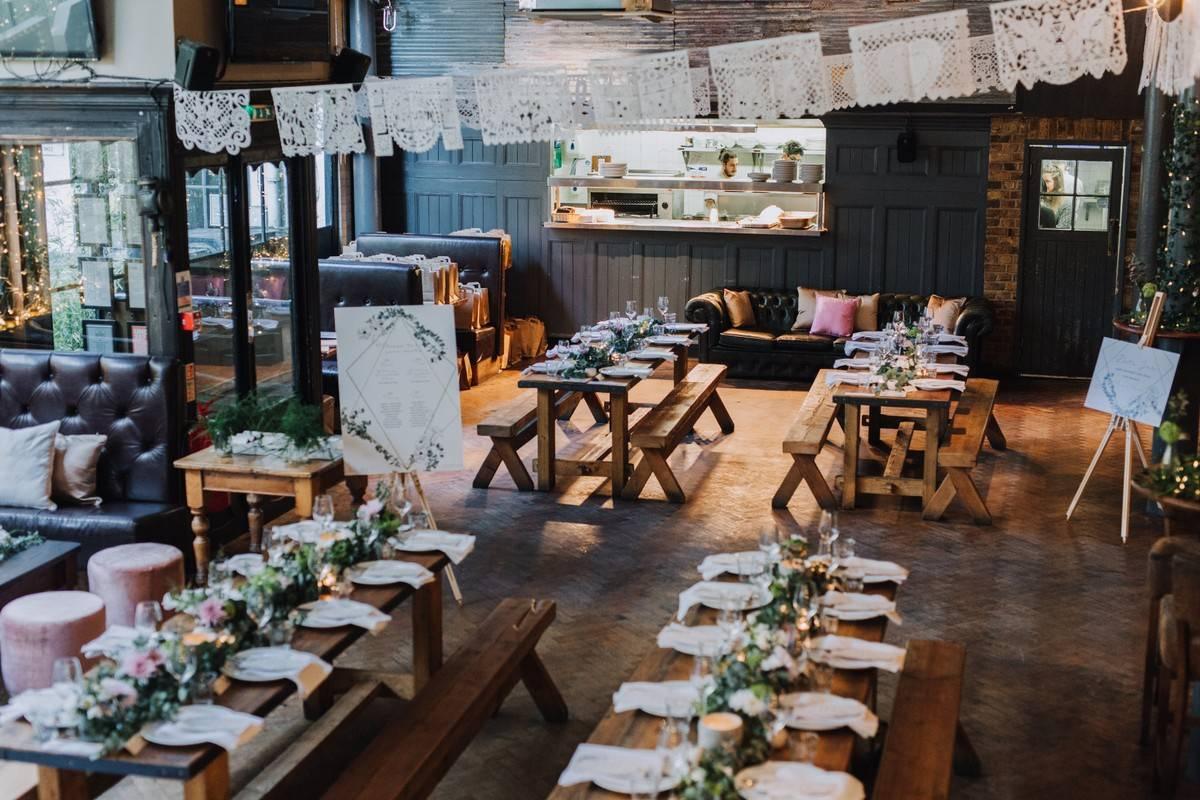 Based in leafy Islington, The Depot is a must-see for quirky couples seeking a rustic city wedding venue with bags of character. Think open plan space, banquet-style bench seating and fairy lights galore and you're along the lines of this north London gem.
The venue is happy to accommodate anywhere between two and 280 guests, making it hugely flexible. Craft beers, local ales and a delicious menu are the focal points here, with the team priding themselves on the relaxed, modern atmosphere that comes with all Depot celebrations.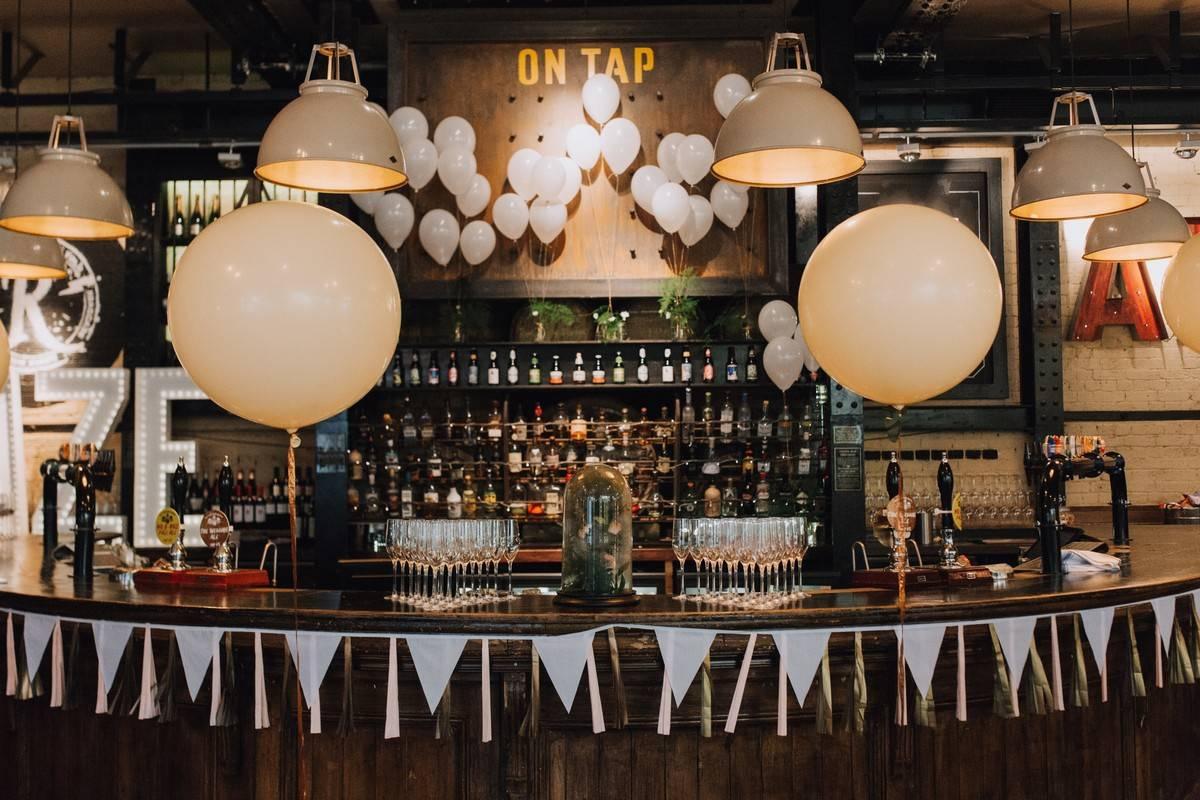 You can hire The Depot on an exclusive-use basis or simply book a nook for you and your nearest and dearest. A wedding menu and drinks tasting is included when you book, so you can sample the wonderful atmosphere ahead of the day.
READ MORE: 50 DIY Wedding Centrepieces
14. Davy's Wine Vaults – South West London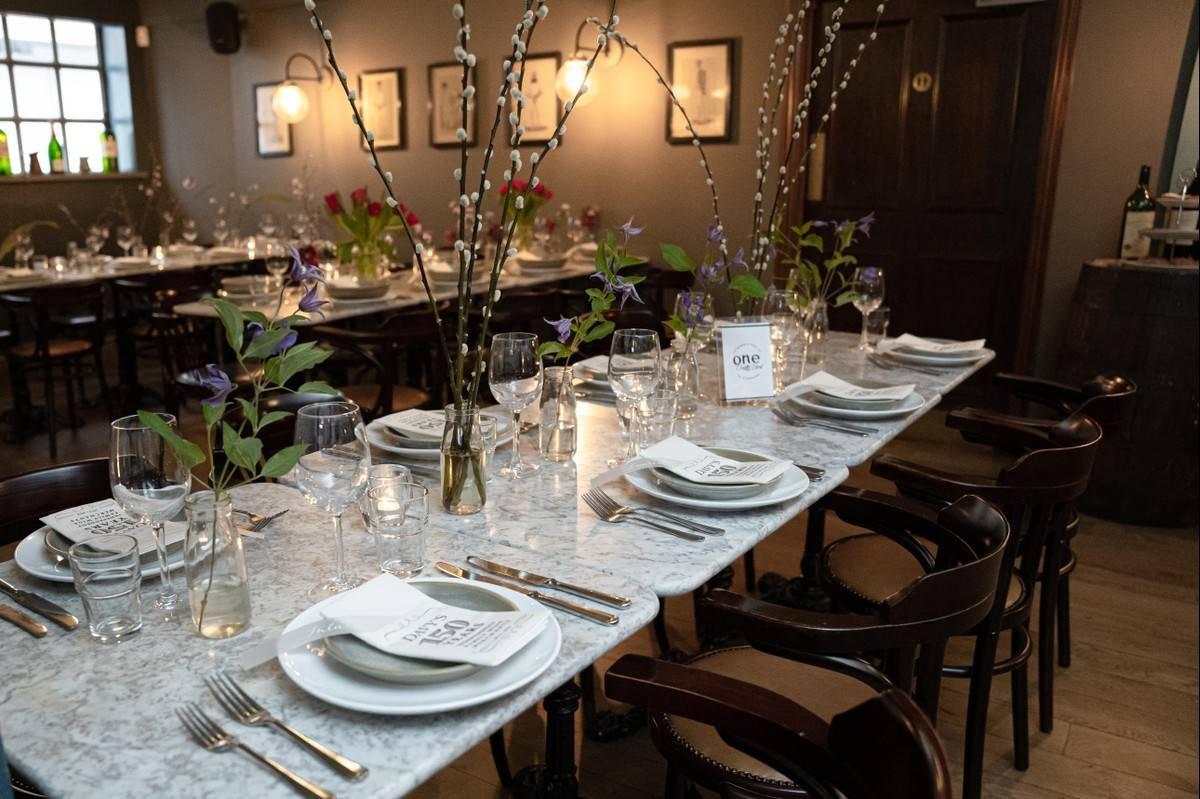 Set in the heart of charming and historic Greenwich, Davy's Wine Vaults is filled with antique touches and historic wine artefacts collected by five generations of the Davy family, giving guests plenty to see and talk about on your special day.
Spread across two floors, there are a number of hire options. The ground floor restaurant and the Victorian cellars make great choices for large wedding breakfasts while the Victoria Room is perfect for intimate gatherings. Couples can also make use of the outdoor terrace which is covered with a canopy ensuring guests are happy come rain or shine!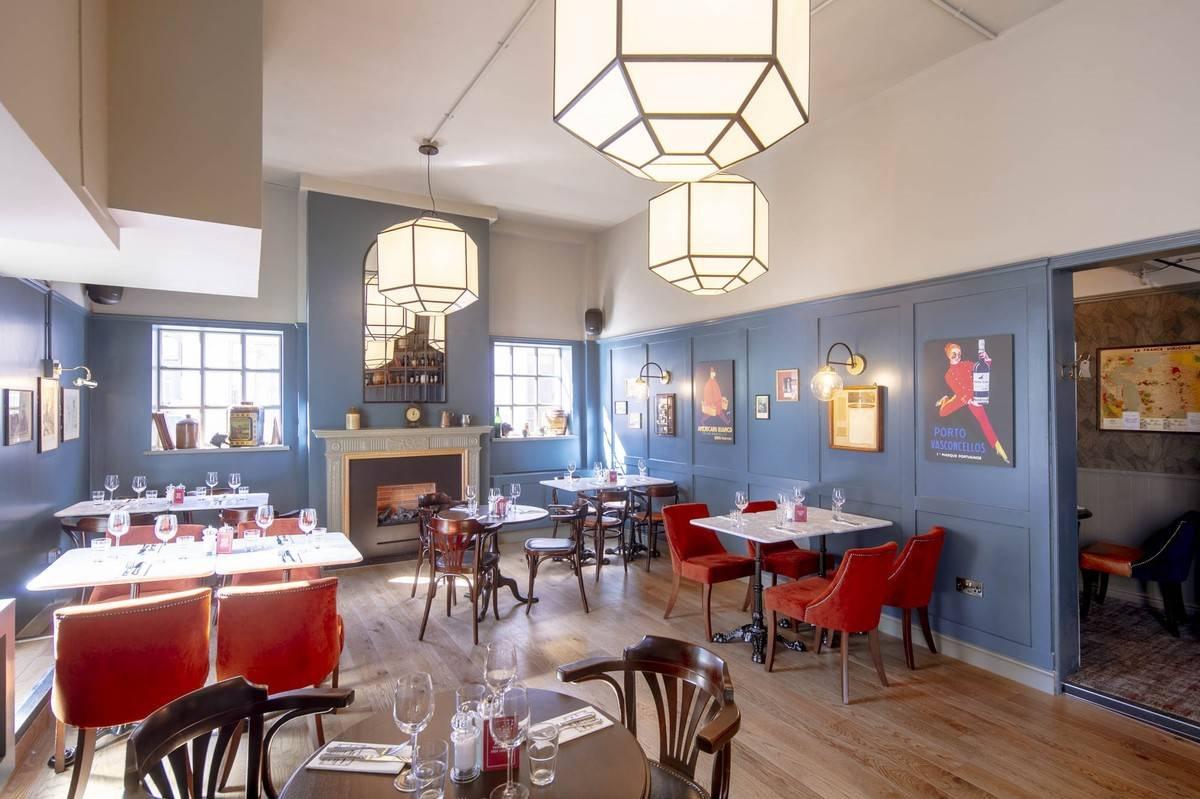 The menu here is seasonal and centred around good old British classics that will keep everyone from your little nephew to your grandma coming back for more.
15. St Pancras Brasserie and Champagne Bar by Searcys – North London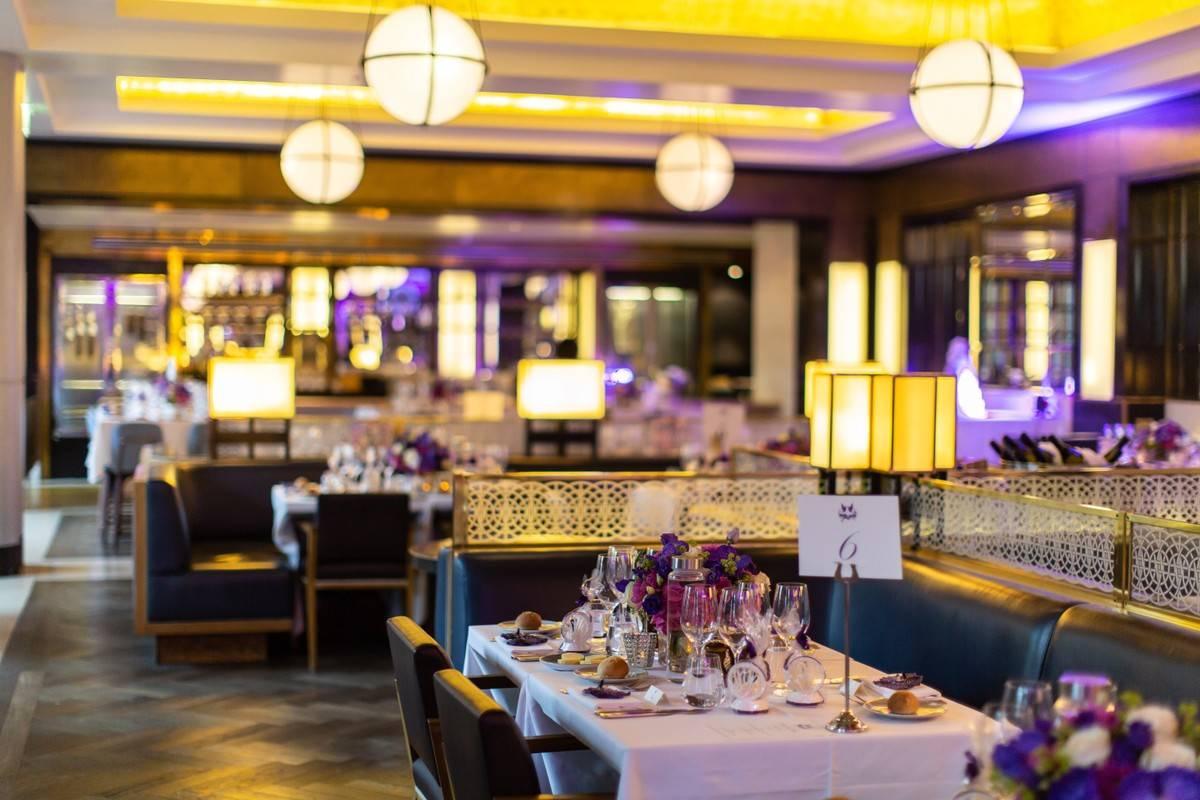 St Pancras station is a landmark London building with an awe-inspiring and unique atmosphere. St Pancras Brasserie and Champagne Bar by Searcys offers you the chance to enjoy a grand wedding celebration within this piece of history.
Your ceremony can be held on the Grand Terrace underneath the Barlow Shed before nuptials are toasted at the opulent Champagne fountain. You and your guests will then be taken to the 1920s Art Deco-style brasserie, where a bespoke wedding breakfast menu will be served.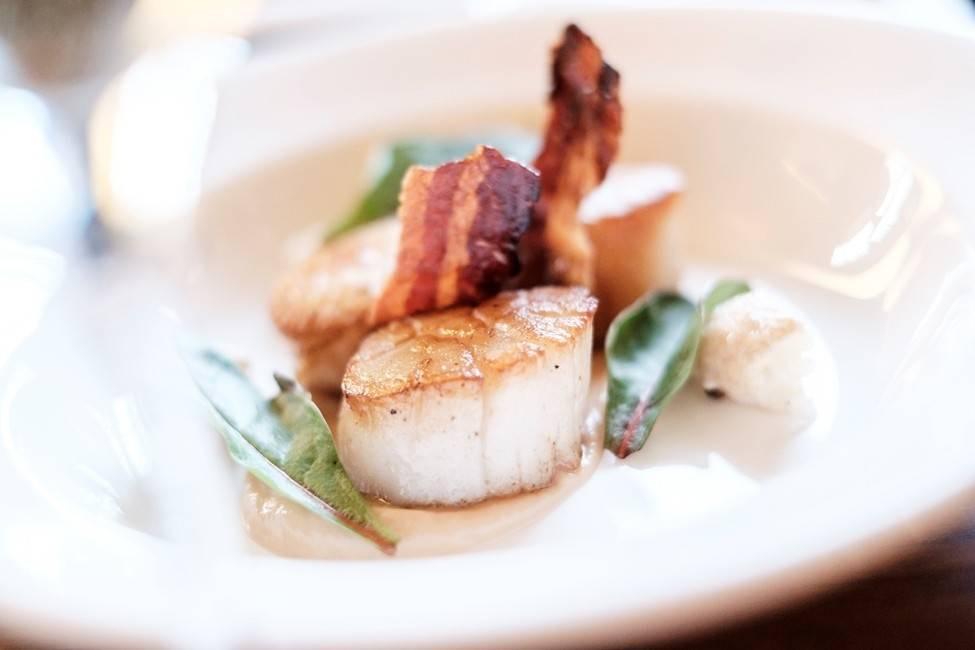 After your celebrations why not make the most of the unique location and let the Eurostar whisk you away for your honeymoon? It's a pretty awesome way to leave the party!
16. Chamberlain's of London – East Central London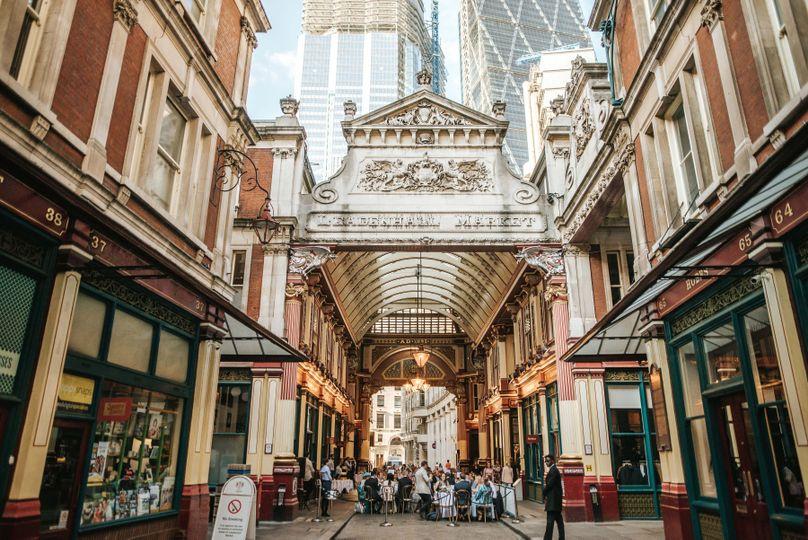 Set in the heart of Leadenhall Market, Chamberlain's of London allows you to celebrate your marriage in one of the most iconic venues in the city. Split over four levels, you can book the space on an exclusive-use basis on Saturdays, meaning you'll have every inch of this unique space to yourselves!
You can enjoy drinks on the terrace, the ground floor or mezzanine before moving up to the first floor dining room and enjoying fabulous views of Leadenhall as you tuck into your wedding breakfast with up to 65 guests.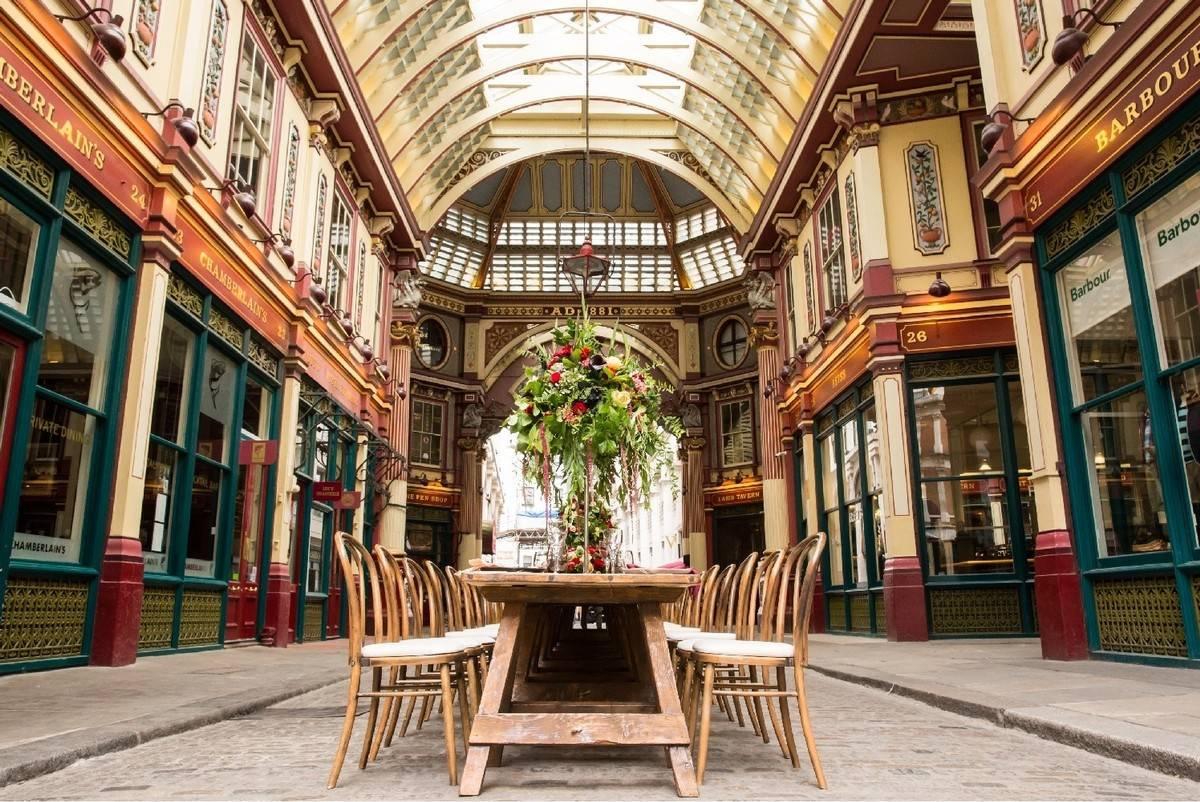 The head chefs at Chamberlain's will create a mouth-watering bespoke menu that will keep you fuelled right up until the festivities finish at 1am!
Found a venue you like? Make sure you ask these 32 essential questions!