21 Game-Changing Honeymoon Packing Hacks
Packing for your honeymoon? Don't miss these game-changing honeymoon packing hacks - hello, more room for shoes!
We have included third party products to help you navigate and enjoy life's biggest moments. Purchases made through links on this page may earn us a commission.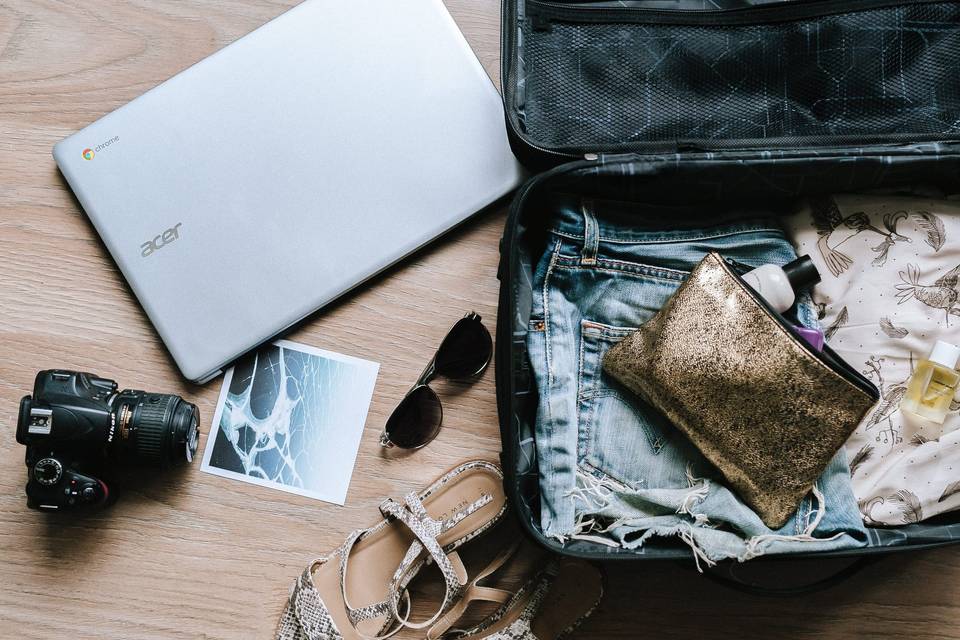 Promoted by E-Visa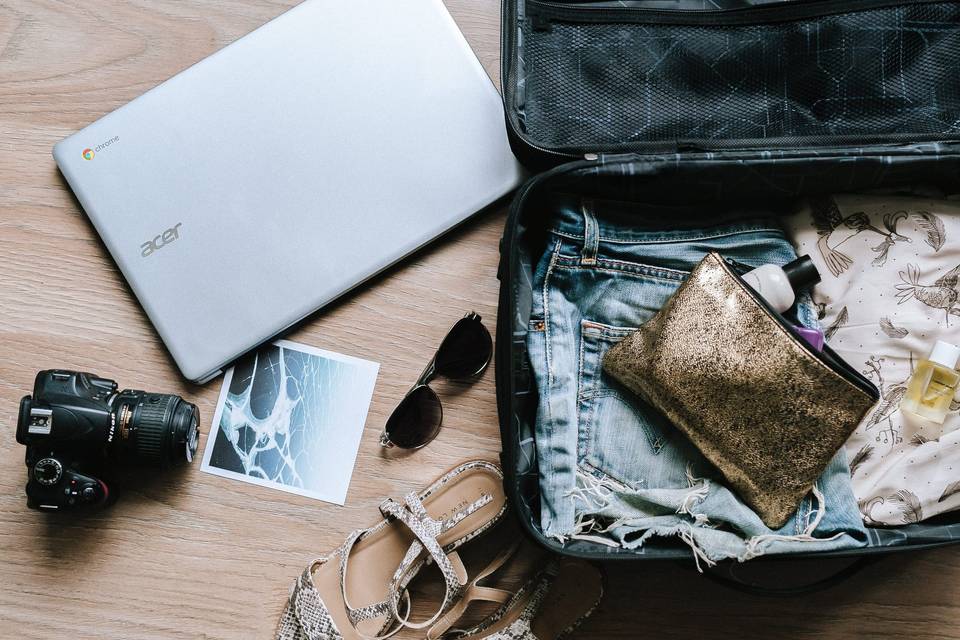 Are you super excited for your honeymoon? We would be too, if we were you. Make sure you make the absolute most out of it with our ultimate honeymoon packing hacks – this feature will help you have the trip of a lifetime with smart packing tips.
Make sure you have our honeymoon packing list to hand too to guarantee you have all the essentials.
1. Optimise Your Hand Luggage
Your honeymoon is premium selfie time, so you want to be looking your best. Start your trip the right way by including refreshing face wipes, a small bottle of moisturiser and an eye gel in your hand luggage so you can pamper your face on the plane. If you're flying overnight, take off your makeup before you sleep. The team at The Travelwrap Company also recommend packing a cashmere wrap or scarf to use on the flight – "A scarf for the flight will keep you warm and is also a great way to transition your outfit if you are flying from a colder climate to a warm one".
2. Take Water
Once you're through the security checks, invest in a large bottle of water and keep drinking! Air travel seriously dries out your skin so it's important to keep hydrated so you look your very best on honeymoon.
3. Save Space and Dodge Creases
Got all your best maxi dresses ready and waiting for their honeymoon outings? Avoid getting random, angular creases in them by rolling them in your luggage, instead of folding. It'll save space in your suitcase too, which means room for more shoes!
4. Talking of Shoes…
You don't want your honeymoon wardrobe to smell faintly of shoes – insert scented bags (the kind you get for underwear drawers) in to your heels and trainers before you pack them to keep them smelling sweet.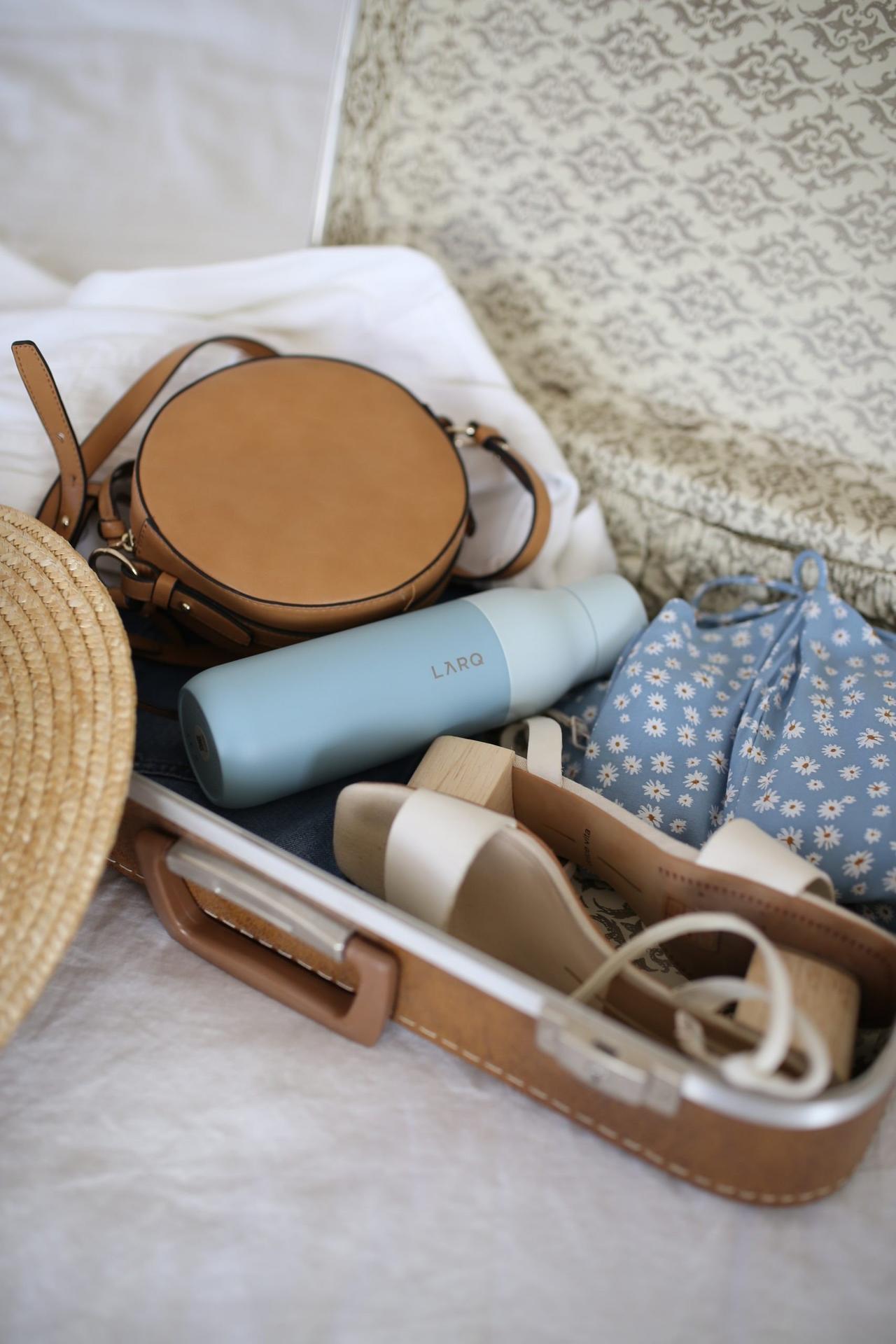 5. Avoid Leaks
We've all been there – when your shampoo comes open and wrecks everything in your toiletries bag. This can be avoided though – take the lids off and wrap cling film around the opening of the bottle, before putting the lid back on. That way if it opens, nothing will come out.
6. Protect Your Makeup
Picture the scene, you've jetted to a remote desert island. You land and go to get ready for dinner. Your eye shadow, blusher and face powder have all smashed in transit. Your screams can be heard from the mainland. It's easy to avoid this – just put a cotton wool pad in each item to reduce impact.
7. Keep it Safe
Speaking of makeup – don't take your most expensive products halfway across the world if you're likely to lose it. Instead invest in travel bottles and decant some of your products, so if you do lose it you've still got the bulk of it at home.
8. Don't Squash Your Underwear
We're assuming you've invested in some pretty nice honeymoon lingerie. Don't let it get squashed in your packing haste. You can invest in specialist luggage, but if funds are tight balled up socks in your bra cups will help them keep their shape.
9. Don't Get Tangled
If you're packing a selection of your finest accessories to dress up your honeymoon wardrobe, make sure your first day isn't spent untangling a knot of necklaces by threading them through a straw and fastening them.
10. Organise Your Earrings
The pain of losing an earring. We feel you. Avoid this forever(ish) by stashing your earrings in a pill organiser – this way you can allocate a pair for every single day of the week.
11. Chargers and Cables
There's always that one iPhone charger that likes being on holiday so much it never wants to come home. Buy cheap sunglasses cases and label them so you can keep track of where each charger is and stash them safely away when you're not using them.
If you can't stand tangled headphones, cut into an old gift card, about a quarter of the way in on each side and wind your headphones around it, using the cut out sections to hold them in place.
12. Get a (Hair) Grip
How is it that you can buy 100 hair grips, never even use them and have precisely zero the next time you're trying to grip your slightly too-long fringe off your face? Avoid this hair-raising disaster on honeymoon by stashing your kirby grips in an empty TicTac box – the opening is perfect for dispensing them.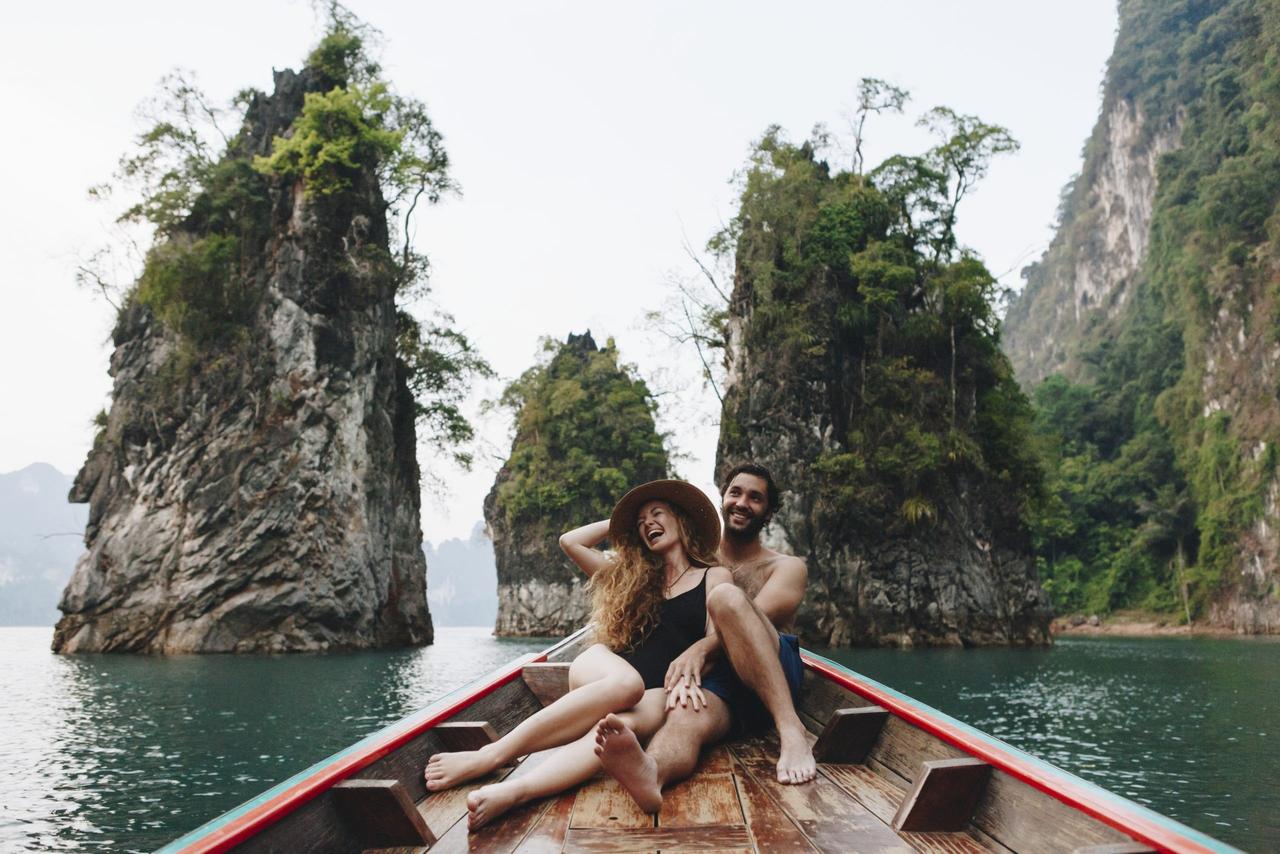 13. Avoid Shredding
If you haven't got a cover for your razor, transport it safely by covering the head of it with a bulldog clip – it'll save it catching on things like your makeup bag, clothes, your fingers…
14. Get Heavy
If you have a wheelie case, try and pack so your heaviest items are on the bottom if the case was standing upright. This way it'll be easier to wheel around duty-free, and you won't have to worry about it toppling over.
15. Decorate Your Case
It seems obvious, but to be honest it's only one of those things you think about at the time. When you see all the identical suitcases looping-the-loop on the conveyor belt, you think 'Hmm. I should have tied some ribbon on mine.' Do it now! Why not opt for some to match your wedding colour scheme?
16. Belt and Shirts
If your husband-to-be has lots of smart shirts for all your honeymoon dinners but you don't want to squash the collars, simply coil his belts and place them inside the collars so they'll be supported. It's an easy way to pack belts too.
17. Shower Cap Your Shoes
Every time you go to a hotel, take the free shower cap away with you. You can use these to put your shoes in to stop dirt transferring on to your clothes – it's especially useful for the journey home. Keep those sandy flip-flops contained!
18. Totes Sorted
Pack a couple of tote bags in your luggage so you can stash your dirty laundry away after you've worn it. It's easy when you get home then as you can just chuck the contents straight in your washing machine.
19. Sandwich Bag It
We bet you never thought you'd be taking empty sandwich bags on honeymoon, but the re-sealable ones are really useful. You can use them to keep your phone safe from sand and water whilst you're at the beach.
Also – if you're flying short-haul and your plane doesn't have TV screens, you can fix a sandwich bag to the top of your tray-table fastener to hold your phone in place as a makeshift screen. Just maybe have a jumper or scarf on the table in case it plummets down!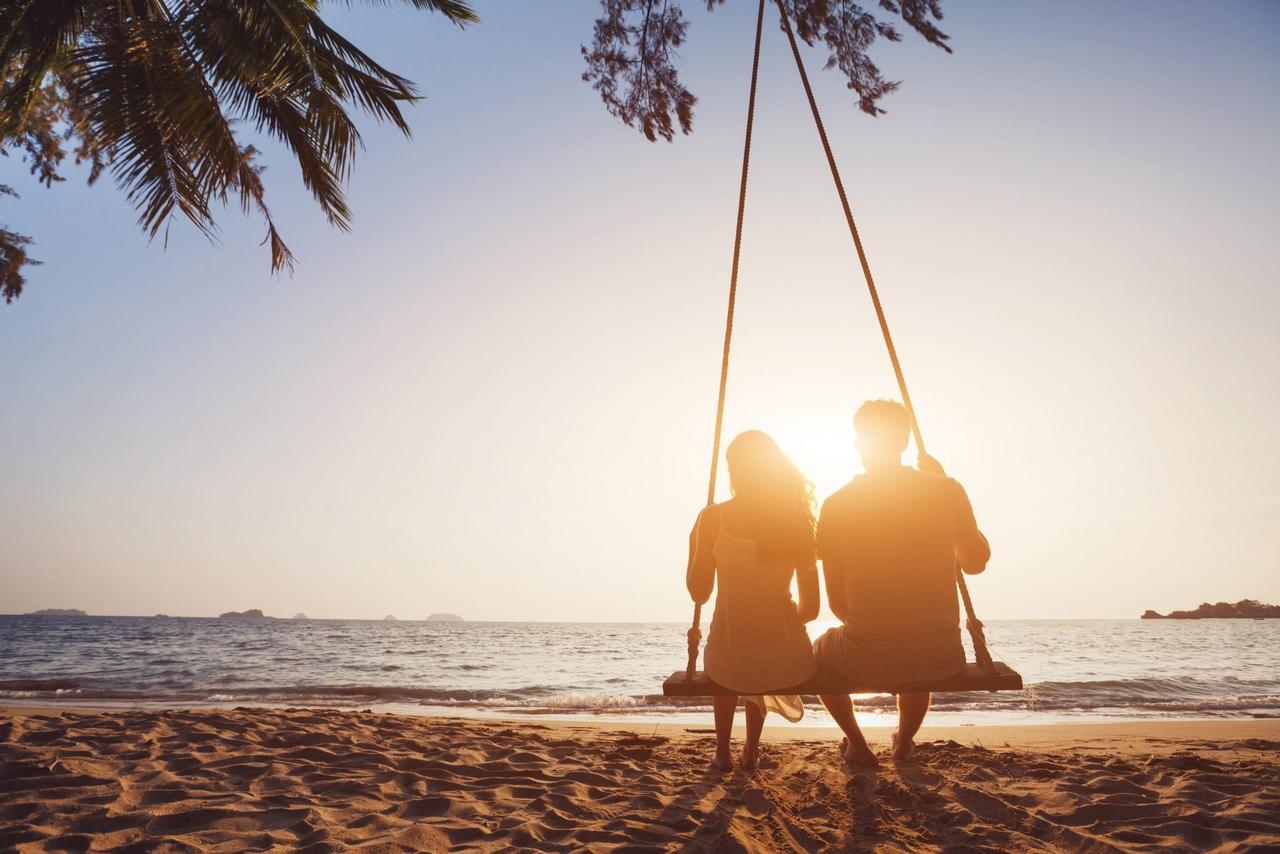 20. Oven Glove Your Straighteners
Roll your hair straighteners up in (clean) oven gloves. The padding will stop them getting knocked about, and it will also work as a heat protector meaning you don't have to wait for them to cool down before packing them. Last minute hair straighten before the airport? No problem!
21. Scan Your Documents
Scan all your useful documents like your visa, travel insurance and passport and email them to yourself. This way if you lose anything whilst you're abroad, you have access to copies of your crucial documents.
Yet to book your honeymoon? Don't miss the best honeymoon castles around the world for a regal getaway!