35 Beautiful Moonstone Engagement Rings for Alternative Brides
Not into traditional engagement rings? Take a different approach and browse these gorgeous moonstone engagement rings, perfect for contemporary brides
We have included third party products to help you navigate and enjoy life's biggest moments. Purchases made through links on this page may earn us a commission.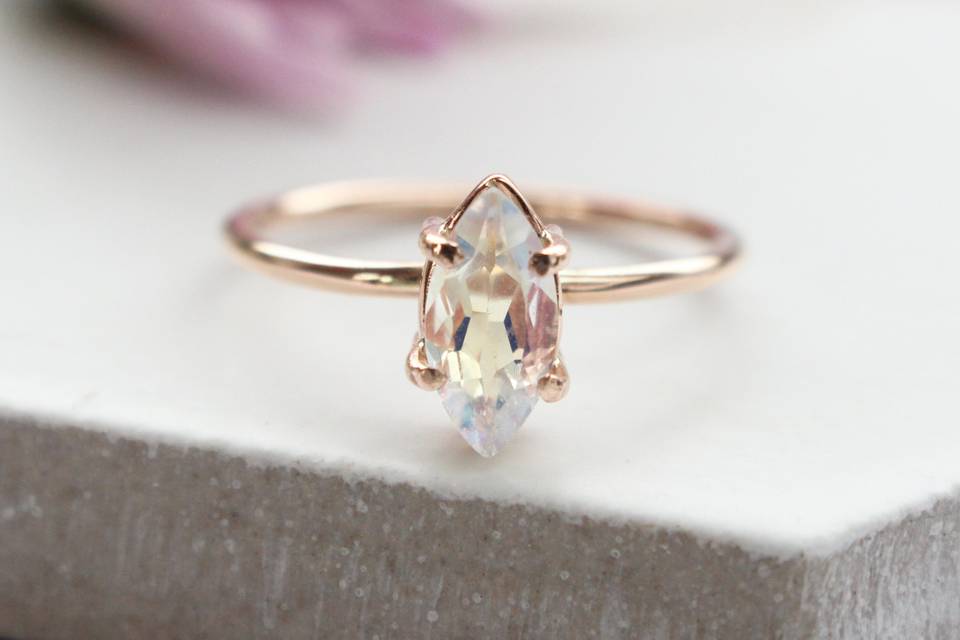 Finding the perfect engagement ring is a minefield in itself, and one of the biggest decisions when choosing the one is which route to go down.
Should it be a classic diamond, a vibrant emerald engagement ring, or A shimmering sapphire ring? What about the cut: should it be round, square, or teardrop? There are so many choices to be made, but if you're a less traditional bride or groom, a moonstone may offer an alternative route to go down.
Moonstones are said to represent new beginnings, making them perfect for an engagement! Moonstones are also said to boost positivity and compassion, meaning they're a truly lovely choice.
The really great thing about moonstone engagement rings is that they're just that little bit different. Worlds away from a classic, traditional cut diamond, the moonstone is quirky, fun, and outside the box. Plus, the stone is often fairly affordable, meaning they're a great option if affordability is a key requirement.
We've picked out some of the most beautiful moonstone engagement rings to suit all sorts of tastes and budgets.
NB: We have included third party products to help you navigate and enjoy life's biggest moments. Purchases made through links on this page may earn us a commission.
1. Lori Ring – £650, Dinny Hall
The Lori ring by Dinny Hall showcases moonstone at its finest. Simply cut, it's ideal for an engagement ring as it looks seriously luxe, yet the singular stone means it's understated enough to be worn everyday.
2. Triple Rainbow Moonstone Ring – £44, Wanderlust Jewellery
If you're after a something a little more unique, this triple moonstone ring by Wanderlust Jewellery could be it. Featuring one large moonstone and two smaller teardrop cabochon moonstones with ornate swirl details, it'll make a stylish statement.
3. Peach Moonstone Ring – £39, Ahne Jewelry
Moonstones don't have to be milky white, they also come in shades of pink too. This 14k gold peach moonstone ring has an ultra thin band making it ideal for stacking next to a wedding ring.
4. Moonstone Kite Eternity Ring – £760, Ellie Air
Available in yellow, rose or white gold, this eternity ring features five gorgeous diamond cut moonstones that'll curve around the finger and sparkle at all angles.
READ MORE: The 35 Best Coloured Engagement Rings
5. Moonstone Ring With Diamond Halo – £1,249, Angara
Inspired by Princess Diana's beautiful engagement ring, this piece from Angara features an oval moonstone surrounded by a halo of diamonds. You can choose your gemstone quality, carat weight and metal type making it a totally customisable ring to suit your budget.
6. Oval Moonstone Ring With Diamond Accents – £949, Angara
We also adore this vintage-style moonstone engagement ring from Angara. The dazzling diamond leaf detailing adds an elegant touch and makes it unlike any ring your partner will have seen before.
7. Lucky Star 14k Moonstone Ring – £399, Chupi
If your partner was born in June a moonstone ring will be a lovely sentimental piece as it'll represent their birthstone. The 14k gold band on this lucky birthstone ring by Chupi emulates a twig and is so pretty.
8. Muse Moonstone Diamond Ring – £653, Moon Magic
When looking for a moonstone engagement ring a great place to start is Moon Magic who specialise in this gorgeous gem. This design features a spectacular rainbow moonstone and is adorned with six twinkling diamonds.
9. Raw Moonstone Crystal Ring – £57, Moon Magic
Moonstone looks gorgeous in its unpolished form so why not opt for a raw crystal like this ring by Moon Magic? Untreated and left in a natural state it has a down-to-earth, ethereal feel.
10. Asteroid Ring – £1,450, Pamela Love
Fashion-forward couples will adore this chic ring by New York jewellery designer Pamela Love. With three moonstones, a single diamond and an open 18k gold band, it's a little bit different from a traditional engagement ring in the best way.
READ MORE: 35 Dazzling Emerald Engagement Rings
11. 14k Rose Gold Moonstone Engagement Ring – £330.87, Ana Kroll Jewelry
Another gloriously coloured moonstone is this grey tinged gem. It compliments the rose gold band perfectly and the unusual design will stand out from the crowd.
12. Moonstone Roz Ring – £2,678, Catbird
Catbird craft their rings using ancient goldsmithing techniques making each piece completely different from the last. The Roz ring features a stunning cabochon moonstone from India surrounded by 22k gold.
13. Moonstone Engagement Ring – £877.99, Capucinne
Halo style engagement rings are a popular choice and this moonstone piece with a halo of diamonds is a real bargain at just under £900. It'll catch the light wonderfully and will never go out of style.
14. Misella Pear Moonstone Engagement Ring With Tanzanite – £668.99, Capucinne
This pear moonstone engagement ring is flanked by two pretty tanzanite gems giving a gorgeous lilac glow. The rose gold band adds a delicate touch and brings the whole piece together.
15. Stella Moonstone & Diamond Band in 14k Solid Gold – £900, Carrie Elizabeth
This engagement ring by Carrie Elizabeth is a dreamy combination of moonstones and diamonds. You can even add a personal engraving onto the inner band that we bet your partner will love.
16. Moonstone Engagement Ring With Diamonds – £599-£999, Aardvark Jewellery
Perfect for an outdoor loving couple, this nature-inspired design features two tiny golden leaves. It comes in a number of metals and golds – hence the price range – so you choose the one you or your partner likes the most.
17. Odele 9ct Gold Moonstone Boho Ring – £60-£120, Amelia May Jewellery
A stunning ring which looks far more expensive than it actually is, Amelia May's Odele design features a delicate band and a shimmering marquise-shaped semi-precious gemstone.
18. Celestine Orbit 14kt Yellow Gold Ring with Moonstone – £718, Anna Sheffield
If you prefer more of a unique cut and shape, this is the ultimate option for you. This Anna Sheffield ring is dramatic, elegant and modern.
READ MORE: What is a Commitment Ring? Plus 35 of our Favourites
19. Mini Deco Moonstone Ring in Yellow Gold Vermeil – £125, Astely Clarke
This art-deco inspired ring is ideal for vintage lovers, with its hexagon-shaped moonstone and white sapphire studded 18ct gold band. The rich yellow gold goes perfectly with the milky white moonstone.
20. Sterling Silver Moonstone Ring – £85, Carrie Elizabeth
With five stunning baguette cut moonstones on a sterling silver band, this ethereal design is super sparkly and shimmery. More over, Carrie Elizabeth hand-select each gem for ultimate opulence and beauty.
21. M'ama non M'ama 18-Karat Rose Gold Moonstone Ring – £1,090, Pomellato
Not your average moonstone, this orb-shaped gem looks gorgeous on its rose gold band. It's simple, understated, and yet incredibly elegant.
22. The Versailles 18ct Gold Vermeil & Moonstone Half-Moon Ring – £115, Osprey London
This gorgeous cocktail ring-style piece is perfect for a super glam bride or groom. Try stacking this with different stones for the perfect contrast.
23. Silver Willow Twig Moonstone Ring – £99, Caroline Brook
More of a silver fan? This lovely little ring is inspired by – and actually cast from – an English weeping willow tree. The willow tree is associated with the moon and water and represents the ebb and flow of life and love.
24. Celena 9ct Gold Moonstone Boho Cluster Ring – £130-£180, Amelia May
Why go for one moonstone if you can have three? These lovely pale white moonstones flash blue when you catch them in the light.
READ MORE: 25 Swoon-Worthy Flower Engagement Rings
25. Vintage Moonstone Engagement Ring – £373, Roo Ring Co
An incredibly unique design, this vintage moonstone ring is inspired by nature and intricately shaped to look like a rose and its leaves. It comes in a number of metals, including rose and yellow gold.
26. Livia Moonstone Ring – £87, HLSK
A great silver option, this ring features a knife-edge band in solid sterling silver and a genuine moonstone. It also comes in solid 9ct yellow gold.
27. Moonstone and Diamond Engagement Solitaire Nature Leaf Ring – £545-£1,009, Aardvark Jewellery
This ring has a central round faceted rainbow moonstone, which is set in a floral gold mount with four diamond accent stones. It's truly unique and your partner will cherish it forever.
28. Moonstone Engagement Ring – £271, Majade Jewelery Design
How unique is this twisted silver design? Perfect for the unconventional couple, this is handmade in 14k white gold, and will be the talk of the town following the proposal.
29. Moonstone and Diamond Engagement Ring – £679-£979, Aardvark Jewellery
A gorgeous central brilliant-cut moonstone is set in a stunning, 1920s-inspired, antique mount with accent diamonds in this ring. It's a true showstopper!
30. Rhode 9ct Gold Large Oval Moonstone Ring – £180, Amelia May
Based on a skinny stacking band, this simple, bright blue moonstone ring is super sparkly yet won't break the bank. We love how understated yet eye-catching it is. This would be fantastic as a temporary engagement ring.
READ MORE: 27 Cute Engagement Ring Dishes for Storing Your Special Ring
31. Charming Moonstone Ring – £68, Anemone
Sometimes more is more, and this oversized moonstone is the perfect statement ring for those who want to make a statement… and it's less than £100. Score.
32. Large Linia Rainbow Moonstone Ring – £150, Astley Clarke
A ring that looks far pricier than it actually is, this lovely elegant piece is crafted from 18 carat gold plated sterling silver and topped with a faceted moonstone.
33. Moonstone Diamonds Halo Ring – £293.30, JSV Concepts
This gorgeous design is handmade in the USA, and includes a centre moonstone and 100% natural diamond. You can purchase it in solid yellow gold, white gold, or rose gold.
34. Siren Stacking Ring – £80, Monica Vinader
Easily recognised as a Monica Vinader piece, this lovely stacking ring is available in silver, rose gold or 18ct gold plated vermeil on sterling silver.
35. Lune Rainbow Moonstone Ring in 18 Kt Gold Vermeil – £155, Stellar 79
Made from 18kt gold vermeil on sterling silver, Stellar 79's stunning piece is super affordable yet full of impact. The moonstone is said to have calming and healing properties.
Aren't sure how much to budget for a ring? Check out our guide to how much you should spend on an engagement ring.