Sops & Sam's Rustic Barn Wedding with Plenty of Pizza & Beer
Sops and Sam married in a fun-filled, rustic wedding at Old Gore Barn - their priorities were good food, good beer and lots of laughs!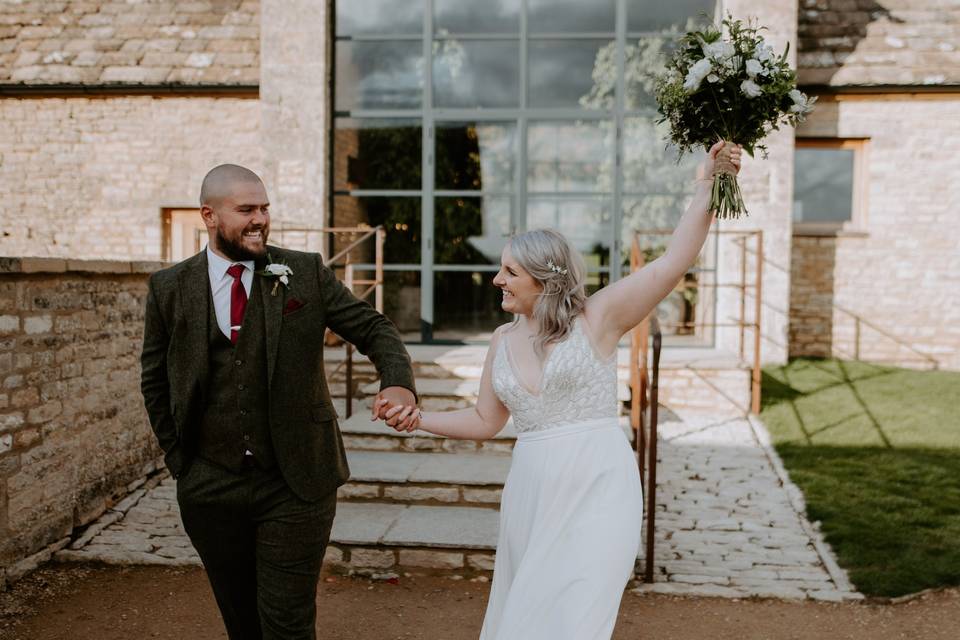 Hitched Featured Suppliers:
Sops and Sam met at catering college way back in 2011. They were brought together by their shared love of food and beer, and eventually tied the knot on the 15th October, 2022, in a wedding that was heavily inspired by their shared passions (namely food...and beer).
The Proposal
The couple got engaged on a family trip to Italy in 2019. "We'd been away with my parents for nearly a week, and Sam was trying to find the perfect time and place to ask. He was so nervous, but on the final night we walked up to a castle at night to 'see the view'.
"At this quiet bench right by the edge of the viewpoint, he got down on one knee."
Sam had the ring custom-made at the famous Birmingham Jewellery Quarter in the couple's home town. "He knew that's where I would want the ring to be from," Sops explained.
He proposed with a temporary engagement ring as his bespoke design wasn't ready in time for the trip, but made sure Sops was aware this wasn't her real ring: "He made it very clear the cheap plastic ring wasn't my engagement ring!"
The Pre-Wedding Prep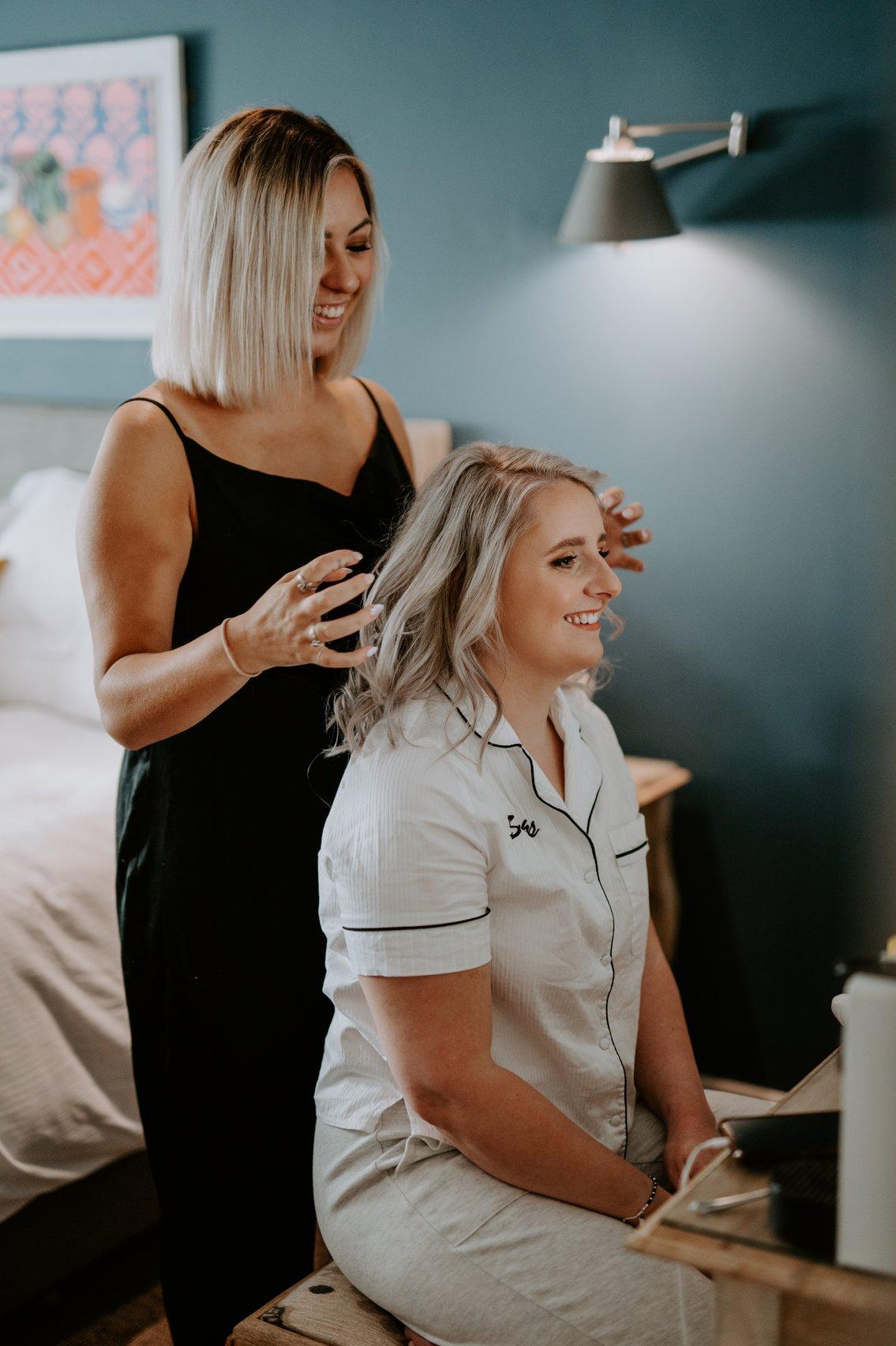 "My best friend actually did my wedding hair, which was a really fun and relaxed way to get ready. Georgia Claire Bridal did the hair for the my adult bridesmaid, the mother of the bride and my aunt, and we all had our makeup done together by Kristina Borovac," says Sops. "It was the first time I'd ever had my makeup done professionally and really loved it - I looked like myself, but better!"
It was important that the morning of the wedding felt relaxed and calm - instead of hiring wedding transport, the father of the bride drove Sops, bridesmaid Zoe and the mother of the bride to the venue together. "It was nice for us to all get the time together in the car as a family of four too, as that's quite rare these days!" says Sops.
Feather-Themed Wedding Fashion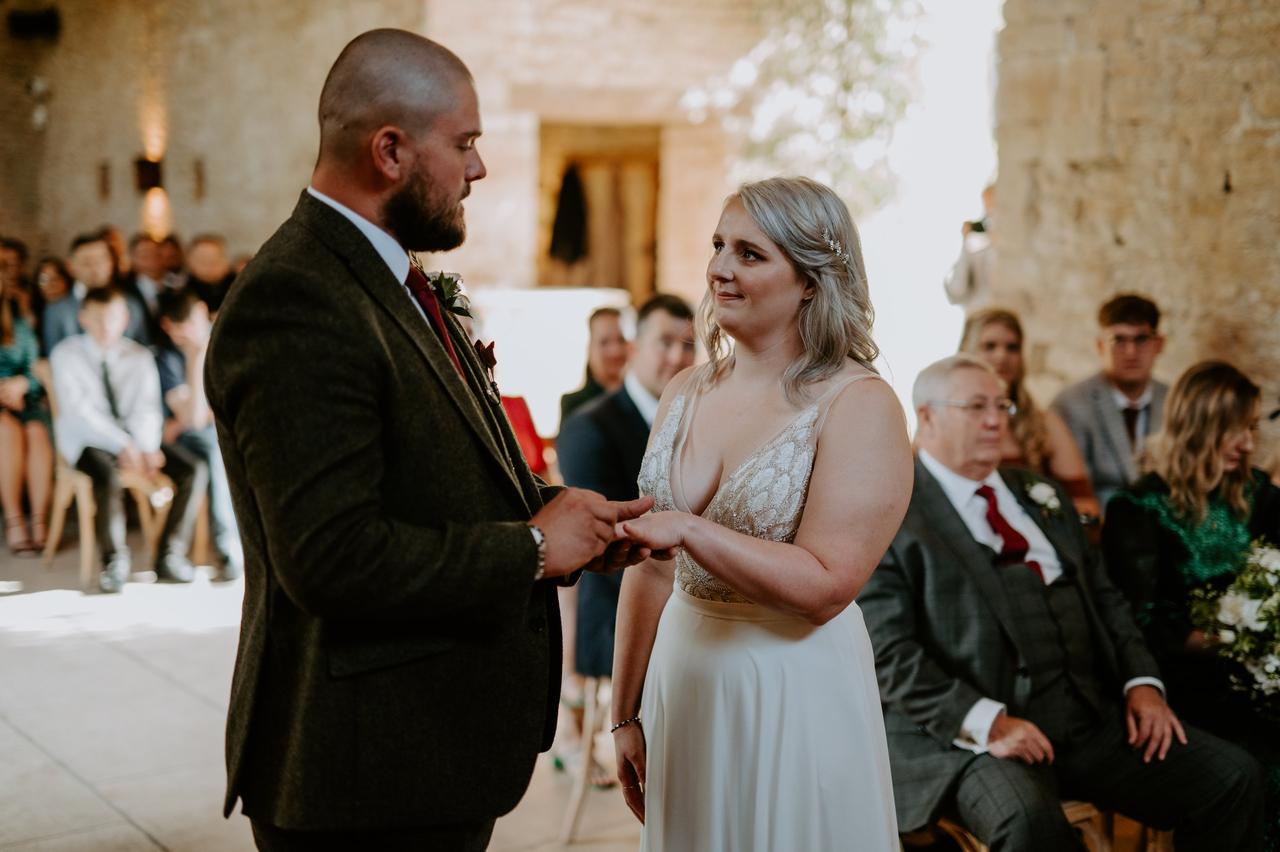 When it came to choosing her wedding dress, Sops was in a pretty unique position as her sister (and bridesmaid!), Zoe, is the Editor of Hitched, so she was very familiar with wedding dress trends and bridal boutiques.
She found her dream wedding dress at TDR Bridal in Birmingham - it was a Justin Alexander dress picked out for her by Zoe as a 'wildcard'.
"It was nothing like what I thought I would go for," Sops explained. "I didn't like it on the hanger! But nothing I'd liked on the hanger suited my body type.
"When I put it on, the deep V-neckline and simple long skirt made me look taller. I felt like a real bride in it."
The dress had an incredibly detailed bodice - it was beaded in the style of feathers, and this became a running theme with the couple's sartorial choices: "My niece bought me silver studs that looked like feathers for my 30th birthday, and my sister had bought Sam a silver feather tie pin for his birthday, so he coordinated with my dress and wedding earrings without even realising!"
READ MORE: Fabulous Feather Wedding Dresses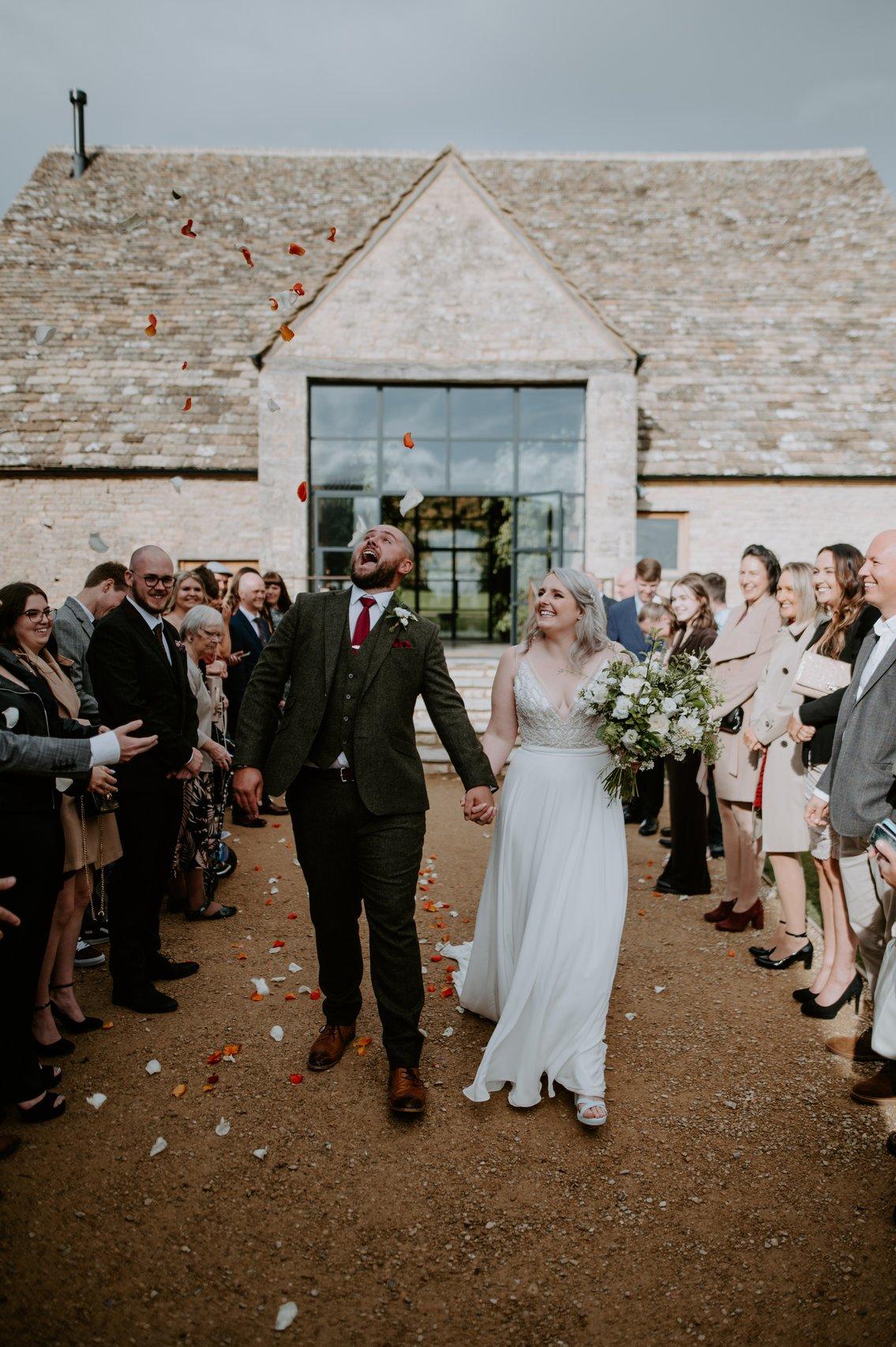 The groom and his two best men wore tweed wedding suits in a deep moss green shade, with burgundy ties, from Peter Posh and the bride's sister rented a green dress from The Vampire's Wife. The flower girl, the couple's niece, wore a green and gold sparkly bridesmaid dress from Marks & Spencer, and carried a flower wand.
Sops had a 'something new' in the form of a silver and dark green beaded bracelet, bought for her by her bridesmaids to subtly coordinate with their dresses.
The groom wore 'something borrowed' in the form of a watch, lent to him by one of his best men. In the evening, the couple accessories with personalised matching wedding jackets, which were hand-painted by Bewilderly and a gift from the bride's sister.
The Ceremony & Reception at Old Gore Barn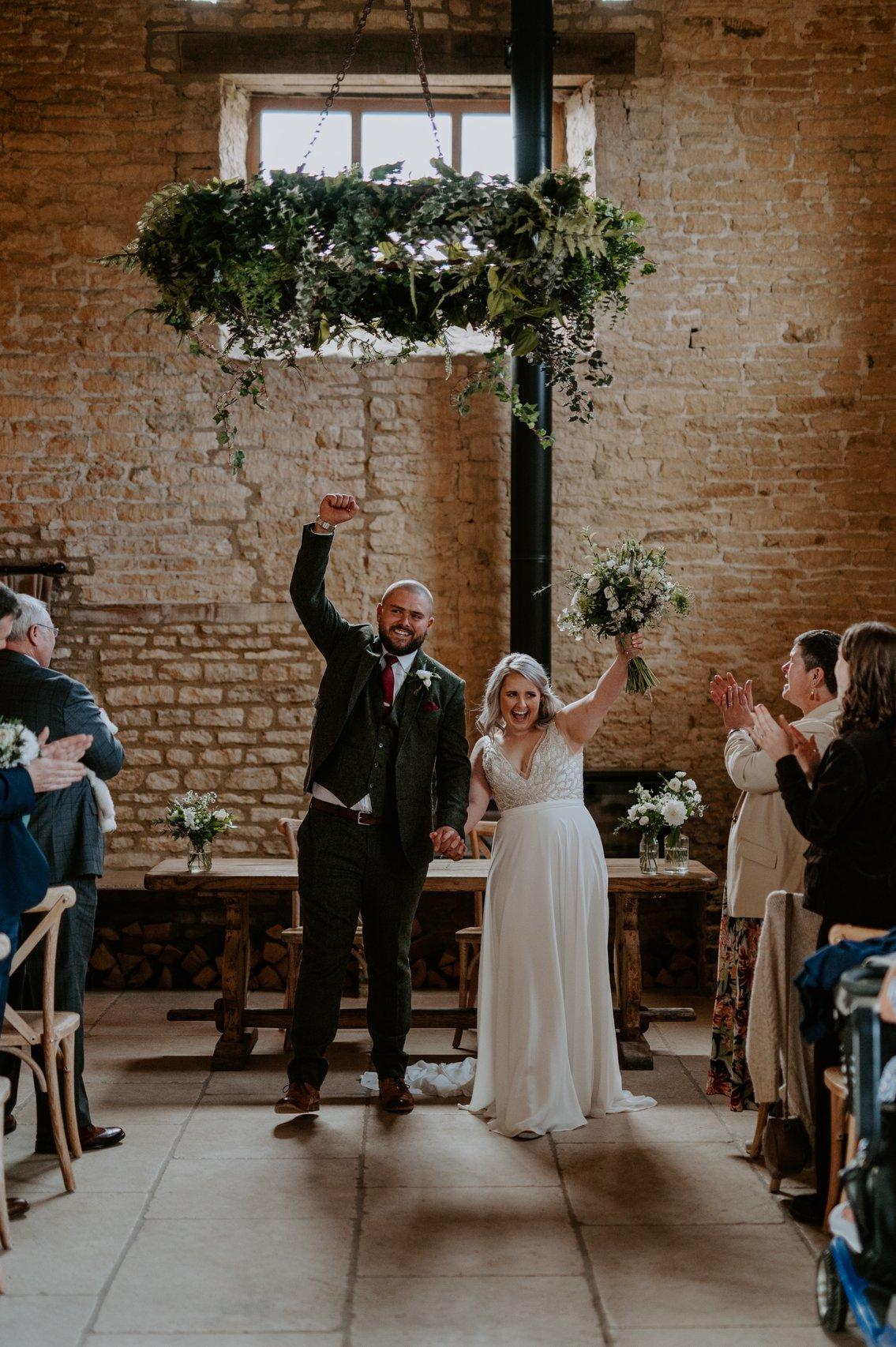 Again, totally leaning into their connections, Sops and Sam found their wedding venue through Zoe's work. "My sister sent me the details of this new venue - it hadn't even been built at the time - that she thought I'd want to know about as they said they were for couples who wanted a laidback vibe, and were all about the pizza and beer life.
"We loved EVERYTHING about the Old Gore Barn - the staff, the catering, the style. It was perfect."
The mother of the bride, the flower girl and the bridesmaid walked down the aisle to 'Send Me on My Way' by Busted Root, in a subtle homage to the flower girl's name, Matilda. Then the bride followed with her father to 'All I Want is You' by Barry Louis Polisar from the Juno soundtrack.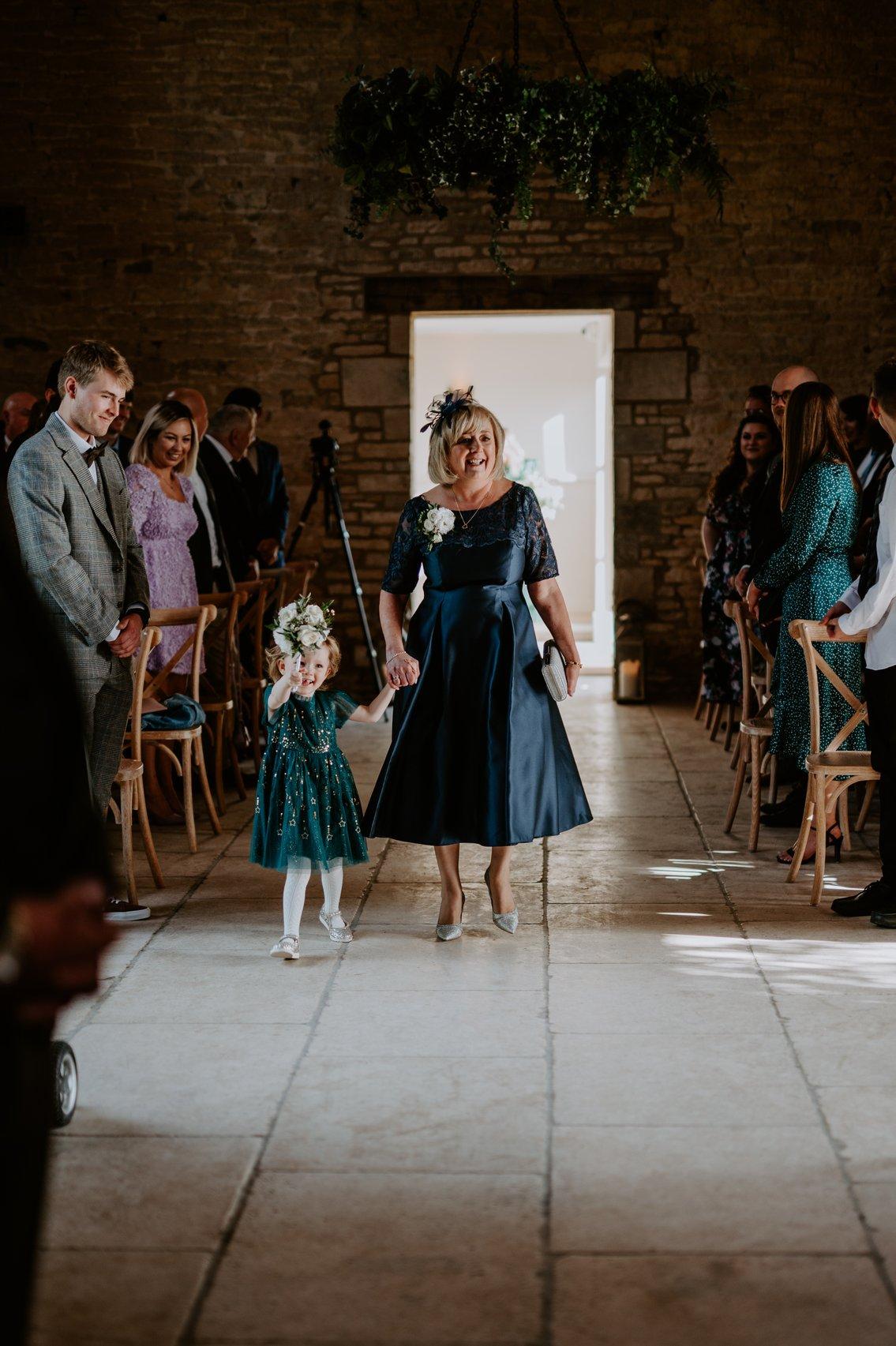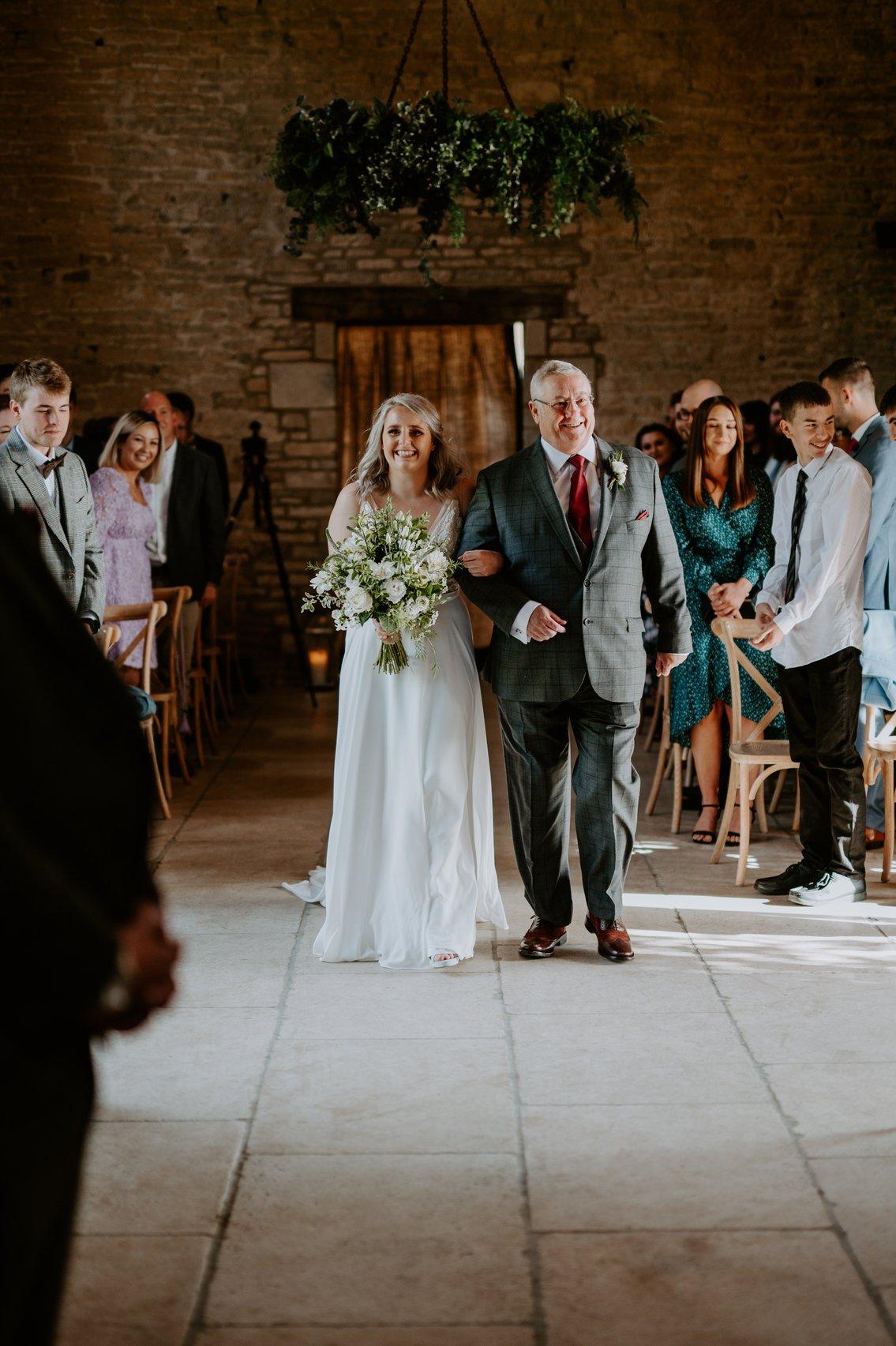 "I wanted my mum to get to walk down the aisle too," explained Sops, "so I planned that she would walk down hand in hand with my little niece, followed by my sister, and then me and my dad."
After the ceremony, the newlyweds got straight on to the beers to toast their marriage before mingling with their guests. There was a delicious range of canapes on offer, before everyone tucked into asado lamb, which had been roasted on fire pits outside, served alongside Mediterranean inspired sharing platters. Pitchers of craft ale were on the table for guests to help themselves to.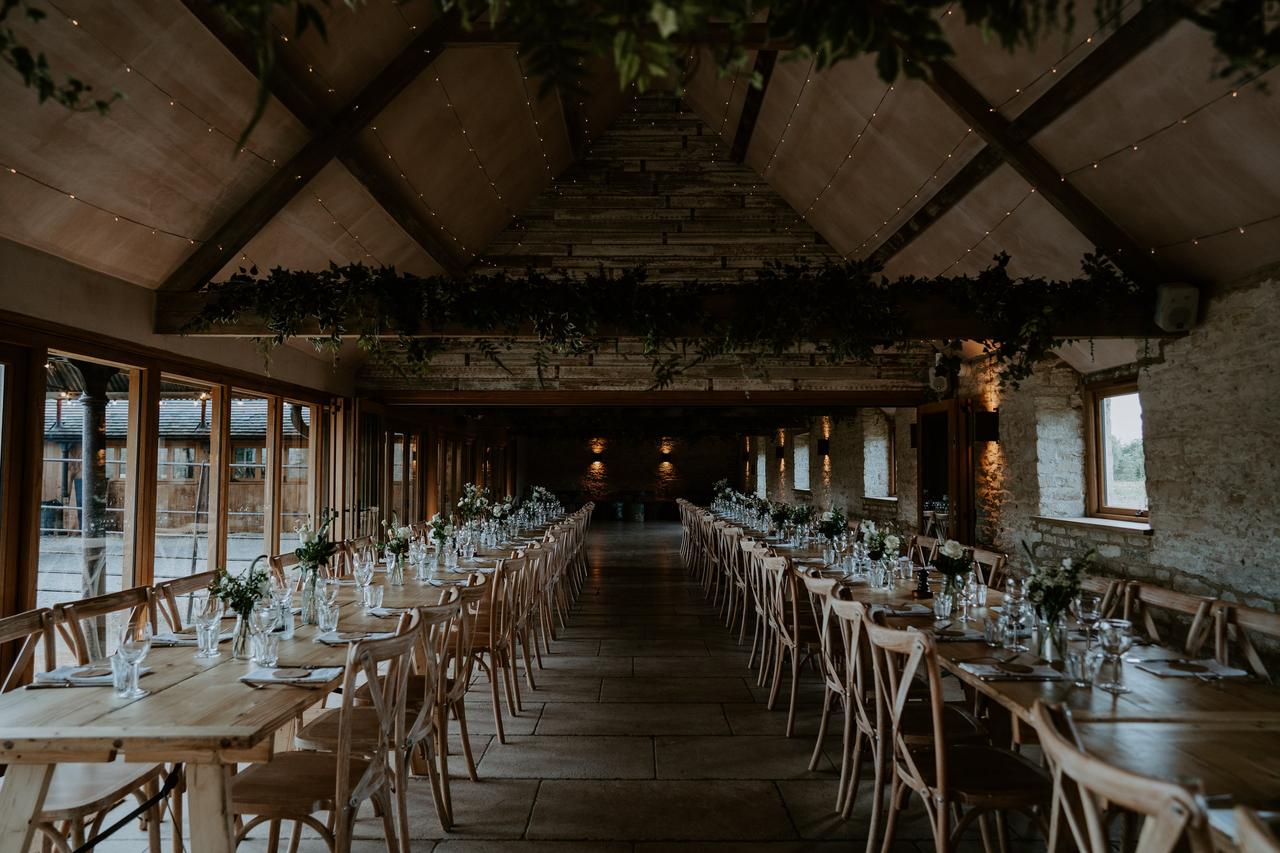 As the guests took their seats at the two long banquet tables, which were decorated with natural, seasonal blooms in mismatched glass vases, they all received a personalised beer mat favour, complete with a temporary tattoo attached. "We hand stamped the coasters, and tried to choose a tattoo that was representative of the guest it was for."
READ MORE: Beautiful Botanical Wedding Ideas
The speeches were kicked off by bridesmaid Zoe, who gave a maid of honour speech focusing on Sops's most embarrassing childhood story, followed by the father of the bride, the groom and the two best men, who each did a speech.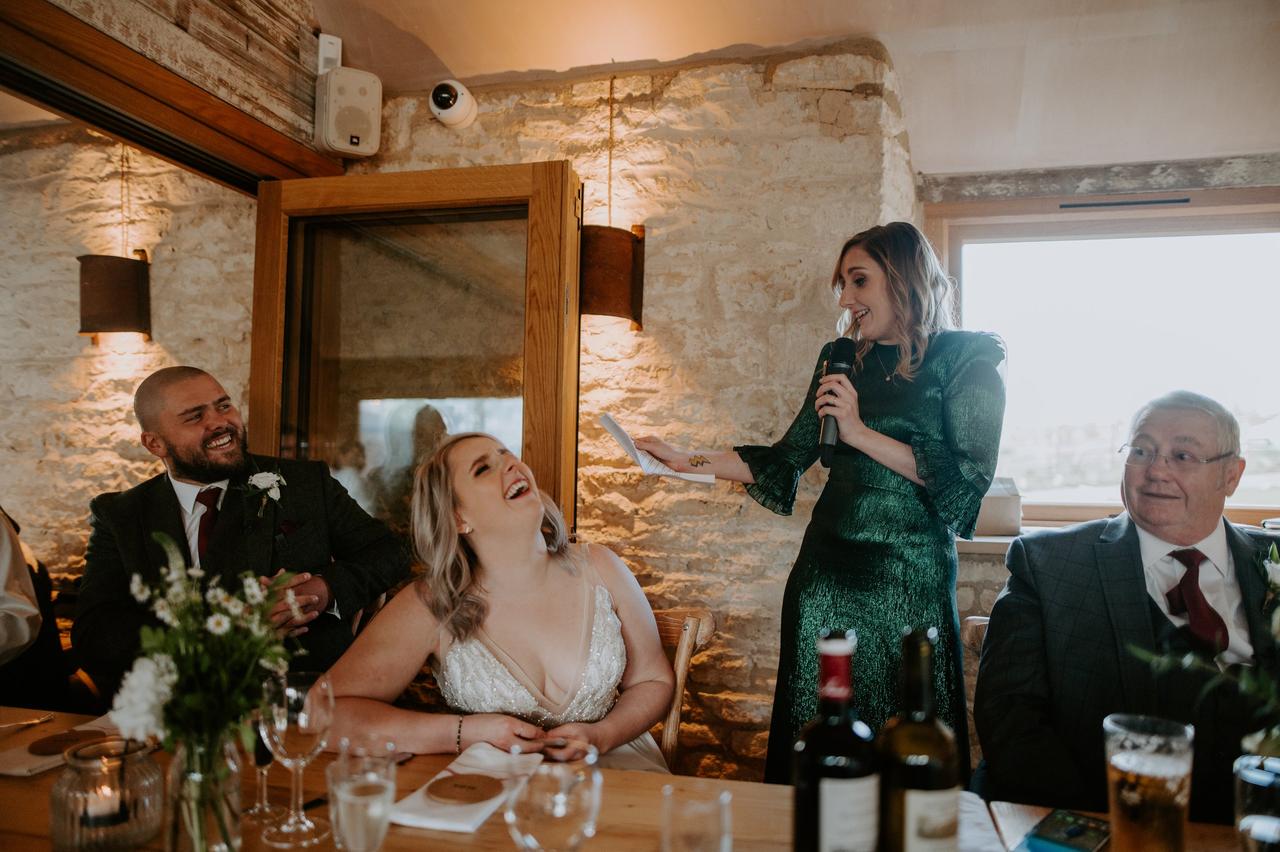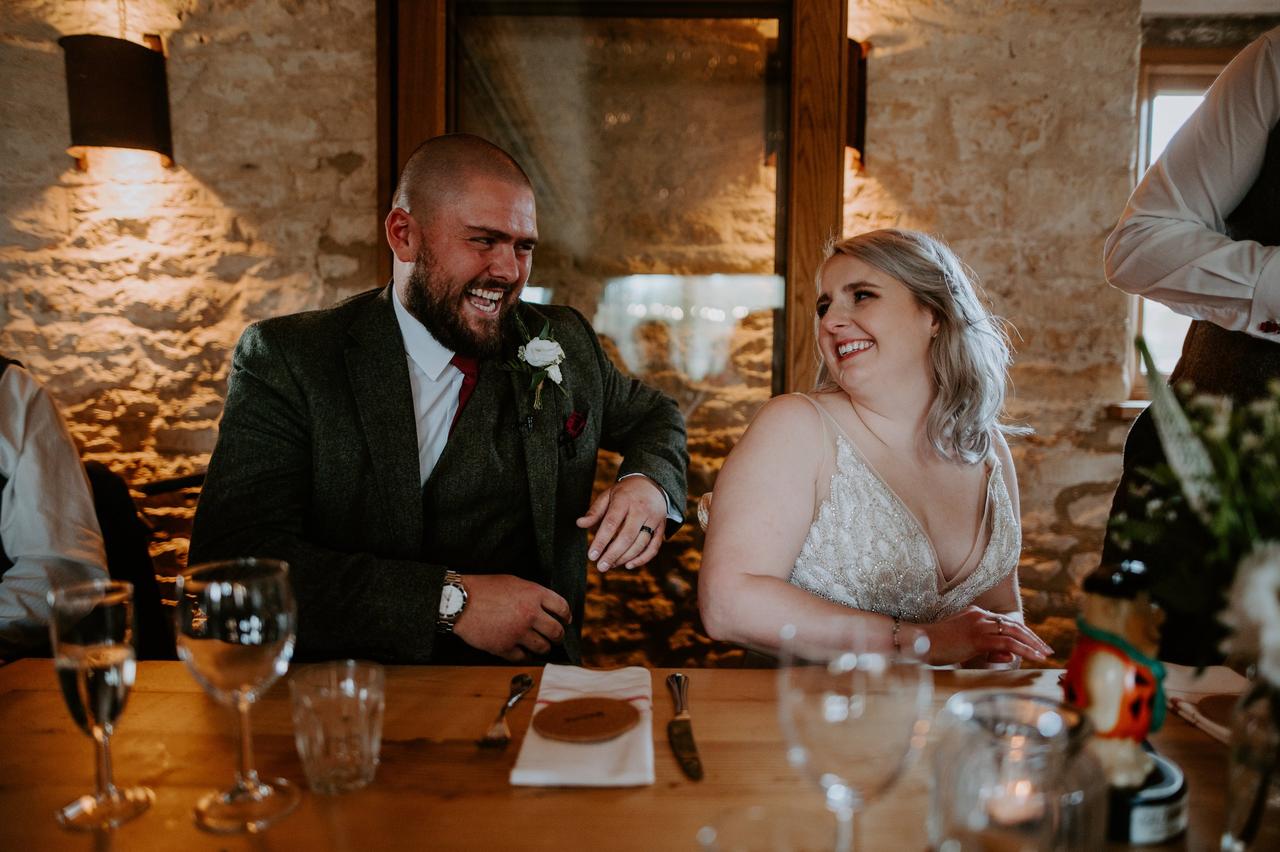 The Evening Celebrations
Sam and Sops cut into a rustic style, semi-naked wedding cake which was made for them as a gift by a college friend of the couple. The cake had three tiers, one made of Guinness and chocolate sponge, one orange-flavoured and one made of classic Victoria sponge.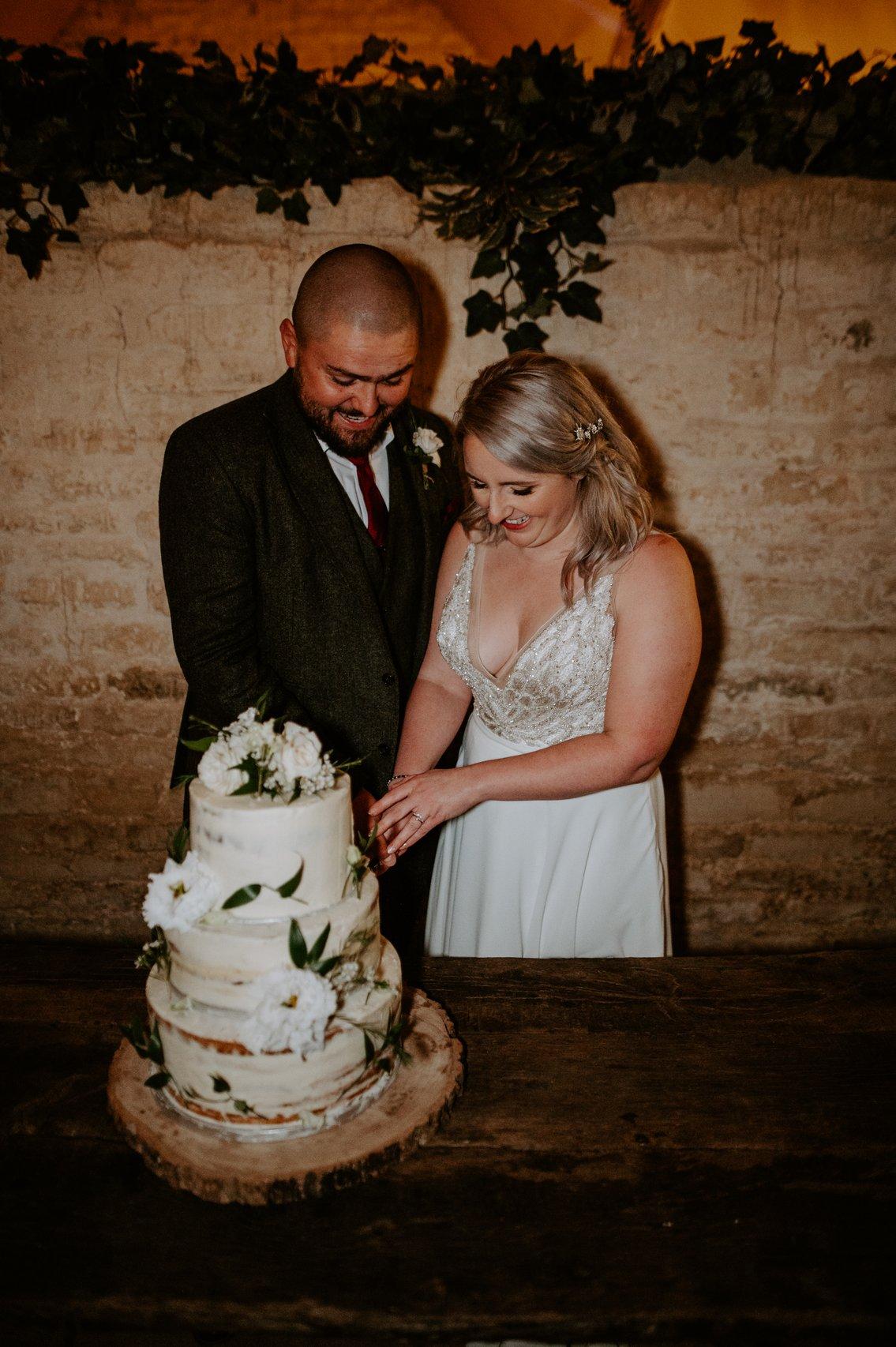 After the meal wrapped up, guests could tuck into churros served from a hatch at the venue. The couple chose substantial canapes instead of starters, and opted for the more relaxed style of dessert to limit wastage. For the evening food, freshly wood-fired pizzas were served to grateful guests from a hatch outside.
They hired a Mumford & Sons-inspired wedding band, picking The Footmen as the couple are huge fans of Mumford & Sons and wanted that vibe at their party. They shared their first dance as husband and wife to 'I Always Knew' by the Vaccines, and were joined on the dance floor party way through by all their friends and family.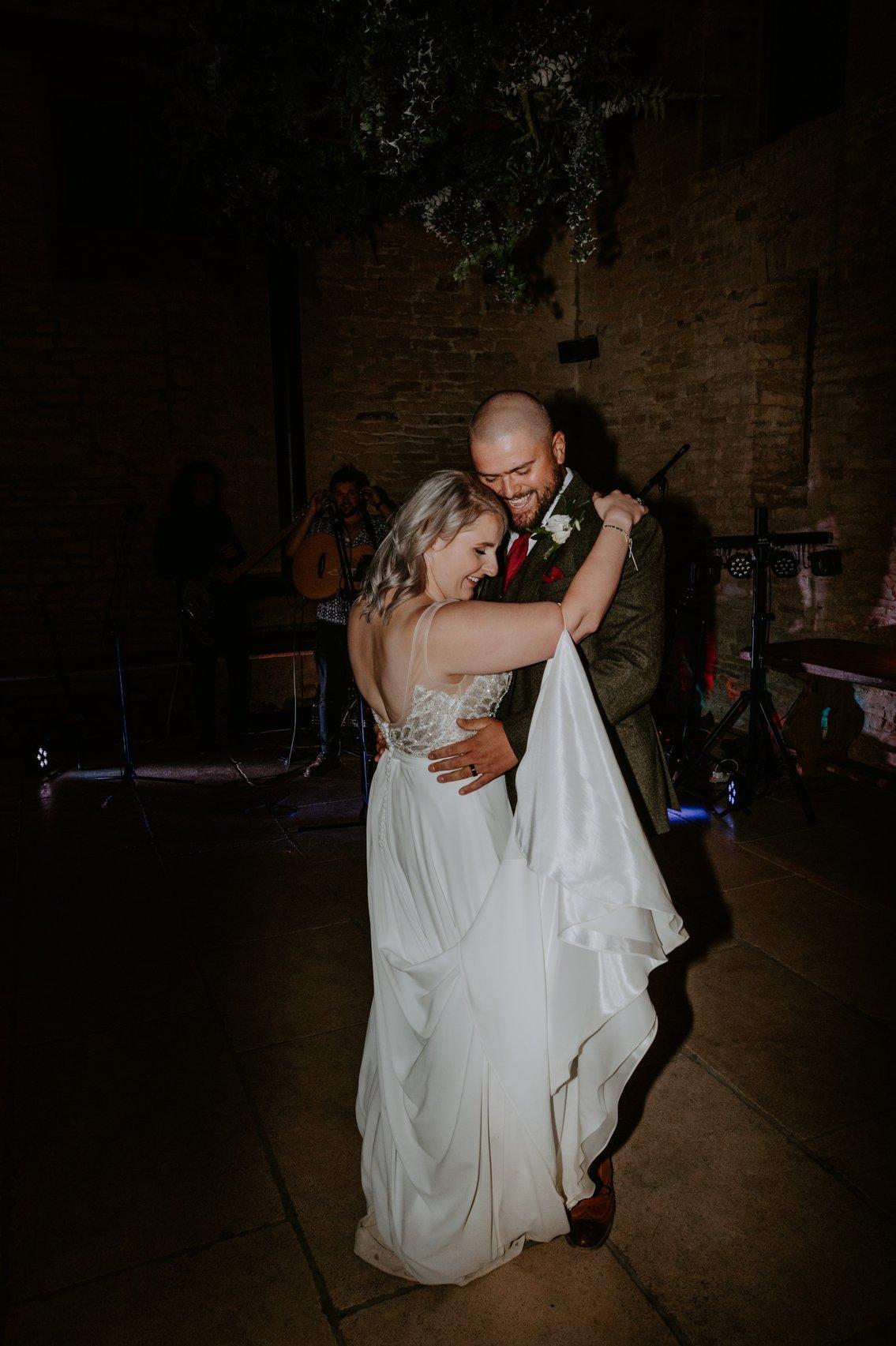 They also hired Birdie Photobooth, which was a real hit with all the guests and kept everyone entertained with their quirky props. "We absolutely loved Birdie," says Sops. "There was a huge queue for photos all night, and we loved that everyone got their own print out and a GIF they could share on social too."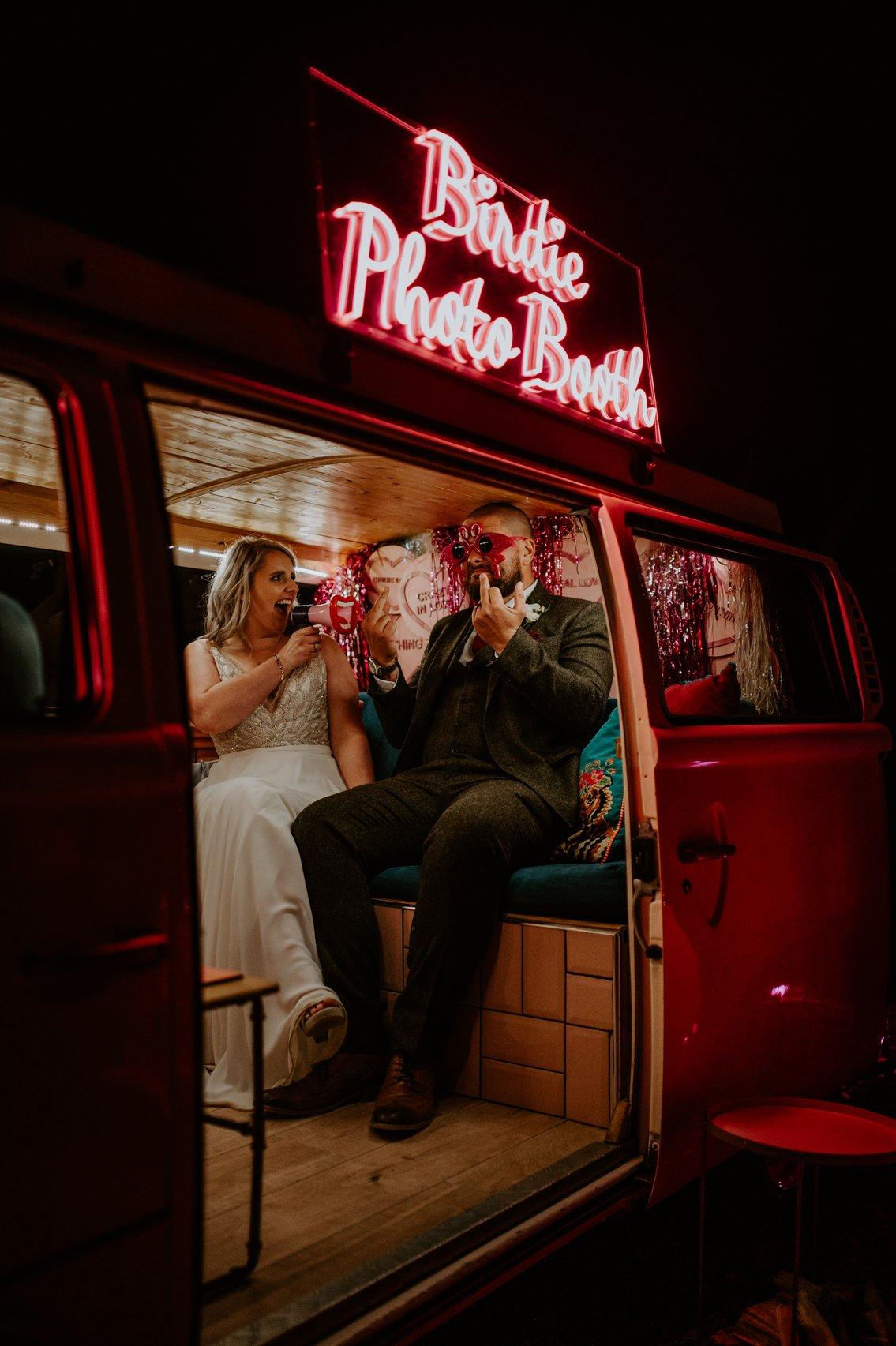 Sops and Sam's Wedding Advice
The couple recommend that you "always listen to advice" when planning your wedding. "You don't always have to do what people advise, but it's nice to have other people's ideas and opinions," Sops explains.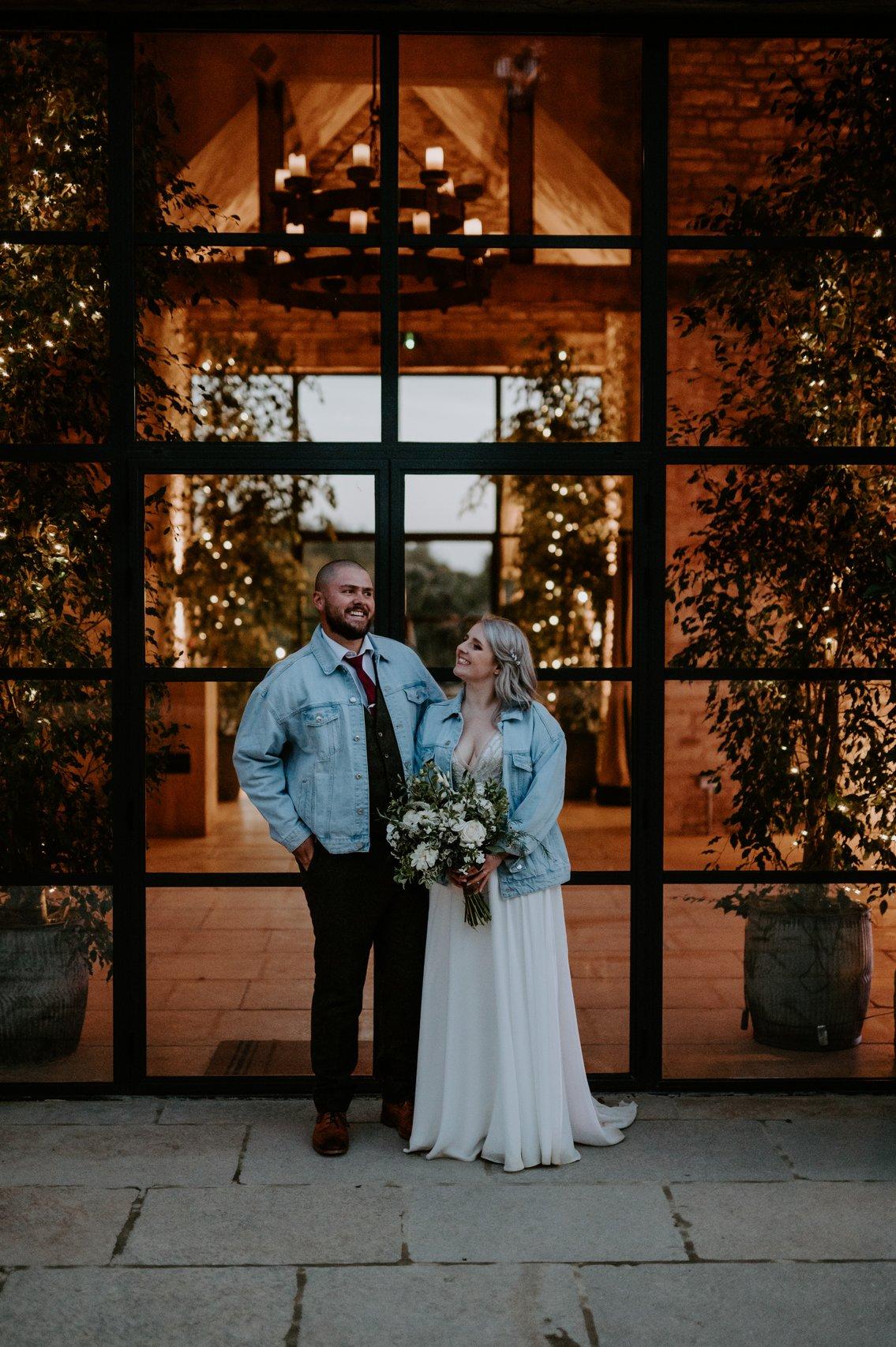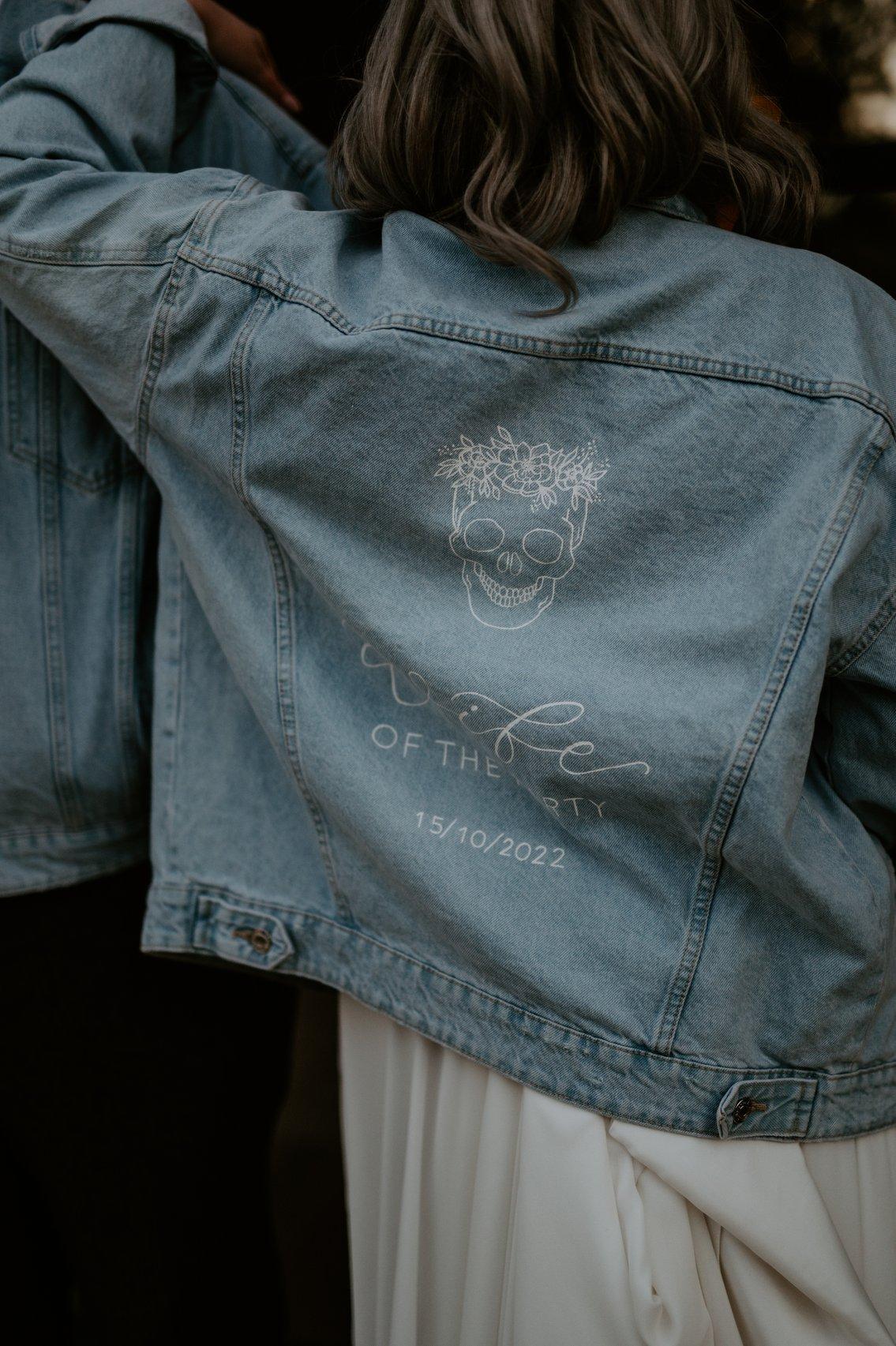 They also recommend thinking wisely about your photography and videography team: "We weren't sure if we were going to hire a photographer originally, as a family friend offered to do it. However we decided we wanted them to enjoy the day as guests, so we hired Mark Horton to do photography, and Unwritten Films for our videography.
"They both felt like mates - I can't recommend enough hiring suppliers who you'd like to have as friends. They both felt like part of the day - rather than just people working in the background."
The Suppliers:
Inspired by Sops and Sam's wedding? You'll want to see these articles for more ideas: