95 Wedding Anniversary Wishes to Write in an Anniversary Card
From wedding anniversary quotes to funny wedding anniversary wishes, here are our favourite ways to wish your partner or friends a very happy wedding anniversary!
We have included third party products to help you navigate and enjoy life's biggest moments. Purchases made through links on this page may earn us a commission.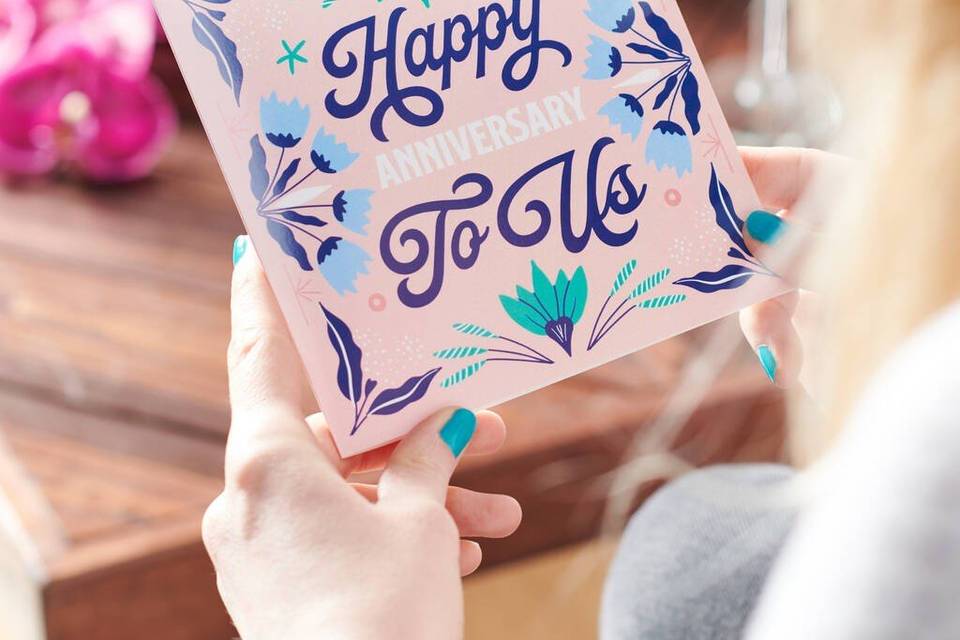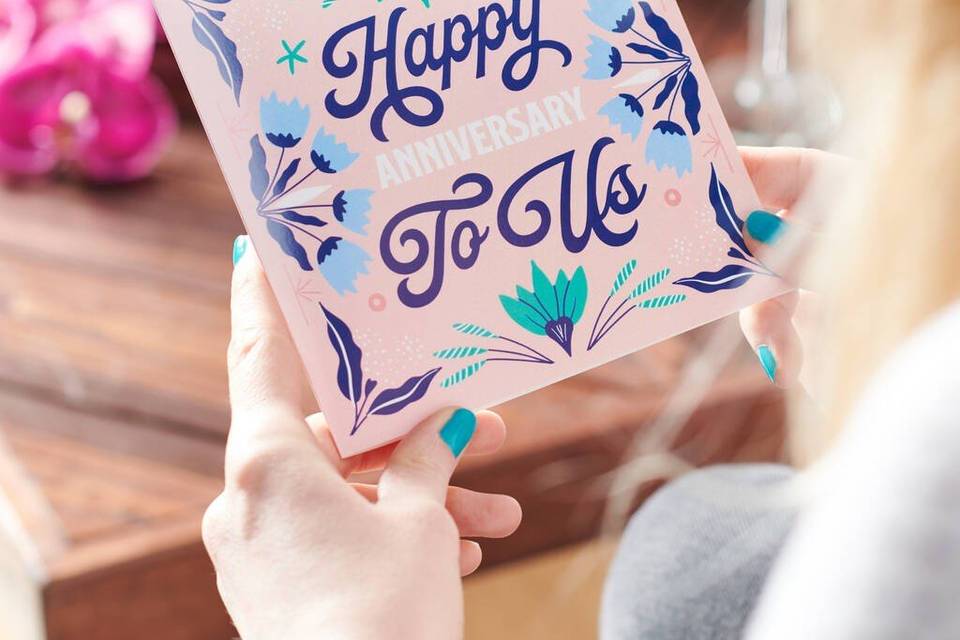 So you've written "Happy wedding anniversary" in the card – what next? Even the most creative among us can struggle to know what wedding anniversary wishes to write in a wedding anniversary card, especially when you're trying to get across your heartfelt message in just a few lines.
Whether you're writing a wedding anniversary card for your partner or sending wedding anniversary wishes to your parents, best friends or sibling, everyone appreciates a handwritten note remembering the day they tied the knot and how far they've come as a couple since then.
To help you figure out what to write, our comprehensive guide to wedding anniversary wishes will help. Plagiarism is strongly encouraged!
NB: We have included third party products to help you navigate and enjoy life's biggest moments. Purchases made through links on this page may earn us a commission.
Romantic Wedding Anniversary Wishes
These messages are all for you to write in a wedding anniversary card to a couple. They're romantic and sweet, and the couple will appreciate them a lot. Wedding anniversary wishes are a combination of congratulations for making it to the next annual milestone as well as wishes for the future.
If you'd like to write your own original wedding anniversary wishes, try writing down the top five words and phrases that come to mind when you think of the couple or your other half, like committed, funny, beautiful or 'a match made in heaven.' These will get your brain flowing around wishes that would suit them!
Alternatively, use one of our example messages which covered everything from romantic wedding anniversary wishes to funny ones. Most are easy for you to personalise, so feel free to copy and edit them as much as you like (we won't tell if you don't!)
1. "You have shared so much love and laughter over your years together, and I know there will be many more joyful moments in your future. I wish you all the happiness on your wedding anniversary and on every married day to come."
2. "Wishing a perfect pair a perfect day."
3. "The two of you shine with the love you share for each other. May that light get ever brighter on your wedding anniversary and every year that goes by."
4. "May the love you feel for each other on your wedding anniversary grow ever stronger and more fulfilling as the years go by."
5. "Congratulations on another year of falling deeper in love with each other. Happy anniversary!"
6. "I hope every day you share together is more beautiful than the last! Happy anniversary."
7. "May the love you have shared in your first five years of marriage grow stronger as you grow old together. Happy anniversary – here's to everything you have to come!"
8. "One year! You made it! Happy first wedding anniversary to a beautiful couple – here's to many, many more."
9. "You make this marriage thing look easy! Here's to another 20 years."
10. "To another year walking life's path hand-in-hand and heart-in-heart!"
11. "Even after so many years together, you can still see that giddy first love in your eyes. You're an example to all of us, and long may you continue to be."
12. "Here's to a wonderful year past and an exciting one to come. Bring on the next – every day is a chance to make your dreams come true."
13. "You're both weird. Congratulations on being made for each other!"
14. "Falling in love is easy; staying in love is another. You've done it though, and you're an inspiration to the rest of us."
Wedding Anniversary Wishes For Your Husband
If you're writing a wedding anniversary card to your husband, here are some examples of wedding anniversary wishes you could include…
15. "Today, on our anniversary, I want you to know how much I've enjoyed annoying you all this time and how excited I am to keep doing it forever."
16. "Another year of precious memories under our belt! Happy anniversary, [name]. Here's to another year of learning new things about each other and strengthening our marriage."
17. "15 years! You've made me happy through every one of them. Happy anniversary to us!"
18. "How lucky am I to be married to a man like you? Happy anniversary, [name], and here's to many more years."
19. "You're my favourite husband so far."
20. "I didn't think it was possible to love you any more than I did the day I married you, yet every day I do. Here's to our love."
21. "If I had to live my life again, I'd find you sooner so that I could love you longer. Happy anniversary to us!"
22. "Being married to you is like having a best friend who doesn't remember anything I say, but I wouldn't have it any other way. Happy anniversary to my wonderful husband!"
23. "You are the kindest, funniest, strongest, smartest man I know – and I'm the luckiest."
24. "Thank you for another year of your love. I promise to spend the next 365 days making you the happiest man on earth."
25. "After all this time, my heart still melts when you walk into a room."
26. "Happy anniversary to the most amazing husband and father. We all love you so much."
27. "Even though you snore like crazy and leave your muddy football shorts on the new carpet, I wouldn't have you any other way."
28. "I love you so much I might even let you pick what takeaway we order tonight (I get to choose the boxset though). There's no one else I'd rather snuggle on the couch and be in bed by 10pm with."
29. "I'm so lucky to have you. Thanks for putting up with me."
READ MORE: The Best Poems to Write in Your Wedding Anniversary Card
Wedding Anniversary Wishes for Your Wife
If you're writing a wedding anniversary card to your wife, here are some examples of romantic wedding anniversary wishes which she's sure to appreciate.
30. "Thank you for always being there for me, on our anniversary and every other day. Happy wedding anniversary!"
31. "Here's to many more years with my better-in-every-way half. Seriously, marrying you was the smartest thing I ever did."
32. "I feel so lucky to be able to call you my wife, this year and every year. Happy anniversary, [name]!"
33. "There's nowhere I'd rather be in this world than here with you by my side. Happy anniversary!"
34. "I'll love you even when we're old and wrinkly. Happy anniversary to us!"
35. "Being with you makes every day feel like it's our anniversary. I feel blessed to have you by my side. I love you and happy anniversary!"
36. "Laughing with you is the best part of my day, and I can't believe I get to do that every day."
37. "From our first date to now, our first anniversary, I love you more every minute I'm with you."
38. "The best marriages are built on teamwork and I'm lucky to have had you on mine since day one. Here's to another year of always being on each other's side."
39. "It's been a tough year, but we're tougher. And when the world is uncertain, I know you're the one thing I can always be sure of. Thank you for loving me."
40. "Everything happens for a reason and it led me to you. Forever won't be long enough to tell you all the ways I love you."
41. "Happy anniversary to the woman who gave me our beautiful family. How did I get so lucky?"
42. "I don't know where I'd be without you and I never want to find out. Here's to many more years of love and happiness. Happy anniversary!"
43. "Yours is still my favourite face in the world."
44. "Happy anniversary to my best friend and soul mate. To a beautiful wife and a blessed life!"
45. "[Name], I'm still reeling with the shock that I managed to marry someone as warm, funny and beautiful as you. Four years in and I still don't know how I did it. Marrying you was the best choice I ever made, and I can't wait to enjoy many more years together. Happy anniversary, darling!"
Wedding Anniversary Wishes for Your Parents
If your parents are celebrating their wedding anniversary, send them a thoughtful wedding anniversary card to show you're thinking of them. One of these wedding anniversary wishes will do nicely… Psst, these are perfect for grandparents too!
46. "Thanks for putting so much pressure on me by setting the bar so high for what a good marriage looks like. I have a lot to live up to. Happy anniversary!"
47. "It takes most people a lot of time to figure out what they want their futures to look like, but I knew from the very start. I hope my future looks exactly like your present. Happy anniversary to my lovely parents."
48. "I see every day how happy you make each other. I hope you continue to make each other that happy every year to come. Happy anniversary!"
49. "Your togetherness in good and bad times has taught us teamwork. Your tolerance for each other's bad habits has taught us patience. Your support during each other's struggles has taught us solidarity. Your lives as our parents have taught us how to live. Happy anniversary!"
50. "You're an inspiration to those lucky enough to know you. I'm lucky to have you as my parents."
51. "The two of you are so clearly meant to be together – it was destined to be! On your wedding anniversary, I hope you look back with fondness on all of your married years together and look to the future with excitement. I can't wait for everything our family has to come. Happy anniversary!"
Wedding Anniversary Wishes for Your Friends or Siblings
Wedding anniversary wishes for your friends or siblings can be a little more informal. Choose from these or use them to inspire your own…
52. "It's hard to believe that the little sister who followed me around for all those years has now been married for ten! I'm proud of you, little sis. Happy anniversary to the both of you!"
53. "I still remember the times when you wanted to ask her out. It only seems like yesterday! Now with ten years of marriage under your belt, I'm wishing you a happy anniversary. Here's to many more!"
54. "A very happy anniversary to my wonderful friends. I can't wait for all of the years to come."
55. "May your love story never have an end and may your love for each other grow and grow. Happy anniversary to you both."
56. "I'm so happy for the love you two share. We all love you so much and hope you have a wonderful anniversary!"
57. "I became friends with you both separately and you're each so special in your own way – but together, you're unstoppable. I can't wait to see what adventures the next year brings!"
58. "My life is so much better with a brother and sister-in-law in it like you."
59. "What's the plan tonight then? Fancy restaurant? Think you've got space for a third wheel?"
60. "Can you believe it's been 10 years since you first kissed at the club at university. Look at you and your growing family now. I'm so happy to know you, and so glad you found each other. Here's to lots more years together."
Funny Wedding Anniversary Wishes
Known for being a bit of a joker? Choose from these funny wedding anniversary wishes…
61. "The secret to a happy marriage is knowing what your other half likes in bed. Most of the time, it's a cup of tea and a bacon sandwich."
62. "Sometimes I wonder how I put up with you, but then I guess you put up with me too. Call it even? I love you."
63. "You two are so much fun to be around. Please can you adopt me?"
64. "You're as good together as mac and cheese. Happy anniversary!"
65. "There are lots of reasons why I've stayed married to you for so many years. You make nice tea, you pay for Netflix, you buy me pizza and you laugh at my jokes. Here's hoping it continues… Happy anniversary!"
66. "I love you and I want to punch you in the face in equal measures. But isn't that how a good marriage is supposed to be?"
67. "I have a confession to make: I've been seeing someone and I've really fallen for them. It's you!"
68. "You're the kind of marathon running couple I always knew would go the distance. I'm very happy to be proved right."
69. "It was cheesy, but somehow, they always knew they'd brie together. Happy anniversary, you two!"
70. "No refunds. You got this crazy for life. Well done on surviving another year."
71. "Husband, I love you more and more each and every day. Except last Tuesday. You were pretty annoying then. Happy anniversary!"
72. "If there was an award for best marriage, you'd win it. Then again, you'd probably have set up the awards too…"
73. "I don't know why more people aren't jealous of you – you married the most beautiful, funny person in the world. I guess I did OK with you too…"
Wedding Anniversary Quotes for Your Anniversary Card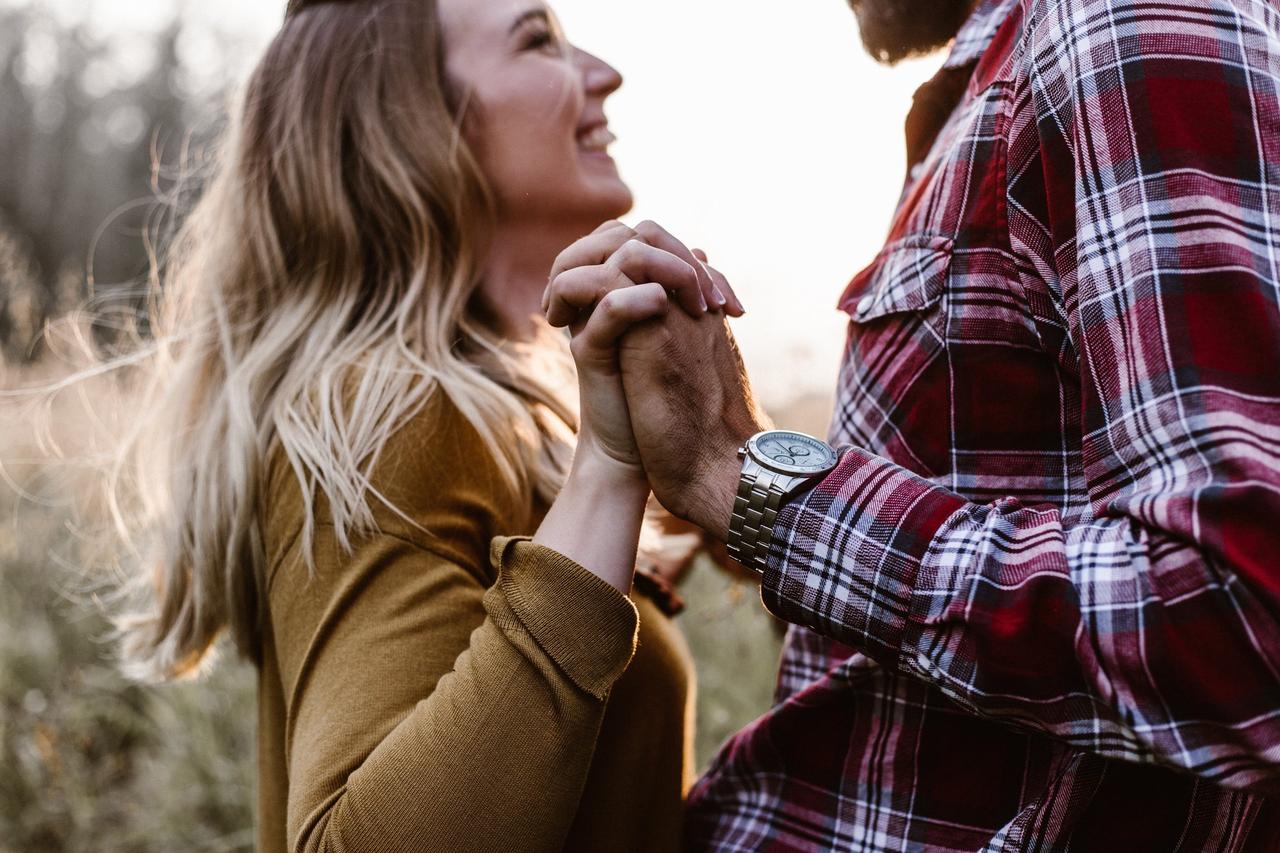 After you've written a wedding anniversary wish, it might be a nice idea to include a romantic quote about love and marriage. It'll be sure to resonate with your other half or the couple in mind.
74. "Real love stories never have endings." – Richard Bach
75. "A successful marriage requires falling in love many times, always with the same person." – Mignon McLaughlin
76. "Sexiness wears thin after a while, and beauty fades. But to be married to a man who makes you laugh every day, now that's a real treat." – Joanne Woodward
77. "Being someone's first love may be great, but to be their last is beyond perfect." – Anonymous
78. "A happy marriage is a long conversation which always seems too short." – Andre Marois
79. "I swear I couldn't love you more than I do right now, and yet I know I will tomorrow." – Les Christopher
80. "If I lived a million lives, I would've felt a million feelings, and I still would've fallen a million times for you." – R.M. Drake
81. "Love doesn't make the world go round. Love is what makes the ride worthwhile." – Elizabeth Browning
82. "To the world you may be one person, but to one person you are the world." – Bill Wilson
83. "Being in a long marriage is a little bit like that nice cup of coffee every morning – I might have it every day, but I still enjoy it." – Stephen Gains
84. "A perfect marriage is just two imperfect people who refuse to give up on each other." – Anonymous
85. "Marriage: a relationship in which one person is always right and one person is the husband." – Anonymous
86. "I've never had a moment's doubt. I love you. I believe in you completely. You are my dearest one. My reason for life." - Ian McEwan
87. "You are my heart, my life, my one and only thought." - Arthur Conan Doyle
88. "I cannot let you burn me up, nor can I resist you. No mere human can stand in a fire and not be consumed." - A. S. Byatt
89. "Doubt thou the stars are fire; Doubt that the sun doth move; Doubt truth to be a liar; But never doubt I love."
90. "You and I, it's as though we have been taught to kiss in heaven and sent down to earth together, to see if we know what we were taught." - Boris Pasternak
91. "I would love to say that you make me weak in the knees but to be quite upfront and completely truthful you make my body forget it has knees at all." - Tyler Knott Gregson
92. "You might not have been my first love, but you were the love that made all the other loves irrelevant" - Rupi Kaur
93. "Love starts as a feeling, but to continue is a choice. And I find myself choosing you, more and more every day." - Justin Wetch
94. "Where there is great love, there are always miracles." - Willa Cather
95. "Where we love is home – home that our feet may leave, but not our hearts." - Oliver Wendell Homes Snr.
Top Tips for What to Write in a Wedding Anniversary Card
Once you've read through this article and decided on what to write, there are a few tips for getting across what you *actually* want to say in the card. It's not quite as simple as it first sounds. Here are a few useful tips on how to write wedding anniversary wishes:
Be personal. The recipient will cherish their wedding anniversary cards forever, particularly if it's a milestone anniversary, so make it personal and make sure you sign your name. Don't assume they'll recognise your handwriting!
If it's not your own anniversary, think about your relationship to the couple. Risqué jokes might be hilarious for your best friend and their partner, but your father and stepmother might not see the funny side. Consider whether the people you're writing to would appreciate something funny or something more formal.
Write your message out in rough first, so that you can play around with the wording until it's just right.
Read your message aloud before you write it down.
Choose the wedding anniversary card depending on their styles and personalities. Does your wife love cards with flowers on, or your husband love funny cards? Do the couple have a shared hobby which you could find a card to match? Did they have a Disney-themed wedding and would therefore love for you to write a Disney quote inside? You'd be surprised what you can find!
Check your pen before you start - it sounds silly, but no one wants their pen to run out mid-way through a meaningful anniversary message.
If you're adding a romantic quote from someone else into your wedding anniversary card message, make sure you credit them - otherwise they may be expecting sonnets from you from then on!
READ MORE: 46 Inspiring Quotes About Love & Marriage
Our Favourite Wedding Anniversary Cards
Parrots Greeting Card – £3.35, Papier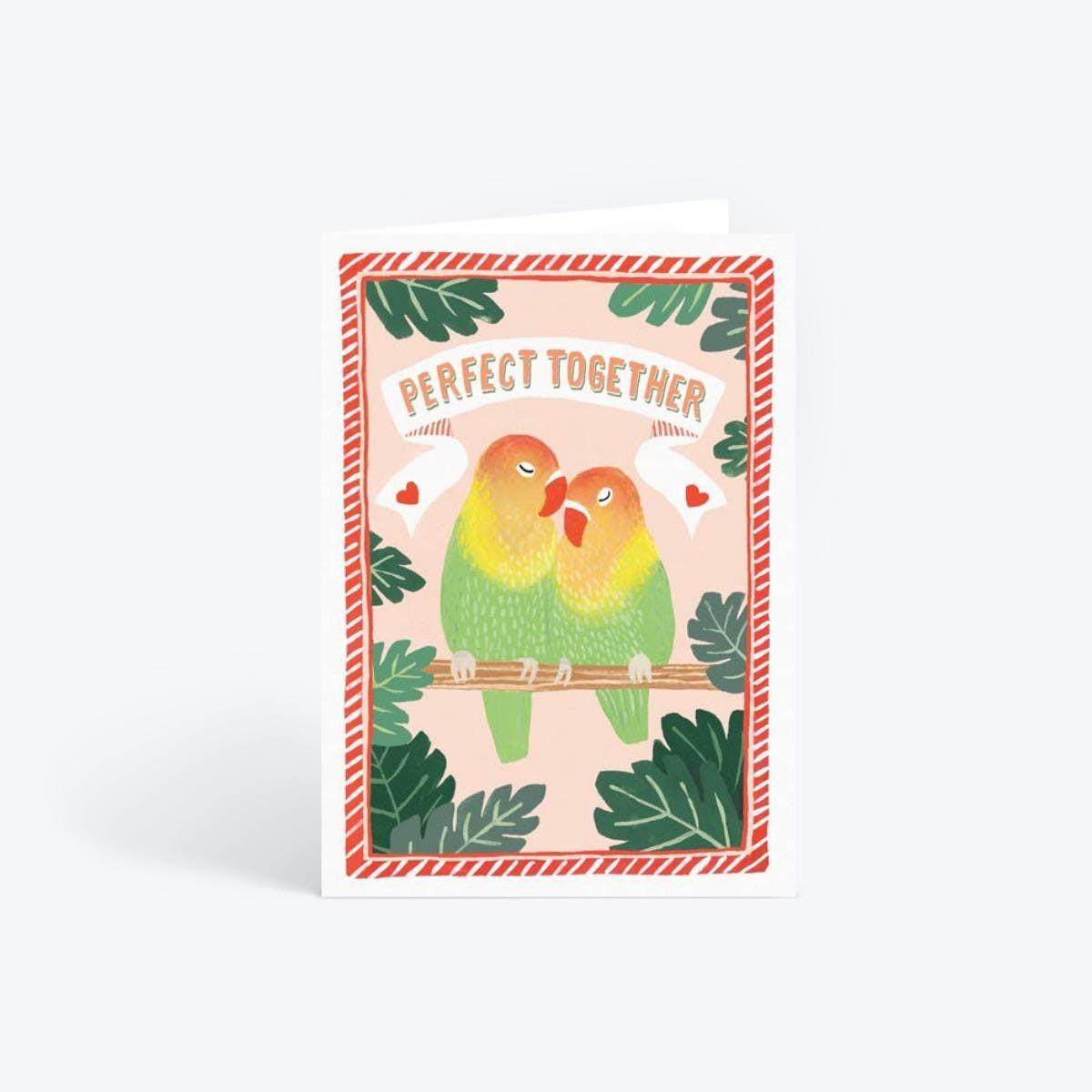 How cute is this parrot print wedding anniversary card by Papier? Printed on Mohawk paper to feel extra special, it says "Perfect Together" and has been left blank inside for your own wedding anniversary wish.
You Make Me Happier… Anniversary Card – £3, Etsy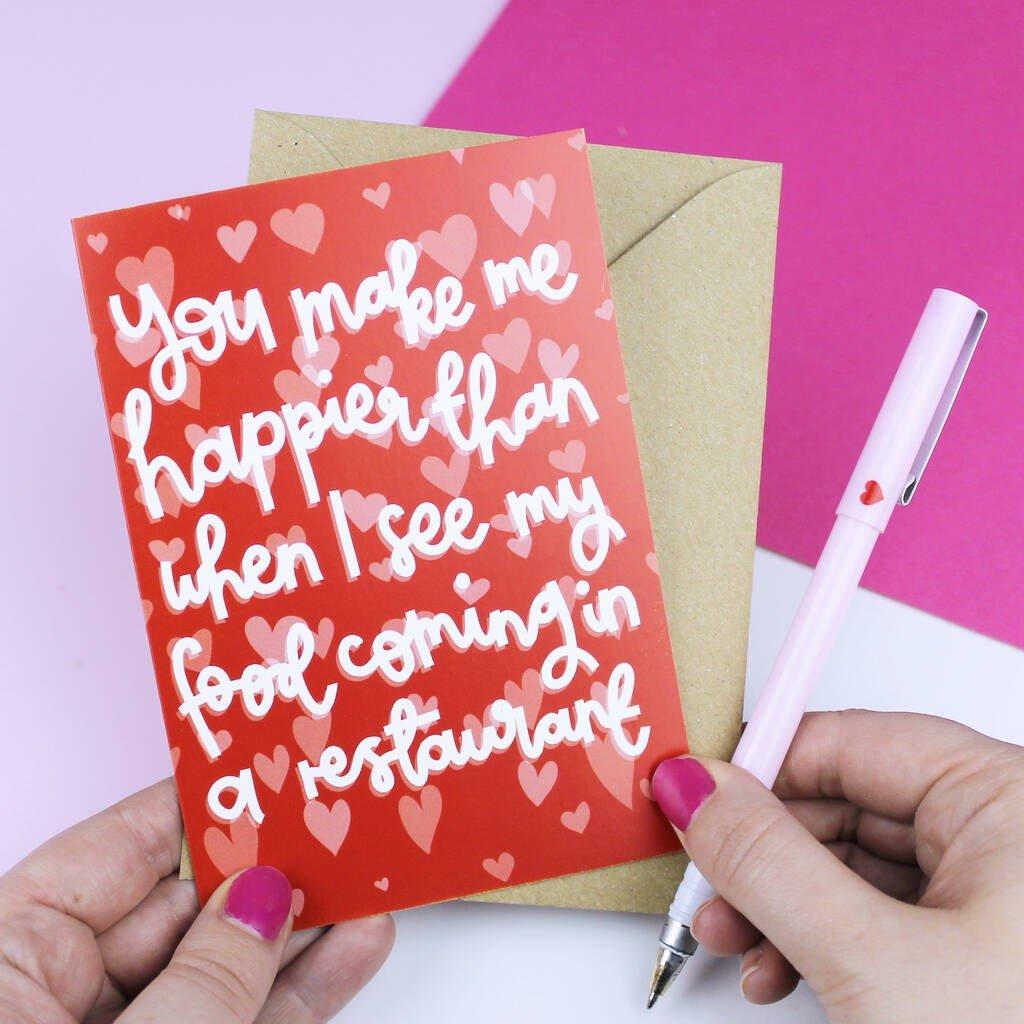 We also love this funny wedding anniversary card. For someone who knows how much you love eating out, this card will make a real statement.
Personalised Day Together – £6.50, Not On The High Street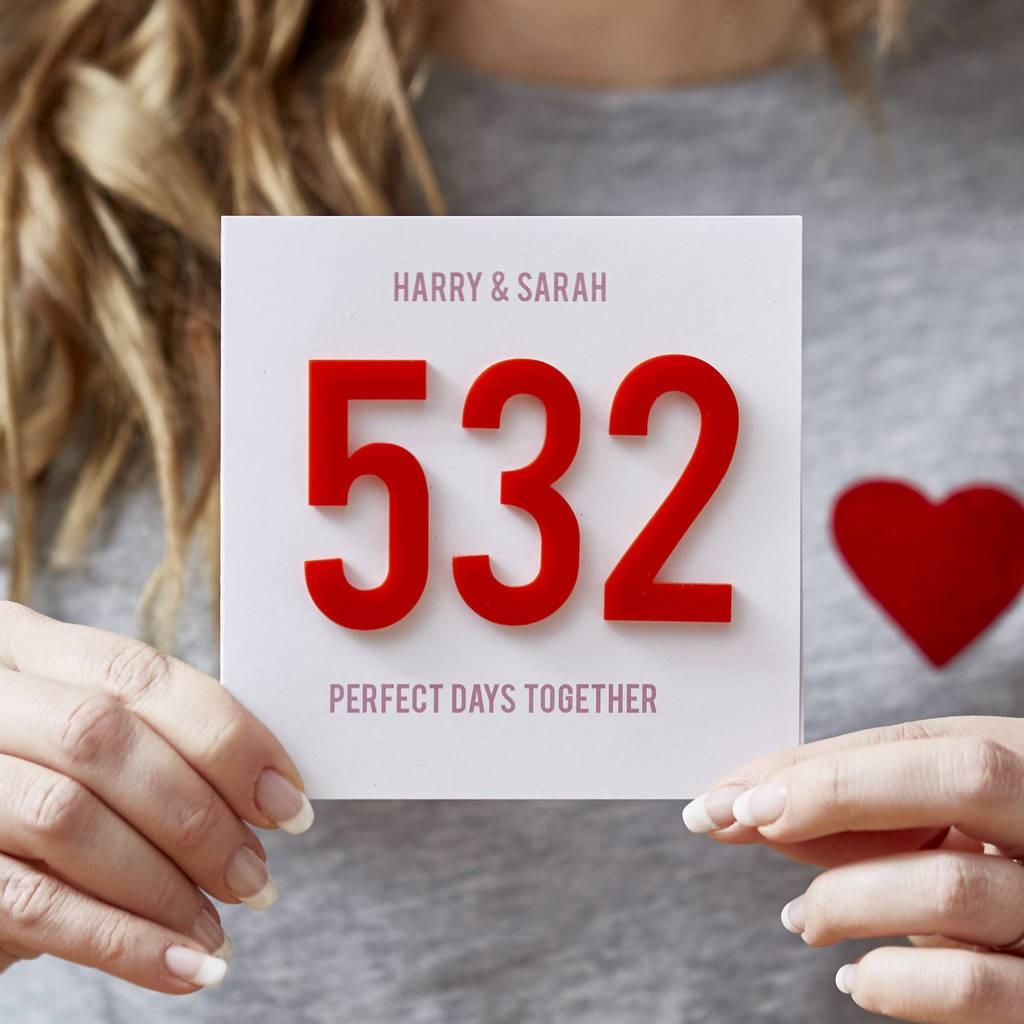 How about personalising your wedding anniversary card? This greetings card by Sophia Victoria Joy is available on Not On The High Street, and the numbers can be personalised with the amount of days the special couple have been married for. You can choose the message on the front of the card, the card colour, the envelope colour and the colour of the numbers!
Funny Anniversary Card – £2.00, Etsy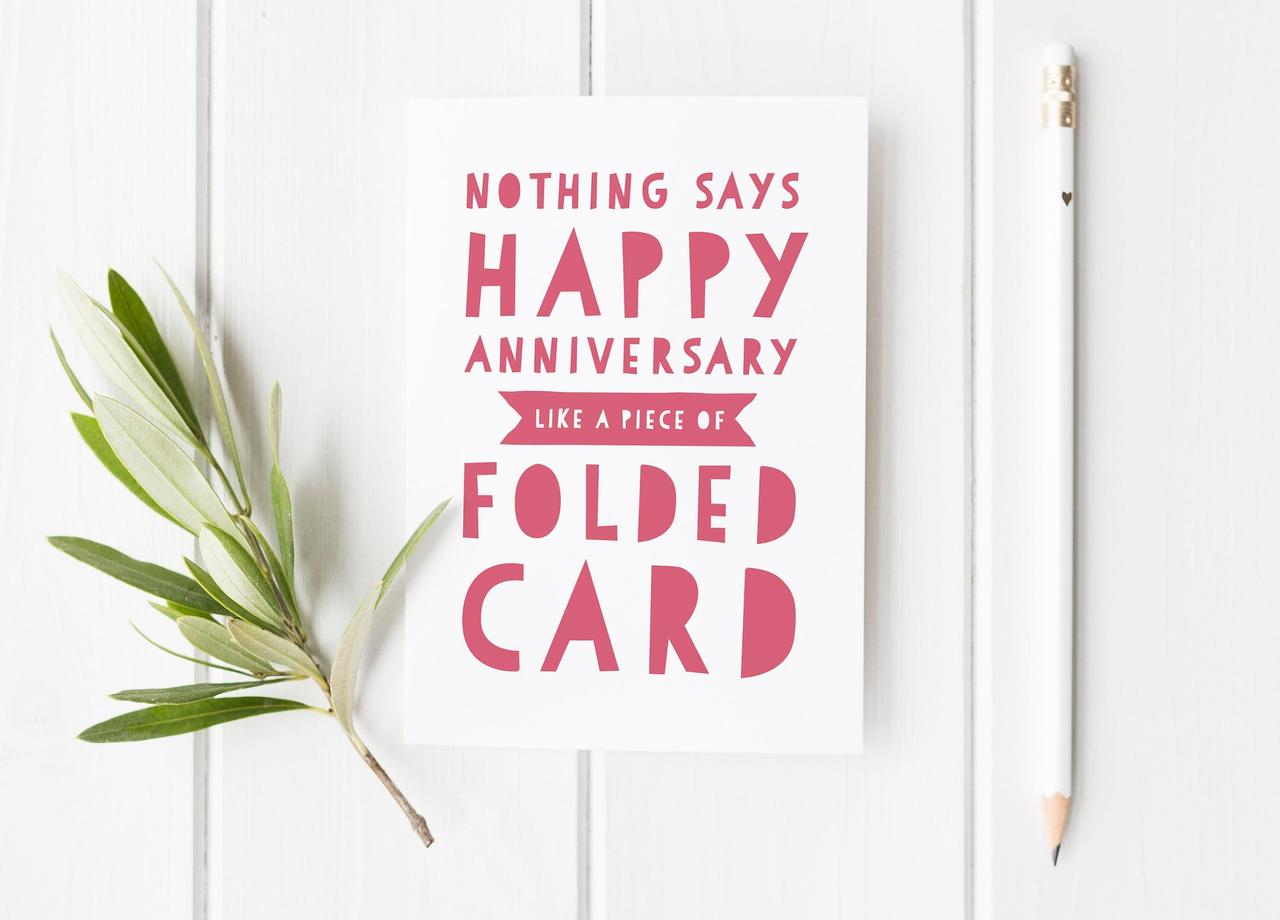 If you're shopping for a wedding anniversary card for your friends, you can't go wrong with something funny. We love this card by Sarah Burns Prints which says: "Nothing says happy anniversary like a piece of folded card." You could always go for the heart-felt approach with your wedding anniversary wishes inside…
First Anniversary Card – £3.50, Etsy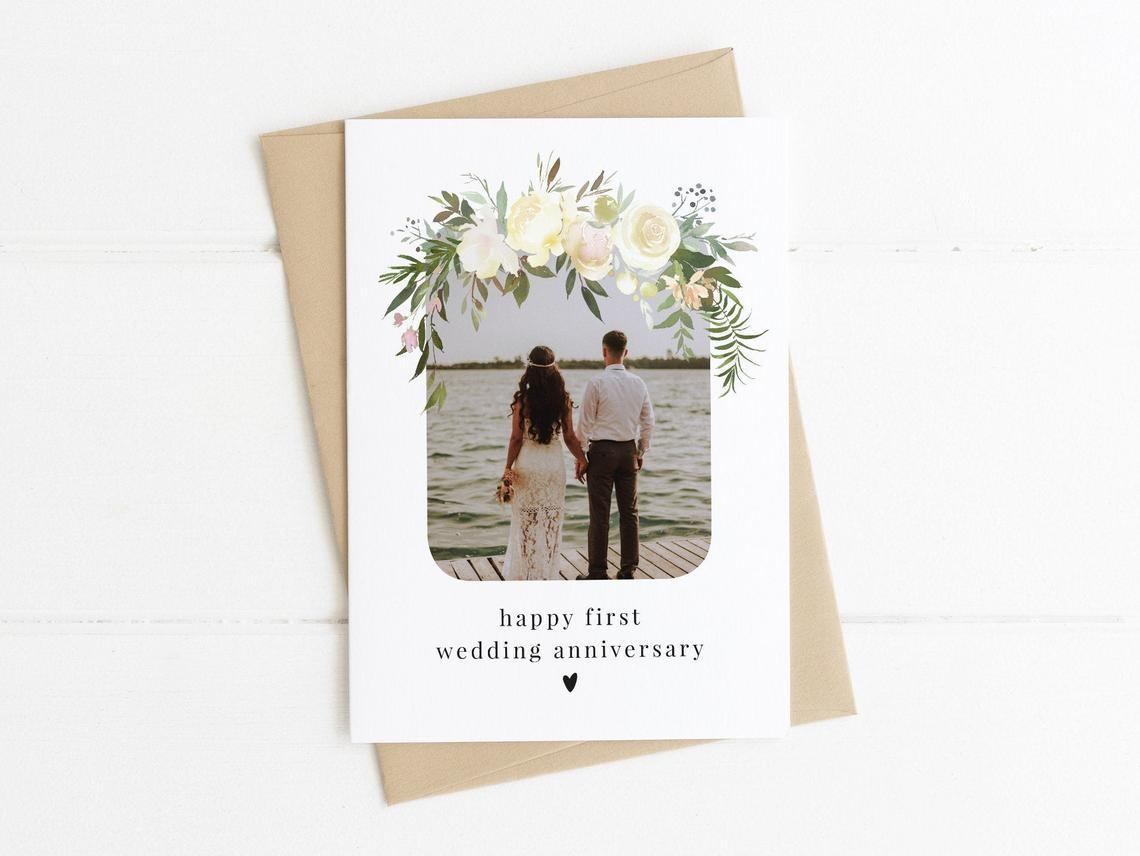 If you're a lover of a chic and simple greetings card, choose this photo anniversary card. Designed for a first wedding anniversary, it's a chance to crack out you – or the couple's – favourite wedding photo and it's such a romantic design.
Floral Anniversary Card – £3.35, Papier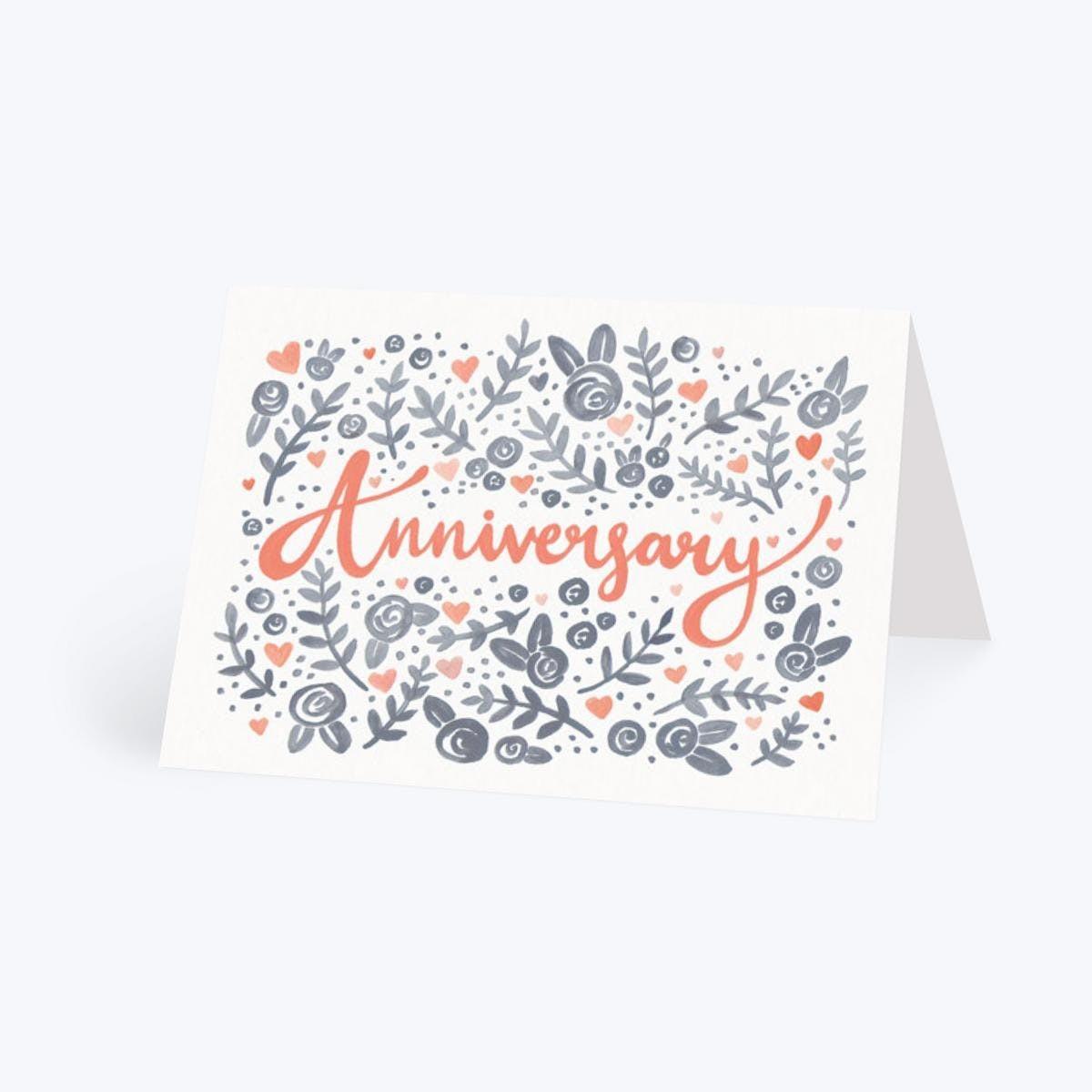 Back to Papier now with their pretty and simple floral anniversary card. If you order it online, you can customise it and get your own wedding anniversary wishes printed inside. What a fabulous touch!
James Ellis Paris Anniversary Pattern Card – £3.50, Etsy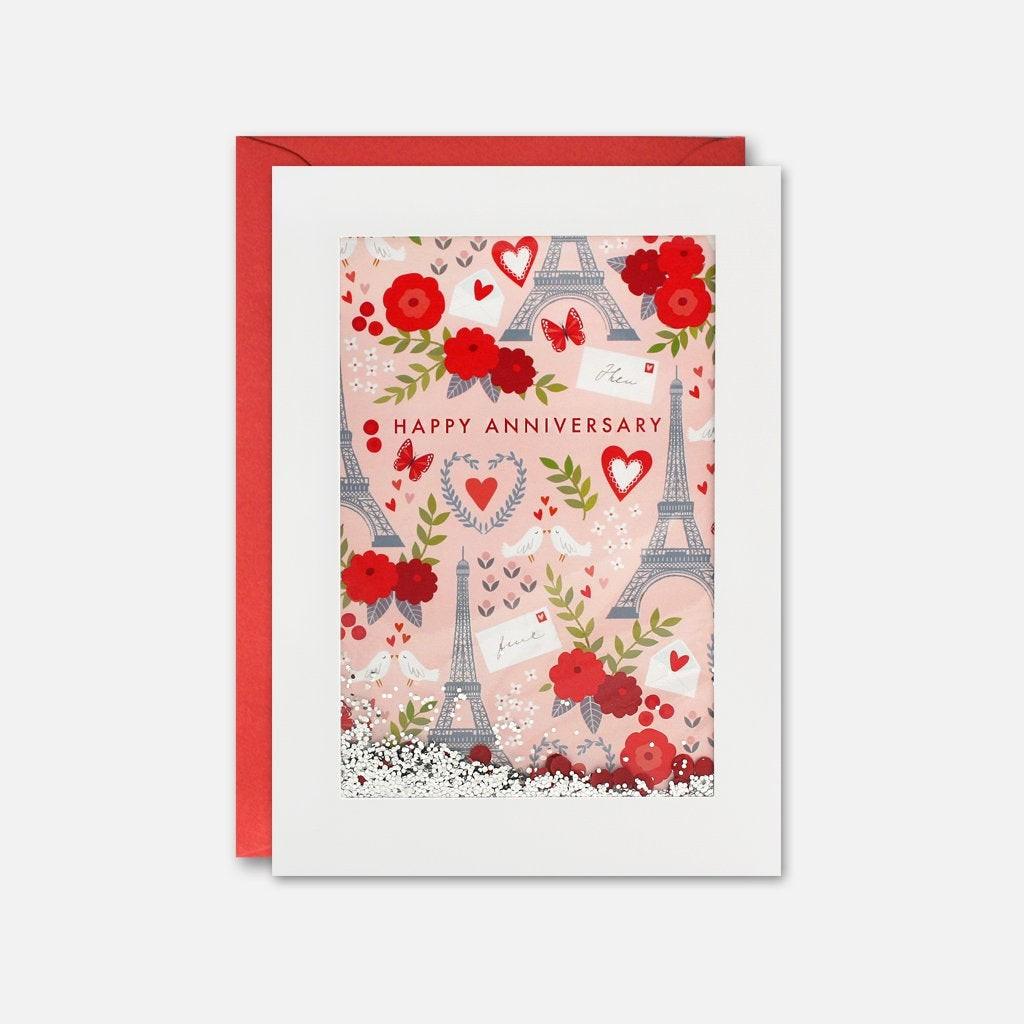 This wedding anniversary card by James Ellis is so pretty. Available on Etsy, it features an all-over Paris print with love hearts, butterflies and the Eiffel Tower. If the couple you're buying for got engaged in the French capital, this card would be perfect!
Happy Anniversary Card – £3.25, Etsy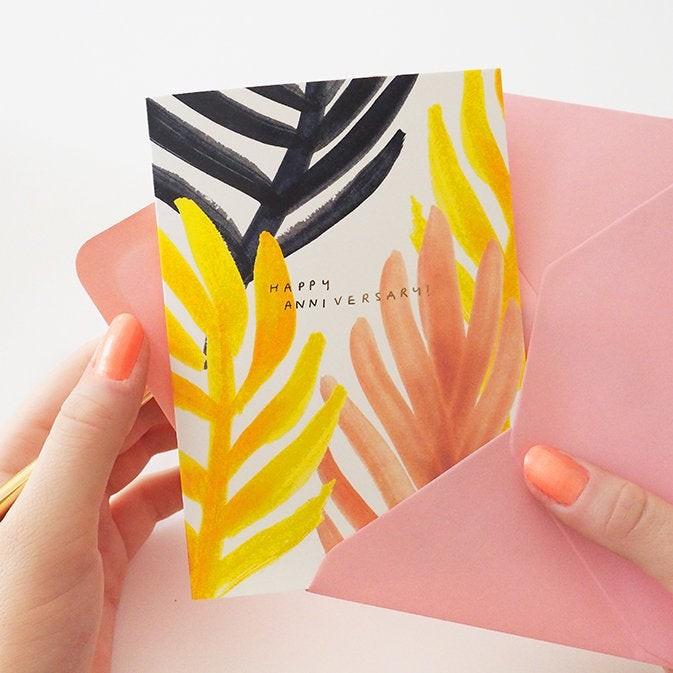 Keep things sweet and simple with this abstract print card by A Dornan Smith Design. Perfect for those anniversaries that fall between the milestone years, it has "Happy Anniversary!" written on the front and has been left blank inside.
Personalised Best Friend Anniversary Card – £4.95, Not On The High Street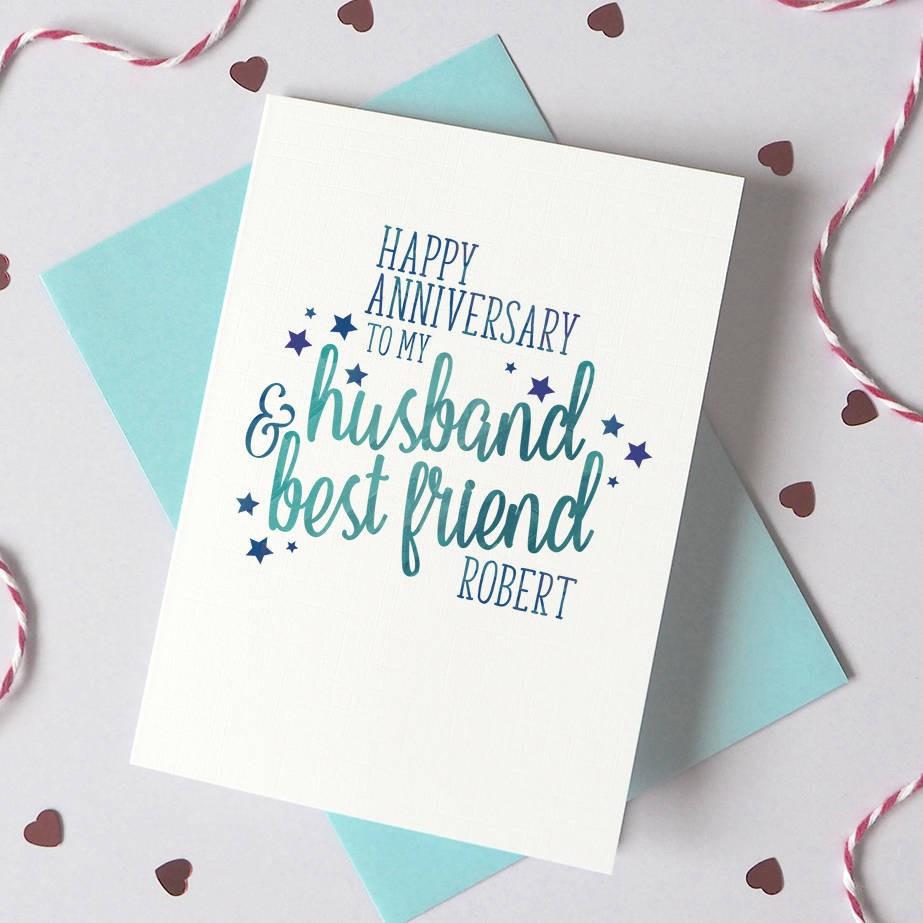 This cute design comes in husband or wife designs, and we love the personalisation. If you regularly tell your other half they're your best friend, this is the card for you.
READ MORE: A Guide to Anniversary Gemstones
Now that you've decided what to write in your wedding anniversary card for your other half or another couple, you need to decide on a gift. If it's for a first wedding anniversary, check out our first wedding anniversary gift guide here.