20th Wedding Anniversary Gifts: 30 China and Platinum Present Ideas
Celebrate 20 years of marriage with the traditional gift of china, or splash out on the modern gift of platinum. We've rounded up our favourite ideas to suit all budgets - from dinnerware to afternoon tea!
We have included third party products to help you navigate and enjoy life's biggest moments. Purchases made through links on this page may earn us a commission.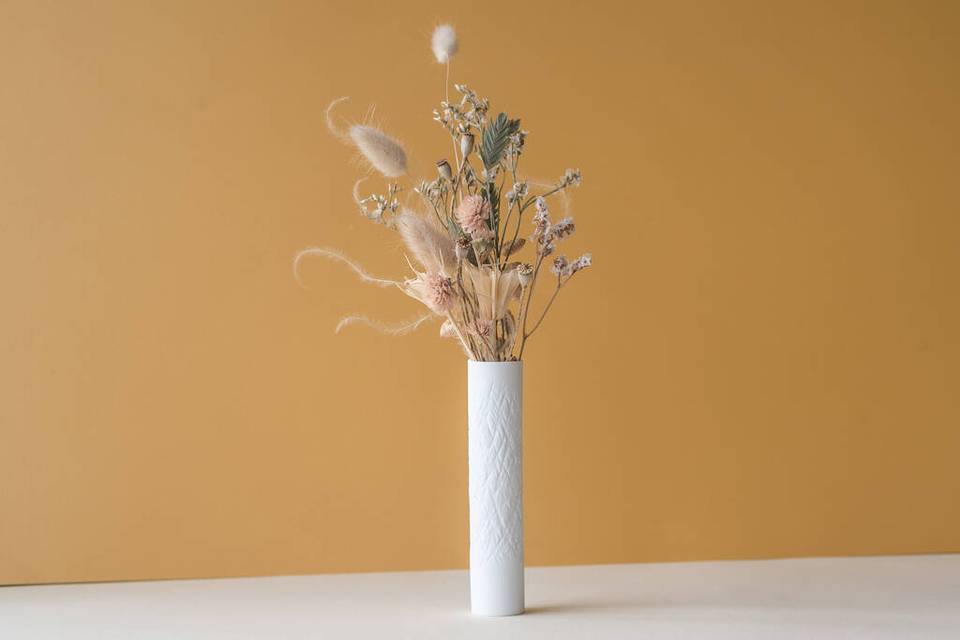 You did it! You made it to the big 2-0, and now, with 20 years of wedded bliss behind you, it's time to celebrate.
Whether you're marking your own 20th wedding anniversary or buying a 20th wedding anniversary gift for a happy couple you know, two decades of marriage is certainly something to commemorate.
Now that your marriage is in its twenties, we think it's time to splurge on an anniversary gift that will truly dazzle. If not now, when? For this truly remarkable occasion, we've handpicked some of our favourite (and the most fabulous) 20th wedding anniversary presents. These range in price and style, but all have one thing in common: they will show your spouse how much you appreciate them and the life you've built together.
We've gathered china and platinum gifts that we love, but we've also thrown in other classic presents that your partner will adore. From classic wedding china to gorgeous flower arrangements, personalised maps of the stars to platinum jewellery, these are gifts that keep on giving. Furthermore, they will spark nostalgic memories of the past as well as inspire adventurous ideas for the next 20 years.
Here are our top picks to gift your soulmate on your 20-year anniversary.
China Wedding Anniversary Gifts
China is a fragile material but when looked after properly it can last a lifetime, making it a perfect choice for celebrating 20 years of marriage.
1. Cup and Saucer – £19, Slice of Pie Designs
Keep your china gift traditional by gifting your partner a personalised cup and saucer from Slice of Pie Designs. Choose a colour and have their name printed on the front – you get bonus points if you present it to them as you bring them breakfast in bed the morning of your anniversary!
2. Royal Doulton Dinnerware Set – £130, John Lewis
A beautiful dinnerware set is something you will treasure for years to come – and if you're still using the crockery that was on your wedding registry 20 years ago, then it may be in need of updating! We love this striking Royal Doulton set available at John Lewis.
3. Spring Flowers and Bees Bone China Jug – £34, Little Birdy Designs
This beautiful bone china vase is a beautiful addition to your kitchen, whether it's filled with milk or a bouquet of flowers. The floral and bee-patterned jug graced the cover of Country Living in February of 2020 and will delight your spouse of 20 years.
4. Flamingo and Message Bone China Cup And Saucer – £25.95, Seahorse
Nothing says "lovebirds" better than this bone china teacup and saucer decorated with two, well... love birds! The flamingos' beaks form a heart that will touch the heart of your own beloved, and while they sip their morning cuppa, they will even be greeted by a personalised message on the inside.
5. Striped China Teacup and Saucer – £25.95, TheLittleBoysRoom
If your spouse likes more traditional teacups, then this striped bone china cup and saucer will be right up their alley. A heart is etched on the bottom and will make for a sweet surprise when they reach the end of their tea. Pair with a heart-shaped tea bag, and your gift couldn't be any more adorable!
6. China Shovel Teaspoon – £9.95, LAHLA studio
Accompany your 20th anniversary teacup gift with this quirky and cute shovel teaspoon. The miniature china shovel works perfectly for stirring in your milk or sugar, or as a dessert spoon. Delicate and chic, it is the perfect addition to your partner's tea set.
7. Personalised Botanical Leaf Print Bone China Bauble – £24.95, China Betty
Perhaps you got married or engaged around Christmas? If so, then this lovely and festive china bauble is the perfect gift to remind your partner of the 20 happy years that have since passed. The ornament is painted with retro leaves and can be personalised with your message in a 1930's-inspired font.
8. 20th Anniversary Personalised China And Oak Heart – £44, Little Foundry
Go traditional with this china and oak heart wall hanging, which will be engraved with your names, wedding date, and any other sweet words you'd like to leave your partner. The ceramic flowers are delicate and beautiful, while the message of love is timeless.
9. Fine Bone China Vase and Dried Flower Bouquet Gift Set – £49.95, Alyssa Martin
We love how chic and elegant this English fine bone china vase is, and we especially love that the bouquet of dried flowers comes with it! While fresh flowers are always a delight, the symbolism behind a bouquet that will never die - just like your love - is just too fitting.
10. Skull Bone China Plate – £38, Melody Rose
Not all spouses want romance and flowers on their 20th anniversary. Some, in fact, want a little dark humour. These gold-rimmed skull fine bone china plates are perfect for those couples who take "till death do us part" a little tongue-and-cheek, but who still want something practical and elegant for the dining room table.
11. Botanical Bird Mini Wall Plates – £9, Little Birdy Designs
Stylish wall plates are making a kitsch comeback and these beautifully illustrated botanical bird mini wall plates from Little Birdy Designs will be the perfect addition to your home. We love that you have a choice of 11 stunning designs.
12. Hand Decorated Teapot Set – £23.95, China Betty
If your other half loves a cup of tea, then a beautifully hand painted china teapot from China Betty will be a perfect choice for their anniversary gift. Choose your own word to be painted onto the teapot – you could go traditional with the word 'Tea' or have it personalised with their name.
13. Gin Teapot – £45, John Lewis
Is the love of your life more of a G&T drinker than a tea drinker? Then a stylish gin teapot will add some style to your Friday night drinks. This gin teapot from John Lewis holds four glasses worth of G&Ts.
READ MORE: Gin Wedding Ideas: Ginspiration for Gin Lovers
Platinum Wedding Anniversary Gifts
The modern alternative to the 20-year porcelain wedding anniversary gift is platinum, so if you think your partner would love a beautiful piece of jewellery to celebrate 20 years of marriage, we suggest you go modern!
14. Platinum Eternity Ring – £850, Goldsmiths
If you haven't already bought the love of your life an eternity ring, then now could be the perfect time. This stunning platinum band from Goldsmiths is covered in twinkling diamonds and will sit beautifully next to any wedding and engagement rings.
READ MORE: Eternity Rings: Gorgeous Designs That Will Last a Lifetime
15. Vera Wang Platinum Diamond Ring – £2,999, Ernest Jones
This Vera Wang platinum ring from Ernest Jones will be a timeless gift that your other half can wear in their day-to-day life to remind them of all the happy years you have spent together.
16. Platinum Mens Edged Fancy Wedding Ring – £1,200, Goldsmiths
This matte finish platinum ring from Goldsmiths is perfect if your husband is looking for a wedding ring upgrade. Platinum is traditionally finished to a high shine but we think this matte finish looks really stylish.
17. Meisterstück Classique Ballpoint Pen– £340, Goldsmiths
This classic Montblanc pen from Goldsmiths will be a stylish addition to anyone's desk. The timeless deep black precious resin features platinum-coated details and is surmounted by the white emblem. The perfect pen for writing love notes, we say!
18. Platinum Brilliant Cut Diamond Ring – £3,500, Goldsmiths
Perhaps when you proposed you couldn't afford the exact type of ring you wanted, but 20 years on you have a higher budget? Use your 20th wedding anniversary to upgrade to this gorgeous platinum and diamond engagement style ring from Goldsmiths.
19. Platinum Metallic Scratch Map With Stickers And Coin – £29.95, Luckies
The perfect 20th anniversary gift for the partner who loves to travel and has a penchant for the finer things in life, this platinum metallic scratch map comes with a scratch coin and icon stickers that will allow them to mark off the countries they've visited and personalise the world map to their preferences.
20. Personalised L S A Flask Decanter – £78.95, TheLittleBoysRoom
This gorgeous glass decanter is mouth-blown in order to create the rounded edges that give it its unique, hip flask shape. A great gift for a whiskey lover, the decanter comes with platinum detailing around the neck and can be customised with your partner's name - or perhaps your wedding date.
21. Personalised Platinum Leather 20th Anniversary Heart – £18, Little Foundry
A play on the platinum theme, these platinum-coloured faux leather heart ornaments are designed specifically for 20th anniversaries and will bring a smile to your partner's face. They'll also look great on the Christmas tree and will remind all those who gather at your home for Yuletide of the 20 years of love you two have shared.
22. Platinum Diamond Stud Earrings – £1,600, Karen Johnson
Go big or go home with these breathtaking platinum diamond earrings, which will dazzle your partner on your 20th wedding anniversary. The studs are just brimming with character and sparkle and we particularly love that the diamonds are conflict-free.
23. Platinum Brightest Diamond Solitaire Pendant – £1,250, Goldsmiths
The delicate beauty of this platinum and diamond solitaire necklace will not fail to wow your spouse on your 20th anniversary. The style is simple yet elegant, an understated look that will still turn heads. Such a luxurious gift is the perfect way to surprise and spoil your other half.
24. Calla Lily Pearl Ring – £85, Emma-Kate Francis
If you want to gift your spouse a ring on your 20th wedding anniversary that is stunning yet unique, consider this beautiful Calla Lily pearl ring. The iridescent freshwater pearl is set in a platinum band that features a curvaceous, flowing design that will look graceful and elegant on any finger.
25. Make Your Own Wedding Rings Experience – £475, Made By Ore
20 years is the perfect time to consider a new set of wedding rings, and, if you and your partner are DIY, this ring-making class just might be the perfect fit. In this fun and bonding experience, you can design bands in gold, palladium, or platinum, but we suggest the last in order to stick with the 20th anniversary theme.
26. Porcelain And Platinum Trinket Dish – £12, Katie Bentley Ceramics
Wondering where you're going to keep all these new earrings, pendants, and rings? Add this porcelain and platinum trinket dish to your 20th wedding anniversary present stash and display the beautiful pieces of jewellery - or any other odds and ends - that you've gifted the love of your life.
20th Wedding Anniversary Gifts
If you want to forget the rules and choose a wedding anniversary gift that is not china nor platinum, then these are just a few of our favourites!
27. Bespoke Illustrated Portrait Couple Print – £85, Dearly Beloved
Capture your special moment in time with a specially commissioned couple's illustration by Dearly Beloved of you and your loved one. It will be a lovely reminder of 20 years of marriage that can hang in your home for years to come.
28. Personalised Map of the Stars – £79.95, Greater Skies
If your other half is the person you have spent many nights stargazing with, then this stunning map of the stars from Greater Skies will be a stellar gift. Give Greater Skies a specific date – perhaps your wedding date – and they'll produce a map of the stars in the sky on that day. You can even add your own personalised message.
29. Flowers – from £25, Marks & Spencer
Keep things traditional by sending flowers on your anniversary. Marks & Spencer have a range of gorgeous blooms and you can choose to add things such as chocolates and Champagne if you want to make your gift even more special.
30. Mini Break – from £40, Virgin Experience Days
Whether it's a romantic dinner and a night in a swanky hotel or a full-blown mini break somewhere new, Virgin Experience Days has a range of options around the UK. If your spouse has everything they could want, then an experience could be a much better idea than a physical gift.
If you are looking for even more 20th wedding anniversary gifts then start browsing our online shop.