40th Wedding Anniversary Gifts: 32 of the Best Ruby-Inspired Ideas
Whether you and your partner are celebrating your 40th wedding anniversary or you need inspiration for gifts for friends and family, we're found dozens of ruby-inspired ideas that they'll love.
We have included third party products to help you navigate and enjoy life's biggest moments. Purchases made through links on this page may earn us a commission.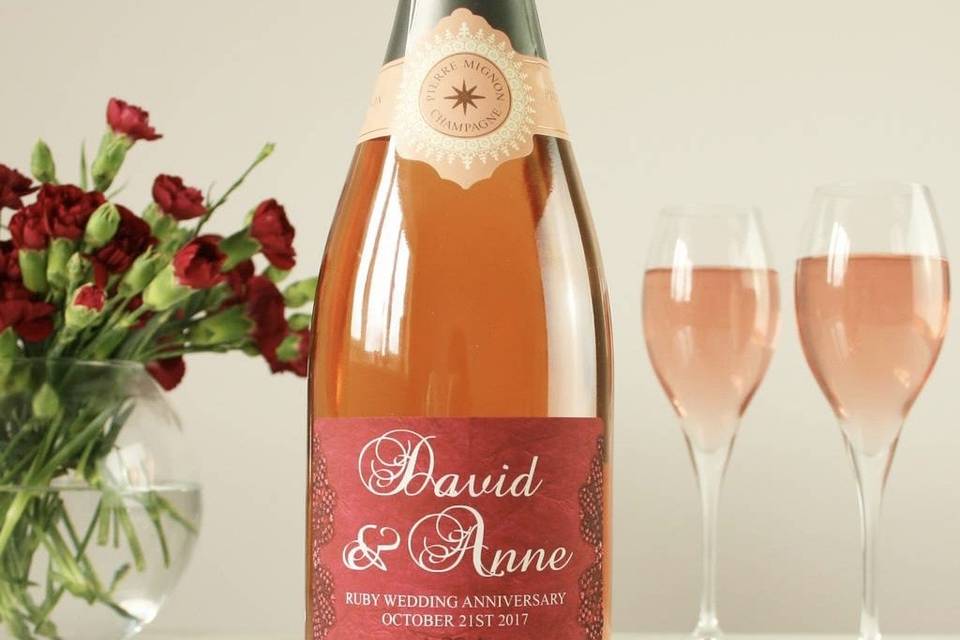 A 40th wedding anniversary is certainly something to celebrate, and the traditional 40th wedding anniversary gift is the ruby.
There's so much symbolism associated with this vibrant red stone: it represents romance, devotion and passion, all qualities that make it very worthy of such an amazing milestone. It's also said that it has associations with health and wisdom, other factors that will certainly have proved important throughout four decades together.
But while the gem itself is a great place to start, especially if you want to buy a piece of investment jewellery, there are plenty of ways you can interpret the ruby theme for a 40th anniversary gift. Why not draw on its signature scarlet hue with artwork or fashion pieces like designer sunglasses, or opt for treats like chocolates, plants or beauty products that nod to ruby in their own way?
Whether you're shopping for your other half to mark the occasion of your 40th wedding anniversary, or need a creative idea for a couple you know, here are our favourite gift ideas to shop now, with something for every budget.
40th Wedding Anniversary Gifts
Whether you want to take the ruby wedding anniversary theme literally or you simply want something extra special to celebrate this milestone year, take a look at some of our favourite ruby wedding anniversary gifts for couples.
1. Ruby Wedding Anniversary Canvas Print – £20, Hopsack and Olive
A personalised print is a lovely way to celebrate a ruby wedding anniversary. This canvas print from Hopsack and Olive can be personalised with the names of the couple, the year they were married and also carried a lovely message.
READ MORE: Wedding Anniversaries: Your Year-by-Year Wedding Anniversary Gift Guide
2. A Mini-Break – Virgin Experience Days
You will find a huge range of romantic mini-break ideas when you browse 40th wedding anniversary ideas on Virgin Experience Days. From day trips for Champagne afternoon tea right through to spa breaks and romantic weekends away, there's something here for every couple.
3. Ruby Wedding Anniversary Rose – £46, The Gluttonous Gardener
This ruby rose from The Gluttonous Gardener is a perfect nod to the ruby wedding anniversary theme and is perfect for a couple or a person that loves spending time in their garden. We also love the idea of a romantic idea of a gift you can grow and nurture.
4. Ruby Chocolate Ganache Truffles – £14.95, Not On The High Street
Ruby chocolate is a clever option for anyone looking for a reasonably-priced alternative to… well, an actual ruby. It's a lighter, fruitier twist on traditional chocolate that has a berry-like flavour; these truffles have a dark chocolate shell and subtly tart ruby chocolate ganache centre.
5. Personalised Celebration Sponge Cake – £40, Marks & Spencer
A moist sponge with rich buttercream and strawberry jam covered with sweet white icing – no, we don't know anyone who could resist a slice either. This cake, adorned with an eye-catching ruby ribbon, serves 30, so it's fab for surprising the couple of the hour at a celebratory gathering. Order a custom cake topper in advance if you want to go the extra mile.
6. Modern Photo Foiled Notebook – £26.99, Papier
A gorgeous idea for anyone who likes to scribble down brilliant ideas as they go – this notebook by Papier is a fully customisable gift, making it a sleek (and very appropriate!) twist on standard red stationery.
READ MORE: Anniversary Poems: The Best Poems to Write In Anniversary Cards
7. Southern Indian Cookery Class – from £130, Food at 52
If the couple in question loves a 'Ruby Murray', how fun would it be for them to learn how to make one from scratch? Food at 52 runs both Southern Indian and Indian Street Feast courses that any foodie will love – the school is located in Clerkenwell, so booking a class would be excellent as a part of a celebratory city break in London, too.
8. Loving Candle – £50, Bella Freud
When you boil it down, a long and happy marriage is really all about love, and this Bella Freud candle makes a super stylish reminder of that. It's a sultry mix of tuberose, amber and sandalwood (ideal for setting the mood for a romantic night in for two), and encased in a suitably ruby red jar.
9. 40 Years Of Being Right Anniversary Mug – £9.99, Find Me A Gift
We all know someone these mugs remind us of, and if they made you chuckle, chances are they'll find them funny too. They're a purse-friendly present that they'll make use of every single day – if you want something a little bigger, why not add them to a hamper as part of a DIY afternoon tea kit? Unfortunately, there's no same-sex options for these mugs yet, but you could always get these personalised mugs which have their wedding year on.
10. The Metal Foundry Sundial – From £72.95, Etsy
Anyone with a beautiful garden (or even a sunny windowsill) will be thrilled to display this quirky 40th anniversary sundial, which is updated each year to reflect the date they tied the knot. Each one is made with 99% per cent recycled material and no plastic, so it's an eco-friendly pick as well.
11. Ruby Tiger Gin – £34.95, Tiger Gin
Gin lovers needn't miss out on a ruby-themed present – just feast your eyes on this beautiful bottle from Tiger Gin, filled with a uniquely sweet and tart drink to raise a glass of on this important day. As well as the unusual juniper, it includes the flavour of rhubarb to create a dazzling pink gin – juicy, refreshing and dangerously drinkable.
12. Ruby Wedding Anniversary Cushion Cover – £37.95, Vintage Designs Reborn
How adorable is this romantic 40th wedding anniversary cushion cover from Vintage Designs Reborn. You can choose from a range of pretty pastel shades and it will be a lovely reminder of a special anniversary.
13. Personalised Ruby Wedding Anniversary Photo Album – £39, Made by Ellis
After 40 years of marriage you are sure to have so many happy memories together – why not collect some of your favourite photographs and put them in a beautiful personalised album? We love this gorgeous album from Made by Ellis.
14. Ruby Anniversary Newspaper – £44.99, Getting Personal
If you are looking for a unique anniversary gift, then the gift of a newspaper from the day of getting married is a romantic idea. This anniversary newspaper from Getting Personal comes with a certificate of authenticity that includes a special personalised message.
15. 40th Wedding Anniversary Personalised Champagne – £44, Bottle Bazaar
After 40 years of marriage we reckon the happy couple have more than earned the right to pop open some champagne. We'd choose this personalised rosé bottle especially for ruby wedding anniversaries if we were them.
16. Ruby Anniversary Box of Dates – £21.50, A Year of Dates
After 40 years of marriage, it's easy to run out of date ideas! Give them some inspiration with this year of dates gift box which you can personalise to create an adorable keepsake.
40th Wedding Anniversary Gifts For Her
From jewellery to perfume and fashion accessories, there's a ruby themed 40th wedding anniversary gift for her that she's guaranteed to love here.
17. Rose Gold and Ruby Ring – £800, Goldsmiths
This diamond-encrusted ruby ring from Goldsmiths is the perfect statement gift if you are looking for something extravagant for your other half. We love the rose gold finish and the huge amount of sparkle this ring has!
READ MORE: Anniversary Gifts for Her: 50 Romantic Ideas Your Wife Will Love
18. Michael Kors Sexy Ruby Eau de Parfum – £64.50, The Fragrance Shop
This gemstone-shaped bottle would look chic on any dressing table, and the perfume inside lives up to the glamorous exterior. The top notes are fruity, with raspberry and apricot tempered with black pepper, while a heart of orange blossom, jasmine and rose and a vanilla and cashmere base give it a unique scent that will remind them of their happy anniversary memories every time they spray, making it the perfect 40th anniversary gift for her.
READ MORE: Wedding Anniversary Stones: A Guide to Anniversary Gemstones
19. Women's Oval Sunglasses - £147, Dolce & Gabbana
If you're celebrating 40 years of marriage and are looking for a ruby anniversary gift for her she'll cherish, we'd suggest these ruby frames from D&G, a lively red colourway that will be ideal for any sunny anniversary holidays and beyond. They're super chic and a real investment.
20. Raspberry Ruby Bamboo Ring – £110, Otiumberg
Otiumberg jewellery hits that dreamy spot between affordable and aspirational; it's a gorgeous gift that won't break the bank. In the centre of this slimline band is a raspberry red ruby that can be worn stacked with other rings or slid on solo for a more delicate finish.
21. Atelier VM Gold Ruby Eye Charm – £190, Liberty
An 18ct gold disc with a glistening ruby set right in the middle – who wouldn't adore this minimalist beauty? You could purchase it either to be strung it onto an existing chain or to turn into a bracelet, necklace or any other precious piece for your other half before you present it to them.
22. Ruby Ring – £314.93.03, Envero Jewelry
This rose gold, ruby and diamond ring from Envero Jewelry is an extra special way to mark your ruby wedding anniversary. If rose gold isn't your thing then you can also have this ring made in platinum.
READ MORE: 85 Wedding Anniversary Wishes to Write in an Anniversary Card
40th Wedding Anniversary Gifts For Him
Treat him to his favourite tipple, a ruby themed accessory or something totally unique and personalised. We guarantee he'll love these 40th anniversary gifts for him.
23. Redbreast Ruby Whiskey – £449.95, House of Malt
No, this is not a cheap 40th anniversary gift idea, but for the right whiskey connoisseur, it'll be one they'll be totally floored by. Described as 'rich and complex', this whisky is an unforgettable tipple that's been years in the making – just like a longstanding marriage, making it a great ruby anniversary gift for him.
READ MORE: Anniversary Gifts for Him: 50 Unique Ideas Your Husband Will Love
24. Time Teller Watch – £115, Nixon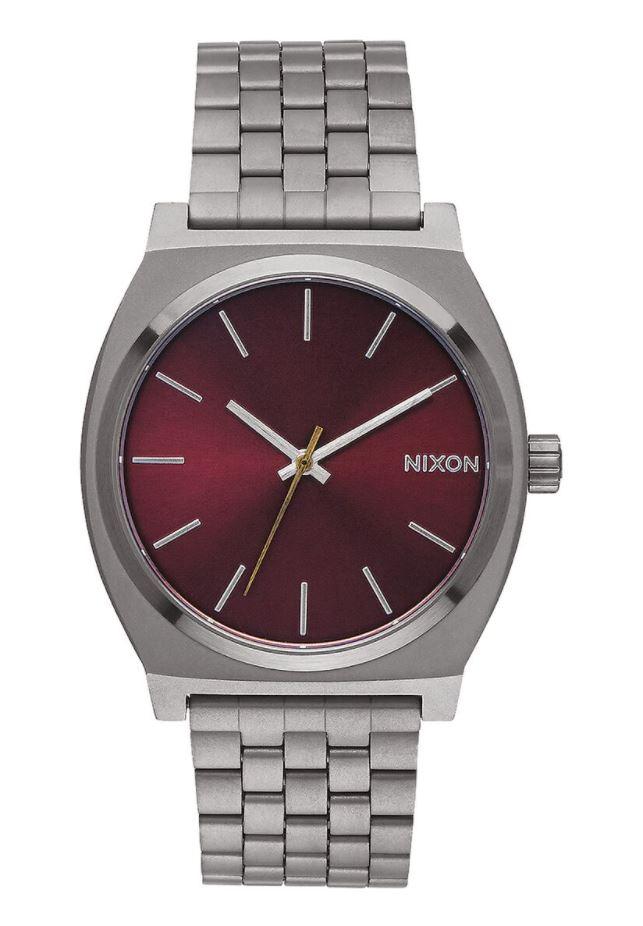 Watches encrusted with actual rubies can get a bit blingy, but we love the tasteful hint of deep red in this Nixon watch. Its simplistic design is complemented by the bold ruby-red of the watch face. It also looks far more expensive than its £115 price tag.
READ MORE: The 35 Best Staycations for 2020 and 2021
25. Sterling Silver and Gemset Barrel Twist Cufflinks – £450, Aspinal of London
Elegant, amazing quality and suitable for the smartest of suits, these ruby-studded cufflinks are the luxe gift of a lifetime spent together. Each one is handcrafted from sterling silver and features seven .25ct rubies, delivered in an exquisite presentation box that will have him wowed before he even opens it.
26. Personalised Distressed Leather Journal – £14.95, Paper High
Is your other half always scribbling down thoughts and ideas? If you're answer is 'yes', we think he'd appreciate one of these rich red-toned distressed leather journals. Personalise it with his name or initials or perhaps your wedding date to transform it into the perfect 40th anniversary gift for him.
27. Personalised Initial Leather Heart Bookmark – £10.50, Hurley Burley
Romantic types will appreciate this red leather heart bookmark. Add his initials or yours so that he's reminded of your special anniversary every time he picks up his favourite read.
READ MORE: Our Favourite Romantic Quotes to Use on Your Anniversary Card
40th Wedding Anniversary Cards
A beautifully written card is just as important as finding the right gift, give yourself time to write a lovely message in your 40th wedding anniversary card. If you're struggling then take a look at some of our favourite wedding anniversary wishes.
28. Love Sparkle 40th Anniversary Card – £12.90, Sew Very English
We love all things that glitter and this sparkling 40th anniversary card from Sew Very English is simply stunning. A red glitter heart is surrounded by romantic words and this is a perfect card for a couple you know celebrating this special anniversary.
29. Ruby 40th Wedding Anniversary Card – £3.95, The Hummingbird Card Company
This pretty ruby wedding anniversary card from The Hummingbird Card Company is perfect for either a couple who are celebrating their 40th anniversary or for your other half to celebrate your own ruby wedding anniversary.
30. Personalised Ruby Wedding Anniversary Card – £6.50, Pogofandango
Are you parents about to celebrate their ruby wedding anniversary? Then this laser cut card from Pogofandango can be personalised with the year of their wedding and the current year. You can also change the names on the front of the card so you can tailor it to suit any couple you know.
31. Personalised Ruby Wedding Anniversary Card – From £3.99, Forever Dotty Gifts
The happy couple will appreciate the thought behind this personalised card. Add their names to this beautiful gold and floral design and we bet they'll keep it for years to come.
32. Ruby Wedding Anniversary Map Heart Card – £14, Bombus
Get ready to be your parents' favourite child when you gift them with this personalised card. The heart features a special location of your choosing and you can add your mum and dad's wedding date to the bottom of the card. We'd go for the place they got married or honeymooned.
For more anniversary ideas start browsing our complete guide to wedding anniversaries.