Whether your plans for a big wedding have been scuppered by the Covid-19 pandemic or you're increasingly intrigued by the idea of planning a small wedding or micro wedding, downsizing your wedding day doesn't have to equal disappointment. As most couples engaged to be married at the current time will be only too aware, planning and replanning a large wedding in line with ever-changing government guidelines can be incredibly stressful, with continual postponements adding to not only escalating wedmin but also taking a significant toll on the mental health of couples and wedding suppliers alike.
While you may still be holding out for a huge party down the line (and what a bash that will be), if you're considering a small wedding in the meantime or even rethinking your original ideas in favour of an intimate do, the following four couples will deliver a hefty dose of hope, joy, love and small wedding inspiration aplenty.
Having dreamed of large weddings themselves, they downsized their wedding days originally due to necessity but soon realised that a small wedding had some unique, jubilant advantages. From having a treasured pet join the recessional to letting go of the pressure of having to please a huge crowd of wedding guests, here's why real couples wouldn't change their small Covid weddings for the world.
READ MORE:
Nic & David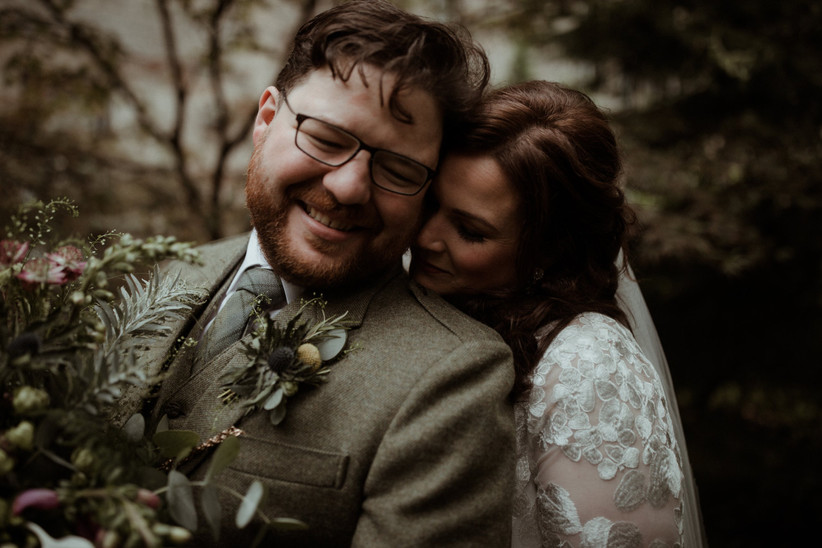 PR Director and founder of Black Book Communications Nic and her husband David had originally planned a long weekend of wedding festivities to host family flying in from down under. The Covid-19 pandemic unfortunately had other ideas…:
"My husband is Australian and we'd planned to have a huge three day celebration here in bonnie Scotland to welcome all of our visitors. When the restrictions showed no signs of lifting and travel of any kind seemed like too much to hope for, we knew that we were going to have to either cancel the wedding and put everything on hold indefinitely, or go ahead and make the most of things."
Photography by Rachel & Tonie
Taking the Leap
"Once we'd decided to go for it, we focused on the fact that we just wanted to get married and we knew that everyone would be behind us. The first step in making the decision was speaking to our parents who gave us their blessing to go ahead with the small wedding and everything really went from there.
"Our suppliers were all amazing. If they couldn't help with the smaller wedding, they refunded deposits without hesitation which was a huge relief. We unfortunately didn't have great luck with our original venue and have had to seek legal action there but we've made peace with that and just had to draw the line and focus on the plan B wedding."
How We Downsized Our Wedding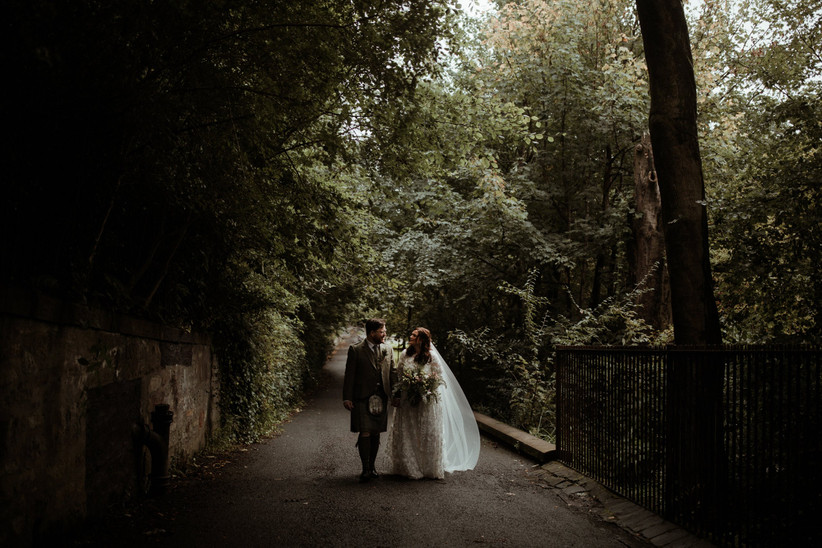 "Giving up on the big day was a hard hurdle to get over but once we embraced it and knew that the important thing was committing to one another and getting married, everything else fell into place.
"The vibe of the original wedding had been very laid back with lots of plants and botanicals, local seafood and home cooked, seasonal Scottish food served at a big manor house that we'd rented for the three days. Switching to a smaller wedding meant that it was a one day thing rather than an entire weekend, and we'd gone from 175+ guests down to seven, in line with the restrictions.
"We kept our flowers seasonal and Scottish, as well as the food, and were thankfully able to work with the same amazing suppliers we'd planned the original wedding with. We came up with a much more scaled back version of our vision and every single supplier made it feel just as special, which meant the world to us.
"The one major Covid curveball that I had to contend with was with my dress. The 10 month waiting list for the Italian designer I'd originally wanted went out the window overnight as lockdown one set in, so I had to have a real rethink! Where was I going to find a dress I liked in just six weeks and would buying something off the rack fit me? Going from the big wedding to a wee one (as we now labelled it) propelled me to reconsider the style of my dress too.
"We were now going with a relaxed, intimate feel so the big satin gown suddenly didn't work and wasn't going to be ready in time anyway so I had to pivot. The same week of the dress lead time news, we had another challenge to contend with: a date change from the priest! On reflection he was right that we needn't wait. Jumping in and moving things forward was a major shift to make, but again, once you get your head around a new plan and just decide to go with it, everything becomes much easier.
"I found a dress on ASOS and it was perfect – much more laid back and boho and covered in embroidered botanicals so it ticked all of the plan B boxes and I felt so happy in it for my 'small day'. The earlier date also worked as the garden was green and gorgeous and made for the most amazing backdrop for our photos."
Our Small Covid Celebration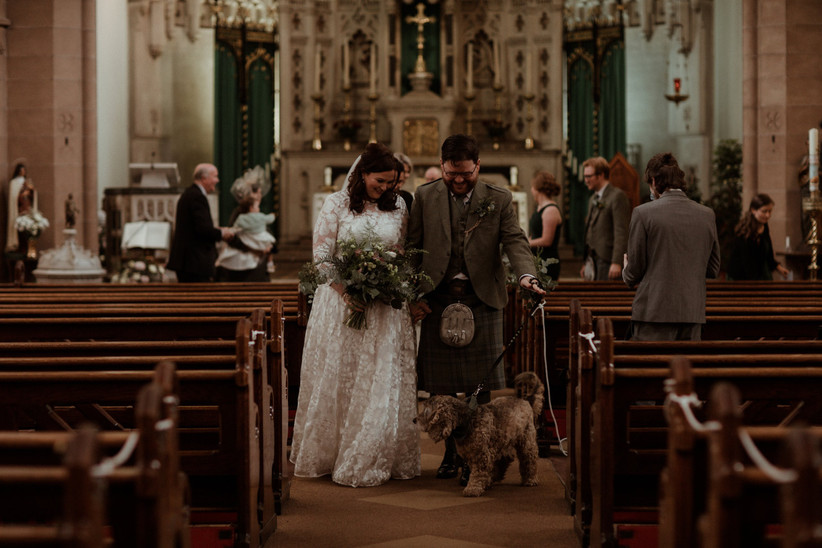 "We got married in the West End of Glasgow at our local church, St Peters. We'd planned to get married over in St Andrews originally at a church we'd never been to, so keeping it local and getting married in the beautiful church that we go to was incredibly special.
READ MORE: The 22 Best Places to Get Married in Scotland
"Rachel from Blooms Glasgow was amazing and took charge of everything floral – the bridal bouquet and flowers for the bridesmaids stayed as planned, as did the pew ends (going from 60 to six!). She even moved some of the big plants from the shop into the church to bring in my love of all things botanical in and it was the loveliest touch!
"It also felt as though John from Edinburgh Catering was one of the family by the time our big (small) day came round. We'd had to cancel the trial with him and our numbers had reduced hugely too so we didn't think that we could make it work, but he was able to cater the small event himself and kept the menu as we'd planned which again brought us so much joy! Knowing that all of the time and thought we'd put into the big day was still able to be incorporated into the wee wedding was so rewarding. The food was amazing and there had been so much time and effort put into making it special that we really felt the love.
"Our brilliant photographers Rachel and Tonie were at the church when we arrived and stayed with us for photos in the garden and then onto the Botanic Gardens which we're lucky to have on our doorstep. We love the photos so much - they've captured the intimacy of our wee wedding so well and we will treasure them forever."
Zooming Down the Aisle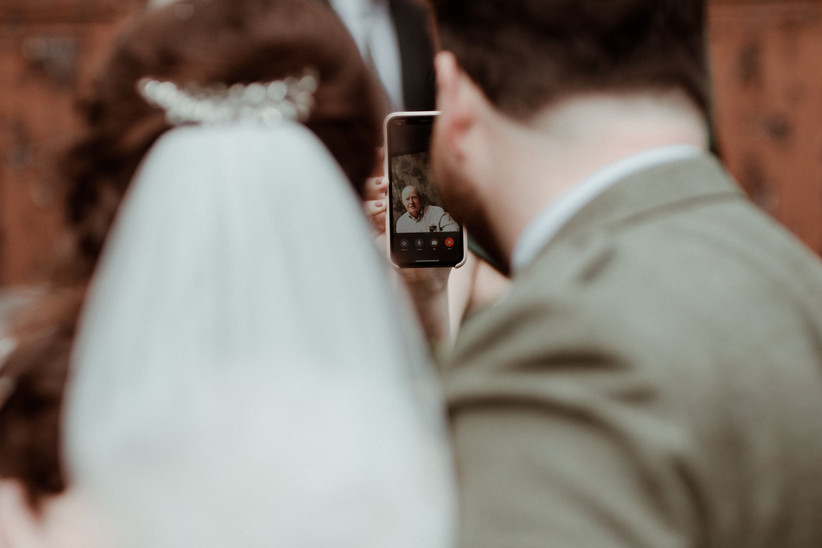 "Getting our head around Zoom to accommodate guests who couldn't be there with us on the day but wanted to watch and celebrate in their own way took some thinking, but again we'd become Zoom experts by that point so with the help of a handy cameraman and videographer, not to mention a very understanding priest, we were able to share our 'I do' moment with our closest family and friends. Just as we were pronounced husband and wife, our tech guy switched the mute off and we heard cheers from all over the world via the speakers and it was so emotional knowing that everyone was right there with us, even though we were in an empty church!
"I guess that the hardest part of giving up on the big wedding is the feeling that you're going to miss out on the party and seeing everyone, and for me, knowing that my lovely husband wouldn't have his mum and dad there on his wedding day was a big deal but they were so supportive and cheered us on at every stage. They even threw their own party over in Australia and watched us on a big screen at a venue there. The best man planned another party with school and university friends (as there were no restrictions there at the time) and we had some incredible calls, photos and messages from everyone there throughout the day. It was so nice to know that while we weren't together, we were all celebrating!"
Why Small Was Beautiful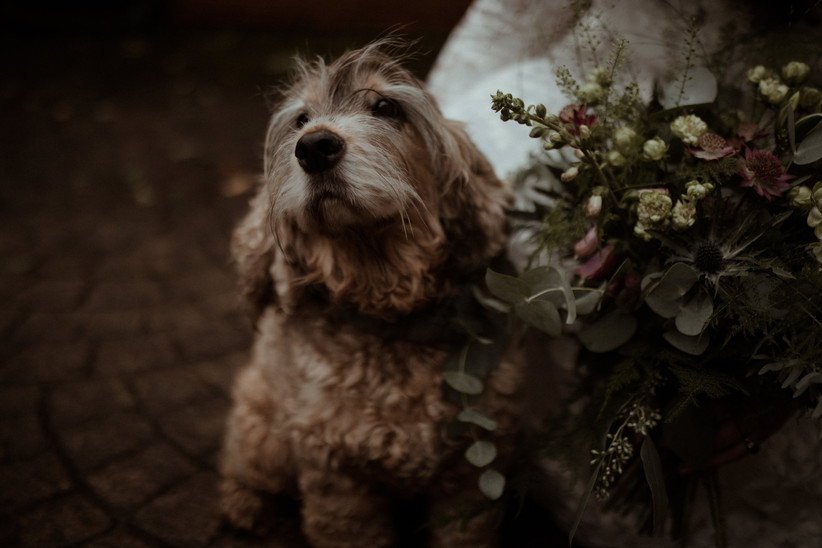 "We have an eight-year-old dog who is our world and we love him so much! We'd worried about having him in a packed church with all of the noise and general festivities of the weekend, but having the small service meant that he could be there front and centre without being overwhelmed. We even got to walk out as Mr and Mrs with him by our side which made our day even more memorable. Our kilt makers kindly supplied a fabric sample for him too so my handy mum made him a little bow tie so that he matched the wedding party. He really did look beyond beautiful.
"Having a small wedding also meant that we were able to keep things super local as we were forced to stay at home. Our wedding pictures were taken in our back garden and we had neighbours from the flats all around hanging out of windows, cheering and congratulating us which also added another really special element that we'd not thought about or considered."
What We Loved Most About Our Small Covid Wedding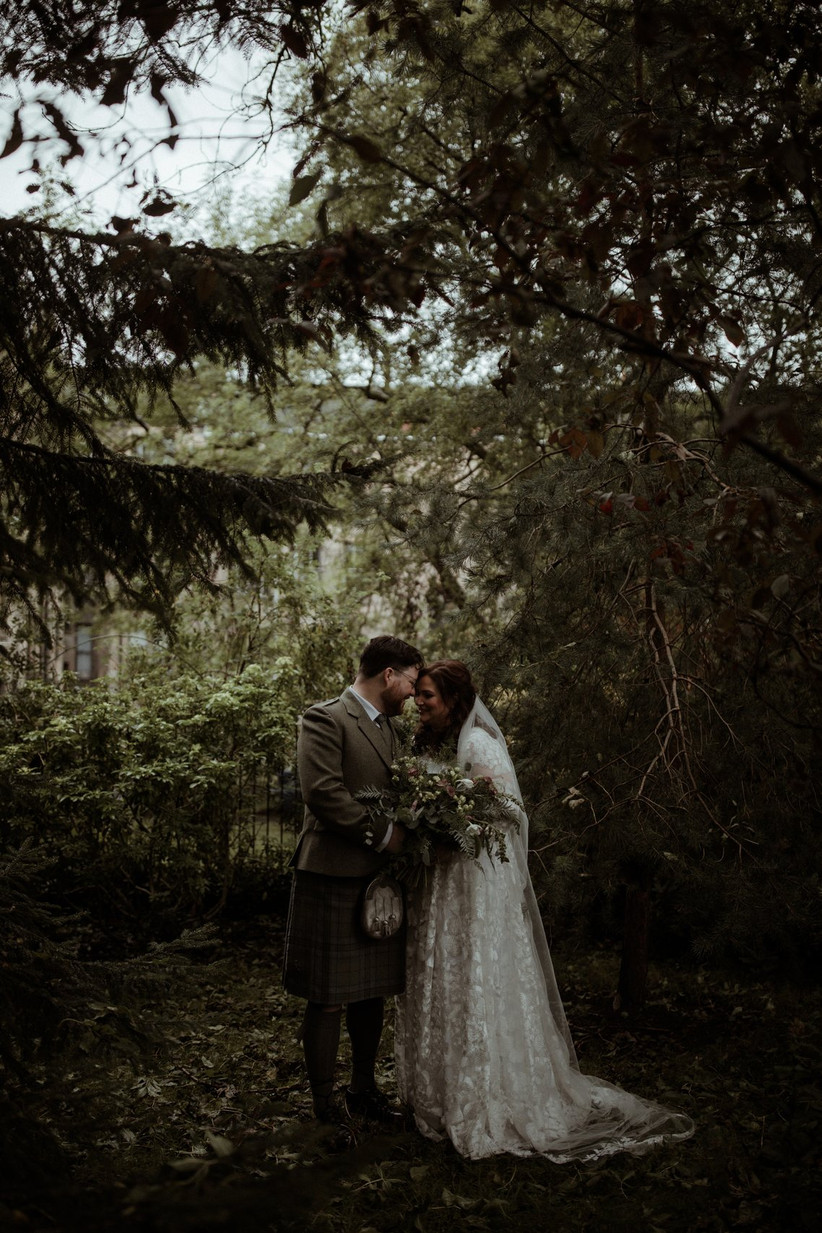 "We've been to a lot of weddings and everyone has always said that the day flies by and that it's important to try to take it all in. Having a small wedding and staying local meant that we were really able to enjoy every minute of the day. It ensured that everything felt super simple and stress-free (after the stress of switching everything around of course!).
"My sister had arranged for friends and family to send video messages and she played them all to us as we sat and drank champagne on the day. That's something we'll always remember! We've got the videos ready to play again when we make it to our first anniversary later this year, and having those is something that we'd never have had if we'd gone with the big wedding. It's given us something to keep, to remember and to always look back on and treasure and we love that.
READ MORE: 1st Wedding Anniversary Gifts – Our Favourite Paper Anniversary Gift Ideas
"There was a real intimacy to the day that may have been lost at a bigger wedding and we were by each other's sides all day which, looking back, was something I think that we both adored."
Our Ultimate Advice for Planning a Small Wedding
"I think that the key takeaway has to be to try to enjoy it to the full. Whether it's small or micro, simple or super fancy, it's still your wedding day so embrace everything as you'd always planned to. Roll with the changes that will inevitably come your way, focus on the love you have for one another and know that you will feel more love and friendship from the bubble around you than you've ever felt before. The messages, cards, letters, calls and constant check-ins we got from all over meant the world to us. We can't wait to see our friends and families sometime soon but until then we're embracing married life and feeling very grateful to have one another after what's been a tough year for everyone."
Nichi & Ferdie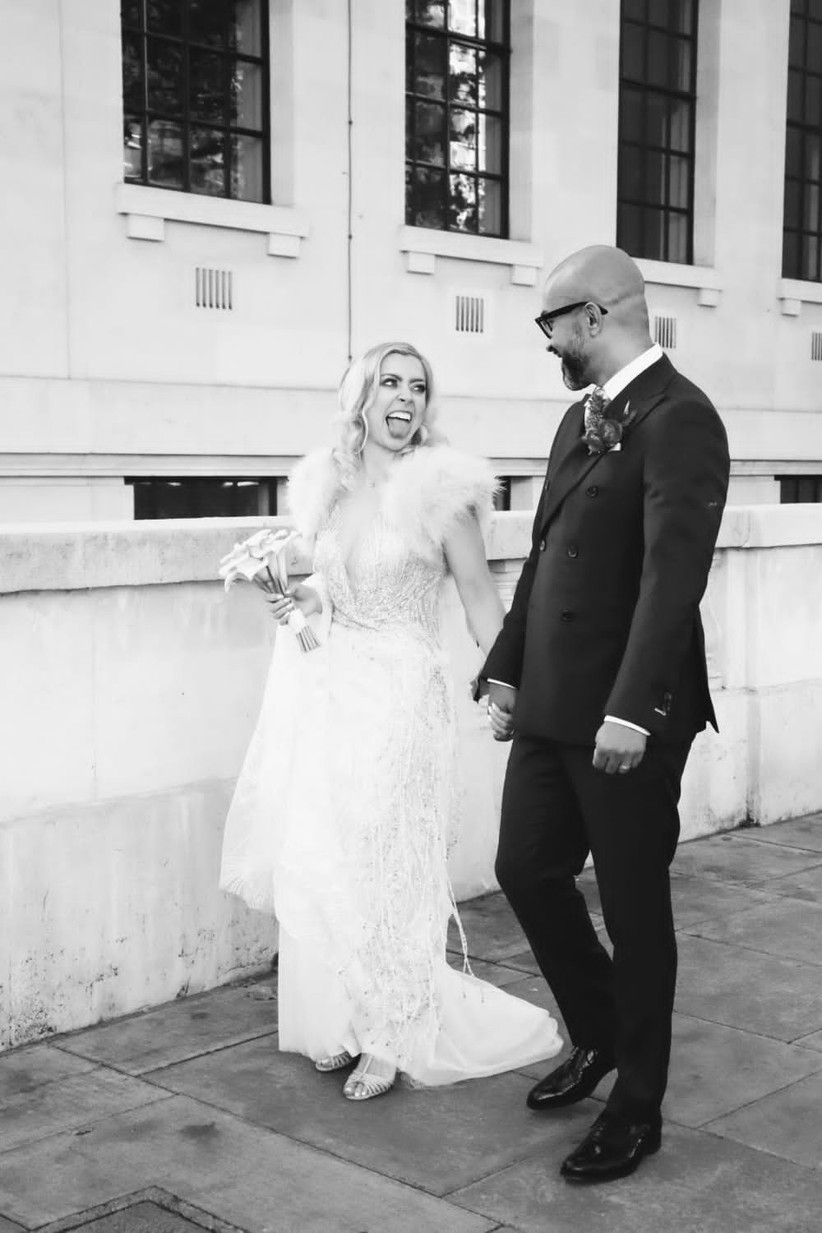 Author, journalist, broadcaster and dating expert Nichi had planned a fairground-style wedding to her husband Ferdie before the pandemic hit. Cue a total change of plan and season:
"We'd organised a large wedding for 160 day and evening guests. It was going to be a beautiful barn wedding in Canterbury complete with a fairground and llama champagne bearers (we got engaged in Machu Picchu!) but in the end we just had to simply cancel it all. From an emotional perspective I had to grieve for the wedding that I'd dreamed of having."
Photography by Kim Hickson Photography (with selfies by Nichi and Ferdie!)
Taking the Leap
"It soon became apparent to both of us that our wedding day was about our unity as a couple rather than the show of the day, as amazing as it would have been. We decided to get married on 4th November 2020 which turned out to be the final day before the second lockdown in England. We wore our original outfits and kept flowers and music as planned, but everything else was different."
How We Downsized Our Wedding
"Firstly I made sure to stay in a lovely hotel with my maid of honour and our witness the night before the wedding so that we could still revel in the fun of getting ready together and drink some champagne! That ritual helped to make the run-up feel special in spite of the downsizing.
"We got married at Old Marylebone Town Hall in London. The team there was truly amazing. The wedding had been planned for Bonfire Night on the 5th November but the Saturday beforehand the Prime Minister announced the beginning of another lockdown and we realised that we would have to bring the wedding forward by a day to make it happen.
"All of our suppliers were so incredible in helping us to rearrange, working on a Sunday to ensure that we could have our dream wedding a day earlier than scheduled. Our florist at Anna Fern Weddings worked so hard and at lightning speed to create my dream bouquet and buttonholes and she also sent us some rose petal confetti at the last minute as everywhere else had sold out. My hair and make up was done by a professional makeup artist who is also a friend and she moved heaven and earth to help. It was truly amazing how everyone pulled together to give us our special day a day earlier!"
Our Small Covid Celebration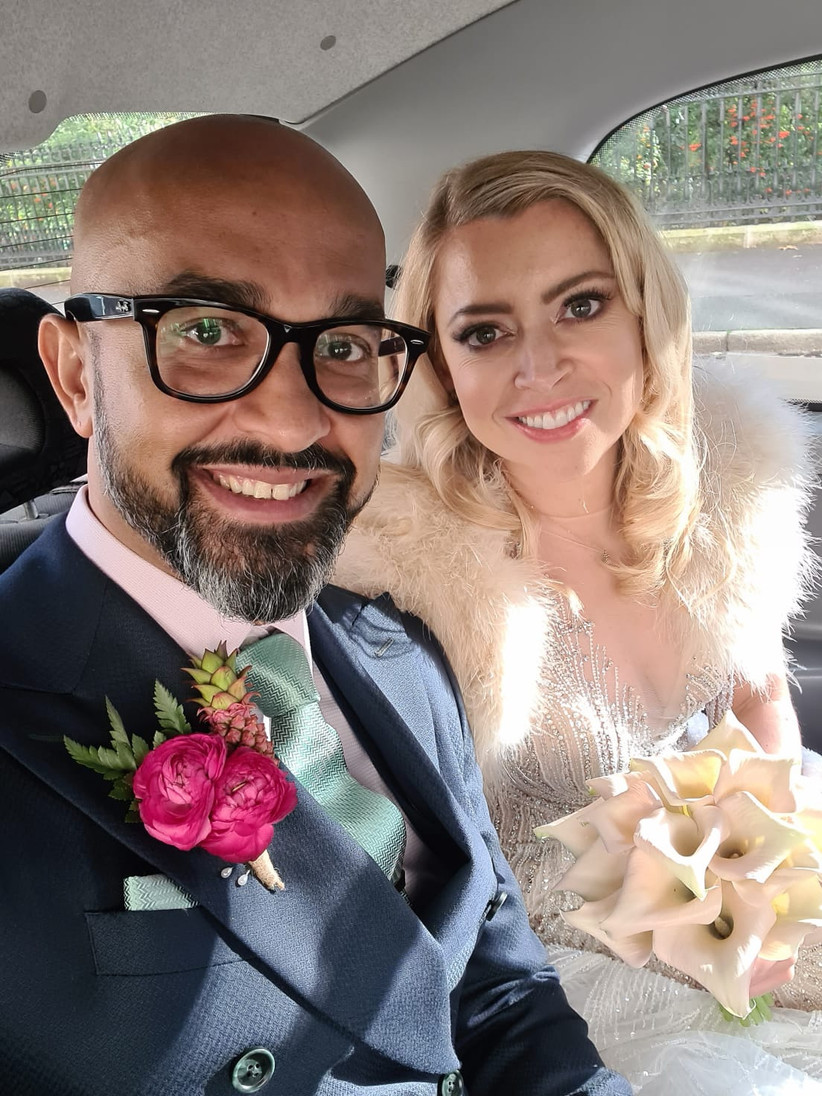 "When our wedding day arrived I was so nervous that it would get cancelled again that the only thing that I could concentrate on was getting to the ceremony! As soon as it was apparent that it was happening I started to relax and really relish every moment of it.
"After the ceremony we had a gorgeous afternoon tea for just the five of us at the Corinthia Hotel and the staff there really put every effort into making it exceptional for us. They even upgraded us to a suite for the night!"
Why Small Was Beautiful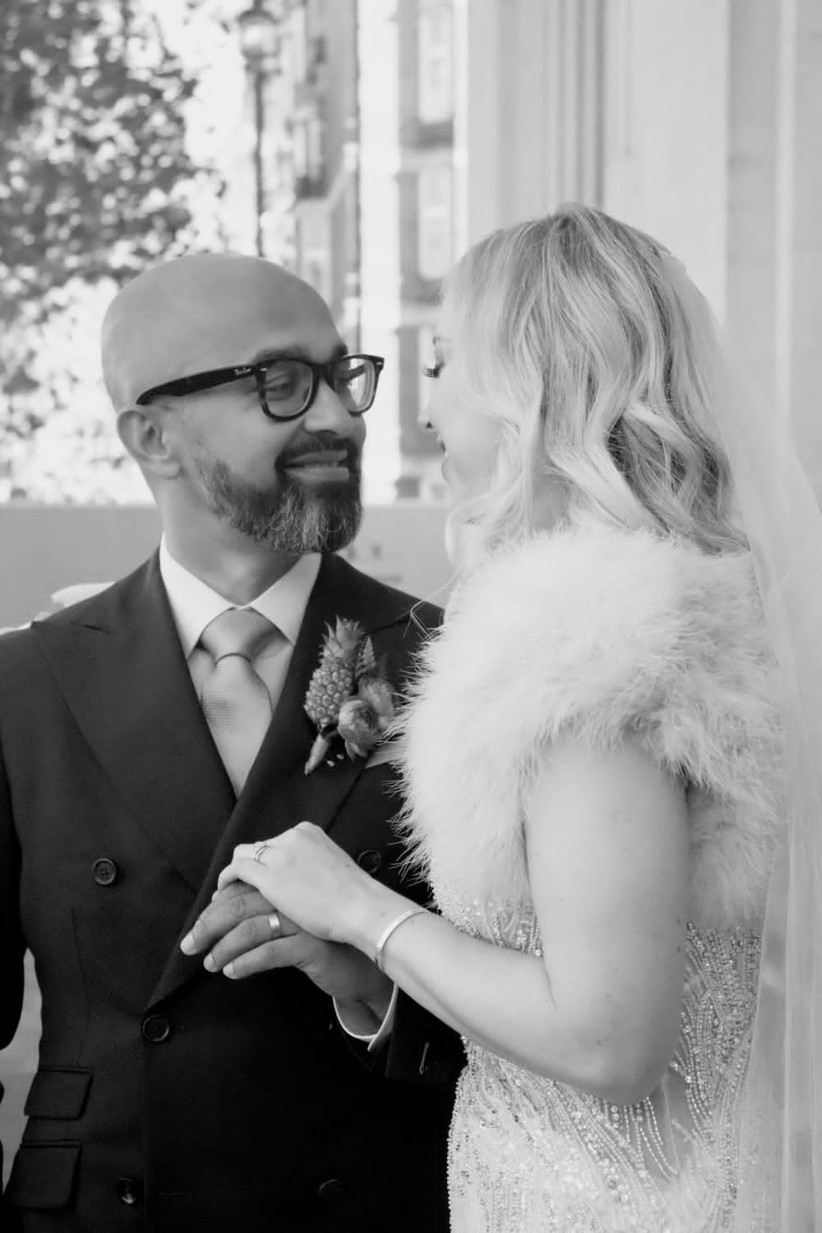 "We got to have this beautiful, intimate day together as a couple with our best friends as witnesses. Another great friend Kim Hickson also stepped in as our photographer as we thought that it might have been odd to have a professional who we didn't know well when there would just have been five of us. That was a really important and valuable decision to the both of us that I don't think we would have considered otherwise."
What We Loved Most About Our Small Covid Wedding
"It was far more special and had so much more meaning than the huge party we had planned. Because we'd basically had to fight all year to get married, it was such a wonderful and overwhelming feeling to be finally declared husband and wife. We were sad that our families couldn't be there with us (mine live in Australia) but it meant that I was really engaged when I was saying my vows and I felt so connected to my husband when he spoke his own."
READ MORE: How to Write Your Wedding Vows
Our Ultimate Advice for Planning a Small Wedding
"Don't worry that it won't feel as grand - it will still be amazing! I cannot stress that enough. A small wedding will allow you and your partner to have even better memories of the day as you will be interacting with fewer people. Also, if you want to dress up to the nines, do! I had saved hard for the Pronovias Atelier dress of my dreams and was determined that I was wearing that, whether we got married at a registry office or elsewhere. Plan to follow it up with a big party later if you like too. That's what we will be doing just as soon as my family can fly over here and I will certainly be wearing my dress again!"
Sabina & Stu
It was when she pivoted her business to making scrubs for medical key workers that director and founder of bridal label Sabina Motasem Sabina Ali and her husband Stu realised that they needed to dramatically reassess their wedding plans:
"We postponed our big wedding twice but it was after we got involved with a project to deliver scrubs that the severity of the pandemic was brought into sharp focus and we could see that things weren't going to spring back to normality anytime soon. We came to appreciate that we were embarking on the 'new normal' and that actually, we'd cope, but it was with a heavy heart that we cancelled our original plans, not without a few tears."
READ MORE: Why It's Okay to Feel Sad About Postponing Your Wedding
Taking the Leap
"We decided to have a very small Nikkah ceremony in my parent's back garden. Initially we'd planned to have a floral arch, a marquee, music and a photographer but we ended up having to scrap all of that in order to follow the rules. We knew that neighbours would be wary of any kind of social celebration. Since the marriage allowances within the restrictions only applied to legally recognised weddings and not culturally based weddings such as a Nikkah, we knew that we'd have to adapt our wedding to comply with the rule of six. It was a challenge but we did it!"
How We Downsized Our Wedding
"We took away all of the bells and whistles but we had our very close loved ones there and all of our friends watching and connecting via a zoom station that we set up.
"We really reflected on why we were getting married and didn't get lost in all of the wedding planning and enormity of a big event. It hit us that it's not about how much money or friends you have or how lavish and cool you and your venue look. A wedding is a public declaration to seal the deal that you're making a lifelong commitment to a really special person – don't worry about who's watching (or who's not!).
"As such we spent hardly any money but we did splash out on our outfits and I treated myself to a few little things. We will get to do it all over again next year and I'll wear a wedding dress that I've designed myself, but all our friends tell us that they wished they saw our Indian outfits that we wore to our Nikkah – they really loved them. That's inspired us to don those outfits again and throw a proper Indian style reception later down the line. We also commissioned digital fashion illustrator Aneela Illustrator to capture us in all of our glory on our intimate wedding day instead of having a photographer present. Finally, while we were downsizing our wedding, a cake was non-negotiable!"
READ MORE: 21 Small Wedding Cakes for Intimate Receptions
Our Small Covid Celebration
"I wore my mum's gold and cream sari for the back garden wedding and had a beautiful bespoke headpiece made to match my sari by Kelly Spence. I'd had my eye on her gorgeous designs for so long so that made me really happy.
"It was also such a treat to have the brilliant bridal hairstylist Sally Duboux on hand to do my hair and apply extensions, alongside makeup artist Birute Thomas on Zoom guiding me as I did my makeup on the day. Despite all the restrictions, it was so special to get to do this when we did it and while it will be so lovely to get ready with my dream team in person at some stage, the fact that we're still in a similar position a year down the line in terms of lockdown makes me appreciate the small wedding that we had even more in hindsight and I'm unbelievably glad that we decided to live for the now and didn't wait.
"In total we only spent £5000 on our small wedding, which leaves us with budget to plan an event in the future to celebrate with our guests, but only when it's safe to do so and everyone feels comfortable. There are so much more important things in life than having a 'perfect day' – we wanted to appreciate all that was good in the here and now when we planned our Nikkah ceremony. Despite it being a small wedding, the day whizzed past and I just want to go back and do it again and again. The joy is that we can, which not too many couples can say!"
Why Small Was Beautiful
"The wedding gave us something hopeful and positive to hold onto – it made getting through subsequent lockdowns a lot easier and left me feeling so full of love."
What We Loved Most About Our Small Covid Wedding
"I was just so happy to be able to say 'I do'. I couldn't wait to be Stu's wife and an official stepmother to his two teenage girls and getting my parent's blessing was a real moment too. I didn't want to wait and feel as though I was putting my whole life on hold indefinitely. Our wedding was every bit as emotional as everyone says that a wedding day will be. Despite the fact that it was a small wedding it felt almost overwhelming, exciting and was a total whirlwind in the best possible way. When I look back on my life, there will be certain moments that will be cherished forever and this is definitely going to be one of them."
Our Ultimate Advice for Planning a Small Wedding
"Just do it! Don't feel that you have to wait for a time when we can have big weddings again. Remember why you are getting married and even be open to having multiple small weddings to continue your celebrations if that's what you both want – why not?"
Want to make those that can't attend your small wedding feel included? Here's 11 ways to involve absent guests in your small wedding or elopement.