25 At Home Date Night Ideas for Cute Couples Who Love to Stay In
Why go out when you can have just as much fun on a date night indoors? These at home date night ideas will have you never wanting to leave the house
We have included third party products to help you navigate and enjoy life's biggest moments. Purchases made through links on this page may earn us a commission.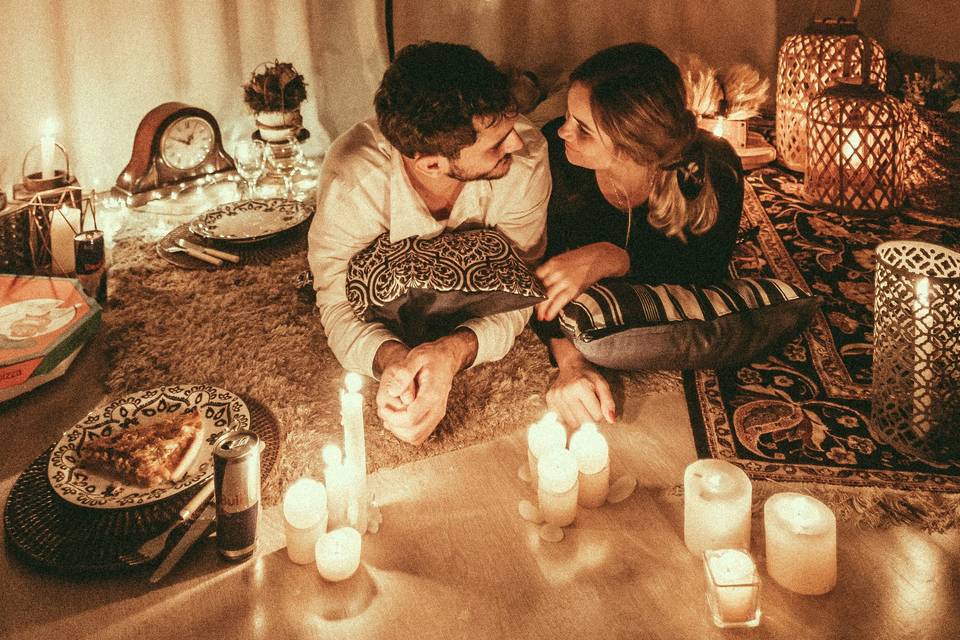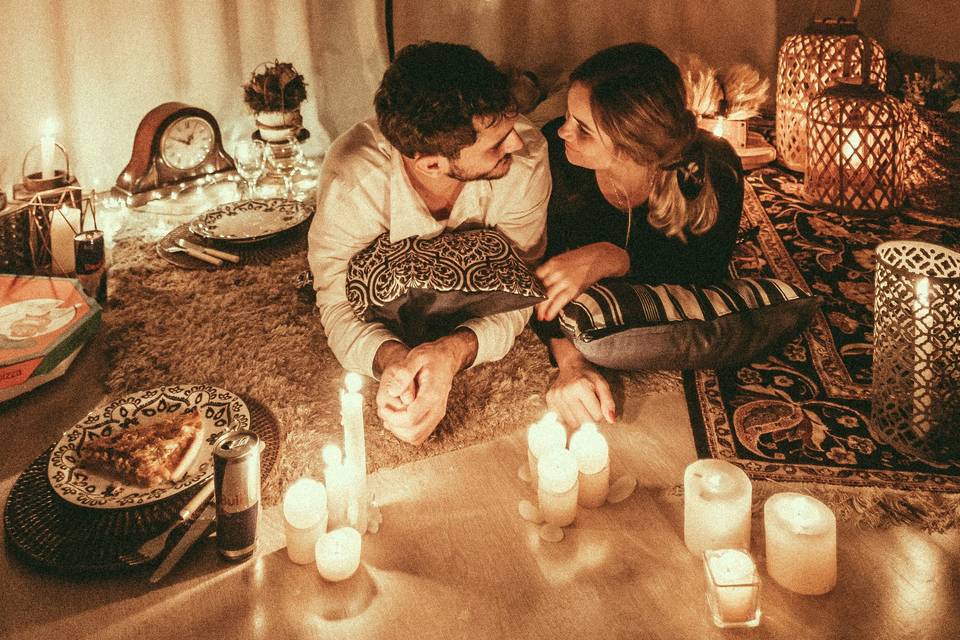 If there's one thing the pandemic taught us, it's how fun at home date night ideas can be when you put some thought and imagination into it.
You and your partner can have the dreamiest night together without having to leave your house at all - and we're about to tell you how.
Our round up of date ideas indoors gives you so many options and activities to enjoy with your partner in the comfort of your own home.
Whether you're staying in because you're a pair of hermits (same, honestly!), or you're trying to save money and go out less, we have a selection of couple activities at home that will have you dating indoors for good! After all kinds of date night ideas? We've got you covered for that too.
25 At Home Date Night Ideas for Couples Who Love Staying In
From quizzes and bucket lists, to meal kits and mixology, these date at home ideas are brimming with variety - there really is something for everyone.
1. Have a Movie Night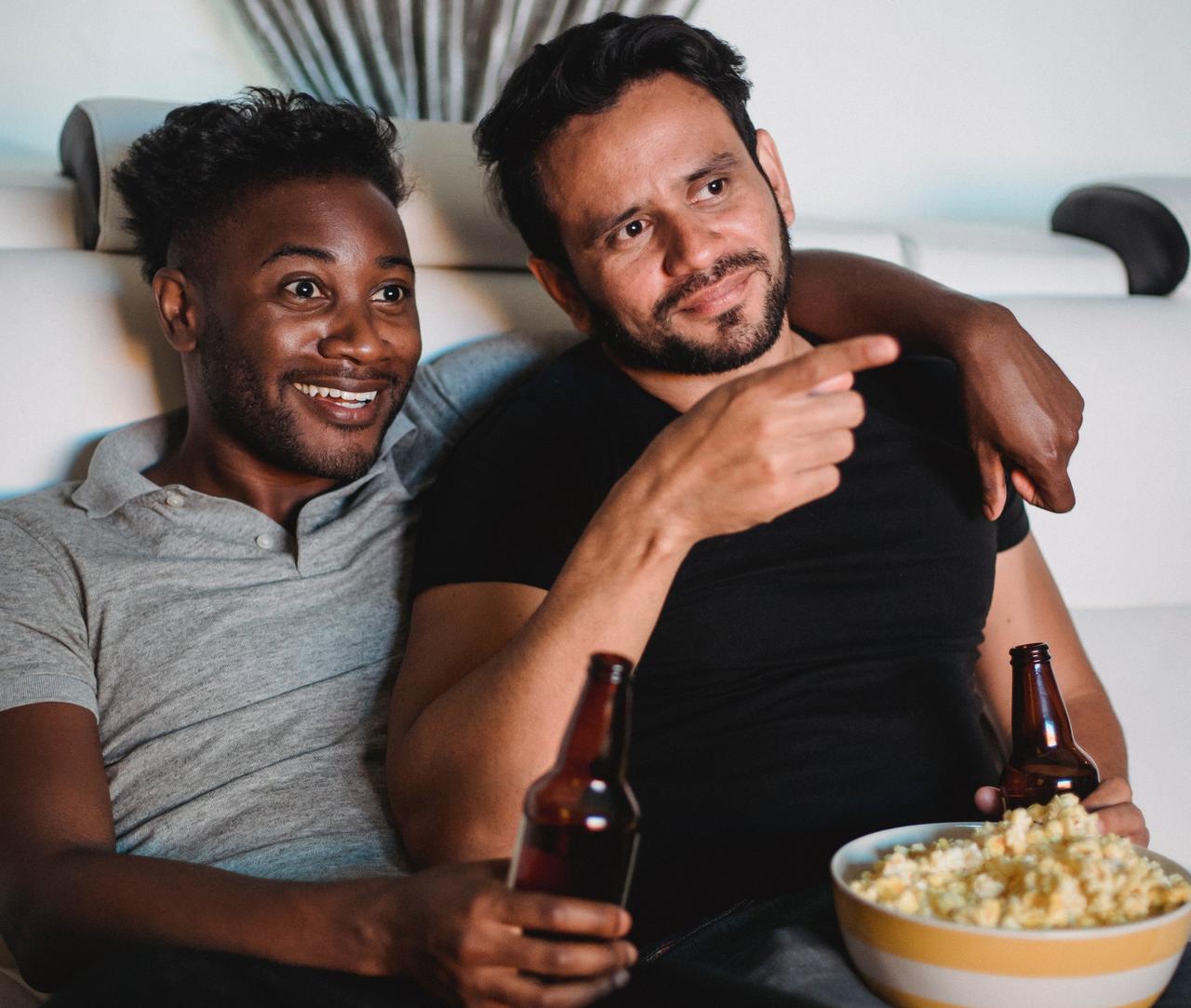 It's one of the oldest at home date night ideas in the book, but who doesn't love a movie night snuggled up with your love? You could choose to re-watch your favourite movie, or opt for something completely new. And if you're night owls, why not pick an entire trilogy or series. All the Harry Potter films in one day and night? Challenge accepted.
It wouldn't be a proper movie night without all the snacks, so make sure you stock up and have everything out and ready so no one has to get up and go to the kitchen. All eyes must be on the screen at all times for this indoor activity.
2. Do a Quiz
Doing a quiz together is one of the best indoor date ideas if you and your partner love competing against each other and testing your knowledge. There are so many online quizzes for you to choose from, and you can get super specific ones that match any niche interests you may have.
For bonus points, elevate this indoor date night idea and write the quiz yourselves! Each write a round to quiz the other one on and see who wins. Perhaps it's a quiz about things that have happened in your relationship, or questions about their favourite TV show.
3. Play Along With a Gameshow
In-keeping with the theme of competing, playing along with TV game shows is another one of those indoor date ideas we just love. And the best bit about this is that there are so many to choose from.
If you're into problem solving and strategy, opt for The 1% Club or Only Connect. Love niche subjects? Check out Pointless or Mastermind.
Couples who want to keep things light and fun could have a go at Catchphrase or Richard Osmond's House of Games. And for real brainiacs, play along with The Chase or University Challenge.
Or better yet - use your favourite game show as inspiration and recreate it yourselves. The possibilities when it comes at home date night ideas like this are endless.
4. Cook a Course Each
Cooking dinner is one of those classic ideas for indoor dates, but we love the idea of elevating it and making it a little more fun by choosing a course each to cook.
Perhaps someone does the starter, another does the main and you collaborate for dessert? You could even amp it up further and assign your partner a cuisine for their course, or do two or three dishes each and eat tapas style?
If you're comfortable with constructive criticism, why not rate each other's dishes and give feedback? Disclaimer - we are not responsible for any fall out.. .
5. Order a Meal Kit
Really fancy the food from your fave restaurant but don't fancy going out? At home meal kits are all the rage these days, and so many restaurants are jumping on the bandwagon.
One of our absolute favourites is the All In Kit & Sours from cult-favourite Chick'n'Sours. The kit includes ingredients to make two of their most famous burgers (The K-Pop and The General), as well as a whole host of side dishes and tangy dips.
Deputy Editor Rima Barakeh tried the kit and said, "Cooking with this kit his has to be one of my favourite at home date night ideas ever. Not only do they send you the exact ingredients they use in their own restaurant, but the instructions were so simple and easy to follow.
"Cooking the kit together made for a really special date night and there was plenty to do - one of us focussed on frying the chicken while the other prepared all of the sides. And the best bit? They also send you a QR code to scan that takes you to a dreamy cooking playlist. Ska music and fried chicken - what more could you want from an indoor date night?"
Well, we're sold on that!
6. Do an Online Cooking Class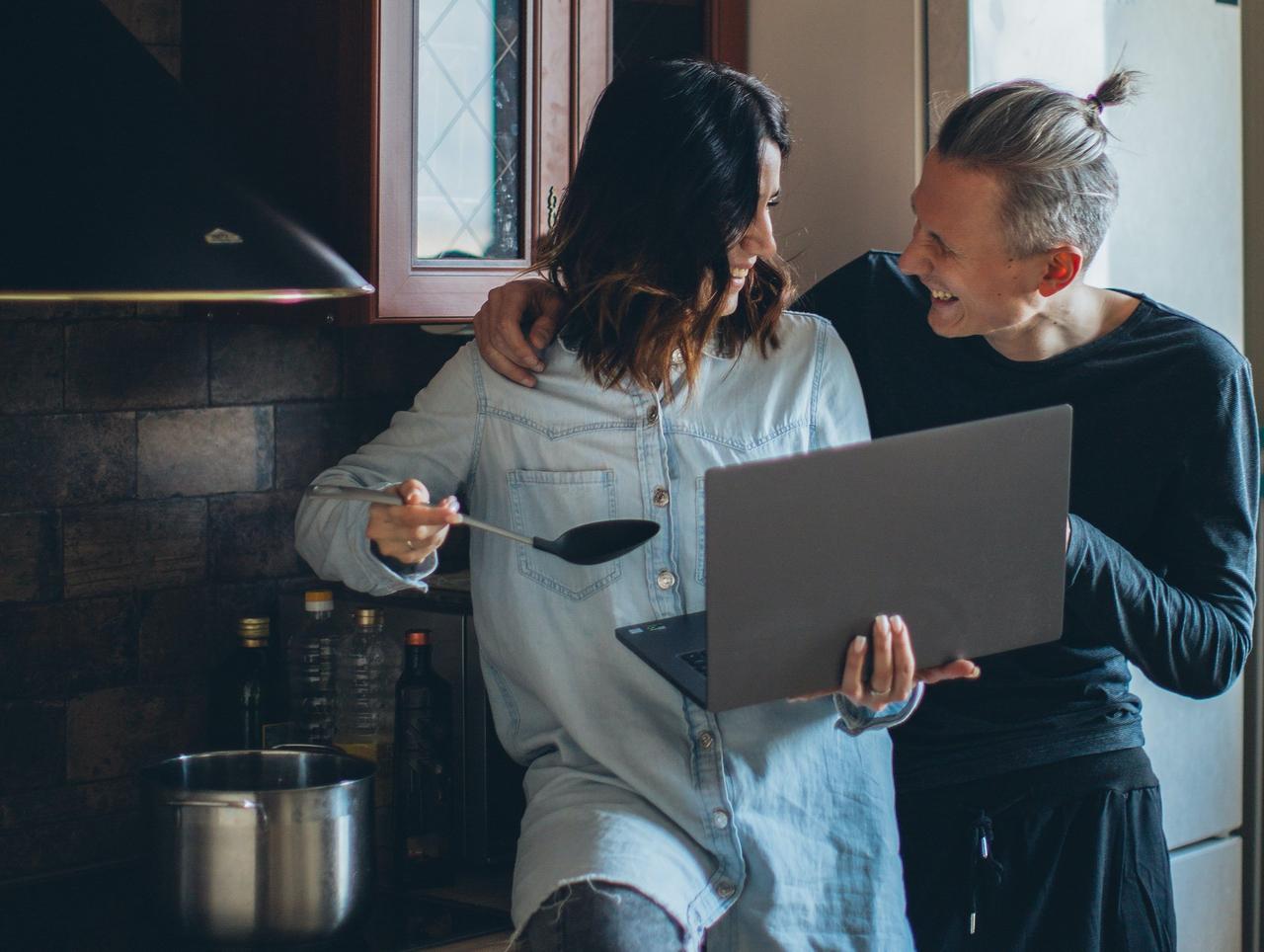 If you like the idea of foodie indoor date night ideas, why not sign yourselves up to an online cooking course?
You can find so many different ones which focus on specific cuisines and skills, and some even work as part of a series or course which is great for couples who find it hard to schedule time for at home date nights.
By signing up to a course, you guarantee you'll make the time each week to spend time together and learn a new dish.
7. Play Board Games
One of our favourite indoor activities for couples is to get the board games out and play away. Whether it's a wordy game of scrabble, a tense Jenga battle or a tactical chess game, playing board games is one of those at home date night ideas that really allows you to switch off from technology and spend quality time together.
8. Do a Virtual Museum Tour
The pandemic was tough for so many reasons, but there were some good things that came out of it - and one of those things was the development of virtual tours.
Businesses had to pivot their offerings so much when everything shut down. This saw museums and art galleries begin to offer virtual tours and exhibitions that could be enjoyed from the comfort of your own home.
If this isn't one of the best at home date ideas for culture vultures, we're not sure what is!
9. Watch a Theatre Show or Concert
Speaking of culture, is there anything better than enjoying all the entertainment of a theatre or West End show without having to leave your front door? We think not.
Many famous plays and gigs have now been recorded or re-enacted on screen, and watching them together makes for a really entertaining home date night.
From Glastonbury to Les Misérables, when it comes to cultured date night at home ideas, this is the ticket.
10. Host a Book Club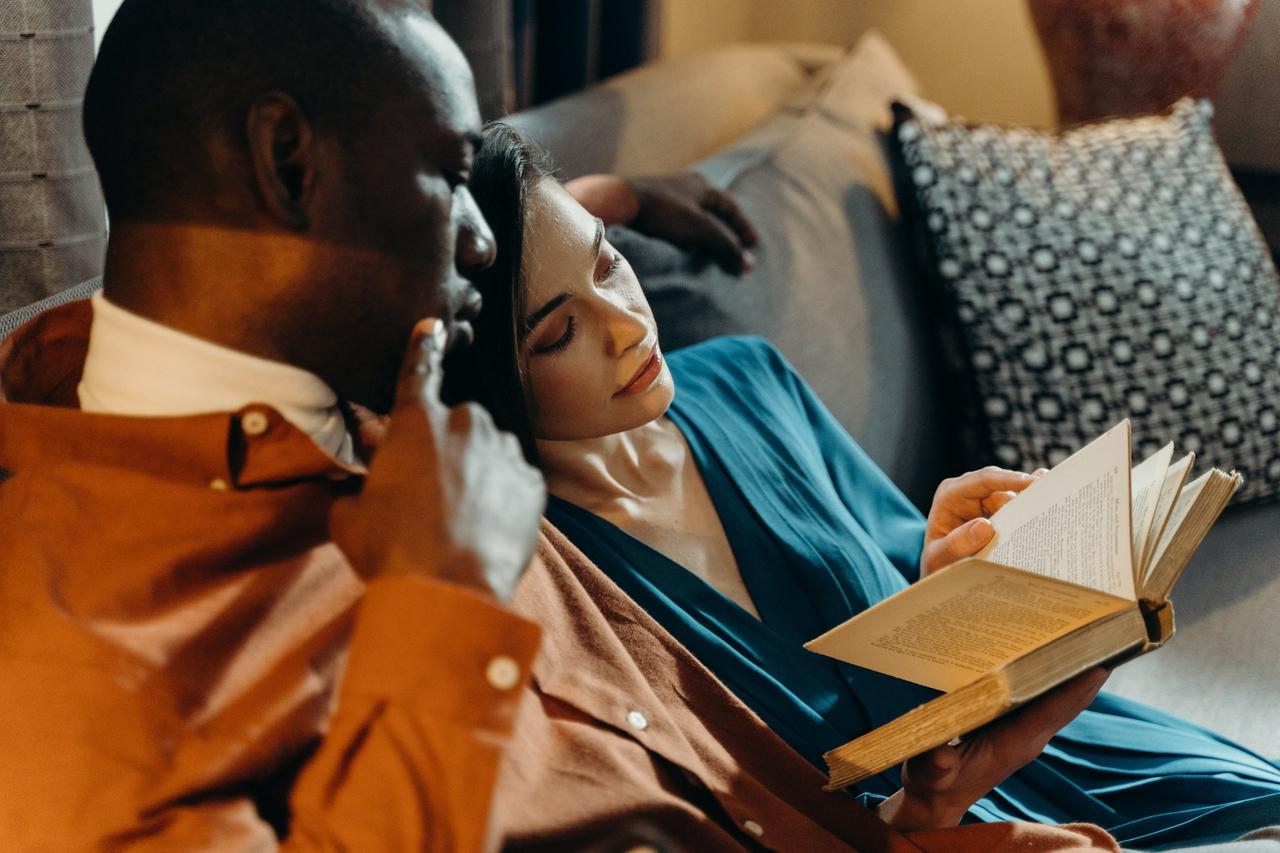 If you and your partner are avid readers, you'll absolutely love the idea of hosting a book club date night.
Both choose a book you think you'd both be interested in, and spend the week (or month, depending how long it is) reading it - but don't talk about it, at all! Once you've both completed it, schedule a time to bring this indoor date idea to life and spend the evening discussing the book, what you loved, what you didn't like and more.
The other way to do this is to both recommend a book to the other one that you've read. Then, when it comes to your couples night at home, you can each give the book your partner gave you a little review and discuss both options.
11. Watch a Comedy Show
There's nothing like laughter and comedy to ignite a spark, which is why watching a comedy show is one of our favourite date ideas at home.
Streaming services like Netflix, Prime and even free apps like BBC iPlayer and 4oD all have a wealth of stand-up comedy options for you to choose from. Whether you choose an on-tour stand-up, or watch shows like Mock The Week, you're in for a hilarious treat if you pick this idea.
12. Make Your Own Games
Get crafty and make your own games for an indoor date night of dreams. Task each other with making one game each and bringing it to the date night.
Think DIY bowling, a handmade board game or your own take on beer or Prosecco pong.
13. Play Video Games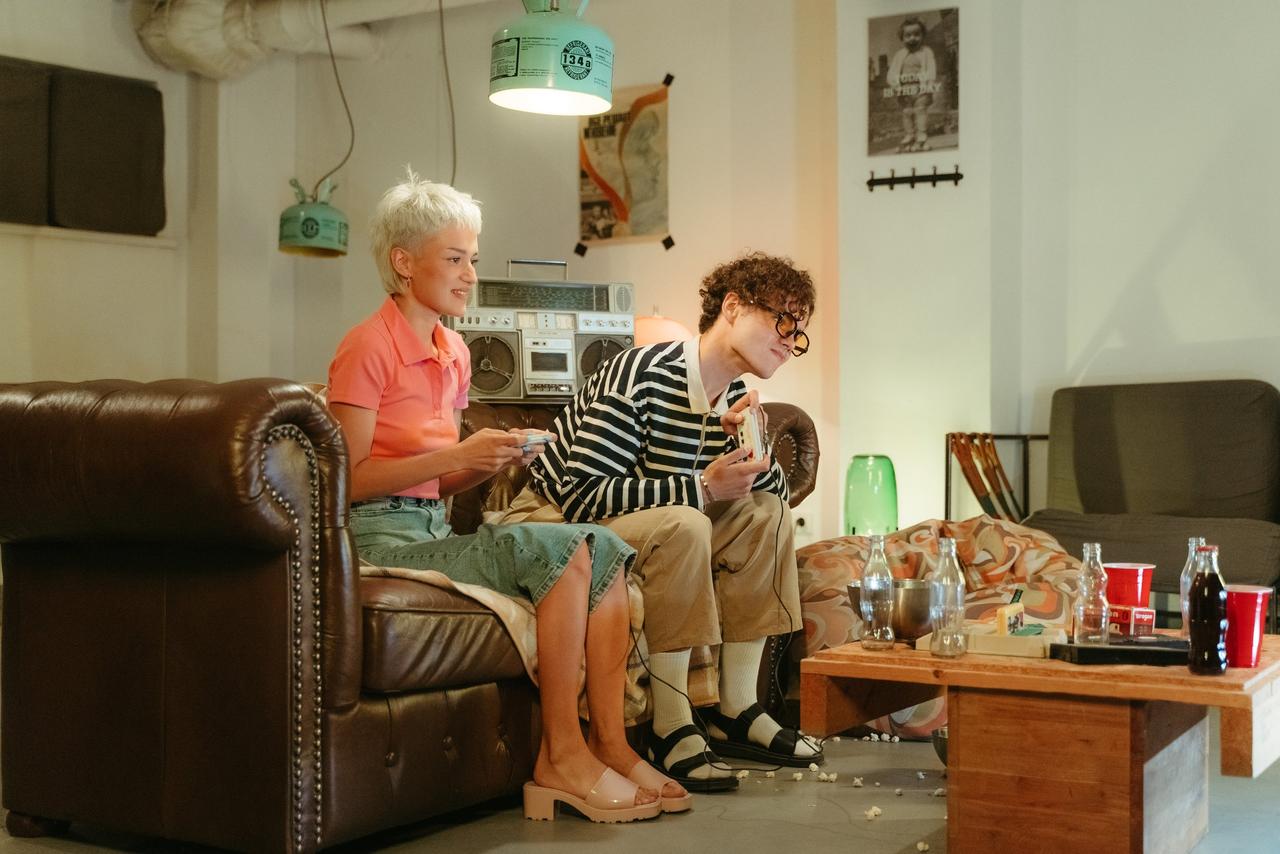 If you and your partner are overdue a night of nostalgia, why not whack out the video games you used to love as a kid and battle it out? We're talking Mario Party on the GameCube, Pokémon Stadium on the Nintendo 64 and Sonic the Hedgehog on the PC.
You never know, this could be an at home date night idea that turns into a regular thing.
14. Explore Your Signs
For spiritual couples, this is one of the best at home date nights there is.
Spend the evening exploring your star signs and finding out whether you're moon phase soulmates!
There are tons of free resources online which allow you to draw up each other's birth charts, generating a picture of the sky at the exact moment you arrived into the world – all you need to know is that date, place and time.
From there, you can find out your sun, moon and rising signs – trust us when we say it'll give you a deeper understanding of your partner's traits than you might expect…
15. Mix Some Cocktails
For a fun and interactive couples date night indoors, consider becoming mixologists for the evening and making cocktails with one another. And this isn't just for alcohol drinkers, just so you know.
We actually love the products from CleanCo who offer alcohol-free spirits that you can use to mix, shake and stir your very own hangover-free cocktails. They even have a cocktail recipe book with dozens of amazing recipes for you to follow.
16. Give Each Other Massages
Is there anything more relaxing than a massage? How about getting one without having to pay for it?
We're all for a couples spa break, but when it comes to at home date night ideas, giving and receiving massages is absolutely something you can do indoors. You could keep it casual and try out massaging each other, or you could do all the prep and watch tutorials and videos explaining exactly how to deliver a killer massage.
17. Recreate the Spa at Home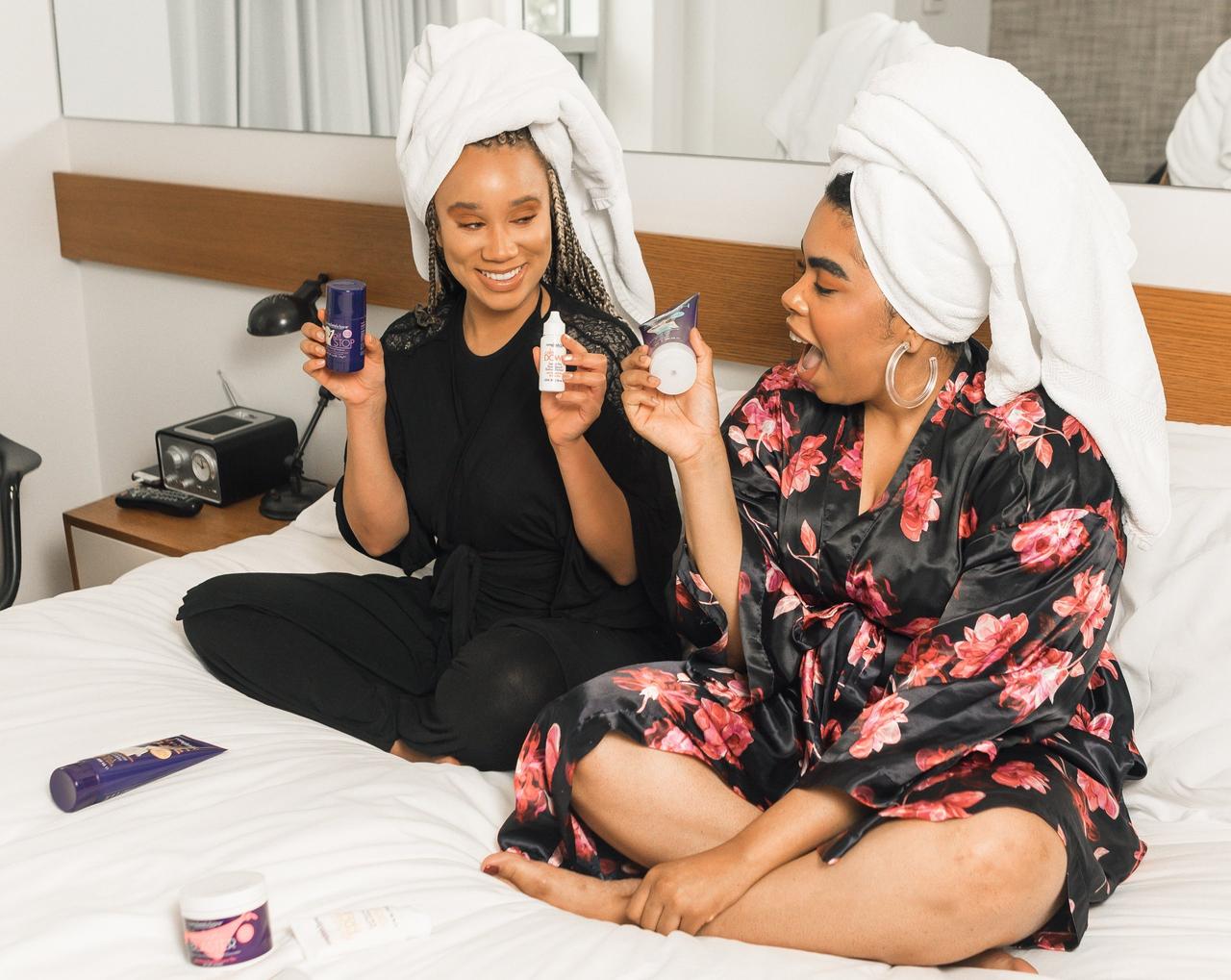 Speaking of spa - why just stop at massages when you could recreate the entire spa experience? We're talking face masks, foot scrubs, massages - the lot!
Head to your nearest supermarket or pharmacy to get some pamper products (and a bottle of fizz, obvs!), and prepare to enjoy a night in, with candles lit and relaxation music on. Doesn't that sound serene.
18. Plan Your Next Trip
We challenge you to find something more fun than coming up with your next exciting trip together. Planning your next holiday or getaway is just such a fun thing to do together, and we love the idea of turning it into an at home date night activity.
Both of you could prepare a pitch (PowerPoint presentations at the ready folks!) and include reasons why you want to go there, what you'd do and an example itinerary.
Once you've decided where, you can get researching. Pop open a bottle of wine and get on YouTube to watch those hotel reviews and holiday vlogs.
19. Comic Strip Your Relationship
Creative couples, this is one of the cutest at home date night ideas like, ever.
From the moment you met to right now, spend the evening comic-stripping your entire relationship timeline. Work on it together as a pair, or create individual ones which you can share once you've both finished. Either way, it's *so* cute and if they're good enough, you could even frame them afterwards.
20. Go Completely Unplugged
This may be a challenge for some couples, but completely unplugged date night ideas at home are just really needed sometimes. It's pretty difficult for most people to imagine a date night, or any night, that doesn't involve technology of some sort, and that's an issue in itself.
So choose to spend an night at home with absolutely no tech or screens whatsoever - and see what you come up with. It's a great way to remain completely present throughout the whole date night.
21. Bake Some Sweet Treats
Much like the at home dinner kits, there are plenty of at home baking and decorating kits from brands like The Hummingbird Bakery who offer a range of brownie and cupcake decorating kits for every occasion.
From pride cupcake decorating and Halloween cupcakes, to brownie decorating boxes and their very own recipe books, you'll be spoilt for choice when it comes to which you choose.
Hitched Editor Zoe Burke says, "What could be better than having a stack of sweet treats to decorate? Eating them after!
"This was a super fun at home date night idea as we could get our young child involved, and all decorate the brownies together before having an absolute dessert feast. They also make such a cute wedding gift idea, too."
22. Get Dressed Up for Dinner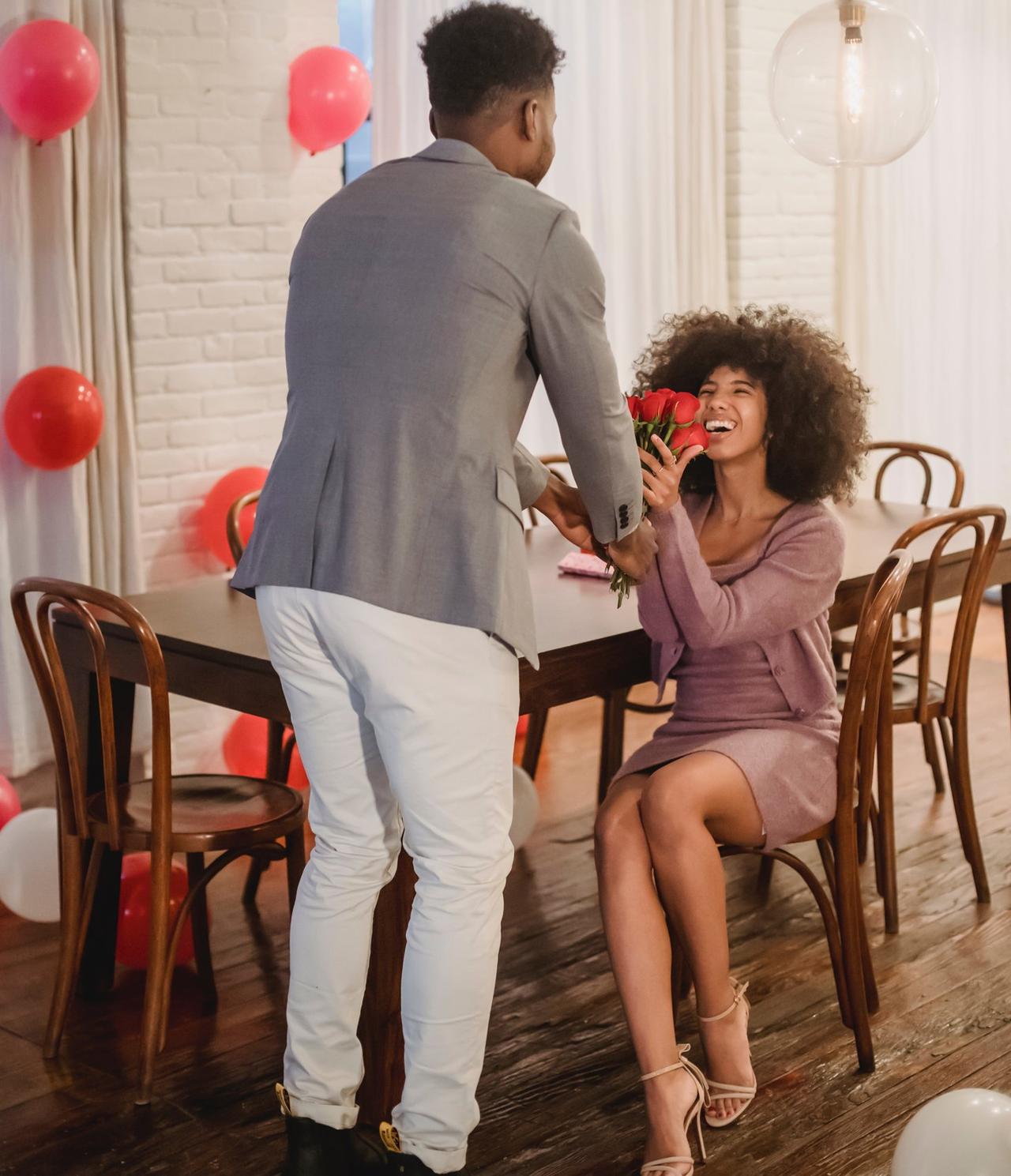 Just because you're planning a date night indoors, doesn't mean you can't dress to impress, right?
Whether you're ordering a takeaway, cooking for each other or having your usual dinner, make the effort to get completely dolled up from head to toe - we're talking the whole shebang.
Not only will you feel absolutely amazing, but it will also give the illusion that you're not at home, even if you are just sat in your very own dining room.
23. Make a Board Each
You've heard of bring a board nights, where each person brings a sharing board that's a certain colour, cuisine or theme - it's such a good way to elevate a night in - and we reckon it can be tailored to be a great at home date night idea, too.
You and your partner could allocate the other one a theme for the board, maybe one does Indian and the other does Italian, and you get to enjoy two cuisines.
Another way of doing it is to each create a board with all of your partner's favourite things on it. Not only is it thoughtful and sweet, but it's a chance for you to each show one another how much you really do know each other - plus you get to enjoy all your fave snacks.
It's ideal for couples who like totally different things.
24. Recreate Your Favourite Date
It's not uncommon for couples to recreate their first date, but we're bigger fans of recreating your favourite date instead. Maybe that is your first date, but maybe it isn't.
You can recreate it by coming up with ideas together, but something we'd recommend doing separately is each of you writing down why this date is one of your favourites, or noting a list of your best memories during dates you've had in the past.
Then, during the recreation, you can take it in turns to share your best memories. So sweet.
25. Write a Bucket List
The last of our at home date night ideas and activities is perhaps the most exciting of all - and that's the bucket list date night. When you're in a relationship, talking about your dreams, aspirations and goals is vital to being on the same page and understanding what's important to each of you.
Both come prepared with your bucket lists and goals for the next year or longer and discuss each one, talking about ways you can support each other to tick off as many things as possible.
If your bucket list involves travel, check out our roundup of the best multi-destination holidays around the world, or for something a little closer, these UK minimoon hotels are sure to wow you.