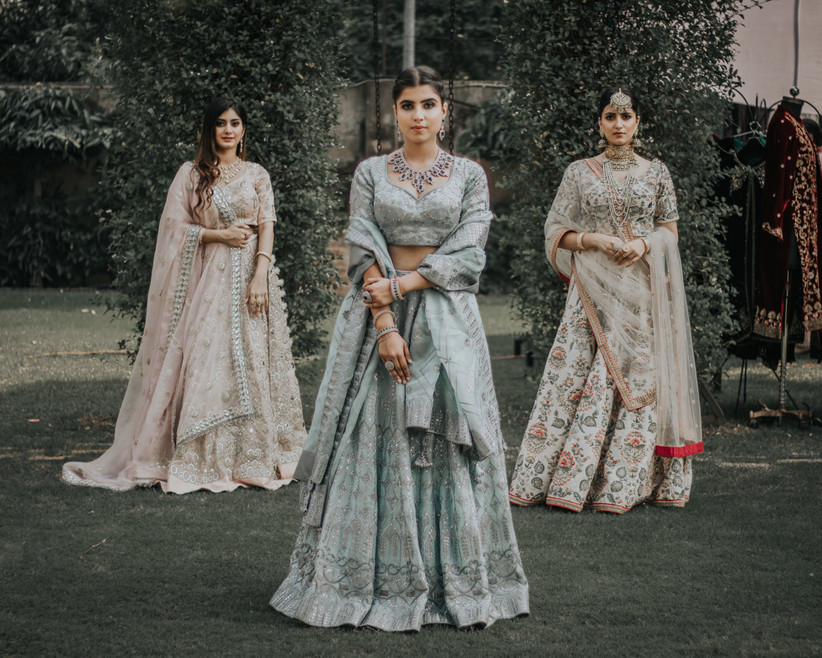 You may have a trusty jumpsuit or minimalist maxi dress that you've styled out for many a wedding but if you've been invited to an Indian wedding, we're here to tell you that you may need to leave your reliable sartorial steed in the wardrobe. Indian weddings go big on colour, embroidery and bling, and as you're likely aware, it's not just the wedding party that dress to the nines for the occasion.
Onita Prasada, founder of Indian and Asian couture specialist O'Nitaa, confirms that, irrespective of faith, Indian wedding guests "view their outfits as part of the celebratory ambiance – every garment and item is considered and guests tend to go the extra mile in terms of dress to reflect their joy and love for the couple marrying." While there is no generic look and personal expression is very much encouraged, Onita does have some wedding guest outfit wisdom to heed before you head to the shops.
NB: We have included third party products to help you navigate and enjoy life's biggest moments. Purchases made through links on this page may earn us a commission.
What do Guests Wear to an Indian Wedding?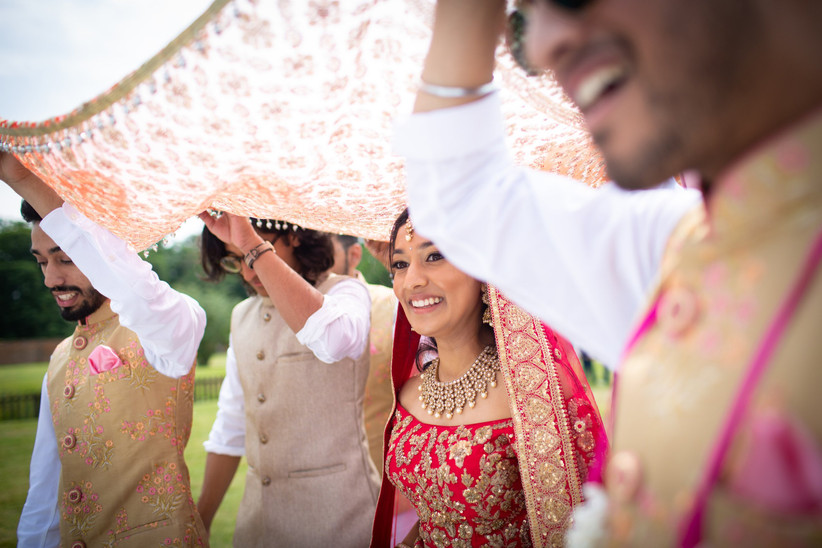 This depends on the type of wedding – Onita underlines the basics:
"What you wear to an Indian wedding will depend on the religious and cultural context.
"For a Hindu wedding, above all colour is king. From bright shades to pastels, almost anything goes but it's traditional for brides to wear red or occasionally hues of pink or purple. Double check the wedding invitation to confirm if there's a specific dress code or any restrictions regarding colour.
"The most common outfit option for women is a saree, which generally consists of a long piece of fabric (often silk) that wraps around the body from shoulders to feet, with some fabric left free.
"Sarees are very popular but bear in mind that having five and a half metres of fabric draped around your body isn't always easy to manage if you're not used to it."
Opt for a pre-stitched sari if winding fabric on the wedding morning could prove tricky or Onita recommends considering a lehenga instead:
"A lehenga is a colourful, embellished three-piece outfit consisting of a high-waisted skirt, cropped blouse (known as a choli) and a scarf (called a dupatta) that can be easier to wear."
For Sikh wedding celebrations, Onita notes you'll need a scarf for the religious ceremony in order to cover your hair and head and it's also customary to remove your shoes in places of worship. If the wedding is taking place in a temple, be sure to wear shoes that are easy to slip on and off. As for Muslim wedding ceremonies, Onita highlights that it's important to cover your head, legs and arms.
Traditional Indian wedding outfits for the most part adhere to these rules, however if you're intending to wear a more Western style of dress, Onita suggests including a bright shawl within your outfit in order to provide coverage when required. As for styling options, a trouser suit, vibrant jumpsuit, detailed skirt and top or flowing gown can provide a fitting Western alternative to both modern and traditional Indian dress. That said, Onita encourages embracing the opportunity to immerse yourself in Indian wedding fashion and culture for the day, or throughout the wedding week if there are multiple events taking place around the nuptials:
"The couple and their family and friends will most likely really appreciate you making the effort – it's considered a sign of respect and conveys your appreciation. 99.9% of my European clientele want to go the extra mile to show that they care and are keen to express their joy through what they're wearing.
"Our stylists guide them through the options, ensure that what they're wearing doesn't wear them and helps to identify unique designs and colours that really suit each client. Never be intimidated when you're putting an outfit together for an Indian wedding.
"Modern celebrations especially allow you to weave in your personal style and there are so many brilliant experts out there who will be brimming with enthusiasm and inspiration. Stylists can help with any adaptations required either in-person or online to ensure that you look and feel incredible, from your outfit to your shoes, jewellery and shawl."
As for Indian wedding guest outfit ideas for men, a long coat called a sherwani is commonly worn, most often in rich shades with brocade trims and embroidery and matching trousers. A three-piece suit is still an option but consider a bright waistcoat or jacket to bring in some colour.
What Colours Can I Wear to an Indian Wedding?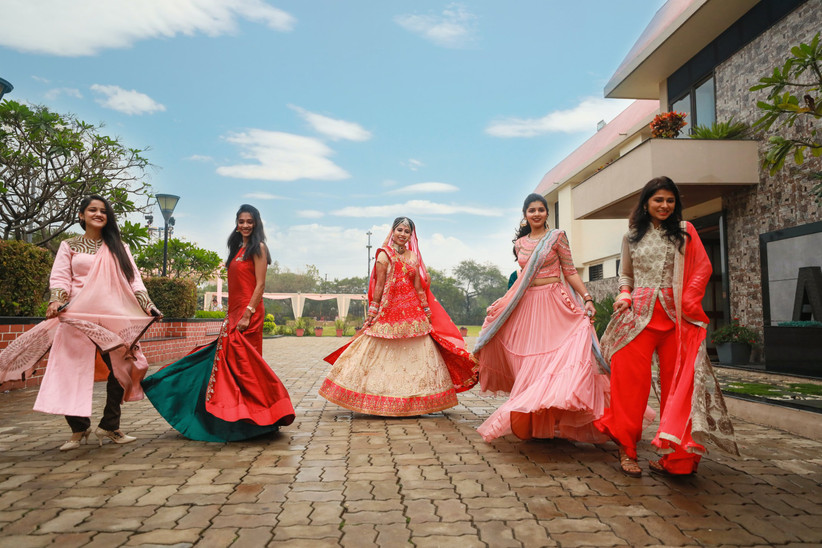 As previously stressed, be sure to adhere to any guidelines stipulated in the wedding invitation and check whether the bride is wearing red, pink or purple if you're planning on wearing an outfit in these hues to avoid potentially stealing the limelight. Onita underlines that "this doesn't mean that that entire colour palette is off limits – if the bride is wearing vermillion red, as is traditional, you can still wear burgundy, for example."
As for shades to steer clear of, anything goes apart from black and white according to Onita:
"No go colours are similar to those traditionally bypassed in the West. Black is generally considered unlucky in Hindu ceremonies especially, so it's best to avoid that.
"White is never traditionally worn to weddings either as it can be associated with death – Hindu mourners typically wear white to funerals. If the wedding day also includes a Western style ceremony there's a chance that the bride could be planning to wear white at some point too, so it's safer to swerve white for a multitude of reasons and enjoy wearing lots of colour."
If full technicolour isn't your vibe, incorporate metallics and plenty of embellishment and go big on jewellery and accessories…
The Finishing Touches to an Indian Wedding Guest Outfit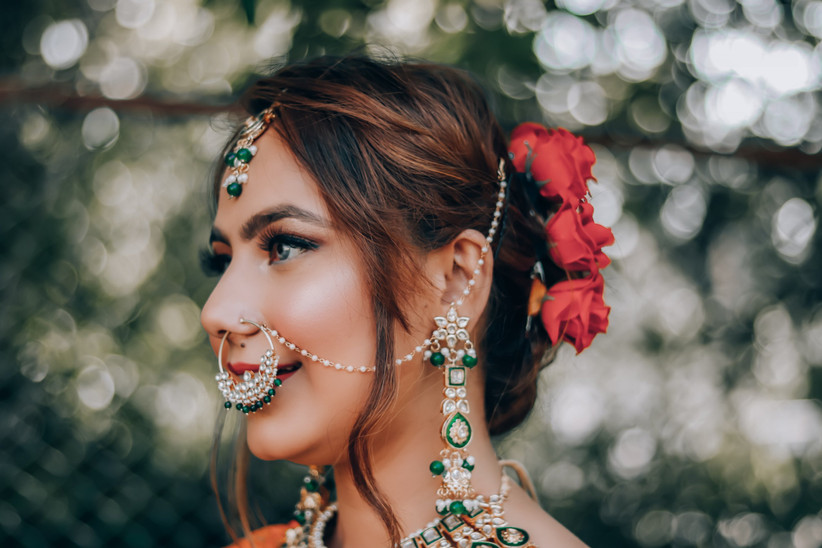 You've bought, borrowed or rented your outfit, but you're not done yet. Onita notes that accessories are an essential component of Indian wedding get-up:
"Indian wedding clothing is almost always accompanied by statement jewellery – you'll be considered underdressed if you skip jewellery or accessories altogether. Like makeup, it allows you to play up your personal style and compliments your clothes.
"Most women wear at least a few stacked bangles with earrings, a necklace and perhaps a headpiece such as a maang tikka. This consists of a circular piece of jewellery worn on the forehead and pinned into place in the hair with a chain. Wedding guests would typically wear a less extravagant maang tikka than the bride and bear in mind that your jewellery doesn't need to be expensive – wear pieces that you love and team them with a favourite bag and striking scarf. It's all part of the ensemble."
Gold and vibrant jewels are the most popular jewellery options but feel free to go all out in your own way.
Indian Wedding Guest Outfits for Women
1. Teal Saree with Teal Embroidered Blouse – £135, Label Nikita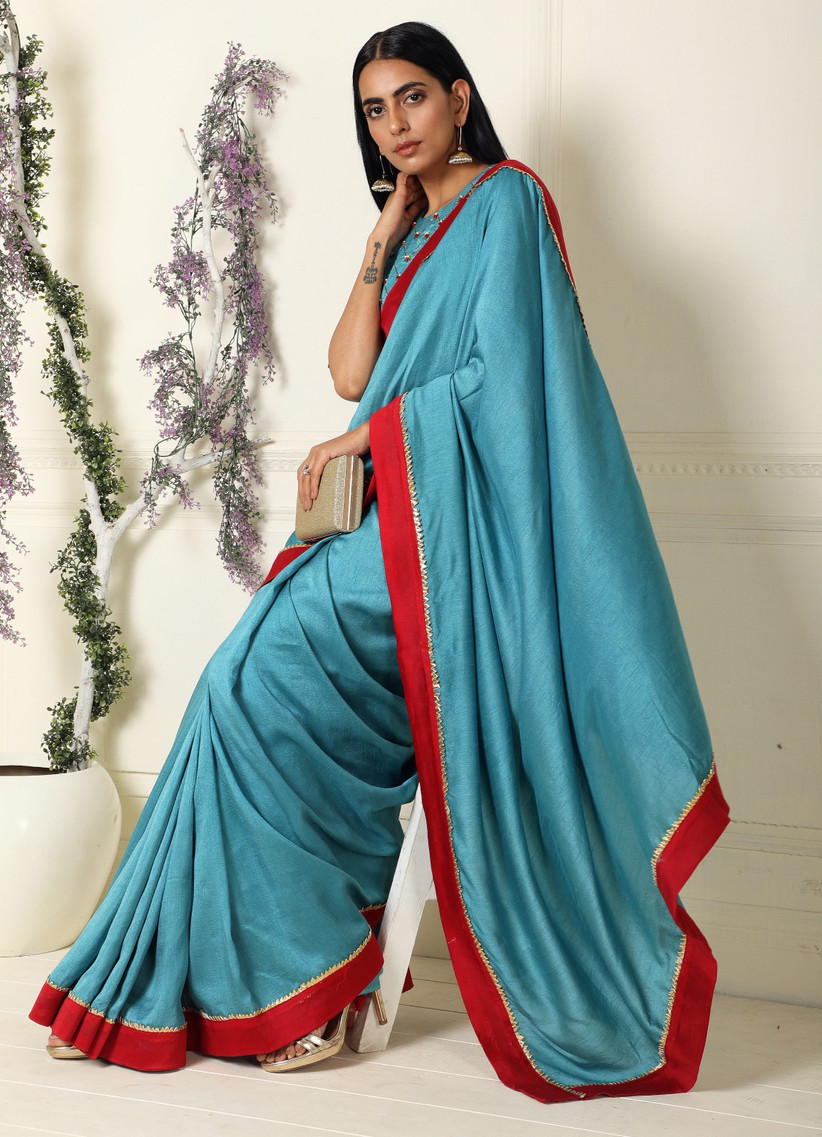 Vivid, modern and a perfect example of neat colour blocking, this silk saree and blouse combo can be customised at the neck, waist and sleeves to your exacting requirements.
2. Navy Blue Embroidered Lehenga – £63.50, Etsy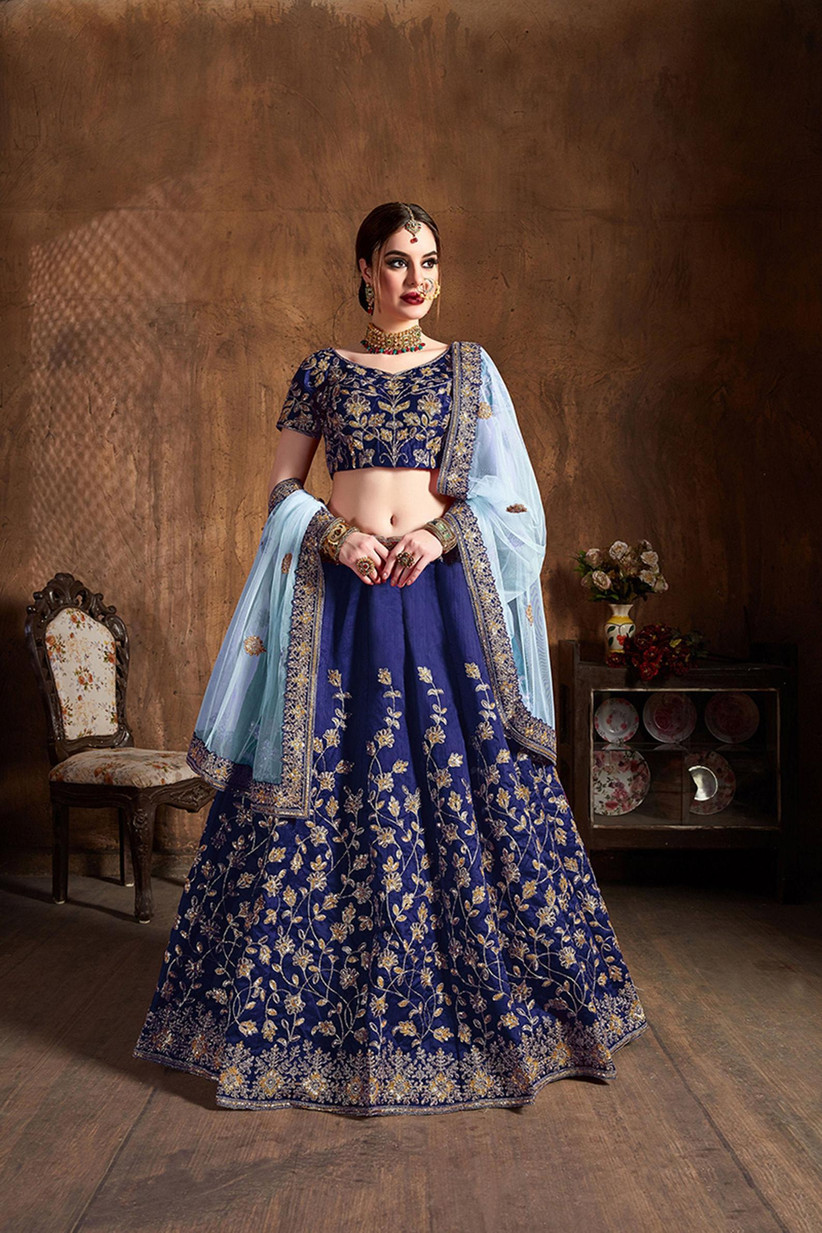 Intricate gold detailing shines all the brighter on a midnight blue background. This embroidered blue lehenga will have you twirling from the ceremony through to the reception and into the night.
3. Magenta Satin Saree – £92.72, KBE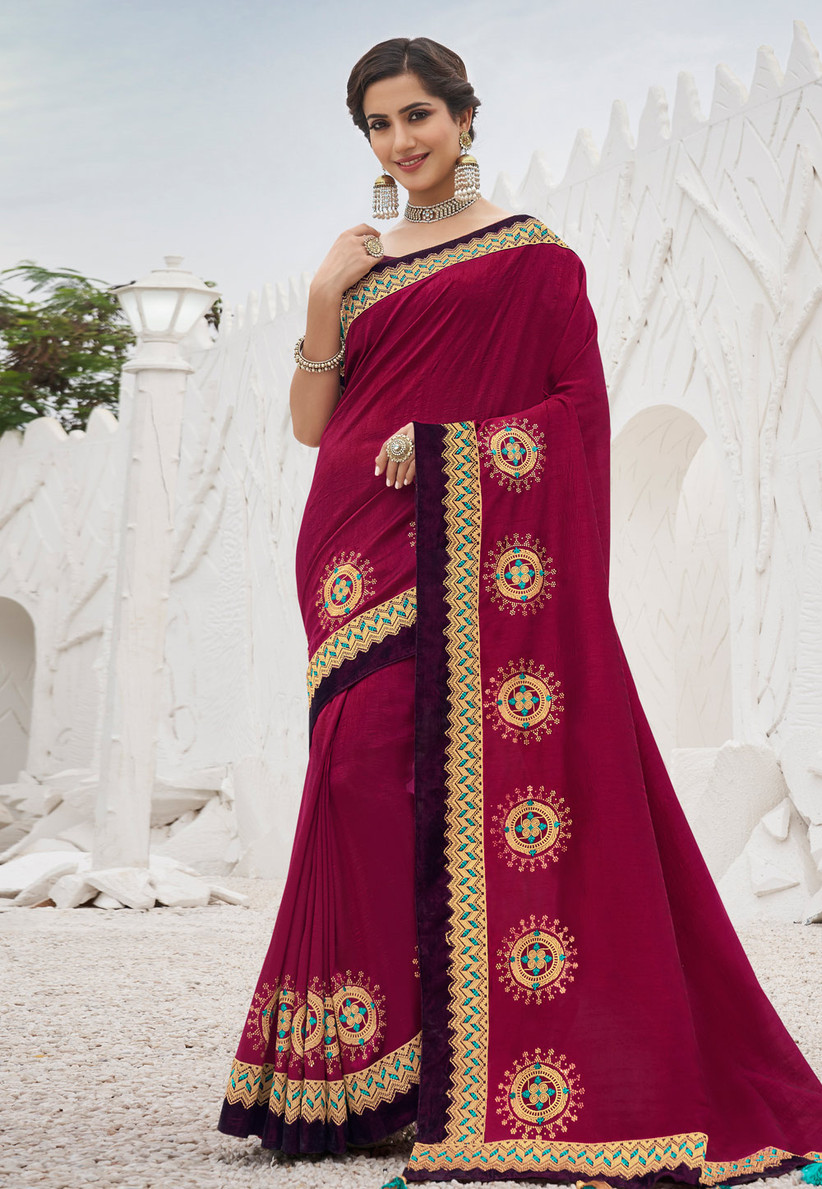 This rich berry toned saree is a thing of beauty – double check that the bride isn't opting for magenta, otherwise you're golden.
4. Mint Green Draped Dupatta Palazzo Set – £309, Esha Koul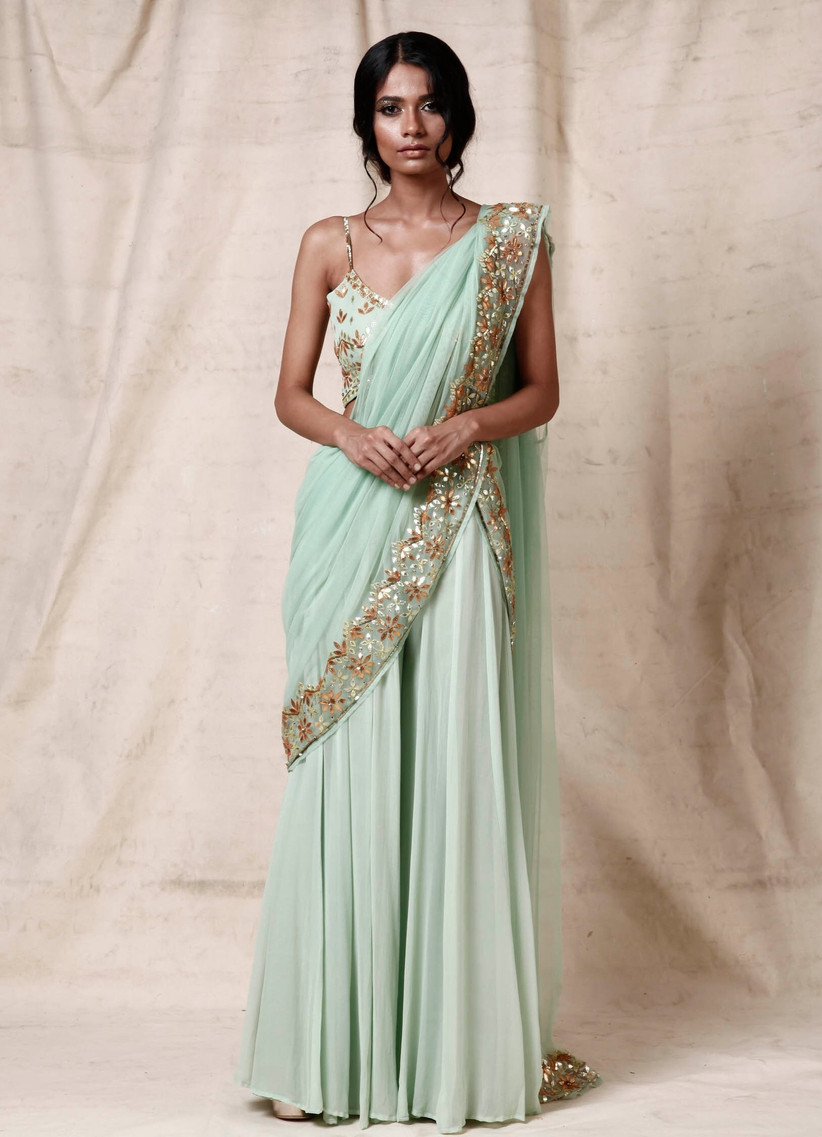 Fresh in every sense of the word, this palazzo trouser set features delicate rose gold detailing and a bordered dupatta shawl to add to the glitz.
READ MORE: 22 of The Best Wedding Guest Jumpsuits
5.Yellow Anarkali Suit – £105, Georgette Party Wear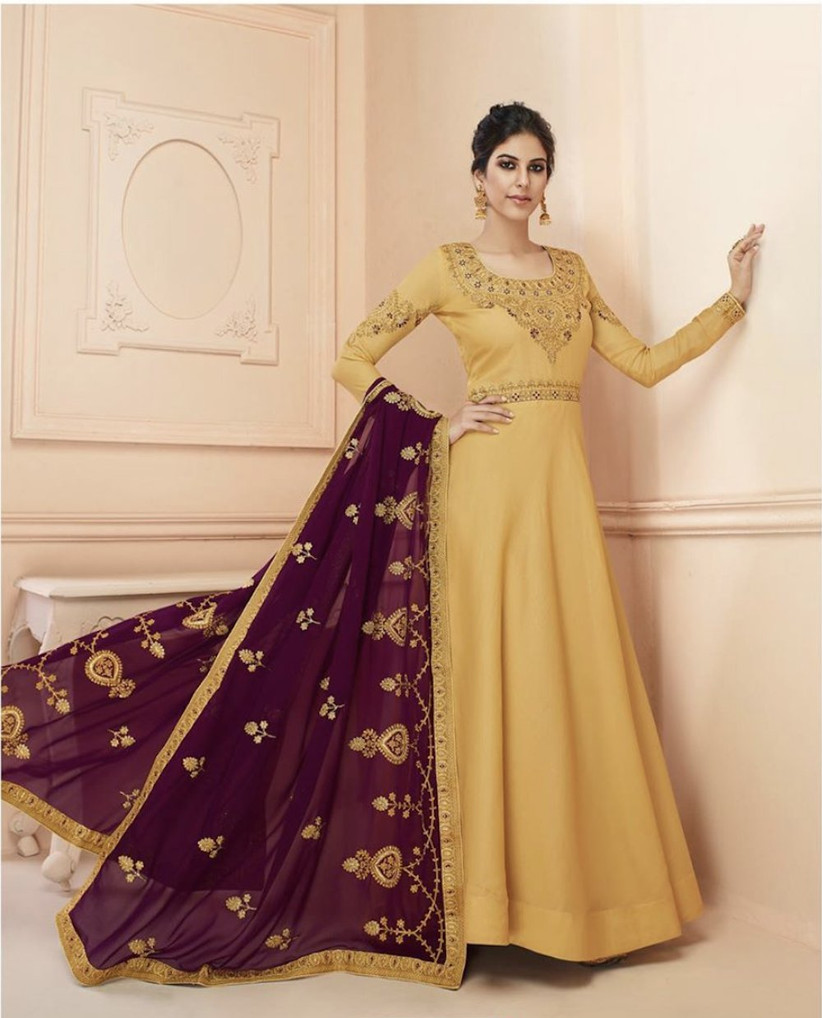 A scooped round neck, sequins and a sunshine hue set this anarkali dress apart from the rest. Subtle detailing around the bodice and a contrasting burgundy dupatta add to the elegant effect.
6. Grey Lehenga with Plain Blouse and Dupatta – £199, Anisha Shetty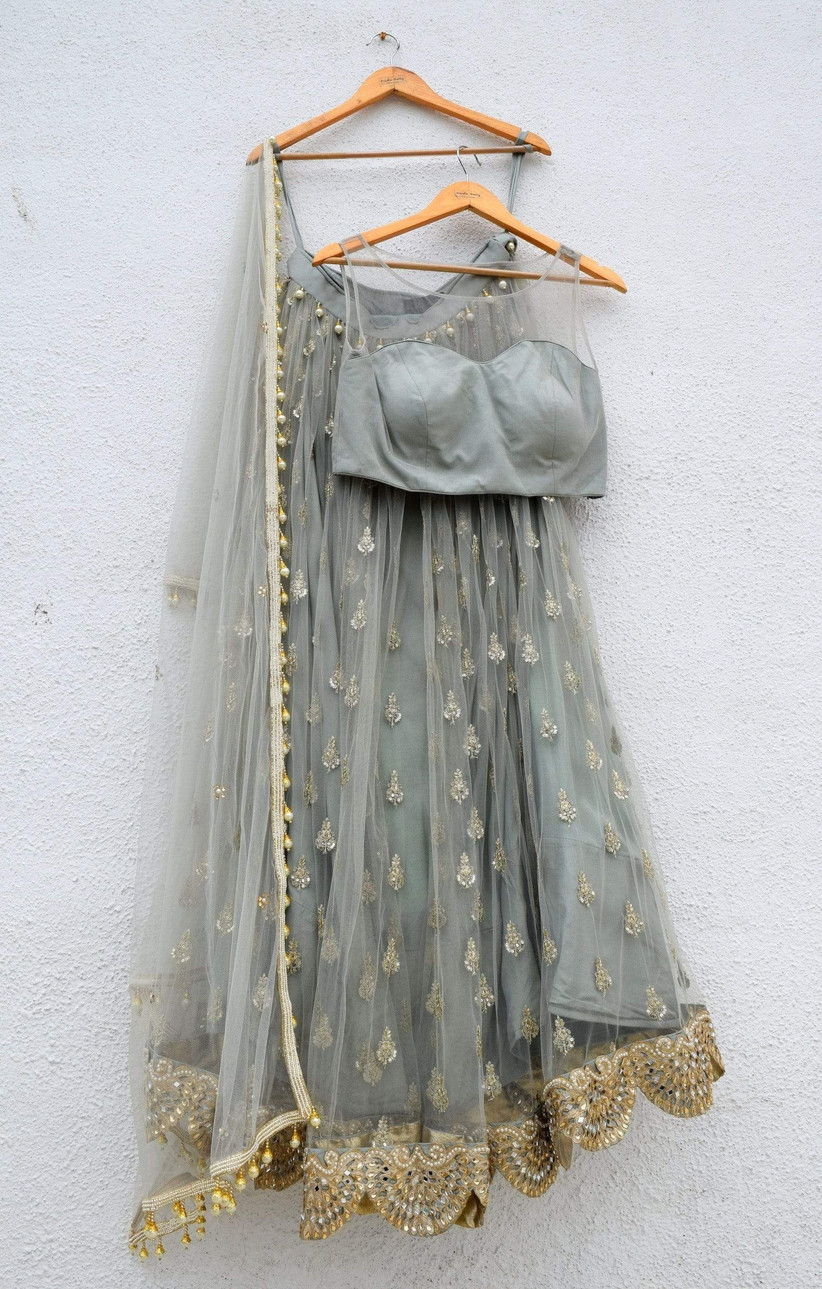 If muted tones are more your thing, this chic grey lehenga proves that a low-key colour needn't be boring. An embroidered, pearl-edged net skirt and pearl-trimmed dupatta adds a seriously luxe feel – team it with pearl jewellery or hair accessories to complete the look.
7. Royal Blue Pre Draped Saree with Lime Green Embroidered Blouse – £165, Label Nitika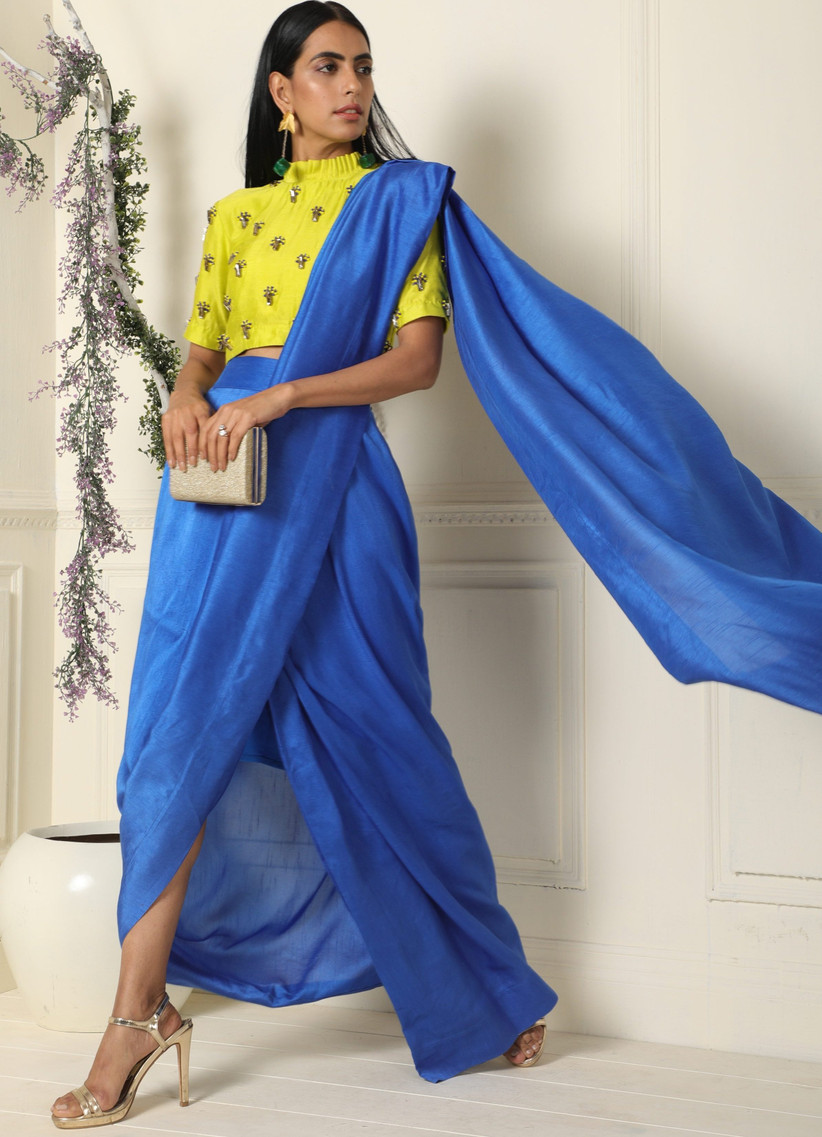 This zingy colour combination will keep energy levels sky high all day long and the neon bejewelled blouse would look as striking with high waisted jeans as it does under this pre-draped sari.
8. Purple Printed Draped Saree With Pants – £210, Esha Koul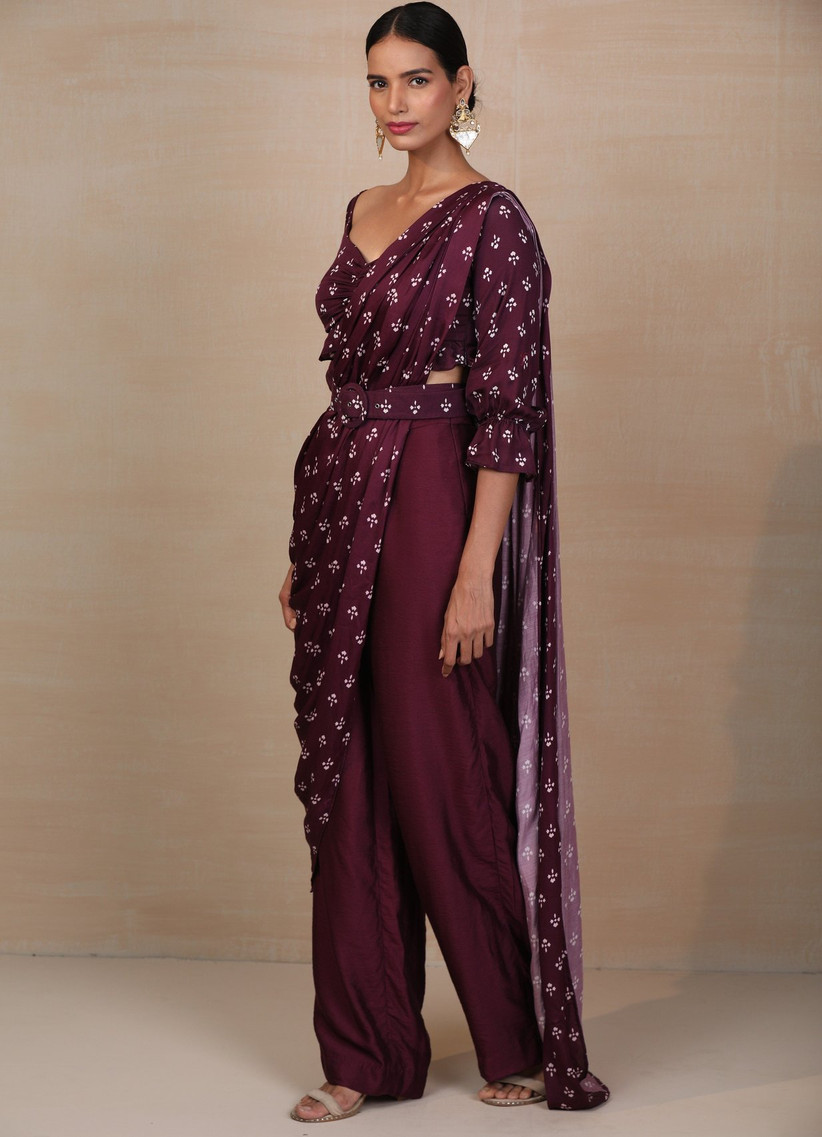 This slinky satin trouser, top and saree set is ideal for winter weddings and pieces can be styled out individually to give it even more legs.
9. Coral Anarkali with Peach, Grey and Gold Dupatta – £189, Anisha Shetty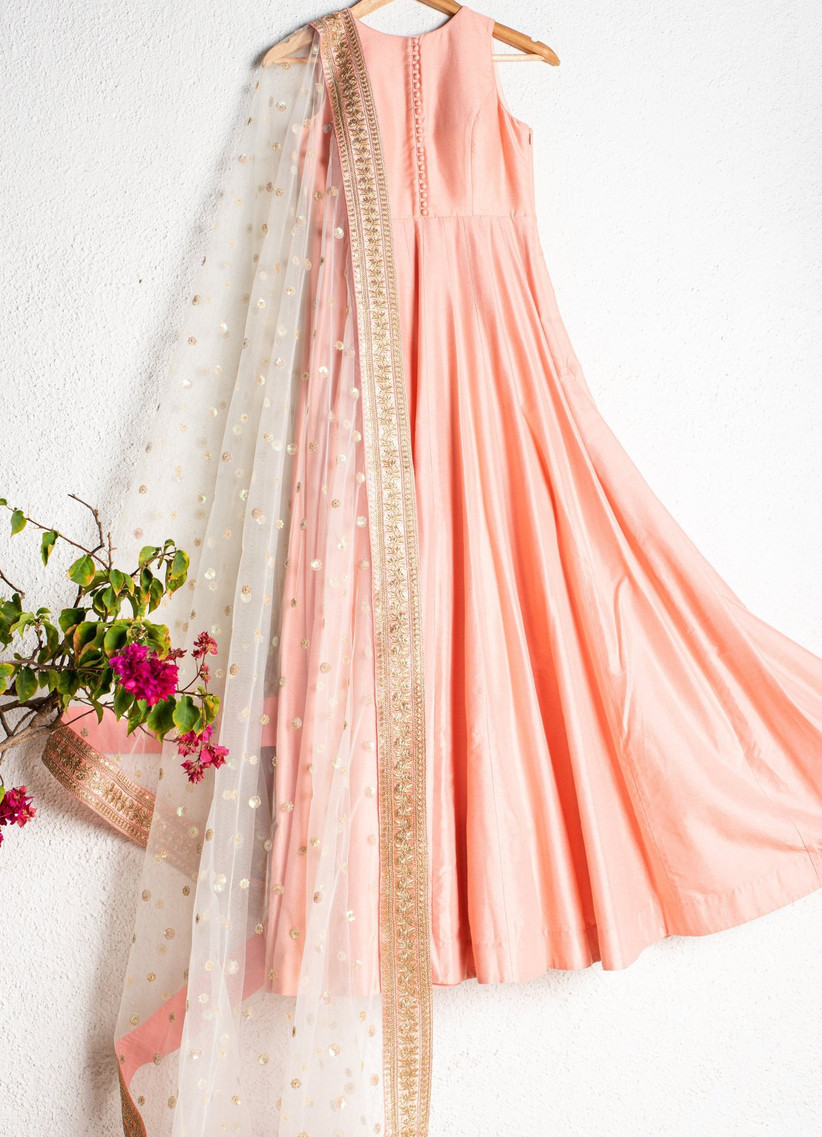 Hand crafted and customisable, this beautiful cotton and silk blend anarkali ticks the pastel box trend and the embroidered dupatta will go with anything and everything.
10. Navy Blue Net Saree with Zardosi Silk Blouse – £239, Priti Sahni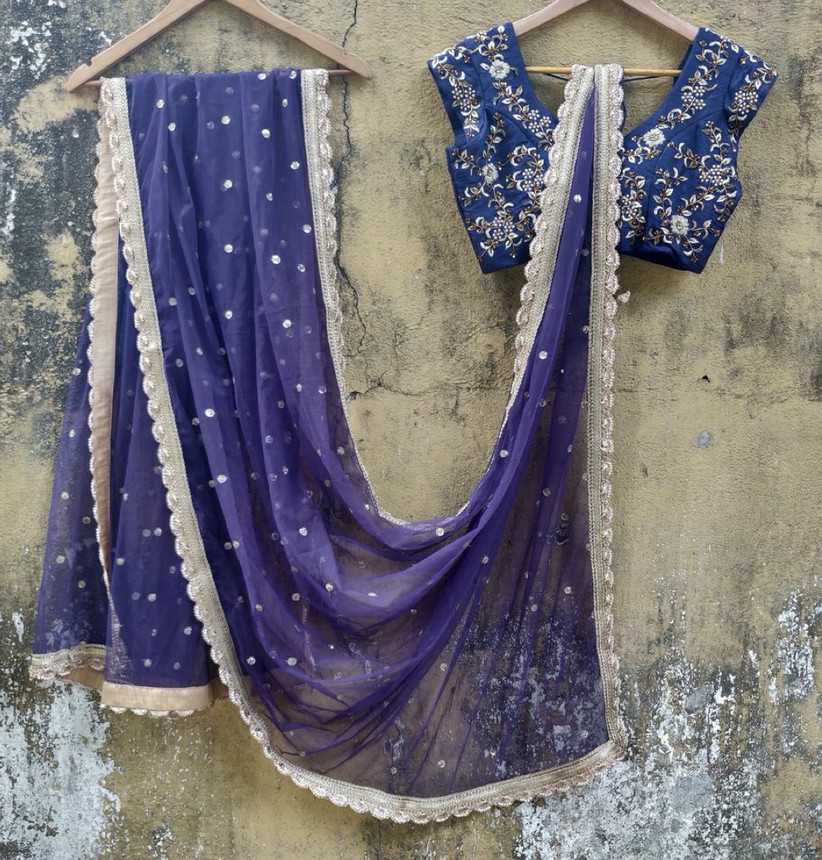 A gold scallop bordered saree stands out against deep blue silk, with pearls, sequins and detailed embroidery for good measure. This one has a touch of magic about it.
READ MORE: 23 Unusual Dresses for Wedding Guests
11. Snowdrop Gown – £550, Needle & Thread
Embellishment, swish and shimmering green sequins – this vintage inspired spangly gown is just the thing for modern Indian wedding celebrations. It has a loose silhouette but an optional tie waist allows you to cinch it in too.
12. Powder Blue and Black Anarkali – £169, Anisha Shetty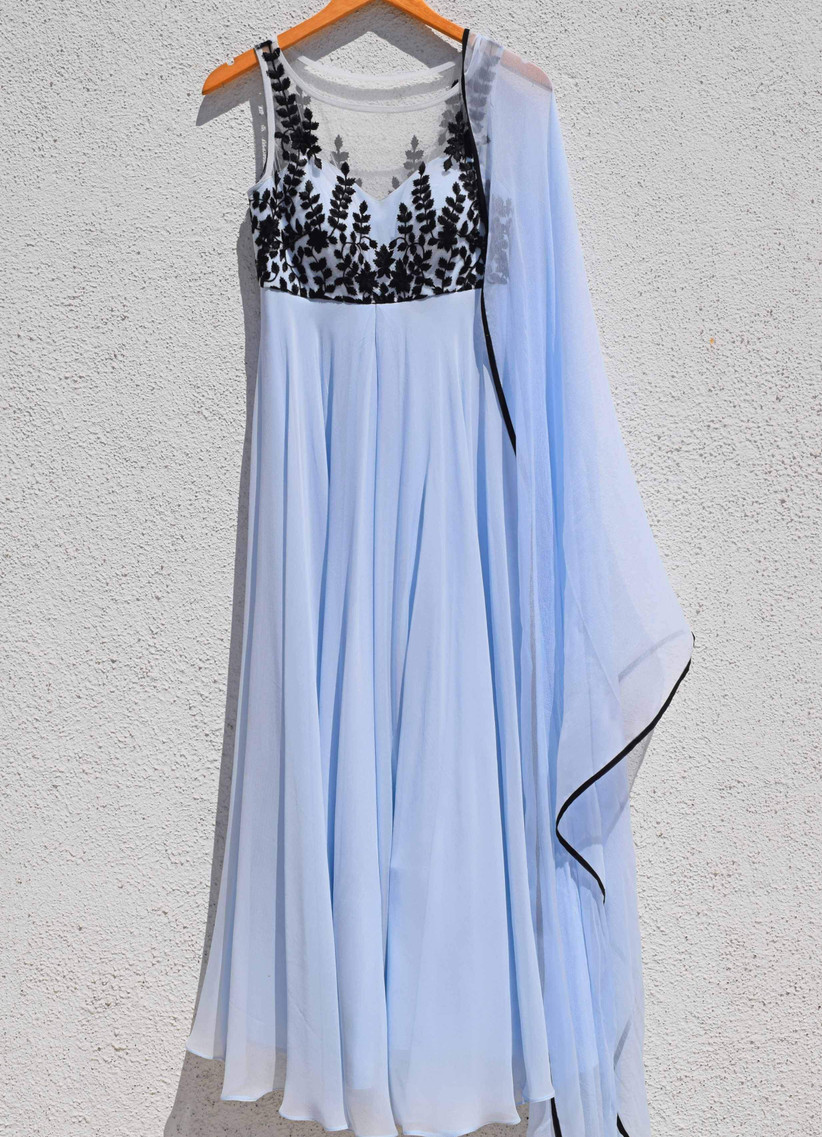 Black floral embroidery stands out all the more against a powder blue anarkali dress. The dupatta is simple but effective too – the light blue chiffon with a black trim looks ethereal whether draped around your shoulders or over your head.
13. Rosamel Maxi Dress – £220, Anthropologie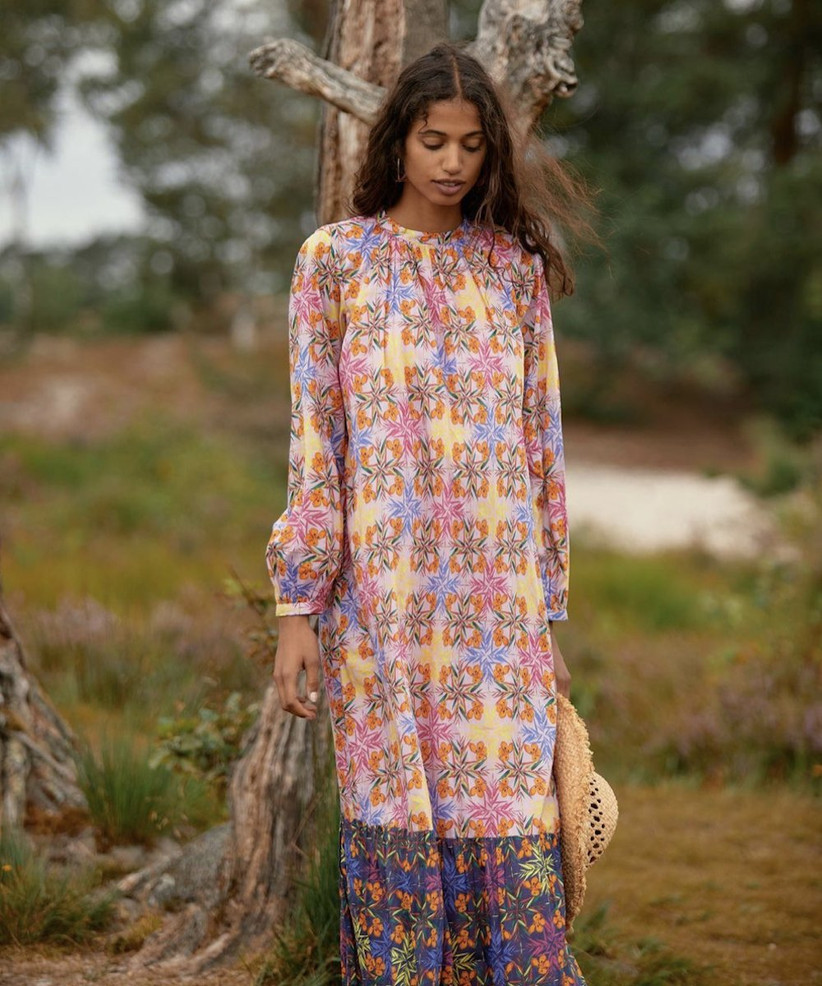 A colourful cotton maxi dress that speaks for itself but will look even more jazzy when dressed up with chunky jewellery and a pair of heels.
14. Pine Green Lehenga Choli – £80, Shopkund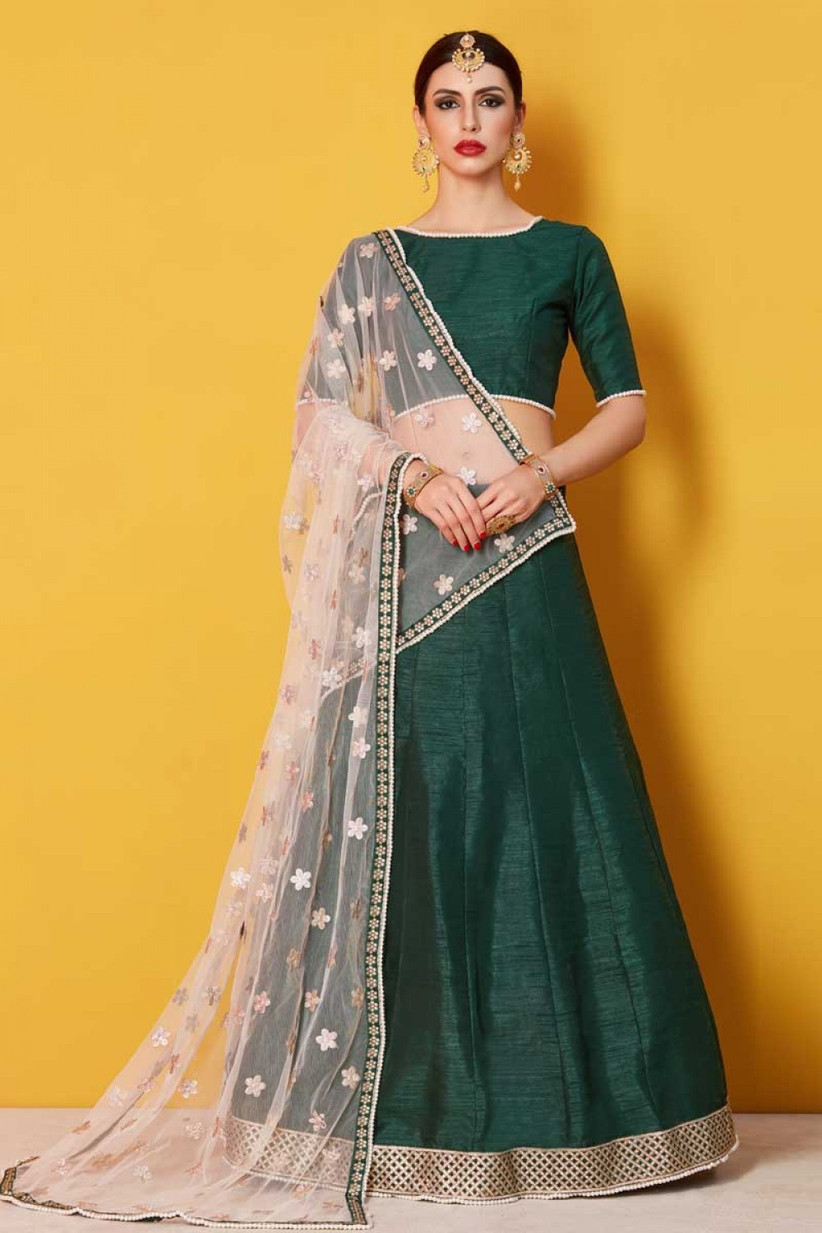 The understated design of this polished, gold trimmed lehenga set allows sumptuous colour to take centre stage. It's also another standout choice for winter weddings.
READ MORE: 45 of the Best Winter Wedding Guest Dresses on the High Street
15. Indo-Western Flared Trouser Suit – £169, Mongas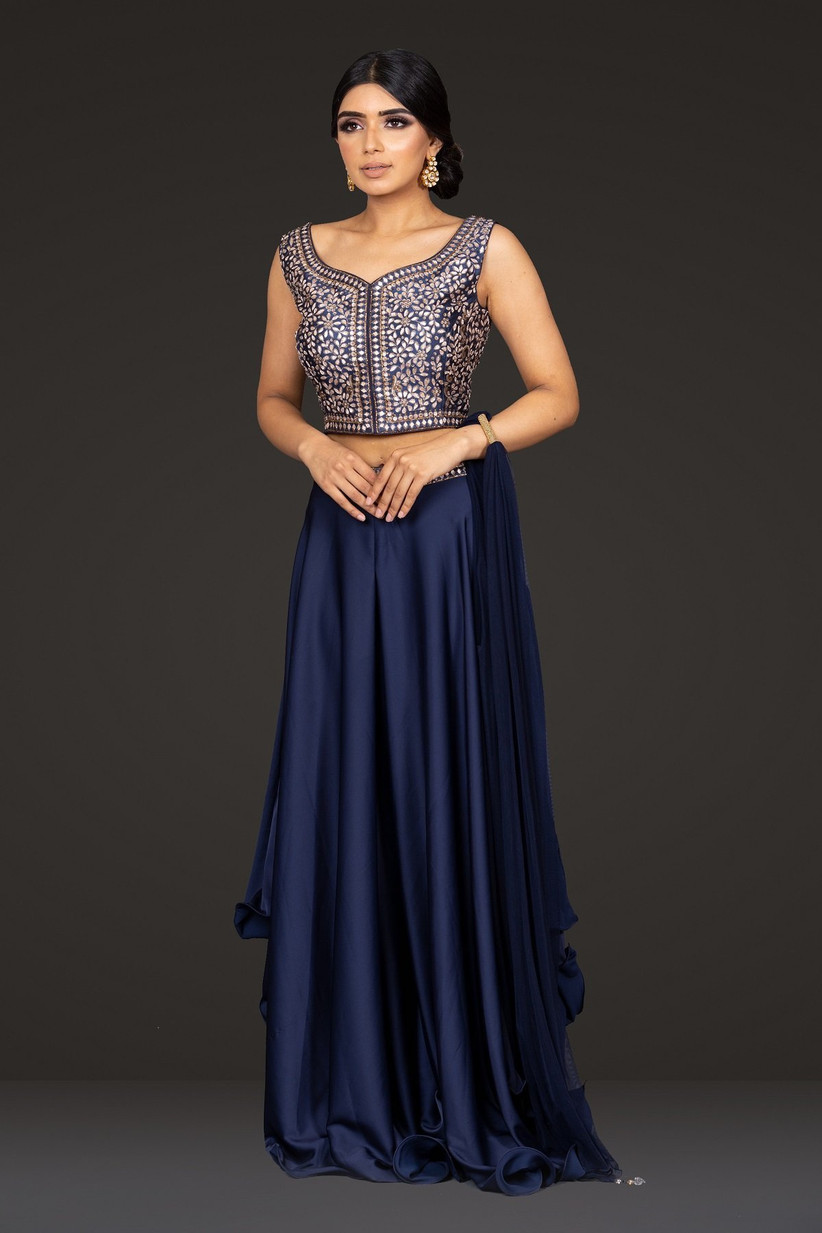 A mosaic-like digital printed top combined with silk wide legged trousers makes this trouser suit a modern gem for Indian wedding celebrations. These trousers would look just as snappy when teamed with a crisp white shirt for less formal occasions.
16. Hena Suit – £175, Tayarii Clothing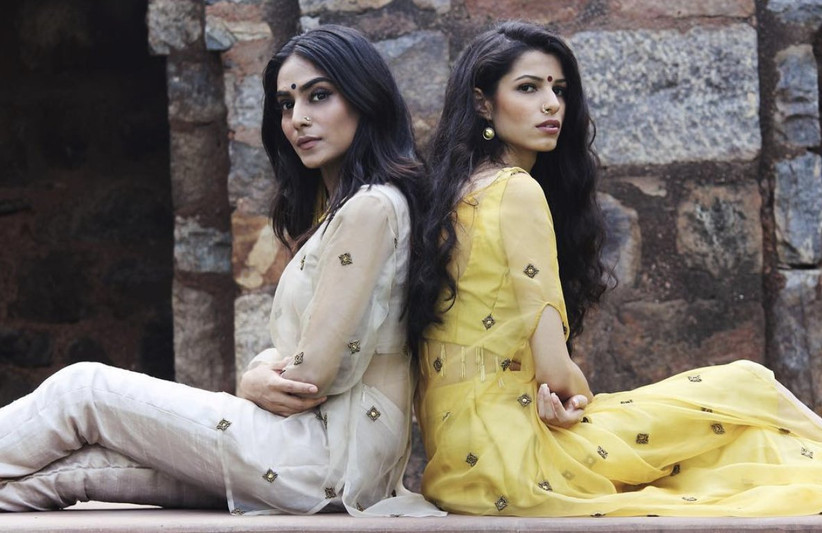 This three-piece trouser suit can quite literally be tailored to your every whim – if there's a shade, fabric, finish or embellishment that you fancy, designers and seamstresses will whip it up for you in as little as a month. This particular set features fine organza and silk with a crepe lining and it's as comfy as it is chic.
17. Sophie Embellished Green Tulle Maxi Dress – £150, Monsoon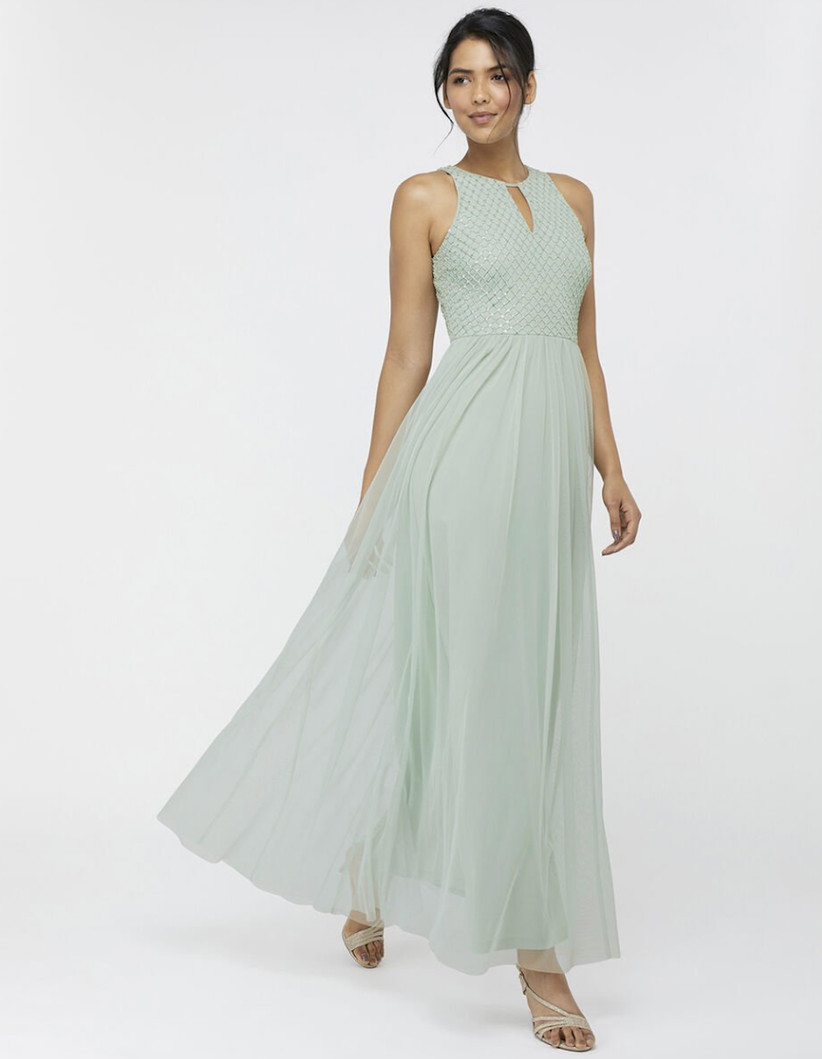 A bedazzled high street gown that would fit in beautifully at any Indian wedding – just team it with a swishy shawl and the prerequisite jewellery to complete your outfit.
18. Onion Pink Ruffle Saree with Embroidered Blouse - £165, Fabilicious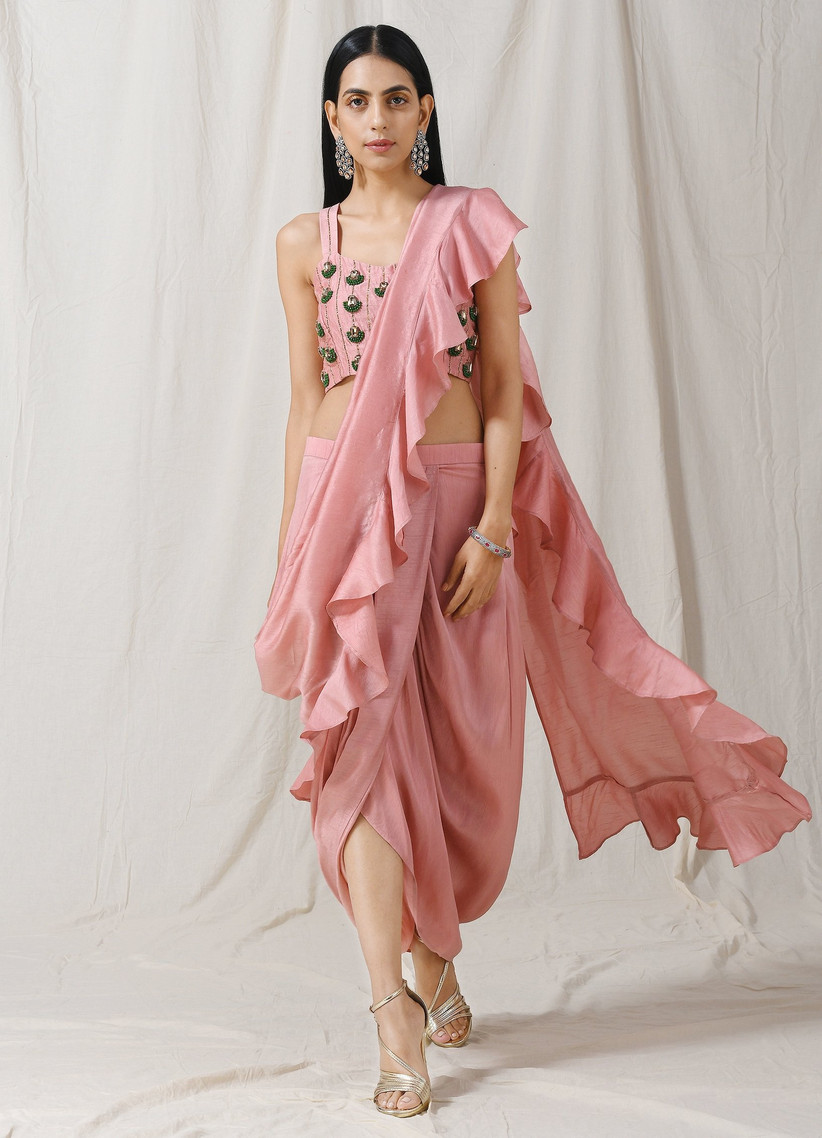 A saree that will look sensational on the dancefloor and feel light as air to wear. Silk blend fabric, a distinctive embroidered blouse and cutting-edge design make this set cool in every single sense.
19. Dress Hire – from £30, Bollywood Borrowed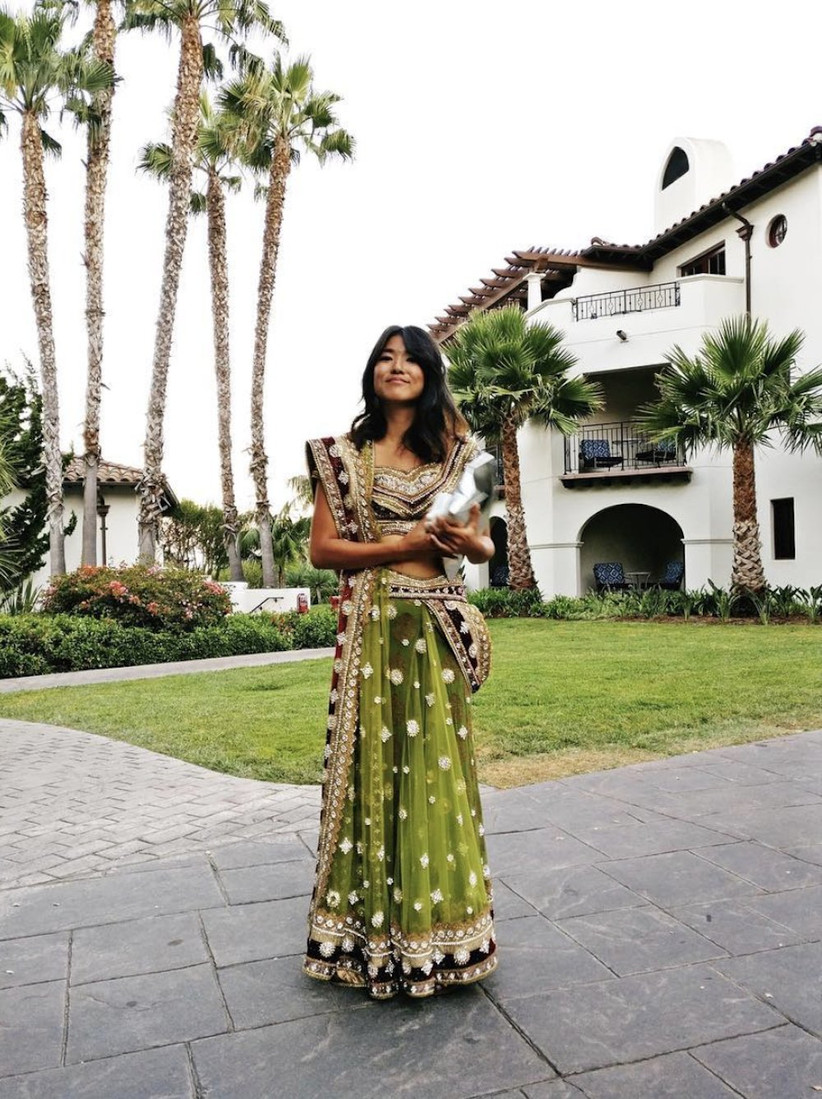 Whether you've got a few events in the pipeline that you'd like to vary outfits for or in case your budget doesn't stretch to buying a new ensemble, Bollywood Borrowed allows you to hire the Indian wedding attire of your dreams. From sarees to lehengas to tunics and dresses, there's an abundance of choice to suit every style and you can also buy new or second hand outfits if you happen to fall in love with a particular item.
READ MORE: The Best Places to Rent a Wedding Dress
Indian Wedding Guest Outfits for Men
1. Maroon Silk Asymmetrical Sherwani Jacket and Trousers – £250, Mongas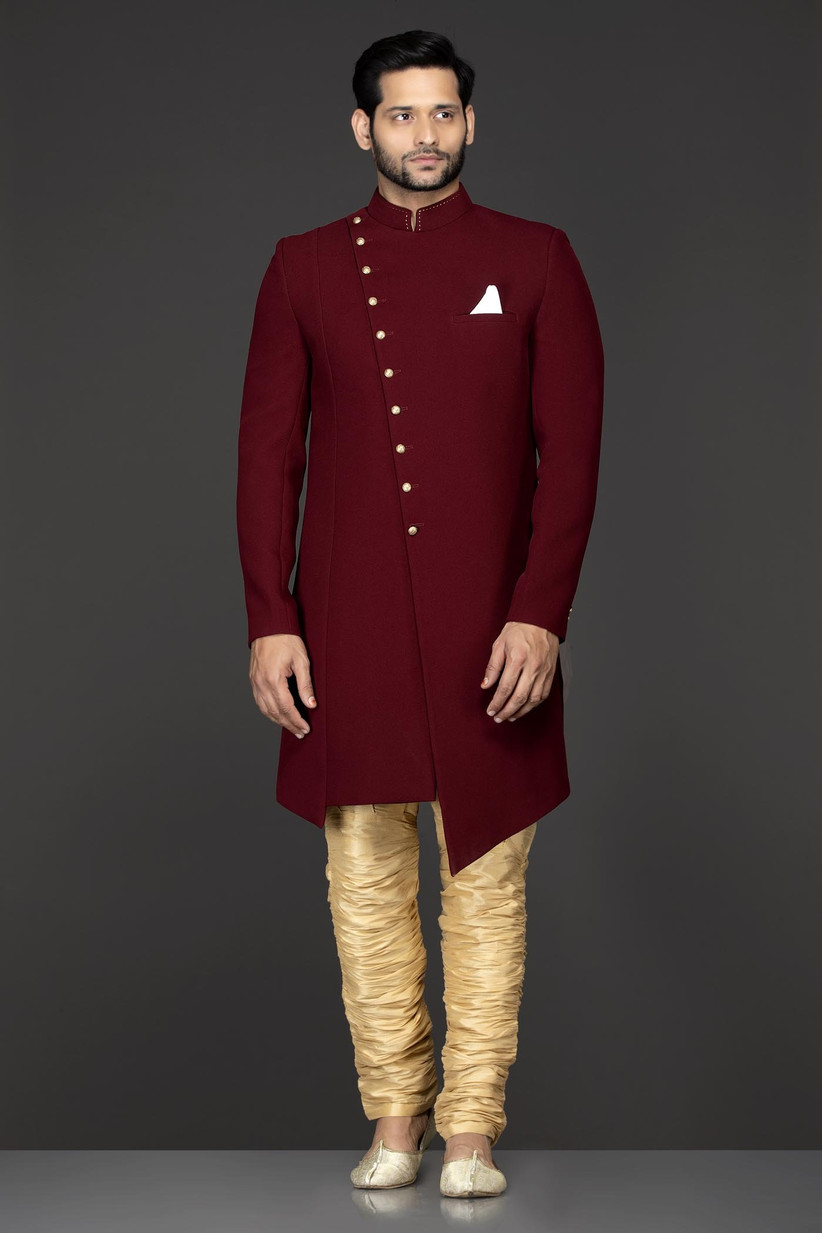 Lavish, luxurious and quite simply frankly fit for a king, this asymmetrical sherwani contrasts gold detailing with a rich maroon shade and includes an ivory pocket square for even more polish.
2. Navy Blue Kurta with Gold Trim – from £65, Bollywood Borrowed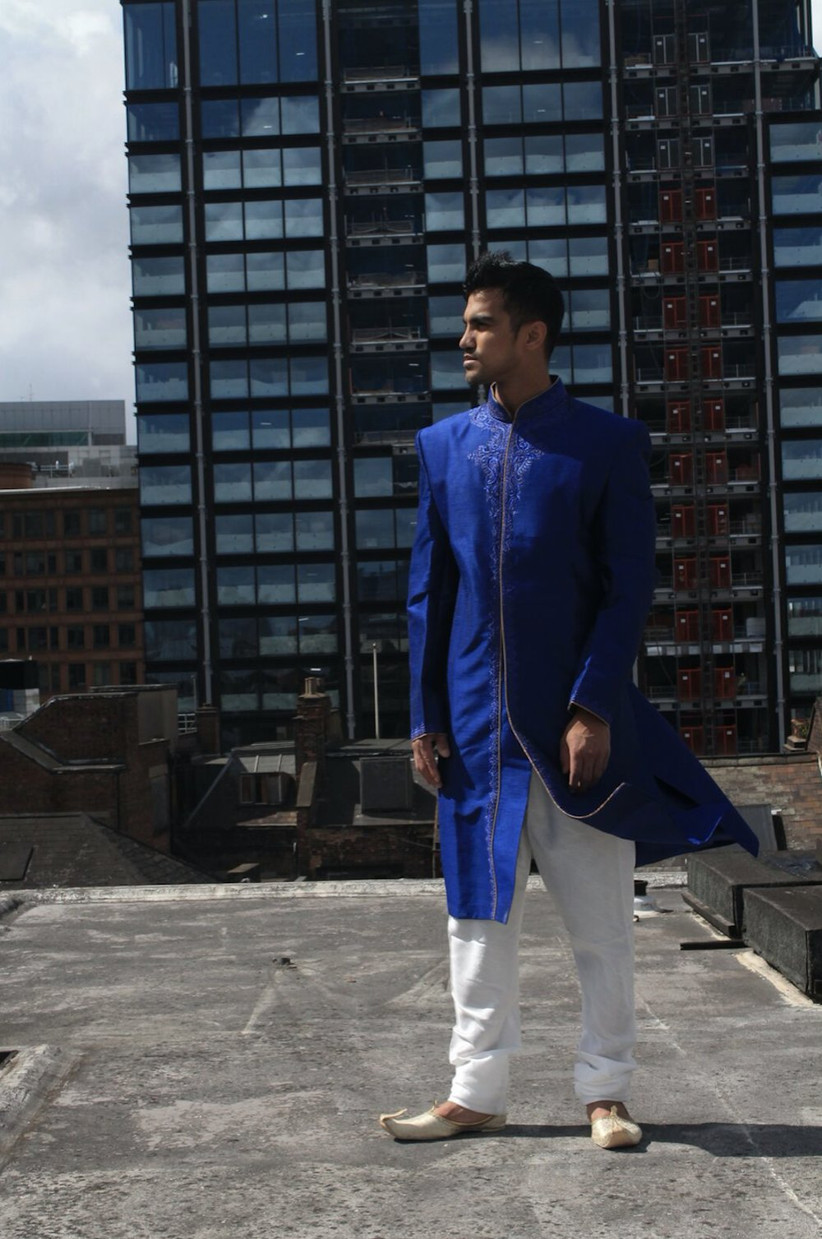 If you're keen to rent a suit, you can't go wrong with this kurta tunic and trousers combo. You can purchase insurance if you're worried about keeping those white trousers pristine.
READ MORE: 17 Best Summer Wedding Suits to Buy Now
3. Green Silk Indo-Western Suit – £130, G3 Fashion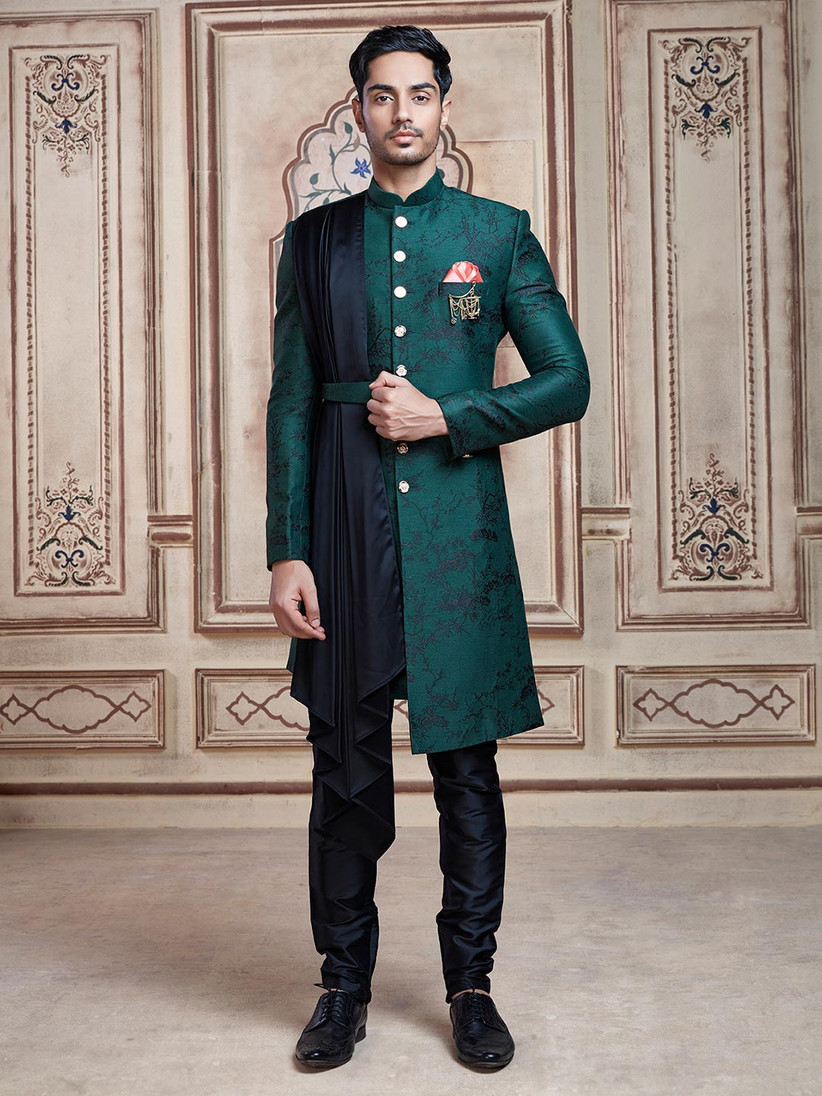 Navy detailing with a matching dupatta against a deep green background makes this jacket stand out for all of the right reasons. Brooch and bottoms are included which makes it very reasonably priced too.
4. Luxe Brocade Waistcoat Set – £39.99, Diya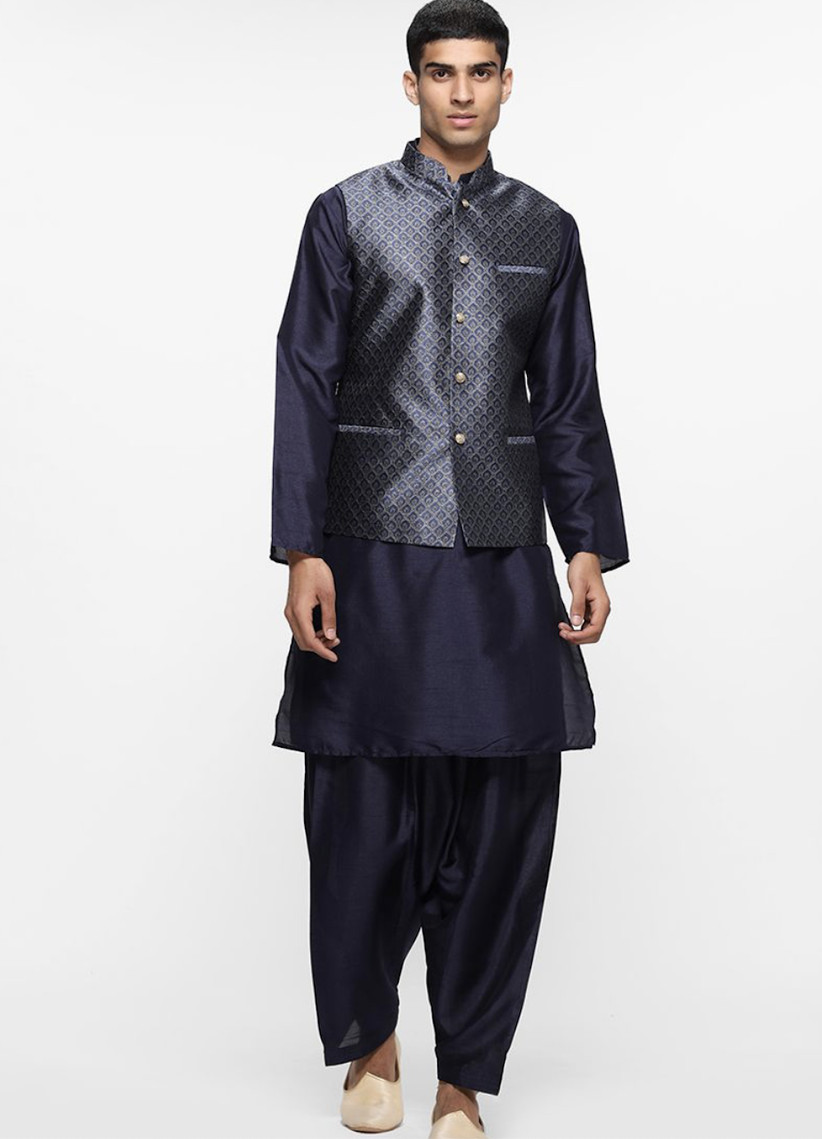 A royal blue salwar kameez (a long tunic and drawstring trouser suit) that looks far pricier than it is, this understated option is the perfect choice for the colour shy.
5. Beige Cotton Printed Jacket Style Kurta Suit – £38, G3 Fashion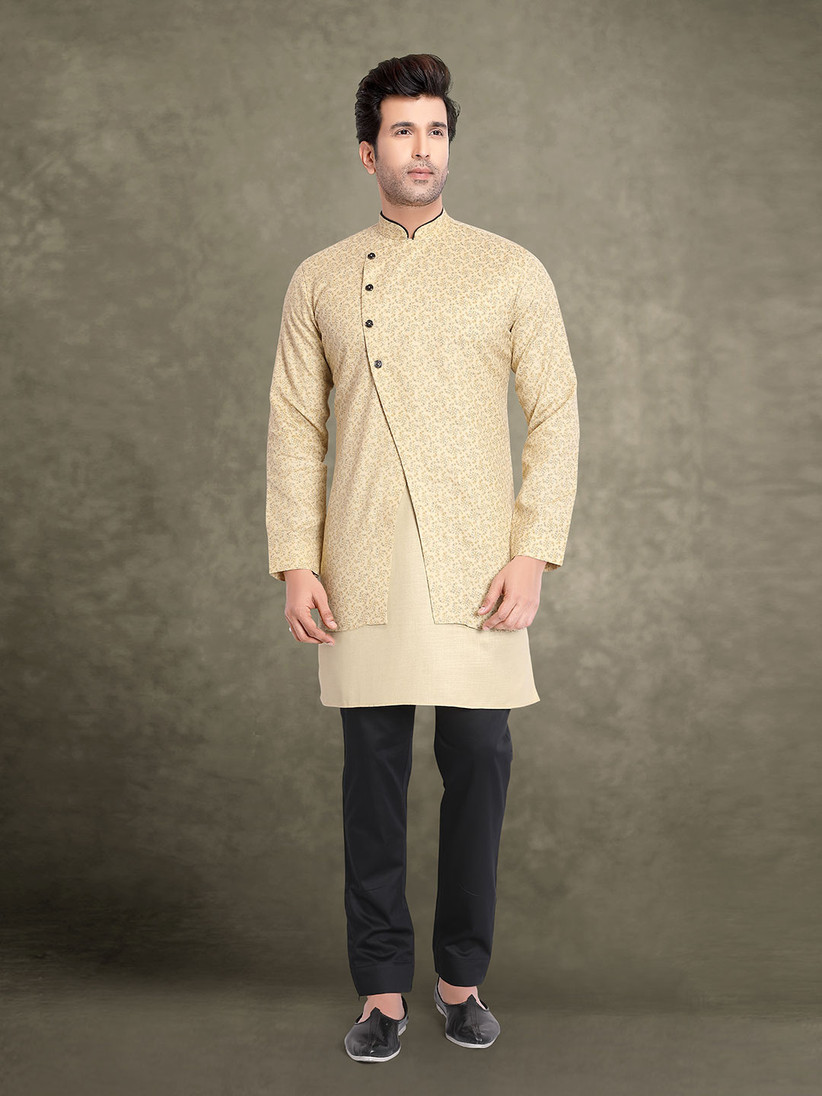 A lightweight summer suit option, this printed beige half-buttoned kurta looks slick thanks to its asymmetric fastening and clean lines.
6. Sleeveless Salmon Waistcoat – from £25, Bollywood Borrowed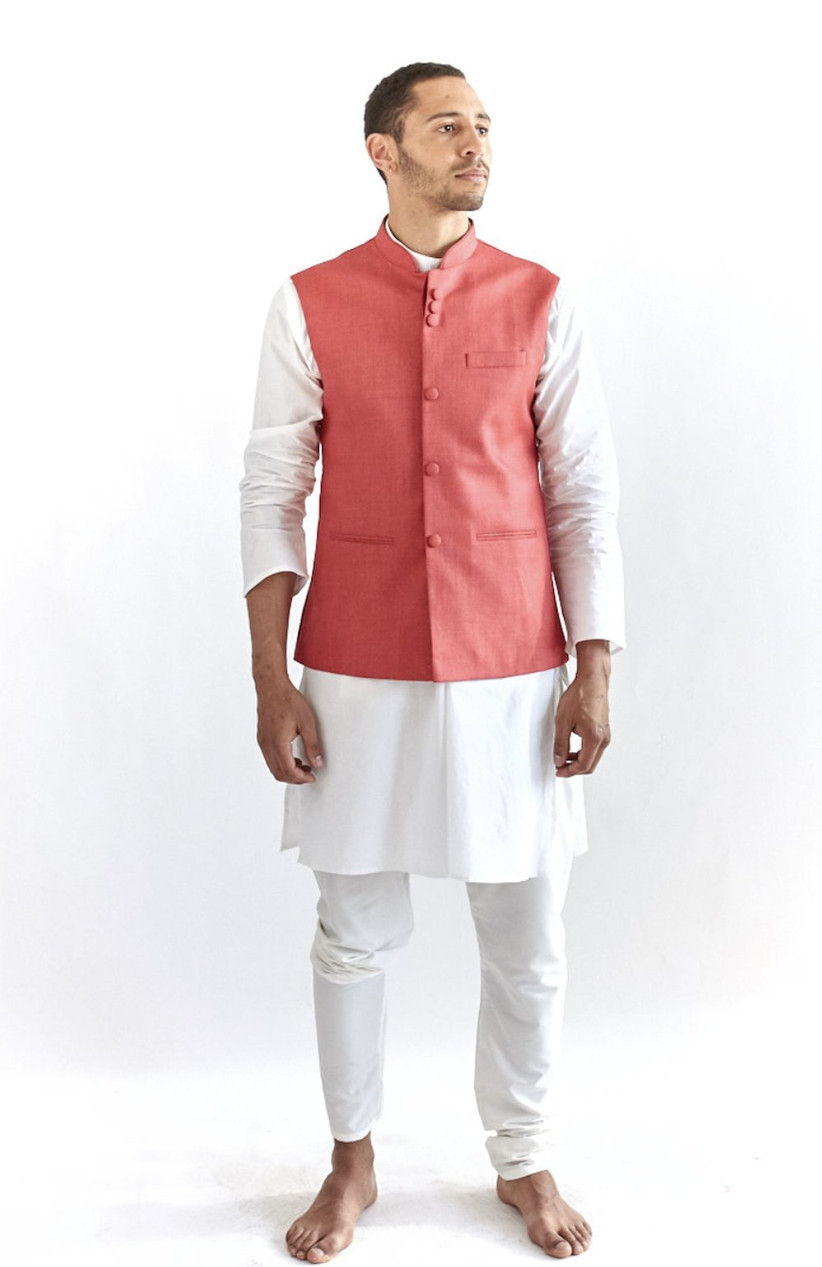 After something brighter? This salmon pink waistcoat will go down particularly well at summer weddings and add a 'pop' to neutral suits.
7. Sky Blue Silk Waistcoat Set – £81, G3 Fashion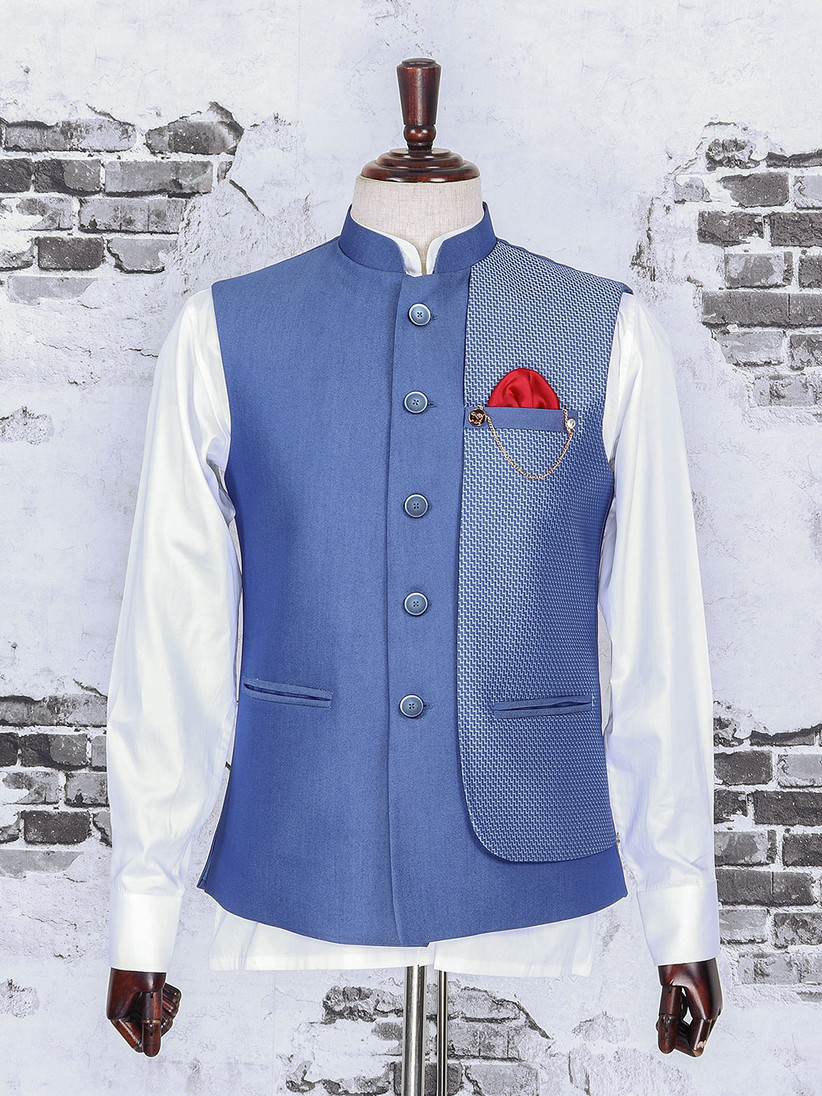 From pink to sky blue, this luxe silk waistcoat comes with matching (equally silky) trousers and a crisp white shirt. The red pocket square and brooch are built-in too.
8. Gold Foil Printed Kurta – £105, Musaba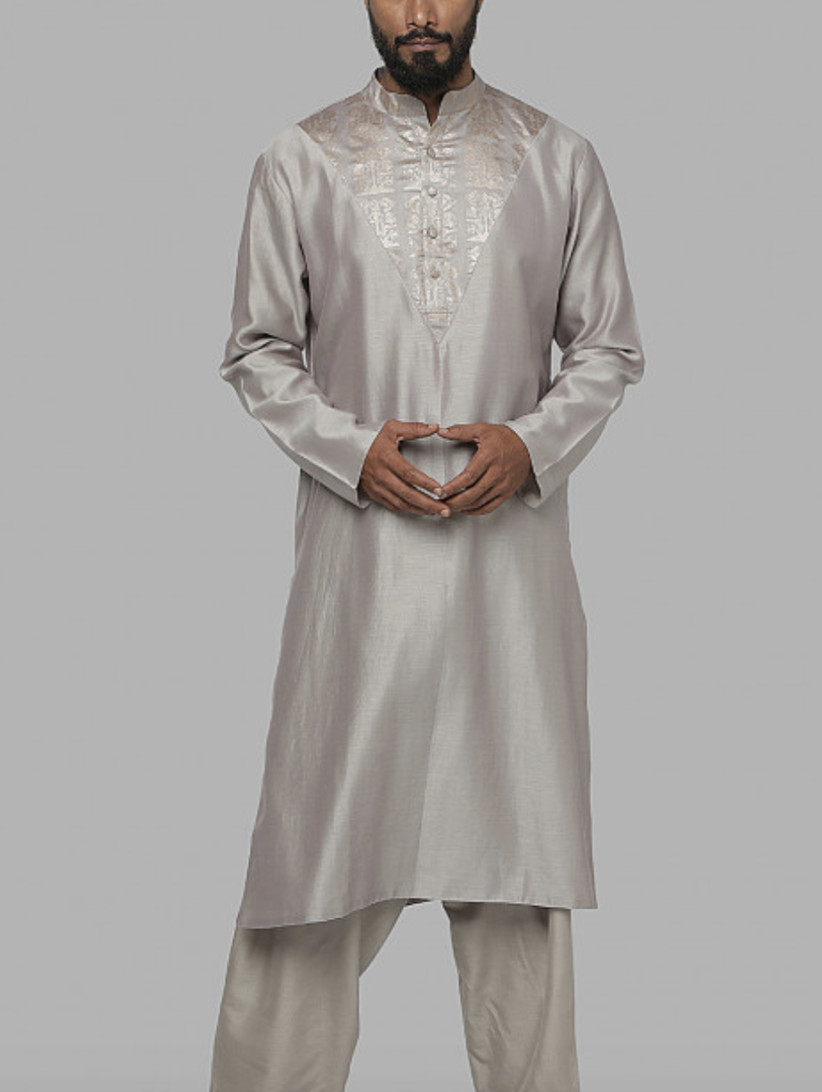 Shimmy into something special with this metallic detailed kurta. Each foil printed tunic is made to order to your exact specifications so it'll suit you down to the ground for many festivities to come.
READ MORE: The Ultimate Guide For Grooms Buying a Wedding Suit
9. Sage Green Silk Kurta – £257, Anita Dongre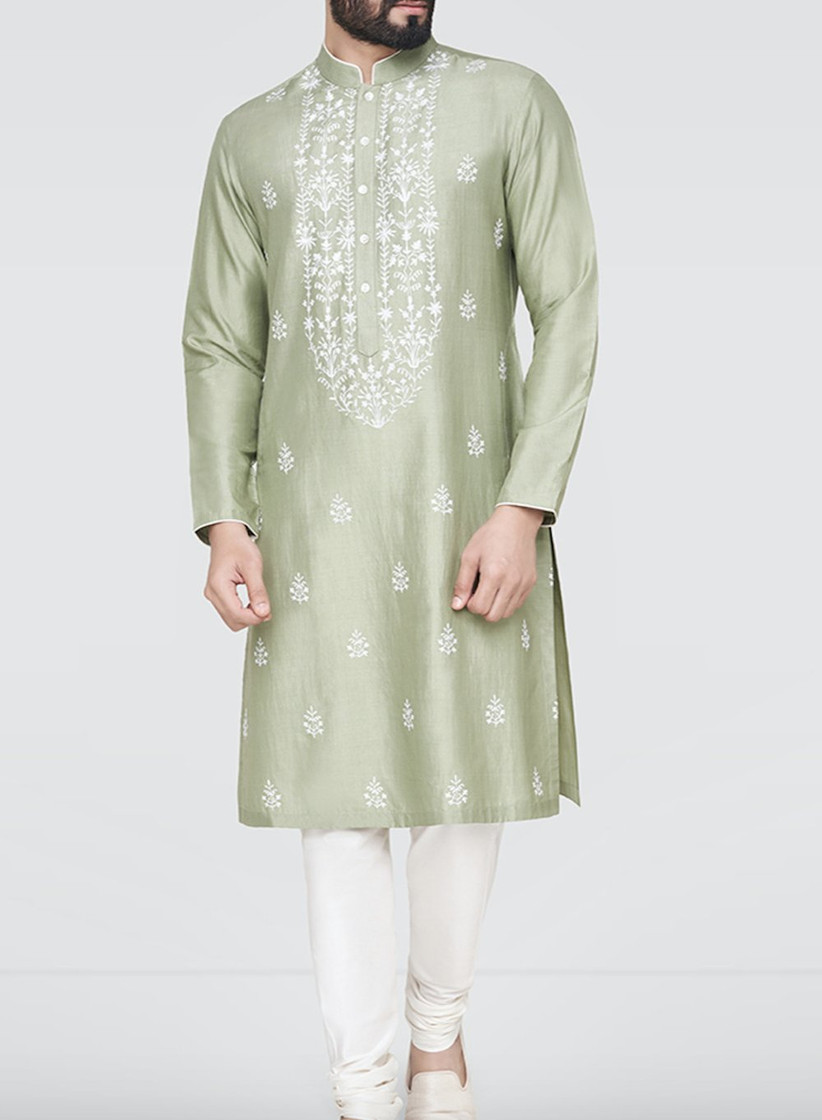 Beautiful hand-embroidery and luminous light green silk material make this kurta a keeper. All you need is a plain pair of trousers to finish your wedding suit.
10. Jodhpuri Achkan Sherwani – £140, Etsy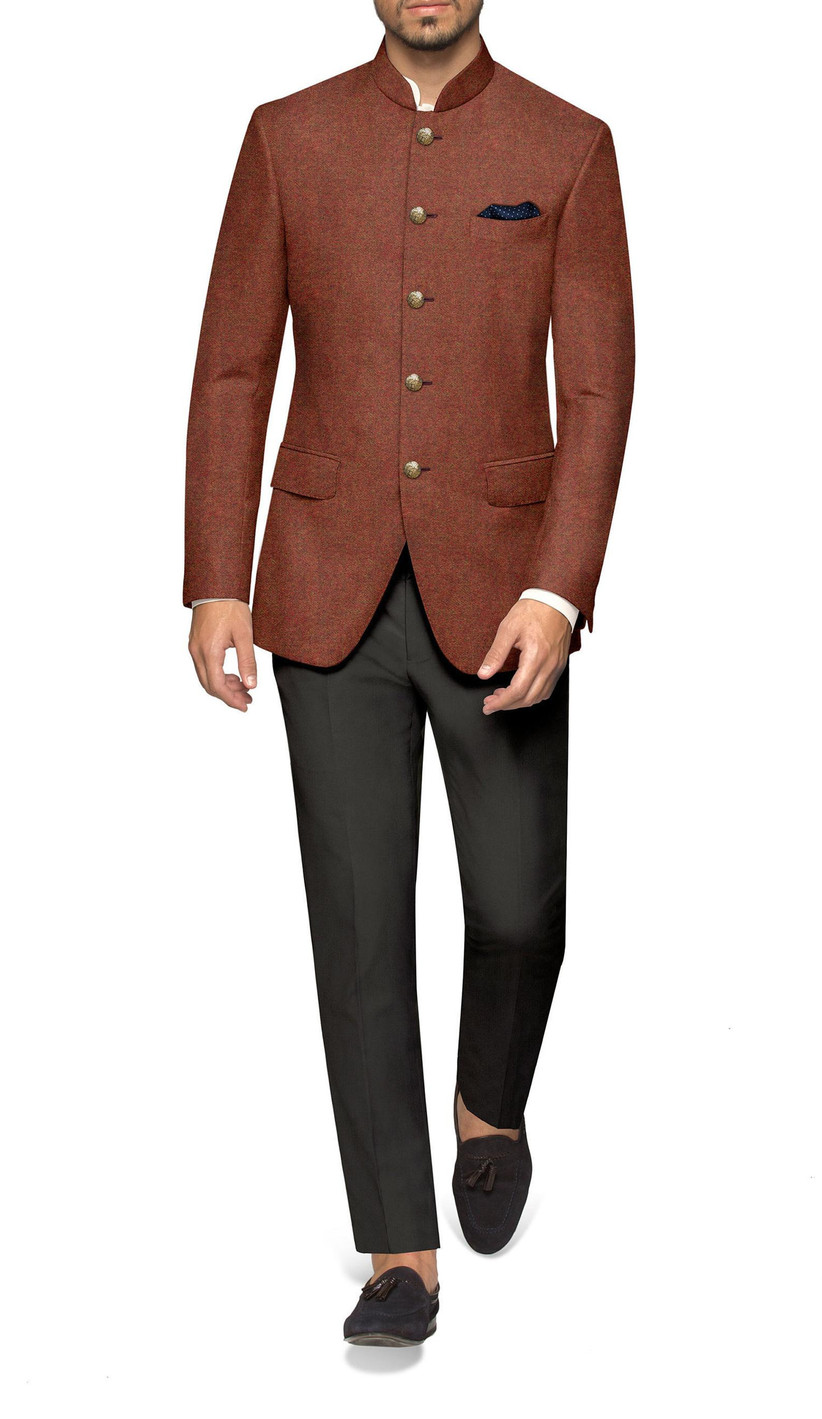 Take your pick of a selection of shades of this dapper jodhpuri jacket and choose trousers to match too (or not – each can be individually selected if you want to mix it up).
11. Linen Kurta Set – £146, Mayank Modi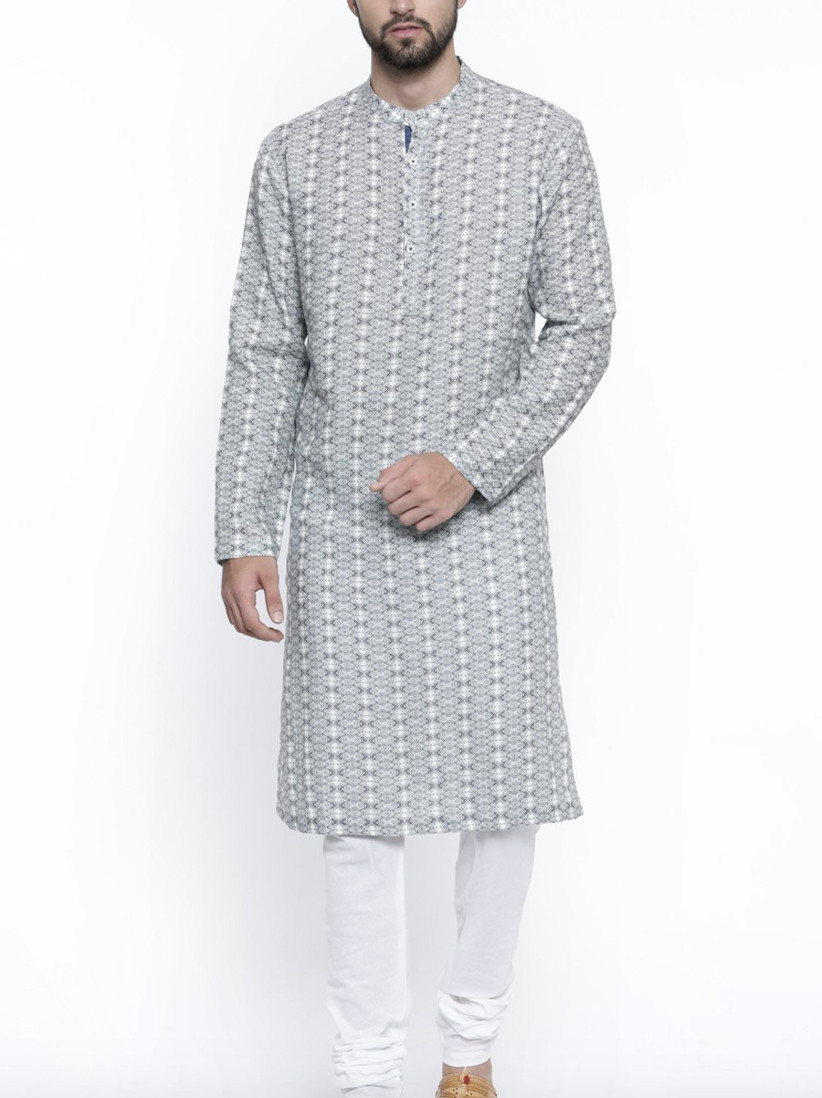 A low key, breezy linen set for minimalists, this tunic and trouser team will be blissfully lightweight at hot weather weddings.
12. Green Cashmere Blend Nehru waistcoat – £350, Sir Plus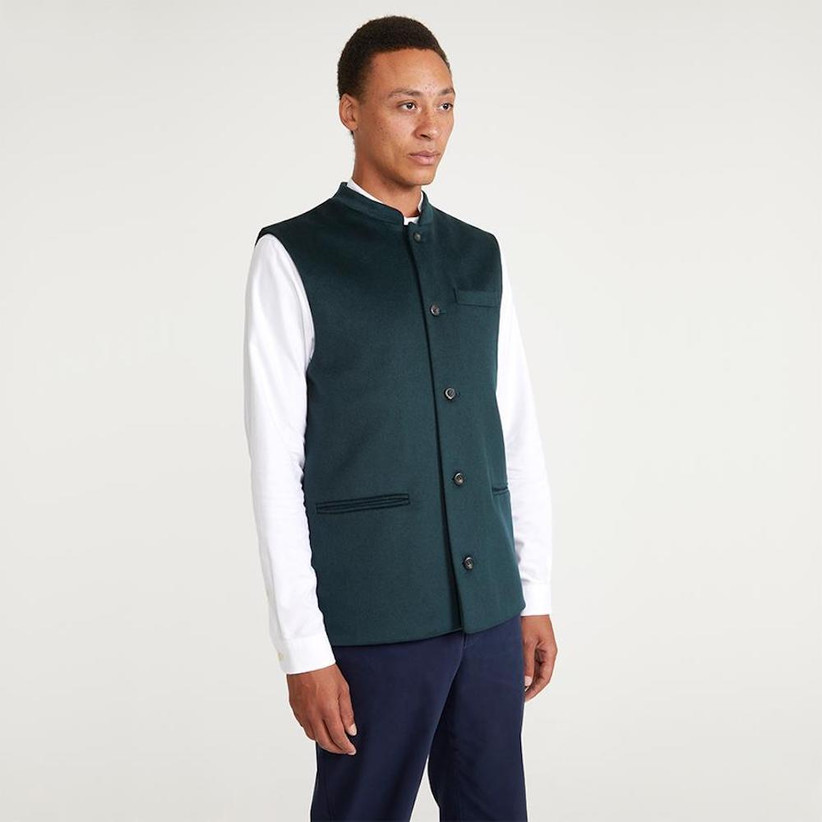 On the flipside this cosy cashmere blend Nehru waistcoat will keep you warm at winter weddings and prove to be a versatile formal wardrobe addition going forward. Dress it up with a bright silk pocket square and brooch.
Wondering what to expect at an Indian wedding? Read our guide to Indian wedding ceremonies and traditions.