Funny, heartfelt speeches are one of the highlights of a traditional wedding. Customarily it's the father of the bride, groom and best man's five minutes to shine, with a few risqué anecdotes, lots of fond memories and plenty of thanks for the people who brought the day together.
But what about when the day is far from what you envisioned? Currently weddings are limited to just 15 people, which can kick up a few problems for the speeches. Do you still have speeches for such a small number of guests? Should they be kept very short? Will it be awkward if you bring up any embarrassing stories to a group that's predominantly parents and grandparents? If they're having a bigger reception at a later date, can you recycle the same speech?
We spoke to the wonderful team of expert wedding speechwriters at Speechy to find out the rules around speeches and toasts at a Coronavirus wedding.
READ MORE
Should We Still Have Speeches at a Wedding During Coronavirus?
It's completely up to you, but our answer would be absolutely yes! Weddings are one of the most memorable life moments, and for couples marrying during Coronavirus, you've battled even harder to make your special day happen. Don't let it pass without the laughter and memories that speeches bring.
"Without the usual wedding traditions, the band, the DJ, the dads getting drunk and showing off their 'moves', your speeches are now, officially, the 'entertainment'," says Speechy's founder and former BBC scriptwriter Heidi Ellert-McDermott. "But don't let this intimidate you.
"As well as adding laughter to the day (the essential bonding juice at any wedding!), a well-crafted speech will add true meaning and poignancy to the day. It will immediately elevate the wedding breakfast so it feels like more than just a posh dinner out.
"With such a small guest list you can address everyone there and ensure no one's left out. This really is your chance to drop a lovebomb on all the folk who have made it into your Top 15!"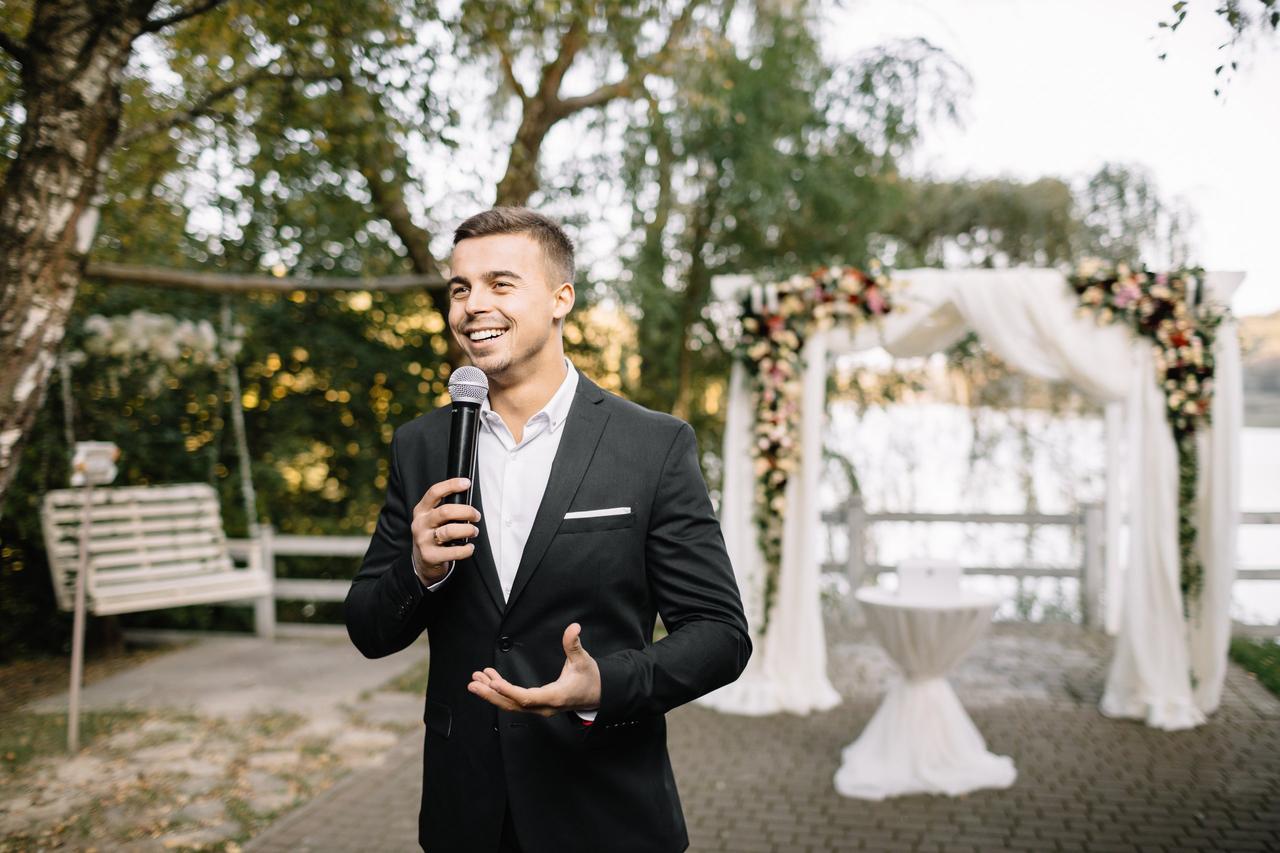 Who Should Give a Speech at a Small Wedding?
The traditional speech givers are the father of the bride, groom and best man (naturally this is shaken up for same-sex weddings). But when they make up a fifth of your entire wedding party, it might be time to consider a different approach.
"Feel free to ditch the traditional speech line up (to be fair, we suggest this at large weddings too!) and instead think, who would enjoy and be good at delivering a speech. Who do you want to hear from on the day?" says Heidi.
At such a small wedding, it makes sense for both the newlyweds to speak. It's such an intimate event with the two of you at the heart of it that your guests would love to hear from you. During lockdown, most of us have been separated from our friends and family and, even on your wedding day, there may be vulnerable loved ones who can't make it. Give each of your guests a special shout out and thank them individually for being there. If you're including a virtual live stream element, you can address those watching at home too.
A guest list of 15 means you can think outside the box, says Heidi. "With a small guestlist you could opt for Scandinavian-style spontaneous speeches, where everyone is invited to stand up and propose a short toast to the happy couple. The toasts could literally be 30 seconds long but encourage people to be no more than three minutes." You'll want to warn them in advance to keep things short and sweet!
READ MORE: How to Write a Short Best Man's Speech
How Long Should Speeches Be at a Small Wedding?
"Make sure your speech reflects your wedding size," recommends Heidi. "Keep it succinct. No waffle. Ideally less than 1,000 words."
At a larger wedding, a good speech would be around five to seven minutes long (up to 10 minutes if you're an accomplished speech giver). At a small wedding, your speech should be three to five minutes max (and you're welcome to make it shorter if that feels more comfortable).
Stick to thanking the people who are there, a few good stories about your partner/child/best friend, and finish with some joyful wishes for the future.
A short speech is even more important if the couple are planning a second reception. If you're due to give a speech at both (and you absolutely can - more on that below), you'll want to pace out your content and make this speech much more focused on the people who are there. Once again, short and sweet is your mantra!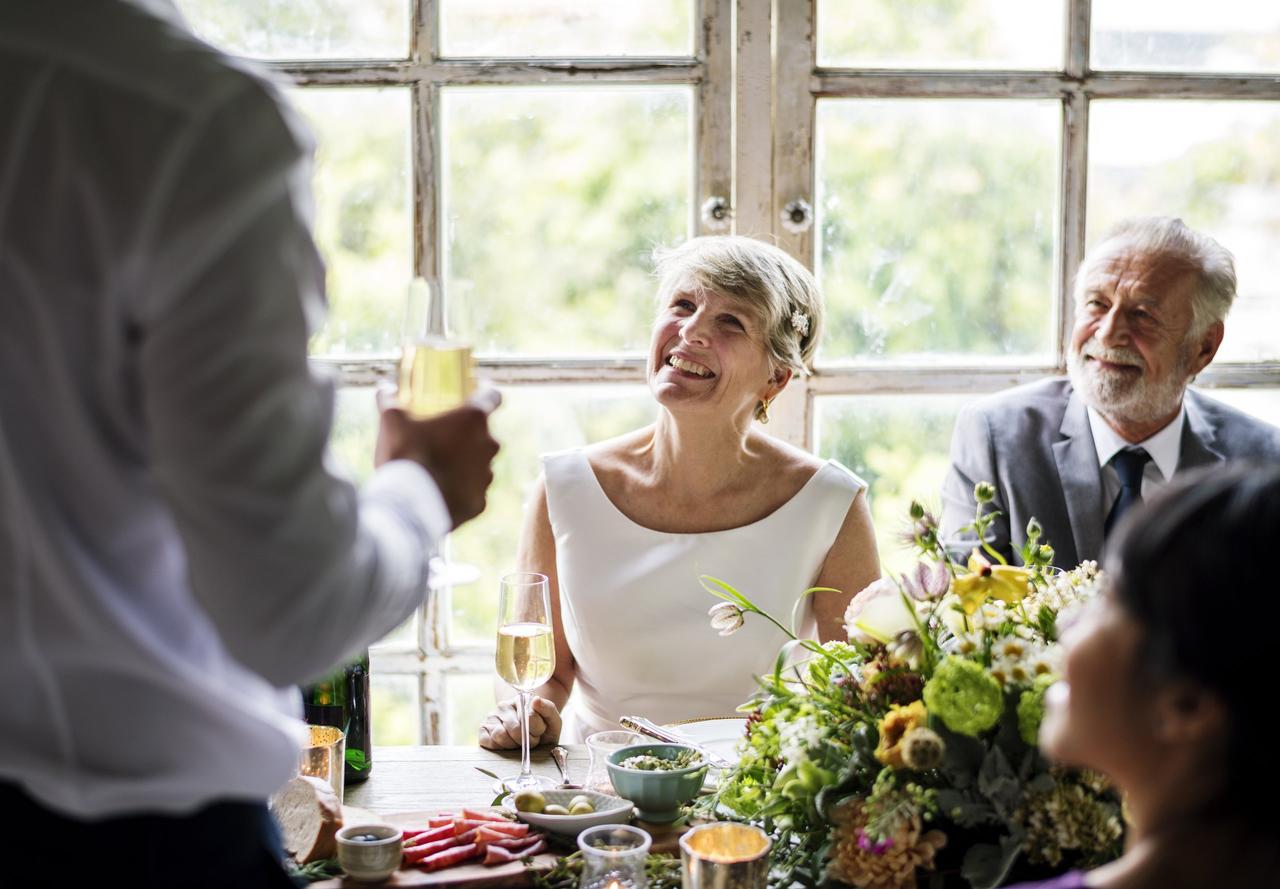 What Should You Say in a Speech at a Wedding During Coronavirus?
"Good news: with a smaller wedding, you can go less formal. No 'ladies and gentleman' unless you're delivering it ironically. And no faff with wedding mics. You really can just be yourself," notes Heidi.
Here's a good outline:
1) Start by addressing the fact the wedding isn't what you originally planned.
"Obviously tact needs to be shown regarding the enormity of COVID but depending on your audience, you can also have some fun about 'the things you need to do in order to get a booking for 15 people at a restaurant these days'," says Heidi. "Like a 'regular' speech, it's good to include humour at the top and sprinkle it throughout."
2) Keep a similar structure to a 'normal' wedding speech.
"Thank guests for coming, a bit about you two as a couple (a heavily edited, humorous retelling of how you got from your first date to getting married), the individual thank yous and the concluding romantic tribute to your partner," explains Heidi.
3) 'Go deep' on love.
The last part of your speech before the toast will be dedicated to your partner (if you're the newlywed), child (if you're the parent) or best mate (if you're the best man or bridesmaid). You'll want to sing their praises, note their importance in your life and what you want for their future. Don't be afraid to be honest and really speak from the heart.
"It's worth noting that, in these scary and uncertain times, people seem to be less squeamish about talking about the importance of love. As a result, your audience will be more open to you 'going deep' without thinking you're cheesy or overly soppy. And seeing as the Rugby lads won't be on the guest list, it doesn't really matter if you are!"
4) Use quotes where necessary.
"If you struggle to articulate your feelings for you partner in any way that makes sense, a good idea is to use quotes," Heidi says. "More often than not, a witty writer or wise philosopher has managed to do pin down that elusive sentiment for you already!"
A quote is a fantastic alternative to a toast at the end of your speech if you're not sure what to say. Find a favourite line that sums up your feelings and have everyone raise a glass.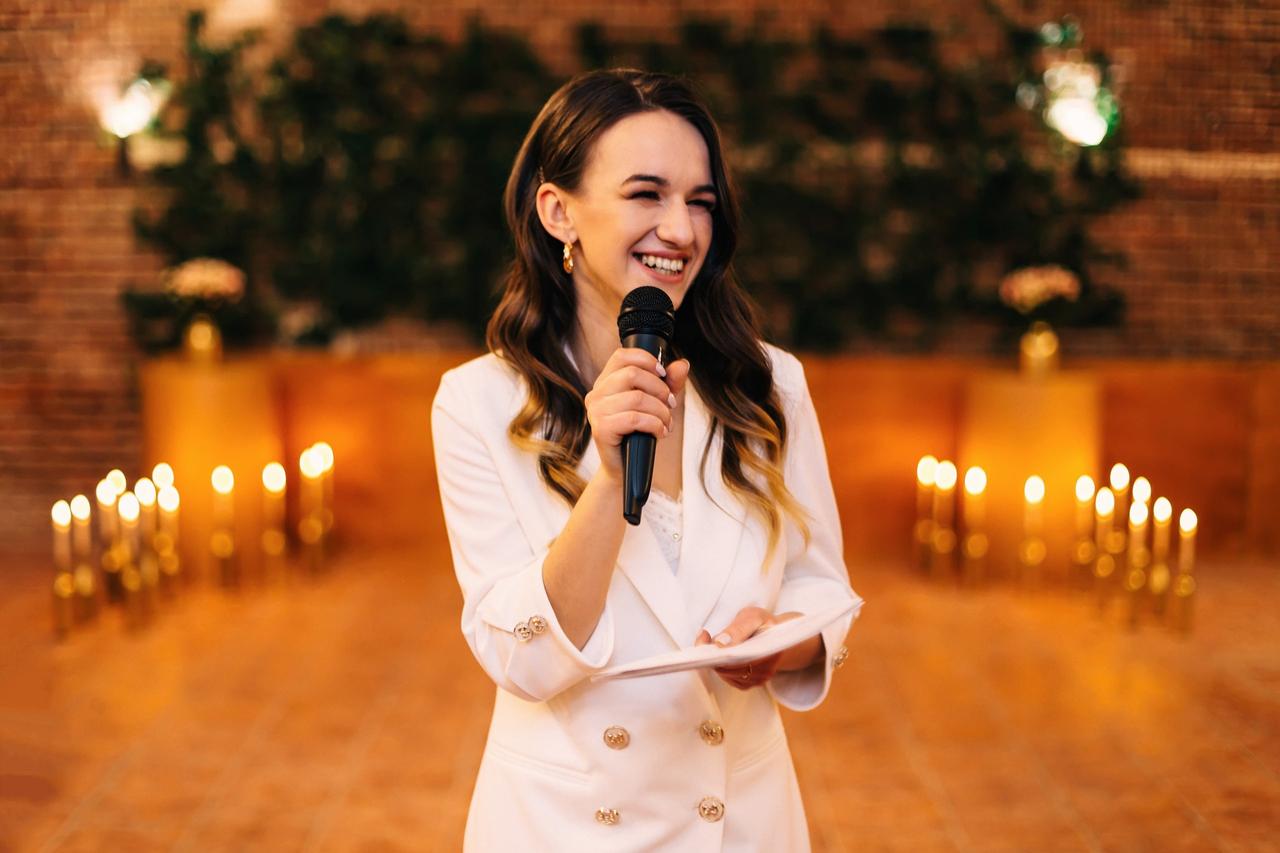 Can You Repeat Your Wedding Speech at a Second Reception?
It may be the case that you're called on to give two speeches: one at the 15 person wedding, and another at a later date at a bigger reception. There'll be a small overlap at the second reception of the family and friends from the first wedding, but the vast majority won't have heard your speech before. Does this mean you can repeat it?
"If you're planning to hold a larger wedding celebration at a later date, it's fine to use 'excerpts' of your original speech but the two speeches are likely to have different tones," says Heidi. "The second speech needs more 'big laughs', as it is, after all, 'the party speech'.
"You can obviously cut back on the original friends and family thank yous and make the thank yous more generic, leaving you more time to have fun in your speech.
"If you're keeping some of the original content, simply make a joke of it. Something like, 'to those at wedding number one, welcome to wedding number two. There's more dancing and boozing at this one, but I'm afraid you will have to listen to my speech for a second time.'"
What If the Couple Eloped?
Just because the couple may have gone off on their own and married doesn't mean they can't get speeches! A really sweet way of still sending them your best wishes is to record a video and send it round by email or WhatsApp. The couple will love your words of encouragement and they can choose to share them on social media alongside a picture of their day when they announce their elopement.
Really lean into the video - we want to see you throwing on your best outfit, using a hairbrush as a microphone and raising a glass of bubbles. It's still a celebration after all.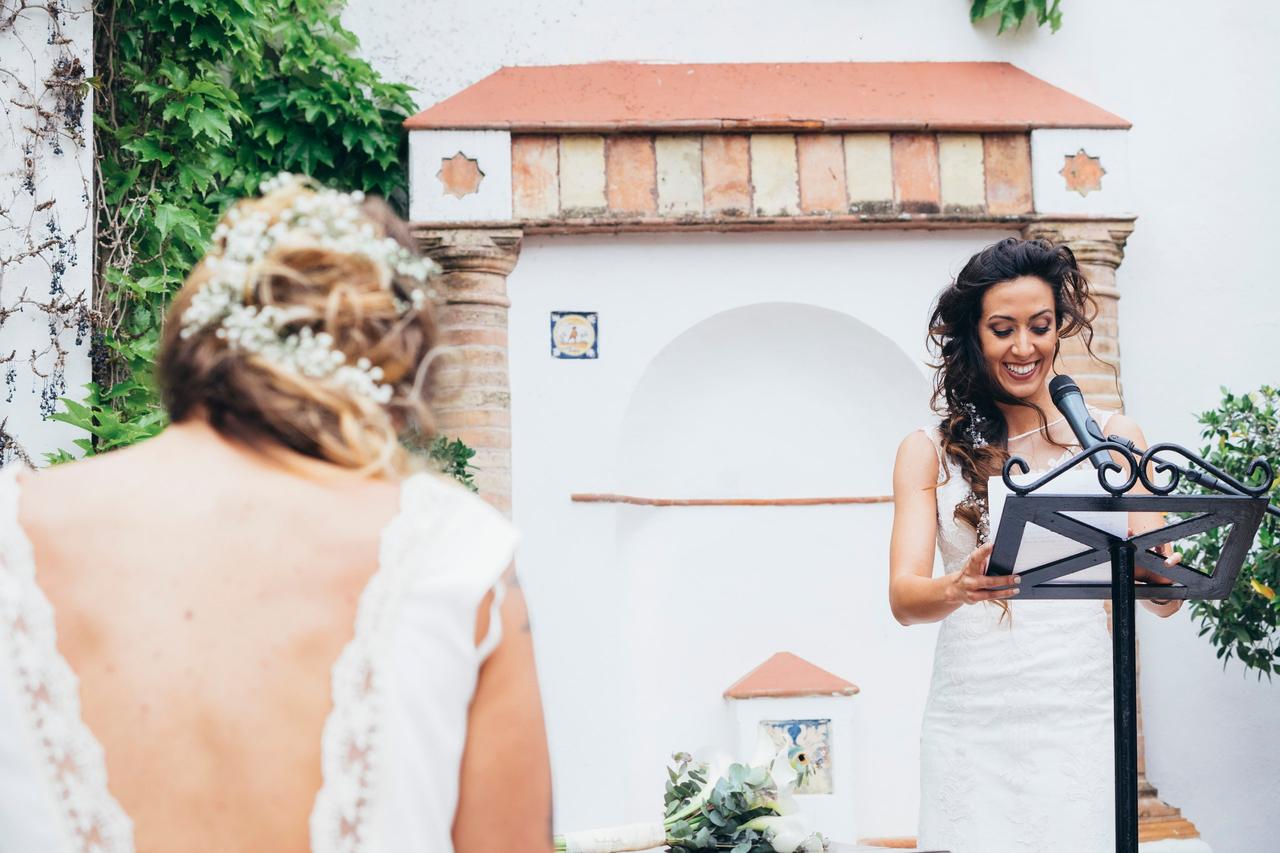 How Do You Deliver a Speech to a Small Crowd?
Some people will thrive in a relaxed, intimate atmosphere with just the people they adore listening, but others might find it quite intense. Each individual approaches speeches differently: a large crowd might mean you can tune everyone out and focus on delivery, while for others, it's a bit overwhelming. Know that whatever happens, the people who love you are excited to hear what you have to say and will forgive you for a few fumbled words. The crowd really is on your side.
"At a smaller wedding, hopefully you'll feel less nervous," says Heidi. "That said, eye contact is even more important so rehearse, rehearse, rehearse, even if you are still referring to notes on the day.
"On the day, remember to still be conscious of making sure everyone can hear you down the other side of the table."
If you aren't sure about your speech, practise it with someone you trust. They can tell you if it needs a couple more jokes, if any bits need to trimmed down and you get a chance to deliver it like you would on the day.
Coronavirus Wedding Speech Ideas
1. What You Learnt About the Other Person During Lockdown
How do they handle losing the Zoom quiz night? Have you discovered a work nickname you never knew before? Did you have to cut each other's hair or trust your partner with the supermarket shop (of course 24 Magnums and a bottle of gin are necessities)? What happened when you ran out of toilet paper?
You've survived weeks stuck in your home together and learnt a heck of a lot about the other one - now's the time to use it for funny and sentimental stories.
2. How Much Your Friends and Family Mean to You
During lockdown, you'll have experienced little acts of kindness from those you love; your speech is a great time to say thank you. It could be your mum texting each morning to check you're ok. It could be your Maid of Honour Deliveroo-ing you cookies and ice cream when you were sad. It could be your close work colleagues who threw you a virtual hen/stag. It could be the aunt and uncle who've come to the wedding despite knowing they'll need to quarantine for two weeks when they return home to Ireland.
Think about what you've learnt about love, resilience, kindness. Tell your loved ones and partner how much you value them and how excited you are the next chapter.
3. Other Times the Couple Have Rolled with the Punches
If the wedding has been postponed and rescheduled (often more than once), then the couple deserve a round of applause for how they've bounced back.
It can be fun to think of funny times the couple rallied round and dealt with life's blows. It makes for a great light-hearted and funny way to start a speech. "Just like when my daughter's washing machine at university broke and instead of fixing it, she bought new knickers from Primark each day, I want to praise her resourcefulness. She's taken these delays in her stride - unlike the time she threw a tantrum at Heathrow airport when she was five and we were escorted from the terminal - and I'm so happy we're all here today to see this wonderful couples finally make it down the aisle."
4. Get Some Video Messages
If you've got a little longer to do the speech and somewhere to play it, made a video for a couple from some people who can't be there. Whether it's their grandparents or putting on a silly voice and pretending it's their dog speaking, they'll love the sentiment.
You can make it funny too. Zoom and Instagram allow you to add backgrounds to your video so if their destination wedding is cancelled (and they're able to laugh about it now), you could film everyone set up as if they were on a paradise beach. Creativity and laughter are key.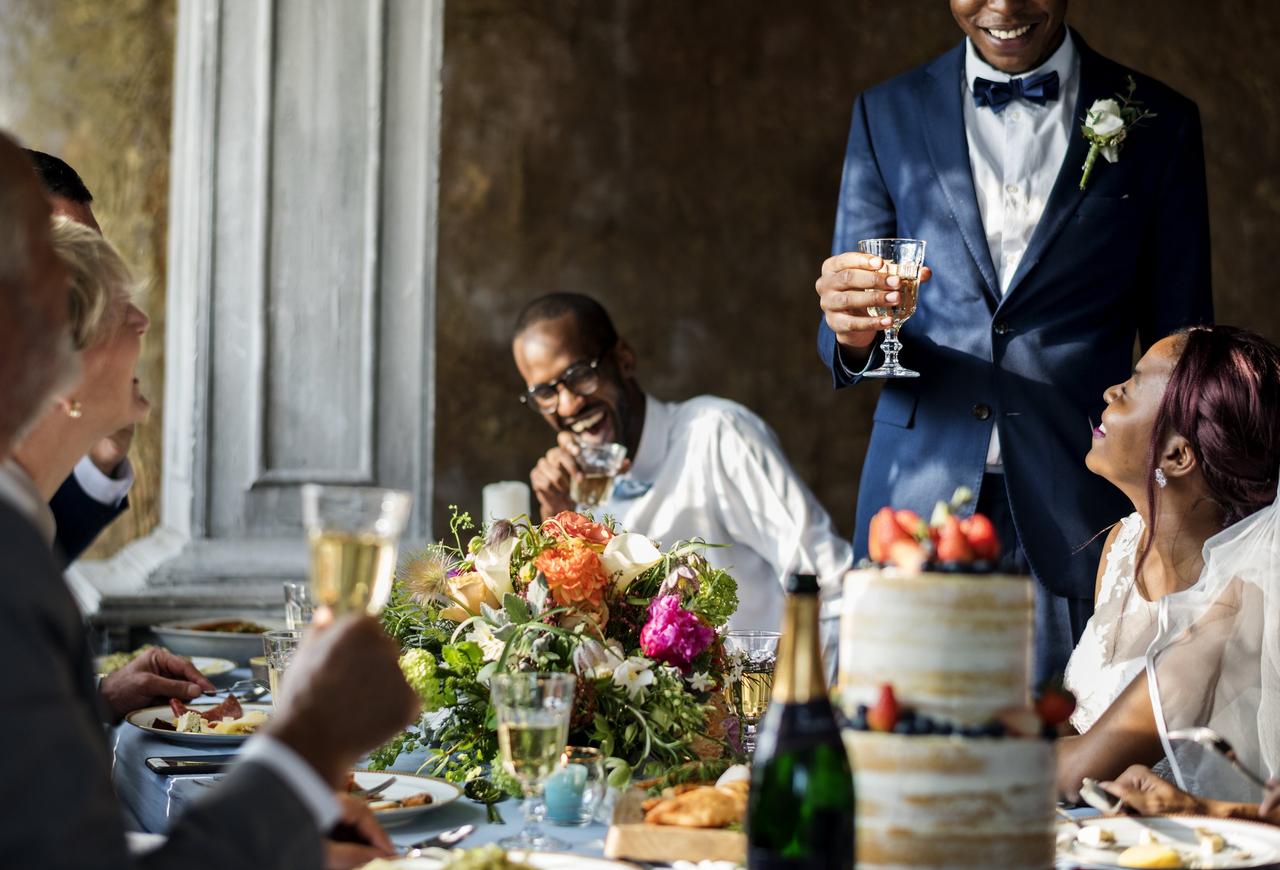 Coronavirus Wedding Toast Ideas
A toast is the concluding line of your speech where you raise a glass to the couple and their future. The wedding, honeymoon and beyond may not have been what they planned, but a toast is a great time to say cheers to our health, our loved ones and finding strength in one another.
Here's a few ideas, but there really are so many traditional toasts you can adapt to fit the occasion.
"Here's to the past, for all that you've learnt. Here's to the present, for all that you share. Here's to the future, for all that you've got to look forward to."
"May you have love, health, and wealth, but most importantly, may you have the time to enjoy them all."
"They say you don't marry the person you can live with, you marry the person you can't live without. That sums up [name] and [name] perfectly. To the happy couple!"
"May thy life be long and happy, Thy cares and sorrows few; And the many friends around thee, Prove faithful, fond and true."
"Watching [name] and [name] together has renewed my faith in true love. I am so honoured to be a part of this special day that has survived all the obstacles in its path. Let us toast to the two people who have brought all of us together in this room today."
To your health. May we drink one together in ten years' time and a few in between.
"To the lovely bride and groom, here are my wishes for you. May you always have a place to call home and may you always be surrounded by those you love."
"To the person who knows all about me and still married me!"
"May your home always be too small to hold all your friends."
"May you never lie, steal, cheat or drink,
But if you must lie, lie in each other's arms,
If you must steal, steal kisses,
If you must cheat, cheat death,
And if you must drink, drink with us, your friends."
"The fondest memories are made when gathered around the table. Here's to those who will always have a seat at our table!"
Want to make your guests laugh? Here's the best father of the bride speech jokes, groom speech jokes and best man speech jokes.