10 Steps to Writing the Perfect Wedding Speech
Writing the perfect wedding speech is difficult so we spoke to the experts to help you get pen to paper before the big day!
We have included third party products to help you navigate and enjoy life's biggest moments. Purchases made through links on this page may earn us a commission.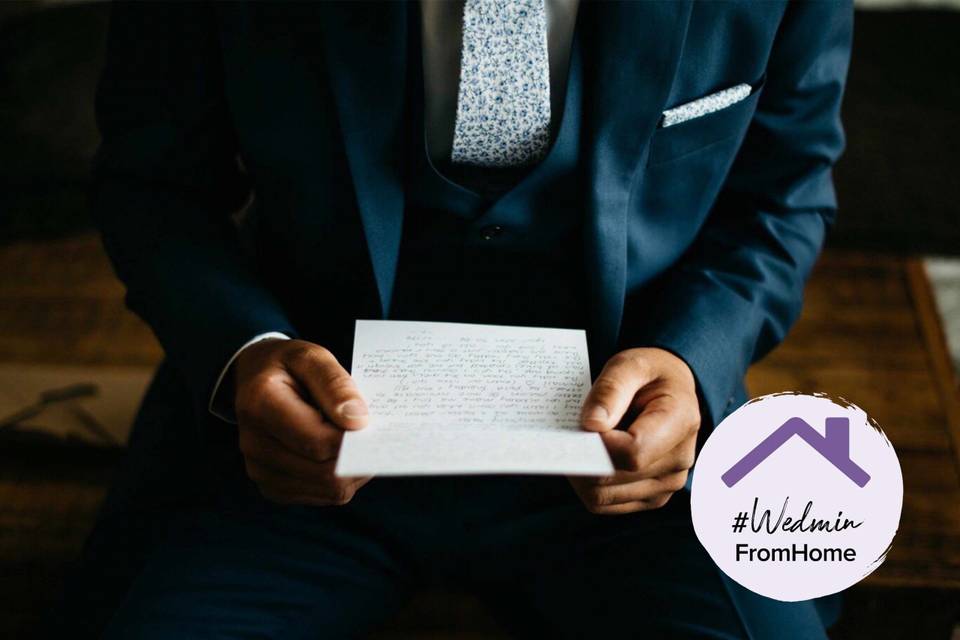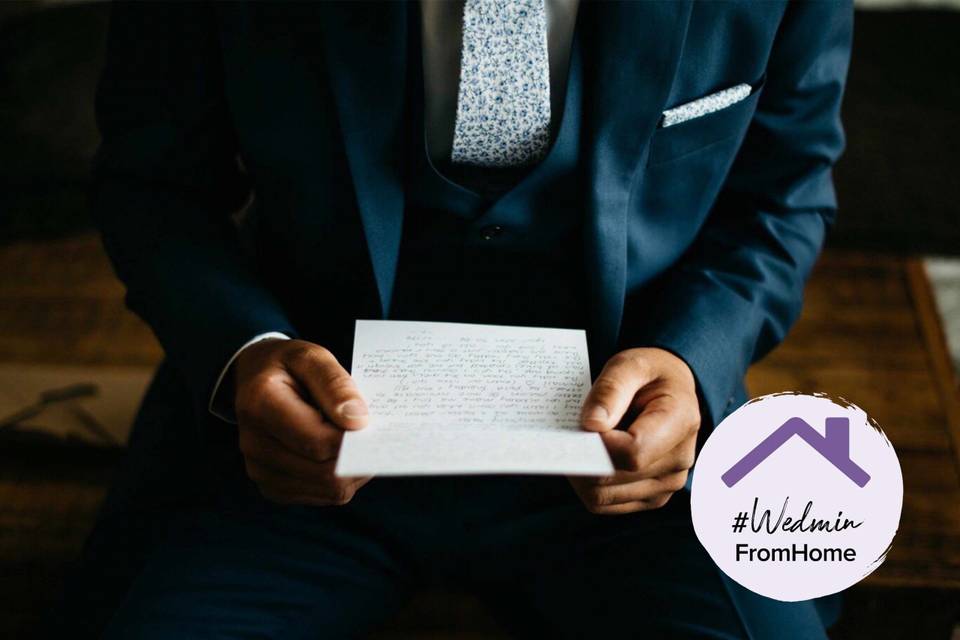 Writing your wedding speech is an important part of the wedding planning process. But, no matter whether you're giving the groom, best man, bride or father of the bride speech, it can be hard to know where to start!
If you're struggling to think of something to say or simply need to know how to structure your speech, our experts can help.
We've rounded up some of the most useful advice which should help you start your wedding speech writing journey feeling confident!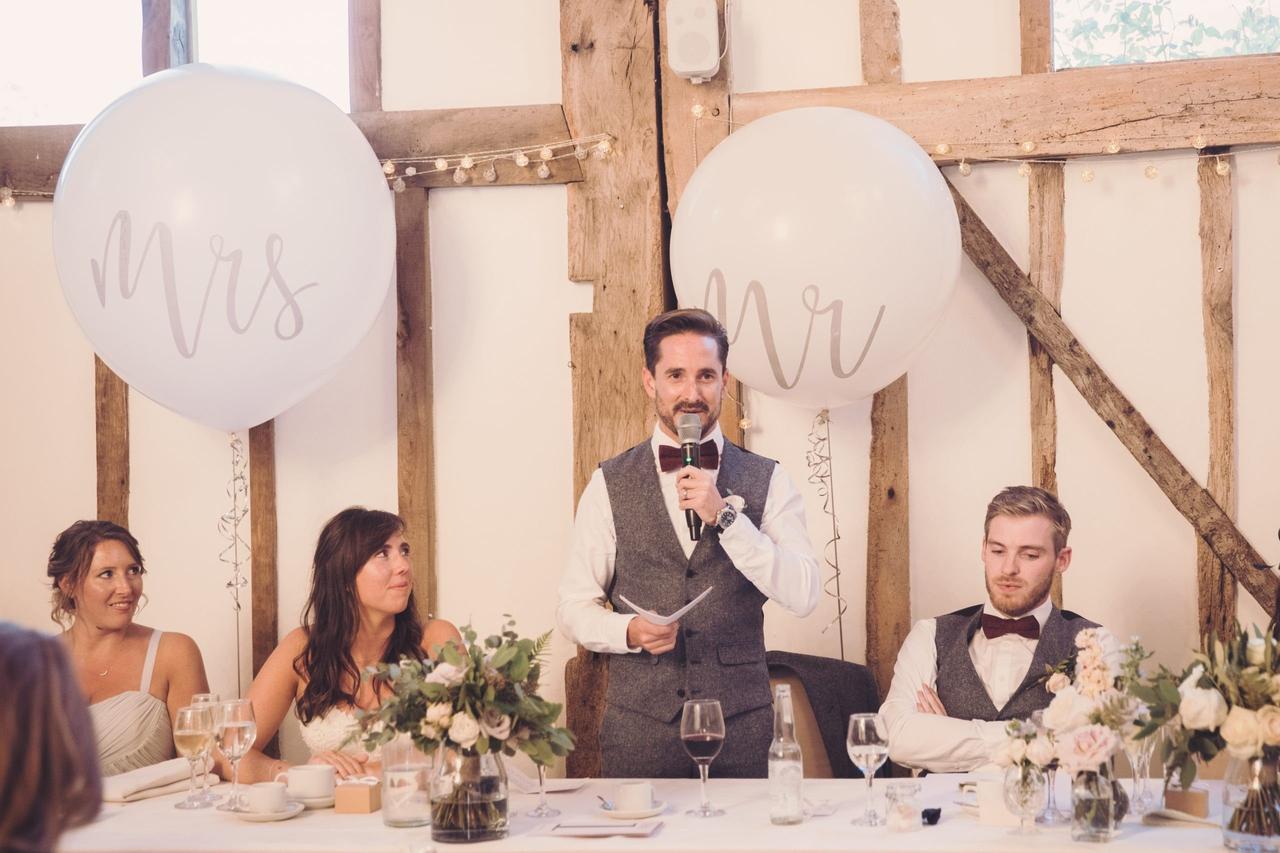 Image: Kerry Ann Duffy Photography
1. Start Planning Early
We all know the old saying 'failing to prepare is preparing to fail' and that is certainly the case when it comes to your speech. As soon as you know you're going to be giving a speech, start writing a few notes every time you think of something interesting.
Adam Cockering from Adaptable Speechwriting suggests: "Prepare your thoughts first. Split each area of the speech into sections and brainstorm each part. For example, if a father of the bride wants to describe an endearing feature of his daughter, start with the feature and think of everything you can say about it and jot it down."
2. Introduce Yourself
It can be easy to forget to introduce yourself when you're already nervous about giving a speech. Of course, if you're the bride or groom, then no introduction is necessary.
But, if you don't know every single guest, it's likely that a few people will be wondering who you are. Start off by saying hello and let everyone know your name and how you know the couple.
Then, crack on to the fun, more interesting aspects of the speech as quickly as possible without having everyone wondering, "Who is this again?"
3. Consider Your Audience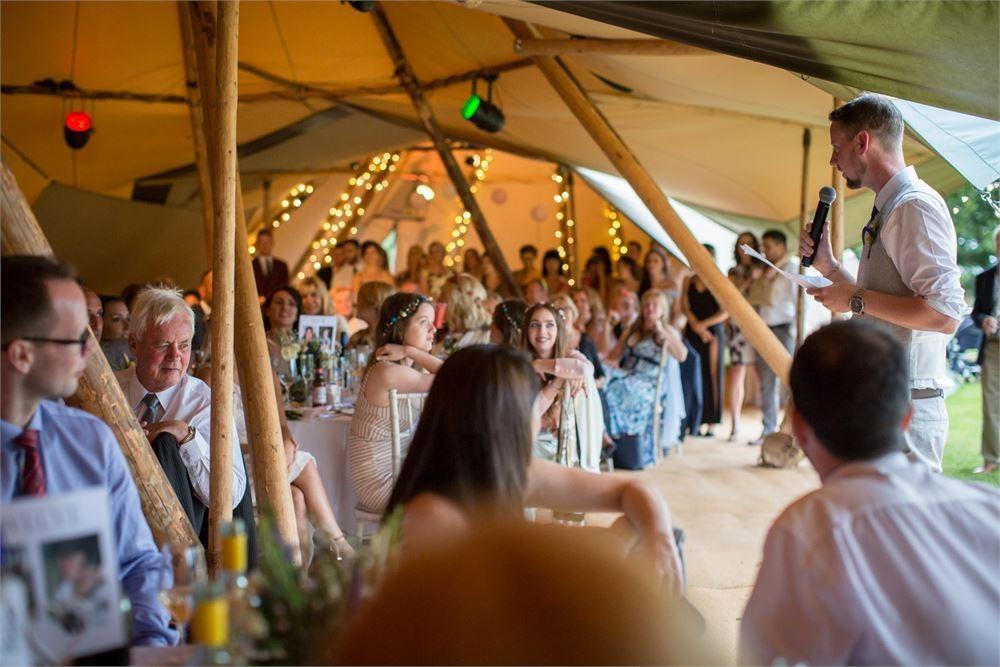 Image: S2 Images 
Chris Dance is a professional speechwriter and says it's really important to think about your audience.
"You might be the funniest person in the pub every night, but the things that make your mates roar may well send elderly relatives rushing to phone a taxi. It's highly likely you won't have met a lot of the guests before, so unless you're being best man to Roy 'Chubby' Brown and the wedding guests are all from his fan club, try to steer clear of sensitive subjects. Smut, filth and politics should be avoided wherever possible. Particularly Brexit. Don't mention Brexit."
If in doubt, always leave it out or run it by someone else to see what they think. Make sure you ask someone trust-worthy. We're thinking a sensible bridesmaid, rather than the guy from the stag do that lost his passport!
4. Include Original Jokes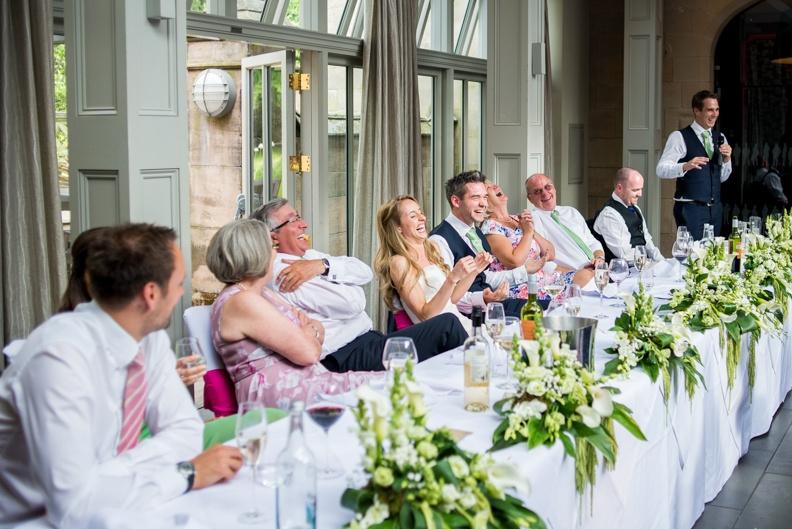 Image: Damian Burcher Photography
Whether it's a father of bride sharing a funny tale about his daughter as a child or the best man telling embarrassing stories about the groom, everyone will be waiting for the jokes! You may find the old stories hilarious but how can you make sure that you get some laughs from the wedding guests?
Chris says jokes need to be original and honest: "Try to resist the temptation to scour the internet for jokes. That's fine for a bit of inspiration, but if you lift a joke straight from Google, it'll have been used thousands of times before and heard by millions – including half your audience. They're much less likely to laugh if they heard all of your jokes at another wedding last month."
It can be tempting to share private jokes but they don't always go down well as Chris explains:
"Try to avoid in-jokes. While it may be part of your role to poke fun at a particular member of the wedding party, don't do it in a way that alienates most of the room. If the groom's parsnip phobia is really so crucial that it warrants a mention, tell everyone the story behind it; don't just casually wave a parsnip about and leave a hundred people wondering why the blokes on the table at the front are wetting themselves."
5. Consider Including Props or an Instrument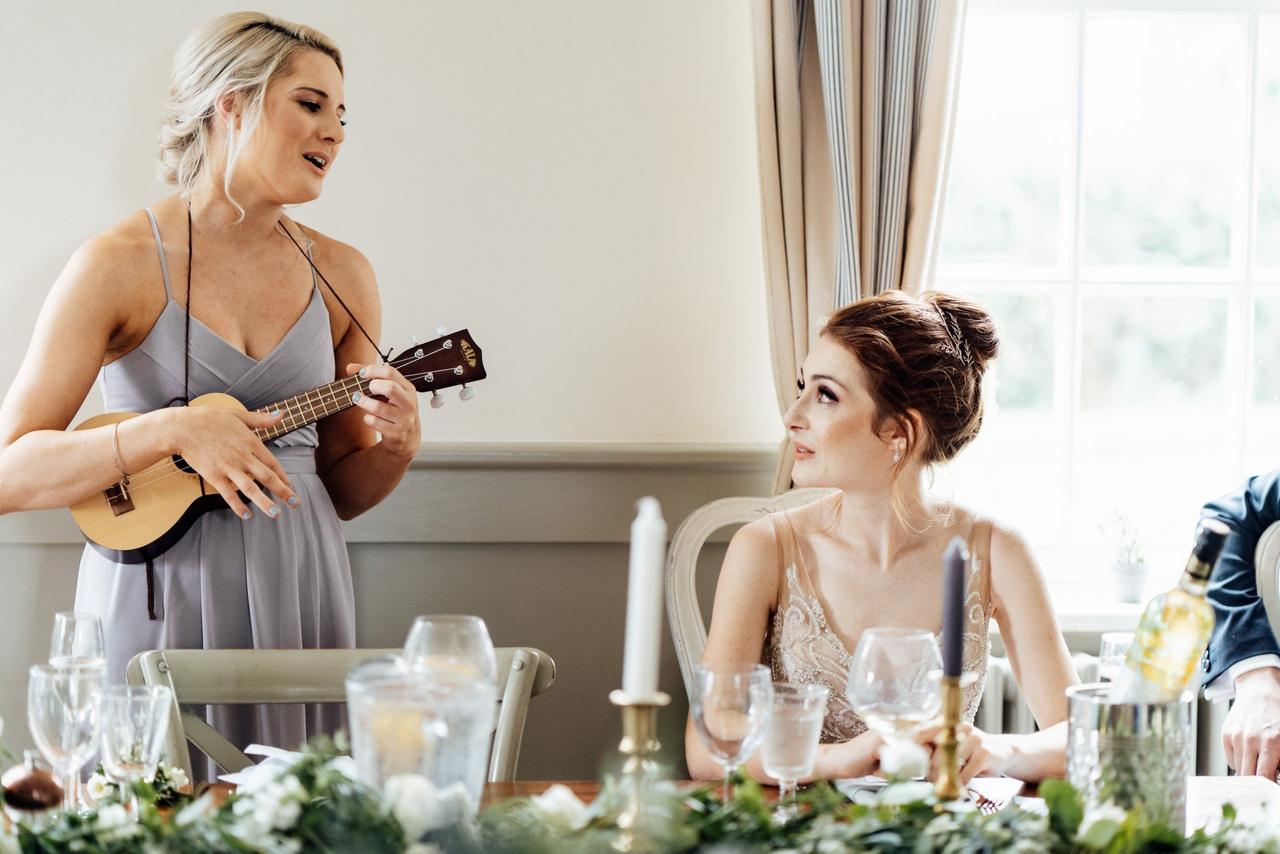 Image: Humpston and Bull
Are you a talented guitarist? Would you feel more comfortable singing your speech? Don't be afraid to mix it up and think outside the box.
For one of our favourite real weddings, the maid of honour taught herself ukulele to serenade the bride with a song all about their relationship.
The bride said: "She sang so beautifully about how our relationship has transformed and summed us up perfectly."
If you're not someone who can sing, why not include props in your speech instead? Visual aids that are funny and relevant can result in a lot of laughter! Make sure you practise your timings in advance.
6. Make it Personal
Image: Heni Fourie Photography
Whilst it's a good idea to pick up tips from the internet and take inspiration from other speeches you've heard, Adam believes you should ensure your speech is as honest as possible:
"Make it personal. Your guests have probably been to lots of weddings and may have heard your wedding jokes before. Be authentic. Practice it through after you've written it, does it come naturally to you? Would you engage with people that way outside of a wedding reception?"
7. Ask for Help
If you don't feel confident in your speechwriting abilities, then look for inspiration and help online. We have an extensive collection of example wedding speeches which will give you plenty of ideas!
To get a sense of the sort of speeches you like and the style you may like to follow, spend some time exploring many of the weird and wonderful speeches on YouTube. Why not take inspiration from some of the most popular celebrity wedding speeches?
Consider enlisting some help in the form of a professional speechwriter. They can help put together a fantastic speech and fill you with confidence for the big day! We have some fantastic speechwriters in our suppliers directory.
8. Keep It Short and Sweet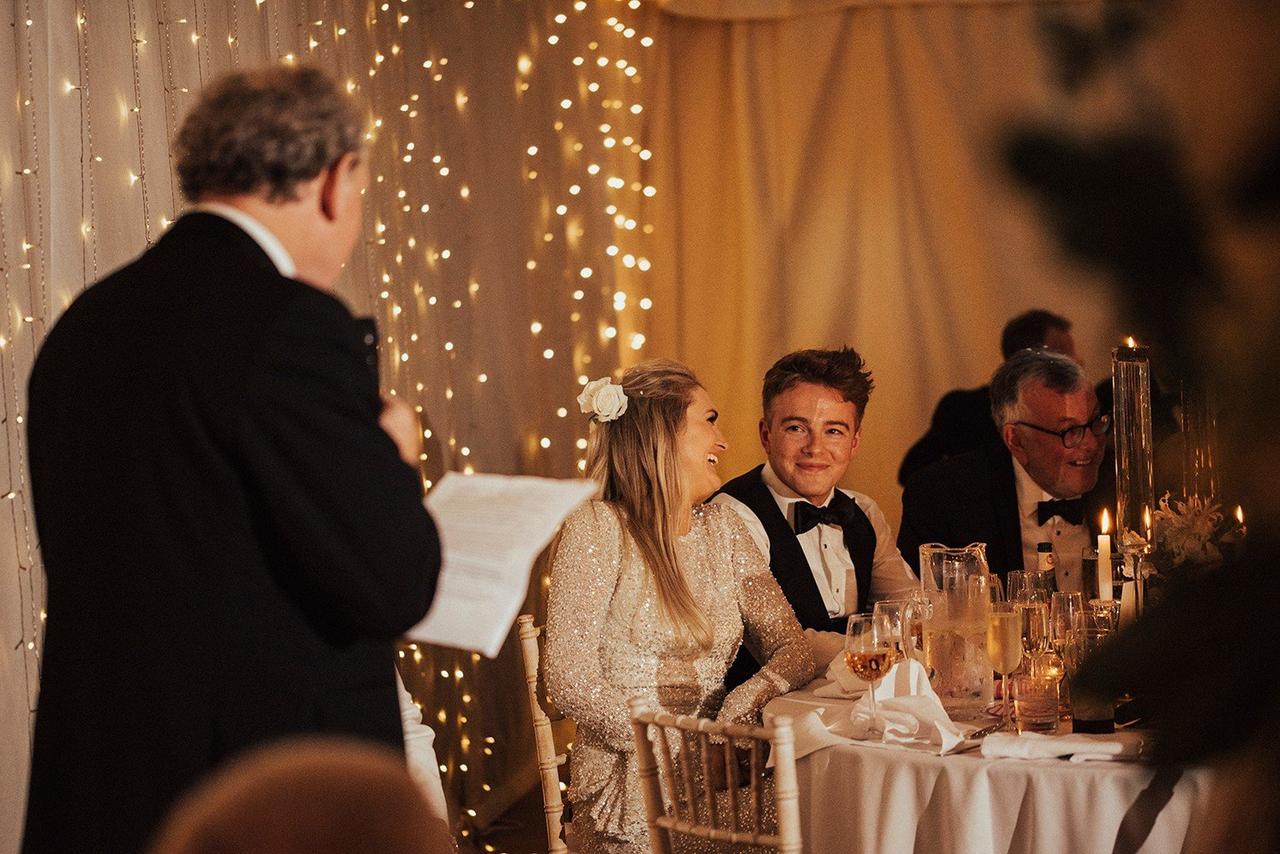 Image: Katie Ingram Photography
By writing your speech in advance, you can ensure it's funny, interesting and, most importantly, concise!
You may have a lot to say but Adam says you don't want your audience to get restless: "The longest part is making it short! It can be the best speech in the word but if your message has lost engagement due to its length, you may as well have said nothing!"
9. Write Something You Can Easily Memorise
When delivering a speech, it's important to look at your audience, get the timing of your jokes right, and appear confident!
This often means memorising your speech and having cue cards with helpful hints if you lose your place.
Avoid reading the entertaining aspects of your speech from a piece of paper. However, if you think you'll forget to thank someone important, write their name down!
10. Raise a Toast!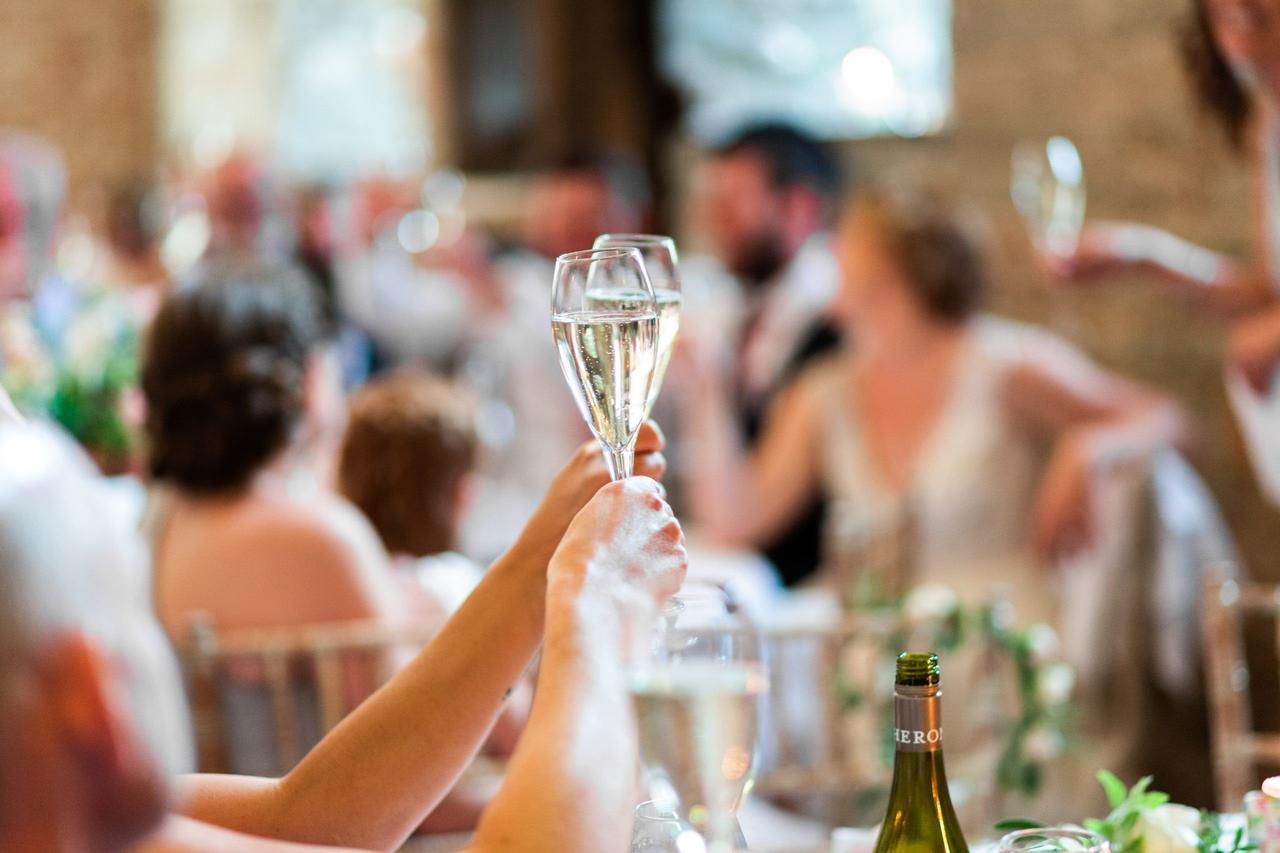 It can be difficult to know how to end your wedding speech. Why not simply say thank you, and raise a toast to the newlyweds? This will make it clear that you've finished talking and get everyone in the mood for the next speech.
Once you're armed with an amazing speech, make sure you can stay calm for the delivery with our article on how to overcome wedding speech nerves.