Groom Speech Jokes: 36 Jokes That'll Have Your Guests in Stitches
Looking for some tried-and-tested groom speech jokes and prompts for your own jokes? We've got 36 hilarious jokes and our top tips just for you.
We have included third party products to help you navigate and enjoy life's biggest moments. Purchases made through links on this page may earn us a commission.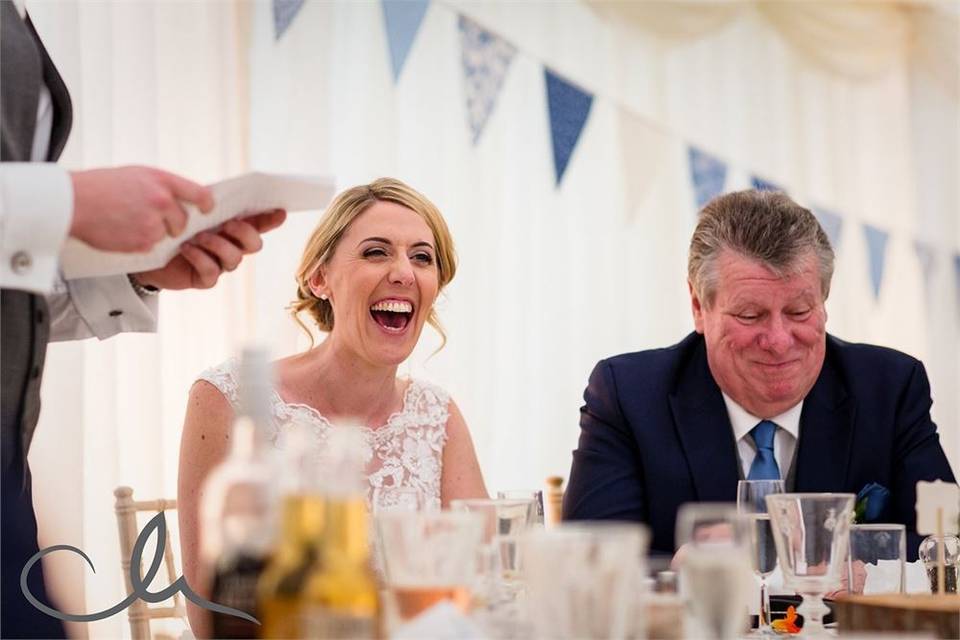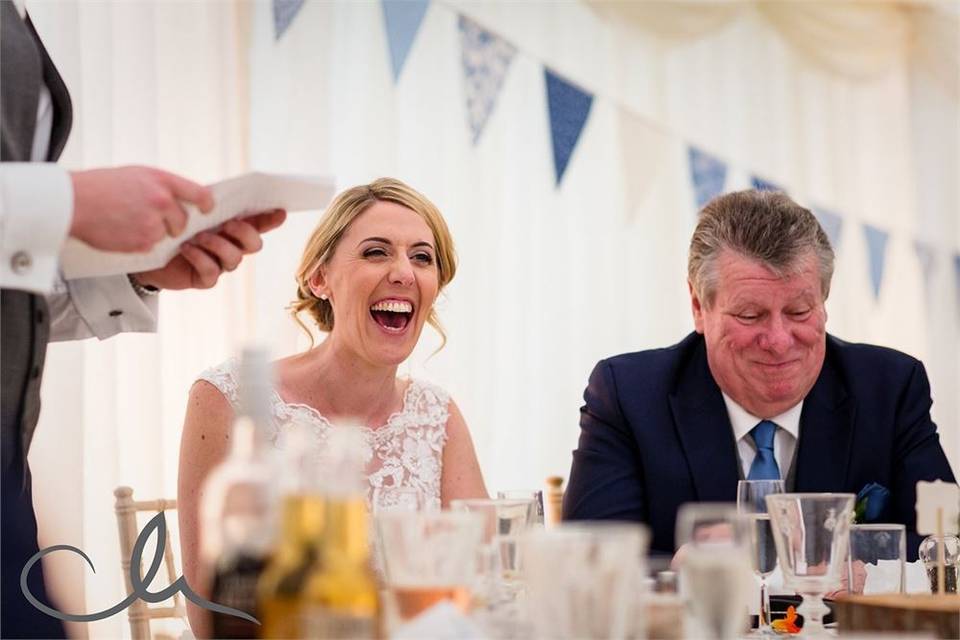 Traditionally, the purpose of the groom's speech is to thank everyone who's helped your wedding come together, on behalf of you and your partner.
But you don't want to leave it to the best man to get all the laughs. Your groom's speech is ripe for a few jokes, whether that's a funny line about your new in-laws or even a bit of gentle ribbing of your new spouse. Just remember to go easy on them and leave the innuendo to the best man!
READ MORE: The Ultimate Guide to Giving an Amazing Groom's Speech
Get that balance between humour and sentiment right and you'll deliver an unforgettable groom speech. We've got some great tips at the end for how to come up with original jokes and break the ice.
If you're looking for some great groom speech jokes, look no further…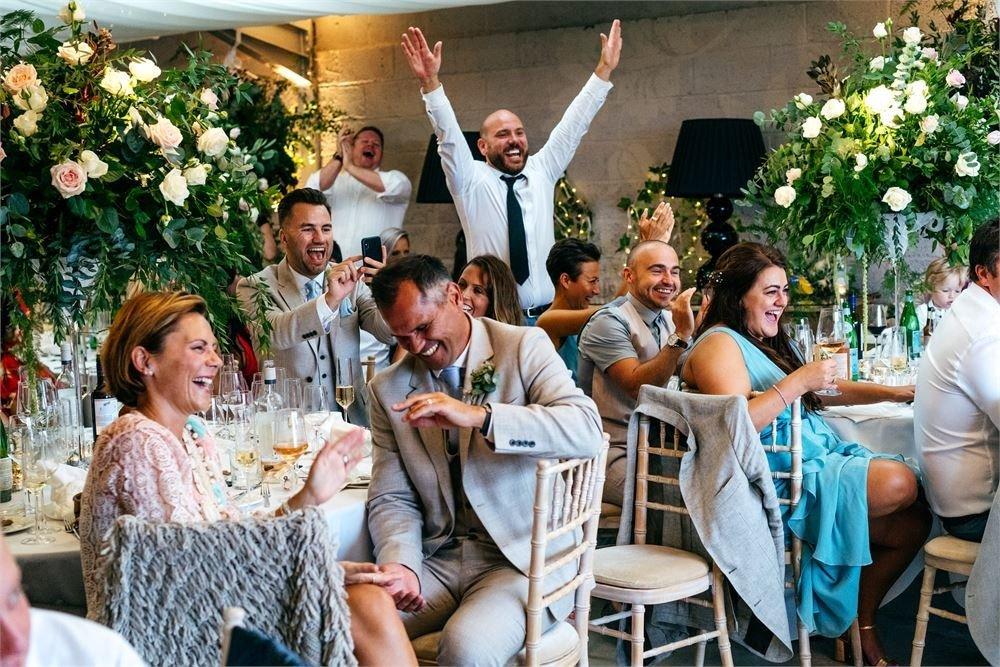 Image: Jordanna Marston
"Without all of you here today, it wouldn't be the same…but it would be cheaper."
"I suppose you'll be expecting a few laughs in this speech. But I know I need to tread carefully. I swear I already heard my parents-in-law going around introducing me as [partner's] 'first husband'."
 "Good afternoon Ladies and Gentlemen. I had prepared a superb speech for you today, but unfortunately, now that I am married … I've been told to read this one instead."
"Ladies and gentlemen, I had originally intended to just say a few words. But before dinner was served my lovely wife/husband took my speech, rewrote it and left me with this version that's more fitting for accepting an Oscar."
"My wife/husband says I never listen, or something like that."
"All those among you who know my new wife/husband will know that they're a wonderful and caring person. They deserve a good husband. Thank God they married me before they found one."
READ MORE: The Order of Wedding Speeches Explained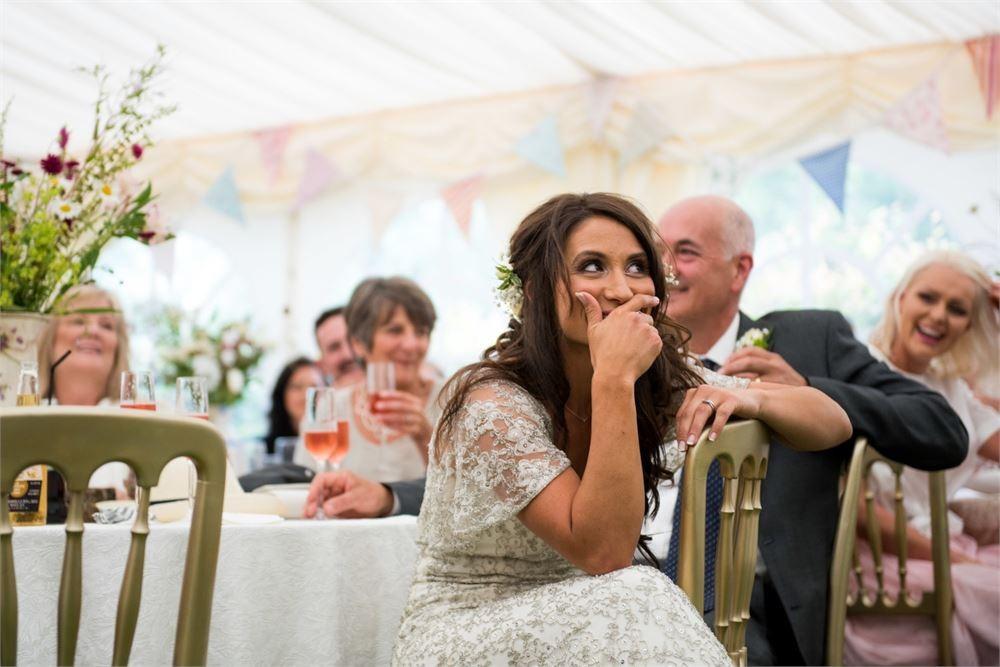 Image: Scott Kendall Photography
"I feel very fortunate to have married [partner's name]. None of you will know this, but I've actually been congratulated already. 'Son,' my father said to me. 'Well done! You'll look back on today as the happiest and best thing you've ever done.' Fitting words, I thought, as I set off for my stag do."
"Before I start, let us observe a few moments' silence for the countless lilies, roses and carnations that selflessly gave their lives to make this wedding possible."
"Now, I know you're all thinking, 'Doesn't he look great in his suit?' This is actually down to a new fitness regime which includes me doing 50 push-ups a day for the last three months. I should mention none of them have been intentional – I've just been collapsing a lot every time I think of my bank balance."
"I've married Mr/Mrs Right. I just didn't know her first name was Always."
"I knew almost everything I need to know about [partner's name] from our first date. I ask about her/his first pet, favourite movie & mum's maiden name – then logged in & read all her/his emails."
"I've been feeling quite nervous about giving this speech for some time. But I'm pleased to say I slept like a baby last night – I woke up every two hours, crying my eyes out."
READ MORE: 21 Romantic Ways to Surprise Your Partner on Your Wedding Day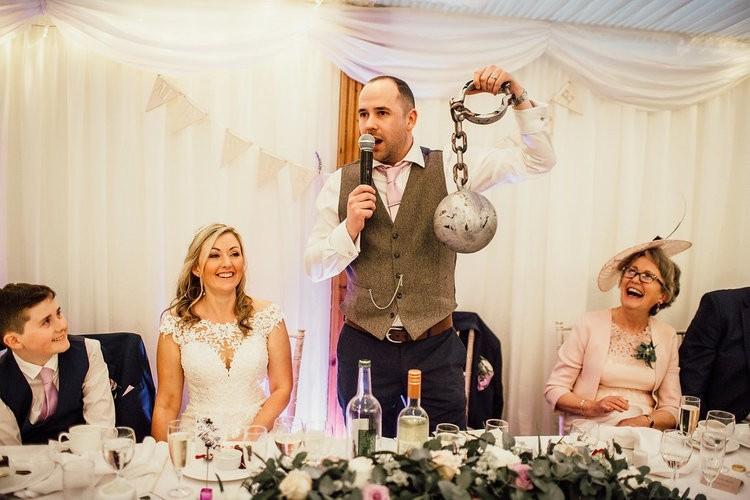 Image: Stephanie Palmer Photography
"[Partner's name], you an amazing man/woman who deserves a wonderful husband. And I promise I won't rest until I get to the bottom of what's gone wrong here."
"For those of you without the internet I'll update you on my new wife/husband's Facebook account, which they've secretly been using under the table as I speak. Their status has been changed to 'married', their parents immediately 'disliked' this, and 12 people in this room have already reported it as spam."
"I have a dream – oh, sorry, wrong speech!"
"Before I begin, please can we ensure that all the aisles and fire exits are kept clear throughout the reception. There's a medical team waiting outside the building and I'd like them to have a clear run when my in-laws are presented with the final bill."
"I've been told that this is usually one of the only times in a man's life when he can be around his wife and mother-in-law and not be interrupted – so hang in there, I'm going to take full advantage."
"I never actually received a formal invitation to the wedding, so I hope I haven't just eaten a meal meant for someone else."
"When I asked [partner's] father if I could marry his daughter/son he immediately wanted to know if I would be able to support a family. The answer was no. I was only planning to support his daughter/son. The rest of them would have to look after themselves."
READ MORE: 9 Tips For Delivering a Memorable Wedding Speech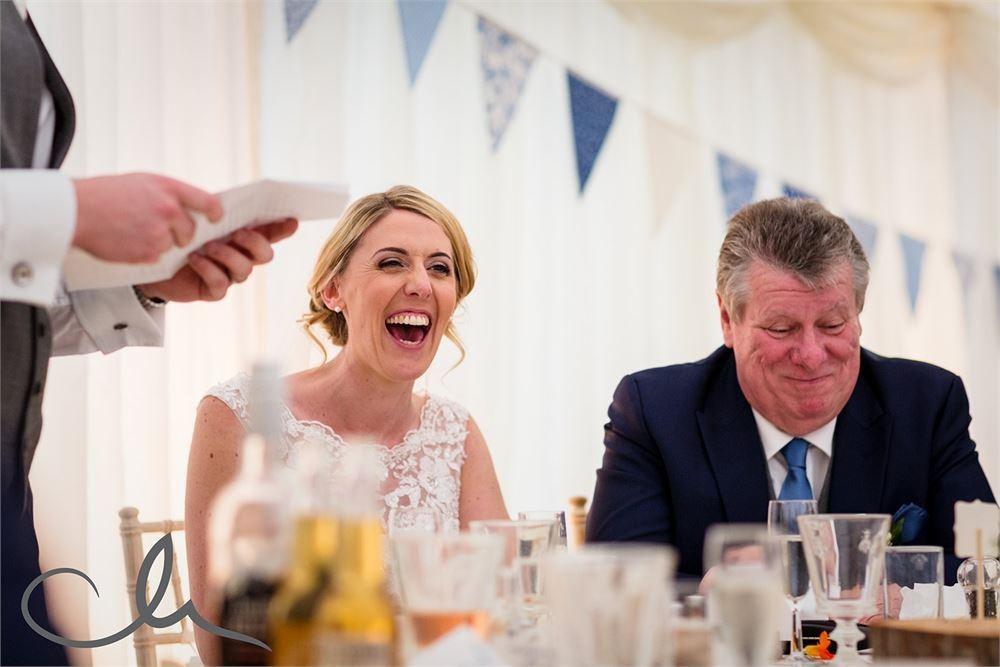 Image: Catherine Hill Photography
"The buffet this evening is charged on a cost-per-head basis. So, I'd like to thank the following people for not coming…"
"When it comes to talking about my wife/husband's good points, where do I start? They're intelligent, generous, hard working, popular – and a brilliant judge of character."
"First of all, I'd like to thank [partner] for marrying me. She/he's the most beautiful, intelligent and caring person I know. She/he does everything for me. She/he even wrote this speech."
"I didn't really know where to start so I thought I'd trawl the internet. After a couple of hours I'd found some really, really good stuff. But then I remembered that I was supposed to be writing a speech."
"I'd like to thank my mother in law for passing on such wonderful traits to her daughter; her kindness, her humour, though unfortunately an unwavering support for Chelsea has also slipped down the genetic line."
"I will shortly be handing over to the best man. But unlike many best man speeches, which are full of sexual innuendo, he has promised me that if there is anything slightly risqué, he will whip it out immediately."
READ MORE: The Best Wedding Gift Ideas For Your Bride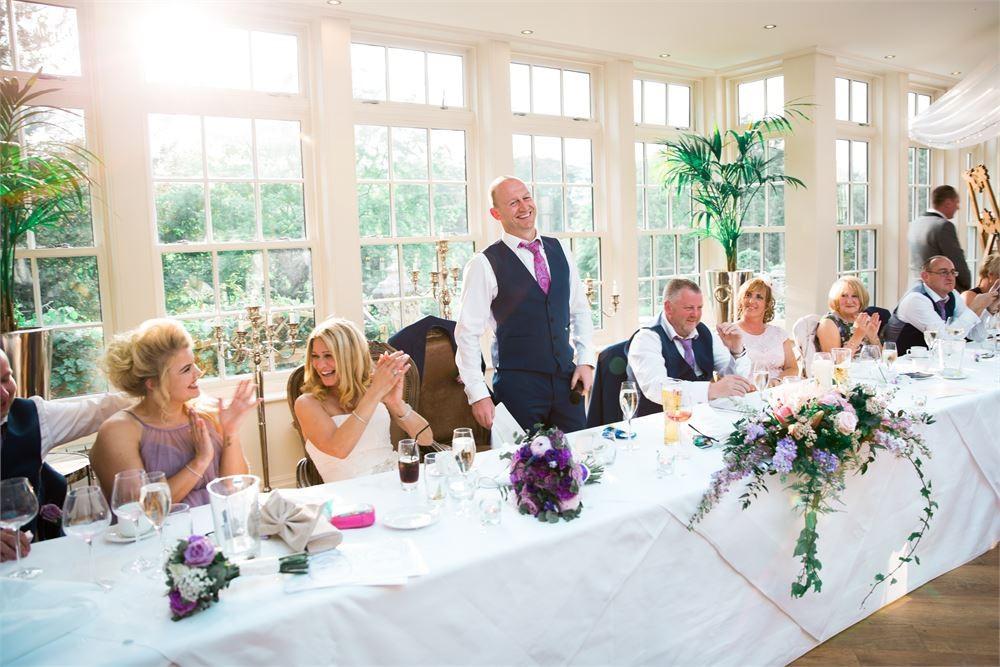 Image: Janet Wareing Photography
"In [in-law's names], I have found the perfect in-laws. I always cringe when I hear jokes about difficult mothers-in-law because my own experience has been far from that stereotype. [Turns to in-laws and whisper] Did I read that right? Please don't hurt me…"
"Ladies and Gentlemen, you are about to witness a unique event in history. The very first and very last time that the wife/husband is going to let me speak on behalf of us BOTH. It is a privilege and an honour to do so. I just hope that, so soon into our married life, I don't let [partner's name] down."
"I did ask for a microphone but was told there weren't any available. So if you can't hear me at the back, the silence at the front should assure you that you're not missing out on anything."
"A lot of people hold the belief that women marry men who remind them of their fathers, which explains why [wife's] mother was bawling her eyes out during the ceremony."
READ MORE: Wedding Photography Ideas for the Groom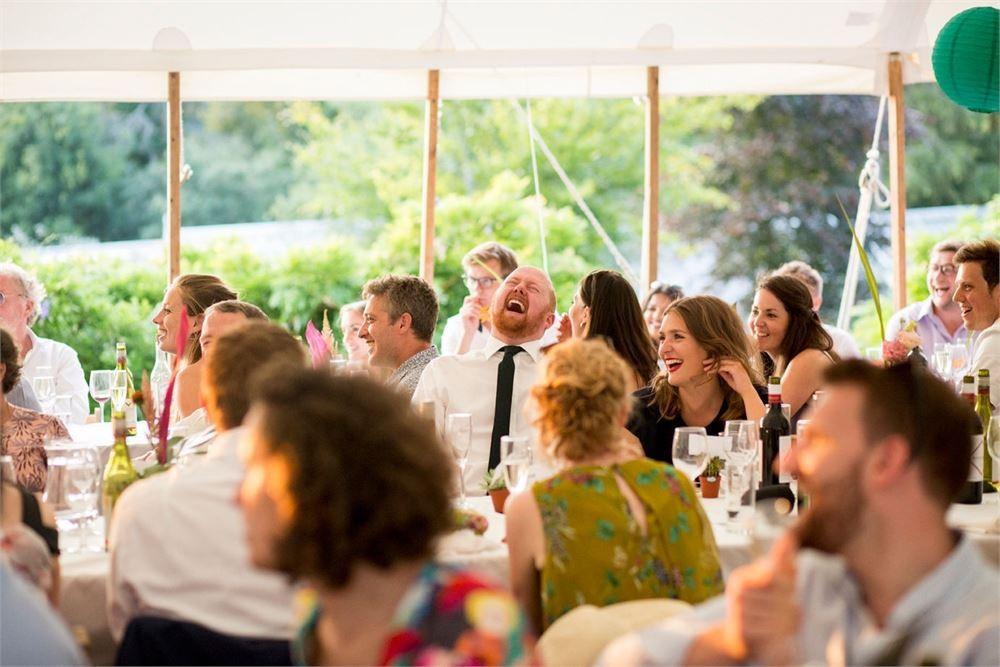 Image: Photography by Adelphos
"I just want to say, in front of our families and dearest friends, that I love you and hope that every day will be as happy as today – just not as expensive."
"I'm not used to public speaking. I only found out today that a toastmaster isn't actually a kitchen appliance."
"I'd now like to pay tribute to our ushers, [names]. Being an usher can be a dangerous job. I was an usher once at a friend's wedding. I asked a lady entering the church if she was a friend of the groom; She said, 'Certainly not, I am the bride's mother.'"
"I have no problem admitting to you all that I'm extremely nervous right now. And as the people sitting near the front of the room can attest, it is actually possible to smell fear."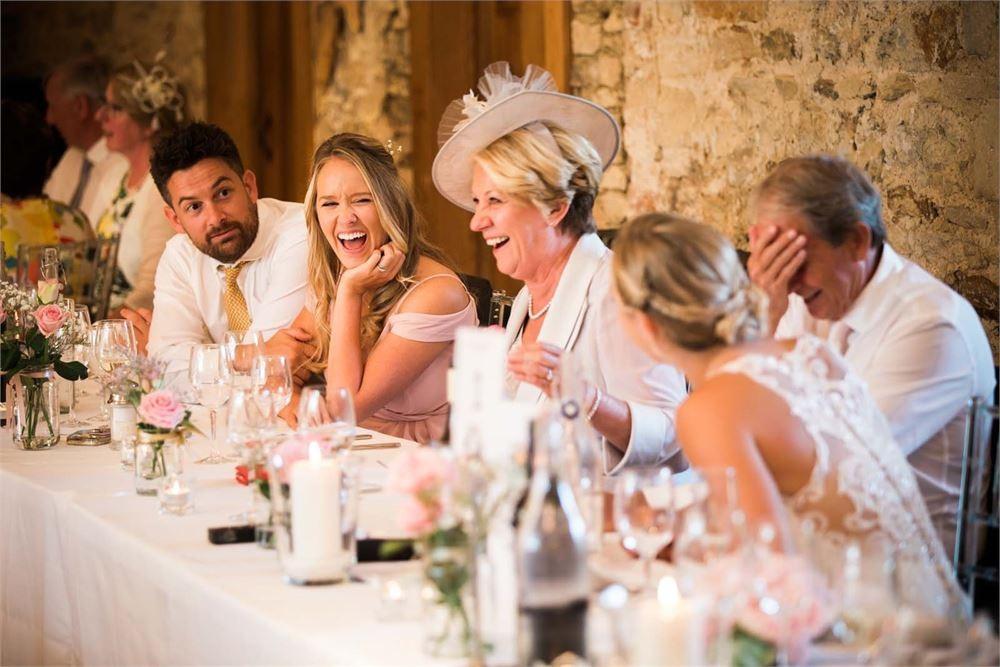 Image: Heni Fourie Photography
"Today is rightly the happiest day of my life, and it will continue to be a date that I will cherish and celebrate as each year passes. And to ensure that I always remember this date as my special anniversary… just once, I shall forget it."
"As I hand over to my best man, I'd just like to remind you of the tendency he has to exaggerate and even completely make up many of the events of the last few years – make of that what you will when he starts to tell you any stories about me."
READ MORE: The Best Grooming Tips for the Groom
Top Tips For Your Groom Speech Jokes
Start with a joke to make your audience relax and break the ice – it might have got emotional with the father of the bride speech so it's the perfect way to lift the room back up before the best man's speech.
If you want an easy gag, incorporate a prop during your icebreaker. You could bring out a mop for all the tears you're going to have to mop up after your emotional speech, or a pillow for all the time you're going to spend in the doghouse after the best man's finished his speech.
Being self-deprecating by comparing yourself with your partner's celebrity crush will always get a laugh e.g. "I feel like the luckiest man alive. [Partner] has finally give up hope of ending up with Chris Hemsworth and decided an IT guy from Croydon with a McDonald's addiction and a Ford Fiesta is her perfect guy! Just three months left on the lease! The car, that is…"
An embarrassing achievement can be a great start to a joke that breaks the ice. "This day will always be the proudest moment of my life. Well, second proudest. Nothing can top when I won the school talent show for…"
You can get away with focusing on one funny story – such as a story about your first date or what happened when you asked his/her parents for permission to marry them – if it's good enough.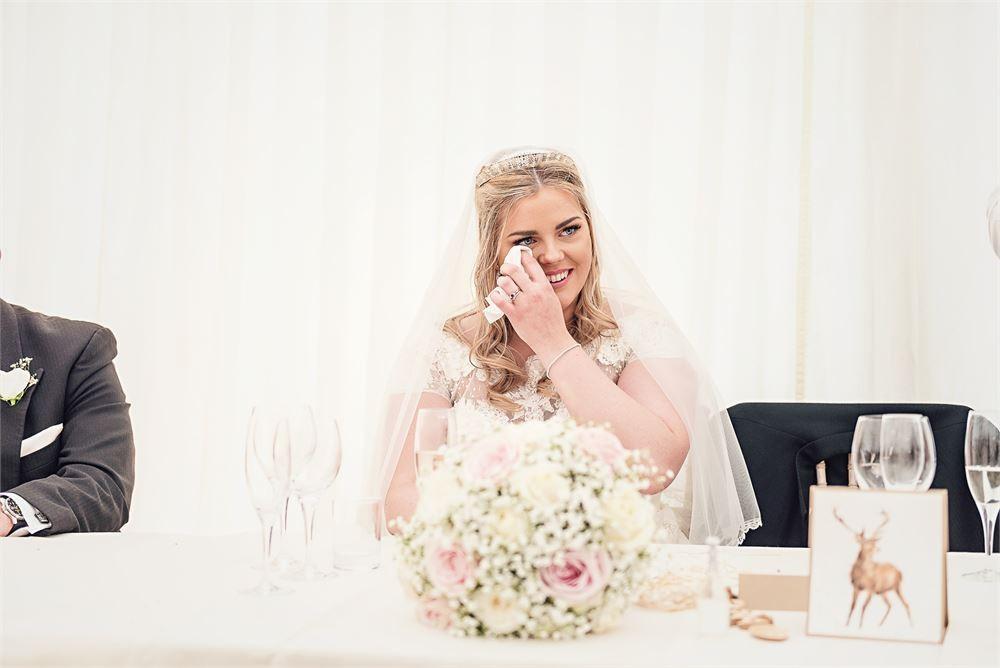 Image: Laura May Photography
Are there any funny contrasts between the two of you? Are you hopeless at DIY while IKEA should be hiring him/her for demos? Do you love a designer shirt while he/she's a Primark queen? Is one of you crazy for football but the other mixes up Man U and Millwall? Playing off the opposite traits you have, and then all the things you do have in common (from your love of Game of Thrones and conviction that Arya will be the perfect name for your firstborn daughter to your shared values) , can be a heartfelt moment in a speech.
The ushers and bridesmaids are prime for making a funny personal joke about – is one of them famed for how long it takes to do their hair or the 12 layers of fake tan they've put on?
Does your partner have any weird habits or things you tease them over? This is a time to do it lovingly e.g. "I love that you own a teddy bear called Mr Fluffy despite the fact you're 31. I love that you still break out the dance moves to Step's 5,6,7,8 every time you're drunk. I love that you secretly really like to mow the law and will make up excuses why you need to do it. I love how you continuously book yourself into spin class and then end up ditching them for dinner plans with me instead. I love that you're not a morning person, but you still wake up 5 minutes early to put the kettle on to make tea for us." Make it a mix of cute and funny and prove how well you know your partner.
Remember that the key elements to your speech need to be the thank yous and a loving tribute to your new partner. Don't sacrifice these for the sake of a joke.
If you're looking for examples of brilliant groom speeches that you can use as a template or inspiration for your speech, make sure to check out our library of groom speech examples.