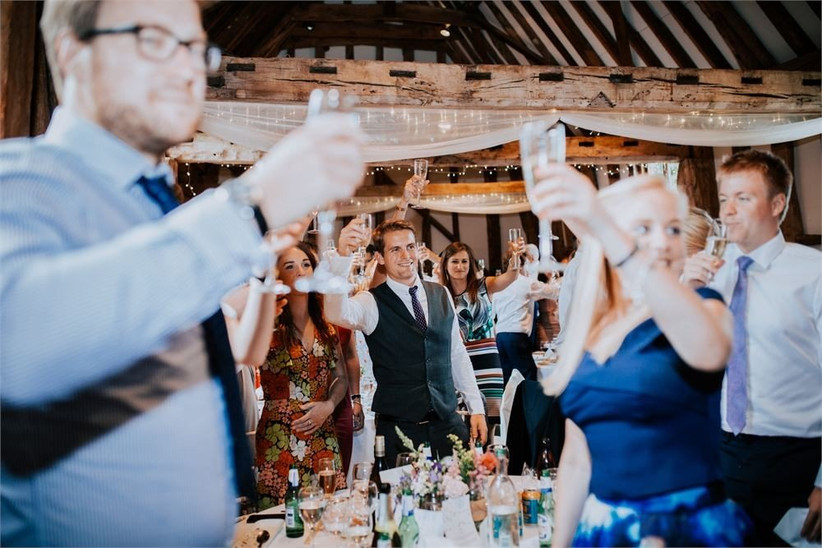 Being asked to be your best mate's best man is a total honour, but since one of the main best man duties is to give a best man's speech, you might still be feeling a little nervous about the whole thing.
The best man speech is one of the most highly anticipated of the day, and not only does it need to be funny, it needs to be engaging and that little bit sentimental.
Despite that, it doesn't have to be super long, so if you're feeling apprehensive it's probably a good idea to write a short best man's speech, keeping it sweet and simple. Who wants to listen to the best man drone on for hours, anyway?!
With our top tips, structure ideas and real life examples, what your speech lacks in length it'll make up for in memorability and wit (and since you'll be following on from the father of the bride speech and groom speech, that's important). After all, size isn't everything, is it?
So what are you waiting for? It's time to get reading, writing and practicing.
READ MORE: Wedding Speech Order Explained
Short Best Man Speech Structure
Hoping to deliver a blinding short best man's speech, but not sure what structure to follow? Break your speech into these three sections…
1) Introduce Yourself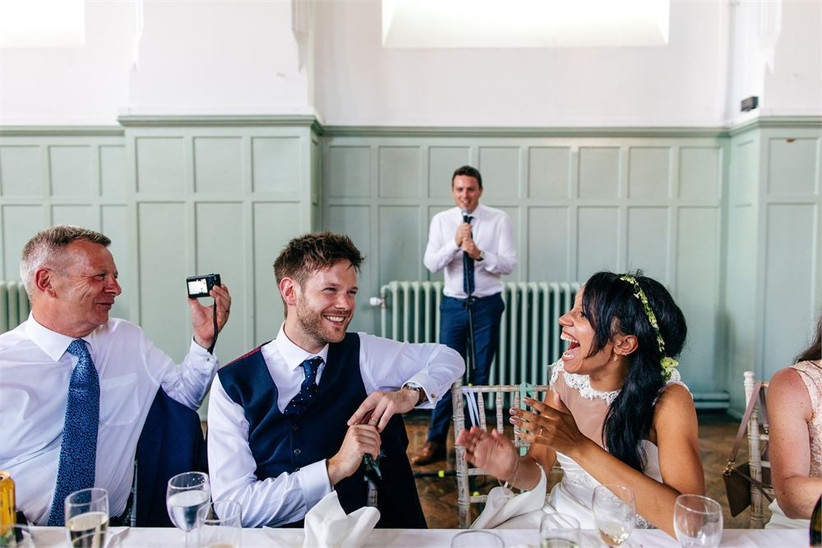 Image: Jordanna Marston Photography
If you're giving a short best man's speech, you've got all the more reason to really start things off in style.
Not everyone in the room will have the pleasure of knowing who you are, so it's best to start off with a quick introduction, including a mention of how you know the groom. Are you best friends? Did you meet at school or university? Are you brothers? Get that part out of the way.
You could even make a joke about how you don't like public speaking and you're going to keep things short in this section of the speech. It'll stop the other guests from expecting something lengthy.
"Good evening, ladies and gentleman. I'm the best man, and I think I got this role by default as Jack doesn't really have any other friends. I didn't really want to do it, hence why my speech will be so short, but I thought it might be the only chance I'll get to have a meal and some drinks paid for by Jack. I didn't risk turning it down."
"Hi, I'm Tom, and it's time for me to deliver the speech I scribbled down an hour before the ceremony started."
"Hi, I'm the best man, and I'd like to start by saying what an emotional day today has been. Even the cake is in tiers!"
READ MORE: 21 Funny Introductions for the Best Man's Speech
2) Crack Some Jokes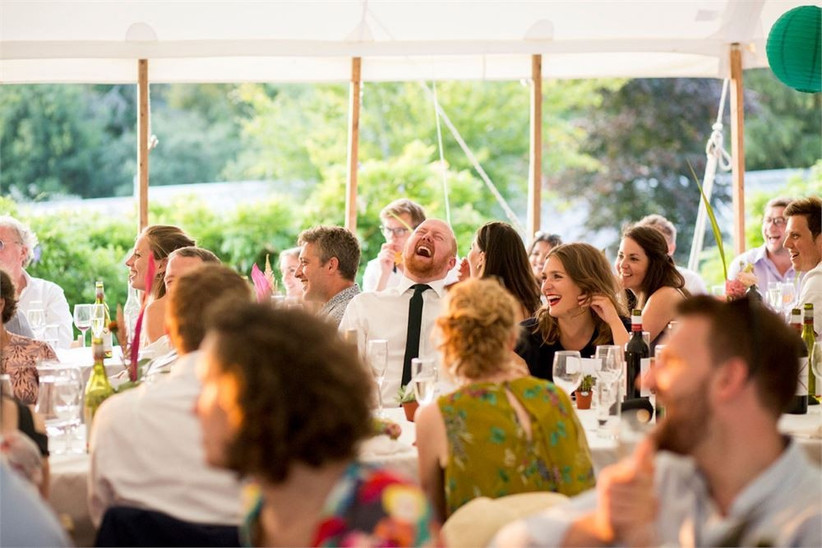 Image: Photography by Alelphos
If you're delivering a short best man's speech, you can pretty much go straight into cracking some jokes after the introduction.
Being the best man is a green card to make the other guests laugh at the groom's expense… and let's be honest, he knows what's coming. He's been nervously awaiting your speech all day, wracking his brains to figure out what you could be about to share. Don't miss this chance to have a bit of fun.
Take a look at a few of our favourite jokes below, or check out our extensive list of the (genuinely) funniest best man jokes around. We promise, they're not all cringey.
If you can link your joke to the fact that your speech is so short, then even better… just remember not to make jokes at your best friend's new wife or husband's expense. That is strictly off limits!
"Going by tradition, the best man is supposed to carry out a character assassination, but because I have such immense respect for this man, I'm afraid I just can't do that. I mean, for me to mention the time he streaked across the high school stage in the school play would be mortifying."
"If you can't hear me at the back, the silence from the people at the front should reassure you that you're not missing out on anything. I'm not very good at this whole public speaking thing, so I'll be keeping it brief anyway. The one thing I would like say is, Joe, how lucky you are. You'll leave today with a wife who is warm, loving and caring. And Jane, you're lucky too. You'll leave here today having gained a lovely dress and a wonderful bouquet of flowers."
"Mike, my best advice to you would be to remember that marriage is not just an eight letter word. It is an entire sentence… although you'd probably get much less for murder!"
READ MORE: 9 Tips for Delivering an Amazing Wedding Speech
3) Congratulate the Happy Couple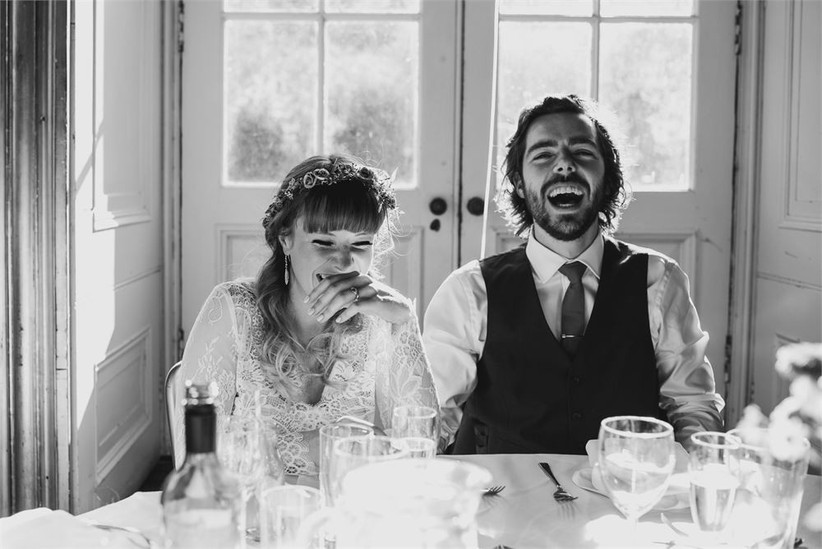 Image: Jordanna Marston Photography
By the time you've told a few jokes, you'll probably be pretty keen to wrap your speech up and sit back down (anyone else suffering from a serious case of dry mouth?).
With that in mind, now is the perfect point to congratulate the happy couple, tell the groom's new wife or husband how wonderful they look and send them your well wishes for their life together. It's as easy as that!
"I can speak for everyone in this room when I say we all wish you all the happiness you deserve. We are so glad that you have found one another, and this day is a reminder that the best is yet to come. To the happy couple!"
"I've known John and Katherine for 8 years and I can honestly say they are perfect for one another. They were both fantastic when they met, and now as a team, they will be even better together as they embark on a new adventure as man and wife. John and Katherine, I toast you and wish you both peace, health and happiness."
"Sarah – I know that Dan loves you very much… because he spent a long time writing this speech for me. Congratulations to the both of you!"
READ MORE: Here Are All the Best Man Duties You Need to Know About
Short Best Man Speech Examples
We might not recommend copying these word for word, but they're sure to give you a little bit of inspiration.
Funny Short Best Man Speech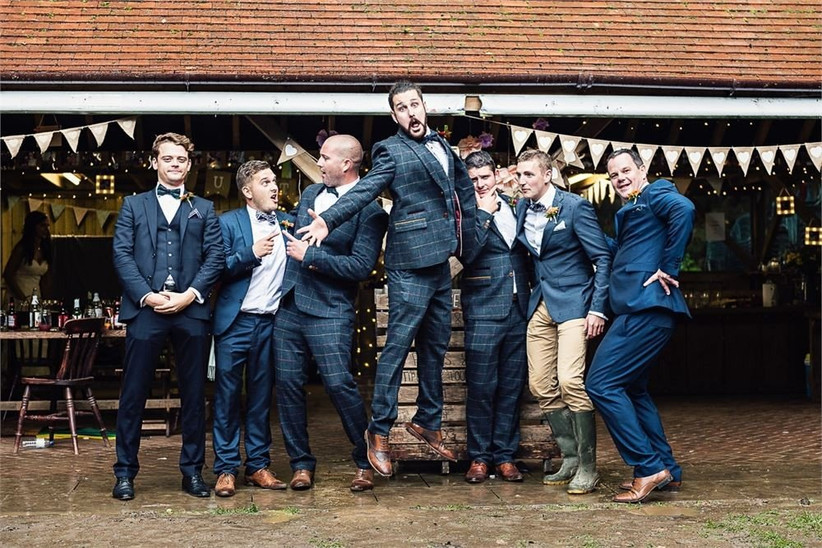 Image: Laura May Photography
"Good evening, everyone! Let's raise our glasses and toast to the newlyweds. Don't worry, your arms won't get tired, because my speech is going to be like a mini-skirt: long enough to cover the essentials but short enough to capture your attention.
In my extensive research to find out how to deliver a great best man speech, I learned that I am expected to sing the praises of the groom and tell you what a wonderful guy he is. Unfortunately, I am neither a good singer nor a good liar, so that's why I decided to keep my speech brief.
Joe, thank you for being such a stable force in my life, a great friend and a great drinking buddy. Lauren, I think we can all agree that you're stunning this evening, and you deserve a great husband. Joe, thank goodness you snapped her up before she found one. All joking aside, I'm honoured to be here today. I love you both ad wish you many happy years of marriage. Cheers!"
READ MORE: 21 Ways to End Your Best Man Speech
Sentimental Short Best Man Speech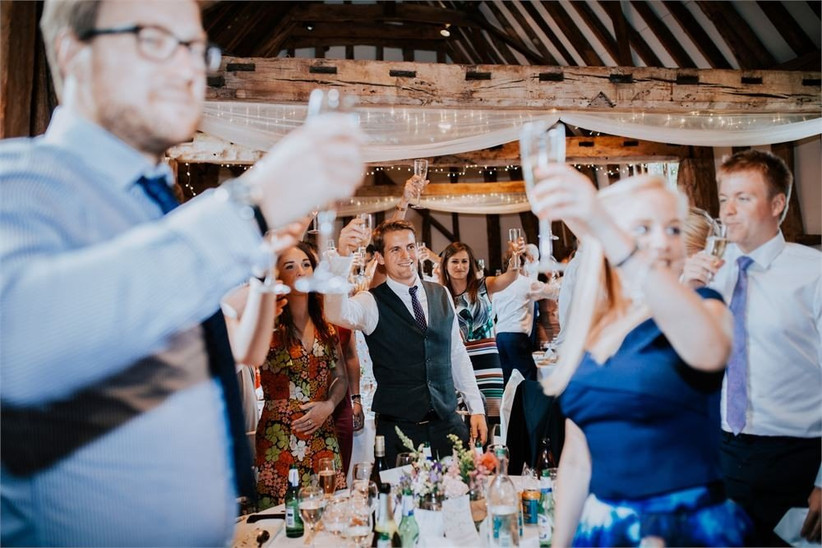 Image: Sally Rawlins Photography
"Evening, everyone! I am Brad. You may not know me, but Sam and I go way back – to University, in fact. We've been mischief makers together since the beginning.
Despite our best efforts, today has gone off without a hitch. A special thanks to everyone who made today possible!
Sam is one hell of a guy; I knew that on the first day we met. There he was, already in our halls, doing his best to find himself a girl on campus. And he had only been there a few hours! Really, his pursuits in this avenue were largely less than successful.
That was, until, he met Maddie. And thank goodness for that. The most beautiful woman definitely won. She looks stunning today, as do the bridesmaids.
Sam and Maddie, I'd like to offer you a bit of advice today as you start this new journey together. Sam, always treat Maddie like the Queen that she is. Maddie, always remember that Sam loves you and could not do without you. Seriously, I have seen him without you and it was a mess.
I wish you all the best. You are both near and dear to me, and your life together is sure to be a fantastic new chapter. Now, if you'd all like the join me as we raise a toast to the happy couple. To Sam and Maddie."
Extra Short Best Man Speech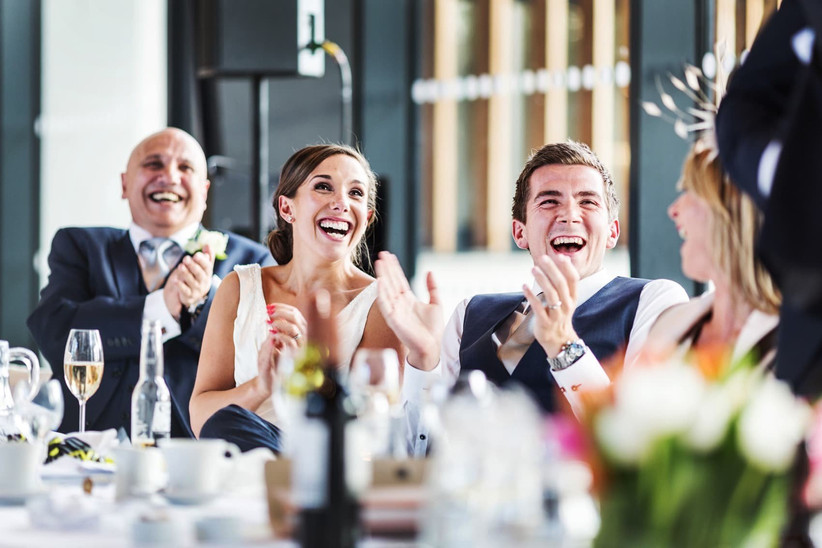 Image: Sacha Miller Photography
"Graham and James. Every great relationship starts with rings. In the beginning, the phone would ring and the just the thought of speaking to one another was exciting. Your love grew and so did your commitment to each other.
The engagement ring soon came after. There were no doubts… your love was true.
The engagement ring has now turned into a wedding ring and we are all here today to celebrate your marriage.
Now of course… the suffer-ring begins. (Smile and raise your glass). Peace and happiness to the happy couple!"
READ MORE: Read These Real-Life Best Man Speech Examples!
7 Top Tips for Your Best Man Speech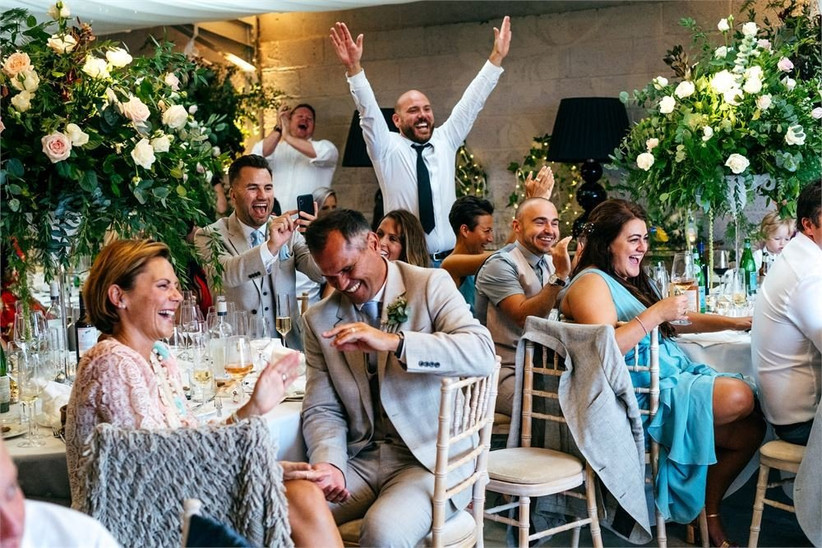 Image: Jordanna Marston Photography
Play on your relationship as much as possible! Are you brothers? Are you best friends? However you know the best man, weave anecdotes about your relationship into the speech wherever possible.
Speak slowly and pause for laughter. Always.
Use cue cards if you're feeling a bit nervous and practice repeatedly.
If anyone has sent messages but cannot be there on the day, read them.
Avoid too many in-jokes that the guests won't understand… it'll only leave them confused.
Keep it clean – being best man might be a green card to give the groom a bit of stick, but don't take it too far. His grandparents are listening.
Be sensible with your Dutch courage. Save the shots for after your speech has been delivered.
READ MORE: Groomsmen Gift Ideas for Every Budget
Now you know what you're going to say, make sure you read our guide on how to overcome wedding speech nerves to ensure you pull it off perfectly! We wish you the best of luck.