11 Groom Speech Tips: The Ultimate Guide to Giving an Amazing Groom Speech
Are you nervous about giving your groom's speech? Our experts have 11 top tips to help you give the ultimate speech and help calm your nerves.
We have included third party products to help you navigate and enjoy life's biggest moments. Purchases made through links on this page may earn us a commission.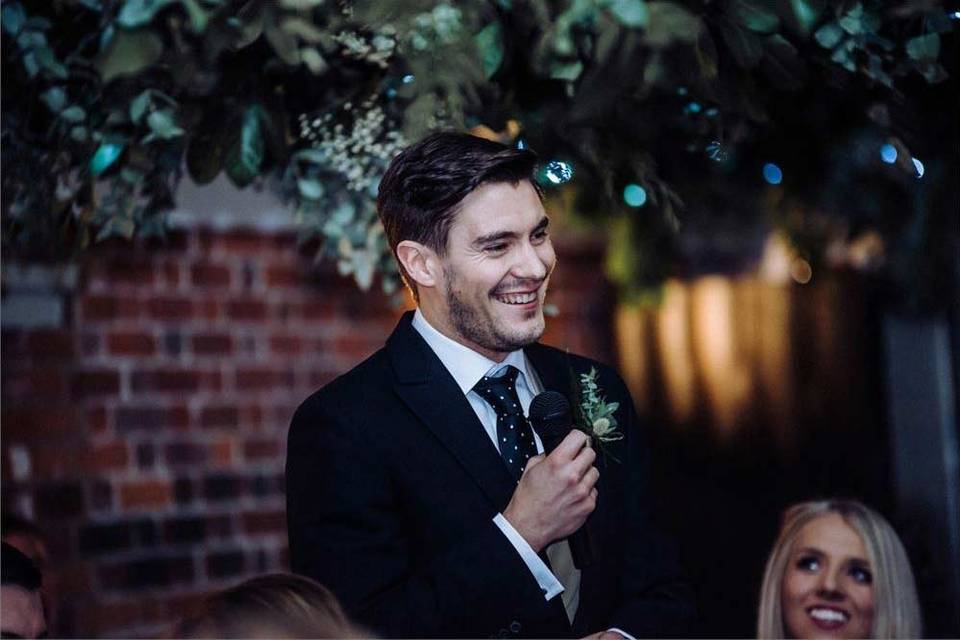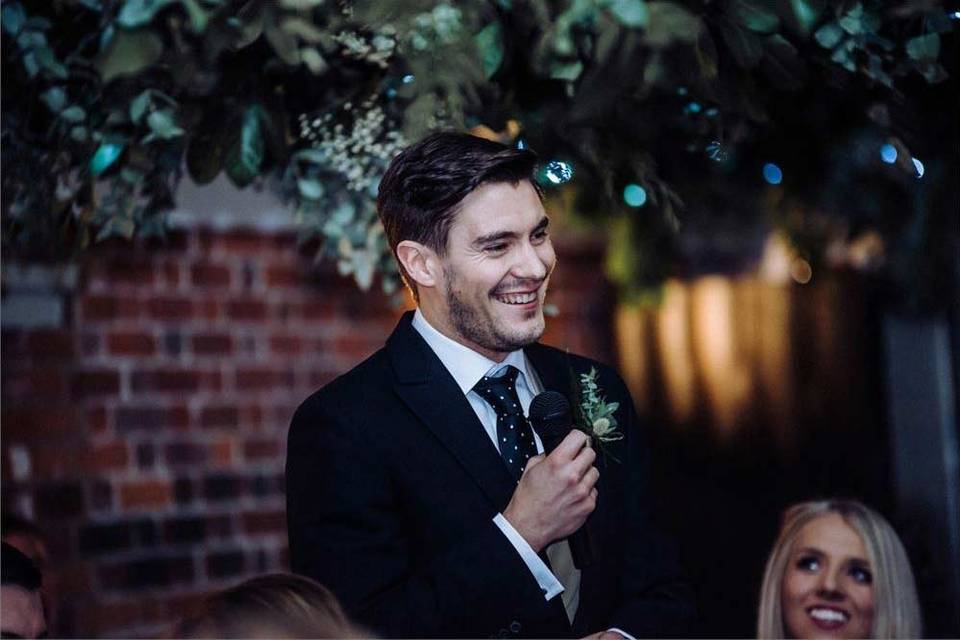 Have you been worrying about giving your groom's speech ever since you popped the question? You're not alone!
This is arguably one of the most daunting parts of your entire wedding planning journey.
You'll need to consider how long your speech should be, how it's structured, and who you should be thanking. Of course, you can't forget to say "my wife/husband" either!
If you're following the traditional order of speeches, your speech will come after the father of the bride (or groom) speech, and he could have set the bar pretty high.
But, don't fret! We spoke to two experts to help calm your nerves. Adrian from All Speeches Great and Small and Heidi from Speechy gave their best advice on what it takes to deliver a great groom speech. Here are our top 11 groom speech tips: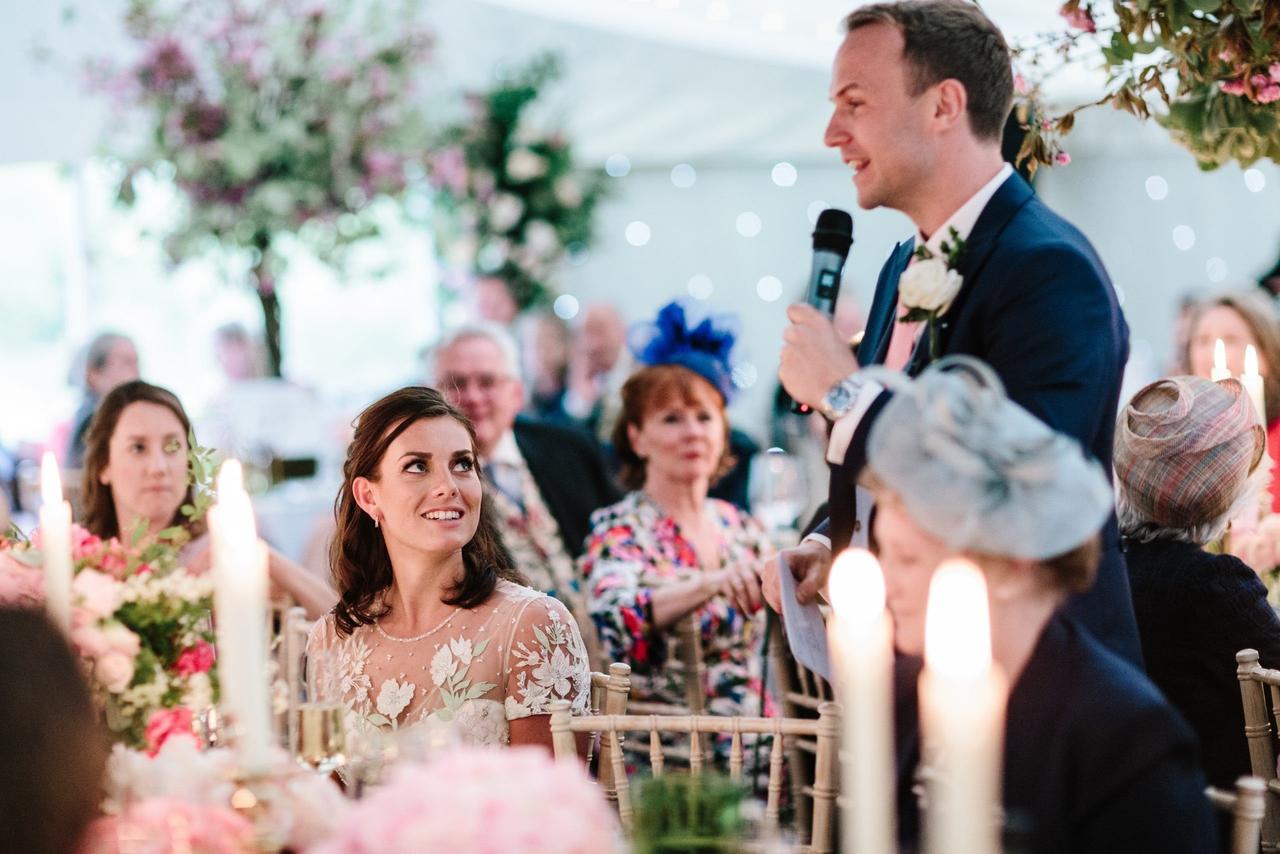 Image: Nick + Maria
1. Acknowledge This Special Moment
"A great groom speech should be a really good dollop of entertainment and fun, whilst at the same time acknowledging what a very special moment this is. It's your chance to stand up and acknowledge the people who have brought you to this point and, of course, to talk about the person you've been lucky enough to marry," explained Adrian.
It's your chance to stand up and acknowledge the people who have brought you to this point.
2. Think Carefully About How to Begin
Heidi from Speechy advises that the best way to begin your groom speech is "quickly".
She says: "Grooms often make the mistake of thinking they should sound formal and get overly stressed about following traditional etiquette. The aim is to get people laughing as soon as possible, certainly within the first three lines of your speech as it puts everyone listening at ease."
As well as keeping it light and funny, Adrian points out that it's important to address your partner's father and thank him for his speech: "Make it a warm and inclusive introduction, however, don't be tempted to detail his financial contribution. A reference to his generosity should be sincere but very general."
3. Add in a Few (Appropriate) Jokes
"There's a lot of emotion on the big day and making people laugh with some wedding jokes or amusing stories is the best way to balance that out," explains Adrian.
Keep your stories short, funny, and appropriate! You don't want to be embarrassing your new wife or husband on your first day as a married couple.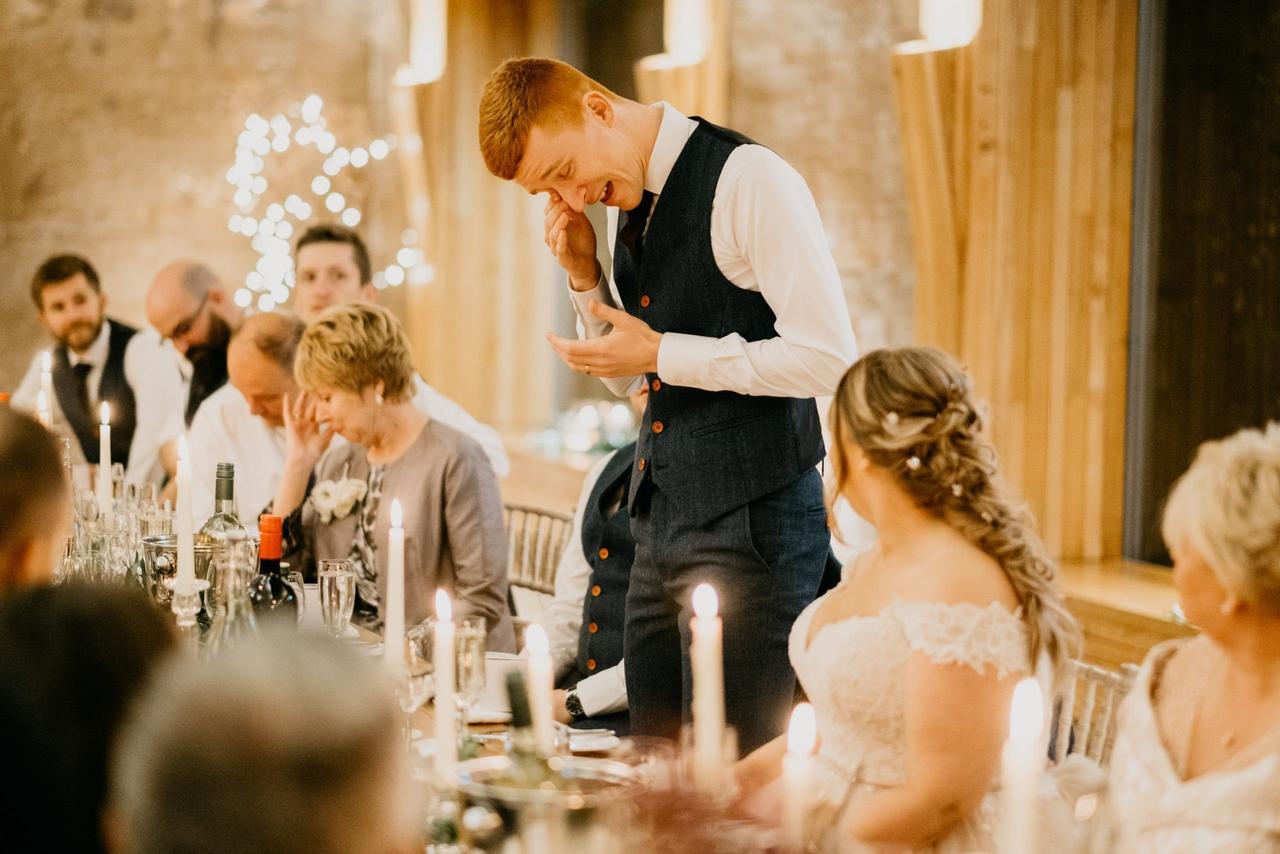 Image: Ed Godden Photography
"Are you already concerned that your bride's 'pinot posse' have started chatting up the bar staff? Or are you finding it hard to recognise your middle-aged cycling buddies in clothes that they usually wouldn't be seen dead in? Make your humour personal and seemingly spontaneous – your guests will really appreciate it," adds Heidi.
Adrian advises grooms to steer away from a speech that's more of a 'dry procession of thanks' as you'll struggle to keep your guests' attention – so even if you're not a naturally charismatic person, make sure your personality shines through above the mere thank-yous.
4. Remember to Thank Everyone
Traditionally, the groom will need to thank the following:
Everyone for coming
His parents
His partner's parents
His best man and ushers (if there are any)
The maid of honour and bridesmaids (if there are any)
Heidi advises that although there are probably plenty of other people who you would love to thank for their contributions and help towards your special day, try to avoid thanking half of the guest list.
When it comes to thanking parents, there's one thing Adrian warns grooms to be careful of. "Don't fall into the trap of waxing lyrical about your new parents-in-law for several paragraphs, dismissing your own parents in a sentence. They should both be given equal measure."
5. Focus on Your New Partner
Agreeing with Adrian, Heidi suggests that your new partner should be the main focus of your speech. She says, "This is a once-in-a-lifetime opportunity to drop a public love-bomb on your partner and considering they've just agreed to tolerate all of your habits and box sets for the rest of their life, it's the least you can do!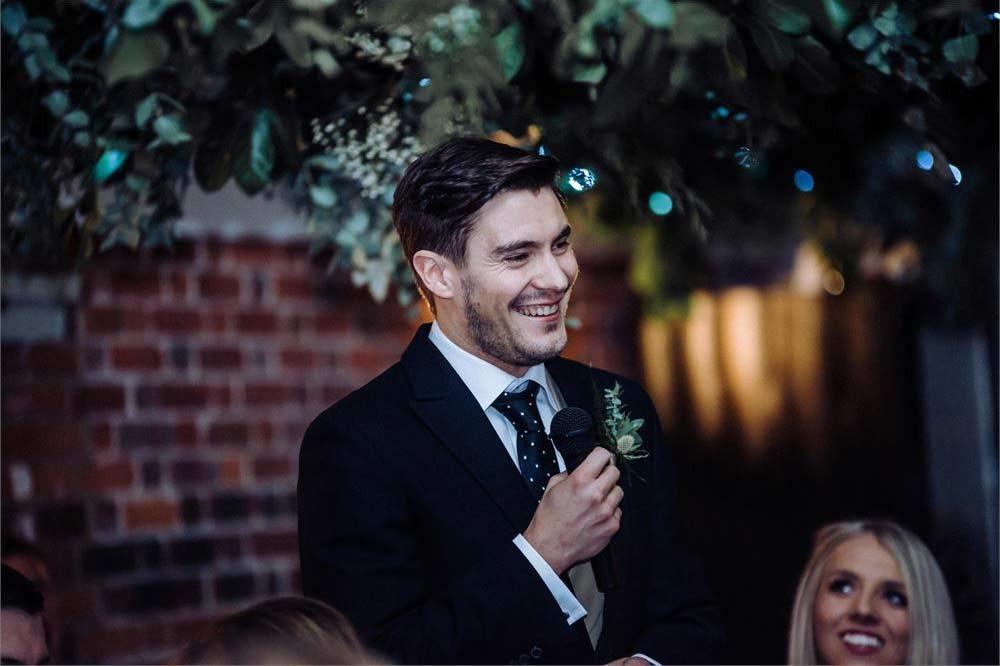 Image: Emily Black Photography
"Remember, every groom thinks his partner is gorgeous, kind and generally amazing so avoid cliché terms and words and concentrate on what makes them unique. Nailing their individual and quirky characteristics shows that you really get your new husband or wife and your friends and family will love you for that."
6. Forget Giving Out Gifts
Heidi advises that if you're planning on giving thank you gifts to bridesmaids, parents or anyone else, either do it earlier on in the day or announce that you'll be personally thanking them later as to not disrupt the speech.
She says: "Gift-giving is basically an excuse for guests to start checking their WhatsApp!"
7. Think Carefully About the Structure
Adrian says: "There are lots of people to talk about and you should deal with them one at a time and avoid repetition.
"Resist the urge to launch straight into how amazing your new partner looks and then pepper the speech with references to them. They are the star of the show so save the latter half of the speech to be dedicated to them and what they mean to you."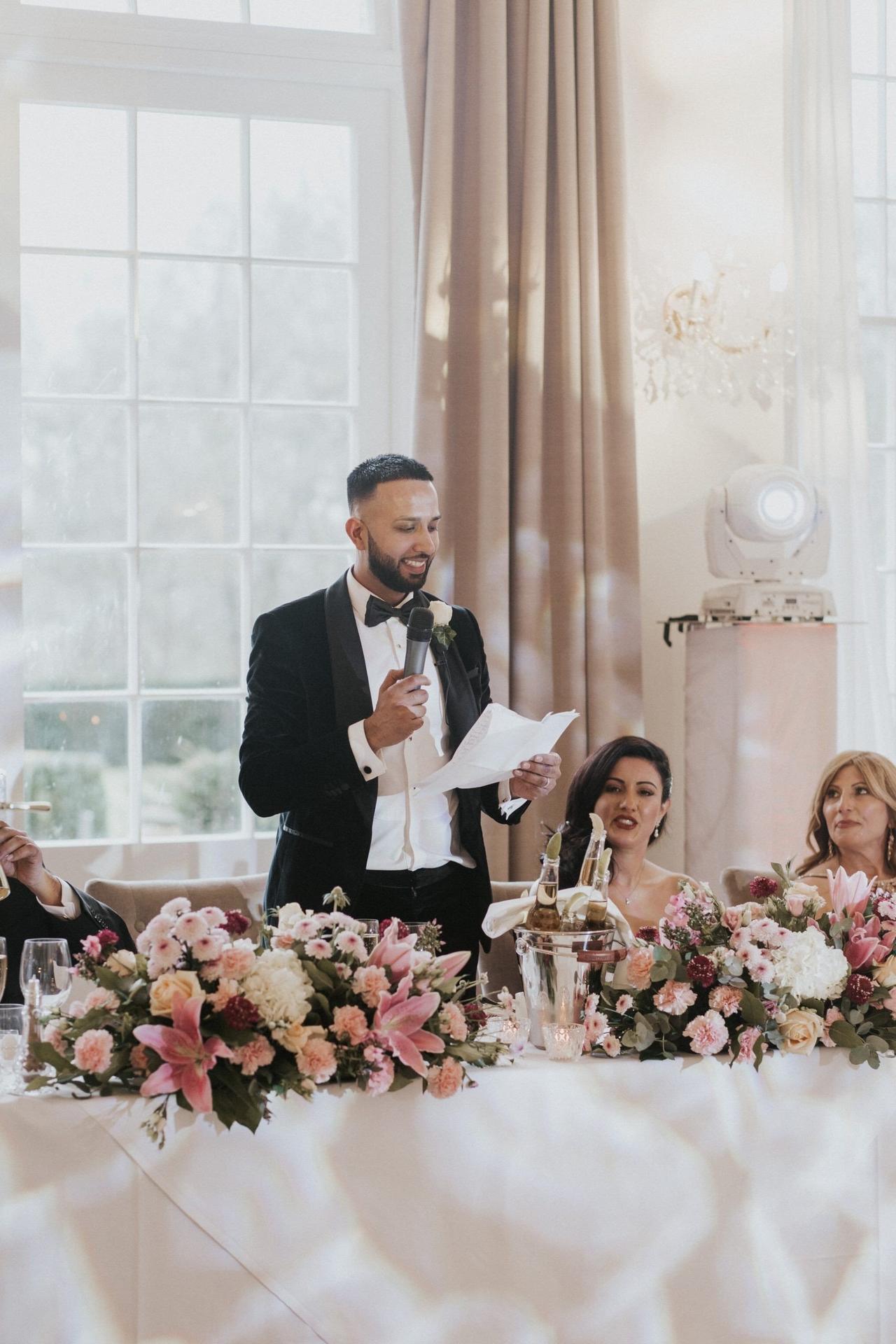 Image: Nataly J Photography
8. Eight Minutes is the Perfect Length of Time
Adrian says that the length of a groom's speech can really make or break it: "Too short and people are going to be wondering why you bothered. Too long and nobody will be listening. Keep it to a 'stand up-sit down' time of 10 minutes – that's a talking time of around eight minutes and the rest will be made up from laughter, applause and heckles."
Agreeing with Adrian's point, Heidi also stressed the importance of not boring people with a lengthy speech, but also not coming across like you're enjoying the attention a little too much.
9. Avoid Too Much Detail
Adrian explained that it's too much detail that really slows a speech down: "A great speech demands the very least from the guests in order for them to enjoy it, so now is not the time to recount exactly how you know each of the ushers individually. A good guide is to aim for a total of 1,350 words – if you're edging well over that, then it's time to strip out some of the content."
10. Think About Your Ending
According to Adrian: "Tradition says that you should end on a toast to the bridesmaids and a little aside to the best man. I've never found this works – in my opinion, the focus of the speech should be exclusively on your partner, that's why I suggest toasting to the bridesmaids earlier in the speech and making the final words all about your partner.
"You should have talked about the best man earlier in the speech but there's no harm in having a quick one-liner referencing him at the end but make sure it's after the final toast."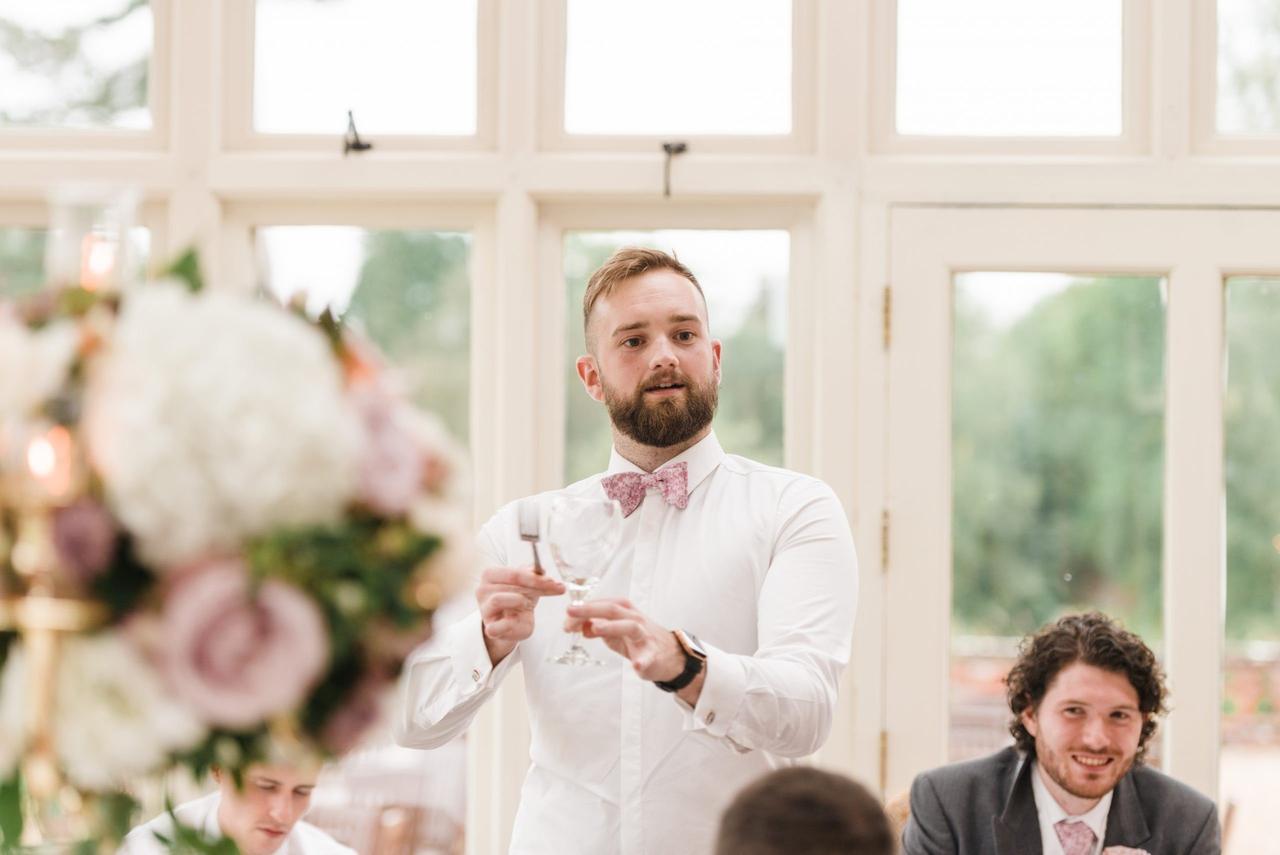 Image: Hannah McClune
11. Calm Your Nerves
Heidi has a lot of advice when it comes to calming nerves around your wedding speech, starting with just how important the planning and preparation is.
"The key to being confident on the day is writing a wedding speech that's so good you can't wait to deliver it. If you know you're going to make your friends laugh, your mum cry and your bride/groom love you even more then you'll ooze confidence whilst delivering your speech."
Heidi's Top Tips for Nerves
1. Film Yourself – Use your phone to film yourself practising your speech. Watch it back and channel your inner Simon Cowell – work out how your delivery could be improved and what you would change.
2. Dutch Courage Isn't Always the Answer – Although lots of grooms swear by a bit of Dutch courage, this is based on wishful thinking rather than solid science!
3. Smile and Breathe – It may sound obvious but taking a deep breath is surprisingly effective at reducing those stress nerves and smiling is scientifically proven to be infectious, making them a fool-proof combination.
Still feeling nervous? Fear not – here's our guide on how to deliver an amazing wedding speech!