How to Live Stream Your Wedding: Our 5 Top Tips
Want to include absent guests in your wedding celebrations? Our tech-savvy experts show you how to achieve live streaming success.
We have included third party products to help you navigate and enjoy life's biggest moments. Purchases made through links on this page may earn us a commission.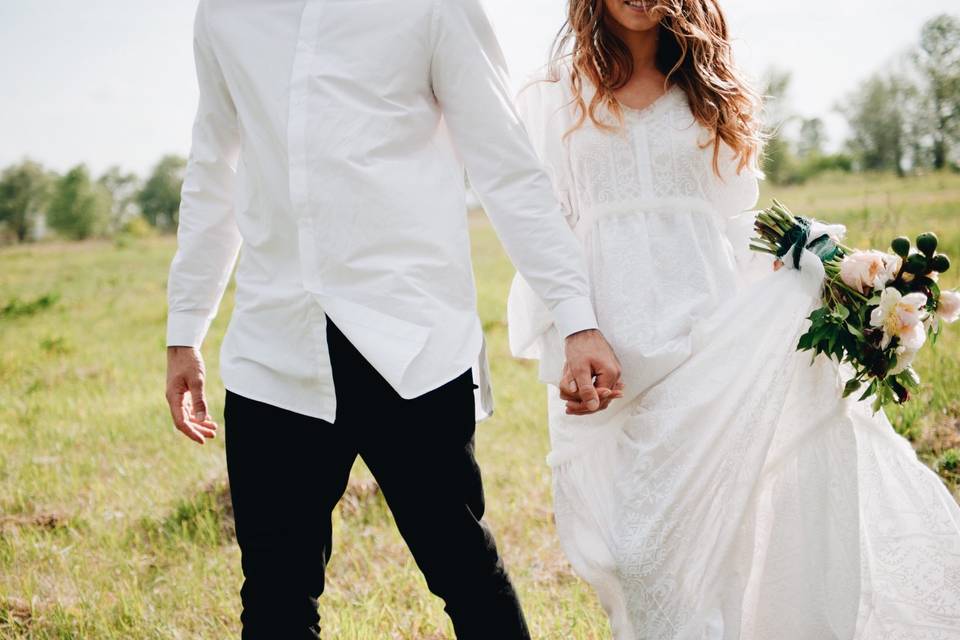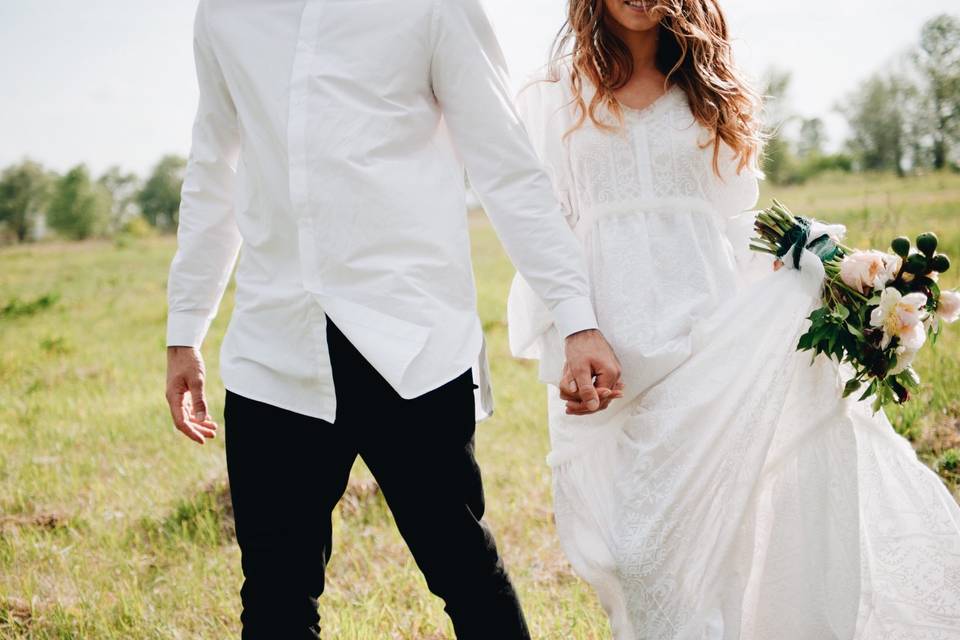 Whether you've got friends and family living far away or you simply want to shy away from large crowds on the day, live streaming your wedding can be a useful and creative way of sharing your nuptials with people who aren't physically present on the day. At the moment, when weddings are being postponed, it could be a great alternative way to share your wedding if we're still advised against large gatherings.
If you're anything like us, the only thing you'll be experienced in streaming is Netflix and the idea of getting technical and live streaming your wedding has probably got you feeling pretty daunted.
To help you get your wedding out to the masses (or at least your mate in Oz), we've chatted to some tech-savvy and super-creative industry insiders who were only too happy to take your wedding tech worries away. Keep scrolling for their top five wedding live streaming tips!
1. Bring the Event to Your Guests
When it comes to innovative ways to share your wedding day, Holly of heyyholly knows a thing or two about making creative ideas work for you. To get started with live streaming your wedding, Holly suggests sending out everything your guests will need by good old snail mail: "Send out a personalised 'wedding box' to each of your virtual wedding guests to arrive the morning of the wedding and, once opened, your guests have everything that they need to live the day with you."
If you're wondering what to pack in your wedding box, Holly has plenty of ideas including a mini bottle of Champagne for the toast, a piece of wedding cake, a cocktail shaker and ingredients, photo booth props and even the ingredients for a delicious wedding breakfast meal (think luxury Hello Fresh).
2. Utilise Social Media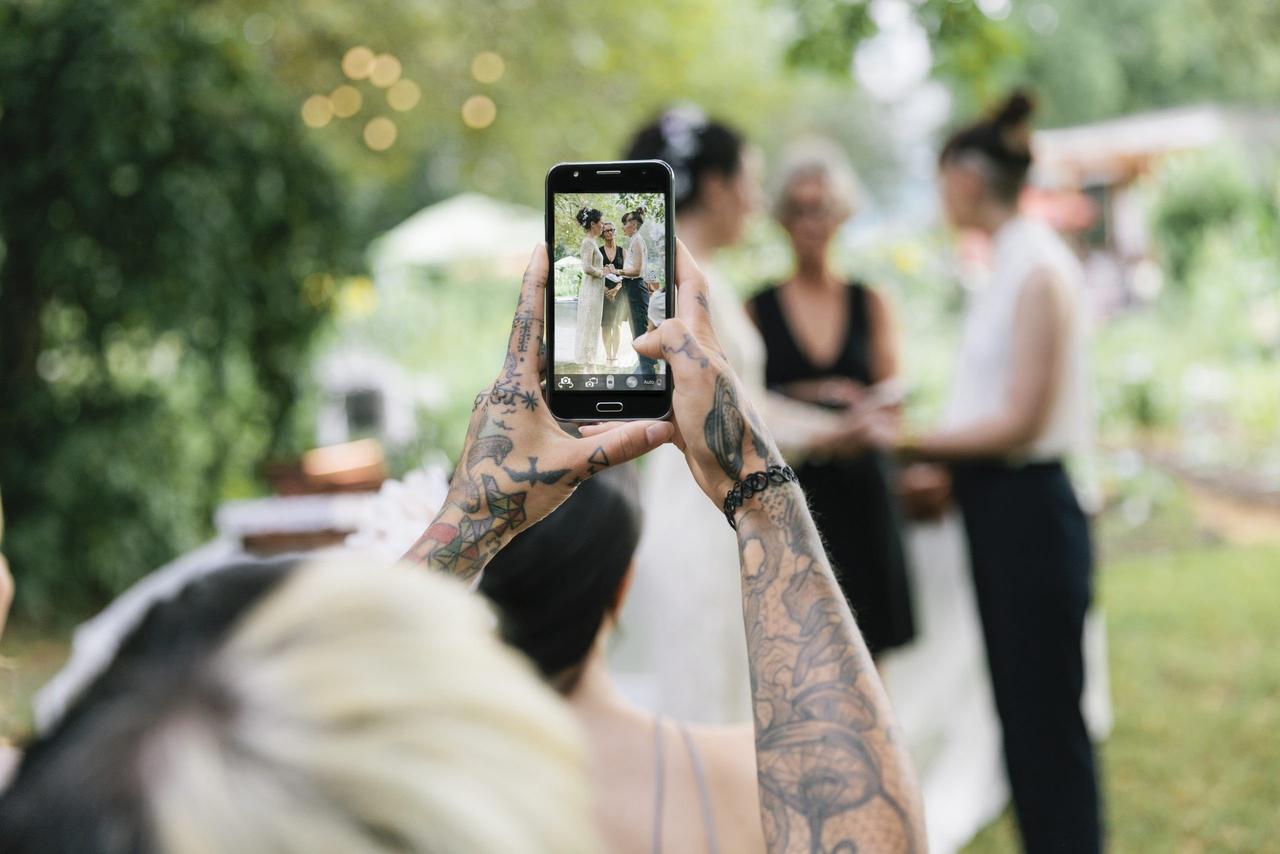 Holly advises making the most of social media as most people are familiar with how to use it and it's a great way to get a social vibe going: "A QR code printed on the box could send people to a private Facebook group created by the happy couple that will act as the 'virtual wedding venue' for the day, to give people a sense of togetherness, a place to interact and access to all the information they need (like the running order, links to live streams, photos and comments etc)."

To create a QR code, sign up to a free QR code maker such as QR Code Generator and simply paste the link to your Facebook page into the box. The website will create your unique QR code that will take guests straight to your page when they scan it with a smartphone. You can then choose a frame with the phrase 'scan me' and download your code as a high resolution JPG image. Make sure you print it with high quality materials and then fix it onto your wedding box. Simple!

"Sharing your photos to the group and a bespoke Insta hashtag also helps to keep the party alive." Holly adds.

While a wedding hashtag is certainly a great idea for the festivities later on, GearHungry Tech Consultant, Damien O'Shea, recommends keeping in-person guests away from the Wi-Fi for the most important bit: "Do not overload your venue's Wi-Fi, especially if your ceremony is taking place outside. Instruct the staff at your venue not to give your guests the Wi-Fi password until after the ceremony. These steps will aid in preventing streaming from buffering or even worse, crashing altogether."
3. Get Set to Shoot
"A professional content capture team (like Miller29) can be on-hand at the location where the wedding couple and festivities have been planned to take place to capture the most important moments of the day to share with guests", Holly suggests.
"From uploading behind the scenes images and video clips (pre-approved, of course) of the happy couple getting ready for the wedding shared directly into the Facebook group (and via an Insta hashtag too) to a staged live stream of the wedding ceremony itself, there are so many possibilities."
If bringing in a specialist team is a stretch too far for your wedding budget, discuss options with your venue: "I have found that many couples are surprised to learn that their church already offers a streaming service. Check if this is a service that they can offer" suggests Damien.
Even if your venue doesn't already offer streaming services, it can be simpler than you think to set up, he says: "Many couples assume that you will need to download elaborate apps etc in order to stream their wedding. However, FaceTime, Facebook streaming and even YouTube can be more than sufficient. Just don't forget sound! Many couples are so focused on their loved ones seeing the wedding they forget that they need to hear it as well!
"Purchase additional microphones or place devices closer to the action then initially planned." Speak with your venue about how you can make this work, they'll be happy to help if they can.
The Top 5 Apps For Live Streaming
1. Skype
You can open a video chat for free on one device if your guests will be watching from the same place, or pay to upgrade and share your stream with up to 10 more devices.
2. Google Hangouts
Up to 10 devices can join a free hangout and videos are automatically streamed to YouTube where permitted guests can watch too. The video is then saved to YouTube for you to keep.
3. Periscope
You can share live streams from the free Periscope app on most major social media platforms and it works for both Android and iOS platforms.
4. Livestream
This free service is suitable for Android and iOS operating systems but is also super-popular with professionals using high quality cameras. Videos can be saved to the cloud for 30 days.
5. Facebook Live
Easy to use and easy to access, you can choose who can see your broadcast and watchers can react and comment live. Best thing of all? It's free!
READ MORE: Bridesmaid Gifts: 30 Ideas to Suit Every Budget
4. Have a Virtual Wedding Party
If you're hosting a small wedding or eloping but still want your closest friends and family to be part of the day, why not ask them to be in your virtual wedding party? "Your 'Best Man at Large', or so we will call him, can be in charge of encouraging interaction, chats, photo sharing, cracking jokes. Consider him fulfilling his role by 'working from home," Holly suggests.

In fact, you could get a whole host of wedding party members involved. Why not ask your Maid of Honour to upload old photos of you and your spouse-to-be? Or share a poem or wedding reading to the Facebook page? Little ones such as nieces and nephews could still wear special outfits and messages from them can be recorded and added to the group for a super-cute touch.

READ MORE: Funny Wedding Readings Guaranteed to Make Your Guests Laugh
5. Invite Your Virtual Guests to Party
We love a good wedding party and just because certain guests aren't physically present, it doesn't mean they can't have a good old boogie with you. Include a link to your Spotify wedding playlist on your Facebook page and let absent guests know the party launch time. Everyone can press play at the same time and virtually party together! "Essentially your wedding party turns into a house party for all to enjoy both in their own homes and all together in the community of love and happiness that you have created" says Holly. N'awww we're totally sold.
Ready to craft the ultimate wedding playlist? You're going to want to check out The Top 40 Wedding Songs of 2020.