Anniversary Gifts for Her: 55 Romantic Ideas Your Girlfriend or Wife Will Love
If your anniversary is coming up but you're completely stuck on what to buy your girlfriend or wife, don't panic! We've selected over 50 anniversary gifts for her - from tech gadgets to personalised presents
We have included third party products to help you navigate and enjoy life's biggest moments. Purchases made through links on this page may earn us a commission.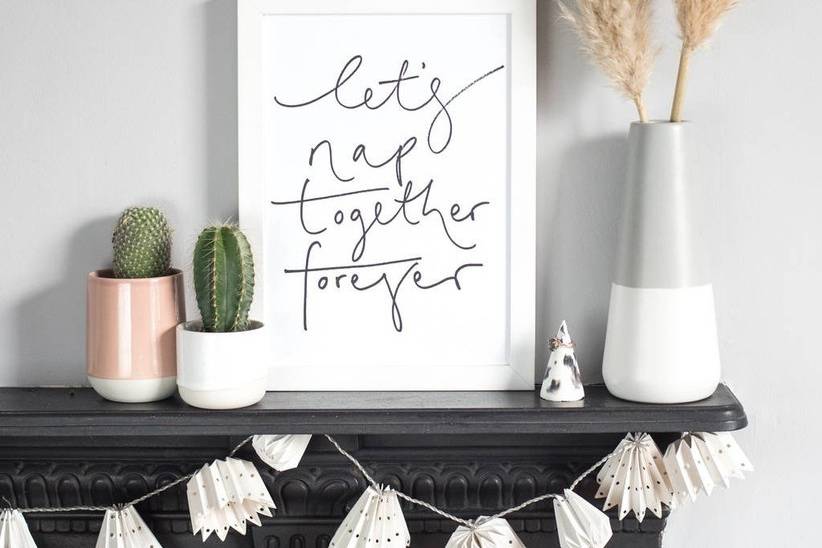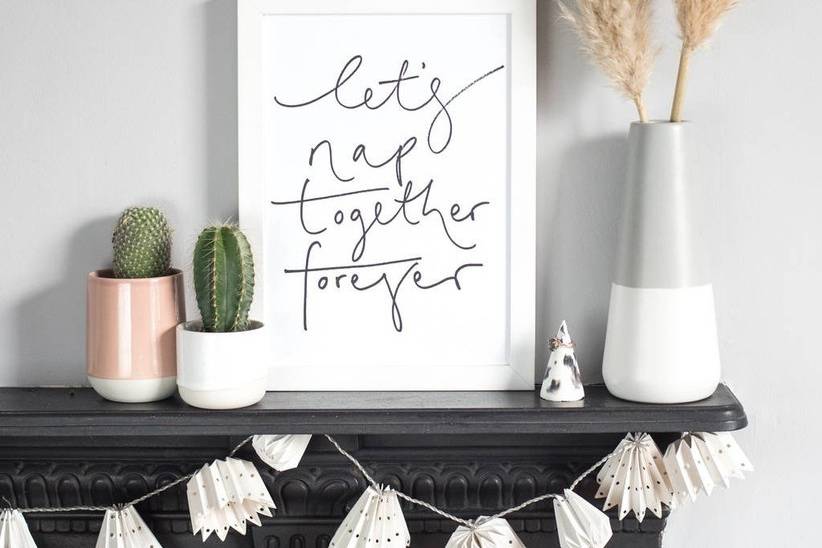 Whether you're celebrating the anniversary of your relationship or your wedding anniversary, finding the perfect anniversary gift for your wife or girlfriend can be tricky.
Despite spending almost every day together and knowing her inside out, it can still be hard to hit the nail on the head with the perfect gift - even heading to your favourite department store website can make things even more confusing, there's so much choice!
To help you nail your anniversary gift for her, we've narrowed down the selection a little (not too much though, there's still over 50 ideas below) and shortlisted the very best gifts for her available right now. From luxury PJs to home accessories and the latest tech gadgets, there's something for your girl right here.
55 Amazing Anniversary Gift Ideas for Her
1. Personalised Pyjamas - £29.99, Hitched Shop
Personalised pyjamas will be a cute gift if you both love nothing more than cosy nights in together on the sofa watching a box set. These satin pjs can be personalised with your partner's name and come in a range of colours and patterns.
2. Personalised Parisian Heart Padlock - £14.99, Getting Personal
Keep things sentimental with the gift of a personalised padlock – you can then keep this special gift to lock onto one of the famous love lock locations around the world. This one from Getting Personal comes printed with your initials which is a romantic touch.
3. Personalised Robe - from £23.99, Hitched Shop
A cosy dressing gown will be a gift that your partner can use again and again – we adore this floral kimono that can be personalised.
4. Photo Upload Large Helium Balloon - £14.99, Getting Personal
A romantic balloon would be a lovely anniversary gift for her to receive on the morning of your special day. Filled with helium, this large balloon from Getting Personal will float out of the box as it is opened and can be personalised with a photo of your choice.
READ MORE: The Best 1st Wedding Anniversary Gifts to Buy Now
5. Personalised Wooden Postcard - £8.99, Getting Personal
This wooden postcard from Getting Personal can be personalised with all the reasons why you love your partner. Hang it in your home as a romantic reminder of your anniversary!
6. Maria Comfort Trainers - £68.60, Boden
These embroidered spot trainers from Boden remind us of a pair the Duchess of Cambridge herself wore on a royal outing! They'll definitely jazz up the lady in your life's jeans and T-shirt combo.
7. Travel Mug - £21.99, Hitched Shop
Save money and the environment by gifting your partner a reusable and sustainable coffee mug – we love this one from the Hitched Shop.
8. Personalised Silver Half Moon Jewellery Box - £29.99, Hitched Shop
We do love a sweet quote! This silver moon will look stunning on her dressing table or next to her side of the bed.
READ MORE: The 40 Best Wedding Gifts For 2020
9. Personalised Tote Bag - £21.99, Hitched Shop
Upgrade her handbag with this personalised beauty. It may seem a little basic, but trust us, she'll use it every day!
10. Chocolate Gift Box - £23.50, Hotel Chocolat
Keep things traditional with the anniversary gift of chocolates – these delicious chocolates from Hotel Chocolat can be ordered with a variety of different sleeves and the anniversary one is perfect in this case.
11. Nomad Travel Wallet - £35, Bombay Duck
Are you planning a special trip? This Nomad travel wallet from Bombay Duck will be a glam way to keep all your tickets and your passport together at the airport.
12. Geo Pillar Candle Holder Set - £21.99, Hitched Shop
Something romantic for the home will be a thoughtful gift for your anniversary – plan a candle lit dinner and give this pretty geometric candlestick holder as part of your gift.
13. Alice Gold Triple Dressing Table Mirror - £250, Oliver Bonas
14. Mercury Glass Vase - £12.99, Hitched Shop
15. Fleur de Peau Fragrance - £125, Diptyque
Inspired by the iconic love story between Psyche and Eros in ancient Greek mythology, we can't think of a more romantic fragrance to gift for your anniversary than Fleur de Peau. With flowery notes, pink peppercorn and powdery iris, this is a soft and light fragrance that can be used both on the skin and on fabrics - win!
READ MORE: Top Tips for Choosing Your Wedding Perfume
16. Lime, Basil and Mandarin Candle - £48, Jo Malone
Does your other half love a room scent or a scented oil? Then a luxury candle would be the perfect gift for her. Keep things classic with this lime, basil and mandarin candle from Jo Malone.
17. Echo Dot - £17, Amazon
For the person who has everything, the Amazon Echo Dot will be a gadget that she will wonder how she ever managed without.
18. Mini Horsebit 1955 Bag - £1,950, Gucci
19. Logo Card Holder - £190, Saint Laurent
20. Personalised iPhone Snap Cover - £14.99, Getting Personal
21. Fitness Tracker - £174.99, Amazon
The new Fitbit Versa is available from Amazon is this stunning rose gold and pink colour. If your wife or girlfriend loves fitness and tech then this is a perfect gift for them.
22. Pave Eternity Ring - £1,450, Huiyi Tan
An eternity ring is a romantic gift that can sit alongside your wife's wedding and engagement rings. We adore this diamond encrusted one from Huiyi Tan.
READ MORE: Eternity Rings – Gorgeous Designs That Will Last a Lifetime
23. Heart Necklace - £21.99, Hitched Shop
Sticking with a jewellery theme, this silver necklace is available in silver, gold or rose gold.
24. Tennis Deluxe Bracelet - £135, Swarovski
Embrace the sparkle by gifting your wife or girlfriend this crystal encrusted tennis bracelet from Swarovski.
25. Swarovski Solitaire Round Crystal Stud Earrings - £55, John Lewis
These lovely crystal stud earrings from John Lewis feature a faceted round crystal that goes great with any look.
26. Silver Necklace & Earring Set - £28.99, Hitched Shop
If you can't choose between a necklace or earrings, how about gifting this gorgeous set that includes both? With a timeless design that will suit everyone, it's an affordable option that will really impress.
27. Classic World Map Print - £35, The Future Mapping Company
28. Handwritten Print - £12, Oh Squirrel
Is your other half your napping partner? Then this cute quote from Oh Squirrel is an anniversary gift that she will treasure.
READ MORE: Our Favourite Romantic Quotes
29. Faux Leather Personalised Luggage Tag - £13.99, Hitched Shop
We think these personalised luggage tags from the Hitched Shop would be the perfect way to let your girlfriend or wife know you're taking her on a romantic anniversary trip!
30. Recycled Glass Photo Frame - from £16.95, By Amber and Rose
Make the most of your wedding photos by making them part of your anniversary gift. These gorgeous photo frames from By Amber and Rose are made from recycled glass and metal, making them a great gift for your eco-conscious other half.
31. Retro Classic Picnic Basket - £65.99, Amazon
A romantic picnic is the perfect date idea – so why not make your own extra special anniversary picnic? Including this retro picnic basket from Amazon.
32. Personalised Ash Wood Bath Caddy - £53, The Forest & Co
Give your partner the gift of self-care with this personalised wooden bath caddy from The Forest and Co – it perfectly holds a tablet, some candles and a glass of wine, so the love of your life can have some serious relaxation time.
READ MORE: Fifth Wedding Anniversary Gift Guide: Wooden Gift Ideas
33. Oak & Steel Gin Teapot Set - £24.99, Amazon
Whether you had a gin-themed wedding day or you know your wife loves a G&T, this gin teapot set from Oak & Steel is a fun anniversary gift for her that will look great in your home.
34. Riya Glass Bar Cart - £299, John Lewis
If you're a couple that loves entertaining then this drinks trolley from John Lewis will be a stylish addition to your home that your partner will love.
35. Fire HD 8 Tablet - £89.99, Amazon
If your partner has a long commute and you know they love catching up on boxsets on the move then this could be the tech gift for them. The Fire HD 8 Tablet was literally designed for portable entertainment and gives users access to all their fave apps - including Netflix and Disney+ - as well as a game mode and built-in Alexa.
36. Set of Three Succulents - £29.50, DingaDing
Does your partner have green fingers? Then these gorgeous succulents in monochrome planters from DingaDing Terrariums will be a beautiful anniversary gift.
37. Engraved Wooden Keepsake Box - £19.99, Getting Personal
You are sure to have lots of lovely memories together, so why not buy your wife a keepsake box like this wooden one from Getting Personal and fill it with extra special mementos?
38. Seb Table Lamp - £28, Next
This stylish light grey lamp from Next will be a beautiful addition to any dressing table or bedside table – we love it!
39. Geo Print Makeup Bag - £13.99, Hitched Shop
40. Pink Velvet Chair - £48.99, Amazon
This pink velvet chair from Amazon is a stunning armchair that could transform a room. If your wife has a love for velvet furniture then this is ideal!
41. Quinn Bedside Table - £149, Marks & Spencer
42. Pashmina Scarf - £26.99, Hitched Shop
A beautiful scarf is a timeless gift that your wife can treasure – we love this super soft scarf that comes in a choice of five colours and can be personalised with their initial.
43. Chiltern Thin Metal Round Mirror - £300, The White Company
This circular mirror from The White Company would be a beautiful addition to any bedroom or lounge.
44. Dressing Table Set - £95.99, Amazon
45. Charbonnel et Walker Set - £26.95, Selfridges
47. Personalised Leather Suitcase - £958, Maxwell Scott Bags
Your other half can travel in style with this personalised leather suitcase from Maxwell Scott Bags – bonus points if this gift comes with tickets to go to the Maldives…
48. Flower Subscription - from £65, Bloom & Wild
Keep things traditional by giving flowers for your anniversary. You can set up a Bloom & Wild subscription for three, six or twelve months or simply send your favourite bouquet complete with chocs on the day.
49. Neon Sign - £450, Love Inc
A neon sign is the perfect way to transform a room – we adore this one from Love Inc and we think your girlfriend or wife will love it too.
50. Personalised Wooden Cheeseboard Set - £19.99, Getting Personal
This is exactly the sort of cheesy gift that we can wholeheartedly support! This lovely set from Getting Personal comes with a personalised wooden cheeseboard, a cheese fork, and three cheese knives.
51. Linked Anniversary Necklace - £150, Yvonne Henderson Jewellery
This linked rings necklace, which can be set with sparkling white sapphires, is a beautiful gift to commemorate your union and all the many wonderful years you've shared.
52. Personalised Silver-Plated Rose - £19.99, Getting Personal
If you're buying an anniversary gift for someone who loves flowers, it's hard to top this personalised silver-plated rose from Getting Personal. It looks great, and better still, it's designed to last.
53. Baobab Black Pearls Scented Candle - £105, John Lewis
This isn't just any candle. This exquisite black pearls candle has a burn time of 150 hours and gives off a black rose and ginger fragrance she's sure to love.
54. Personalised Embroidered Blanket Hoodie - £54.99, Getting Personal
If you're looking for the perfect comfy gift, check out this embroidered blanket hoodie from Getting Personal. Finished in a stylish subtle pink and offering a choice of three embroidery colours, it is sure to keep her warm all winter long.
55. Personalised Apron - £16.99, Hitched Shop
If your other half is a whizz in the kitchen she'll adore this personalised apron. We love the white but it's also available in black too - ideal for messier cooks!
In need of more inspiration? Browse our favourite personalised anniversary gifts.