Have you decided you want two wedding dresses? We're totally on board with that – the more wedding dresses the better, we say!
The key things you're looking for in a reception dress are: easy to dance and eat in (it's about having fun, after all!), and a completely different style to your first dress. There aren't really any rules to when you change into a second dress. It could be after your photos, post-dinner for the cake cutting, or just a disco outfit for the evening dancing.
The best thing about a wedding reception dress is – while it can be white too – you can go wild with really dramatic sequins, bold patterns, high glamour or something more laid-back that you can dance up a storm in.
We've got you covered with every kind of evening dress (and a few jumpsuits) you could want. There's lots of different prices points as it depends on each bride whether she wants to invest in the ceremony dress or the reception one.  Here are our favourite wedding reception dresses.
The Best White Wedding Reception Dresses
Grace Loves Lace Farrow Slip Dress – £550, Grace Loves Lace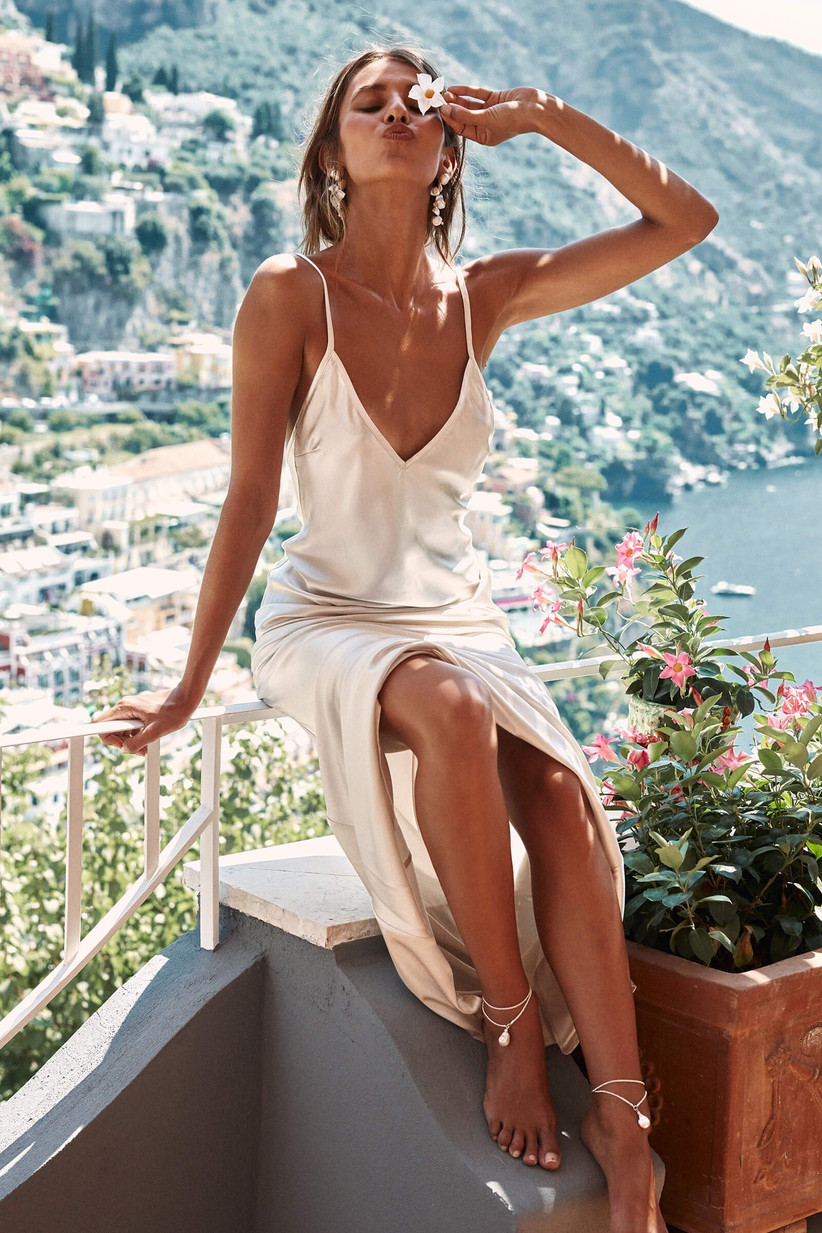 Slip dresses are the style of the season. This pale champagne satin slip is feminine and effortlessly flattering due to a bias cut and flared hem that accentuates curves. Consider it an essential for summer or destination wedding after-parties, but we'd also adore it topped with a faux fur or denim jacket in the winter.
Star Chic & Crochet Gown – £375, Etsy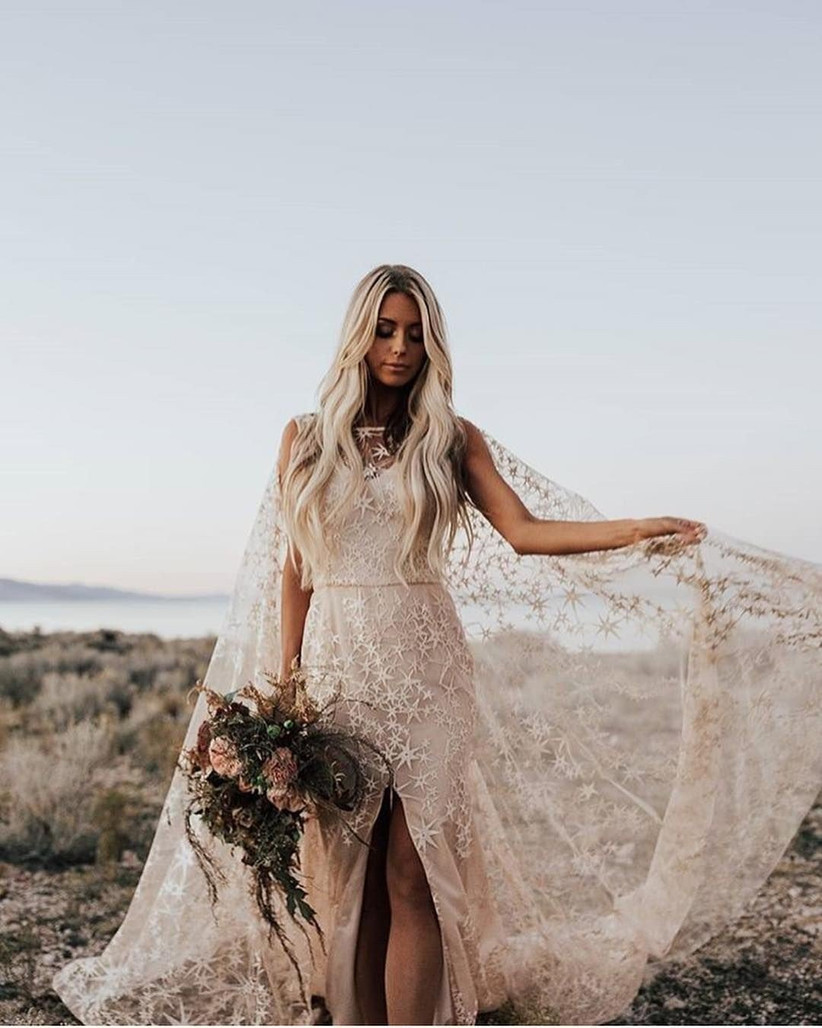 The impressive star gown is handmade in Portugal. You don't have to be having a celestial themed wedding to embrace the beautiful ethereal pattern on this romantic, boho dress.
Love Spell Designs Paloma Cape Dress – £1,439, Etsy
Your reception is the time to go wild with design! Keep the traditional dresses for the ceremony and focus on dramatic details for your evening dress, like the gorgeous lace sleeves and open back on this gown. The front features a thigh-grazing split and pools into a mermaid hem. If you want sexy and modern, this is the one.
READ MORE: 125 Songs to Rock Your Reception Arrival
Leilah Dotted Bridal Gown – £625, Needle & Thread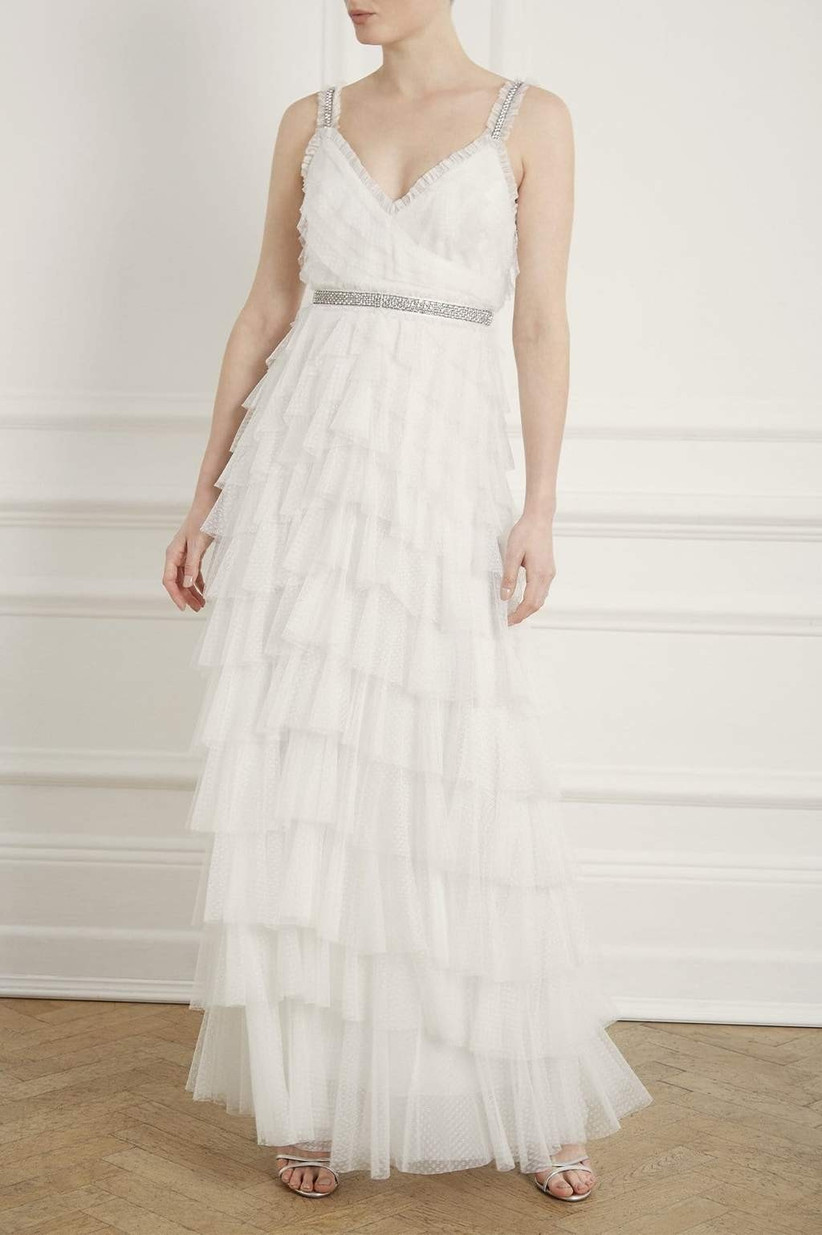 Chic, feminine, intricate and flattering: feel like a princess in this floaty, ruffled tulle Needle & Thread dress that's crying out for twirling in. We love this for a warm summer evening or a destination wedding.
Galvan Amalfi Sequinned Gown – £1,150, Selfridges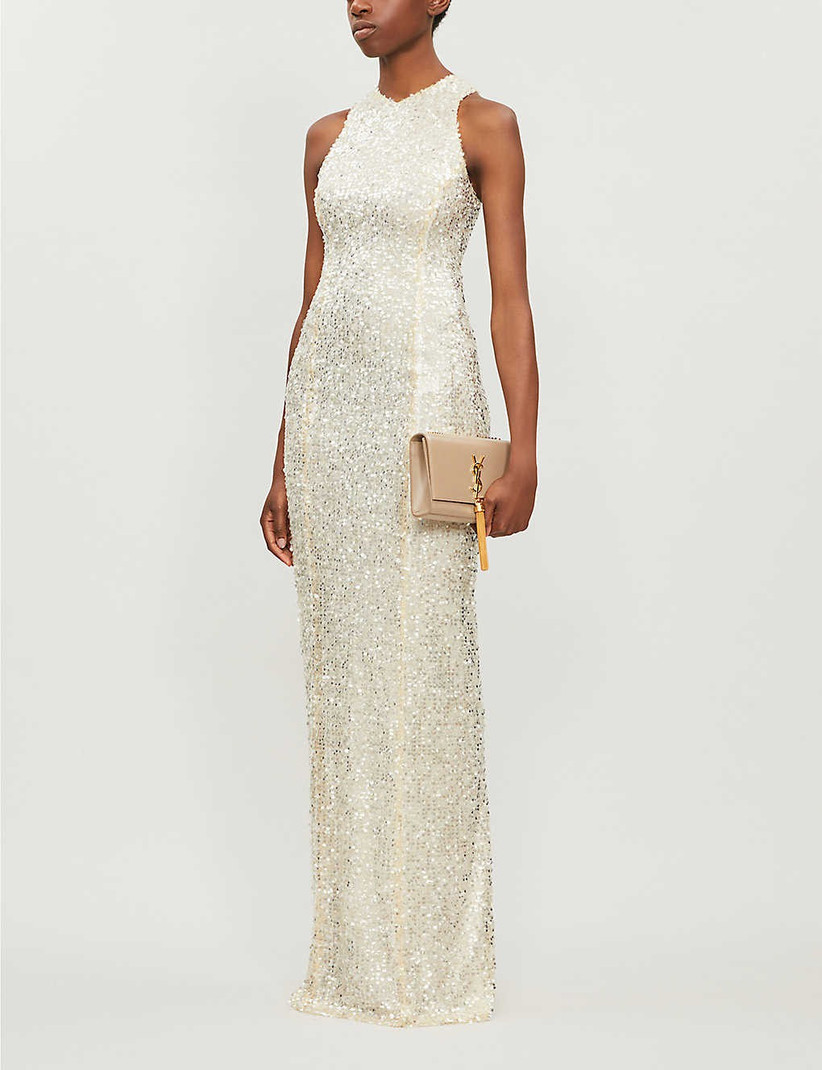 There's no doubt who the star of your wedding is in this statement white gown from Galvan. The sleek silhouette and shimmering sequins will keep all eyes on you all evening. If you're a bride with a flair for drama, there's no better choice.
READ MORE: 45 Beautiful Ways to Decorate Your Reception Tables
Bastille Dress – £535, Reformation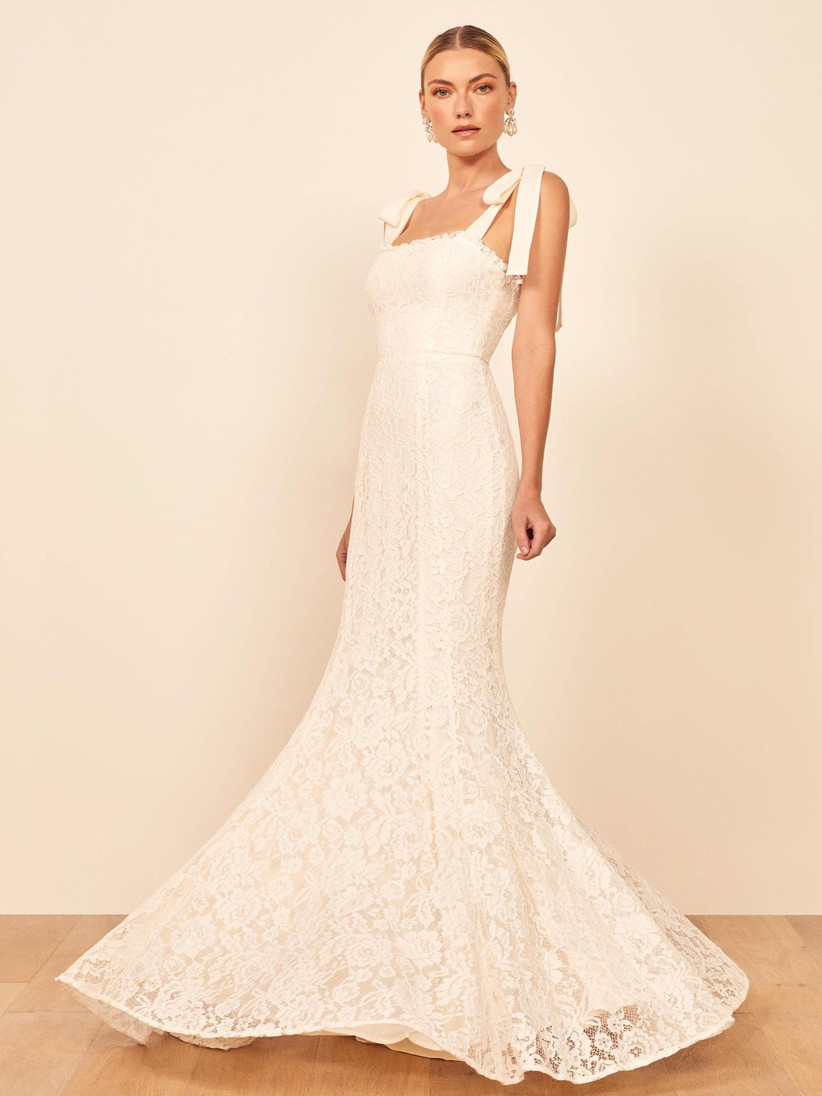 How beautiful are those strap ties at the shoulders! It's a great evening alternative if you've worn a dress with sleeves during the day, while sticking to a traditional mermaid shape.
Fallen Petals Long Sleeved Bridal Gown – £895, Needle & Thread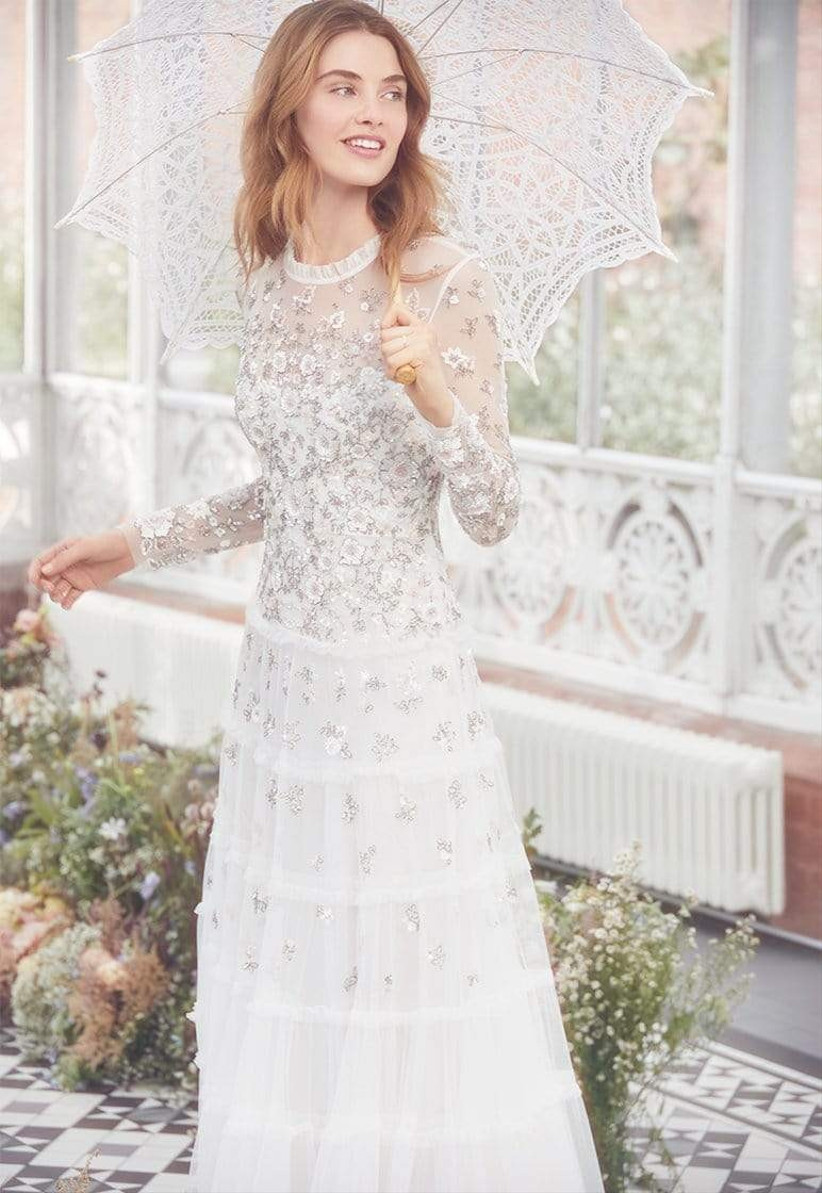 The embellishments on this gown are inspired by falling petals, using soft pink and ivory sequins and beads for an all-over shimmer. If you're looking for volume and texture but still with a very feminine feel, this tiered dress is ideal.
Carlotta Dress – £139, House of CB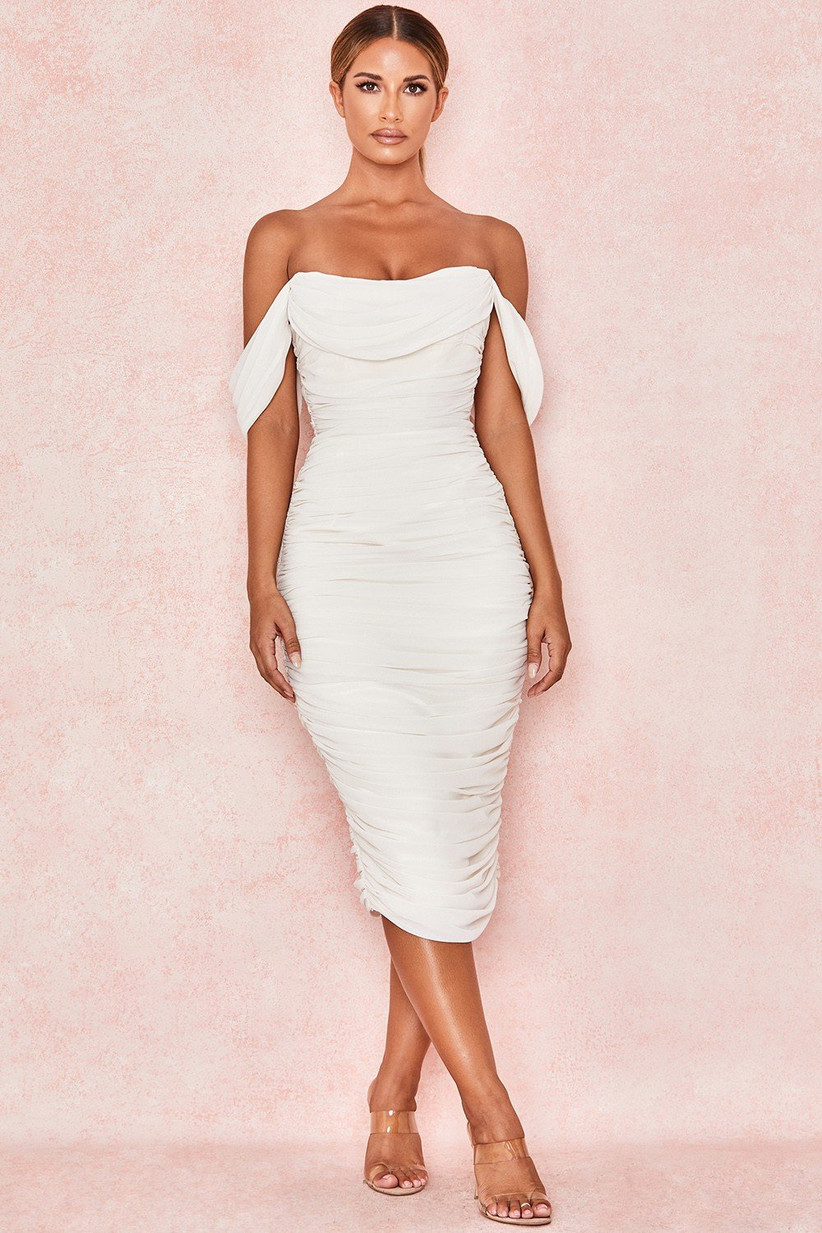 Just because you're wearing bridal white doesn't mean you can't be sexy too. Feel like a goddess in this ruched and draped chiffon dress that features off the shoulder sleeves. If you're proud of your curves, a short, hourglass dress like this shows them off to full effect. P.S. it also comes in wine red if you want to stand out even more.
READ MORE: 45 of the Best High Street Wedding Dresses
Andorra Jumpsuit – Justin Alexander Signature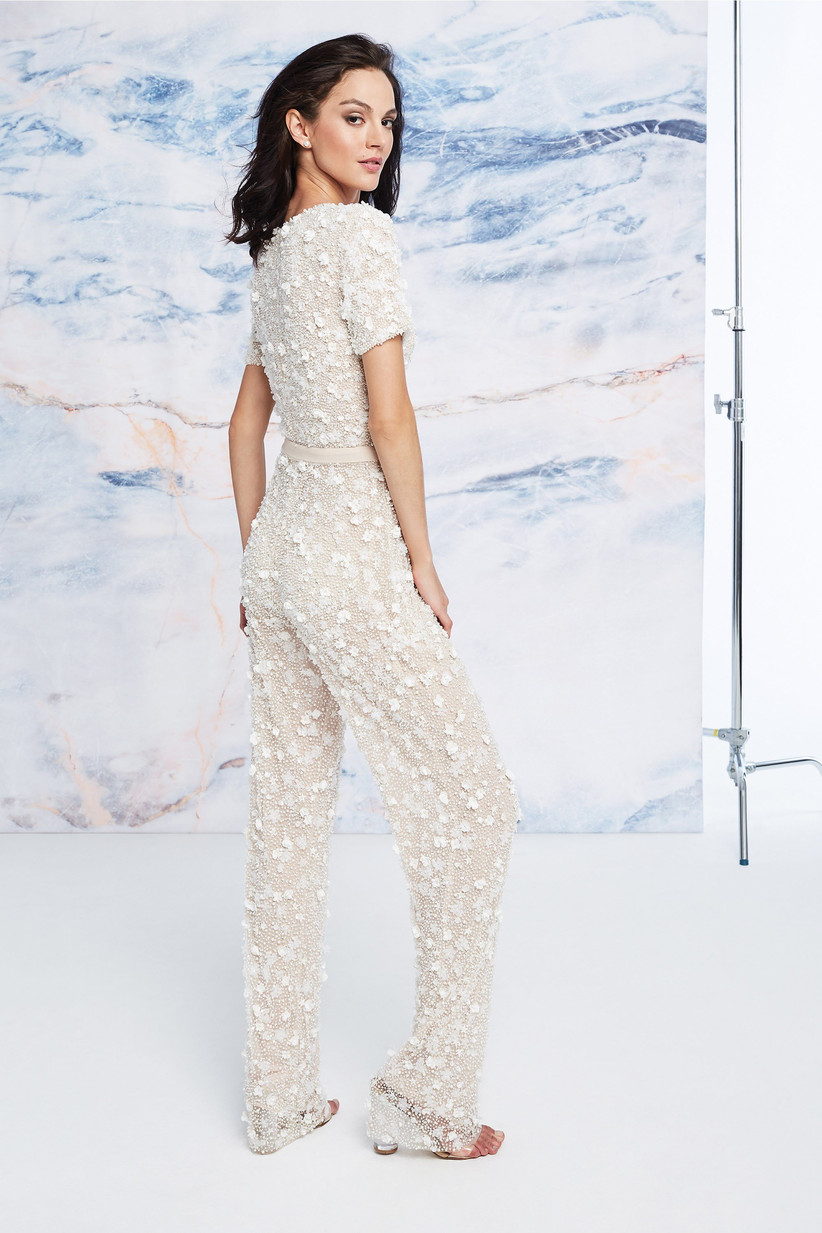 Textures always look amazing in photographs. You'll set a new trend with this Justin Alexander jumpsuit which is completely covered in floral beading. It's lavish and unique and a fantastic dress alternative.
Grace Loves Lace Perla Two-Piece – £960, Grace Loves Lace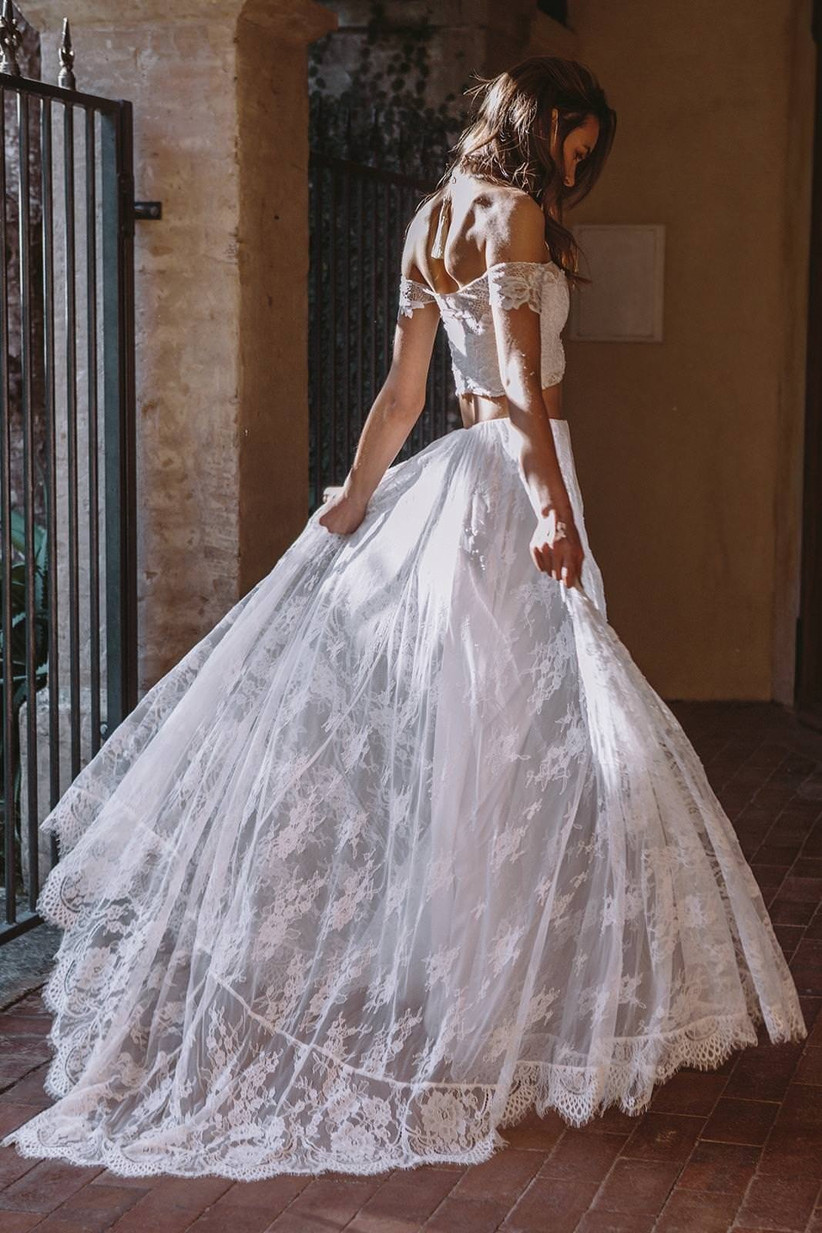 Two pieces are brilliant to wear for receptions as they allow for so much movement. We love the eyelash lace skirt – it's luxury, yet free-spirited and ideal for a boho bride. Grace Loves Lace are one of our favourites for two pieces as they're so flattering.
Chi Chi Bridal Fleur Dress – £120, Chi Chi London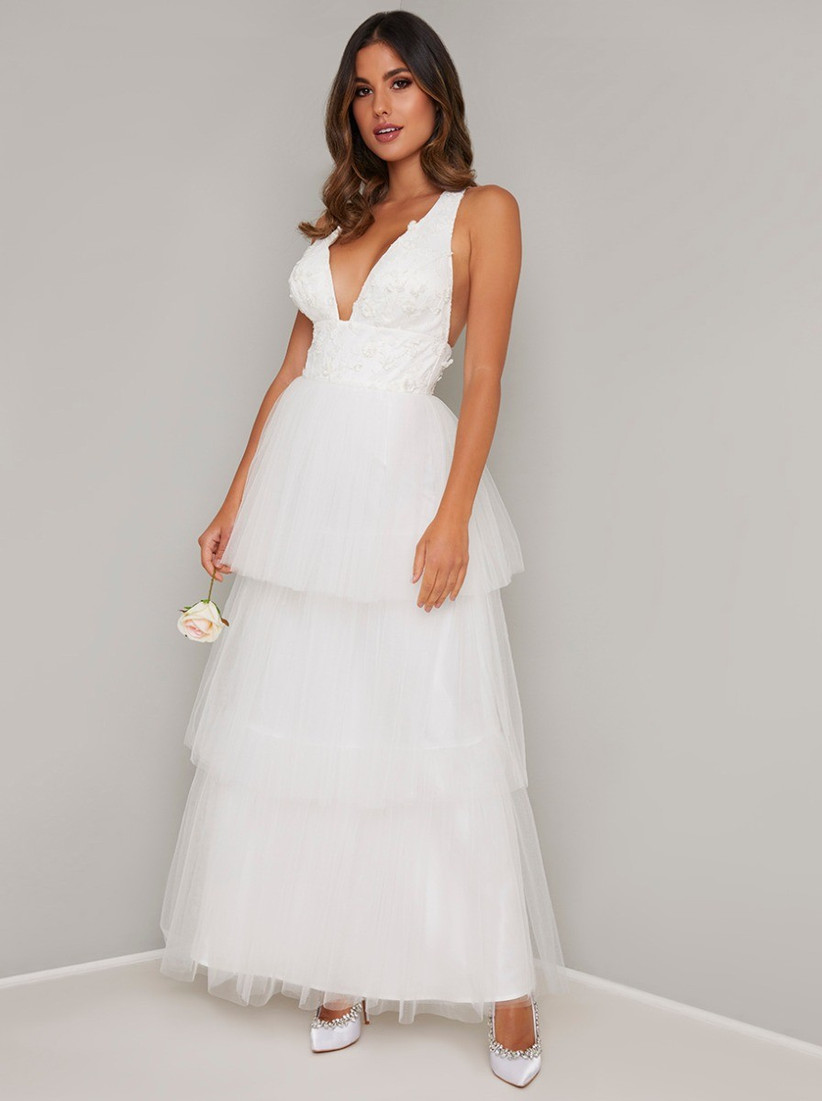 If you can't be extra at your wedding reception, when can you? Just look at that tiered tulle maxi dress and plunge neckline. It's got fairytale, Disney princess written all over it.
Ruffle Bell Sleeve Culotte Jumpsuit – £95, Lavish Alice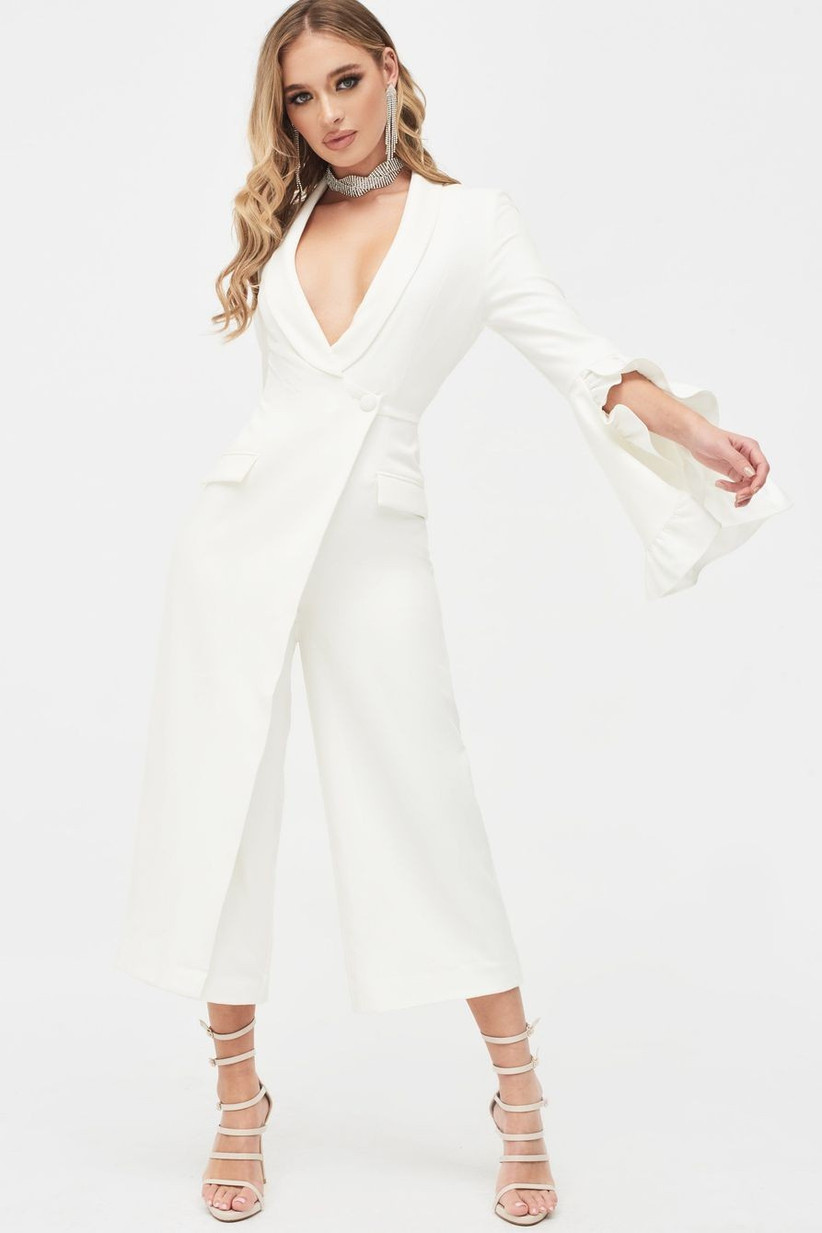 Look sharp in this unique double-breasted jumpsuit with cool fared sleeves. The tailored tuxedo vibe is perfect for a fashion-forward bride and will be so easy to wear all day.
The Best Colourful Wedding Reception Dresses
Degas Bridal Gown – £550, Needle & Thread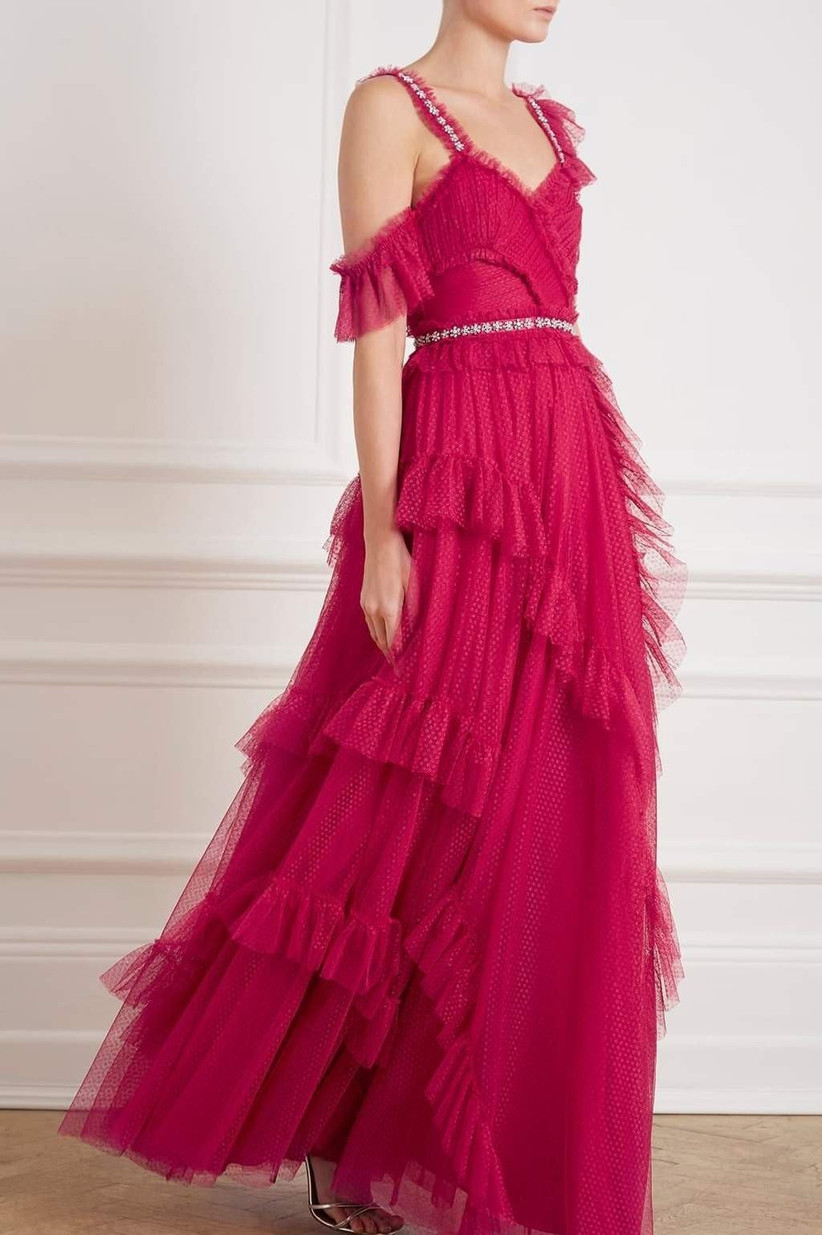 This gown is similar to the ruffled, dotty Leilah dress above, but features a beautiful asymmetric bodice and that punchy fuschia fabric. Pink dresses, even when they're as vibrant as this, always feel feminine and delicate and lend themselves both to fairytale weddings and cool, modern brides.
READ MORE: 30 Beautiful Pink Wedding Dresses
Atos Style 47- £1,140, Pronovias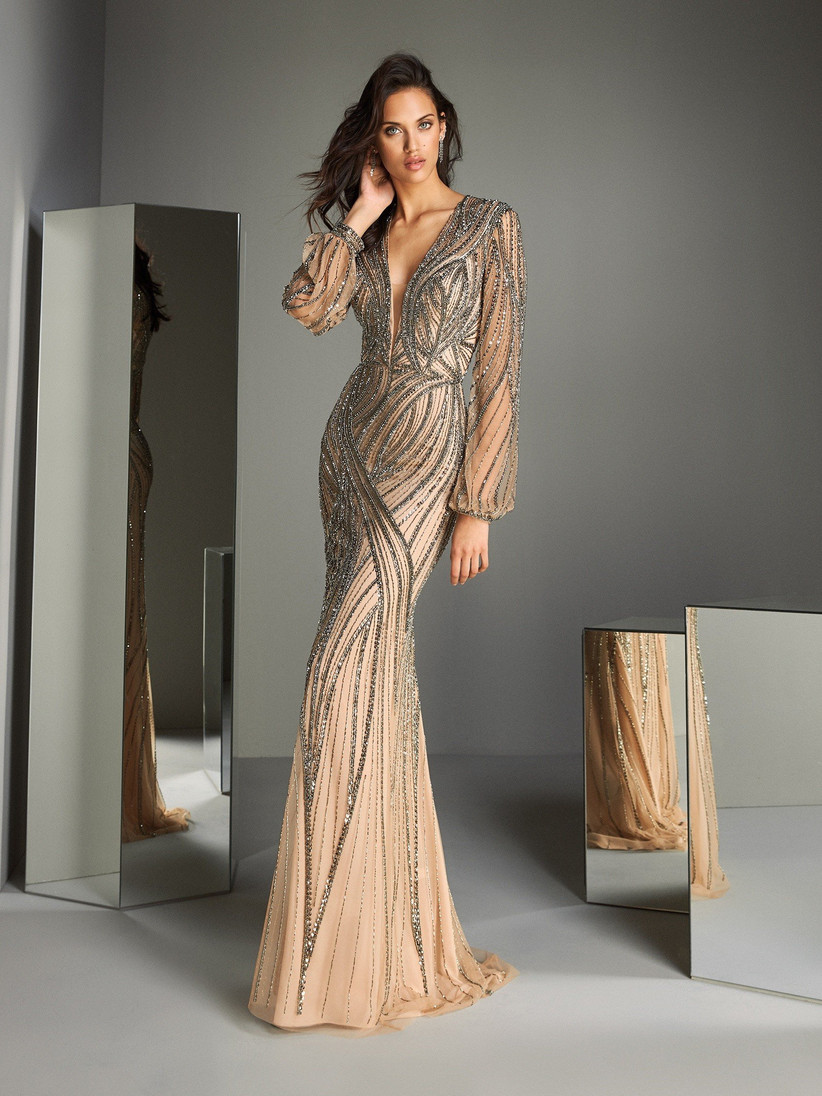 This nude gown is hand-stitched with extravagant silver embroidery and beading that falls into a flattering mermaid skirt. The sheer sleeves are a great thing to have when the night draws in or at an autumn or winter wedding.
Jaidynn Sequin Maxi Dress – £140, Monsoon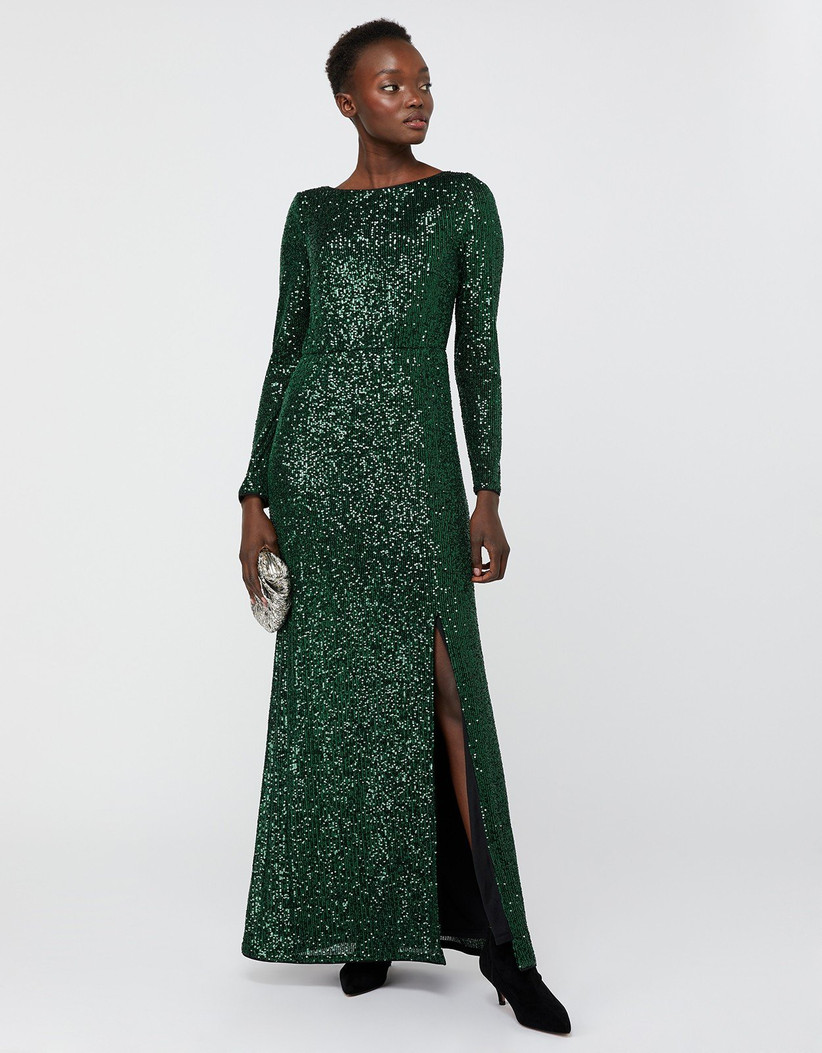 Well, hello glamour! Elegant, shiny, green and under £150 – we're sold. This Monsoon dress has subtle shoulder pads and a cinched waist to emphasise your natural curves. It's a beautiful dress if you love jewel tone colours.
The Vampire's Wife Falconetti Dress – £1,595, Net-A-Porter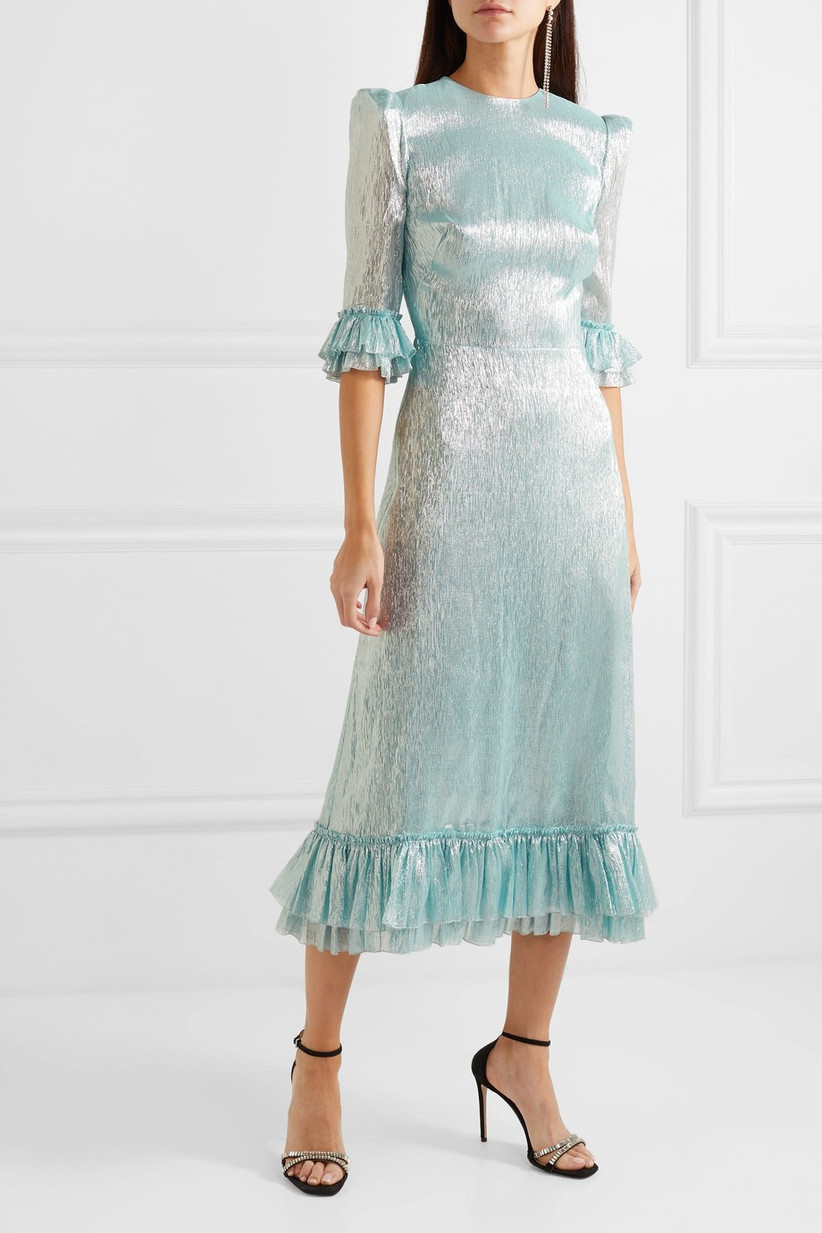 Shimmery silk-blend lamé in an icy-blue hue is a fabulous choice for a party. Flashing between silver and sky blue when it catches the light, this The Vampire's Wife dress looks so good in photos.
Raquel Diniz Lucy Glittered Velvet Maxi Dress – £1,330, Net-A-Porter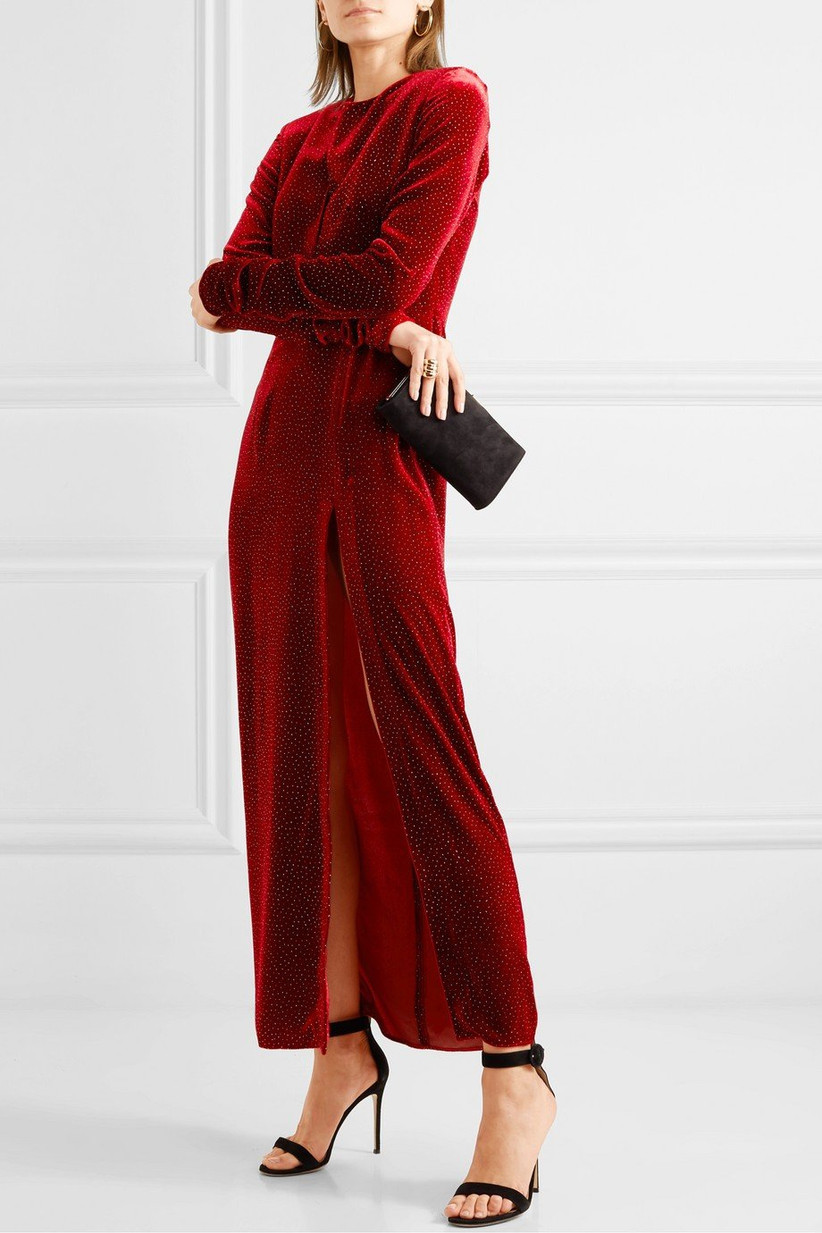 This dress was loosely inspired by Dynasty so you know it's a showstopper. Plush red velvet is topped with silver glitter; a sultry keyhole front and thigh-high split flash a little leg. We're a little obsessed.
Style EW120074 – Ellie Wilde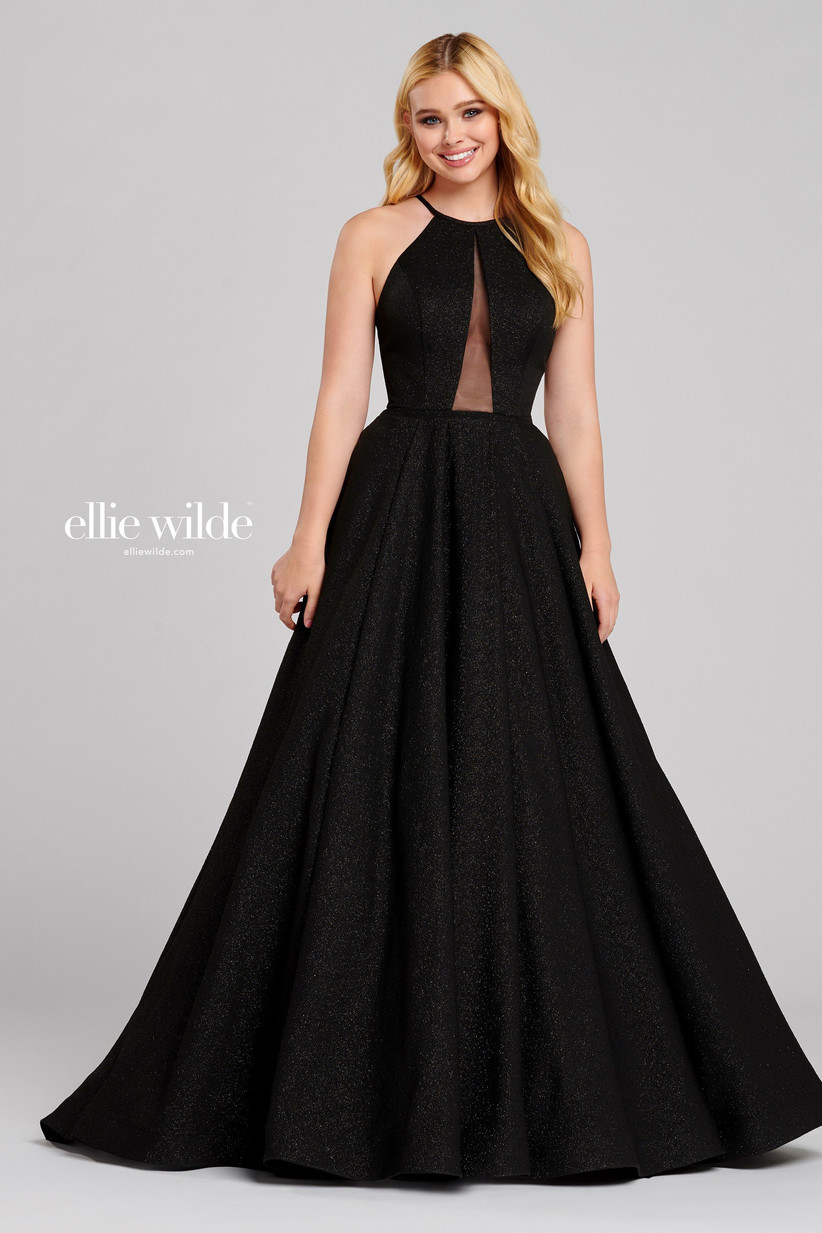 Ellie Wilde is your go-to for colourful dress, but we've been taken in by this sophisticated black number. Don't be scared of moving from a white or ivory dress to black or navy for your wedding reception. It's a great way of marking the different parts of the day and black looks elegant and sleek on everyone. This fabric has a little sparkle thrown in for good measure.
READ MORE: 29 Cool Colourful Dressed That'll Change Your Mind on White
Lalique Dress and Skirt – Eliza Jane Howell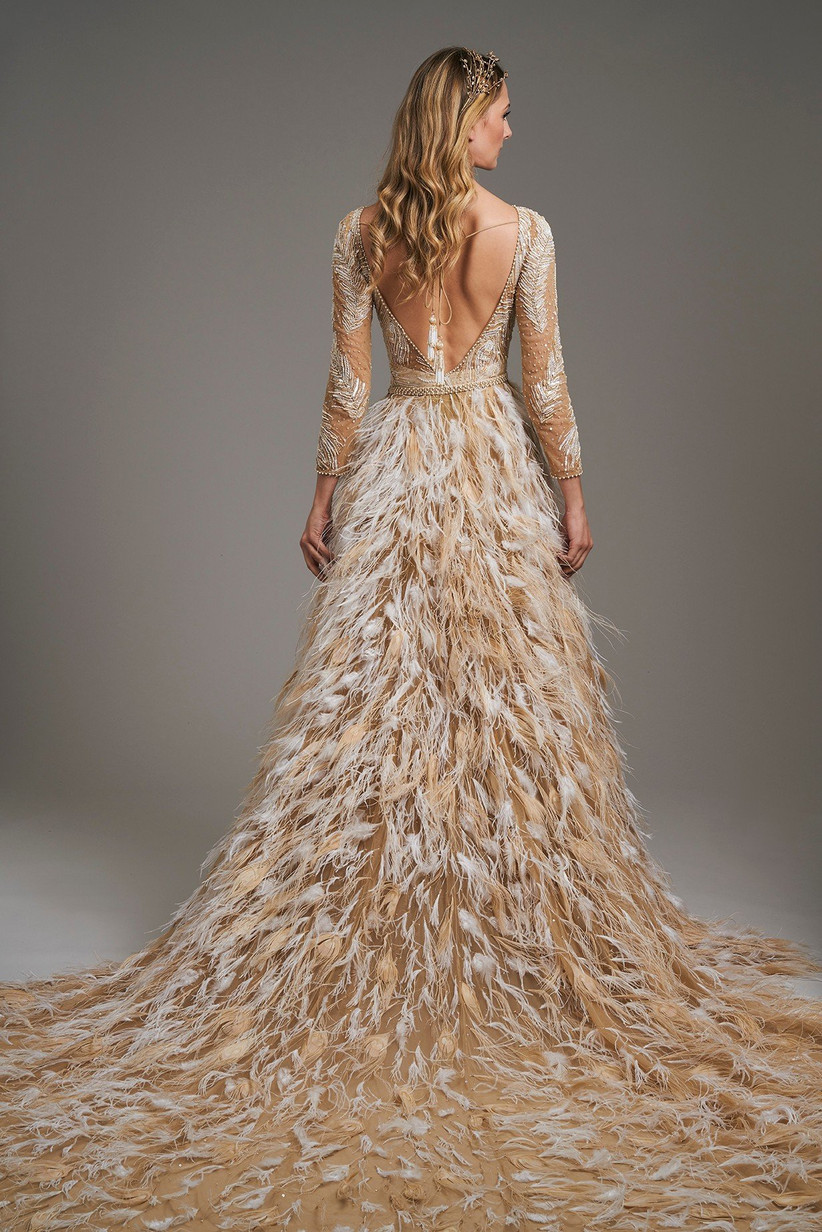 Stocked in select bridal boutiques, Eliza Jane Howell makes stunning evening wear and bridal dresses inspired by the glamour of the vintage age. We're in love with her Lalique dress (with those embellished feather sleeves), topped with the feathered Lalique skirt. Imagine wearing this as you make your entrance down a grand staircase.
Jenny Packham Edita Embellished Tulle Gown – £2,800, Selfridges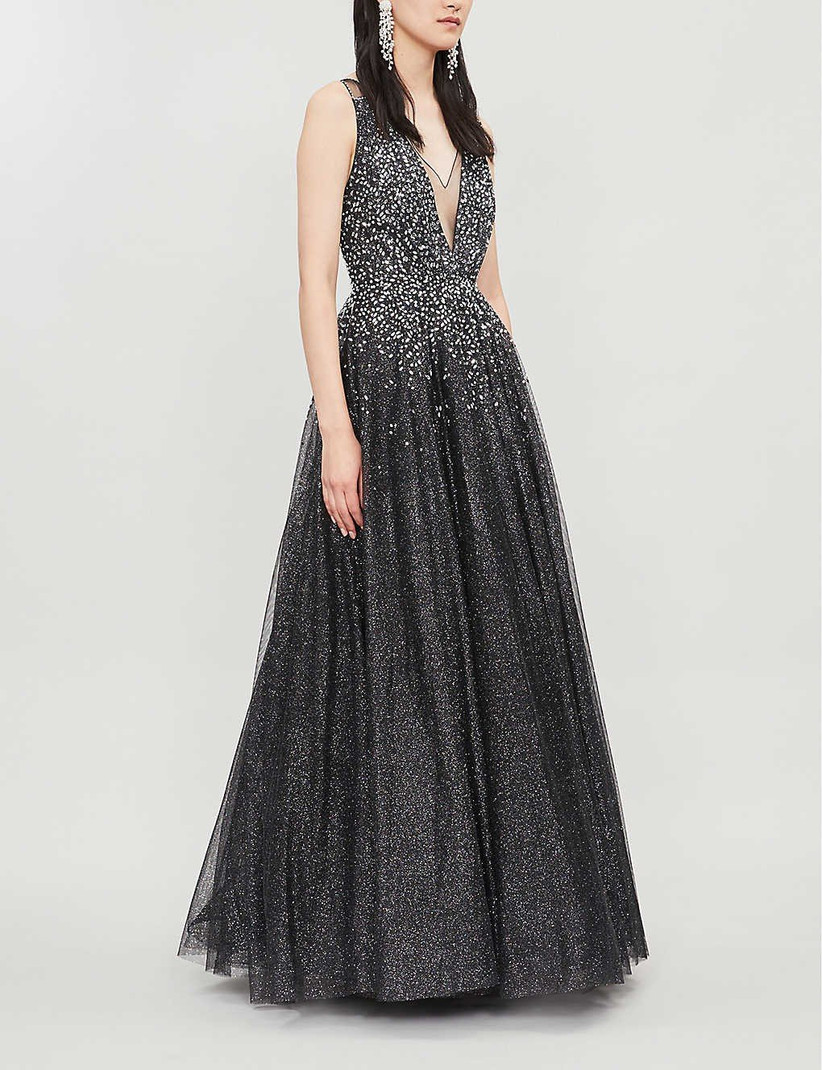 This Jenny Packham dress also comes in white so you could alternate the traditional pearly white for your ceremony dress and change into this celestial dream dress for the evening. Scattering with light-catching sequins and gems, you'll look like a whole galaxy twirling around the dance floor. It's perfect for a winter wedding reception.
Alex Perry Lorin One-Shoulder Dress – £1,300, Net-A-Porter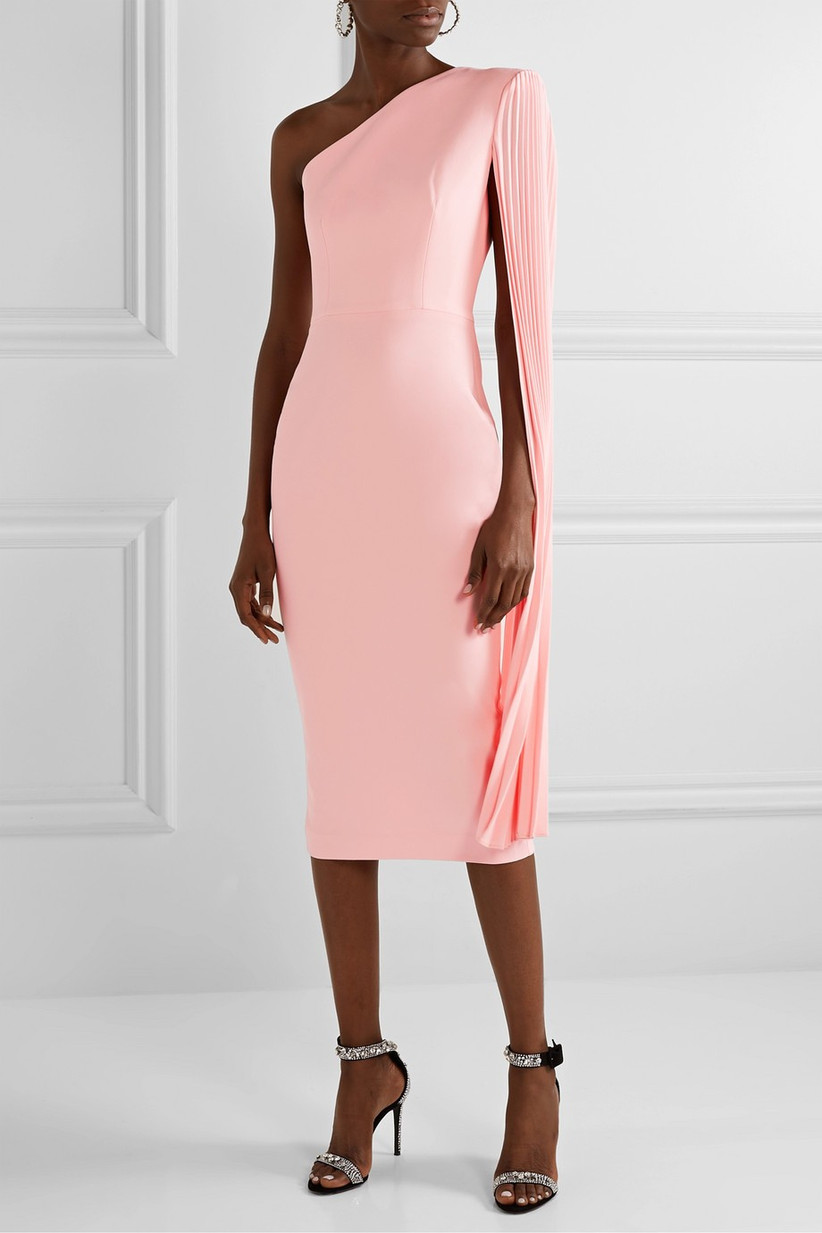 The fear of wearing a non-white dress is that you might end up blending in with the fancier-dressed guests. Not with a stand-out gown like this one-shoulder caped, pastel pink dream! It couldn't be more eye-catching.
Atos Style 56 – £540, Pronovias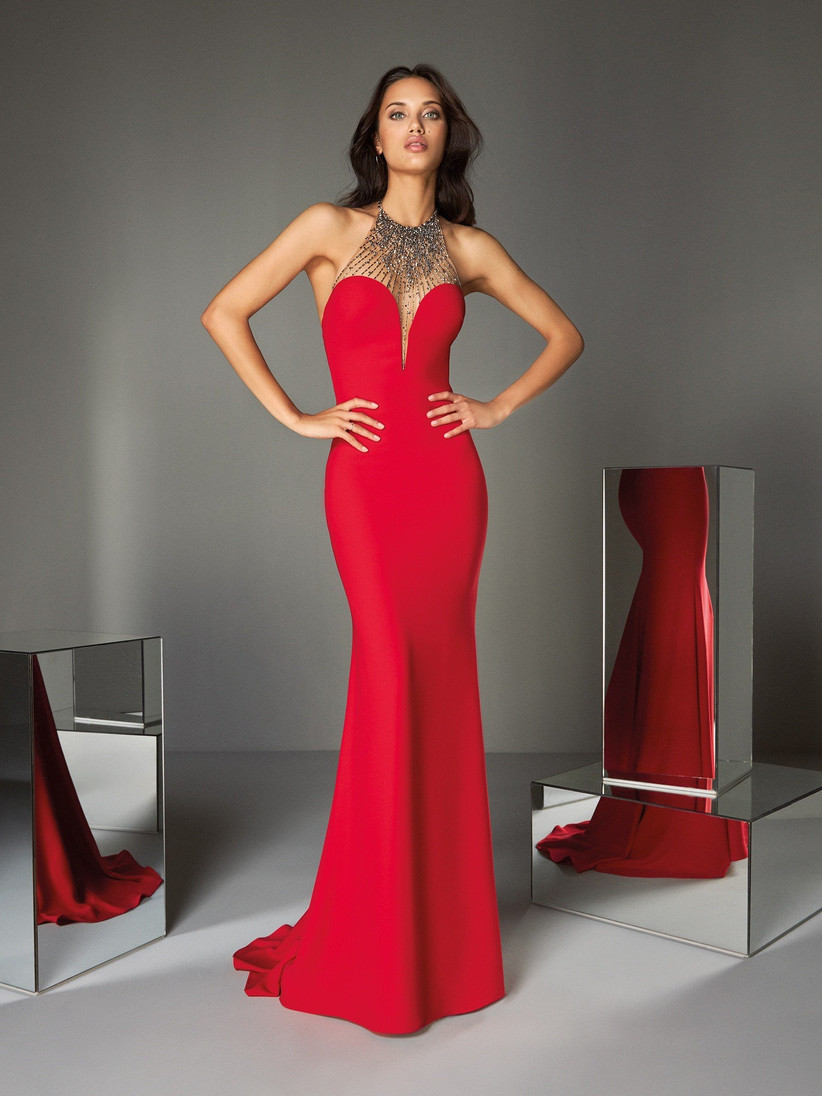 A stunning explosion of silver beading adorns the illusion halterneck on this Pronovias dress. It comes in three colourways but this breathtaking red is an absolute winner.
Barbara Bardot Jumpsuit – £99, Monsoon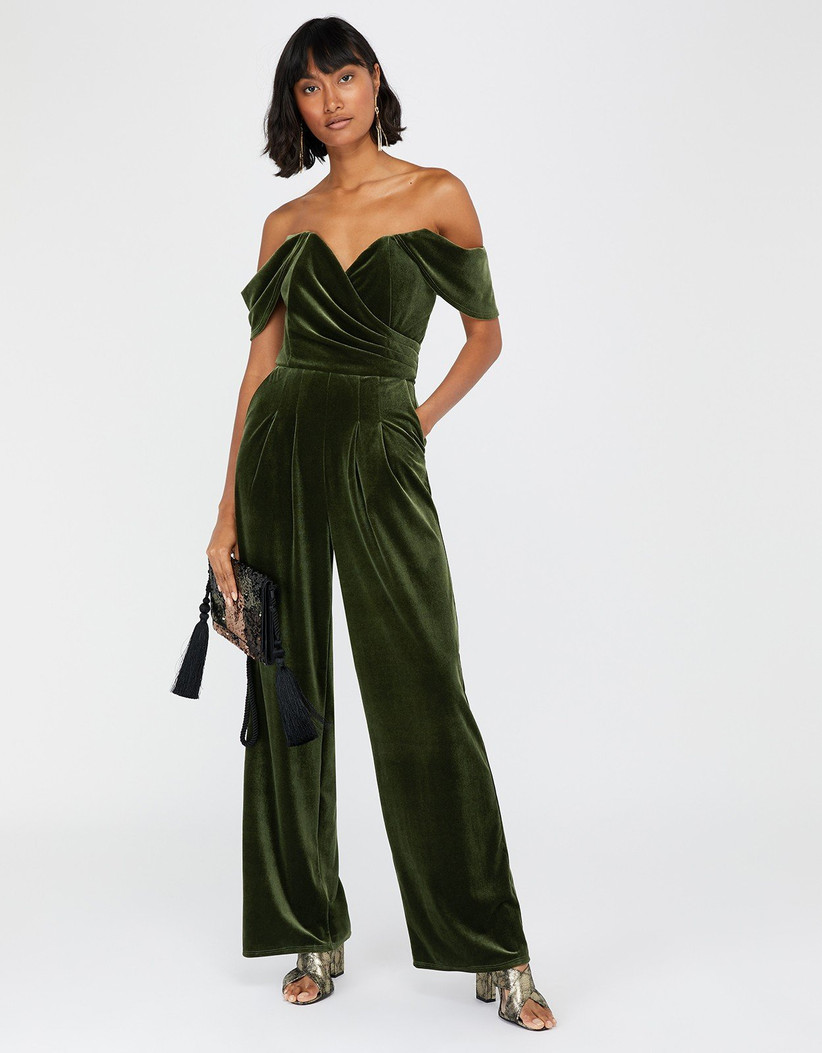 Velvet has to be one of the most plush and luxurious fabrics, which is why it suits a standout outfit. This bardot neckline jumpsuit is great value but looks endlessly more expensive, with its boned bodice and soft drapes.
READ MORE: 75 Epic Wedding Party Songs for Your Reception
The Vampire's Wife 'The Lace Night Bird' Dress – £1,450, Net-A-Porter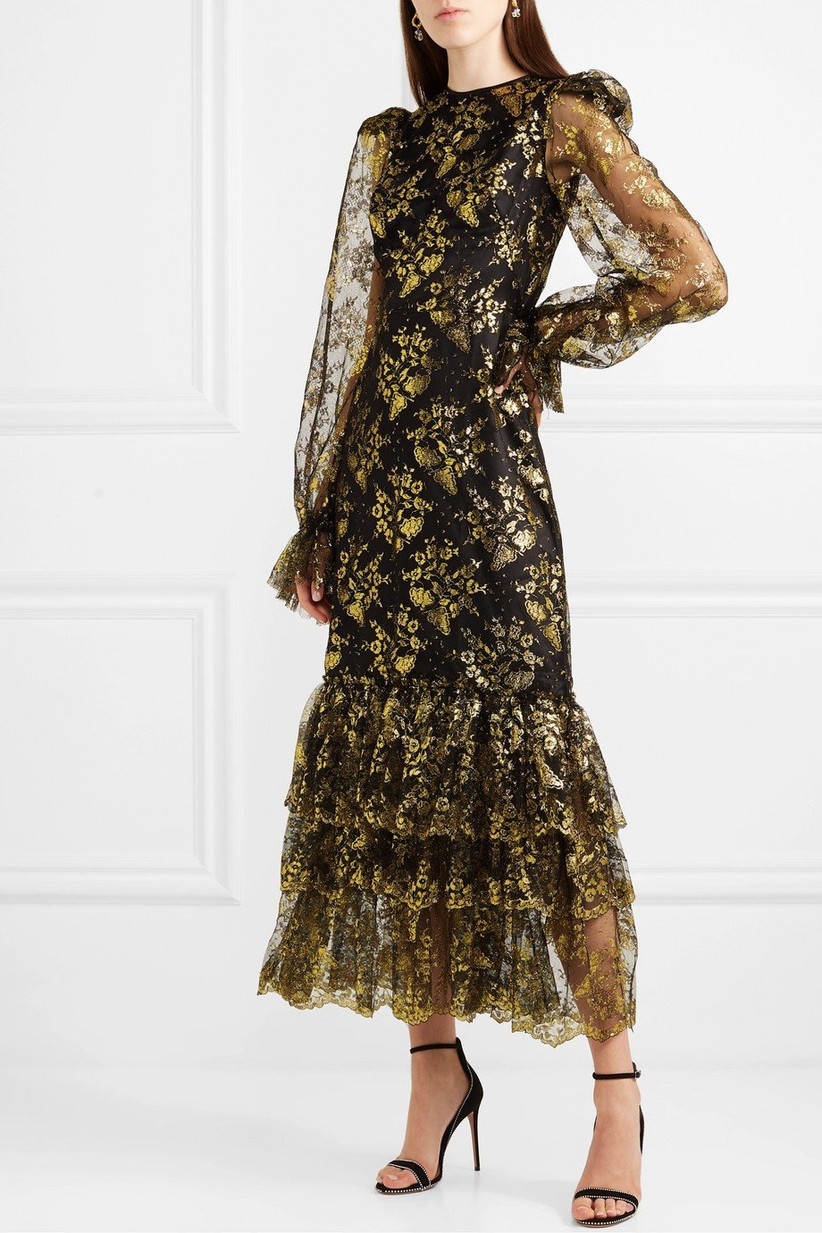 This midi tempers dark gothic vibes with a lace overlay woven with delicate metallic flowers. If you're the kind of bride who loves embracing her light and dark side, this otherworldly dress is the way to go.
The Best Sequin Wedding Reception Dresses
Needle & Thread Scarlett V-Neck Sequin Gown – £390, Selfridges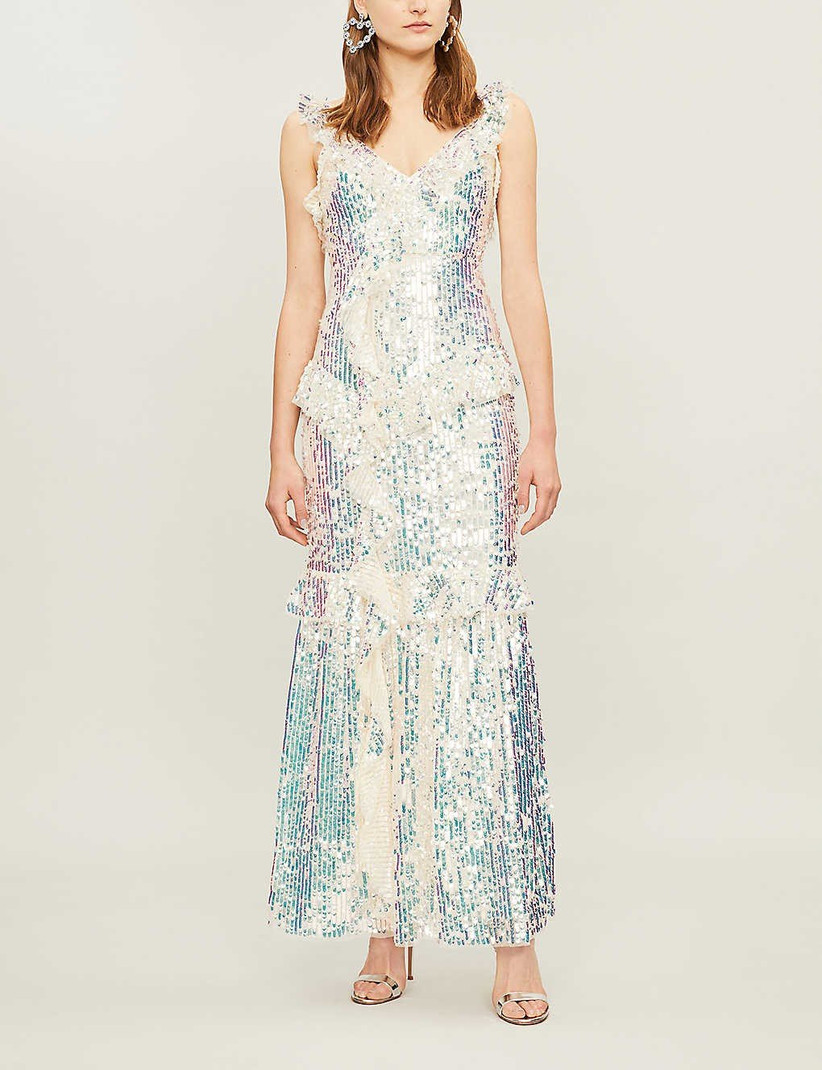 The only way to wear a sequin-dripping dress is with a glass of champagne in hand – and we never say no to that! You'll be the talk of the town in this silver sequin gown, as you rightly should be.
Samba Pink Sequin Dress – £99, Monsoon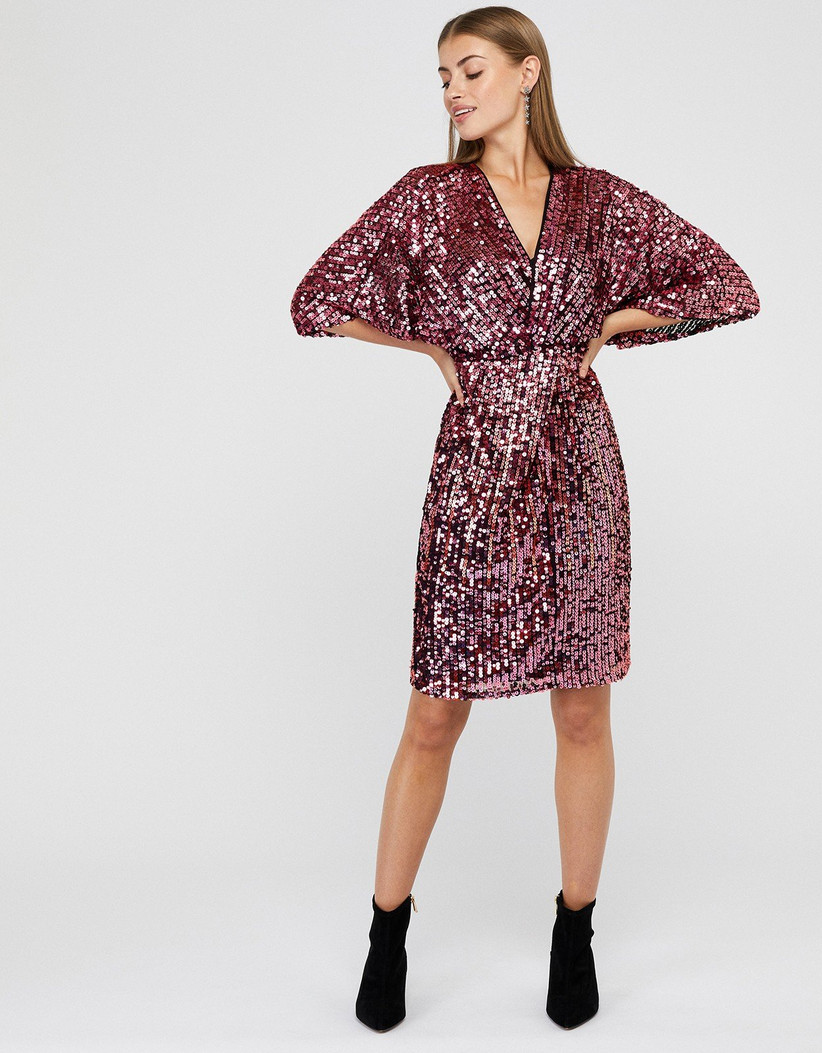 Yep, it's under £100. You read that right. Monsoon's twist-front, pink sequin-coated dress is comfortable and stylish. You could eat for England and it wouldn't show under that stomach-skimming cut – ideal if you missed out on half your meal talking to guests and you want to wolf down four slices of cake.
Athena Procopiou Dancing Rainbow Dress – £795, Matches Fashion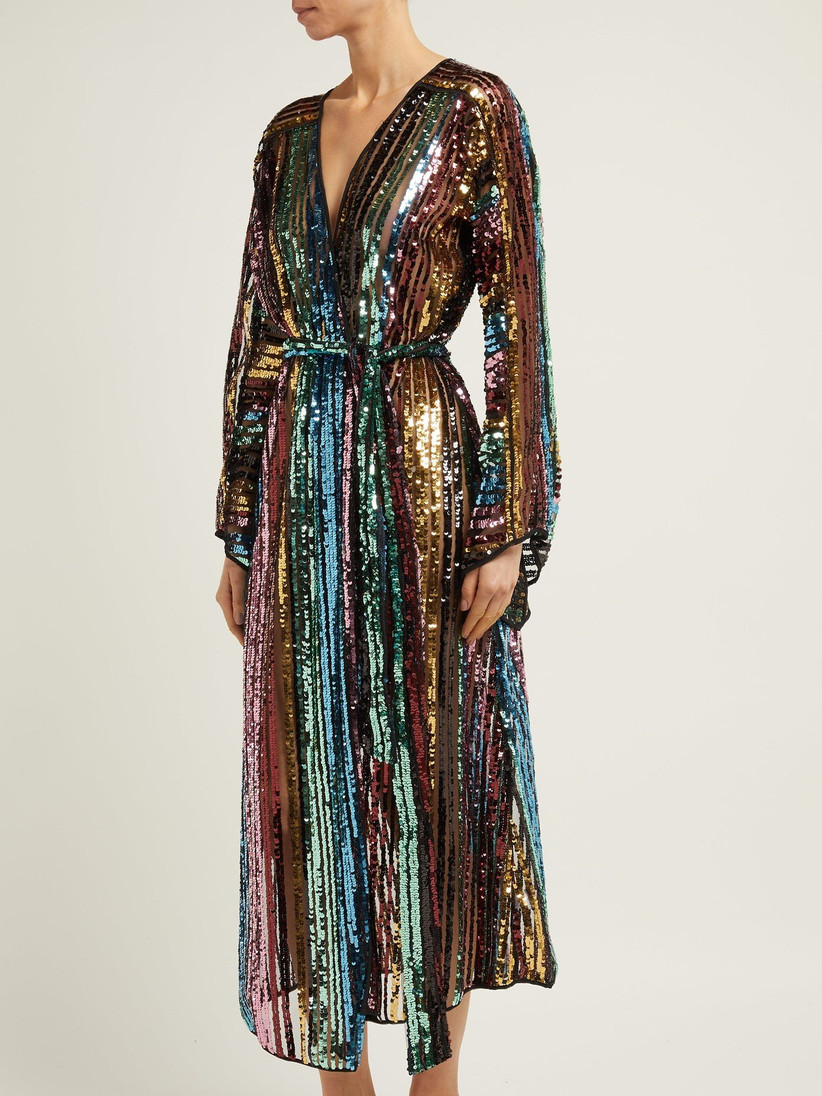 What's better than one colour of sequins? A rainbow cascade of them! This dress is bold, bright and enchanting, mixing metallic pastel shades with a sheer underlayer for a look that wouldn't look out of place at an A-lister's wedding reception on the Amalfi coast.
READ MORE: Your Wedding Breakfast Food and Drink Questions Answered
Galvan Roxy Asymmetric Sequin Gown – £1,095, Selfridges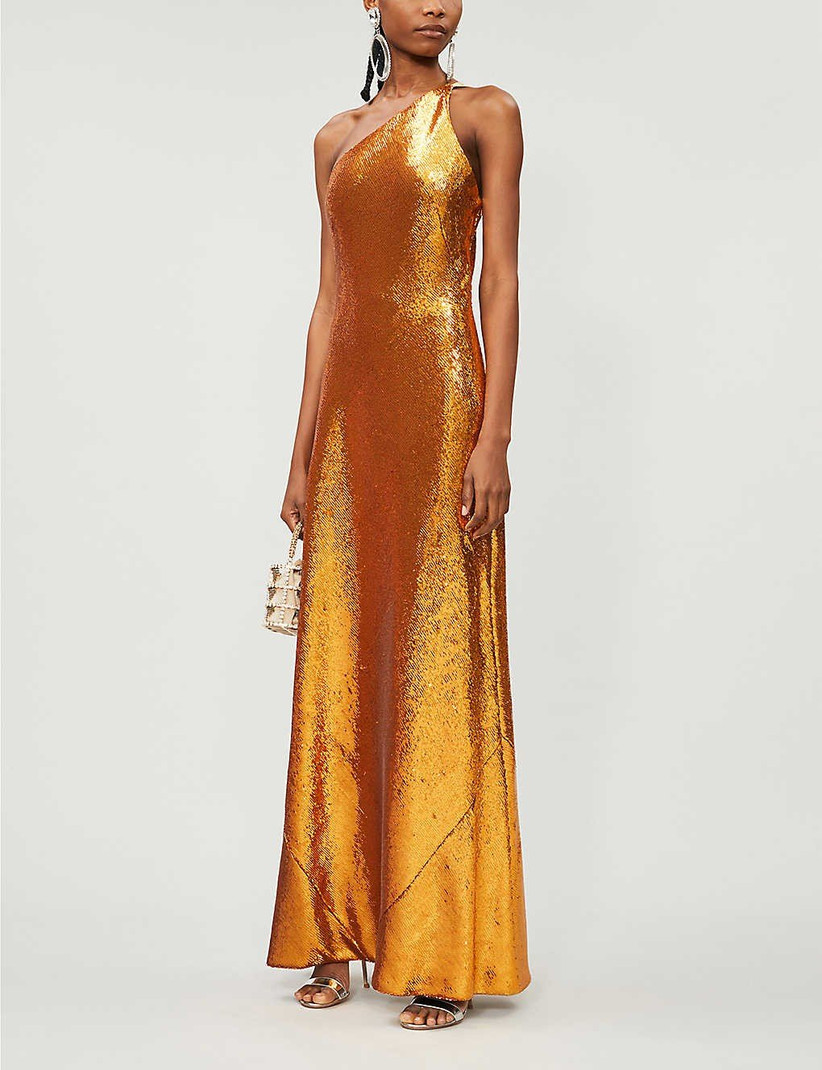 Stand out from the crowd in this tumbling gown of burnished gold sequins. The colour just looks superb against tanned or black skin and is perfect for a black tie wedding. It needs very few accessories and will look spectacular in photographs.
Nude and Silver Sequin Jumpsuit- £59.99, Quiz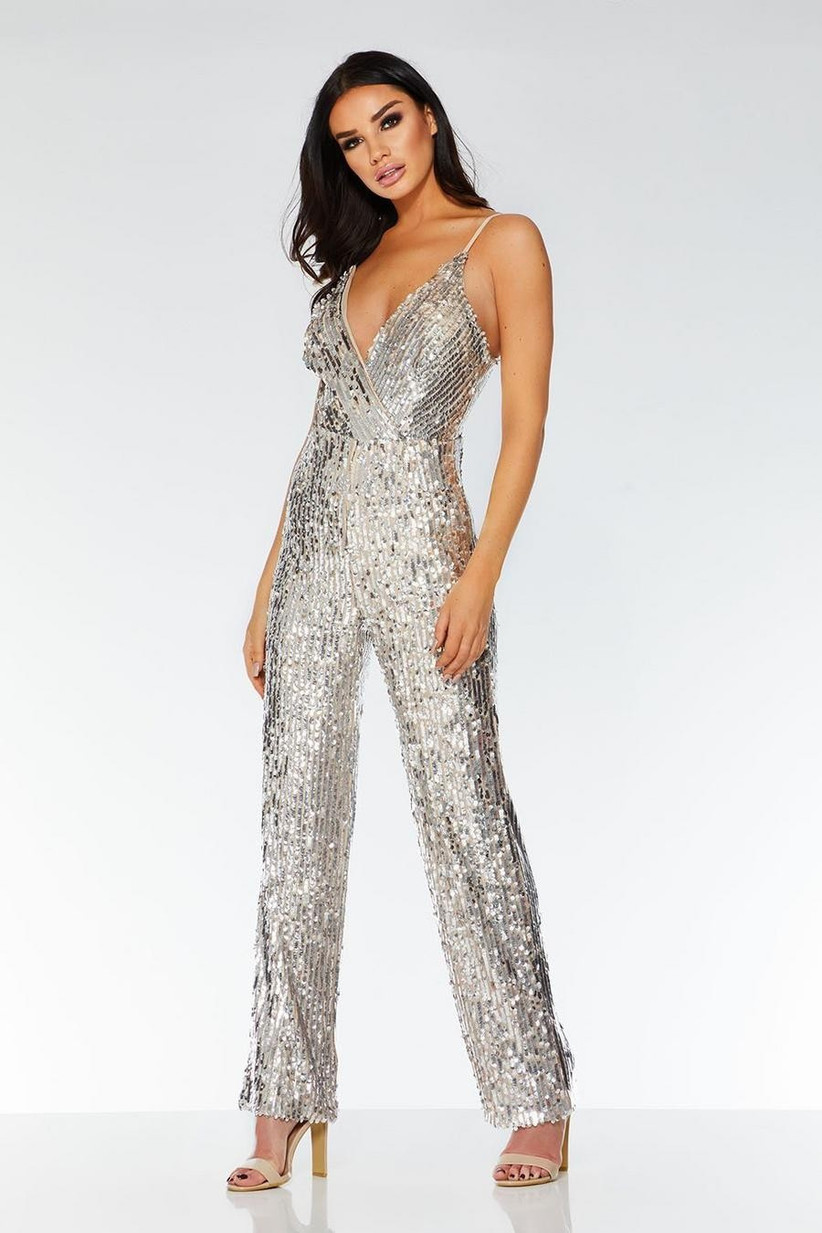 There'll be two camps of people with this jumpsuit: brides who think they'll look like a Christmas ornament, and brides who can't wait to get their hands on it! Naturally we're in the latter: it's sparkly, sassy and seriously stylish.
Chevron Sequin Mini Dress – £79, Warehouse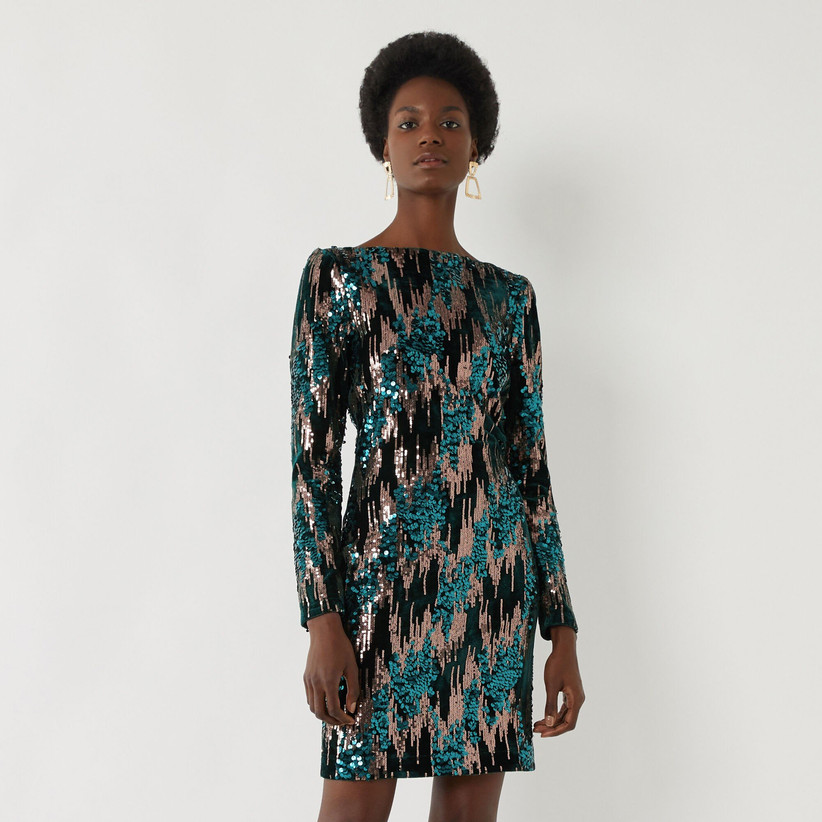 Going for real disco vibes at your reception? There's a fun '70s feel to this multicoloured chevron mini dress from Oasis that's crying our for metallic accessories and a bold lip.
Harriette Heat Sequin Jumpsuit – £200, Monsoon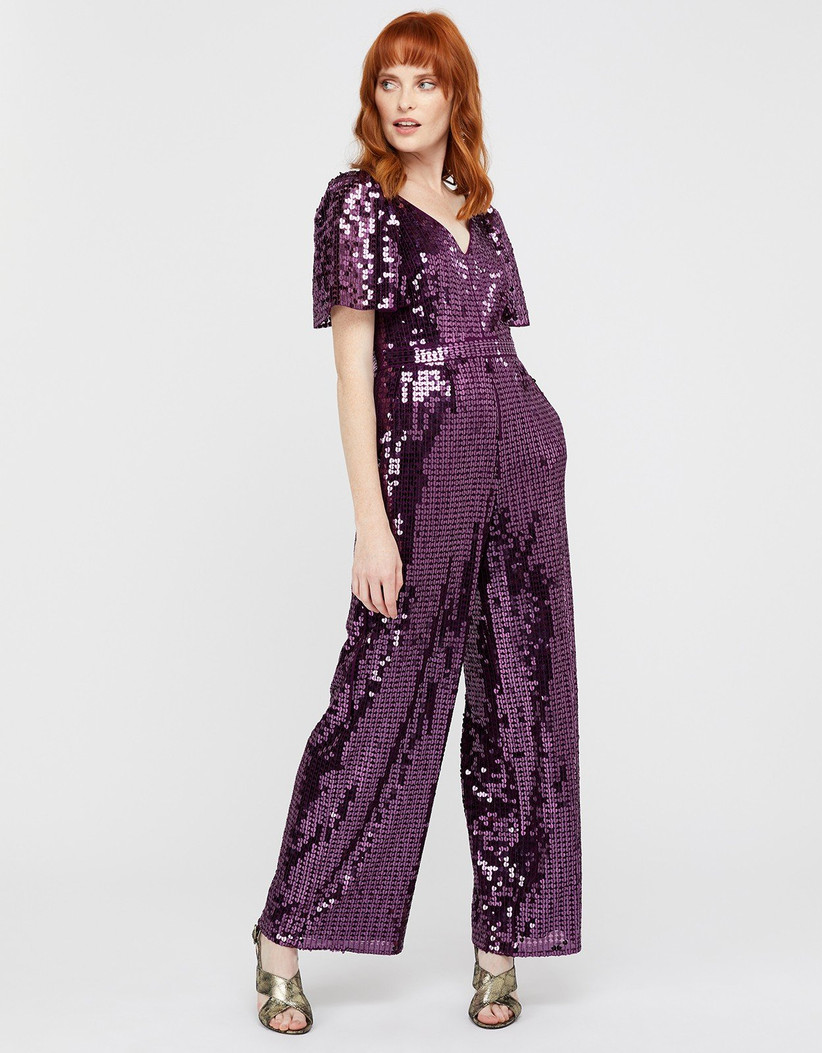 The sequins on this jumpsuit are heart-shaped – is there anything more appropriate for a wedding jumpsuit? If dresses feel too restrictive for dancing in, a jumpsuit is a glamorous alternative, especially in this cool and on trend purple.
The Best Short Wedding Reception Dresses
Celosia Shine Sequin Mini Dress – £195, French Connection
Imagine the movement as you dance with all those tassels and beads! French Connection have pulled a blinder with this glamorous mini dress that was designed for dancing.
READ MORE: 21 Floral Wedding Dresses
Kyla Sequin Stripe Dress – £335, Rixo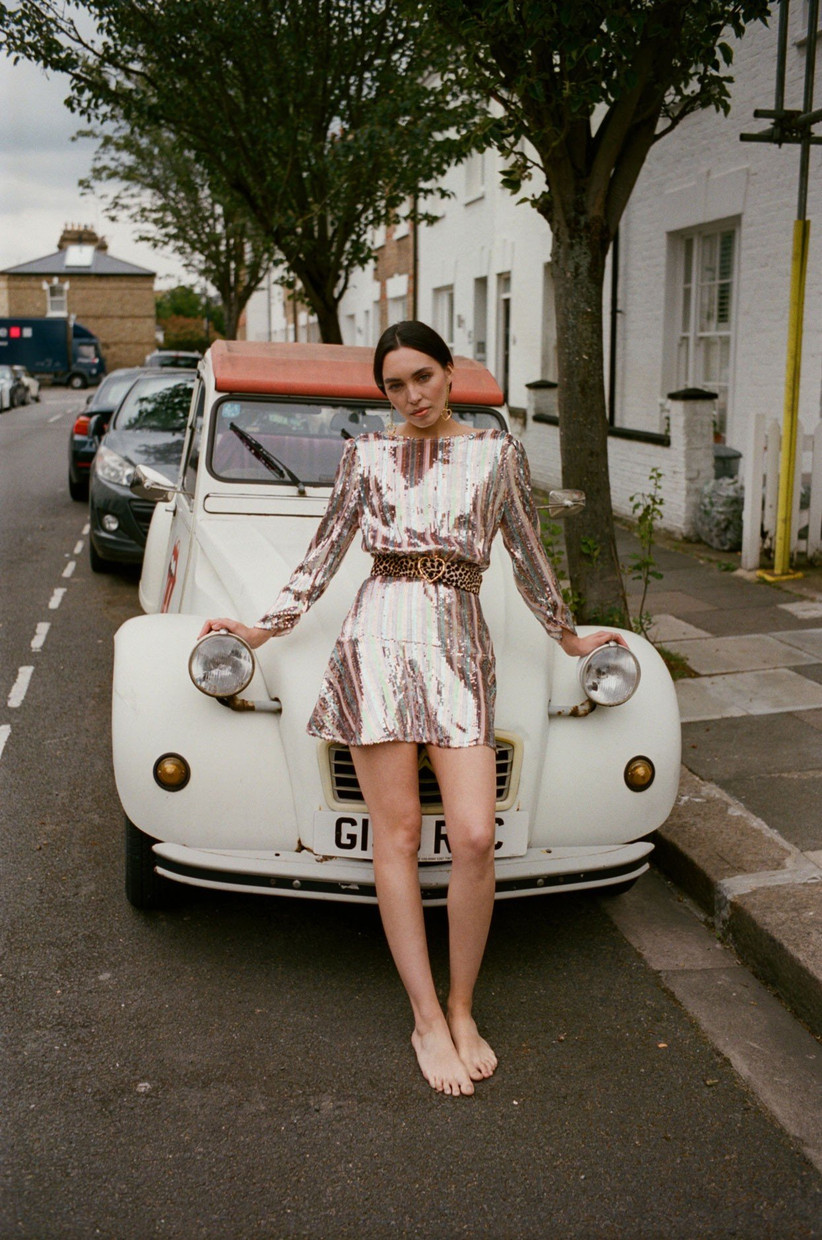 Sequinned and short? Yes, please! Rixo are the gods of making dresses women want to wear. A flattering cut (including an of-the-moment boat neckline) and a low back that's still high enough to cover your bra strap make this dress a real winner.
Selena Dress – £159, House of CB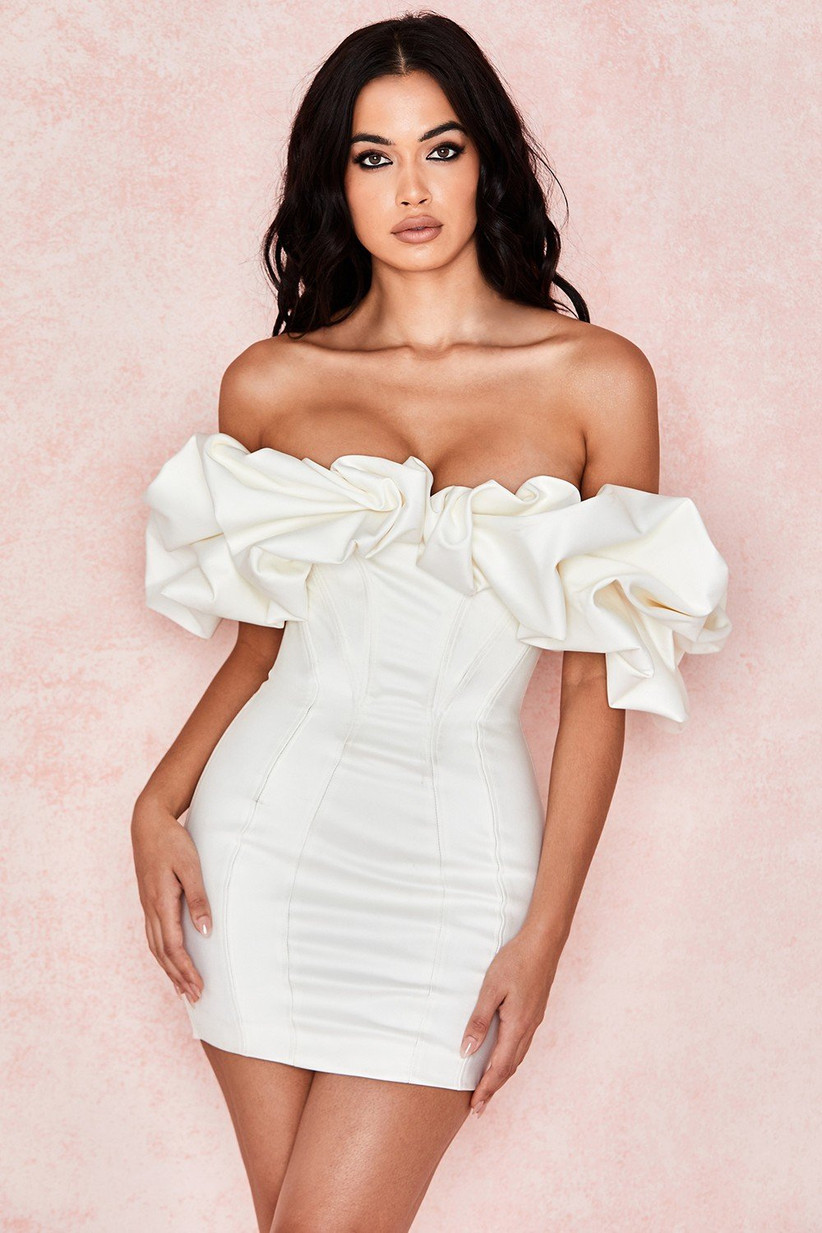 And by short, we mean short! This House of CB ivory mini dress with oversized ruffles is all about theatre. Throw in clever panelling that gives you an hourglass figure and a sexy off-the-shoulder cut and you've got the dream reception dress for a bold bride.
Emille Sequin Plunge Mini – £165, French Connection
A flirty mini dress in gold sequins ticks all the boxes for a wedding reception dress. Easy to dance in? Absolutely. Perfect for photos? Of course. Will anyone else be wearing it? We seriously hope you kicked them out at the ceremony if they tried to upstage you like this – this is bride-level only.
Self Portrait Off-Should Crepe Midi Dress – £360, Selfridges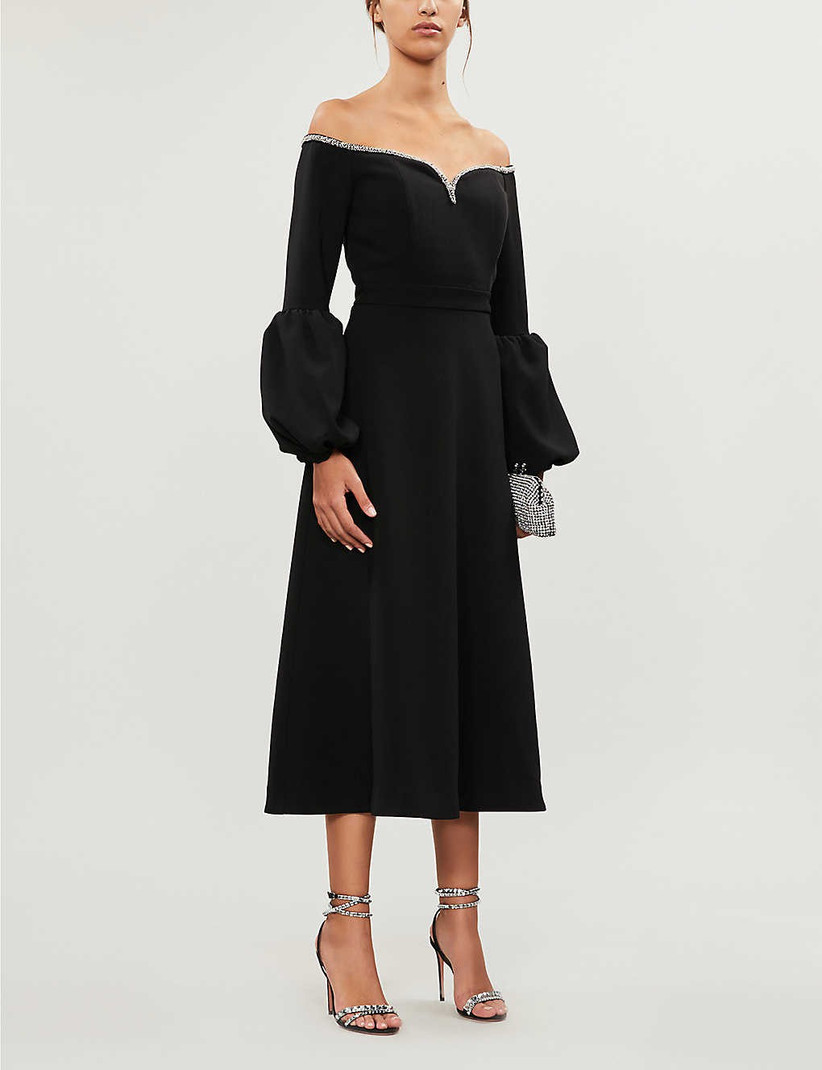 That neckline! Those puffed cuffs! Self Portrait is one of our favourite brands for stylish evening wear and this LBD is good enough to wear for your wedding reception. The airy crepe means you won't get too hot while you dance and while the embellished top will glitter all night long. If you're wearing a sweetheart neckline on your wedding dress, this is a great nod to that.
READ MORE: 50 Simple Wedding Dresses for Modern Brides
Chi Chi Bridal Zina Dress – £120, Chi Chi London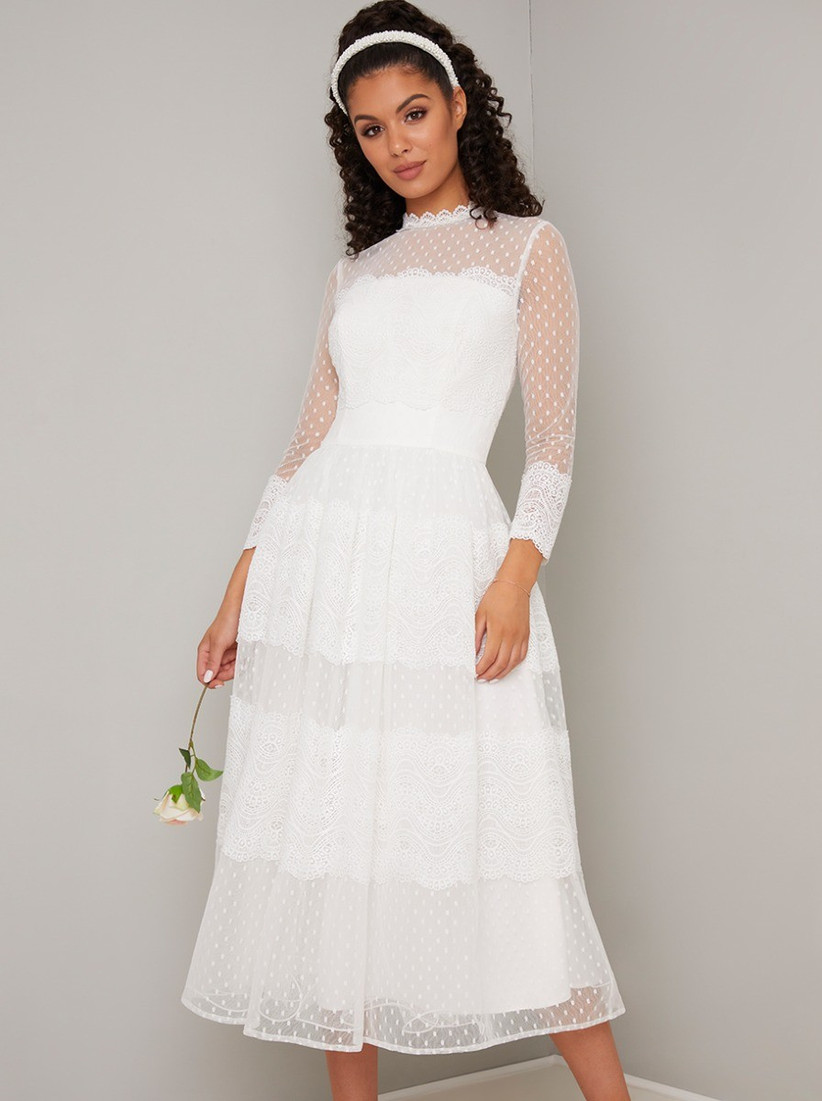 Having a vintage wedding? This high neck gown with dotty mesh sleeves and lace cuffs has a real '50s feel to it. It would look great at an afternoon tea reception or a swing dance.
Sorrel Dress – £129, House of CB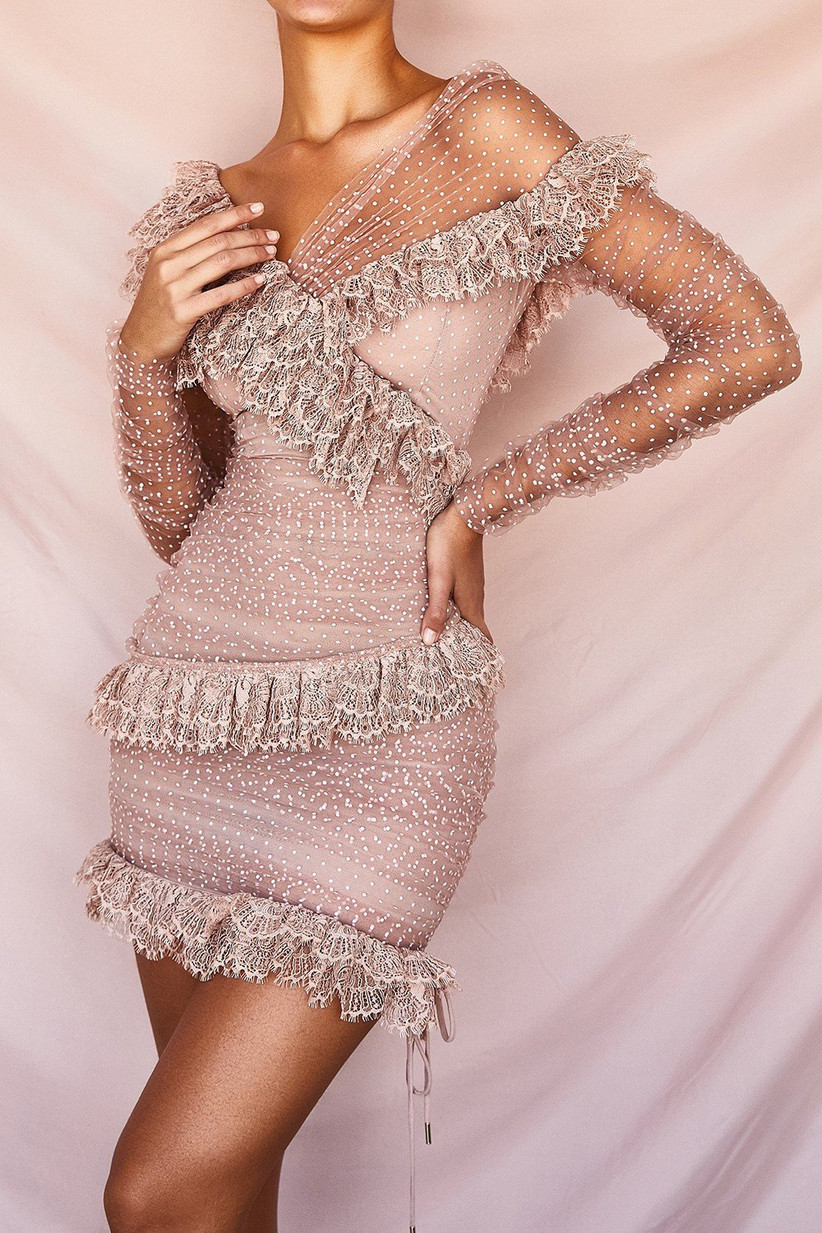 Blush lace, semi-sheer dotted chiffon, and a high-leg cut make for spectacular reception dress. This isn't going to be to everyone's taste, but for the right bride, this sexy and feminine mini is the one.
Abinaa Metallic Draped Dress – £199, Ted Baker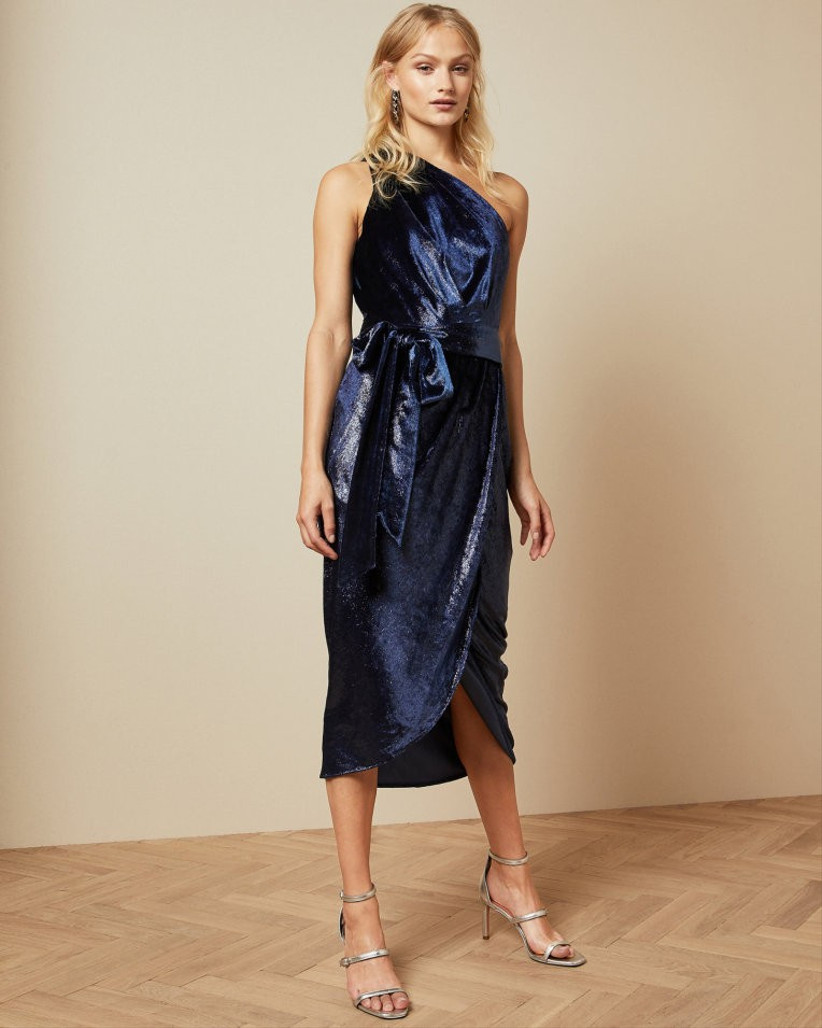 This plush velvet midi comes in a deep navy or oxblood red, both of which are universally flattering. With just a hint of sparkle, this dress looks a million dollars and is perfect for a bride who doesn't want to wear white all day.
Make sure you don't miss our countdown of the hottest wedding trends of 2020 before you start shopping. Plus we've got all the rules on how to buy your wedding dress.