Floral Wedding Invitations: 30 Fabulously Floral Designs
Looking for the perfect floral wedding invitations? Our edit of 30 beautifully flowery designs will have you stopping to smell the roses!
We have included third party products to help you navigate and enjoy life's biggest moments. Purchases made through links on this page may earn us a commission.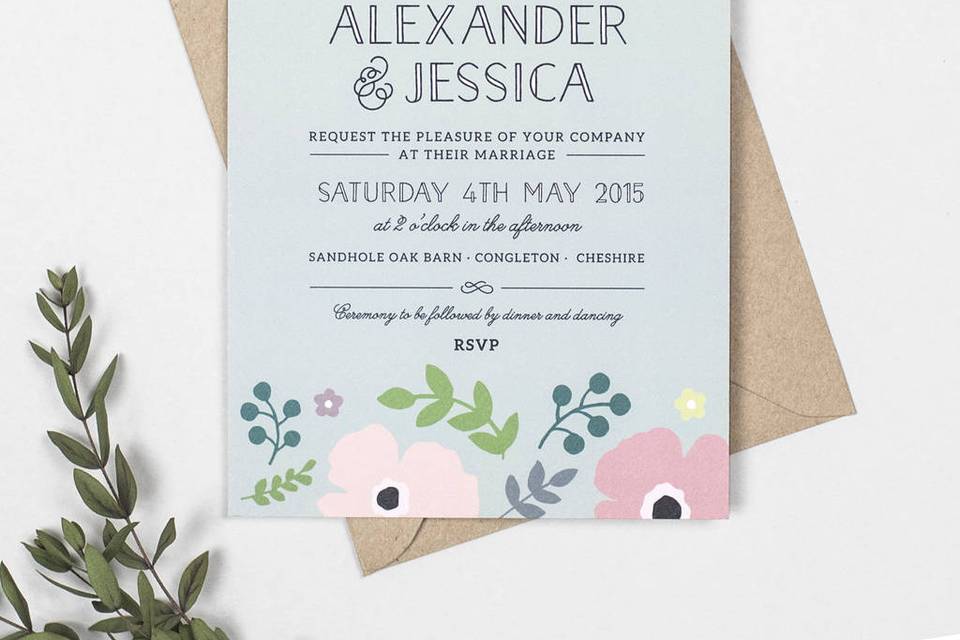 Love the idea of including as many flowers as possible in your wedding? Us too - which is why we've rounded up the best floral wedding invitations around for you to browse.
As well as looking fabulous, you can also offer your guests a taste of things to come by incorporating your wedding bouquet in the artwork.
We've done some searching for you, browsing a number of sites to weed out the best, so settle down and prepare to browse the most beautiful floral wedding stationery around.
Floral wedding invitations lend themselves perfectly to weddings - no matter what time of year you're celebrating, there's something about beautiful arrangements of blooms that just exude romance. Discover how to word your wedding invitations here, once you've found the perfect floral wedding invites to suit your style.
So go on and take a peek at these floral wonders - it is the perfect opportunity to stop and smell the roses!
30 Fabulous Floral Wedding Invitations
1. 'Whimsical Windsor' Four-Fold Wedding Invitation - £1, Not on the High Street
The watercolour design along the envelope and top of this folding invite is simply stunning and has a classic wedding vibe that is perfect for the couple seeking an understated look.
READ MORE: What to Write in a Wedding Card
2. Thistle Wedding Invitation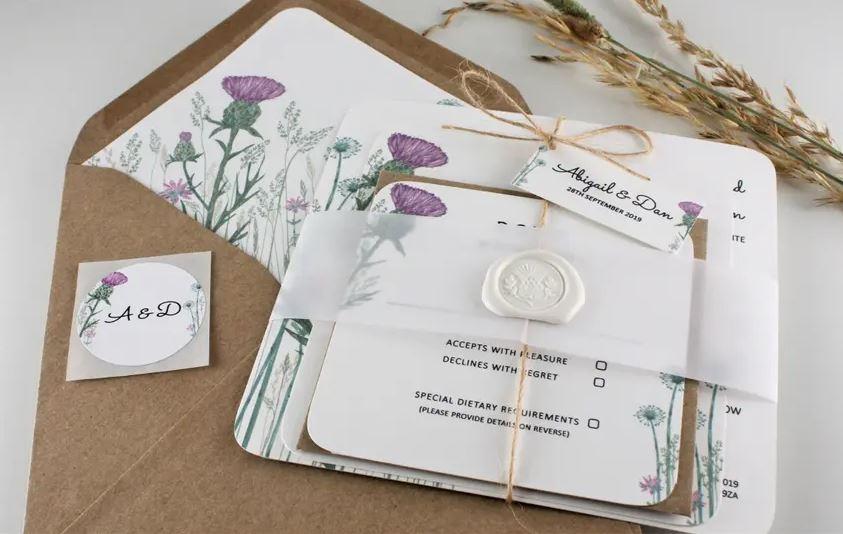 How beautiful is this wedding invitation from Bee Invited Wedding Stationery? The thistle detail is ideal if you are hosting a meadow wedding reception or plan to have wildflowers featured throughout your wedding theme.
3. 'I Pick You' Plant Marker Card - £12, Not on the High Street
A flower-themed card that encourages you to get planting? This adorable card can be used to ask your best friends to be your bridesmaid and includes a plant marker as a little gift. We are all for nurturing this kind of creativity!
4. Personalised Floral Save The Date Magnet Cards - £1, Not on the High Street
If you are looking for an alternative to a traditional save the date, why not go for this fun magnet from Clouds and Currents. How lovely to think that your save the date will have pride of place on your guests' fridges rather than hidden away in the drawer!
SEE MORE: Unique Save the Date Ideas
5. The Anna Collection - From £30 for 10, Papier
You can't go wrong with roses! This V&A-designed stationery set features vintage-inspired motifs of flowers, including roses, in colourful hues. It is bright and cheerful, making it perfect for weddings!
6. Autumnal Flowers Wedding Invitation - £1.80, Tree of Hearts
Autumn is arguably one of the prettiest times of year for a wedding, with nature giving you a rich colour palette to work with. If you're planning an autumnal wedding and want to incorporate some floral shapes and colours consider these pretty invitations from Tree of Hearts.
7. Watercolour Peony Order Of Service - £3.25, Not on the High Street
An order of service is a great way of letting your guests know what to expect in the ceremony, as well as covering any hymn lyrics your guests might need for church services. It also serves as a nice keepsake of the day. This order of service from Littlebird Weddings is a booklet with a pretty peony design and gorgeous romantic fonts.
8. Botanical Rose Wedding Invitations - £1.25, Not on the High Street
Opt for some stylish botanical wedding stationery with these invites from Farrah & Eve Paper Co. These invites are double-sided and come with the option of a range of coloured envelopes.
9. Blue Hydrangea Invitations - £2, Not on the High Street
Blue hydrangeas make beautiful wedding flowers that look equally great on their own or in a mixed bouquet. If you are making blue hydrangeas a feature of your wedding, these pretty invites from Project Pretty are perfect for you and can be fully personalised.
10. Artisan Florals Wedding Invites - From £30 for 10, Papier
It can be easy to get carried away with floral designs, but this invitation suite proves that even simple styles can have a big impact. The understated look is perfect for couples curating an understated wedding celebration.
11. Summer Blossom - £3.38, Hitched Wedding Stationery
This gorgeous design of summery pink blooms can be customised with different colours in the background. The multi-piece suite is ideal if your wedding is to be held in the spring or summer.
12. Retro Roses Wedding Stationery - £3.45, Not on the High Street
The bold and bright retro-inspired blooms on this stunning invitation set easily catch the eye. We love how the design extends into the envelopes, providing a lovely surprise for your friends and family when they open them.
13. Elderflower Save the Date - From £21.50 for 10, Papier
The elderflower illustrations on this save-the-date card are classic and sophisticated. They are ideal for anyone looking to host a wildflower-themed wedding but want more traditional wedding colours.
14. Kraft Blush Pink Wedding Invitations - £0.65, Not on the High Street
These pastel flowers look so elegant against a Kraft effect background, instantly transporting your guests to the countryside! The foldable nature of the card helps make them extra fun as well and you can incorporate more information, like the day's timeline, that way. Guests are sure to love it!
15. Summer Meadow Wedding Invitation - From £0.75, Etsy
There is something lovely and whimsical about this wedding stationery suite. The delicate illustrated flowers and leaves are just so precious and the simple colour palette means this should pair well with a variety of wedding themes.
16. The Savile Club Wedding Stationery Suite - £5.00, Etsy
The floral detail on this invitation suite is subtle, which we love, but what we can't get over is the photo inside the envelope. It gives this set such a unique and sophisticated vibe and is sure to delight your loved ones when they open it up.
17. Bloom Letterpress Botanical Wedding Stationery - From £1.50, Etsy
Trying to avoid colour? This invitation suite is great if you are looking for ways to incorporate flowers without the various hues that usually come along with that. Elegant and understated, it is hard to beat that!
18. Wild Flowers - From £30.00 for 10, Papier
Papier really does have a great selection of floral wedding invitations. Their Wild Flowers design is great if you love pink but want to avoid being too girly. The rustic blooms in shades of reds, greens, and pink work perfectly together!
19. Sweet Meadow Wedding Invitation - £3.01, Hitched
The grey on these cards is a surprising choice, but we love how it complements the pink and green of the floral design. This pop of colour with the contemporary font is elegant and fun all at the same time.
20. Autumn Wildflowers - £2.50, Hitched
This wedding invitation suite is proof that flowers have a place in every season. The simple, autumnal hues make a statement, while the overall look is modern and chic.
21. Blue Floral Porcelain - From £30.00 for 10, Papier
This design makes us think of dainty motifs on china plates and could be perfect if you are planning to use such dinnerware in your table settings. It's a great way to bring floral into your theme and in a classic way.
22. Mother Amazon - From £36.30 for 10, Papier
This high-fashion design from Matthew Williamson is part of the Mother Amazon collection. The rich pinks and purples, flamboyant birds and fabulous feathers give the feel of extravagance and opulence.
23. Woodgrain Lace - £2.50, Hitched
This invitation suite is perfect if you want a little floral detail, but in a really subtle way. The lacey design over the woodgrain is wonderfully rustic, and the floral motifs in the lace give you that hint of nature without being overwhelming.
24. Watercolour Sunflowers Wedding Invitation - £1.80, Tree of Hearts
Looking for something cheerful? It is hard to beat sunflowers in that department. This invitation, with the watercolour illustrations of flowers in the bottom-left and upper-right corners, is just so sweet. It'll be perfect for celebrating such a happy occasion.
25. Essence Of Italy Lemons Wedding Invitations - £2.25, Not on the High Street
Transport your guests to the Tuscan hills, with this fresh invitation suite. The pretty blue and yellow design brings a bit of the botanical theme into the mix with illustrations of lemons with foliage. If you are planning a Tuscan wedding of your own, make sure you explore our Italian wedding venues.
26. Fairytale 3-Piece Wedding Invitation - £3.38, Hitched
This invitation suite is called "Fairytale" for good reason. It features lush illustrations of foliage along some of the edges with hints of blooms throughout. There is something simply magical about it that is hard not to love!
27. Beloved Floral - £2.50, Hitched
Don't fall into the trap of thinking that floral invites are only suitable for spring or summer weddings. The gorgeous burgundy flowers on these invites from our very own collections offer the perfect solution for an autumn or winter wedding.
READ MORE: The Most Wonderful Winter Wedding Invitations
28. Bohemian 3-Piece Wedding Invitation - £3.38, Hitched
Another one of our favourite designs is this bohemian-inspired wedding suite. The rustic and neutral hues along with the touches of floral and botanical motifs make this design eye-catching and elegant!
29. Pink Poppy Wedding Invitation - £2, Not on the High Street
If you really want to make an impact with your wedding stationery, these poppy invites from Project Pretty do just that. The beautiful floral borders consist of pink poppies and shades of blue and green, in a stylized design – just gorgeous!
30. Gothic Purple Floral Wedding Invitation - £2.50, Etsy
Floral designs can also take on a gothic style, such as with this invitation suite. There is something immensely romantic about this look, which makes it ideal for weddings while still playing with tradition.
Before you make a final decision, make sure you see our article on what to consider when choosing your wedding stationery.