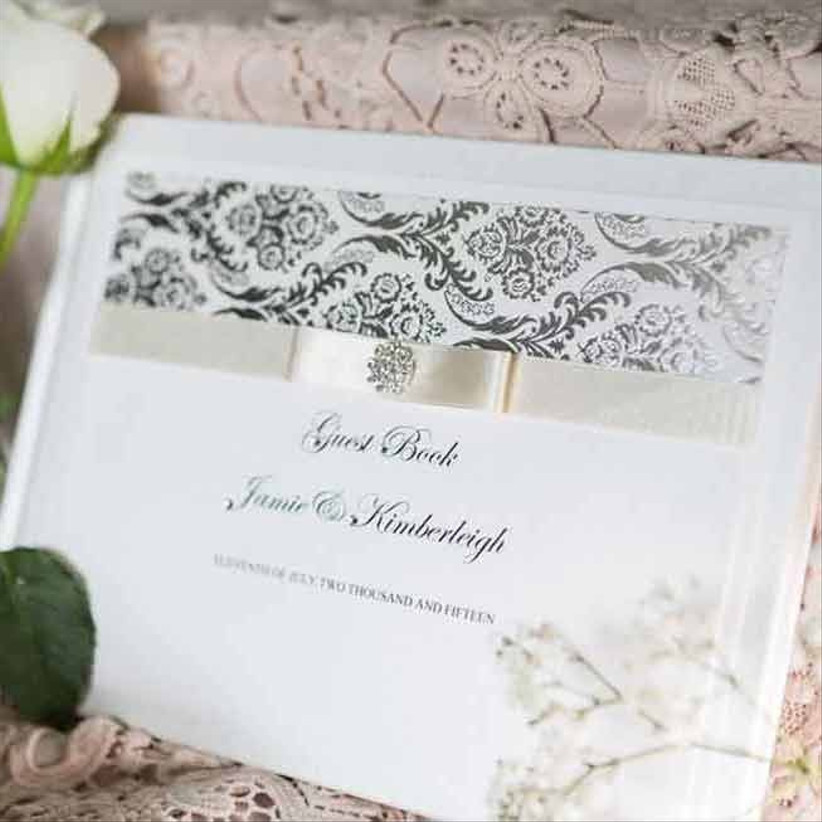 When it comes to choosing your wedding stationery, you have to remember that it says a lot about your wedding and what it's going to be like.
If your nuptials are set to be classy, sophisticated and glamorous, then you need some elegant wedding stationery to advocate that.
From stunning swirls to sparkly styles, we have a truly gorgeous selection of wedding invites that you're going to adore.
Leafy Styled Elegant Wedding Stationery
This set of beautiful wedding stationery hosts a timeless design. Between its stylish fonts and neutral colours, there is absolutely no fault to this form of invitation and the leaf patterns are perfect for couples who are having some themes of 'the outdoors' at their wedding.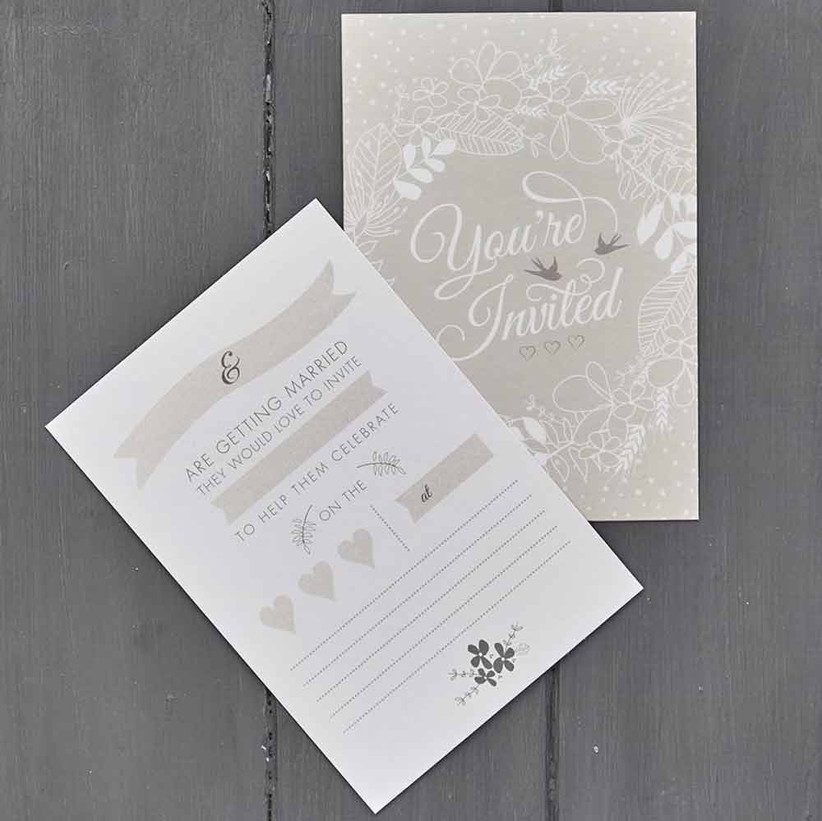 Stationery: Paper Grace
Vintage Elegant Wedding Stationery
Couples who're planning a vintage wedding will adore this style of wedding stationery. The swirly fonts and intricate cutting of the menu, order or service and invitation itself is so delicate and the colours are a perfect combination for a classy finish.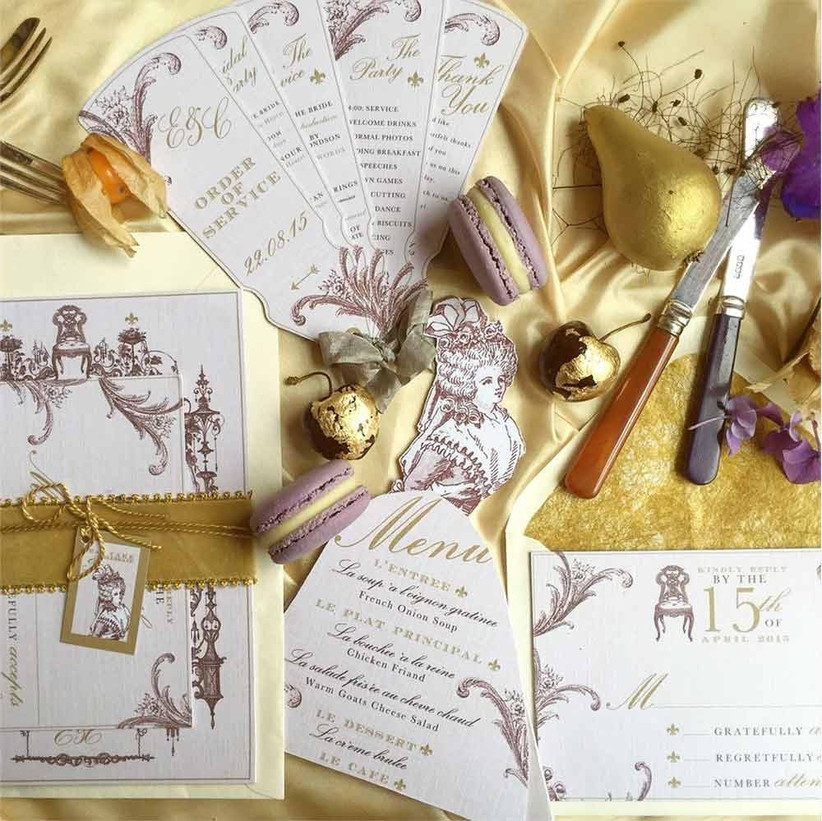 Stationery: Paper House
Pastel Pink Elegant Wedding Stationery
If nudes and blush pinks are the colours your wedding will be filled with, this stationery could be the perfect match for you. The simplistic design leaves lots of white space on the invitation which tends to automatically look more elegant and the rusty pale pink colour is just beautiful. We adore the mandala style floral illustrations which create the border to this stationery, it's gorgeous.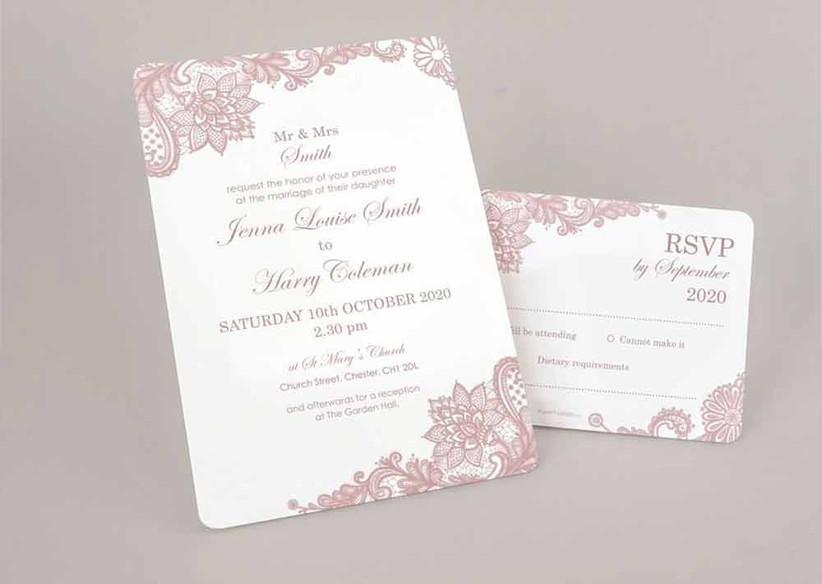 Stationery: Planet Cards
Glittery Elegant Wedding Stationery
Add a bit of sparkle to your wedding celebrations with some glittery wedding stationery. This design is elegant in every way as the purple, black and silver glitter embellishment sparkles beautifully and the ribbon is a lovely finishing touch.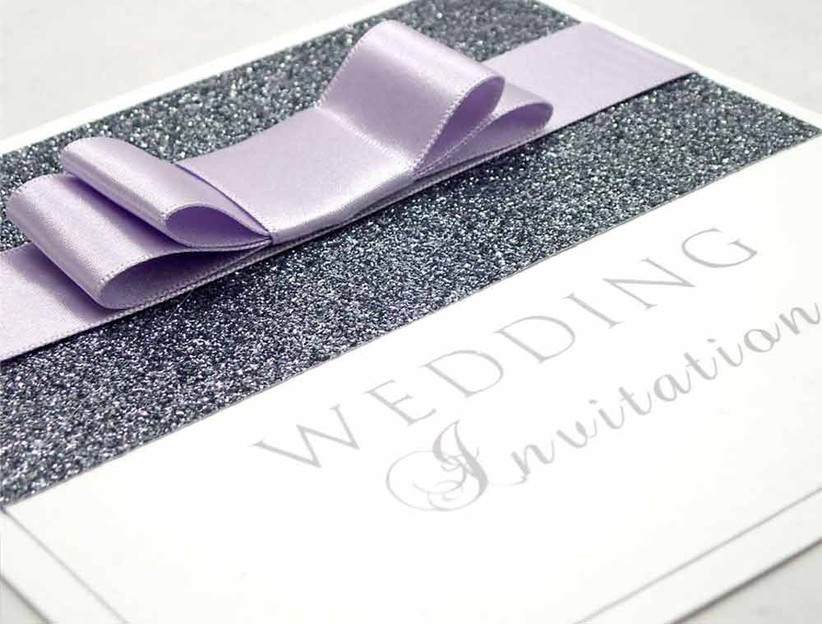 Stationery: Elle Bee Design
Winter Themed Elegant Wedding Stationery
If you're having a winter wedding and want stationery which is lacking nothing in style and taste, this could be the choice for you. It has a lovely element of rustic to it with the brown card and envelopes, but brightens back up with the white backgrounds and snow-like drops. The fonts are beautiful and clean cut, yet another thing that is perfect about this wedding stationery.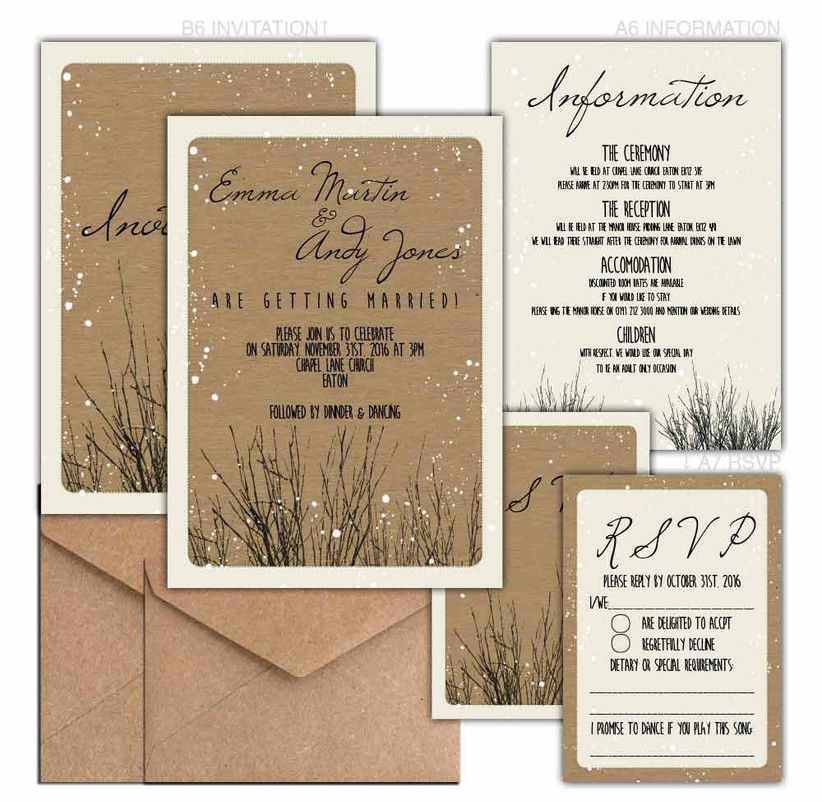 Stationery: Made by Mika
Monochrome Elegant Wedding Stationery
Black and white is always a great choice for wedding stationery because it gives off a chic and elegant look no matter what, and this design is no exception. The swirly floral illustrations look fantastic as a heart on the front and as borders on the inside. The way the invitation opens is also a really nice and unique way to lay out your wedding stationery.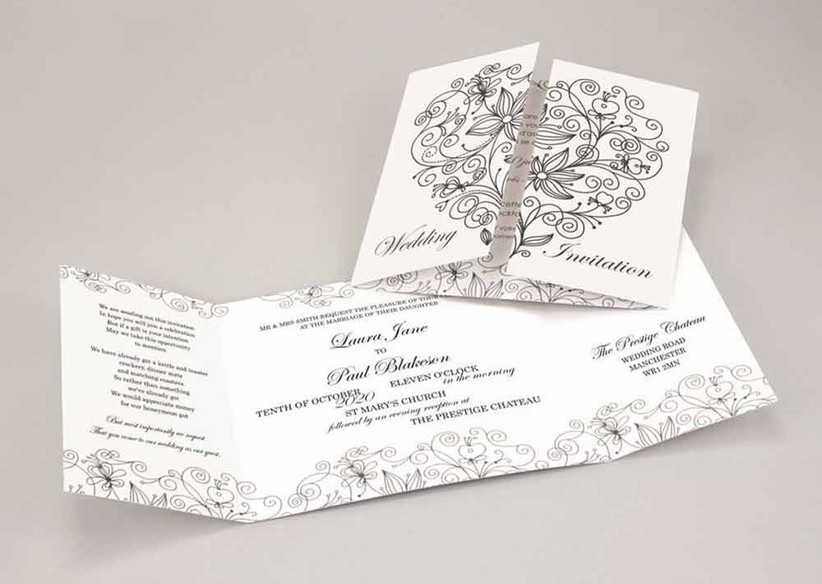 Stationery: Planet Cards
Royal Elegant Wedding Stationery
If you fancy you and your other half as King and Queen of the wedding, why not embrace that theme and have royal themed stationery. These designs have a truly regal feel to them with patriotic British bunting, crowns and a gold illustration. Guests who receive wedding invitations like this will know they're being invited to something seriously special.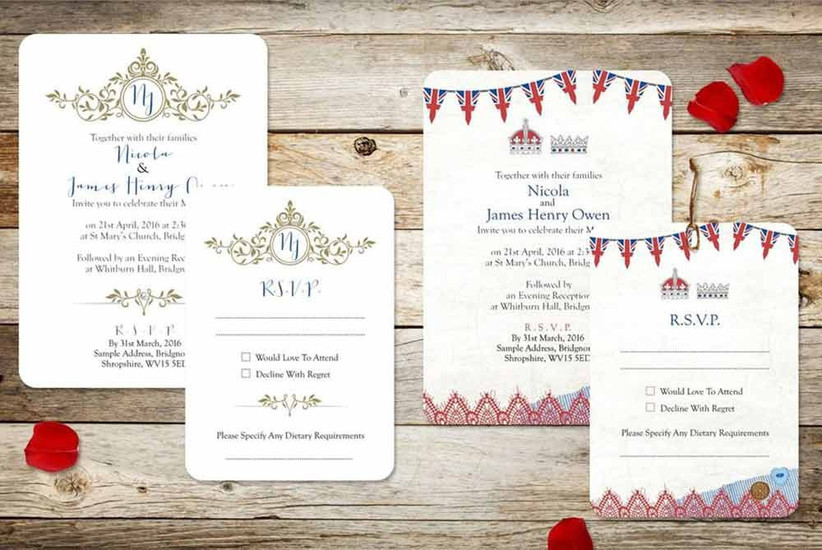 Stationery: Tree of Hearts
Embossed Elegant Wedding Stationery
Having gold embossed detailing on your wedding stationery really adds that element of glamour that brides will love. This set of designs embraces an array of different shades of pink which all flatter the gold embossing and will be an amazing choice if you have a gold décor theme to your wedding.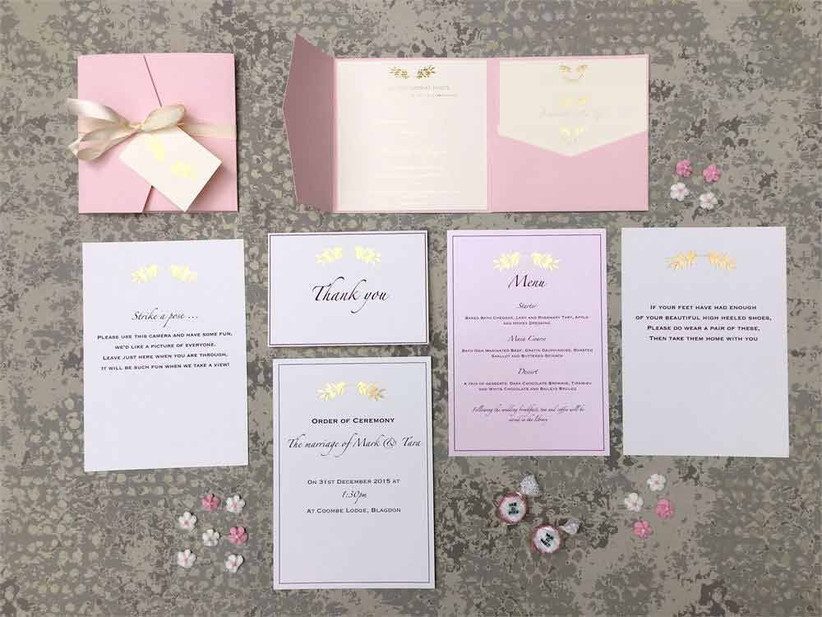 Stationery: Retro Press
Gold and Black Wedding Stationery
This stationery, in our opinion, is the ideal fit for glamorous themed weddings with lots of glitter décor and a smart dress code. Having your menu, place cards and table numbers in this type of style lets all of your guests know exactly what kind of amazing celebrations are in store for the rest of the event.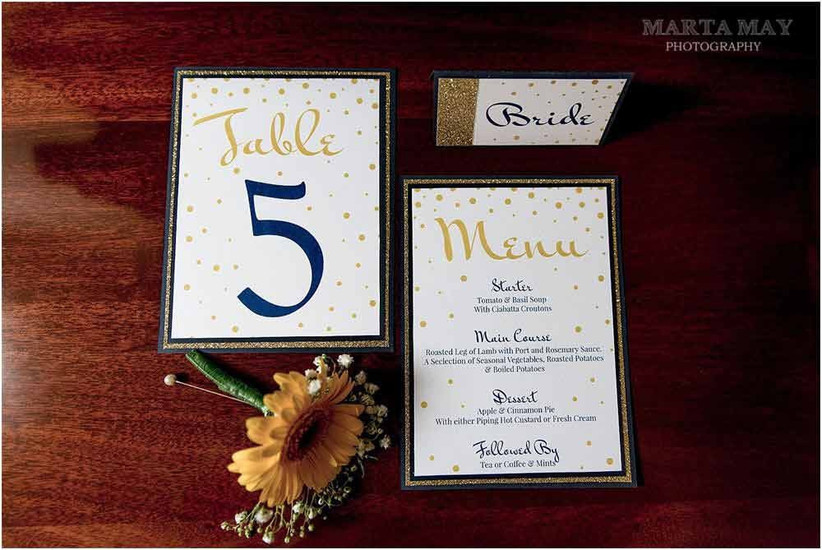 Stationery: Little h With Love
Beautifully Elegant Wedding Stationery
The beauty of this wedding invitation is almost too good to be true with elements such as the elegant font, exquisite silver border, and the cream ribbon and crystals that bring it all together. There is nothing not classy about this stationery; it is literally oozing with sophistication!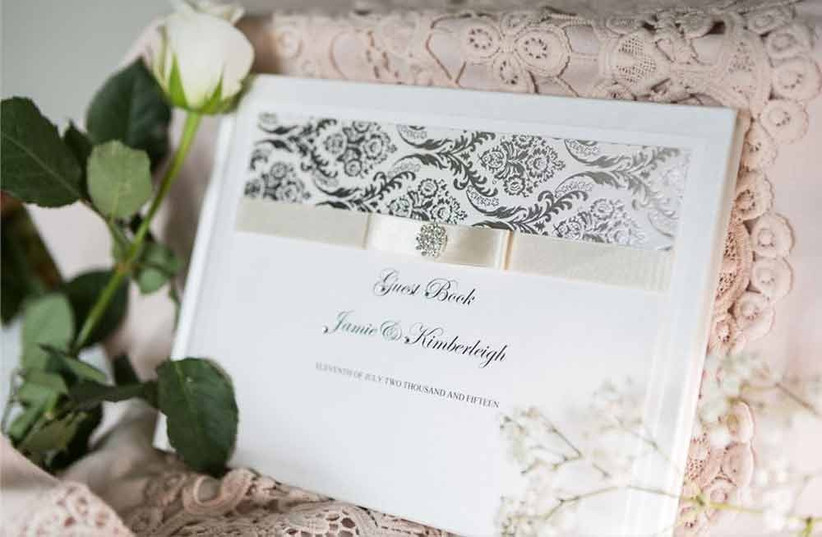 Stationery: Becky By Design
Chalk Board Style Elegant Wedding Stationery
Adding a bit of vintage to our list of elegant wedding stationery comes this lovely design. We love the way it's been laid out like a black board written on in chalk. The text and border look like they've been authentically chalk-drawn and the brown envelope it's sent in is a lovely touch too.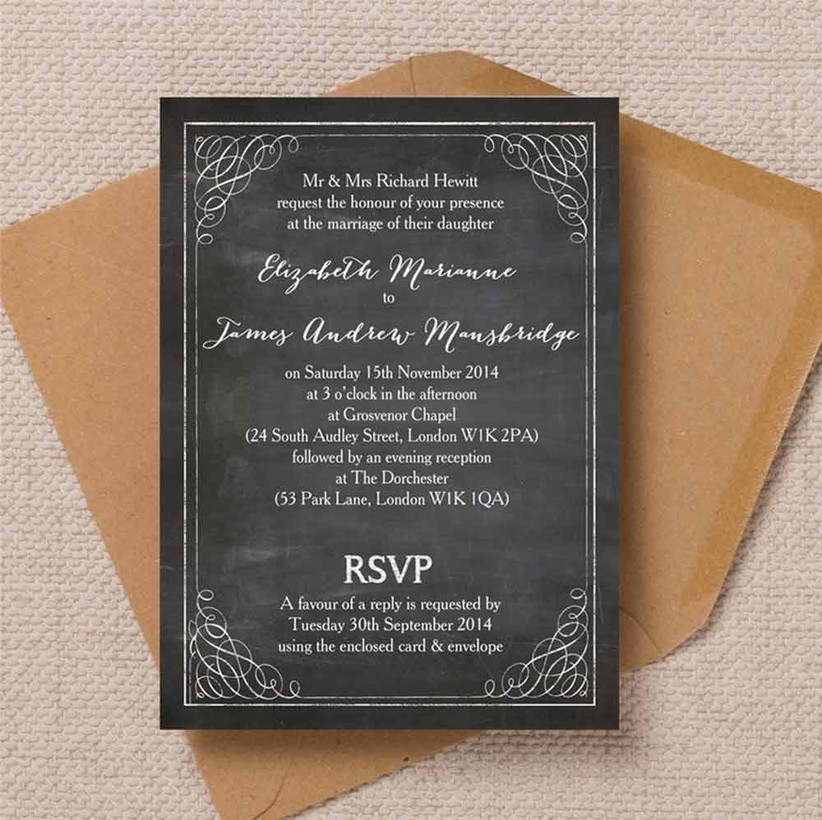 Stationery: Hip Hip Hooray
Pearlescent Elegant Wedding Stationery
This pearlescent style wedding invitation took our breath away when we set our eyes on it. The shine that the pearl beads give off is stunning and reflects the light so magically. This type of invitation is well suited to an all-white wedding or something in the winter which has a really simple colour scheme and is super sophisticated.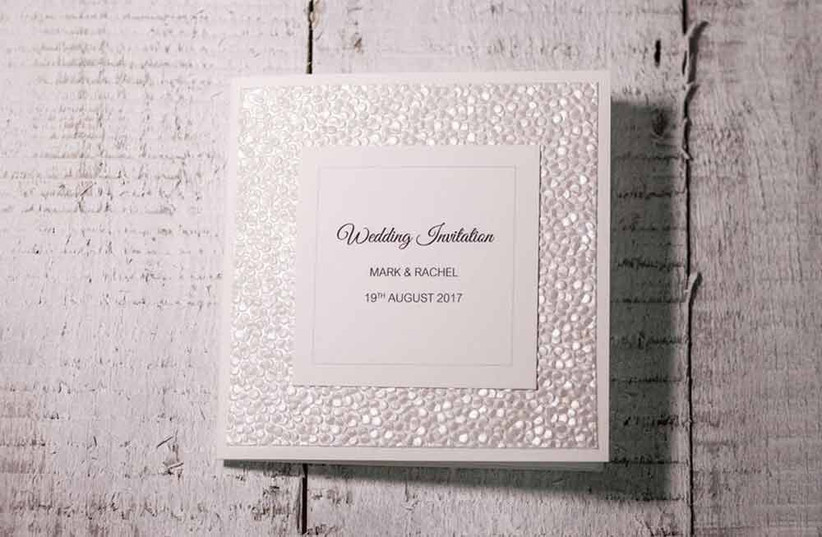 Stationery: Becky By Design
Multi Coloured Pearlescent Elegant Wedding Stationery
For other unusual wedding themes and colour schemes, this same insanely pretty design can also be created in a variety of colours so there's something for every style of celebration, no matter what type of wedding you're having. They are also available in square or rectangular shapes so the versatile stationery really can't be turned down for any reason!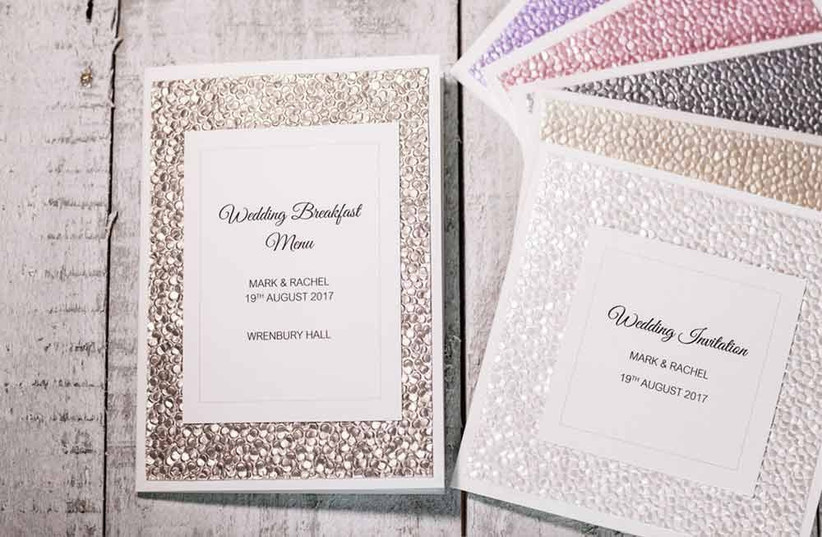 Stationery: Becky By Design
Romantic Elegant Wedding Stationery
The romance that comes from this stationery set is so apparent. We love the pale pink colour and our favourite part of the whole design is the initials of the couple who are getting married are printed in a gorgeous font and circled by a leafy vine at the head of the invitation. At a first glance you already know this invitation is for something special before you even get to reading it and that's what you want your guests to be thinking when they receive it.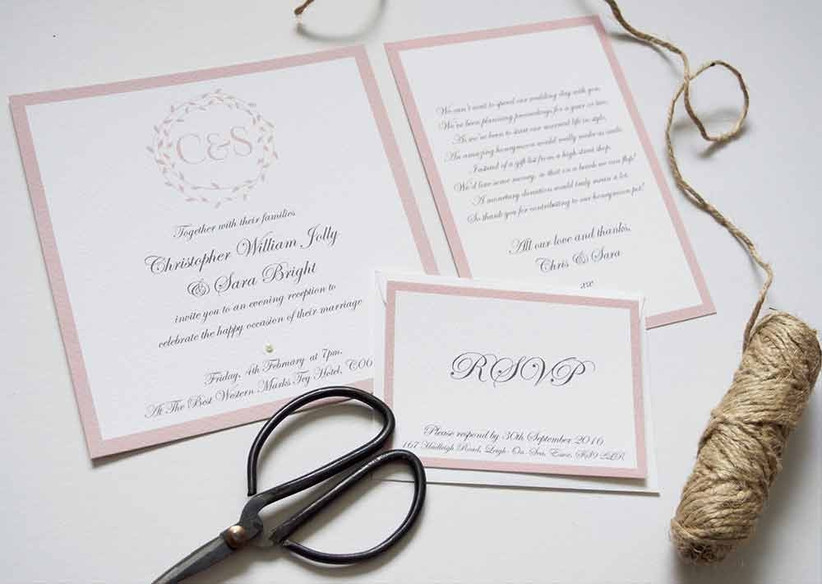 Stationery: Wonderland Invites
White Floral Elegant Wedding Stationery
This style of wedding invitation is beautiful. We love the use of all-white floral illustrations which really stand out on the brown card background. It is a simple design idea but when it comes to being elegant in your style, sometimes less is more and this is a case where that theory most definitely applies.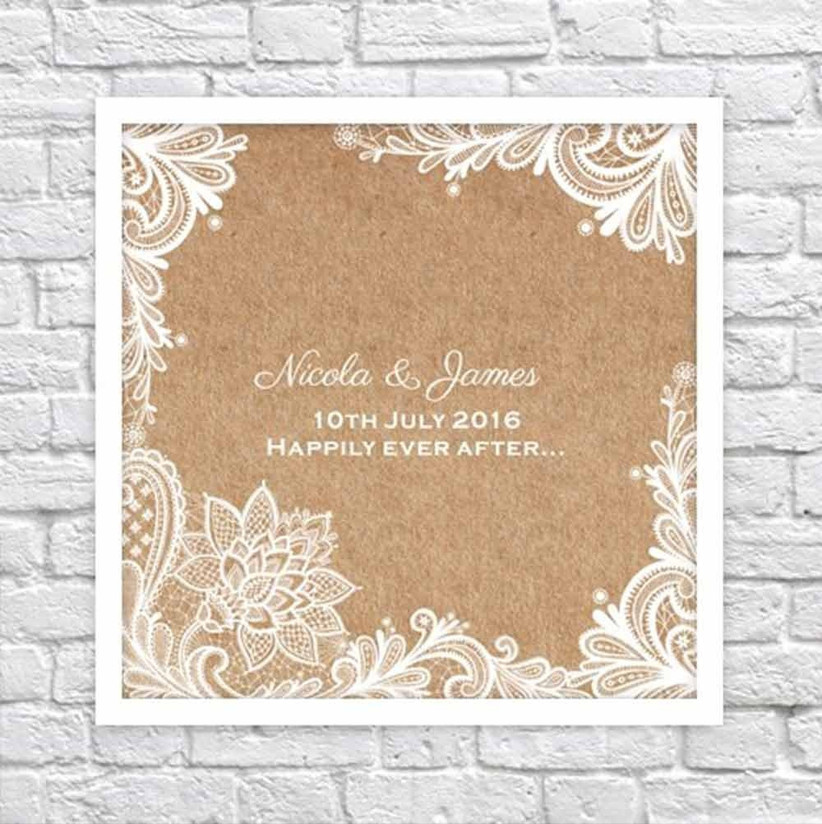 Stationery: The Card Gallery
Quilted Elegant Wedding Stationery
This stationery is so elegant because of the different textures and patterns it incorporates, all in white. When one colour is used with different materials it can look really chic and unique, which is exactly the result here. The quilted affect which is used in the top half of the invitation is met with a silk ribbon and a line of lace that is simply stunning.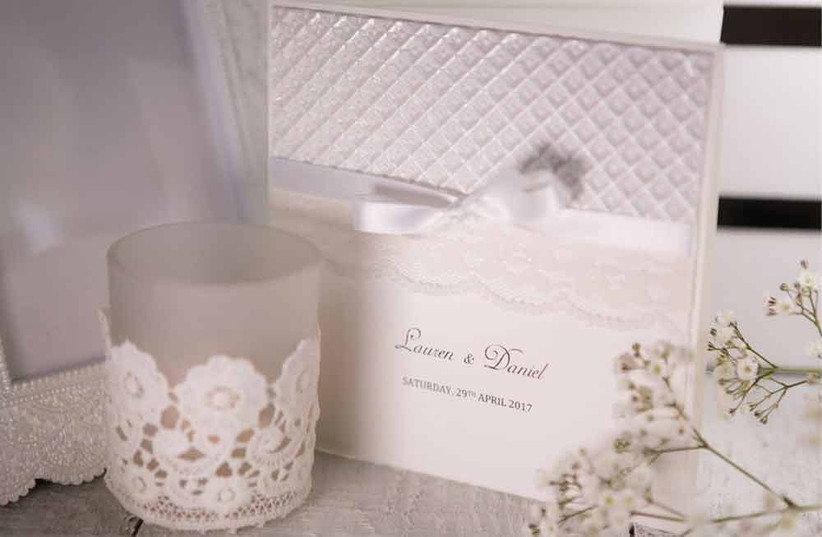 Stationery: Becky by Design
Gold Themed Elegant Wedding Stationery
We love this stationery set because it's modern. It boasts lots of 2017 wedding trends with the glitter and gold colours and the fonts are contemporary too. The addition of sparkle and glitz is something which always goes down well on paper and will instantly up-market your stationery. If we received this style of wedding invitation, there's no way we wouldn't RSVP 'yes' instantly.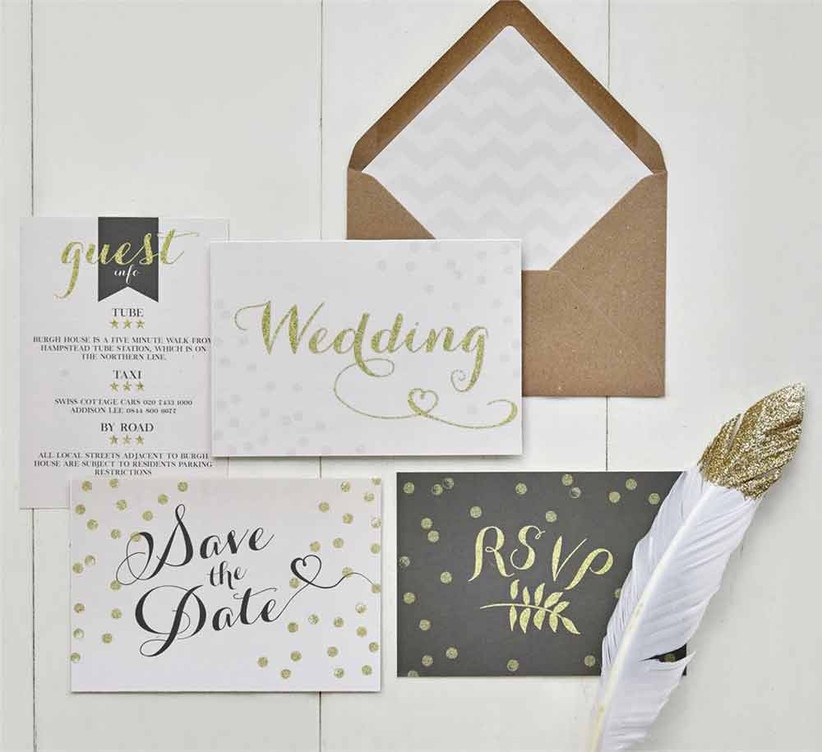 Stationery: Paper Grace
After you've chosen your ever-elegant wedding stationery, be sure to pick out the perfect personalised wedding stamp to seal the deal before you send them to your loved ones.