Foil Wedding Invitations: Beautiful Gold, Silver & Rose Gold Designs
Looking for the perfect foil wedding invitations? Whether you fancy gold, silver or rose gold foiling, we've got the most gorgeous designs here!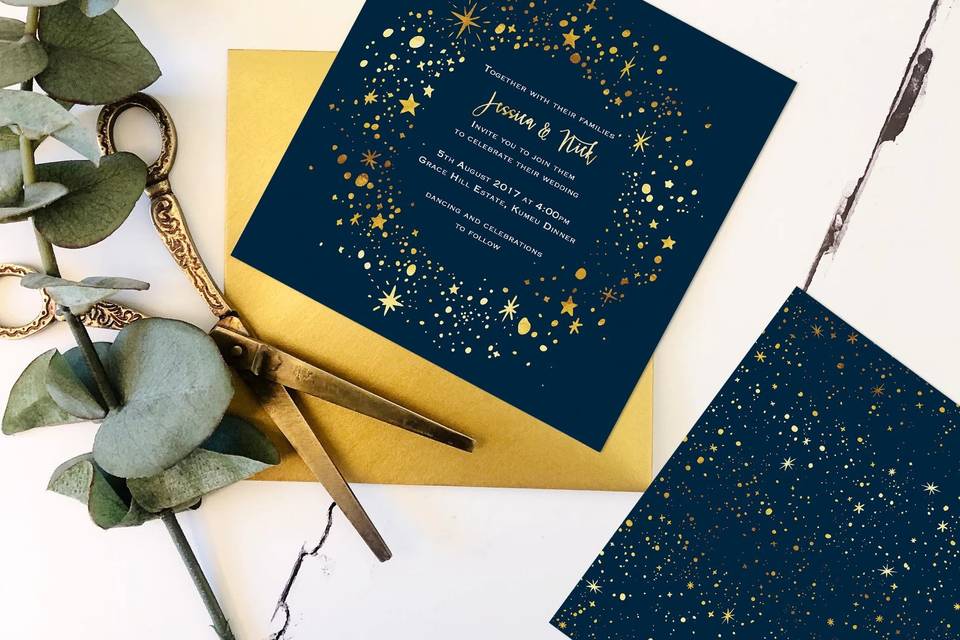 The experience of opening an envelope sets the expectations for your wedding day - which is why we love foil wedding invitations if you want your guests to expect a stylish wedding with a timeless vibe.
If you're looking for a little bit of sparkle for your wedding invitation to make it stand out, foil finish invitations are a great choice. Whether you're looking for sparkles everywhere, or a touch of shimmer amid some colour, whatever metallic shade you're looking for, we have put together several gold foil, silver foil and rose gold foil wedding invitations to inspire you.
Gold Foil Wedding Invitations
Erba Della Pampas Wedding Invitations - From £2.61, Hitched Wedding Stationery
The Erba della Pampas series is one of our recommended choices if what you are looking for is a glimpse of gold foil in your wedding invitations. A perfect rustic, boho style stationery collection to perfectly match a rustic or boho-themed wedding. There are several formats to best accommodate the design to your likes. Ideal if you've already got your heart set on the perfect boho wedding dress.
Beautiful Confetti Folded Invitation - From £2.50, Hitched Wedding Stationery
Nothing says celebration like confetti. If your special day is going to be festive, lively and perhaps leaning towards the more modern side of things, Beautiful Confetti might be just what you're looking for. A golden foil finish combined with a range of colours and formats will make your invitation stand out without losing its simplicity - and that terrazzo style is SO chic right now.
Warm Tones Wedding Invitation - £POA, Love Invited
Based in Rochdale, Greater Manchester, Love Invited ships their products all throughout the country. Offering an array of styles from vintage to art deco that can give your wedding invitations the touch of gold you were looking for. A beautiful range of golden foil finish designs are available and can be tailored to what you're looking for exactly - we especially love this unique gold foil wedding invitation that has such a fun vibe.
Blue & Gold Sparkle Invitation - £4, Etsy
A perfect way to shoot your guests' expectations to the stars. If you envision your wedding as a magical night, this Blue and Gold Sparkle foil finish invitation could embody the spirit of your magical night. If something doesn't seem quite right with it, Emma does personalised designs. Now find the perfect celestial wedding dress to match!
Silver Foil Wedding Invitations
Silver Foil Wedding Invitation - £POA, Quint London Stationery
Quint London Stationery is an Essex-based stationery provider that will make your foil wedding invitation dreams come true. 100% recommended by all couples who have reviewed their services, they will find the dream silver touch you're looking for in a wedding invitation. We especially love this traditional style invite, which is given a glow-up with a delicate touch of silver foil.
Marble and Silver Foil Wedding Invitation - £3, Etsy
If classy is what you're looking for, you can't go wrong with a bit of marbling! These marble and silver foil wedding invitations are timeless, elegant and will ensure your wedding plans stick firmly in your guests minds (as the invite will probably be stuck firmly to their fridge!). Discover even more beautiful marble wedding invitations (including how to make your own!) here.
Silver Calligraphy Wedding Invitation - £POA, Ivy & Gold Stationery
Silver foiling on a wedding invitation adds a bright, contemporary feel - we love the silver calligraphy invites from Ivy & Gold Stationery, and especially adore the cute polka dot pattern too.
Silver Wreath Wedding Invitations - £2.50, Etsy
These beautiful silver foil wedding invitations offer a touch of class at an affordable price point. Lyon Salks Stationery offers stylish luxurious silver foil finish wedding invitations on a range of colours to choose from, giving your guests a taste of what's to come. The wreath design is a truly gorgeous invite that puts you and your partner right in the spotlight.
Rose Gold Foil Wedding Invitations
Ancona Rose Gold Foil Wedding Invitation - £2.61, Hitched Wedding Stationery
You will love this modern and colourful take on vintage wedding invitations, if you want to give your special day a vintage feel. The Ancona wedding invitation collection combines floral details and a stylish belly band featuring your initials. A rose gold finish on range of colours available gives this lively wedding invitation a charming summery tone.
Fiore Wedding Invitation - £2.61, Hitched Wedding Stationery
A wedding invitation captures the spirit and the spirit of your special day. Fiore wedding invitations are inspired by beautiful wedding arches, and are completed with a striking rose gold foil finish highlighting you and your partner's names as well as the venue. A pretty design that stands out of the crowd. See our favourite floral wedding invitations here.
Rose Gold Foil Wedding Invitation with Seal - £POA, Laura Jane Designs
Laura Jane Designs are based out of Coleraine in Co Antrium, North Coast of Northern Ireland. Offering a wide range of bespoke invitation suites and paper products, they invite nearly-weds to their consultation room where they can see and touch sample designs. Rose gold foil finish invitations are amongst their options, together with autumnal-inspired modern-chic and many others.
Copper Foil Botanical Wedding Invite - From £6.95, Etsy
If rose gold foil is what you're looking for, Indy Bee Crafts has you covered with this copper foil botanical vellum paper pocket wedding invitation, including a touch of rose gold foil. A sophisticated rose gold design that will offer your guests a unique invitation - it's slightly more expensive, but totally worth the splurge. Browse more botanical wedding invitations here.
What Are Foil Wedding Invitations?
Foiling is a shiny metallic finish that can be applied to your wedding invitations for an elevated touch of glamour. Foil wedding invitations often come in gold, silver or rose gold/copper, but you can have metallic foiling on your wedding stationery in a number of different colours. Adding metallic foil to your wedding invitations is a great way to make them stand out, look more expensive and stylish, but also know that they'll go with any colourway too!
Still on the hunt for your wedding invitations? Make sure you browse the Hitched wedding stationery collection.