28 Unique Wedding Invitation Ideas for Unconventional Couples
Impress your guests before the big day by sending them on one these unique wedding invitations
We have included third party products to help you navigate and enjoy life's biggest moments. Purchases made through links on this page may earn us a commission.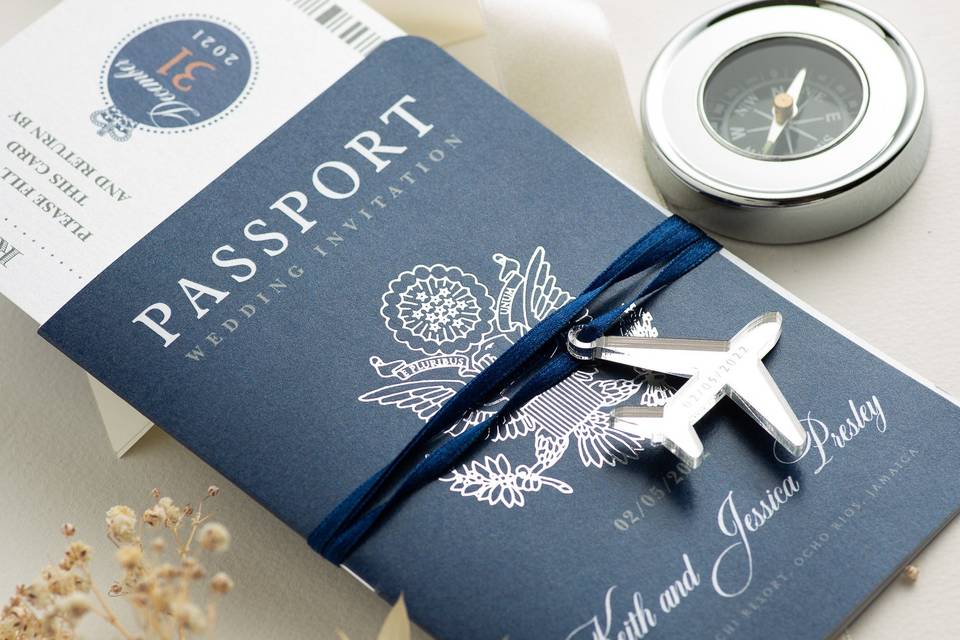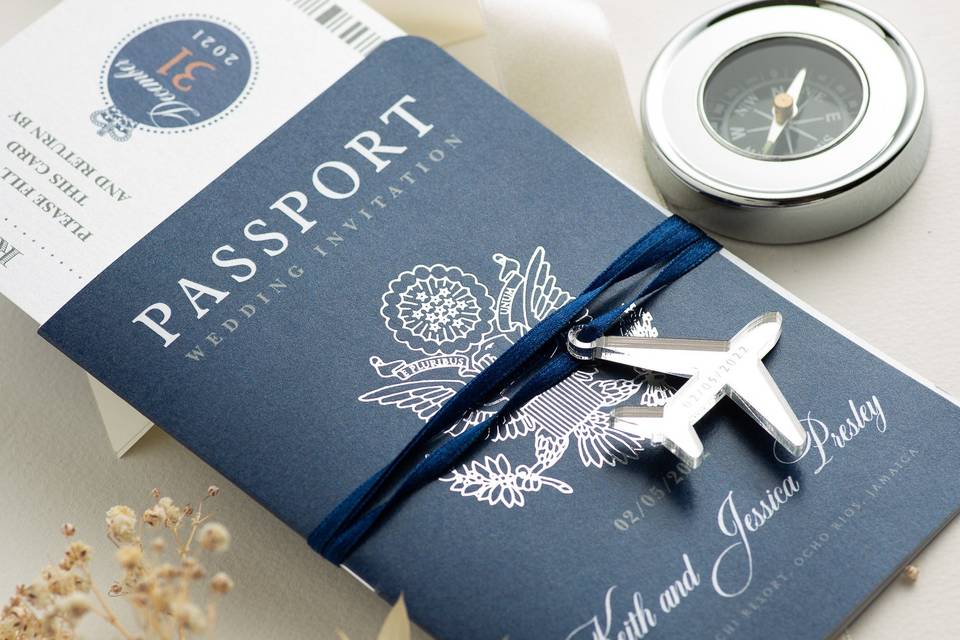 If you're a non-traditional couple and you really want to amaze your guests, consider sending them unique wedding invitations. By choosing unusual wedding stationery, you'll definitely grab your guests' attention and get them counting down the days until your special day.
Alternative wedding invitations are a great way to express you and your partner's personalities - whether you're book worms, music lovers, jet-setters or jokers, there's a unique wedding invitation for you, ranging from affordable designs to luxury wedding invitations. Many of the ideas in our round-up also act as amazing keepsakes for your guests as well - they certainly won't forget to RSVP to your wedding when the invite doubles up as a tea towel too!
We've also got 43 unique save the date ideas if you need even more inspiration.
Modern Unique Wedding Invitations
1. Peonys Wedding Invitation - from £1.13, Hitched Stationery
Colour blocking is a chic wedding stationery trend that proves a simple design can still make a big statement. This stylish design from Hitched Stationery features a gorgeous peony sketch making it perfect if they are your flowers of choice.
2. Blue Watercolour Wedding Invitation - from £4, Millie Stone UK
Although watercolour wedding invitations aren't unusual, this vibrant blue hue and bold splatter design from Millie Stone UK is really unique. If you have a lot of information to fit onto your invites, this style has more than enough room to accommodate.
3. Flower Seed Wedding Invitation - £POA, Lolapaluza
Planning an eco-friendly wedding? First things first, you'll need sustainable wedding invitations - this gorgeous pink and gold design from Lolapaluza's The Hera Collection is embellished with flower petals and seeds so your guests can literally watch your love grow.
4. Bespoke Bright Wedding Invitation - £POA, 33 Pixels
33 Pixels offer amazing bespoke designs so you can have wedding invitations that are completely unique and personal to you as as a couple. Take this bright swan embossed style - it's playful yet elegant.
5. Beer Mat Wedding Invitation - from £3, Emma Lee Cheng at Etsy
If you want traditional wedding invitations but still want to have a little fun, consider sending these beer mat save the dates to your guests with a formal invitation to follow. Cheers!
READ MORE: The Best Places to Buy Cheap Wedding Invitations
6. Cut Out Wedding Invitation - from £1.70, By George
Wedding invitations from By George are seriously unique - we adore this cut-out card design if you are having a tipi wedding venue. The characters will be personalised to your preference and there's also a barn wedding venue style too!
7. Acrylic Wedding Invitation - from £4.38, SHRIYAinvitation at Etsy
How cute is this elegant blue acrylic wedding invitation? It'll definitely grab your guests' attention and will become a gorgeous keepsake long after your wedding day.
8. Magnetic Wedding Invitation - from £63, Wonder Wedding Stationery
Alternatively, make sure the date 'sticks' in their mind by giving them a magnet wedding invitation from Wonder Wedding Stationery to put on their fridge – they'll think about the big day every time they go to get the milk out.
Luxury Unique Wedding Invitations
9. Painted Beach Wedding Invitation - from £2.50, Hitched Stationery
This pretty and unique design from Hitched Stationery was simply made for a coastal wedding venue. We love the level of detail that has been added - just look at that adorable little shell!
10. Vintage Mountain Wedding Invitation - from £2.61, Hitched Stationery
What's so unusual about this vintage mountain wedding invitation we hear you ask? It features a luxury itinerary insert that your guests can pop out and bring with them on the day.
READ MORE: When to Send Save the Dates and Wedding Invitations
11. Peonys Wedding Invitation - from £150, Otto & Nibs
Our jaws dropped when we saw this spectacular illustrated wedding invitation and we reckon your guests will be more than impressed too! This work of art is by Otto & Nibs, who will design bespoke wedding invitations in as much detail as your require.
12. Ribbon Wedding Invitation - from £200, The Coastal Wedding Co
Ribbon is a really lovely way to elevate your wedding invitations and make them look so luxurious - this autumnal design from The Coastal Wedding Co is made from Italian silk and is hand-dyed using eco-friendly natural plant dyes.
13. Wooden Wedding Invitation - from £5.95, Inspirwood
While paper invitations are a classic choice, they have some flaws. They crumple easily and if they get wet they're pretty much ruined. You could avoid these potential pitfalls with a wooden wedding invitation - we love this one from Inspirwood and it would be ideal if you've chosen a woodland wedding venue.
14. Jigsaw Puzzle Wedding Invitation - from £7.60, Rustic Love and Wood
Have you found the missing piece of your puzzle? Let your guests share in your joy by giving them their own puzzles to do. Rustic Love and Wood have a wooden puzzle invitation you can personalise - your guests will want to keep this forever.
15. Bus Wedding Invitation - from £2.20, Wedding in a Teacup at Not On The High Street
Hosting a city wedding with London bus wedding transport? It's only right that you get your guests suitably excited with these retro style wedding invitations from Wedding in a Teacup.
READ MORE: 23 Vintage Wedding Invitations
16. Dried Flower Wedding Invitation - from £5.99, Say it with Print
Dried flowers are a beautiful choice for your wedding day, so why not consider them for your invitations too? Available in several sophisticated shades, we're obsessed with this luxury design from Say it with Print.
Quirky Wedding Invitations
17. Blueberry Wedding Invitation - from £1.13, Hitched Stationery
Kraft card is a romantically rustic choice for your wedding invitations - the blueberry design from Hitched Stationery is a unique take on this! It's available in four different formats, including concertina and a folded card.
18. Caricature Wedding Invitation - from £53, Standout Stationery
These caricature wedding invitations from Standout Stationery are sure to be a talking point with your guests. As well as invites, they also make table cards and seating plans so you can get the whole wedding party involved.
19. Tiffany Postcard Map Wedding Invitation - from £1, Paper and Inc.
There's something seriously romantic about postcard wedding invitations so if you're planning a destination wedding they're an adorable idea. We adore how even the envelope is themed with a detailed map peeking out.
20. Paper Aeroplane Wedding Invitation - from £6, Hip Hip Hooray
This paper aeroplane invitation from Hip Hip Hooray is ideal if you're looking for travel themed wedding ideas, or if you just want to amuse your guests for a while – they'll love sending it flying through the air and definitely won't forget your wedding date.
READ MORE: How Much Do Wedding Invitations Cost?
21. Tea Towel Midnight Tropics Wedding Invitation - from £160, The Original Wedding Tea Towel
Every time your guests do the washing up, they'll be thinking about your wedding if you choose to invite them by tea towel. We love the cool, customisable designs from The Original Wedding Tea Towels.
22. Gig Ticket Wedding Invitation - from £2, Wedfest Wedding at Etsy
If you've planned the perfect festival style wedding, then you need a ticket style invitation to match. We love this personalised ticket wedding invitation available at Wedding Fest - they're so realistic!
23. Message In A Bottle Wedding Invitation - from £6, Rodo Creative at Not On The High Street
Wedding invitations don't come much more unique than a message in a bottle - we're predicting your guests won't ever have received one of these before. If you're sticking to a budget, you could even have a shot at making these yourself.
24. Board Game Wedding Invitation - from £2.65, By George
Do you and your partner love a good, competitive board game? This Monopoly themed invitation from By George is amazing. They'll receive a free drinks voucher and a get out of work free pass.
25. Scratch Card Wedding Invitation - £5.49 for 10, Ginger Ray
26. Passport Wedding Invitation - from £4.45, Cartalia at Etsy
Whether you're jetting off for a wedding abroad or you just love travelling,
this passport style wedding invitation
is the perfect way to include your interests in your wedding theme. It's available from Cartalia in a choice of colours.
Still undecided when it comes to picking out wedding invitations? Make sure you browse our edit of beautiful vintage style wedding invitations to inspire you.