You Need to See This New Wedding Stationery Launch (P.S. It's Ours and It's Gorgeous!)
Yes, Hitched has re-launched stationery and you're going to fall in love with these beautiful modern designs. Take a sneak peek of our favourites now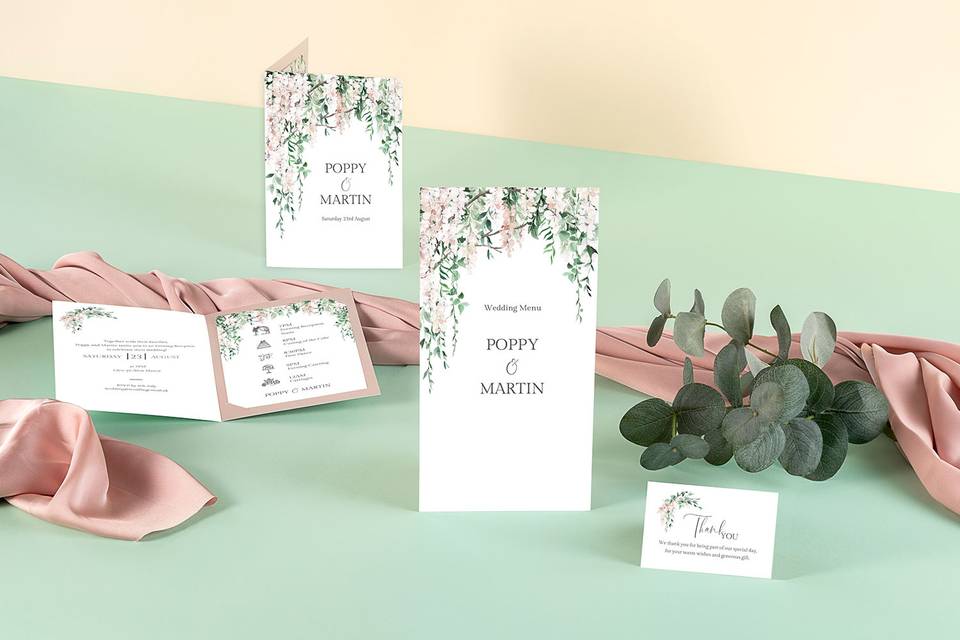 Your invitations or save the dates are the first part of your wedding theme that your guests get to see, so the right wedding stationery is very important.
Luckily, we can help you set the tone for a beautiful wedding because Hitched have just re-launched our stationery collection! This brand new, completely updated offering features 60 designs that are all customisable with your wedding details. From RSVP cards to place cards, seating plans to thank you cards, we've got every part of the planning process covered.
When we started planning our stationery collection, we knew we wanted to offer matching stationery for every step of your day. That's why we've also included those little things like matching address label stickers for your invites, coordinating guest books and even gift tags for your favours.
If you're in the early planning stages, you can order free samples of invites from the website (yes, free) to give you an idea of the high quality and finish before you order your full set. We're a little biased, but we know you won't be disappointed. We're really proud of this stationery launch and hope you love it as much as we do.
Here are some of our favourite picks from the new stationery collection to inspire you and you can explore the whole stationery website here.
Our Favourite Designs from Hitched Stationery
Painted Mountains Set - Invites from £1.13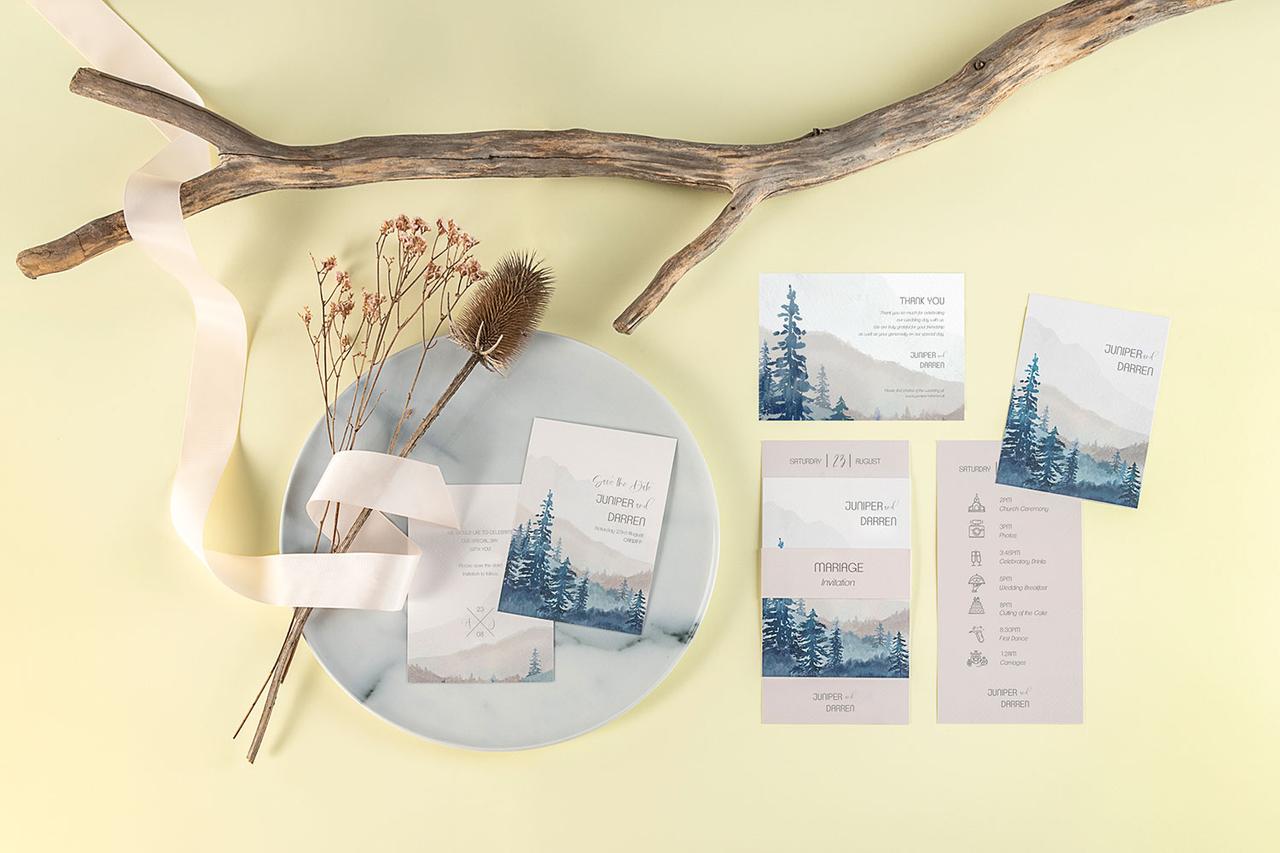 Featuring a serene mountain and forest scenescape, the Painted Mountain set is ideal for those planning a rustic outdoor wedding. We adore the soft blue and grey palette which adds to the calming feel of the watercolour scene. Even if you're not marrying in a venue near the mountains, these would be perfect if hiking or mountaineering are passions of you and your partner.
Natural Laurel Set - Invites from £1.13
Modern, minimalist and beautiful, the Natural Laurel is one of our favourite designs. Gently arching branches of laurel decorate the corners of your invites, table numbers and thank you for an elegant yet rustic vibe.
Natural Monogram Set - Invites from £1.13
Simple and striking, these monogrammed invitations look seriously luxe but are brilliant value. There's a choice of four colours for your text so you can match it to your colour scheme: gold, navy, lavender or terracotta. Your initials inside the semi-circle of wildflowers look like you've had a professional logo made!
Gilded Botanical Set - Foiled Invites from £1.64
Geometric shapes are super on-trend and are complemented here by delicate florals. You can really personalise this design, choosing from a forest green or burgundy colour theme, and accented by gold, silver or rose gold foil. We love the subtle shine of the foil; it makes your invites look so luxury.
Estiva Set - Invites from £1.13
If you're looking for something with a bit more colour, the floral explosion on the Estiva set should catch your eye! It's a beautiful, watercolour-style illustration of a coral and pink bouquet against your choice of background. We love the white card for a chic, contemporary wedding, while the kraft design is ideal for rustic weddings. There's also peach, lavender and forest green.
Romantic Wisteria Set - Invites from £1.13
Wisteria season is between April and June and is one of our favourite times of the year. If your venue has lots of wisteria or you'll be using it in your floral décor, then this invite will fit in perfectly. You can see the blush pink illustration on white card above, but there's actually a choice of five pastel shades for your paper, all of which are incredibly romantic.
7 Top Tips for Making the Most of Your Stationery
Ordering all your stationery in bulk will save on postage fees. If you're well organised, you can get all your stationery in two big orders: the first with your save the dates and invites, and the second once RSVPs are in. At this point, you can print all your on-the-day stationery, such as place cards, your seating plan, orders of service and menus. Remember to leave enough time - you'll want to order these at least three weeks before your wedding just in case anything needs reprinting.
Make your wedding website before your wedding invitations so you can include the URL. You can also ask guests to RSVP digitally on your website, saving anything getting lost in the post! Your wedding website needs to have all the key information on it before it goes live: wedding date and location, dress code, transport and accommodation options, whether it's an open or cash bar, plus any additional FAQs.
Take advantage of free samples. You don't want to make large orders of anything before you've seen and felt one in your hand before. Hitched offers five different types of paper, each with its own texture and tone. Even the cheapest options seem totally luxe when you personalise them: choose your colours, typography and photos for designs that are custom to you.
Consider how you can be sustainable with your wedding stationery; it's a lot of paper after all! Hitched use energy efficient practices and recyclable materials to make our stationery so you know it's good for the planet, but there are other ways you can go even further, such as asking guests to RSVP online. Be aware that some decorations like glitter render paper unrecyclable - keep your eco-conscious head on when stationery shopping.
Have someone proof read your stationery before you order it. It's really easy to overlook a typo, so a couple of pairs of eyes on the final product will save you heartache.
Take your sample to the post office and ask them to give you a quote for how much postage will cost. Size, weight and shape all affect postage costs. If you have them ready well in advance, you can send your save the dates or invites out second class and save a chunk of cash.
Write numbers faintly in pencil on the back of your RSVPs and put them in a spreadsheet with corresponding names. This means if someone send an RSVP back without a name, you still know who it is!
Visit Hitched wedding stationery and find your dream design today.