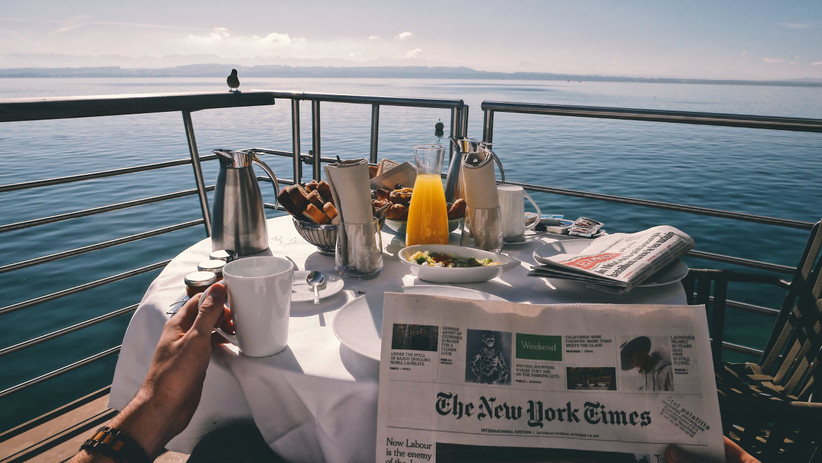 If you've chosen to spend your honeymoon on a cruise then the next step will be to choose where in the world you want to sail to. Depending on your destination and your cruise liner you may find that you are able to depart from a UK port, however you might need to fly to a specific destination in the world and pick up your cruise from there.  If you are flying to your cruise port then be sure to book flights that coordinate with the correct time zone and ensure that you allow enough time for transfers and possible delays.
You may find that the cruise you choose to take on your honeymoon not only travels to a specific part of the world, but they may in fact have a dedicated theme such as an Art Cruise, a Food and Wine Cruise, A Golf Cruise or an Artic Cruise, to name but a few.
The great thing about spending your honeymoon on a cruise is that you'll get to see so many different destinations as a couple over a short period of time. If you were to travel to all of the different destinations on separate holidays or breaks it could end up costing you a small fortune. Below is a breakdown of romantic destinations to visit on your cruise honeymoon.
European Cruise
Several cruise liners depart from the dock in Southampton every day for incredible European destinations.  Spend your honeymoon exploring incredible European cities that are rich in culture and history without having to take the train or fly between different destinations.  Popular European cruise stops include Barcelona, Seville, Vigo, Lisbon, Valetta, Venice, Rome, Florence, Corfu, Dubrovnik, Santorini and Athens. Some European cruises may require you to fly to a specific destination in order to pick up the cruise, but if this is the case, why not take advantage of the destination you have to fly to and extend your honeymoon a little bit further.
Caribbean Cruise
Most couples dream of spending their honeymoon in the Caribbean, so why not explore all that this romantic part of the world has to offer by cruising around their exotic islands. A Caribbean cruise honeymoon will give you a really good taste of this incredibly romantic destination. Cruising to the Caribbean may mean that you need to take an initial flight over to Ft. Lauderdale or Miami in Florida to commence your honeymoon, before taking a transfer over to your cruise ship.  Caribbean destinations that you may visit on your honeymoon cruise are Cozumel, Costa Maya, Grand Cayman, Turks & Caicos, St. Thomas, St. Kitts, St. Maarten, Ocho Rios and Princess Cays.
Cruise to Asia
If you've always wanted to travel to the Far East then why not explore this wonderful part of the world in one go, on your moving hotel. Spending your honeymoon on a cruise around Asia could provide you with memories to last a life time. You'll probably need to fly into a main airport such as Singapore or Tokyo, but once you're there prepare to be amazed as you explore some of the world's most exciting Asian destinations.  Expect to visit wonderful destinations such as Bangkok, Ko Samui, Bali, Phuket, Penang, Ho Chi Minh City, Kuala Lumpur, Shanghai, Busan, Hong Kong and more!
Cruise Australia and New Zealand
If you're looking to travel long-haul for your honeymoon but still want to experience a cruise then why not fly to Australia and then cruise to New Zealand. Although this incredibly beautiful part of the world seems like a long way from home, you'll not regret the sights that you'll see whilst on board your honeymoon cruise. You may find that you can fly into one destination, cruise in between and fly out of another destination if you want to mix your honeymoon up a bit.
Cruise the Americas
If you're keen to spend your honeymoon in America then why not book a cruise around North, Central or South America. Fly in to New York and spend a few days exploring the Big Apple before jumping on board your cruise for your honeymoon. Visit incredible places from Alaska to Rio De Janeiro on your American honeymoon cruise and be sure to take your camera as you'll be sure to see some incredible sights around this part of the world. Consider extending your honeymoon by spending a few extra days on land before flying back to the UK to commence your married life.
Round the World Cruise
If you'd love to travel from Sydney to South Africa or from Australia back home to the UK then why not consider taking a once in a lifetime Round the World Cruise for your honeymoon. If you work, then ensure that you'll be allowed to take a long period of time off as cruising around the world on your honeymoon will definitely take longer than a couple of weeks. Round the world cruises tend to last around 2-3 months if not longer, and there will be plenty of destinations to visit en-route.  The great thing about spending your honeymoon on a cruise is that you can take as much luggage on with you as you like. You may need to take clothing for several different types of weather whilst on your honeymoon cruise, and be sure to take your camera as you'll want to capture every moment of your round the world cruise honeymoon.