Celebrating the anniversary of your marriage or your relationship but have no idea what gift to buy your husband? Don't panic! We've rounded up 57 of the best wedding anniversary gift ideas for him.
With so much on offer these days, it's easy to get overwhelmed and struggle to find the right anniversary gift for him. To help you out, we've scoured the web for the very best ideas that are available right now. From classics like socks and pants (he'll be totally grateful for the upgrades, trust us) to tech gadgets, decadent watches and accessories for cooking enthusiasts, we've covered a range of tastes in our extensive list of gift ideas.
So, start browsing and get ready to have one very happy man on your hands!
NB: We have included third party products to help you navigate and enjoy life's biggest moments. Purchases made through links on this page may earn us a commission.
1. A Gentleman's Shaving Gift Set - £24.95, Not on the High Street
Your husband can take grooming to the next level with this decadent artisan shaving gift set from The Dartmoor Soap Company. Free from animal products and testing, this is a great choice for the vegan husbands and boyfriends out there.
2. Luxury Personalised iPhone Case - £34.95, Not on the High Street
A protective phone case is a great anniversary gift for him - especially if your other half is always dropping his phone! We love these personalised cases from Klevercase as they double up as wallets and travel card holders.
3. Personalised Collapsible Shot Glass - £20, Hitched Shop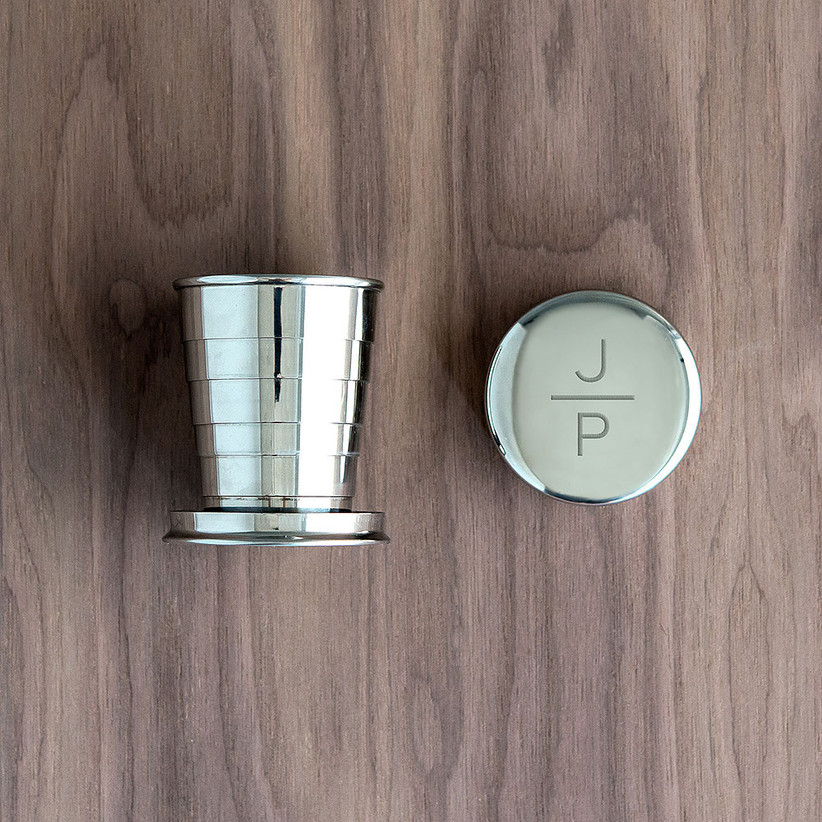 These collapsible shot glasses are seriously cool. The stainless steel finish looks so expensive and you can even get his initials engraved on the lid for an extra personal touch.
4. Fitbit Versa - £128.90, Amazon
Is your other half all about being active? Or keeps saying he wants to improve his fitness? Then a fitness tracker will be the perfect way for him to monitor his progress. The Fitbit Versa is a great option and is available from Amazon in a range of colours and finishes.
5. Classic World Wall Map - £35, Not on the High Street
If your partner is the one you want to travel the world with then what better way to say it than with a map print from The Future Mapping Company. This stylish design would look great in your lounge or bedroom.
6. Personalised Wooden Postcard - £8.99, Getting Personal
A romantic sign that you can hang in your home is a gift your other half will adore. This reasons why I love you sign from Getting Personal can be personalised with your very own special reasons.
7. Low-Top Leather Trainers - £125, Veja
Shoes or trainers will always be a welcome gift! Veja is the trainer brand right now and you can't go wrong with the classic white style – we think your husband would love them!
8. Personalised Insulated Travel Mug - £25, Hitched Shop
Help the love of your life to save money AND the environment with a reusable coffee cup. This one from the Hitched Shop can be personalised with his name and the navy finish is oh-so stylish.
READ MORE: The Best Personalised Wedding Anniversary Gift Ideas
9. Personalised Cuff Links - £30, Hitched Shop
A pair of cufflinks is a classic anniversary gift for him, and can be worn time after time as a romantic reminder of your special day. These black border cuff links can be personalised with his initials and would be a great gift for your anniversary.
10. Bamboo Lunch Box - £30, Not on the High Street
Is your husband always eating lunch on the go? Then this bamboo lunchbox from Nought will be a thoughtful gift that he will love.
11. Chocolate Gift Box - £22.95, Hotel Chocolat
Keep things traditional with a box of chocolates! Our favourite sweet treat happens to be this delicious box of chocolates from Hotel Chocolate – and it can even be ordered with a Happy Anniversary sleeve.
12. Travel Wallet Passport Cover - £20, Hitched Shop
This faux leather wallet and passport cover will mean your partner can travel in style! Bonus points if you give this gift alongside a special weekend away.
13. Personalised Jersey Short Pyjamas - £19, Next
Do you and your husband or boyfriend love nothing more than a cosy night in watching your favourite box set? Then these cute pyjamas from Next can be personalised with his initials, we think they're adorable!
14. Personalised Waffle Robe - £40, Hitched Shop
Keeping with a cosy theme, order a monogrammed dressing gown from the Hitched Shop to match – available in a range of colours.
15. Engraved Crystal Decanter - £54.99, Getting Personal
Does your man love his whiskey? He'll feel super fancy using this crystal decanter, plus it will look incred on your bar cart!
16. Bluetooth Table Speaker - £175, Not on the High Street
Two presents in one, this cool bluetooth speaker table from Steepletone can play his music while acting as a bedside (or sofa side!) table. Pretty cool, right?
17. Sock Set - £9.99, Stand 4 Socks
Socks would be a particularly good anniversary gift for him if you're celebrating your second wedding anniversary (which is cotton). We love this smart set from Stand 4 Socks, plus for every pair sold, one pair is given to a homeless person.
18. Personalised Water Bottle - £20, Hitched Shop
Keep the love of your life hydrated with a personalised water bottle from the Hitched Shop. You can choose from black or white and also pick from multiple different styles of font so you can create a gift that is truly personal.
19. Personalised Whiskey Glass - £20, Hitched Shop
If your other half loves a whiskey then one of these personalised whiskey glasses would be a perfect way to enhance the experience. Team it with a bottle of his favourite drink to win extra brownie points!
20. Personalised Beer Mug - £18, Hitched Shop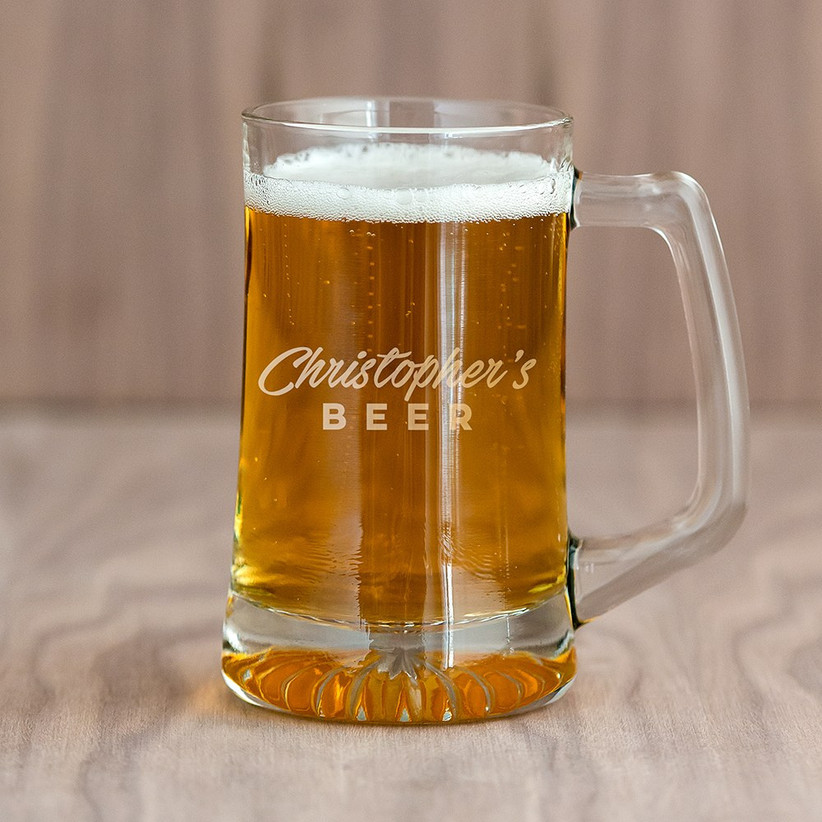 If your man is more of a lager or ale drinker he'll love this personalised beer mug. There are four different designs available so you're sure to find one that suits him perfectly! We also adore this can-shaped drinking glass - it's so fun!
21. Ombré Leather Eau De Parfum - £84, Tom Ford
Fragrance is a classic anniversary gift for him – it's something he will always use. This scent from Tom Ford with notes of Cardamon, White Moss and Black Leather is a total winner.
22. Personalised Black and Gold Bar Set - £62, Not on the High Street
Does your husband fancy himself as a bit of a mixologist? Then enhance his bar skills even further with a professional bar set. We love this personalised black and gold bar set from The Forest & Co.
23. Eco Dot - £49.99, Amazon
What do you buy the man who has everything? An Amazon Echo Dot of course – it's a gadget that once you get you'll wonder how you ever lived without it.
24. Canvas Weekender Bag - £50, Hitched Shop
If your other half is always travelling then a luxury travel bag would be a thoughtful anniversary gift for him. This option is available in black, grey or olive and is a classic style.
25. Glitter Wall Art - £89.50, Oliver Bonas
Always forgetting his phone, wallet or keys? Then this glitter wall sign from Oliver Bonas is a fun gift that will mean he never leaves home without his essentials.
26. Card Wallet - £135, Mulberry
A luxury wallet would be a perfect gift for your third wedding anniversary. We love this oak card wallet from Mulberry – also available in black.
27. Personalised Leather Belt - £35, Hitched Shop
A belt is a useful gift that your other half will reach for every day. We love this classic yet contemporary belt from the Hitched Shop.
28. Personalised Barbecue Tool Set - £40, Hitched Shop
Is your man king of the BBQ come summer time? Ours too! We reckon they'd secretly love a swish new personalised BBQ tool set from the Hitched Shop.
READ MORE: 55 of Our Favourite Romantic Quotes
29. Personalised Pizza Cutter and Serving Board Set - £40, Lisa Angel
Is your husband a big pizza fan? Then his very own personalised pizza board will be a welcome anniversary gift for him! This wooden board from Lisa Angel Jewellery can be engraved with any name or phase you would like.
30. Personalised Luggage Tag - £25, Hitched Shop
If you and your partner are always on the move then these luxury leather luggage tags would be the perfect gift to help you identify your bags.
31. Personalised Wooden Picture Frame - £17, Hitched Shop
A photo frame is a sentimental gift for your anniversary as you can fill them with your most treasured wedding pictures. This gorgeous frame comes personalised with whatever words you choose.
32. Dibor Personalised Picnic Hamper - £142, Not on the High Street
A romantic picnic would be a lovely way to celebrate your wedding anniversary and this personalised picnic hamper has everything you'll need.
READ MORE: 25 Romantic Date Ideas
33. John Lewis & Partners + Swoon Lovelace Bar Cart - £399, John Lewis
A stylish drinks trolley would be perfect for the husband who loves to entertain. This stylish bar cart from John Lewis would look amazing in your home.
34. Custom Table Tray Accessory Organizer - £40, Hitched Shop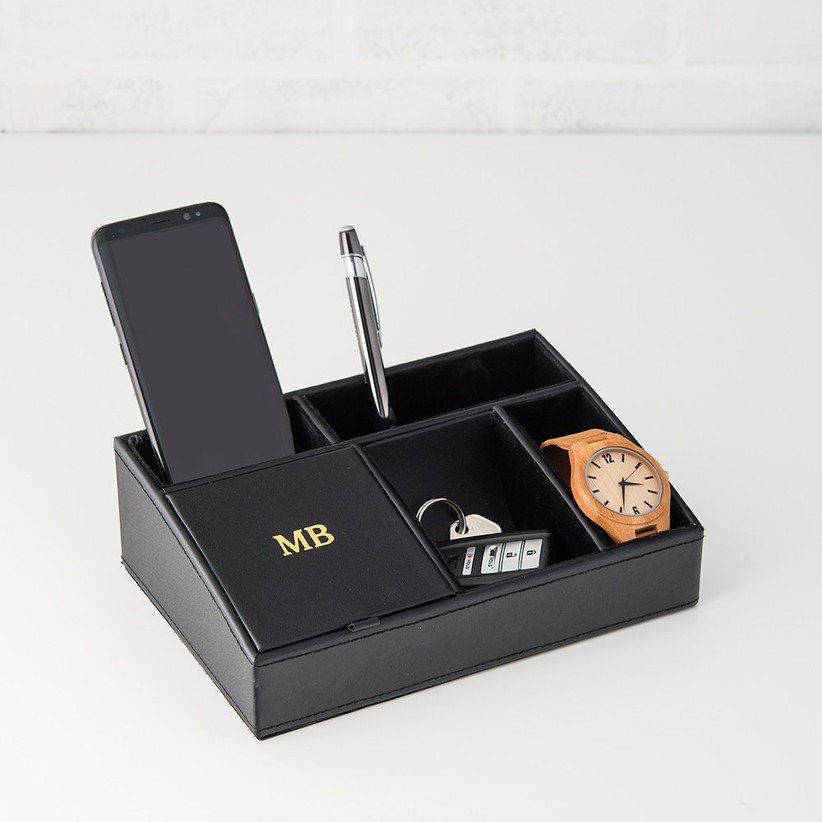 Keep his desk tidy with this sleek and modern table tray accessories organizer. They'll be no more mess so he'll love it and you will too!
35. Fire HD 8 Tablet - £89.99, Amazon
If your partner has a long commute, why not get them a Fire HD 8 tablet? They'll be able to access all the best apps and put themselves in game mode - perfect for getting lost in their fave games without interruption!
36. Personalised Pocket Watch - £45, Hitched Shop
A watch is a classic anniversary gift for him. This textured silver pocket watch is a timeless piece and is a great price.
37. Personalised Memory Box - £34.99, Not on the High Street
A personalised memory box is a romantic gift for your other half. This wooden keepsake box from Dust and Things is so beautiful and you can fill it with mementos of your life together.
38. Personalised Classic Backpack - £45, Hitched Shop
If your partner carries his laptop to and from the office then this classic backpack with laptop sleeve is a perfect gift for him. Make it even more personal by having it embossed with his initials.
39. Make Your Own Chorizo Sausage Kit - £17.50, Not on the High Street
We think this chorizo making kit from Design a Sausage is a fun anniversary gift that the amateur chef in your house will love.
40. Seb Table Lamp - £25, Next
If your husband lights up your life then let him know with this stylish grey lamp from Next. We love the retro lightbulb detail.
41. Wall Mounted Bottle Opener & Cap Holder - £30, Hitched Shop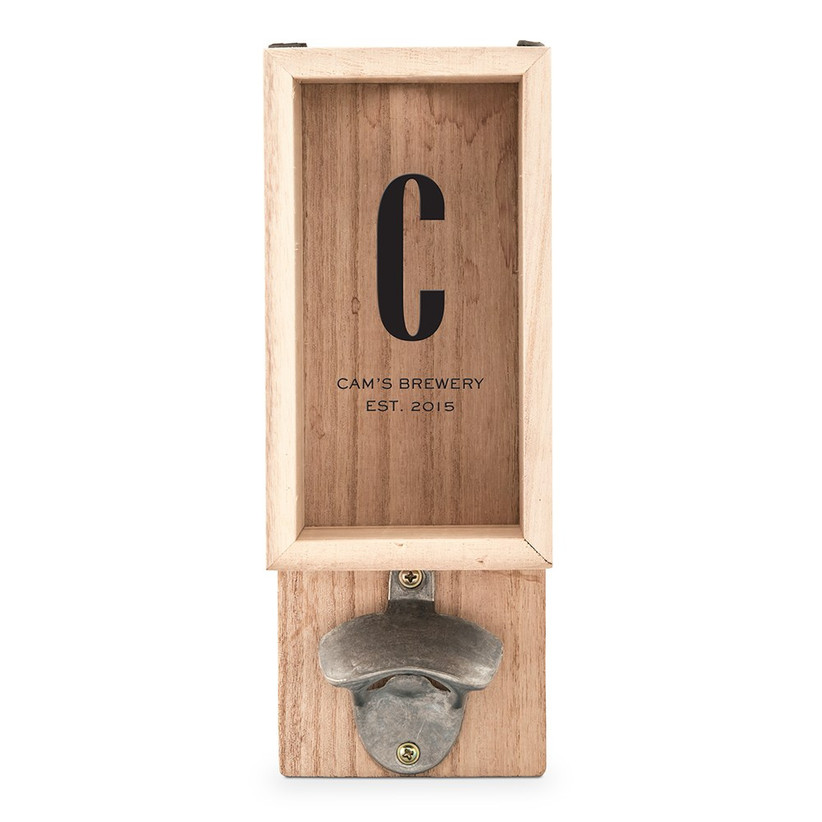 No man cave is complete without this bottle opener and cap holder on the wall. It's a great feature at parties and over time will become a personalised art piece.
42. Meisterstuck Business Card Holder - £170, Mont Blanc
Add some style to your other half by gifting him a business card holder. This leather Mont Blanc card holder is a luxurious gift and would be ideal for your leather wedding anniversary.
43. Two Tone Cafetiere - £36, Not on the High Street
If your OH loves their coffee, they'll love serving it up in this fancy two tone cafetiere from Distinctly Living Limited - bonus points if you present it to him with breakfast in bed!
44. Personalised Metallic Favourite Song Print - £30, Not on the High Street
A piece of art is a perfect gift for the person who has everything. This dark navy and metallic song print from Yve Print Co will add the soundwaves to your chosen song to the design – choose his favourite song or the first dance song from your wedding.
45. Personalised Rose Wood Handle Multi-Tool - £21, Hitched Shop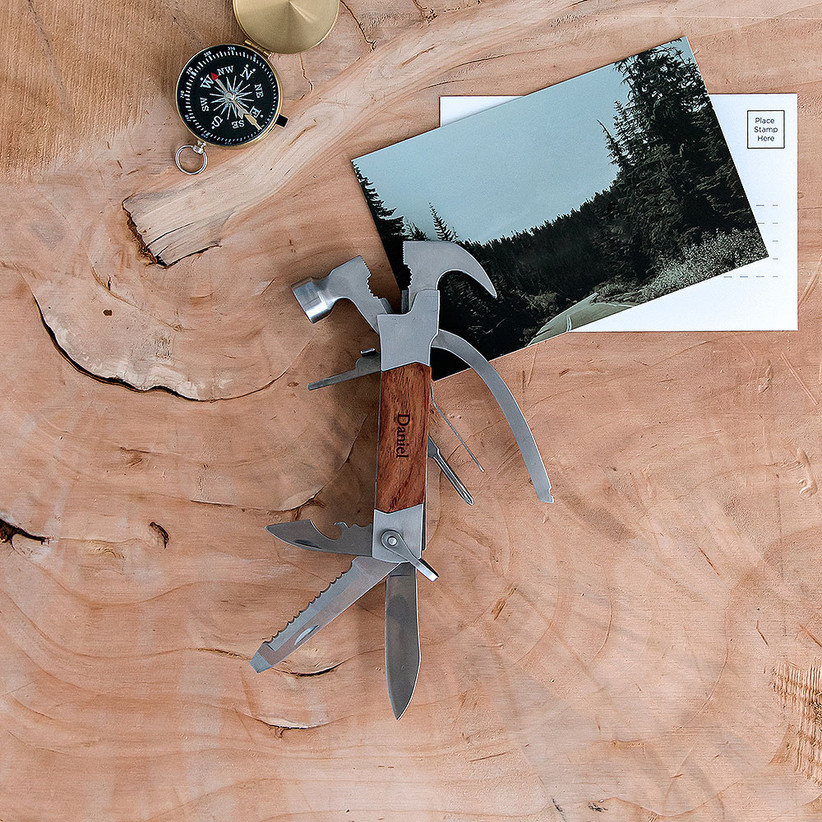 Take him back to his boy scout days with this luxury pocket tool. Perfect for any DIY situation, there's an endless number of uses for this handy gift.
46. The Bigger Carry-On - £235, Away
A personalised suitcase will mean your husband or boyfriend can travel in style! This lightweight case from Away will fit in the overhead bin of most major airlines and with a durable polycarbonate hard shell and 360° spinner wheels that ensure a smooth ride, it'll last a lifetime.
47. Personalised Leather Bracelet - £24, Not on the High Street
A leather bracelet is an anniversary gift that can be worn every day. This engraved design from Hurley Burley Man can be personalised with your other half's initials.
48. Personalised Leather Cable Tidy - £19.95, Not on the High Street
If your partner's headphones are always in a tangled mess then a cable tidy is an anniversary gift they need in their life! This leather cable tidy from John Todd can be personalised with us to three initials.
49. Steel Fire Pit - £95, Not on the High Street
Enhance your garden by gifting your husband a fire pit for your wedding anniversary. This steel fire pit from The Forest & Co. is a fun gift that is perfect for someone who loves outdoor entertaining.
50. Personalised Chopping Board - £37, Hitched Shop
If your husband is the chef of the house then his very own personalised chopping board would be the ideal gift for him. This chunky wooden board can be engraved with various designs.
51. Watch Box - from £74.95, Etsy
A personalised watch box would be a thoughtful present idea for someone who loves their watches! This wooden box from Mijmoj Design can hold up to three watches or fitness trackers.
52. Custom Matte Black Lighter - £20, Hitched Shop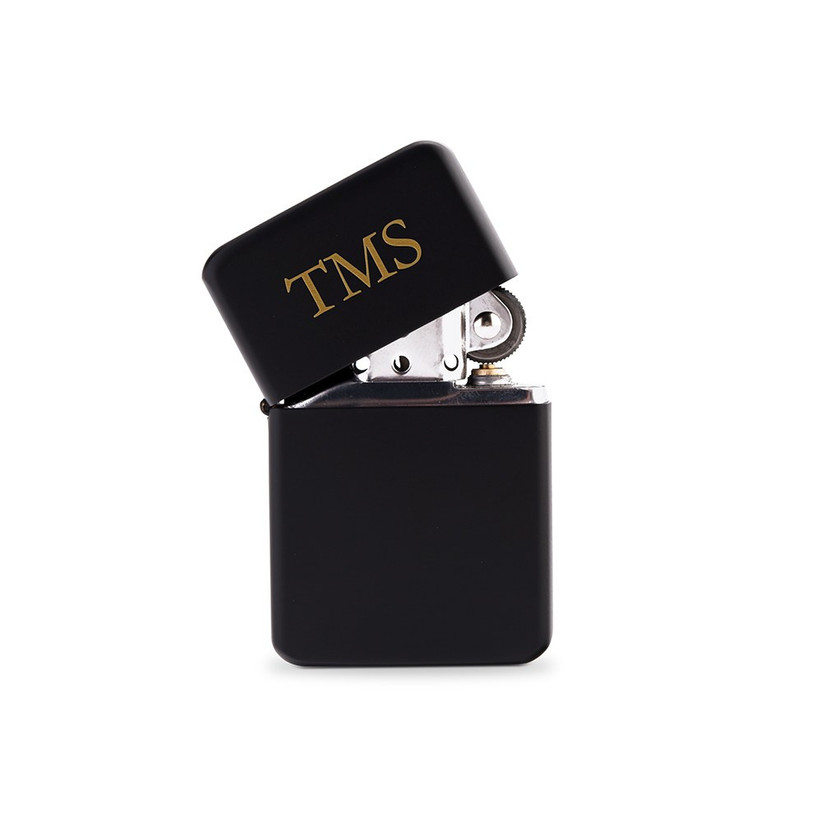 A brilliant present is something that the receiver wouldn't treat themselves to, and this custom matte black lighter is just the ticket.
53. Off To The Gym Kit - £25, Boots
This cute gym kit from Boots is a useful anniversary gift for your other half if he is always heading down to the gym – filled with all the essentials he could need.
54. Bluetooth Headphones - £299, Sony
Noise-cancelling headphones will be a thoughtful gift for the music-lover in your life. These Sony headphones from John Lewis have wireless Bluetooth and a high quality sound.
55. National Geographic Heavens Night Sky Globe - £169.99, John Lewis
Was your love written in the stars? Then this beautiful globe from John Lewis illuminates all the star constellations from across the world.
56. Personalised Folding Cooler Chair - £35, Hitched Shop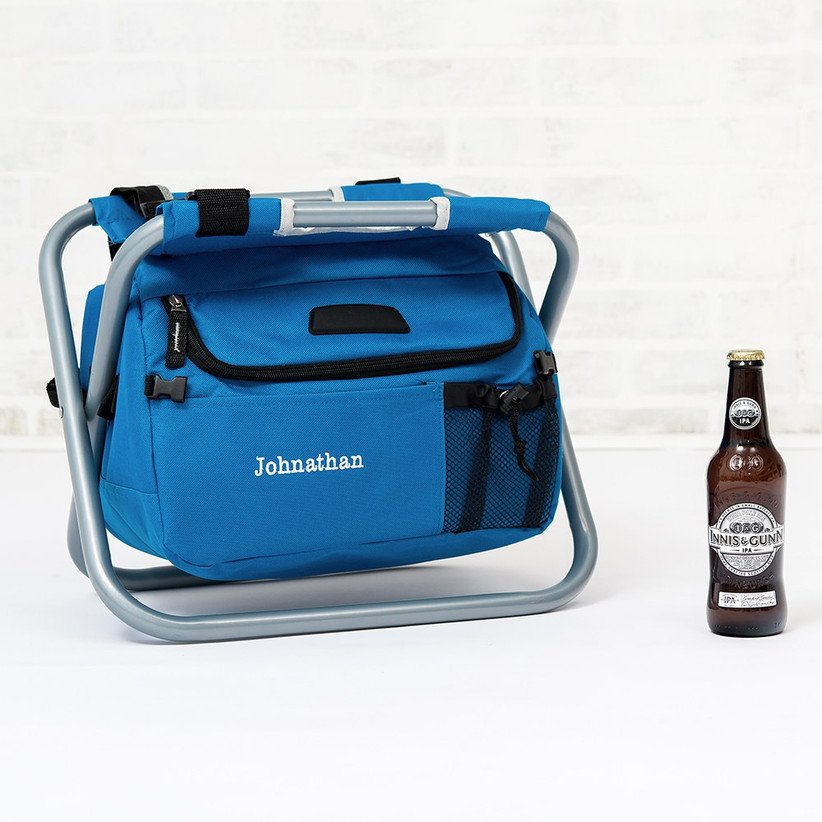 Calling all camping crazy couples, this personalised folding cooler chair is both a brilliant and practical present. With a comfortable padded stool to sit on that keeps up to 24 drinks cool you'll be booking a UK holiday just to try it out.
57. Tassimo Bosch Coffee Machine - £53.50, Amazon
If your husband can't get through the morning without his caffeine fix then a coffee machine would be a perfect gift for him. This Bosch coffee machine from Amazon is a total bargain!
In need of some more anniversary gift inspiration? Browse our favourite personalised anniversary gift ideas.