Stacking Rings: The Bridal Jewellery Trend You Need to Know About
Take a look at the best stacking rings for your wedding day, from the prettiest gemstones to glittering diamond designs
We have included third party products to help you navigate and enjoy life's biggest moments. Purchases made through links on this page may earn us a commission.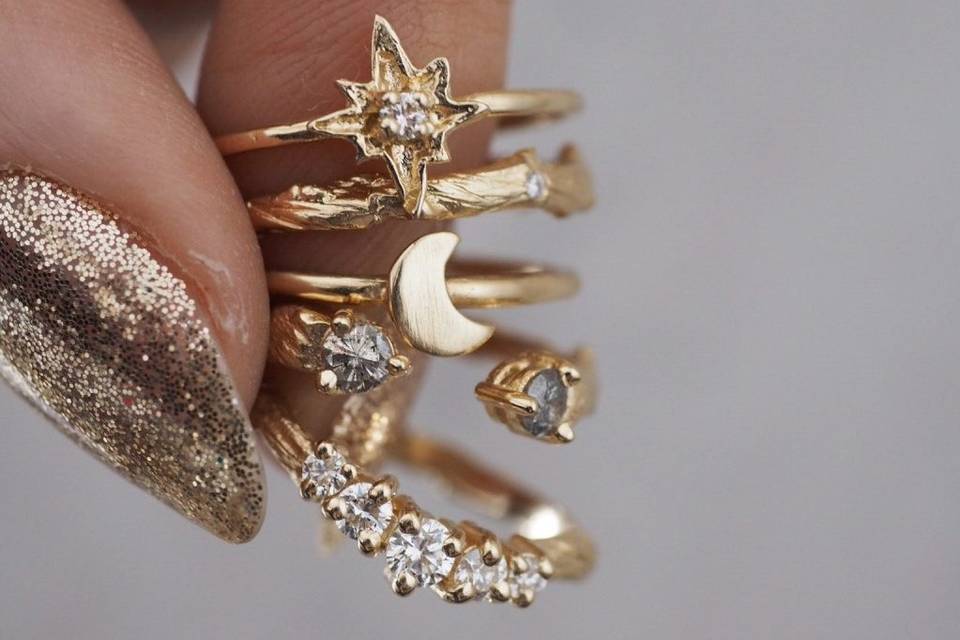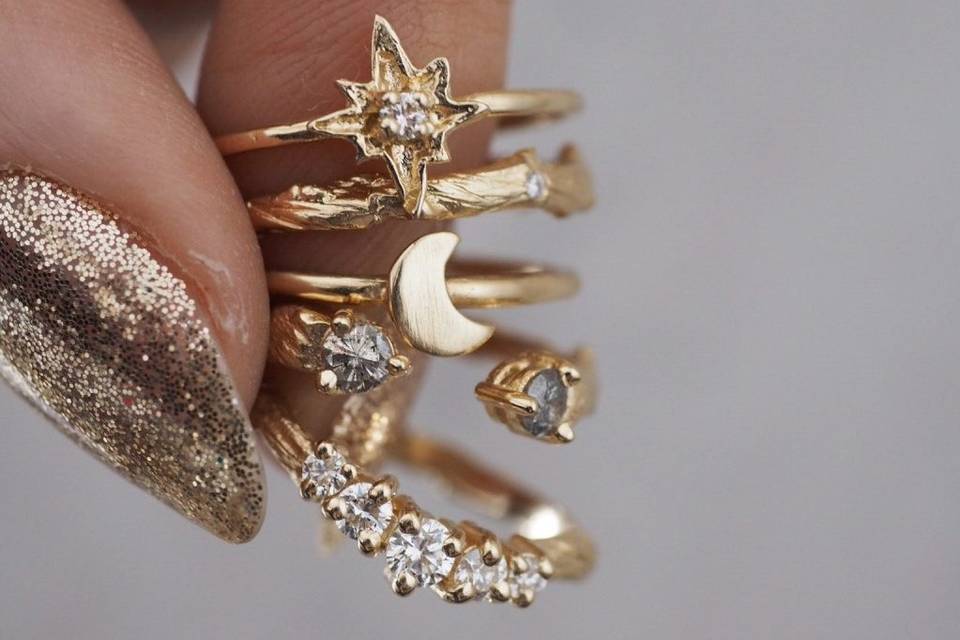 Stacking rings is a jewellery trend we love, and at Hitched HQ we can't get enough of seeing brides embrace this jewellery style and stack up their jewellery on their big day.
READ MORE: Bridal Jewellery Inspiration – The Wedding Wedding Jewellery for Every Budget
Stacking rings are simple bands that can be stacked one on top of the other to create a unique jewellery style. This doesn't need to take any attention off your wedding and engagement rings – if you are concerned about this then simply wear your stacking rings on your right hand.
Here's a selection of our favourite stacking rings that would be perfect for your big day – from silver styles to gorgeous gold numbers.
NB: We have included third party products to help you navigate and enjoy life's biggest moments. Purchases made through links on this page may earn us a commission.
Gold Stacking Rings
If you want a warm glow from your bridal jewellery then gold stacking rings will look beautiful. Browse our edit of our favourite gold stacking rings.
Diamond Bar Stacking Ring – Monica Vinader £250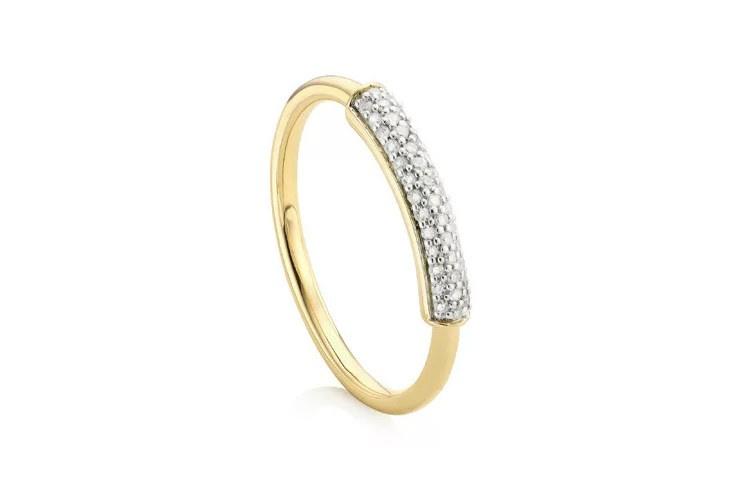 We adore the unique style of this gold and diamond stacking ring from Monica Vinader – it's also available in a silver or rose gold finish. The small brilliant cut diamonds add a gorgeous hint of sparkle.
Gold Stacking Rings – Chupi £-Various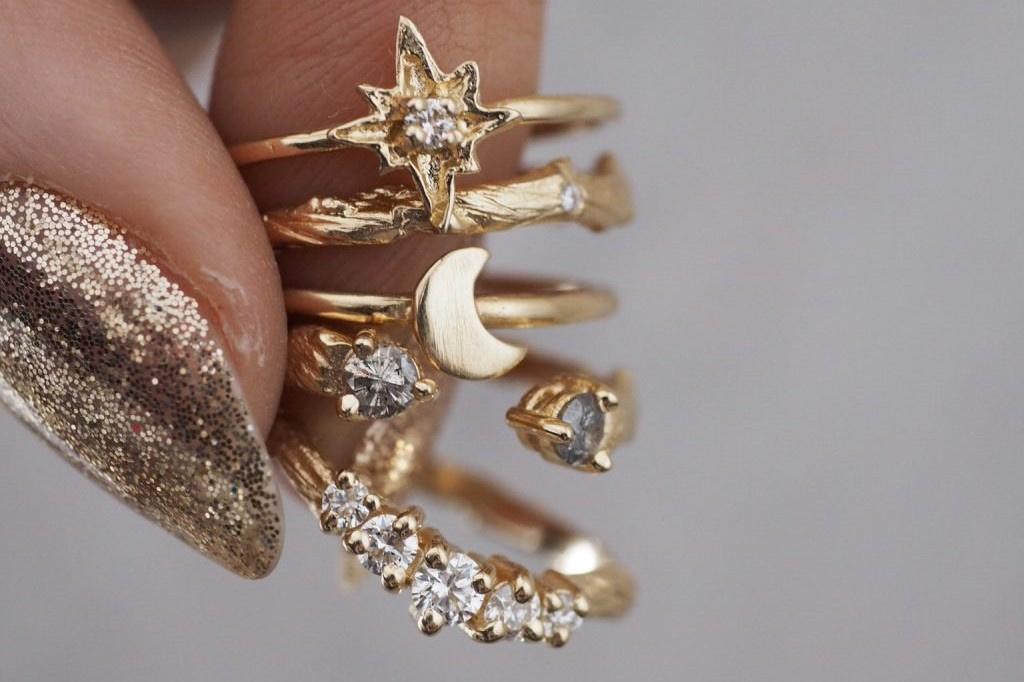 The gold stacking rings from Chupi come in a range of styles and shapes and look beautiful stacked together. We love the idea of a mix of ring styles all from the same designer so you have an underlying style.
Gold and Enamel Ring – Net a Porter £1,210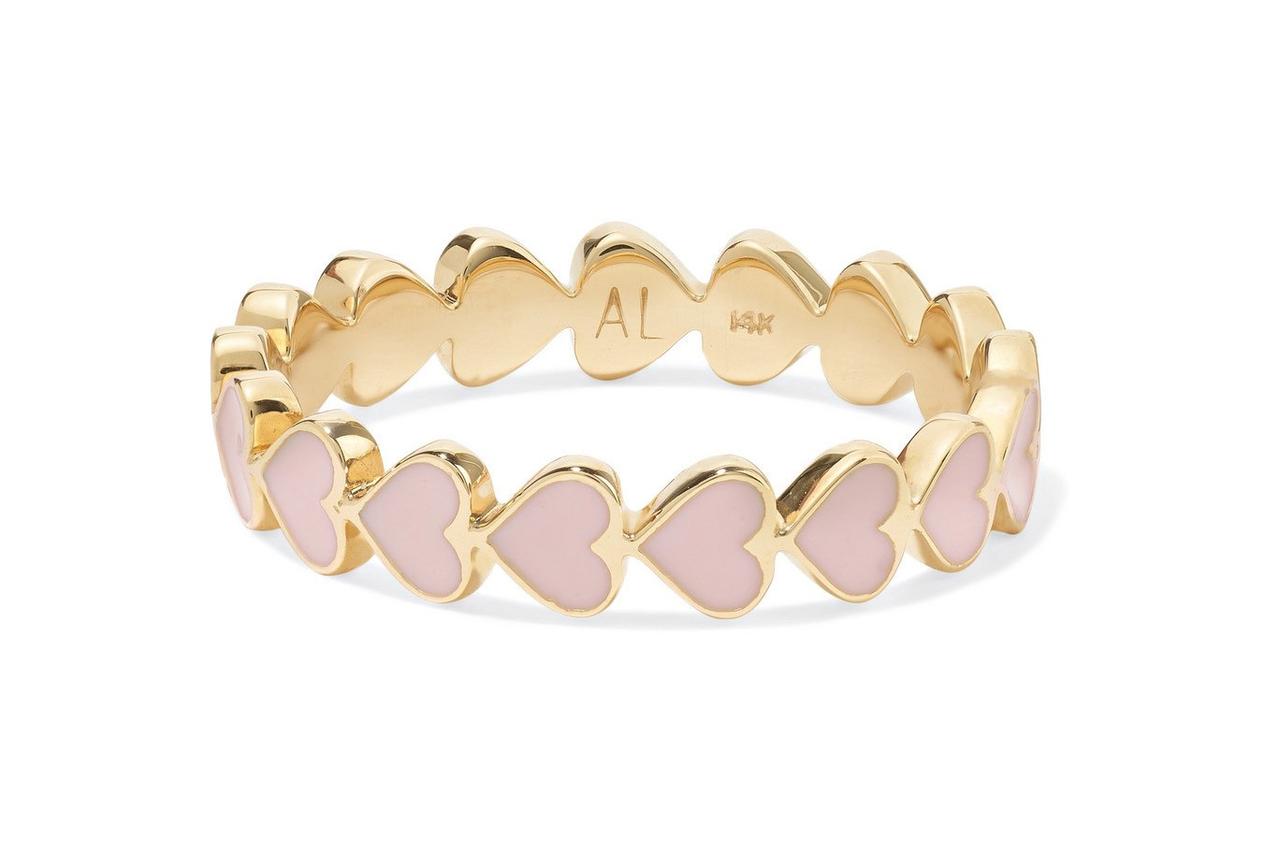 This gold and enamel ring from Alison Lou at Net a Porter is available with baby pink or vibrant red enamel. It's a beautiful way to add a flash of colour to your ring stack and is something you can continue to wear for years to come.
Stackable Ring Set – Amazon £20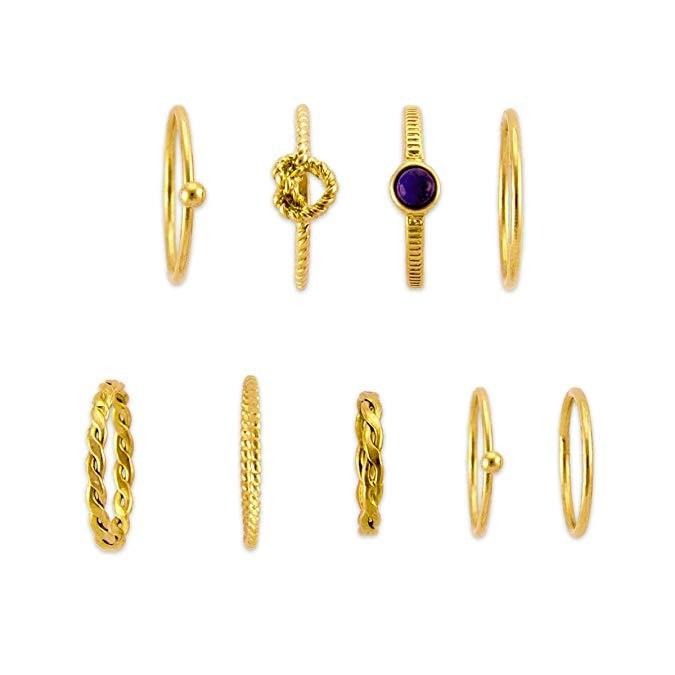 If you are unsure where to get started with your stacking rings then this set from Amazon comes ready as a collection. Choose to wear two or three rings from the collection or wear the full set for a statement look.
Silver Star Stacking Ring – Regal Rose £32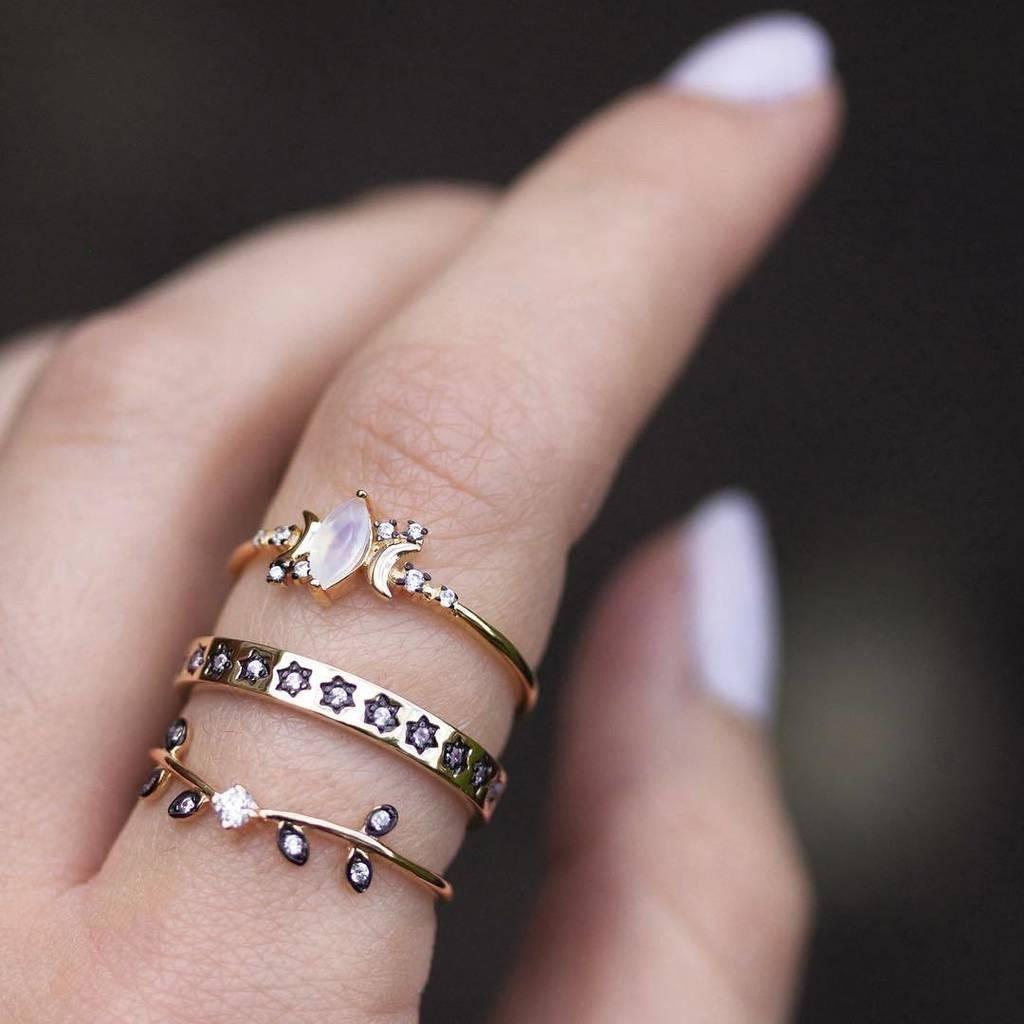 If your love was written in the stars then this star-embellished gold ring from Regal Rose is a beautiful way to honour it. Cubic zirconia are at the centre of each star to add a hint of sparkle.
READ MORE: Dreamy Must-Have Accessories for Your Star Themed Wedding
Rose Gold Stacking Rings
Are you a big fan of rose gold jewellery? Then these rose gold stacking rings will look gorgeous on your wedding day.
Rose Gold Double Band Ring – Monica Vinader £350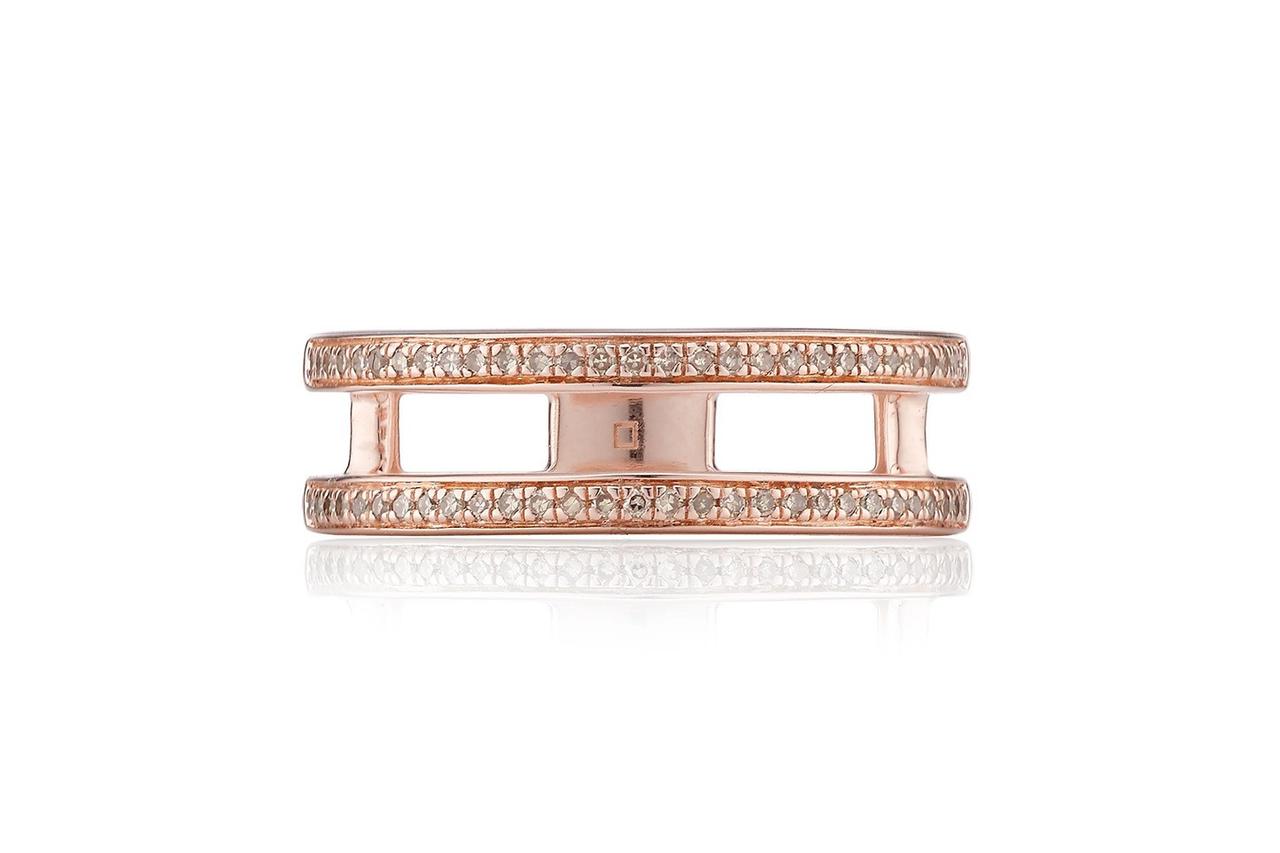 This double band rose gold ring from Monica Vinader is made for stacking. Choose from traditional white diamonds or a beautiful champagne to add extra sparkle to the ring. If rose gold isn't for you then this design is available in a silver or yellow gold finish.
Zigzag Stacking Ring – Pandora £45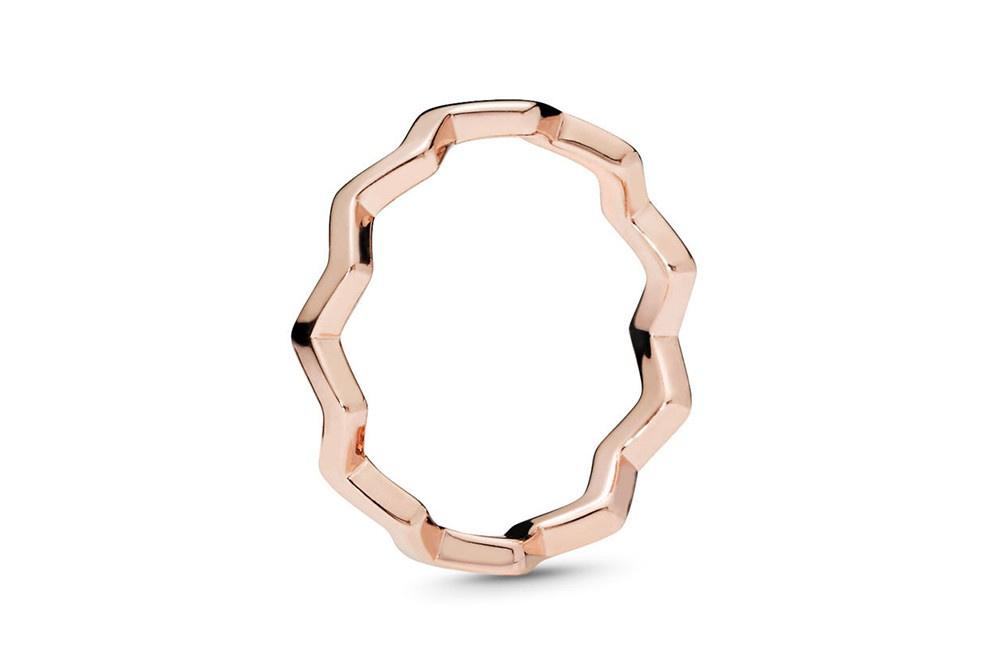 Add some unique style to your ring stack with this simple zigzag ring from Pandora from their stacking rings collection. The simple style would look great worn alone or as a statement piece in part of a ring stack.
Moonsun Stacking Ring – Swarovski £149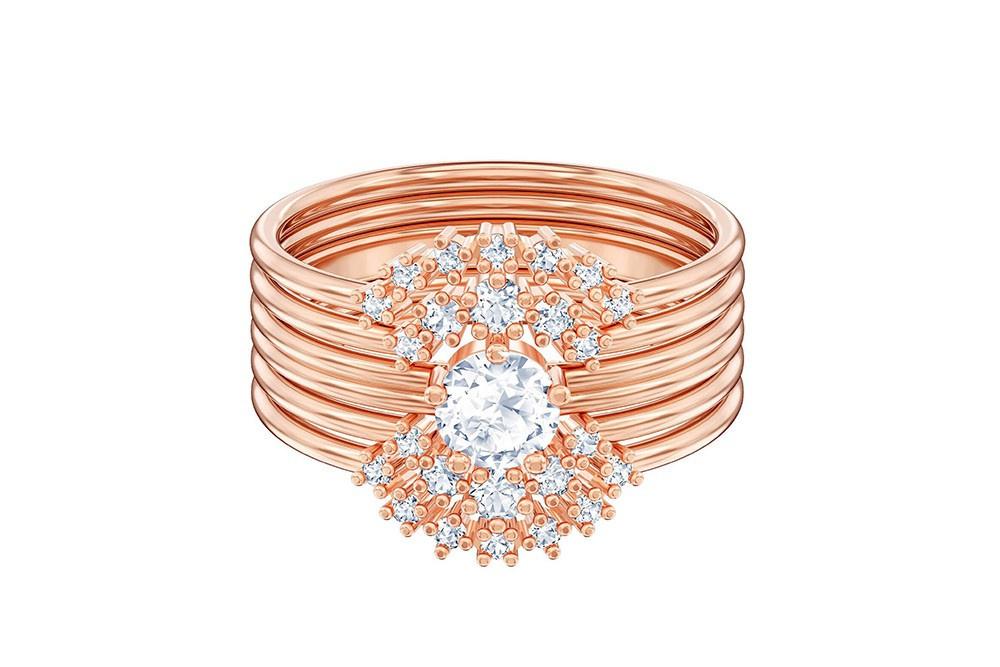 Add some serious bling to your bridal look with this rose gold and Swarovski crystal ring stack. Five beautiful rose gold bands all fit together to create this stunning and unique bridal jewellery look.
Rose Gold Heart Ring – Wolf and Badger £95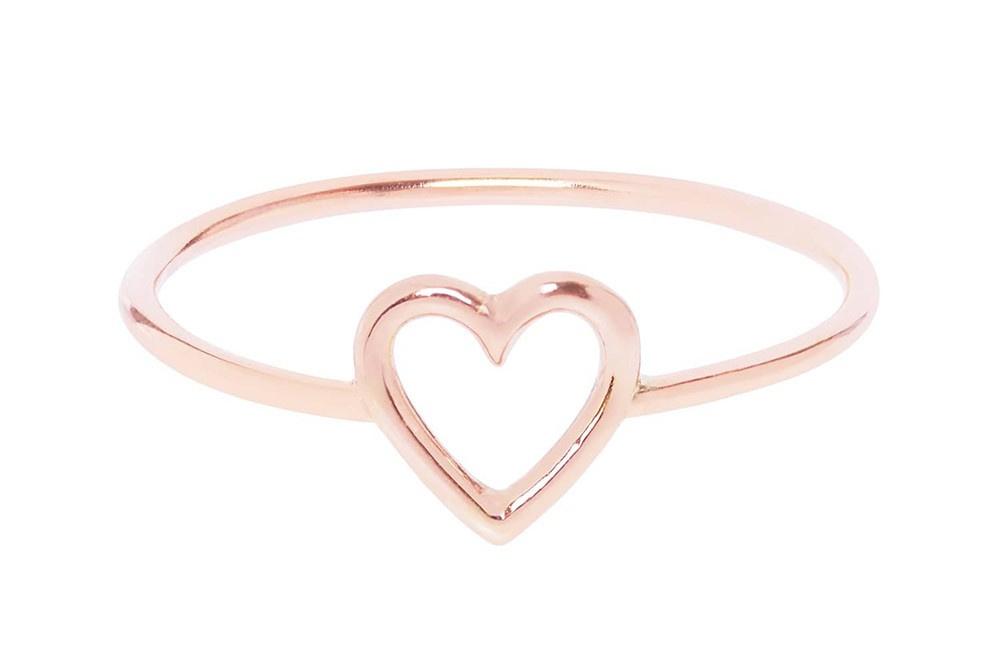 Keep things simple and romantic with this rose gold heart stacking ring from Wolf and Badger. Stack it alongside other plain rose gold bands or perhaps even a rose gold eternity band for a really beautiful look.
Honeycomb Stacking Ring – Astley Clarke £495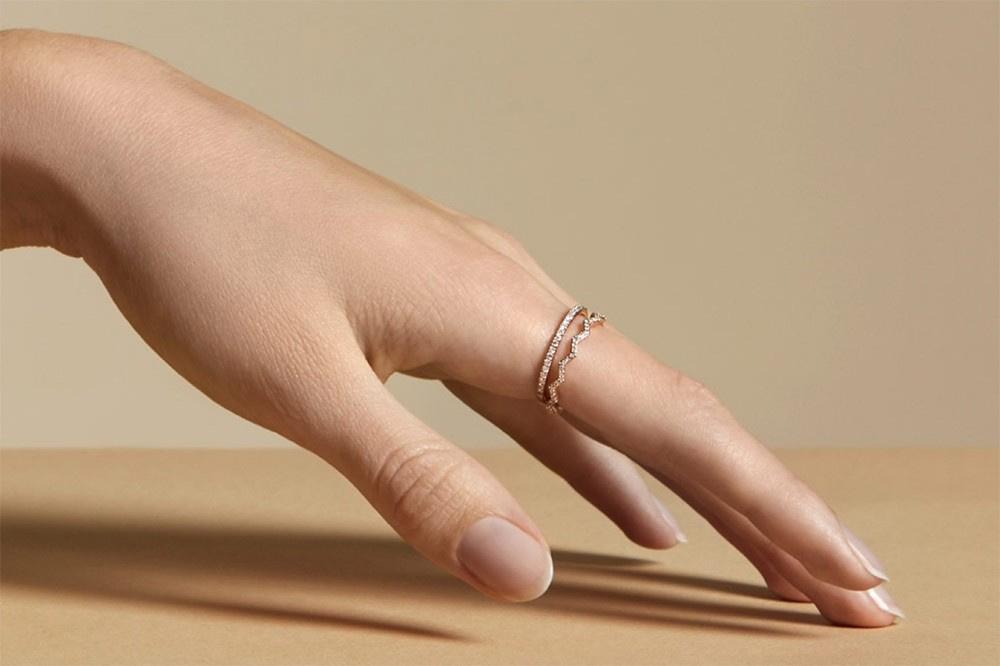 For a rose gold stacking ring that is extra special this honeycomb design from Astley Clarke is a gorgeous choice. Pave cut diamonds add some serious sparkle to this unique ring design.
Silver Stacking Rings
If you have a white gold, platinum or silver wedding ring then silver stacking rings would look great – take a look at a few of our favourites right here.
Band of Hearts Ring – Pandora £35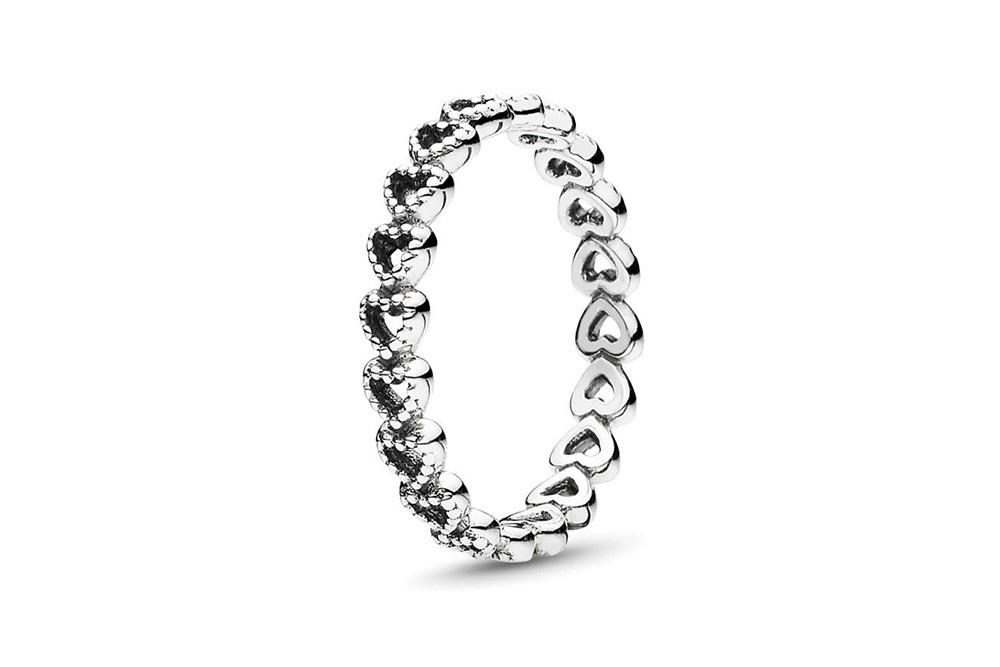 The band of hearts ring from Pandora works well as both a standalone ring and as a stacking ring. The heart detail give a romantic edge and it's budget friendly at just £35. Stack this ring alongside other simple silver rings from the Pandora collection and add a couple of gemstone rings if you want to add some colour.
Pearl and Silver Stacking Ring – Links of London £80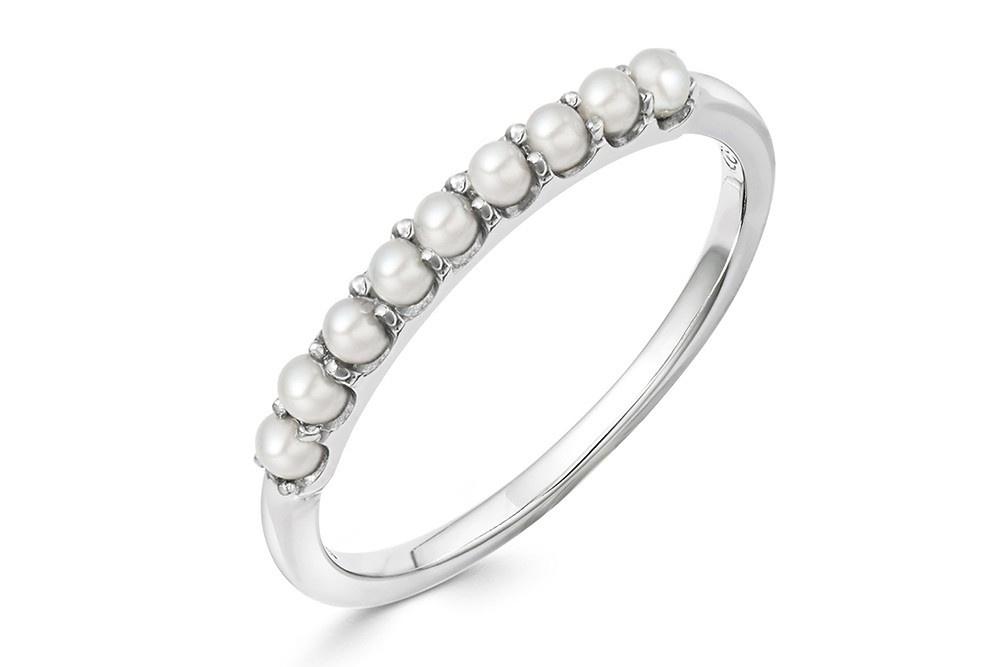 This pearl and silver stacking ring from Links of London is a beautiful choice for brides who want to add some vintage style to their look. If you plan on wearing pearls on your wedding day then this ring will suit your style beautifully.
READ MORE: 47 Stunning Vintage Wedding Ideas
Sterling Silver Moonstone Ring – Amelia May £45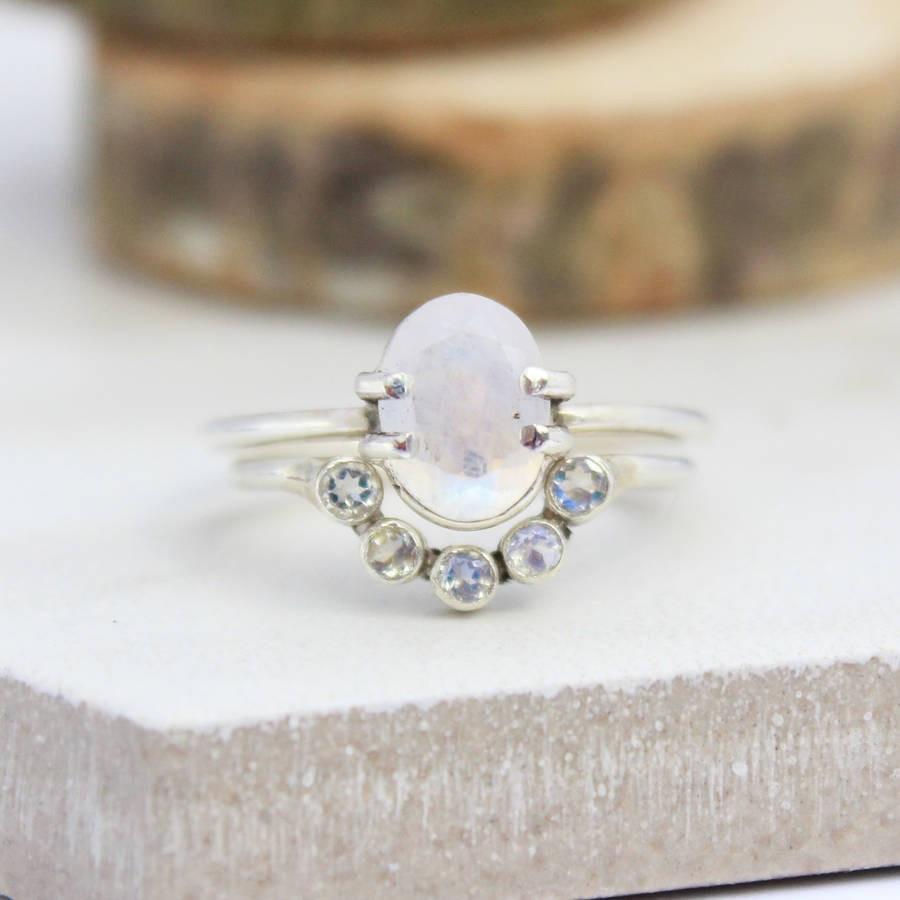 Moonstone is such a beautiful stone and adds a soft glow of light that we love. This crown stacking ring from Amelia May would sit perfectly against a ring with a high set centre stone and would be a great 'crown' to your stack of rings.
Art Deco Band – Tiger Gemstones £77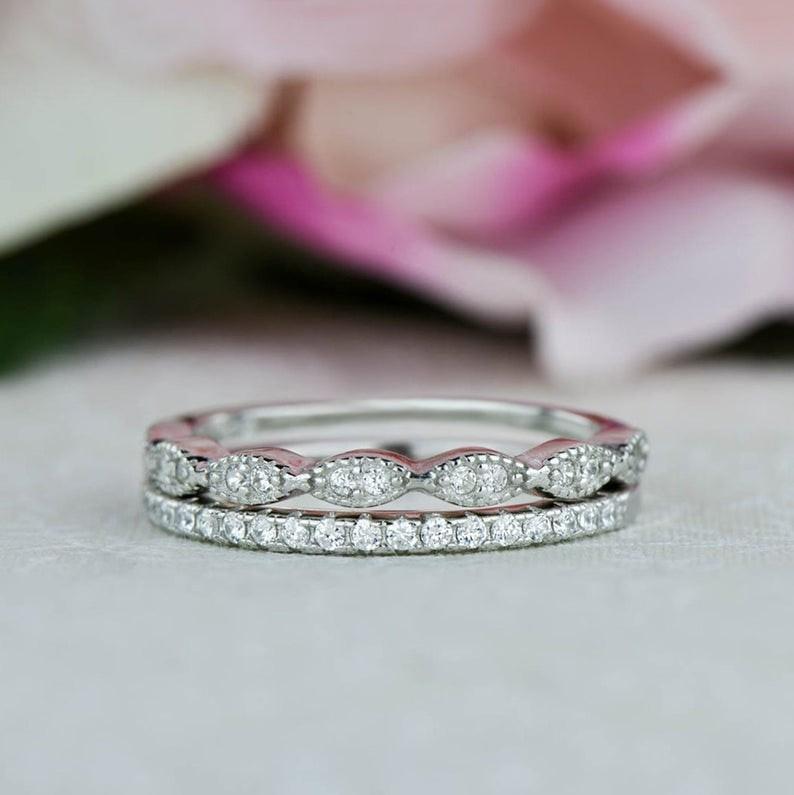 Add some art deco style to your bridal look with this beautiful art deco set made from sterling silver and man-made diamonds from Tiger Gemstones. A glittering eternity band sits alongside a pave cut art deco inspired band.
Hammered Silver Stacking Rings – Sonja Bessant Jewellery £75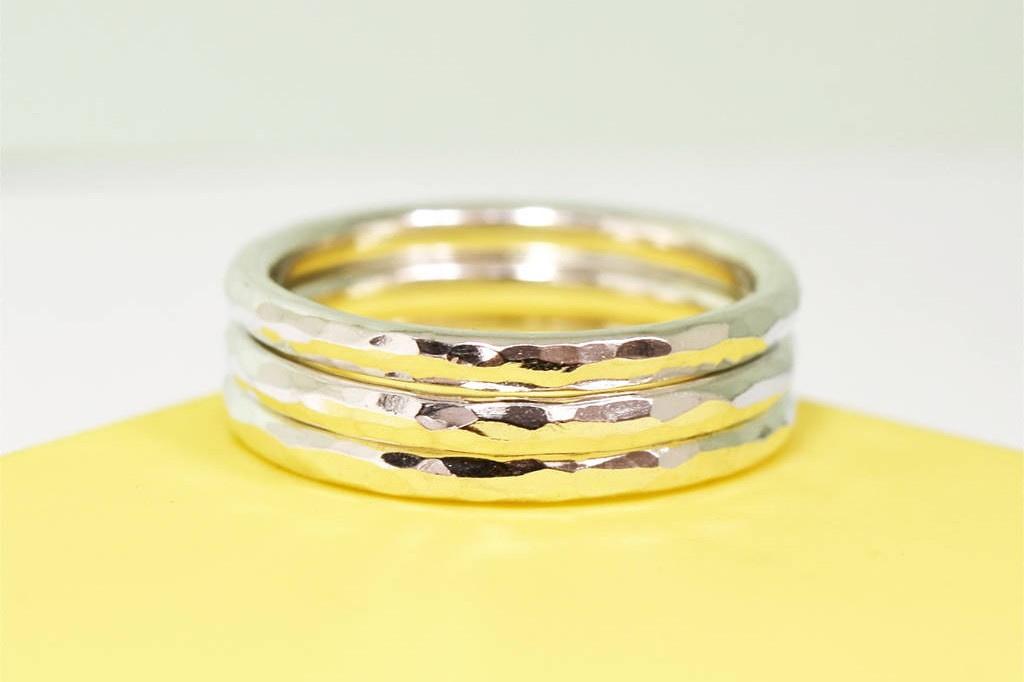 This set of three hammered sterling silver rings from Sonja Bessant Jewellery is just £75. You can choose to wear all three rings together or wear alongside other stacking rings and alternate them with more detailed bands.
Birthstone Stacking Rings
Stacking rings that feature birthstones can be a perfect way to honour all the special people in your life. You can wear your own birthstone or create a stack of birthstone rings to represent your family.
Milestone Stacking Rings – Shona Jewellery £140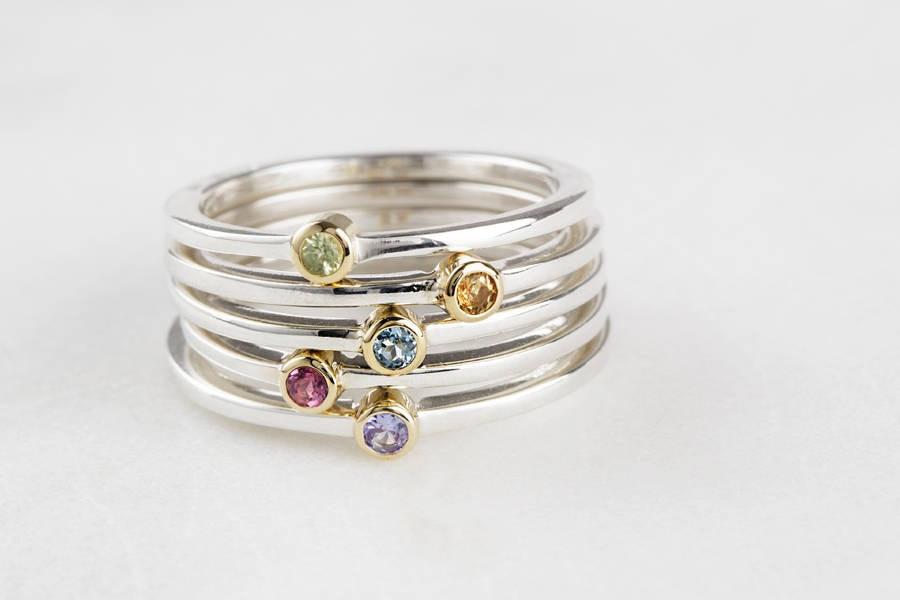 These birthstone stacking rings from Shona Jewellery come with a fine sterling silver band, an 18ct gold setting and holds your choice of birthstone. These rings are so dainty that you can wear multiple rings at one time.
Sterling Silver Birthstone Stacking Ring Set – Amazon £29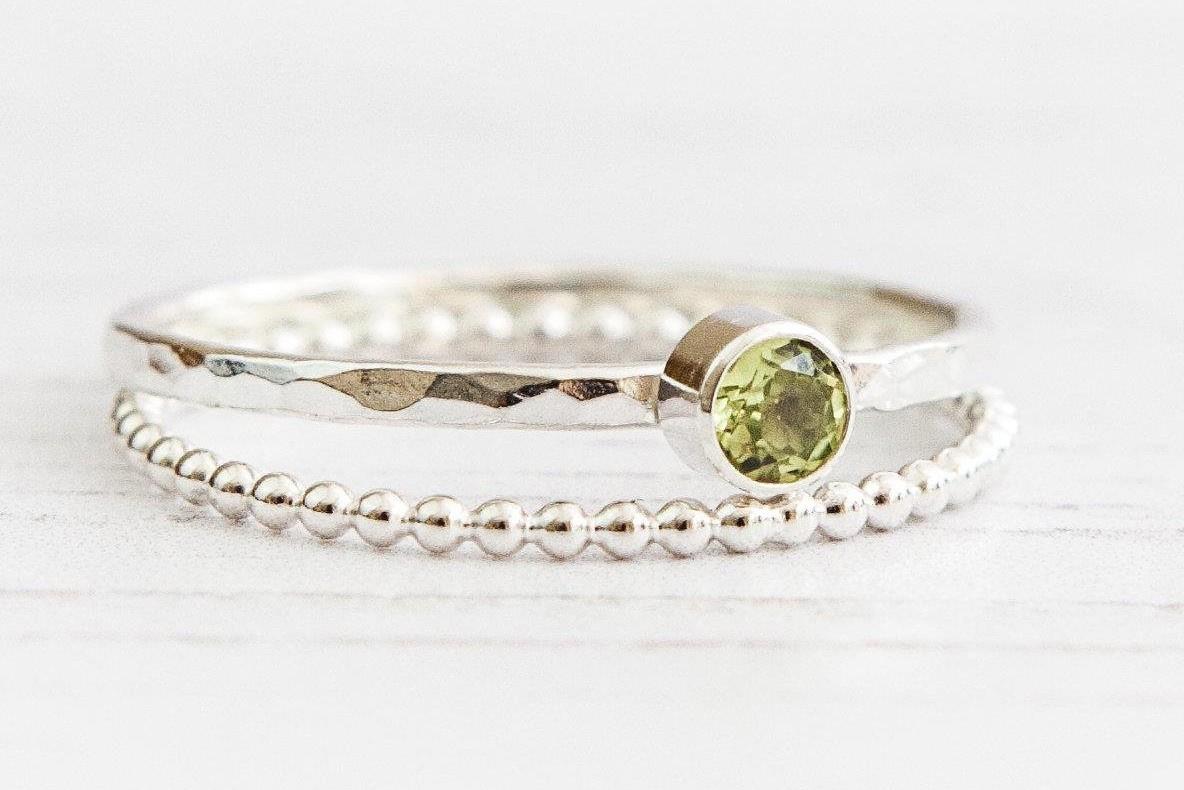 This set of two stacking rings from Amazon includes a hammered sterling silver ring with your choice of centrestone, along with a beaded silver ring that will look beautiful alongside it.
Dual Birthstone Rings – Oh Kuol £48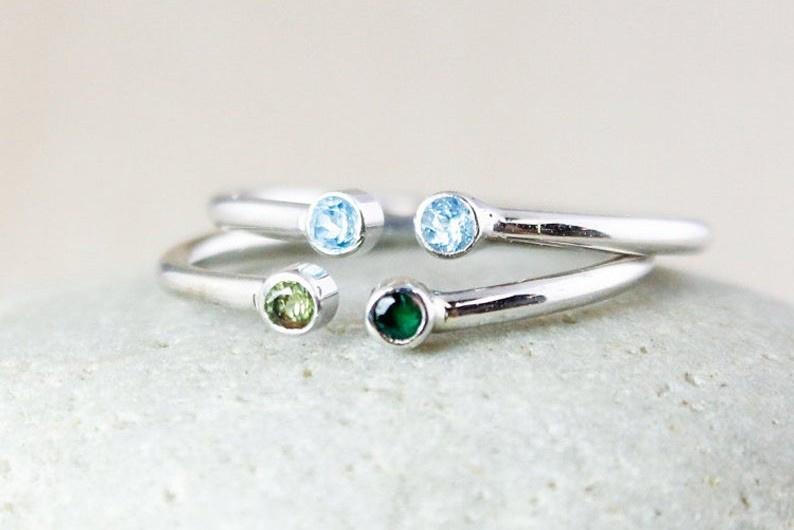 This birthstone stacking ring from Oh Kuol comes with your choice of two different gemstones – so you can choose your own birthstone and your partner's birthstone to create a really sentimental meaning.
Gemstone Fine Gold Stacking Ring – Embers £29.75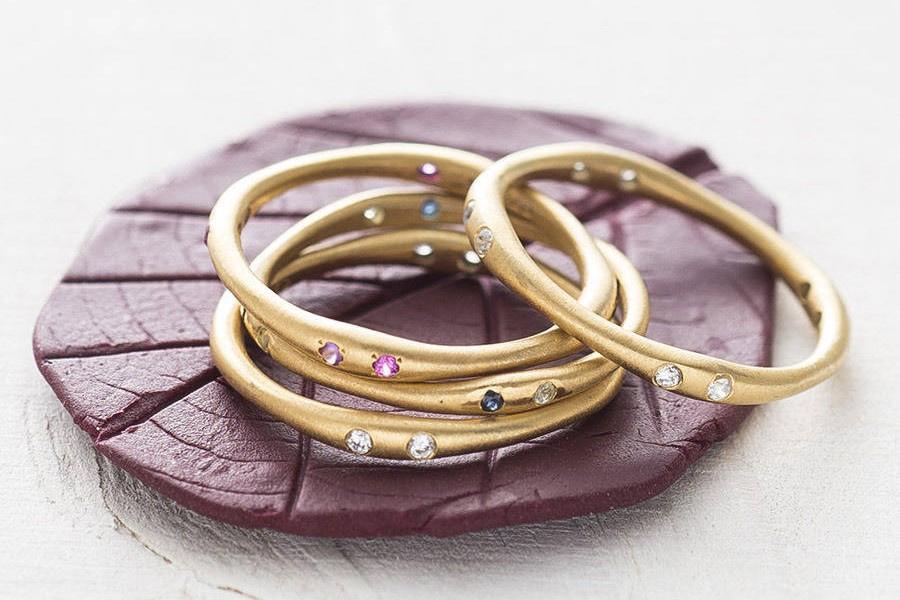 These fine gold stacking rings from Embers come with multiple birthstones set into the band so you can choose stones to represent both of your families. It's a beautiful way to honour two different families coming together as one.
Gemstone Stacking Rings
Add some colour to your ring stack by wearing some rings with pretty gemstones. Take a look at a handful of our favourites.
Set of Three Stacking Rings – Monica Vinader £255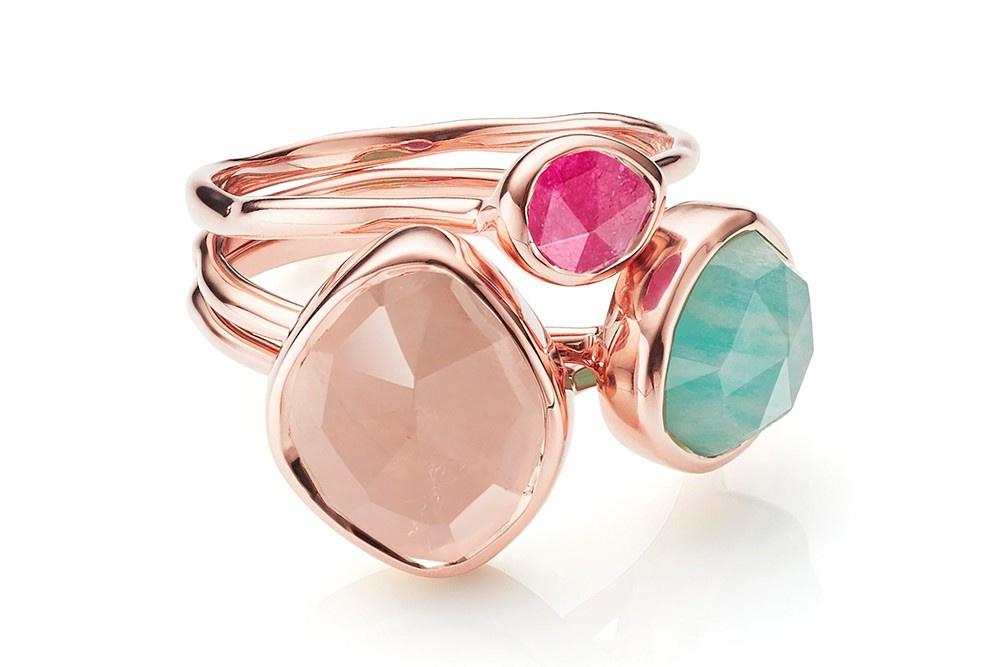 Mixing and matching gemstones makes for a stunning look – rose quartz, pink quartz and amazonite team together in this rose gold set from Monica Vinader, we love it!
Contemporary Deco Ring – Carrie Elizabeth Jewellery £120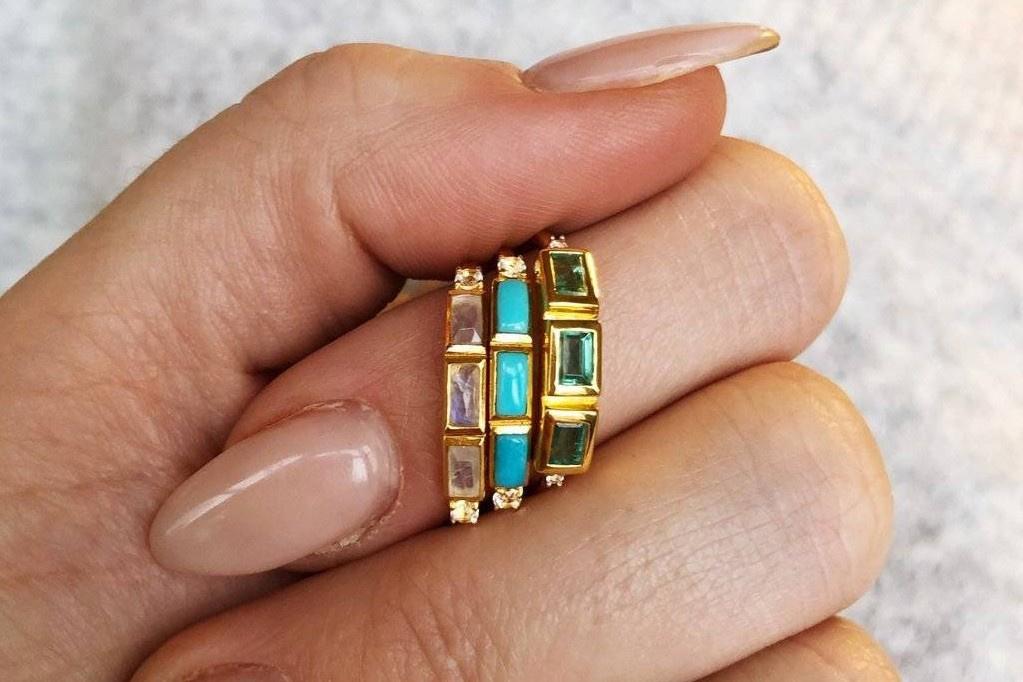 Three geometric-cut stones sit together to create this contemporary style stacking ring from Carrie Elizabeth Jewellery. Choose from green, turquoise or pink stones to create a statement colour for your ring stack.
Round Set Ring – Kate Spade £85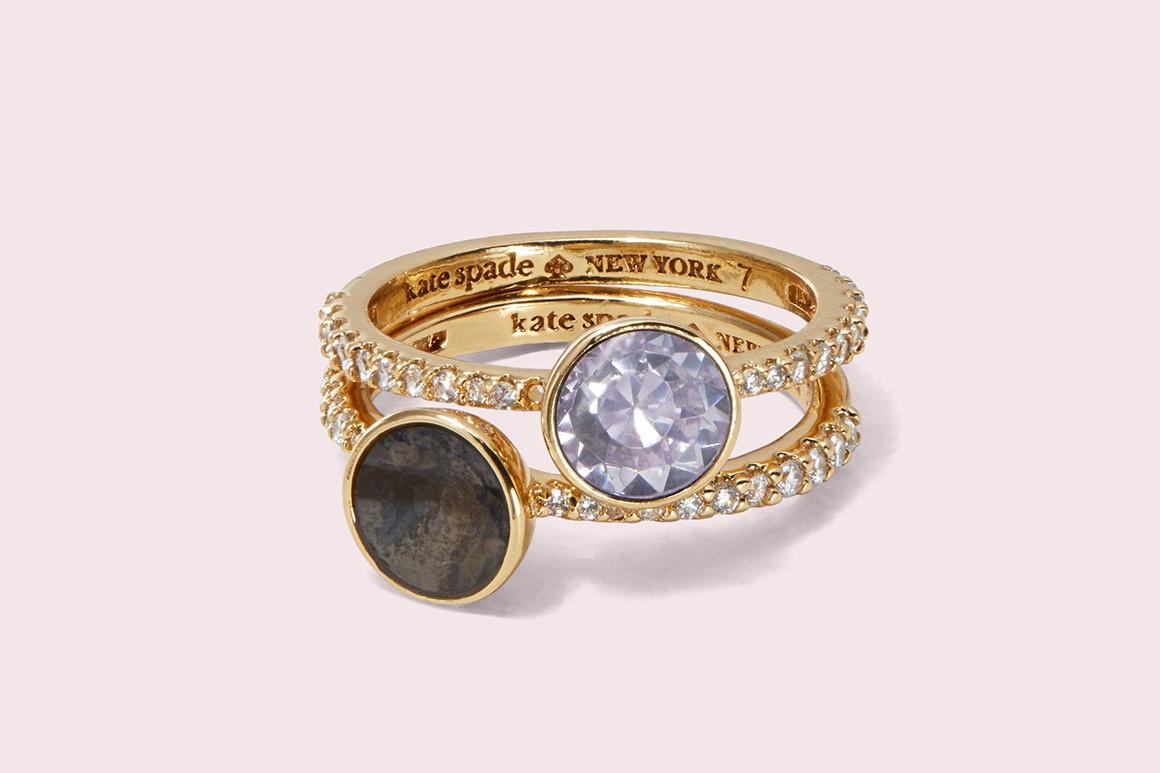 This beautiful ring set from Kate Spade includes two pool-style gems that can be worn together and alongside other rings as part of a dainty ring stack for your wedding day.
Emerald Ring – Ferkos Fine Jewellery £145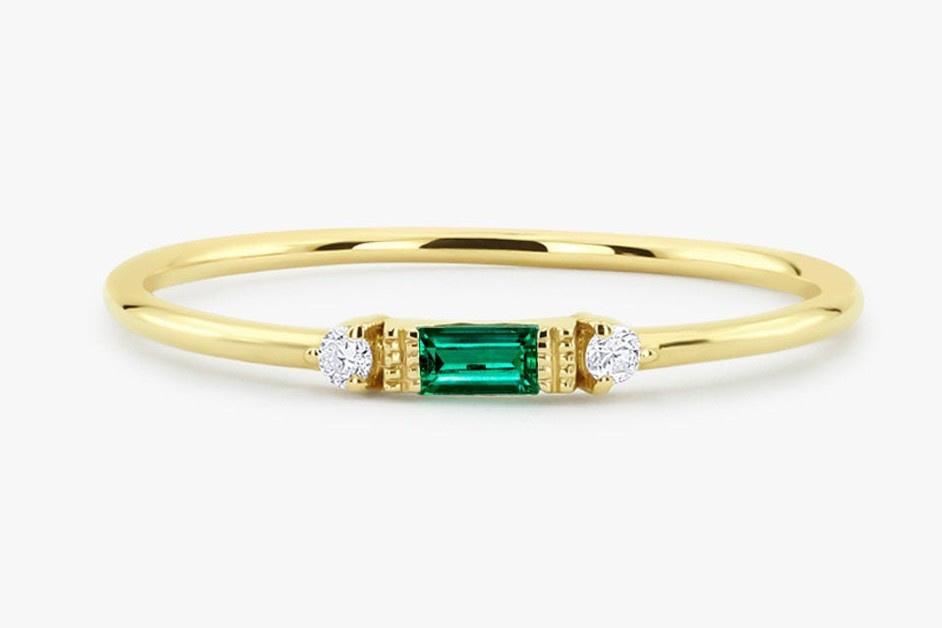 This 14k gold ring from Ferkos Fine Jewellery has a simple baguette cut emerald at the centre and two tiny crystals at the side. The flat edge makes it a perfect gemstone ring for stacking.
Diamond Stacking Rings
If you want your ring stack to have some serious sparkle then diamond stacking rings would be a stunning choice.
Riva Stacking Ring – Monica Vinader £115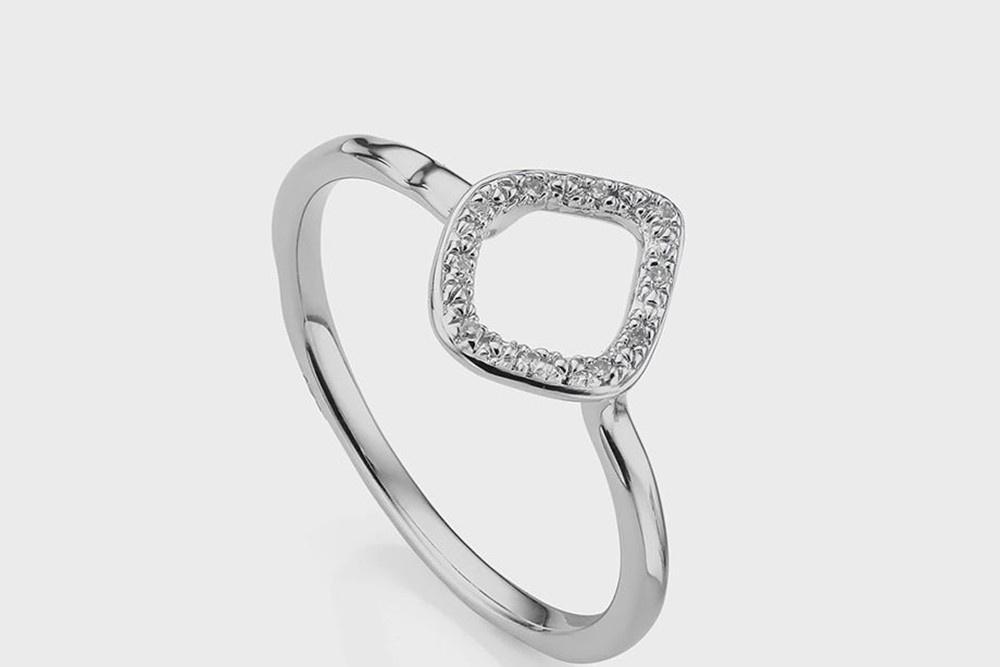 This sterling silver ring from Monica Vinader features pave set diamonds that add some vintage sparkle. The circular design makes it a perfect choice as the statement ring in part of a stack.
Birks Iconic Stacked Diamond Ring – Goldsmiths £2,750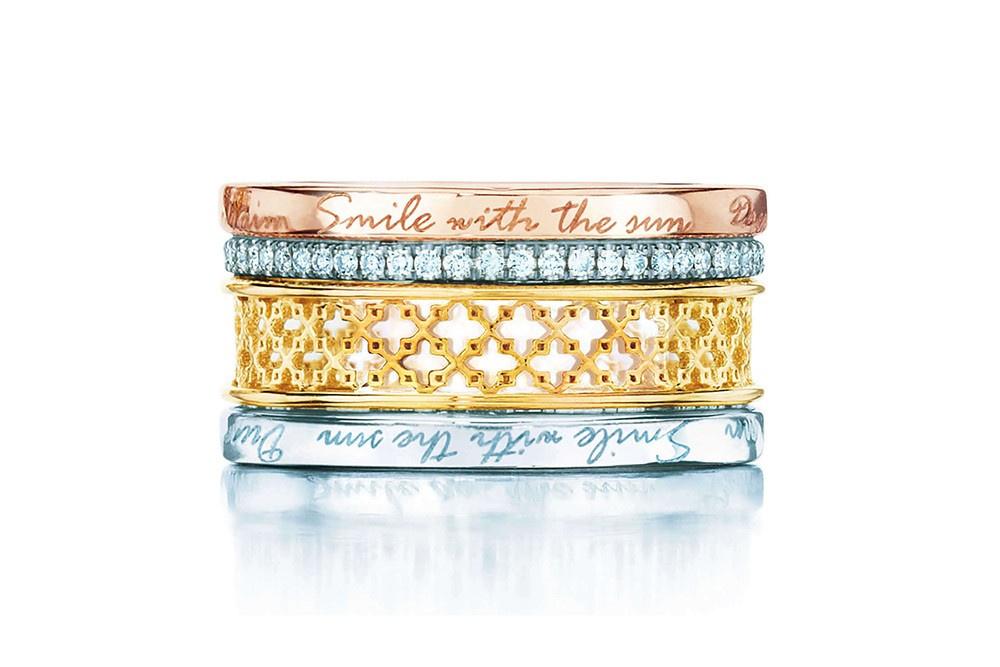 This stacked diamond ring from Canadian jeweller Birks is available from Goldsmiths and is one ring that gives the appearance of a stacked ring style. We love the mix of metals and scattering of diamonds that give this ring a beautiful finish.
9ct Gold and Diamond Ring – Posh Totty £485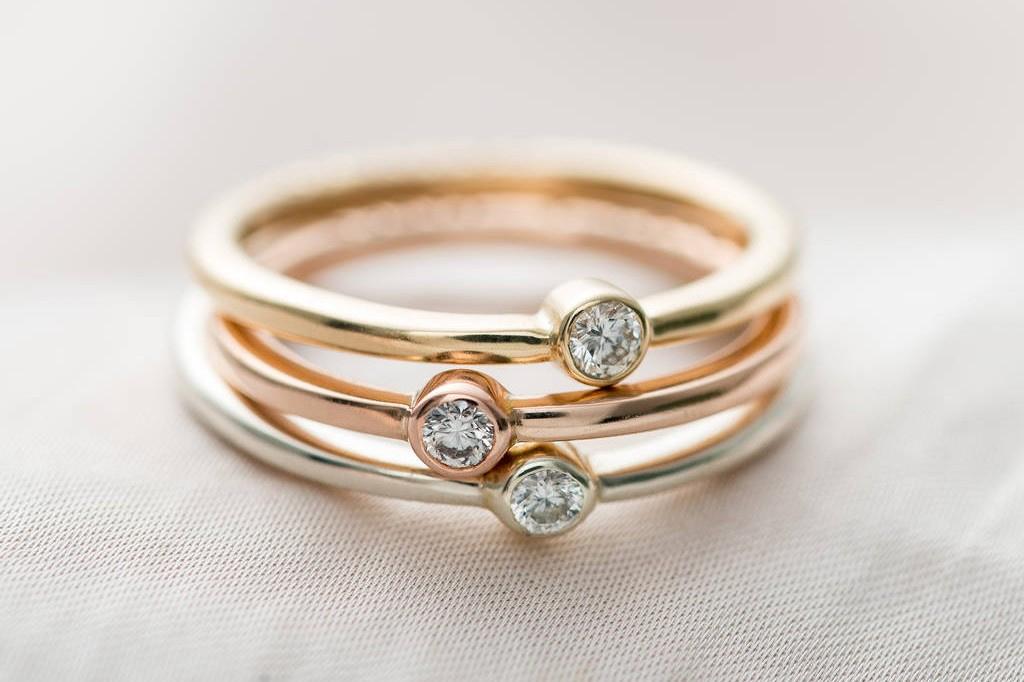 This pretty gold and diamond ring from Posh Totty can be personalised with your own secret message. You can choose from a rose gold, yellow gold or white gold finish.
Diamond Stacking Rings – Karen Johnson £3,500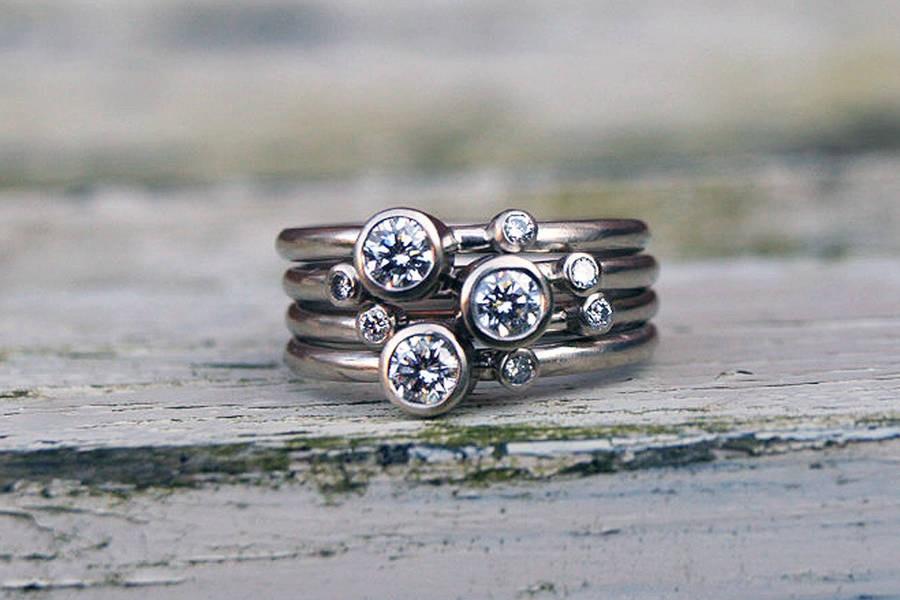 If you are looking to invest in rings that will last you a lifetime then this collection of white gold and diamond stacking rings from Karen Johnson are gorgeous and will look great on your wedding day.
Pave Band Set – Kate Spade £85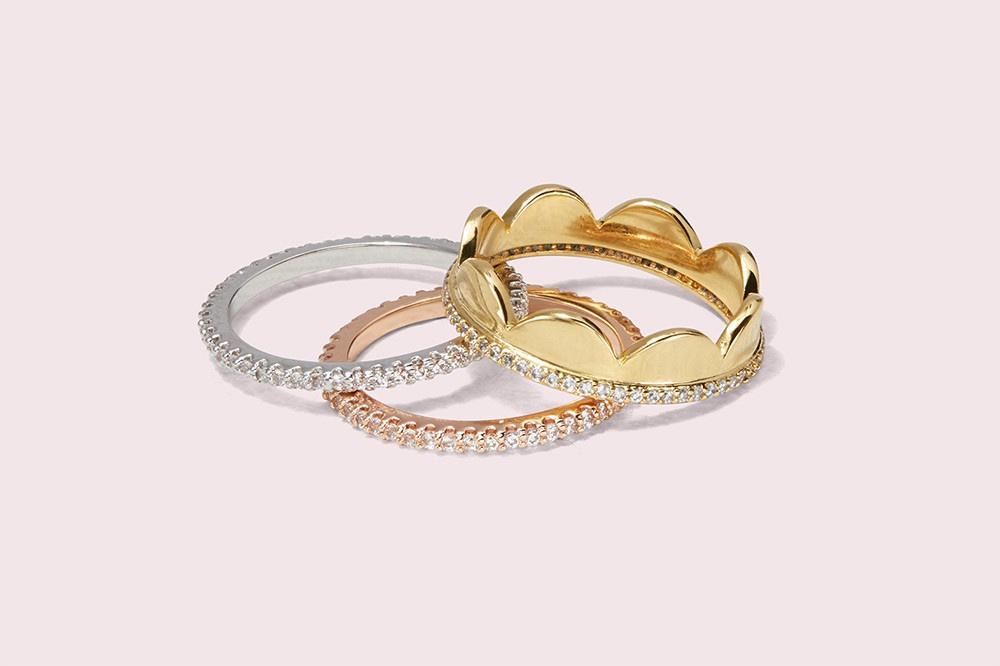 Three pave set rings in a mix of metals are topped with a golden crown in this stacking ring set from Kate Spade. If you are looking for a unique style for your big day then this elegant ring selection would be perfect.
Are you still looking for more ring ideas? Browse our favourite eternity rings or take a look at our ultimate guide to bridal jewellery.