15 Beautiful Dorset Wedding Venues You'll Love
With romantic countryside and captivating coastlines, Dorset is an idyllic spot to say 'I do'. You'll find farms, castles, and even a water mill on our list of the best wedding venues in Dorset that are just waiting to be explored...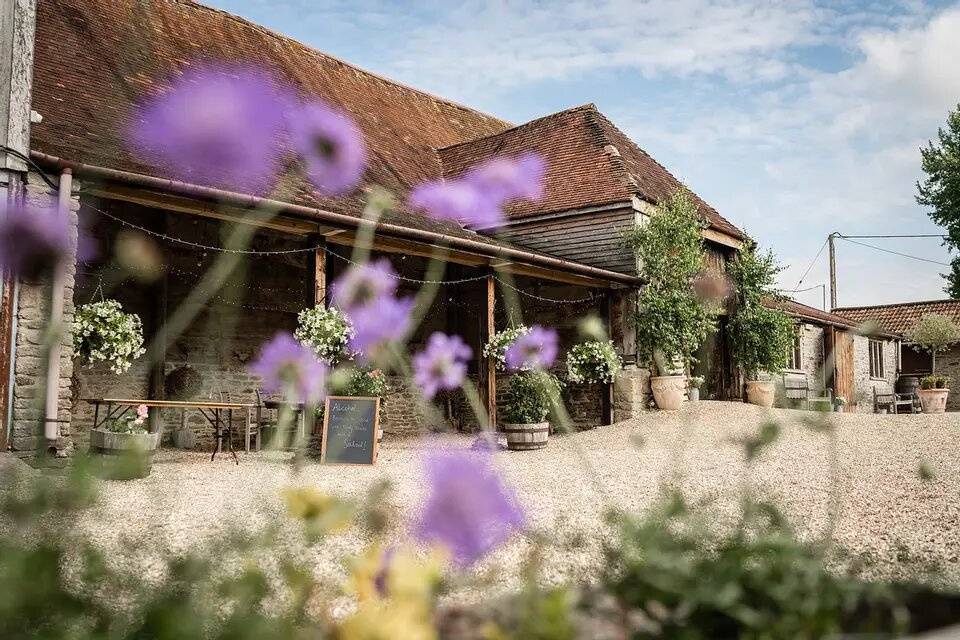 Dorset isn't just home to some of the best fossil-hunting spots in the world - it's also a great place to get hitched. With no cities in this rural county, you'll find peace, tranquillity and absolute bliss wherever you choose to get married - and there's a lot of amazing wedding venues to pick from!
To help you narrow it down, we've scoured the countryside to find only the very best wedding venues Dorset has to offer. They feature perfect sandy beaches, unspoilt views, enchanting ambience...need we go on?
See for yourself below with the 15 top wedding venues in Dorset you're bound to want to visit.
READ MORE
1. The Kings Arm Hotel, Christchurch
The Kings Arm Hotel isn't like any ordinary hotel - it has a number of unique spaces, from historic to contemporary, that you can use for your ceremony and reception.
We adore The King's Pavilion and The King's Priory Suite for indoor celebrations. Boasting a private bar and a cool split-level design, The King's Priory Suite is ideal for your wedding breakfast and evening celebration, while the King's Priory Suite overlooks the River Avon and castle ruins making it an idyllic setting for your ceremony.
Fancy incorporating the castle ruins even more into your wedding day? We don't blame you - they're seriously impressive!
Head to the retired bowling green opposite the hotel for a beautiful outdoor ceremony space with views of the River Avon on one side and the castle on the other.
2. Highcliffe Castle, Christchurch
Highcliffe Castle truly is a wedding venue fit for royalty. The Grade I listed castle is seriously breathtaking in stature - so much so that you'll be hard pressed to find a more majestic backdrop to take your wedding photos in front of, and that's before you've even stepped foot inside.
With exposed brick walls and spacious high ceilings, the State Dining Room can host up to 80 guests for an intimate celebration, or if you have a larger guest list there's the Great Hall which can hold over 100 people. It has fabulous stained-glass windows that create a magical ambience as light shines through.
What's more, this spectacular wedding venue takes full advantage of its coastal Dorset location, with access down to a beautiful sandy beach.
It serves as a lovely, romantic spot to take a few moments alone with your new husband or wife after you've exchanged vows.
3. Marshwood Manor, Bridport
There's something so magical about being surrounded by nature on your wedding day and Marshwood Manor in the Dorset countryside is a dreamy spot that offers couples just that and more.
One of our favourite spaces to exchange your vows has got to be the woodland bower. Able to accommodate 80 seated and 20 standing guests, they'll cross a tranquil stream via a quaint bridge before taking their place to witness your special moment under a canopy of trees.
If you're planning a festival-style wedding, the wildflower studded hay meadow is a picturesque choice with plenty of space for a marquee that can hold up to 250 guests.
As the evening draws in, the gravelled Courtyard is a cosy space complete with an outdoor bar and fire-pit area. It makes a great place to listen to a band in the company of your friends and family.
4. Sopley Mill, Christchurch
For a wedding day that's like no other, why not consider a unique wedding venue such as Sopley Mill? This repurposed watermill maintains original features like gorgeous oak beams, is completely private and is flanked by the River Avon on both sides - it doesn't get much more peaceful than that.
Whether you choose to hire the building and create your own dream day, or you have some help from their amazing team to organise the day for you, you're bound to have an unforgettable celebration.
There are three main floors in the property (with a lift for easy access), complete with a seating space for 100, a kitchen, dance floor, ceremony room, and a drinks area.
In the summer months, you can make use of the huge terrace for alfresco drinks and canapés. There's no corkage charge at the mill so you're welcome to bring your own beverages!
5. Tithe Barn, Symondsbury
Nestled in the quaint village of Symondsbury in West Dorset lies Tithe Barn - a whimsical wedding venue combining rustic romance with contemporary cool. We're talking stone features and exposed oak beams with floor-to-ceiling glass entrances and a wooden dance floor.
The barn has a capacity to seat up to 150 guests, plus plenty of accommodation in luxury cottages and farmhouses for your loved ones to stay the night.
If you're getting married in the warmer months, or even if you're lucky enough to have a smattering of snow, we recommend taking your wedding photographs in the courtyard and gardens.
It's a lovely place to relax and mingle with your guests before tucking in to a delicious hog roast, buffet or three-course meal.
READ MORE: 27 of the Best Barn Wedding Venues
6. Mapperton, Beaminster
For couples who want a grand yet homely wedding venue, Mapperton is an exclusive and romantic country house that we bet you'll adore.
Complete with an orangery, barn coach house, garden pavilion and croquet lawn, where you choose to host your ceremony and reception is completely up to your personal style and taste. Mapperton has a space to cater to all!
It's ideal if you're struggling to cut your guest list down as it can accommodate up to 400 guests in an outdoor marquee, plus you'll have access to the venue the day before the wedding if you have friends and family travelling from afar.
They have over 100 beds available so lots of people can sleep on-site and they also partner with a few outstanding local providers should you require even more space.
7. Pennsylvania Castle, Portland
Another spectacular castle wedding venue in Dorset is Pennsylvania Castle. Overlooking the coast, you and your guests will enjoy stunning sea views wherever you are in the property - which makes for a beautiful wedding photograph backdrop.
We love the idea of dining on your wedding breakfast in the orangery if you're getting married in the warmer months. It's large enough to seat 100 guests and a gorgeous light will spill into the room through impressive glass doors.
Can't get enough of the spectacular coastline? Pennsylvania Castle also offers a beautifully scenic outdoor ceremony, so once the vows have been exchanged you and your guests can be sipping on Champagne in the gardens or on the terrace within minutes.
8. Stockbridge Farm Barn, Sherborne
When it comes to rustic wedding venues, can you really beat getting hitched on a working farm? Stockbridge Farm Barn in the glorious Dorset countryside is the ultimate space for relaxed couples to celebrate both their wedding ceremony and reception in a casual and cool setting.
Every little detail has been thought of at Stockbridge Farm to make your day magical - from the festoon and soft up-lighting to the gorgeous flower wheels that suspend from traditional wooden beams.
The barn can comfortably accommodate 180 seated guests, and even more if you opt for an adjoining marquee, but our favourite spot is the restored Milking Parlour. Commonly used as a room to get ready in before the ceremony, the stone walled building is cosy and chic.
This wedding venue even comes complete with an 18ft. wooden dance floor so they'll be no excuse for your guests not to party the night away!
9. Canford School, Wimborne
Decadent, elegant and regal are the words of choice when it comes to describing Canford School. With origins dating back to the Domesday Book, this historic Grade I listed building is situated on the banks of the River Stour giving it an impressive fairy-tale feel.
If you're planning a religious ceremony, the 14th century church nearby provides the ideal spot, but if not, the Long Gallery boasts beautiful wood panelling and is a lovely alternative.
You'll also have exclusive access to the grounds on your wedding day, so when you're not taking the opportunity to take gorgeous wedding photographs by the water features and Sunken Lawn, you'll be exploring the gardens with your partner and guests.
10. Somerley Woodland Weddings, Ferndown
Chilled out couples won't want a stuffy or strict wedding venue to host their special day at, so if that's what you're looking to avoid we reckon you'll have hit the jackpot with Somerley Woodland Weddings.
Set in the heart of the Somerley Estate, expect to walk down a gorgeous fir tree lined aisle in a whimsical woodland clearing. Dappled sun light peeking through the canopy of green above you and birds singing sweetly will only add to the romance of the day.
As the sun sets, this woodland wedding venue becomes even more enchanting as it lights up with twinkling fairy lights and crackling fire pits.
You and your guests won't have to travel far to rest your heads, there is glamping available so you can sleep under a sea of stars. If that's not romantic, we don't know what is.
READ MORE: 18 of the Most Enchanting Woodland Wedding Venues
11. Chedington Weddings, Beaminster
West Dorset is home to an Area of Outstanding Beauty so is it any surprise that a wedding venue there made its way onto our list? Say hello to Chedington Weddings, hosted at the magnificent West Axnoller Farm.
Located within a secluded valley and with 100 acres of picturesque countryside, it's the perfect place to escape from the hustle and bustle of everyday life and enjoy your special day. But that's not to say it hasn't got its fair share of luxuries too. How do hot tubs, indoor pools, steam rooms and saunas sound?
Whether you marry under the outside pergola, or head to the modern converted barn to say 'I do', you won't be disappointed with the setting that awaits you.
Plus, there's enough room to dine with 220 of your loved ones under a whimsical marquee. With no neighbours around for miles (unless you count the horses) you can be as loud as you like.
12. Knowlton Court, Knowlton
One day might not be enough time to celebrate one of the most exciting days of your life so if you want to extend the celebrations for a whole weekend, Knowlton Court is able to host an amazing three-day event.
Privately owned by the Fox-Pitt family, this historic house is set within a 1,900 acre estate and is surrounded by stunning parkland - it's safe to say they'll be more than enough room to explore!
The interiors of Knowlton Court are intricate and regal, featuring a chic monochrome chequered floor, French and Flemish tapestries and elegant wood panelled walls.
As for the accommodation? Up to 65 guests can stay overnight in luxury bedrooms so they really can relax and enjoy your wedding weekend.
13. Athelhampton House and Gardens, Dorchester
Athelhampton House and Gardens is a picture-perfect wedding venue and a great place to consider if you want to spend a large majority of your wedding day outside.
Their Grade I listed gardens are outstandingly romantic, complete with yew pyramids, a subtropical garden and a sunken lawn. Anyone up for a game of croquet?
That's not to say the house itself isn't glorious as well. The historic great hall is a wonderful place to host your wedding ceremony and the lavish period dining room is ideal for a wedding breakfast.
The venue's top chefs will prepare a tasty menu using seasonal and locally-sourced ingredients. Delicious!
14. Oxbridge Farm, Bridport
Your wedding day should be personal to you and your partner, so finding a versatile wedding venue is pretty important. Well, call off the search because Oxbridge Farm, located in the heart of Dorset's countryside, is completely flexible in order to cater to you.
Whether you're dreaming of a relaxed marquee with buntings and balloons or you're after an elegant affair with chic lighting and mountains of pampas grass, this wedding venue can make it happen!
Oxbridge Farm also offers B&B accommodation so six of your closest guests can stay the night and enjoy breakfast with you the morning after your big day.
15. The Oyster and Fish House, Lyme Regis
We couldn't end our list of top wedding venues in Dorset without including a fabulous location with views of the iconic Jurassic Coast. Enter, The Oyster and Fish House.
Ideal for an intimate celebration with 70 loved ones, you can host your ceremony and reception all in one place in this laidback setting.
Foodie couples will be in for a serious treat at HIX as they'll be able to sample some of the finest fresh seafood in the South West of England, all while looking out at spectacular sea views.
They also have accommodation packages available nearby in the neighbouring townhouse so you can relax in the knowledge that you and your guests won't have far to go after an evening of celebrating.
If you love the idea of sea views and sand on your wedding day, you need to check out these coastal wedding venues.