Everything You Need to Know About Wedding Sparklers
Sparklers aren't just for Bonfire Night - they'll light up your wedding whatever the time of year! We explain how to make the most of wedding sparklers, from keeping safe to getting some amazing photos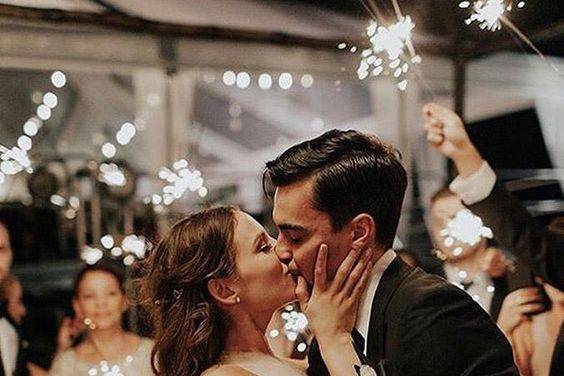 What is it about wedding sparklers that makes them so magical?
Maybe it's the look of childlike wonder on guests' faces as they wave their hands and light up the night; maybe it's the fact that they make for some seriously romantic pictures; or maybe it's simply that they're so pretty.
As well as all that, sparklers are a versatile form of wedding entertainment. While usually associated with Bonfire Night, they can work at any time of year and at all kinds of celebration, from summer festival weddings to elegant country house parties in winter.
In short: sparklers can be a fabulous addition to your big day. You just need to know a few key facts - and that's where we come in.
We've put together the need-to-knows of wedding sparklers, from how (and when) to use them, to how to choose the right size and, most importantly, how to keep you and your guests safe.
Follow these steps for a sparkling celebration!
READ MORE
Talk to Your Wedding Venue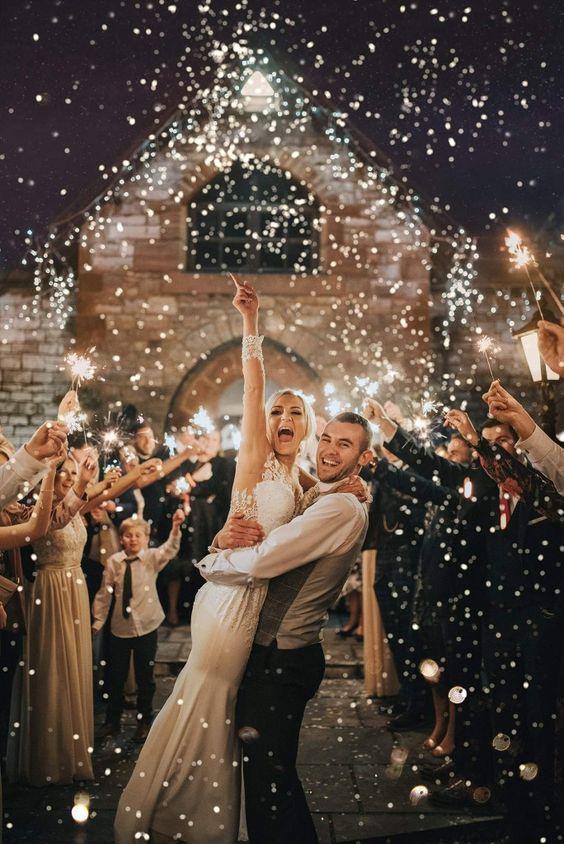 There's no point getting excited about those amazing sparkler photos you're going to have if it turns out your venue doesn't allow sparklers; some don't, for a range of reasons, so check early on. If they do allow sparklers, try to get as much detail as possible about any potential restrictions - are they only allowed in a certain area, for example, or at a particular time? Are they only allowed outside or can you use special indoor sparklers within the venue?
Decide How You Want to Use Your Wedding Sparklers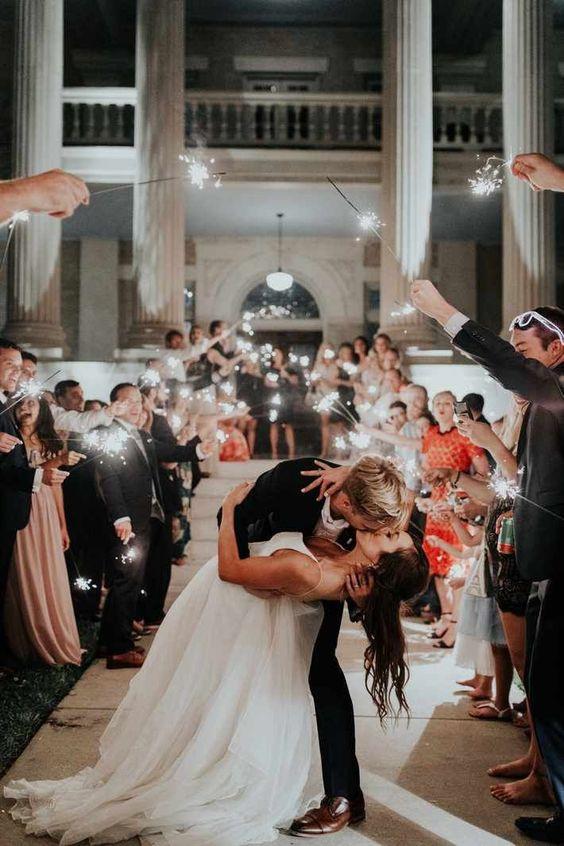 'Sparkler send-offs' became popular in the US a few years ago, and now we're seeing more and more of them at weddings in the UK. A sparkler send-off, or sparkler exit, involves guests lining up to form a glimmering arch or path that couples pass through as they leave the wedding. (Well, the idea is that the couple leave the wedding; you can do it for the photo opp and head back to carry on partying afterwards if you're not ready to end the celebrations; no judgment.) Typical send-off pictures show the newlyweds walking through the arch together, or pausing for a smooch.
But that's not the only way to use wedding sparklers. You can keep it simple and, at a particular time, ask guests to light up their sparklers and have fun waving them around, as you would on 5th November. Your photographer will still capture some great reportage-style shots if you tell them about your plans in advance. You could ask guests to light up the first dance or the cake cutting, if you're allowed indoor sparklers.
READ MORE: 32 Questions to Ask Your Wedding Photographer
Another great alternative to a sparkler exit is to have them as props in your newlywed shoot. 'It's a great photo opportunity to use them to create words like "love" or your initials,' says wedding planner and designer Andri Benson of Always Andri. 'It's best to chat with your photographer to see if this is something they have the right equipment and knowledge to photograph. One advantage of this is that it requires fewer people and can be a lot easier to organise than a sparkler arch.'
Source Your Wedding Sparklers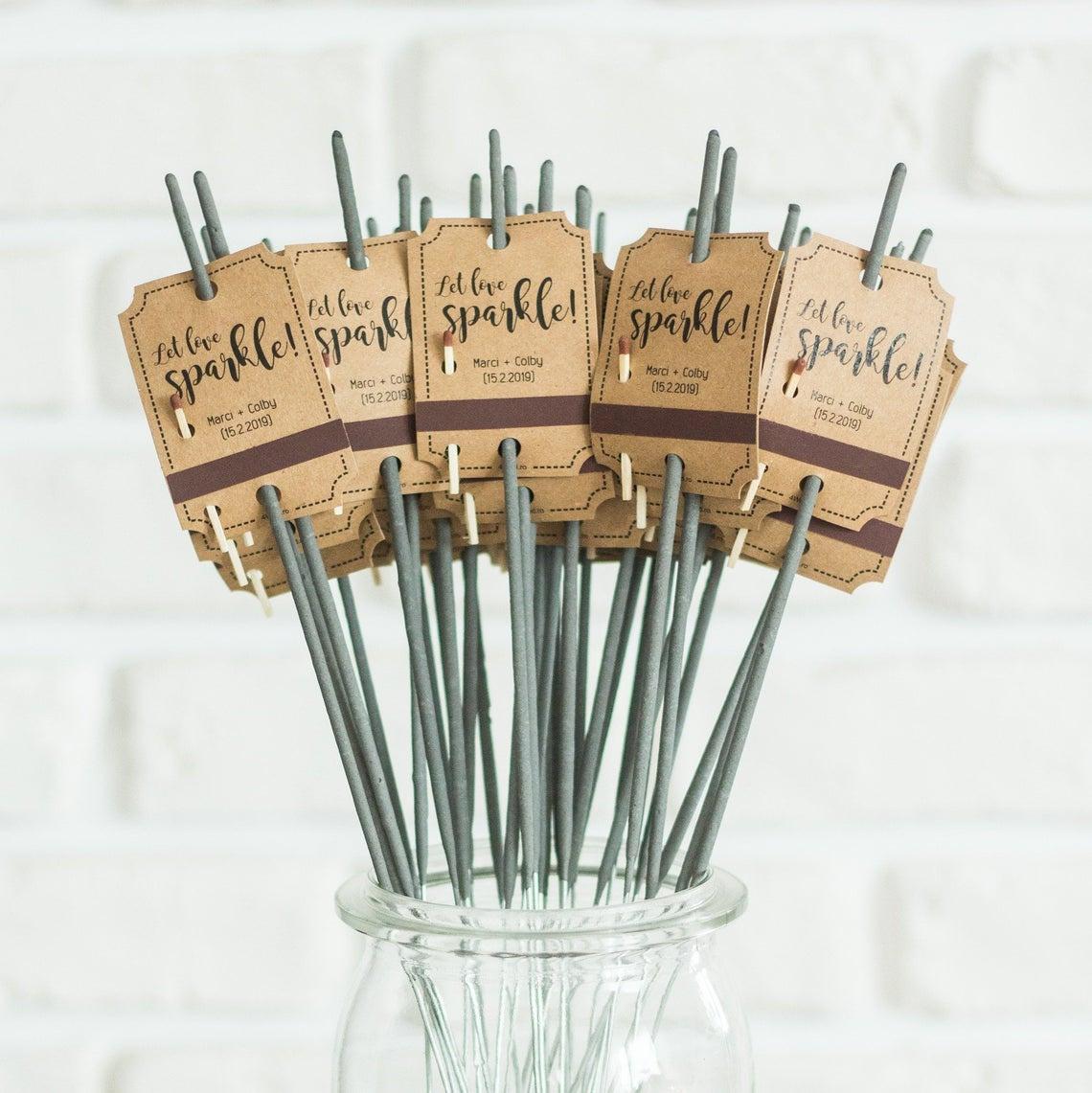 Once you know how you'll be using them, it's time to source your wedding sparklers. If you're just planning on letting guests have fun with them, the usual short sparklers (around seven inches) that you get at firework celebrations are fine. We'd say two per guest, with a few spares in case anyone wants an extra go.
If you're planning a sparkler send-off, however, we'd definitely recommend choosing a bigger version (16-18 inches) so they'll burn for longer, giving your photographer more time to capture the moment. One per guest is fine for this.
If your venue is happy, you can get special indoor sparklers that produce less smoke. In fact, we'd recommend opting for indoor sparklers even if you're having the big moment outdoors, to avoid lots of smoke in the photos.
As with wedding confetti, sparklers come in different colours, from glittering metallics to pink and blue, so consider the effect you want to create.
Put Your Wedding Sparkler Safety Plan in Place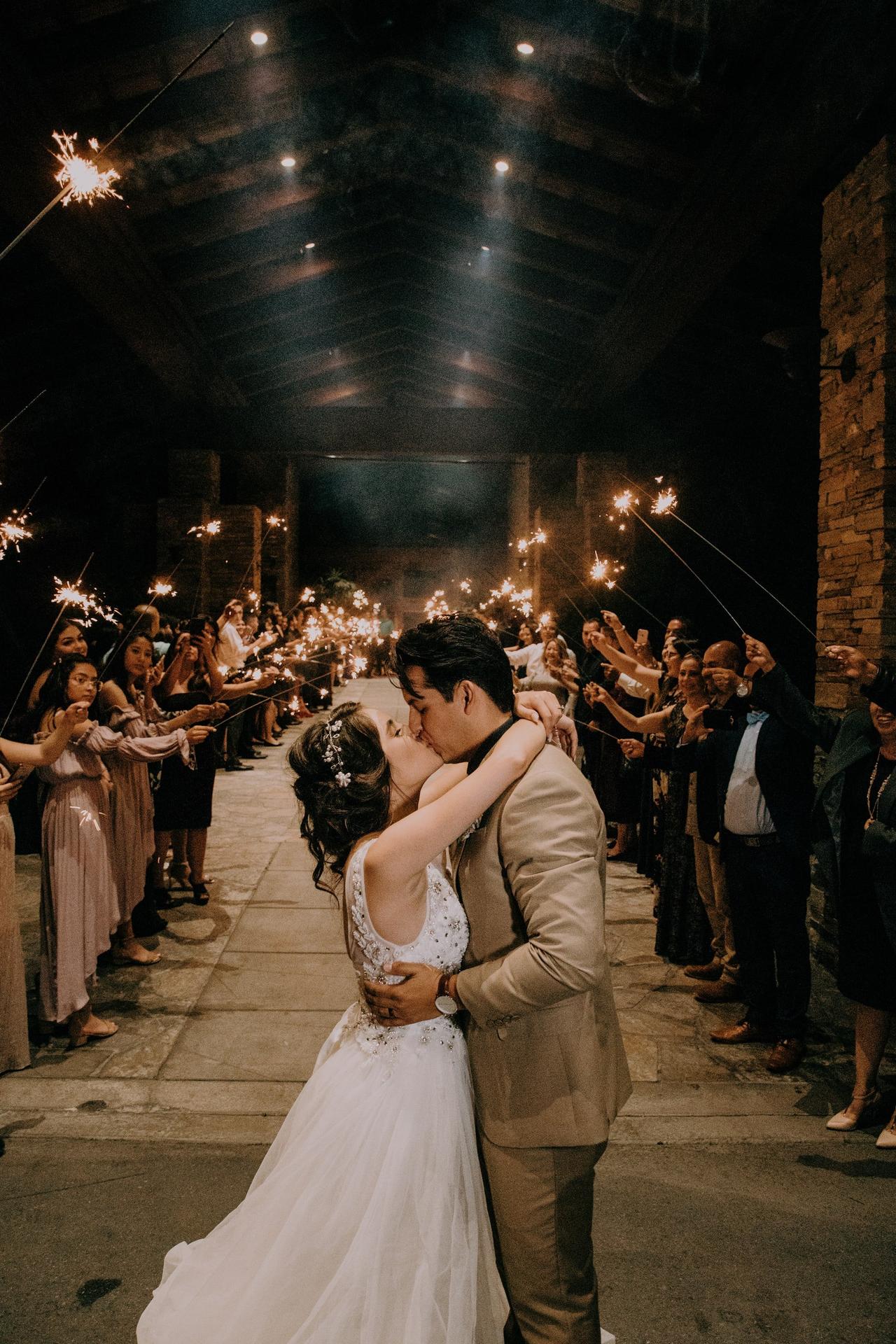 Talk to your venue about how they handle sparkler safety. 'They will likely have staff around to help keep everyone safe, supply sand buckets to put the extinguished sparklers into afterwards and have fire extinguishers nearby just in case,' says Andri. For a totally DIY celebration - a marquee wedding, for example - you'll need to take the same precautions. Having somewhere to dispose of spent sparklers is particularly important, as they can stay hot for a long time afterwards, and you should have a first aid kit to hand in case of any mishaps.
If you're having children at your wedding, it's worth sharing your plans with their parents in advance, so they'll know either to steer little hands away from the sparkler station or that they'll need to supervise any sparkler action.
READ MORE: How to Keep Kids Entertained at a Wedding
Have Fun Planning Your Sparkler Station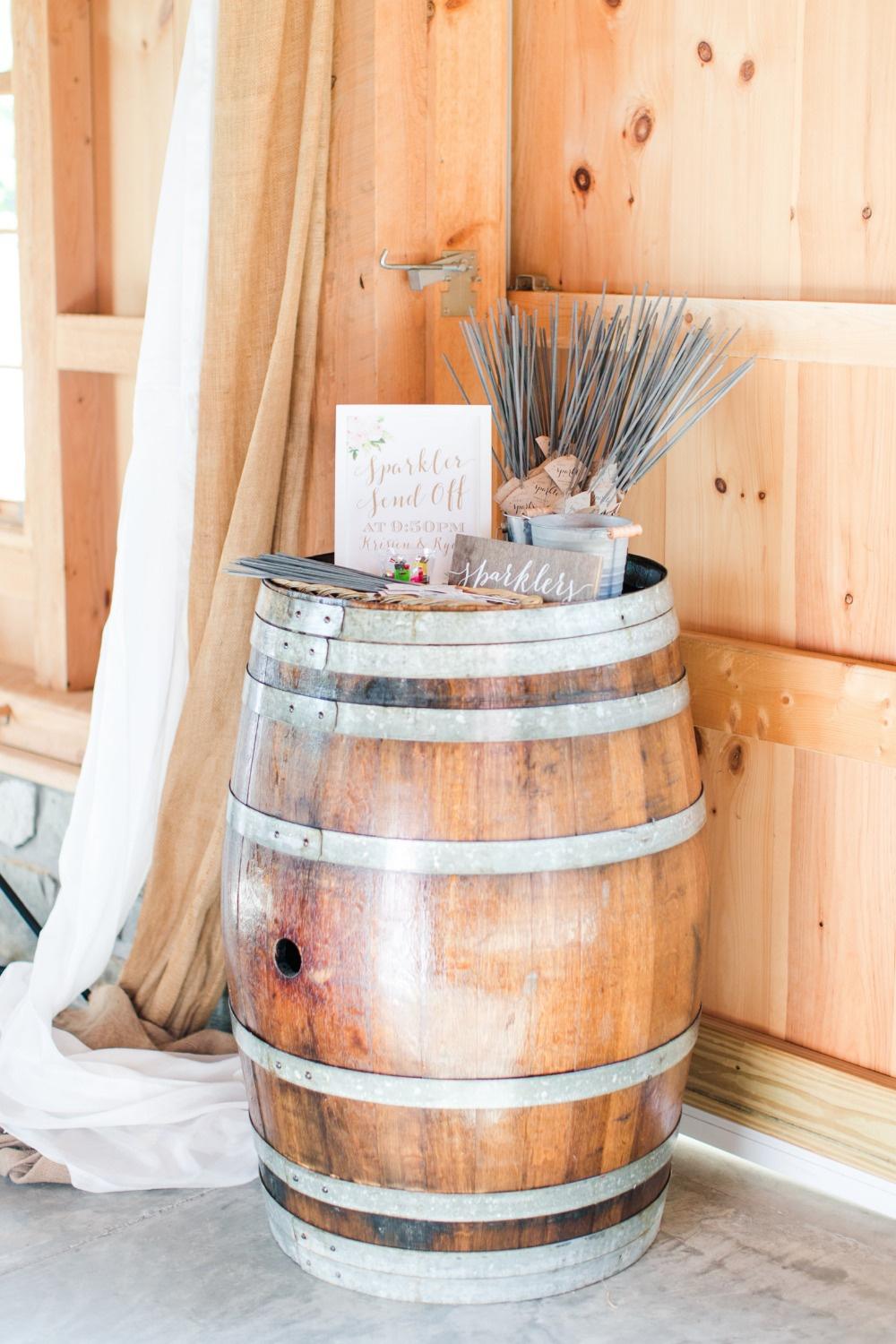 Think about how to display your sparklers in a way that looks good and is simple for guests to spot.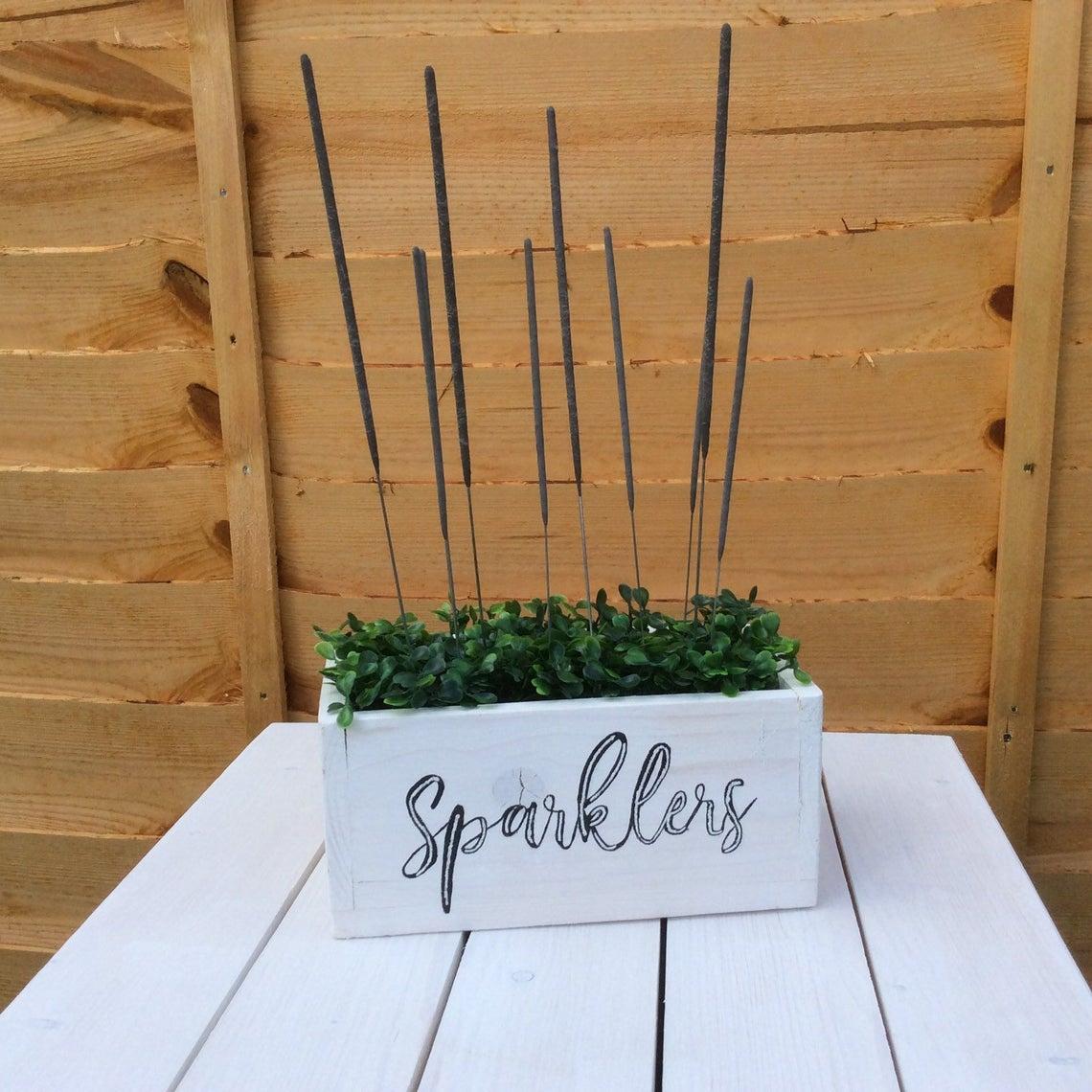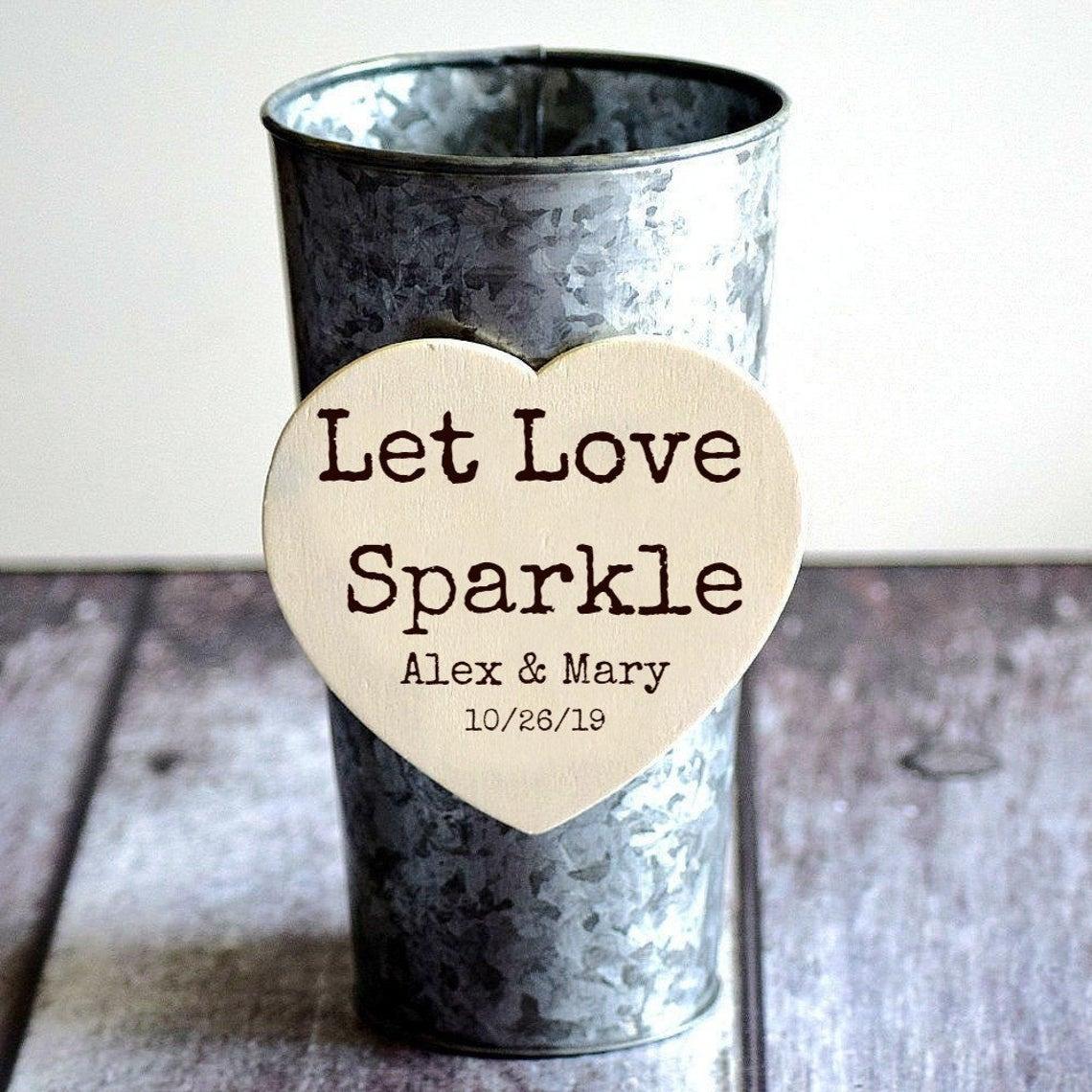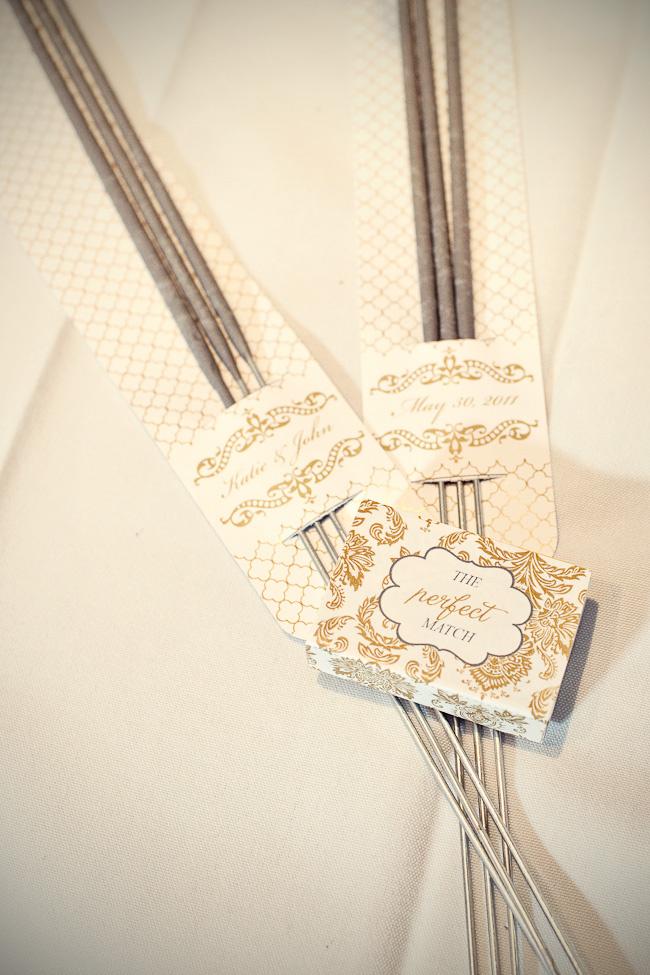 'You could put all the sparklers into decorated containers that are easy for your guests to grab the sparklers from, and even have the sparklers in bundles of 2-3 in paper holders that match your wedding stationery,' says Andri.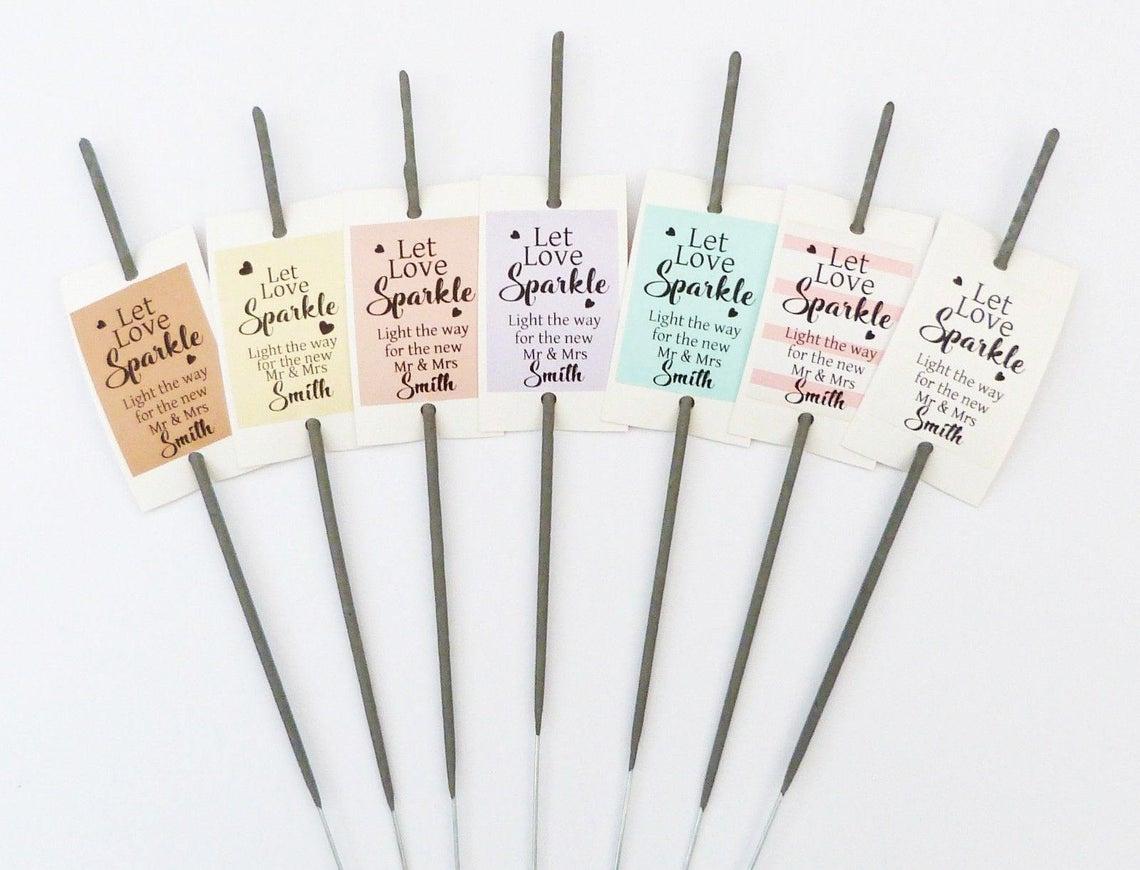 Personalised sparkler tags are also a cute way to make the moment feel extra special.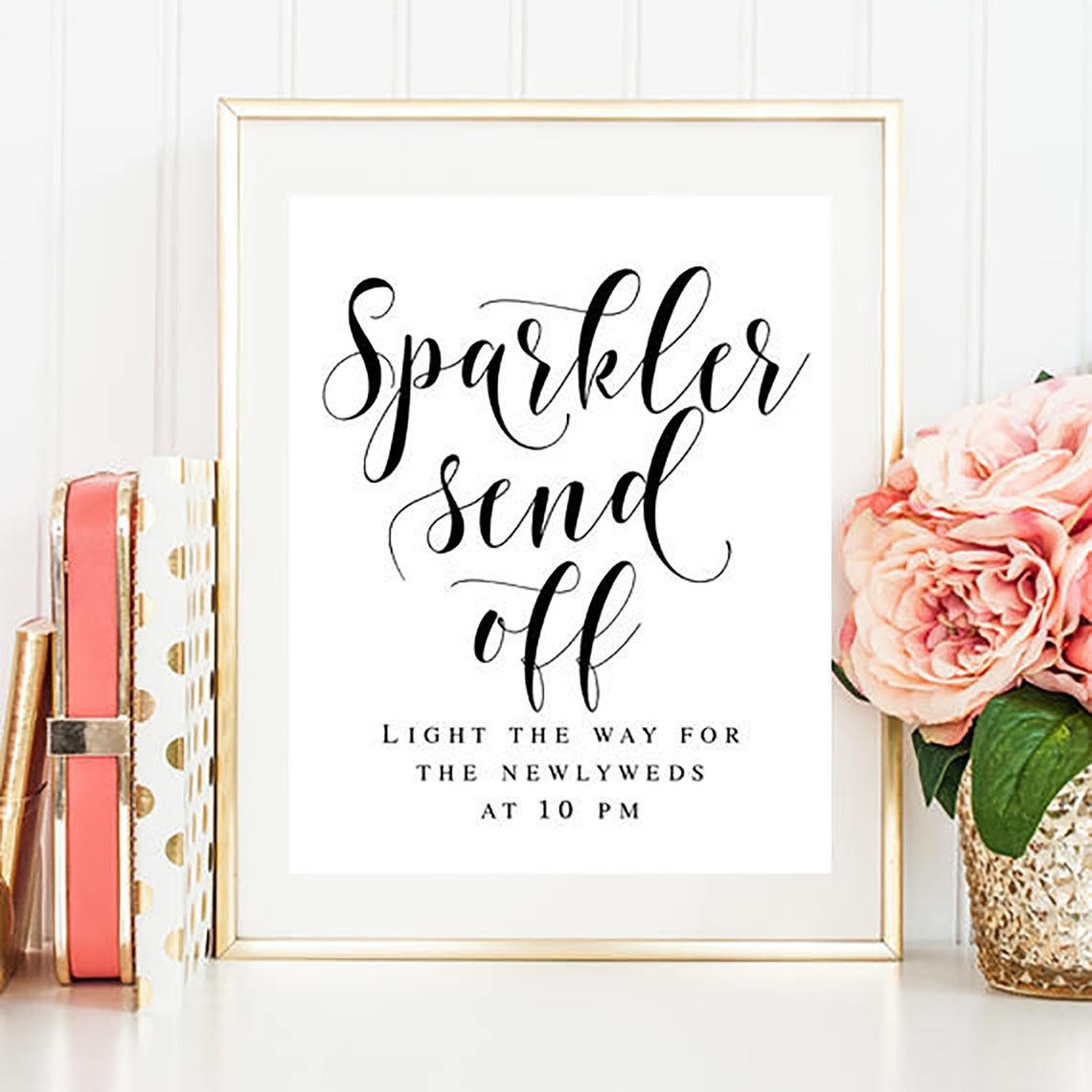 'A matching sign to let guests know when you'll be doing the exit and a few safety reminders would be a good idea too,' says Andri. 'Your sparklers can go out at a later stage, so you could use your cake table (after it's been cut) as that may already have flowers and decorations on it.'
READ MORE: Wedding Decoration Ideas: 35 Ways to Transform Your Venue
Talk to Your Venue and Photographer About Timings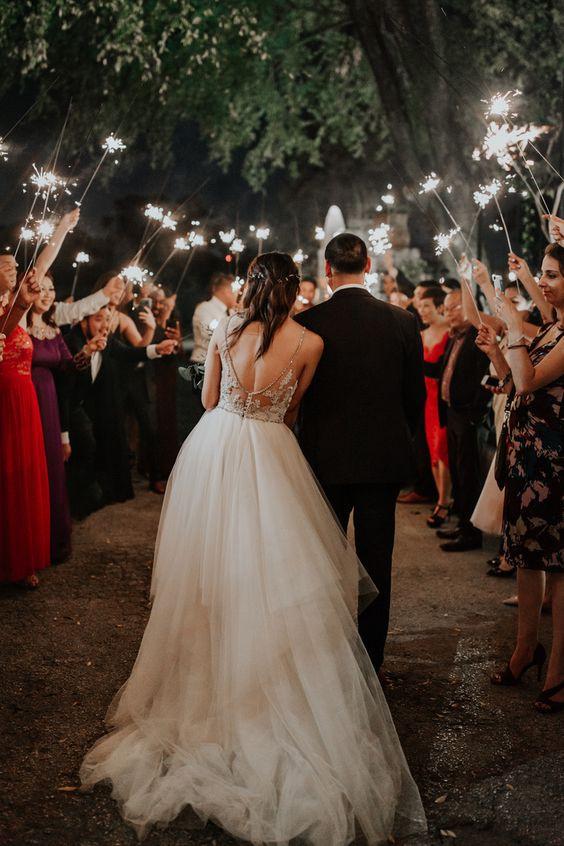 Talk to your venue about the best time to have your wedding sparklers, whether that's a send-off or just some sparkling entertainment time! They'll have previous experience and will be able to guide you on what works best for the specific timings of your day. It's also worth having a discussion with your photographer, as they know how to get the best out of the light (or lack of it!).
You'll see a lot of wedding sparkler photos taken at night. However, you may want to consider having yours earlier in the evening, when the light is softer and guests won't have consumed as much alcohol! We wouldn't recommend having your sparkler moment between courses at the wedding breakfast, as this could cause serious issues for your caterer with the food timings, so before or after works best.
READ MORE: Wedding Day Timeline: 5 Example Schedules to Help Plan the Order of Your Day
You should also talk to your photographer about your vision for the sparkler photos. Do you just want images of you walking through the sparkler arch or do you want to go in for a kiss? Do you want some couple-only shots with the two of you making sparkler shapes?
Make an Action Plan for Your Sparkler Send-Off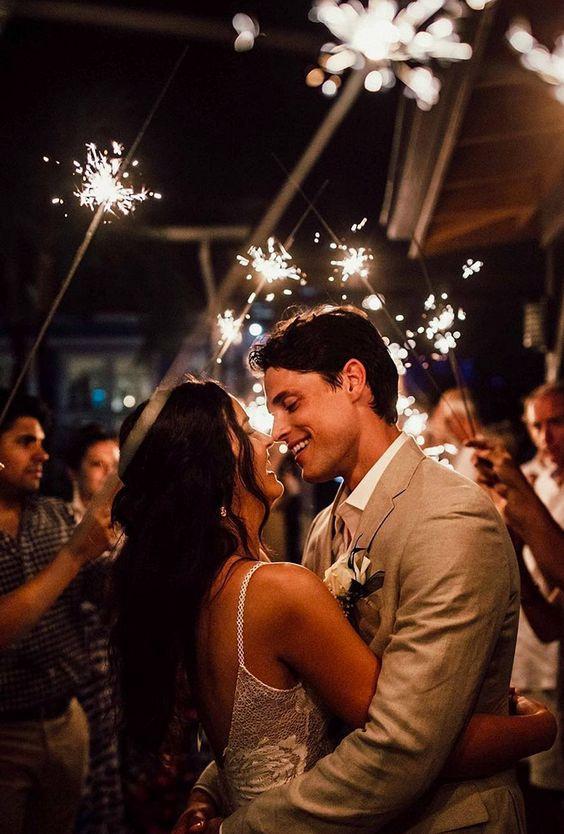 A sparkler send-off may look spontaneous - it's anything but. Forward planning means you won't have guests wandering round and lighting their sparkler too early. 'I'd recommend having two or three dedicated helpers who can guide everyone into position, either as an arch around the couple or a path they can walk down,' says Andri. 'Your "helpers" can also pass out the sparklers and help guests to light them, and they should coordinate with the photographer to make sure everyone is the right position to get the best photos.'
You can get personalised books of matches, and these do look pretty, but it's best to choose another lighting method for safety's sake - burnt fingers don't make for happy guests. 'Don't use matches - it's better and safer to have long BBQ lighters,' says Andri.
Consider Alternatives to a Wedding Sparkler Send-Off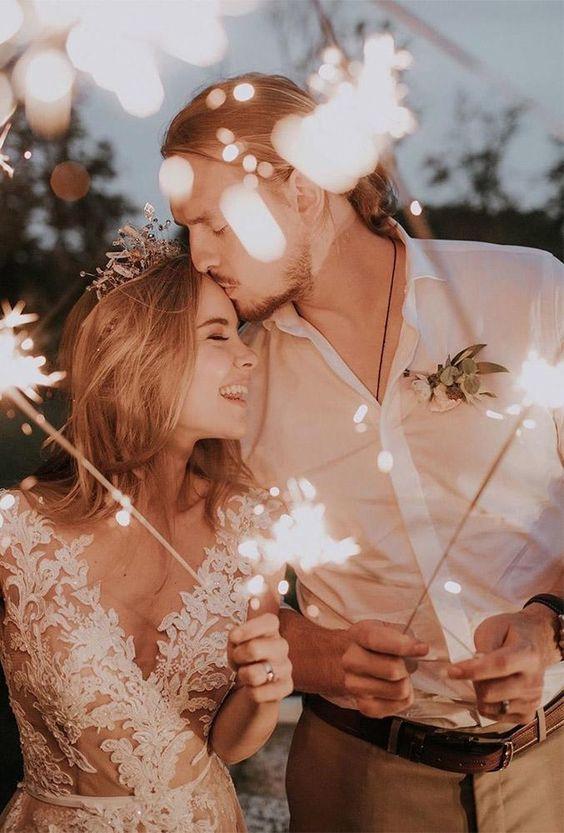 If a sparkler send-off starts to seem too complicated - or the weather isn't playing ball - but you still want to make a special exit as newlyweds, there are alternative options. 'I've used LED balloons on sticks instead of sparklers for an exit before and that was lots of fun,' says Andri. 'We blew them up in advance and then passed them out to guests as they lined up for the exit. LED fibre optic wands also work well.'
Want a cost-free option? As Andri says: 'You could always ask your guests to hold up and/or wave around the torches on their phones!'
Looking for more ways to create a sparkling atmosphere at your wedding? Our round-up of the top 40 wedding songs will get everyone in the right mood!