Surrey Wedding Venues: 27 of the Best
From barns to manor houses and even a vineyard, you're spoilt for choice when it comes to beautiful wedding venues in Surrey. We've rounded up 27 of our favourites...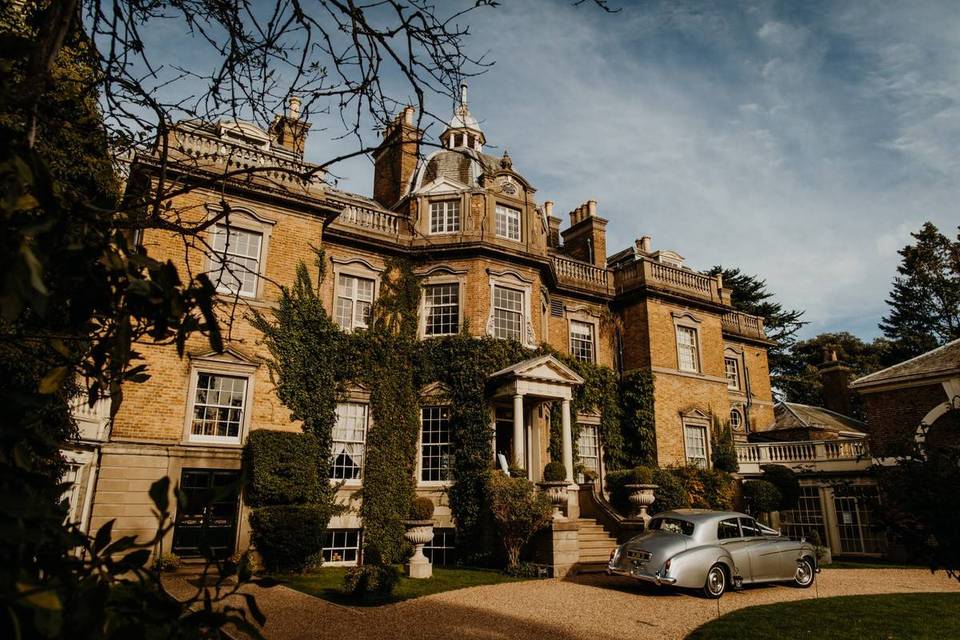 If you're looking for a wedding venue which marries tradition and elegance, Surrey just might be the county for you to say 'I do' in.
With everything from idyllic, rustic barn wedding venues to glamorous stately homes, there are so many wedding venues in Surrey – you really will be spoilt for choice!
As a county, it offers everything you could ever wish for. There's the Surrey Hills – an area of Outstanding Natural Beauty – some of the prettiest villages in the UK, and London is right on the doorstep.
If you're feeling a little overwhelmed by choice, take a little look at our round-up of the best wedding venues in Surrey. You're bound to find something that ticks all the boxes.
READ MORE:
1. Cain Manor – Headley Down
Cain Manor is a delightful Elizabethan Manor House which was fully restored in the early 2000s to become a romantic and exclusive venue, perfect for your big day.
It is nestled in an area of private forest near to Farnham, and it boasts landscaped grounds with stunning views over the North Downs.
Whether you're dreaming of an indoor or outdoor ceremony, Cain Manor can deliver, and there is space for up to 123 sit-down guests.
This venue is a total home-from-home; there are plenty of cosy nooks and crannies for you and your guests to enjoy. What's more, you'll be able to host your overnight guests in the 13 luxurious guest bedrooms before enjoying a hearty breakfast together the following morning. Why would you ever leave?!
READ MORE: The Most Beautiful Venues with Accommodation
2. Millbridge Court – Frensham
We are head-over-heels in love with Millbridge Court, a beautiful venue in the heart of the Surrey countryside which just screams elegance and style.
The venue is licensed to hold civil ceremonies, meaning you can spend the whole day on location. If you're getting married in the summer, you might choose to exchange your vows outside under the pretty wooden arbour at the end of the lawn.
After a drinks reception, you and your guests can head inside to the magnificent oak-beamed dining room. It has floor-to-ceiling windows allowing natural light to stream in, gorgeous views and modern interiors.
Millbridge Court also offers use of the on-site boutique hotel. It has seven luxurious bedrooms for your nearest and dearest, plus an exclusive bridal suite called The Hideaway. Upon hiring the venue, all rooms will be automatically reserved for you.
READ MORE: Our Pick of the Best Barn Venues in Essex
3. Northbrook Park – Farnham
Just how gorgeous is this country house wedding venue?! Northbrook Park is a spectacular Surrey wedding venue which offers an impressive blank canvas for your big day.
It is set within 120 acres of countryside close to Farnham, and provides flexibility for you to create your own, bespoke day. You can select the photographer whose style you like, the florist that wows you and the caterer you love the most from an extensive, trusted list.
There are so many spaces at Northbrook which you can make your own – from the beautiful Orangery to the enchanting Vine Room and the tranquil walled gardens outside. There is so much to love!
It is located just an hour from London making it totally accessible, and there are 10 on-site self-catering cottages, so up to 80 guests can party the night away in style! Where do we sign?
READ MORE: 17 of the Best Wedding Venues in London
4. Ewell Court House – Epsom
Dating back to the 1730s, Ewell Court House is a wedding venue that is steeped in history.
With a capacity for up to 100 guests in the day and 120 in the evening, this venue lends itself to larger celebrations. Your guests will love to explore the magnificent reception areas, wood panelled rooms and paved terrace which overlooks the land's own lake.
For couples looking for flexibility with their menu choices, Ewell Court House have an approved list of tried and trusted caterers which makes planning your all-important wedding breakfast totally easy.
Once the excitement of the day has died down, you'll be able to rest your head in one of the many luxuriously designed bedrooms.
READ MORE: The Most Beautiful Bridal Suites in the UK
5. Addington Palace – Croydon
We've fallen in love with Addington Palace in Croydon! This beautiful grade II listed Georgian mansion is nestled within 163 acres of scenic parkland and is conveniently located just 12 miles from central London.
You'll have the choice of two ceremony rooms - the bright and airy Winter Garden Chapel or the gloriously elegant Great Hall. Come evening, the Great Hall can be transformed into a banquet space in which up to 150 of your guests can enjoy a wedding breakfast or three-course meal.
What's more, after the celebrations have ended, 36 loved ones can head to several on-site cottages for a relaxing overnight stay. Expect modern amenities, luxurious interiors and en-suites.
6. Pembroke Lodge – Richmond Park
Pembroke Lodge is a beautiful, listed Georgian mansion in Richmond Park – in fact, it is the only wedding venue within a London Royal Park! There are over 650 deer who roam freely here, and it is the largest Royal Park in the capital.
The highly experienced wedding planning team will make you feel as ease and be able to assist you from your first enquiry right through to the departure of your last guest.
Your wedding breakfast can be held in the magnificent Belvedere banqueting suite – a custom-built function room which has space for up to 140 seated guests and 200 guests in the evening.
If you're looking to host a slightly smaller celebration, the Russell Suite, a selection of elegant Georgian rooms, accommodates up to 70 for a sit-down meal and 100 for the evening party.
READ MORE: The Best Places to Host an Intimate Celebration
7. Botleys Mansion – Chertsey
If you're dreaming of a romantic stately home wedding venue in Surrey, you can't get more impressive than this.
Botleys Mansion is a spectacular 18th century listed property which was fully restored in the early 2000s to offer a range of stylish entertaining spaces for your big day.
The mansion is ideally located just 30 minutes from London and set in 57 acres of beautiful parkland. There is an impressive driveway leading up to the house, an elegant fountain and a sweeping stone staircase.
The interiors match the stunning façade; from sparkling gold leaf chandeliers to a glass-roofed Orangery and white carpeted staircase for your grand entrance, there is so much to love. You're sure to spend the entirety of your day feeling just like a princess!
READ MORE: The Best Venues for Your Glamorous Wedding
8. Foxhills Club & Resort – Ottershaw
Foxhills Club & Resort is a stunning wedding venue with space for up to 160 guests.
You'll start your day by saying 'I do' in the quaint Library room, before heading through to one of the larger function spaces for your wedding breakfast.
If you're a bit of a foodie couple, you'll be pleased to know that you can work closely with the team of talented chefs in the run up to your big day to create a totally bespoke menu. You'll even be able to visit the venue prior to the big day to sample your menu and wine selection, making sure everything is perfect!
When the celebrations wind down, there's a staggering 70 stylish guest rooms for your family and friends. You'll also have run of the country club facilities, including a swimming pool, tennis courts and 9-hole golf course. What a treat!
9. Wotton House – Dorking
As you drive alone a mile-long tree-lined driveway, Wotton House will be unveiled to you – a countryside wedding venue which definitely has the "wow factor".
The gardens have got to be one of the highlights of this venue. They're the first Italian gardens in the UK and feature a stunning, secret walled garden, temples, ponds and streams with pretty ornate bridges. We can't think of a more enchanting backdrop for your wedding photographs!
The Old Library is a majestic setting for exchanging your vows, especially at a winter wedding, since it boasts welcoming fireplaces, a vaulted ceiling and hand-painted detailing. If you'd prefer to get married outside, there is a Roman-style temple within the walled garden which would be simply stunning.
As if all of that wasn't enough, there's the 1877 bar perfect for your drinks reception, a totally dedicated wedding team and a selection of bedrooms which have recently undergone a £6 million refurbishment. You should definitely check this place out.
READ MORE: The Most Popular Wedding Venues of 2018 Revealed
10. Farnham Castle – Farnham
There's nothing more spectacular than getting married at a castle wedding venue, and Farnham Castle is up there with the best.
It is set within five acres of beautiful gardens and offers a totally unique setting for your big day.
For couples that would like a Church of England and marriage service, there are two on-site chapels. The Norman Chapel offers traditional and simple features with a wooden floor and a grand stone arch, while the Bishops Chapel is perfect for a more intimate ceremony.
Once you've said 'I do', you can head to the Great Hall – a stunning dining room with grand fireplace, stained-glass windows and magnificent gold-framed portraits. Your guests are sure to be impressed.
READ MORE: A Guide to Booking Your Church Wedding Ceremony
11. De Vere Selsdon Estate – South Croydon
Nestled in 200 acres of woodland, this hotel wedding venue – which has recently undergone a multi-million pound refurbishment – is an elegant and characterful location for your wedding day.
At the De Vere Selsdon Estate, there are plenty of spots for your wedding photographs, including the Secret Garden built on rose arbour steps. It is so pretty!
The wedding team are dedicated to making sure every wedding day is bespoke and smoothly-run. They'll also offer the couple complimentary accommodation on the night of their wedding, and there are special rates on bedrooms for your overnight guests.
READ MORE: The Most Unusual Wedding Venues in London
12. High Billinghurst Farm – Dunsfold
Are you on the lookout for an enchanting barn wedding venue? High Billinghurst Farm is just that – set in the Surrey countryside between Dunsfold and Hascombe, it boasts a selection of wonderful barns with great flexibility for expressing imagination and creativity.
Whether you're hoping to host a festival themed wedding, a vintage themed wedding or something altogether different, the large hay barn with huge fireplace and chandeliers will be the perfect backdrop.
It seats 164 guests, and outside, there is a courtyard and walled rose garden with far-reaching views of unspoilt countryside.
Catering here is managed by Caper & Berry, a company who provide stunning food with exceptional style, service and attention to detail. Whether you're planning a traditional wedding breakfast, lavish barbecue or street food served from food trucks, you won't be disappointed.
READ MORE: Our Favourite Alternative Food & Drink Ideas
13. RHS Garden Wisley – Woking
RHS Garden Wisley is a totally unique wedding venue set among the rolling Surrey hills, just 20 minutes away from both London and Guildford.
There are a number of different spaces here for you to choose from, including the iconic Glasshouse which looks over a beautiful lake. Your guests will be wowed if you host your celebrations here.
You can also choose to celebrate in the restaurant, which enjoys views across the seven acres of grounds, or a marquee can be arranged in the impressive garden, allowing you to totally personalise your event.
This gorgeous garden venue has a capacity of 120 seated guests for a wedding breakfast and up to 300 for a drinks reception. If you opt to host your meal in a marquee, there is room for 250 people to dine.
READ MORE: The Best Large Capacity Wedding Venues
14. Barnett Hill – Guildford
Barnett Hill is a country house wedding venue located just outside Guildford.
Thanks to the immaculately manicured gardens, a backdrop of the Surrey Hills Area of Outstanding Natural Beauty and the most stylish and elegant of interiors, any wedding day hosted here will be nothing less than perfect.
Whether you're dreaming of a small and intimate celebration or something larger, there is a range of function suites to suit. There is also a selection of beautifully designed bedrooms for both the newly-married couple and their overnight guests. Seriously, you'll never want to leave.
To make sure nothing is forgotten, Barnett Hill offer a range of wedding packages, including their all-inclusive package which covers everything from menu tastings before the big day to perfectly-chilled Rosé Champagne for your wedding toast.
15. Langshott Manor – Horley
Langshott Manor offers everything you could ever wish for to make your day memorable. From a water-filled moat to a bell tower and beautifully manicured gardens, this Surrey wedding venue has a sense of uniqueness which will leave a lasting impression on you and your guests.
Langshott lends itself to smaller weddings – the Mulberry Restaurant serves a delicious menu using seasonal and local produce to up to 60 guests. You can invite a further 40 people to your evening celebrations.
If you hire the venue exclusively, you'll have full run of the house and gardens with access to 22 deluxe bedrooms and all private hubs. It'll feel like a home-away-from-home!
We're totally in love with the bridal suite. It has a four-poster bed, roll top bathtub and working stone fireplace. The other guest bedrooms are pretty special, too!
16. Farleigh Golf Club – Selsdon
Anticipation will build for you and your guests as you drive along the mile-long driveway to reach Farleigh. The grounds consist of pretty gardens, a 27-hole Championship golf course and ancient woodlands.
On a clear day, you can see as far as Canary Wharf and the Shard – what a perfect backdrop for your wedding photographs!
This venue is a total blank canvas, so let your imagination run wild and create the day you've always dreamed of.
While there is no accommodation, Farleigh can provide an extensive list of 4* properties within a 5 mile radius of the venue where all wedding guests will receive a preferential rate. What more could you ask for?!
17. Pennyhill Park – Camberley
Pennyhill Park is an exclusive hotel and spa complex which will be perfect for your glamorous wedding day.
From the award-winning, Michelin star dining experience to the 124 luxurious bedrooms for your overnight guests, this gorgeous wedding venue offers everything you could ever need and more.
Despite being just 45 minutes away from London, Pennyhill Park enjoys total tranquillity within 123 acres of stunning Surrey countryside. The gardens and grounds will make a perfect backdrop for your wedding photos.
If that wasn't enough, you'll be able to enjoy the award-winning 45,000-square-foot spa facilities to ensure you're relaxed and recuperated in time for your big day.
READ MORE: The Most Glamorous Wedding Venues in the UK
18. Bingham Riverhouse – Richmond
Thanks to its romantic riverside location, elegant décor and excellent service, Bingham Riverhouse is the perfect location for your classic wedding day.
It is tucked away in Richmond-upon-Thames and combines a stylish, London vibe with a charming and quaint countryside atmosphere.
The hotel is available for exclusive hire, meaning you and your guests will have free run of the bar, restaurant, Garden Rooms, bedrooms and 15 luxurious bedrooms.
There is a team of talented chefs working to make sure your wedding breakfast is unforgettable. They'll create bespoke dishes with fresh, British ingredients which you and your guests will love.
19. Hampton Court House – East Molesey
Overlooking one of the most secluded Royal Parks, is the magnificent Hampton Court House. Built in 1757 and surrounded by nine acres of magnificent gardens, it's a true fairy tale wedding setting.
The house is situated just 15 miles from Heathrow and 11 miles from central London, making it a great choice for couples with guests travelling from afar.
This stunning wedding venue is available on an exclusive-use basis, so you'll truly feel like lord or lady of the manor for the day. Licensed for civil ceremonies, you really can spend all day here, from the 'I dos' in the main hall to drinks by the enchanting lake.
Plus, here you can drink your favourite tipples for less thanks to the no-corkage policy - winning!
20. Morden Hall – Sutton
Surrounded by sweeping National Trust parkland, with private gardens bordered by the River Wandle, Morden Hall feels a million miles from the hustle and bustle of nearby London.
You'll begin your day here in the Cherry Suite – a luxurious dressing room – before moving on to the ceremony room of your choice.
Although grand, Morden Hall can accommodate both large and intimate weddings within its walls thanks to its vast array of rooms.
Drinks receptions here are held on the manicured lawn in summer and dining takes place in the light and airy Mulberry Room. This neutrally decorated room works for weddings of all themes and colour schemes.
READ MORE: The Best Newly Opened Wedding Venues to Say 'I Do'
21. Ridge Farm – Dorking
If rustic country vibes are more your thing, check out Ridge Farm. This 16th century farmhouse and its picturesque grounds are nestled on the edge of the Surrey Hills, enjoying peace and tranquillity.
You can hire the venue for a weekend and make use of the farmhouse, pool house and grounds for what promises to be the ultimate three-day celebration.
The farm is a self-catering venue and so you can bring in your own caterers and drinks, with no corkage fees to be paid.
Up to 27 people can stay on-site in the farmhouse and the happy couple will be treated to a night in the stunning Bridal Cottage.
22. Brewerstreet Farmhouse – Old Coulsdon
Built back in 1491, Brewerstreet Farmhouse is the perfect pick for history loving couples. With 20 years' experience of hosting beautiful weddings in its idyllic surroundings, you're in great hands here.
You can say 'I do' here in the stunning riverside chalet before enjoying drinks in the fabulous gardens and tucking into a fantastic meal from catering partners, Super Events, in a marquee.
Only ten weddings a year are hosted here and the team, together with their caterers, will work hard to create the celebration of your dreams.
From marquee decoration to bespoke menus, your day will be well taken care of at Brewerstreet Farmhouse.
23. The Red Barn – Lingfield
We love a pub wedding venue here at Hitched, especially one with plenty of character and charm like The Red Barn.
This 16th century barn can accommodate up to 140 guests for a relaxed wedding celebration. Ceremonies and receptions are welcome here and couples with as few as 30 guests can book the more intimate Pantry room.
The paddock is a gorgeous outdoor space for summer drinks receptions and casual BBQ style dining. In the winter months, guests can sip on drinks next to the log burner and cosy up with a hearty meal.
To end the celebration, why not book a live band? The Red Barn is fully equipped to host bands and performers.
24. The Barn at Hurlands – Godalming
If tranquil and relaxed are keywords in your wedding venue search, then we highly recommend checking out The Barn at Hurlands. This rustic wedding reception venue, complete with exposed beams and stones galore, is a country lovers paradise.
The venue is a total blank canvas, allowing you to come in and create the day of your dreams with the help of the experienced wedding team.
You can dine inside the barn or outside on the lawn, choosing a caterer from the barn's tried and trusted selection of services. Everything from sit-down meals to a street food vans is possible here and drinks will be corkage free.
On the night of the wedding, you can stay in the stunning bridal cottage while guests glamp on-site or head to one of the nearby B&Bs.
25. Gildings Barns – Dorking
This selection of characterful barns is situated in the Surrey countryside close to the West Sussex border. Gildings Barns prides itself on the unspoilt and rustic look of its venues.
Licensed for civil ceremonies, you can say 'I do' here in one barn and move on to celebrations in another. You can also make the most of the expansive lawn and farmland backdrop for reception drinks and wedding photographs.
Gildings Barns work with four first class catering teams and you're offered the choice of which you prefer. Receptions can be anything from sit down meals with champagne to festival style celebrations with Pimms outside.
With an entertainment license, you can certainly throw your own mini fest here!
26. Silvermere Inn on the Lake ­– Cobham
Nestled on the water's edge and surrounded by one of Surrey's finest golf courses, wedding venues don't get much more idyllic than Silvermere Inn on the Lake.
You can marry in a light and airy room with large windows overlooking the stunning surroundings before enjoying a toast on the edge of the lake and snapping some magical wedding portraits.
With the help of a dedicated wedding coordinator, every detail of your day will be planned to perfection. From how to make the best of the gorgeous reception space to the best spots to snap photos against the magnificent backdrop, every base will be covered.
Suppliers – including florists, entertainers, decorators and photographers – come recommended here, so you know you'll be in great hands.
READ MORE: Why You Should Consider a Vineyard Wedding Venue (Plus 10 of the UK's Best)
27. Denbies Wine Estate – Dorking
When you think of vineyards, Surrey probably isn't the first location that springs to mind but allow us to introduce you to the county's hidden gem.
Denbies Wine Estate is England's largest vineyard and boasts 265 acres of vines in the Surrey Hills. This is the place to be if you're craving spectacular and unique wedding photographs.
Licensed for indoor and outdoor civil ceremonies, you can marry here come rain or shine. Afterwards, you can invite guests to join you for pre-reception drinks in the wine cellar.
The Conservatory Atrium and Garden Room can be combined to accommodate up to 400 guests for your celebrations or, alternatively, The Gallery Restaurant with its panoramic vineyard views can seat between 30 and 60 guests.
If you're still undecided, why not check out our round-up of the best wedding venues in London? They're just a stone's throw away, and if these Hertfordshire countryside venues aren't quite up your street, something in the city might well be.