The Groom's Cake: Did You Know the Groom Gets His Own Cake?
Because two cakes are better than one - whether there's a groom or not, to be honest. Discover more about the groom's cake and see some examples here!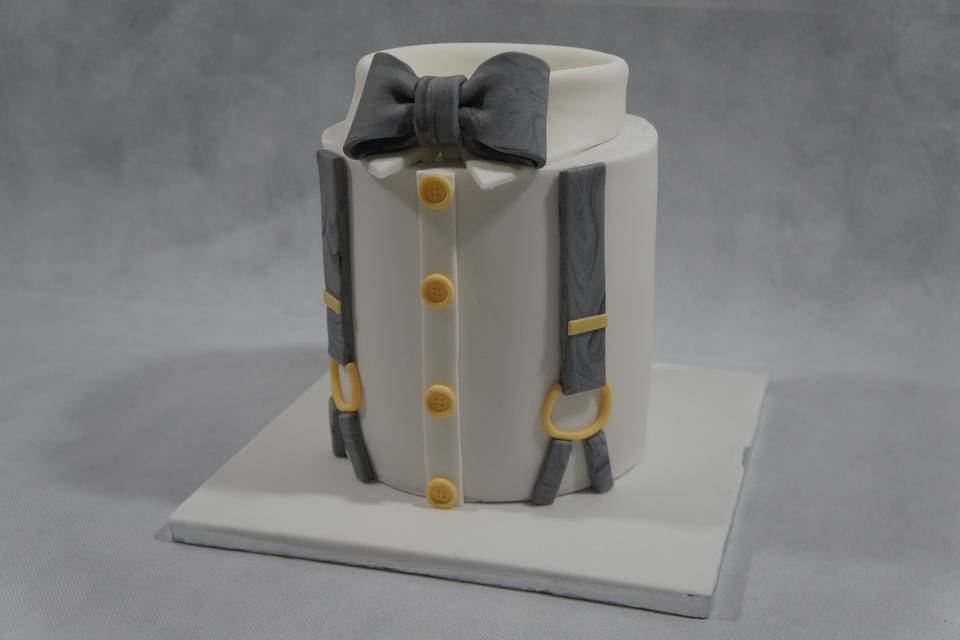 The groom's cake is a wedding tradition that stretches back centuries. You don't have to have a groom's cake at your wedding, but it is a great opportunity for any groom to have a specific part in their wedding that reflects their personality and tastes. Two cakes are better than one anyway, right?
Prince William had his own groom's cake when he married Kate Middleton in April 2011. Requested specifically for the wedding by the Prince himself, he asked McVitie's to make a delicious single tier wedding cake made from chocolate and filled with biscuit pieces.
If you're thinking, heck yeah I want two cakes (you're our kind of person, btw), then read on to be inspired by all these awesome wedding cakes, and discover the history behind this long-forgotten (but long overdue a comeback!) wedding tradition...
8 Groom's Cakes Perfect for Every Personality
1. Superhero Reveal Cake - Quality Cake Company
If superheroes are your religion, then this could be the groom's cake for you. This tiered creation from the Quality Cake Company is the ideal way to show off your interests - we hear it goes very well with a superhero-themed wedding... If this is your vibe, you're going to love our edit of Marvel themed wedding cakes!
2. Cheese Wedding Cake - All Shapes and Slices Cake Co
What to do if the groom's favourite cake isn't cake at all? If your sweetheart doesn't have much of a sweet tooth, take a look at this cheese wedding cake from All Shapes & Slices Cake Co, the perfect gift for those who appreciate the smellier things in life.
3. Doughnut Stack Cake - Northern Lights Cakery
Your groom will get the best of both worlds with this mouth-watering doughnut stack cake from Northern Lights Cakery. With the flower toppings, semi-naked appearance and drip detail, we've never seen doughnuts looking classier. Love this? You'll find more semi-naked wedding cakes here.
4. Lord of the Rings Cake - Euthymia Cakes by Eva Cockrell
Tolkien fans, pay attention! This beautifully crafted cake from Euthymia Cakes by Eva Cockrell is the perfect way to incorporate your love of Lord of the Rings into your big day. After all, there can only be one ring to rule them all.
5. Star Wars Wedding Cake - Euthymia Cakes by Eva Cockrell
If Jedis and Wookies are more your vibe, then check out this tiered Star Wars reveal cake, also from Euthymia Cakes by Eva Cockrell. A half and half wedding cake is a great way to incorporate both your wants, if you're not going for a separate groom's cake. This one is an especially thoughtful way to show the groom that they're the Obi-Wan for you.
6. Two Tier Dark Chocolate Cake - Pete's wedding Cakes
Dark chocolate might not be to everyone's tastes, but this two tiered creation from Pete's Wedding Cakes looks irresistible. Try pairing this groom's cake with a chocolate wedding cake for an extra chocolatey day.
7. Naked Berry Cake - Pete's Wedding Cakes
Naked cakes are in, and this berry cake from Pete's Wedding Cakes makes it easy to see why. Dark sponge dusted with snowy white powdered sugar means this is a 'berry good' groom's cake for a winter wedding.
8. Harry Potter Cake - The Sovereign Cake Studio
This three tier Harry Potter groom's cake from The Sovereign Cake Studio adds a touch of elegance to an edible fandom tribute. Lace details and golden snitches and printing are perfect for a groom who wants to keep things classy while also showing their more magical side.
Groom's Cake FAQs Answered
What is a Groom's Cake?
The groom's cake is - you guessed it - a cake for the groom. Traditionally smaller and different in flavour from the main wedding cake, this second sweet treat is designed to celebrate the groom. Chocolate cake with fruit or liquored filling is a popular option, with the cake decorated to represent the groom's hobbies and interests.
Who Pays for the Groom's Cake?
According to tradition, the groom's cake is a gift to the groom from the bride to show how well she knows him and values his interests. However, with traditions constantly changing and many couples no longer being made up of a bride and groom, nearlyweds can interpret this tradition in many different and interesting ways. There's no rule that you can't have a cake each, groom or no groom!
When is the Groom's Cake Served?
When the groom's cake is served really depends on the couple. Some choose to serve it at the reception after the unveiling of the main wedding cake, while others serve it at the rehearsal dinner to give it its own spotlight, or more likely, to keep it separate from the perfect wedding colour scheme!
Check out our list of funny cake toppers for the perfect finishing touch to your groom's cake.