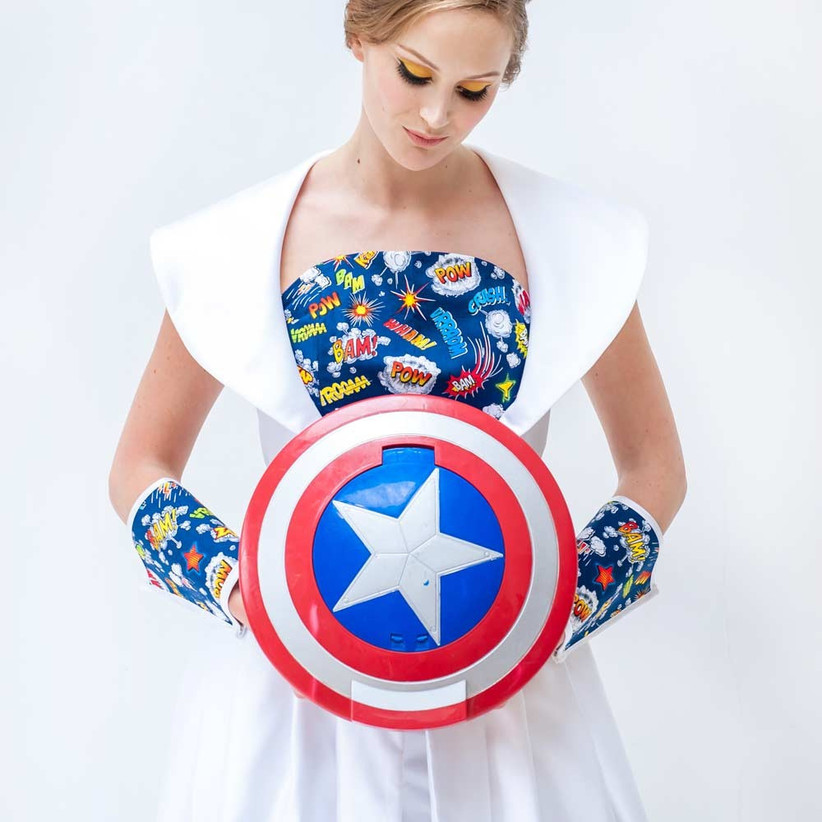 If you and partner are comic book obsessives who are always first in the queue to see the latest Marvel movie, then how about incorporating the superhero theme into your wedding day? Whether you want to rock up in full blown superhero attire underneath your wedding outfits, superman style, or just include smaller details, such as an alternative wedding cake with the Hulk peeking out underneath, there are loads of ways to incorporate your favourite superhero characters into your big day.
If you've decided to include this fun theme in your planning then get ready as we're here to save the day (see what we did there), as we've compiled the ultimate guide to pulling off an extraordinary superhero themed wedding. KAPOW!
Send the Invites
Unfortunately Superman can't hand deliver your invites for you, so do the next best thing and send out comic book inspired invites to give your guests a teaser of your theme.
We're obsessing over this amazing set from Beyond Vintage, which creator Lou designed based on vintage Marvel artwork. "The invites feature those geeky doodles that you would do at school," she explains. "The envelope was hand made from vintage comic book wallpaper, with a coordinating address label to tie the invite bundle together."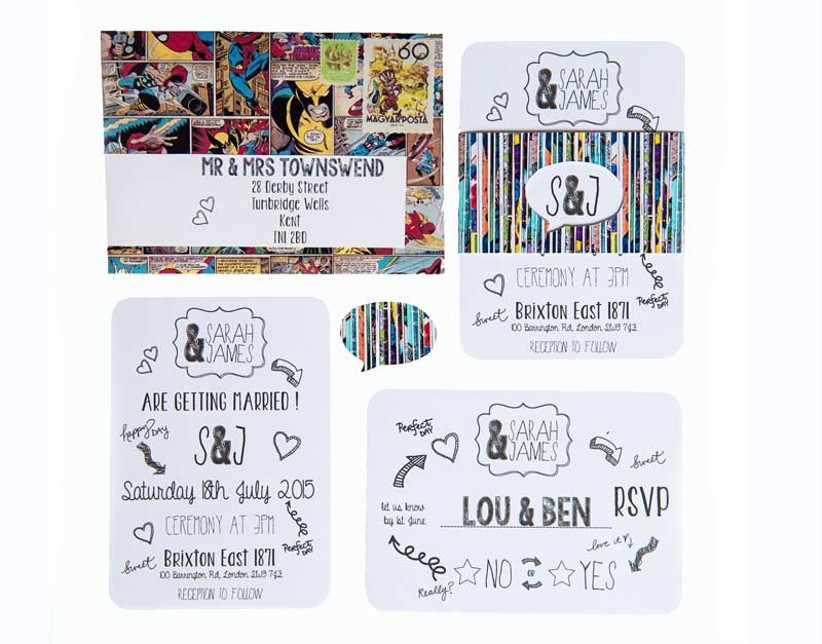 Image credit: Kat Forsyth Photography
Unleash the Super Bride Within
If you want to channel your inner Wonder Woman on your big day, then make sure your bridal look has you ready for saying your 'I dos' and fighting crime. These awesome bridal separates were created by bridalwear designer Karen Dornellie, who channelled superheroes and the 1960s for a shoot with wedding collective Coocouture. 
"For this shoot, I wanted to introduce some separates and use a bit of print to make it unique," says Karen. "The style has a 60s feel with the flared cropped trouser showing a flash of the 'POW' print. The most exciting pieces to make were the gauntlets and the tiara, which was of course made in homage to the original Wonder Woman, Linda Carter. Thank goodness we can all sleep safe now we have super brides to protect us!"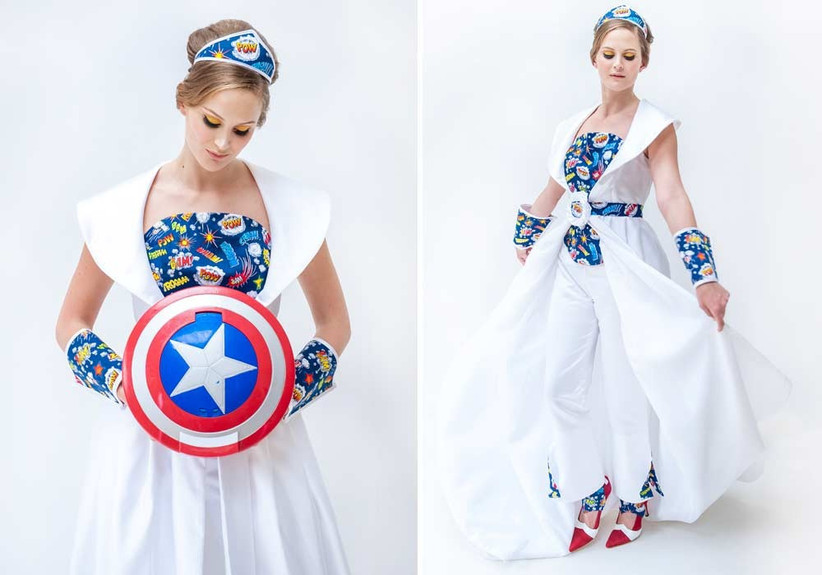 Image credit: Kat Forsyth Photography
If you're going for a 'super' bridal outfit, make sure you complete your look with some stand out details. Anneke from Retromorphosist, who did the hair and make up for Karen's 60s superhero bride, says: "I went with bright yellow eye shadow and bold black liner for this look, which was inspired by pop art comics. The big beehive makes a statement of power – but can also be an alluring wedding hairstyle when softened."
When choosing your wedding shoes, go for daring pops of colour such as red or blue to channel the classic superhero suit colours.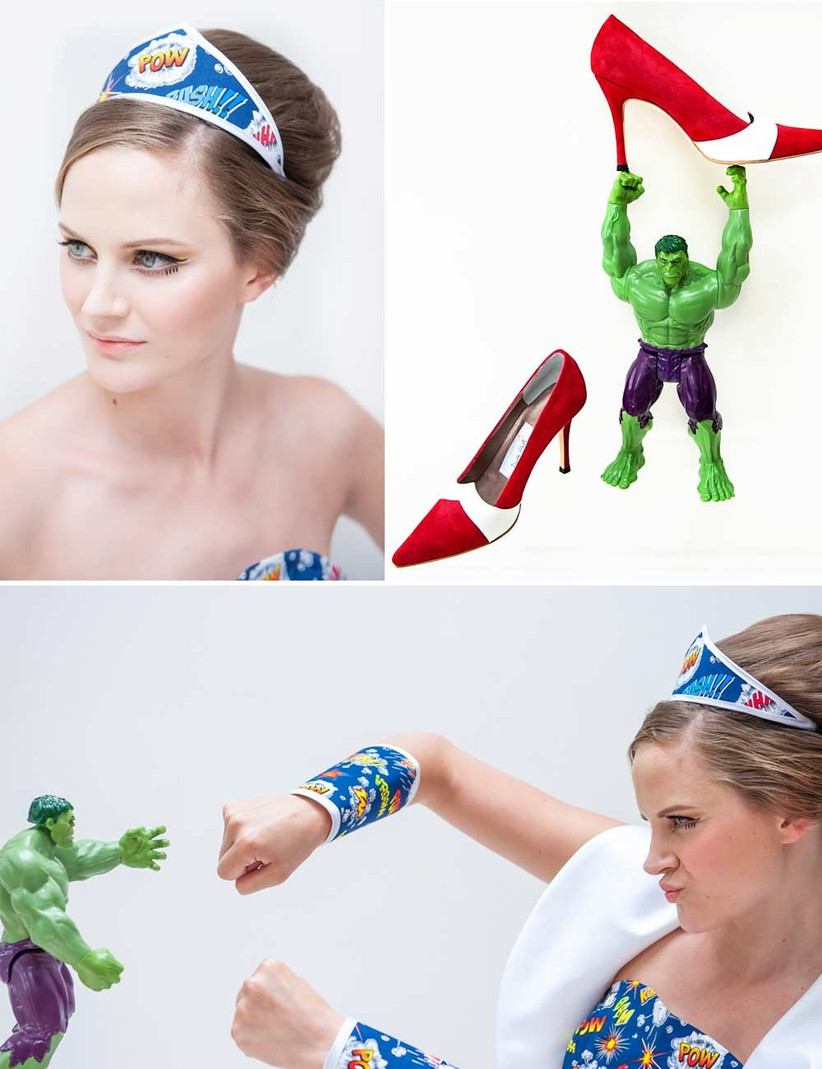 Image by Kat Forsyth Photography; Shoes by Marsha Hall Handmade Shoes
Why stop at your outfit if you're letting your inner hero come out to play at your superhero themed wedding? Gwenda from The Vintage Floral Design Company created a stunning synthetic bouquet for the Coocouture shoot, with a guest appearance from the Hulk himself.
"Somehow, fresh florals didn't seem right for this shoot," explains Gwenda. "So I followed along with the plastic fantastic vibe of the 1960s and used artificial blooms in our key superhero colours of blue, white, yellow, green and orange."
If you want to browse more everlasting bouquets like this one, then don't forget to check out our edit of stunning silk wedding flower ideas.

Image credit: Kat Forsyth Photography
If you're not brave enough to rock a head to toe heroic wedding look, why not wear comic books on your feet instead? These Avengers themed shoes from CustomFeeTs are made to order and will certainly provide a major talking point.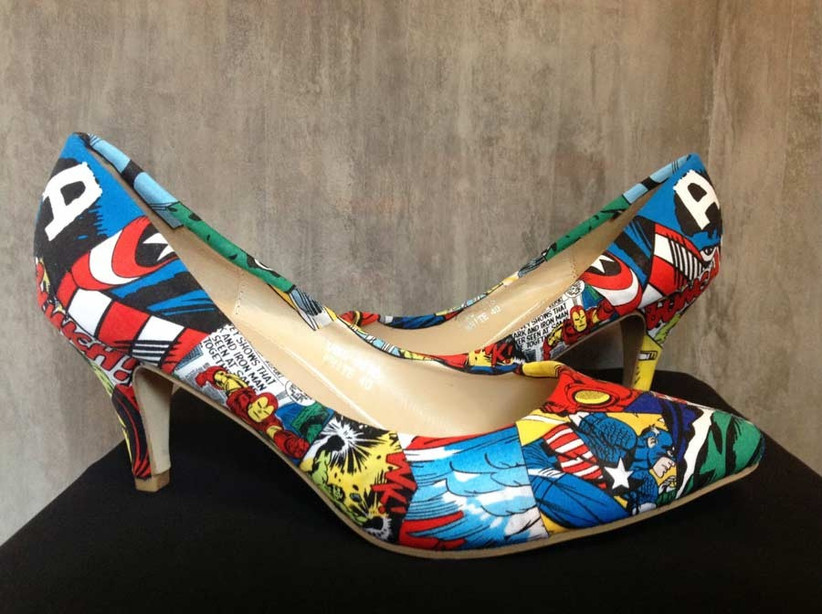 If you're searching for alternative bridal bouquets, feast your eyes on this awesome Beaubuttons felt bouquet which packs plenty of 'POW' factor.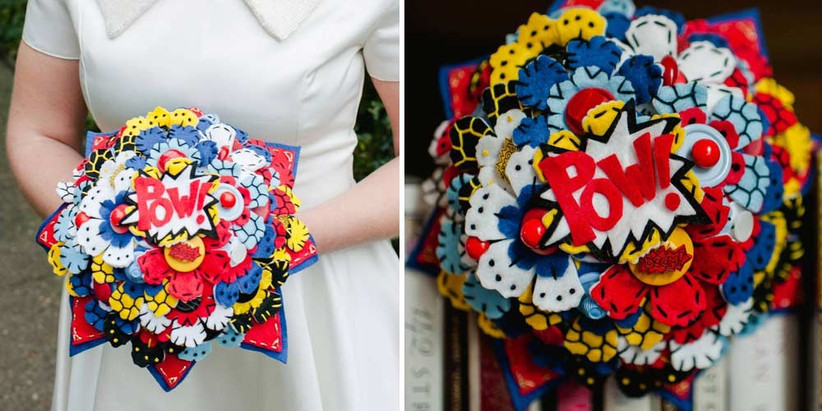 Image credit: Beaubuttons at Not on the High Street
For the element of surprise, whip some sexy superhero boots on underneath your wedding dress. We love this bride's ravishing red Wonder Woman accessories – and her hubby's Batman inspired look!

Image credit: Chris Giles Photography
No bridal emergency kit is complete without this comic book compact mirror from Bombus – for touch ups in case you need to dash off to foil a supervillain's plot.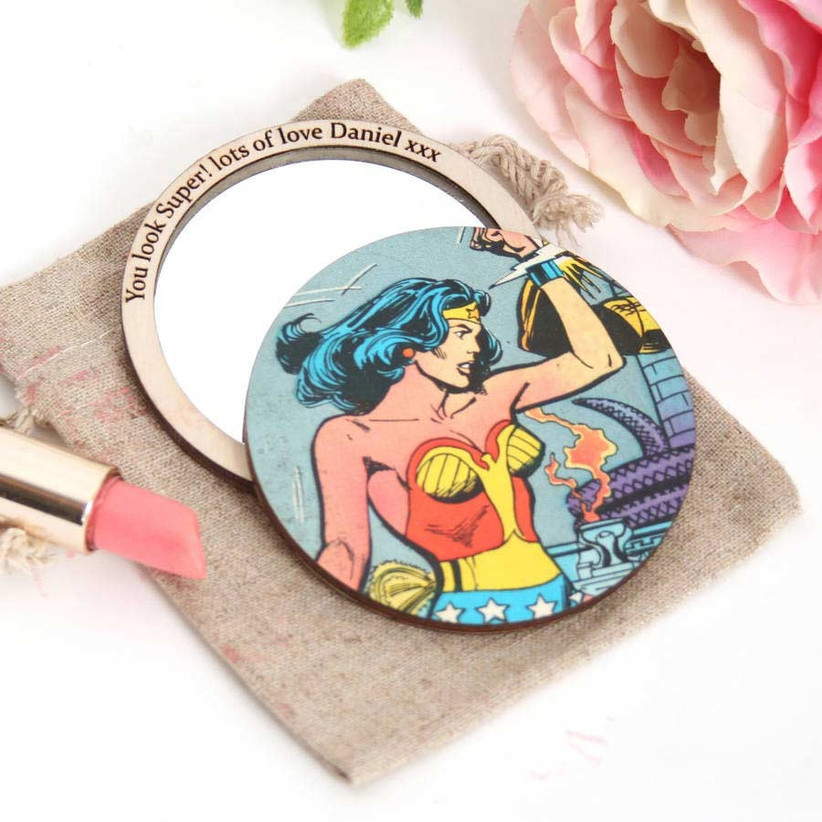 Image credit: Bombus at Not on the High Street
Suit Up
If your groom wants to make a grand entrance in the style of his favourite superhero, then one of these novelty suits from formalwear designers Dobell will guarantee that he makes a super style statement! 
"We get loads of requests for the novelty suits – more predictably for stag dos," says Dobell's Keith White. "However last week, a customer ordered the superman suit for his wedding to wear at his reception after the first dance."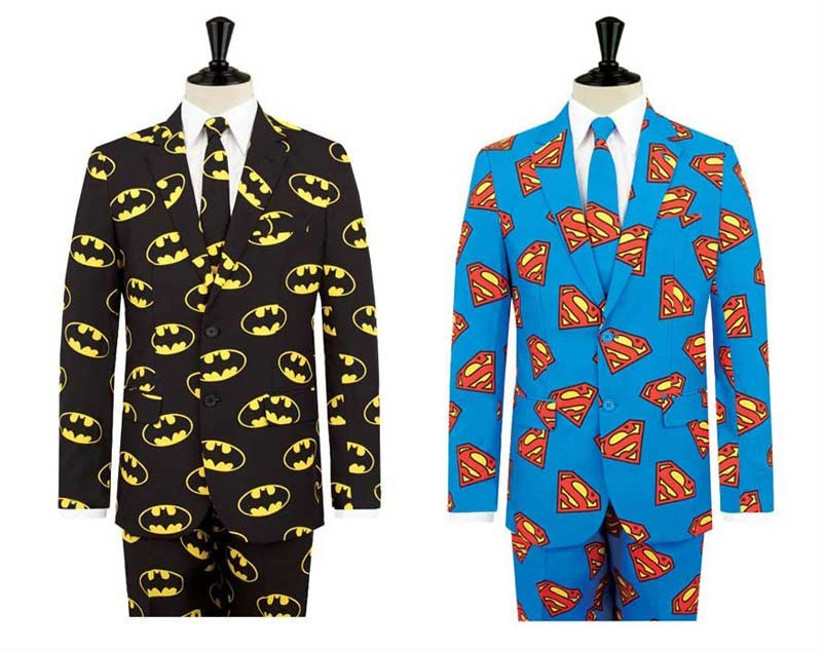 For some truly funny wedding photos, the groomsmen could all wear superhero t-shirts underneath their suits. At Christina and Matthew's real wedding, Matthew and his groomsmen made sure to flash their heroic t-shirts for the camera.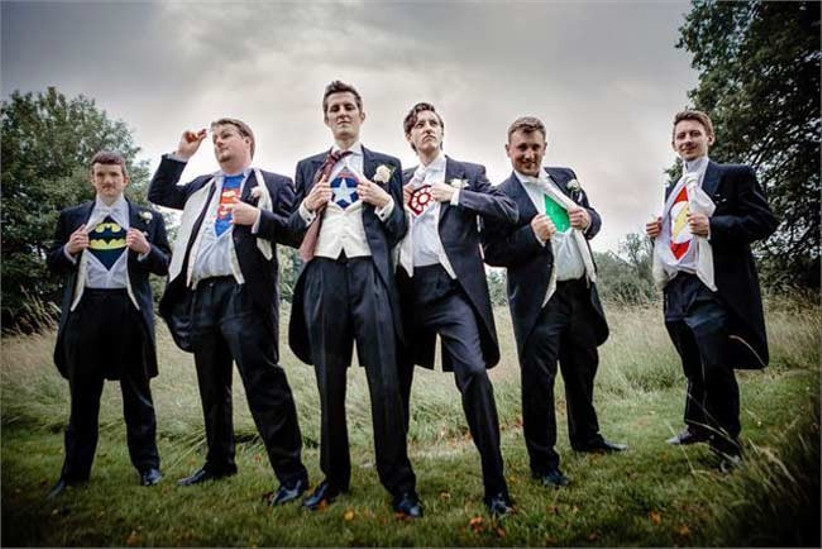 Image credit: Lightbox Digital Studio
A subtle way to do superhero weddings is to include small details that aren't OTT but will grab your guests attention, like these Lego hero buttonholes photographed by Jo Bennett Photography – that way the groom can keep his favourite character close by. Check out our edit of alternative buttonhole ideas for more awesome ones like these.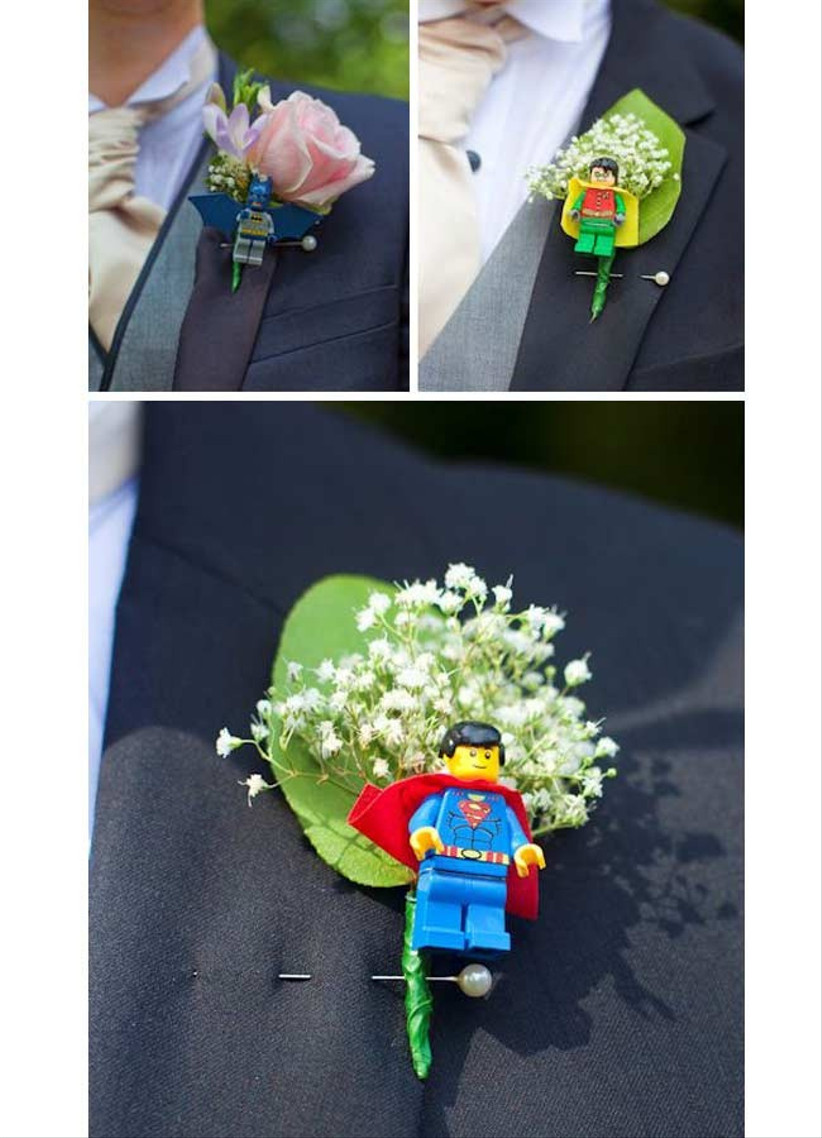 Or he could keep his secret identity up his sleeve, literally, thanks to these logo cufflinks – also photographed by Jo Bennett Photography. These cufflinks would make excellent gifts for the groomsmen, seeing as they'll be the ultimate sidekicks at the wedding after all.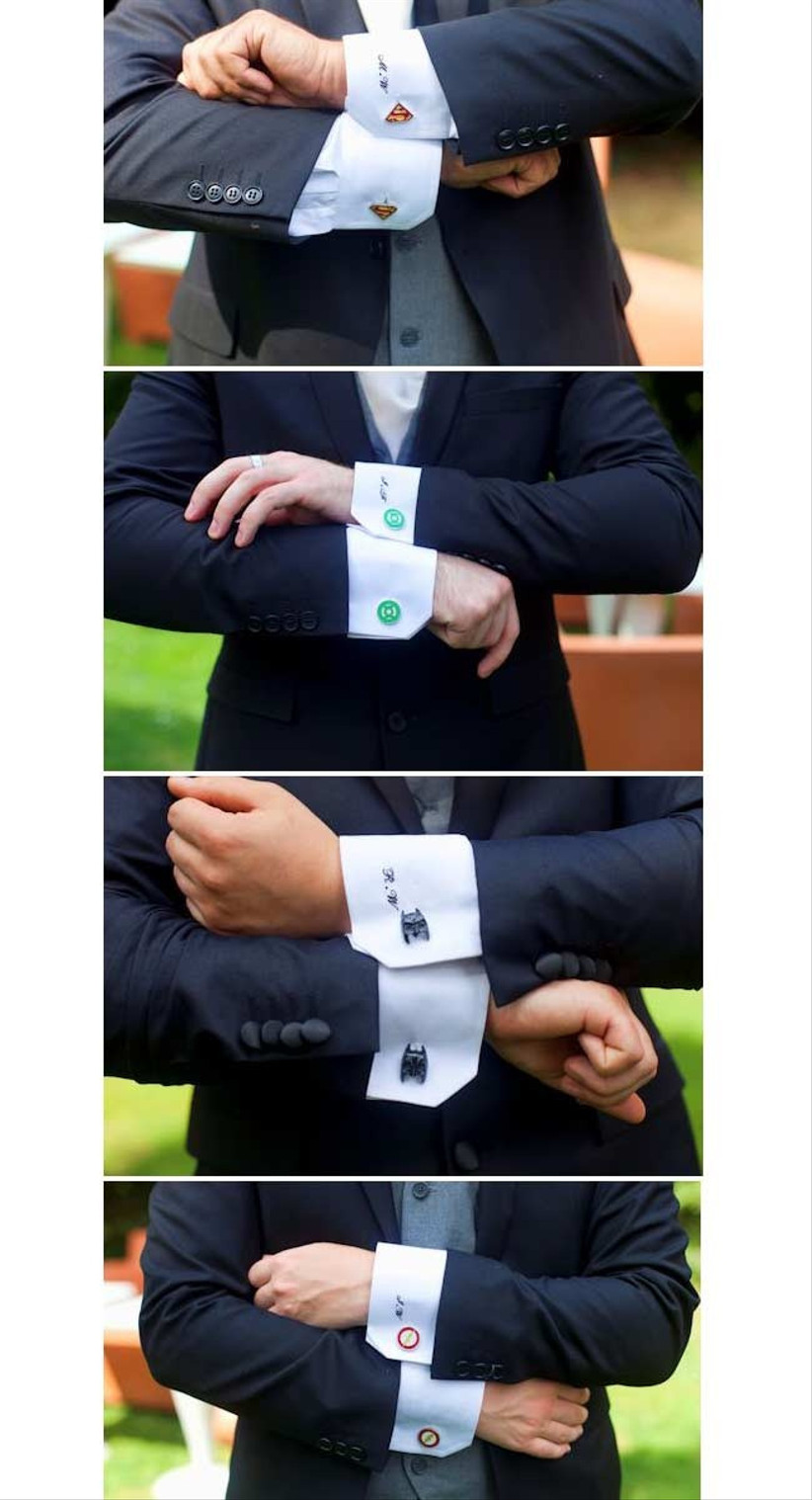 These super sleek superman cufflinks from Tales From the Earth would be perfect for the modern day hero, thanks to the elegant black and silver design.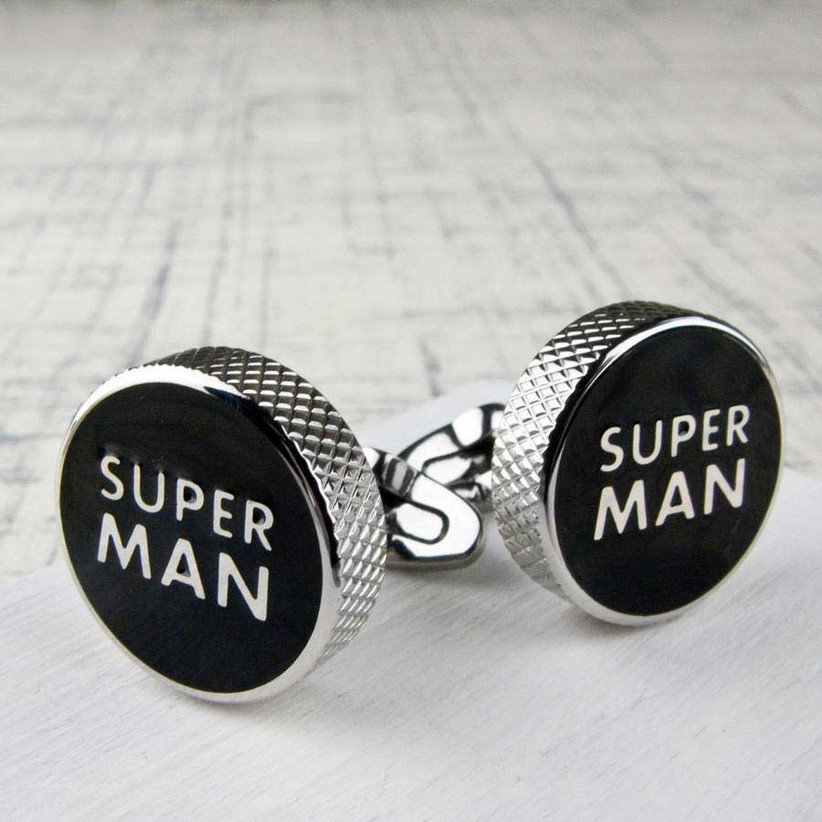 Image credit: Tales From the Earth at Not on the High Street
Some silly groom socks emblazoned with his favourite superhero are a great way to incorporate comic book characters into the day – these Batman ones from gettingpersonal.co.uk could be sported by all the groomsmen.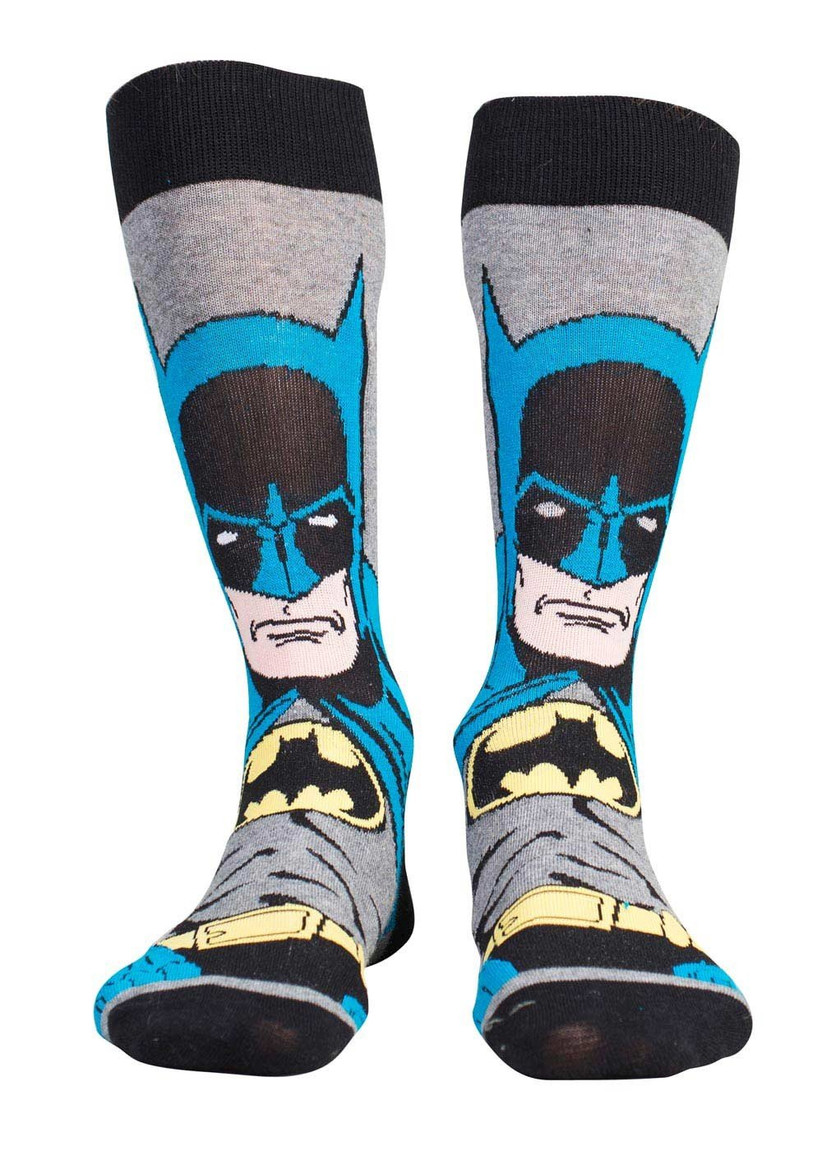 The Bowtie Boutique specialise in creating the most unique, handmade bowties for the ultimate wedding geek chic. Their classic comic book bowties include all the popular Marvel and DC characters, from Thor and Iron Man.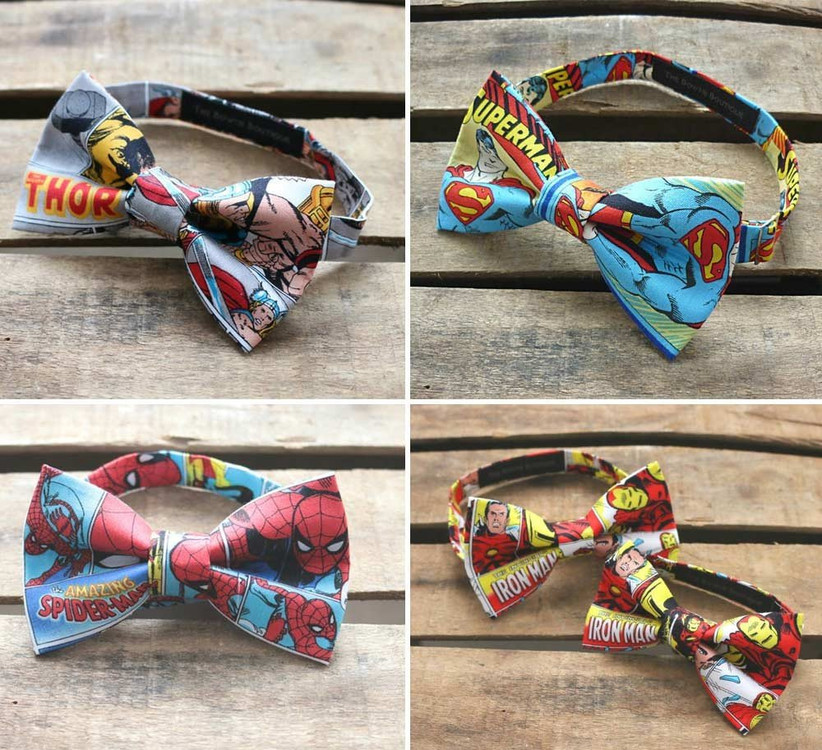 Image credit: The Bowtie Boutique at Not on the High Street
Another great gift idea for the groomsmen is to present them with these stainless steel superhero flasks from Fantasticum to thank them for their heroic efforts – the Captain America one is our favourite.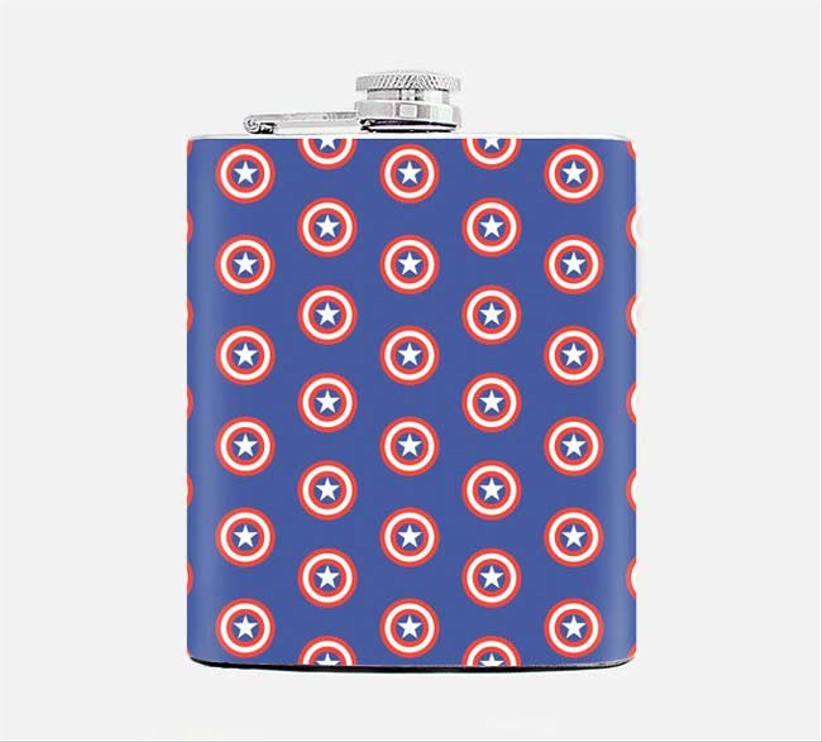 Cake with KAPOW
What is a superhero inspired wedding without an out-of-this-world cake? The stylish Coocouture shoot we mentioned earlier featured this epic three tiered design, made by Frenchmade and topped off with a comic book cake topper from The Origami Boutique.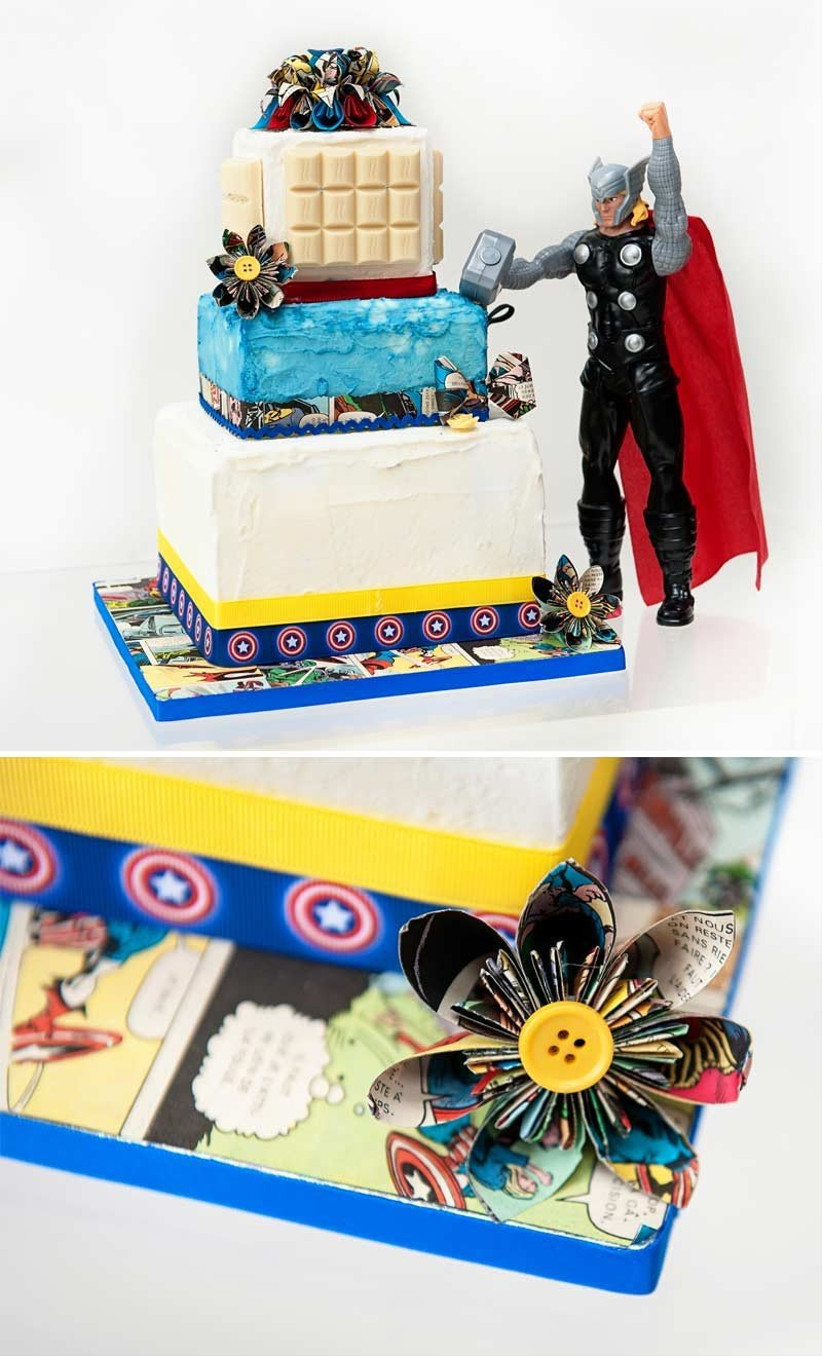 Image credit: Kat Forsyth Photography
If you can't decide which superhero character is your fave, just include all of them on your cake! This design from Krumblies is the perfect option for a couple looking for an unusual wedding cake.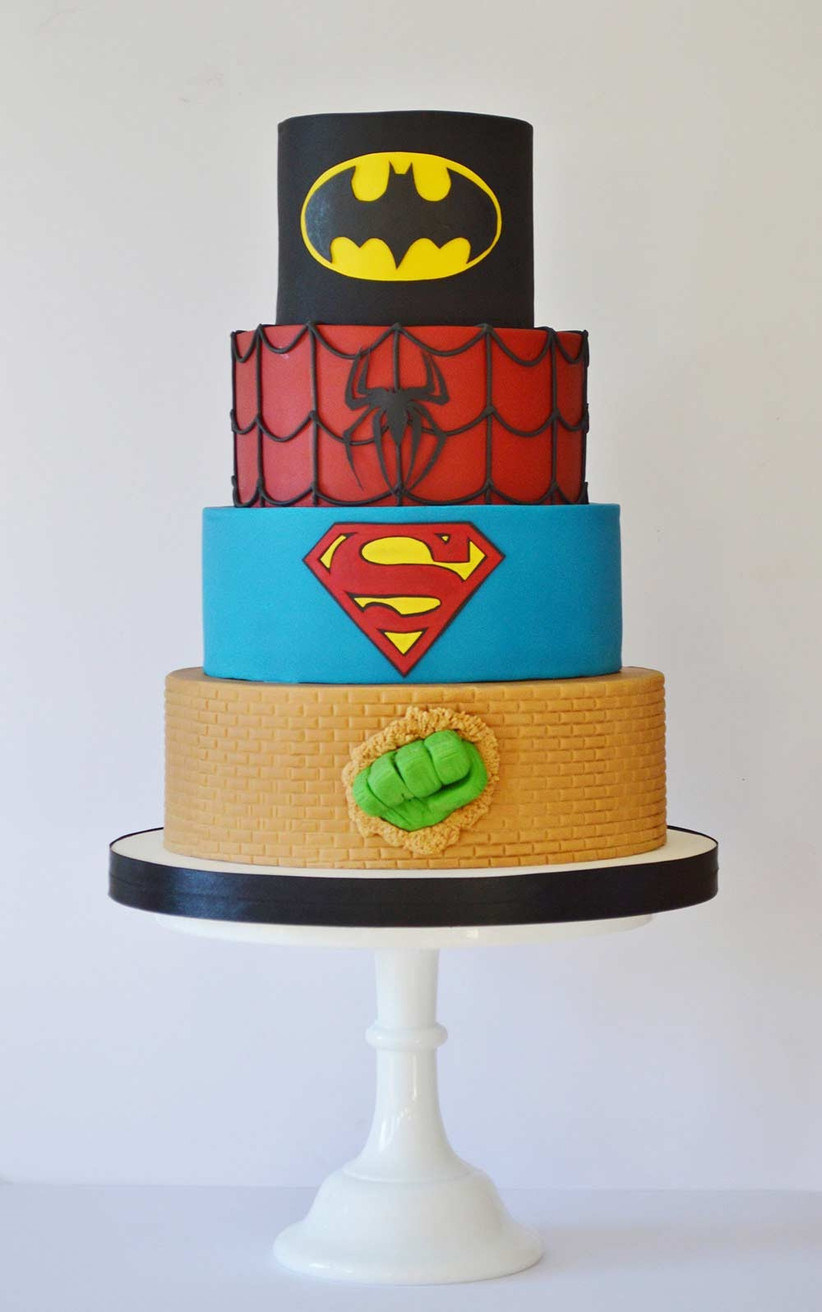 Combine traditional touches with your love of superheroes and opt for a two sided cake with your hero's logo peeping out – it's the perfect way to surprise your guests. It's also a great idea if your budget can't stretch to a wedding cake for the groom but you still want to highlight his personality.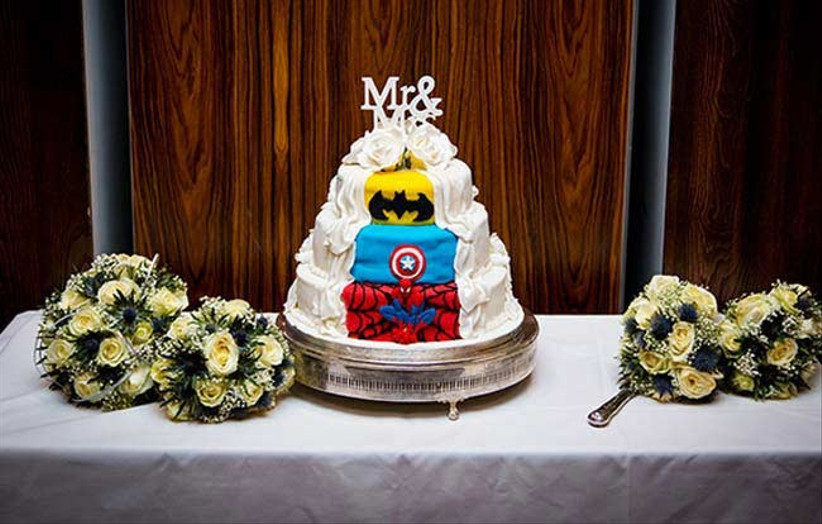 Image credit: Ten Foot Tall Photography
This design from Emerald City Cupcakes is an amazing wedding cake choice if your new hubby is the Captain America to your Wonder Woman. Glittery gold toppers stand proudly atop three tiers of iced glory.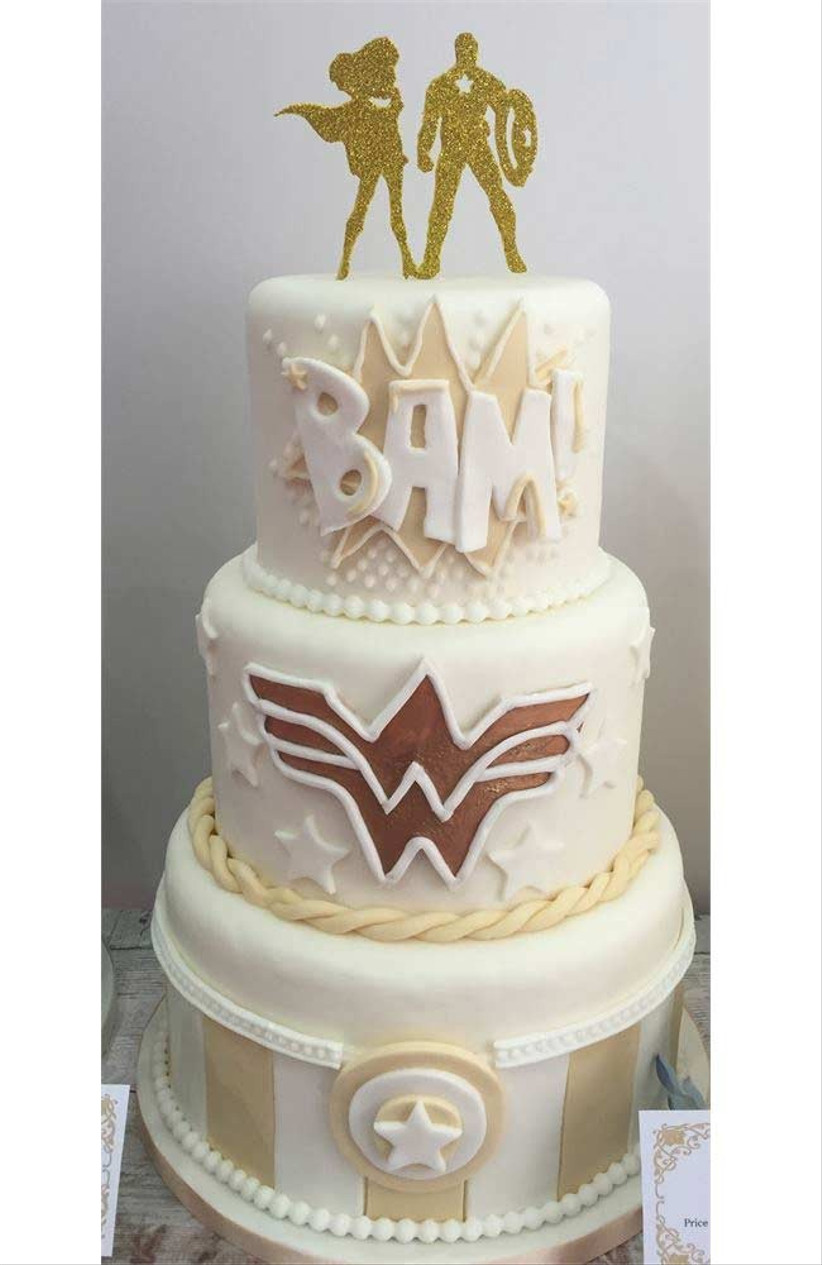 For all your Batman cake topper needs, head to Plasticsmith to see their extensive range of TV and film wedding cake toppers. Go romantic with the one of Batman and Catwoman embracing, or opt for the cool Batmobile 'just married' topper.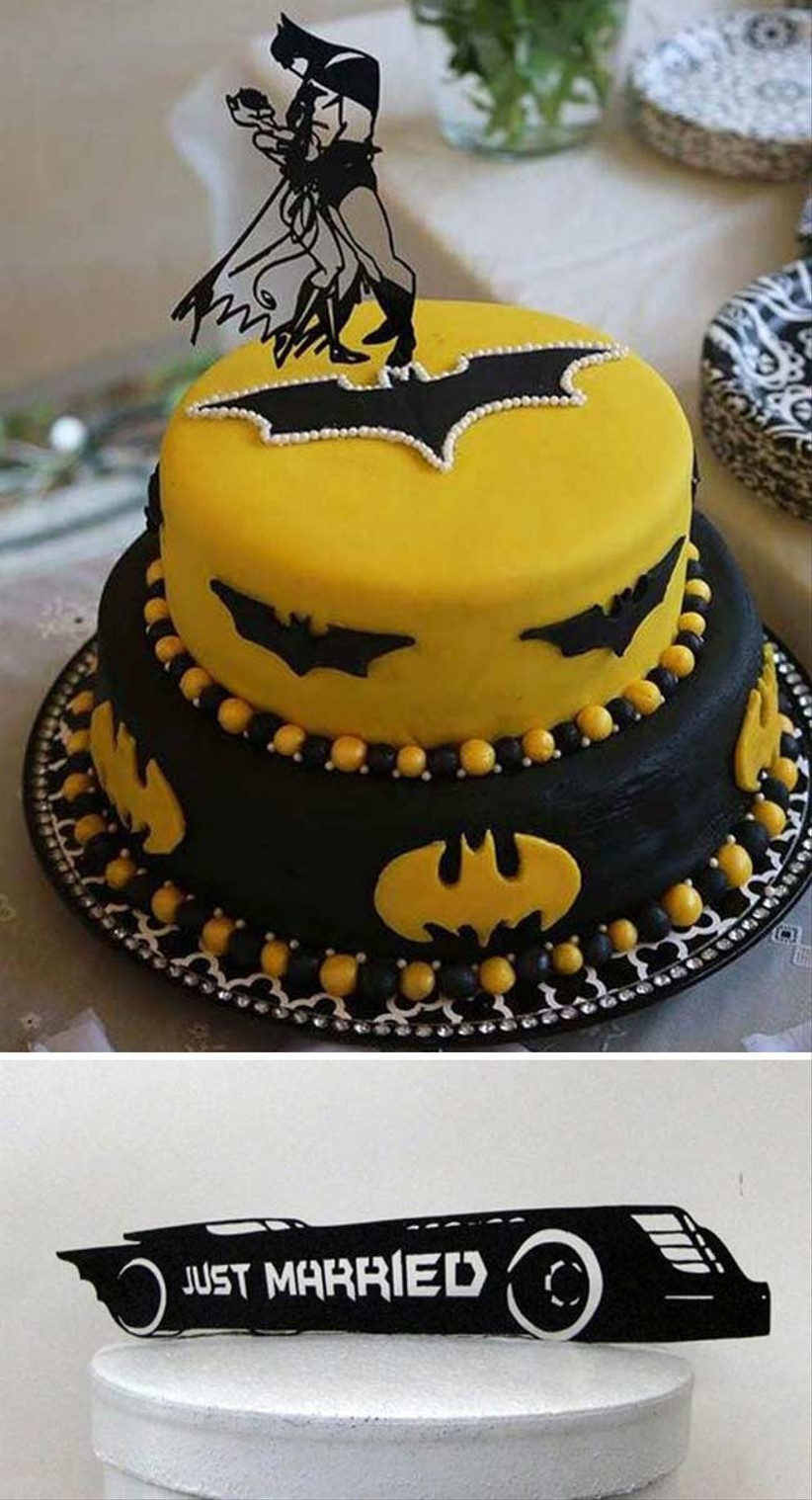 Or how about this super cute Spiderman kiss topper – also from Plasticsmith. This legendary on screen kiss has to be one of our favourite ever superhero movie scenes.
Any couple who are serious fans of the Avengers will surely want to get their mitts on these OhMyHero figurines. These funny wedding cake toppers will make you giggle too with their cheeky quotes.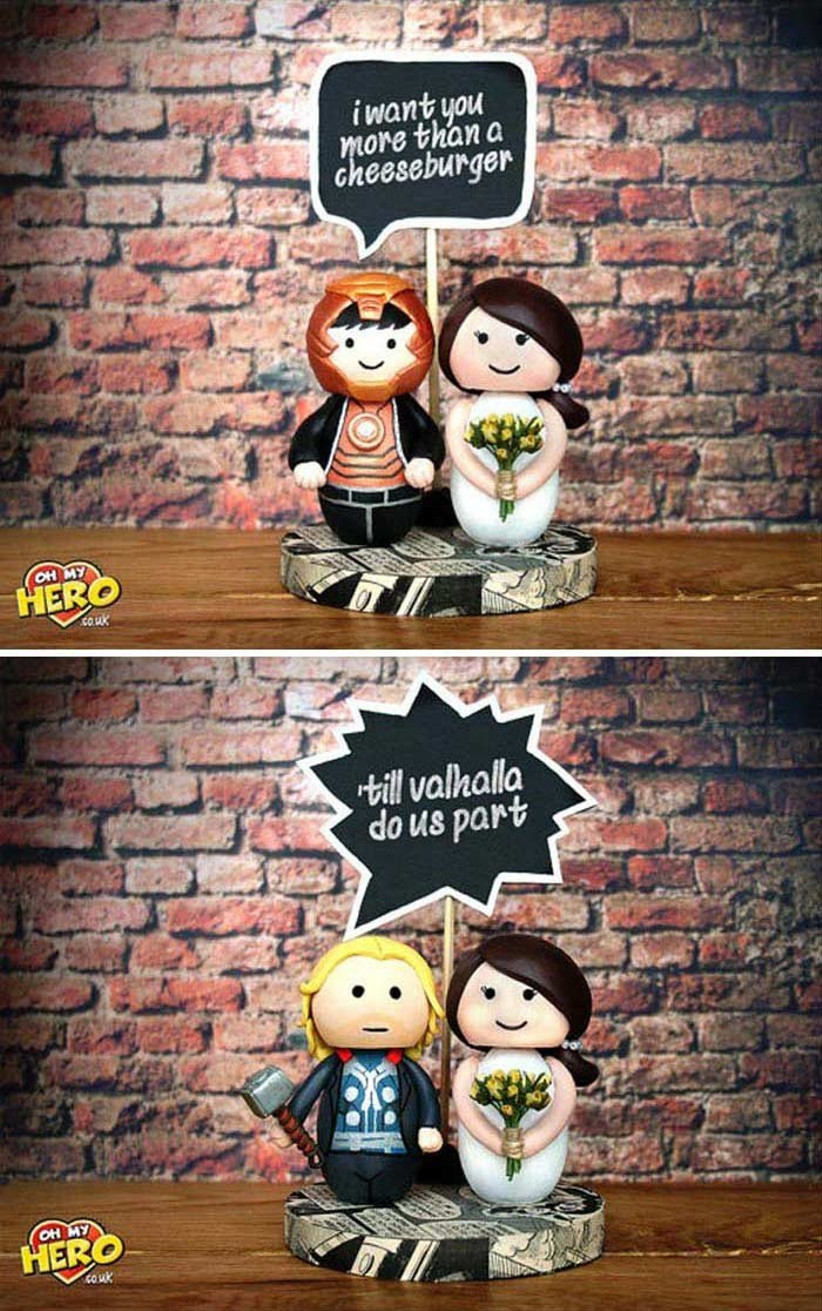 Arrive in Style
For some seriously amazing photographs, you can hire a Batpod from Theme Cars 4U. Movie buffs will be delighted to know that it's an exact replica of the one from the Batman movies.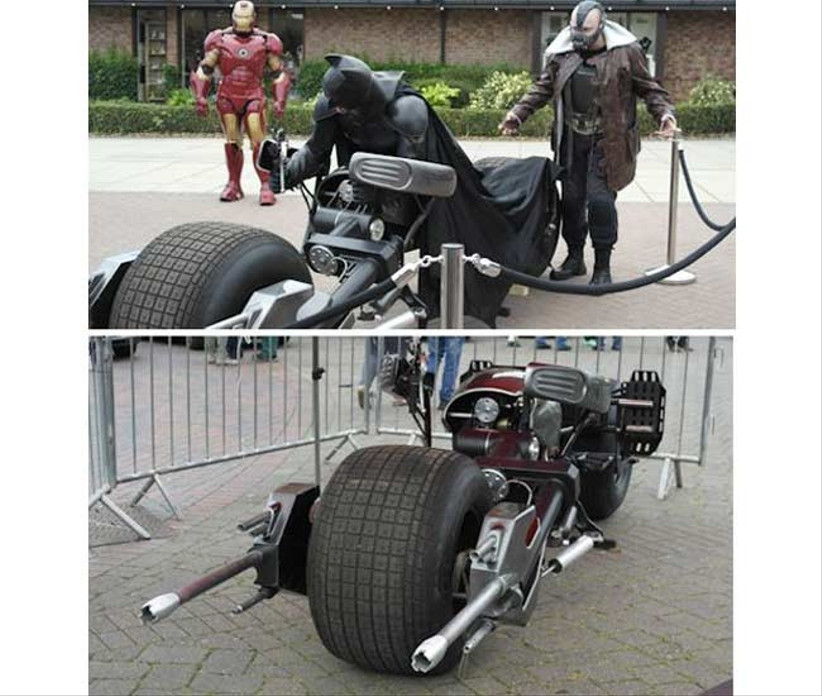 Decor Your Guests Will 'Marvel' At
These superhero walker balloons from Bubblegum Balloons would be a hit with young and old heroes alike. They could also be given away as children's wedding favours so that mini guests can walk around with their favourite character by their side.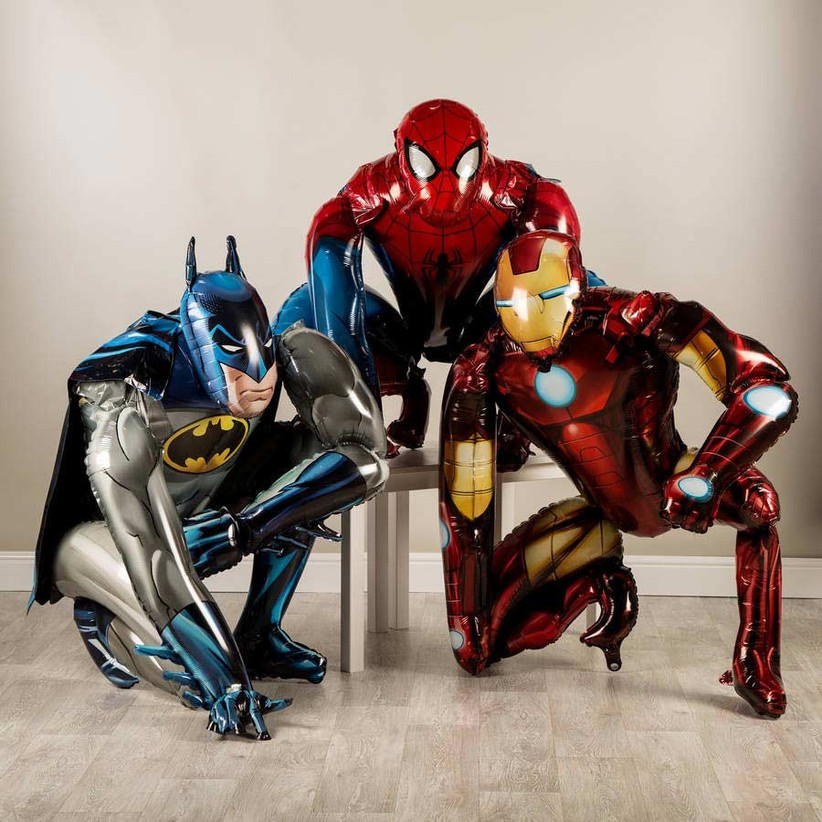 Image credit: Bubblegum Balloons at Not on the High Street
If you plan to add comic book inspired details to your superhero themed wedding, Ginger Ray will save the day with their fantastic selection of pop art style decorations. The bunting and pinwheels in particular would add excitement to a neutral canvas.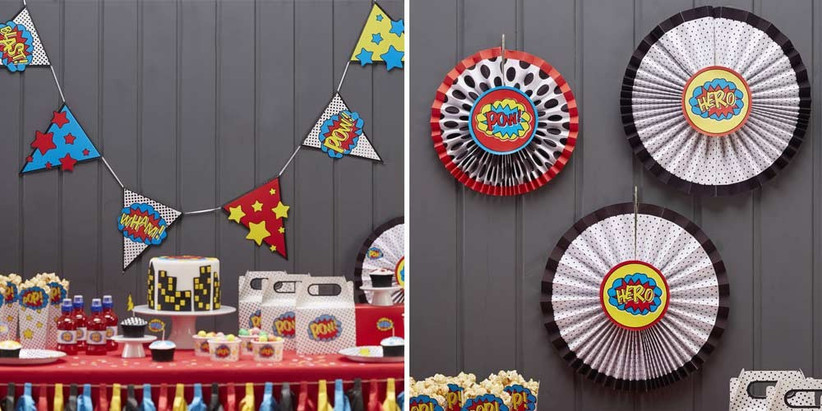 Image credit: Ginger Ray at Not on the High Street
If you're spoiling your guests with an epic dessert table alongside the cake, make sure you pop these Ginger Ray superhero food picks into the cupcakes. We're also obsessing over these polka dot paper straws which are perfect for the reception drinks.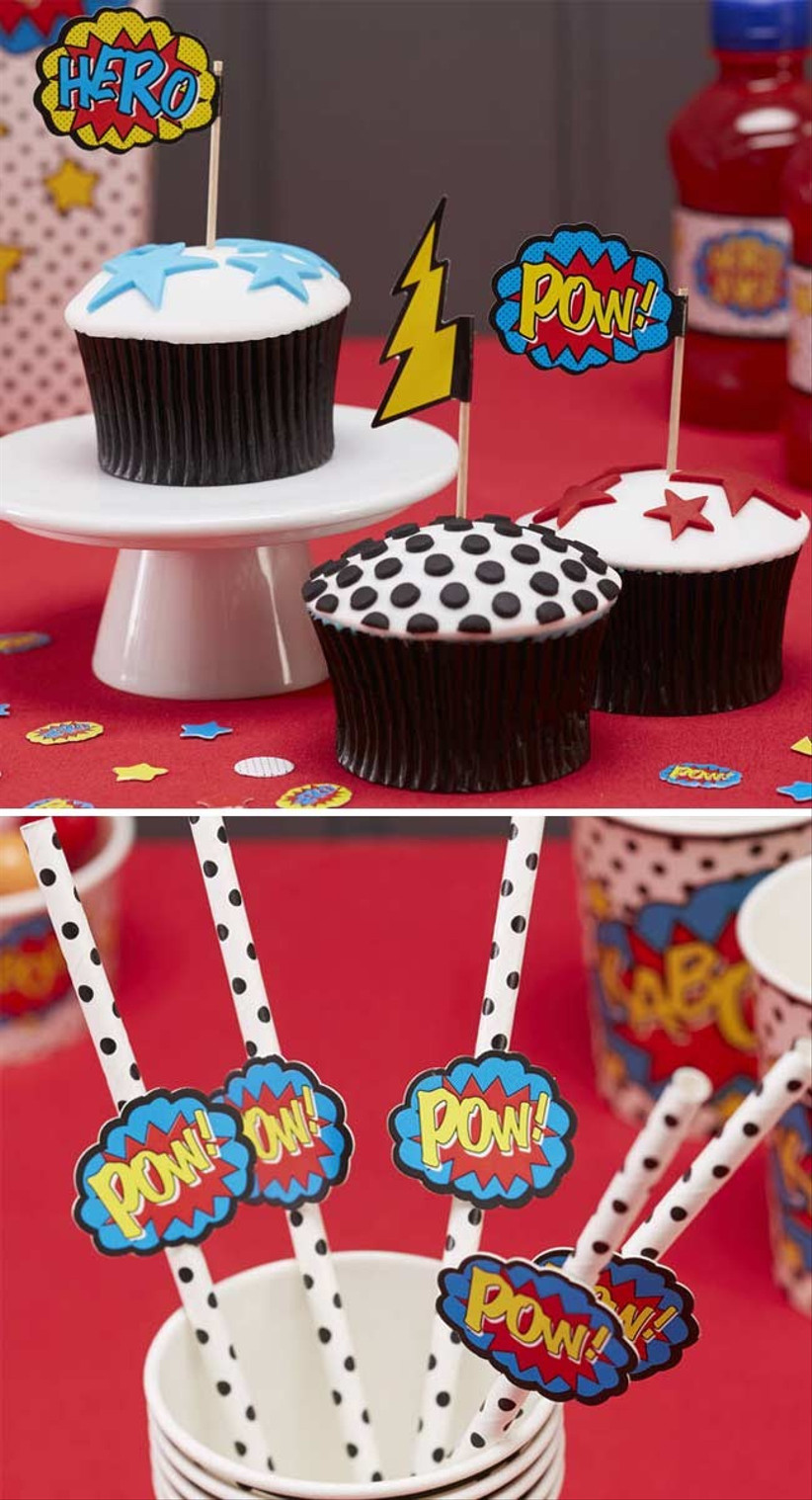 Image credit: Ginger Ray at Not on the High Street
Accentuate a superhero themed reception with Ginger Ray's pop art table confetti. Classic comic book pictures and phrases make up this nostalgic wedding confetti.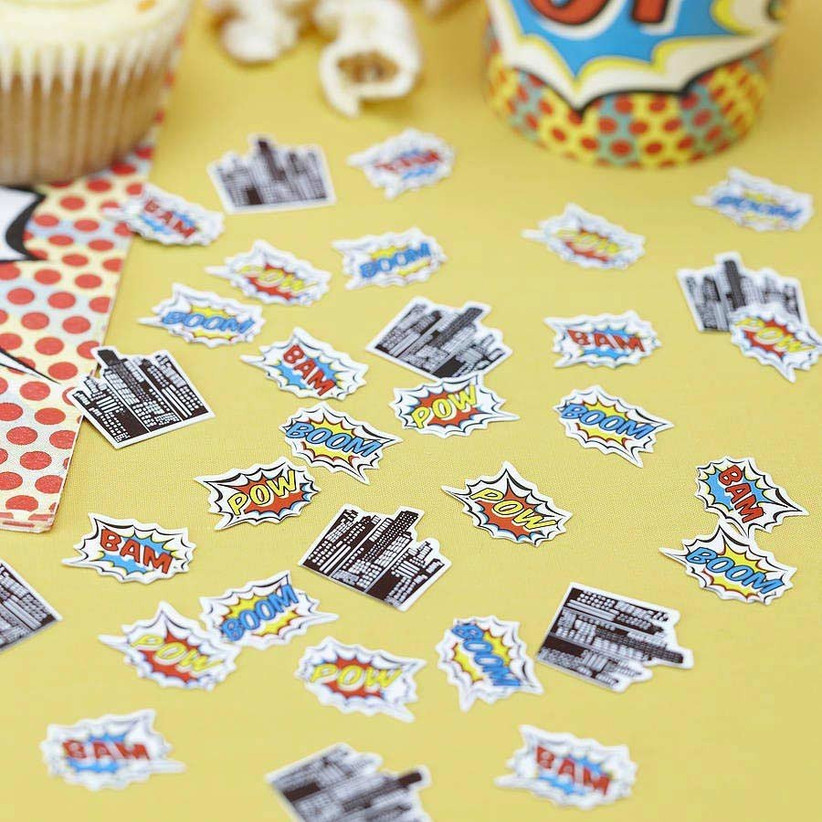 Image credit: Ginger Ray at Not on the High Street
These 'POW' party boxes from Ginger Ray would make excellent wedding favour boxes for your guests to take away. Fill them with fun superhero themed treats such as character figurines and badges with logos on.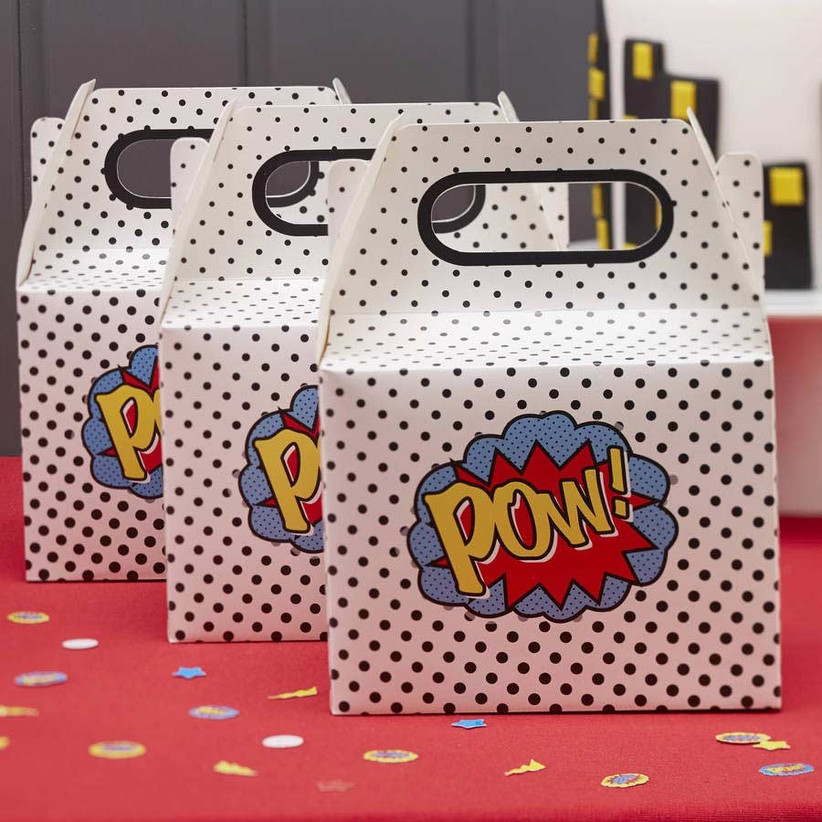 Image credit: Ginger Ray at Not on the High Street
You can't go wrong with chocolate wedding favours, especially if they're superhero themed. These comic book chocolate lollies from Cocoapod Chocolate would make tasty treats for guests with a mega sweet tooth.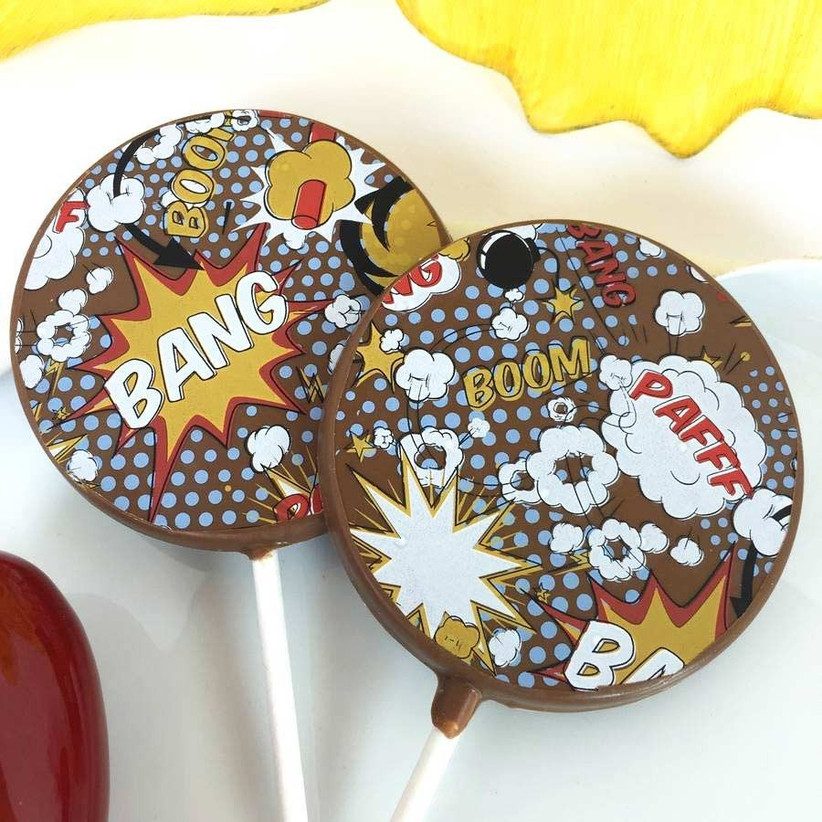 Image credit: Chocolate by Cocoapod Chocolate at Not on the High Street
Impress your guests with some quirky vintage wedding décor, in the form of these giant comic book letters from Bombus. They would also look great hung up in your very own superhero hideout after the wedding.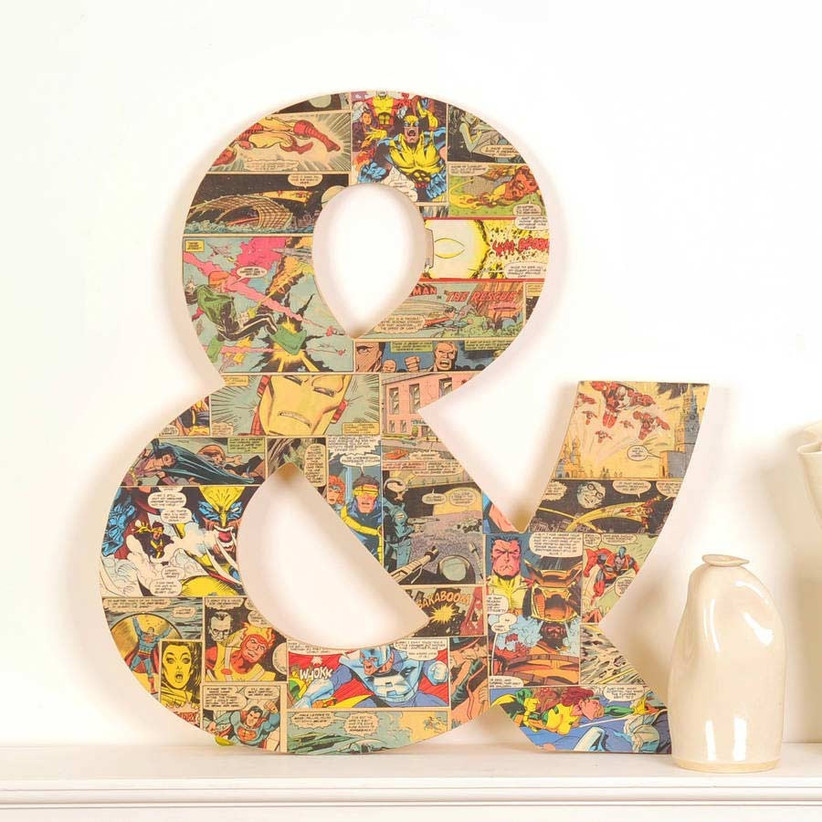 Image credit: Bombus at Not on the High Street
Create DIY wedding centrepieces that are superhero themed by using vintage comic book pages as the focal point of your decorations. Take note from these amazing comic book tins from The Coocouture shoot – they've been finished off with intricate origami flowers which add a flash of cool colour.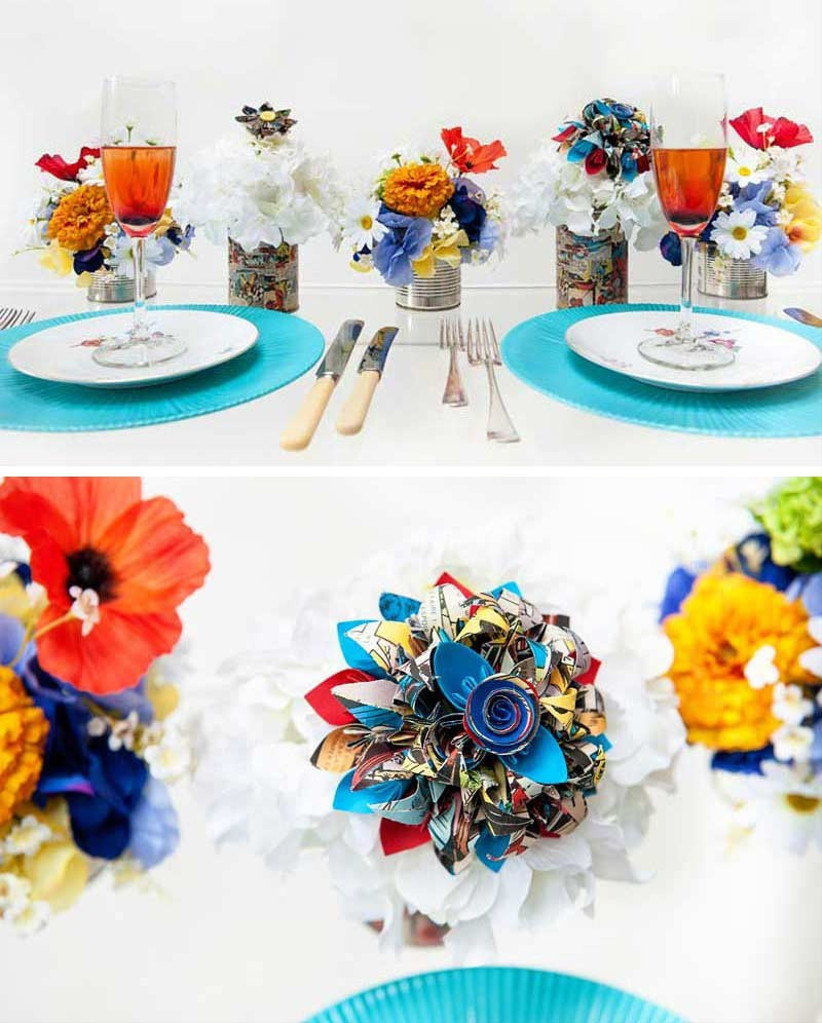 Image credit: Kat Forsyth Photography
Recreate Your Favourite Hero Moments
And finally, a sign that you're with the one you're going to marry is if they're willing to be Spiderman and climb up a tree for you! We love this romantic shot by Suzi Lawrence Photography.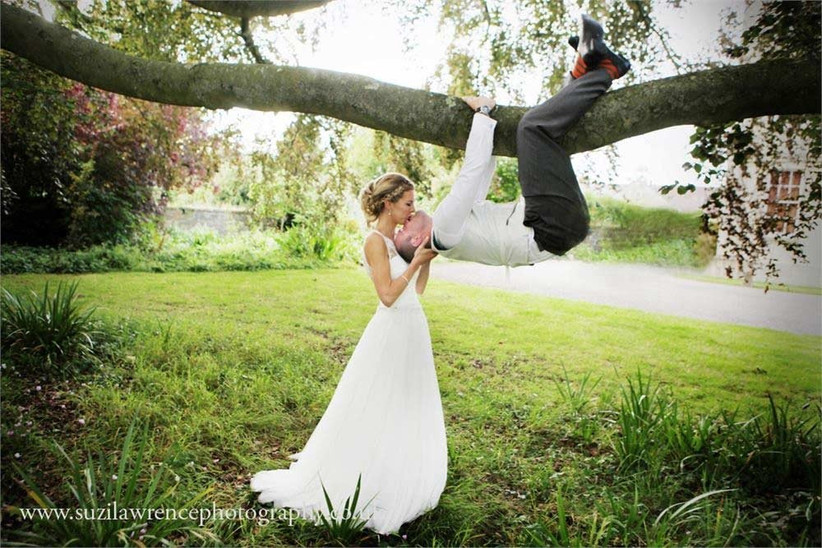 For more amazing ways to create an unforgettable day, check out these fun ideas for your wedding reception.