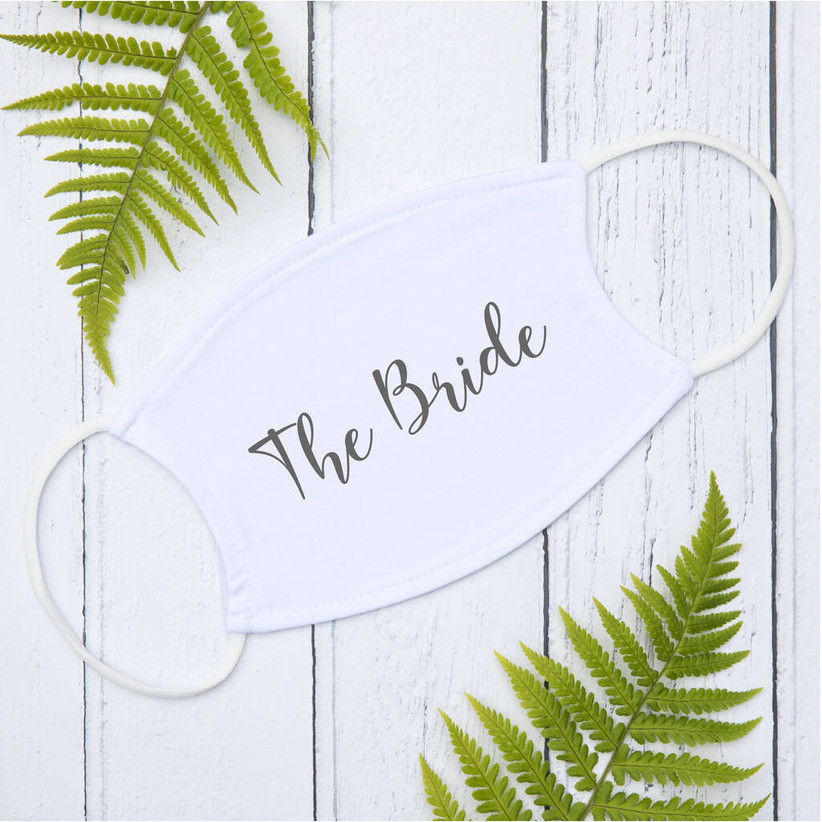 There's a new must-have accessory in town: the wedding mask. While this may not have been a look you expected to be sporting at any celebration, there are some surprisingly chic options.
Face coverings at weddings could well become standard for the foreseeable future due to the impact of Coronavirus on weddings. Their primary function is as a precautionary measure to help prevent the spread of the virus. But that doesn't mean you have to totally compromise on style. If you're the couple, of course you want to look your best on the big day; if you're attending a celebration, it makes sense to choose a mask that goes with your carefully chosen wedding guest outfits.
We're not talking surgical or medical grade masks, but UK government guidelines say wearing a face covering, particularly in enclosed areas, can help us protect each other from Covid-19. From bridal face masks to comfortable coverings for guests, we've found the most stylish wedding masks out there.
READ MORE
1. MariasCustomGifts at Etsy Custom Bride Face Mask - £13.55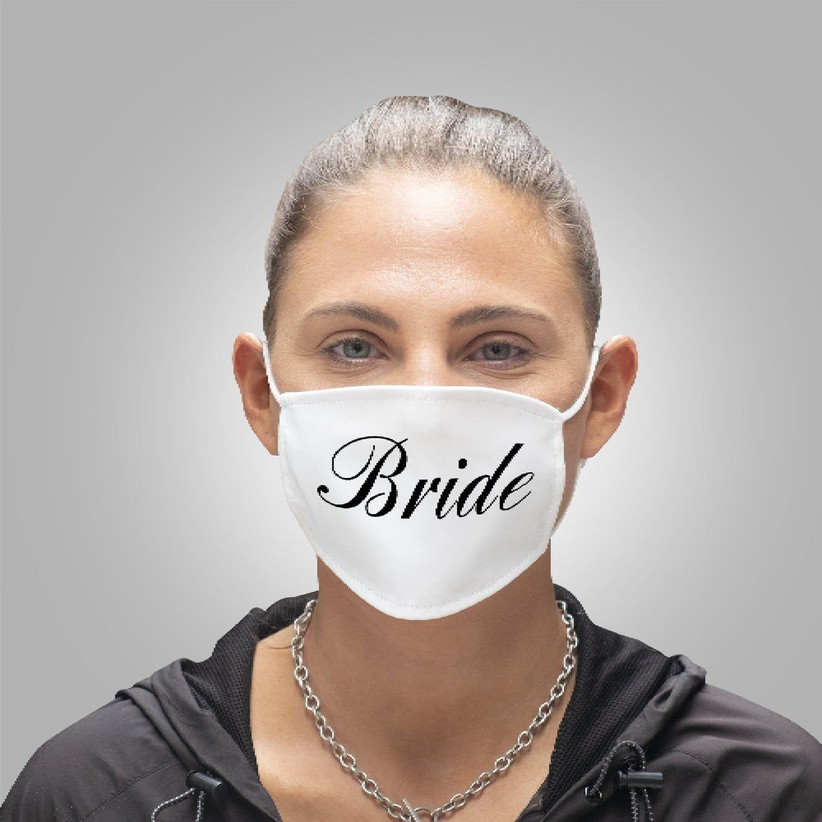 Simple, elegant and to the point, this polyester and cotton mask is an easy-wearing option. It comes with two filters, and has adjustable ear straps for comfort. As this design can be personalised, you can order versions for the whole bridal party.
2. Aaltrade at Etsy Face Mask with Filter Pocket & Nose Wire - £5.99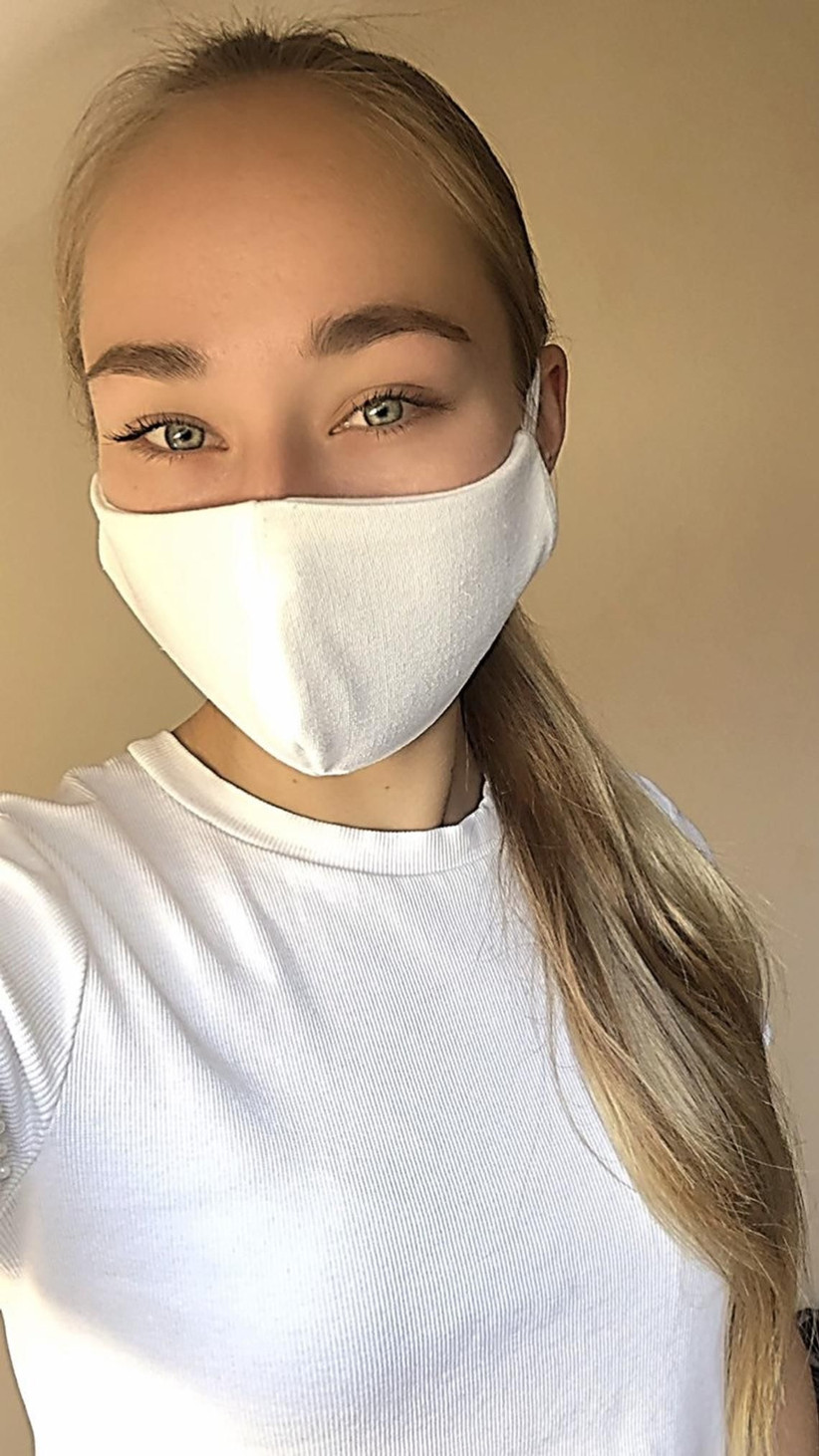 If you wear glasses, you've probably had to contend with your lenses fogging up as soon as you put on a face covering. The answer? A face mask with a nose wire, so you can mould it to the bridge of your nose, like this budget-friendly Etsy version. Its pared-back style means it'll go with anything, and it comes in a variety of colours. The seller is also donating £0.50 from each order to NHS staff and volunteer support.
3. Needle & Thread Floral Face Covering - £15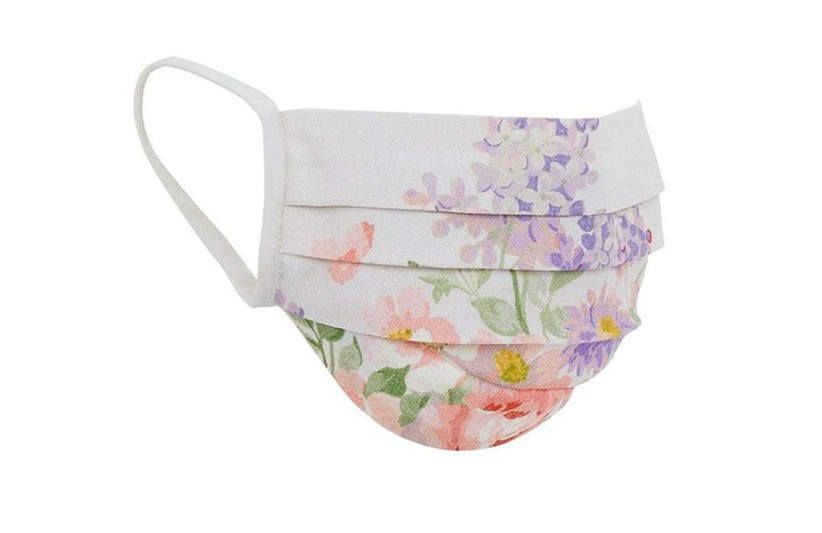 Leave it to Needle & Thread to come up with such a pretty face covering - the floral design is delightful. They're donating 50% of all mask sales to charity mothers2mothers.
READ MORE: 16 Best Places to Buy Bridesmaid Dresses Online
4. Plümo Organic Linen Mask - £10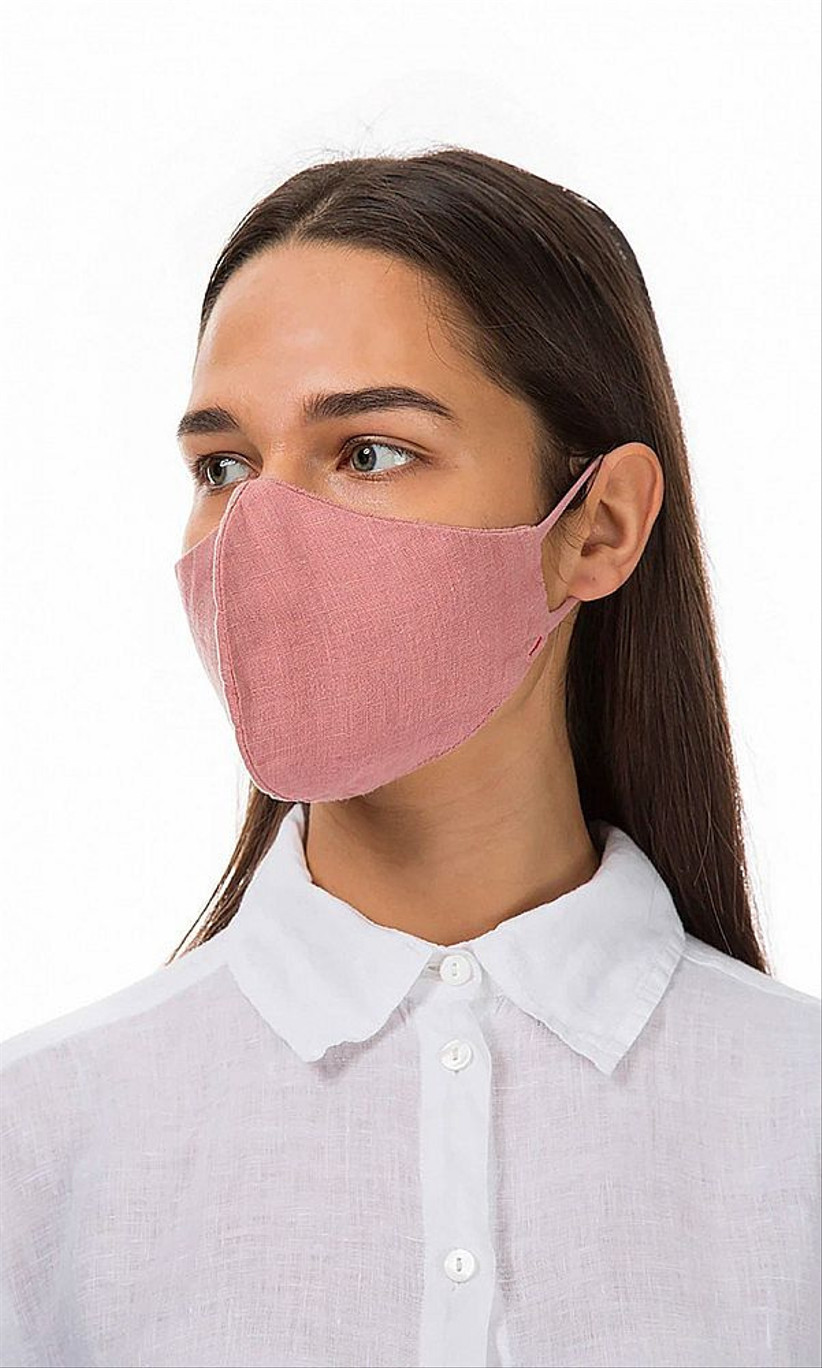 If your style is on the minimalist side, Plümo's pared-back face masks could be right on the money. We particularly like this rosebud colour, but other hues are available. The mask is made from linen, a popular material for face coverings as it's soft, light and breathable, and has antibacterial properties. The brand also offer pleated versions with adjustable nose bridges.
5. Not on the High Street Colourful Adult Face Mask - £10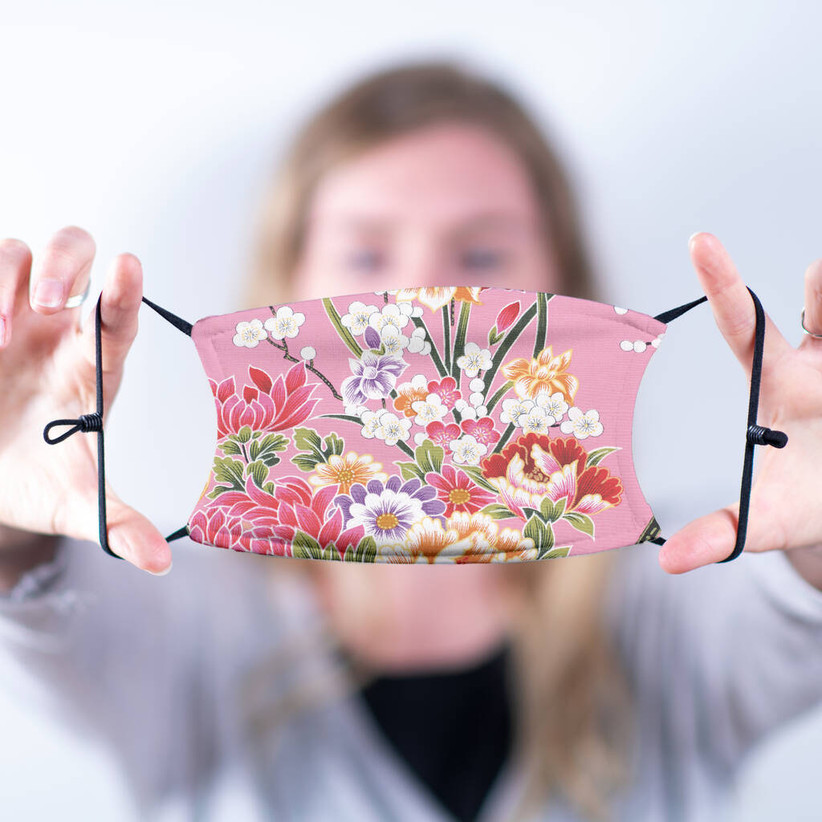 How pretty is this floral mask? There are a range of patterns available, but the pink floral really stands out.
6. Anthropologie Set of Three Face Masks - £18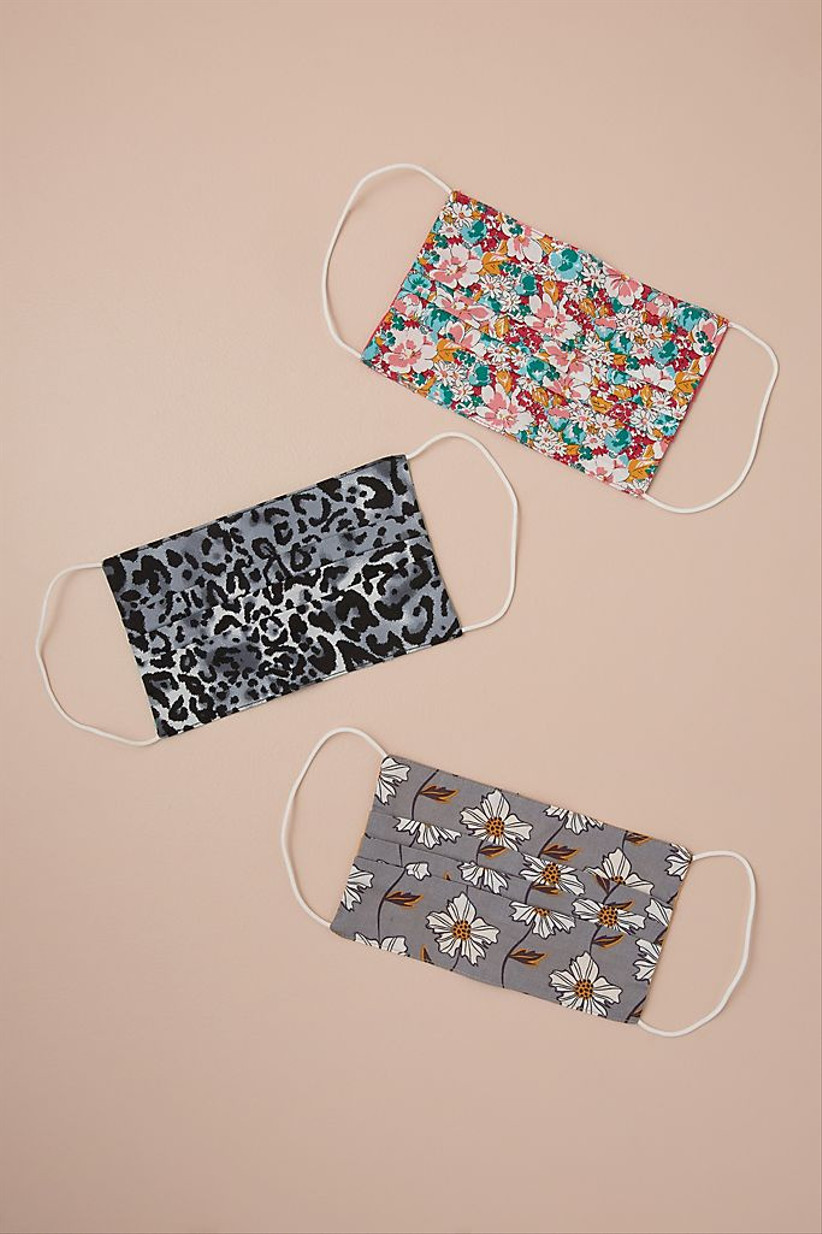 Leave it to Anthropologie to create some of the most covetable printed face masks. These organic cotton reusable masks are good value and would look chic at any celebration. The best bit? The company is donating all profits from the masks to NHS Charities Together.
7. Mask Have Accessory Big Smiling Red Lips Mask - £19.99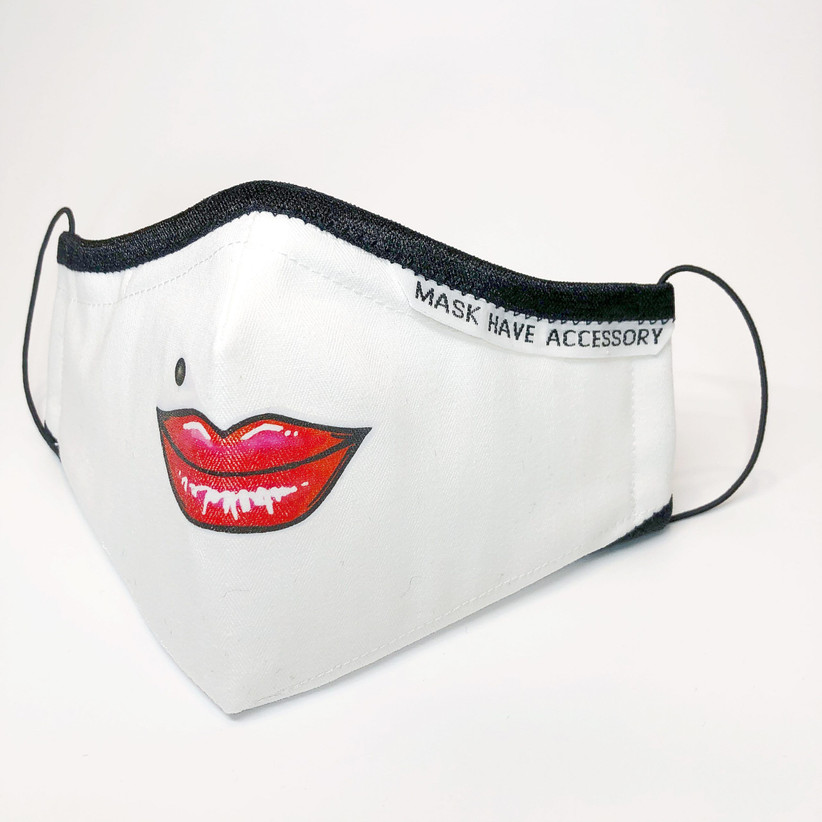 If you want a face mask with plenty of sass, look no further than this cool design. Luxury British bridalwear designer Chantal Mallett developed her face coverings side project during lockdown, coming up with a range of smart and witty styles. Each one comes with a free filter and storage bag, and features a metal nose strip you can pinch for a perfect fit.
8. Not on the High Street Face Mask - £12.95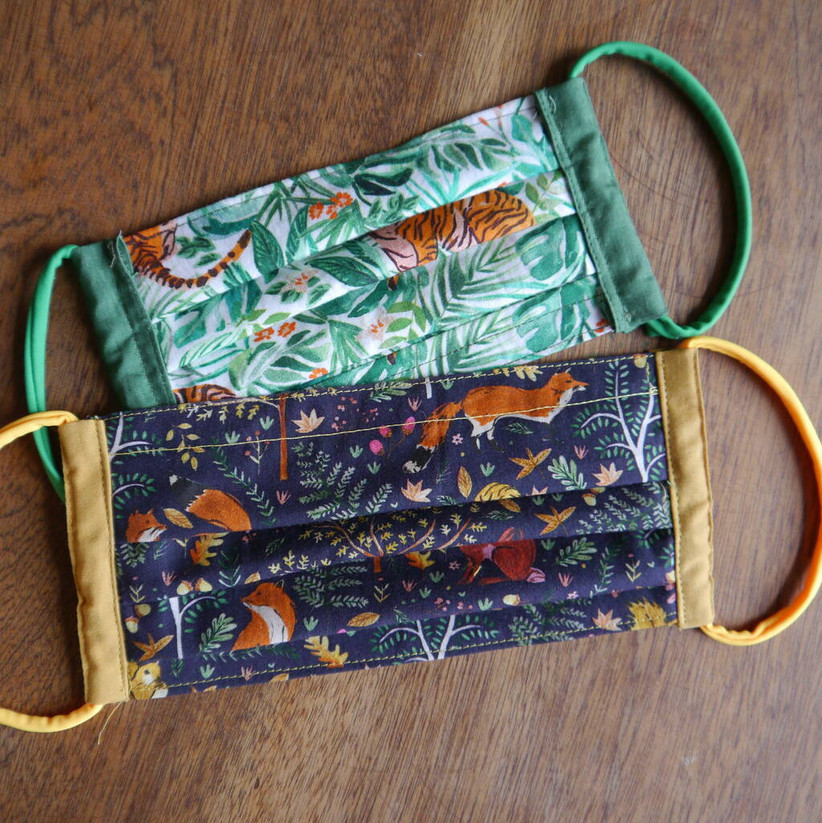 These enchanting woodland and jungle face masks come in both adult and children's sizes, so you can twin with your mini at the wedding! They're made from 100% cotton.
9. DearLilineBijoux at Etsy Lily Mask - £19.95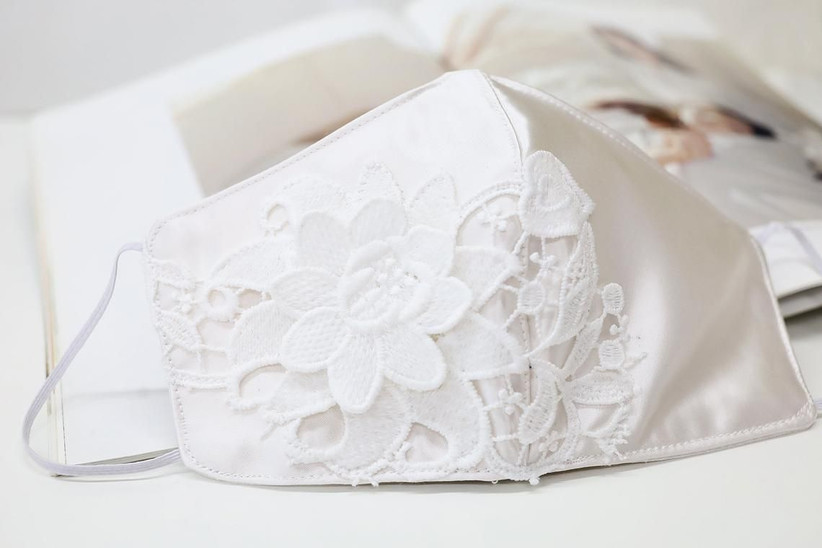 This pretty bridal mask is made from two layers of cotton covered with satin and finished with 3D lace. As it ships from the USA, postage is on the pricier side (£12.10 at the time of writing), but you may find that worth it for such a romantic style.
READ MORE: The 14 Best Websites to Buy a Wedding Dress Online
10. Cotton Citizen at Revolve Face Mask in Peony Blast - £28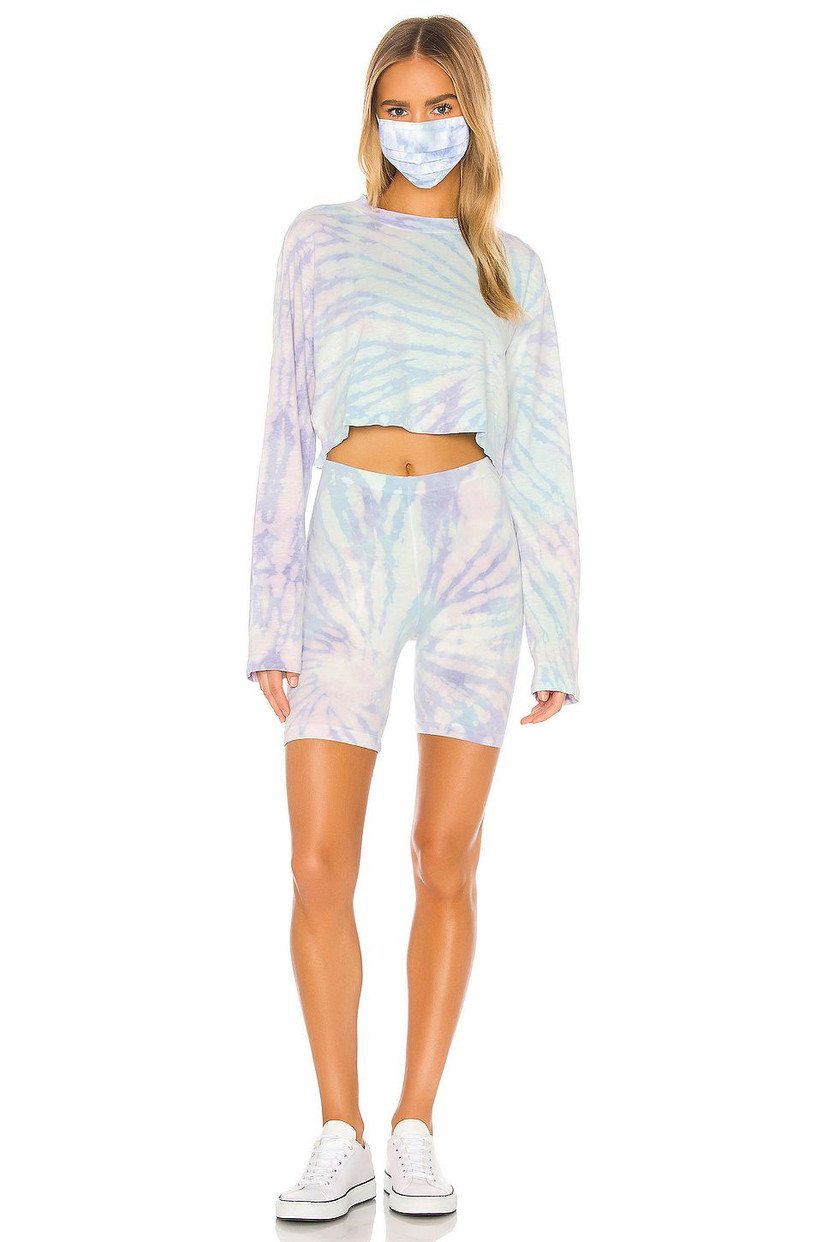 Yes, £28 is on the spendier side for a face mask, but we can't get over how cute this on-trend tie dye design looks. On the practical side, it has an adjustable nose bridge.
11. Kurt Geiger Rainbow Face Mask - £15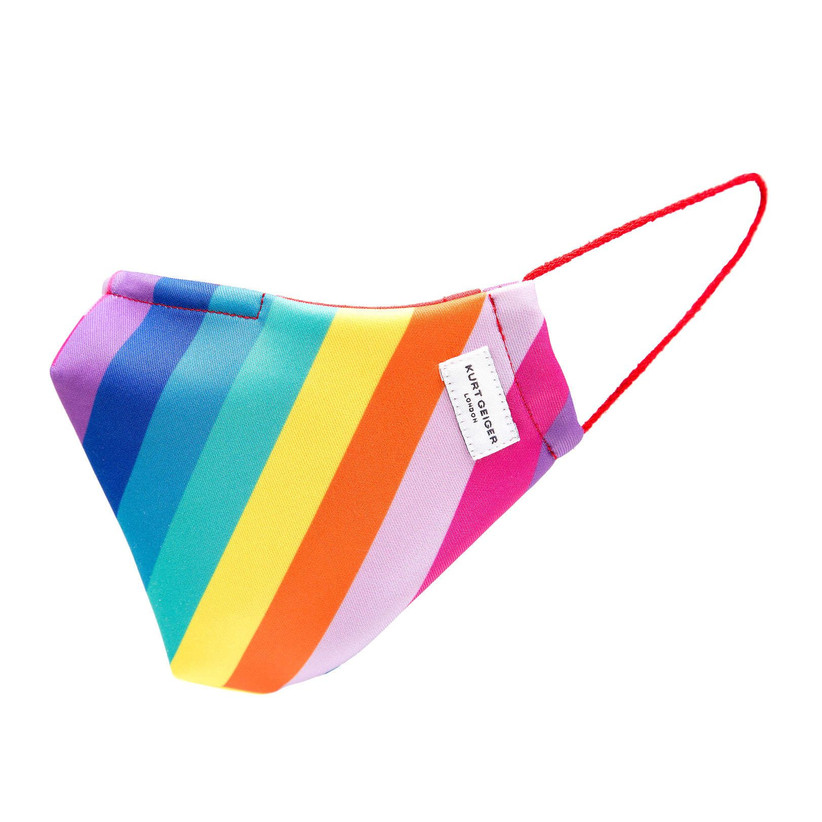 In uncertain times, sometimes it's the little things that can make a difference to how we feel - like this mood-enhancing rainbow mask from Kurt Geiger. It'll bring a smile to your face (even if other people can't see that).
12. HandKnittedYorkshire at Etsy Bridal Broderie Anglaise Face Mask - £8.50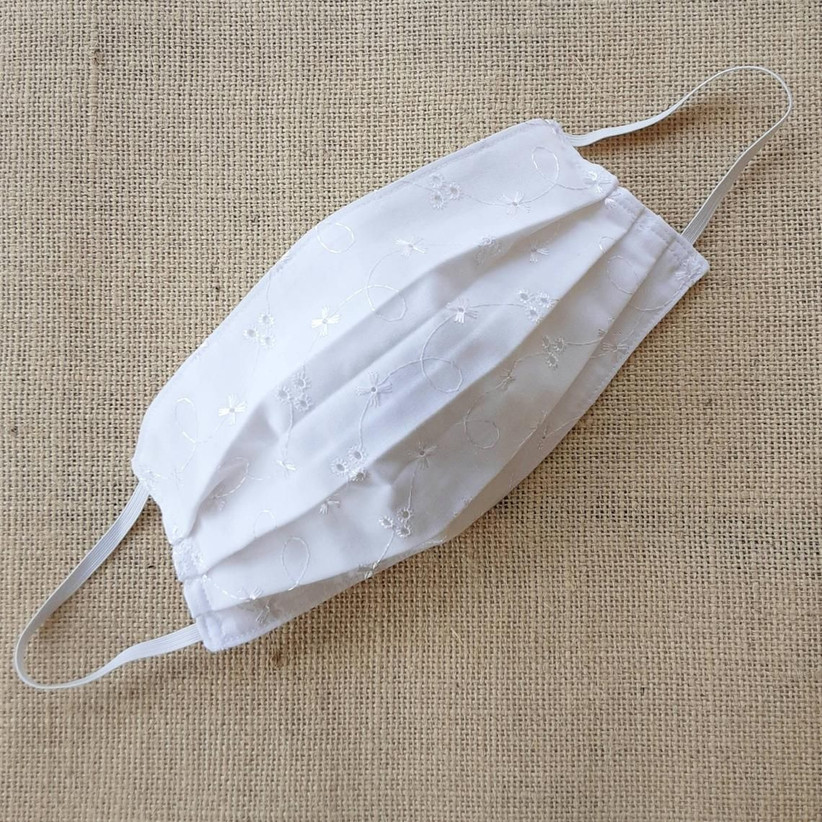 We love the fresh, summery feeling of broderie anglaise, so it's easy to see why we're drawn to this reusable mask. There are two layers of fabric and a pleated front.
13. Love Those Prints at Not On The High Street Floral Face Mask with HEPA Filter - £14.95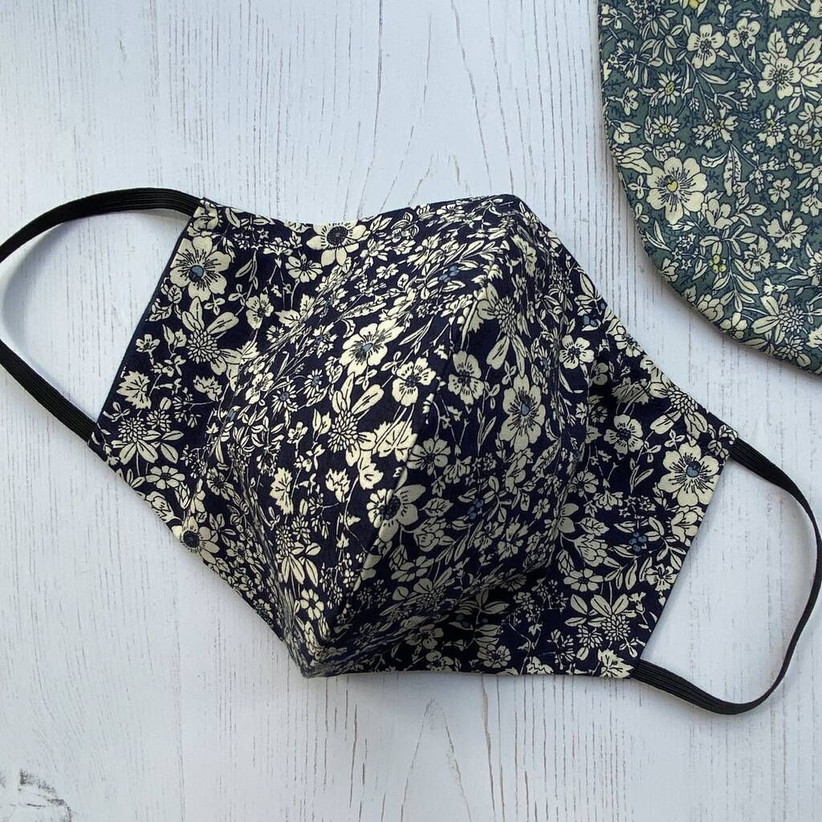 This floral mask has a print that feel opulent and sophisticated - we can really see it working at an autumn or winter wedding. It has a nose wire for shaping, a replaceable HEPA filter - great if you're worried about hay fever at the wedding - and it's reversible, so you can switch up your style.
14. Aeibe English Rose Garden Face Mask - £45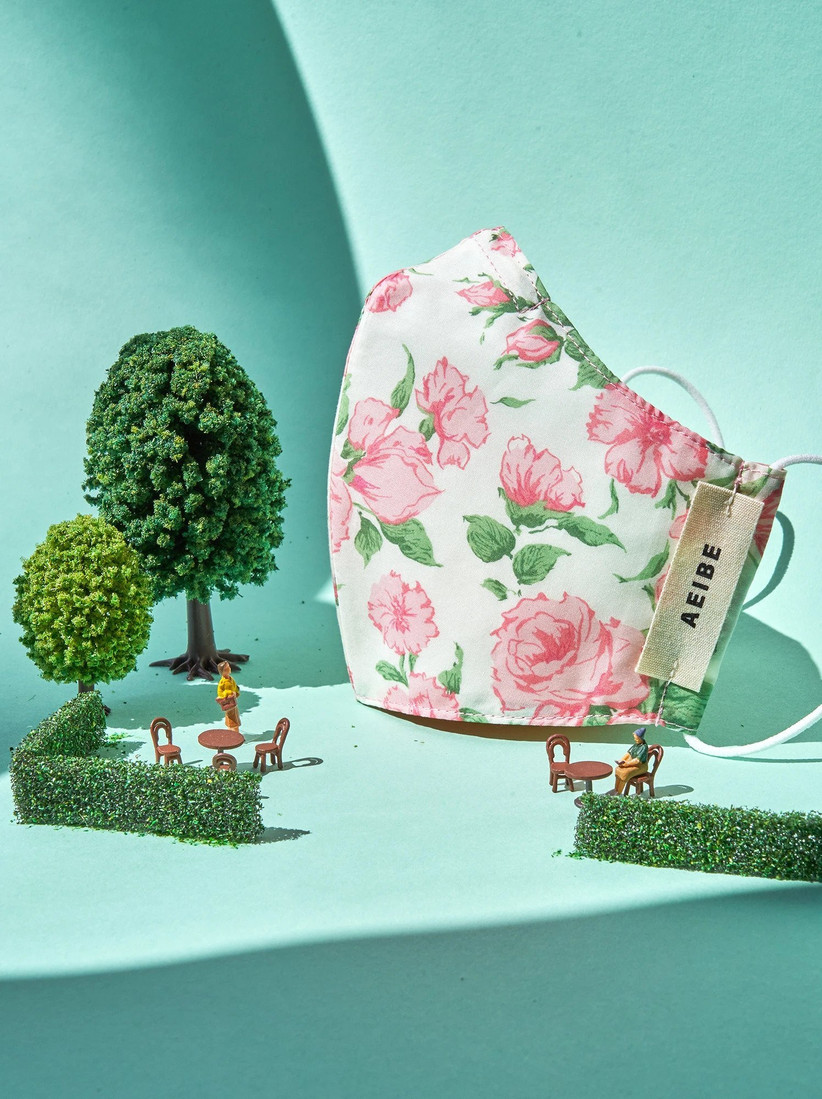 It's between you and your budget as to whether you're happy to spend £45 on a face mask. All we can say is that this floral face covering, made from Liberty London fabric, is bewitchingly pretty - and there are more Liberty prints in the range, too. It also features a nose clip and filter.
15. Just Hype Kids Pink Knit Face Mask - £11.99

We're not forgetting the younger wedding guests - this knit mask is suitable for up to age 10 and has been designed with comfort in mind. Just Hype have an excellent range of face masks for both adults and children, and while many are a tad bold for a wedding, there are some more pared-back versions that would be ideal.
READ MORE: Wedding Readings From Children's Books
16. Florence Bridge Ballet Slipper Face Mask - £12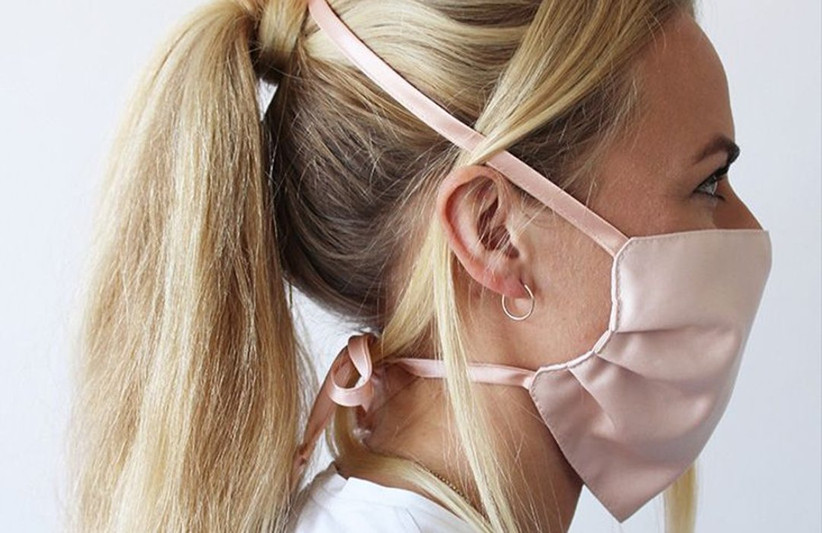 We never thought we'd describe a face mask as enchanting. How times change. But that really is the best word to sum up this duchess satin mask, in a romantic shade of pink and with side ties you can make a feature of.
17. WithLoveJenAndDaria at Etsy Toile de Jouy Cotton Face Mask - £8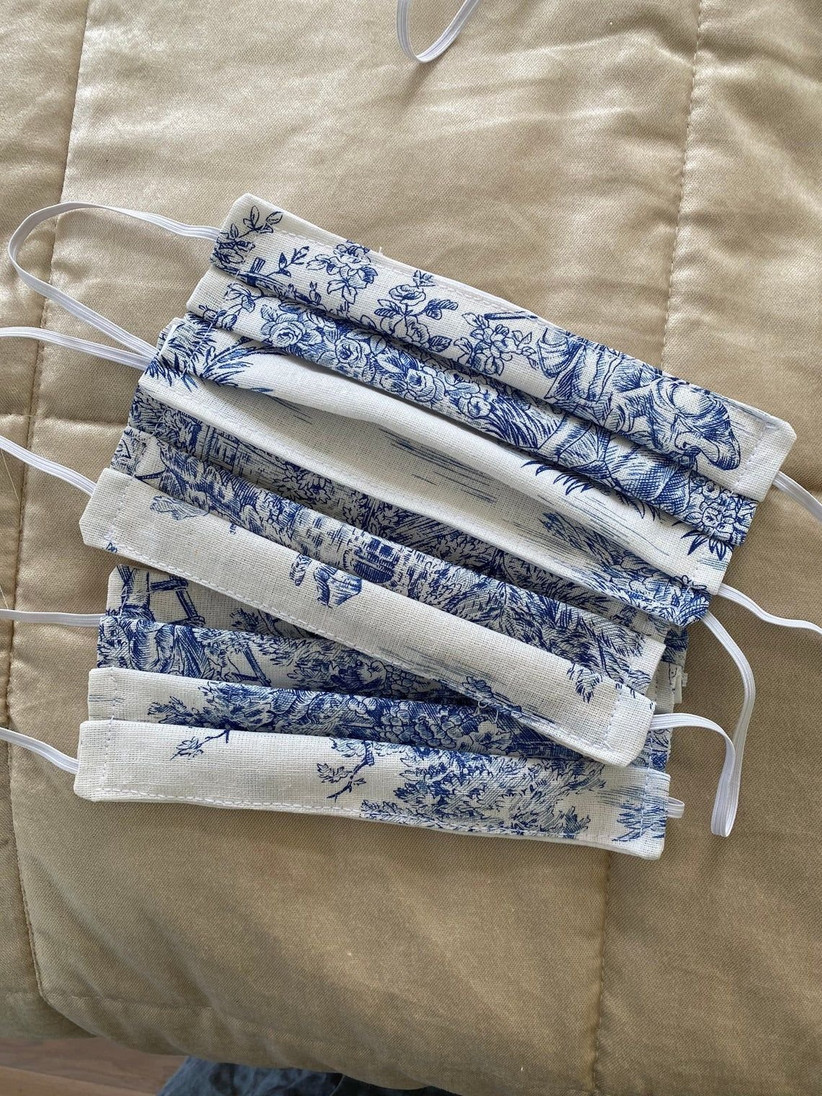 Traditional French print Toile de Jouy is so elegant, creating a delicately pretty effect on this cotton mask. The seller is donating all the proceeds to NHS Together charities, as if you needed another reason to add it to your basket.
18. Contrado Custom Face Mask - from £15 for two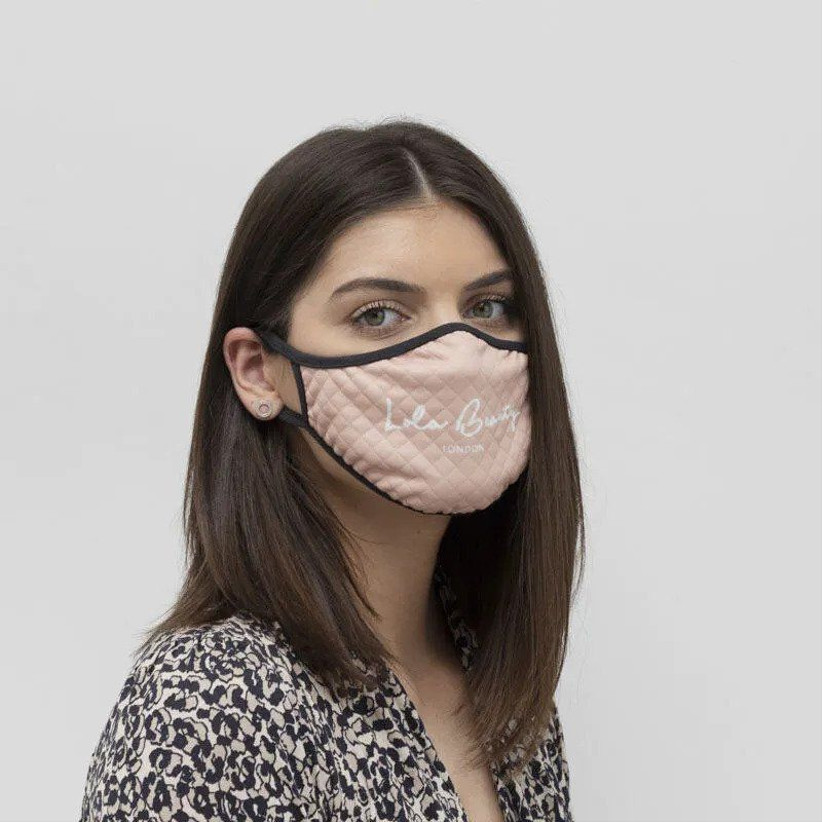 Want a bespoke wedding face mask? Contrado let you custom the design of your mask, adding text (your wedding date, for example) and images. If you're not feeling super-creative at the moment, you can also shop pre-existing designs by artists.
19. Katie May at Revolve Disco Ball Face Mask - £25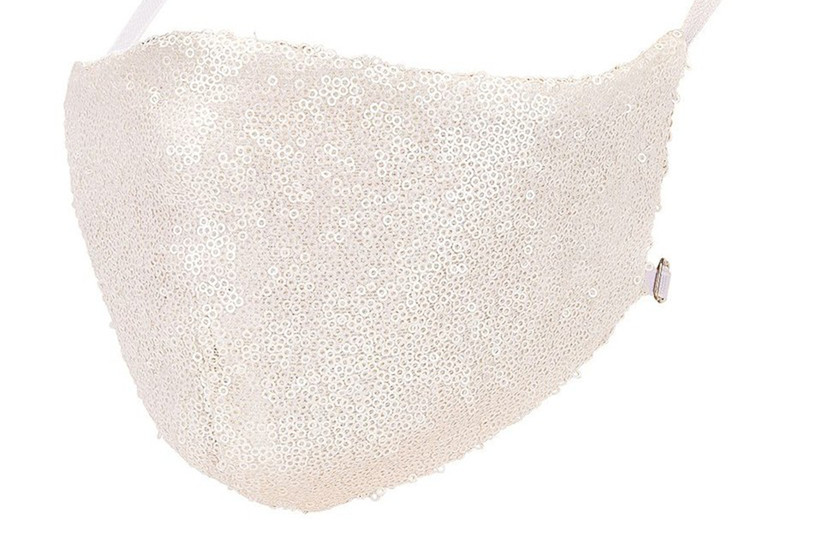 Bring some sparkle to your face with this sequinned mask. Lined with polyester and covered with a white sequin mesh, it's ideal for a bride who won't compromise on glamour.
READ MORE: Sparkly Wedding Cakes Perfect for Glamorous Weddings
20. EverydayBestday at Etsy Better Together Face Masks - £25.05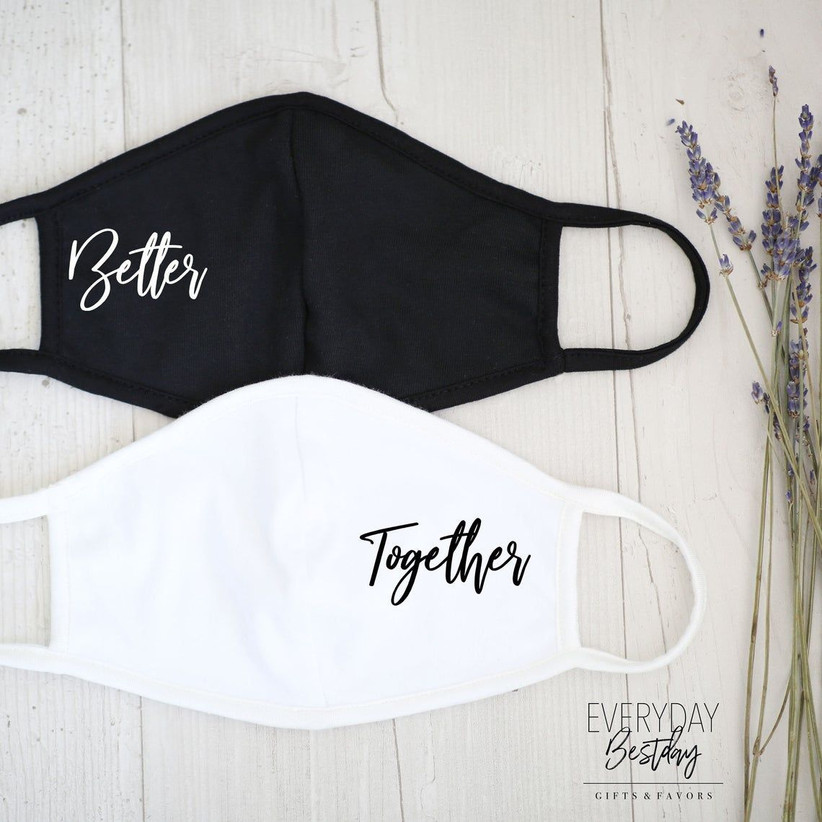 These pared-back masks are a cool alternative to all the "Mr & Mrs", "Mr & Mr" and "Mrs & Mrs" masks that are sprouting up all over Etsy. The simplicity means they won't take away from your outfits.
21. Lavender Hill Clothing Cotton Three-Pack Face Mask - £20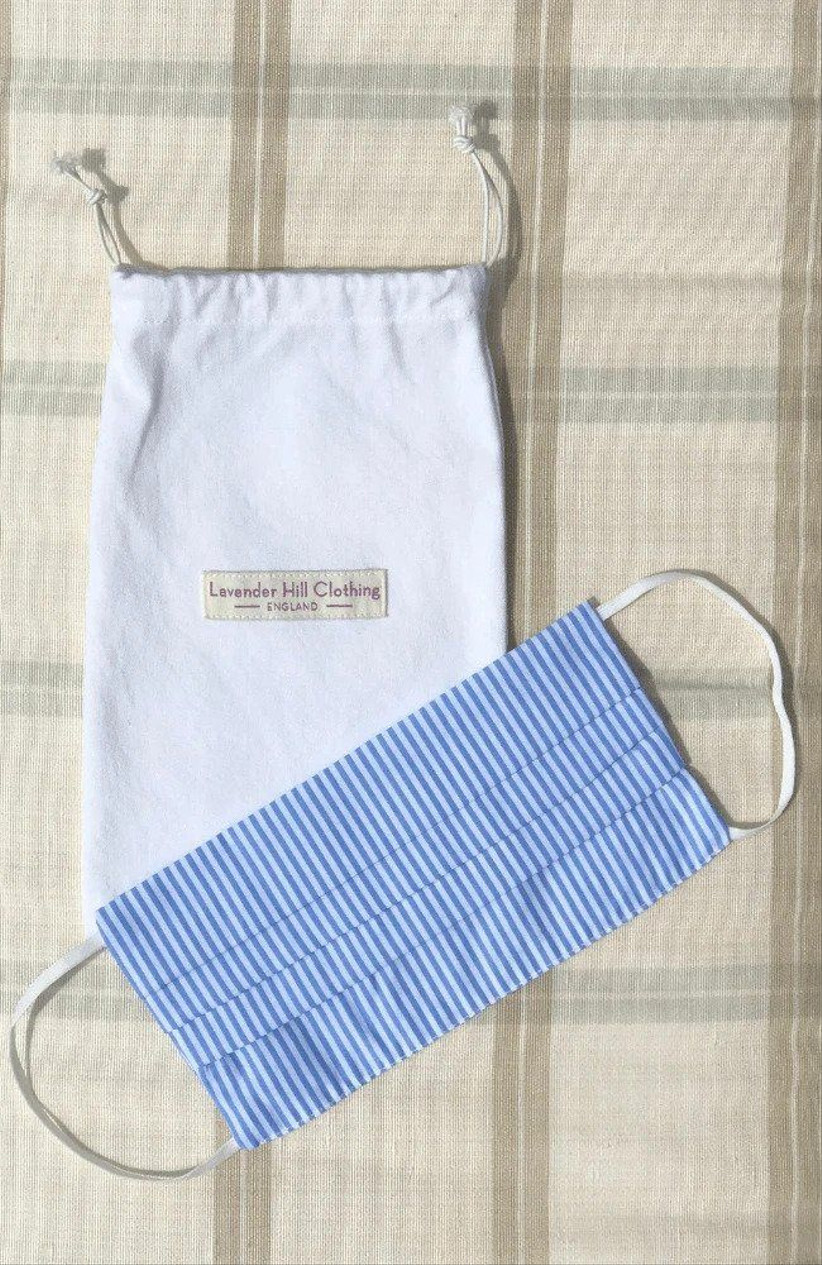 Ideal for a laidback yet still style-conscious groom, every time you buy a pack of these triple-layered face masks, the brand will donate a pack to charity Katherine Low Settlement.
22. Grlfrnd at Revolve Face Mask - £17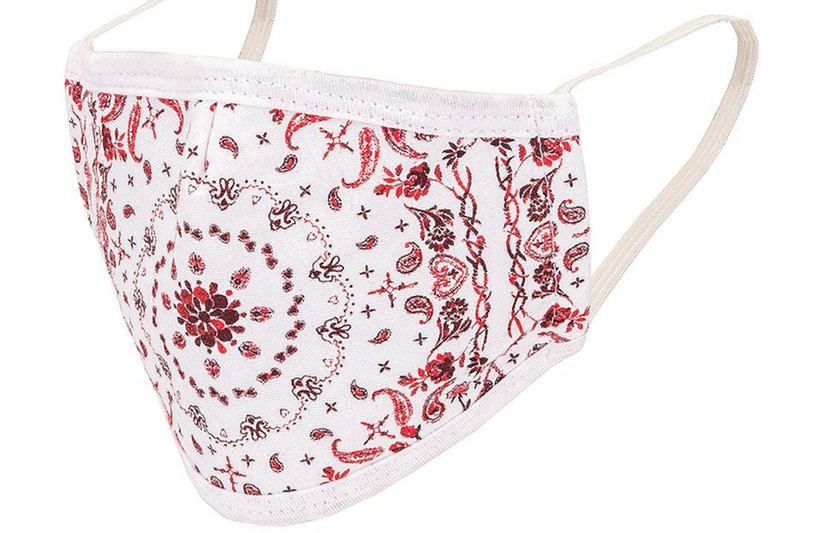 The pattern on this jersey mask is gorgeous - we could really see it working for a boho bride who wants to add a pop of colour to her look.
READ MORE: 37 of the Most Beautiful Boho Wedding Dresses
23. Reformation Face Mask - £12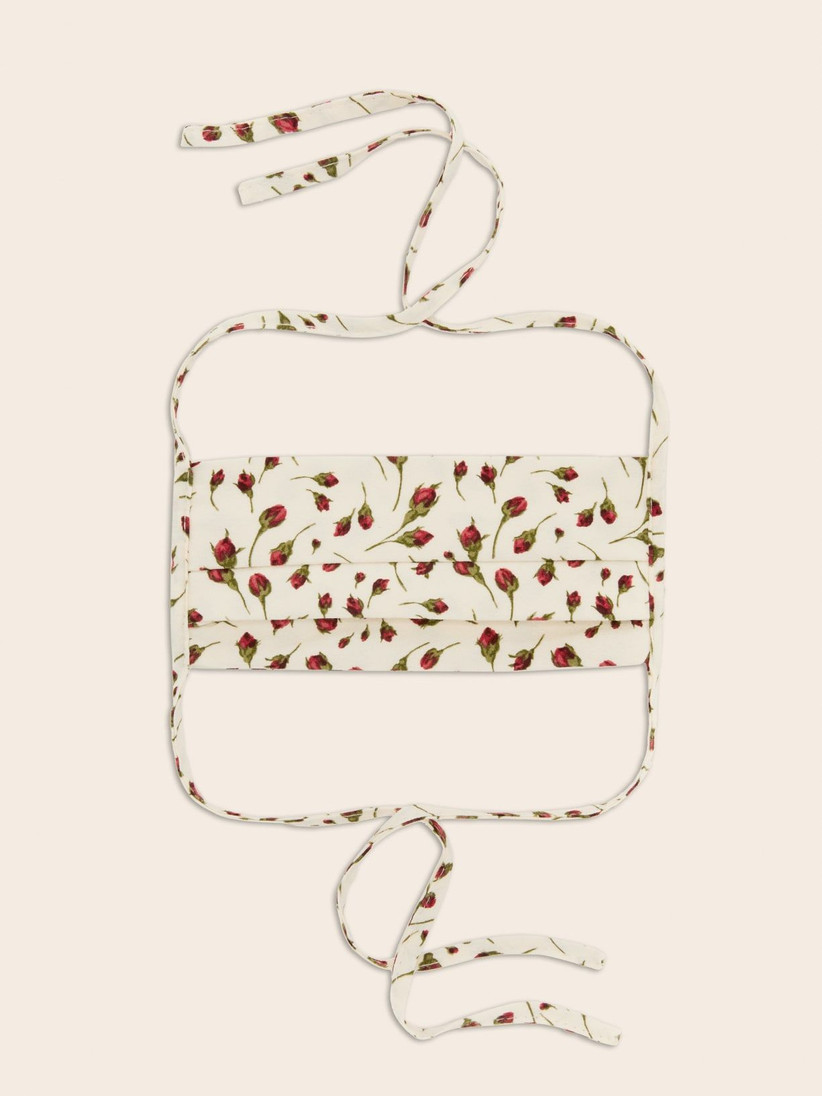 For a romantic feel, this rose-strewn mask is hard to beat. The tie sides will look particularly pretty and also help you adjust the fit.
24. SIWFDesigns at Etsy Children's Face Masks - £5.50 Each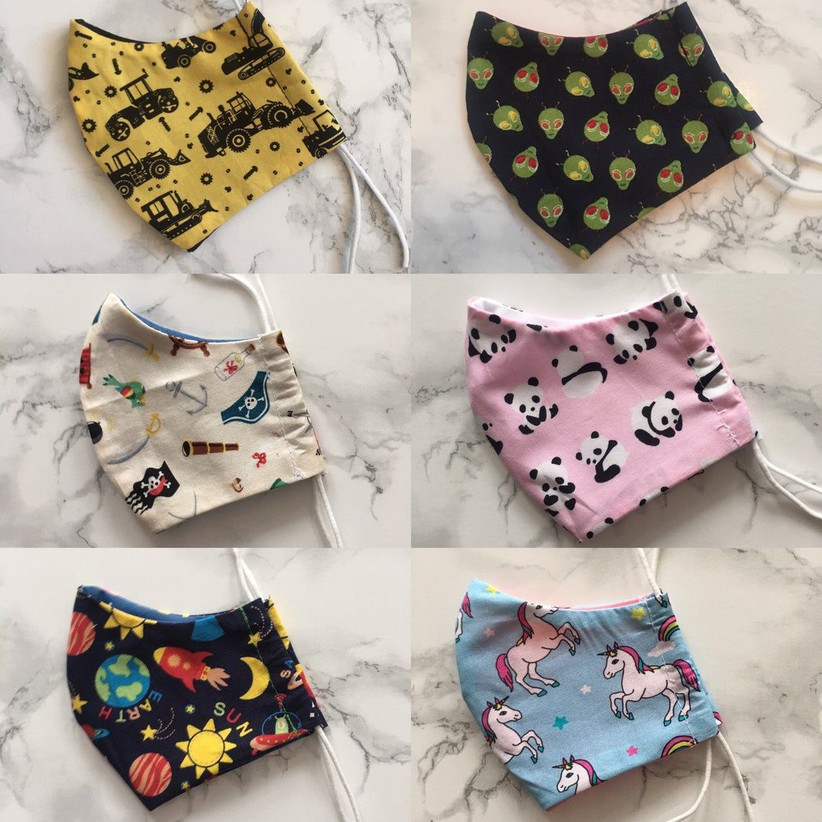 We can't decide which of these children's face mask designs is the cutest. We're leaning towards the pandas, but really, any one of them would be great for your younger wedding guests.
25. Femme Luxe Washable Hygiene Face Mask - £2.99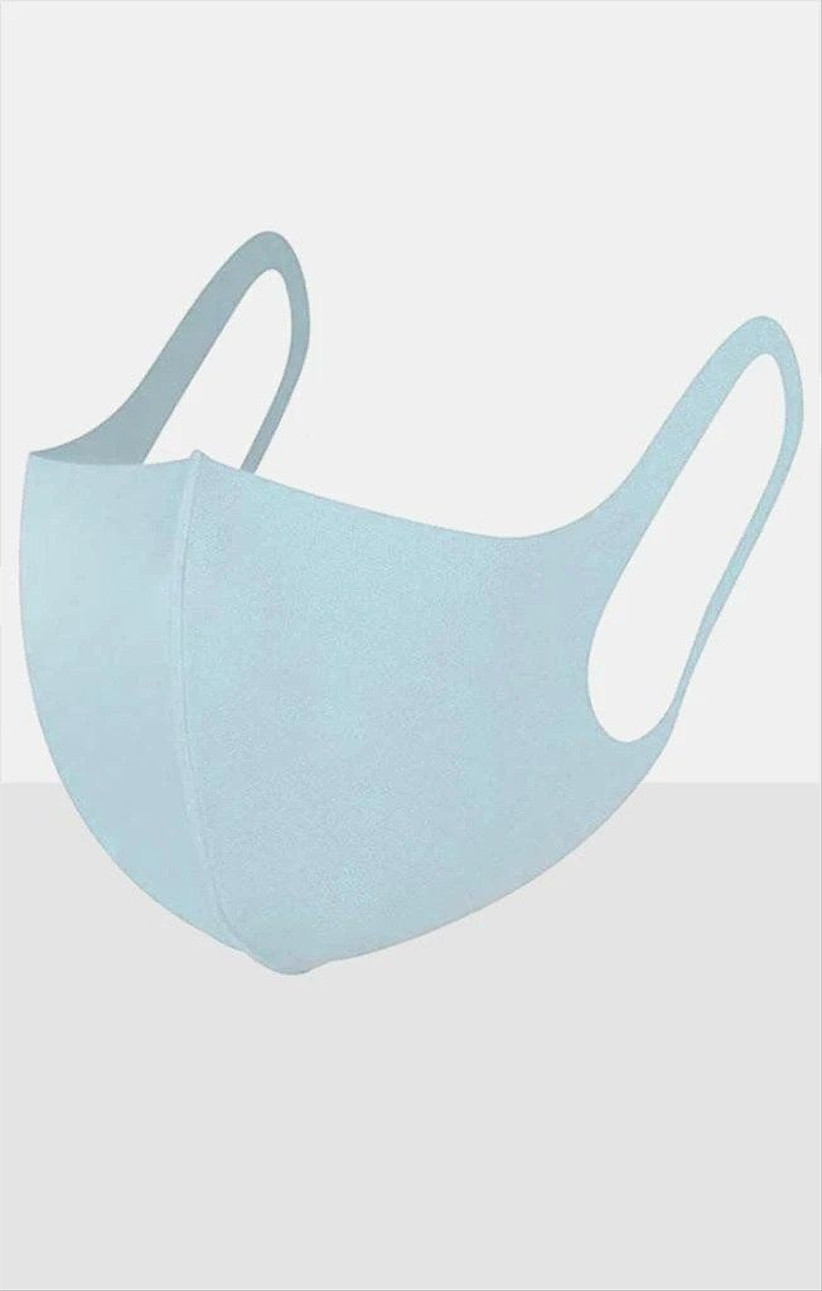 If you want a mask that won't detract from the rest of your outfit - and that's affordable too - check out this Femme Luxe face covering. As an extra bonus, it can be your "something blue".
26. Christopher Kane Face Mask Pattern - Free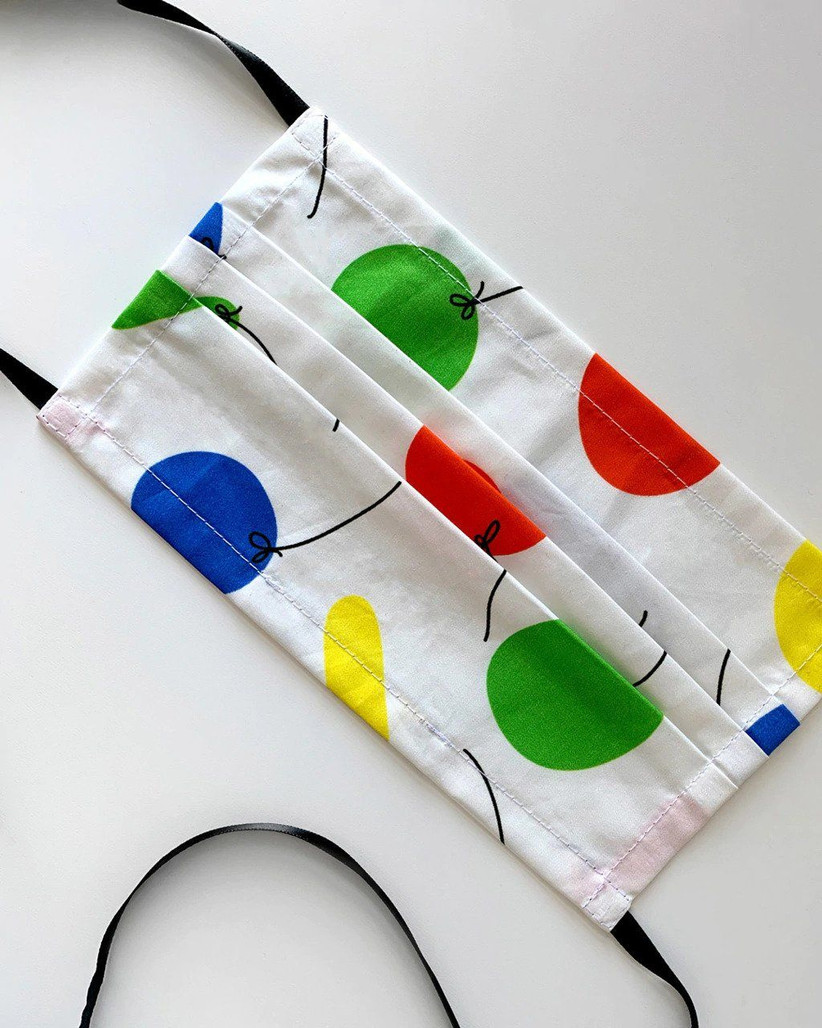 Designer Christopher Kane produced some very chic face masks using leftover fabric. These have now sold out, but you can download the pattern for free if you'd like to go DIY and make your own.
27. Not on the High Street 'We're in This Together' Mask - £15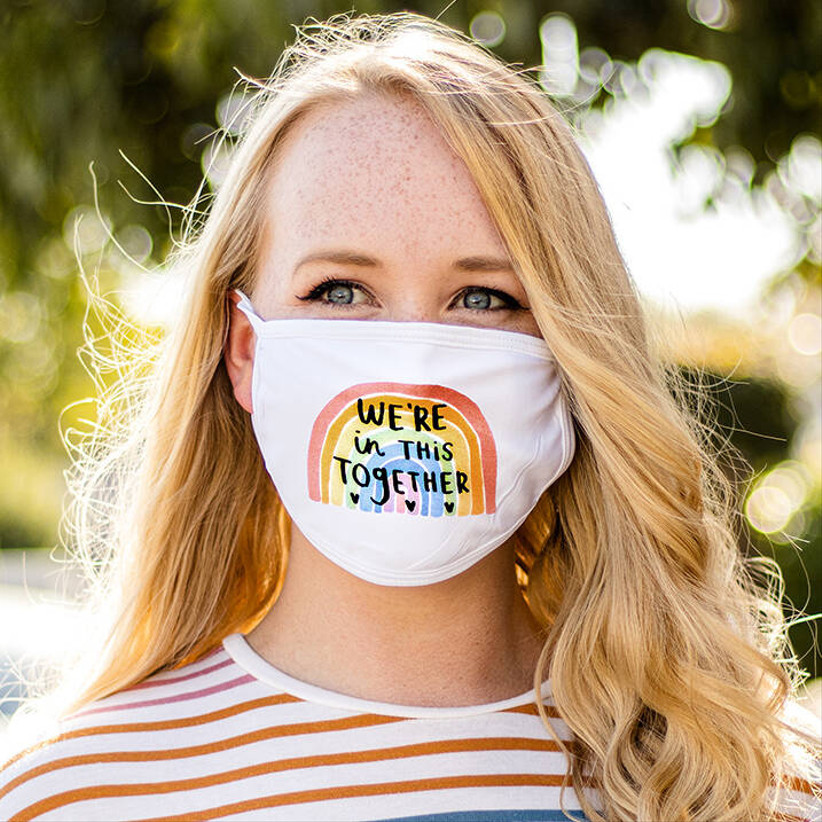 Send positive vibes with this Not on the High Street Mask. Not only does it look cute, but £1 from every purchase will be donated to charity.
28. Not on the High Street Wedding Face Masks - £12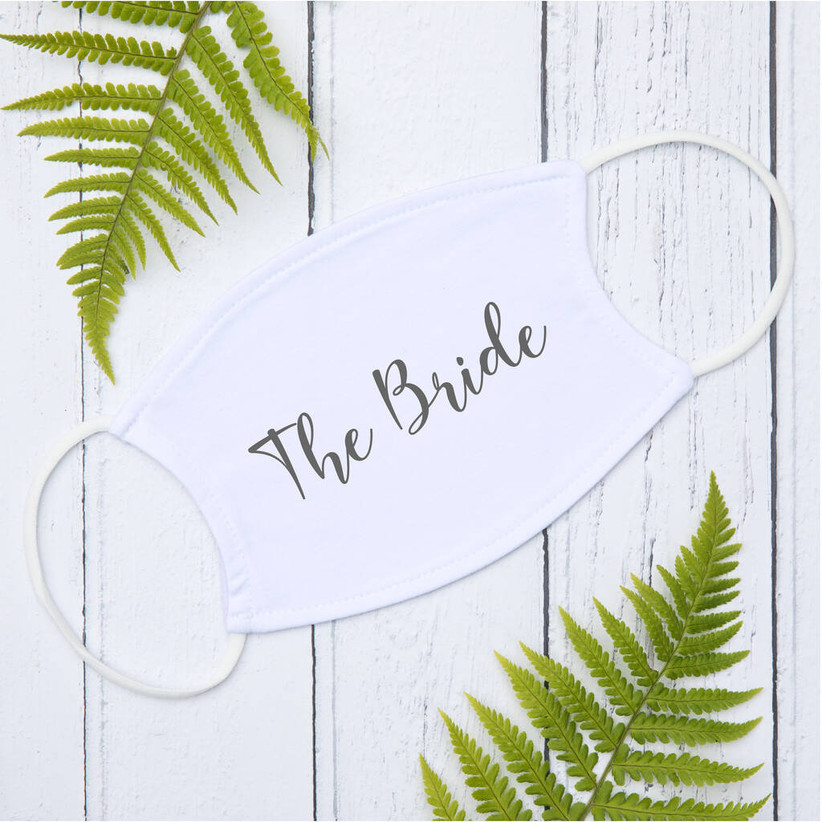 This elegantly simple mask can be customised with all different wedding party roles, or with a name if you prefer - ideal if you want a co-ordinated look.
29. Slip Pink Silk Face Covering - £39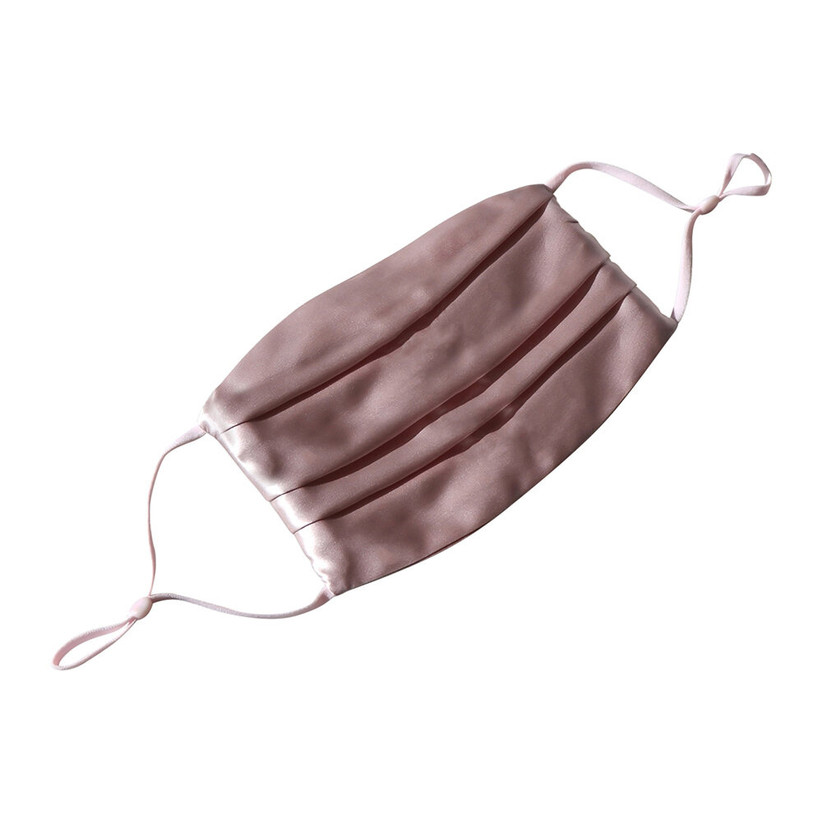 Is all this mask-wearing stressing out your skin? A silk version may be the answer, like these chic Slip masks. The pink is perfect for a romantic look, but you can also go glam with leopard-print or black.
We have included third party products to help you navigate and enjoy life's biggest moments. Purchases made through links on this page may earn us a commission.
Mask: tick. Make sure you're not missing anything essential on the day with our ultimate wedding planning checklist.