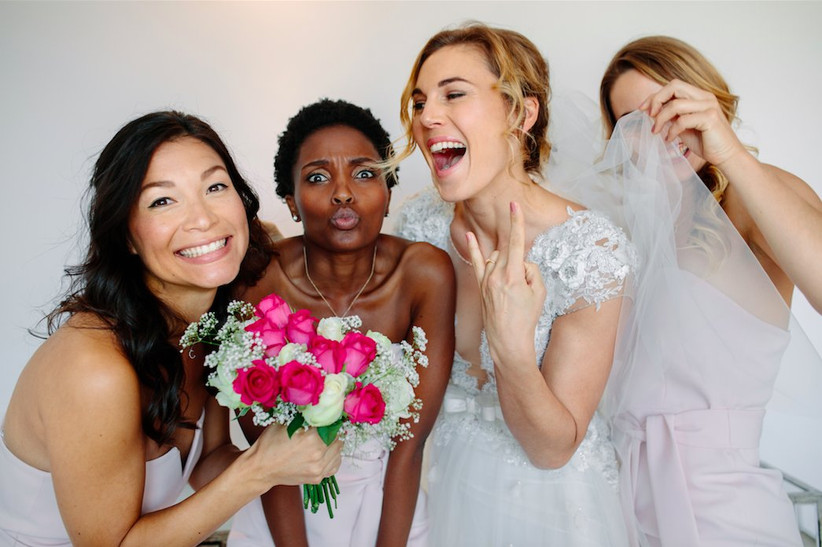 Choosing your bridesmaids can be tricky. It's one of those wedding tasks that sounds fun in principle, but can quickly spiral into a bit of logistical nightmare.
After all, you don't want to offend anyone or make someone feel left out. And do they all have to be part of the same friendship group? You may also have family members chipping in about who you 'ought' to ask - like your second cousin Sarah who you last spoke to for about 10 minutes 15 years ago.
Before you start popping the 'will you be my bridesmaid' question - and possibly regretting it later - it makes sense to work out exactly how many bridesmaids you want in your wedding party. Numbers before names: decide how many slots you have before you try to fill them.
The average number of bridesmaids in the UK may be three, but you need to decide what works for you. Here's how to find the right number of bridesmaids for your big day - you just have to ask yourself a few simple questions.
READ MORE
1. What is Your Bridesmaid Budget?
If you're paying for the bridesmaid dresses - not to mention hair, makeup, and accessories - costs will mount up the more people you have. You also need to account for little extras, such as bridesmaid gifts. If you're on a tight budget, keep your bridesmaids to a minimum. It's better to have two you can really treat than 10 on a shoestring.
2. Are You Worrying about Symmetry?
We hear this a lot, but you really don't have to have the same number of bridesmaids and ushers. An experienced photographer will know how to pose them in the group shots so that it doesn't matter if you have different numbers. If your other half wants a large wedding party but you'd prefer to keep yours intimate, go with that - or vice versa. The important thing is that you have the people you care about around you.
READ MORE: 15 Things Your Bridesmaid Wants You to Know
3. Where Are You Getting Ready?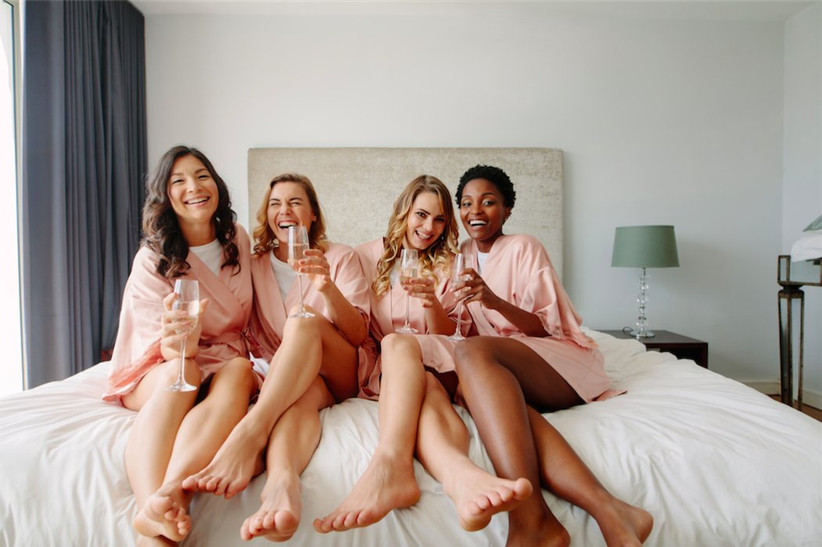 It's customary for the bride to get ready with her bridesmaids on the wedding morning. This can be a really special part of the big day, but it can also quickly turn into chaos if you have a large number of bridesmaids in a very small space. Everyone will need somewhere with good light for hair and make-up, as well as space for their stuff. You may not know where you'll be getting ready yet, but just bear in mind that if you have a large number of bridesmaids, it may not be possible for you all to get ready together. On the other hand, if you only have one bridesmaid, you may not have the buzzy atmosphere you want, so think about what your ideal wedding morning looks like: quiet and calm or like a mini hen?
READ MORE: The Best Bride and Bridesmaid Dressing Gowns and Pyjamas for the Wedding Morning
4. Do You Feel You Have to Return the Bridesmaid Favour?
We get it: if you've been a bridesmaid at someone's big day, it feels super-awkward not to have them in your wedding party. But it's important that your bride squad is made up of the people you genuinely want, not the people you think you ought to have. If you'd prefer to keep your bridesmaids to 2-3 of your closest friends and family, that's fine - don't inflate the number to accommodate 'ought-tos'.
5. Have You Chosen Your Ceremony Space?
If you want your bridesmaids to walk down the aisle with you, consider how that will work in your ceremony space. This is particularly important for small wedding venues - to avoid the space feeling cramped, it might be better to go with a more curated wedding party. What's more, if you have a shorter aisle, a troop of bridesmaids marching in with you might feel a bit odd.
6. Are You Sure You Want Bridesmaids?
For some people, the perfect number of bridesmaids is zero. You don't have to follow tradition if that's not your style! Whether you have just a maid of honour, make like Meghan and only have flower girls, or don't have any aisle-mates at all - it's all about what makes you comfortable.
READ MORE: The Flower Girl Role Explained
7. Are You Focusing on Your Guest List?
Some people believe that the bigger the wedding, the more bridesmaids you should have. We totally disagree. There really is no way your guest list should affect your wedding party - with one exception. If you're having a very intimate wedding - say 15 or more - you should keep bridesmaid numbers down. After all, it would be weird if there were more bridesmaids than guests!
8. Have You Thought About Other Roles?
You can still include people in the wedding without making them a bridesmaid. Think about the other roles, such as doing the wedding readings and acting as witnesses.
9. How Do You Picture Your Hen Party?
The more bridesmaids you have, the most (almost) guaranteed guests you have at your hen party. If you're dreaming of a big night out or weekend away, you may want to up your bridesmaid count to get that party atmosphere. Want to keep your hen party quiet and intimate? That's probably a sign you'll be better off with fewer bridesmaids.
10. What Are You Hoping Your Bridesmaids Will Do?
Different brides have different expectations - and there really are no rules. Are you hoping they'll get involved with the planning (or at least help out with some DIY!)? It would probably be better to have a smaller number of bridesmaids - just the people you're closest to, who will want to help out. Expecting your bridesmaids to simply turn up on the day to celebrate with you? Then a larger number is fine.
Once you've chosen your bridesmaids, it's on to the fun part - shopping! We've found the best places to buy bridesmaid dresses online.