Engagement Ring Trends 2021: The 9 Most Covetable Styles to Have On Your Radar
Thinking of popping the question in the next 12 months? These engagement ring trends for 2021 will steer you in the most stylish direction.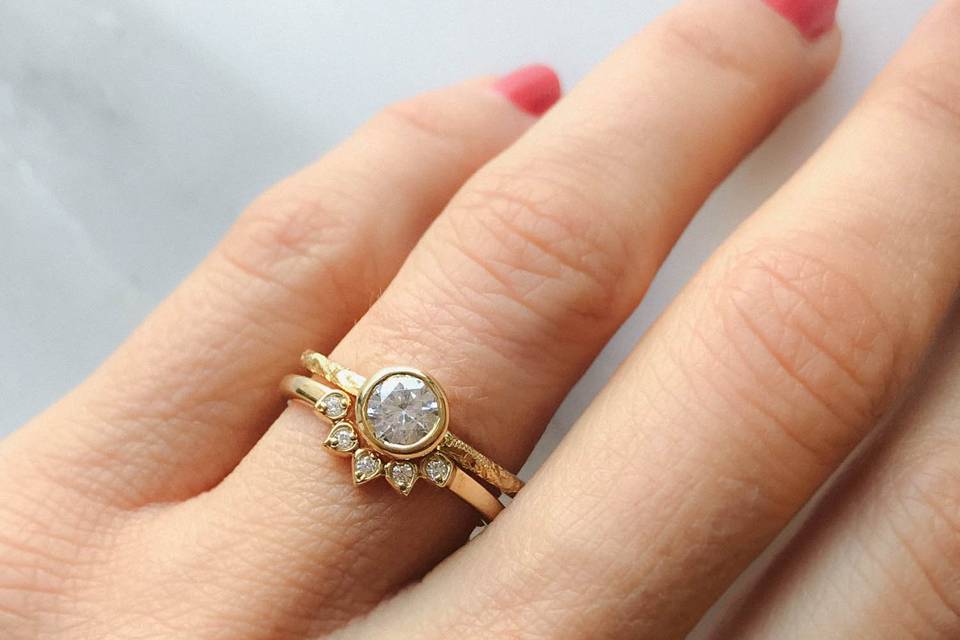 Trends come and go, and the most important thing when you're choosing an engagement ring is to pick one that you know your partner will love forever. But as each new year approaches, we can never resist taking a look at the most in-demand styles of the moment – and the engagement ring trends of 2021 are no exception.
From Hollywood stars to our very own royal family, famous faces always have an impact on our preferences when it comes to engagement rings, but these days more and more couples are searching for a totally unique twist on traditional styles, rather than a carbon copy of someone else's band. There's also a more adventurous mood in the air when it comes to coloured stones and multi-stone engagement rings too – while a classic diamond solitaire will never be a bad choice, it's certainly not the only one on our wish lists anymore.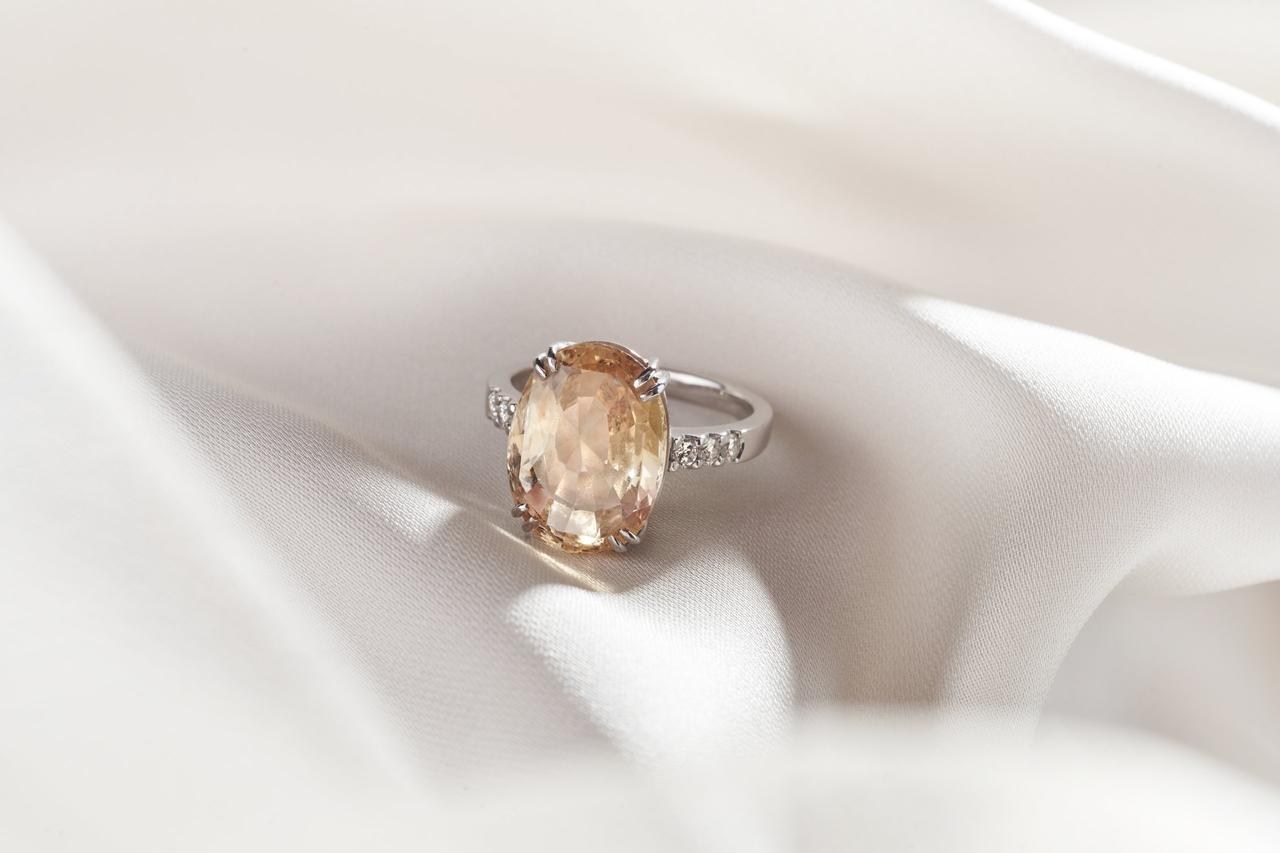 Whether you're thinking of proposing this year or just love looking at gorgeous jewellery whatever the occasion (us too!), we've asked three of the country's most talented jewellers to share the requests they've been receiving, as well as their own forecasts for the engagement ring trends that are about to spike. Consider this your official guide to the most-wanted looks for the year ahead.
NB: We have included third party products to help you navigate and enjoy life's biggest moments. Purchases made through links on this page may earn us a commission.
The Biggest Engagement Ring Trends for 2021
1. East West Engagement Rings
Laura Lambert, the founder of Fenton, predicts that the unique 'East West' setting will be big in the world of engagement rings for 2021. 'Natalia Vodianova was an early adopter with an east west set pear in Jan 2020,' she says. 'It's a great way to add a unique twist to an otherwise classic design.'
An East West design can be created with almost any shape of stone – Natalia's, for instance, was a stunning, standout pear-cut diamond. However, the most popular option for east west designs is emerald cut stones, either framed with rows of smaller diamonds or set horizontally on their own.
East West Emerald Aquamarine Platinum – £1,450, Fenton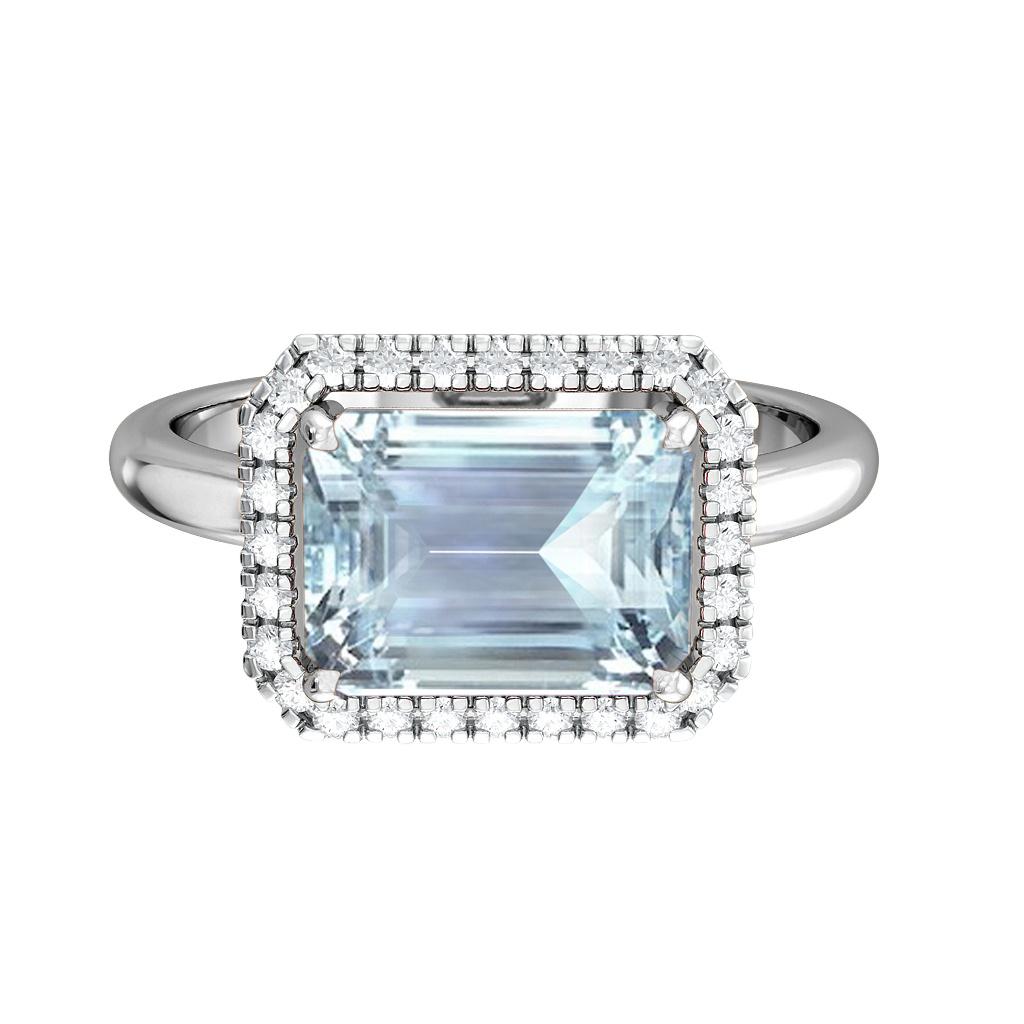 East-West Emerald-Cut Garnet Solitaire Ring – £575, Angara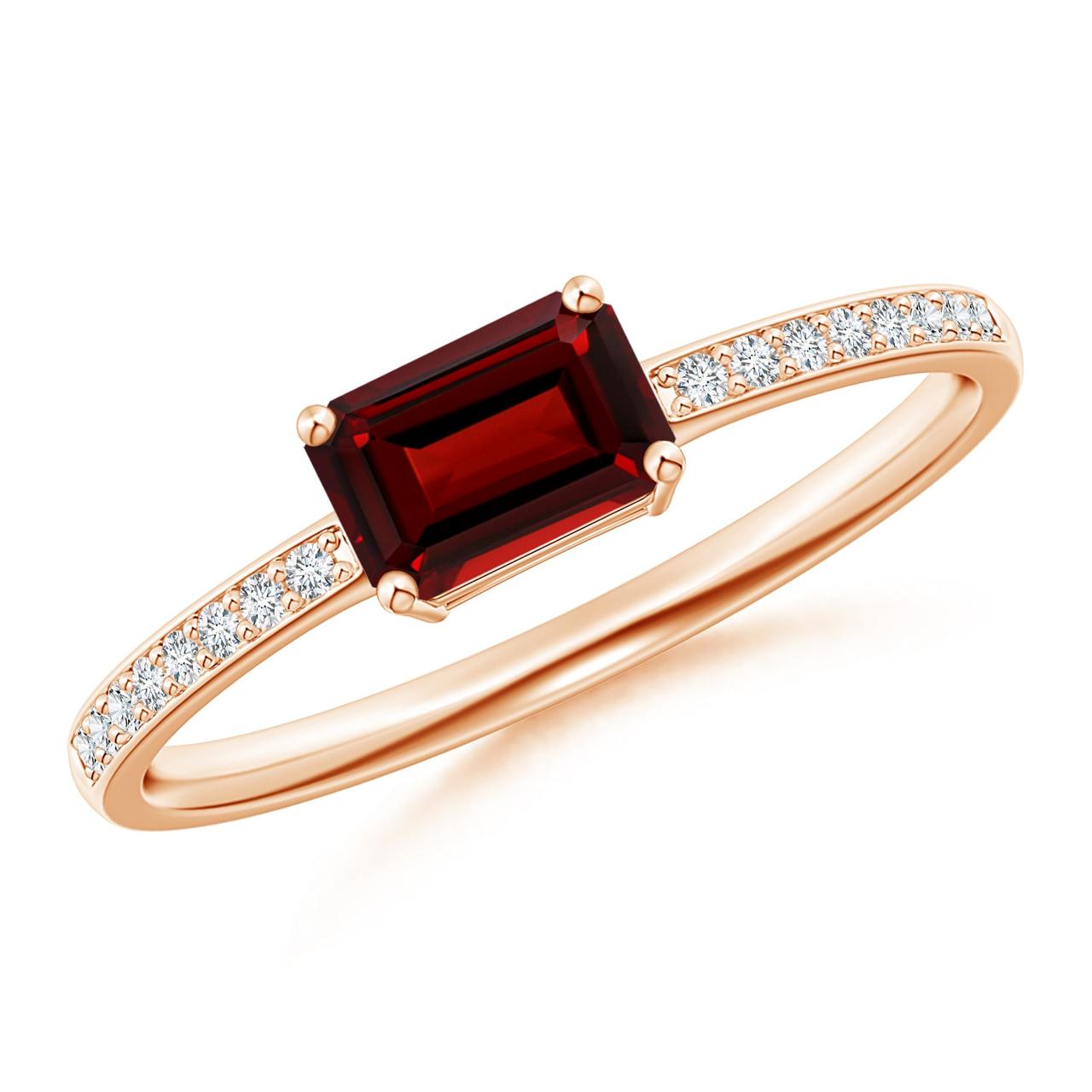 Purity Emerald Diamond Solitaire Bezel Set in 18ct Yellow Gold – £690, Taylor & Hart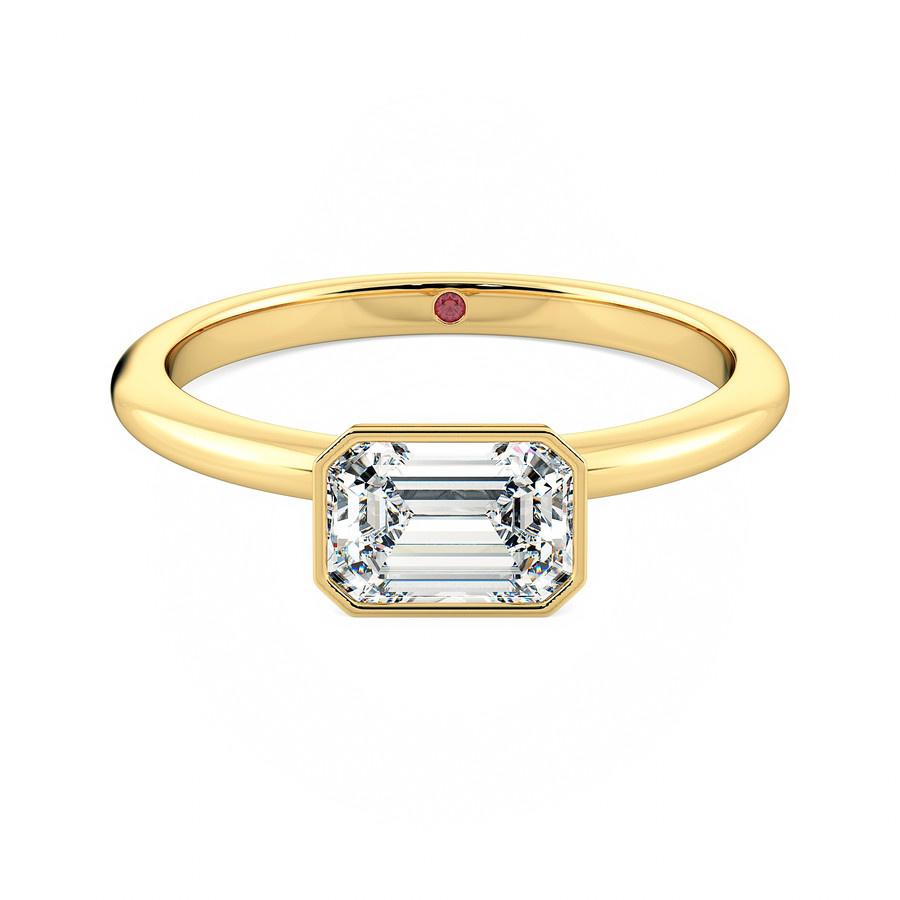 READ MORE: Affordable Engagement Rings: 38 of The Best Budget-Friendly Designs for 2021
2. Stacking Engagement Rings
'The term 'engagement ring' is no longer strictly synonymous with slim bands and solitaire diamond,' notes Arabel Lebrusan, founder of Lebrusan Studio. 'In fact, an engagement ring can look however you'd like it to look – and so an increasing number of modern couples are seeking unique investment pieces that enable them to make the most of their existing jewellery collections.
'With this trend, stackable engagement rings are on the up. Stacking rings are designed to be mixed and matched with various other rings, offering infinite opportunities for personalised looks. A stackable style that's particularly popular right now is the shaped stacker, characterised by a deviated band and often set with sparkling gemstones. When combined, shaped stackers look like fabulous little tiaras on the finger; perfect for the bride-to-be who loves to make a statement.'
Teardrop Diamond Tiara Ethical Ring – £680, Lebrusan Studio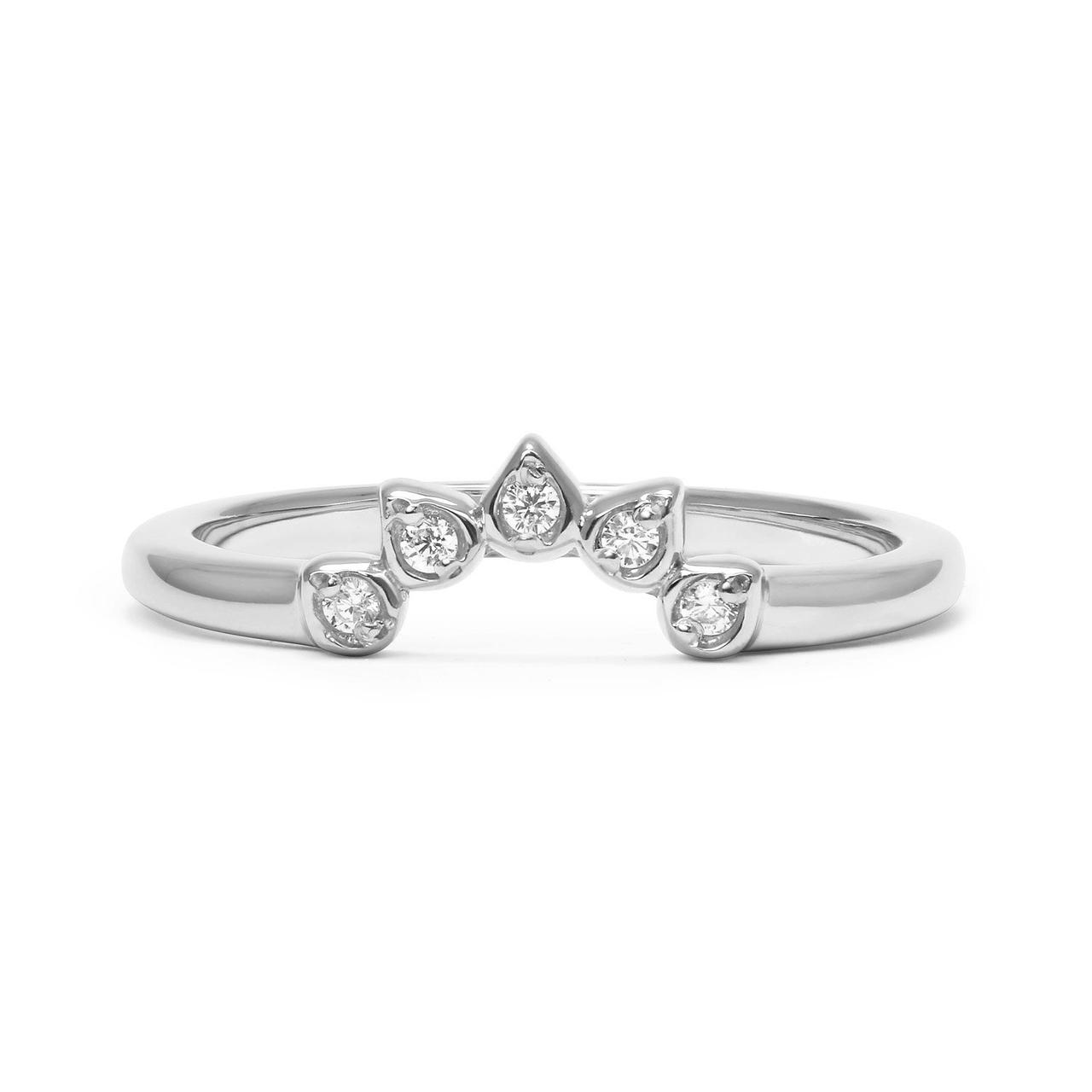 Lily White Diamond and Lunar White Medium Pearl Stacking Duo, £365, Phoebe Coleman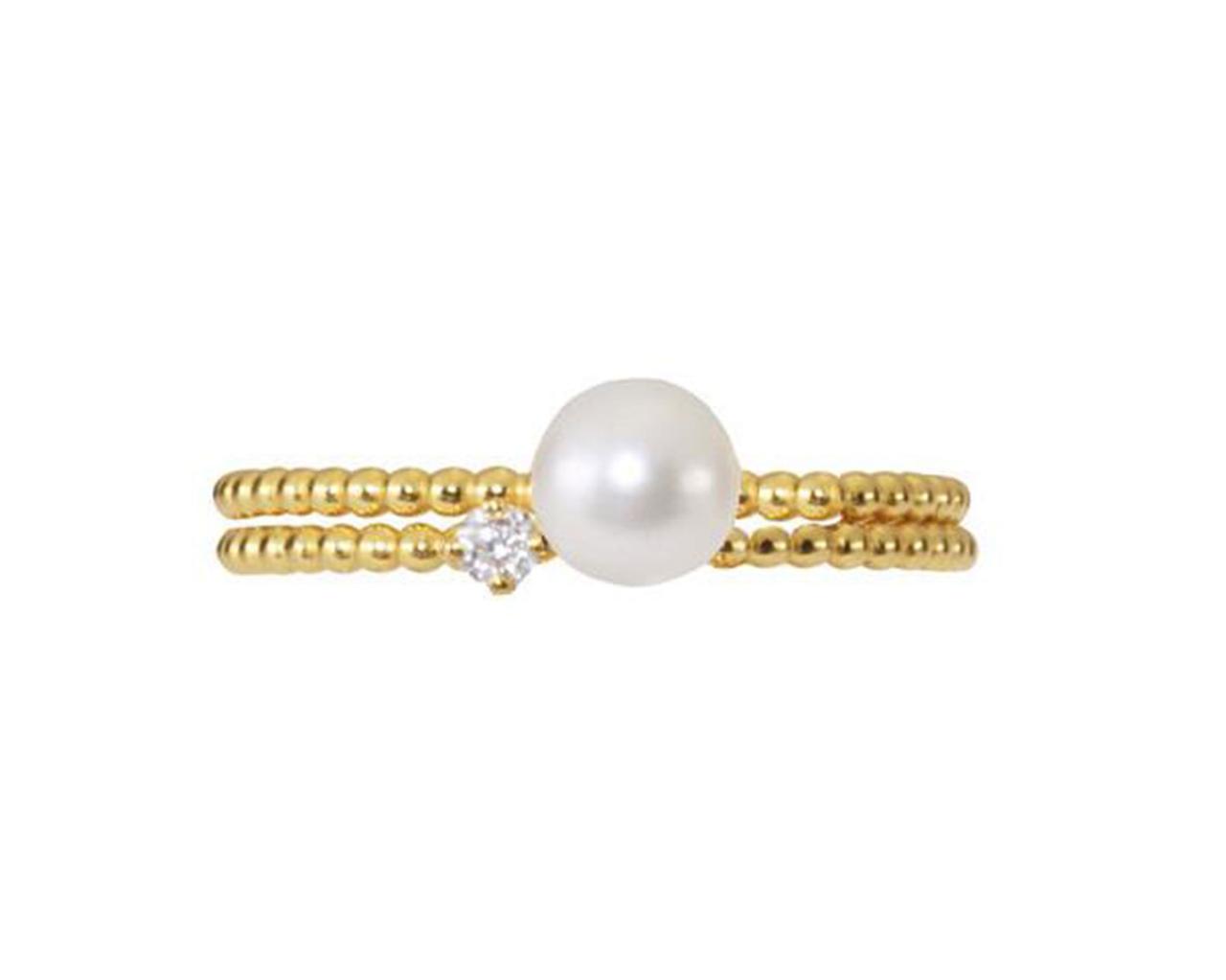 Dinny Hall White Gold Lily Diamond Crown Ring – £950, Liberty London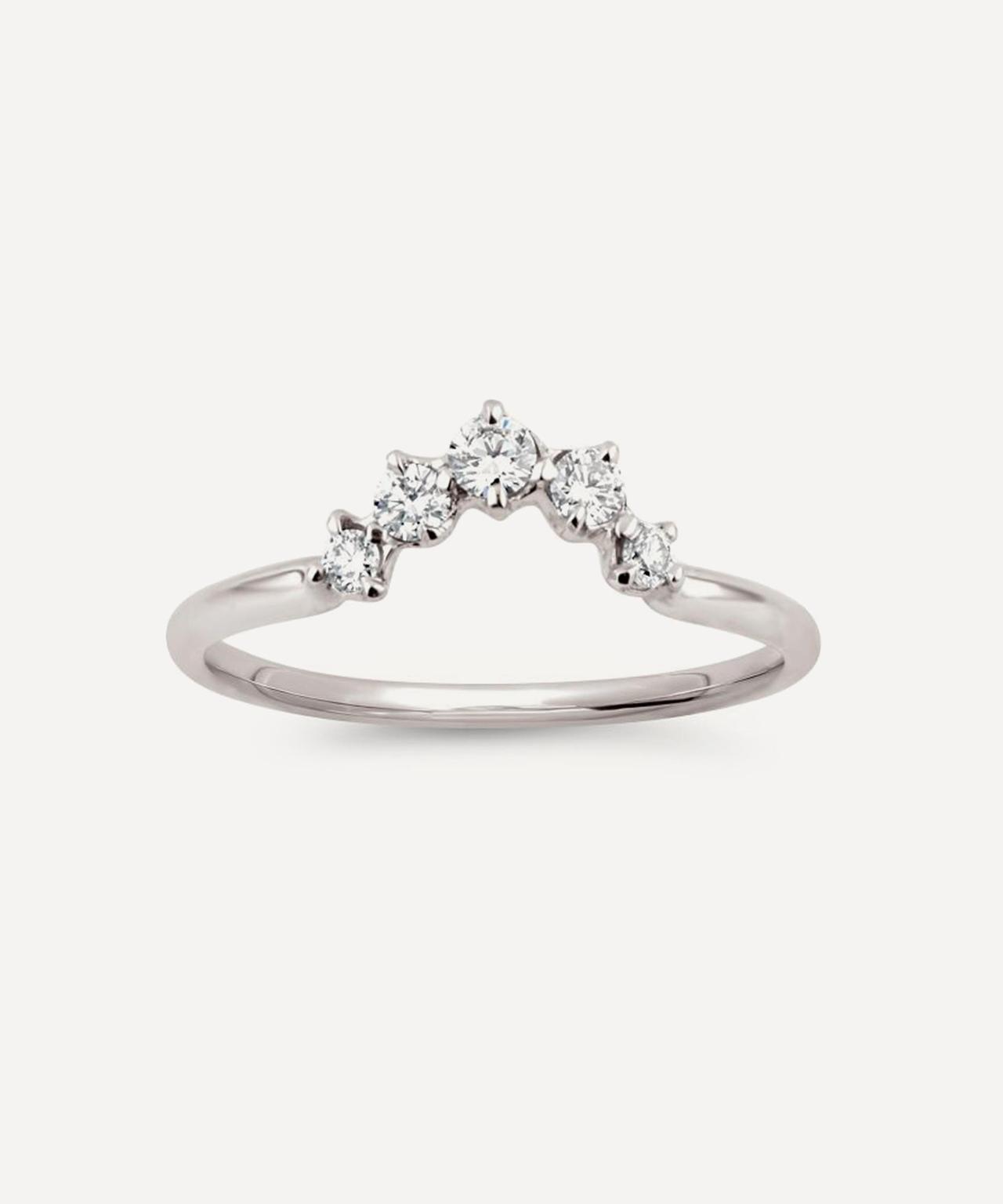 3. Art Deco Engagement Rings
'We're finding that when brides choose their own ring, many are going for bold Art Deco and vintage styles with large stones cut in squarer asscher and emerald styles,' the team at bespoke jewellery brand Alicia J.
'We see this among brides with a confident modern style, who want to move away from the classic brilliant-cut diamond engagement ring. Alternative gemstone engagement rings in vintage styles are very popular with celebrities and influencers at the moment, too. As well as requests for sapphires, rubies and emeralds there's been a recent demand for striking black diamonds. People are being more playful and experimental with the way they want their stone set, too.'
Leto Ring – £2,985, Gee Woods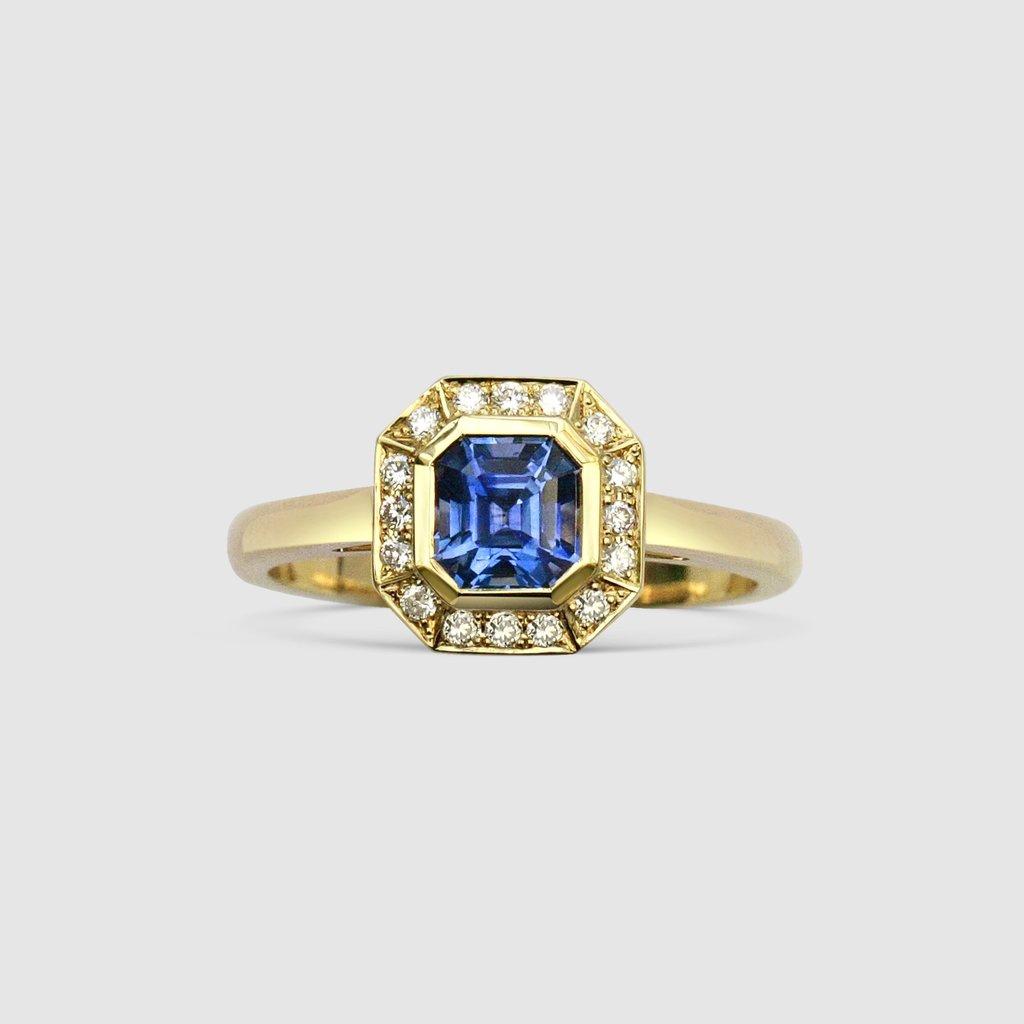 Asscher Art Deco Diamond Halo Ring in White Gold – £2641, V by Laura Vann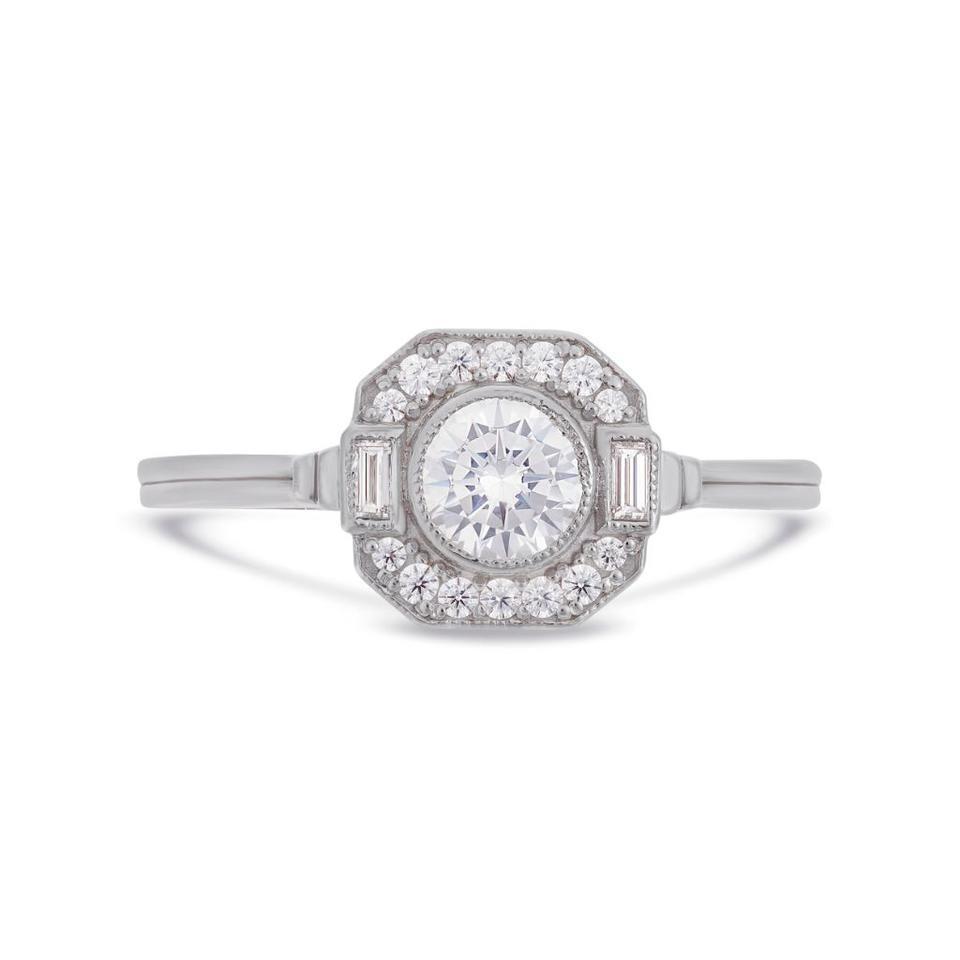 Mo Ring – £POA, Emma Franklin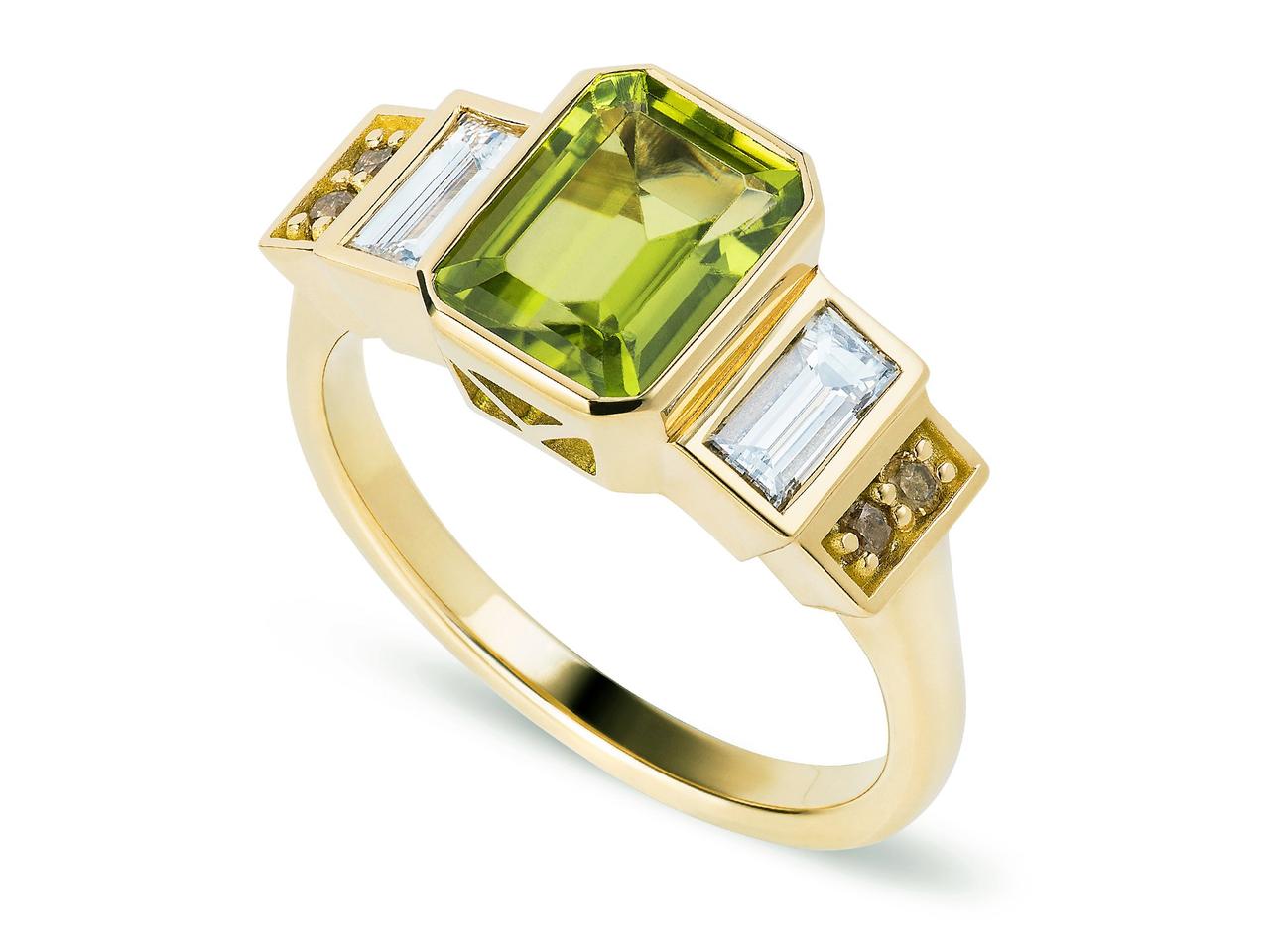 READ MORE: The 5 Most Popular Engagement Ring Styles for 2020
4. Aquamarine Engagement Rings
'The Aquamarine will continue to grow in popularity,' Laura declares. 'Aquamarines are already one of the most sought-after centre stones and it's no wonder. The beautiful clear blue works on all occasions and with any outfit choices.'
She cites Meghan Markle's stunning emerald cut aquamarine cocktail ring, which was previously part of Princess Diana's collection, as a great starting point to base your search around. Aquamarine is also the birthstone for March, so an aquamarine ring of any shape or size makes a thoughtful pick for a partner with a spring birthday.
Le Vian 14ct Vanilla Gold Sea Blue Aquamarine Diamond Ring – £1,099, Ernest Jones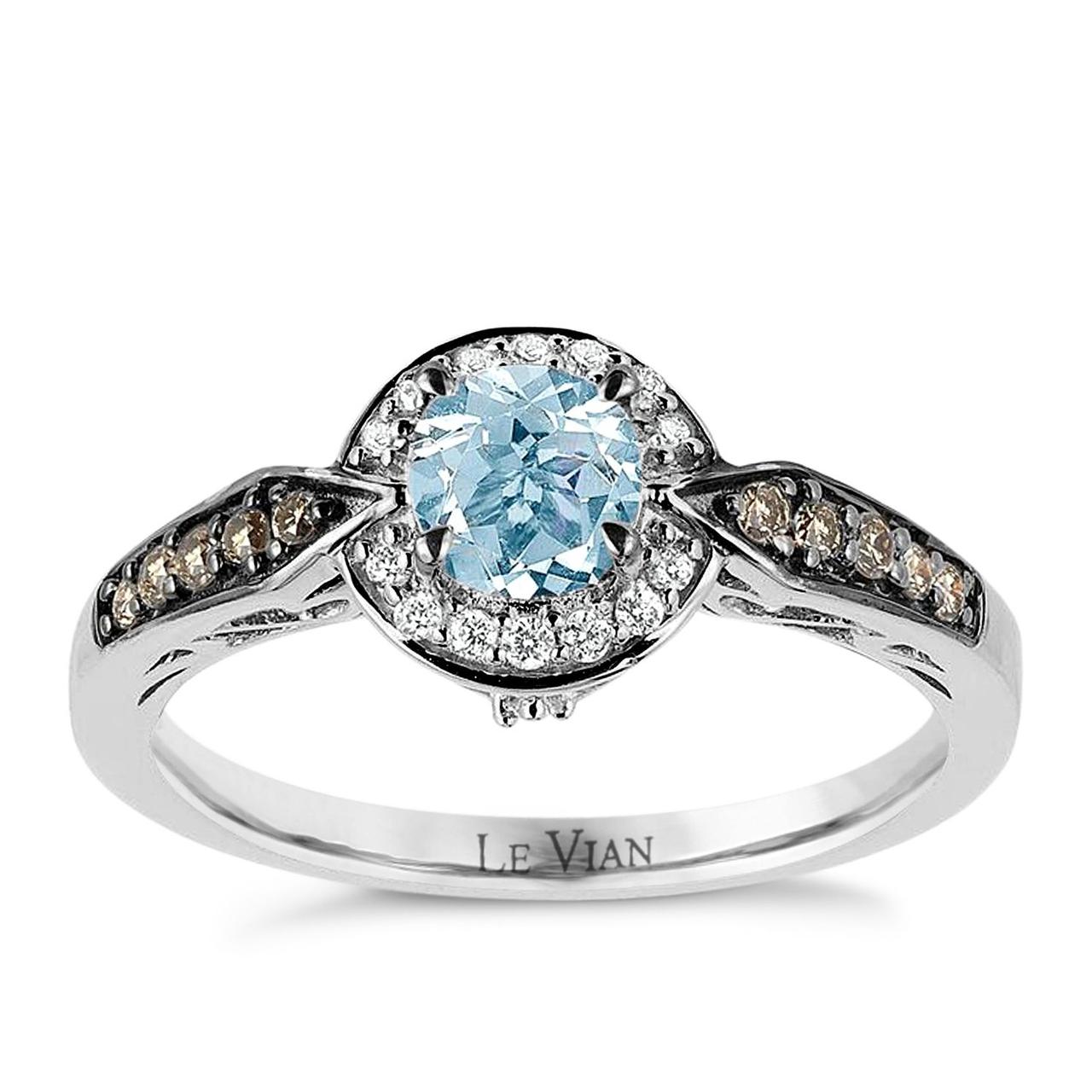 9ct White Gold Aquamarine And Diamond Triology Ring – £399, F. Hinds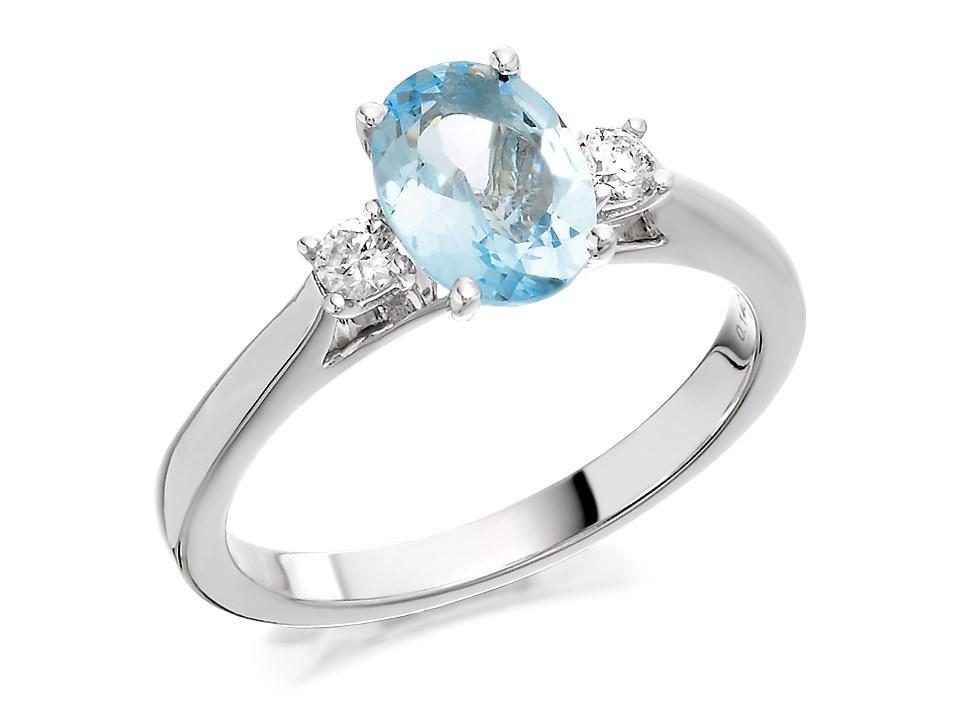 Floral Oval Aquamarine 18kt Rose Gold – £1,950, Fenton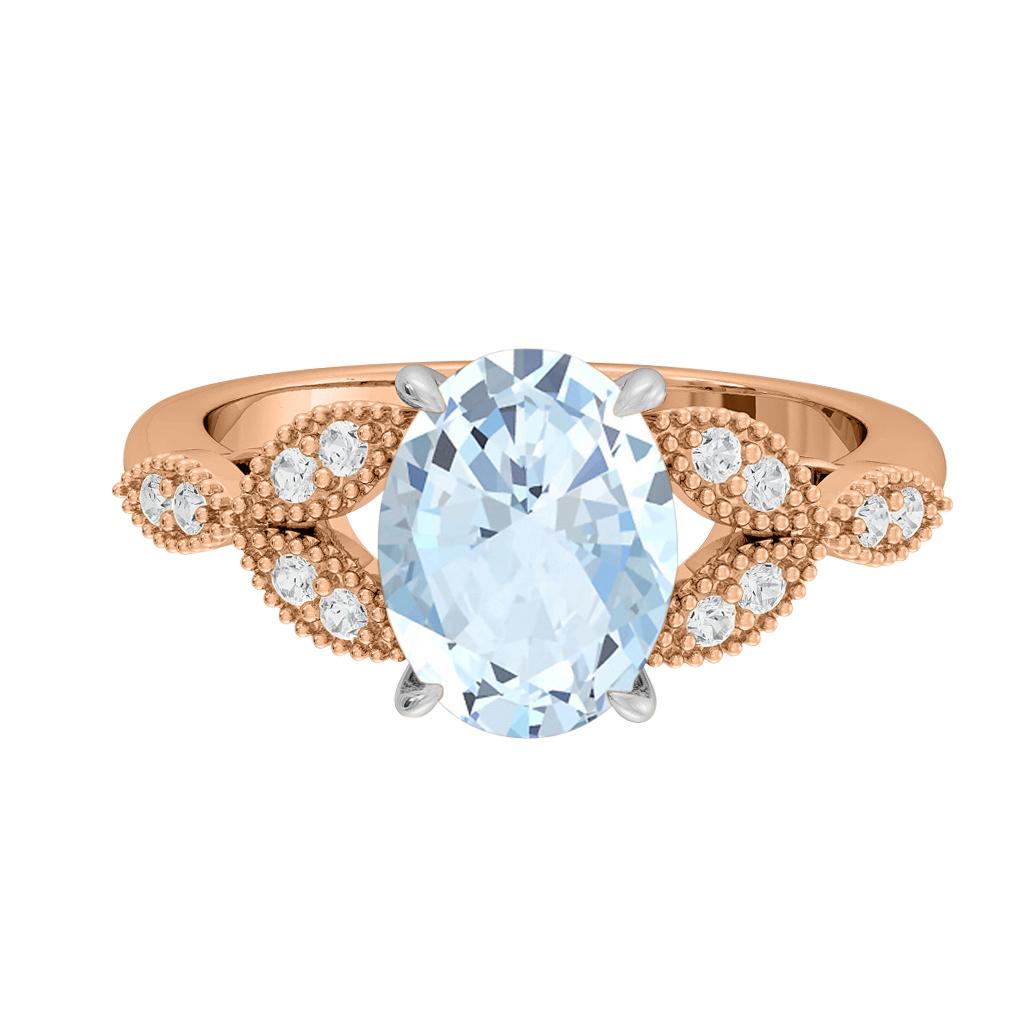 5. Oval-Cut Sapphire Engagement Rings
Another royally-led trend is firmly on Arabel's radar: 'Thanks to Netflix's smash hit epic The Crown and the latest season's focus on Charles and Diana's turbulent relations, the nation's eyes are, once again, fixed on that infamous sapphire betrothal jewel,' she explains. 'Now worn by the Duchess of Cambridge and recently crowned the world's most popular engagement ring, the 12ct royal blue sparkler is likely to inspire a surge in demand for similar pieces over the coming months. We're expecting to see blue gemstones, oval-cuts and diamond halos skyrocket in popularity all over again.'
(If a blue stone's not quite right for your other half, Laura from Fenton also notes to Princess Margaret's rosy ruby and most recently, Princess Eugenie's soft pink sapphire as other royal rings inspiring spouses-to-be right now).
18ct White Gold Oval Cut Blue Sapphire Ring – £2,200, Lilia Nash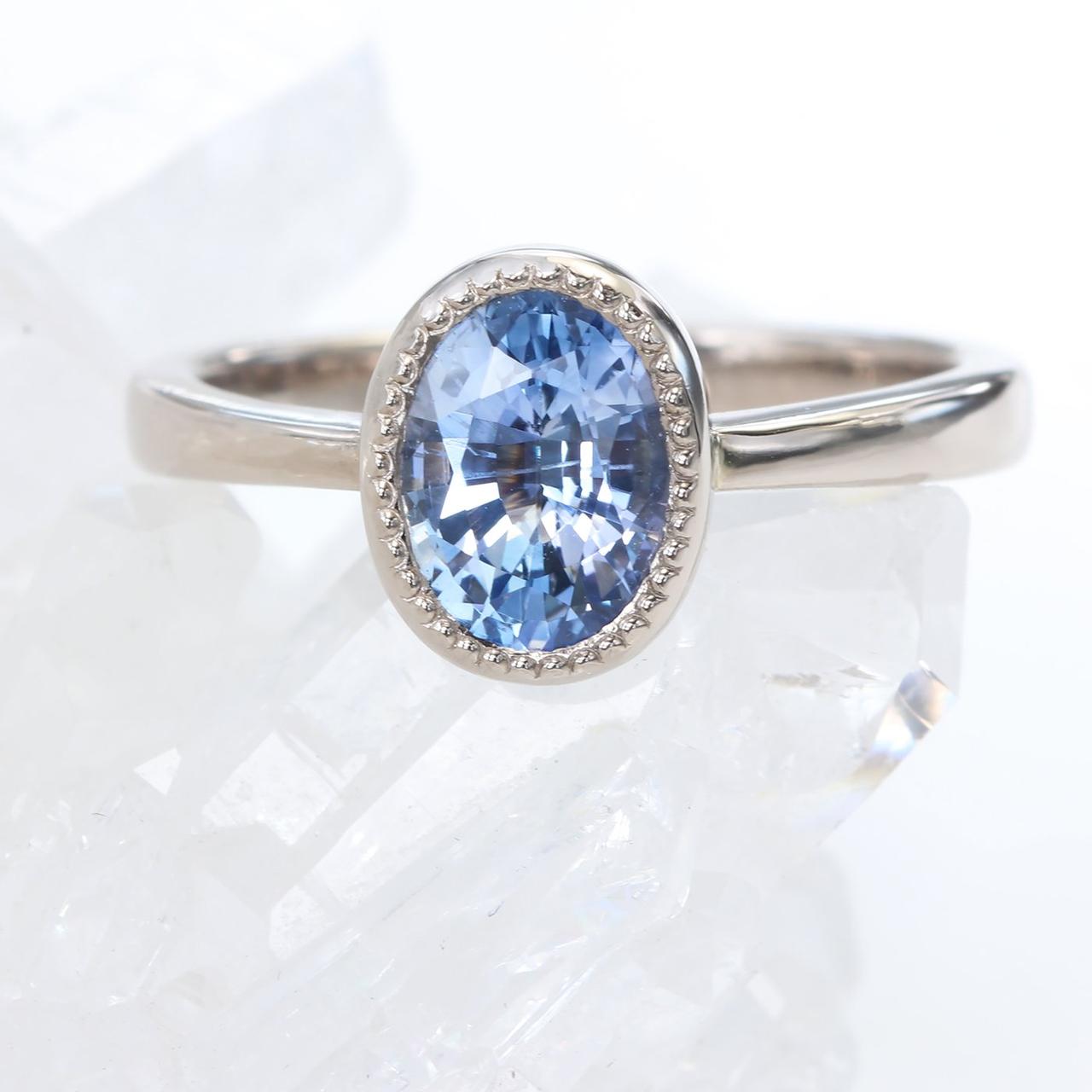 Lyra Ethical Sapphire Engagement Ring – £2,850, Lebrusan Studio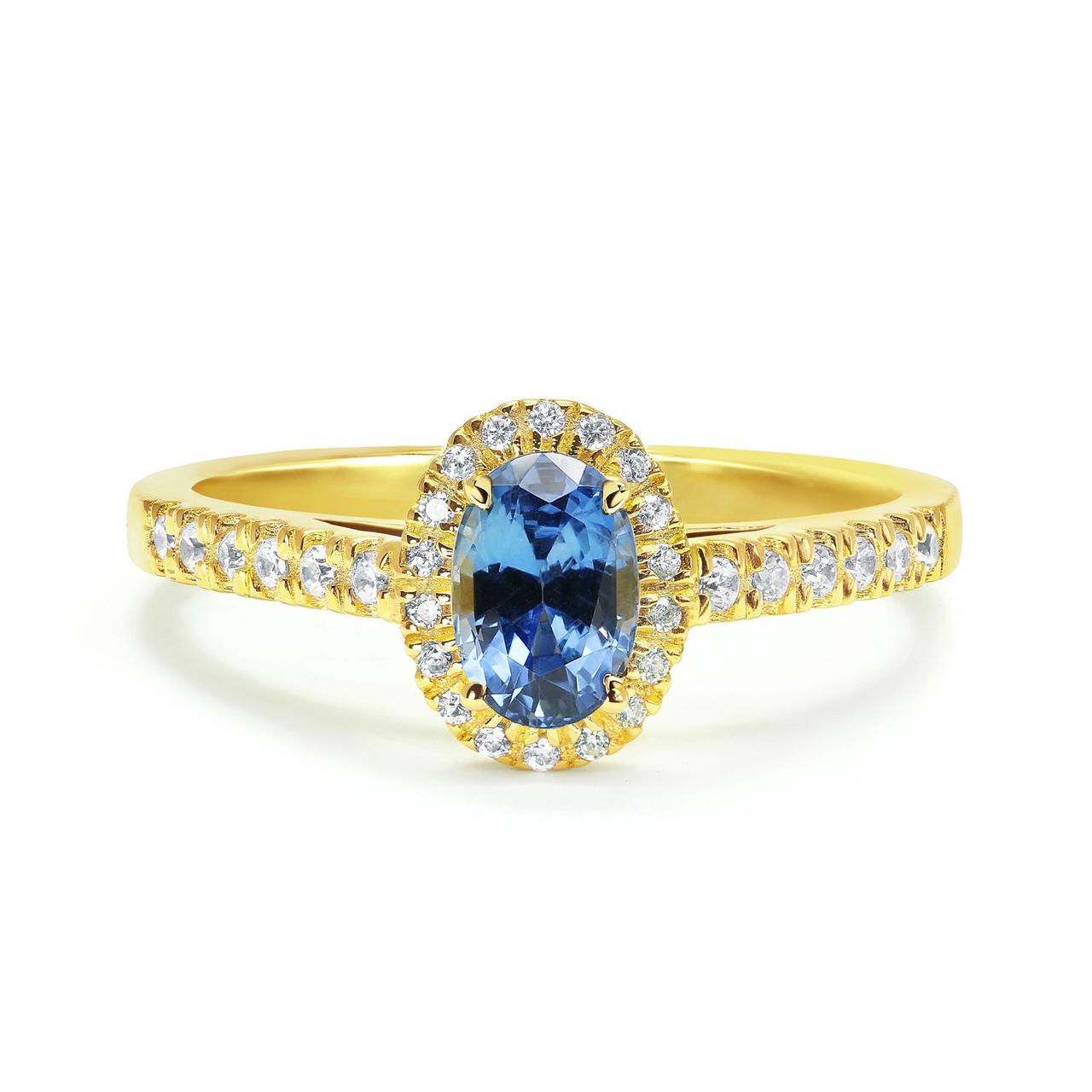 Unity 1.25ct Oval Blue Sapphire Solitaire 9ct Yellow Gold Proposal Ring – £295, Gian London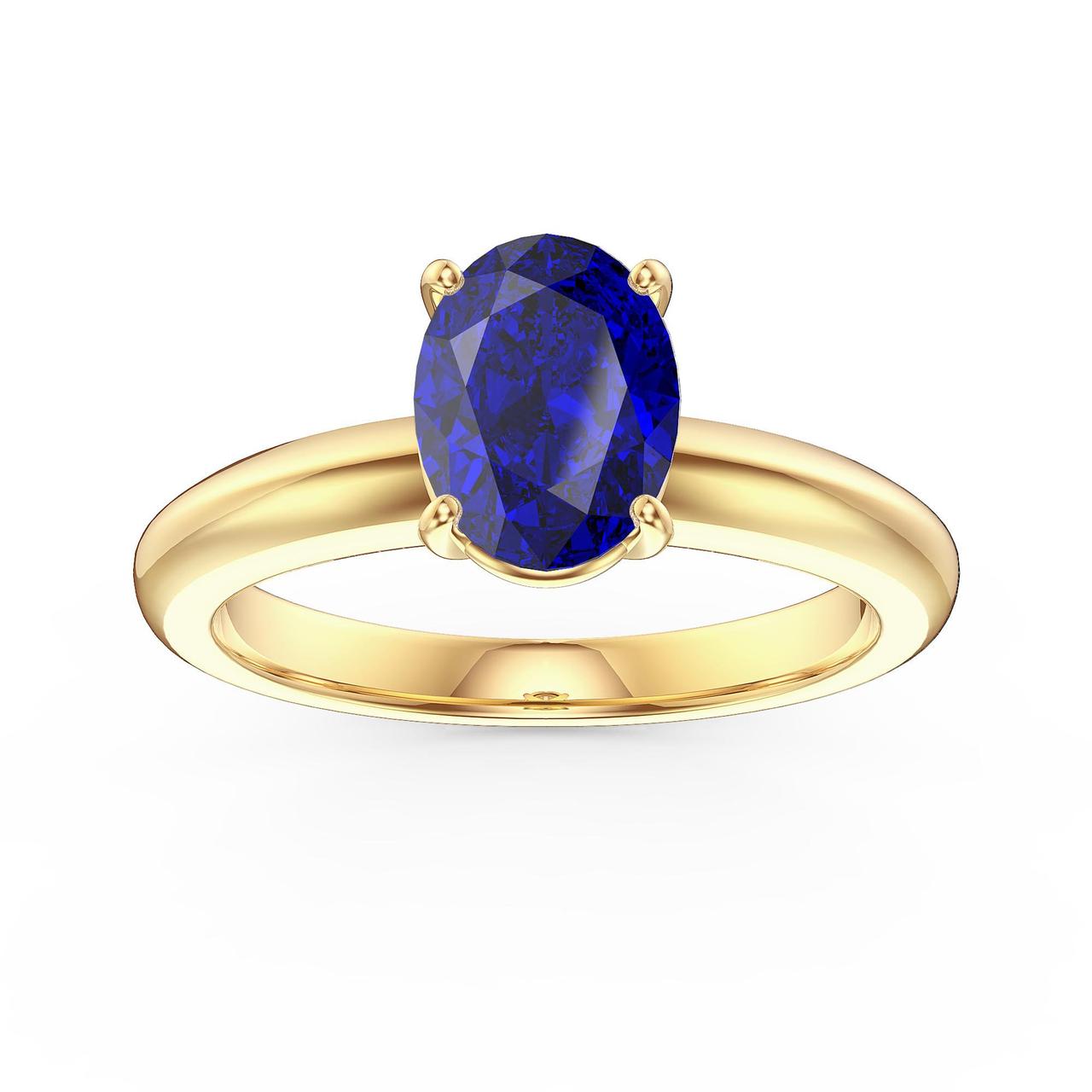 6. Trilogy Engagement Rings
Last but not least on our royal jewellery journey is the three-stone engagement ring: 'When Prince Harry proposed to Meghan Markle with a trilogy, three-diamond ring, he sparked a lovely trend that is still going strong,' Alicia J's experts say.
'The beauty of the trilogy ring is that each diamond can signify something special from your past, present and future. But we're seeing different multiple-stone rings as a rising trend, too. Many couples are going for two diamonds, to symbolise bride and groom. We've seen these added to with extra diamonds when children are born, or complemented with a stacking ring for each child. Again, the personal story is a big part of the popularity of multi-stone rings.'
Platinum Trilogy Engagement Ring – £5,925, Avanti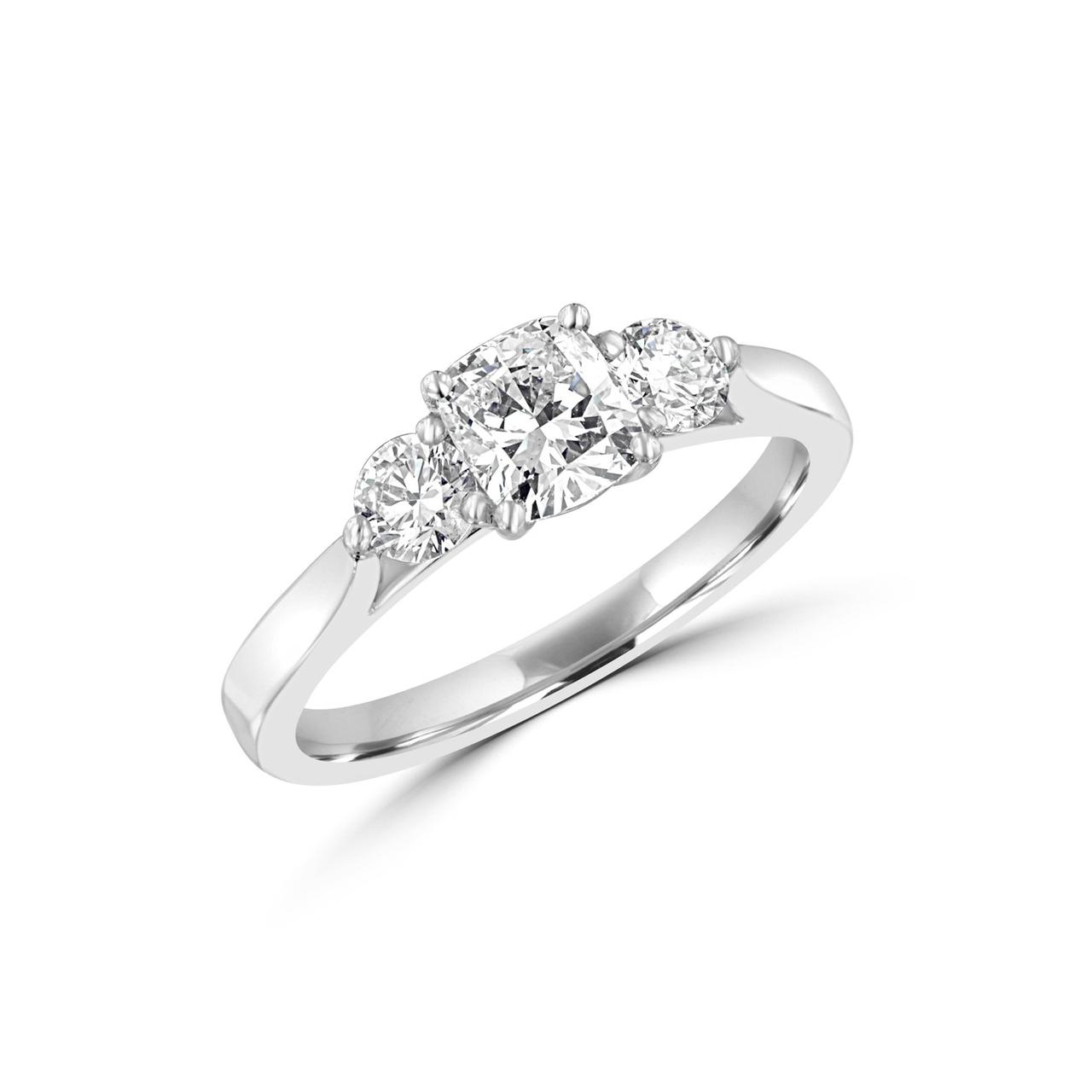 Octagon Diamond Trilogy Ring – £2,600, Faller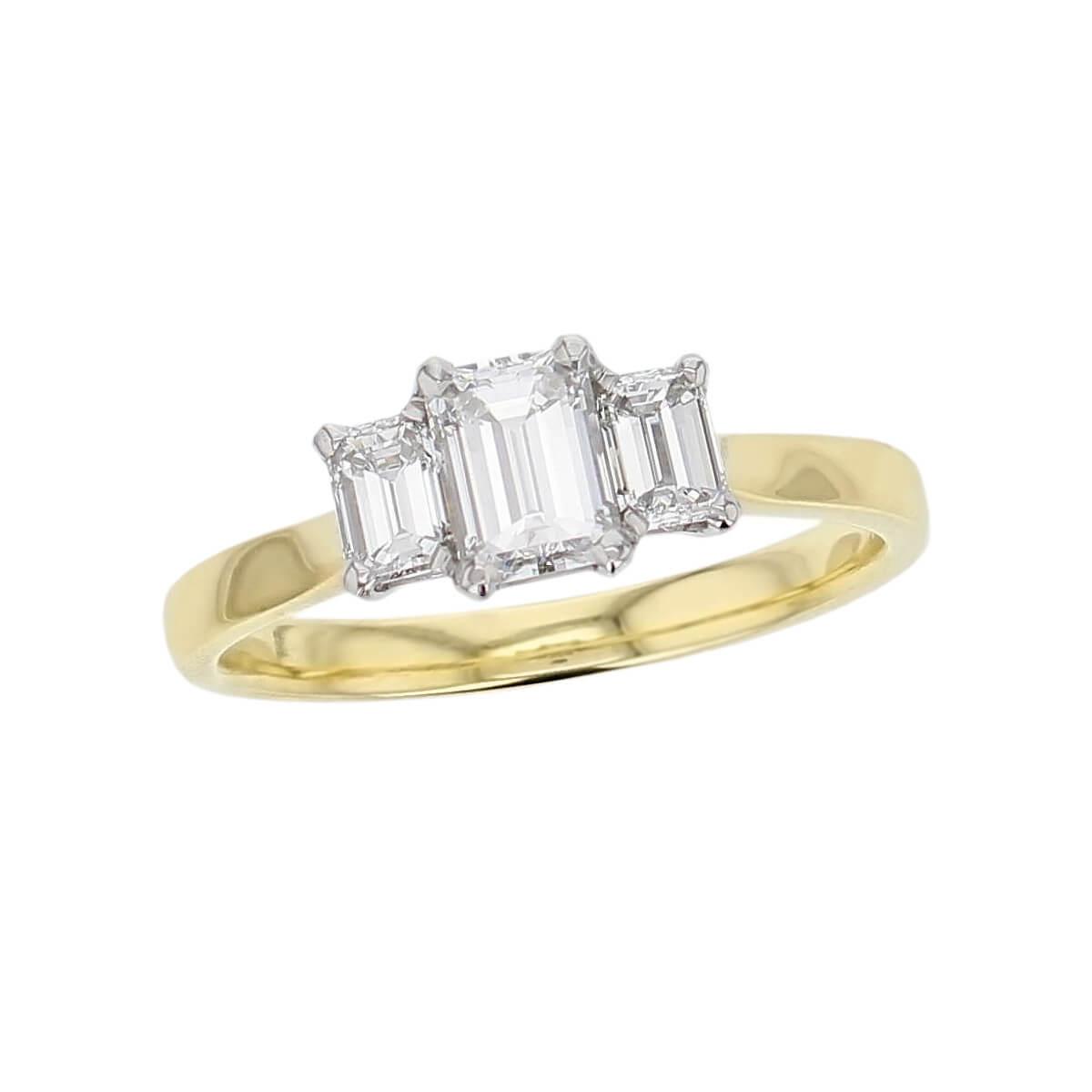 Diamond Trilogy Ring – from £3,000, Michelle Oh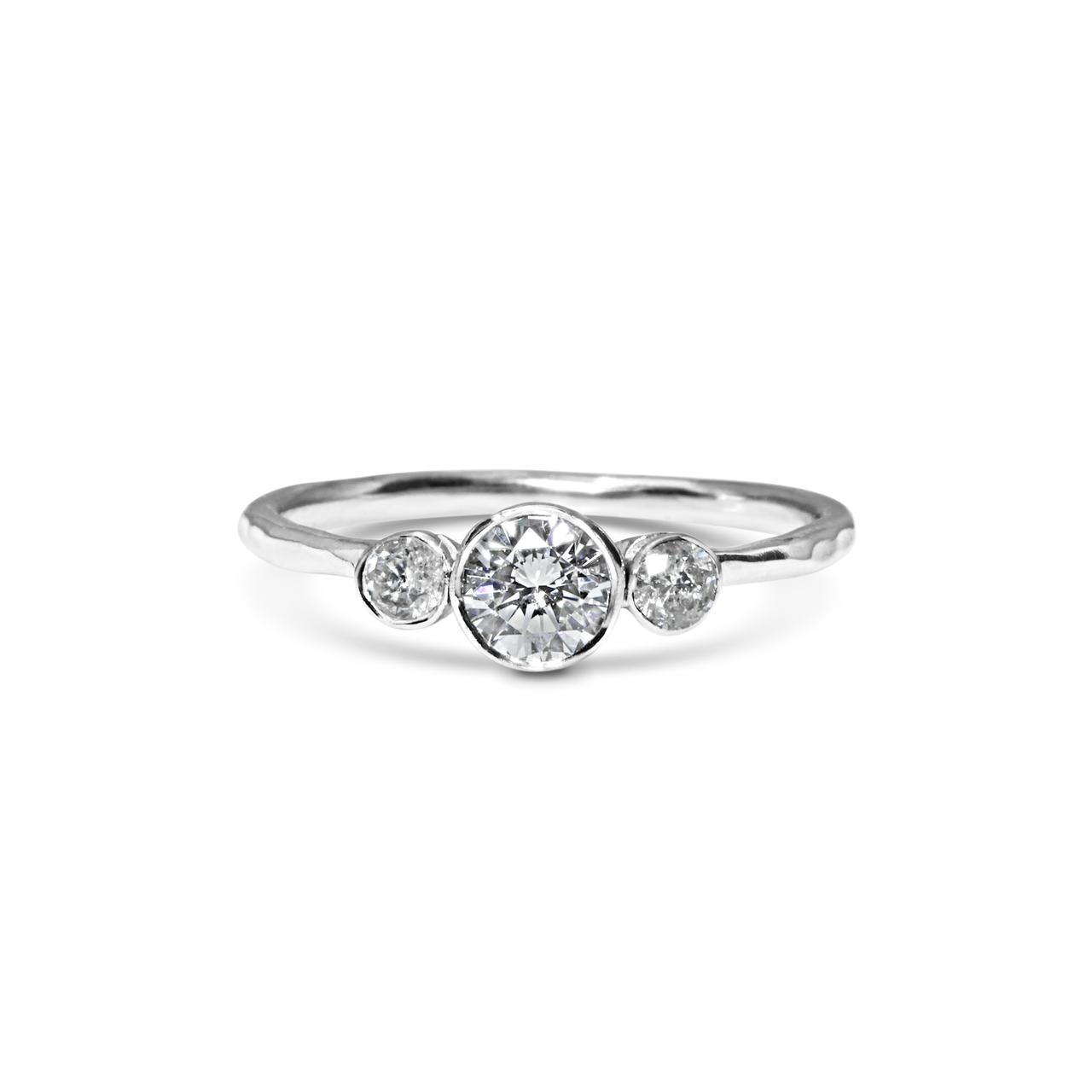 READ MORE: 25 Engagement Ring Styles You Need to Know Before You Shop
7. Multi-Stone Engagement Rings
'Since this time last year, we've seen a 58% increase in engagement ring spending. With this trend, we're also seeing increasing demand for highly decorated, multi-stone pieces,' Arabel agrees.
'Incorporating a diamond halo, isolated fronds encrusted with gemstones or a microset split-band creates an enlarging affect and serious wow-factor. With this approach, the possibilities for unique variations are endless. Our Black Label collection is defined by curious shapes, impressive centre-stones and sparkling asymmetry.'
Sophie Bille Brahe 18k Yellow Gold Pleine De Lune Diamond Ring – £1,800, Browns Fashion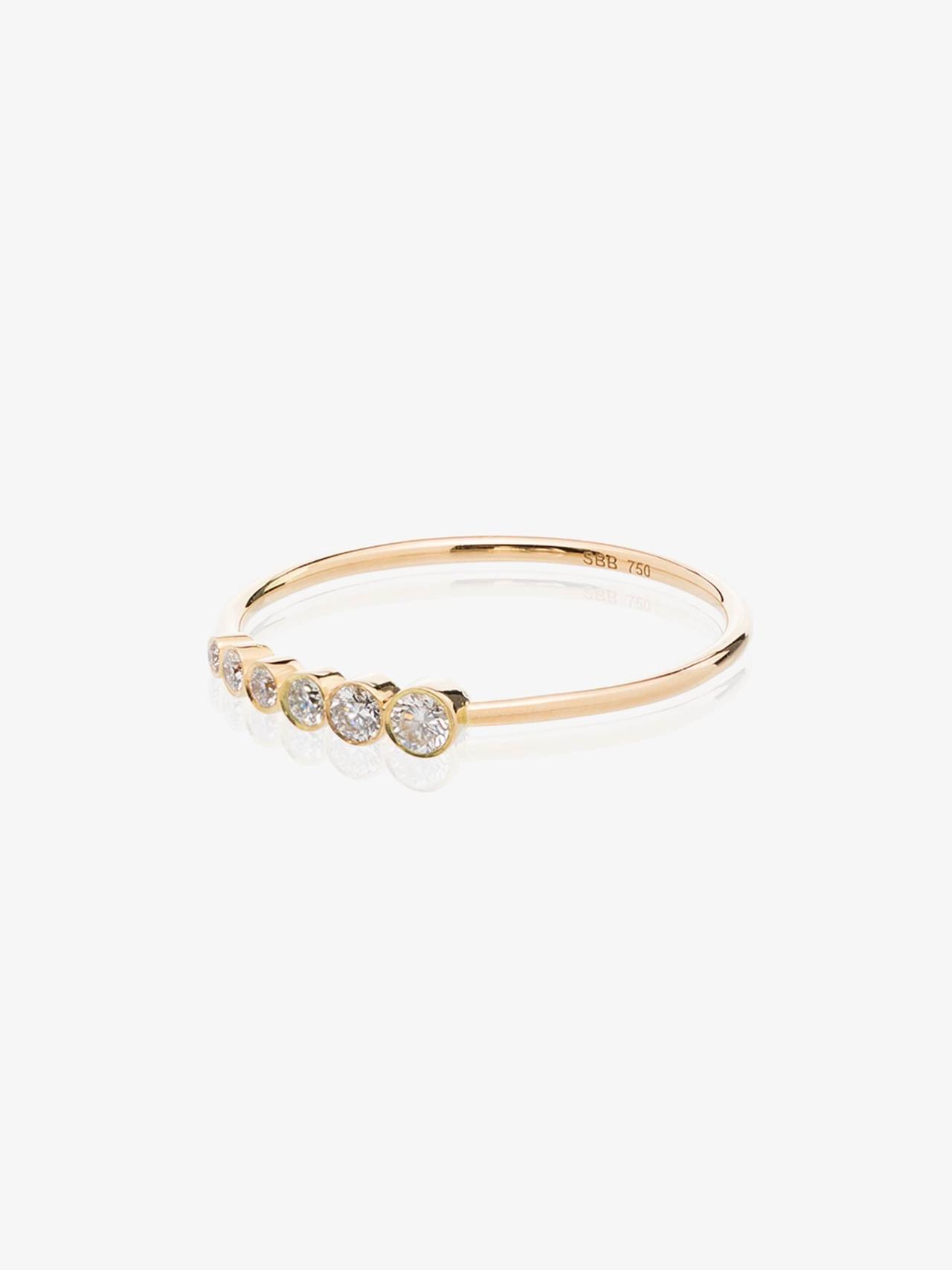 Cognac Diamond Constellation Ring – £1,950, Flora Bhattachary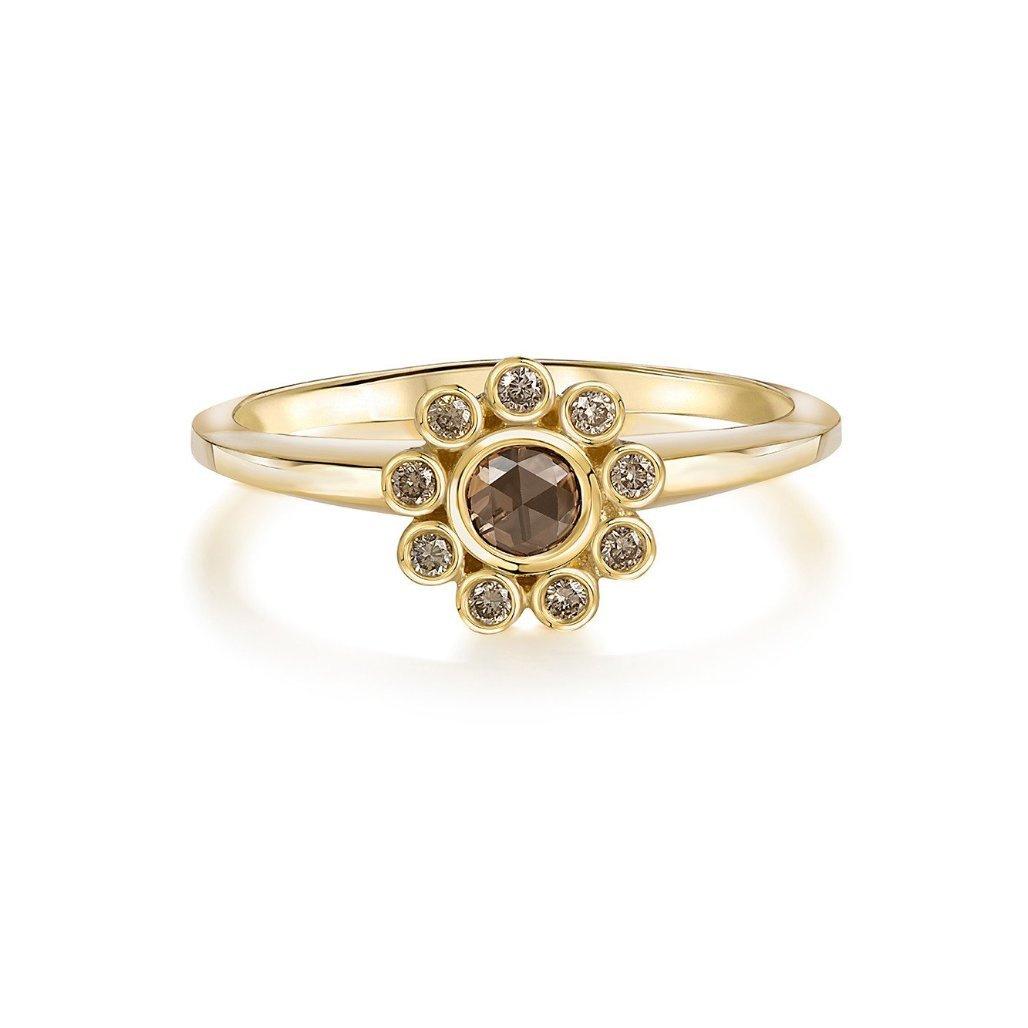 Antique Diamond Asymmetric Tapering Ring with Granules – £3,720, Ruth Tomlinson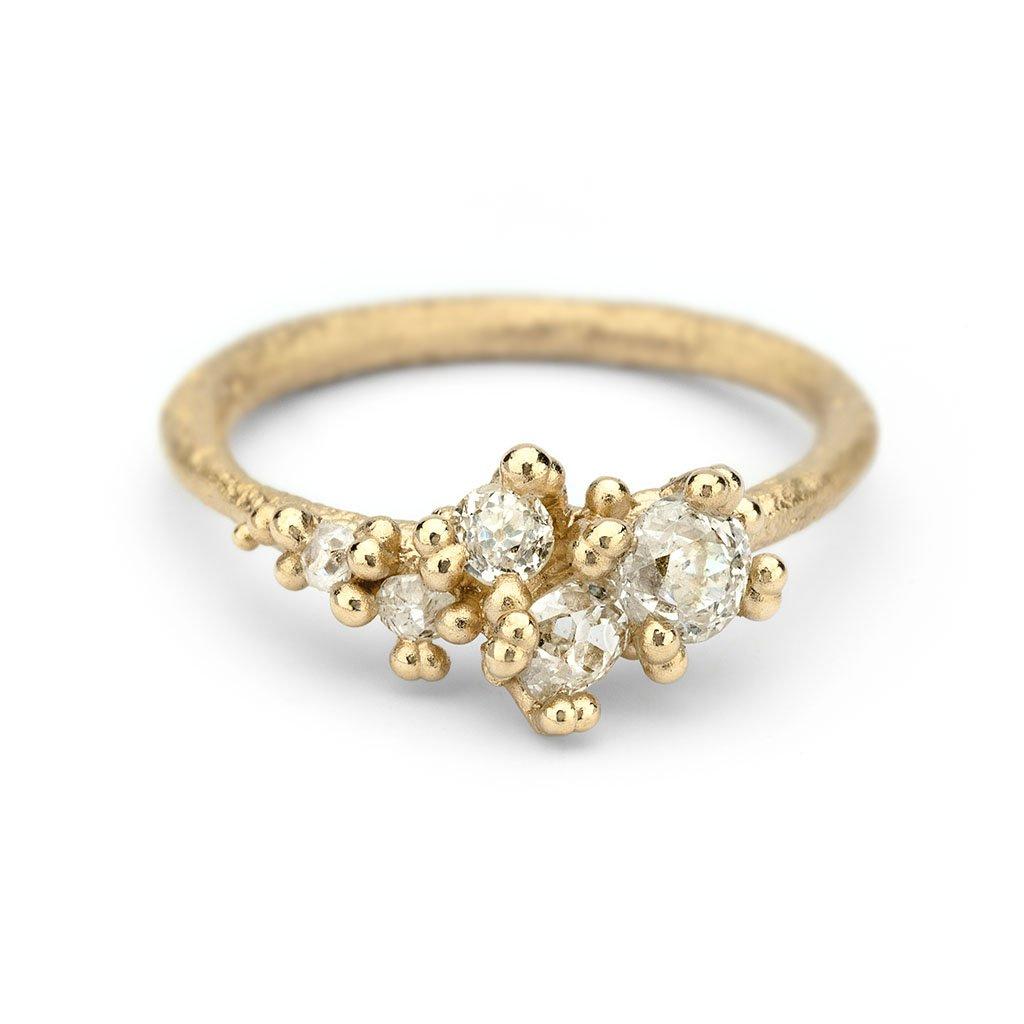 8. Mixed Metal and Stone Engagement Rings
'For those who are keen to break with tradition we are seeing a lot more mixing of metals to offset each gemstone to the best effect and create a truly personalised stack,' says Laura.
'One of my favourite combinations is an aquamarine with an emerald band! The aquamarine looks best set in white gold or platinum whereas yellow gold makes emeralds pop. I love the subtlety of mixing the metals when pairing the two together and the way the gemstones complement one another.'
Rosa de la Cruz Sapphire, Lemon-Quartz and 18kt Gold Ring – £980, Matches Fashion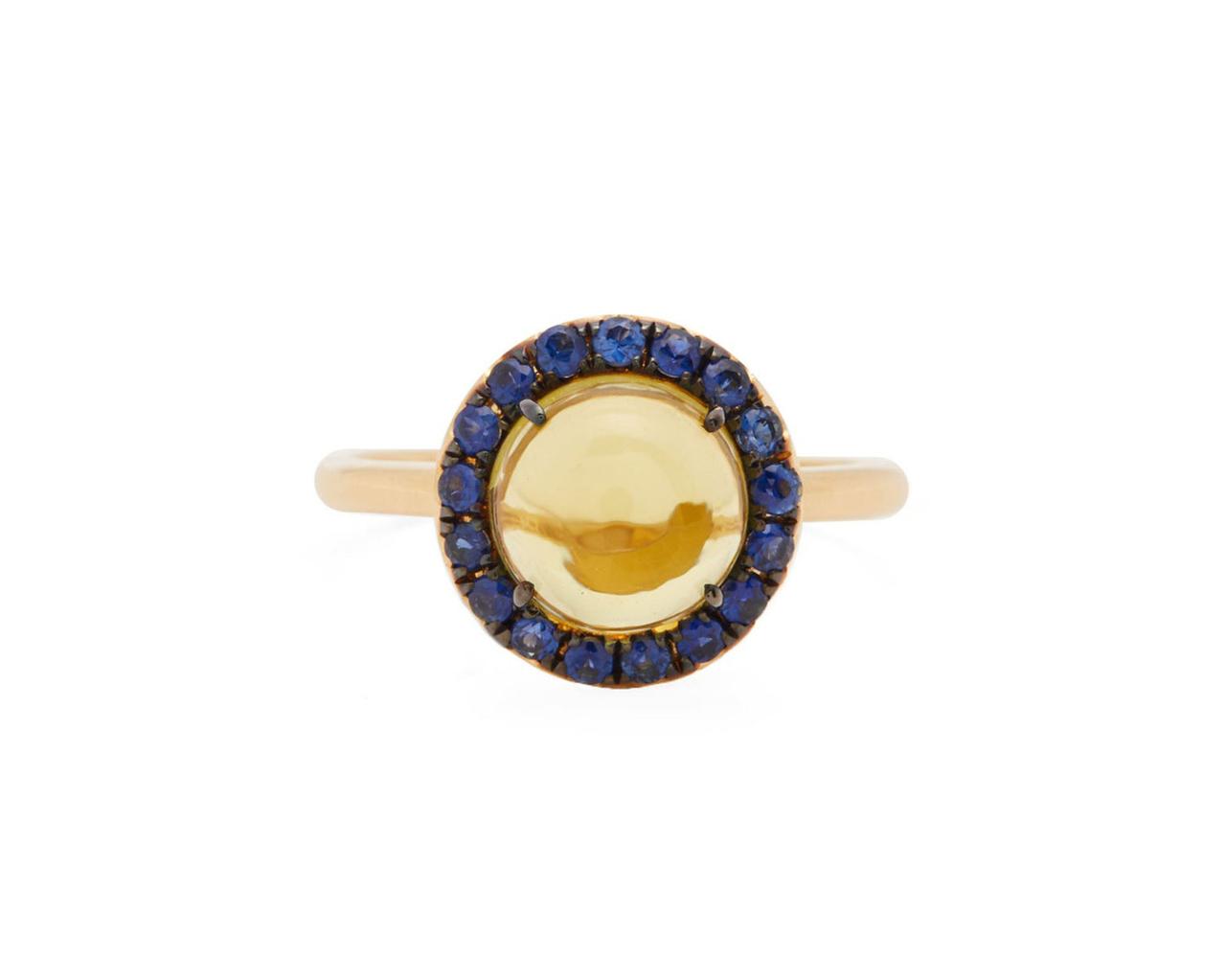 Caura Ring – £2,560, Rachel Boston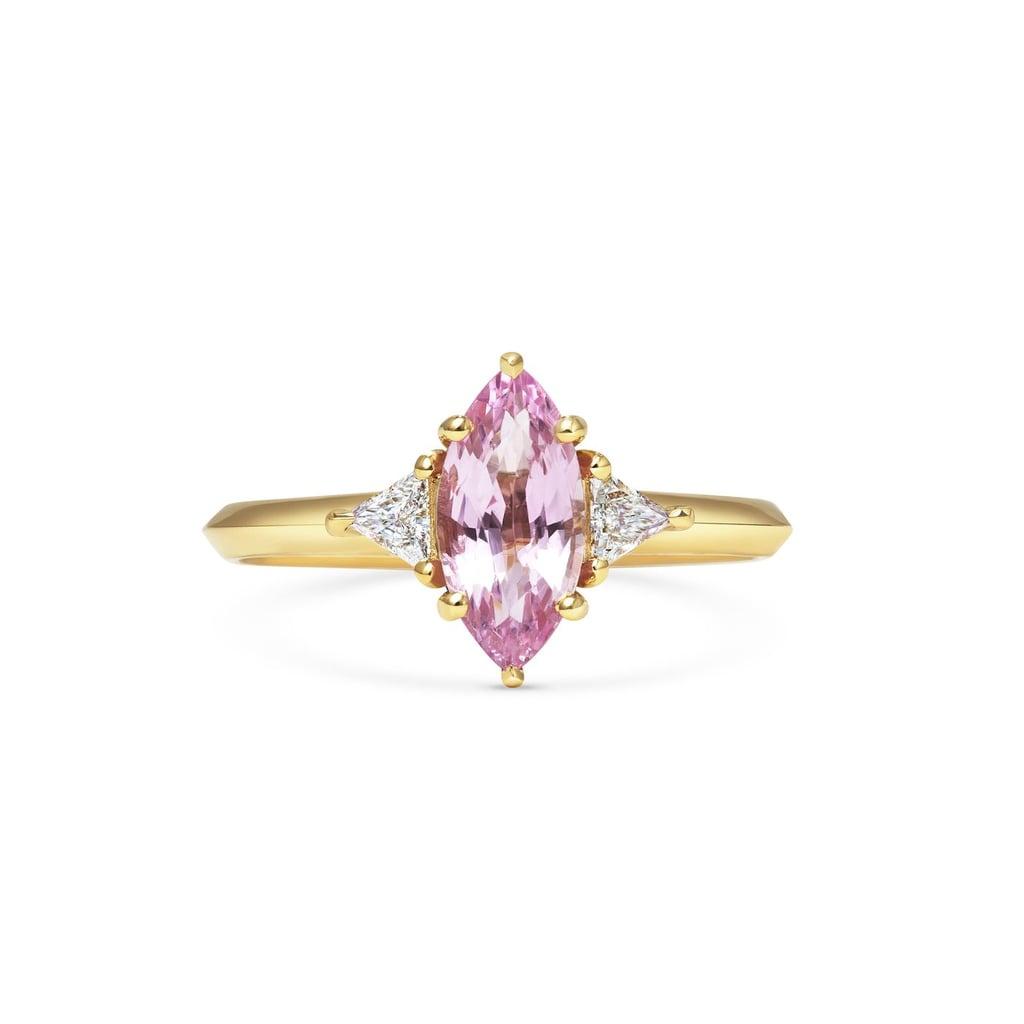 Floral Engagement Ring – £1,851, Etsy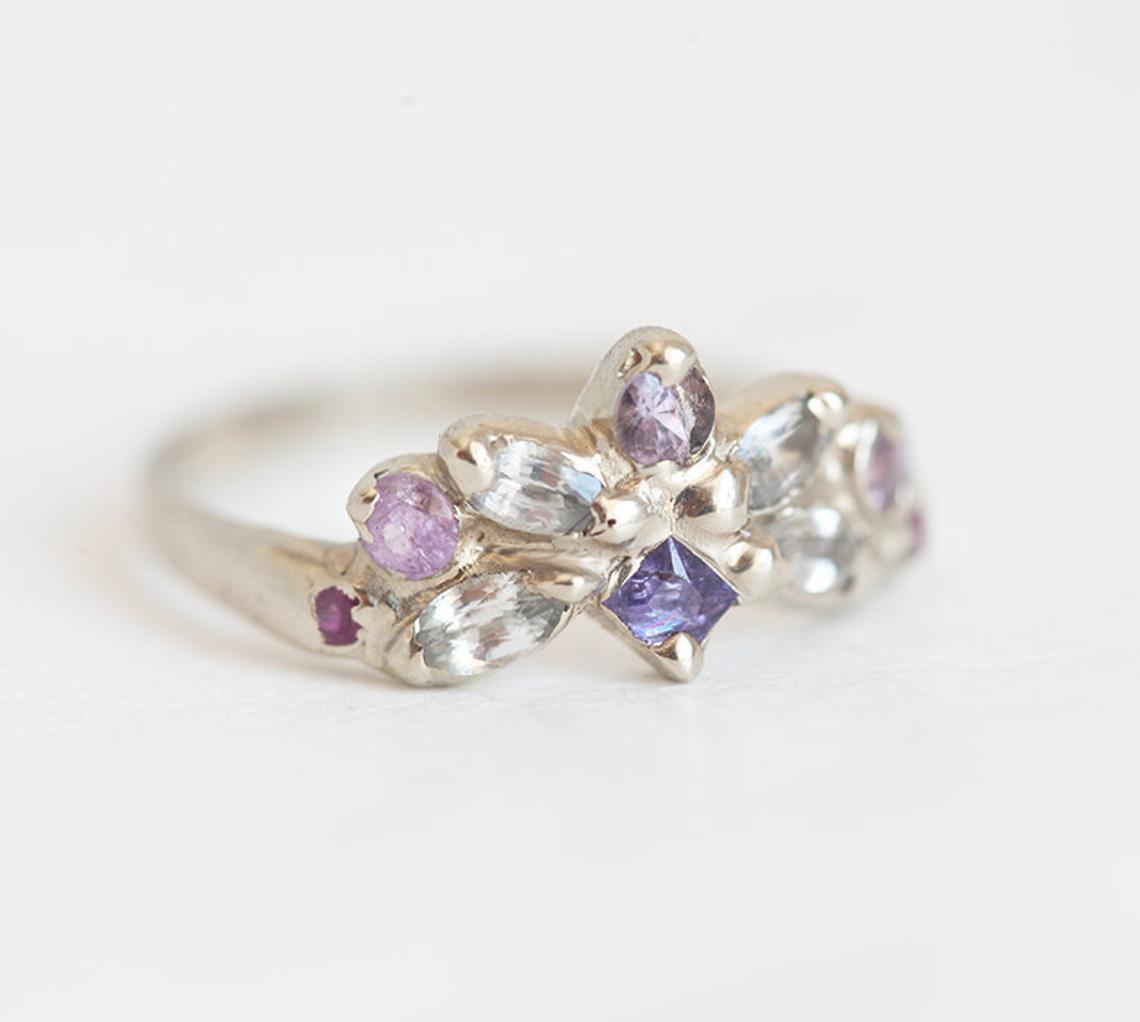 9. Bespoke Engagement Rings
'Designing your own engagement ring is one of the biggest trends we're seeing. One-off styles vary from big bold creations to more delicate subtle rings, but the common thread is that brides and grooms really value having a unique ring that's personal to them,' Alicia J's jewellers explain.
'Grooms want to show their bride how they have designed the ring themselves and been involved in the process. It's about a whole experience and your individual love story. The beauty of bespoke is that personal touches can be included: stones from family heirlooms, perhaps, or a birthstone. We've also seen grooms incorporate the birthstone of the couple's children within the design, with secret messages inscribed within the band. Bespoke means there are no hard and fast rules. Having a truly unique ring that the bride won't see on another finger but her own is important, as is telling the story of your ring.'

READ MORE: Where to Buy A Bespoke Engagement Ring in London: Everything You Need to Know