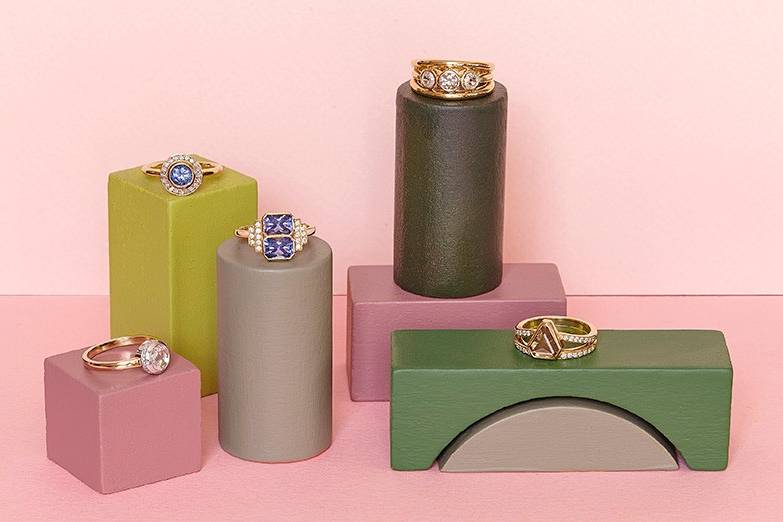 Choosing an engagement ring is one of the most important and exciting parts of any wedding planning journey.
There might be plenty of beautiful ready-to-wear engagement rings out there on the market, but what if you want to design something completely unique for your other half?
Designing a one-of-a-kind, bespoke engagement ring in London (the home of diamonds in the UK) could be the way to go. Whether you design the ring as a surprise and have it ready to propose with, or you propose with a temporary engagement ring then design your piece together afterwards, it's such a romantic gesture.
Although many jewellery brands do offer a bespoke service alongside their usual collections, heading to an independent jewellery designer can often leave you with something even more beautiful and unique than you'd otherwise get.
To help you narrow down your search, 'we've rounded-up our recommendations for where to buy bespoke engagement rings in London. Take a peak!
READ MORE: The Coolest Alternative Engagement Rings
Top Tips for Designing Bespoke Engagement Rings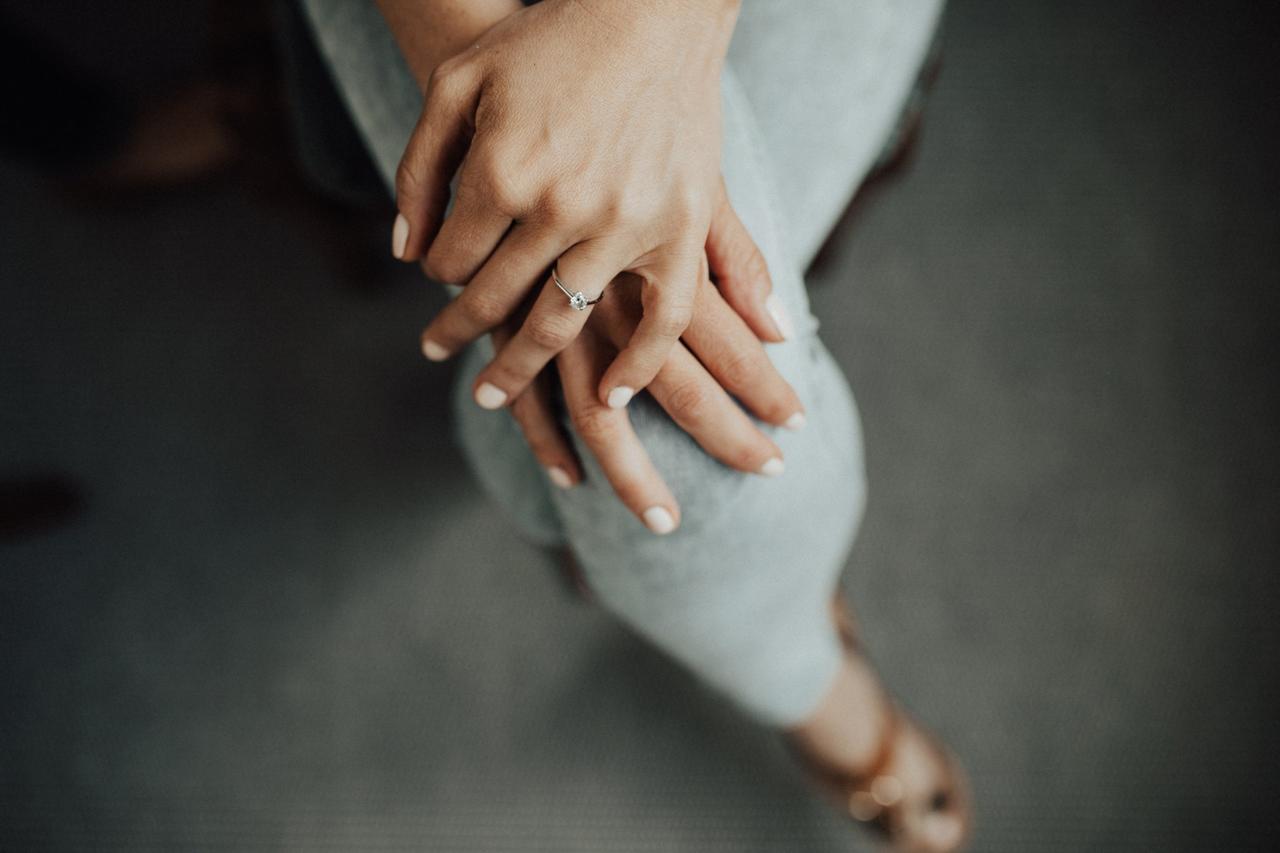 Do your research. There's no harm in booking consultations with lots of different designers, as well as going into as many shops as possible to try on lots of styles before you make your decision. London based? Try the shops on Bond Street and at Grays Antique Centre.
Think about your personal style. Remember, remember you or your partner are going to be wearing this ring everyday, so it has got to fit in with the way you usually dress. Are you subtle? Natural? Bold? Colourful? It helps to have an idea what you want before you head to the consultation.
Keep an open mind. The idea of creating a bespoke engagement ring is to design something totally unique, so don't be too set on a piece you've already seen.
Make sure the end piece is timeless. You or your partner will wear this all your life and probably hand it down through the generations. Don't choose something which is too trend-led. It's got to look great when you're 80!
If you've been thinking about doing it – just do it! This is the best excuse ever to design your own piece of jewellery.
READ MORE: How to Buy an Engagement Ring
Where to Buy a Bespoke Engagement Ring in London
Rachel Boston
Rachel Boston is a London jewellery designer. She graduated in Jewellery Design from Central Saint Martin's College of Art and Design before going on to launch her eponymous brand which we've fallen head over heels in love with.
Her signature style is strong, unique and totally wearable; a fusion of art deco and modern design that makes for timeless and beautiful results, perfect for your bespoke engagement ring.
If you choose Rachel to design your engagement ring, you'll be totally involved in the process. She'll send you 3D video renderings, drawings and photographs documenting the process to make sure you're included in every step.
The process takes between 6-10 weeks depending on the complexity of the design, from confirmation right through to ring completion. There's also the added bonus of Rachel's studio being totally gorgeous. You'll never want to leave.
Lily Kamper
If it's something playful and colourful you're dreaming of creating, Brixton-based Lily Kamper is the only jewellery designer you should be making a beeline for. Here at Hitched HQ, her designs have got us all hot under the collar.
Not only does Lily have a capsule collection of six beautiful, art deco-inspired rings (which are all fully customisable, FYI), you can also work with her to create something completely bespoke.
Lily sources her diamonds and stones from trusted suppliers in Hatton Garden, but is also happy to work with stones provided by the client themselves – a family heirloom, perhaps? Whatever you choose, you're guaranteed to adore the ring Lily creates for you.
READ MORE: The Best Affordable Engagement Rings
Emma Clarkson Webb
An engagement ring designing experience with Emma Clarkson Webb is a unique one, not least because she'll give you a brief education in diamonds and gemstones on your first visit.
After that, she'll source the most beautiful and competitively priced gems and stones from across the globe depending on what you have in mind, before handcrafting your sleek and contemporary ring in the heart of Hatton Garden.
It is that ability to source a stone or diamond which is completely unique to the design you'd like that makes Emma's service so special. You can be as involved in the process as you'd like to be, and you'll benefit endlessly from her years of experience as a certified GIA gemologist.
The process of designing a ring with Emma takes between four and six weeks, and the team can work to a variety of budgets.
READ MORE: The Most Infuriating Things Say When You're Planning a Wedding
Roger Elliot
Roger Elliot is an experienced and highly trained jeweller who focuses solely on offering a bespoke and private service to clients. There's not a ready-to-wear collection in sight.
This is beneficial to the process in many ways, because he'll take time to understand your style, tastes and preferences (he believes the role of a bespoke jewellery designer is to understand what the client wants before he creates it). He does so from his informal and relaxed Mews Studio – the same place he'll be when he sources a diamond or gemstone which fits the bill perfectly.
From creating a model for you to see before you go ahead with the real thing, to his extensive polishing process, Roger's attention to detail is paramount and will ensure your bespoke engagement ring creation experience is like no other.
Hattie Rickards
Hattie Rickards is another spectacular British jewellery designer who specialises in personal and exceptional bespoke jewellery commissions. Her passion is to create pieces which are distinct and tell a personal story for the wearer.
Hattie's jewellery is a kaleidoscope of colour; bold hues remain a constant throughout all of her pieces. She uses colour to push boundaries and make each piece more unusual, and this is something we love. For the fearless dressers among you, Hattie could be your perfect jewellery designer match.
Each ring is bold but never bulky, and Hattie enjoys looking into the structures within nature for her inspiration. This leads to bold and streamlined patterns and shapes which are strong and striking.
READ MORE: The Most Stylish Men's Engagement Rings
Ingle & Rhode
Although Ingle & Rhode, a jeweller based just around the corner from Bond Street, have a beautiful ready-to-wear collection, perhaps their best work comes from commissions and their bespoke engagement ring design service.
Their USP is that they pride themselves on being ethical, perfect if you're planning on hosting an eco-friendly wedding further down the line.
From the initial design consultation to the hand finishing of your ring by the brand's master craftsmen, the team will help you create a unique, ethical and sustainably sourced ring that's right in every way. Their commitment to sustainability and Fairtrade materials is unmatched, so you can enjoy an Ingle & Rhode ring with complete peace of mind.
Bespoke commissions start from £1,500 and the design to delivery process takes between four and six weeks. Speedy or what!
Liv Luttrell
Working from her showroom in central London, Liv Luttrell finds inspiration in art, architecture and natural forms. The result? Abstract, simplified and totally striking pieces which the recipient will adore wearing forever.
She is classically trained as a goldsmith and gemologist and combines both traditional and modern techniques to create her jewellery.
If you choose to design your bespoke engagement ring with Liv, the process will start with a design consultation. You'll discuss your initial inspiration and ideas, before Liv gets to work putting together a selection of designs for you to fall in love with. We love her work.
READ MORE: How Much Should You Spend on an Engagement Ring
Taylor & Hart
Taylor & Hart was founded in 2013, and they have had couples who want to personalise their engagement ring together in mind ever since.
They take pride in creating designs which "capture how you feel and express what words alone simply can't". How romantic!
The team at Taylor & Hart encourage you first to browse their inspiration galleries to get an idea of the sort of piece you'd like to create. After an initial consultation, your personal consultant will put together a quote for you before you choose your centre diamond or gemstone.
With over 100,000 graded diamonds and coloured gemstones on offer, the choice is totally yours when it comes to the final look of your ring.
READ MORE: The Cutest Ways to Announce Your Engagement
Fenton & Co
Although Fenton & Co don't exactly offer a totally bespoke engagement ring service, they do have five styles which can all be adapted to suit each person's tastes and preferences… and the results are just so beautiful, we couldn't not include them.
The cut, centre stone, metal and stone size are all fully customizable on each ring, so you can be sure you'll end up with something completely unique.
On top of that, this brand is affordable. That's because they don't work with diamonds, but coloured gemstones instead. Their tagline is "Loving in Colour", and from yellow or pink sapphires to aquamarines, a whole host of vibrant gems bring each piece of Fenton & Co jewellery to life.
Gee Woods
Gee Woods Jewellery was founded in early 2013 and specialises in both beautiful, bespoke pieces plus a small ready-to-wear collection.
Gee prides herself on creating totally unique pieces in a world where everything is mass produced, and stones hail from around the world. Whether you got engaged in Brazil and would love a Brazilian tourmaline to feature in your design or have a special place in your heart for the Sri Lankan sapphire, she'll be able to get her hands on the stone you're dreaming of.
All of Gee's bespoke and ready-to-wear designs draw on her love of Art Deco, and geometric shapes and coloured gemstones are rife. Her work is both playful and elegant – the perfect combination for one of the most important pieces of jewellery that you'll ever own.
The process of creating a bespoke engagement ring with Gee Woods can take anywhere between four and 12 weeks depending on the complexity of the design. Bespoke engagement rings start at £3,000.
READ MORE: 13 Things to Do When You Get Engaged
Queensmith
Based in the heart of Hatton Garden, Queensmith Master Jewellers pair traditional crafting techniques with cutting-edge design technology to create award-winning bespoke engagement rings which your other half will adore.
Queensmith's style is classic and traditional, and they say that vintage, sapphire and trilogy engagement rings are amongst their most popular designs.
Whatever you have in mind, choosing Queensmith to design your bespoke engagement ring will ensure you really are working with some of the most experienced in the business.
READ MORE: The Cutest Spontaneous Engagement Ring Ideas
Now you've got the ring ready, you'll want to know the best way to propose. We caught up with The Proposer's founder to find out how to propose in 5 easy steps.