Pear Shaped Engagement Rings: 38 of Our Favourite Dreamy Designs
Are you looking for an unusual engagement ring? A pear-shaped ring will give you all the sparkle of a brilliant cut with a unique twist that's both classic and contemporary
We have included third party products to help you navigate and enjoy life's biggest moments. Purchases made through links on this page may earn us a commission.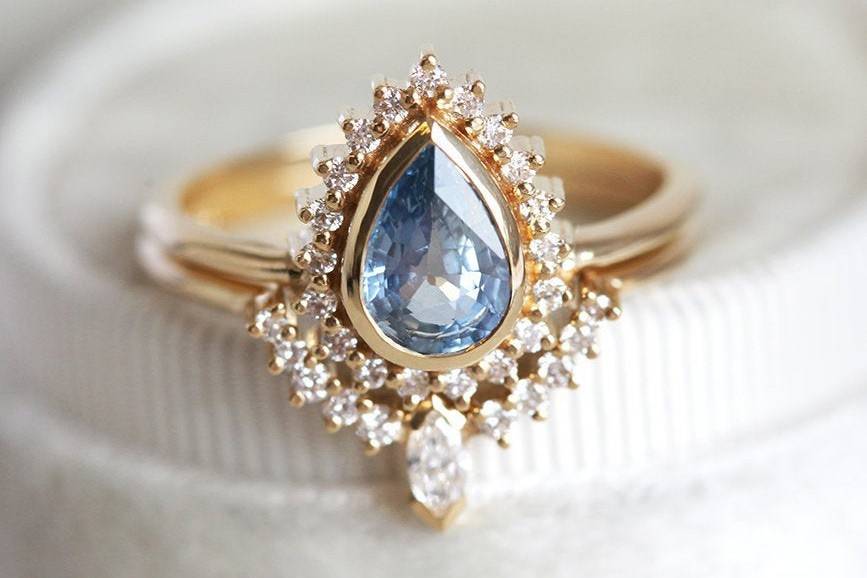 It's no secret that we're big fans of unique engagement rings and lately there's one engagement ring trend that's caught our eye: pear shaped engagement rings.
With all the fire and sparkle of a brilliant-cut stone but with a striking elongated shape and pointed tip that can be worn either way around, pear-shaped diamond rings can make a big impact. Plus, with a large table (that's how big a diamond appears when seen face up), they often look larger than their carat weight and elongate the fingers of the wearer.
When it comes to pear-shaped designs, it's not all about diamonds, though, as you'll see from our specially curated selection below. The pear-shape lends itself perfectly to a variety of gemstones as well as a wealth of setting options and metals.
From pear-shaped halo engagement rings to trilogy designs and pavé bands, there are so many options when it comes to this ring shape. Browse our edit of the best pear-shaped engagement rings, and discover everything you need to know about this striking style as Liz Olver, Director of Product Design at Vashi, answers your pear diamond FAQs.
READ MORE: Sapphire Engagement Rings: 42 Sparkling Styles to Buy Now
38 Pear Shaped Engagement Rings For Every Bride
1. Classic Solitaire Ring – From £1,180, VASHI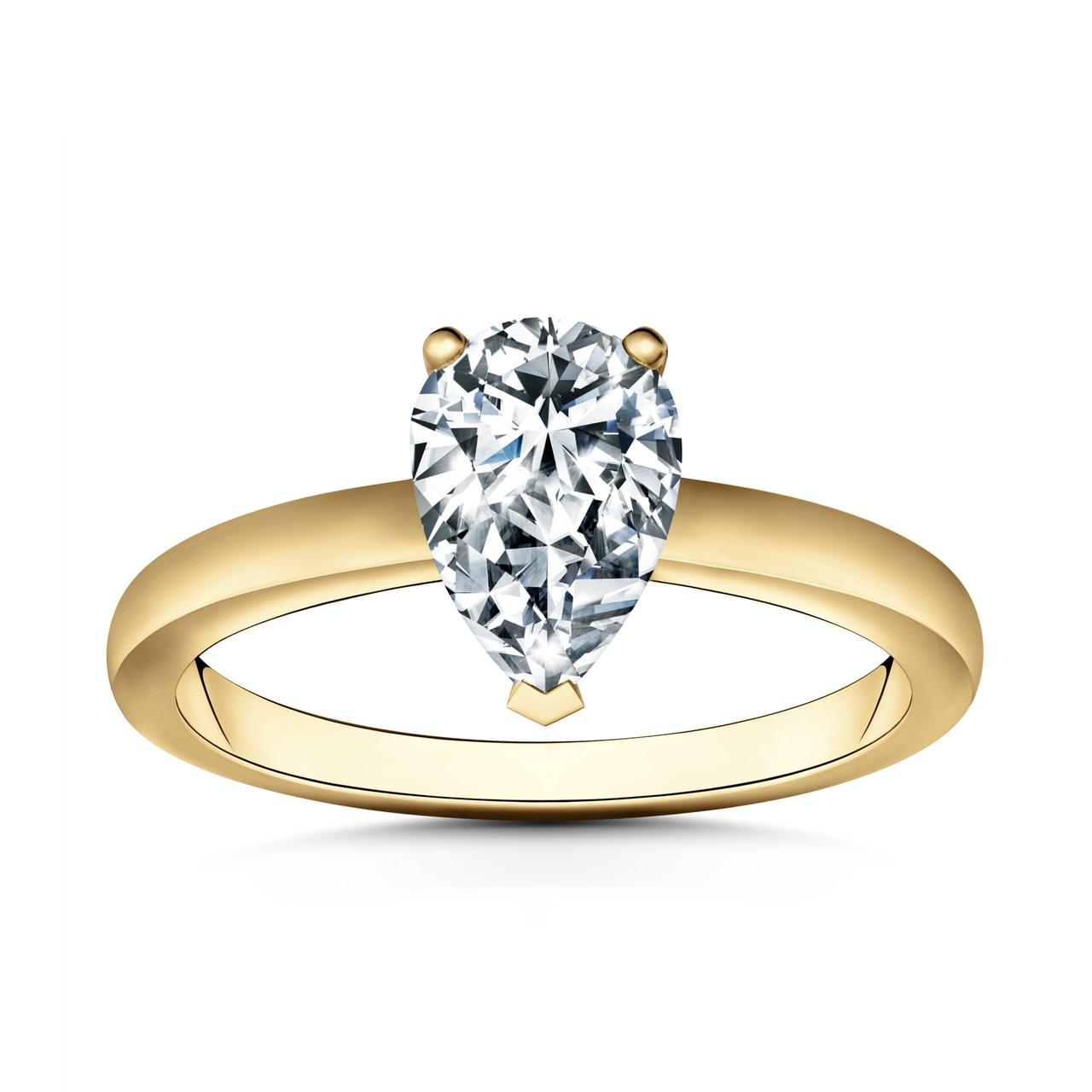 Simple engagement rings like this classic solitaire can make a subtle statement and look totally timeless. Available in yellow, white and rose gold as well as platinum, there are plenty of ways to make this classic yet contemporary design uniquely yours.
2. Contour Pavé Side Stone Ring – From £1,850, VASHI
If you're dreaming of a little more sparkle, why not choose a pavé settling? The contoured shoulders of this ring put the main stone in the spotlight while round-cut diamonds along the band add extra sparkle that will constantly catch the light – along with the attention of plenty of admirers.
3. Kristen Ring 18ct Gold – From £1,660, CARAT* London
A floating halo of micro diamonds around the centre pear-cut stone allows more light to reach the facets and gives the illusion of a larger ring while the pave stones add even more sparkle. We're a little bit in love with the Kristen ring.
4. De Beers Talisman 18ct Gold Rough and Pear Cut Diamond Ring – £1,1775, Selfridges
Thoroughly modern and understated, this pear-shaped engagement ring from De Beers is a great choice for those looking for a simple and fuss-free design. A 0.12ct rough and pear-cut diamond is nestled within a simple yellow gold setting, ensuring the stone is completely protected.
5. Four Claw Three Stone Ring – From £940, VASHI
If you're struggling to choose between a classic round brilliant stone and a pear-shape, may we suggest a combination of the two? This three stone ring features a central round stone framed by two horizontal pear cuts, giving plenty of fire.
6. Dainty Pear Engagement Ring – from £1,963.91, Keyzar
We adore the minimalist design of this handmade dainty pear moissanite engagement ring from Keyzar. Its dainty pearl shape really draws the eye, and what's more, it's made to order. Choose from white gold, rose gold, yellow gold, or platinum.
7. Trio Grey Pear Diamond Ring – £5,350, Tom Foolery London
Trilogy rings are having a moment right now and with stunningly unique designs like this ring from Tom Foolery London, we're not surprised. The grey tones within the three pear-shaped stones contrast beautifully against the warmth of the yellow gold.
8. Rose Gold and Diamond Engagement Ring – from £5,687.28, Capuccine
Add some contemporary style to your pear-shaped engagement ring with this rose gold and diamond design from Capuccine. The rose gold setting around one simple stone gives this traditional shape a modern finish that is perfect for the stylish bride.
READ MORE: Rose Gold Engagement Rings – Our Favourite Romantic Designs
9. Five Diamond Ring – £2,890, Tom Foolery London
What's better than one pear-shaped diamond? Five of course! This five diamond ring is a totally unique take on the pear-shaped diamond engagement ring and gives off bags of fire and sparkle. Plus, we reckon it would sit beautifully with a cluster of stacking rings.
10. The Signature – From £981, VRAI
One of the things we love most about pear-shaped stones is their versatility. A pear-shape can be worn with the point facing up or down or even horizontally. We love how the flipped stone on this VRAI ring makes a subtle statement without added embellishment or fuss.
11. 2ct Pear Diamond Ring –
£

1,980,

Karen Johnson

If you're looking for a distinctive, handmade engagement ring then this double band pear shaped diamond engagement ring is just the thing. It features a beautiful rose cut brown diamond and a yellow gold band. It can also be worn to symbolise a joined wedding and engagement band.
12. The Signature Bezel – From £1,031, VRAI
A bezel setting ensures a stone is well protected and in a rose or yellow gold tone, it can also give a stunning contrast against a white stone. We love the modern simplicity of this bezel ring from VRAI.
13. Pear Shaped Amethyst Engagement Ring – £293,
If you love vintage wedding jewellery as much as we do, we're sure you'll agree that this pear shaped amethyst engagement ring by Primrose Feather is a real beauty. Featuring a lovely diamond surround, the pear shaped lavender amethyst is prong set in yellow gold to create a look that will never go out of fashion.
14. The Signature V – From £1,289, VRAI
Giving the illusion of a diamond simply sitting on the finger, this v-shaped beauty is seriously striking. Pair it with a v-shaped wedding band to show it off at its best and accentuate the unique design.
15. Modern Emerald and Diamond Ada Cluster Ring – £5,100, The Cut; London
How stunning is this pear-shaped emerald engagement ring? We think it contrasts beautifully against the round and baguette-cut diamonds and the simple yet contemporary yellow gold band.
READ MORE: Emerald Engagement Rings: 35 of the Most Dazzling Designs
16. Green Sapphire and Diamond Elvish Twig Engagement Ring –
£

385,

Caroline Brook

For those who want to celebrate love and the beauty of nature, this green sapphire and diamond elvish twig engagement ring from Caroline Brook is a perfect choice. The band is cast in sterling silver from a real English twig, specially selected for its unique shape and texture. It features a pear-shaped green sapphire set in 18ct gold with two solid gold berries, one of which houses a tiny white diamond.
17. Salt and Pepper Diamond Ring – £2,590, The Cut; London
Salt and Pepper diamonds are seriously on-trend right now and with their unique hues, it's no wonder. We love the contrast of this smoky diamond with the white round stones that frame it and the gold milgrain detailing.
18. Pear Shaped Ruby Engagement Ring – from £380.61, Moissanite Rings
This vintage style engagement ring from Moissanite Rings features a deep red lab-grown ruby surrounded by a halo of natural diamonds. Rubies are the birthstone for July so if you want to give the July-born love of your life an engagement ring that is truly personal this could be a great choice.
19. White Gold Opal & Diamond Pear Halo Engagement Ring – £499, Ernest Jones
If you're looking for a unique engagement ring then why not swap traditional diamonds for an opal centrestone? This pear-shaped opal from Ernest Jones is surrounded by a halo of brilliant cut diamonds and sits on a smooth white gold band.
READ MORE: The Best Opal Engagement Rings: 31 Dreamy Designs for Modern Brides
20. White Gold Diamond Cluster Ring – £379, H. Samuel
For a pear cut engagement ring with some serious sparkle, it's hard to top this diamond and white gold engagement ring from H. Samuel. A pear-cut diamond takes centre stage, surrounded by a halo of diamonds with more delicate round cut diamonds on the band's lovely twisting shoulders.
21. Maple Leaf Diamond Engagement Ring – £4,950, Beaverbrooks
Keep things traditional with this white gold and diamond halo pear-shaped engagement ring from Beaverbrooks. A Canadian pear shaped diamond sits on a glittering band of smaller diamonds, and it's a gorgeous option if you are looking for something timeless and elegant.
22. Art Deco White Gold Diamond Engagement Ring – £1,395,
We absolutely love the Art Deco style of this lovely engagement ring from Dear Rose, With Love. The diamond is held in a bezel mount and it's designed to be worn low and close to the finger, making it very comfortable and perfect for daily wear.
23. Vintage Sapphire Engagement Ring – £595,
This beautiful vintage sapphire engagement ring from HeriotJewellery features a central pear-cut sapphire in a white gold bezel setting. The faceted sapphire's rich royal blue colour will certainly make you feel like royalty.
24. Le Vian Peach Morganite Engagement Ring – £1,499, Ernest Jones
We love the peachy tone of the morganite in this beautiful ring from Le Vian – morganite gives a soft peachy or rose glow and is much more budget-friendly. So if you are looking for a statement ring that doesn't totally blow your wedding budget, this design from Ernest Jones could be ideal.
READ MORE: Affordable Engagement Rings: 38 of The Best Budget-Friendly Rings for 2022
25. Clara Ring – £5,000, Rachel Boston
Add some contemporary style to your pear-cut engagement ring by choosing the Clara ring from Rachel Boston. We love the simplicity of a single pear-shaped diamond, with two smaller diamonds on either side, all in a simple yellow gold setting.
26. Garnet Ring in Gold – £450,
We love this alternative engagement ring from Thomas M. Jewellery. A Spessartine garnet stone and gold band combine to create a lovely minimalist look.
27. Peacock Blue Green Sapphire and Rose Gold Engagement Ring – £2,002.56, Eidel Precious
A peacock blue-green sapphire is a gorgeous choice for an engagement ring. This unique piece from Eidel Preciuos features a centrestone that changes from teal green to blue and a signature 14k rose gold setting embellished with diamonds.
28. Vintage Diamond Pear White Gold Engagement Ring – £980,
Vintage has never looked so good. This stunning diamond and white gold engagement ring from Vivienne Arnold UK is all shine, and we absolutely love it.
29. Blue Sapphire and Diamond Ring Set – from £3,285, Minimal VS
If you're looking for an art-deco inspired engagement ring then this gorgeous blue sapphire and diamond ring set from Minimal VS could be the perfect option. Choose yellow gold or rose gold for your band. The set also comes with a matching nesting gold band.
30. Diamond Engagement Ring – £2,803.59, Nature Sparkle
This simple engagement ring from Nature Sparkle is so stunning. A thin rose gold band holds a single one carat pear-cut diamond from a beautiful finish. Team with an equally simple wedding band for a pretty look.
31. Multi Stone Halo Ring – £850, Goldsmiths
If you're looking for a sizeable engagement ring but don't quite have the budget to match then a double halo engagement ring is the perfect way to get more bling for your budget. A dainty pear-cut diamond is surrounded by two halos of brilliant cut diamonds to give lots of sparkle.
32. Colourless Pear Moissanite Ring – from £257.53,
This unique 5ct pear ring from Mantra Jewel 2011 is a must-have if you want something that looks stylish but doesn't cost a fortune. It's available in white gold, yellow gold, rose gold, and sterling silver.
33. AB Davis Sapphire and Diamond Engagement Ring – £379, John Lewis
A faceted sapphire surrounded by luxurious brilliant-cut diamonds makes this AB Davis engagement ring from John Lewis a cut above the rest. Sapphires and diamonds look beautiful together plus you'll already have your something blue ready for the big day.
READ MORE: Sapphire Engagement Rings: Our Favourite Dazzling Designs
34. Zambian Emerald Ring – from £855.36, Rosea Jewels
If you really want to give her a ring she'll love and wear with pride, then it's hard to do better than this beautiful Zambian emerald ring by Rosea Jewels.
35. Australian Blue Sapphire Ring – from £345, Brandts Jewellery
Cast from a real twig, this sapphire and gold engagement ring from Brandts Jewellery is ideal if you are looking for a statement engagement ring at a budget-friendly price.
36. Salt Pepper Natural Diamond Ring – from £410, Lilly and Ivy Jewellery
This beautiful alternative engagement ring from Lilly and Ivy Jewellery features a handmade 9ct yellow gold ring set with a beautiful rose cut salt and pepper pear-shaped diamond.
37. Champagne Sapphire and Diamond Engagement Ring – from £1,029, Aardvark Jewellery
This beautiful, made-to-order ring from Aardvark Jewellery features a lab-created champagne sapphire in a stunning mount claw set with brilliant cut diamonds. It's available in white gold, yellow gold, rose gold, and platinum, but whatever you decide, we're sure you'll love it.
38. Diamond Pear Shaped Engagement Ring – £1,275, ForeverForLove
This stunning diamond engagement ring by ForeverForLove is handmade with care in the Victorian style and features a distinctive diamond on a white gold, rose gold, or yellow gold band.
Everything You Need to Know About Pear Shaped Engagement Rings
Want to know more? We chatted to Liz Olver, Director of Product Design at Vashi, who gave us the lowdown on this stylish shape.
What are the pros and cons of a pear-shaped engagement ring?
"Choosing a pear-shape diamond for your engagement ring is a quiet way to make a powerful statement. This beautiful teardrop shape, which can be worn with the tip pointing up or down, is perfect if you're looking for something a little different, and its distinctive silhouette is combined with a brilliant cut that creates wonderful fire and brilliance. One thing to be mindful of, however, is that because of its elongated silhouette and pointed tip, which is vulnerable, the setting at the tip should wrap around to protect it."
What should you look out for when finding a high quality pear-shaped diamond?
"Whatever diamond shape you're choosing, the 4 Cs – carat, clarity, colour and cut – will all come into play. Cut is often considered the most important because it determines a diamond's sparkle, and that's certainly true when it comes to pear shapes. This is because a poorly cut pear shape will display a "bow tie" effect – a small dark area in the centre of the stone. So I'd always recommend opting for the highest possible grade of cut when you're choosing a pear-shape diamond."
Do other gemstones come in a pear shape?
"Yes, lots of gemstones can be cut into a pear shape. If you'd like to add a splash of colour to your engagement ring, I'd suggest choosing a sapphire. Measuring 9 on the Mohs scale of hardness, sapphires are nearly as hard as diamonds, which means that they're perfect for an engagement ring that you'll wear every day. And sapphires don't have to be the traditional blue; they also come in a variety of beautiful colours."
Which settings work best with a pear-shaped gemstone?
"Because of their pointed silhouette, pear-shape gemstones work best with a V-shape claw setting. This setting uses prongs to secure the stone, showing off more of its surface area and creating maximum sparkle, while the V-shape claw protects the tip and helps prevent it from knocks that might chip the tip off. You could also consider a sleek bezel setting, which holds the diamond in place with an overlap of metal."
How do I care for a pear-shaped engagement ring?
"However careful you are, your engagement ring will naturally accumulate a little grime through daily wear, so I'd recommend giving it a very gentle clean once a month to keep it sparkling. The tip of a pear-shape diamond can catch if you're cleaning, playing sport or gardening, so it's important to take extra care (or even remove your ring) to prevent it from knocks that can damage the tip."
Are rings with pear-shaped gemstones popular?
"Yes, rings set with pear-shape gemstones are becoming more and more popular. When our customers see them up close, it's the combination of the distinctive shape and beautiful sparkle that they fall for.
We have solitaire and side-stone engagement rings that hero pear-shape diamonds, and we have also used them to frame a round brilliant diamond in one of our trilogy rings. We have a wonderful limited-edition bombé ring featuring pear-shape diamonds on each side of a 2.00 carat round brilliant. Our bespoke team is currently seeing a lot of requests for pear-shape diamonds in toi et moi rings – they pair beautifully with round brilliants or emerald cuts."
Are you still looking for more engagement ring inspiration? Start browsing our favourite princess cut diamonds or read up on our guide to how to choose an engagement ring.