Honeymoon Dresses & Outfits: 44 Hot Picks for Your Honeymoon
Heading off on your honeymoon? From stylish airport loungewear to chic evening dresses, these honeymoon outfits have you covered no matter your taste, budget and destination
We have included third party products to help you navigate and enjoy life's biggest moments. Purchases made through links on this page may earn us a commission.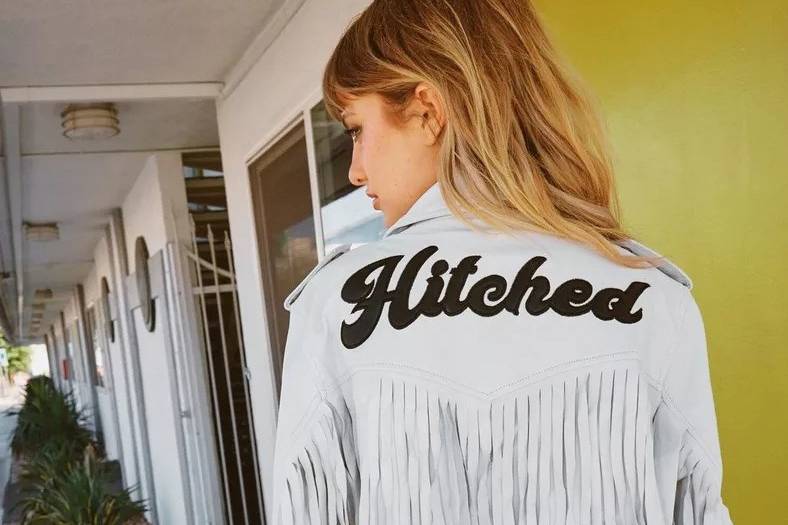 When your honeymoon destination is decided, it's time to think about the other essential - which honeymoon outfits are you going to pack. We've carefully curated a collection of stylish honeymoon clothes that will have you covered from baggage claim to the beach and everything in between.
After months of wedding planning, there's no better way to relax and un-wind than by heading off on a romantic getaway with your new spouse. Whether you're escaping to a city, planning to sit poolside or are up for an adventure, your honeymoon is the perfect start to married life.
There's daytime dresses, chic separates and personalised accessories to suit all budgets and styles. All that's left to do is pack your swimwear and find your passport...
White Honeymoon Dresses
If you want to carry on the wedding celebrations by wearing a white everyday of your holiday, we are totally on board! Chic and fresh, a white honeymoon dress is versatile and will look gorgeous on all skin tones.
1. Short Sleeve Square Neck Tunic - £55, Monsoon
Available in sizes S-XXL, this beach-ready tunic dress from Monsoon is a staple buy for a hot honeymoon. Keep it casual with flat sandals in the day and dress it up with jewellery and a bold lip come evening.
2. Tuxedo Wrap Mini Dress With Feathers - £129, Coast
If you're planning a city break honeymoon, this tuxedo dress from Coast will be the perfect fit. Coming in sizes 8-18, the feather trimmed sleeves and oversized silhouette have us swooning.
3. Satin Tie Side Balloon Sleeve Maxi Dress - £69, Nasty Gal
Nasty Gal's white honeymoon dress is available in sizes 4-18, is crafted from luxe satin fabric and falls so gracefully. We love the high leg slit and flattering ruching around the waist.
4. Dobby Tiered Mini Dress - £40, ASOS
Left your honeymoon outfit packing until the last minute? ASOS's next day delivery is just £9.95 for a year and when the dresses arrive as gorgeous as this one you'll be glad you invested! Available in sizes 4-18, it is both chic and comfortable.
5. Empire Seam Full Skirted Midi Dress - £99, Coast
We're picturing this empire dress from Coast (sizes 8-18) on a sun-drenched Greek honeymoon. It's also available in green but we adore how traditional the white colourway looks.
READ MORE: 35 Fun Questions to Ask Each Other on Your Honeymoon
6. Keisha Backless Cowl Neck Dress - £62, Pretty Lavish
Pretty Lavish never fails to impress - their pieces are trend-led, affordable and luxe. A simple white slip dress like the Keisha dress is a must-buy for your honeymoon, whether you pop it on over your swimwear or wear to dinner in the evening.
7. Mirrored Cutwork Midi Dress - £459, Karen Millen
If you are after an extra-special piece for your honeymoon, this cut-out dress from Lydia Millen's collection with Karen Millen could be the one. Available in sizes 6-16, it is crafted from the most stunning fabric and features a gorgeous open-back. You're going to want a picture from behind in this beauty!
8. Embellished Mixed Sequin Cami Dress - £199, Coast
Add some sparkle to your honeymoon with Coast's embellished mini dress (sizes 8-18). Perfect for a romantic dinner and drinks, you could wear this as a hen do outfit as well!
9. Flutter Sleeve Maxi Beach Dress - £30, ASOS
Another staple from ASOS for your honeymoon clothes checklist is a beach cover-up. This one comes in sizes 16-30 and is made from sustainable fabric so you can feel as good as you'll look.
10. Sweetheart Crepe Jumpsuit - £99, Coast
A jumpsuit is a practical honeymoon outfit and this piece from Coast is so sophisticated! It comes in sizes S-XL and is also available in hot pink should you wish to go even bolder.
READ MORE: 35 Best Wedding Jumpsuits
11. Pleated Linen-Blend Dress - £49.99, Mango
If you loved the Pretty Lavish dress above, we bet you'll be swooning over Mango's offering too. A simple take on a white mini dress (in sizes 4-14), pair with strappy sandals and a vibrant clutch bag.
12. Pam Linen Two Piece - £300, Reformation
For a trendy take on a white honeymoon dress, consider opting for a two-piece set. These separates from Reformation are available in sizes 4-16 and feature a sweetheart neckline, adjustable waist tie and side slit.
Honeymoon Airport Outfits
Don't wait until the holiday starts to don some super stylish clothes - these honeymoon airport outfits are chic, comfortable and will let everyone know you just got hitched!
13. Just Hitched Fringe Jacket - £159, Nasty Gal
We challenge you to find a cooler jacket than this Hitched slogan fringed creation from Nasty Gal. Available in black or white and in sizes S-XL, wear it as a bridal jacket on your wedding day and then rock it to the airport.
14. Just Married T-shirt - £16.35, Etsy
Let the whole world know how excited you and your partner are to be just married with these matching tees! You can find the perfect fit for you as they are available in sizes XS-5XL. These would also make a cute wedding day gift for the bride.
15. Personalised Mrs New Bride Jumper - from £14.75, Etsy
Whether you go for pink, white, grey, black or blue, one thing's for sure - you'll be comfy and look great in this personalised jumper that comes in sizes S-XXL. Hand-printed in their Hampshire studio, once your partner sees it, they'll want one too!
READ MORE: 29 of the Best His and Hers Pyjamas
16. Wifey Sweatshirt & Sweatpants - £55 & £40, Etsy
Although comfort is key when choosing your honeymoon airport outfit, you want to look stylish too and this 'Wifey' sweatsuit checks both those boxes. Coming in sizes S-XXL, it is made from a premium cotton blend with a brushed inner fleece lining. And relax...
17. Finally Honeymoonin' Couple T-Shirts - from £9.95, Etsy
Feel like you've been waiting months to go on your honeymoon? If you and your partner are 'finally honeymoonin', these white tees (sizes S-3XL) are ideal. Choose from black or white and a range of font colours.
18. I Woke Up Like This Honeymoon Shirt - from £15.75, Etsy
You'll have everyone giggling if you don this funny t-shirt to the airport - handmade in the UK and available in sizes XS-2XL, choose from black, white, red, gold, silver, rose gold, green or orange.
19. Belle Boxy Linen Shirt & Shorts - £45 & £32, Pretty Lavish
You can wear this chic linen two-piece set to the airport and then pop it on when you're poolside too - it's so versatile. The high-waisted shorts are super flattering and the lightweight fabric is ideal for when you are travelling back from a warm country. Available in sizes 6-16.
Honeymoon Clothes for the Bride
Whether you're sightseeing, sunbathing or going for dinner, you'll need to be ready with honeymoon outfits that make you feel and look good. This edit has you covered with vibrant colours, playful prints and stylish silhouettes.
20. Stassie Dress - £285, Reformation
Jennifer Lopez wore this Reformation dress on her honeymoon to Paris and if that's not enough to convince you to buy it we don't know what will! It's available in US sizes 0-12 and comes in the most gorgeous shade of hot pink.
READ MORE: The 13 Honeymoon Mistakes You Need to Avoid
21. Medallion Tile Bandeau Dress - £55, Monsoon
Not only is this gorgeous blue printed bandeau dress from Monsoon holiday-ready, it's available in sizes S-XXL. The perfect, practical piece to slip on when you might have spent a little too long in the sun...
22. Cut-Out Floral Playsuit - £49, Chi Chi London
Tropical prints are ideal for a honeymoon - especially if you're going somewhere with a warm climate like Mauritius. Chi Chi London's playsuit is an easy-to-wear outfit that is available in sizes 6-26.
23. Twist Front Maxi Dress - £139, Coast
Don't be afraid to go bold - it is your honeymoon after all! Choose from neon lime or coral and you'll be sure to stand out in this breath-taking Coast ensemble. The ruched twist waist instantly draws the eye in for a flattering effect and the leg slit is seriously sexy.
24. Gingham Check Cottoned Dress - £49.99, Mango
Equally, if colour isn't for you, a monochrome masterpiece like this Mango dress is beautiful. Coming in sizes 4-16, we're predicting a sell-out so get this added to your basket pronto!
25. Diamond Halter Satin Midi Dress - £79, Coast
Halter styles are ideal for fashion-forward brides who want to stay on top of the trends. Coast have given this satin dress (in sizes 18-26) a fun vibrant blue update.
READ MORE: The Ultimate Honeymoon Checklist
26. Tropical Print Halter Neck Jumpsuit - £39.99, Quiz
A jumpsuit is a great option for your honeymoon when you don't know what to wear - this offering from Quiz is available in sizes 8-18 and comes in the most gorgeous tropical print. Pair with white accessories.
27. Floral Split Hem Halter Midi Dress - £27.99, New Look
New Look is a brilliant brand to shop for your honeymoon outfits on as their pieces are super affordable so you can stock up. We love this green floral number that features an open back and a halter neckline.
28. Plisse Swirl Midi Dress - £49, River Island
Available in sizes 6-18, this colourful creation from River Island is simply asking to be worn on your honeymoon. It's such a special piece that you're going to want to take lots of snaps in.
29. Hailee Bubble Hem Blouse - £45, Pretty Lavish
A sleek and silky crop top is just the thing for a stylish evening outfit - pair this Pretty Lavish piece (in sizes 6-16) with matching trousers or jeans and you'll be glowing.
30. Cowl Detail Cold Shoulder Printed Dress - £149, Coast
Picture this - sipping cocktails with your new spouse, watching the sunset in this spectacular orange and pink dress from Coast. Wear with a sleek bun and matching lip for a stunning look. Available in sizes 8-18.
READ MORE: 15 Stylish Suitcases for Your Honeymoon
31. Printed Camisole Dress - £35.99, Mango
Are you an animal lover? A Zimbabwe honeymoon where you can go on safari will be right up your street - walk on the wild side with this leopard print dress from Mango, available in sizes 4-14.
32. Marble Print Wrap Skirt - £29.99, Quiz
For less than £30 you can nab this colourful printed skirt from Quiz. It comes in sizes S-XL and is super versatile as it can be worn as a cover-up in the day and as part of a stylish evening outfit.
33. Spot Cut-Out Tiered Midi Dress - £33.99, New Look
A playful take on a white honeymoon dress is this pretty maxi from New Look. Available in sizes 6-18, the ruched longer sleeves mean it will work for cooler climates as well as warm.
34. Big Leaf Print Silk Dress - £249, Whistles
Whistles create stand-out dresses and this piece from their summer collection proves it. It may be an investment but the vibrant print is fabulous and will ensure you look amazing. Available in sizes 4-18.
35. Ellora Top - £98, Reformation
What better way to show that love is in the air than by wearing the pretty Ellora top from Reformation. It comes in sizes 4-16 and you could easily slip a blazer over the top should your honeymoon location be on the cooler side.
READ MORE: 21 of the Coolest Bridal Sunglasses
Honeymoon Accessories
Finish your holiday look off with one (or a few!) of these honeymoon accessories. From glitzy hair clips to personalised beach bags, they'll be the ideal addition to your outfit.
36. Mrs Diamante Hair Slide - £5, Boohoo
You can add glamour to any hairstyle simply by sliding on this Mrs hair pin from Boohoo. It's only £5 yet the rhinestones make it look a lot more luxe. It's so cute!
37. Kensington Weekend Bag - £94.99, Katie Loxton
If you're going on a weekend honeymoon or a minimoon, this personalised bag from Katie Loxton will look chic and carry all of your essentials. It's one of their most popular designs and we can see why as it has a detachable shoulder strap and luggage tag.
38. Personalised Floppy Straw Hat - £22.99, Etsy
Show all your fellow holiday-makers your new surname by rocking this personalised floppy straw hat. You can also choose from fun slogans such as 'Married AF' and 'Wifey For Lifey'.
39. Honeymoon Straw Beach Bag - £22, Boohoo
Match the straw hat to this beautiful bag from Boohoo. With enough room to fit everything you'll need on your day travels, it's safe to say no-one will be able to miss that you're celebrating your honeymoon if you have this beauty.
40. Beach Honeymoon Flip Flops - £17.83, Etsy
Flip-flops are a must for a beach honeymoon and we love how these ones can be personalised with your names and the date you got married. Available in sizes S-XL, they'll make a lovely keepsake from your honeymoon.
41. Luxury Personalised Honeymoon Straw Bag - £35, Esty
This luxury personalised honeymoon bag is a really special piece to treasure. The bag is fully lined and comes with either a zip or drawstring closure so you won't have to worry about items falling out. You can also add pom-poms, tassels and sequins.
42. Mrs Earrings - £87, Wolf & Badger
For a subtle accessory that you can wear long after the honeymoon, consider these Mrs earrings from Wolf & Badger. They are coated in 18ct gold and would also make a lovely gift for the bride.
43. Mrs Beaded Pouch - £17, Accessorize
Make like Tiffany Watson and don a Mrs embellished clutch bag on your honeymoon. This one is from Accessorize and is designed with beautiful Champagne coloured beading.
44. Mrs Moonstone Crystal Healing Necklace - £145, Wolf & Badger
Another beautiful piece of bridal jewellery is this moonstone necklace from Wolf & Badger. The crystals are said to soothe emotional instability & stress, which hopefully you won't have any of on your honeymoon, but it's good to be prepared...
READ MORE: 13 Honeymoon Mistakes to Avoid
What Should I Wear For My Honeymoon?
The honeymoon outfits you pack will totally depend on the destination you are headed to but lots of couples choose to wear a few special pieces as a way to celebrate their romantic break.
If it's a beach/pool location make sure you have your bridal swimsuit, as well as lots of comfortable and lightweight clothes for the day and some lovely pieces for the evening.
City break more your vibe? Ensure you pack comfortable shoes, as well as weather-appropriate outfits that will keep you looking and feeling good all day. We also love the idea of wearing a personalised honeymoon accessory, such a some jewellery or a bag.
Are You Supposed to Wear White On Your Honeymoon?
While it is not a must to wear white on your honeymoon, many couples do as a way to nod to the fact that they are a newly married couple. It's a lovely idea to pack a white honeymoon dress or outfit and will make for some beautiful pictures that you can look back on too.
So you've chosen your honeymoon outfits and accessories but how are you going to fit them all in your suitcase? Our honeymoon packing hacks are here to help!