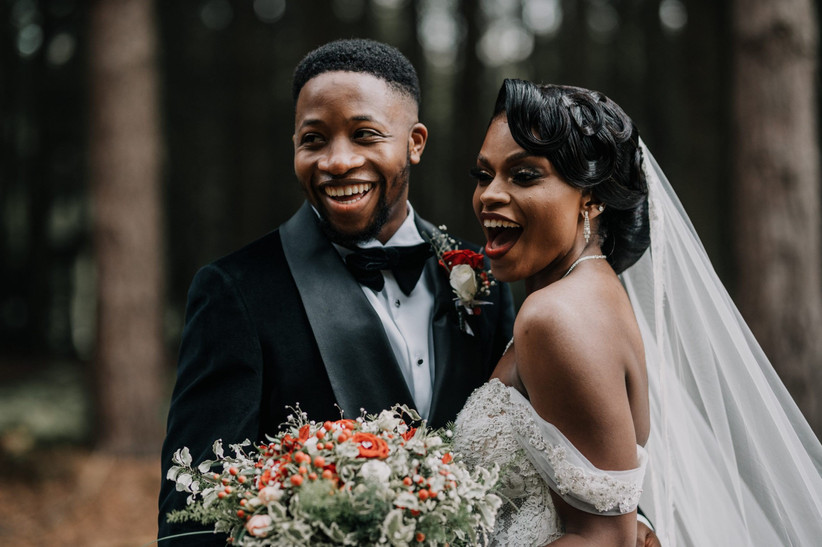 Not all relationships begin with love at first sight. When Emmanuel first met Joy at his birthday barbeque, he thought she was boring!
But, after just a year of dating, he knew it was the right time to pop the question. Emmanuel hired an Uber to pick Joy up and take her to their favourite park where he'd scattered the floor with petals and candles. Joy was overwhelmed!
As romantic as this moment was, Joy wishes they'd picked the ring together. "My husband went rogue and did it all alone. While I was over the moon to be engaged, we did have to return to the shop to make some… adjustments."
The couple got hitched on the October 2019 at the Conservatory at Painshill in front of 320 guests.
Photographer: E&O Photo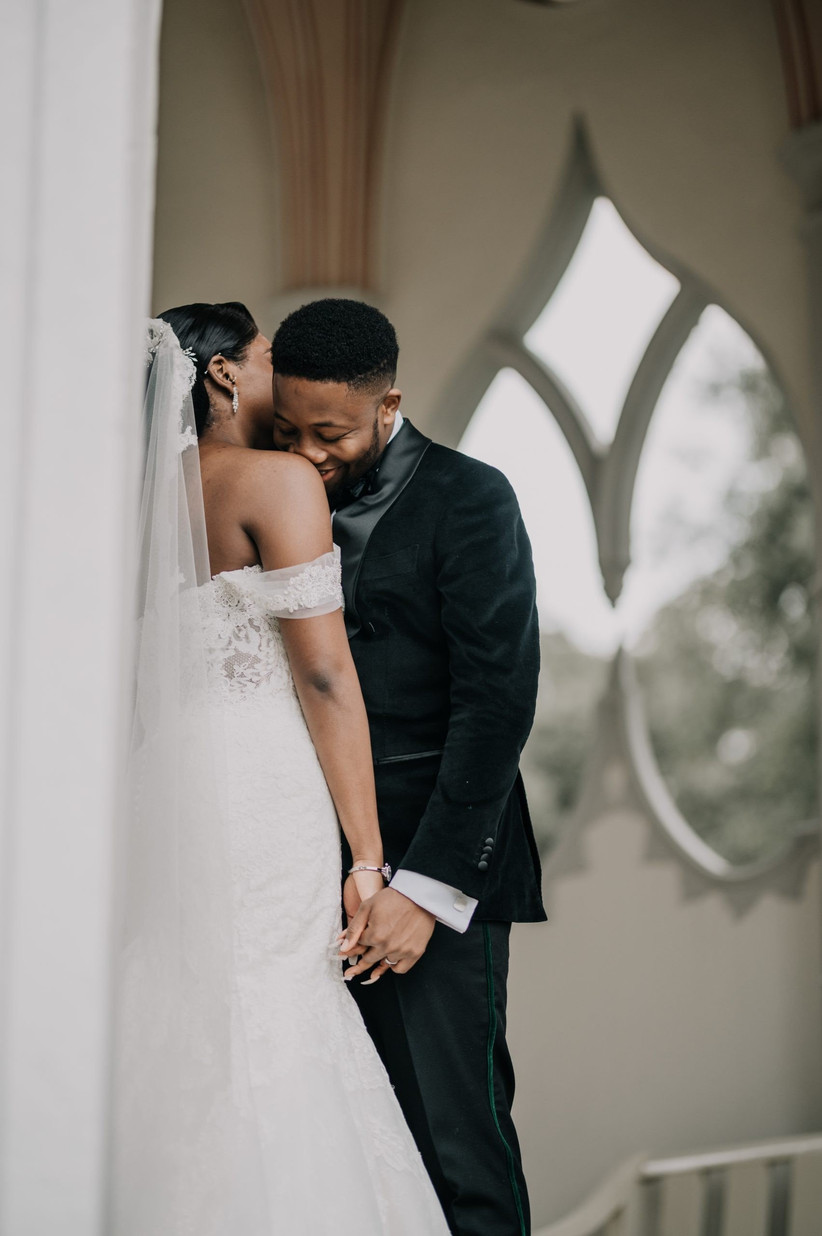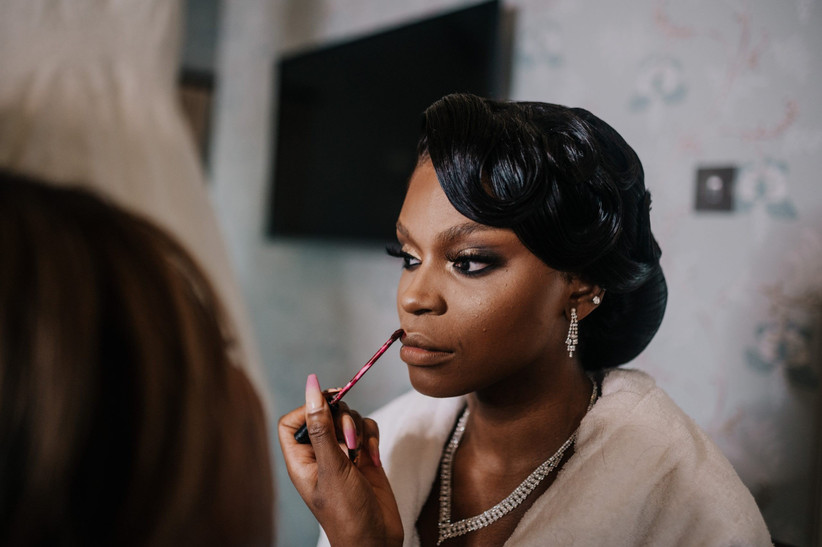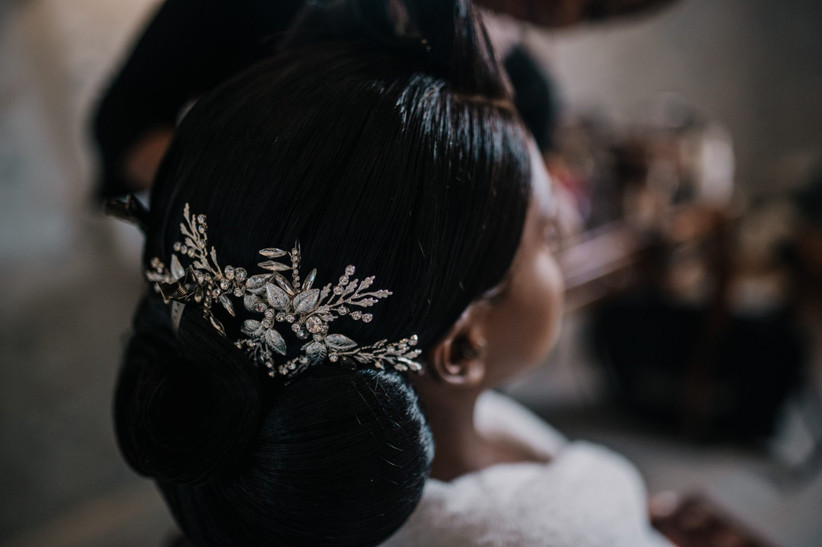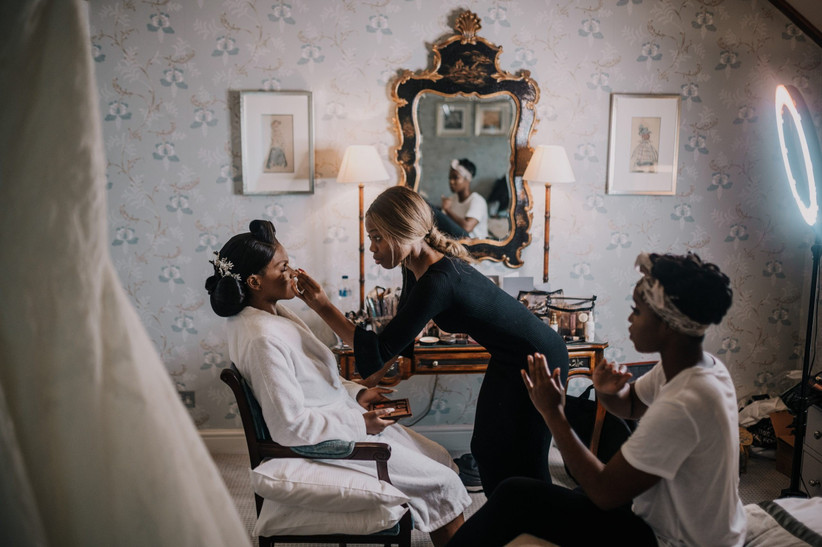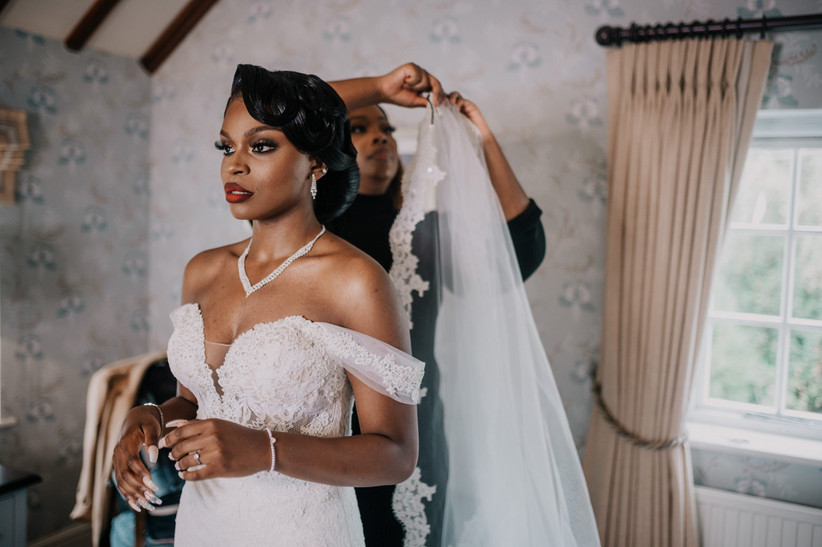 The Wedding Dress
Joy wore a Pronovias dress which she bought from Teokath of London – but not before she tried on 21 other options!
"I wore a mermaid dress. I wanted it to be flattering – demure yet still sexy in its own way. I attached the sleeves for the church and removed them for the reception which I felt gave the dress a different look.
"Interestingly enough, it was a dress I'd seen online on Pinterest a few weeks after I'd gotten engaged. It was one of the first dresses I saw and fell in love with but I hadn't done any shopping around.
"When I went to the flagship store initially I didn't even request it. We only had an hour and I wanted to try on as many dresses as possible. After the second shop, where I failed again to find 'The One', I went back to the drawing board.
"There, I found the Imelda dress that I had fallen in love with. I found out about another wedding shop, completely by chance, and, upon arrival, I immediately asked if they had the dress that I was looking for – they did!
"I had seen a few brides on their wedding day without anything on their wrists and I realised that was quite important to me. I bought a wedding watch, a bracelet, earrings and a necklace.
"On the morning of the wedding, my husband surprised me with a Tiffany's bracelet which isn't my style at all but was absolutely perfect for the day so I ended up wearing that instead. Despite it not being my style, I haven't taken it off since and it has become incredibly important to me.
"I changed into a different outfit for the evening reception. I had an outfit tailor-made which was emerald green, one of the colours of the day."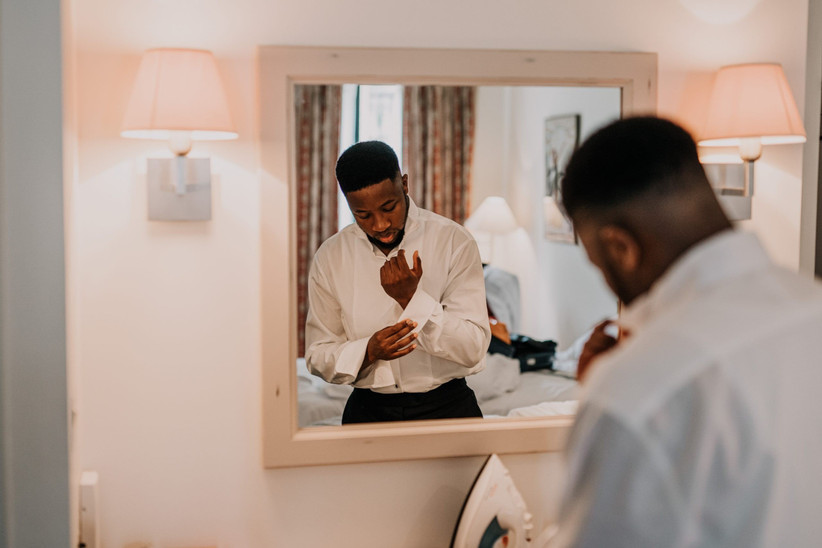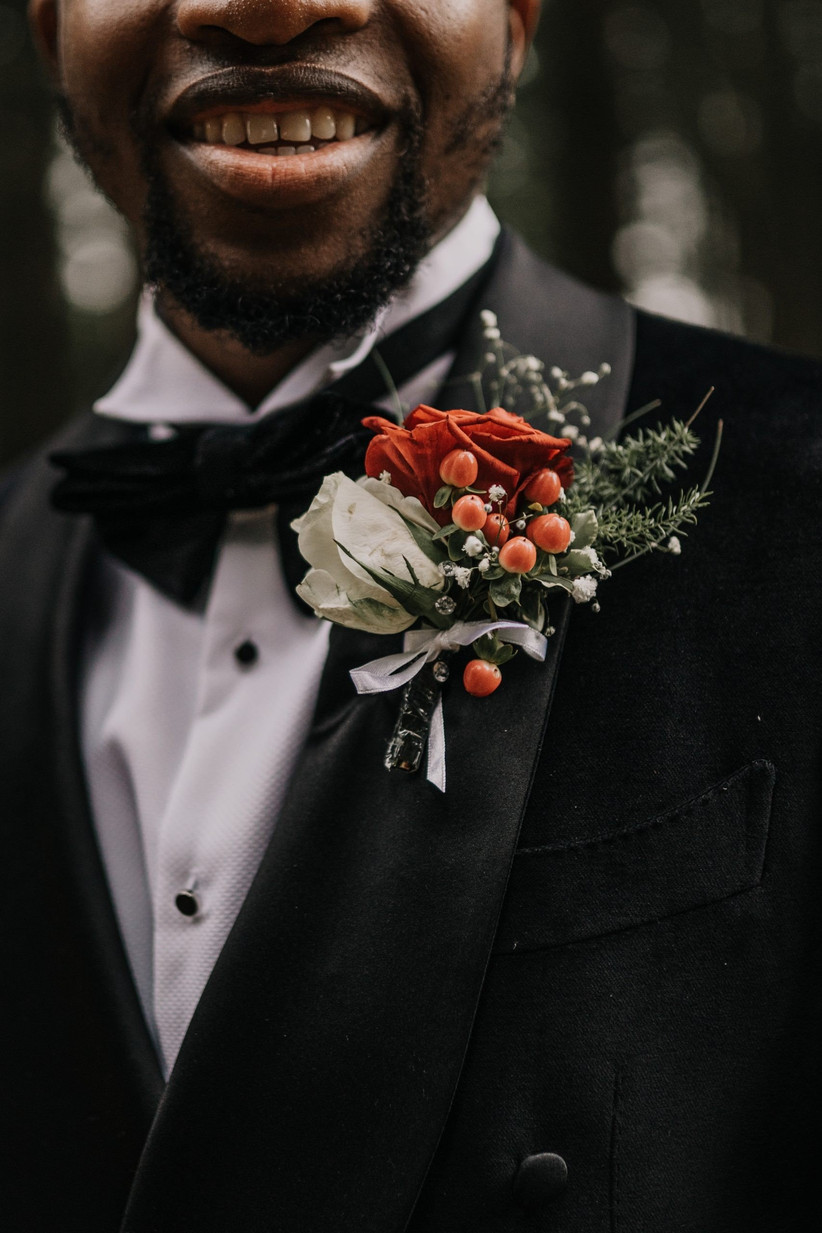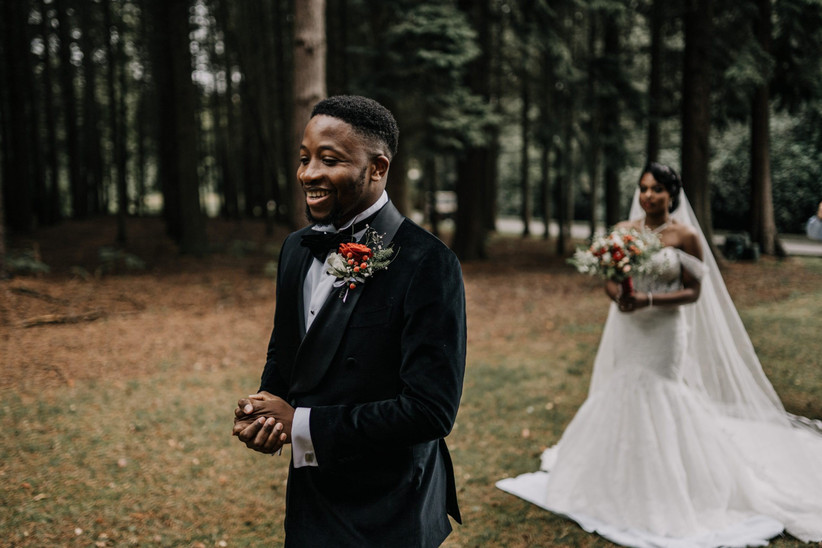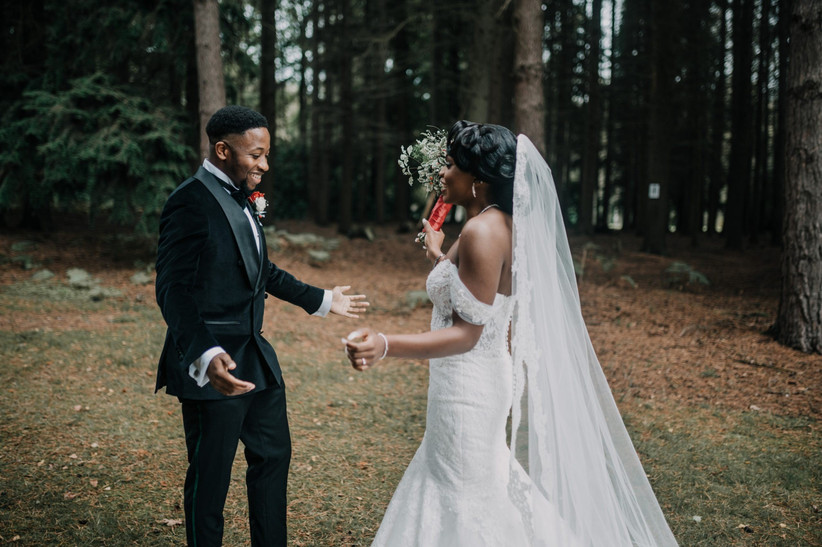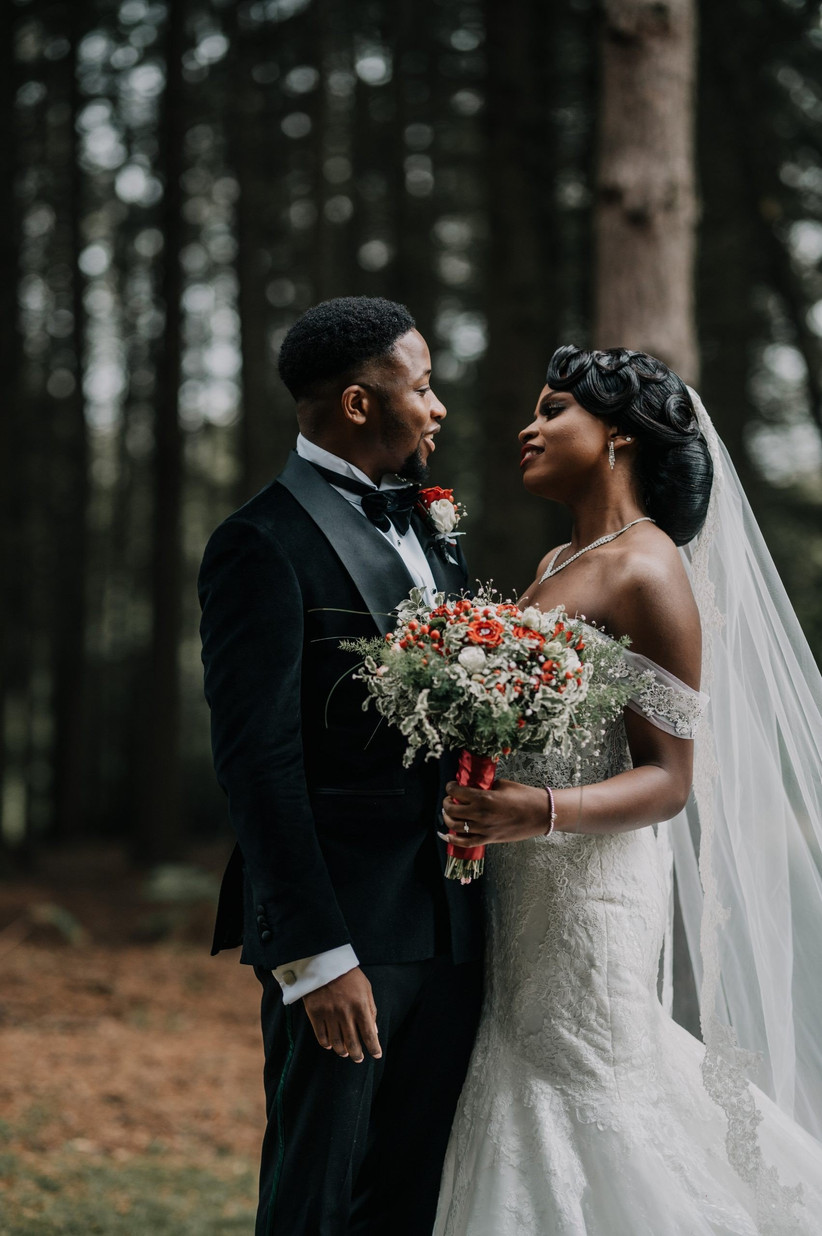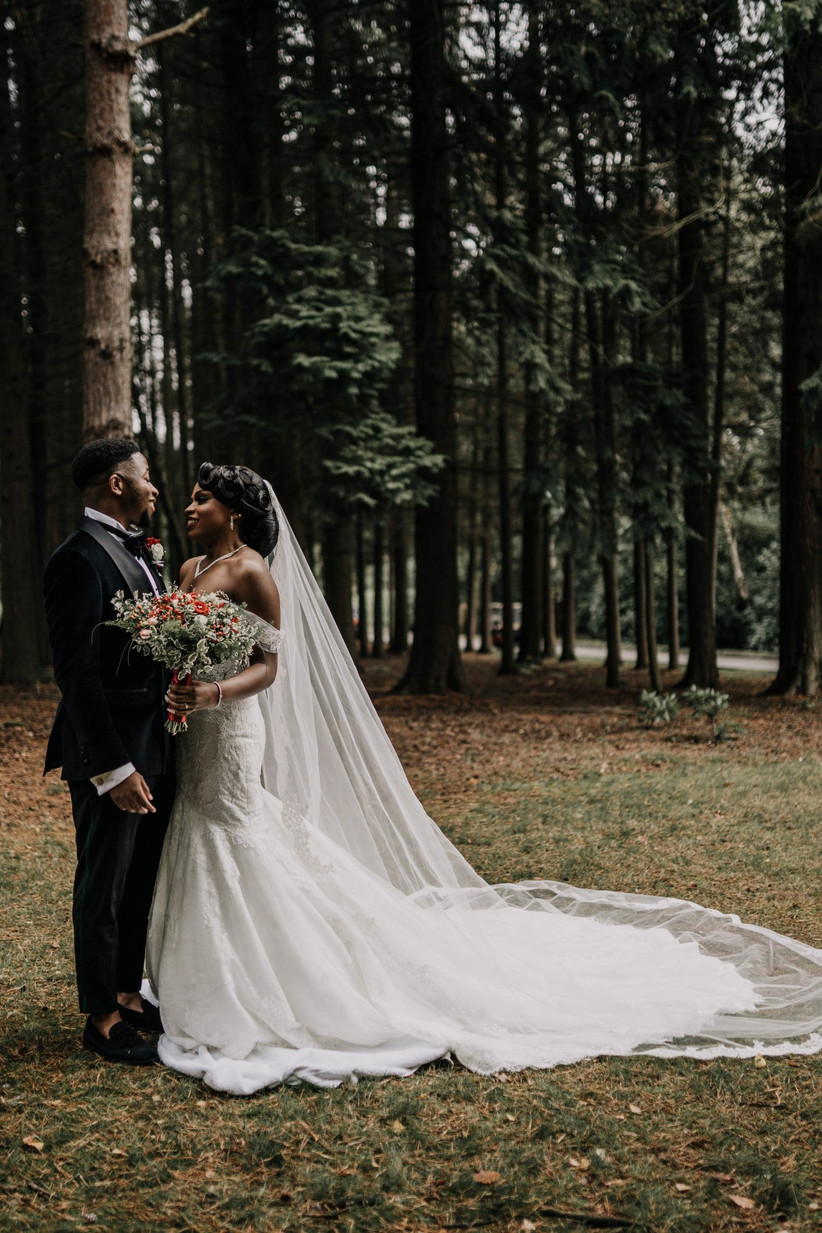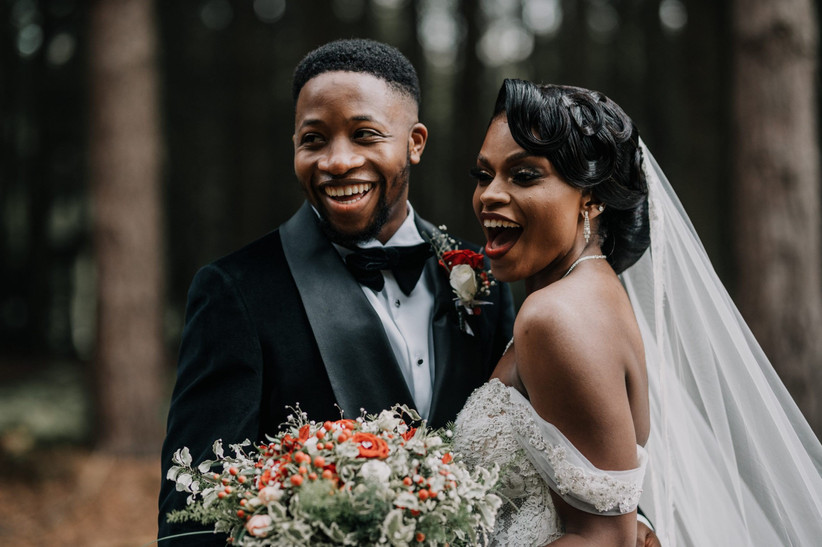 Bridal Beauty
Joy entrusted Virtuous Hair and Beauty to do her hair and Lake Sanu did her makeup with lots of reds, greens, and golds.
"Both were so perfect for the day, professional, kind and caring towards me. They felt more like a support system than my suppliers!
"The theme of my wedding was 'enchanted' so lots of reds, greens and golds around. I knew that the 'in' look amongst brides is the nude lip and natural glam but I went quite dark with mine! A bold red lip, green eyeshadow/smokey eye."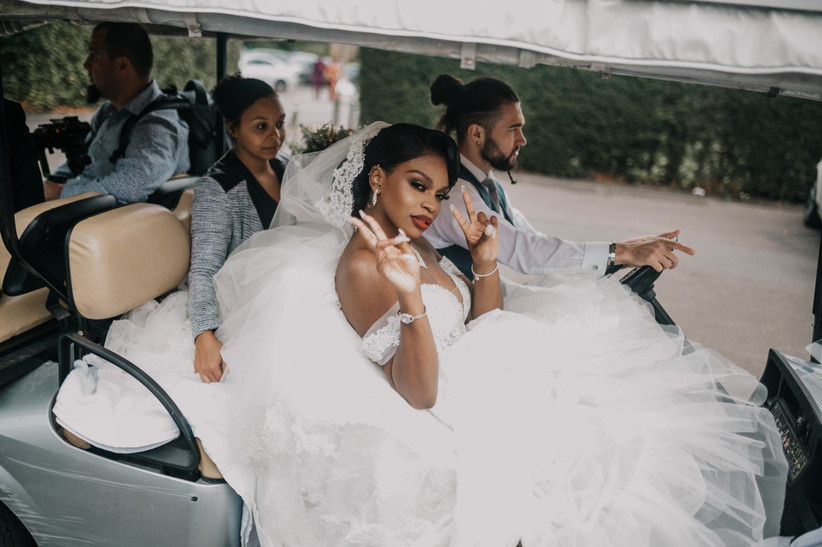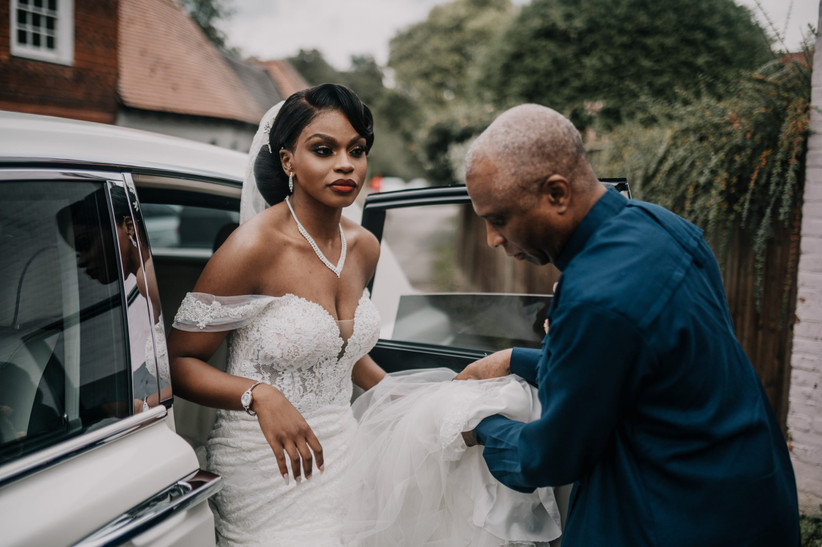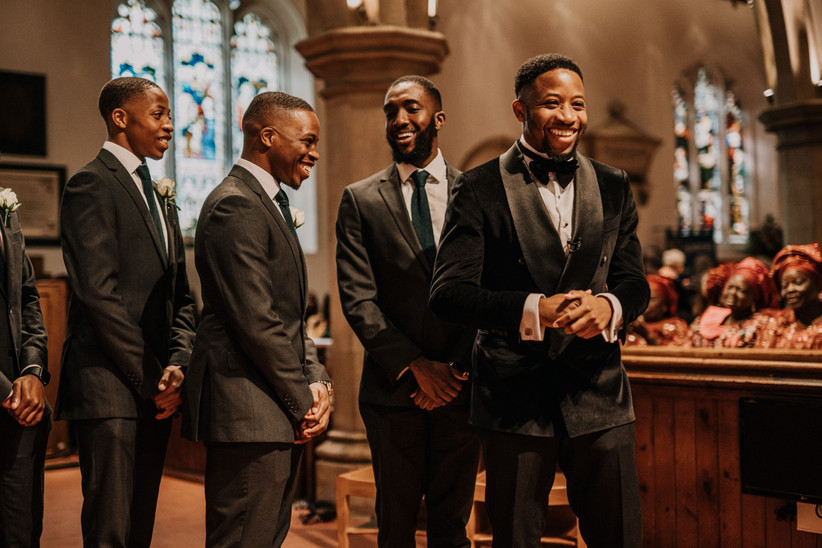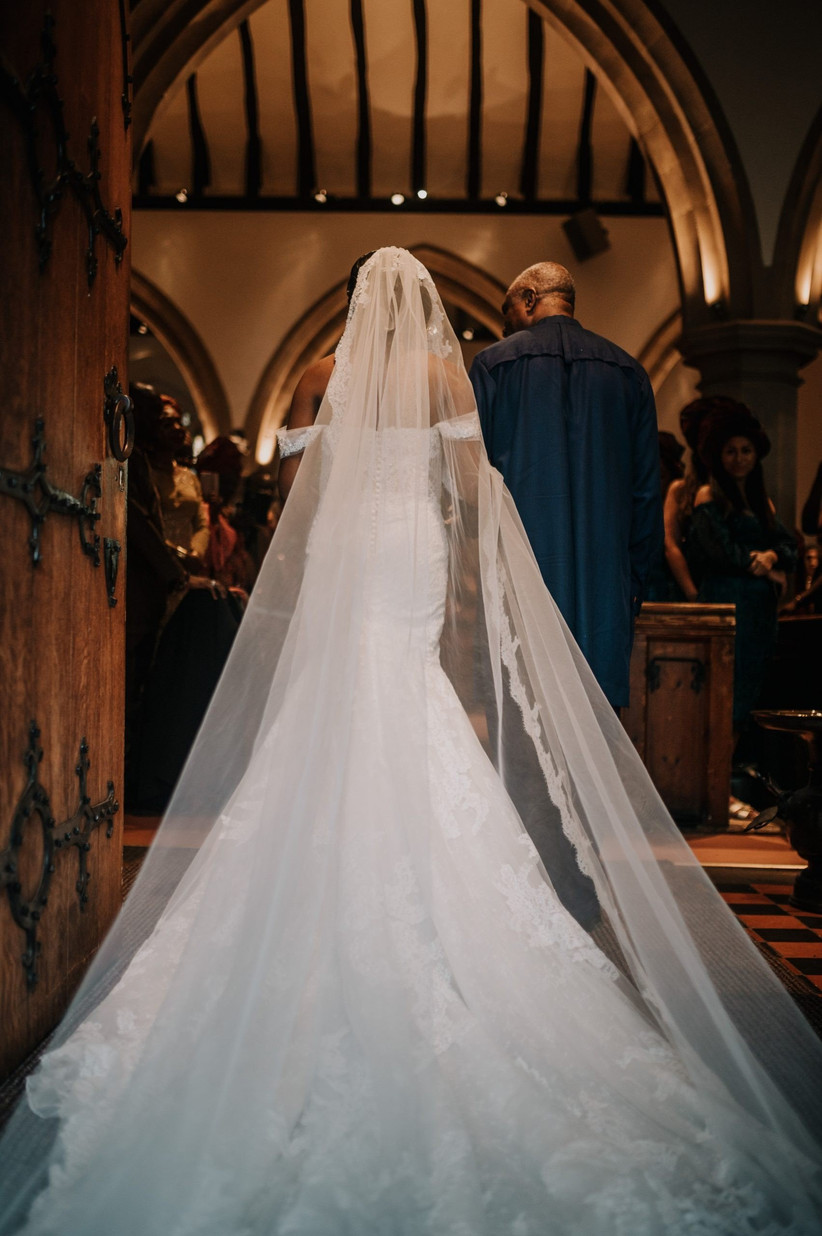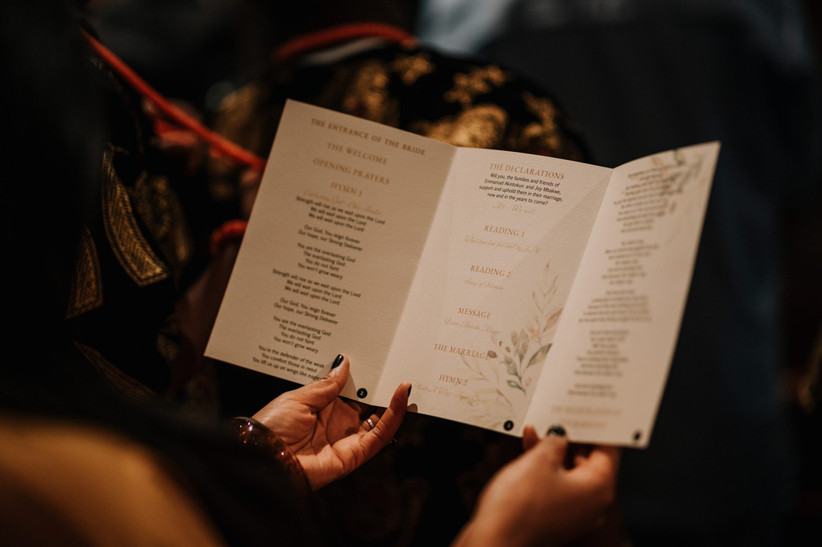 The Wedding Party
Joy asked her two sisters, two cousins, and three friends to be her bridesmaids. They wore dresses from ASOS while the groomsmen wore suits from Marks and Spencer.
"I adored the bridesmaid's dresses! I wanted to make sure that I chose a dress that suited everyone which is a challenge, but I felt the colour, style and shape of the dress somehow managed to complement all of the beautiful bridesmaids.
"Emmanuel bought his suit and chose it himself. But myself and the best man came along to choose the groomsmen's suits.
"The night before the wedding, the bridal party really came together for us. The menu cards (which doubled up as fans) still hadn't been made. The team went to work for hours. We ordered food, some went to get drinks, and then we all went to work."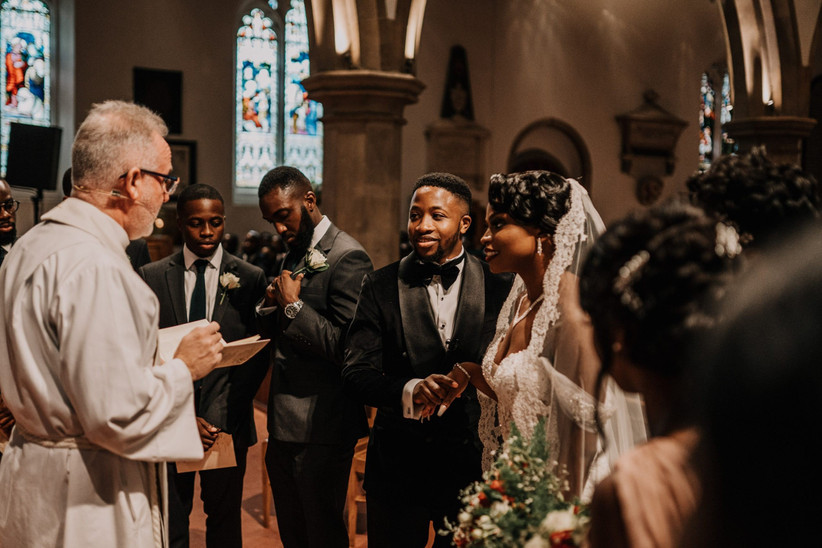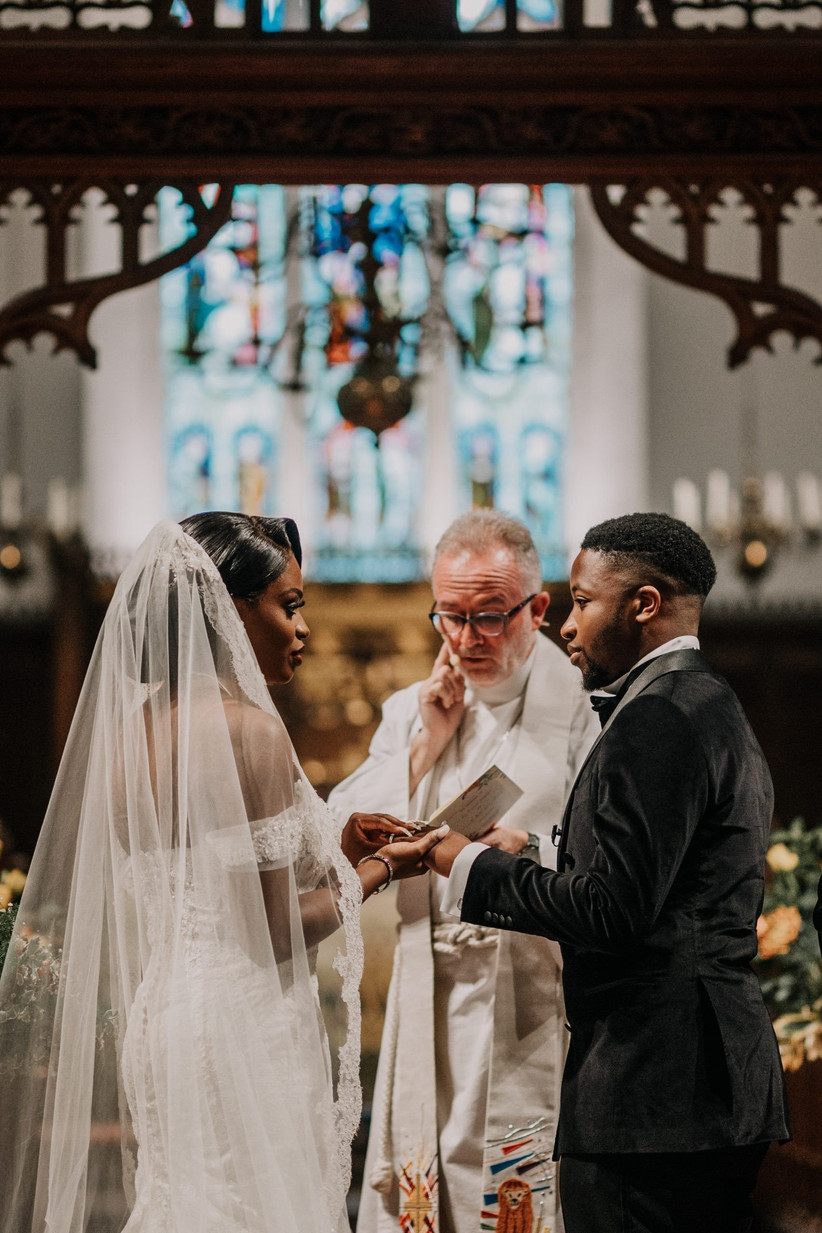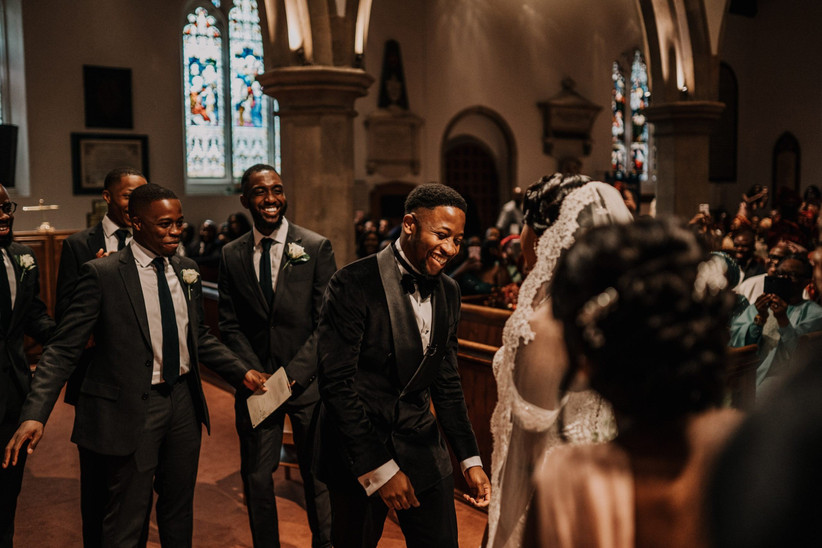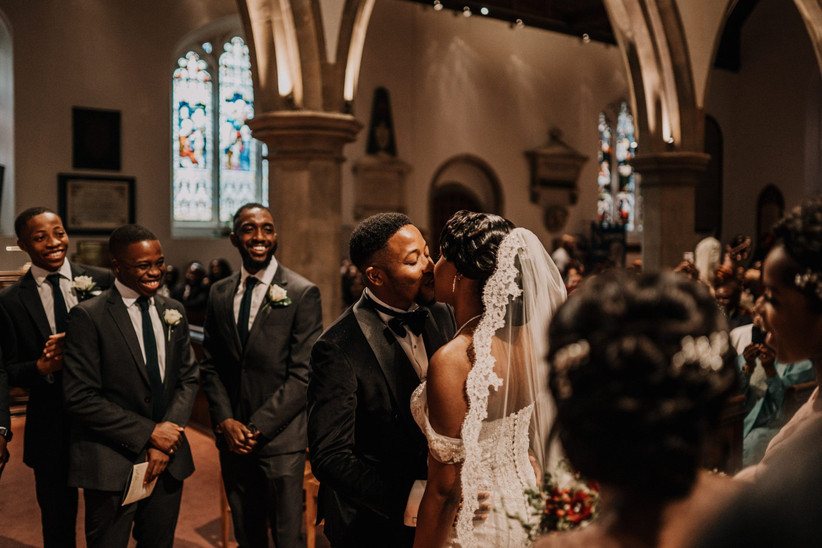 The Ceremony
As Joy and Emmanuel are religious, it was important to both of them to have a ceremony which reflected their faith. Both the ceremony and reception took place at The Conservatory at Painshill.
"I wrote one of the readings. It was entitled 'What Does Love Feel Like?' I also run a theatre company so I asked two of the members, who are also great friends of mine, to perform all the readings – including the Bible ones.
"We had a touch of immersive theatre as the reading began with my friend standing up and walking down the aisles as he performed. One of the readings was inspired by Romeo and Juliet – the balcony scene. We used Song of Solomon as our basis for exploration and they brought the text to life.
"I walked down the aisle with my darling father. It is a memory I will always treasure. During my fittings, I requested that my dress be made longer than they advised. I thought it would all be okay but with the nerves I felt on the day, I couldn't quite walk to the rhythm of the song.
"I kept murmuring under my breath to my Dad, 'I'm gonna fall, I'm gonna trip, I can't walk!' In response, he held me steady and waited for me to find my feet, keeping me calm all the way. He is such a wonderful father."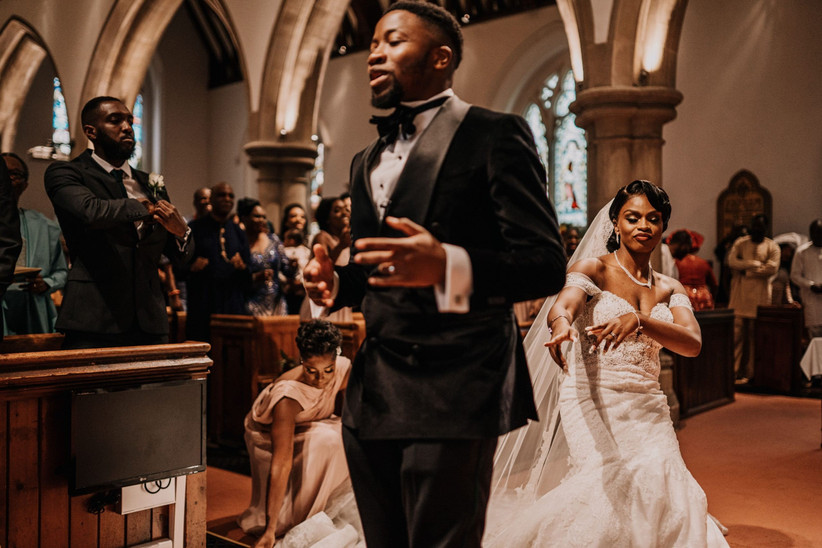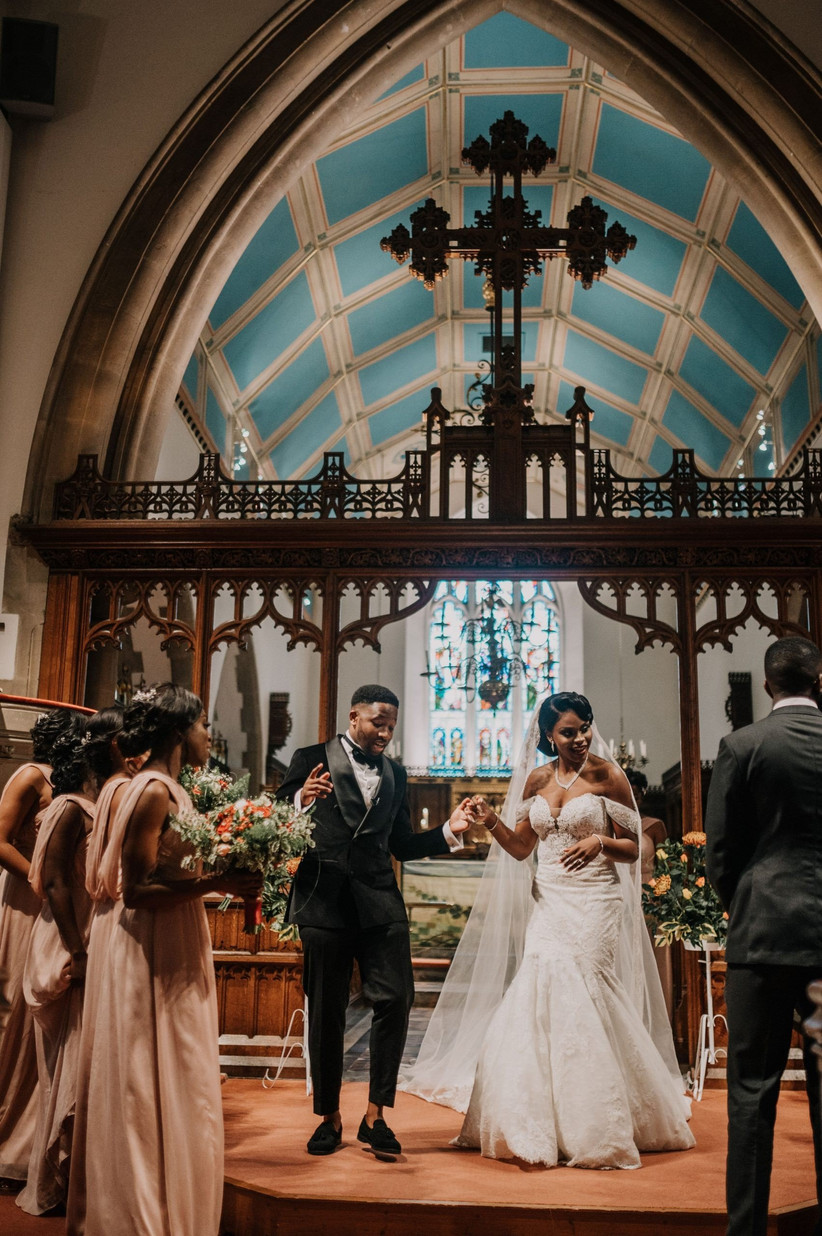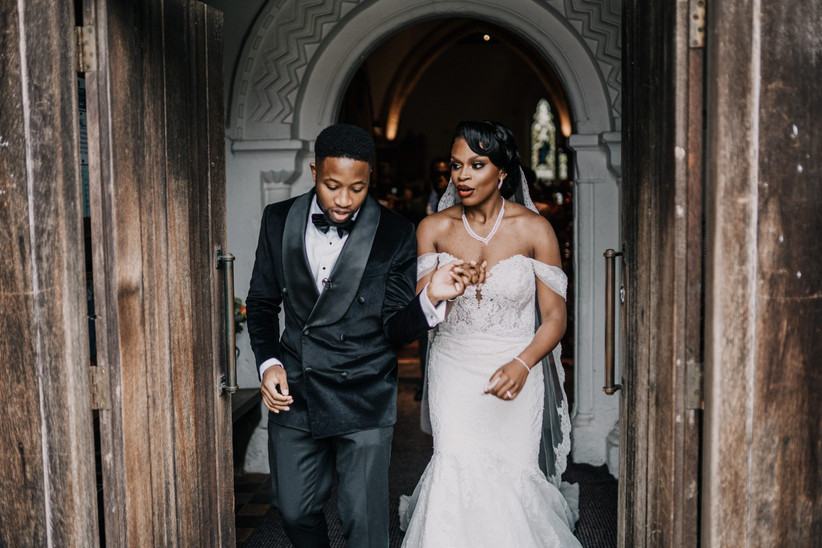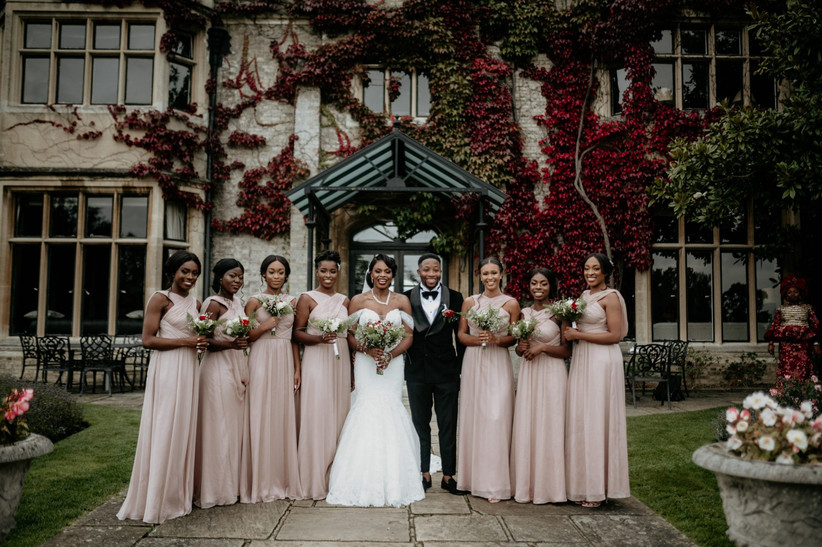 The Venue
The couple chose to get married at The Conservatory at Painshill in Surrey because it felt magical upon arrival.
"It met all of our requirements and was the perfect space. The best thing about the venue was that we could have a barbeque in the evening! Our theme was the enchanted forest. We had lots of trees, roses and the like.
"Our centrepieces were roses, birdcages, and tree stumps. Our brilliant supplier Designer Chair Covers To Go was spectacular. She brought my vision to life!
"We named our tables after restaurants that we have visited. Would you believe we managed to name 32 tables?
"King Solomon's Catering was our caterer. We had wok-fried prawns and red snapper in plum hoisin sauce, lamb shank with sweet potato mash, coconut and spinach sea bass, Moroccan chicken tagine, wild rice infused in coconut and garlic butter, scallops, eggs and spring onion fried rice, plantain, and coleslaw for main. For dessert, we served apple pie and custard or chocolate brownie and cream.
"In the evening we had a barbeque with jerk chicken, burgers, suya, sweet potato fries and corn on the cob.
"We had a partial planner. She also coordinated on the day with help from two of my bridesmaids.
"Our wedding cake was five-tiered and white. It was decorated only with red roses. We served it on the night. It was made by Mimitoyoucakes who is a great baker and talented beyond words."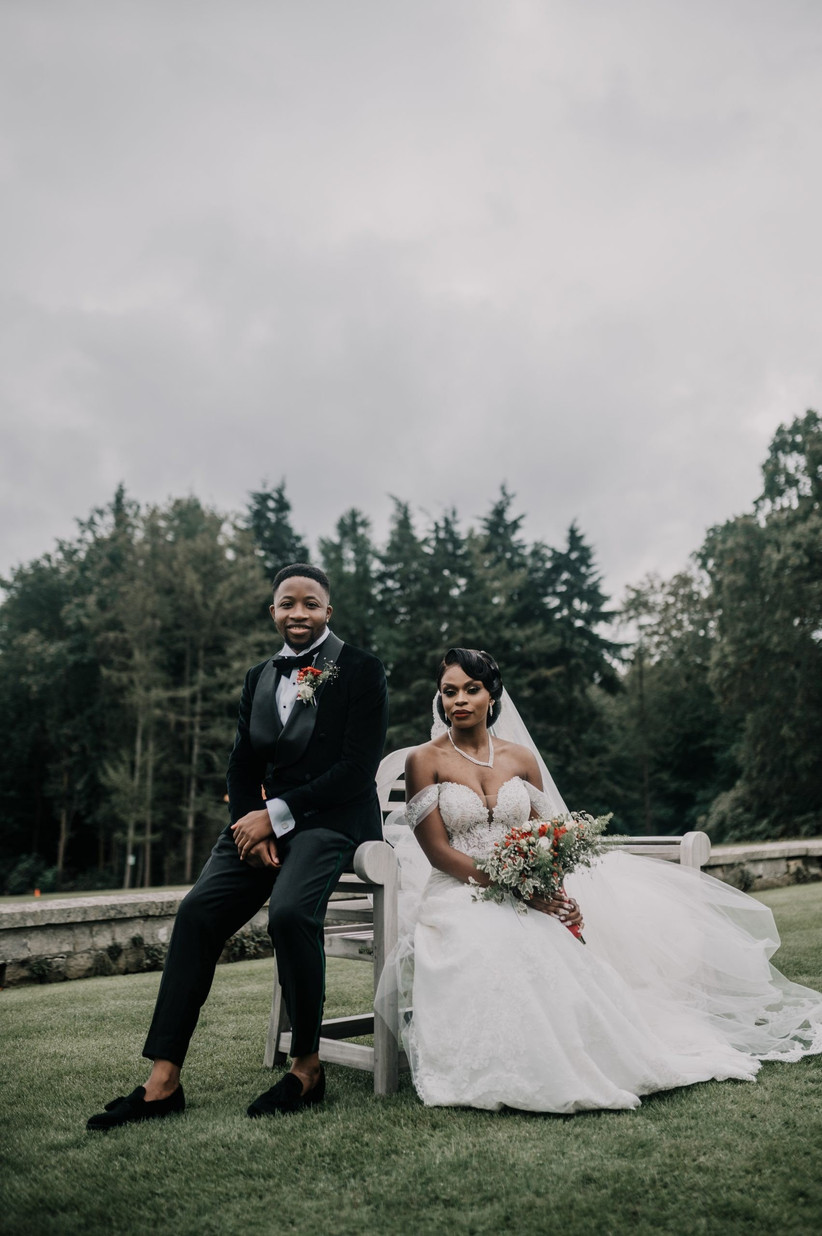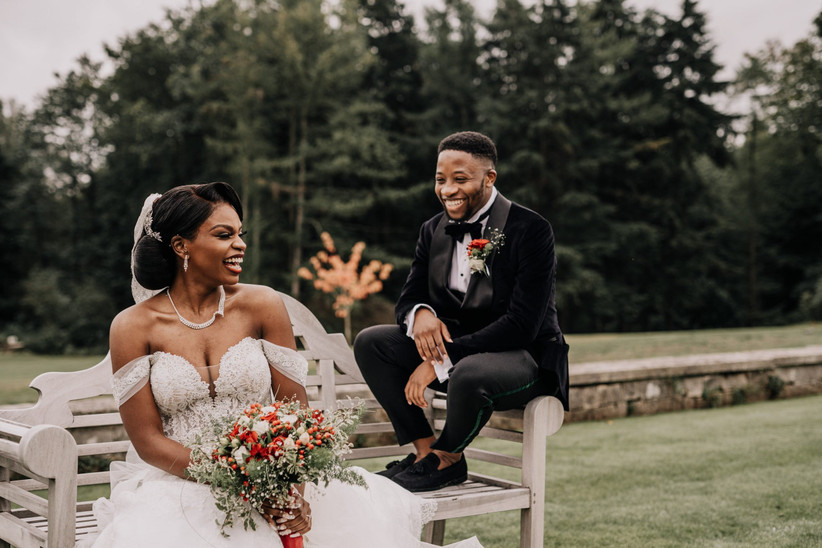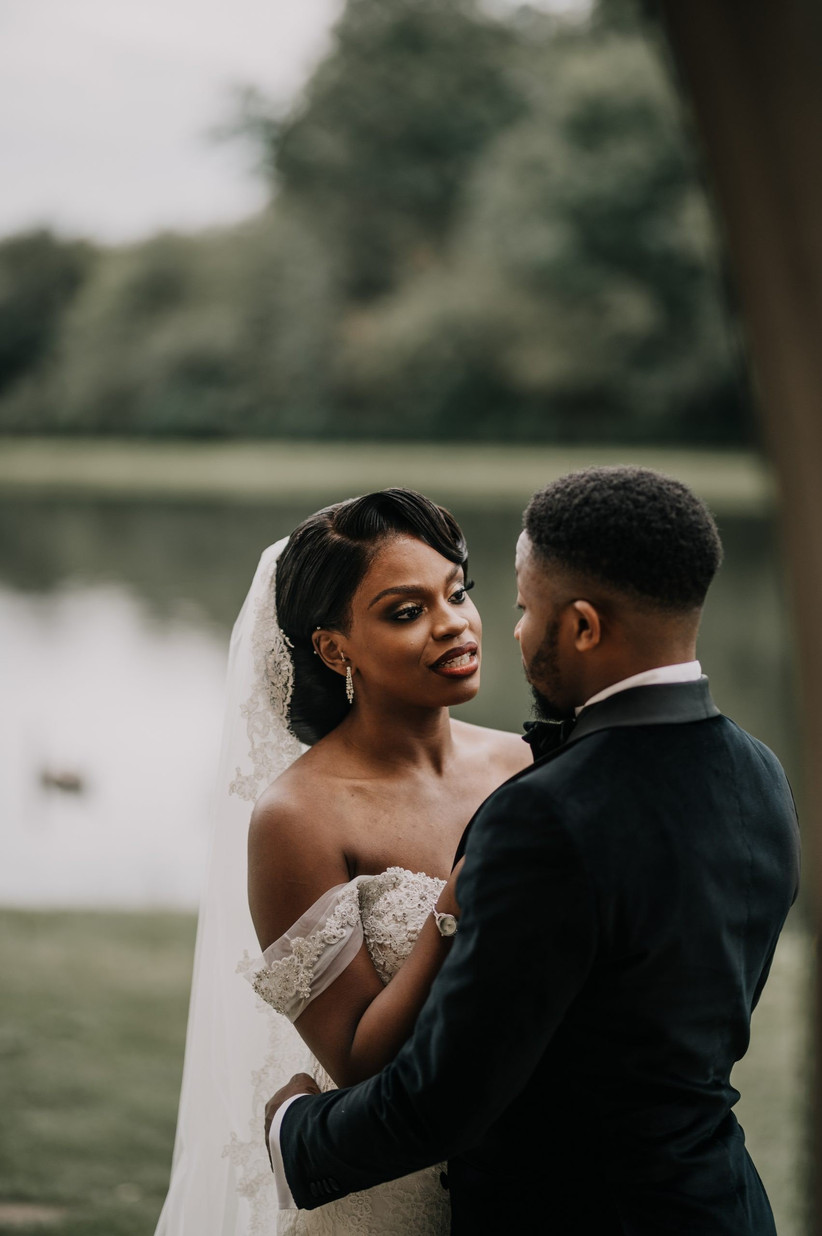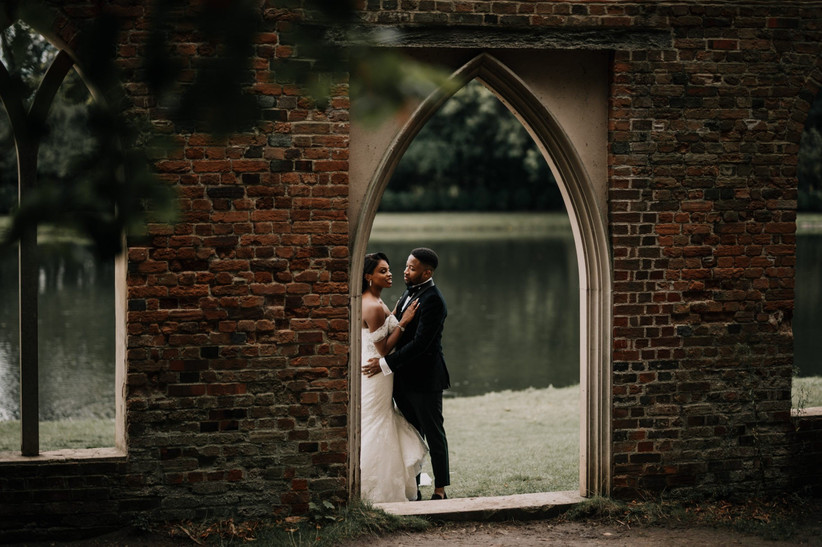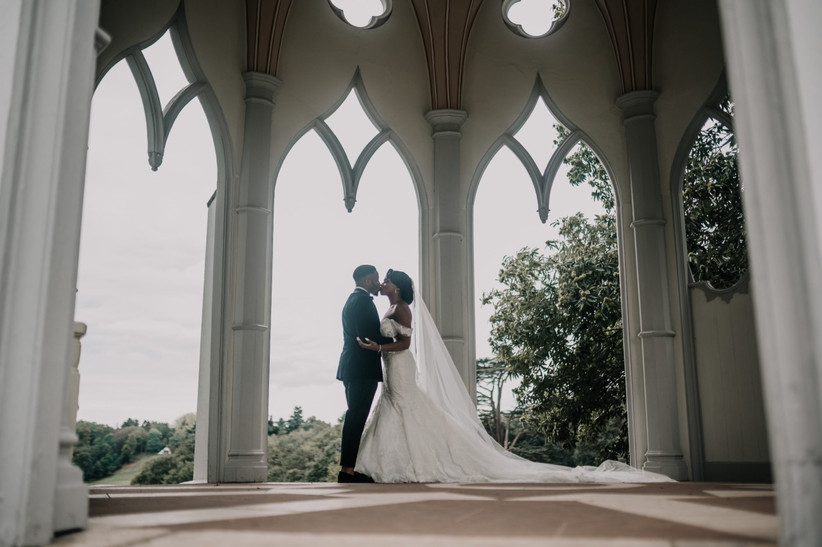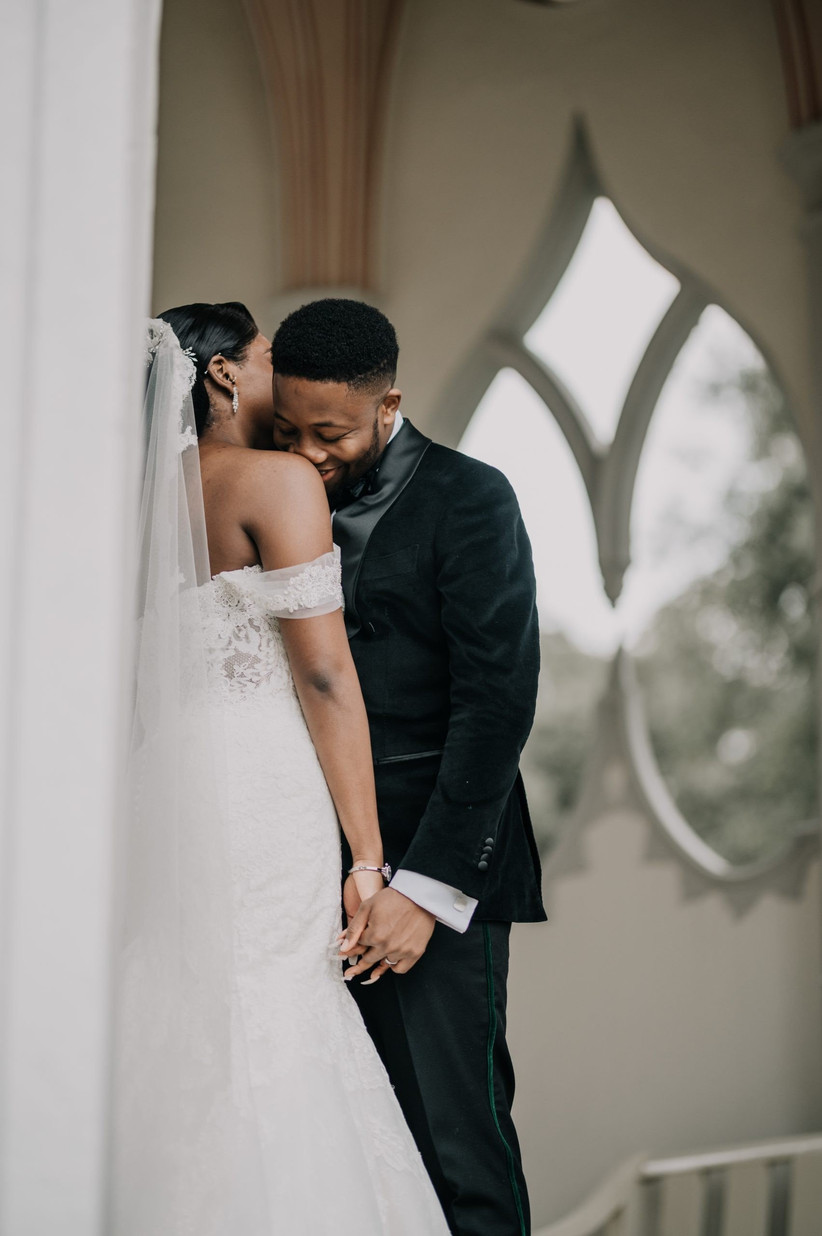 Stationery and Special Touches
Emmanuel designed all of the couple's wedding stationery. It matched the theme of enchantment with lots of red roses and leaves.
"It was great having him design everything! We also had an open bar, blankets and slippers for our guests and we were able to create cool canvas/signage for each of these. He has a great eye for detail and was able to create everything perfectly.
"Because we are from Nigeria, favours are a big part of our culture. Guests received all sorts of things from key rings to Tupperware etc.
"We provided extras including a photo booth, sweet buffet, an open guest book (an enlarged, framed picture of the two of which guests could sign), an open bar, slushies and waffles. We also had games – card games, Jenga, and a large Connect 4!"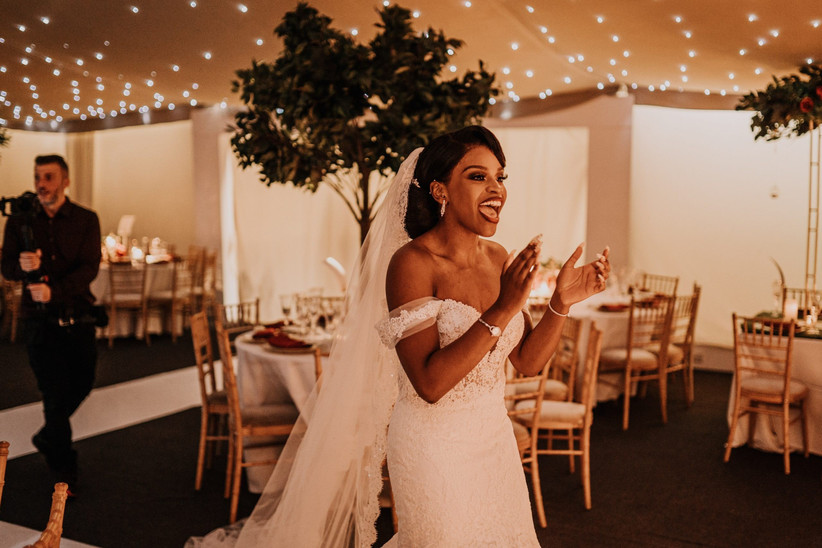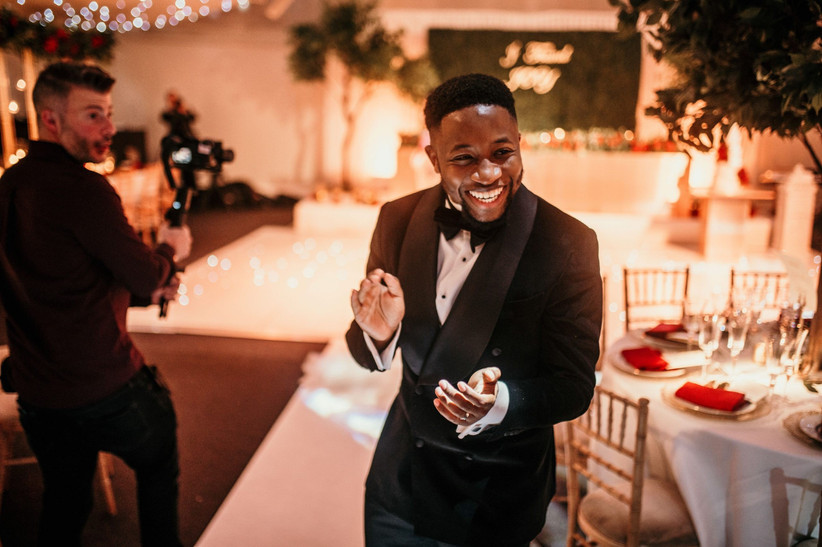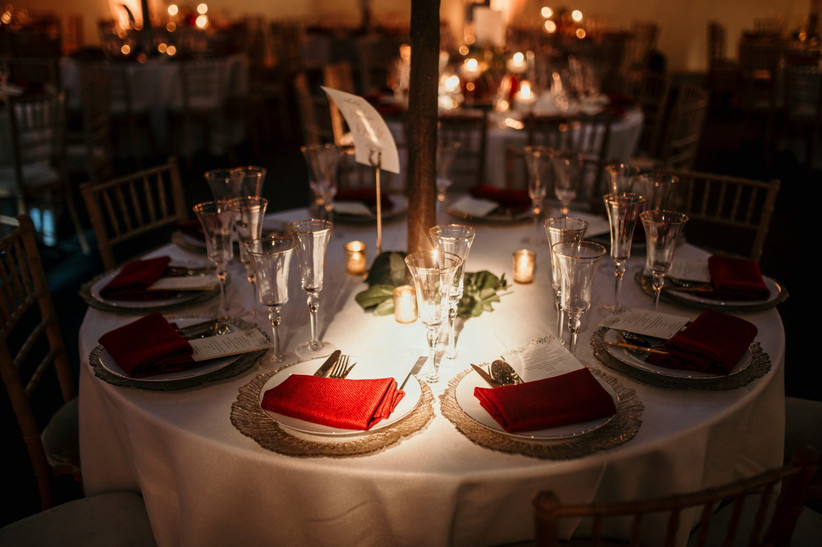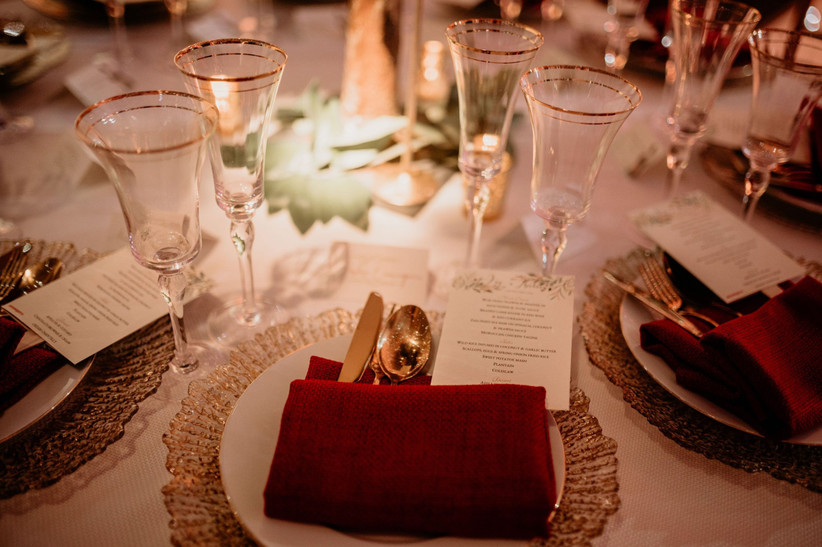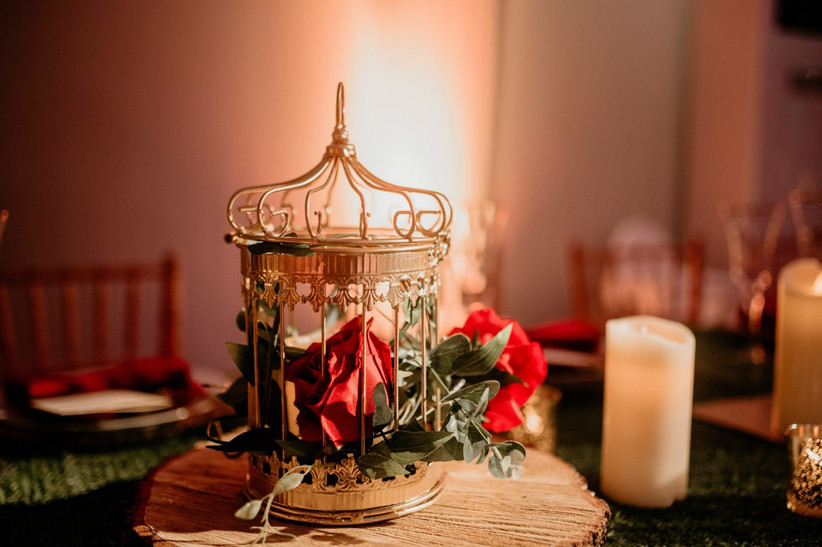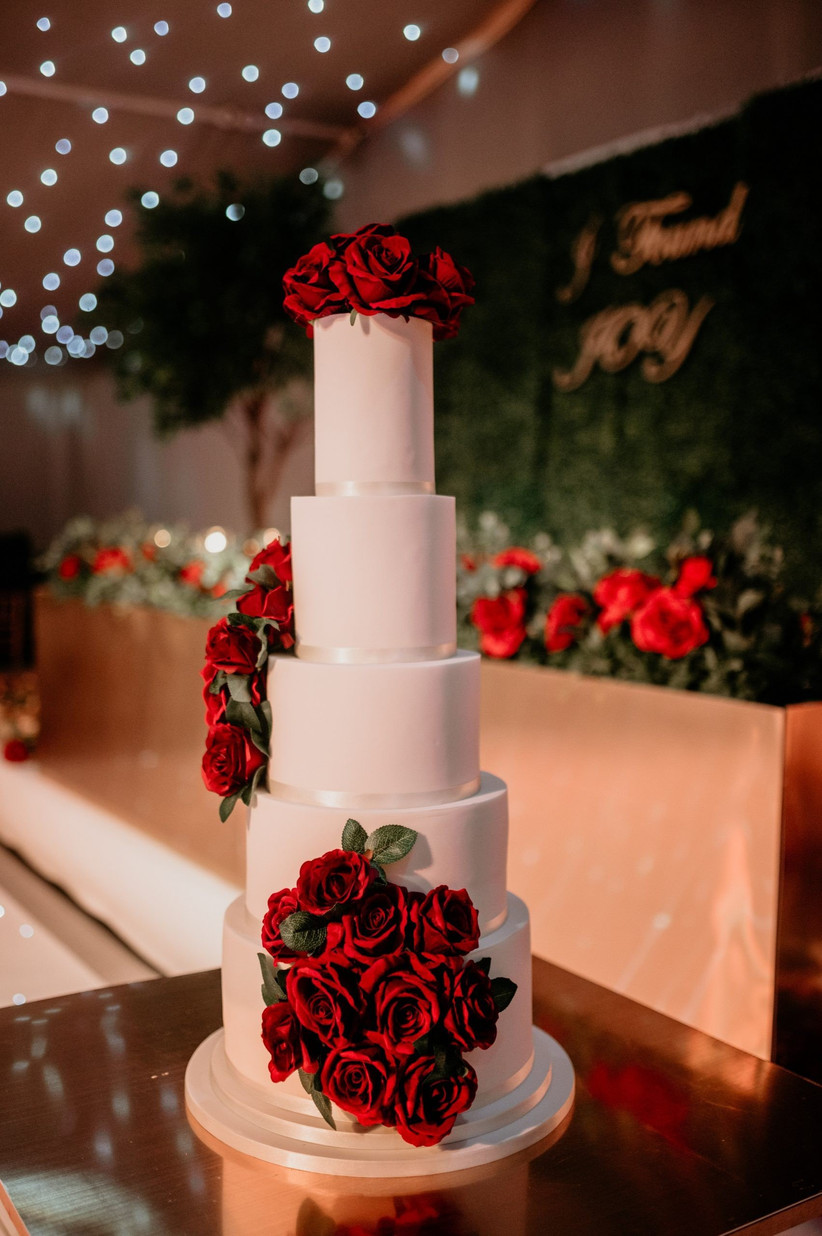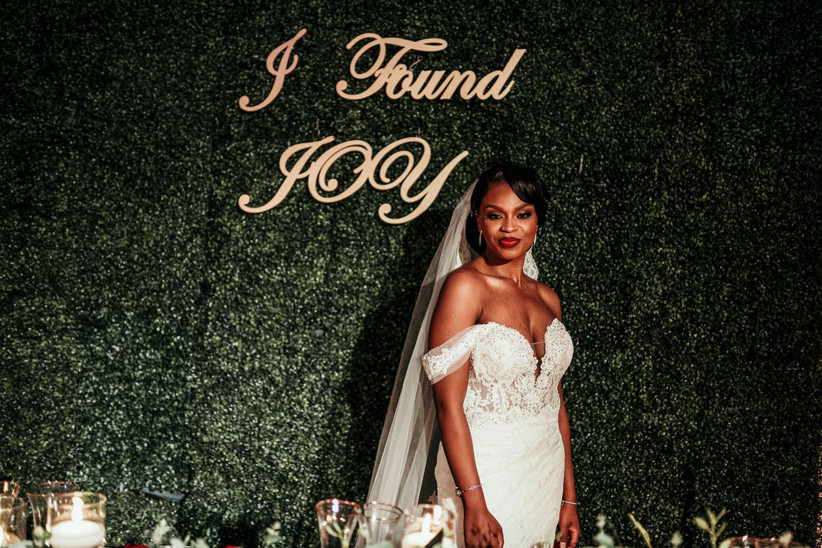 Entertainment
The couple hired a live band and a DJ to keep guests entertained. Their first dance was to the song Every Kind Of Way by H.E.R.
"We are both Nigerian so a traditional band was essential for our guests – especially at the beginning of the party. We chose a DJ because we love to dance. He was also a family friend of ours, Super MiDZ.
"It was a beautiful day. To see our family and friends having such a good time was the highlight of the reception. We enjoyed the church thoroughly too because we had put so much thought and time into considering what we wanted it to be like."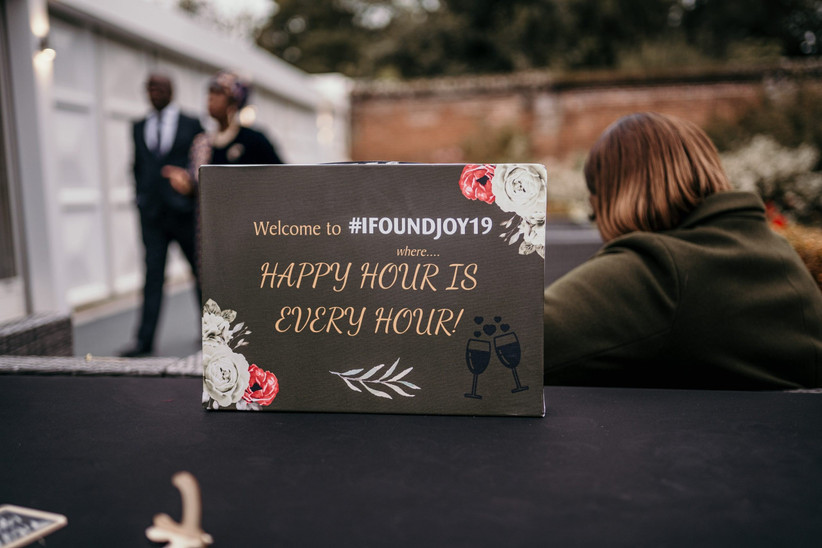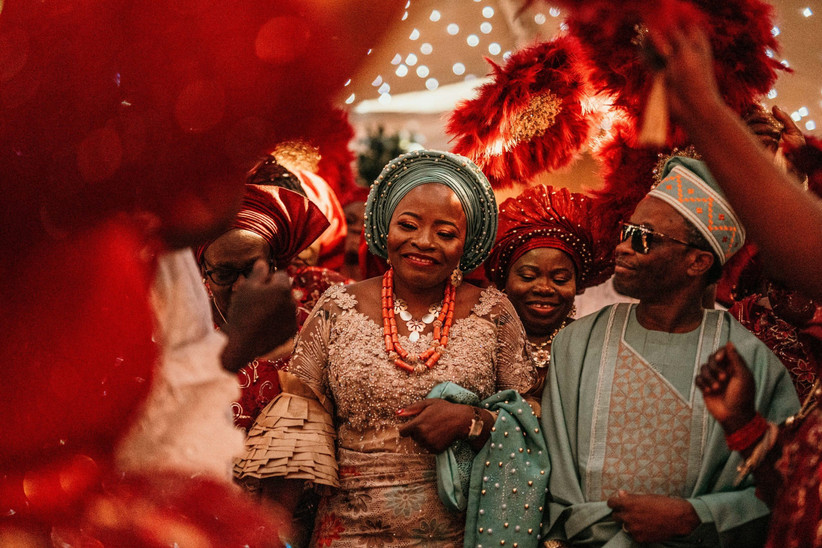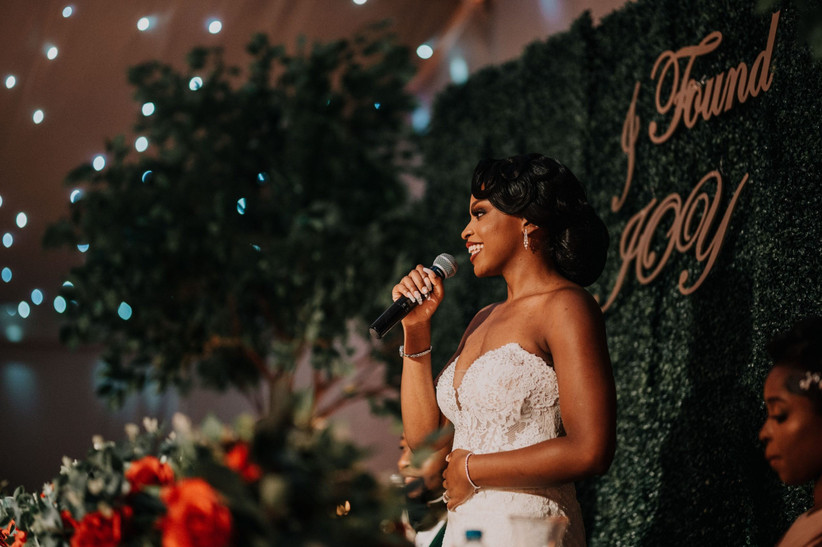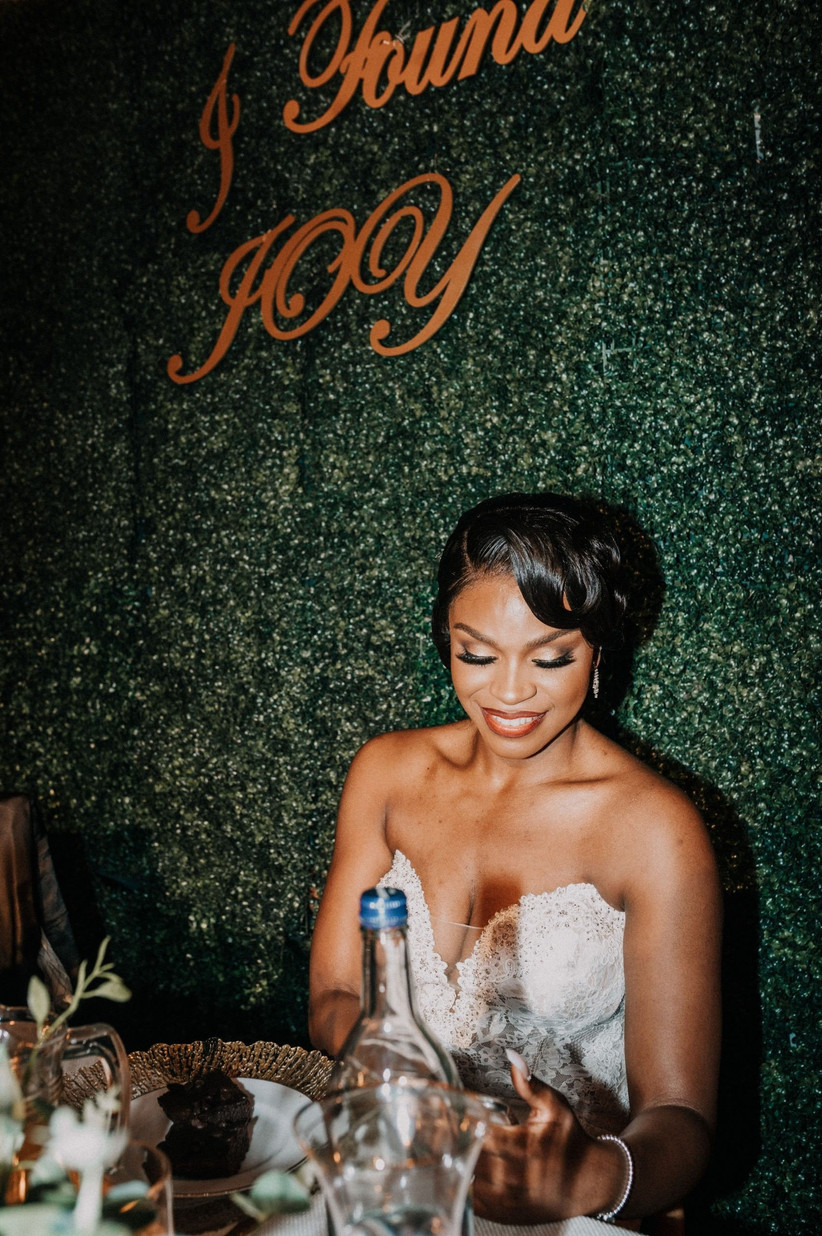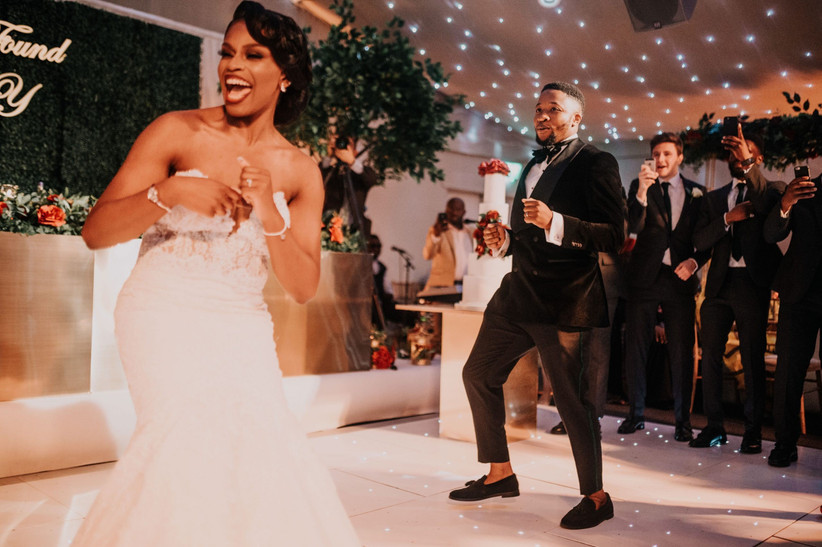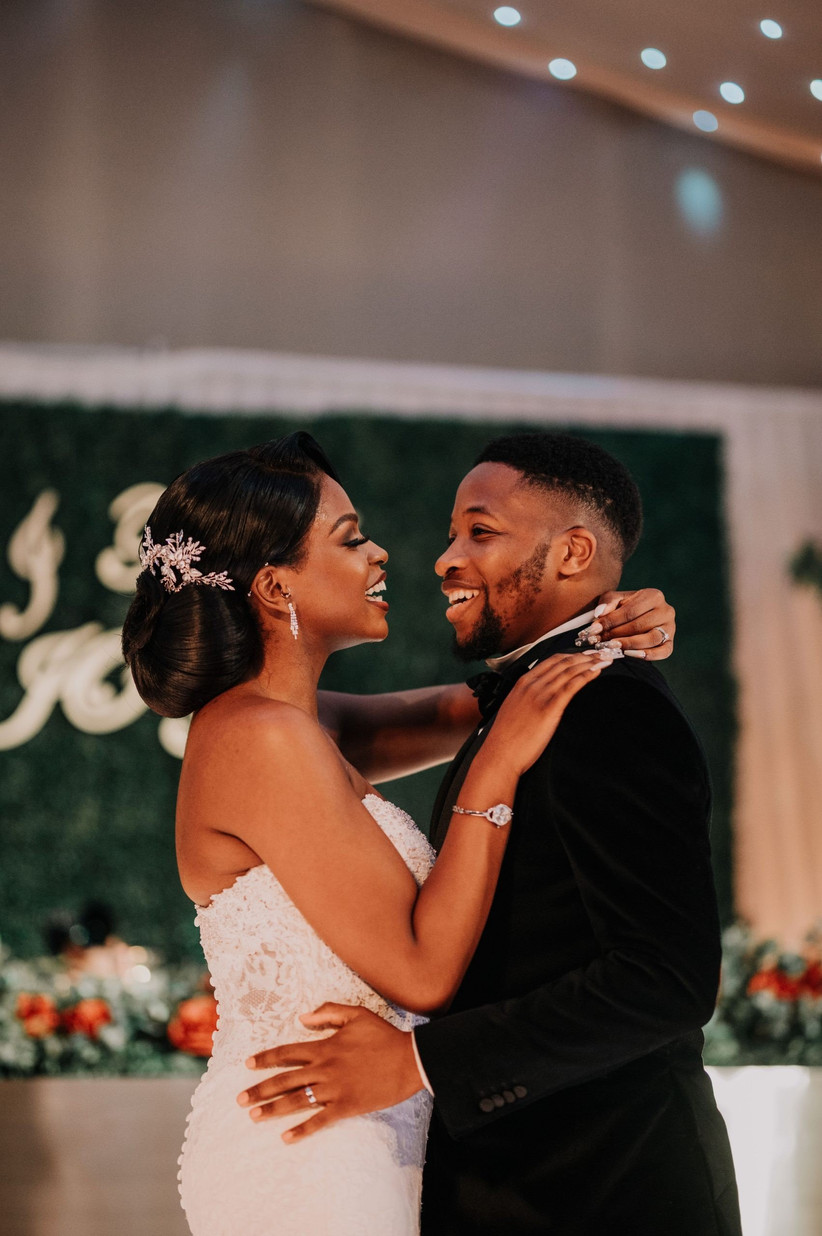 The Couple's Advice
After a honeymoon in Malaysia planned by Emmanuel, the couple have had time to reflect on what made their day so special.
"If I could change anything about our wedding day, I would try to relax more on the day and go with the flow. Stressing on the day doesn't help things get better!
"Our advice is that the marriage is more important than the day so invest in that where you can. For us, that meant making sure we had a date night every week, premarital counselling, and to stay communicative and connected throughout the process.
"The wedding day will come and go so try hard to stay within your budget and don't cripple yourselves financially for just one day. Enjoy every moment and spend in the right places (food, photography and drinks!)"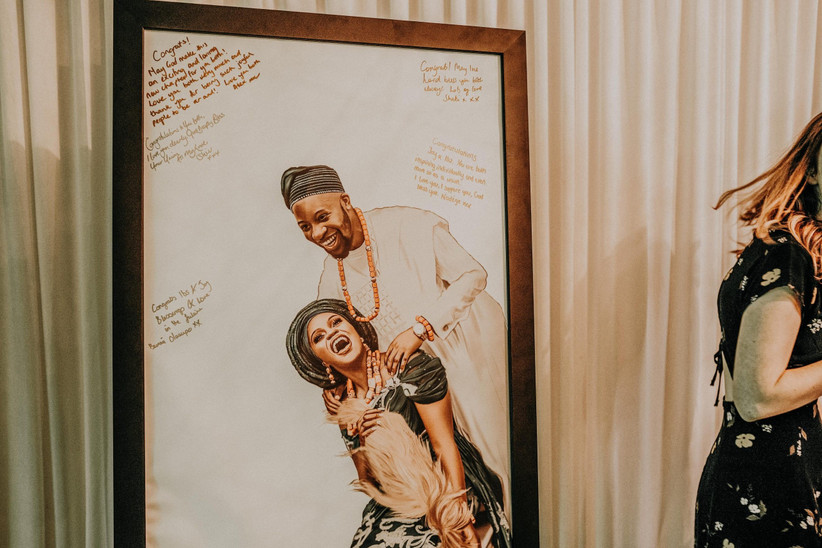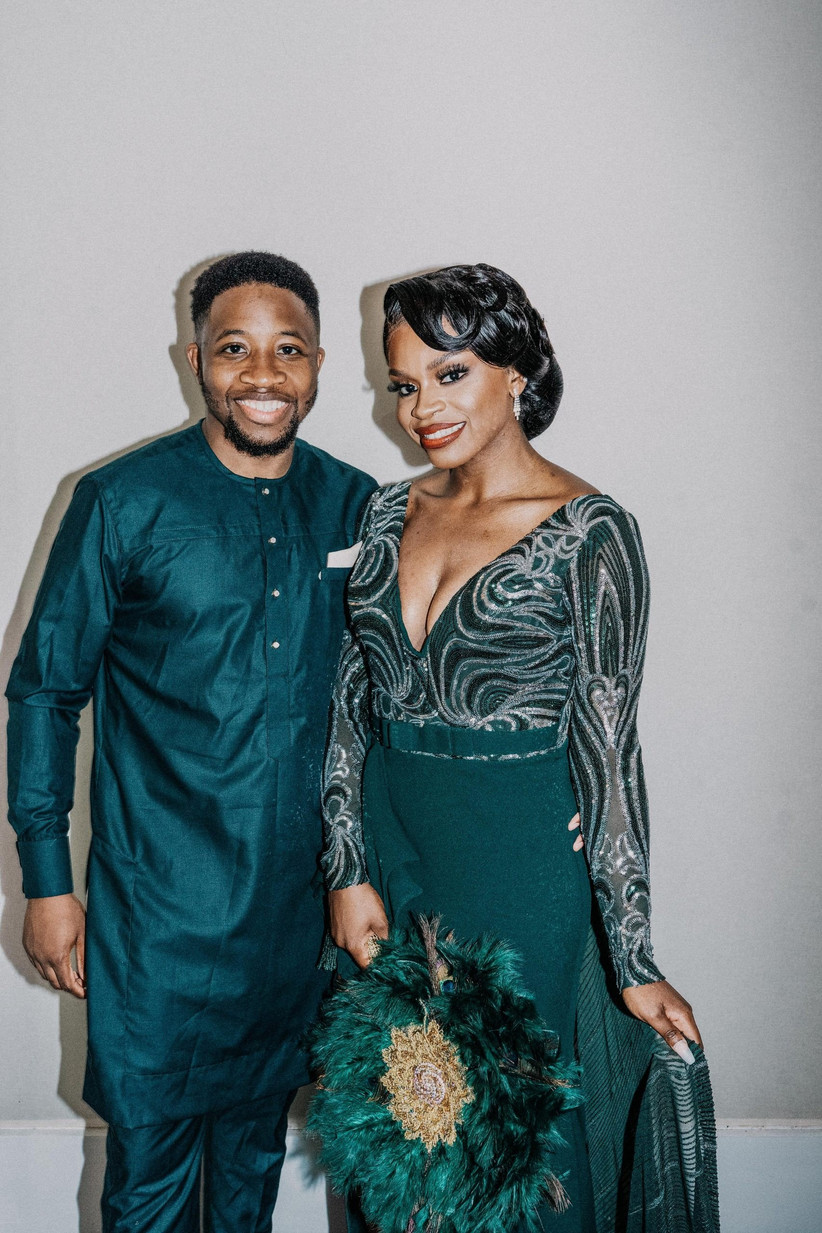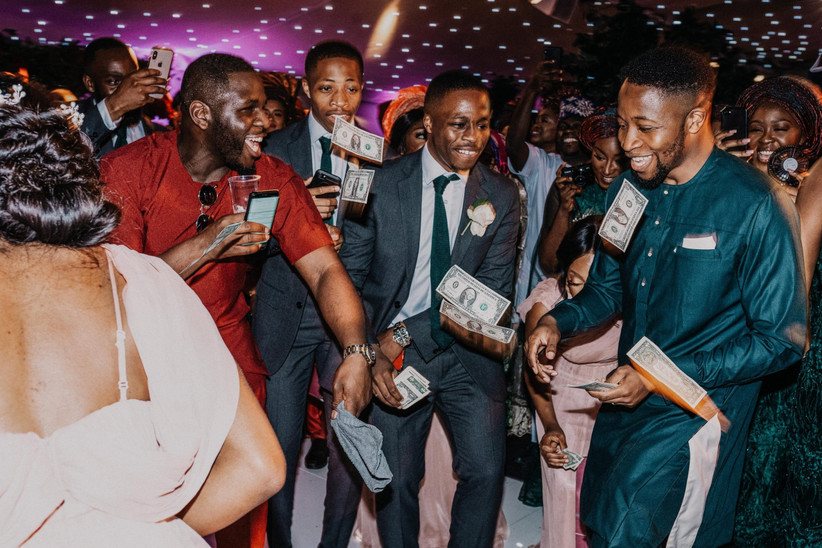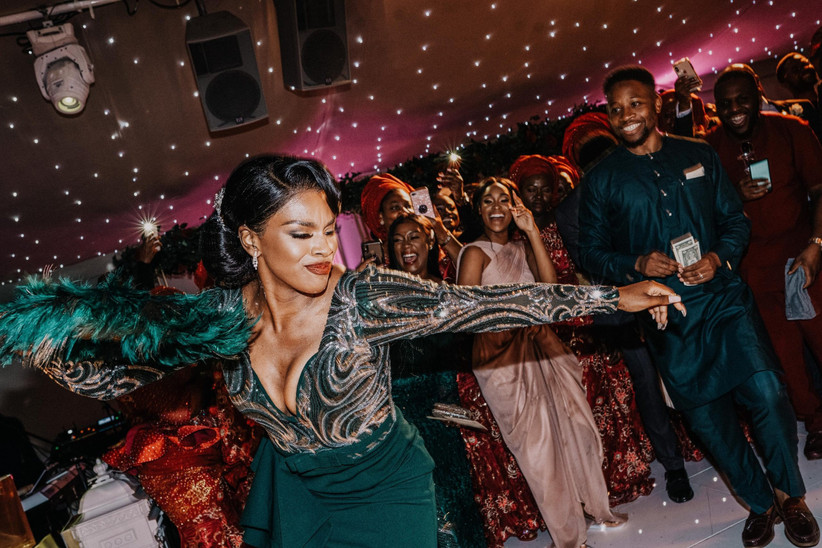 Suppliers
Photographer: E&O Photo
Ceremony and Reception Venue: The Conservatory at Painshill
Wedding Dress: Pronovias dress from Teokath of London
Accessories: Tiffany
Makeup: Lake Sanu
Hair: Virtuous Hair and Beauty
Bridesmaid Dresses: ASOS
Groomswear: Marks and Spencer
Wedding Cake: Mimitoyoucakes
Entertainment: Super MiDZ
Décor Hire: Designer Chair Covers To Go
Caterer: King Solomon's Catering
A huge thank you to Joy and Emmanuel for allowing us to share their gorgeous big day!