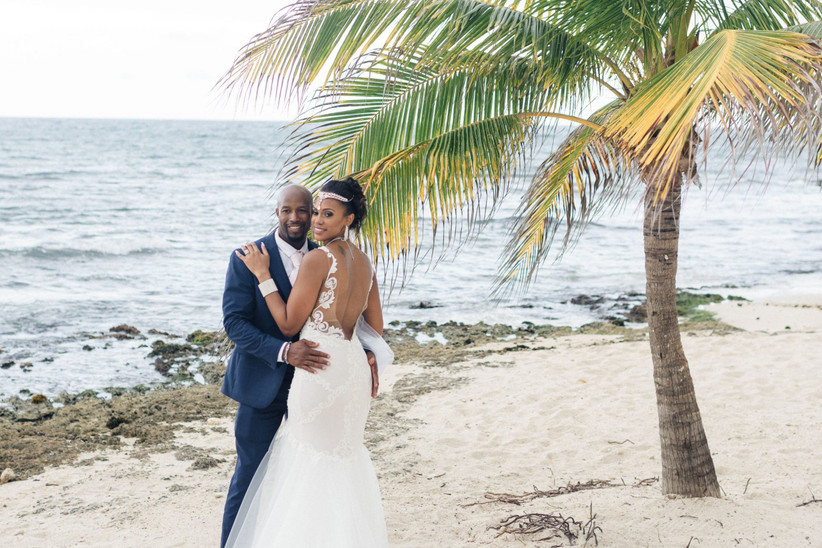 With a shared Jamaican heritage and a desire to say 'I do' under a guaranteed sunny sky, Miranda and Anthoney chose to marry at the breathtaking Grand Palladium Lady Hamilton Hotel, Jamaica in a seafront gazebo ceremony surrounded by family and close friends.
Miranda and Anthoney first met through friends and reconnected at a party after a long time of not seeing each other. "We arranged to catch up the following day with a few friends over dinner at my house. Anthoney was the last guest left and we continued catching up and having a drink. At this time, he told me that he had feelings for me followed by a kiss and then asked me on a date.
"A few days later we went to Leicester Square for dinner and drinks, laughed like never before and the rest is history!"
Both are hugely family-orientated, something that was reflected in Anthoney's surprise, festive proposal. "On the evening of Christmas Day 2015, whilst the whole family was around the dinner table, I was talking to my mum on the right side of the table. I heard my sister suddenly gasp so loud with excitement that I turned to her direction on the left and saw Anthoney down on one knee with a boxed ring in his hand and a big grin on his face.
"He then went on to say, 'Miranda, I love you so much, will you be my wife?' I was shocked as I didn't expect it to happen, especially on Christmas Day, so I started laughing whilst saying 'Aww, look at the ring' … leaving him hanging with no answer!" Thankfully for Anthoney, he soon got his yes!
"It was really special as we are a blended family with children from previous relationships and they were there to witness it as well as my immediate family," said Miranda.
Just over three and a half years later, in August 2018, Miranda and Anthoney tied the knot in a sun-soaked outdoor ceremony overlooking the Caribbean Sea.
Photographer: Nkima Photography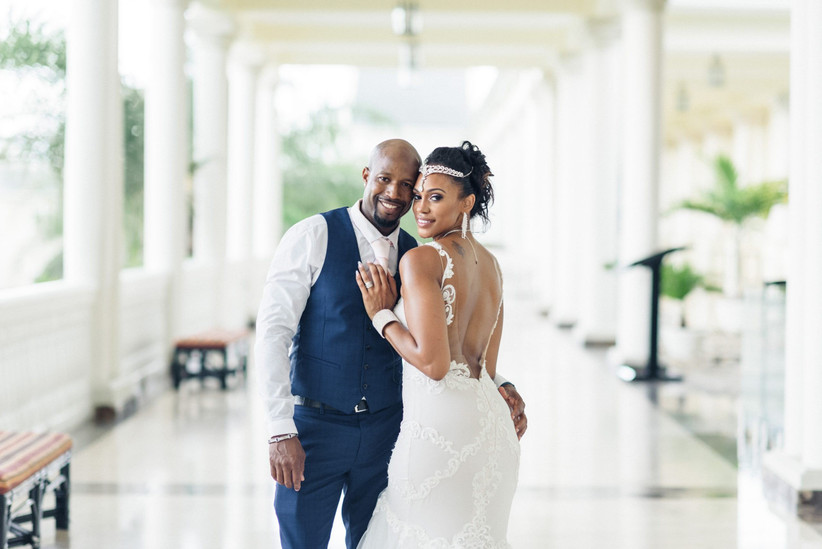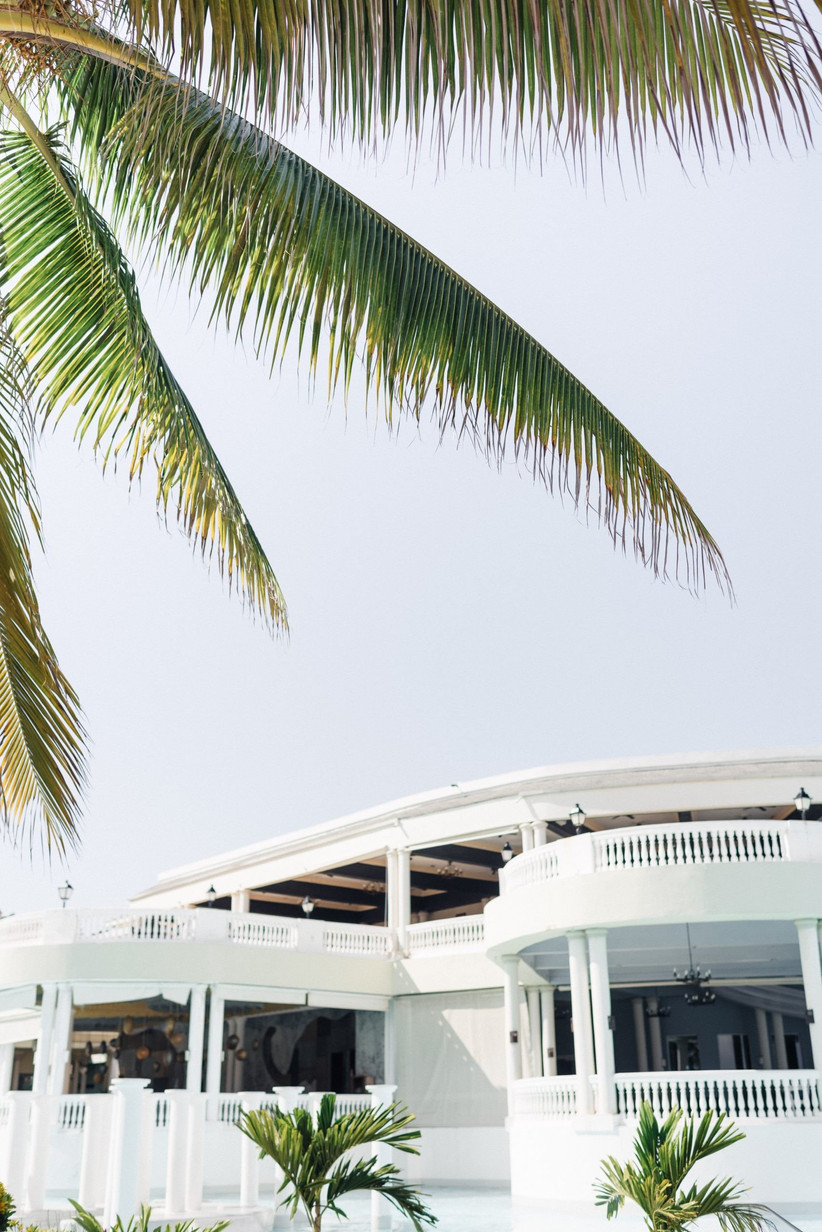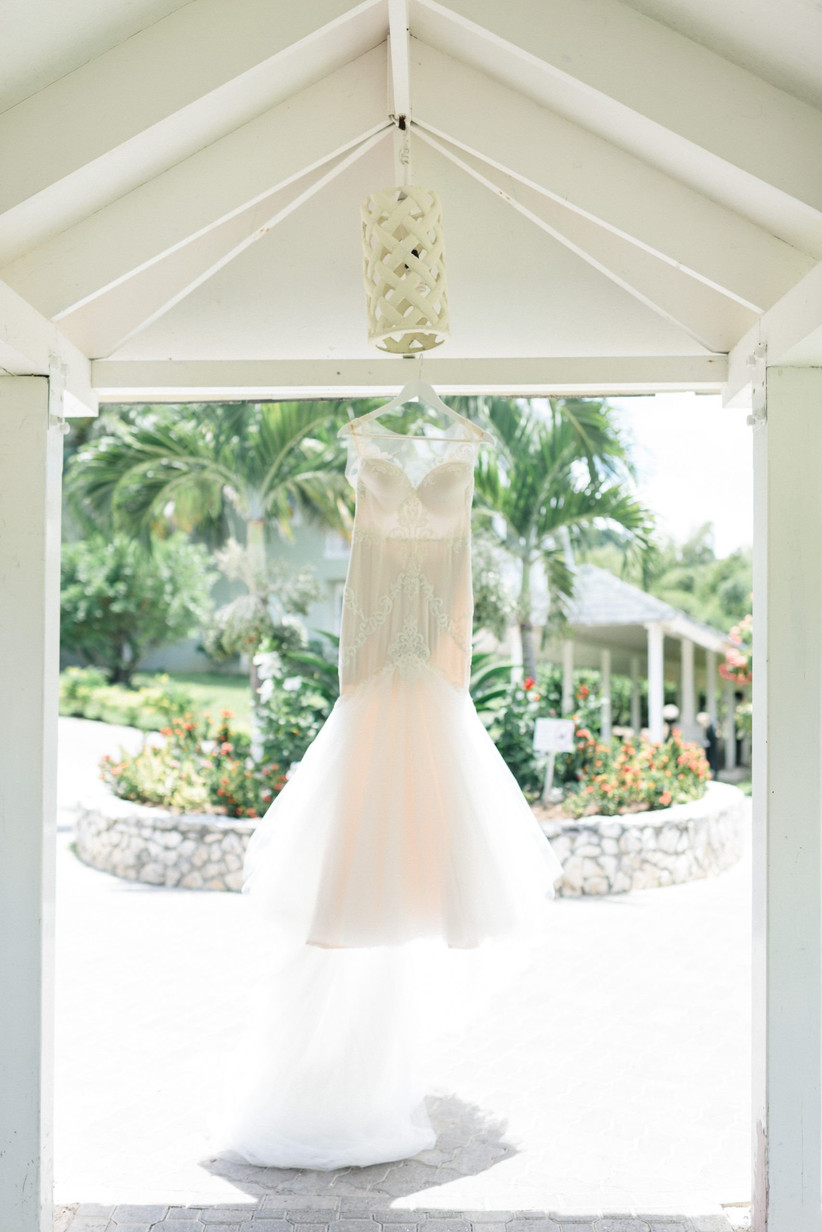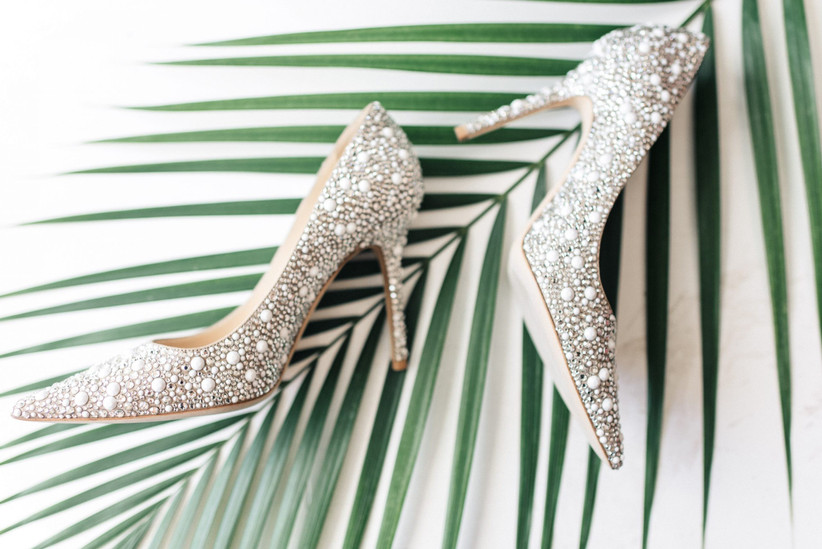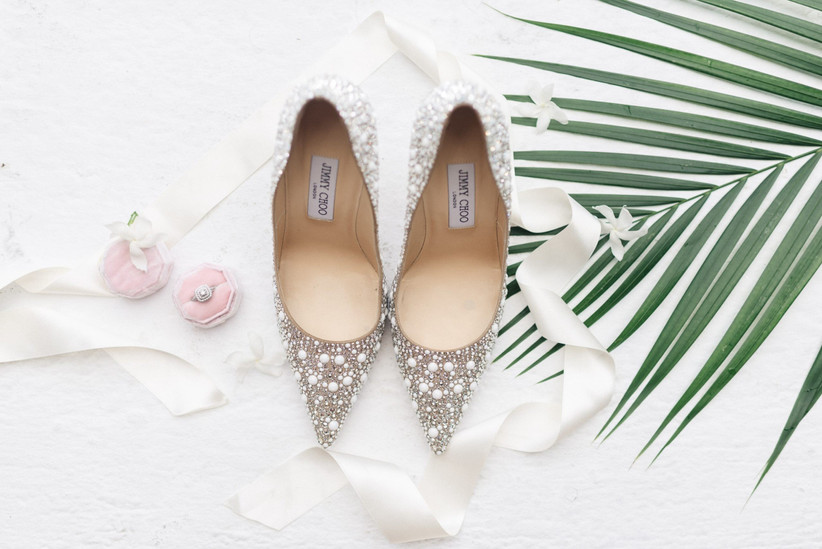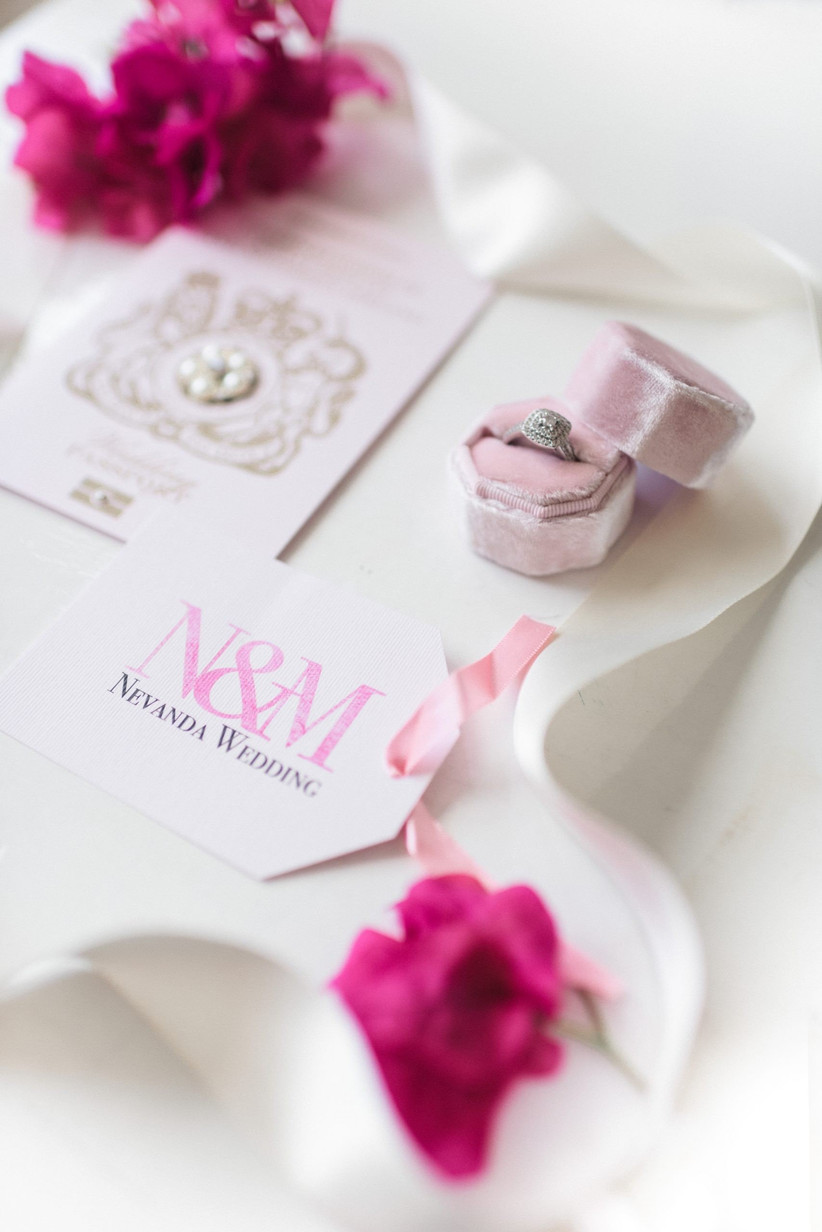 The Wedding Dress
Miranda had a good idea of the kind of dress she wanted to wear on her big day, narrowing down her choice to a fitted lace style. The bride's dream dress was found at a Julie Vino trunk show at Serendipity Brides in Northampton.
"I only went to the one store and picked out five dresses to try on. The lady who was there doing the Julie Vino trunk show said the last dress I picked was the one for me! However, I still tried on all five of my choices and the moment I had on the last dress and turned to look in the mirror, I just knew it was perfect for me.
"I went with my mum, two daughters and sister and when I came out with this dress on my mum started crying and set the rest of the girls off. It was a done deal at that point! My mum paid a deposit down on the dress straight away."
The ivory, fitted, fishtail dress was accessorised with a mid-length veil, with added gems, a statement headpiece that draped over Miranda's forehead, a necklace and glamorous dangly earrings.
"I've always had in my head how I would want to look on my wedding day. I love Indian weddings and all the jewellery the brides wear, so my inspiration for my jewellery was from that."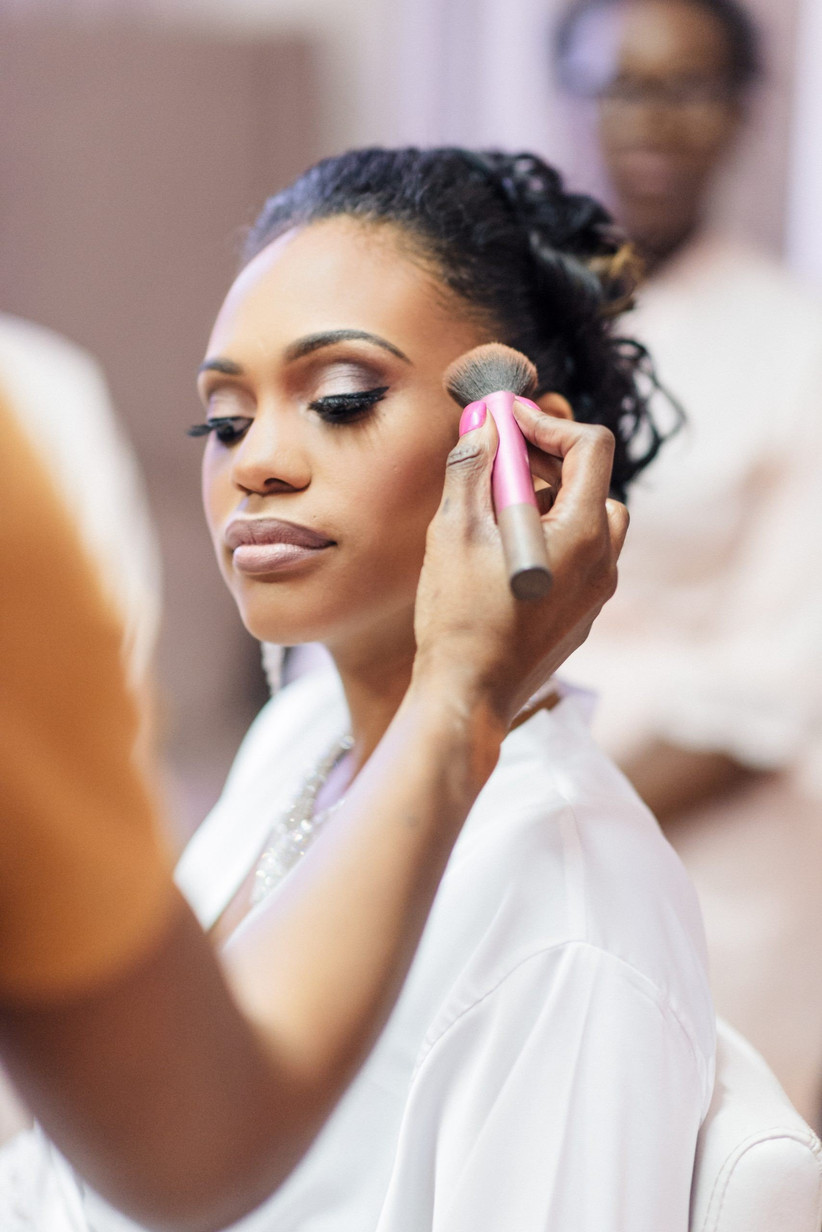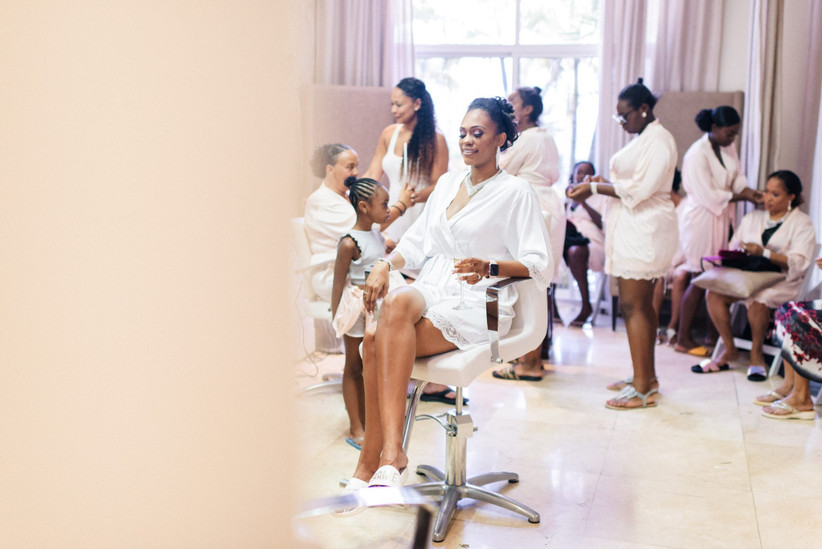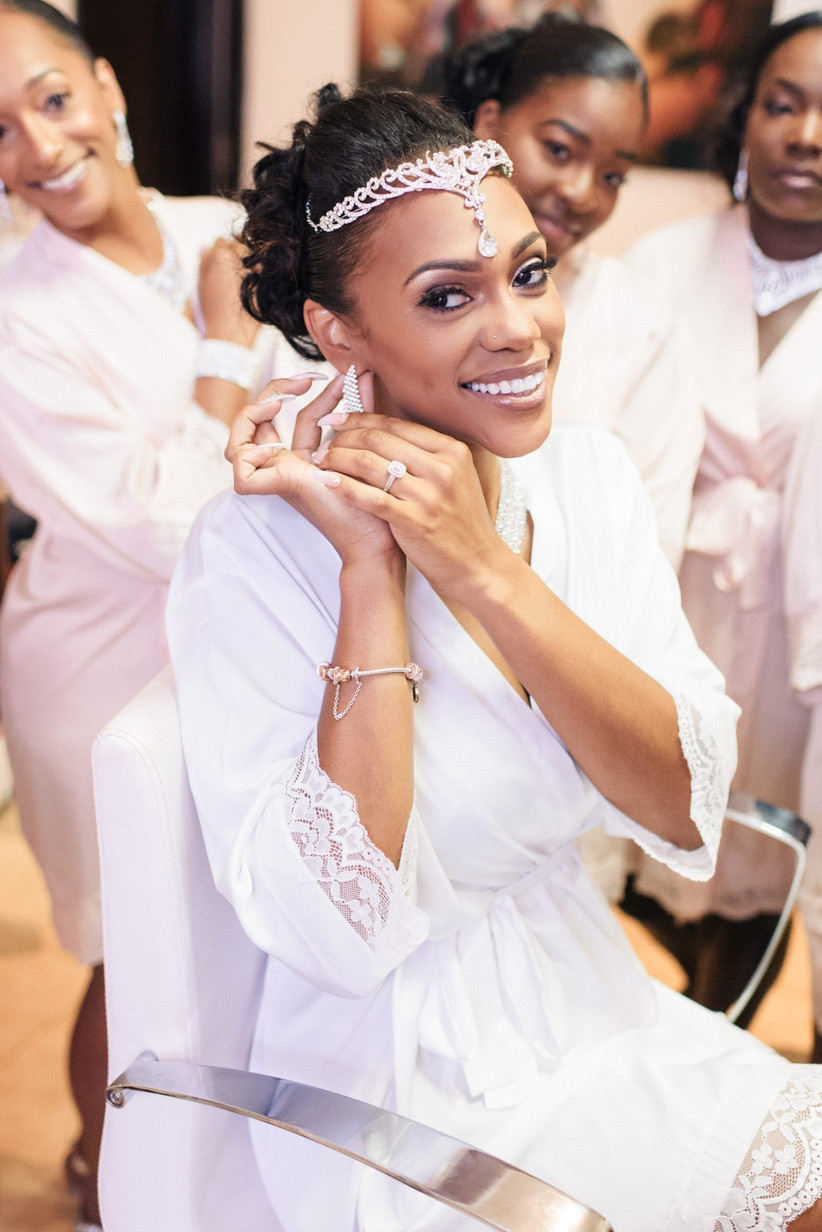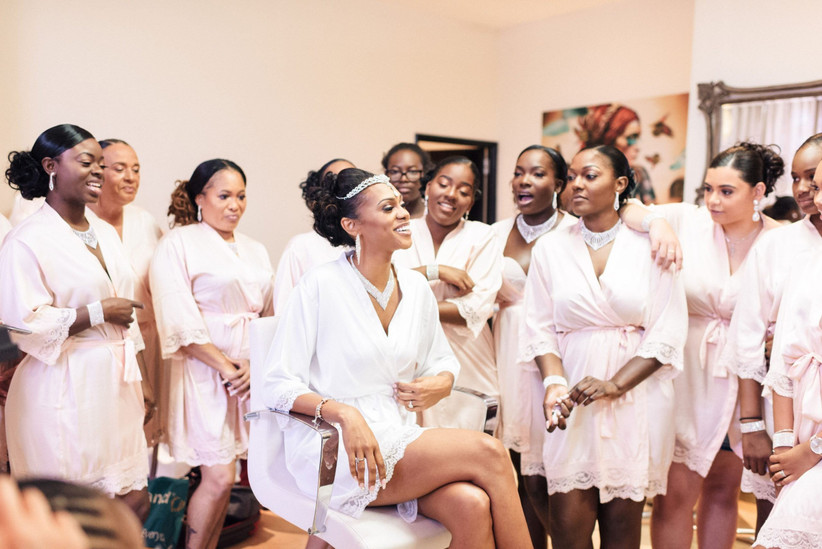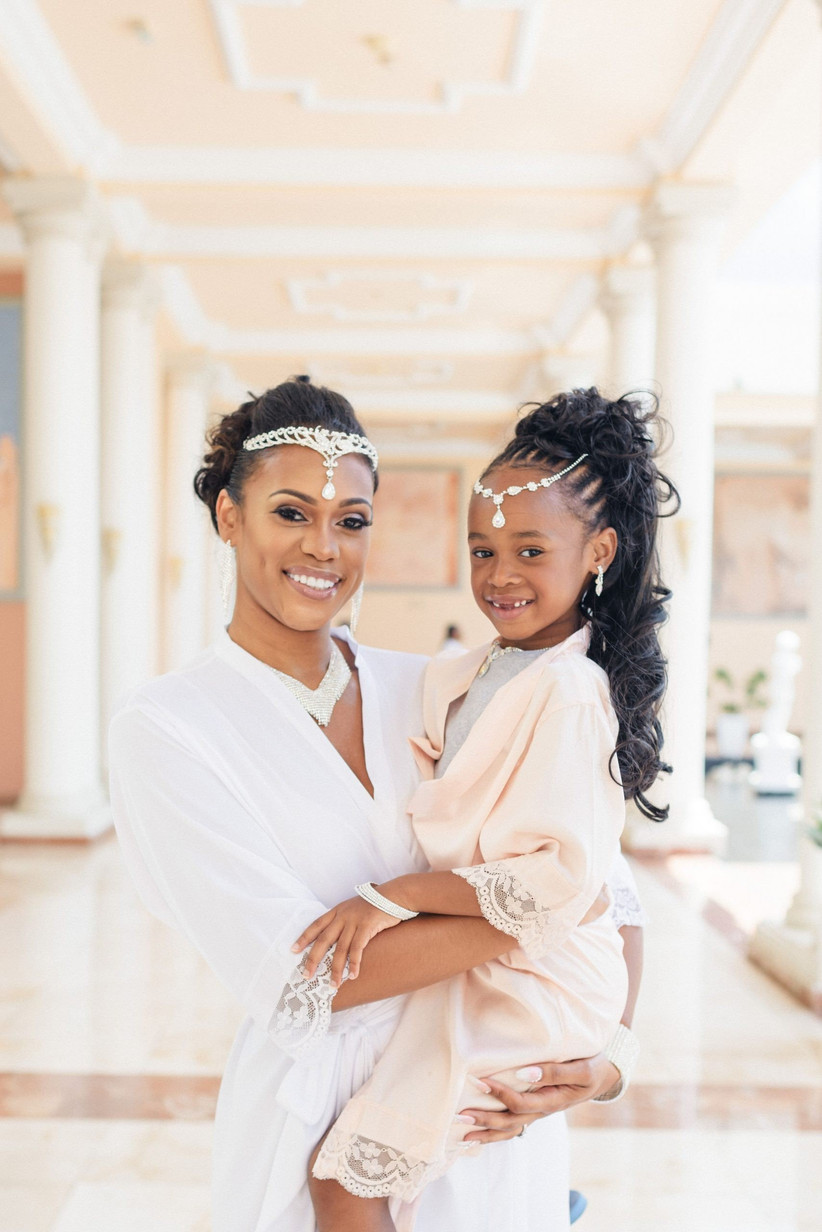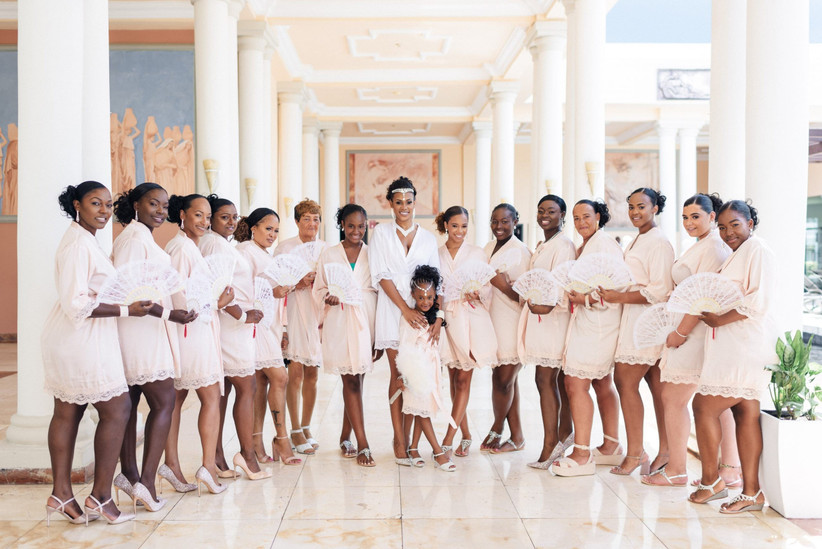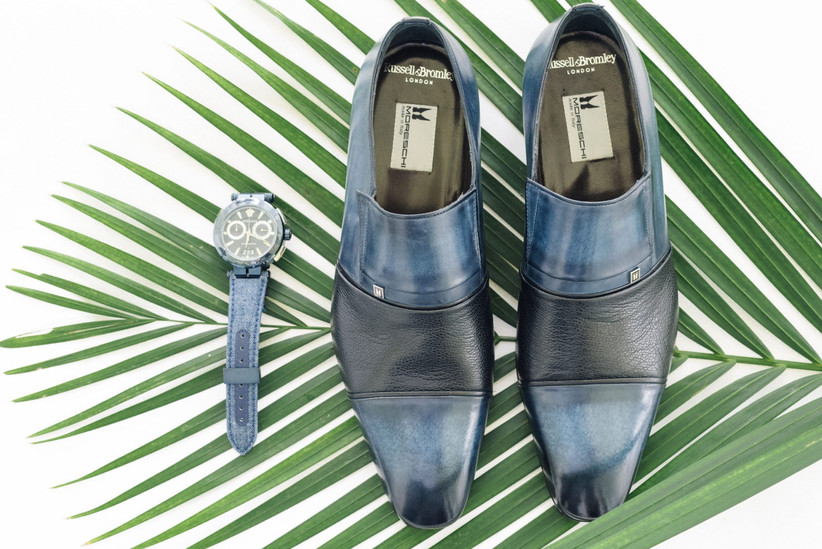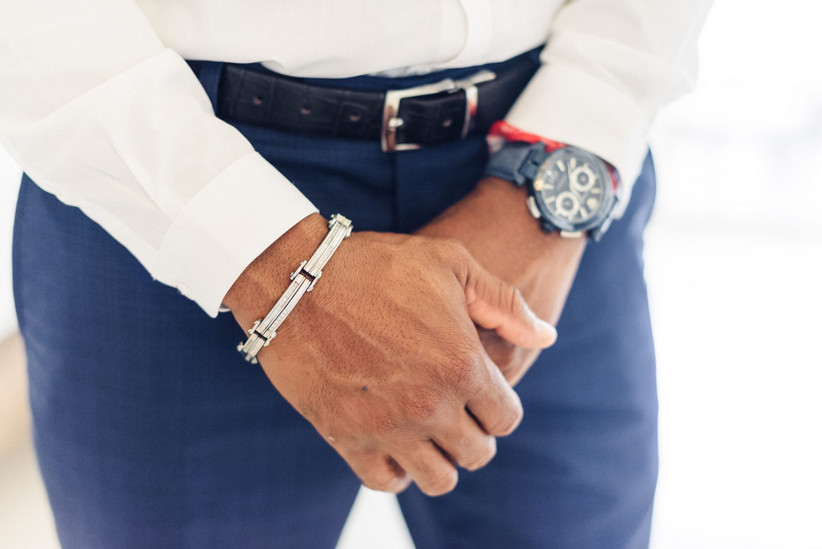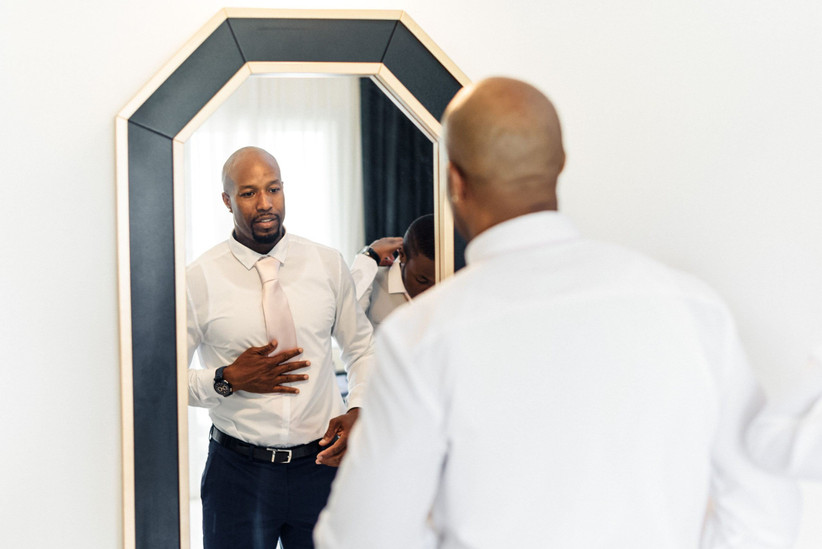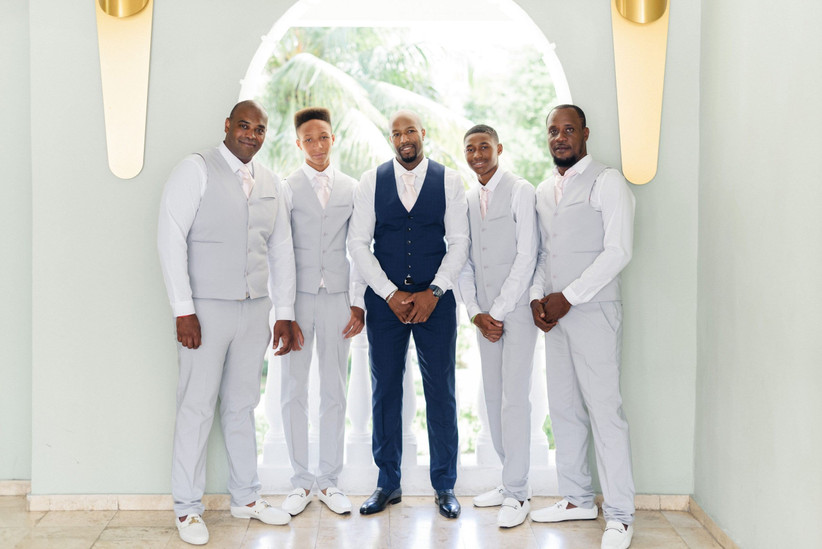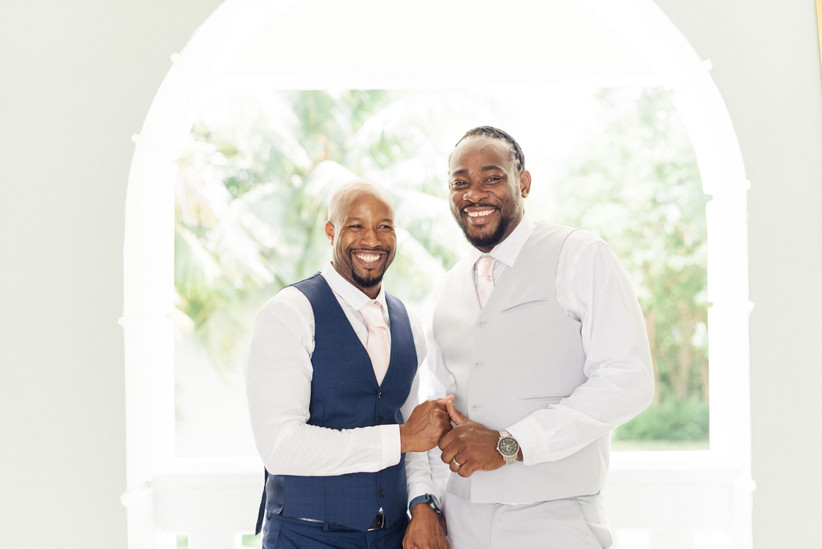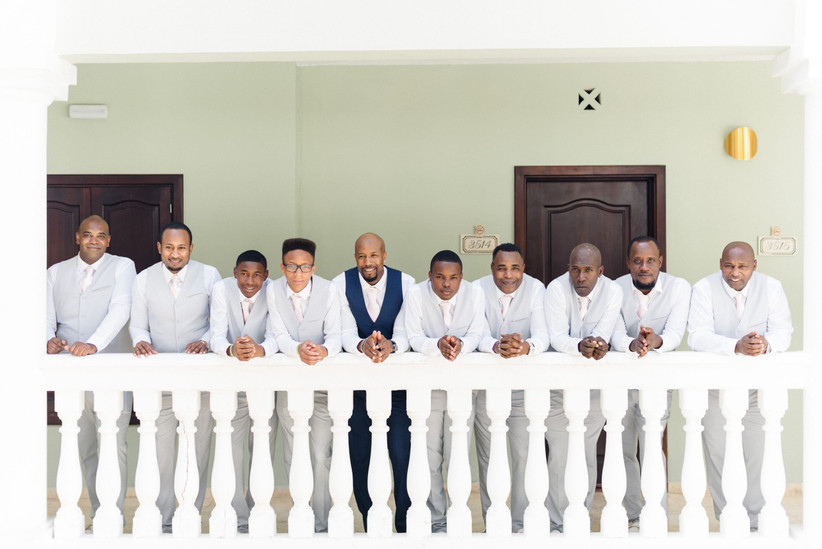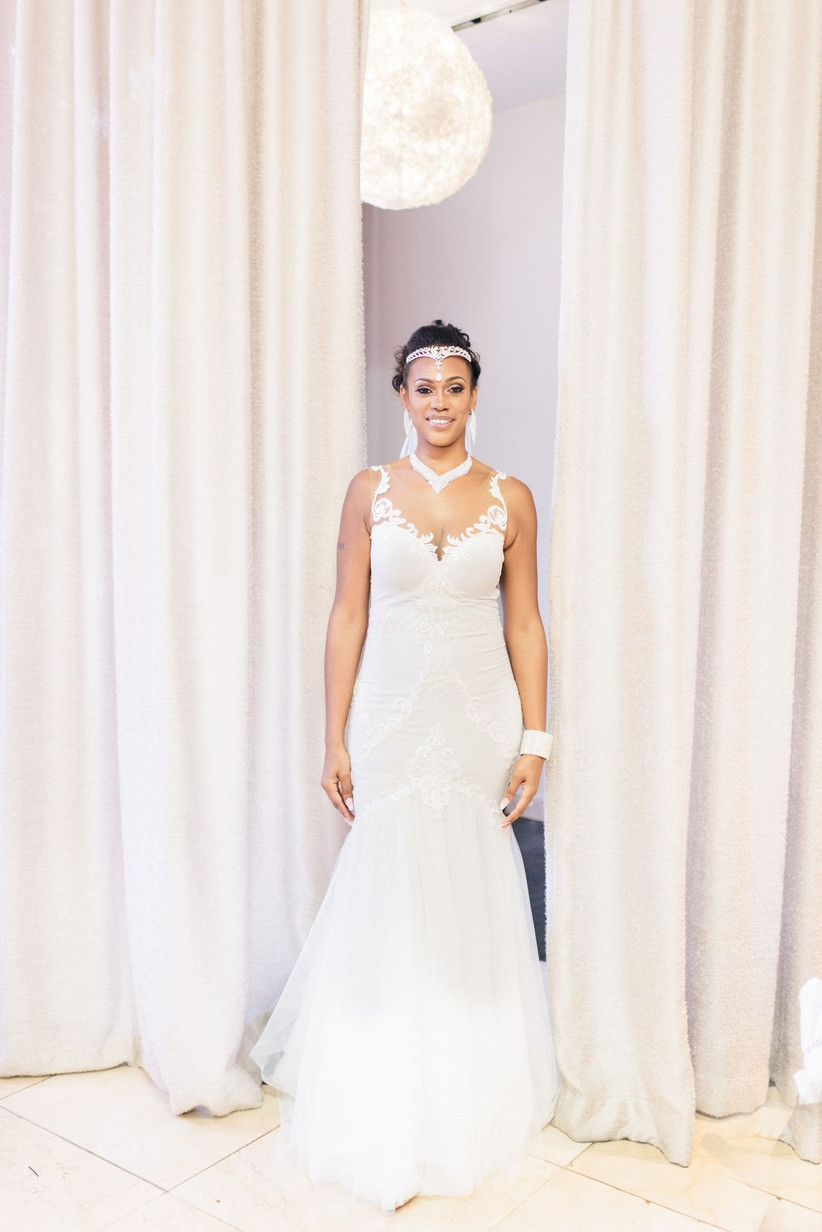 Bridal Beauty
Miranda's bridal beauty look featured glamorous neutrals, with a soft smoky eye, classic black liner and fluttery lashes, finished with glowing skin and a nude lip.
The bride's hair was pulled back into a softly curled up-do and finished with her stunning, sparkling headpiece and veil.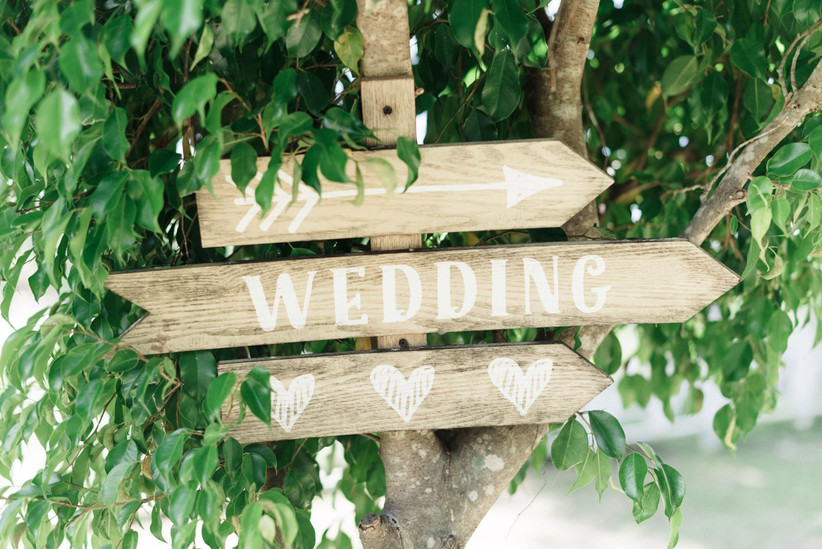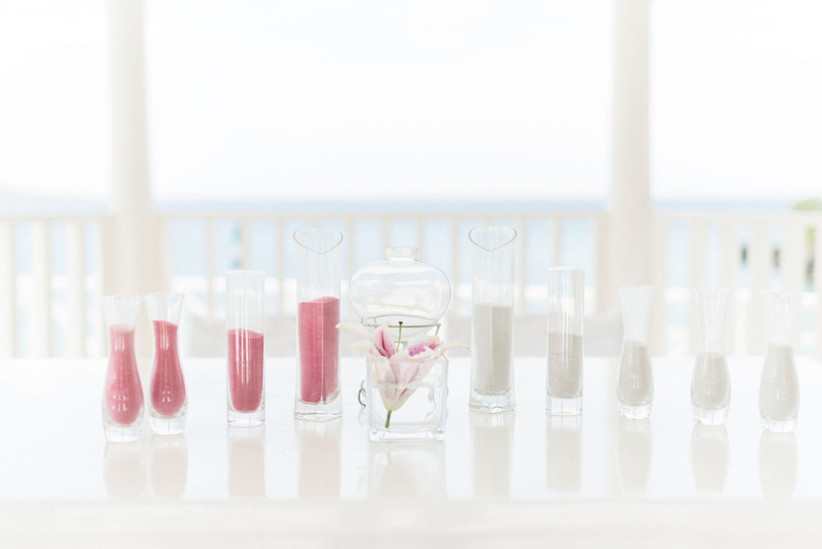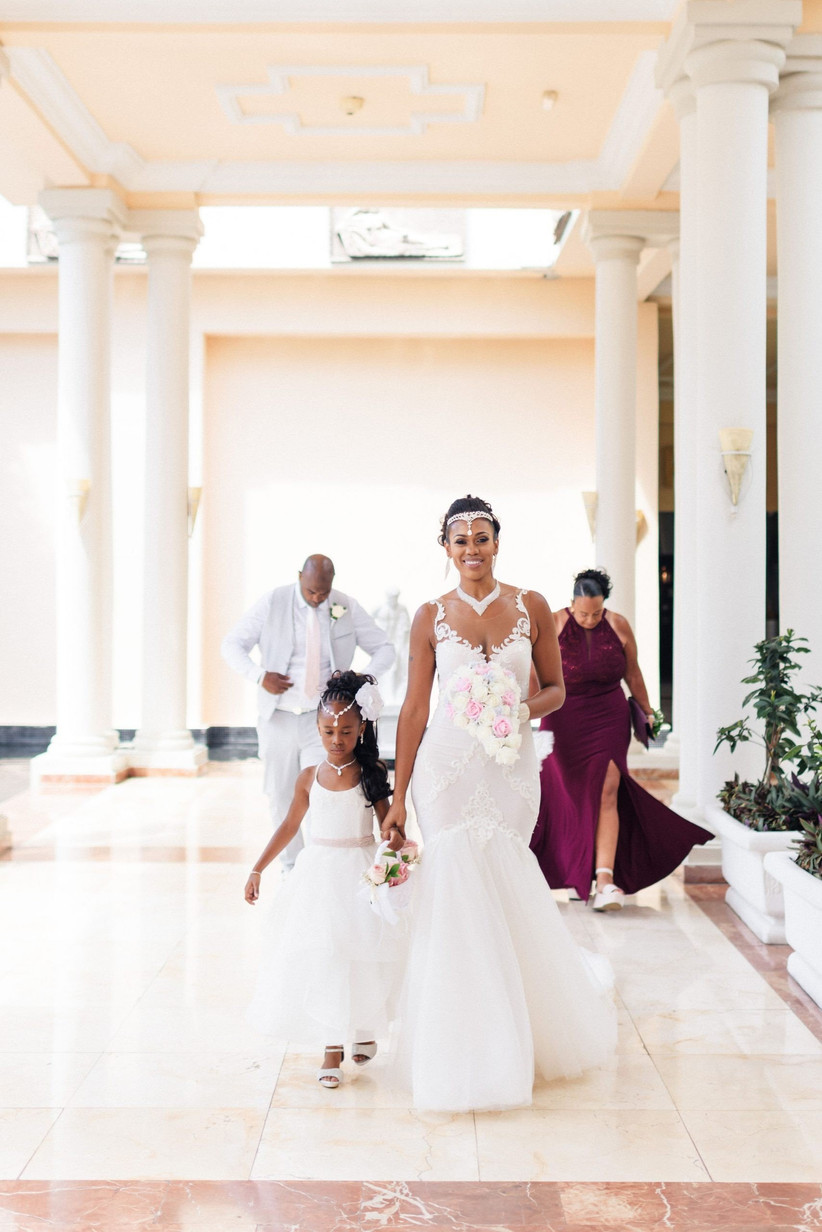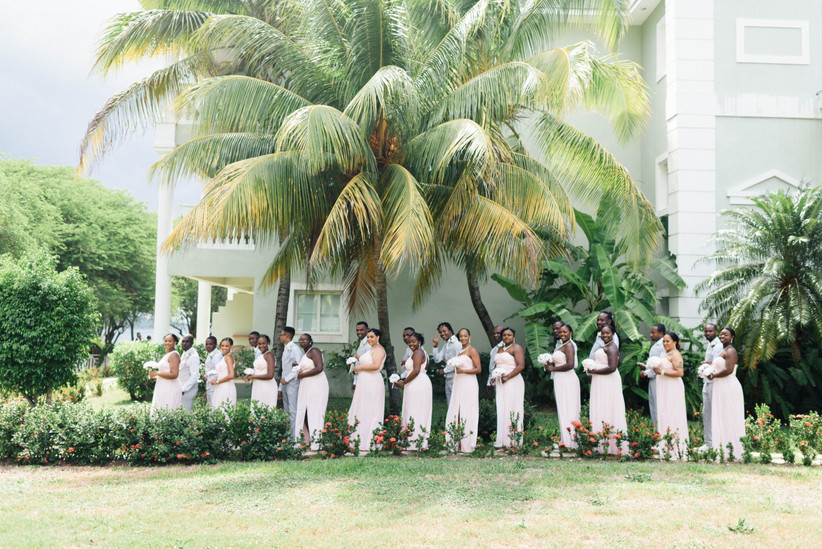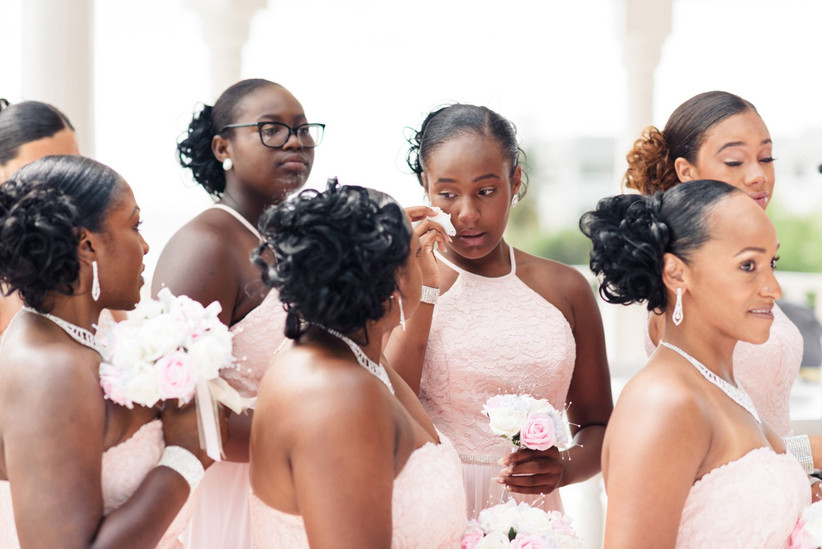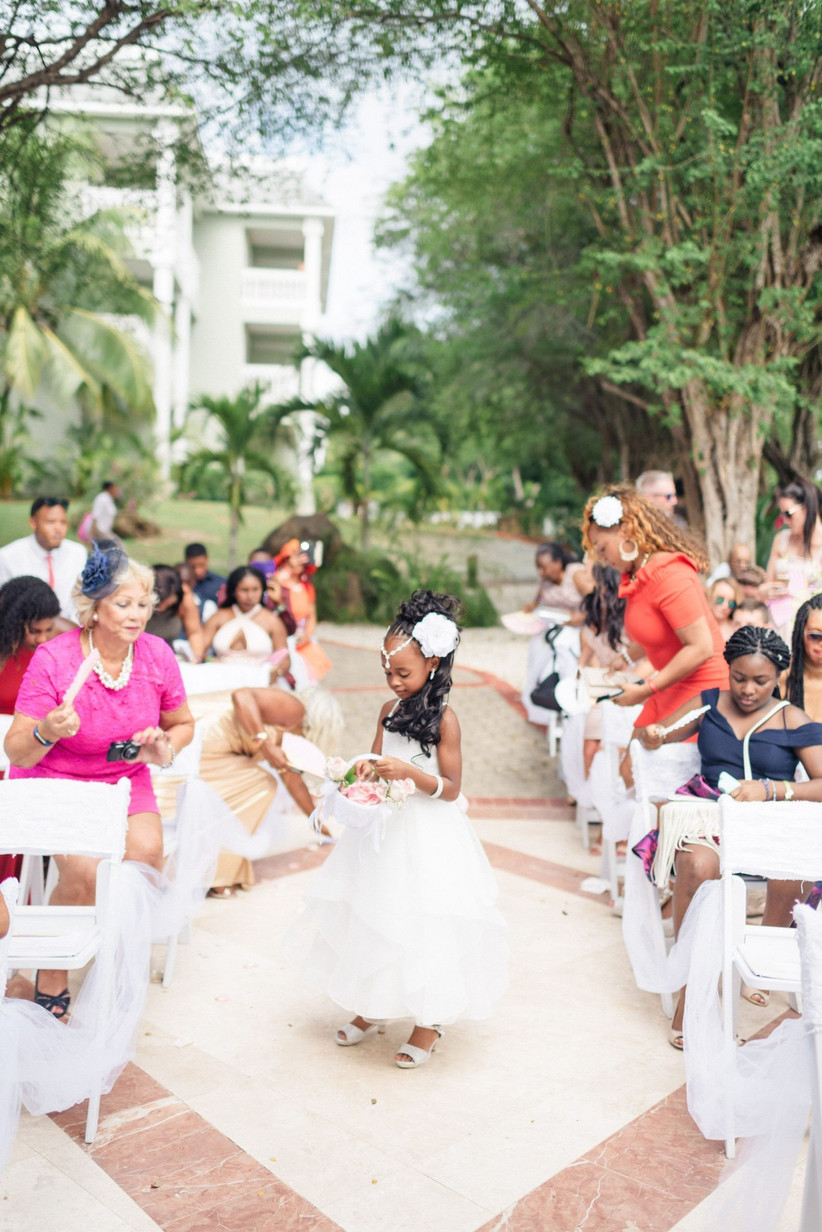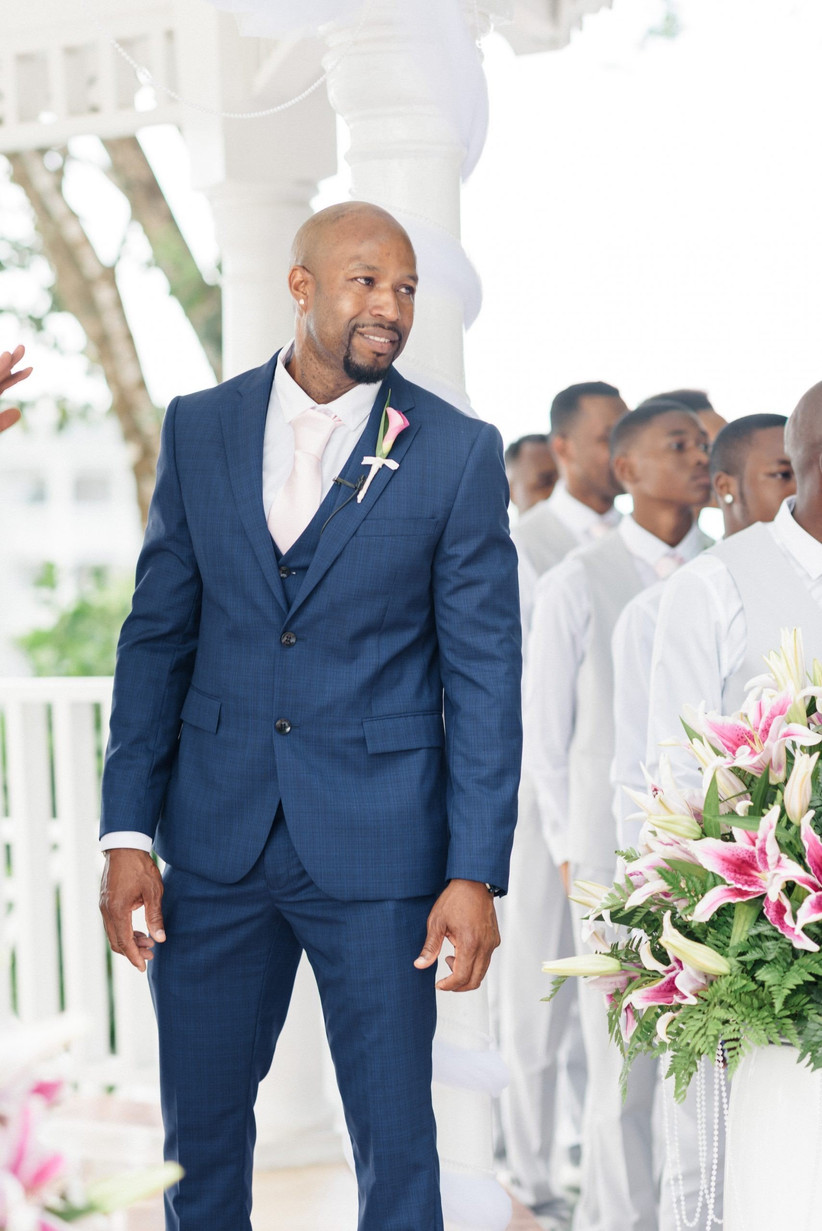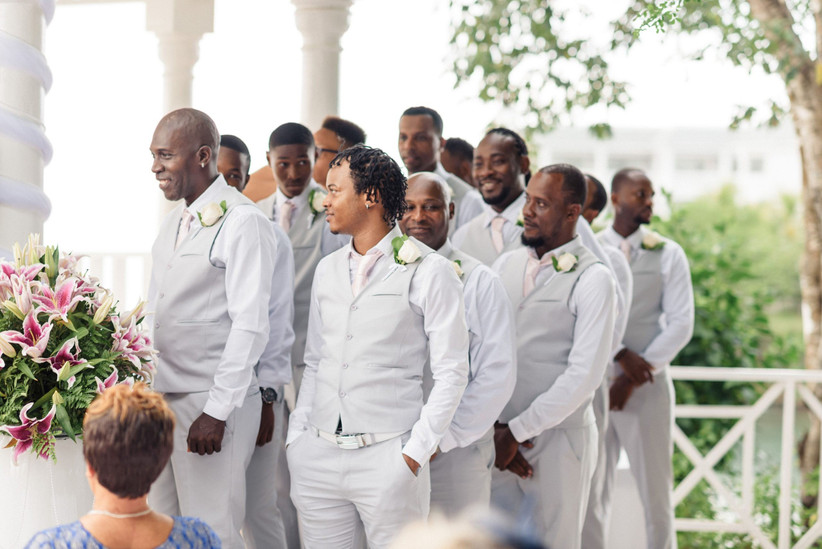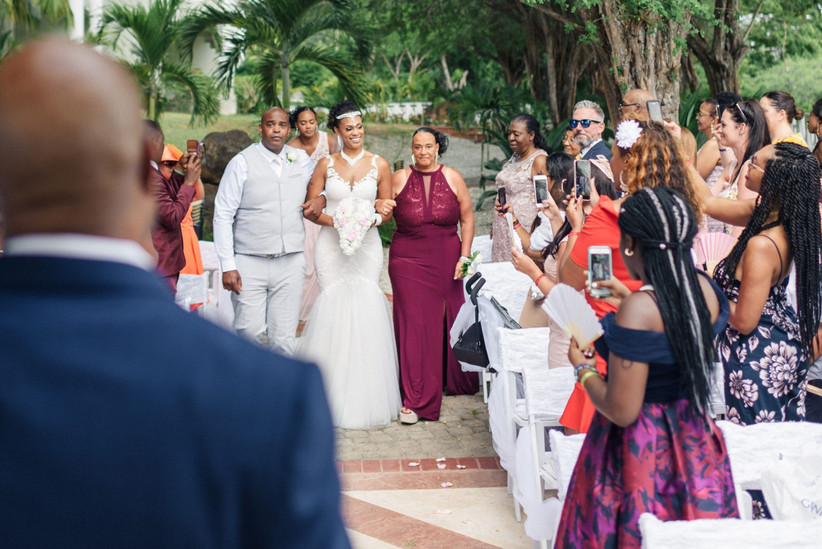 The Wedding Party
Miranda's bridesmaids wore pink chiffon gowns from David's Bridal and her flower girl – youngest daughter Nevaeh – was dressed in ivory lace to match her mum. She even wore a matching dangling headpiece and jewellery!
"I customised a pink ribbon adding diamantes to make a belt for that extra glamorous element. Nevaeh also had diamante head jewellery with matching earrings, necklace and bangles, all complemented with an ivory flower in her hair.
"I had a mix of adults and teenagers as my bridesmaids. Although I wanted them all to look the same, I also didn't want the younger bridesmaids to look older than they are. With this in mind, I chose a store that could cater to this. I was able to pick three variants of the same colour baby pink long dress.
"My Maid of Honour had a one shoulder strap dress, my adult bridesmaids had strapless dresses and my teenage bridesmaids had high halterneck dresses. All bridesmaids also had customised diamante belts, with matching earrings, bangles and necklaces with the exception of the teen bridesmaids as their high neck dresses did not allow for necklaces."
Anthoney wore a navy, three-piece DKNY suit with a pink tie to match the bridesmaid's gowns while his groomsmen wore the same ties with their ice grey suits.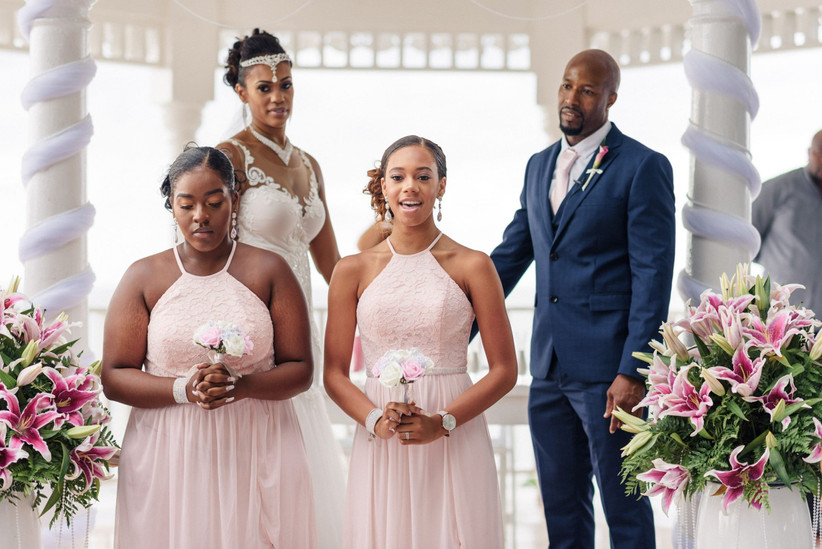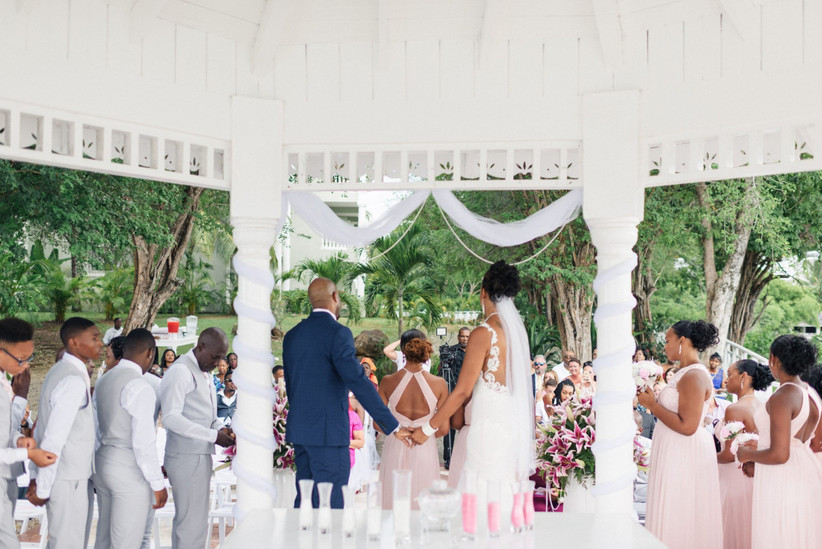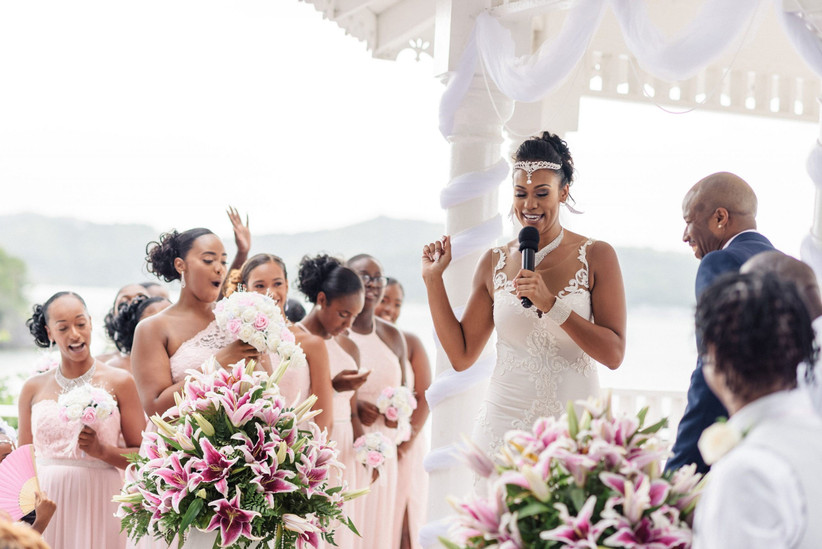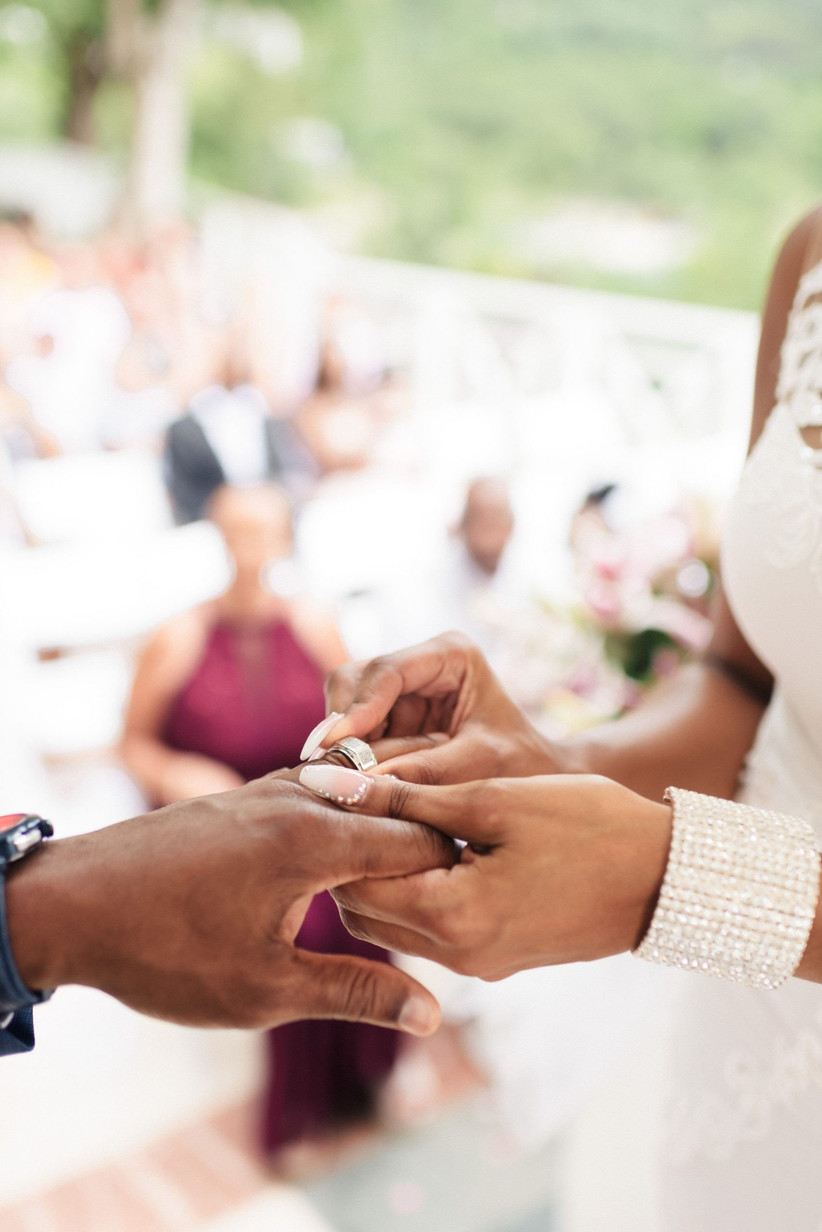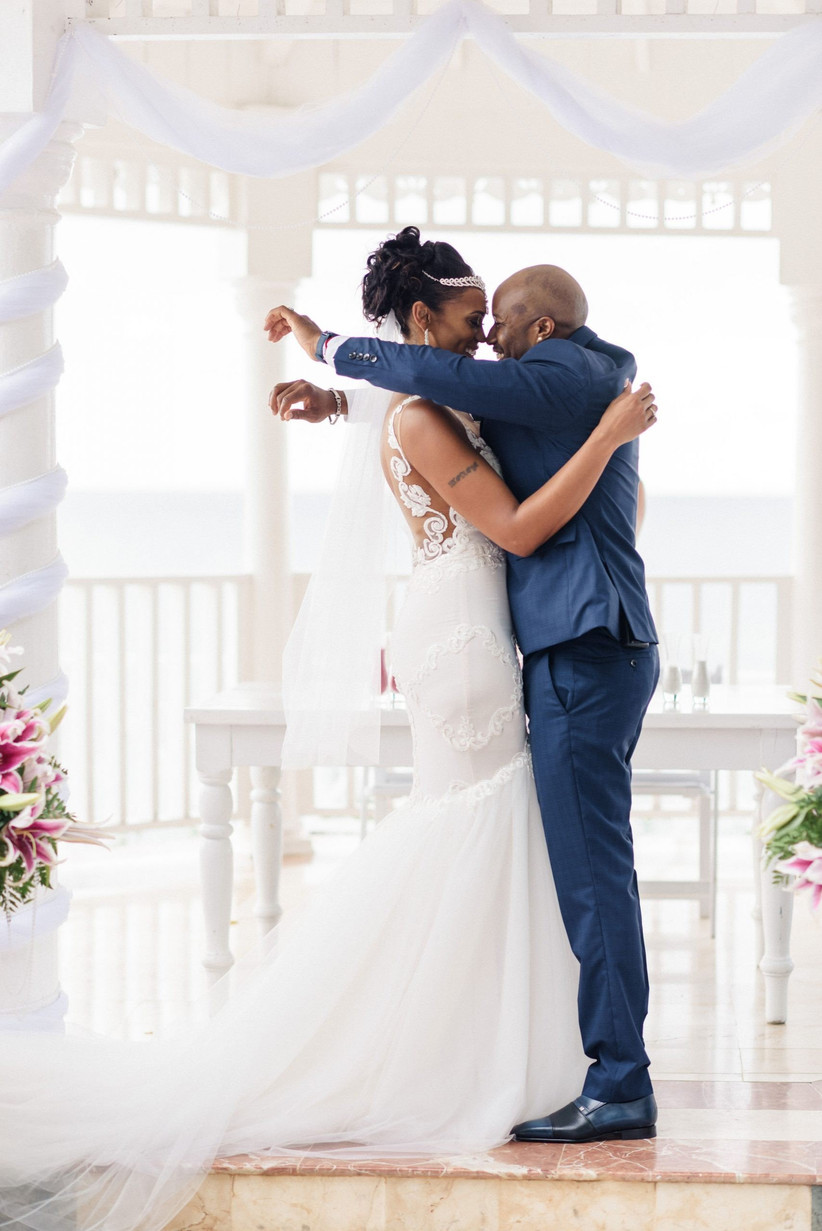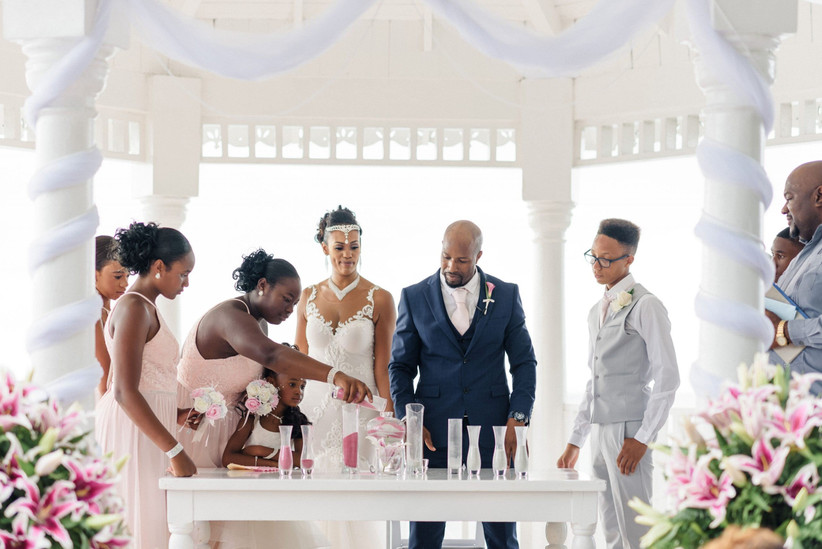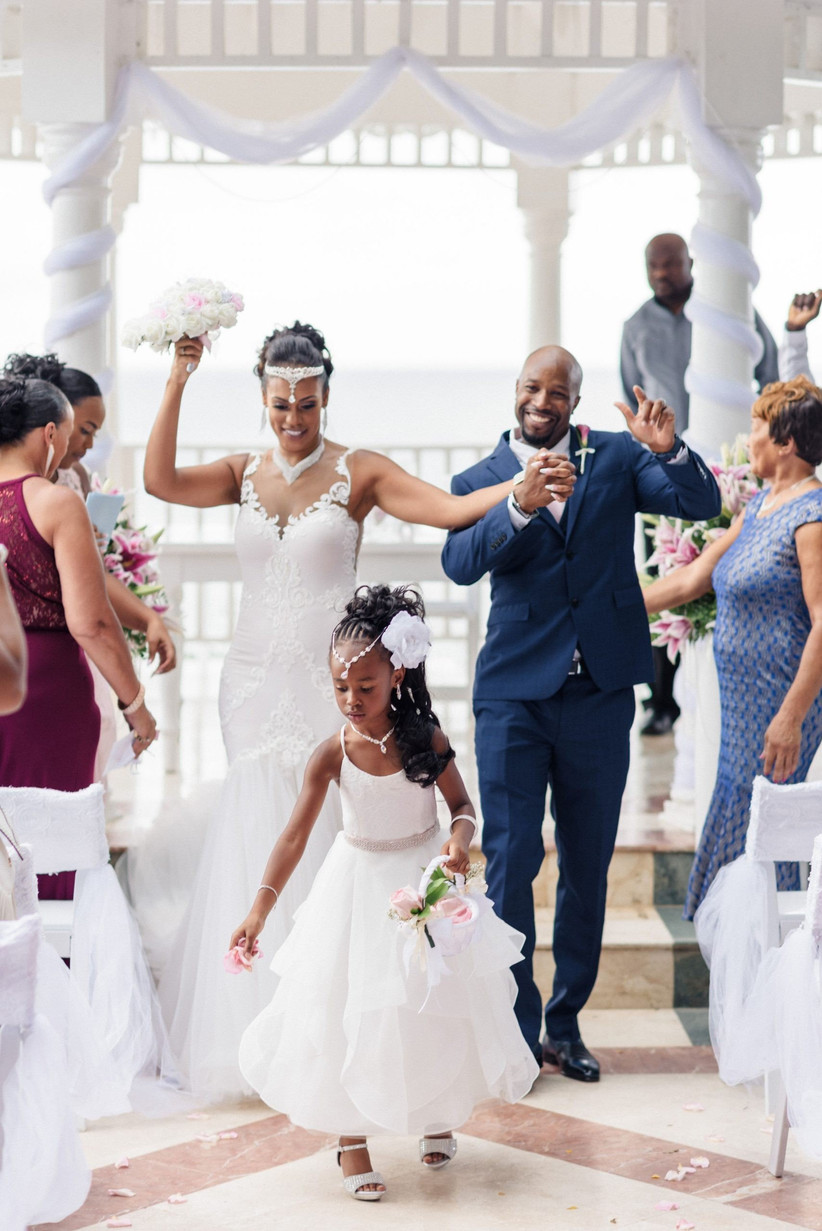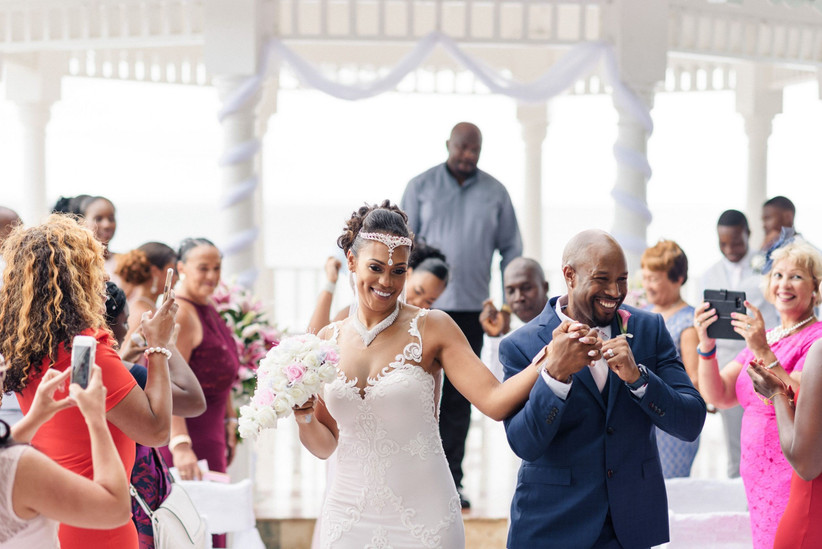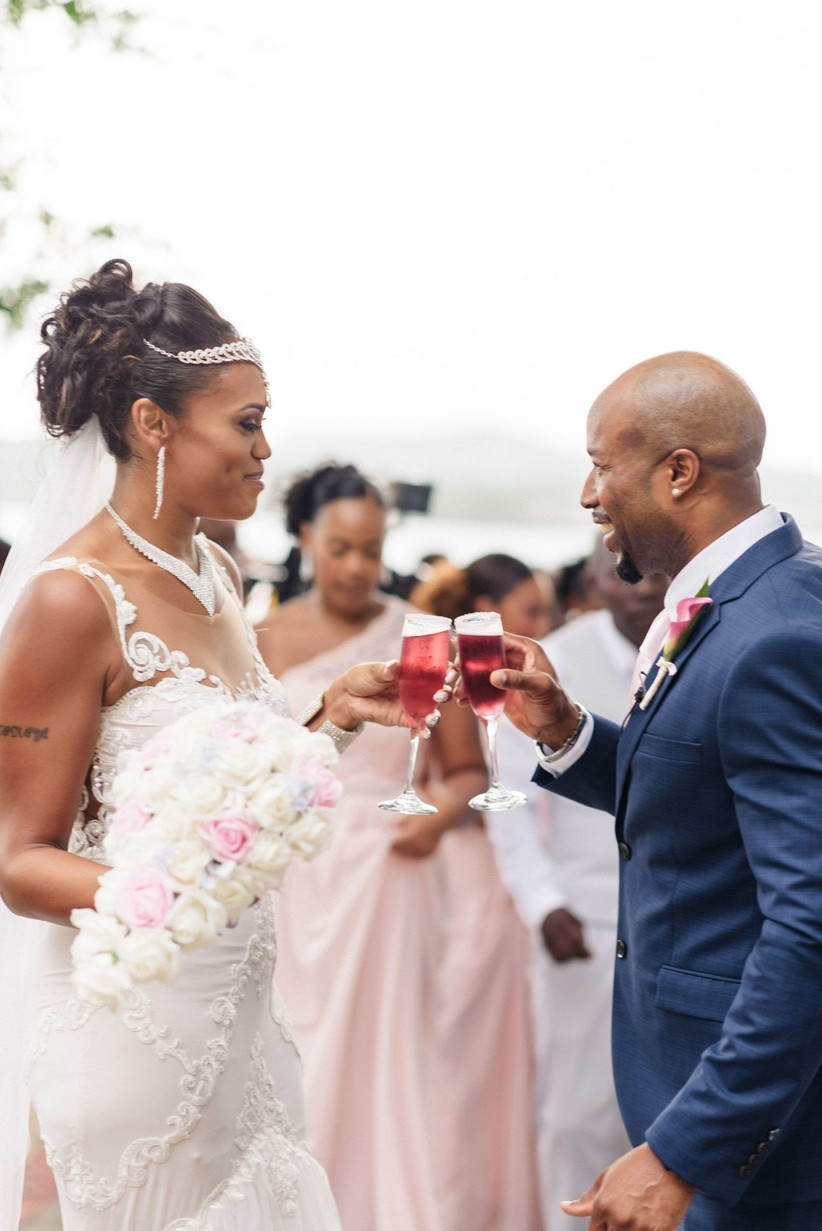 The Wedding Ceremony
Just like their festive proposal, Miranda and Anthoney's wedding ceremony was very much a family affair. The traditional, religious ceremony featured singing, dancing and a family blending ritual.
"We both said our own vows followed by our daughter, Shanaya, and niece, Deja, singing John Legend's All of Me.
"To end the service, we also had a sand ceremony with our children included. The sand ceremony was about blending two different coloured sands together into one heart shaped glass vase which symbolised our two families uniting as one.
"Once we were pronounced husband and wife, we danced down the aisle to Shanice's song Finally and headed straight to the area for our wedding toast with our guests."
As the guests enjoyed the ceremony, they sat on white chairs adorned with white chiffon ties. At the top of the aisle stood two large pink lily flower arrangements.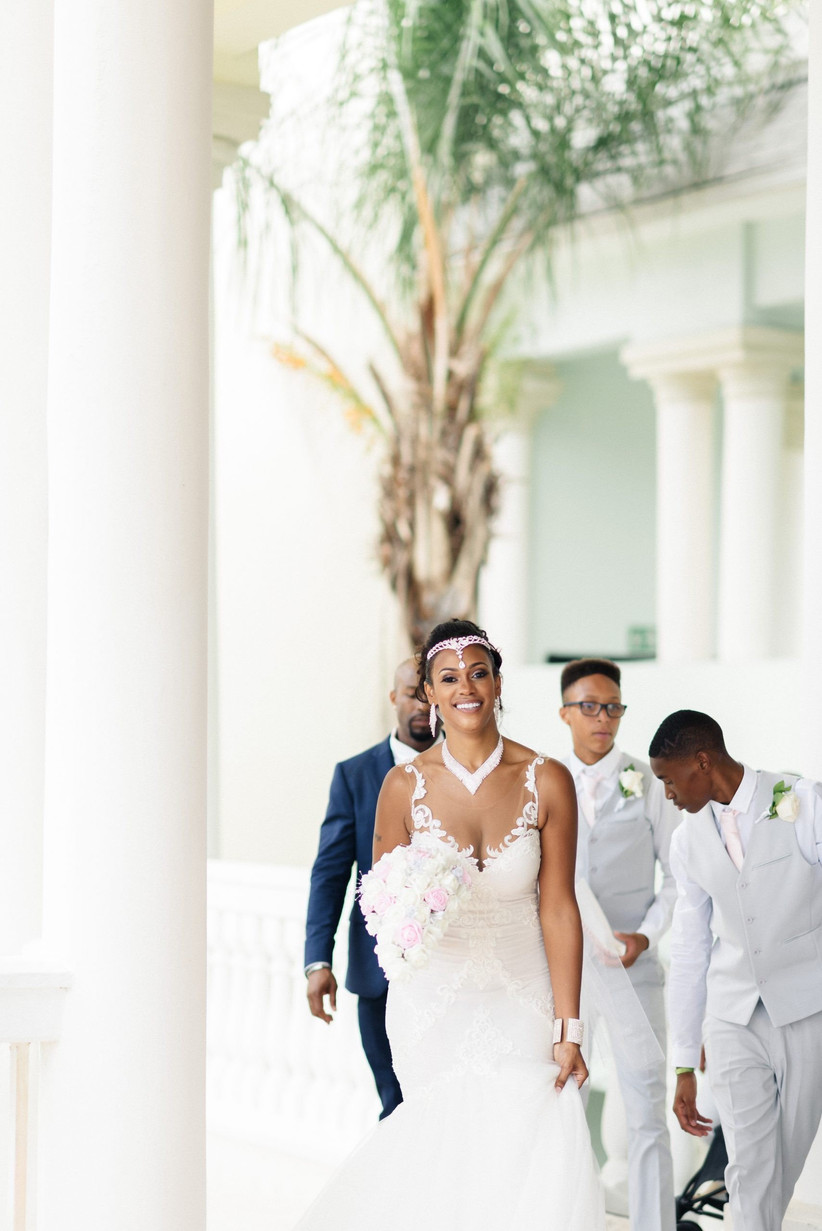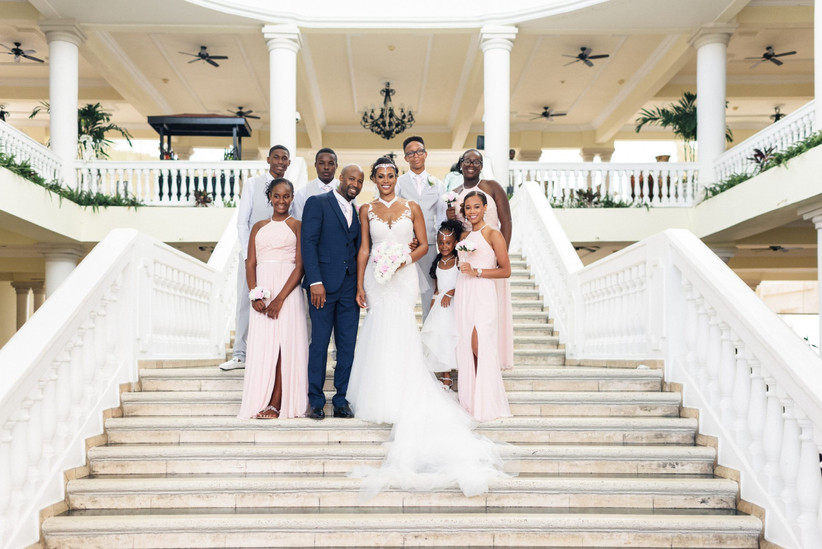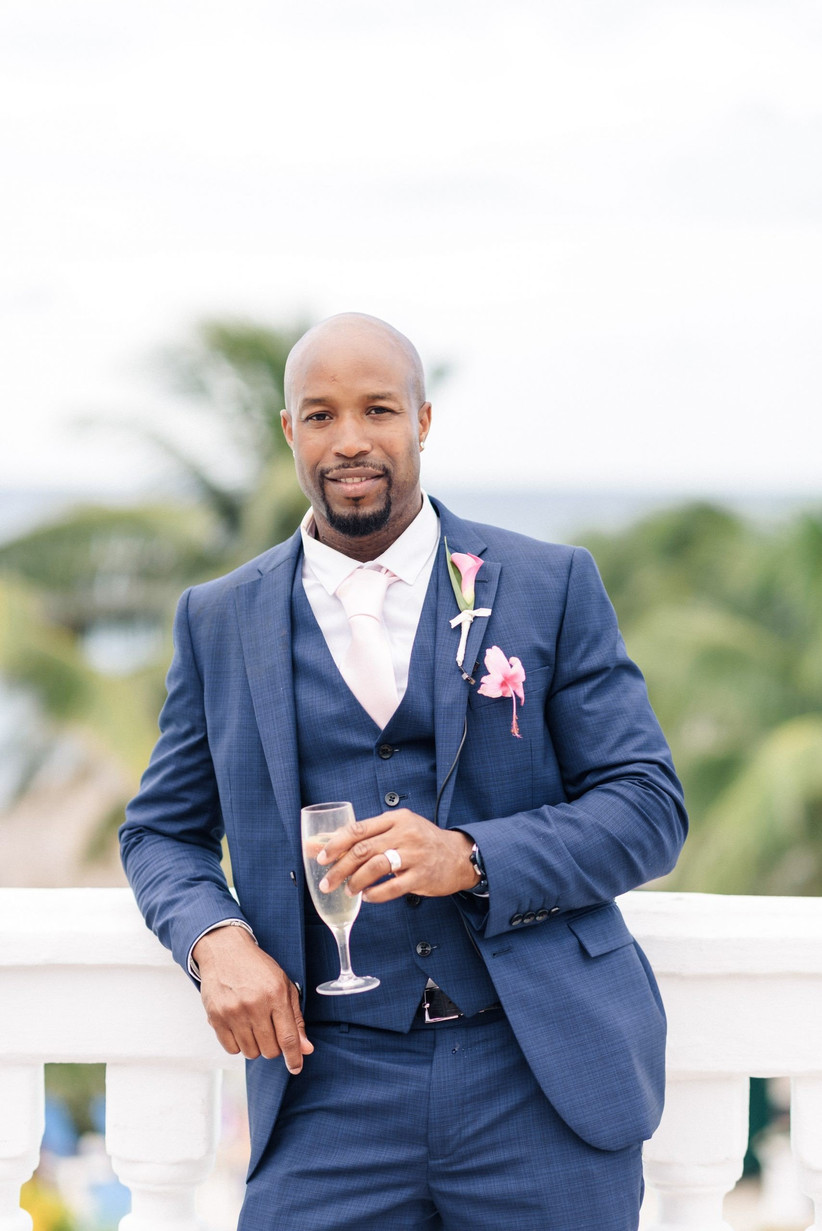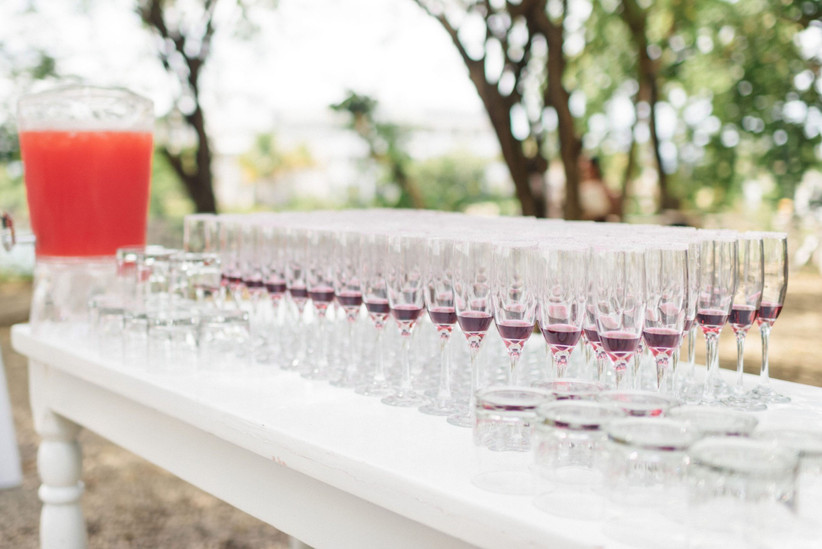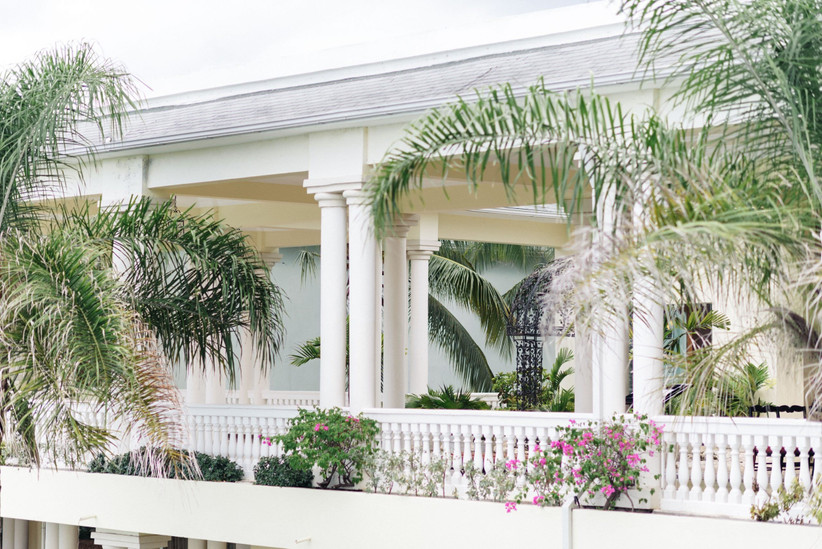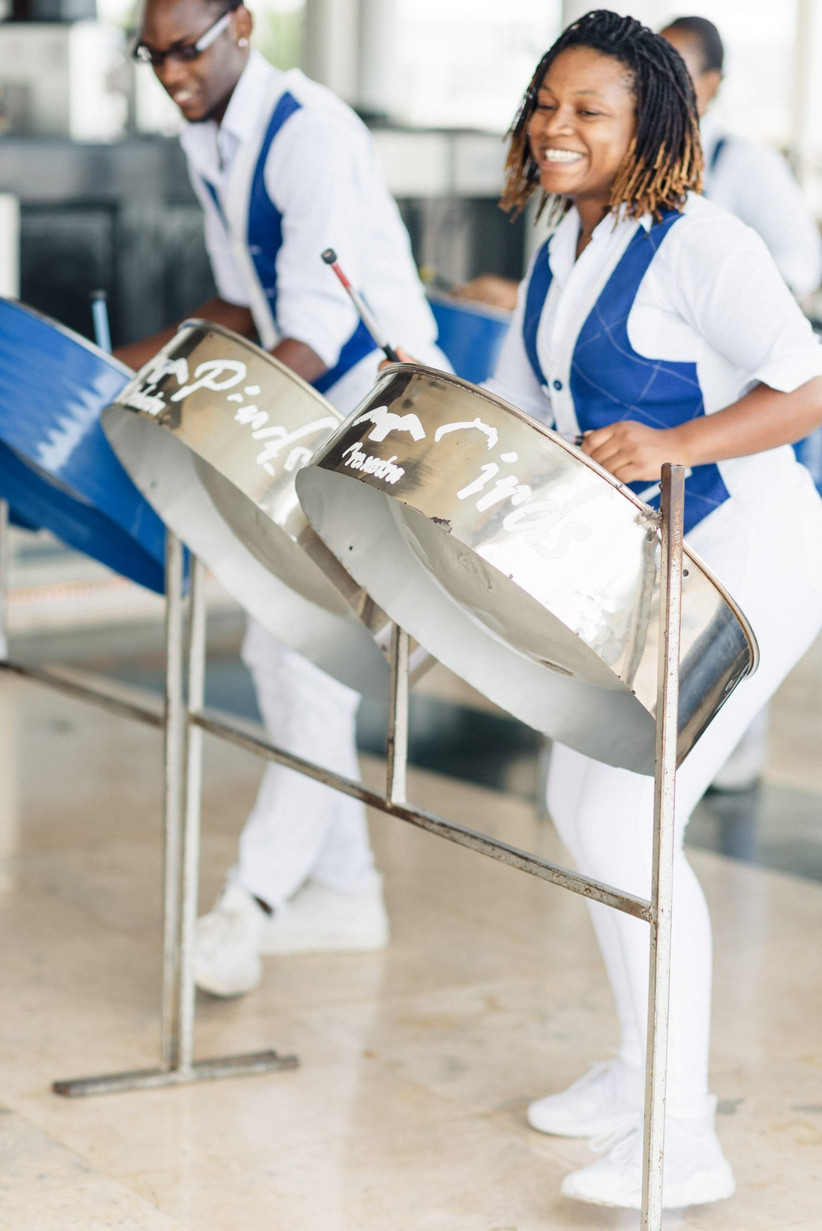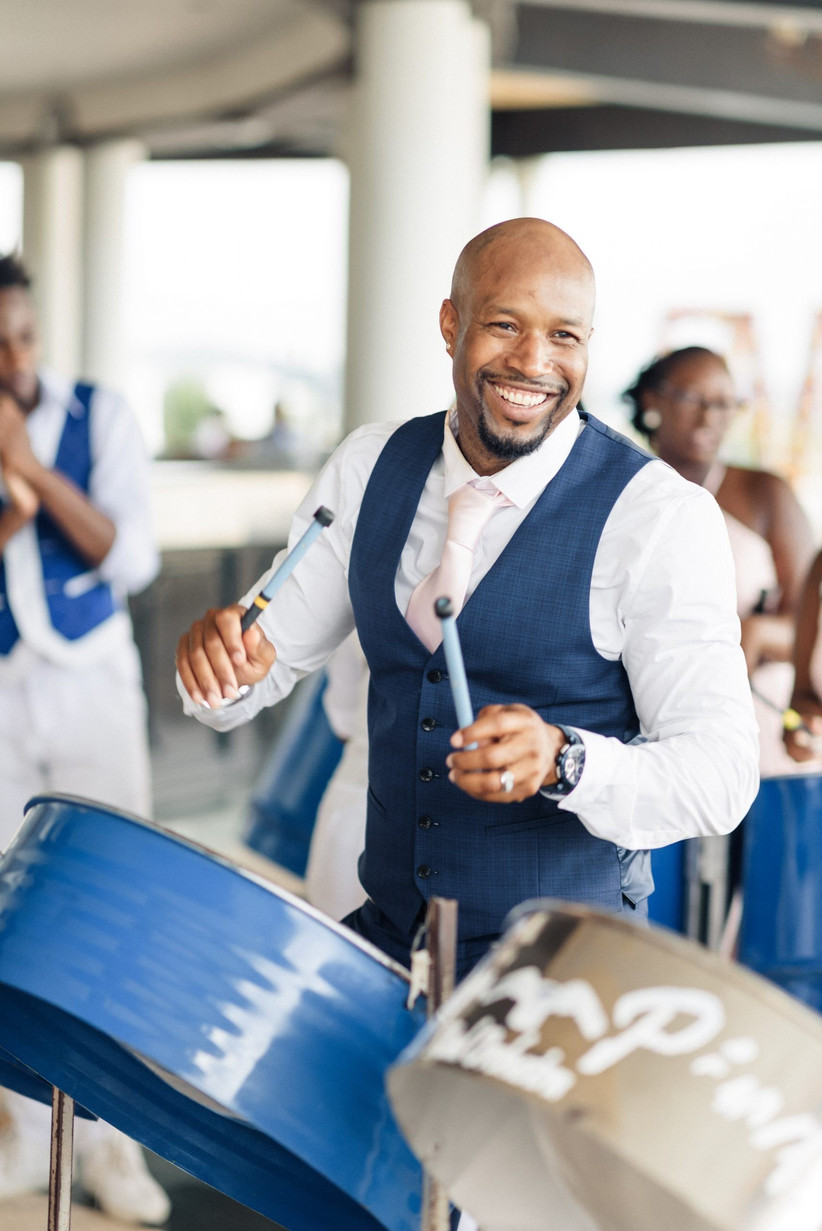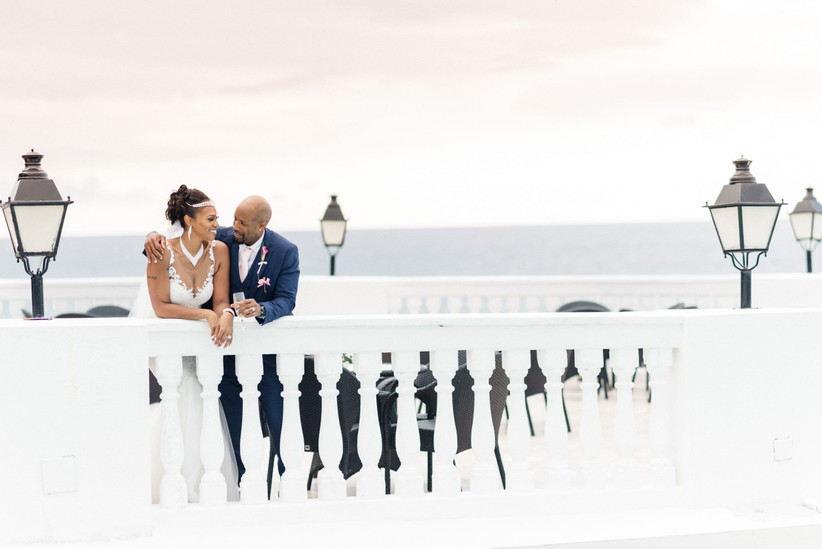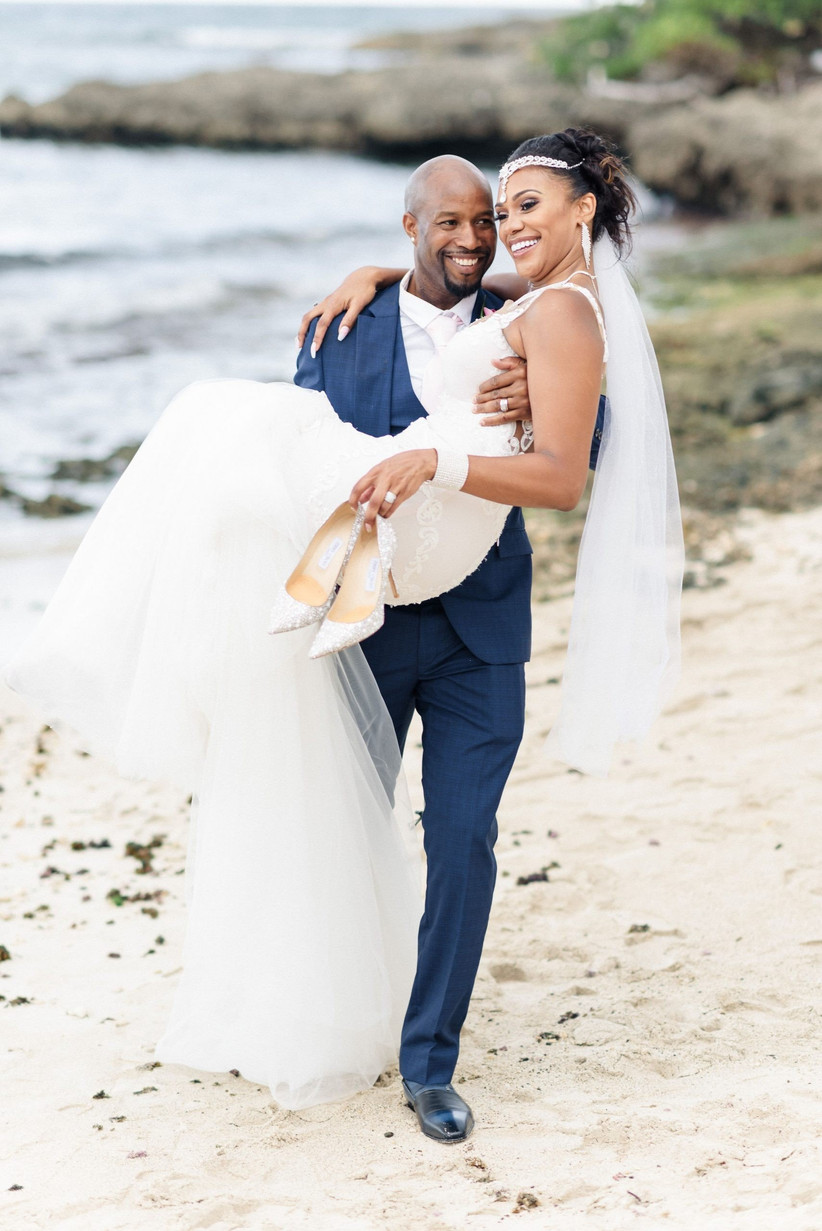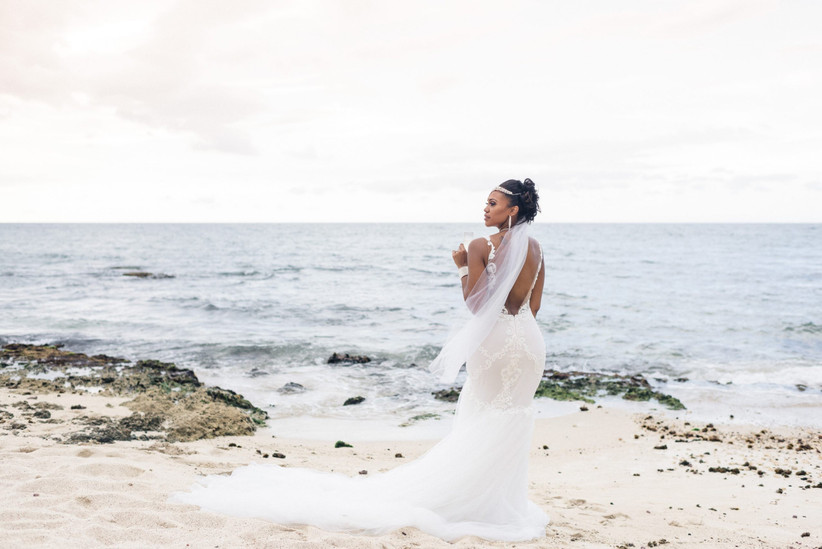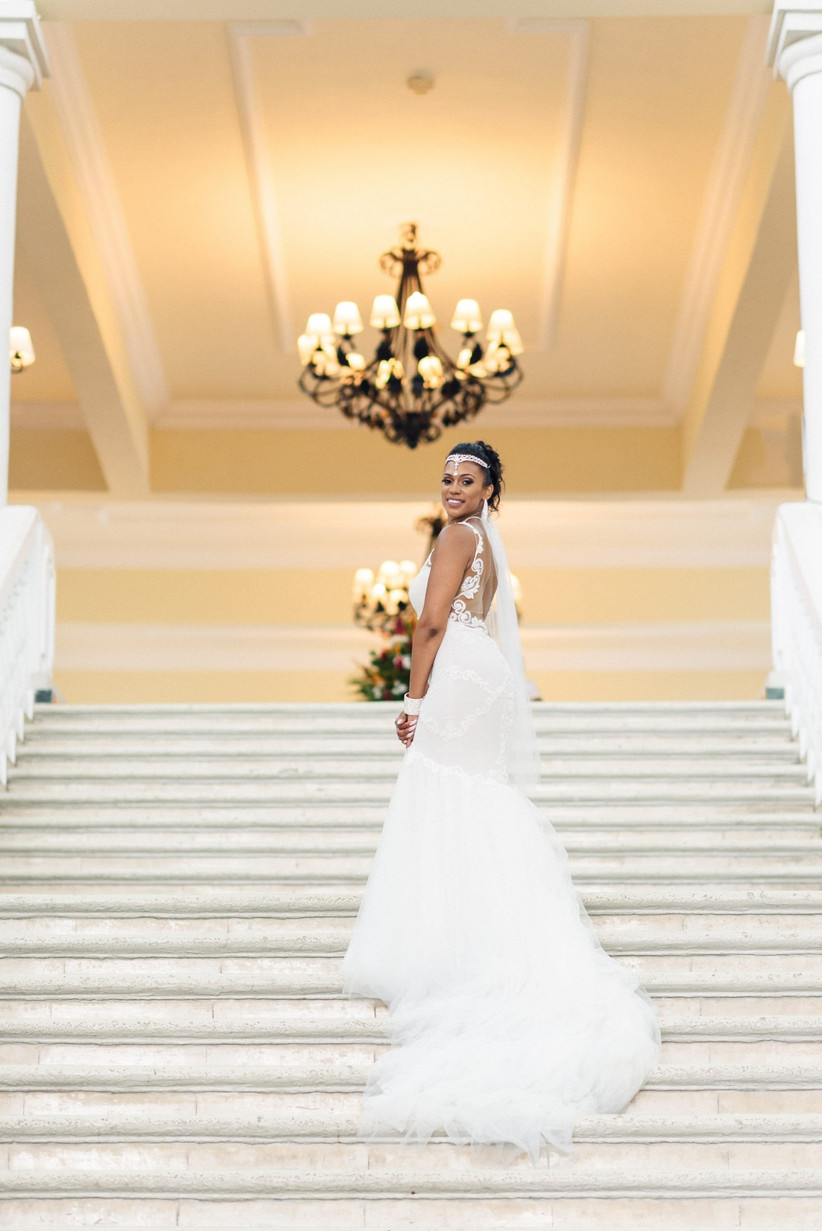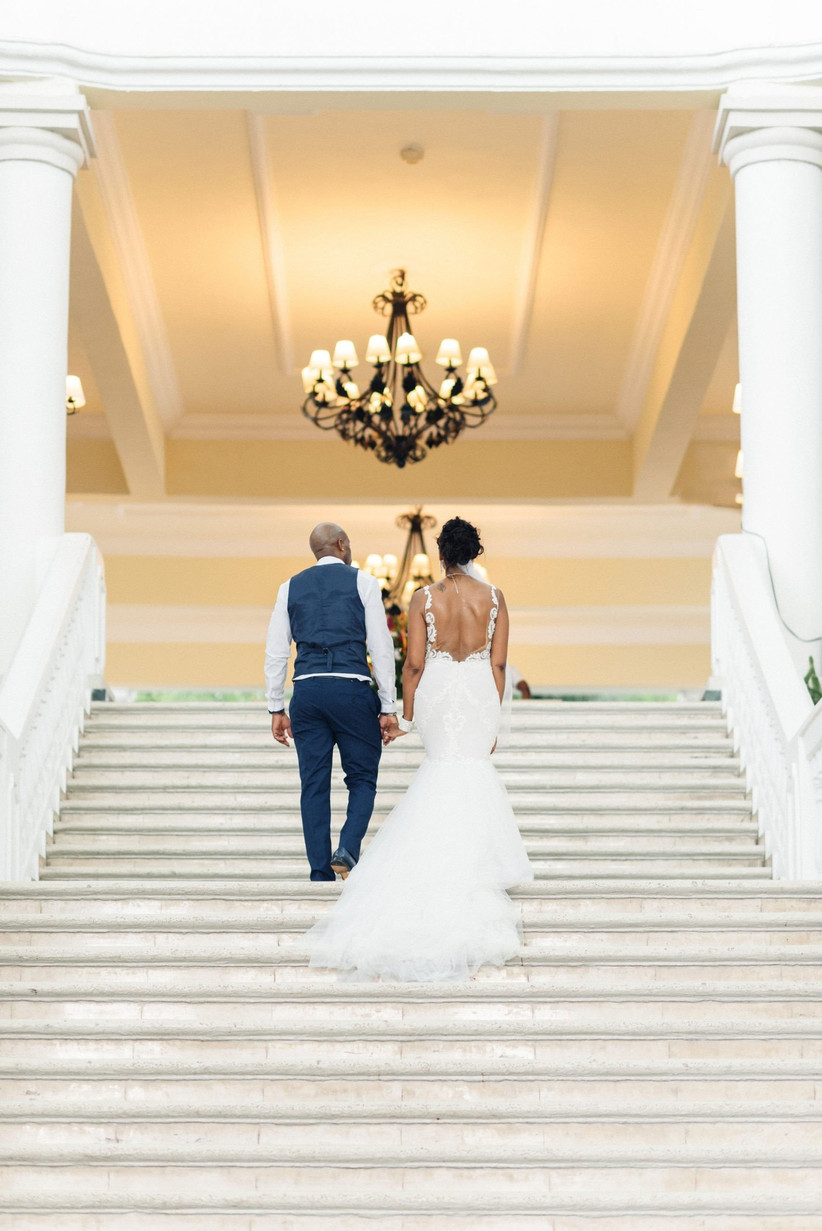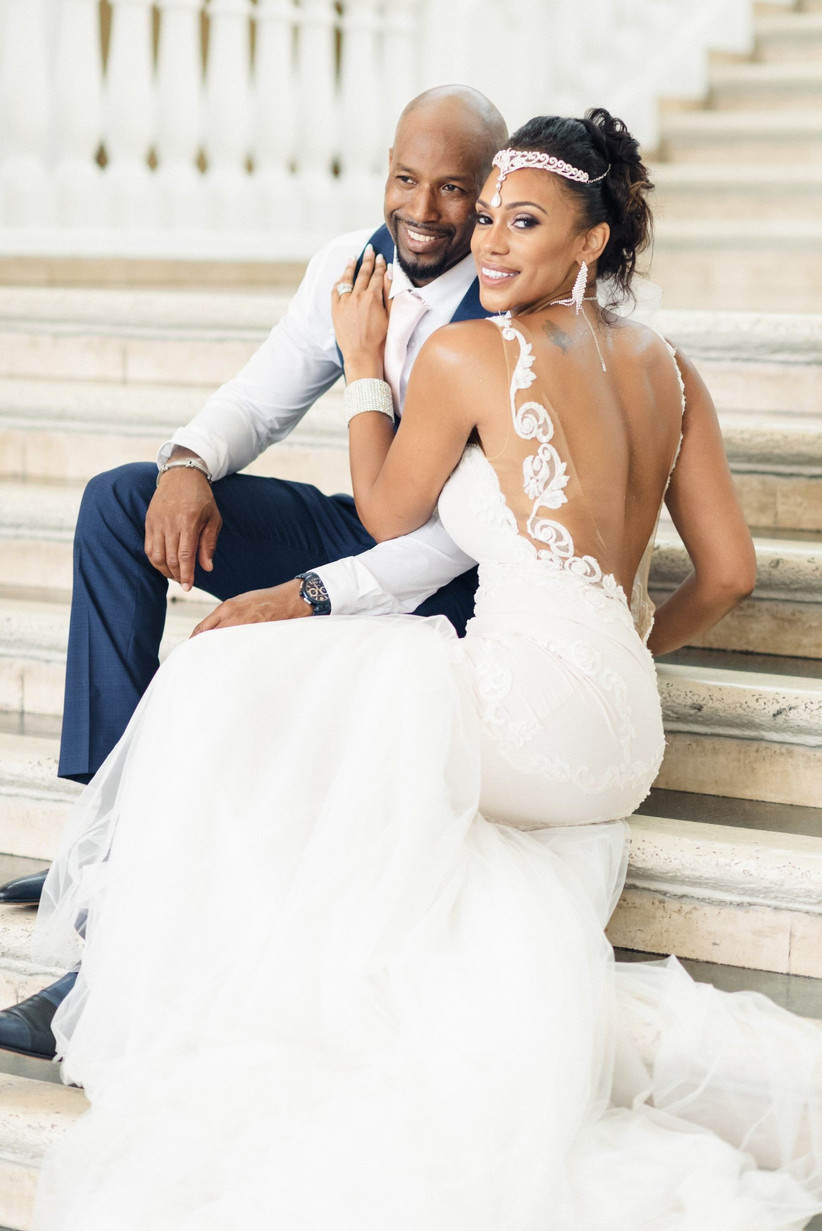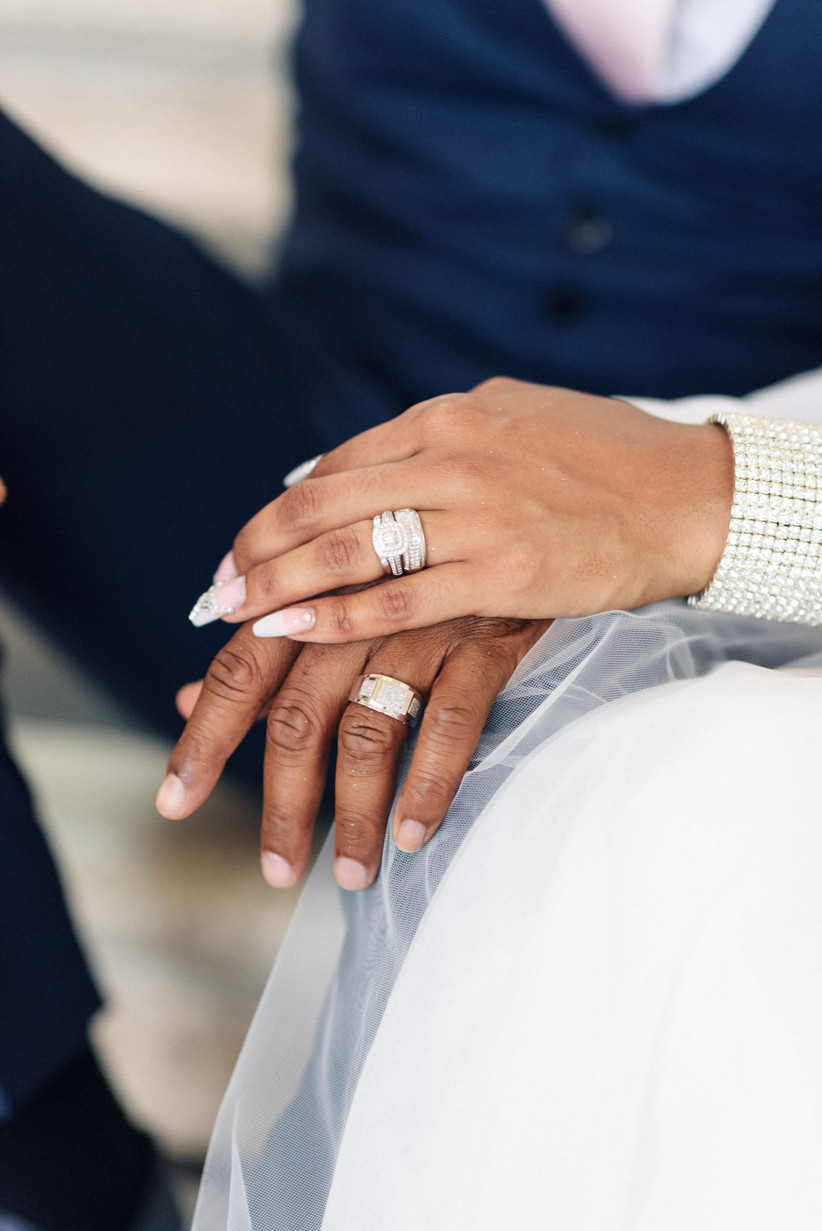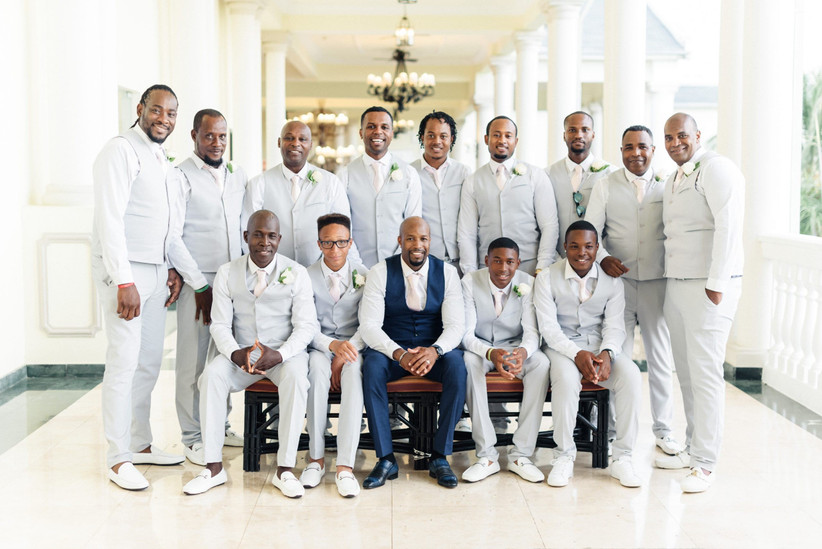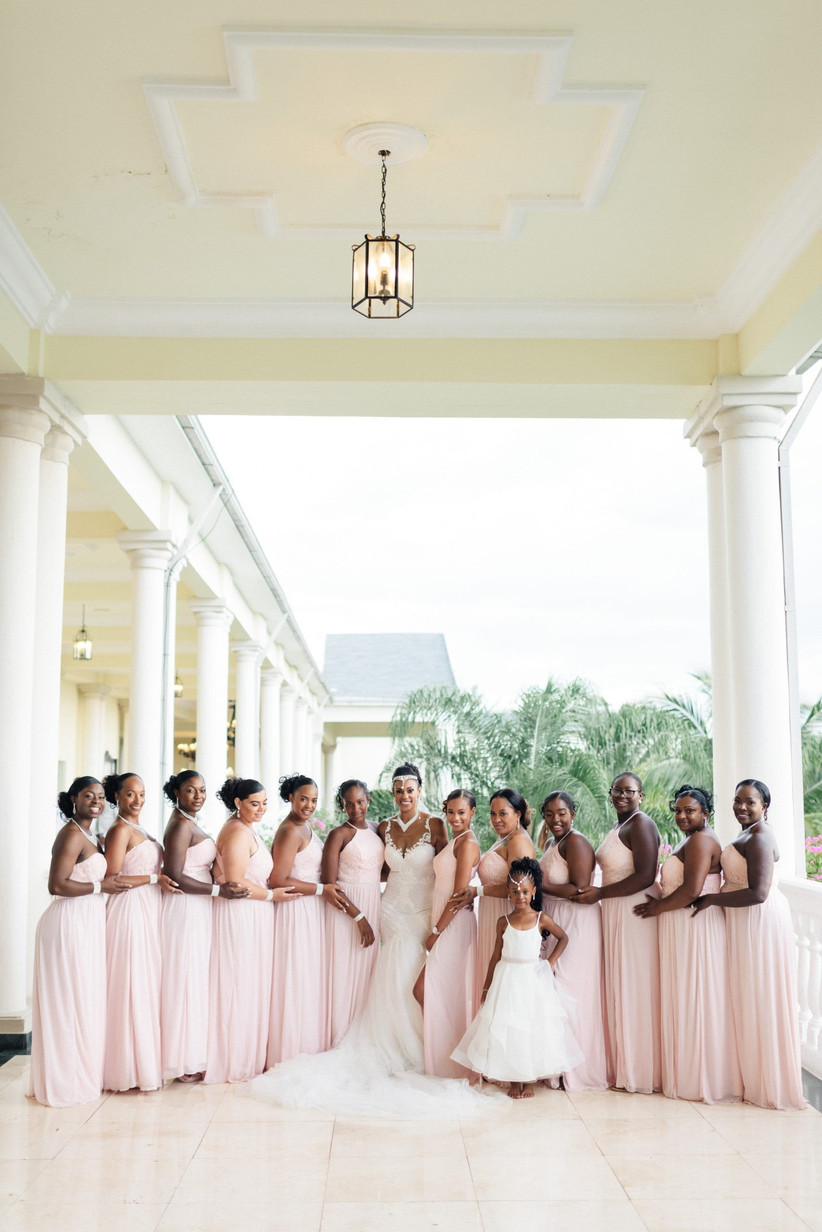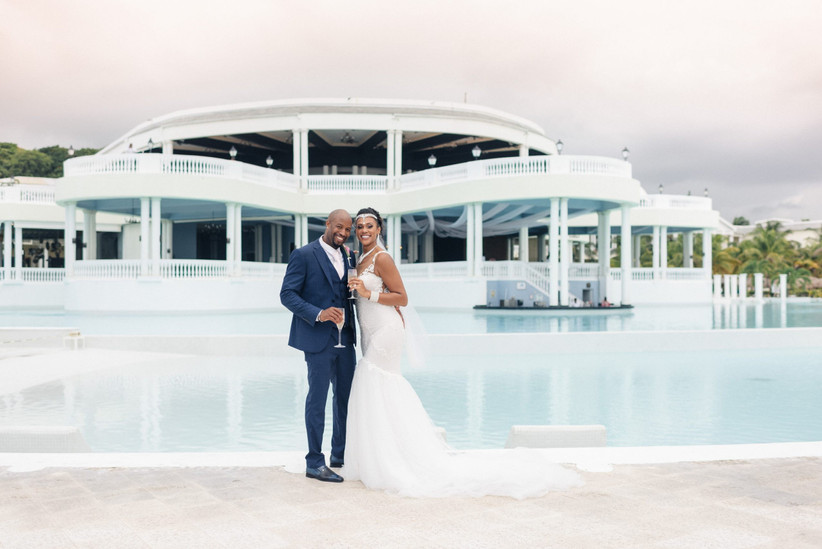 The Wedding Reception
"After the ceremony we had a two-hour cocktail hour, where guests could help themselves to a mix of hot and cold appetisers and any drink from the open bar. It was serving international alcohol with mixers, wines, champagne and cocktails of their choice.
"They got to enjoy all of this with the sea and pool view whilst listening to an amazing steel band play, giving a real Caribbean feel to our wedding."
Guests also enjoyed a five-course wedding breakfast, incorporating Jamaican recipes, followed by a traditional rum cake.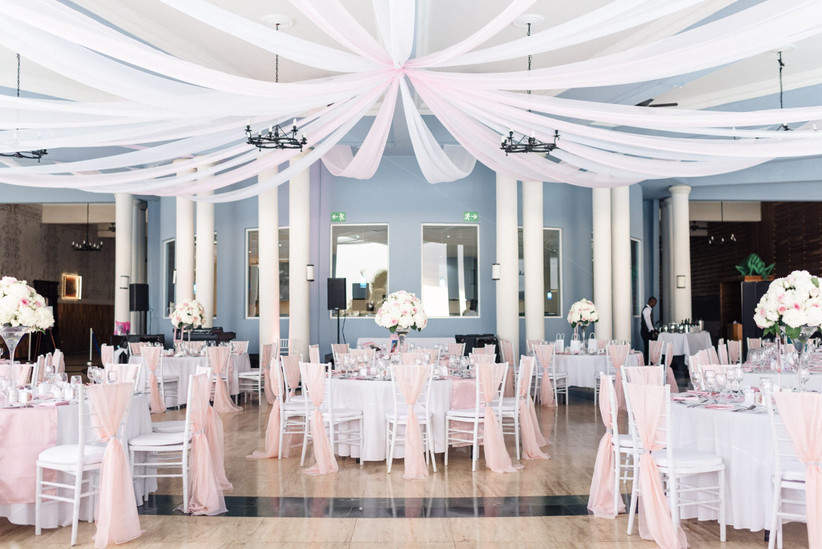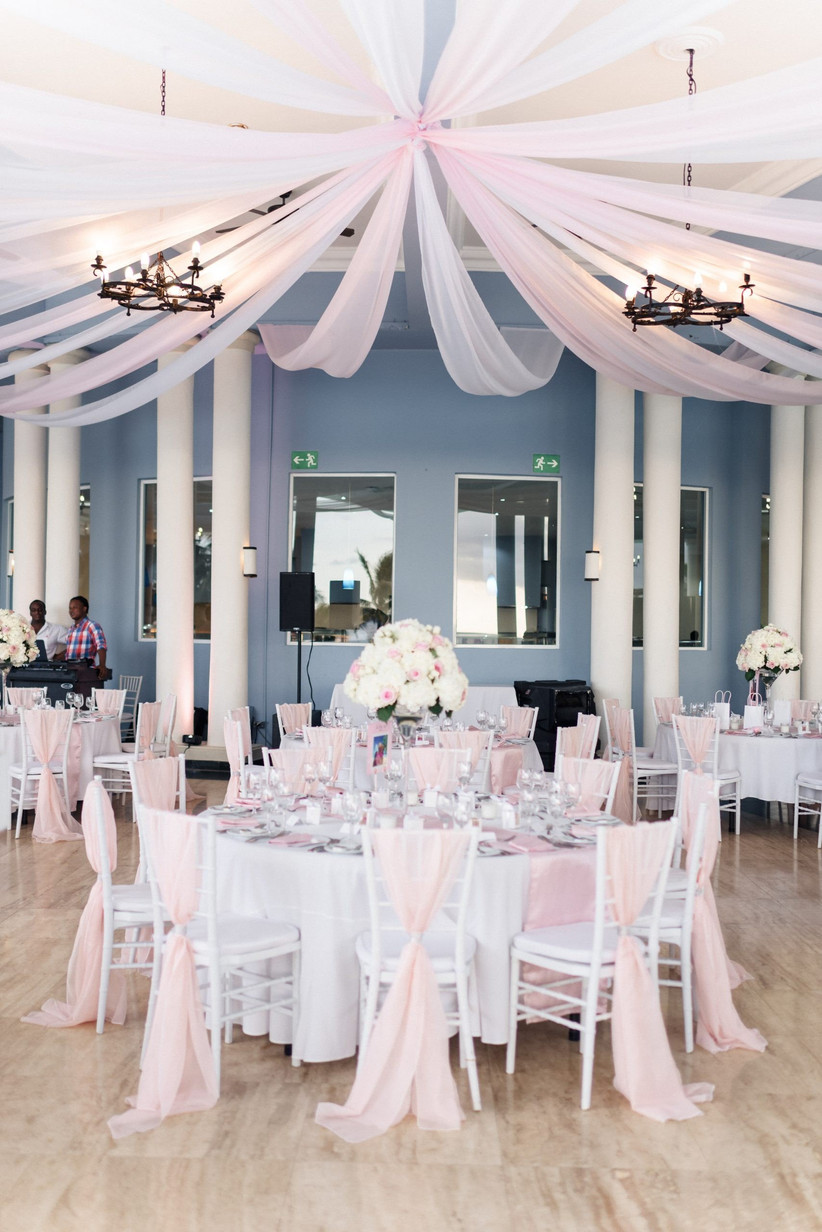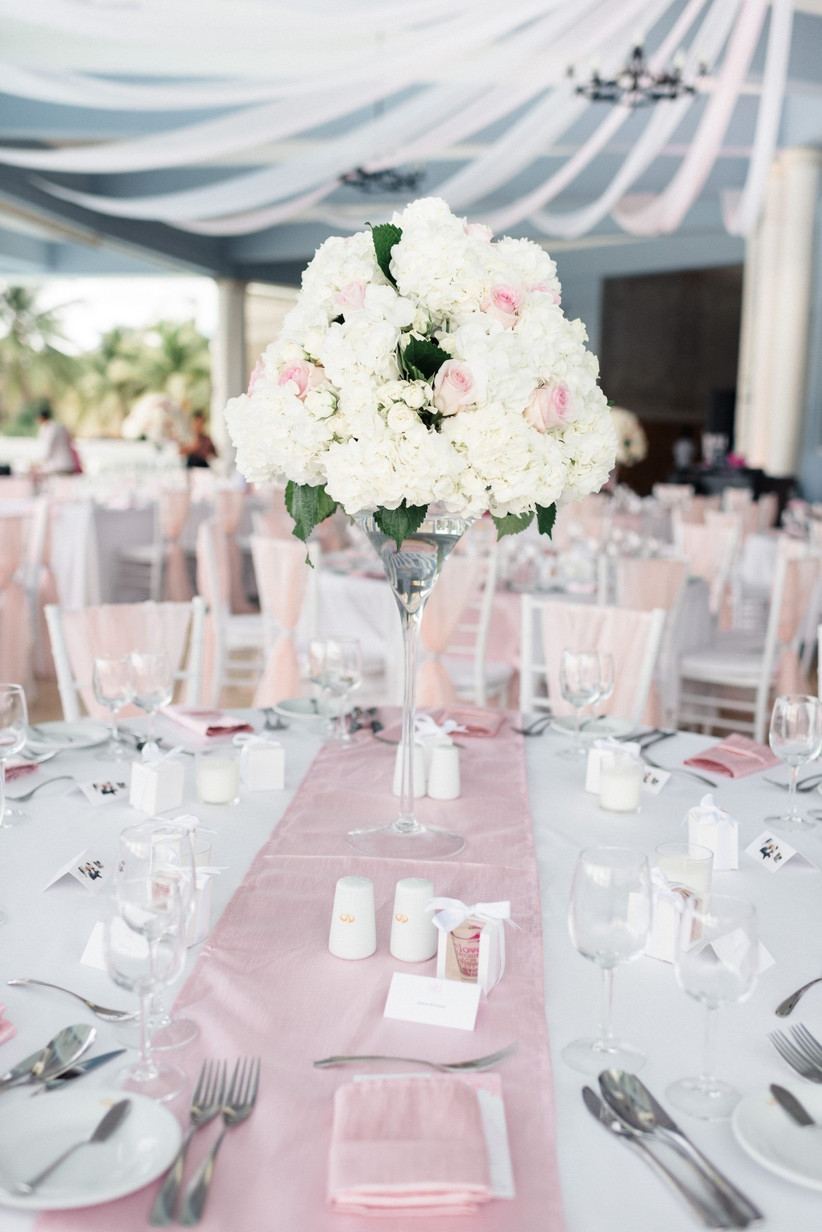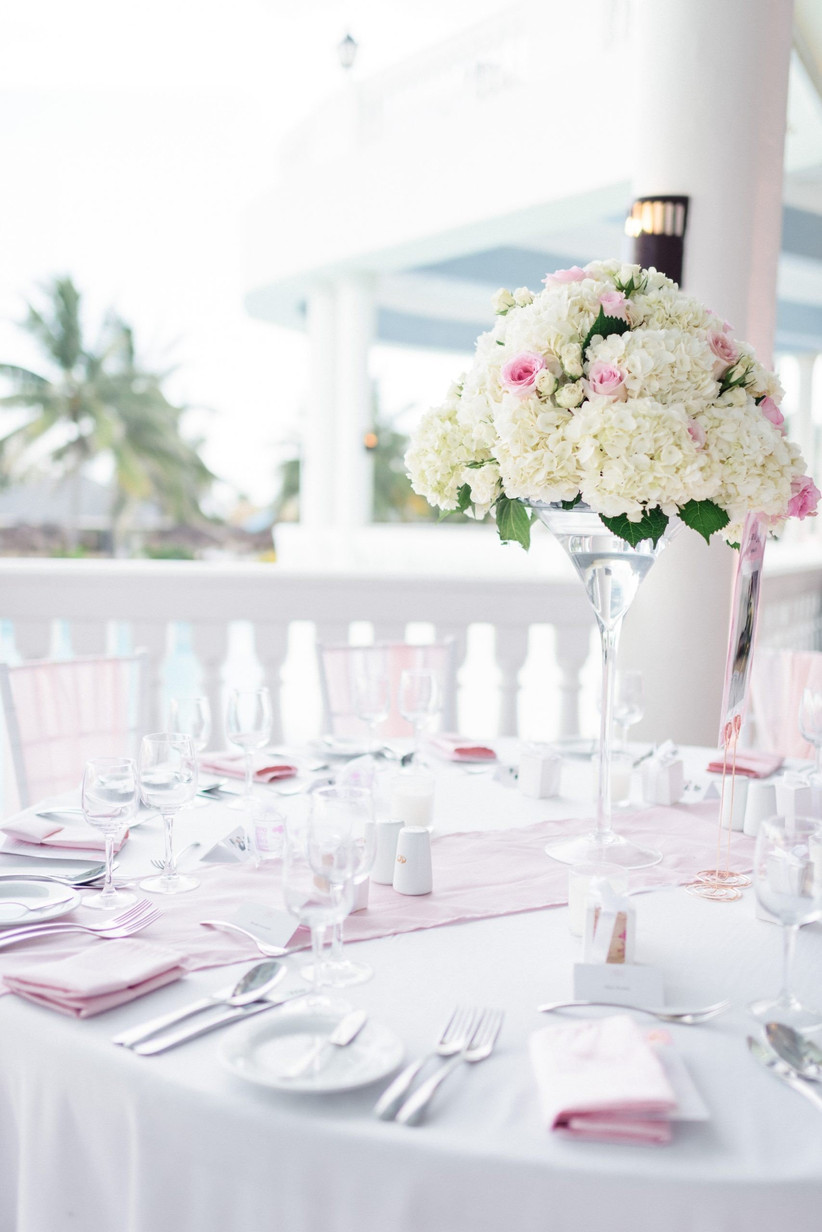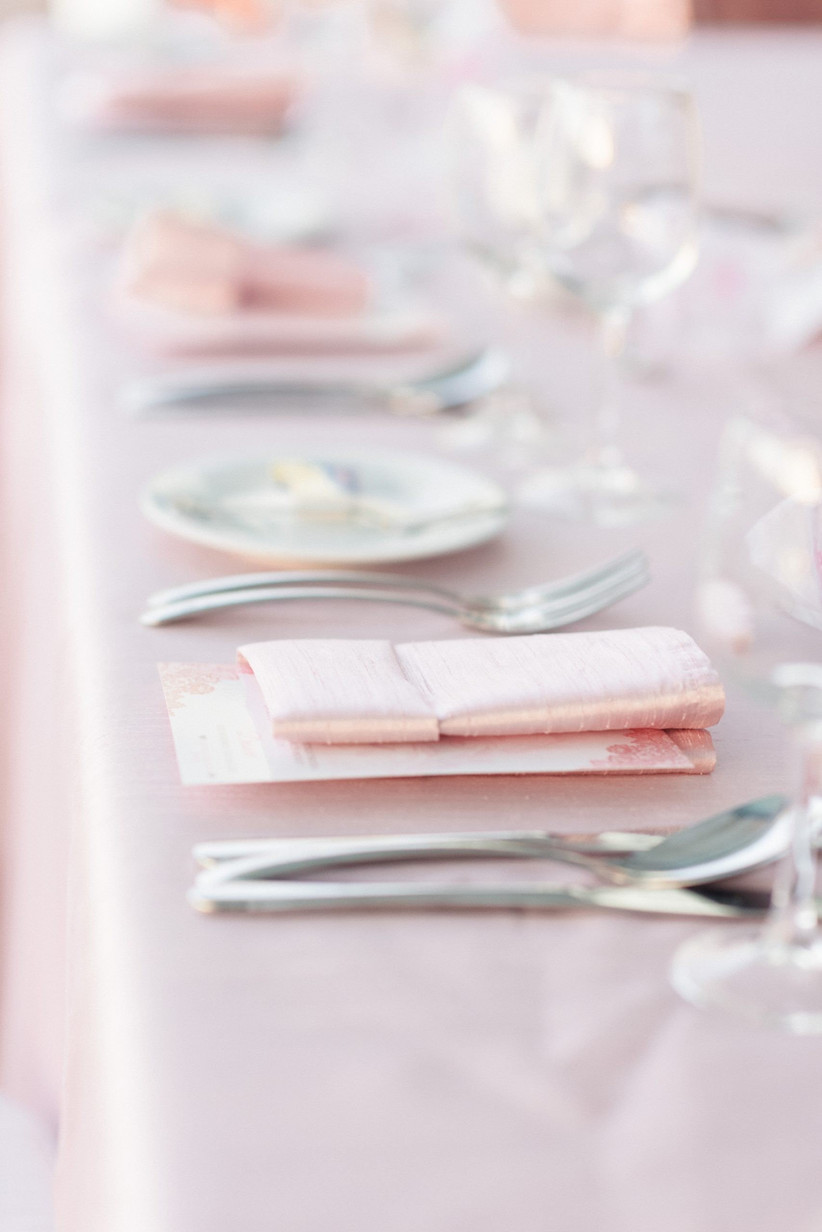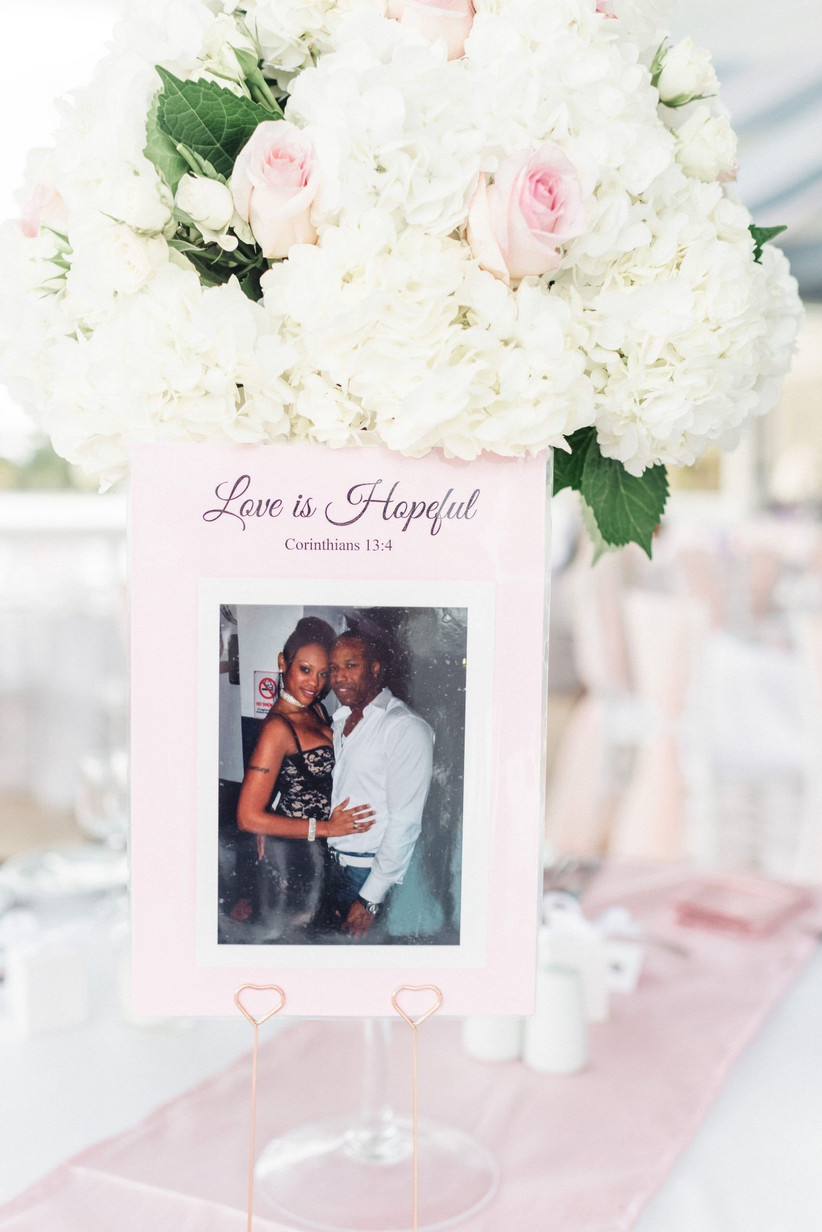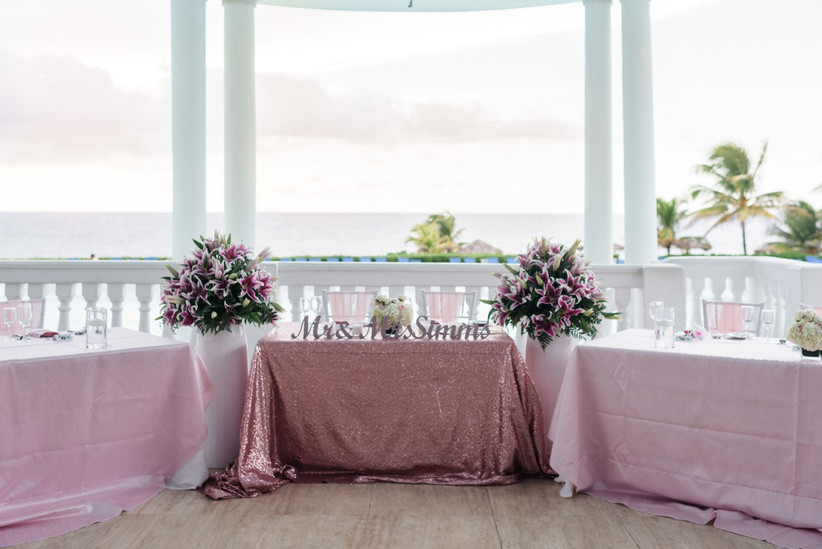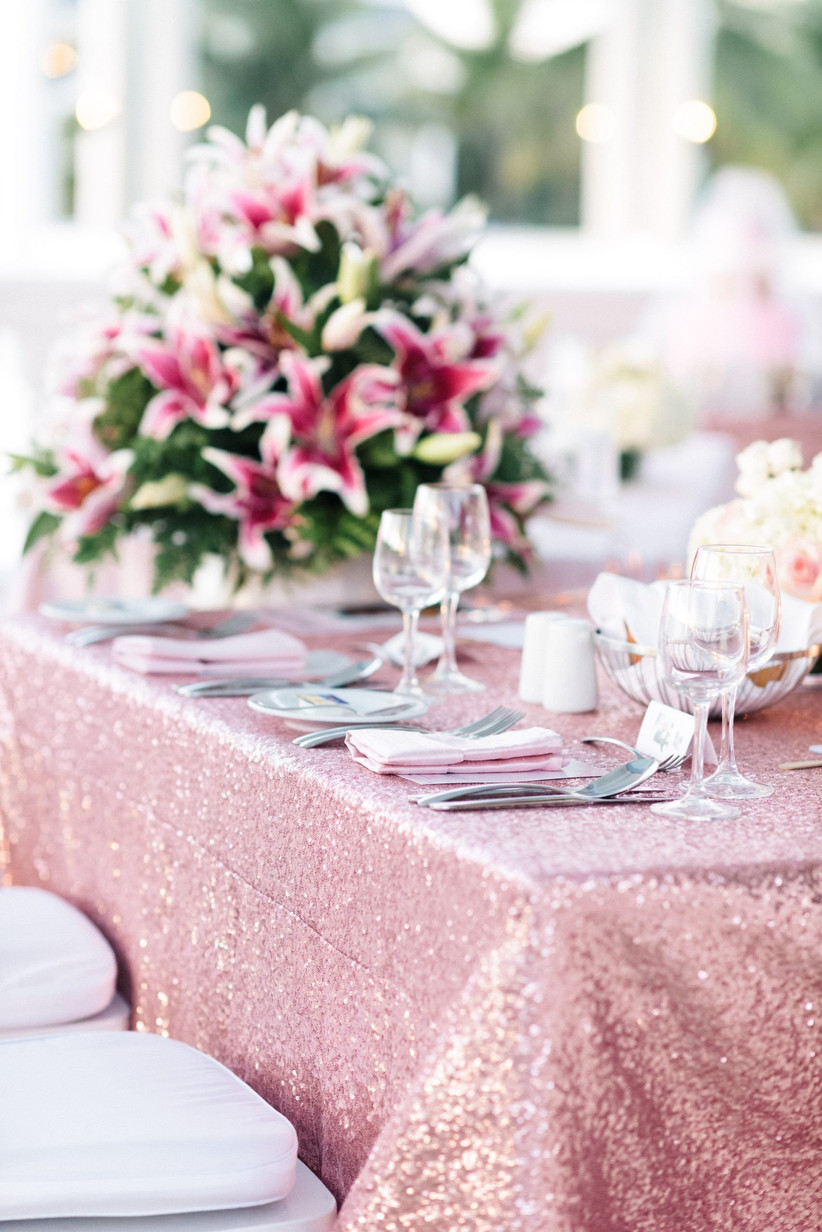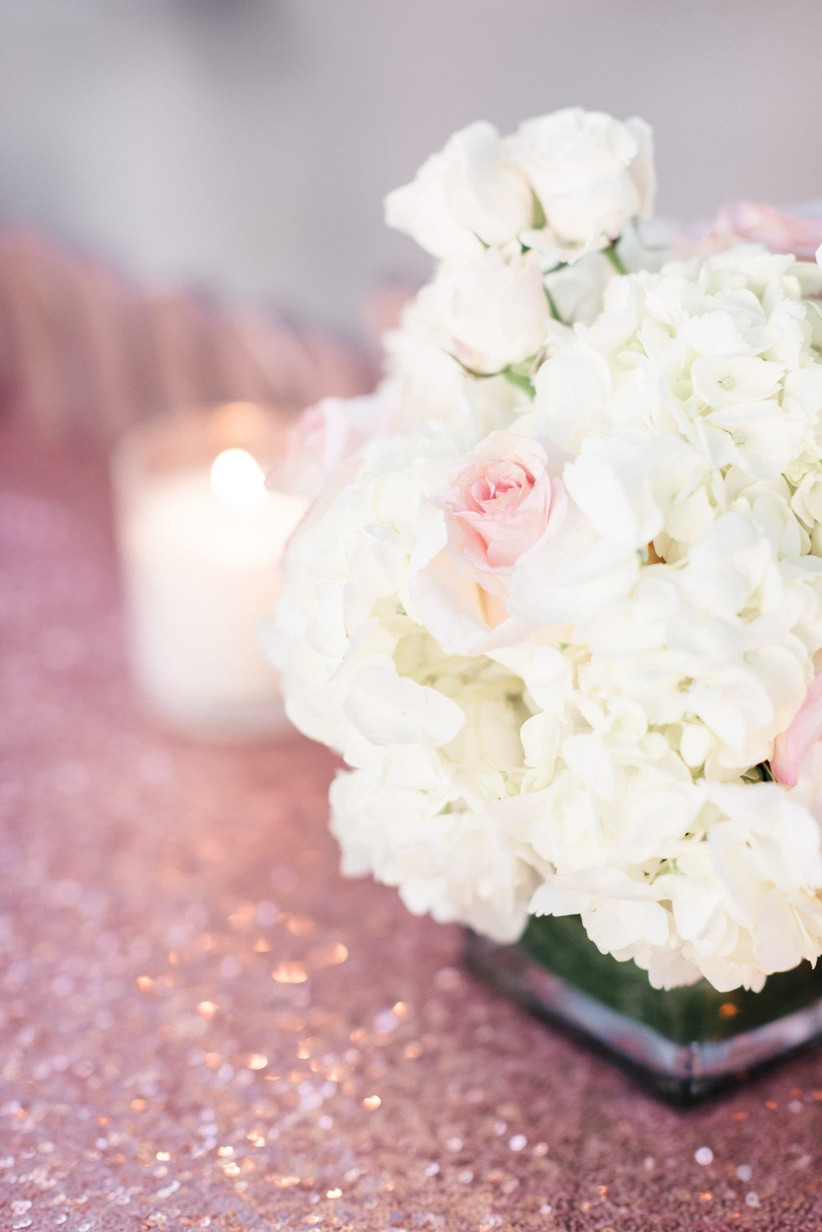 The Wedding Cake and Flowers
The rum cake wasn't the only bake at Miranda and Anthoney's wedding. The couple also served a pink three-tier cake with red velvet, black forest and vanilla flavours.
Miranda's favourite colour is pink so it's no surprise that the wedding heavily featured the shade, with pink blooms running through the bridal party and venue arrangements.
"Although I had Calla lilies as my bouquet from the hotel, I had already decided to bring my own artificial flowers over for my entire bridal party as well as my bouquet. We all had pink and ivory roses to walk down the aisle with and our flower girl had an ivory basket filled with pink petals.
"The groom had a pink Calla lily buttonhole and both of our mothers had an ivory flower wrist corsage."
The pink and ivory blooms that adorned the venue were arranged by Tai Flora, a supplier recommended to the couple by the hotel.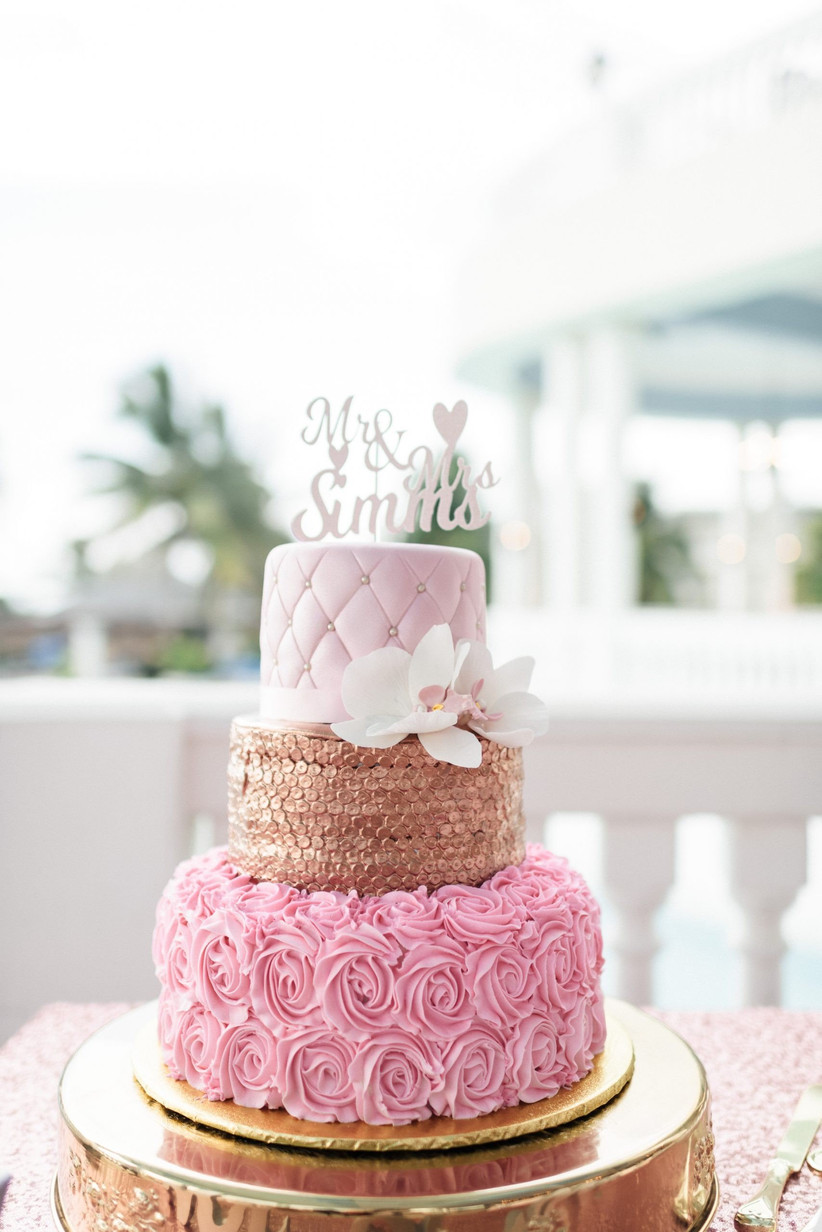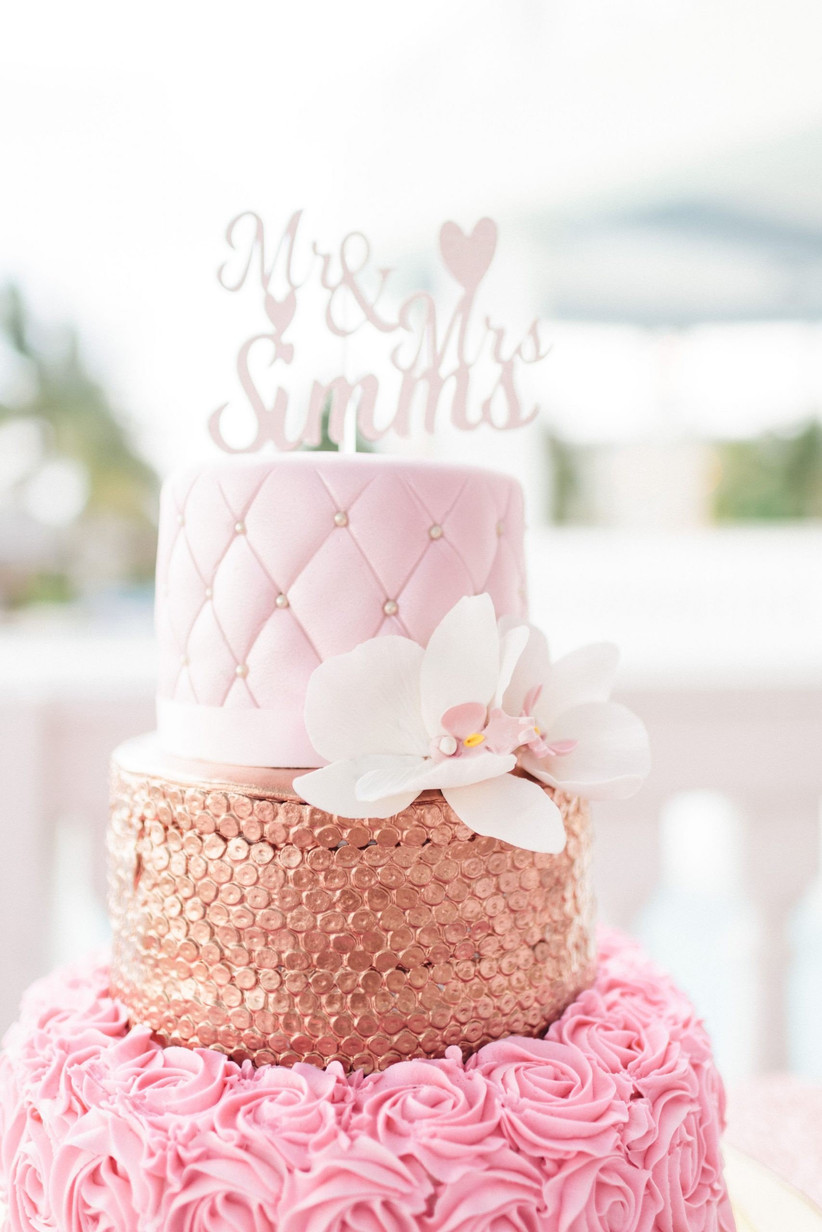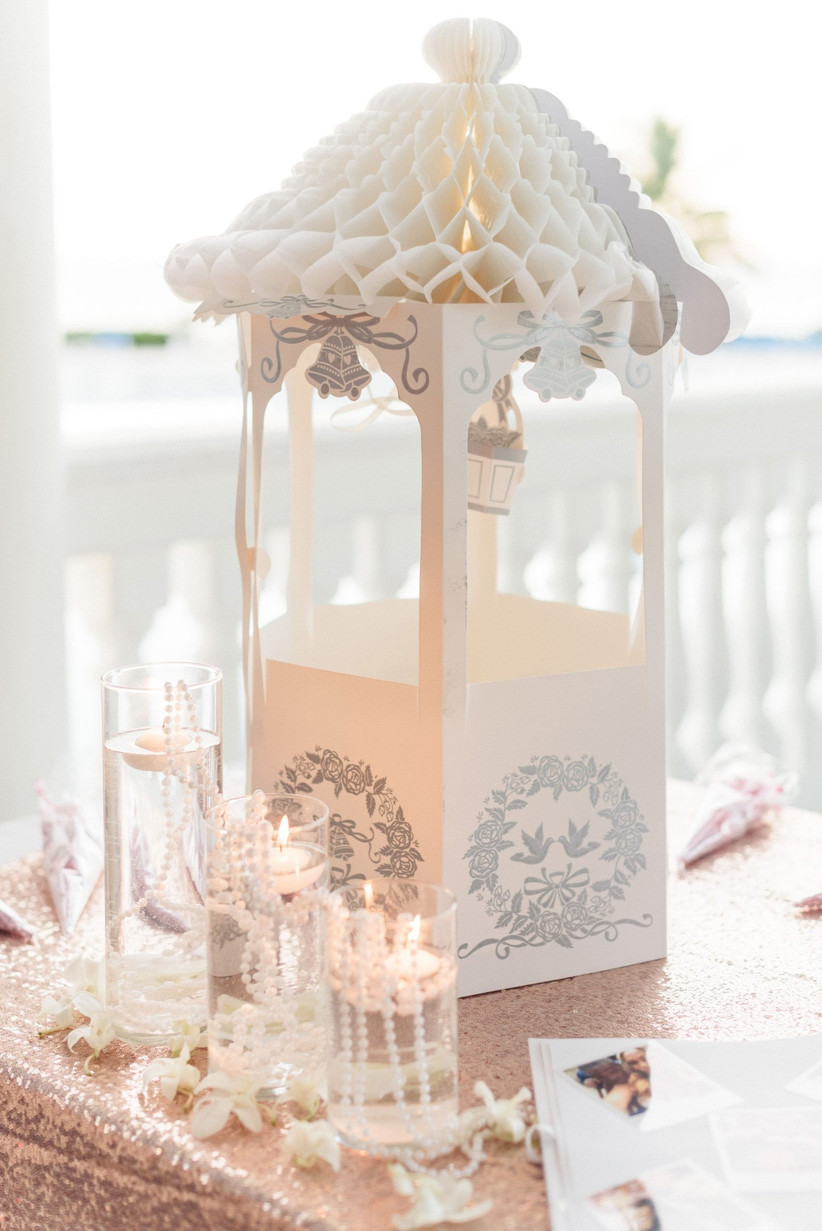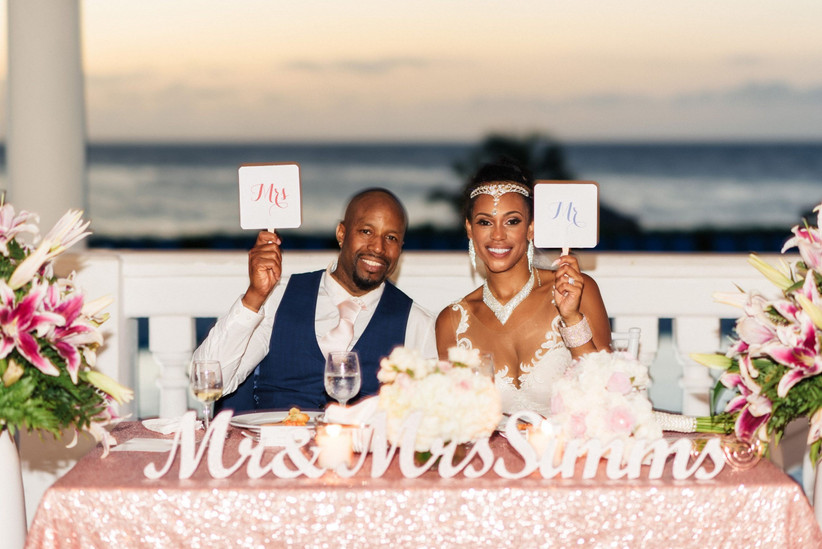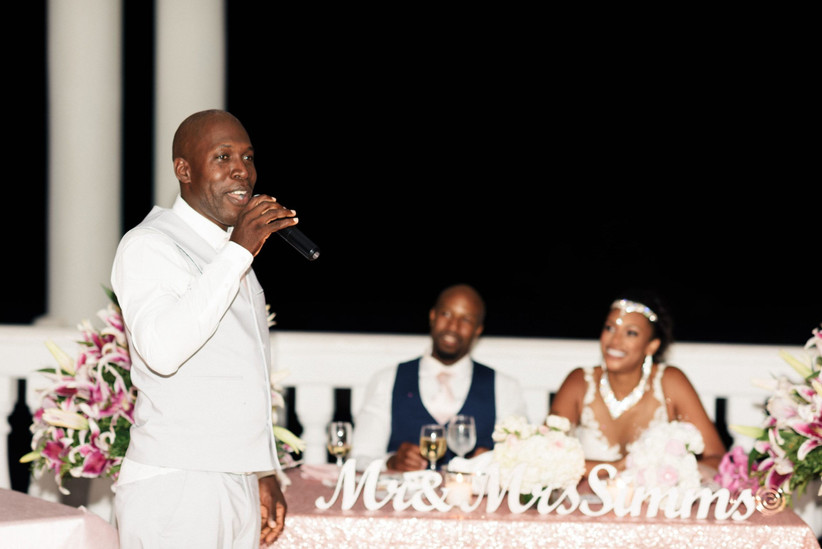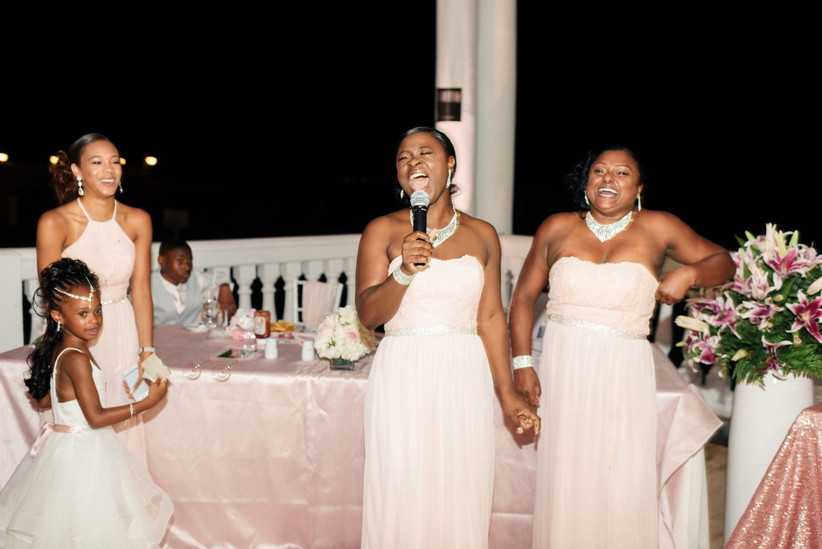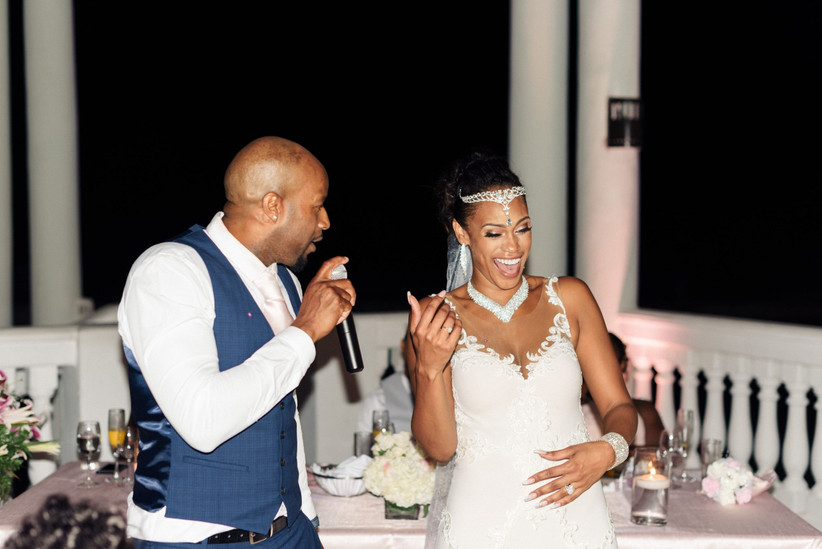 The Décor and Special Touches
Miranda and Anthoney incorporated the pink scheme from the very beginning with their pink passport invites created by By Invitation Only. The passports contained key information for guests as well as some engagement shoot snaps.
The reception décor combined classic wedding styling with glamorous touches for an opulent feel.
"We had pink chiffon chair covers, pink table runners on white table cloths, candles and a large floral centre piece on every table.
"Our head table had a rose gold glitter table cloth with the same decor as the other tables, however, we also had the large vase floral arrangements either side of our table and 'Mr and Mrs Simms' stand-up words on our table front. Our head table was just the two of us with two tables either side of us where our children sat. Their table cloths were satin pink and also had the same décor as the other tables.
"Pictures can say a thousand words and so I wanted each table to see two pictures of precious moments in our lives that they could look at and then create their own thoughts from. As each of these pictures were moments of love, I decided to use a scripture from the bible (1 Corinthians 13: 4-13) that talks all about what love is, to name the tables. Each table was named 'Love is…' followed by what it says in the bible. For example, Love is Hopeful, Love is Kind.
"I stuck the photos either side of a sheet of A4 pink card, along with the table name, scripture and verse it belongs to and then laminated it. I purchased rose gold table stands and used these to hold up each table name picture."
Guests were treated to shot glass favours, personalised with the island shape of Jamaica, the location name, wedding date and quote on love, as well as white fans in pink organza bags to keep cool in the heat!
"Our wedding guest book cover was rose gold and personalised with our wedding name, Nevanda Wedding, a heart and the date. I then went through and stuck in pictures on every other page sharing memories of us throughout our relationship for our guests to see as they left messages.
"I purchased a flatpack wedding post box from Amazon that I was able to put up myself for any cards, this went on a separate table with the guest book. We also had 'Mr & Mrs' block words on the edge of the cake table and 'Mr & Mrs Simms' on our head table. Both were purchased from Etsy."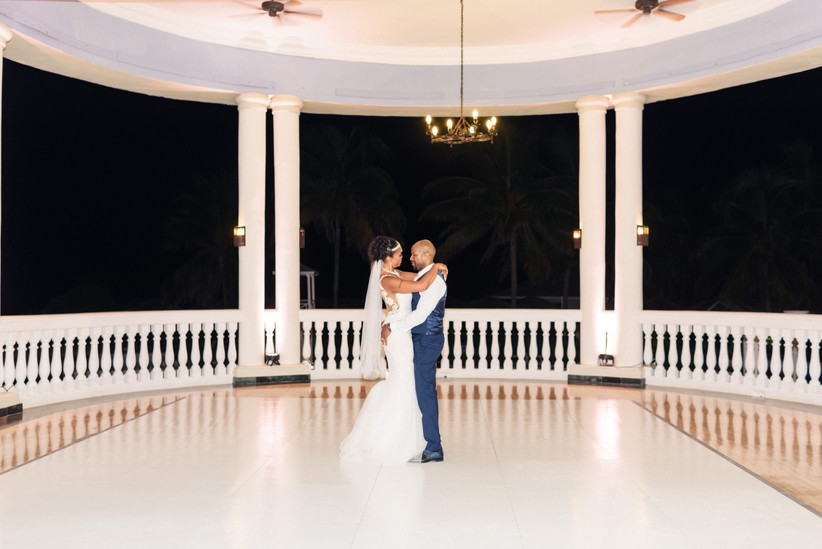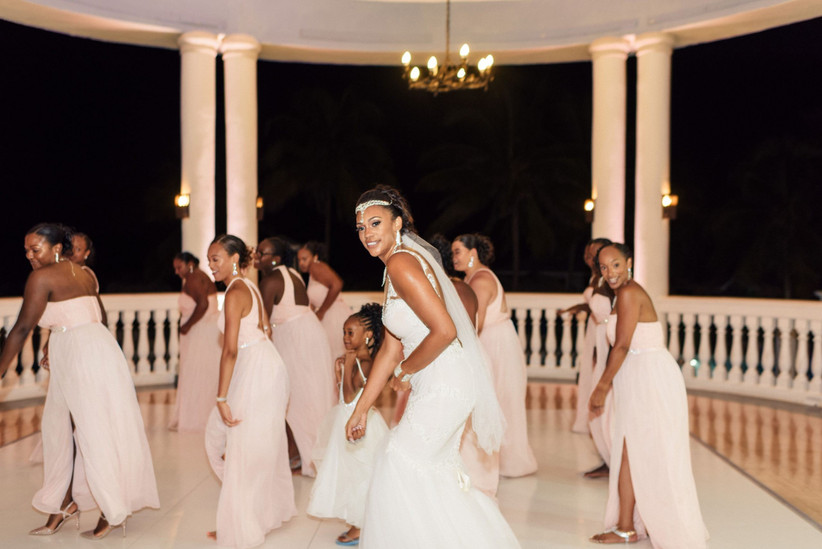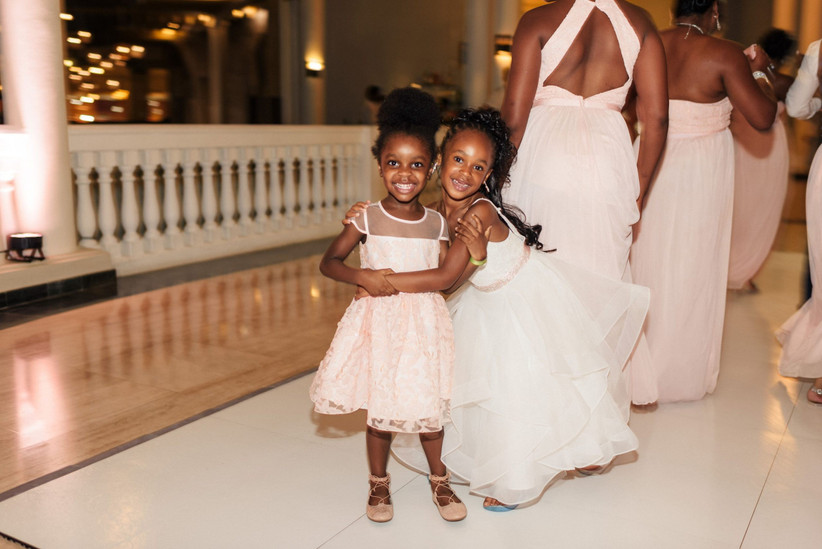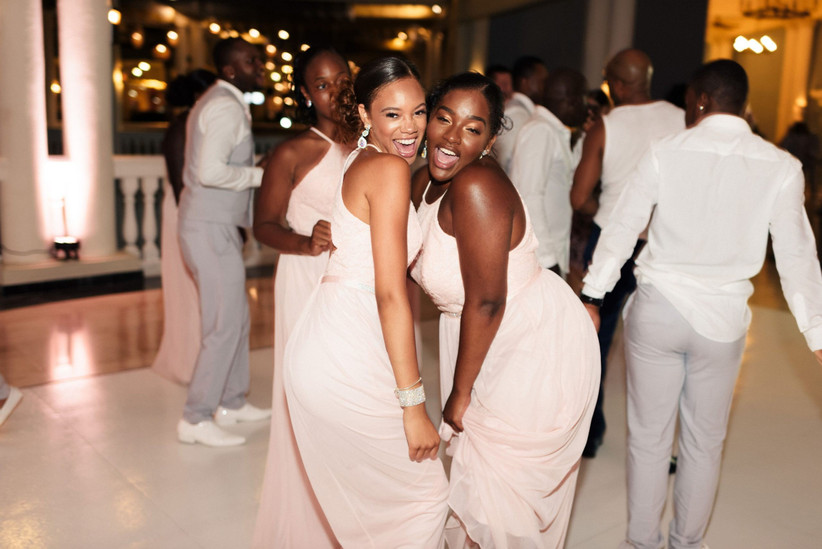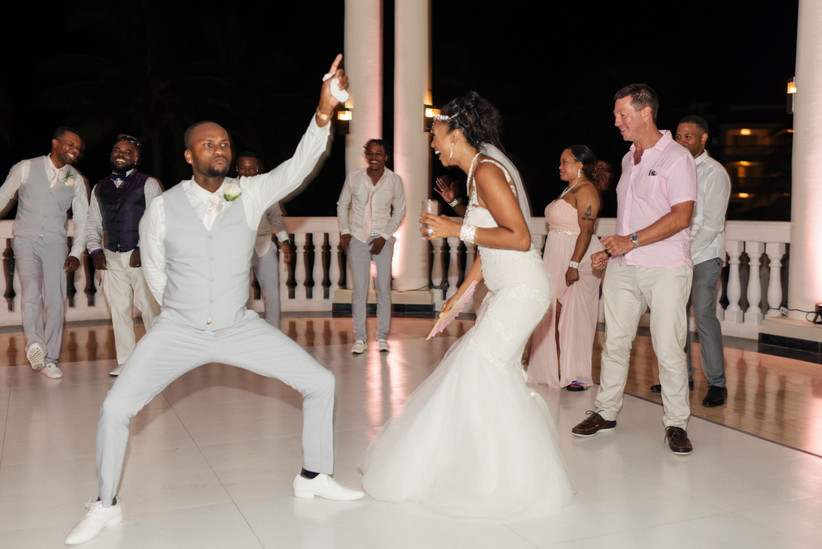 The Entertainment
Miranda and Anthoney chose a steel band for their reception drinks to give their wedding a traditional Caribbean vibe.
"For the main reception we had an MC keeping the reception flowing in the right order followed by a DJ for the evening entertainment. Both were recommended by the hotel.
"We love a good dance so we did a combination of songs for our first dance. We both picked a slow song each and did a verse and chorus of each one. Anthoney picked This Is Why I Love You by Major and I chose my all-time classic favourite, Let's Stay Together by Al Green. We then broke into a series of dances ranging from Tom Jones' It's Not Unusual, followed by the famous dance scene from The Fresh Prince of Bel Air, an afro-beats track and dancehall music.
"Once that was finished, my husband was taken by our daughter to sit down on a chair whilst I performed a dance to him by Beyoncé. This followed with a dance to Drake's In My Feelings by our youngest daughter and I, which then went on to two further dances with my full bridesmaid squad. It was a real performance in the 30 degree heat!"
The party continued until midnight when the couple and their guests hit the hotel night club for more drinks and dancing – the couple finally making it back to their suite at 3am!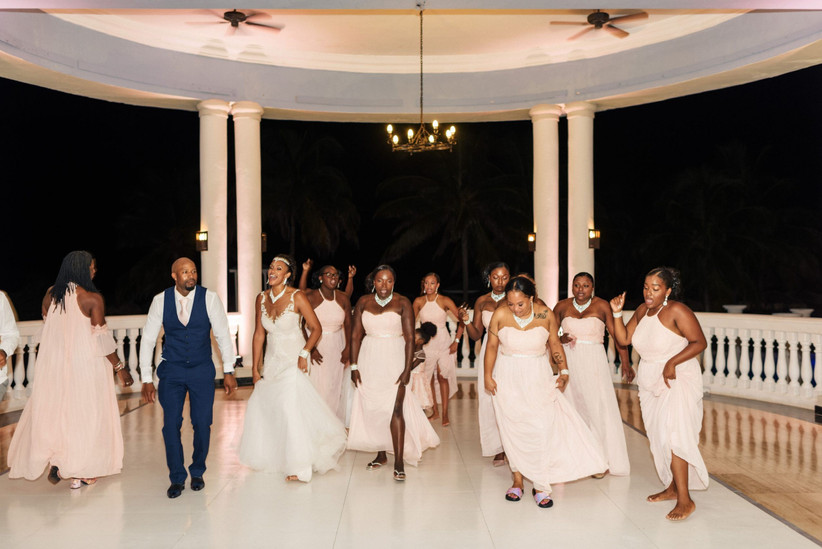 The Suppliers
Photographer: Nkima Photography
Venue: Grand Palladium Lady Hamilton Hotel
Wedding Dress: Julie Vino at Serendipity Brides
Groomswear: DKNY
Bridesmaid Dresses: David's Bridal
Flowers: Tai Flora
Cake: Cakes by Noida
Stationery: By Invitation Only and Talarthur Media
Thank you Miranda and Anthoney for sharing your gorgeous day with us!