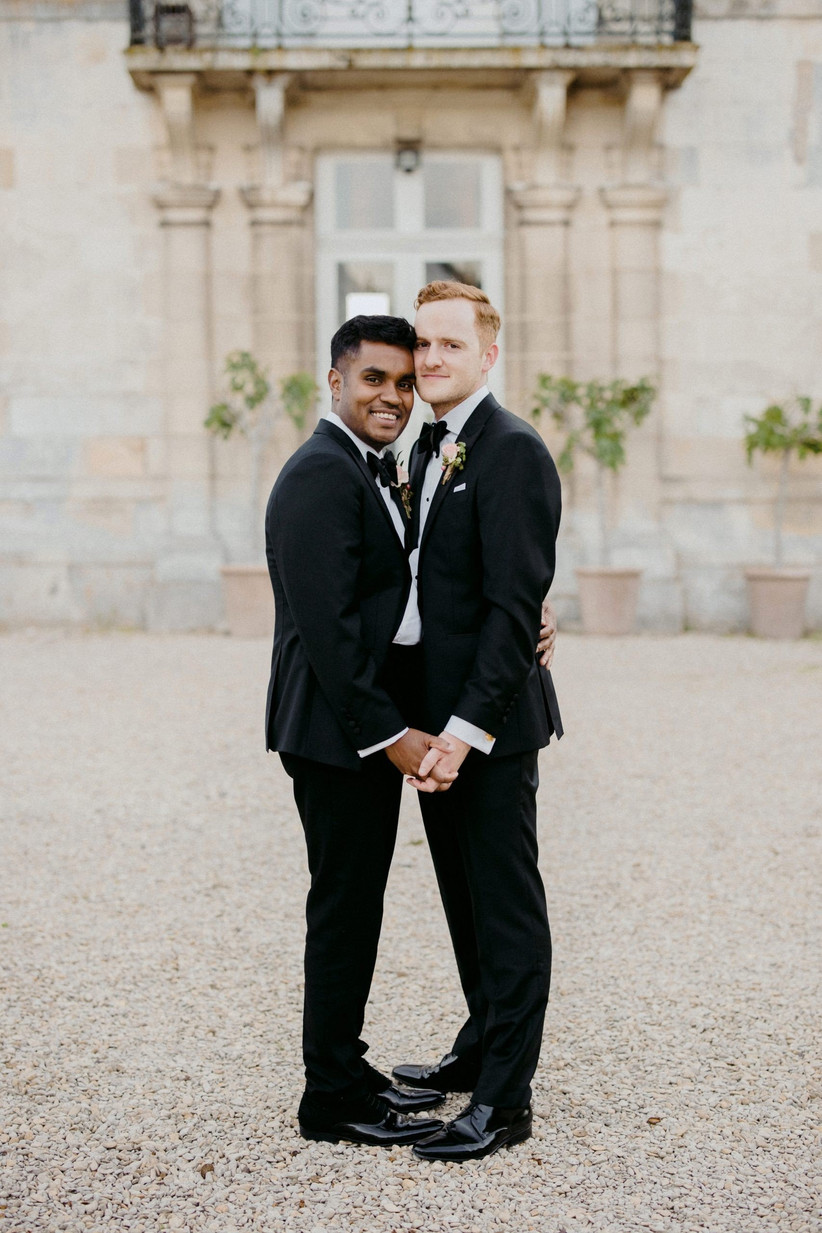 A last-minute change of plans led to the start of Michael and Héshàn's nine-year romance, culminating in one of the most stunning outdoor weddings Hitched has ever seen.
From the chateau in the Champagne region of France to the traditional Sinhalese Buddhist ceremony and the petal and macaron-encrusted cake complete with Bert and Ernie topper, we're head over heels for every detail of this special day.
Michael and Héshàn crossed paths during their days at university in Perth, Western Australia, but it wasn't until a friend of Héshàn's invited him along to a party that the pair got talking. "I just finished university and Michael was still completing his degree. I was volunteering at a centre for children with autism close to the university and it was orientation day at UWA (our university). There was a big party going on and my best friend invited me to join. I've seen Michael around, but we never really spoke. At this party we got some time to chat and there was a connection.
"Unfortunately, I had to leave early because I was meeting a friend in the city for drinks. As I was literally getting on the bus, I got a text from my friend asking for a raincheck. I had to make a split-second choice if I was going to go home or go back to the party. I got off the bus and went back to the party because I was sure I could hook up with this 'guy' Michael. That was more than nine years ago, and we've been together ever since."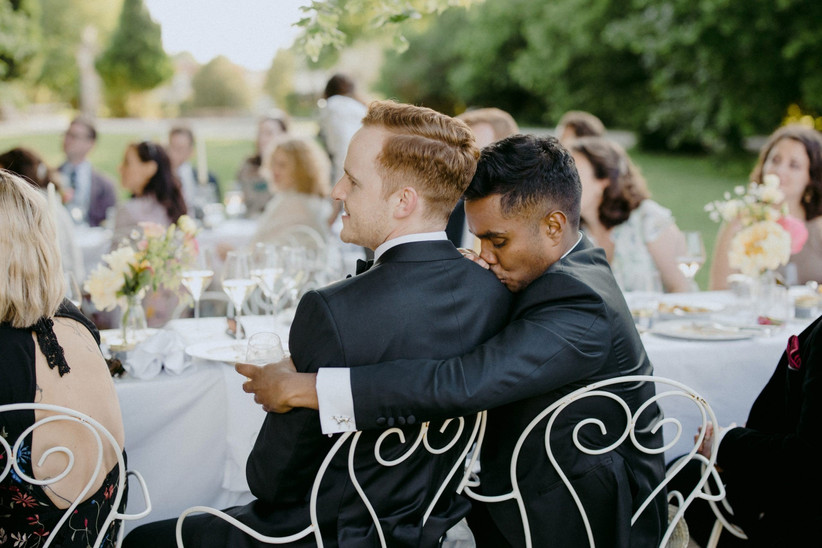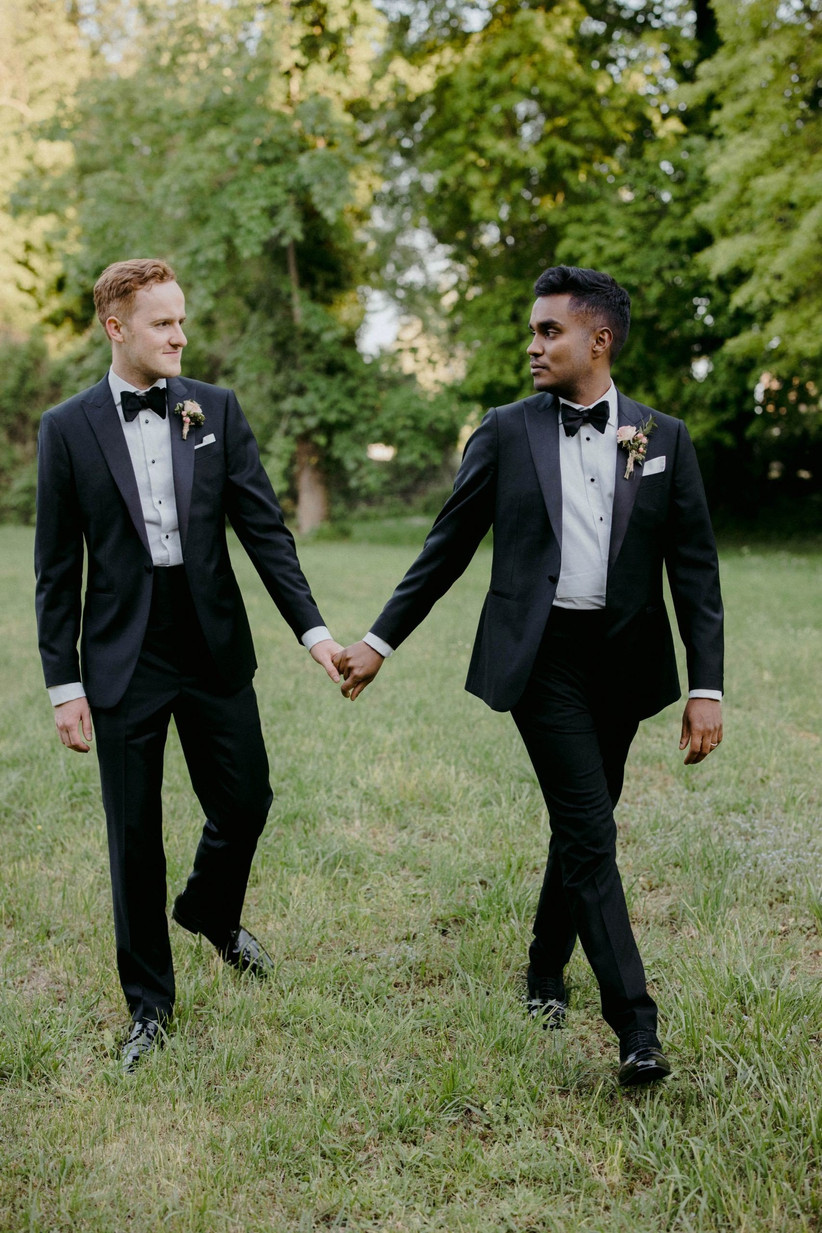 Seven years into their relationship, Michael decided to pop the question on a trip to Greece. "We got engaged in the summer of 2017. We moved to London in 2014 and, as all Aussies do, we were travelling as much as possible. We had decided to go on a sailing holiday with our friends in Greece, but we decided to explore mainland Greece by ourselves the week beforehand and go to Thessaloniki and Meteora. When I was about nine I watched this documentary about the monasteries of Meteora and I've badly wanted to visit there ever since then. It was on the top of my bucket list. We started our holiday and Michael was acting so peculiarly. He wanted to go for walks by himself, and if you know him, you know he wants my company even when he is having a shower! I thought something was bothering him. I asked him and he said he was fine. So, I just left it at that.
"When we got to Meteora we did a hiking tour. Our tour guide told us about this large rock that we could see in the distance and how a rock fall about ten years ago made it accessible for climbers. He told us that it wasn't well known but the hike was absolutely amazing.
"So, the next day we decided to climb the rock. We climbed and had a wonderful hike in complete solitude. It was so beautiful, and the view was breathtaking. On our way down Michael was acting so strangely. He wanted to have frequent little breaks and a cuddle. I was so oblivious to the whole situation and I was constantly asking him what the matter was. He said he was feeling shy, and I had no idea what he was talking about. I just didn't understand why he was shy because we've been together so long, and we know each other so well.
"I didn't understand until he got down on one knee, picked up a pebble and asked me to marry him. I had no idea he was going to ask me. We had talked about getting married one day, but we were waiting for it to be legalised in Australia at that time. It wasn't even legal there yet. I obviously said 'yes'! I was shocked but so happy! And it was perfect! It was just us, the view and a random little turtle who popped by just as I said 'yes'. We decided the turtle was a good sign. He then explained to me that he knew he wanted to ask me to marry him the moment he got to Greece (explaining the strange behaviour!) and that he was trying to escape me to go find a ring."
In the end, Michael and Héshàn chose rings together and the simple Tiffany & Co. bands were used as their wedding bands during their ceremony a year and eight months later.
Photographer: Samm Blake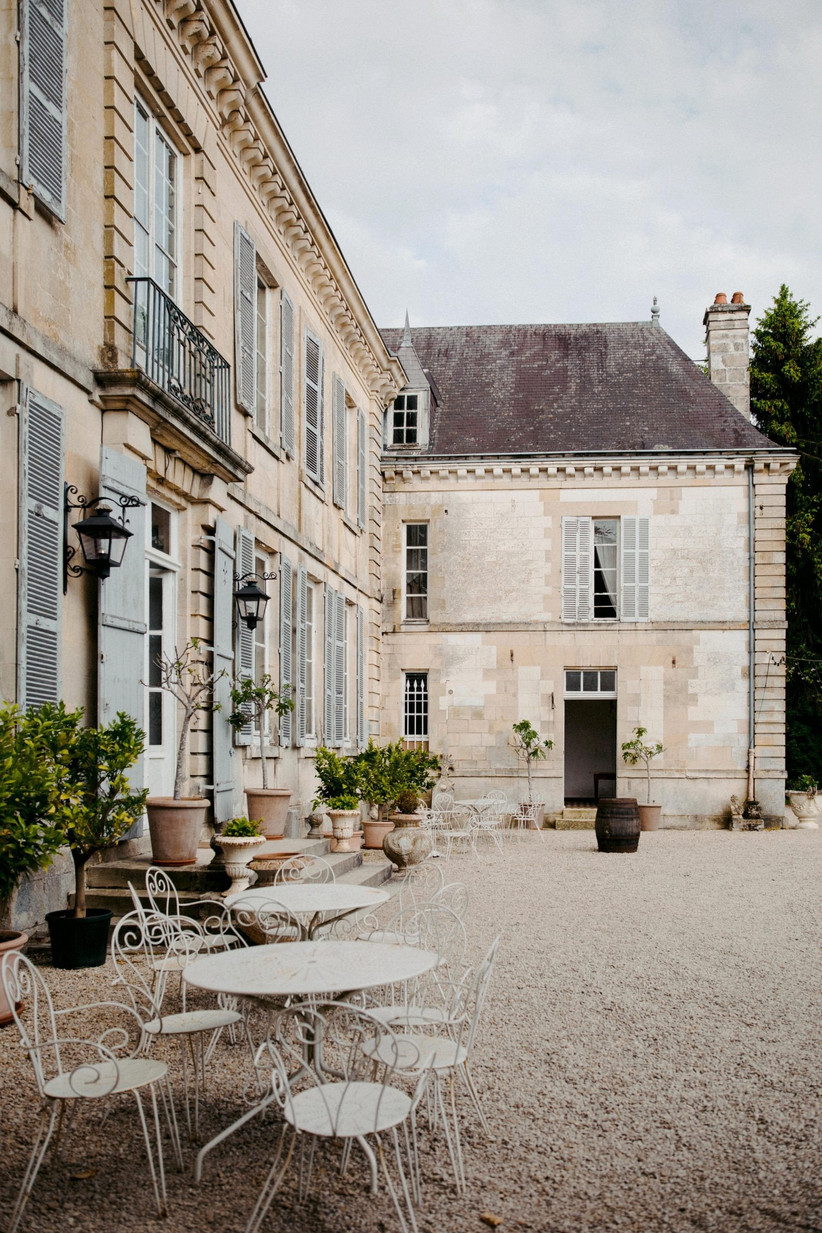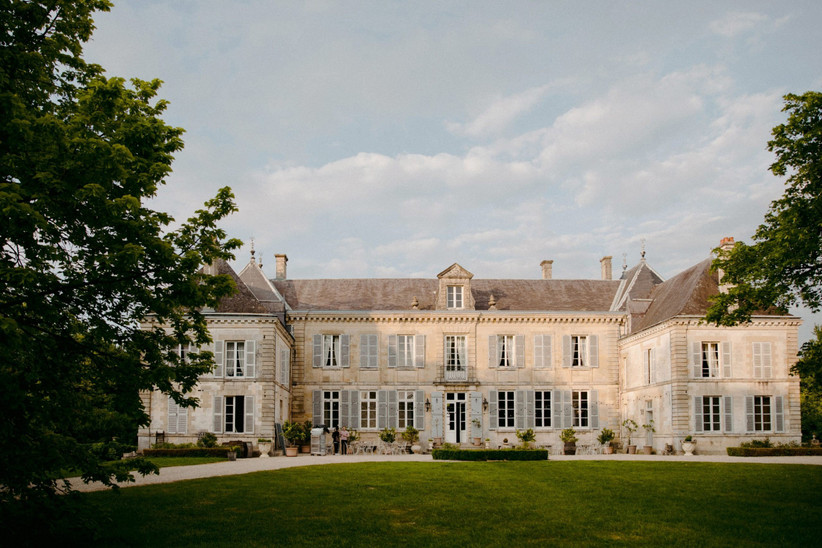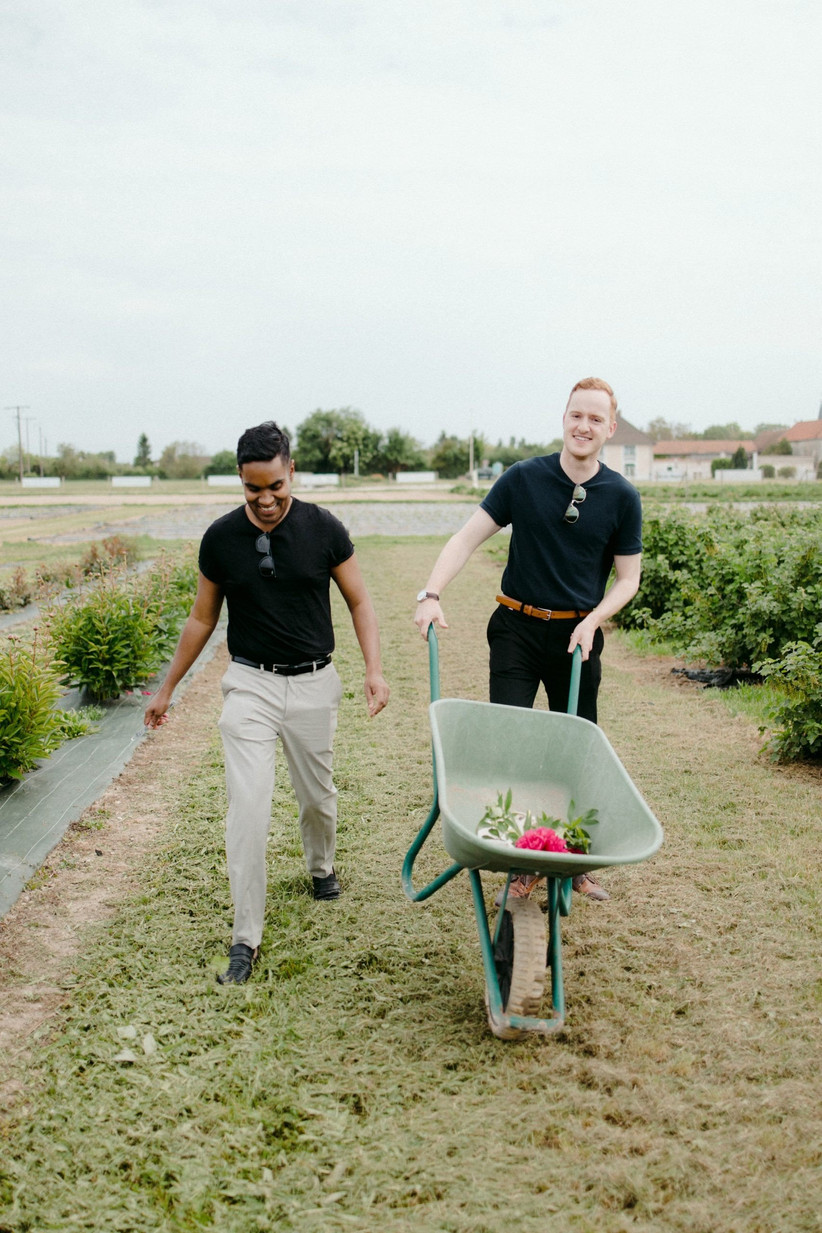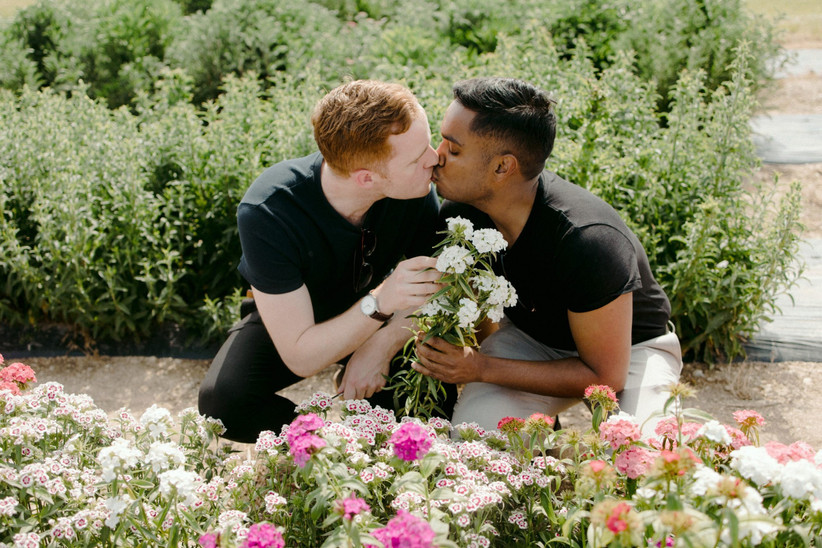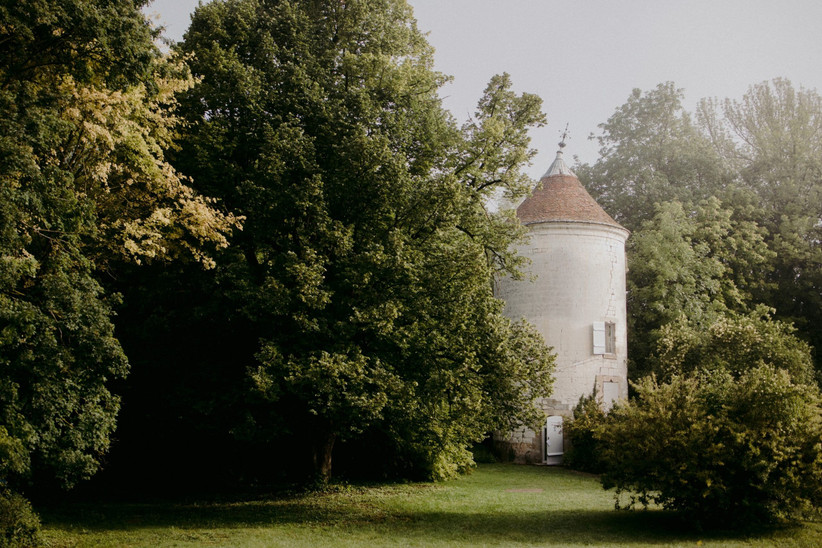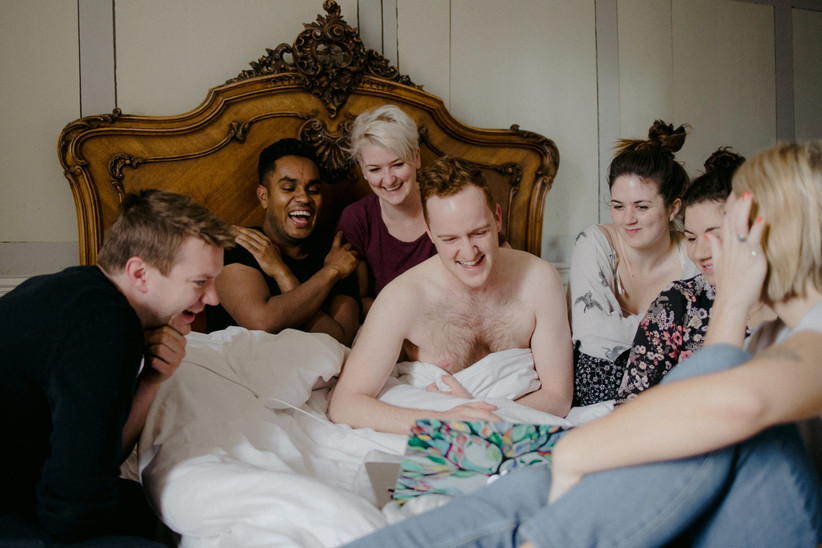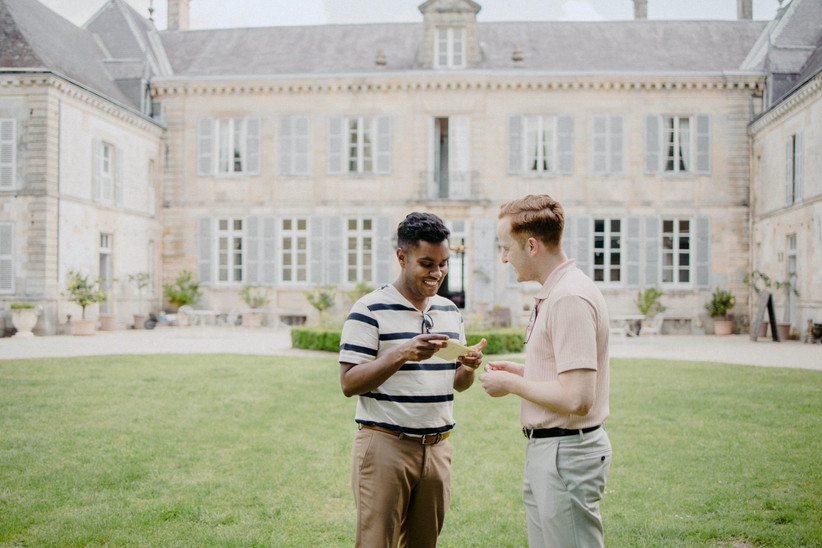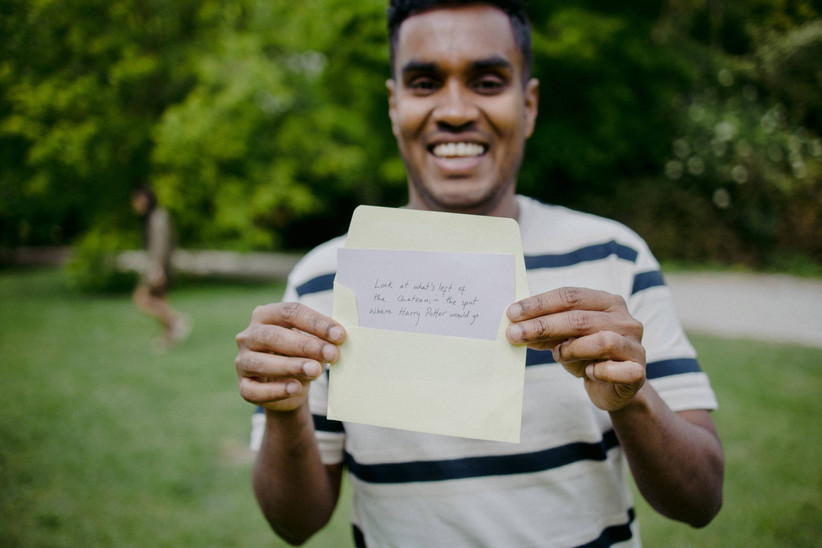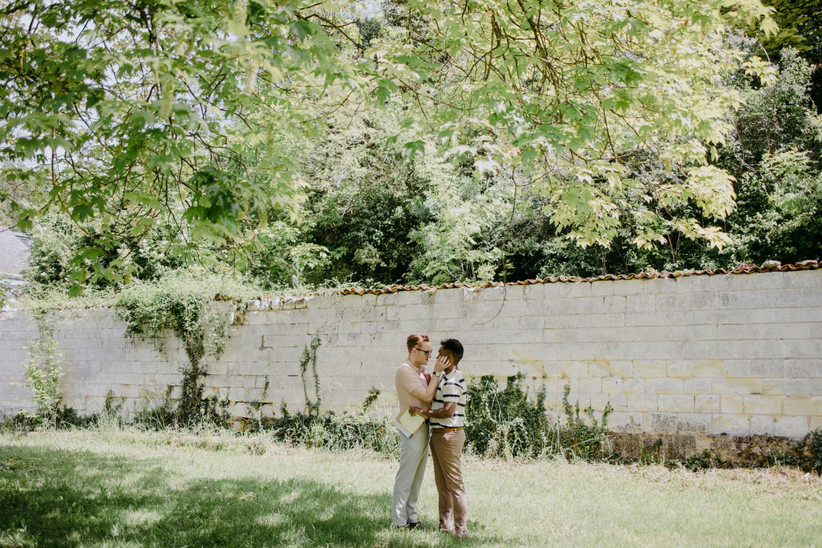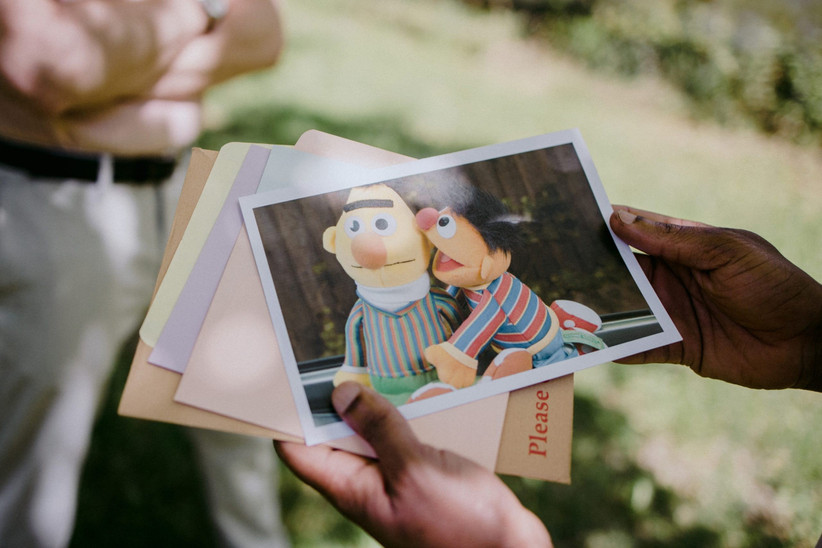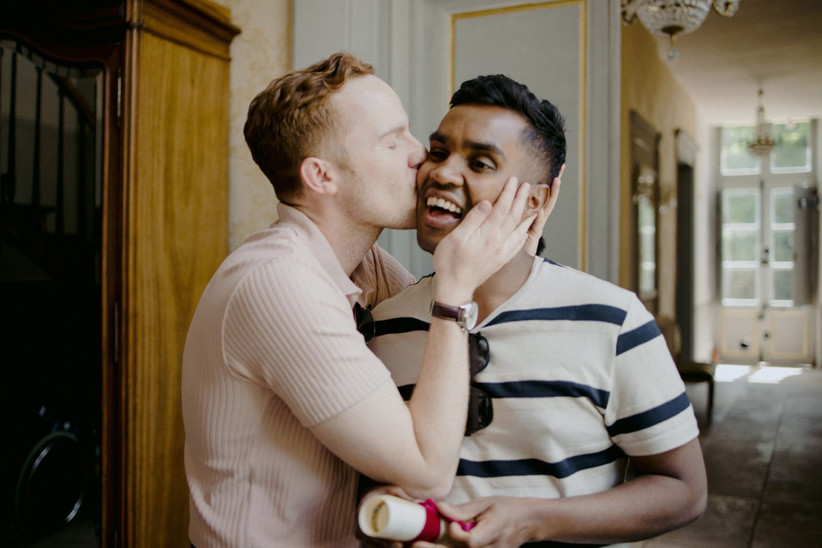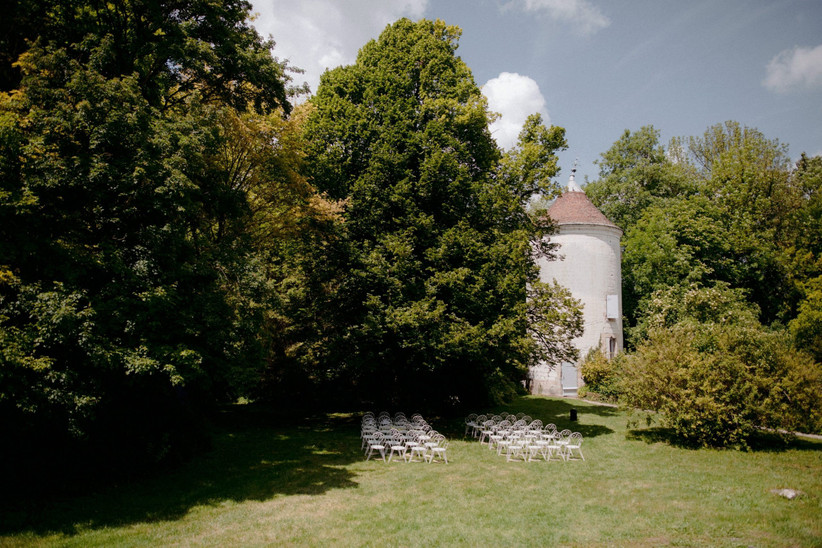 The Grooms and Wedding Party
The grooms got ready together on the morning of their wedding. They both wore black tie suits from The The Drop which were chosen together and accessorised with some very personal touches. "We bought some animals cufflinks. I always say Michael is like a cute grumpy baby bear when he wakes up, so I got him bear cufflinks and I got dog cufflinks that reminded me of my childhood dog. They were from Gamekeepers Gifts on Etsy."
When it came to dressing their wedding party, Michael and Héshàn prioritised their friends' comfort and personal style. "We wanted everyone to have a dress that matched their personality and what they are comfortable with. It wasn't just one place, they wore dresses from various stores.
"One thing we wanted was for the dresses to be floral. My husband's best friend wore a black wedding dress for her wedding with colourful flowers on it. I wanted her to wear a similar dress and she offered to wear it again. She was so happy to reuse her wedding dress and I really loved that dress on her. We had some of the wedding party wear suits as well."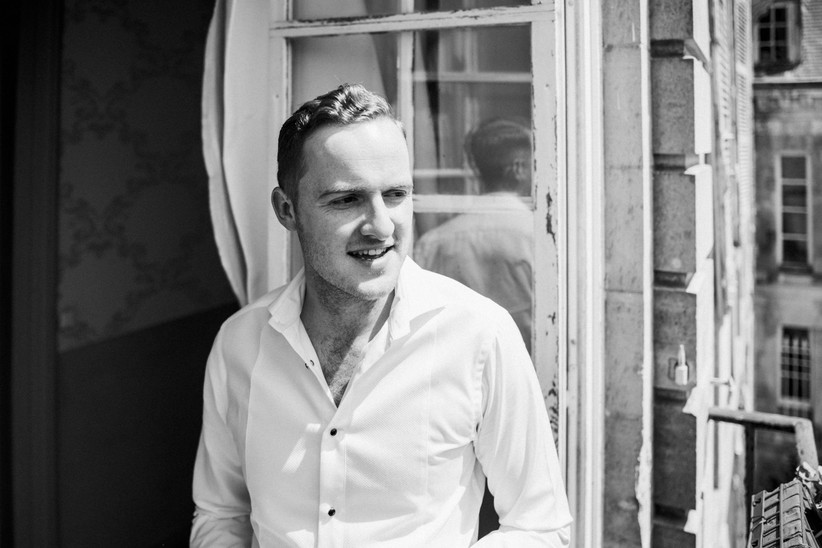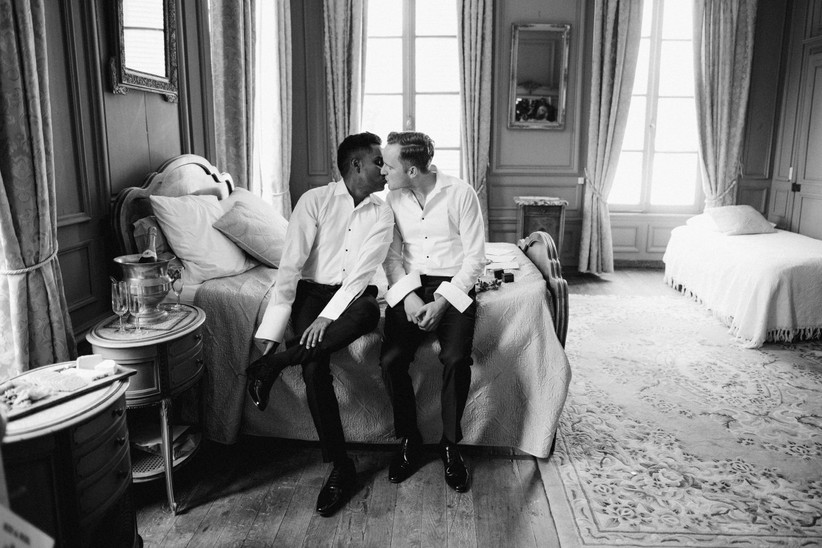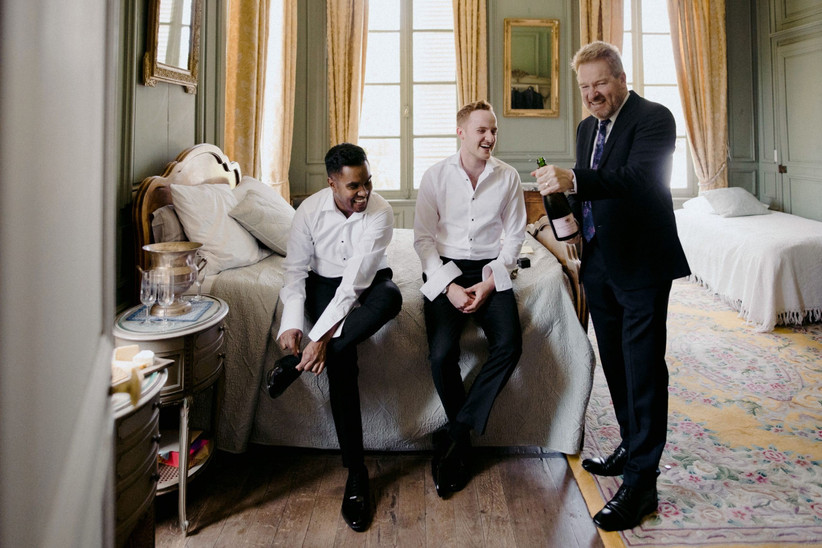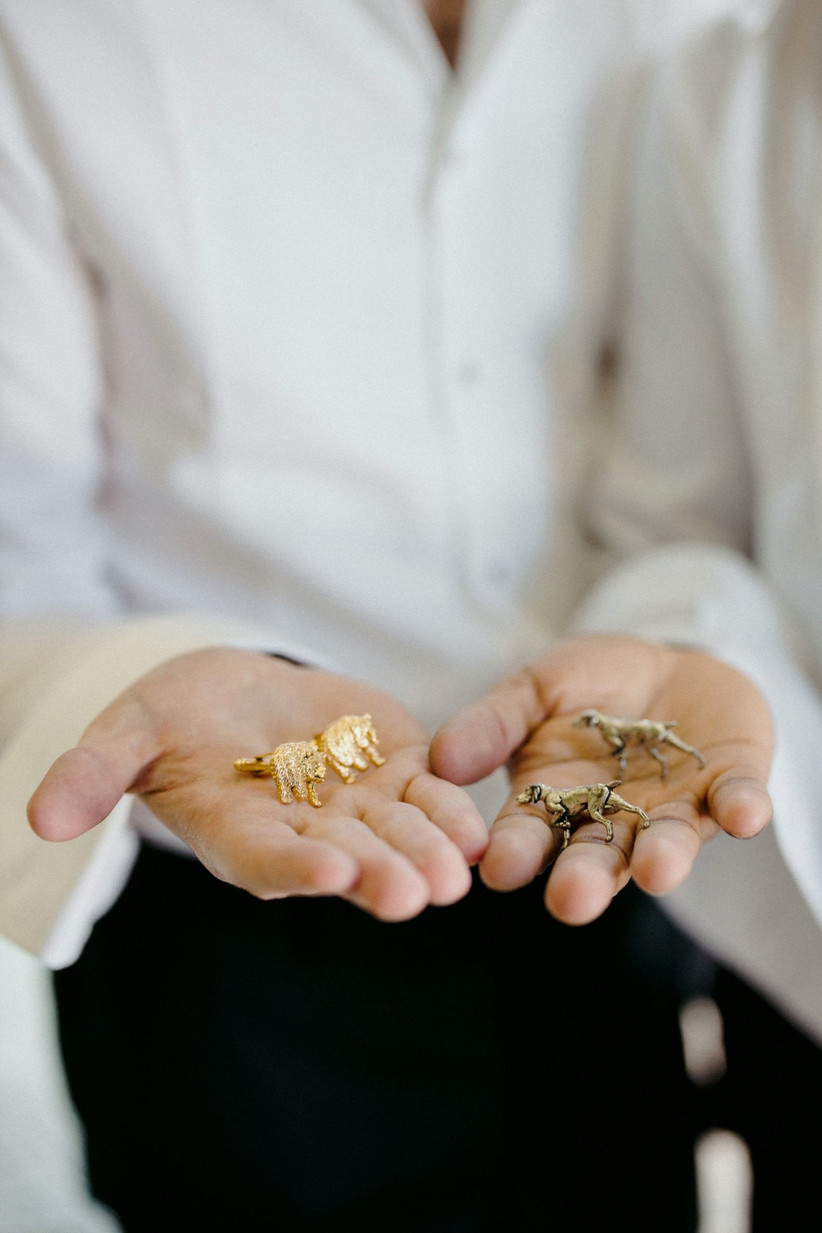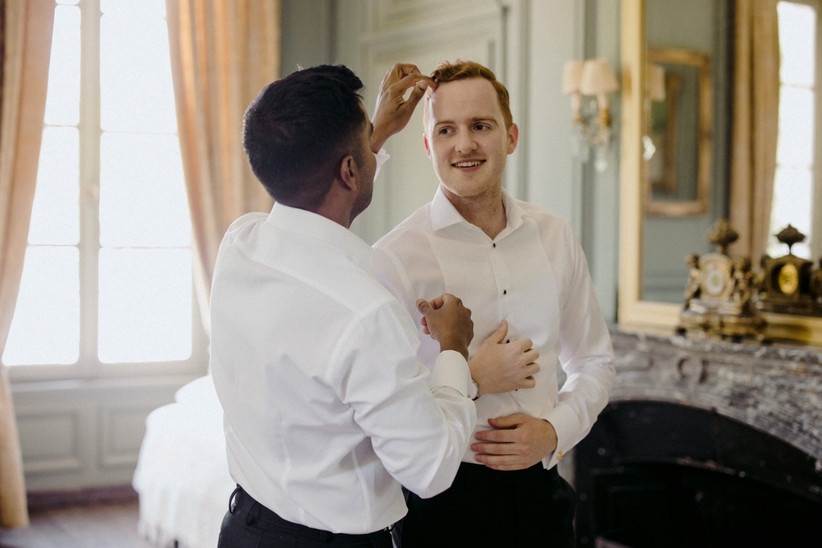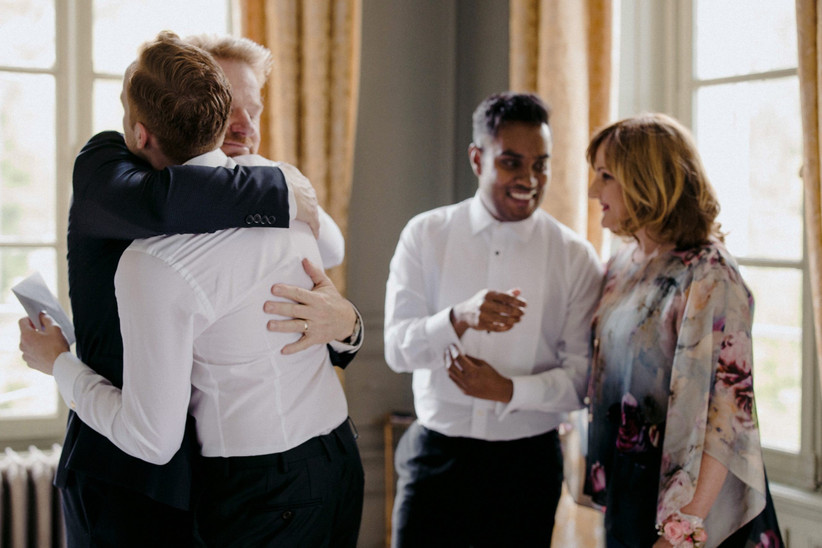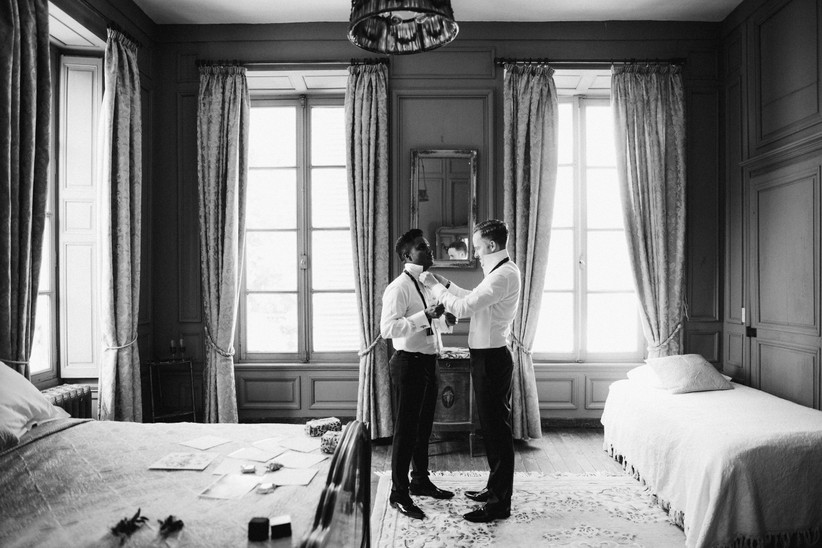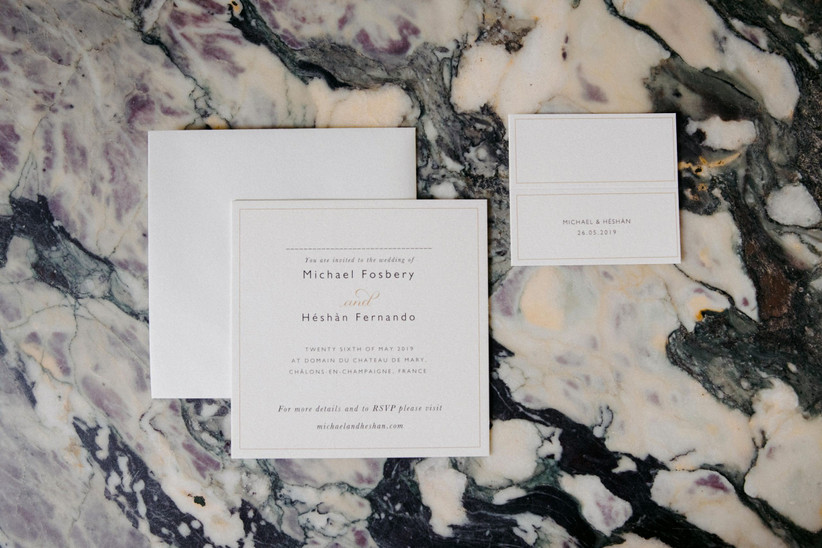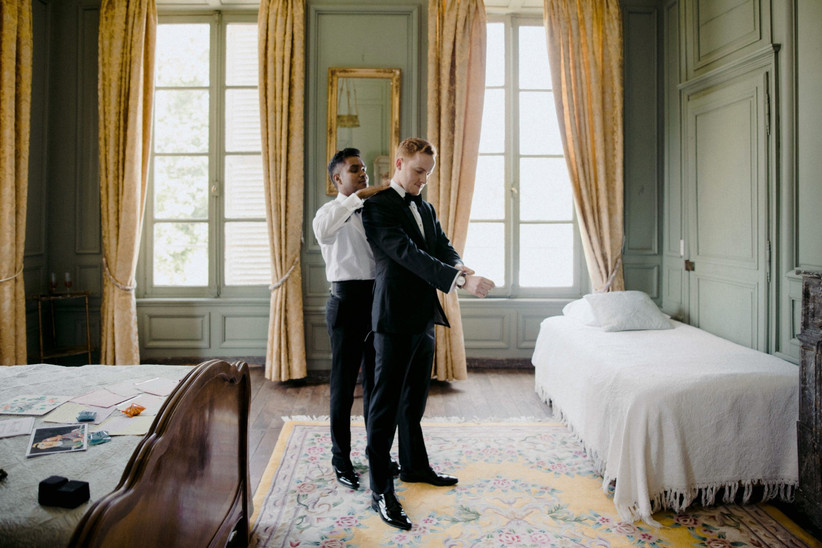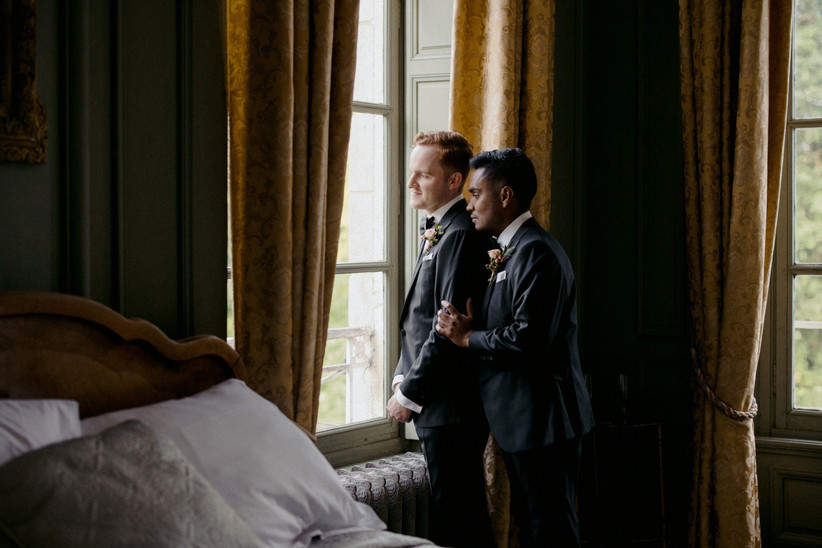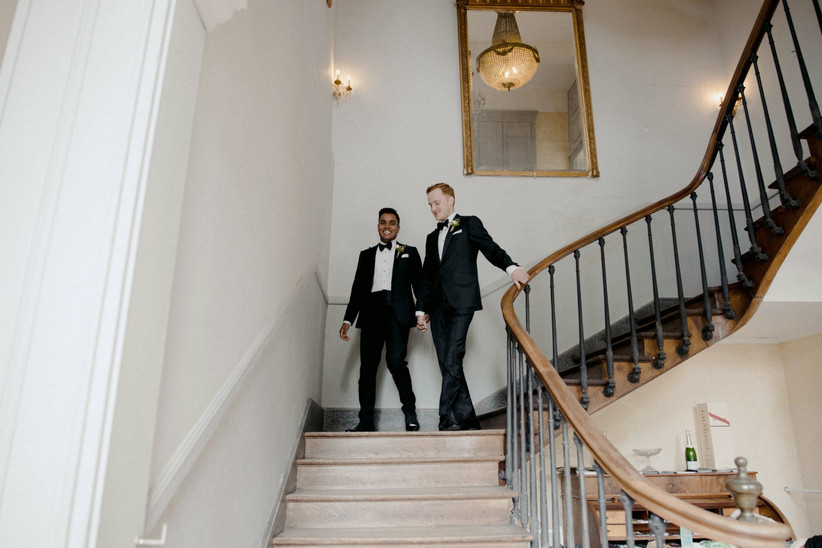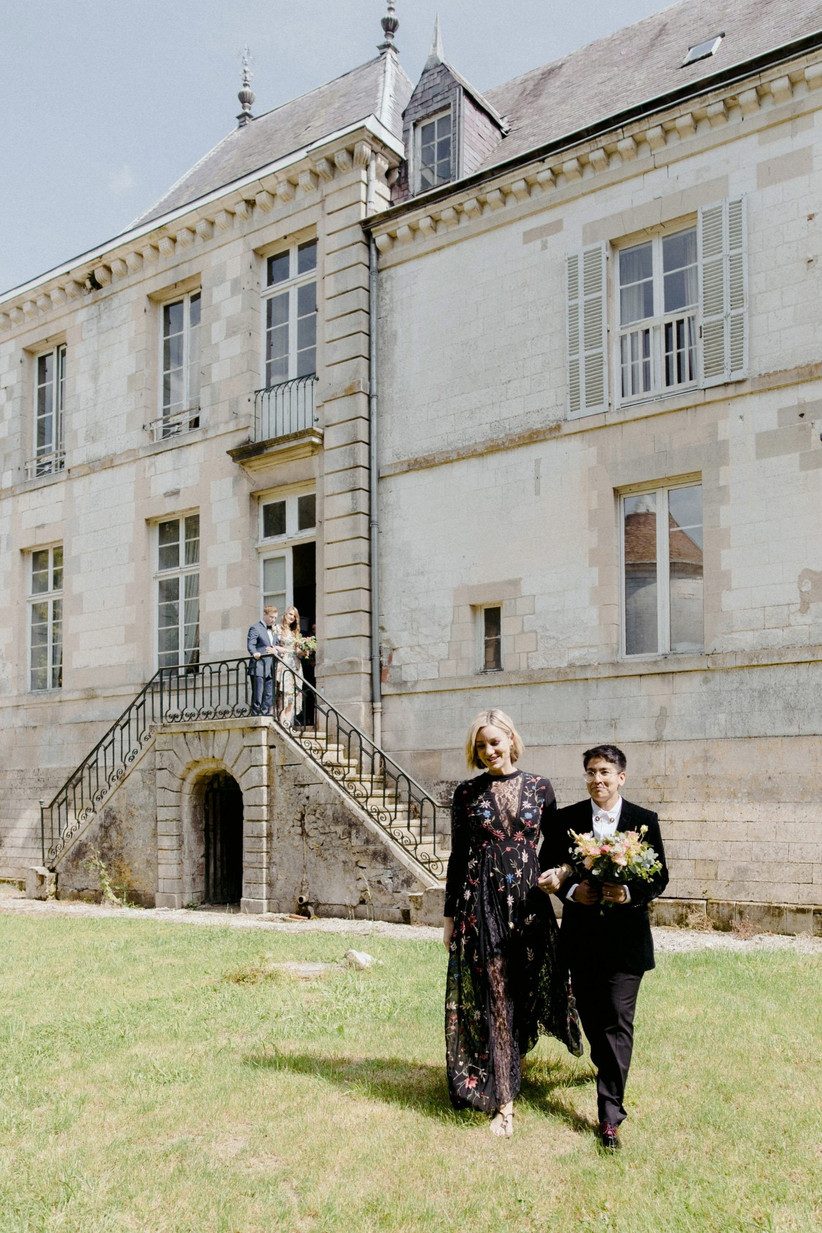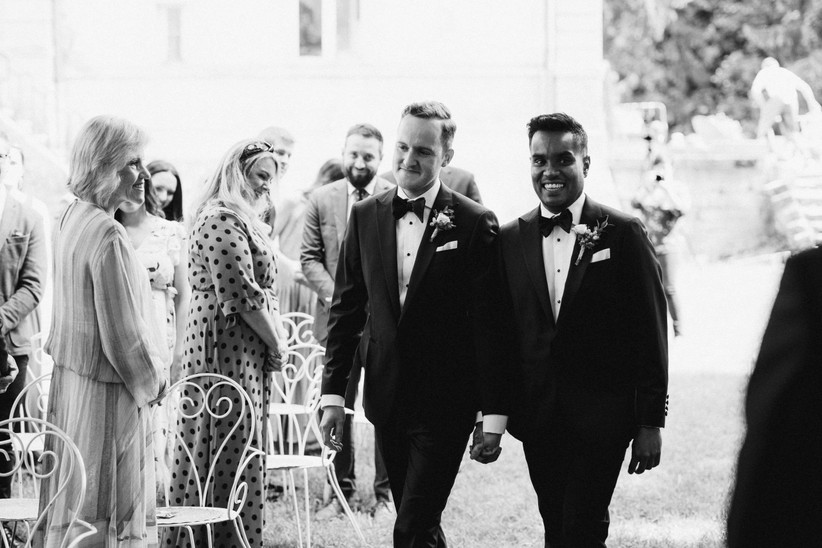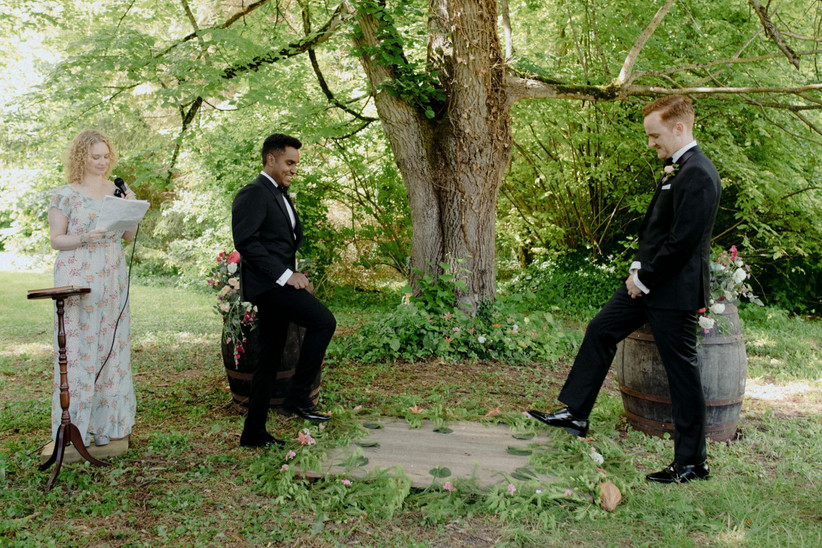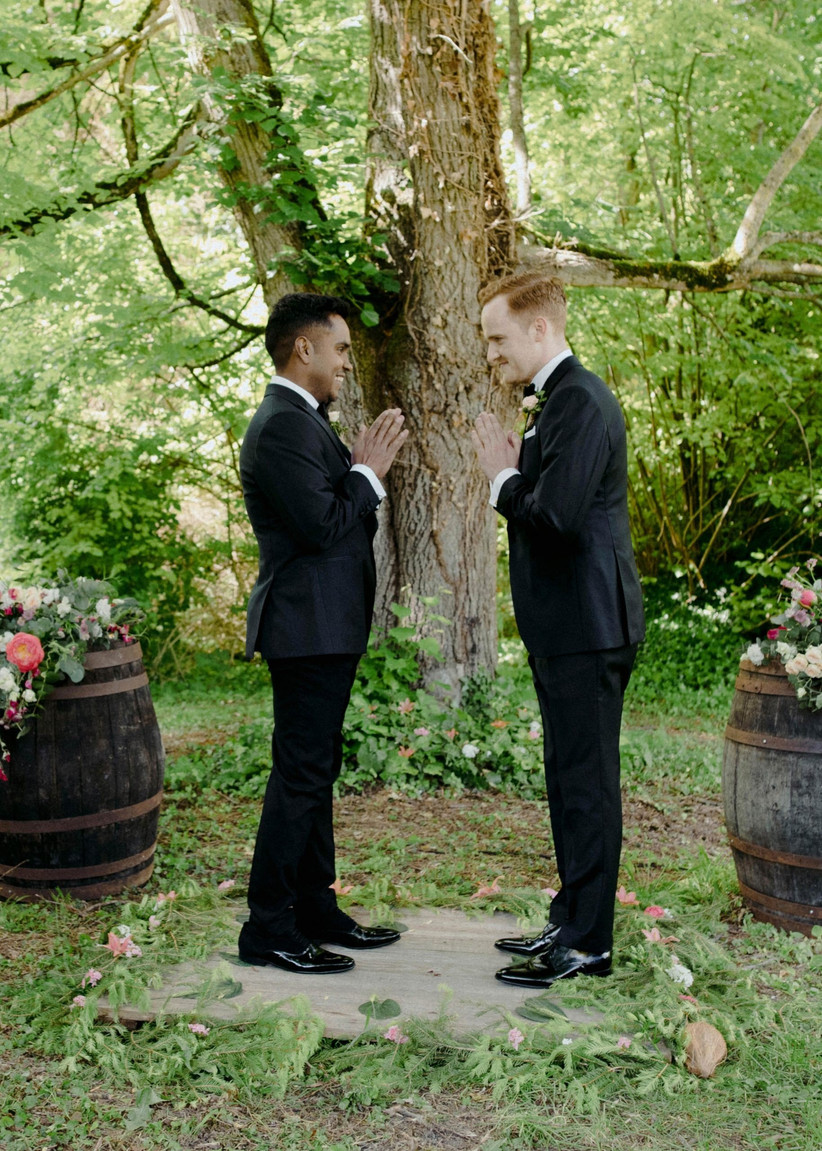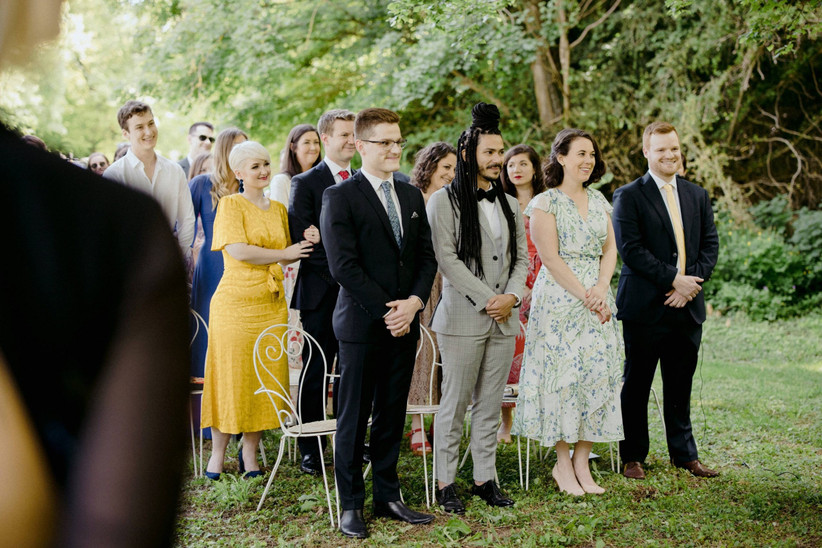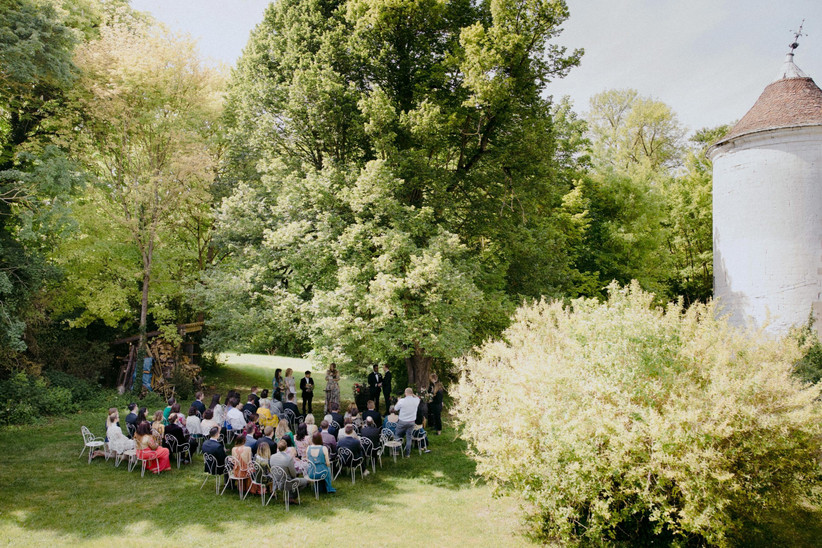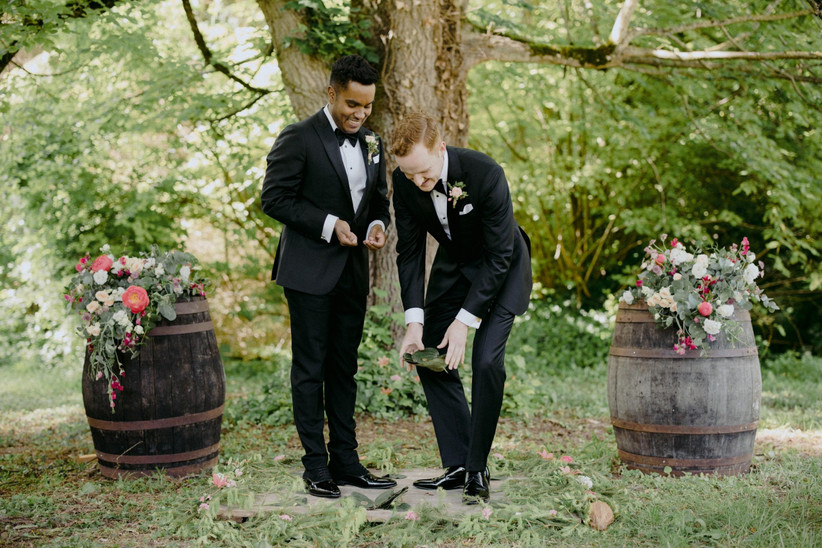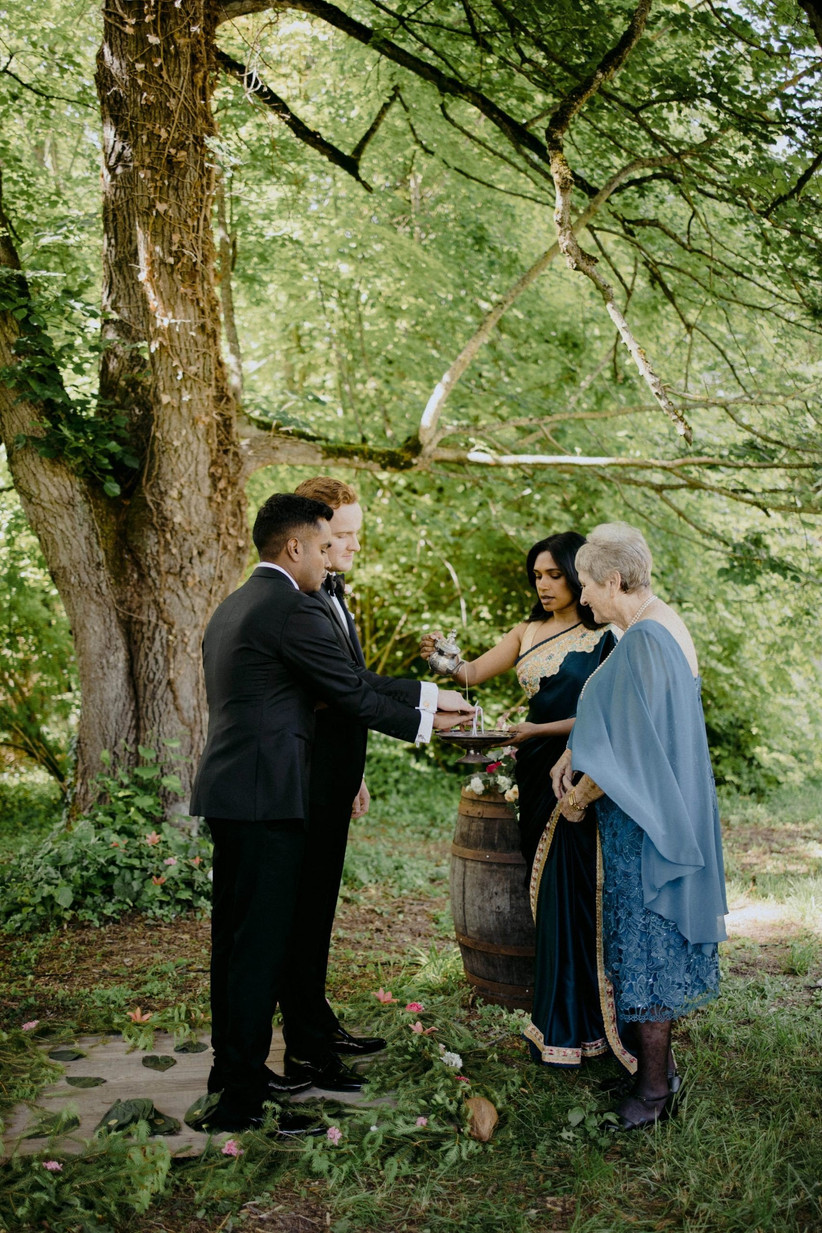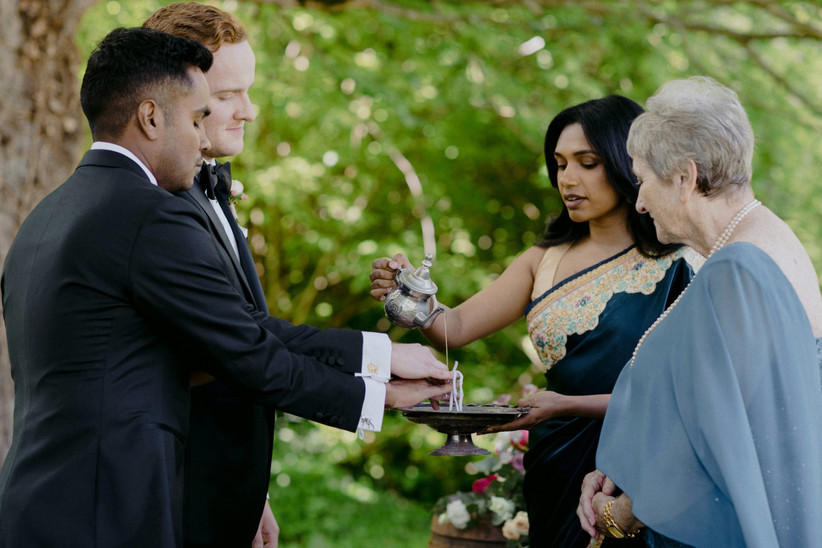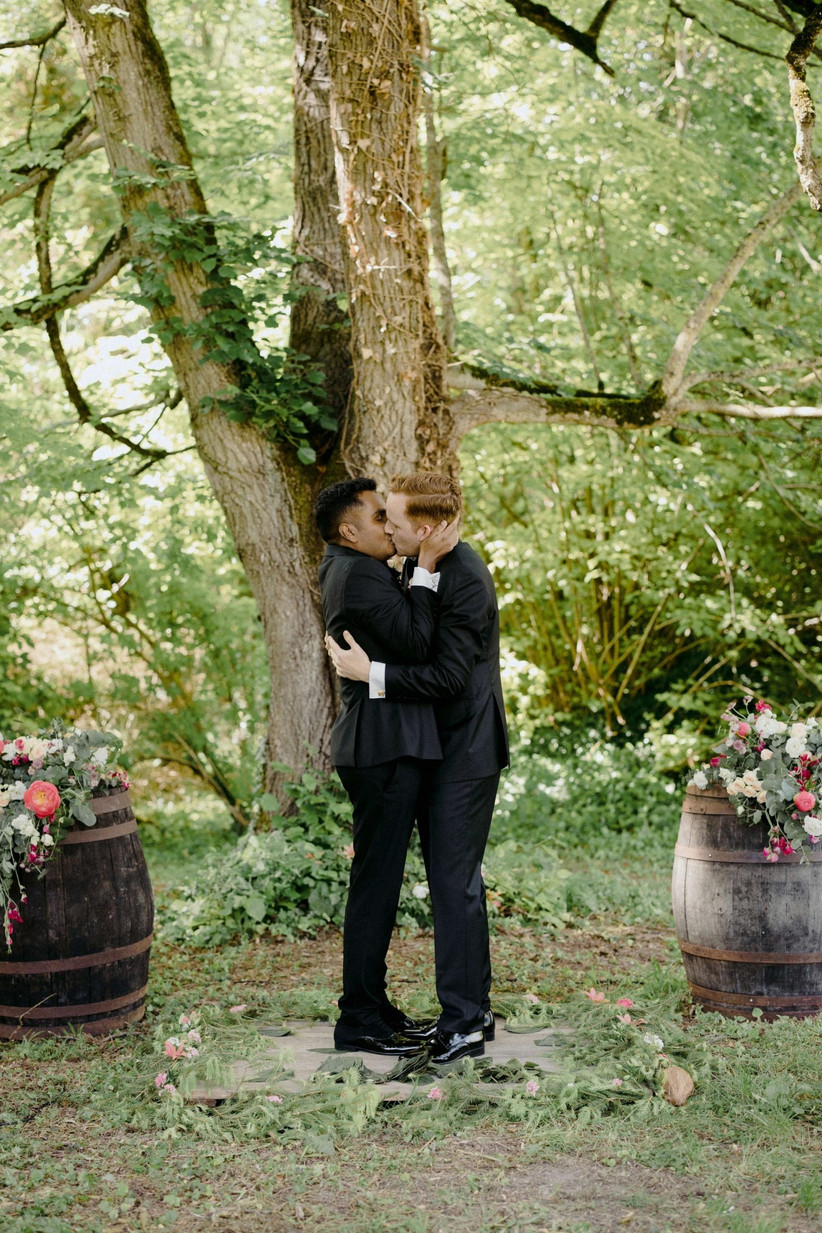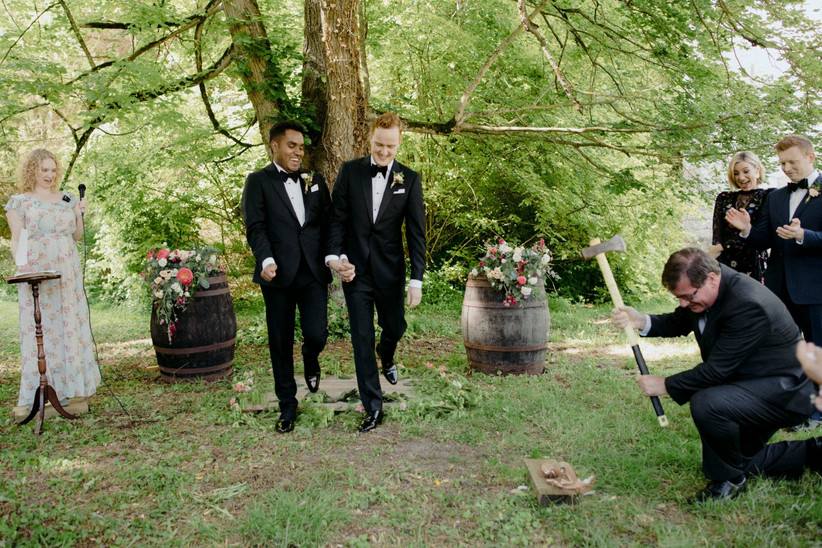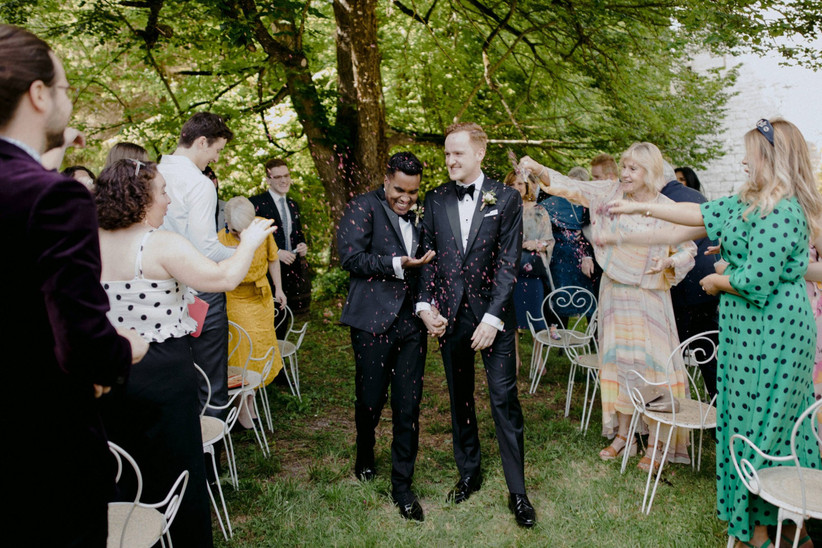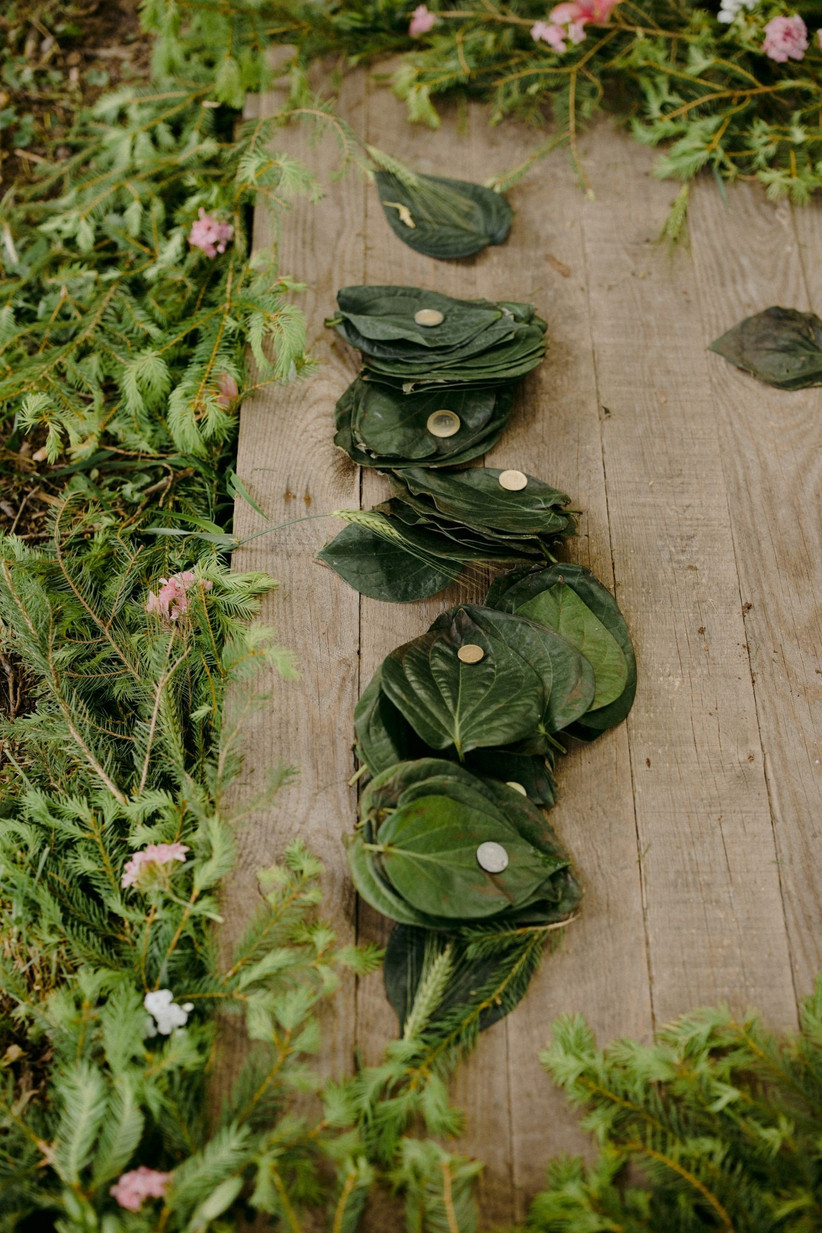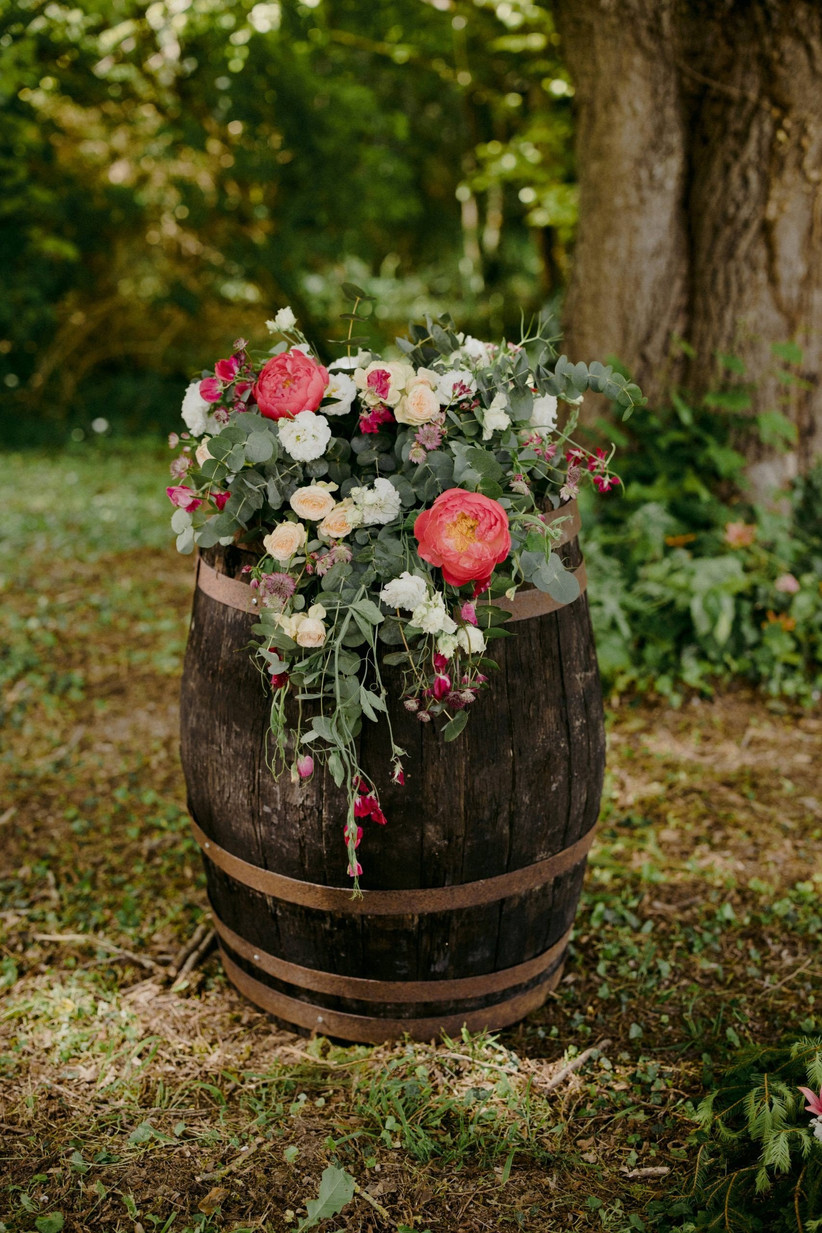 The Ceremony
Michael and Héshàn first married in a civil ceremony at Westminster Town Hall before flying out to France for their ceremony that followed the Sinhalese Buddhist tradition. "A Sinhalese Buddhist wedding ceremony is mostly about making a promise to each other, to take care of each other," explained Héshàn. "It's not really about a promise you make to a god or anything like that. It's about the commitment you make to each other and it's a celebration of gratitude and acknowledgement for the people who have taken care of you in your life. You publicly thank them for their efforts for raising you and being there for you and now you promise to take care of each other. The ceremony is called a Poruwa ceremony.
"According to Sinhalese folklore, long ago a goddess fell in love with a mortal man. An ancient god, who considered the union unnatural, cursed the goddess's body with poison so that when the couple united in their love, she would kill him. Seeing the plight of the couple, the other gods decided to intervene. They constructed a holy structure known as the Poruwa as means to end the curse. The couple stepped on to the Poruwa, paid gratitude to the gods for their help and accepted their blessings. Once they stepped off the Poruwa, it is believed that Bumi, goddess of the earth, sucked the poison from the goddess's body and enabled the couple to be together.
"At a Sinhalese wedding ceremony, the couple embody the love between that goddess and the mortal man. They offer thanks to those who have come before and aided them in life. They make a commitment to love, aid and cherish one another in front of their friends and family.
"Because Buddhist elements have also been incorporated in to the ceremony, you marry not only in this life but in all your future lives as well. To symbolise this bond, the couple have their little pinkies tied together by string that has been blessed by monks. Pat, Michel's grandma, was the one who tied our pinkie with the sacred thread, which was pretty special moment.
"Then you have water blessed by monks poured over both of your pinky fingers while a Buddhist chant for protection in recited. Water is an eternal verity and represents Saṃsāra. It symbolises the unity as a couple not only in this life, but also the next. United in devotion and love for one another.
"Then we give gratitude and thanks to the people who took care of us. You take seven piles of seven betel leaves – it's meant to represent the last seven generations of your family – and you're giving thanks for those generations for allowing you to both be here. Then there is the gift-giving ritual, where you present gifts to your parents.
"My parents weren't able to be there, so we gave Michael's mum a heart-shaped pendant that you can open. It had four sides and it had a picture of Michael's mum and dad on their wedding day, a picture of Michael's mum's parents on their wedding day and a picture of us when we got engaged in Meteora. On the fourth side it had all the dates engraved of the three separate weddings. Michael's dad is really into genealogy and so we gave him cufflinks with his family crest engraved on them."
Michael and Héshàn decided to walk down the aisle together to an ancient Buddist sutra known as the Jayamangala gatha or the Stanza's of Victory. "We had already been together eight years and bit, we didn't need anyone to give us away. We already belonged to each other and this wedding was just strengthening that fact," said Héshàn.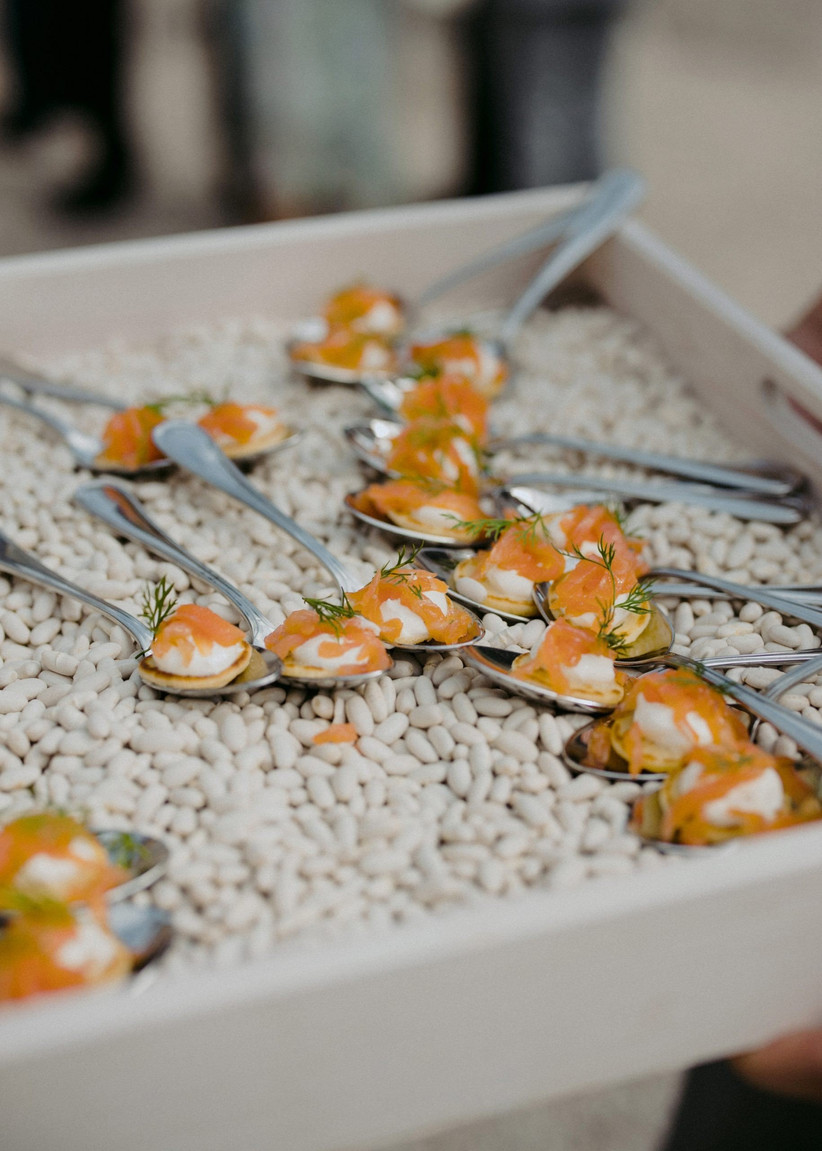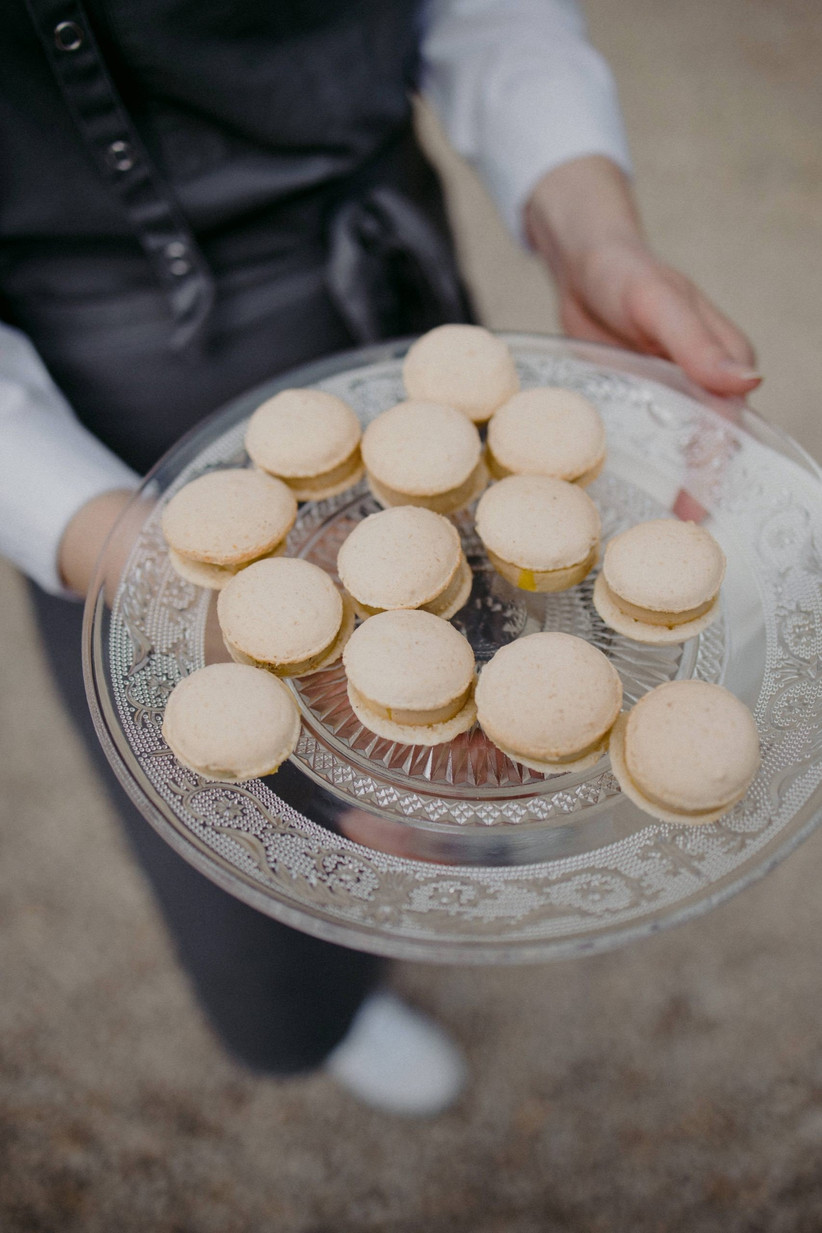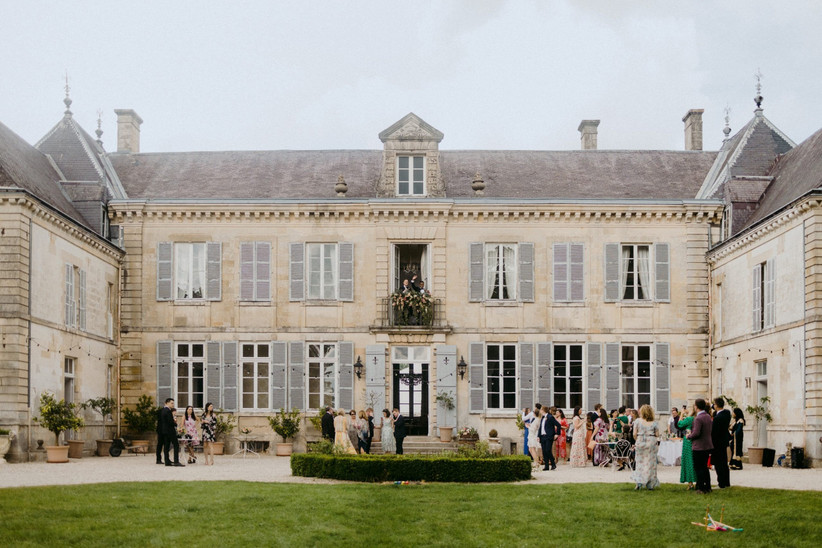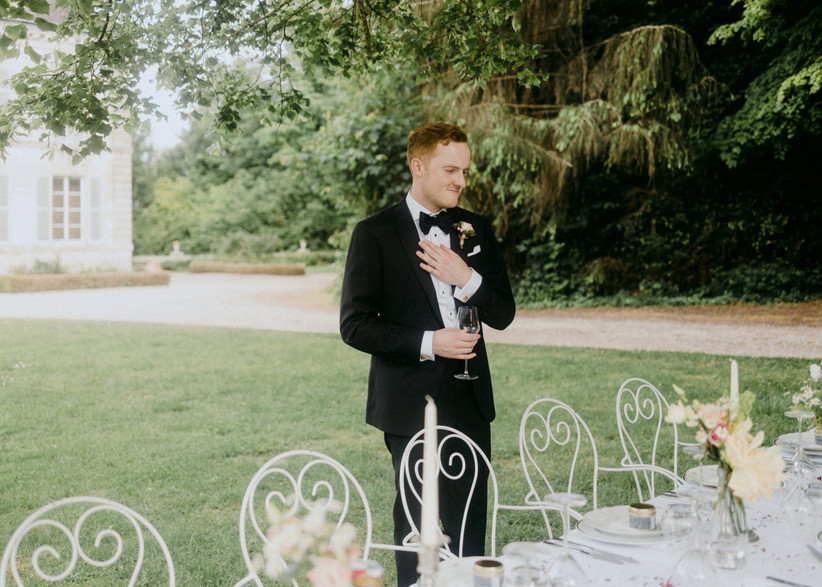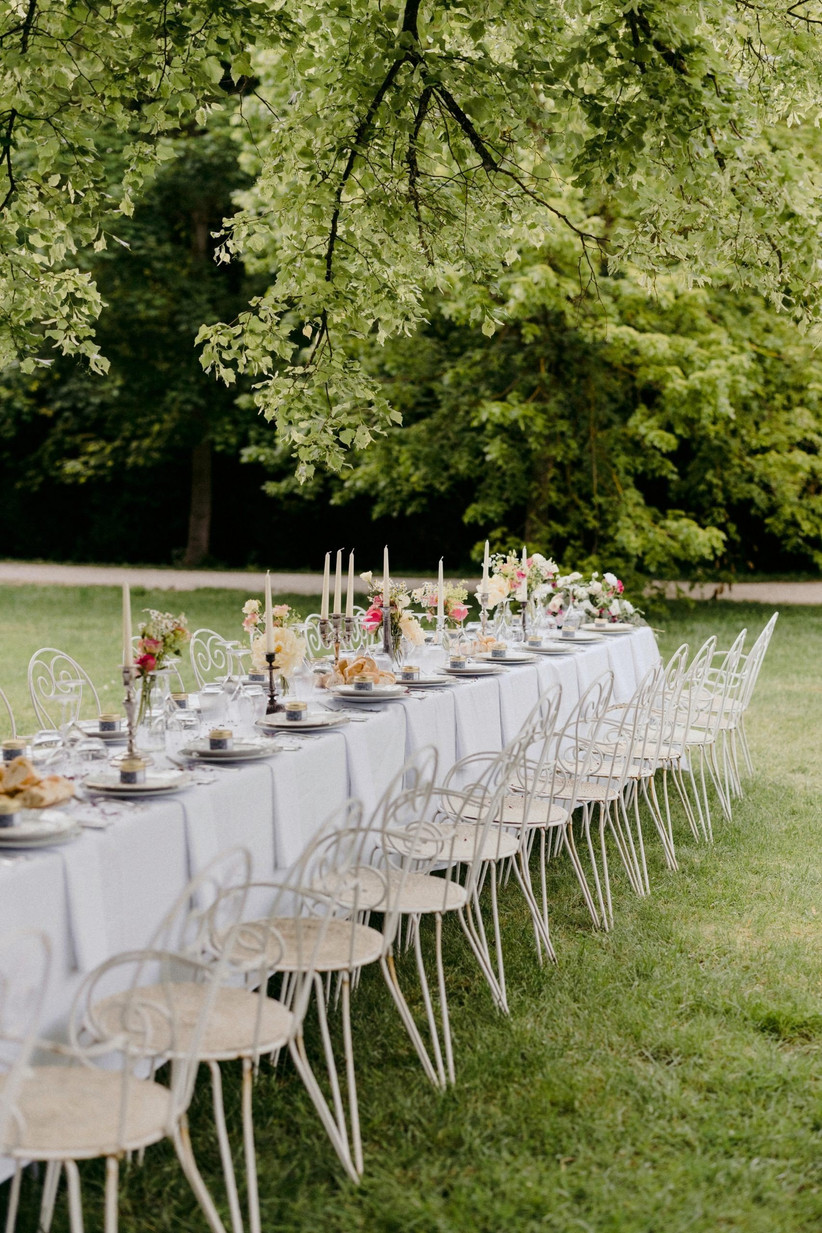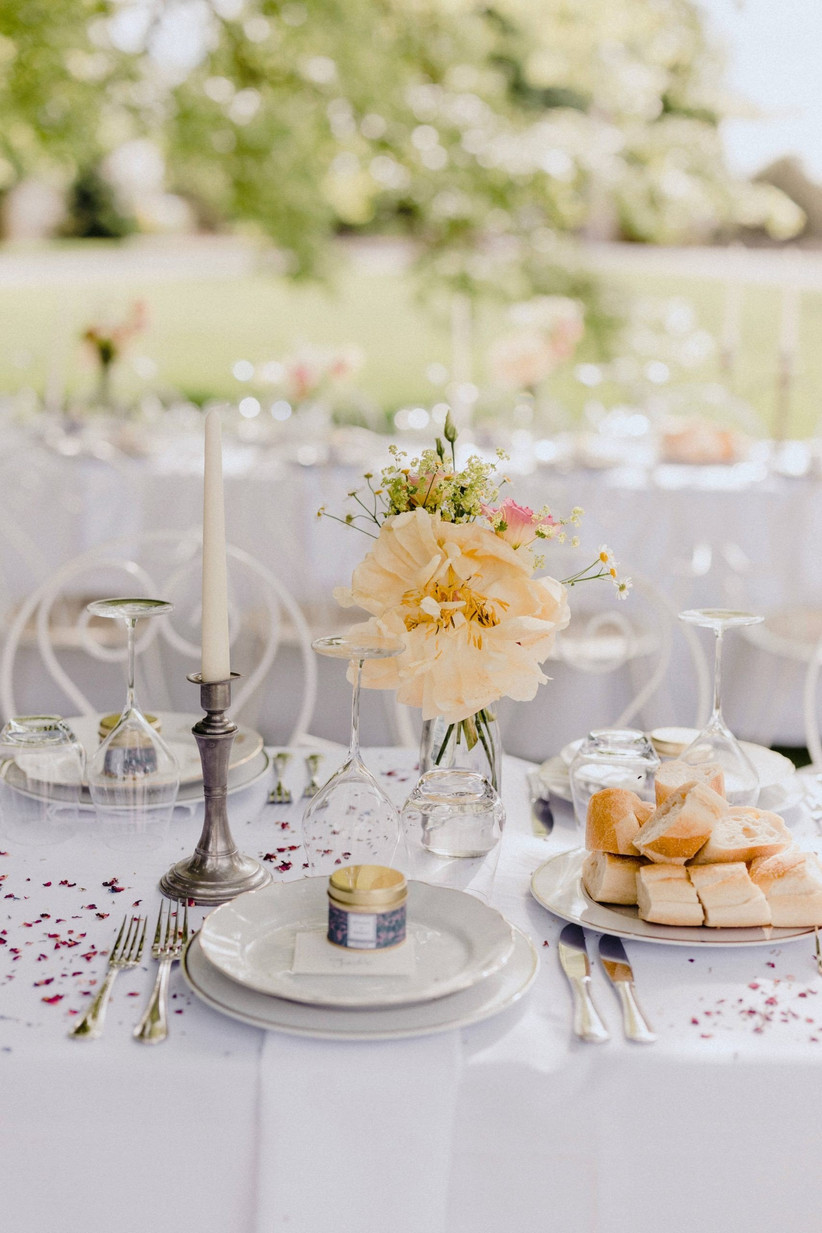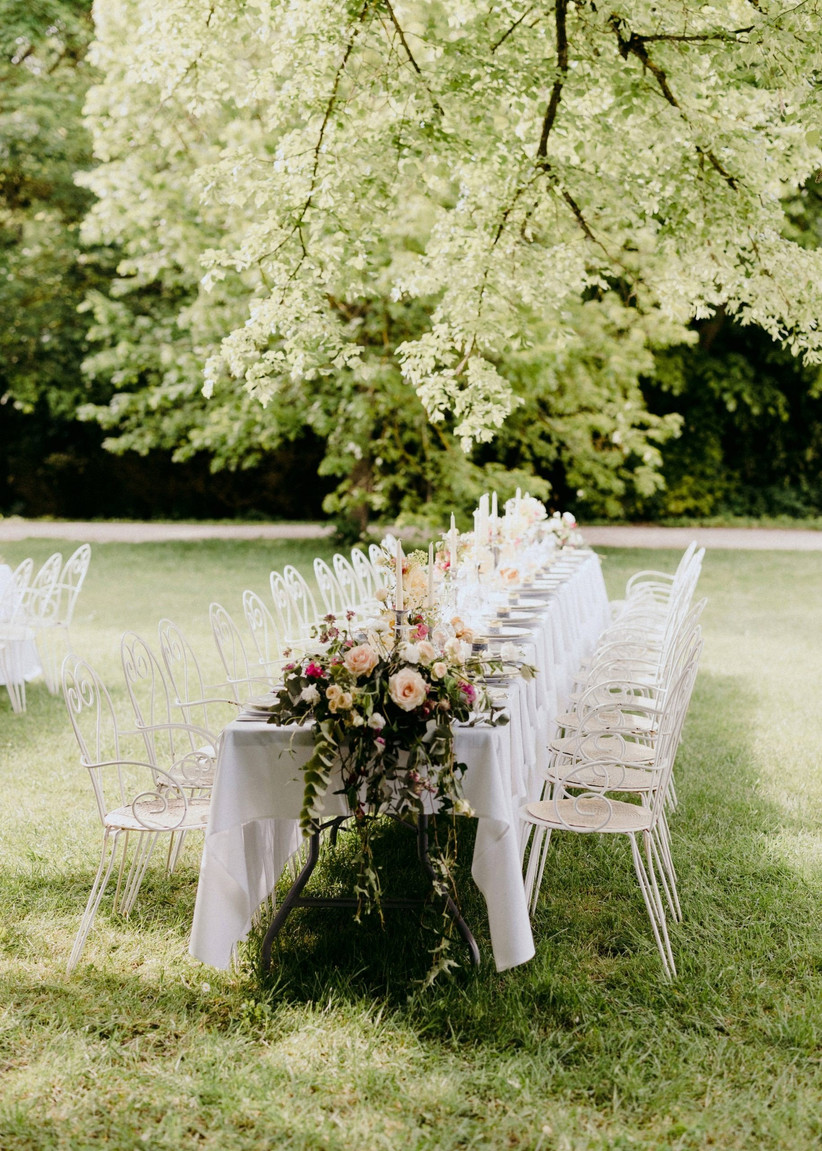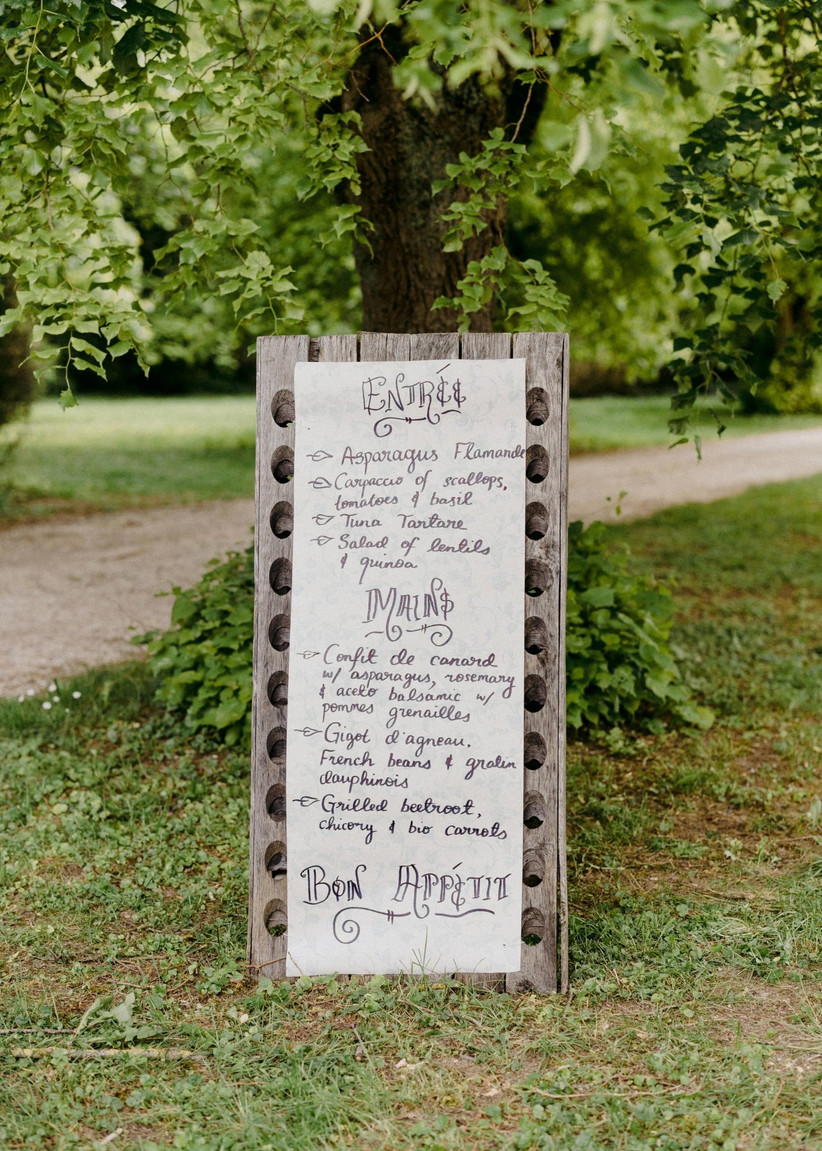 The Wedding Venue
When it came to choosing their venue, both Michael and Héshàn were attracted to the beauty and history of Château de Mairy as well as the warmth of its staff. "We went to a friend's wedding in Ireland and they were telling us about how much fun they had driving around France collecting wine for their wedding. My husband made an offhand comment about 'cutting out the middle man and having our wedding in France' and that was that.
"When choosing the chateau, we looked at a few, but this one was the first one we visited. We felt such a nice connection with the chef, Chris Wijnen, and the owner, Steven Vetters. That really helped us with choosing the chateau. It also had a lot of outdoor space which was perfect because we wanted to have dinner outdoors and come inside for the dancing.
"The original structure was built in the 1400s and three towers still remain from that structure. The actual chateau was built in the 1600s. King James II had stayed there when he was exiled from London and the Nazis occupied it during the Second World War. I loved that fact that we could be part of it. There is nothing better than celebrating a gay interracial wedding somewhere Nazis occupied," said Héshàn.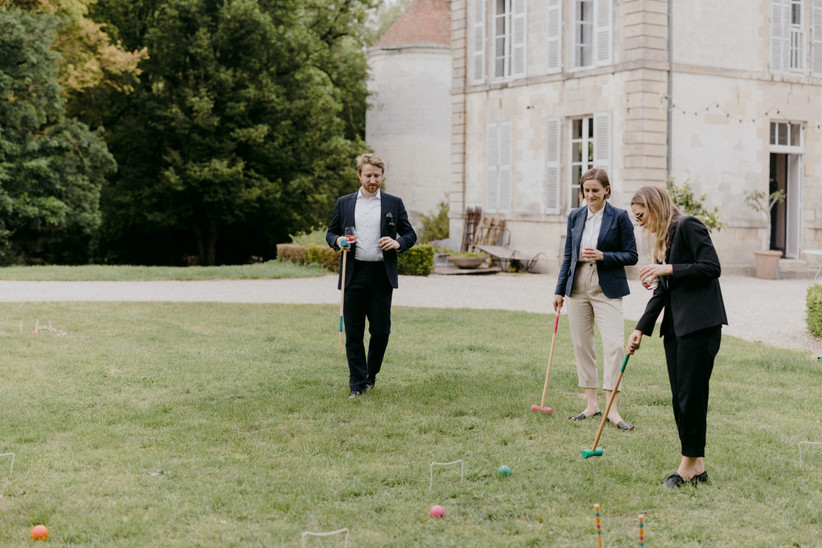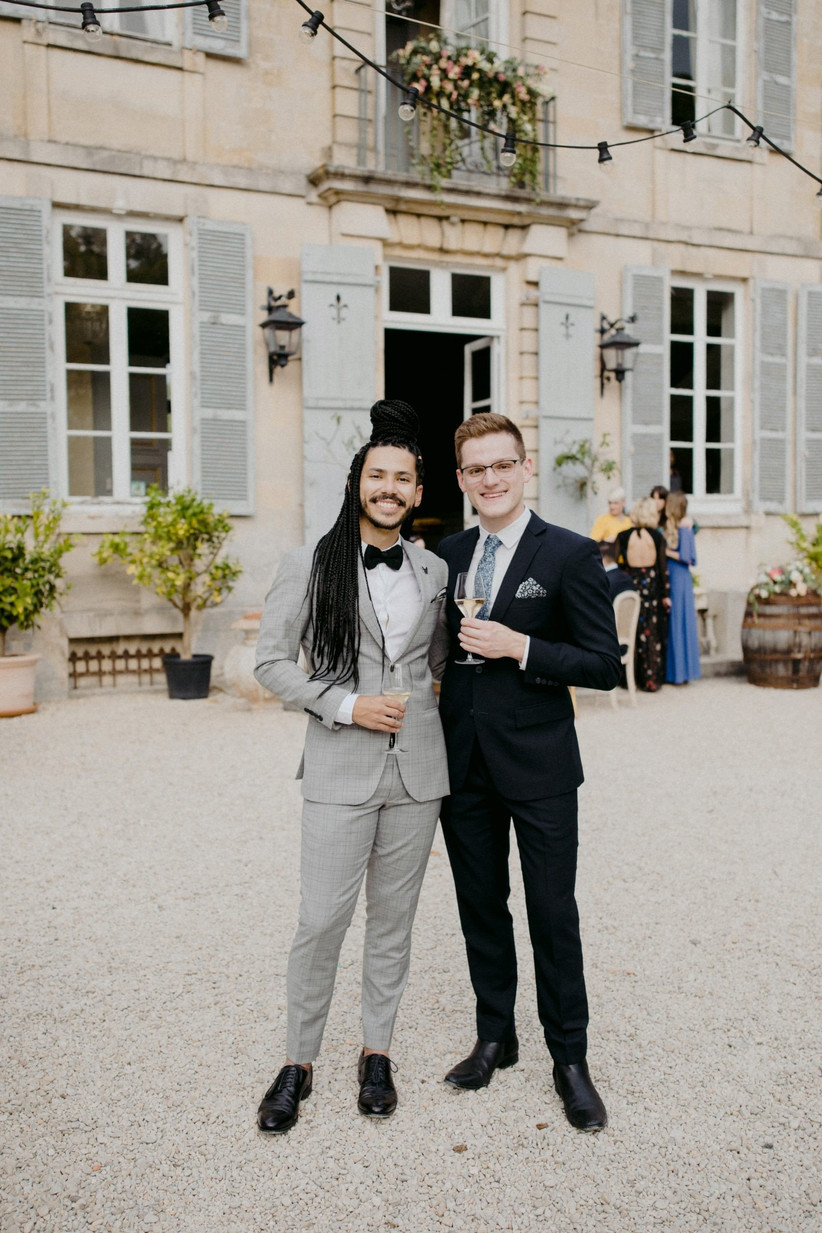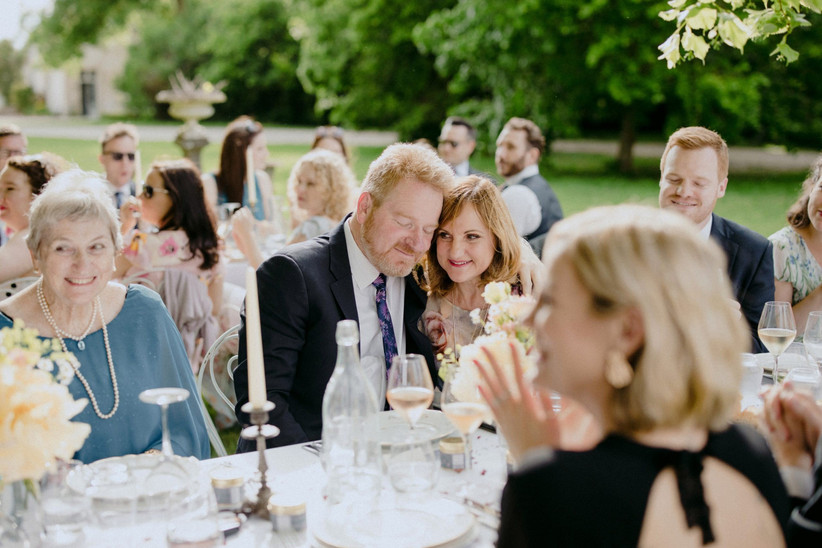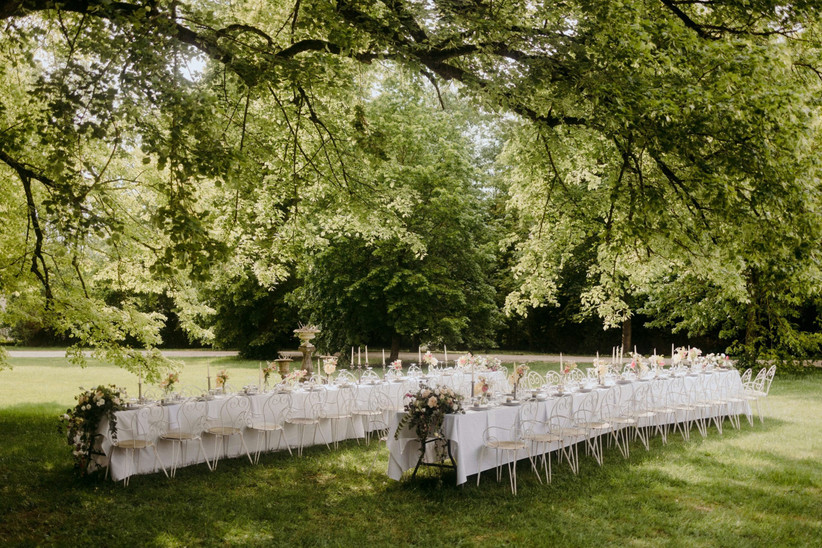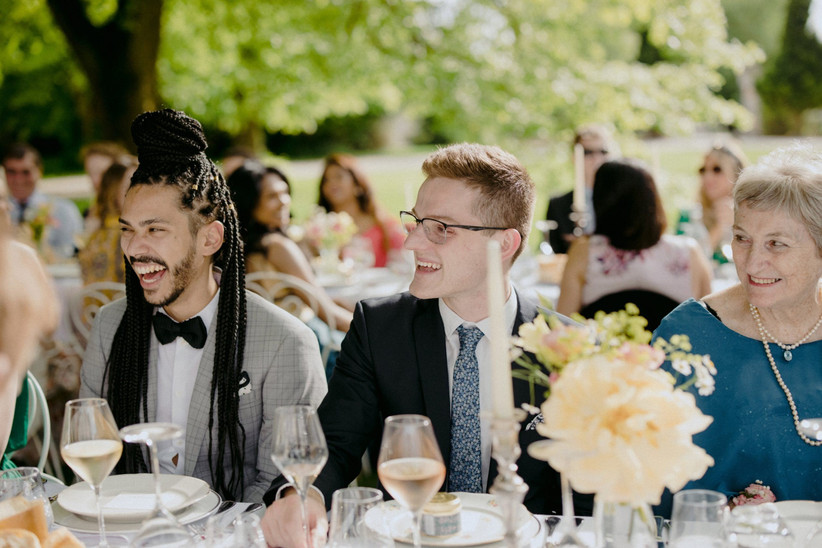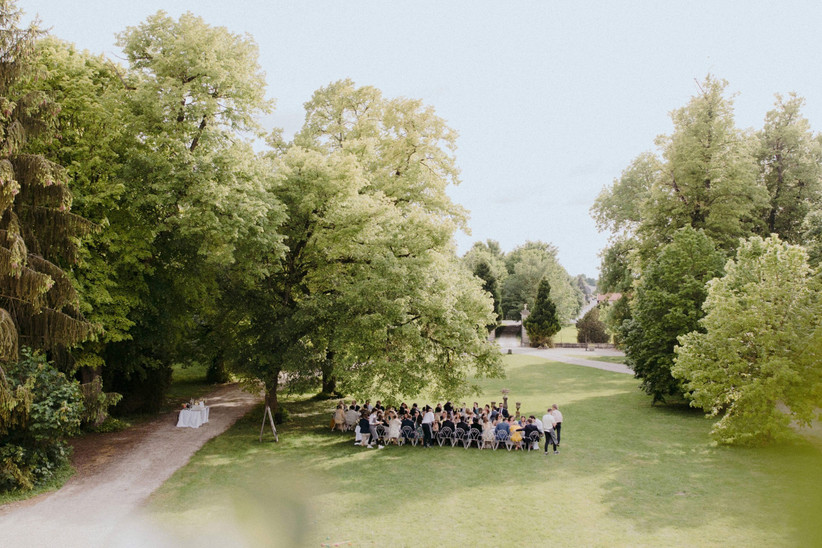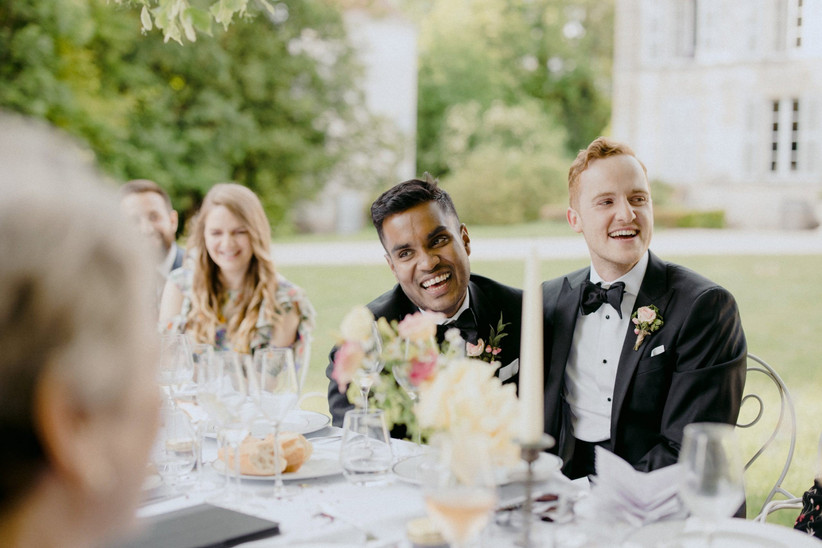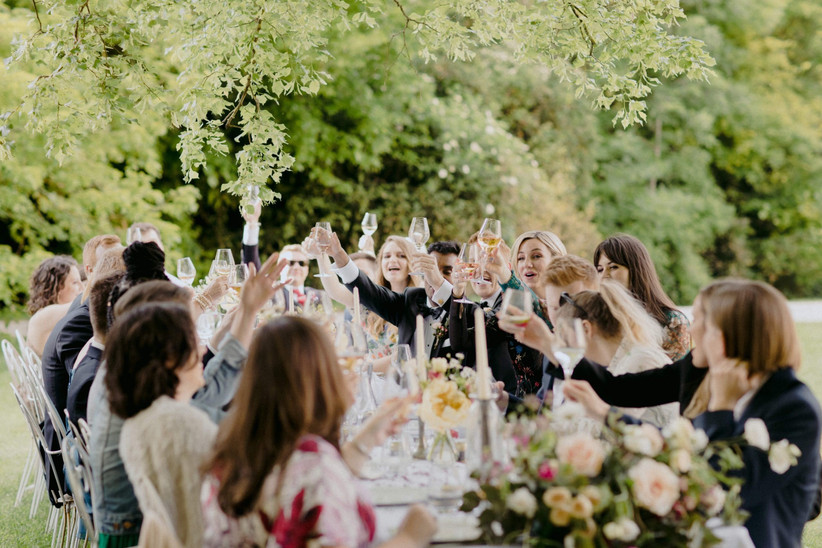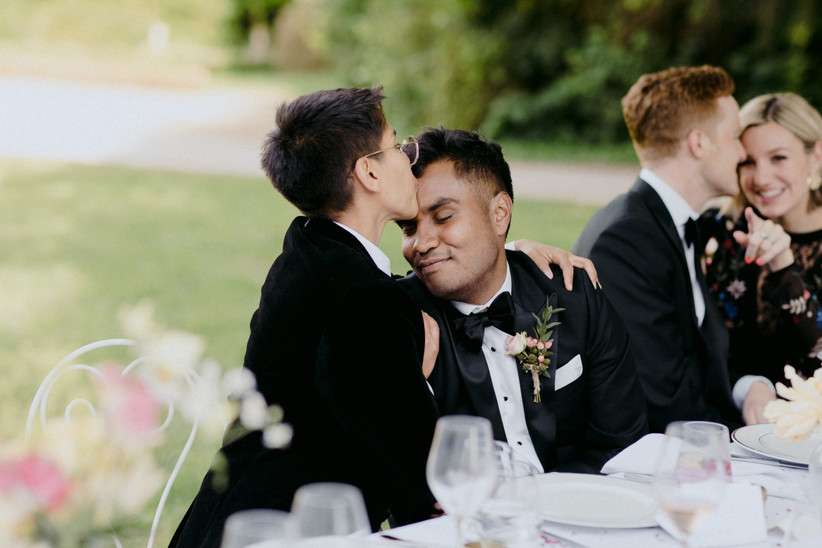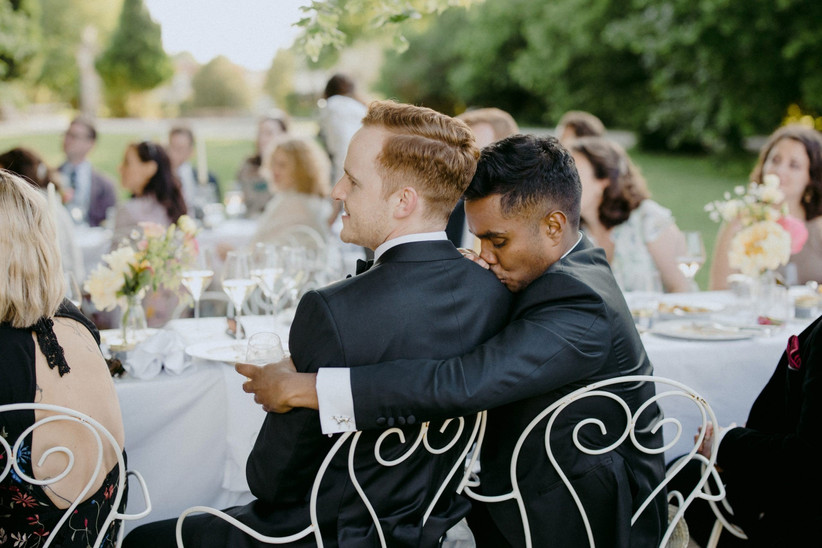 The Wedding Flowers and Cake
The grooms felt that the chateau was so beautiful that it didn't need much in the way of floral decoration. Barrels with overflowing, natural flowers in bright and pastel pinks featured at the top of the aisle and bud vases brimmed with matching blooms on the banquet style tables. The grooms also wore matching buttonholes and the wedding party carried naturally-styled bouquets featuring plenty of foliage and bright pops of pink.
The wedding cake was a collaborative effort involving Héshàn and the baker at L'cakes. "Because the chateau was so grand we both wanted the wedding cake to be more light and fun. I'm more into details like this so Michael just left me to it. I wanted a Bert and Ernie Topper because I always say I can be a bit like Ernie and Michael is definitely Bert sometimes!
"I was looking at Instagram and I found this baker who made these amazing cake toppers and who lived in the region. I contacted her and she was happy to do it. The only issue was she only spoke French and I couldn't speak it. So, we spent months working on our cake design together using Google Translate. I'm a perfectionist and I had a particular idea in mind, and I wanted it to be perfect.
"She did a brilliant job. It was exactly what I envisioned it to look like. It was a three-tiered chocolate cake with marshmallow frosting on the outside and chocolate ganache and raspberry coulis on the inside. It was covered in flower petals that were the colours of our flowers. After the wedding I was going through our emails and I realised we had sent over a hundred emails to each other to get this cake designed!"
The delicious cake was served on the night as dessert after the speeches and just before the first dance.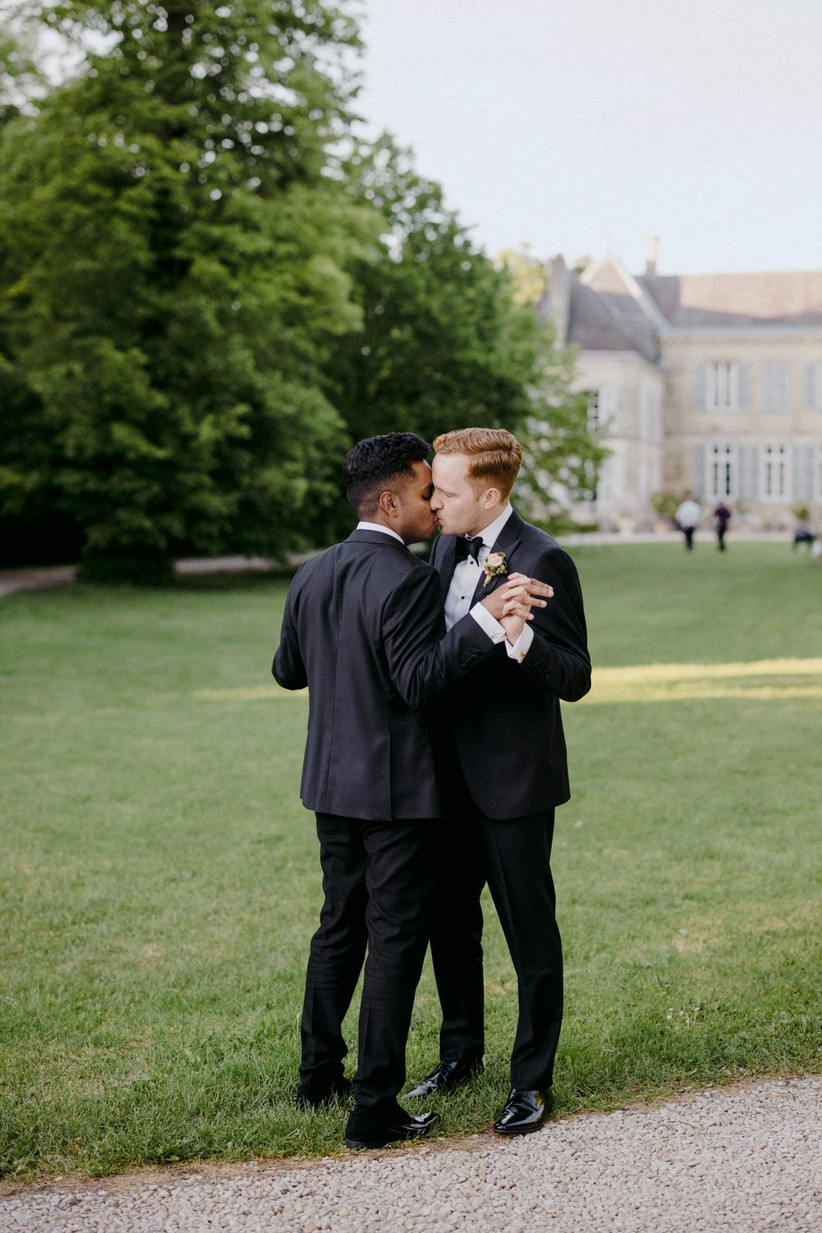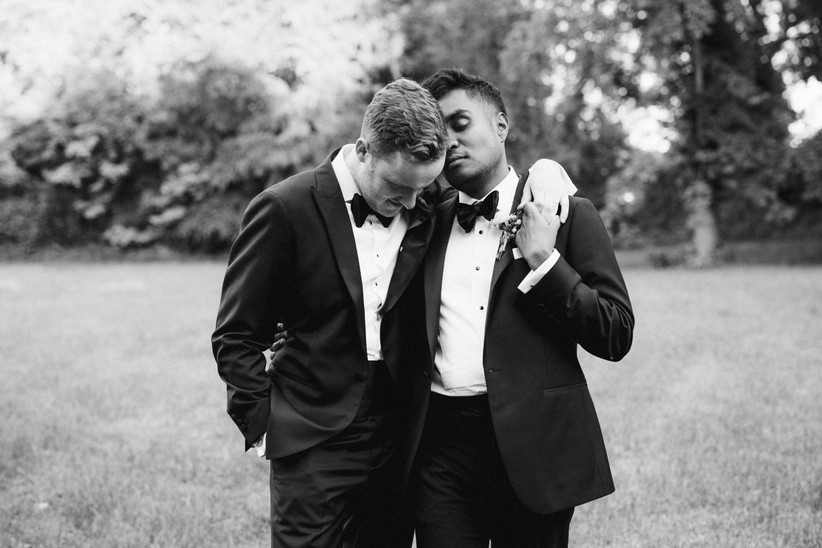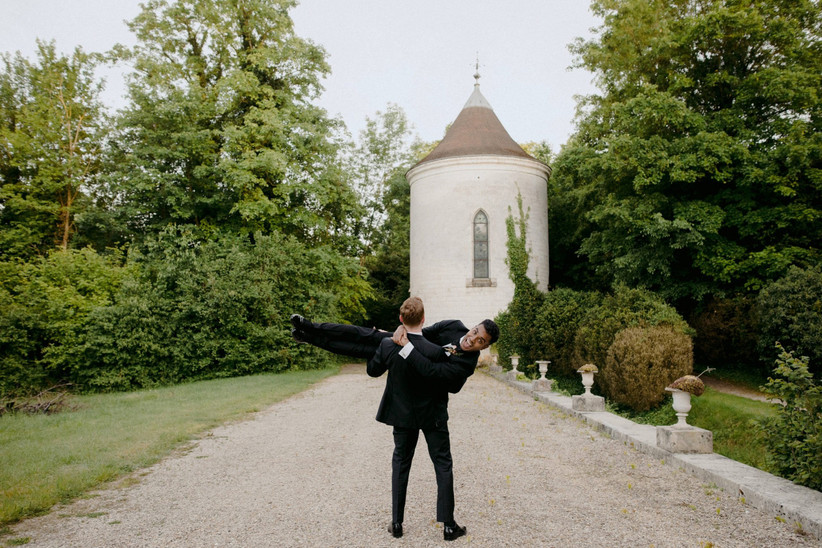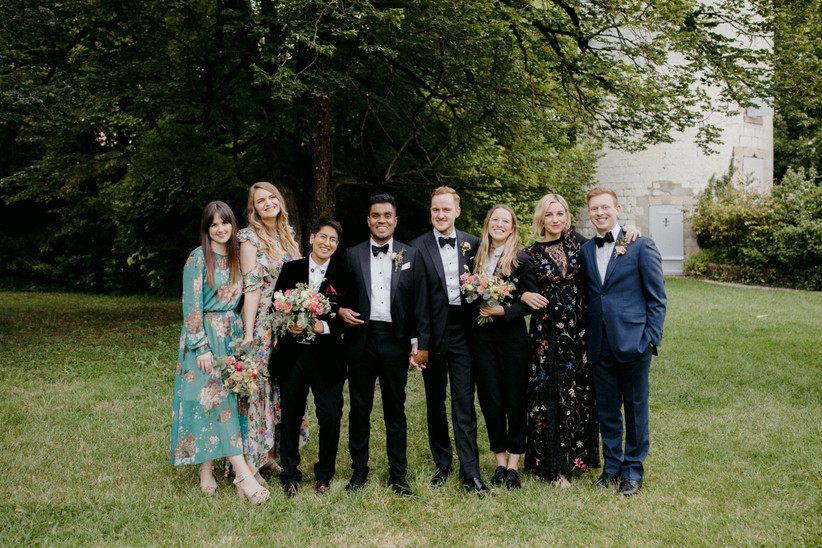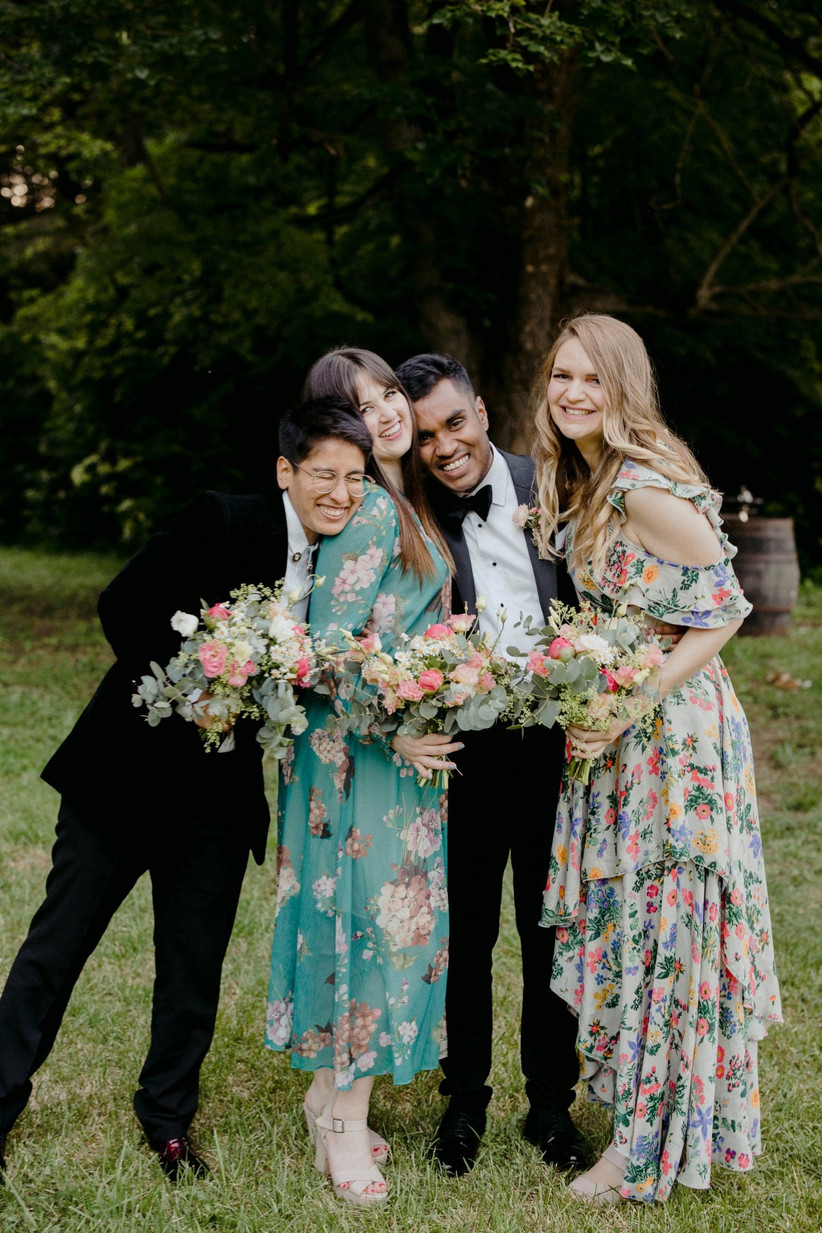 The Décor and Special Touches
In keeping with the many personal touches on the day, the grooms chose specially-made favours for their guests. "We wanted the wedding to be a representation of us. Anyone who knows me knows I spend most of my wages on scented candles. So, I found this amazing candle maker called Kisses & Creations and we worked together to create the perfect design. Also, our guests still say they are some of the best smelling scented candles they've used. The candles were great!" recalled Héshàn.
The grooms kept the rest of the table décor simple, with just bud vases lining the tables to keep the dinner party vibe they wanted to create and to allow for food to be passed around easily by the guests. The ends of the tables featured more elaborate, trailing floral displays that perfectly complemented the ceremony flowers.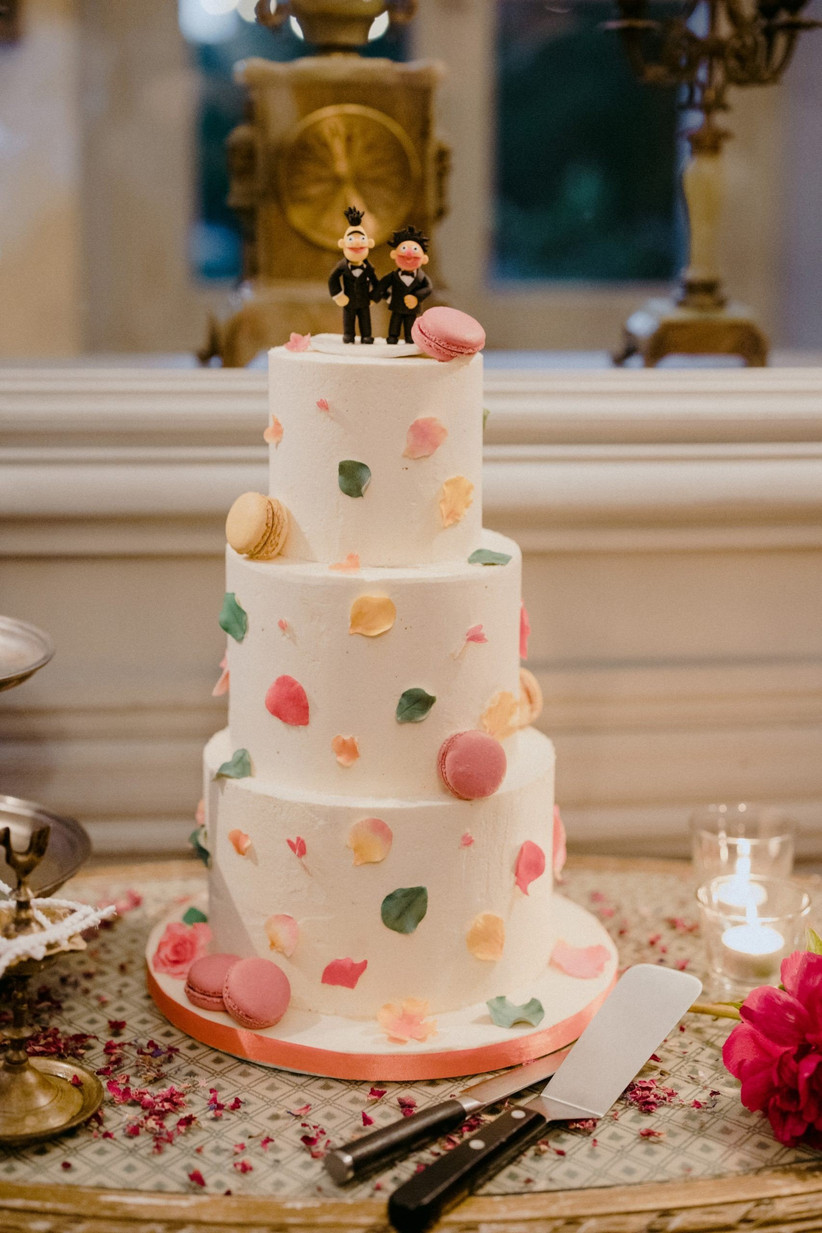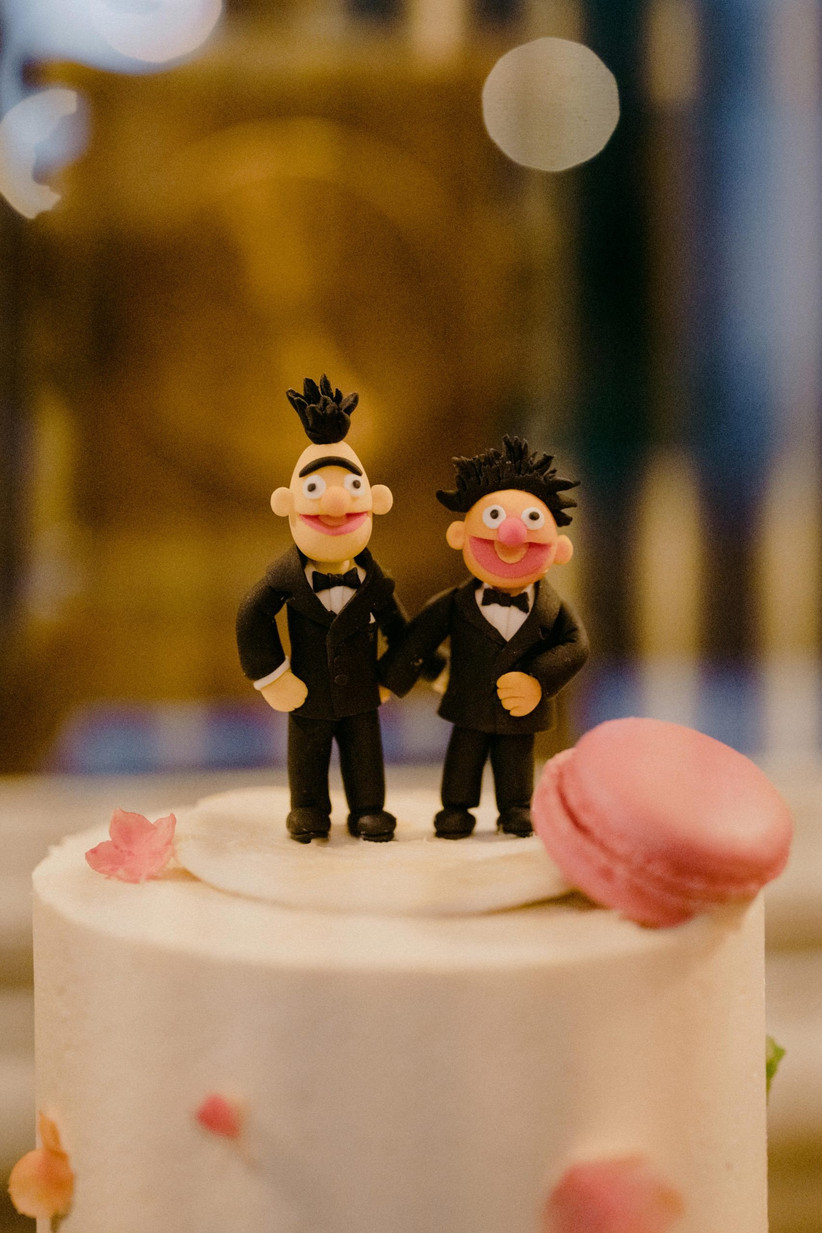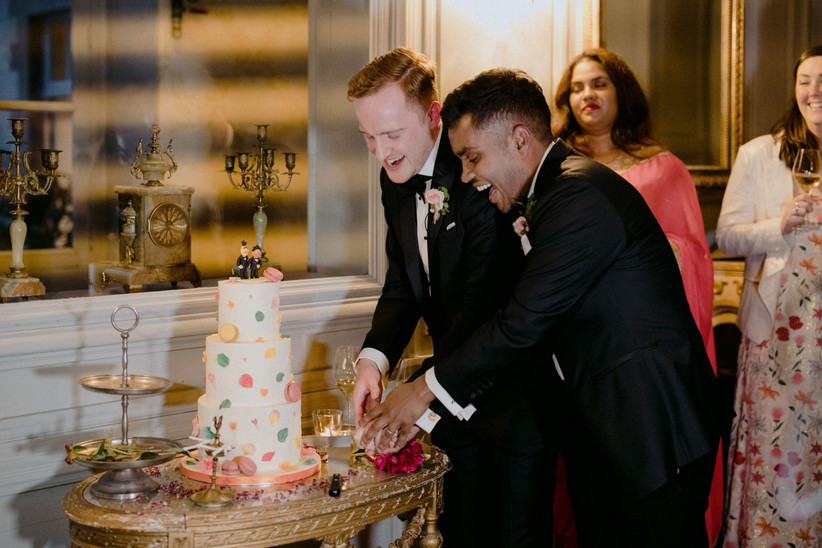 The Entertainment
The happy couple took to the floor to Can't Help Falling in Love by Elvis Presley for their first dance before dancing the night away to Ellen Birath & the Shadow Cats, a band that took Michael and Héshàn some time to track down.
"I literally searched over a hundred bands on the internet and then I found Ellen. Her voice is just magic, and the band looked like they had so much fun playing.
"We live in London so it's relatively easy to go to Paris for the weekend. They were playing in a Jazz club in Paris so we went to have a look, or should I say listen, and that was that. We heard them perform and we knew we found our perfect band," said Héshàn.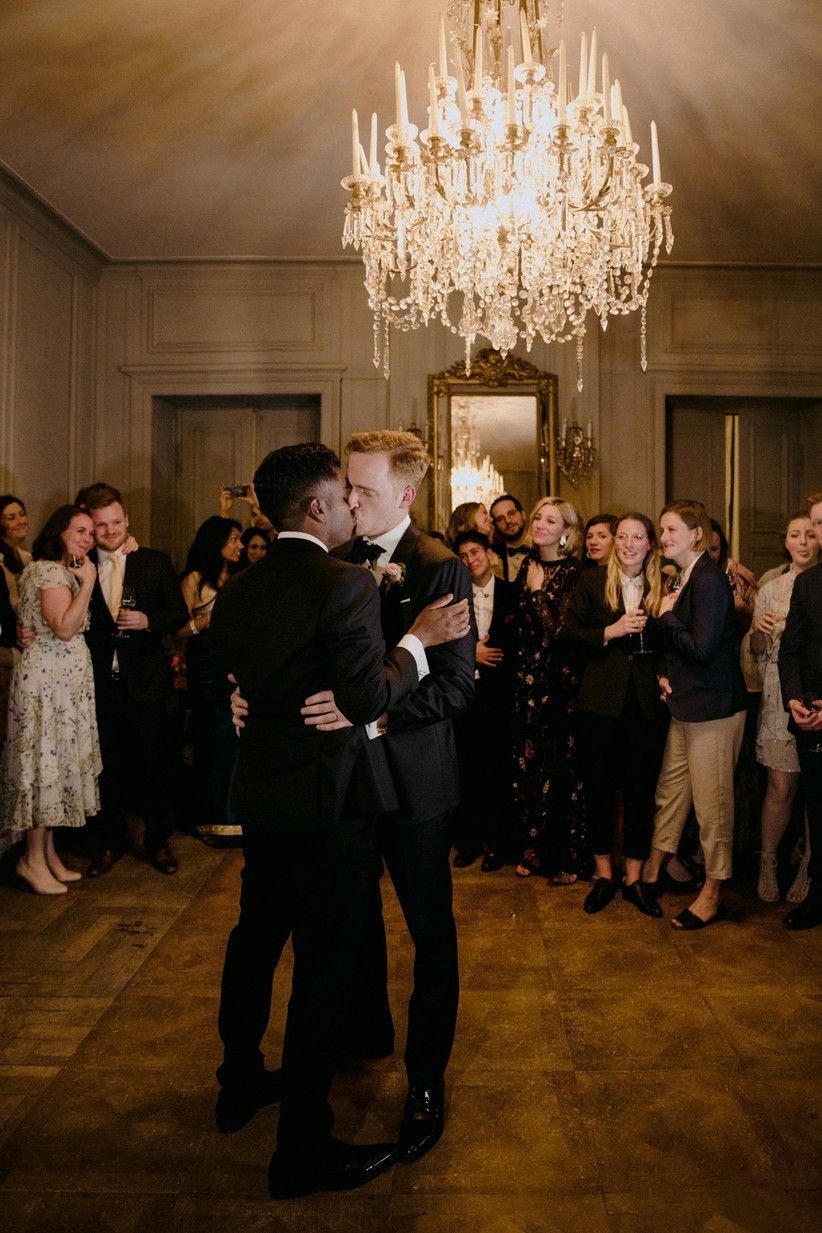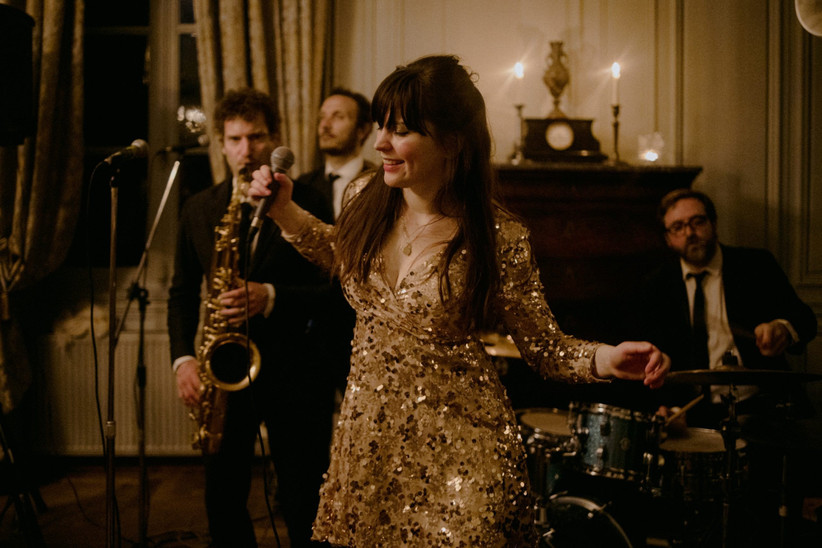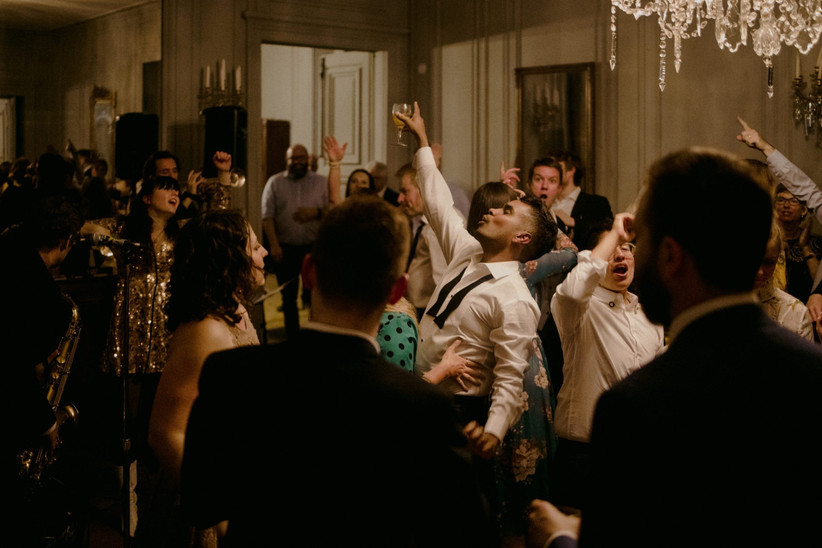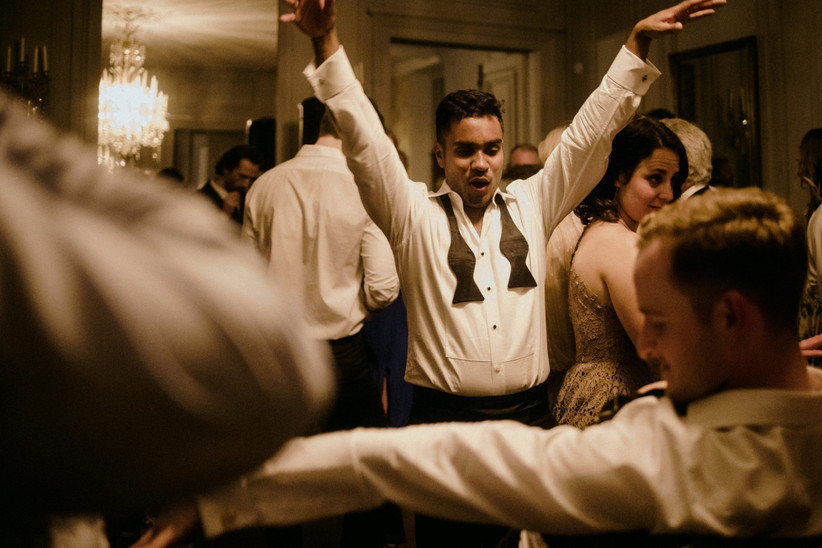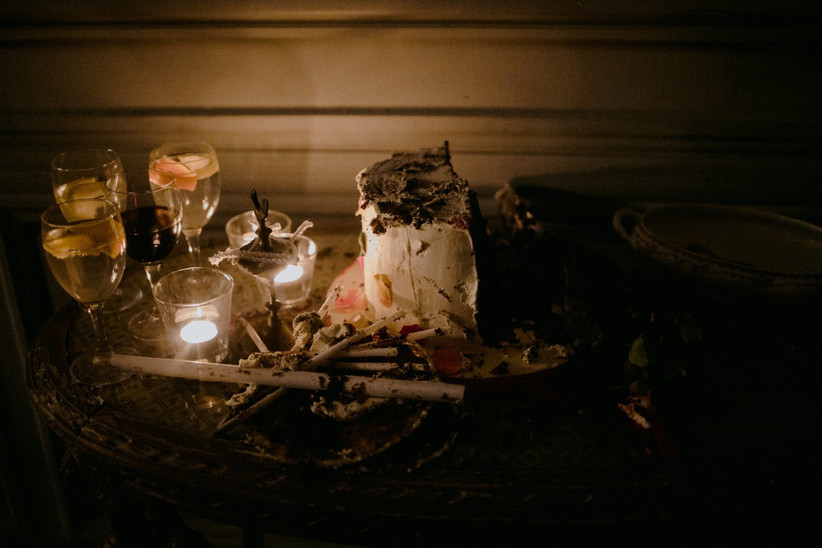 The Honeymoon
After the wedding, Michael and Héshàn travelled to the Aeolian Islands, just off the coast of Sicily. "It was amazing. We stayed in a villa that was covered three sides by pine forest and the other side was just ocean. It had a huge veranda and we would spend most of our time there or on a secluded beach. You could see the volcano Stromboli erupt from time to time – it was so magical! And at night it was so dark we would sit outside looking for falling stars and from time to time you would see this amber glow from the volcano eruptions as well."
The Suppliers
Photographer: Samm Blake
Venue: Château de Mairy
Stationery: Papier
Suits: The Drop
Accessories: Gamekeepers Gifts
Wedding Party Makeup: Sinead Bevan Make-Up
Flowers: MG Atelier Marie Guillemot
Cake: L'cakes
Favours: Kisses & Creations
Rings: Tiffany & Co.
Entertainment: Ellen Birath & the Shadow Cats
Thank you Michael and Héshàn for sharing your beautiful day with us!