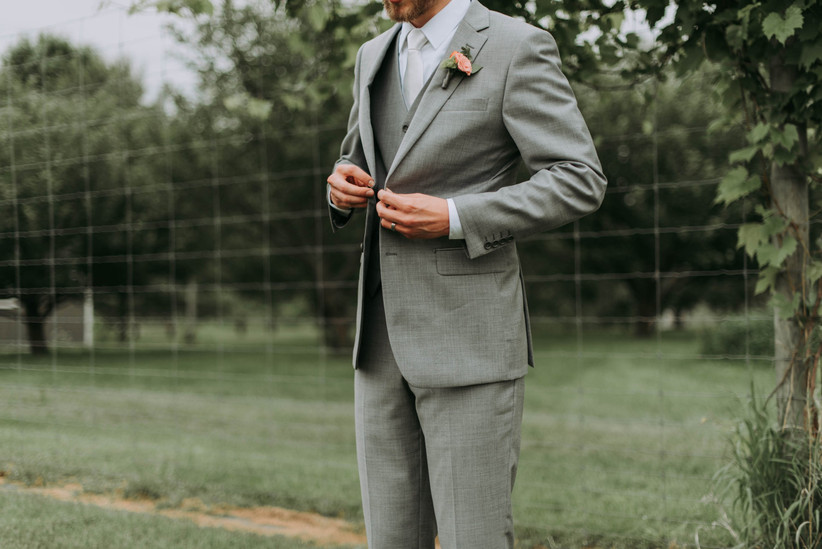 You may have your bridal look sorted and have chosen your wedding theme, but what about the groom? It's not a simple as just choosing a suit. The groom needs to think about his groom grooming regime and pick out a wedding suit that is appropriate for both the wedding theme and the time of year.
We teamed up with suiting experts Dobell to get their seasonal styling tips for the groom – whether you're getting married in the depths of winter or in the midst of summer the groom will look perfectly put together.
Spring Groomswear
Spring is a gorgeous time of year to get married – there is blossom in the trees and everything is coming to life after winter has drawn to a close.
The team at Dobell suggest going traditional when it comes to groomswear at a spring wedding: "This look comprises of a classic wedding colour scheme with a subtle twist. We chose a full length black slim cut morning coat, white shirt and paisley silver waistcoat (which could be swapped for a cummerbund), as well as the pocket square, as this gives a great contrast of colour and texture. The striped trousers chosen with this selection really draw the eye toward the centre piece – that stunning paisley effect on the accessories."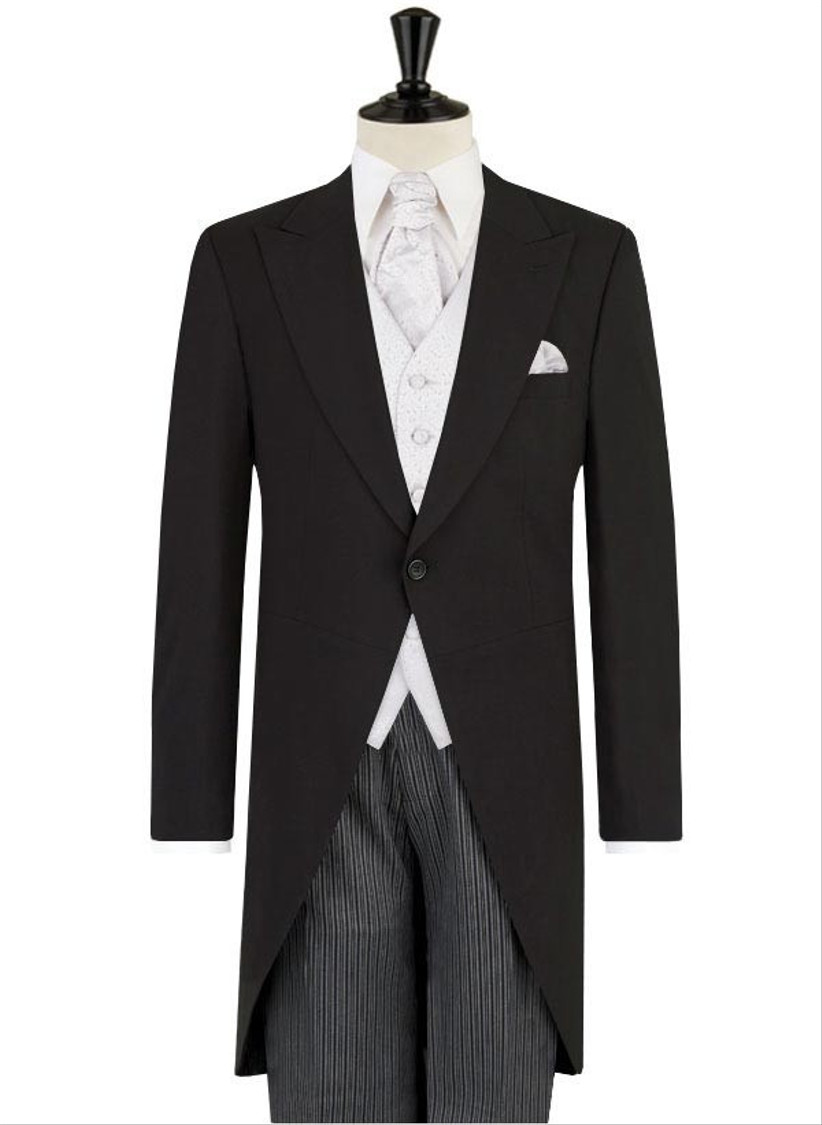 The silver tones chosen will suit all colours – particularly pastel or yellow tones which are especially popular at a spring wedding. If you're planning a day full of vintage wedding ideas, this timeless suit would work perfectly.
Accessories for the Spring Groom
Keep your accessories simple to let the classic suit do all the talking. We love these silver rectangular cufflinks, classic black dress shoes and black leather belt with silver buckle, all from Dobell.co.uk. The perfect finishing touch is this Metropolitan Stainless Steel watch from Coach at watchshop.com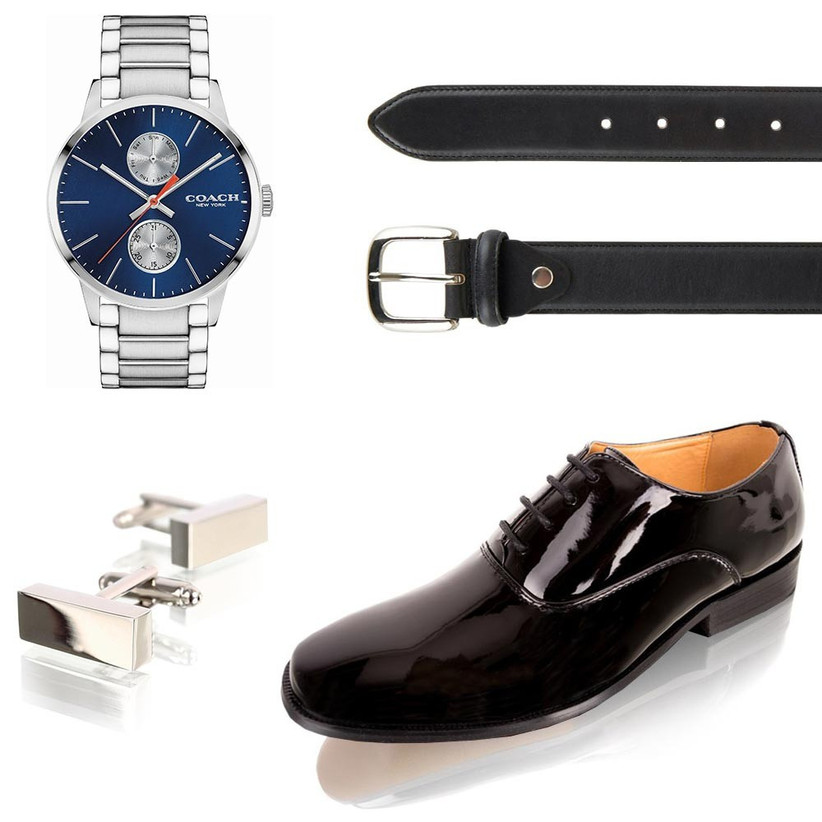 Summer Groomswear
Found the perfect summer wedding venue? It's time to think about what the groom should wear. Summer can be a tricky time when it comes to groomswear – no one relishes the idea of sweltering in a suit on a hot day, but you can be formal and stay cool! Dobell's stylists explain how to work summer groomswear: "Blue suits became fashionable again in 2013 when male style icons Bradley Cooper and Gerard Butler rocked blue suits at Wimbledon.
"We're getting so many orders for blue suits that we couldn't ignore the fact they're a serious trend. The summer vibes of the blue suit are brought to life when they're paired with a classic skinny tie and pocket square – we've chosen gold to match the blue, as it's one of this season's hottest colour combos.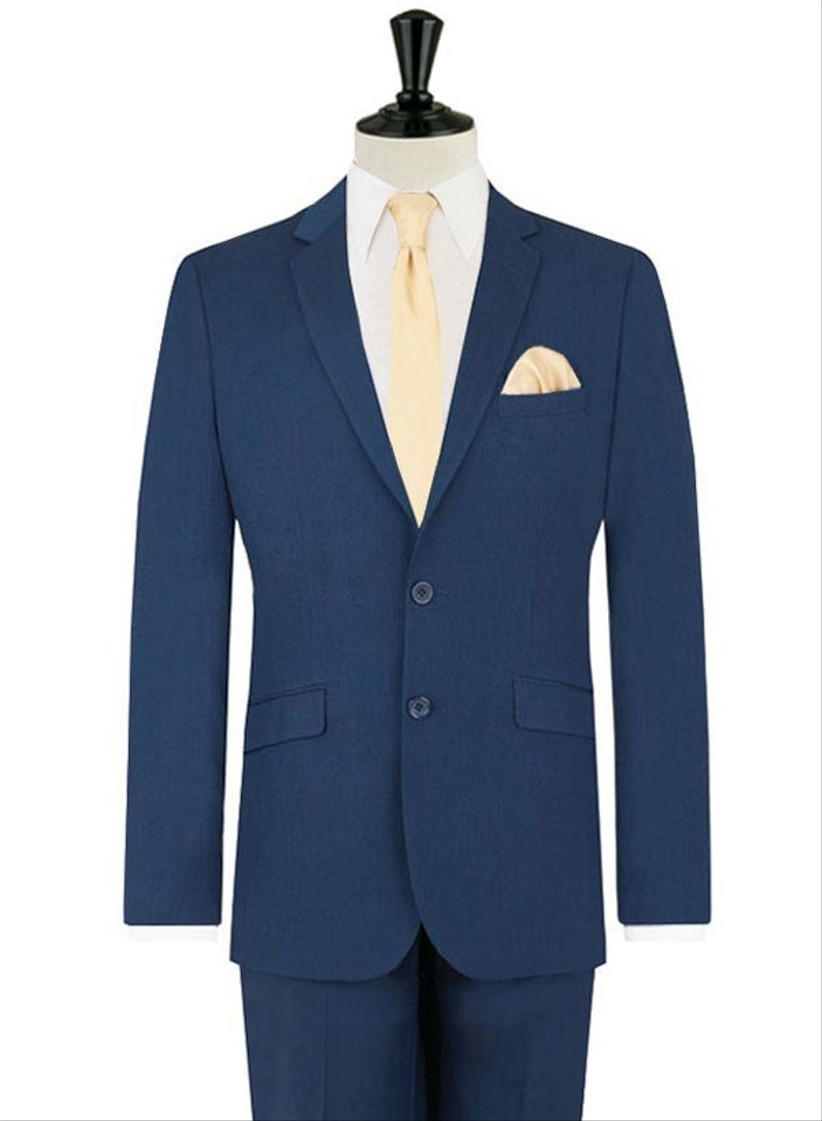 "This simple but stylish two piece is also a great choice if you're looking for a suit you can wear time and time again after the wedding is over."
Accessories for the Summer Groom
Draw on the blues in the suit with brown accessories. These brown leather shoes and cognac brown belt work perfectly with the circular chrome cufflinks, all from Dobell.co.uk. Tortoiseshell sunglasses from Burton will prevent you from squinting in the summer sun, and the Chronograph watch from Hugo Boss at watchshop.com would make a great wedding day gift for the groom.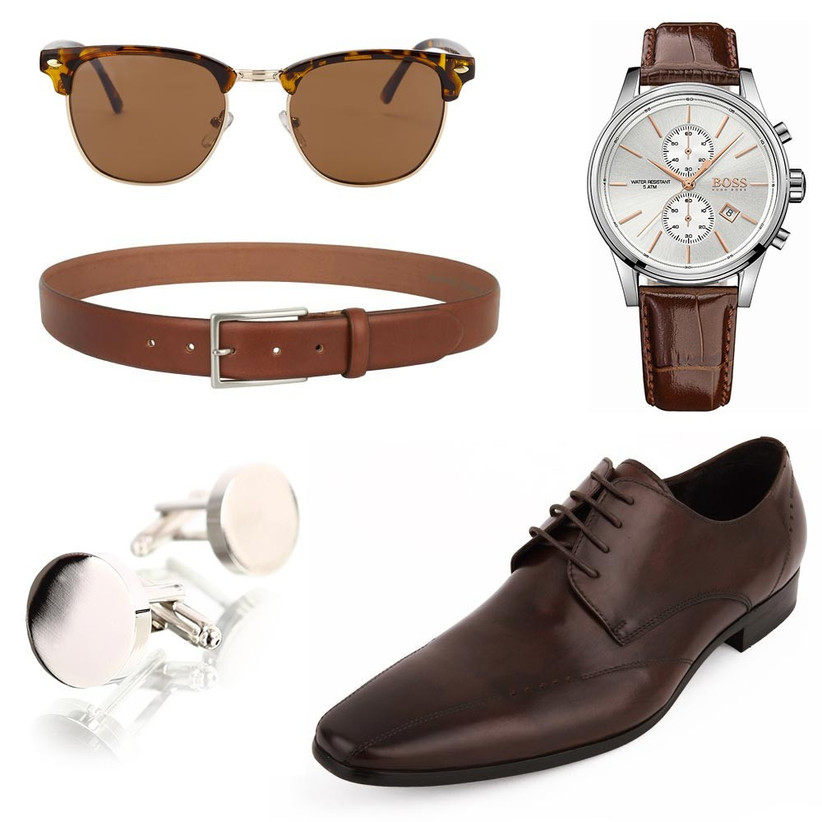 Autumn Groomswear
We love autumn weddings here at Hitched. The rich colours of this season suit weddings perfectly and the idea of wearing a suit as the temperature cools won't have the groom feeling hot under the collar.
If you're planning a vintage themed wedding, Dobell suggest that autumn is the ideal time of year for the groomswear to work with the trend: "The vintage theme is still a favourite trend for wedding planning couples – we've seen a huge rise is sales of our tweed garments, especially this tweed tuxedo. It offers a country style twist on the traditional black tie look.
"The tweed tuxedo is perfect if you're planning a vintage or country garden themed wedding, and this one has a strong autumnal feel, with its matte brown and muted green colour palette. We recommend an all-black feel for the accessories – the black bow tie, shoes and belt really make the colour of the suit stand out, and the polka dot pocket square adds a fun twist. The jam jar as a wine glass is an essential accessory, although not included in this look."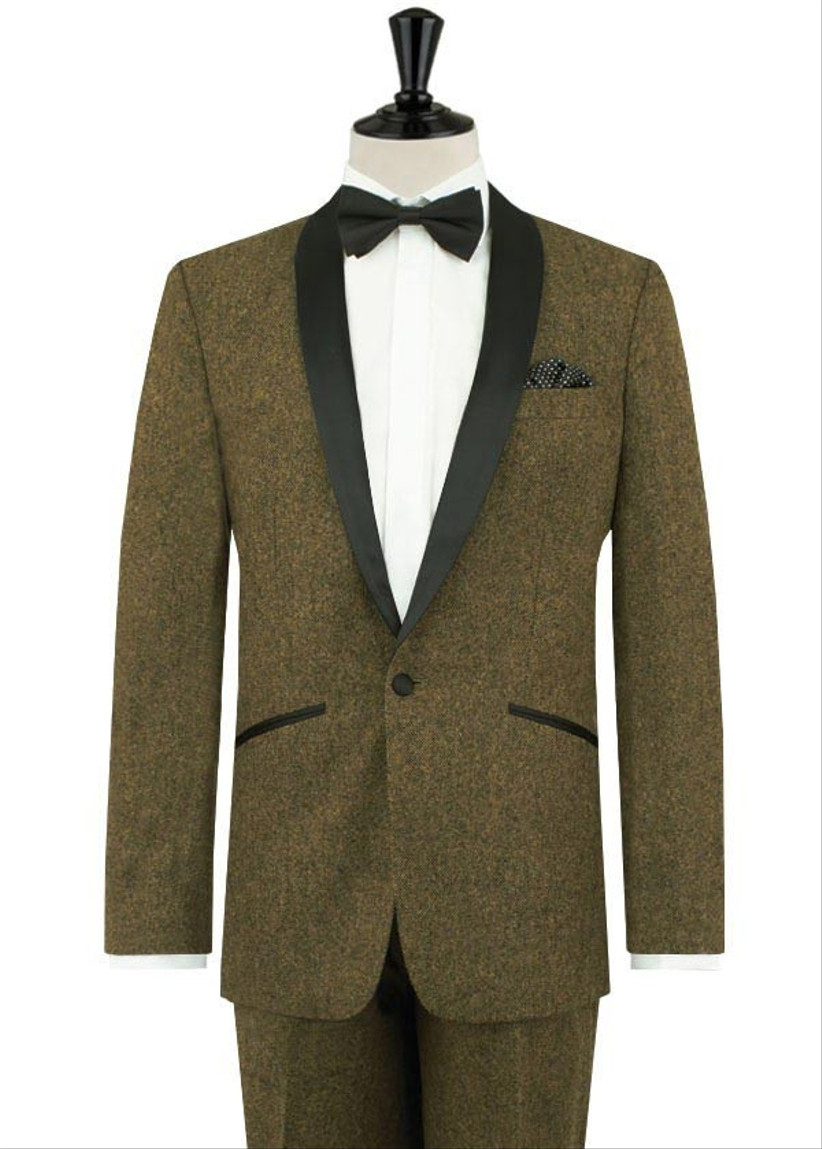 Accessories for the Autumn Groom
There are plenty of accessories to choose from for the groom, but we decided to focus on the black colour palette recommended by Dobell. Classic black lace up shoes and onyx-effect cufflinks from Dobell.co.uk add a formal twist, whilst the black belt from Burton and the Metropolitan watch with black leather strap from Coach at watchshop.com are finishing touches you'll wear time and time again.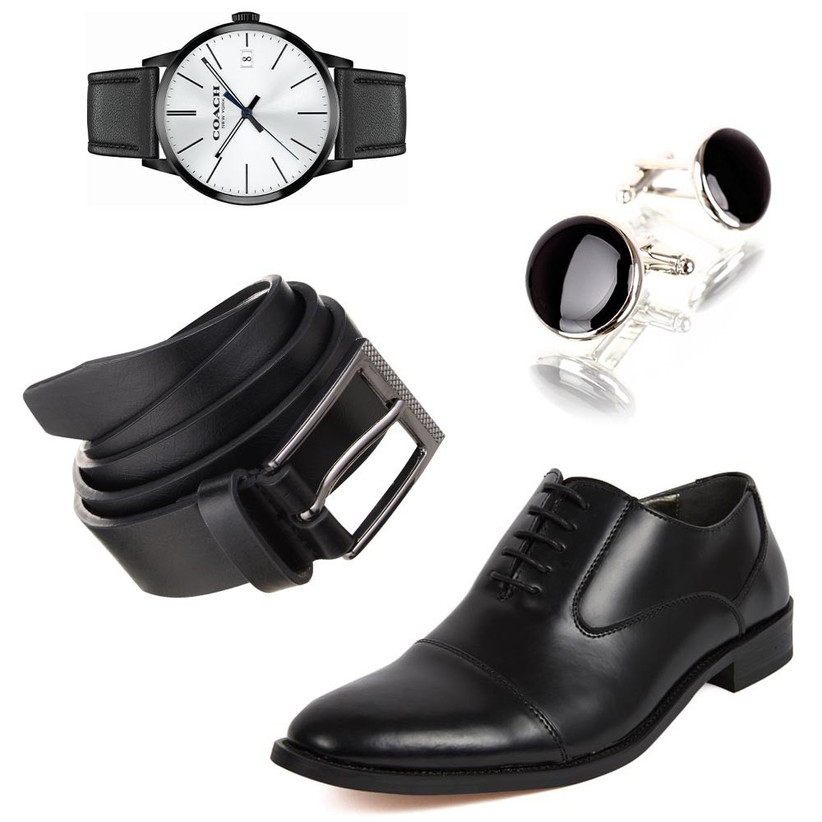 Winter Groomswear
Winter weddings are seriously magical, and they allow couples to mix up their wedding day looks a little more. Brides can dress up with a bridal cover up, whilst grooms can layer up their suits for a timeless and traditional look.
"The traditional morning suit is the perfect choice for a winter wedding," explains the team at Dobell, "and we've given the traditional morning suit a festive twist. We chose the light grey tail coat and trouser option, which has a subtle shimmer effect and black detail, paired with a warm-toned red waistcoat and matching silk cummerbund.
"The colour of the accessories are perfectly framed by the grey suit and will work well at a wedding in the colder weather. By choosing bright, warm accent colours you can ensure the glamour of the big day is still intact, even if the sunshine is missing."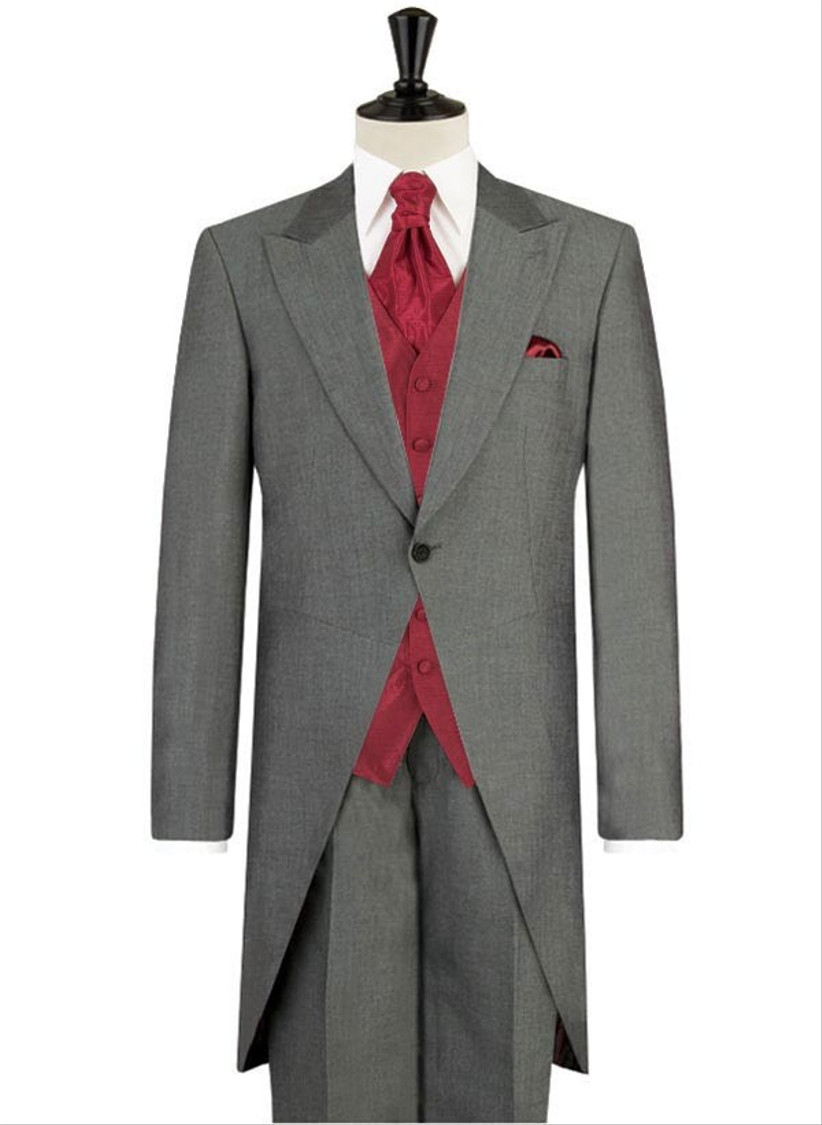 Accessories for the Winter Groom
It's important to stay warm at your winter wedding, so this burgundy silk dress scarf from Dobell is an essential. The black flower lapel pin, floral patterned cufflinks and patent black shoes, all from Dobell.co.uk, all help to pull the look together. Finish it off – and ensure a prompt arrival at the ceremony, with this Sullivan Sport Chronograph watch from Coach at watchshop.com.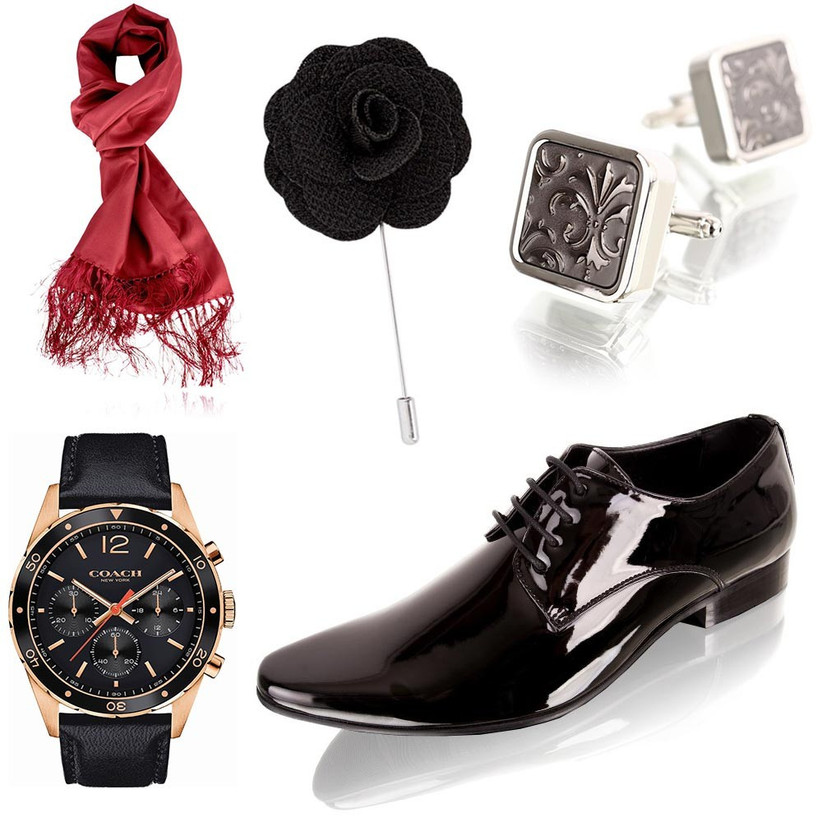 Don't miss our styling tips for rustic groomswear, if you're still looking for groomswear inspiration!