We're willing to guess you never expected to put 'buy hand sanitiser' on your wedding to-do list. But it's certainly worth including COVID-19-compliance measures in your plans, whenever you're getting married.
That's because nobody can predict with any certainty how Coronavirus wedding rules will change in 2021. The most anyone can say is that it's likely safety measures will be necessary for many months to come, so it makes sense to factor them into your big day.
As we all know by now, cleaning our hands is one of the key ways to help prevent the spread of the virus, which makes hand sanitiser a high priority for you and your guests when it comes to Coronavirus safety. That's why we've come up with this edit of wedding hand sanitiser ideas.
Once you've checked the latest guidelines, the first thing to do is contact your venue. They may already have plans in place, which you can then personalise should you choose - adding hand sanitiser on the tables as your favours, for example. It's also worth talking to your wedding planner to see what kind of set-up they suggest. If you're having a dry hire wedding or getting married at home, you'll probably need to source everything yourselves, so we've included some hand sanitiser stations.
Don't be fooled into thinking all this will give your celebration a rather un-wedding-like, medical feel. The wedding industry has been quick to adapt, and now you'll find all kinds of ways to include hand sanitiser in your plans that don't feel intrusive.
In fact, most of the products in our edit are downright stylish, from personalised labels to beautifully scented sanitiser and accessories that work perfectly as favours. Ok, the hand sanitiser stations themselves aren't always pretty, but you can soften the look with signs especially designed for weddings.
These are the wedding hand sanitiser ideas to know about, helping keep you and your guests safe while still allowing for joyous, love-filled festivities.
NB: We have included third party products to help you navigate and enjoy life's biggest moments. Purchases made through links on this page may earn us a commission.
Wedding Hand Sanitiser Favours
These are the best hand sanitisers to give guests as favours, as they're beautifully scented, making hand hygiene a treat, and have been formulated by leading beauty brands. We've also included some hand sanitiser accessories - yes, those actually do exist!
Purdy & Figg Wild Woody Hand Sanitiser Spray - £5.99 for 50ml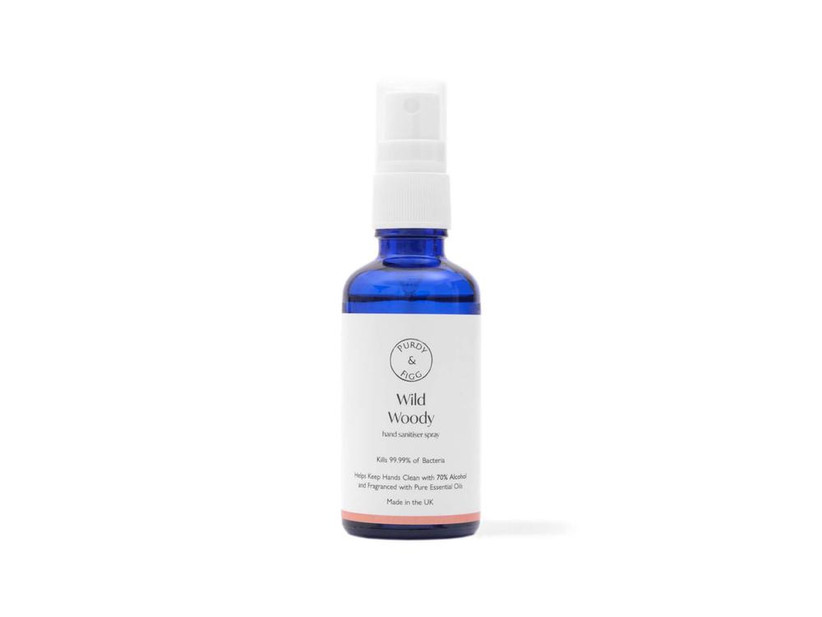 Purdy & Figg is a real hero brand when it comes to hand hygiene. Developed by an NHS nurse, their hand sanitisers are made up of 70% pharmaceutical grade alcohol, vegan-friendly glycerin and pure essential oils, a combination that's both cleansing and nourishing. There are three beautiful fragrances - we're particularly drawn to Wild Woody for the colder months, as it's a deliciously warming scent, but there's also a gorgeous floral and a citrus. After weeks' of use, we've yet to see any of the skin sensitivity we've had from other brands!
This Works Stress Check Clean Hands - £4 for 60ml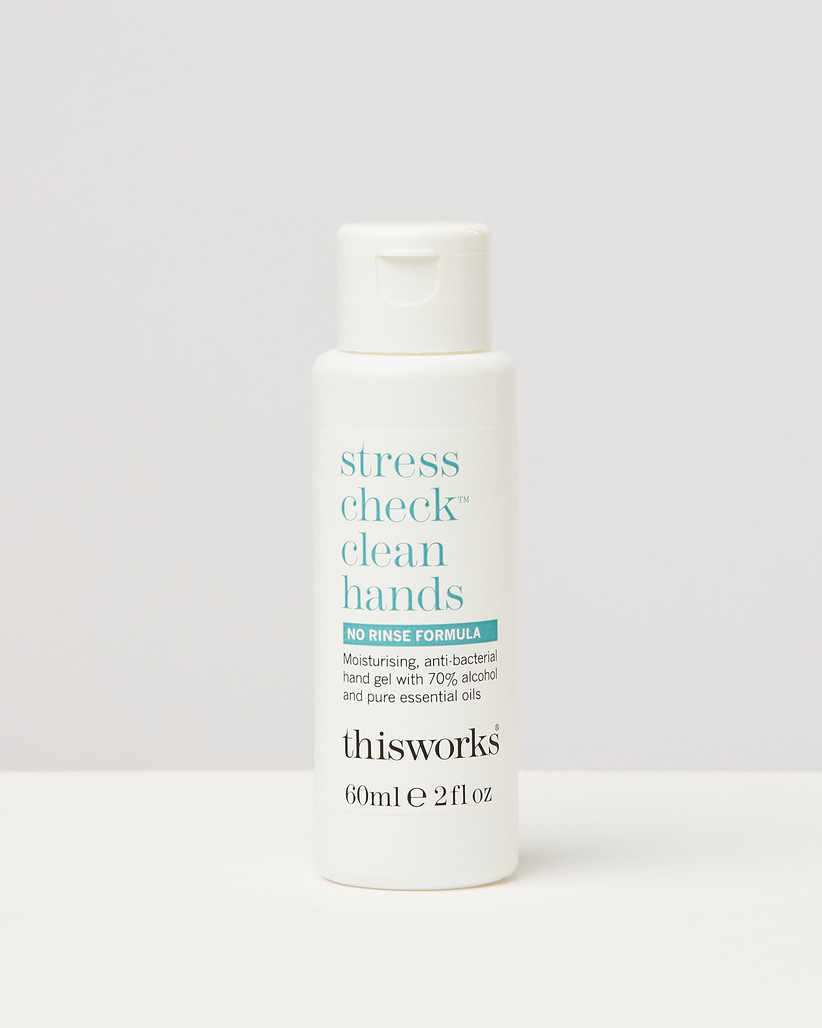 This Works is one of our favourite brands for beauty products you can trust, and their Clean Hands sanitiser doesn't disappoint, with a delicious scent and 70% alcohol. It's also available in 500ml bottles, which would work as part of a hand sanitiser station.
READ MORE: Top Wedding Planner Share Their Dos and Don'ts of Planning a Wedding During COVID-19
Aromatherapy Associates No Rinse Hand Cleanser - £12 for 100ml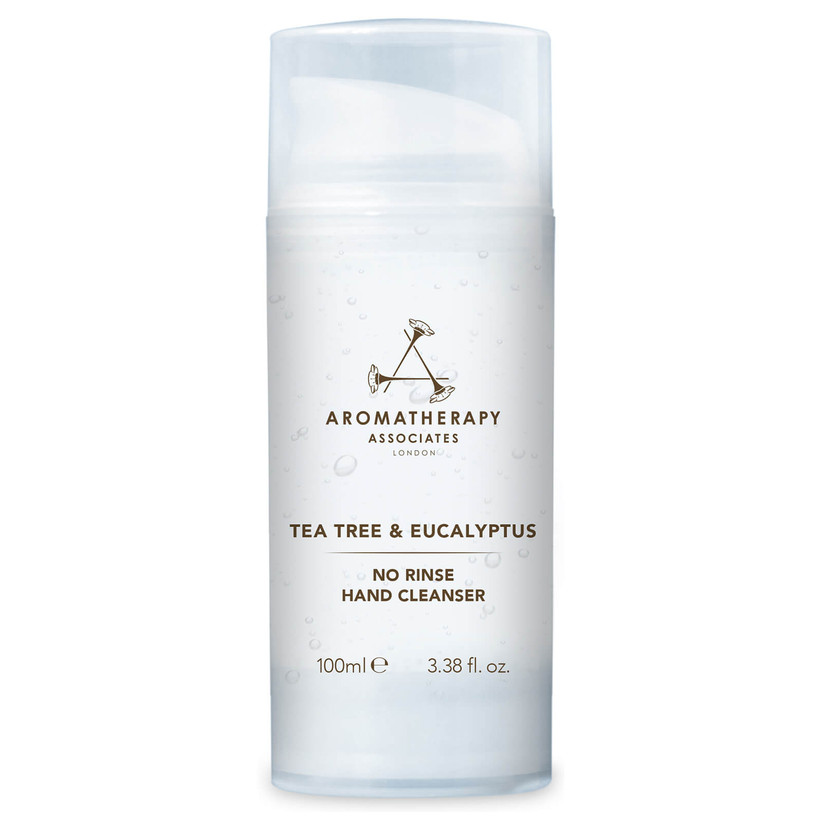 Aromatherapy Associates are the brand to know for products infused with mood-boosting essential oils, so it's no surprise their hand sanitiser has a wonderfully uplifting scent.
Oliver Bonas Animal Print Wedding Hand Sanitiser Holder - £9.50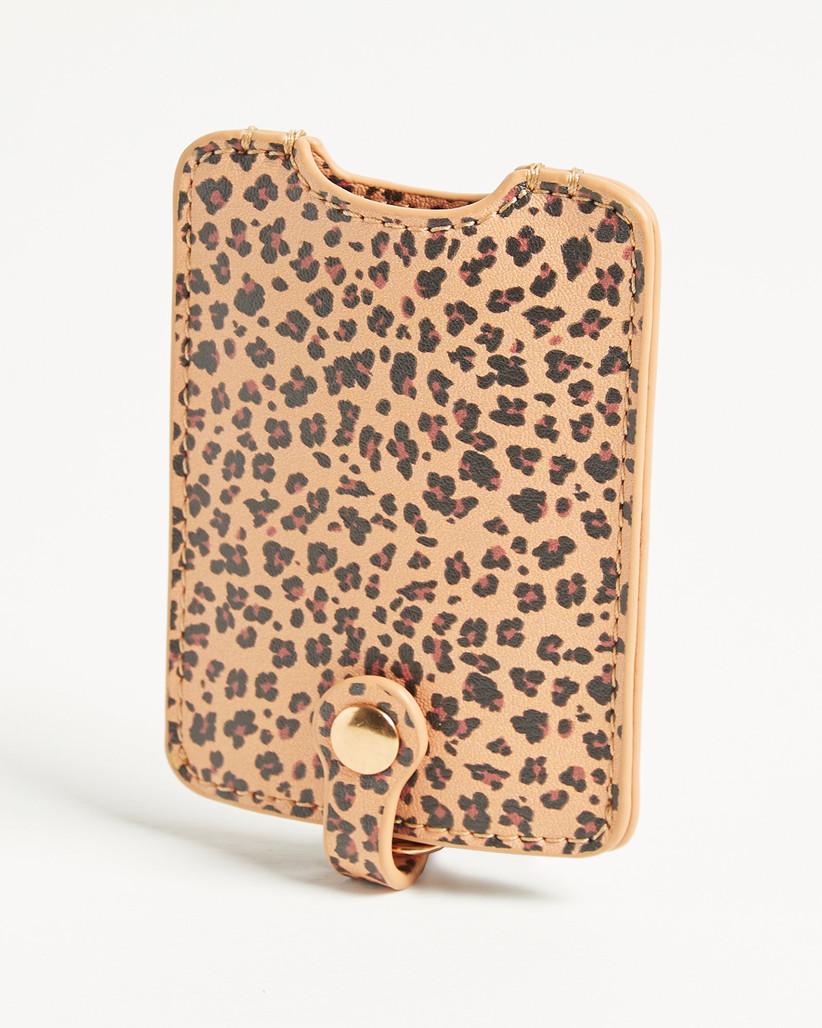 Who knew the words 'fabulous' and 'hand sanitiser' could go together? Oliver Bonas's hand sanitiser holder is a gorgeous yet practical wedding favour idea. It can be clipped onto a bag or keyring for easy access.
Margaret Dabbs Hydrating Hand Sanitiser - £15 for 50ml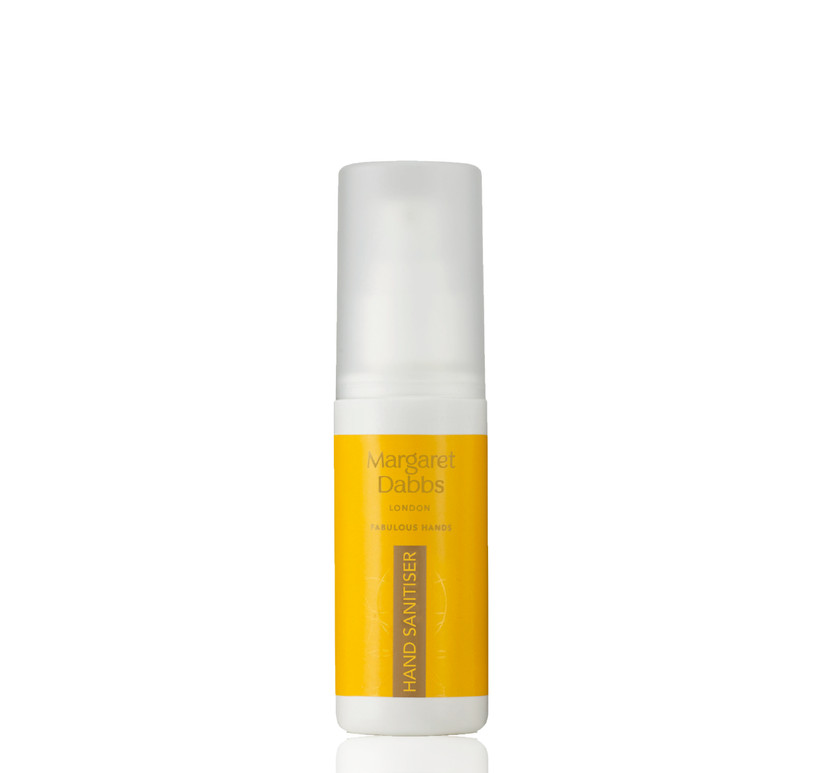 Margaret Dabbs is the queen of foot and hand health, and has come up with a deliciously scented hand sanitiser that promises to keep hands and cuticles nourished, despite the 65% alcohol content. It's on the spendier side, but your guests will love it.
READ MORE: Weddings After COVID-19: How to Ensure Guests Have the Best Time on Your Wedding Day
Etsy Hand Sanitiser Pouch - £4.50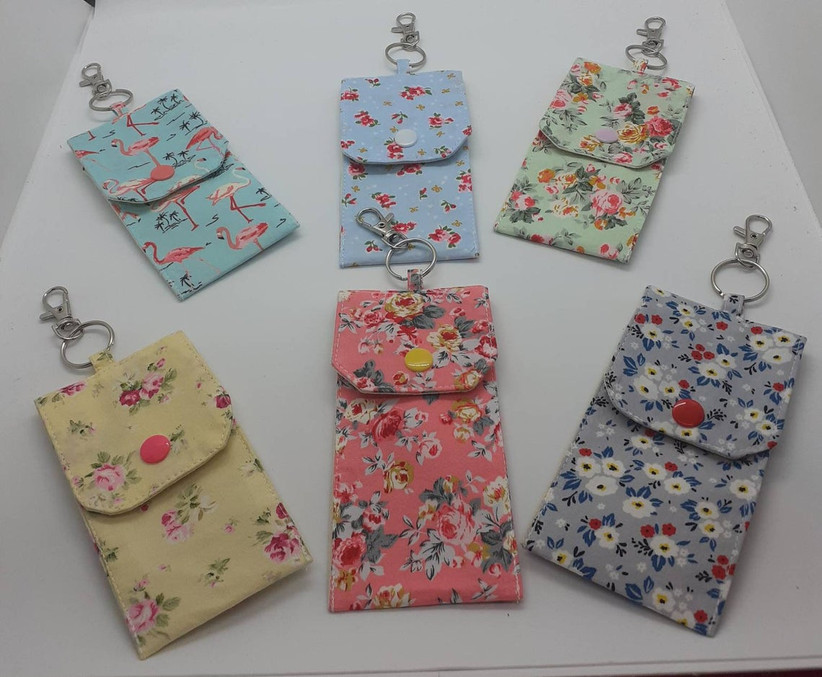 We love these pretty hand sanitiser pouches as wedding favours, but they'd also work as gifts for your wedding party.
Aesop Resurrection Rinse-Free Hand Wash - £7 for 50ml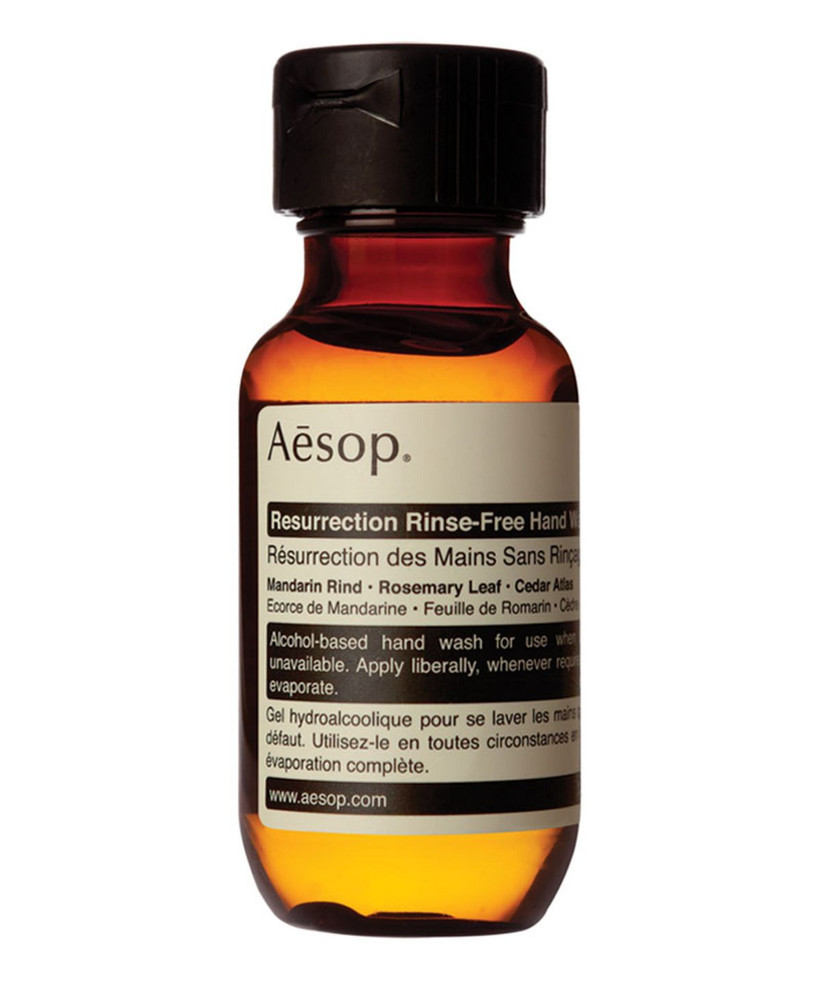 This Aesop hand sanitiser would be a delightful treat for guests, with its soothing scent and ultra-chic packaging.
Etsy Personalised Hand Gel Travel Pouch - From £6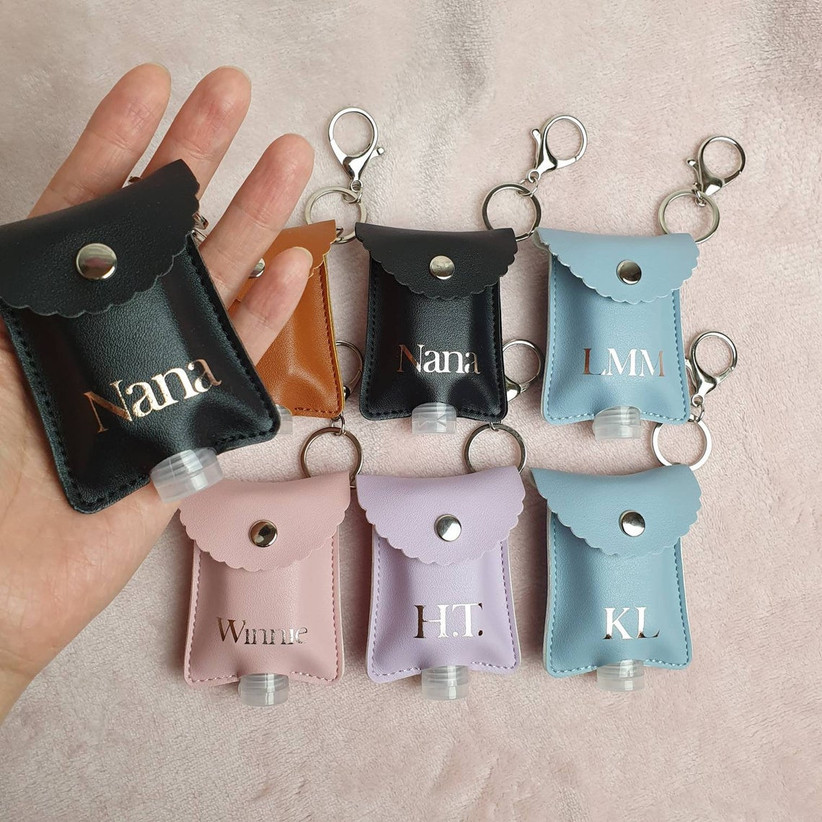 Treat your guests to their very own hand sanitiser pouches, personalised with their initials as an extra-special touch. The pouches are made of PU leather, which is vegan-friendly.
READ MORE: The COVID-19 Wedding Hashtags You Need to Use (and the Ones You Should Follow)
Neal's Yard Natural Defence Hand Rub - £5.75 for 40ml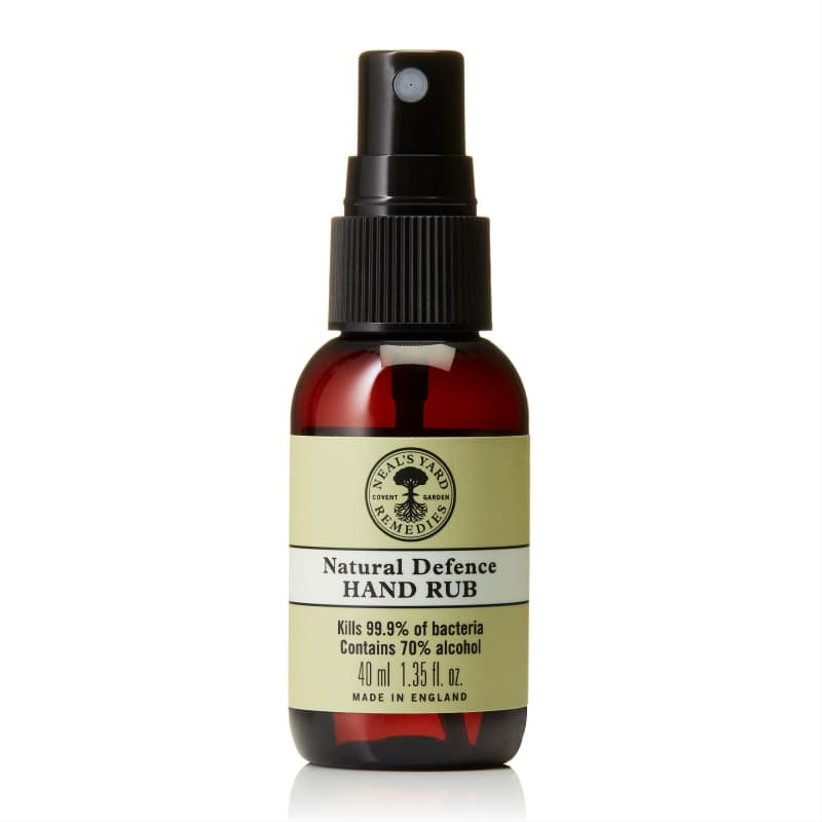 This Neal's Yard hand sanitiser has a crisp, clean scent, and it packs an antibacterial punch with 70% alcohol. You can get 100ml refill bottles to save on packaging.
Oskia Safe Hands Hand Sanitiser - £8 for 80ml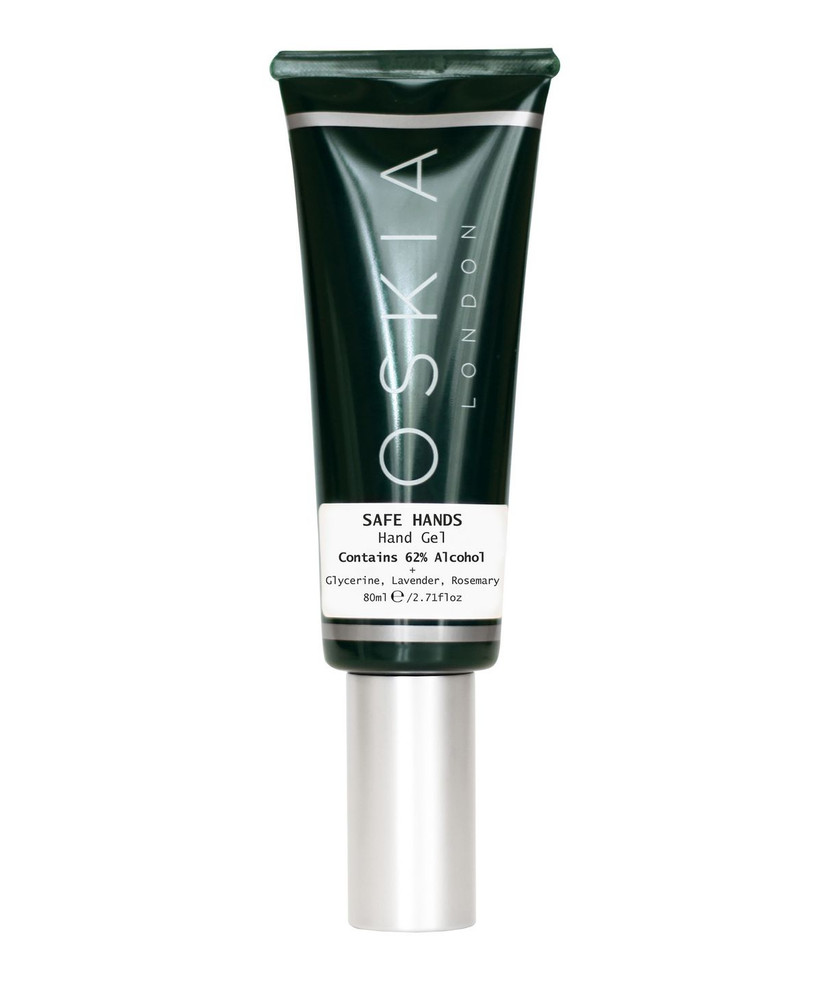 British brand Oskia are known for their high-performance skincare; how they're turned their attention to hand sanitiser with their 62% alcohol Safe Hands formulation. This contains glycerin for moisture and anti-bacterial essential oils.
Wedding Hand Sanitiser Labels
Labels are great for personalising hand sanitiser, whether you're having mini bottles as favours or you want to add some wedding sparkle to larger bottles you've placed around the venue for guests to use.
Etsy Spread Love Not Germs Wedding Sanitiser Labels - from £2.50 for 35 Stickers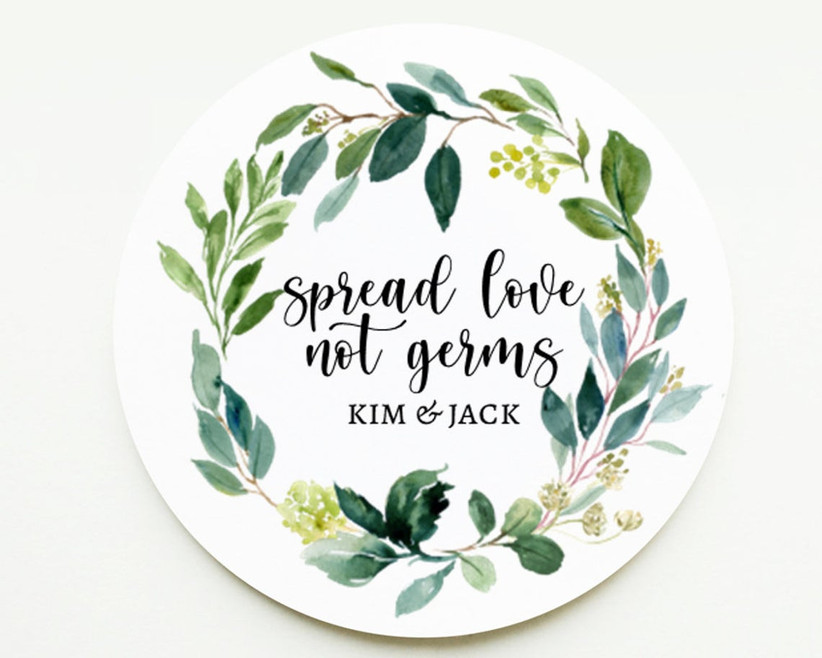 A greenery motif works well as all kinds of wedding, and the design on these sanitiser stickers is beautifully executed.
READ MORE: How to Write a Coronavirus Wedding Speech: The Best Speech & Toast Ideas
Etsy Printable Hand Sanitiser Labels - £4.52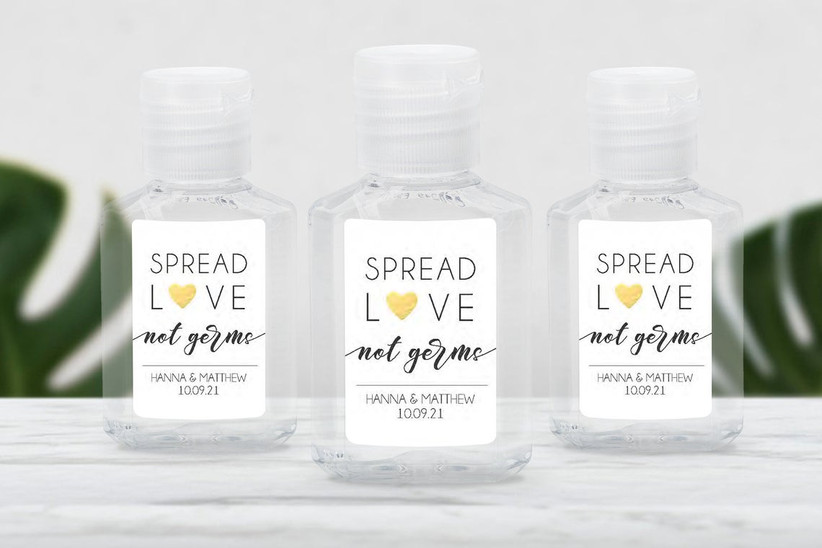 Not sure how many labels you'll need? Choose this sanitiser label template and you can print as many as you want once you've finalised numbers.
Etsy Minimalist Hand Sanitiser Label - £4.06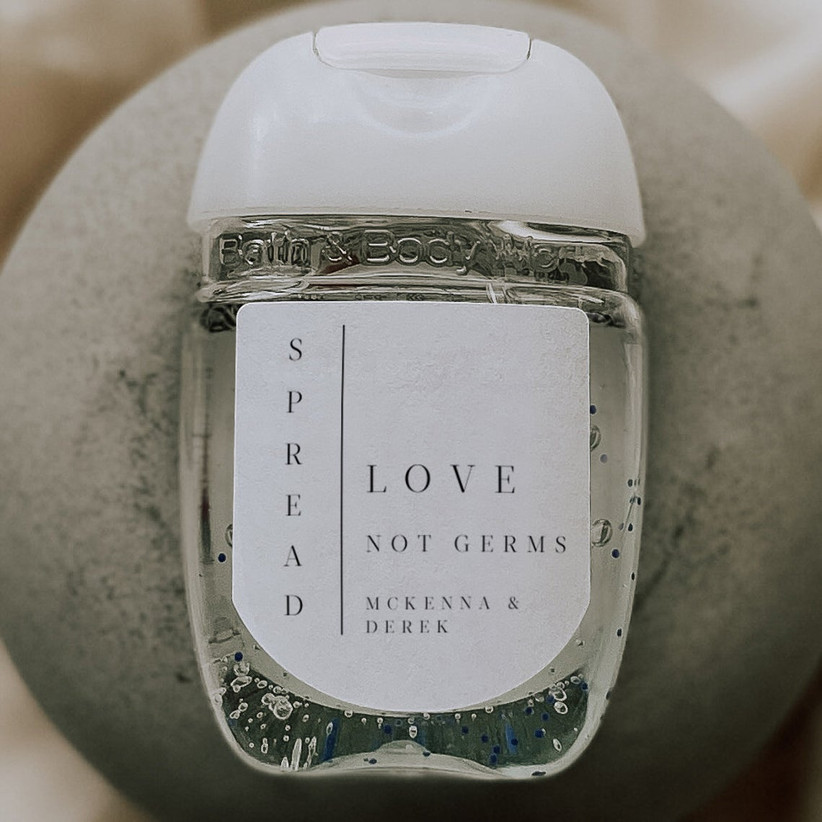 Another print-at-home option, this pared-back label is one for minimalist couples - its very simplicity makes it feel sophisticated.
Etsy Light Pink Floral Wreath Hand Sanitiser Labels - from £2.50 for 35 Stickers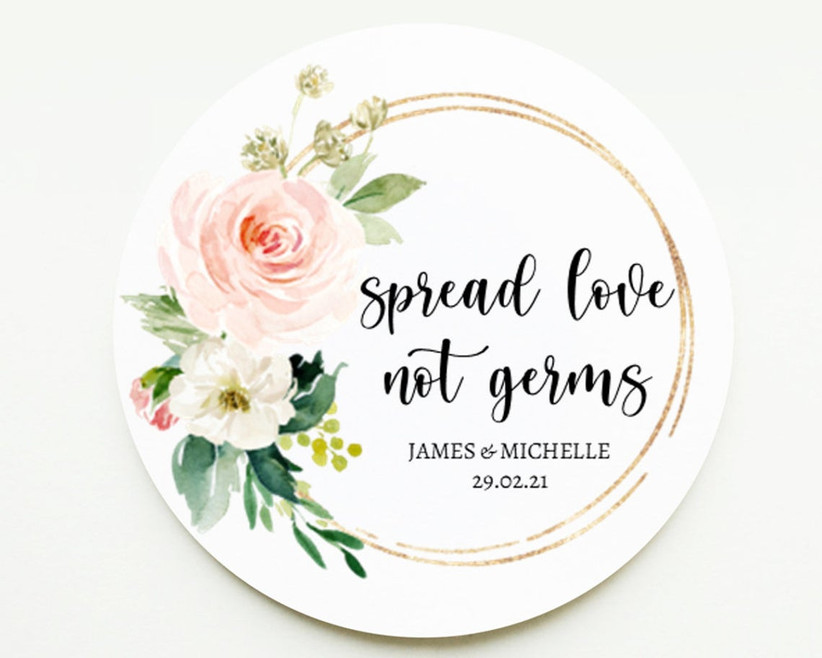 Who knew you could make hand sanitiser look romantic? These pretty floral labels will do exactly that. If you want something unique, the seller takes requests for custom designs.
READ MORE: This Is What It's Like to Get Married During the Coronavirus Pandemic
Etsy Foil Sanitiser Bottle Labels - from 25p Each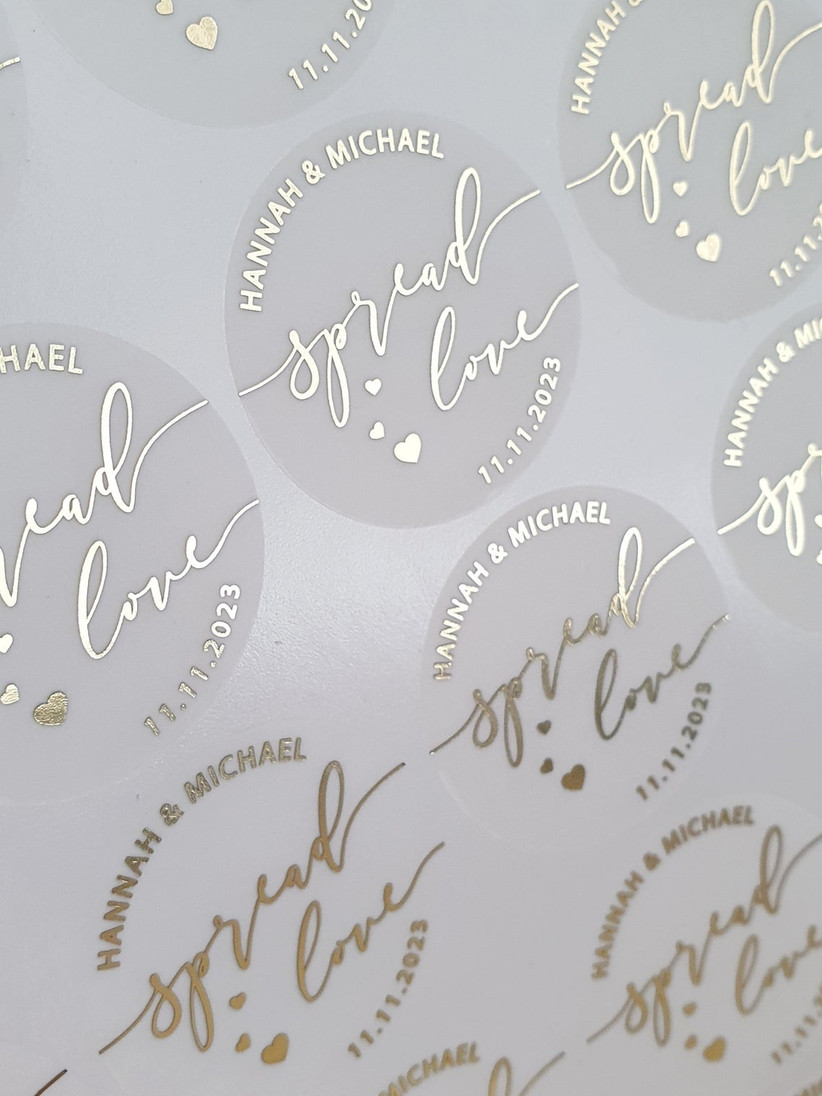 The price may be affordable, but these foil stickers will really elevate your wedding hand sanitiser bottles, as well as adding personality. They're available in a wide range of colourways.
Wedding Hand Sanitiser Stations
Here's some inspiration for creating your own hand sanitiser station if one isn't provided by your venue.
DIY Hand Sanitiser Station
Putting together your own hand sanitiser stations? You should consider a few points:
No-touch hand sanitisers are ideal, but if those aren't an option, you can provide large pump bottles of sanitiser for guests. We recommend including disposable wipes (and a bin) which guest can use to operate the pump bottles, rather than using their bare hands.
Place sanitiser stations at the entrance and exit.
Make sure you have plenty of stations around the venue - social distancing rules mean you don't want people congregating in one place.
Put someone in charge of monitoring the stations to see when they need refilling.
Speaking of refills: make sure you have plenty of sanitiser on hand to keep the bottles filled.
You can still make your wedding hand sanitiser station look pretty with flowers and other décor - just make sure guests can easily access the bottles.
Dunelm Embossed Glass Lotion Dispenser - £7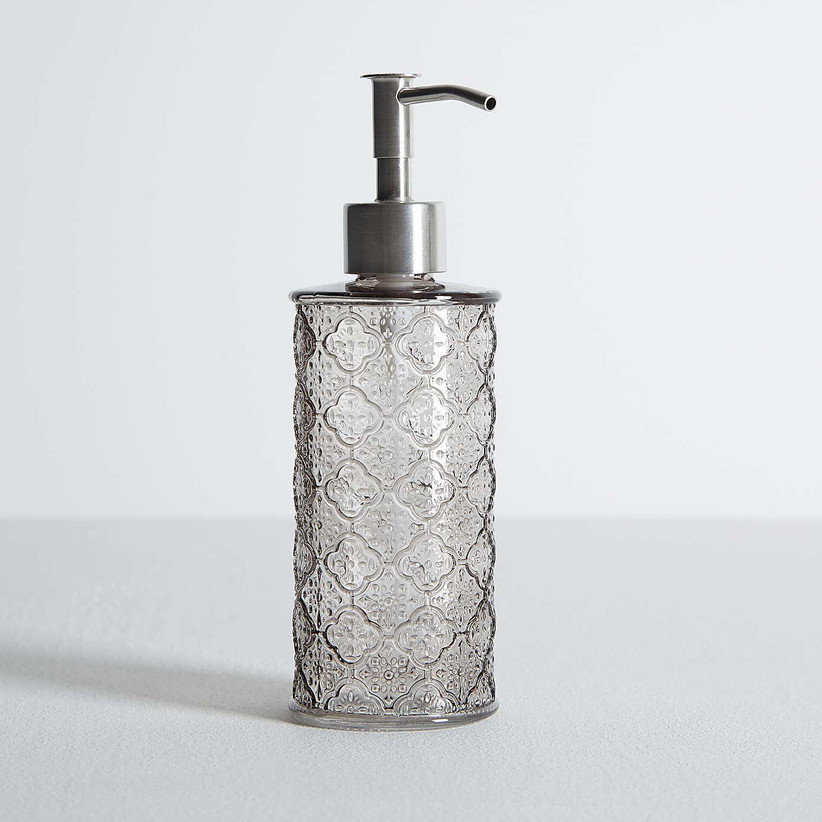 Choose attractive dispensers to add interest to your wedding hand sanitiser station, like this Dunelm grey glass version. If you want to use it after the wedding, it'll need to be thoroughly sanitised, as multiple people will have touched it.
Hicentar Automatic Gel Dispenser - £19.99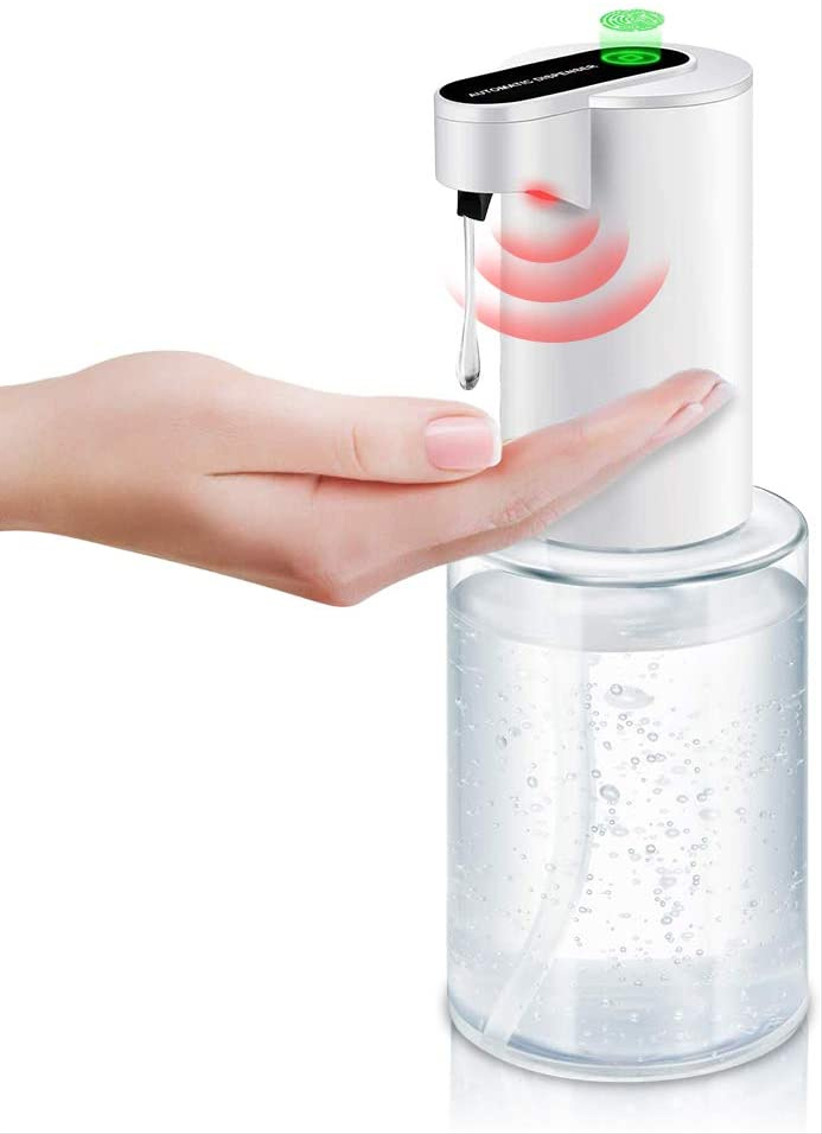 If your budget allows, you could look at buying some automatic gel dispensers for your wedding, like this Hicentar version, but you'll need to work out what to do with them afterwards.
READ MORE: Everything You Need to Know About Weddings During the Coronavirus Pandemic
The Sanitiser Station Co. Silver Freestanding Sanitiser Station - £162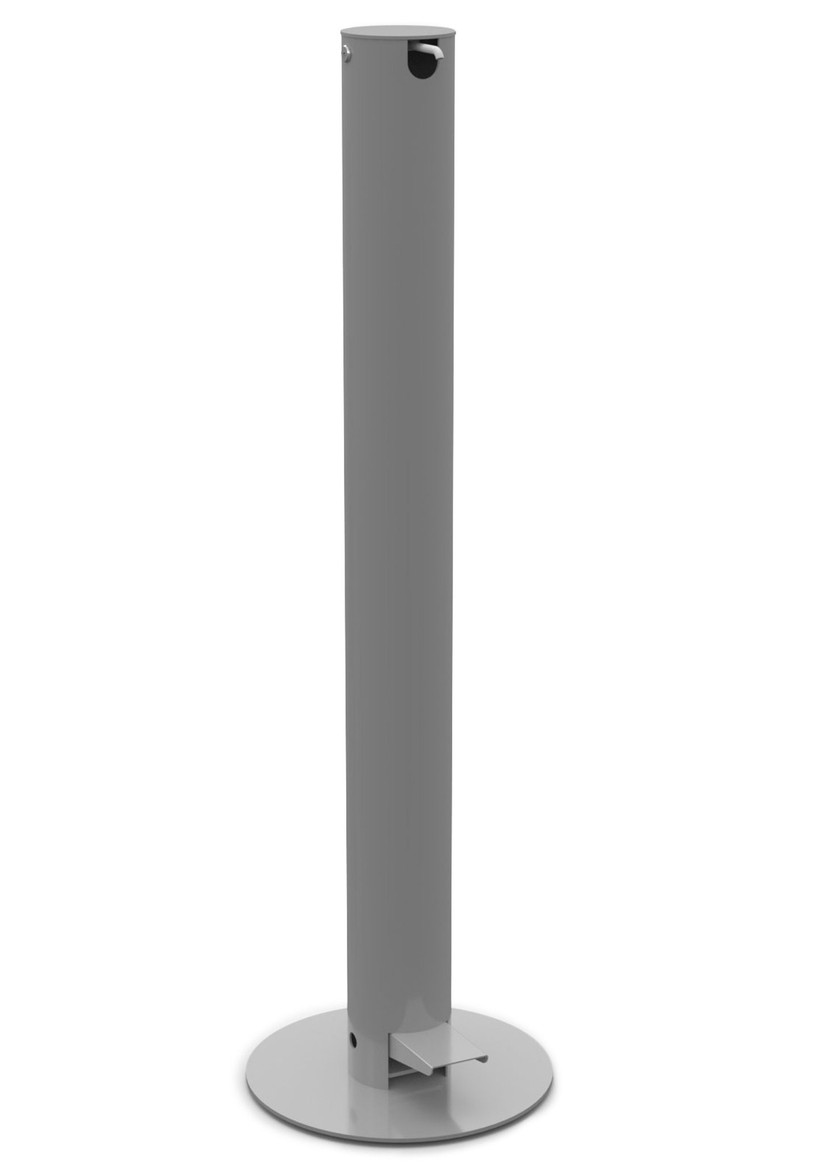 This foot-pedal sanitiser dispenser is quite an investment - but you could always consider donating it to a local business after the wedding.
Blue Sky Event Solutions Outdoor Hand Sanitiser Dispenser Station - £66.50-£166.48 + VAT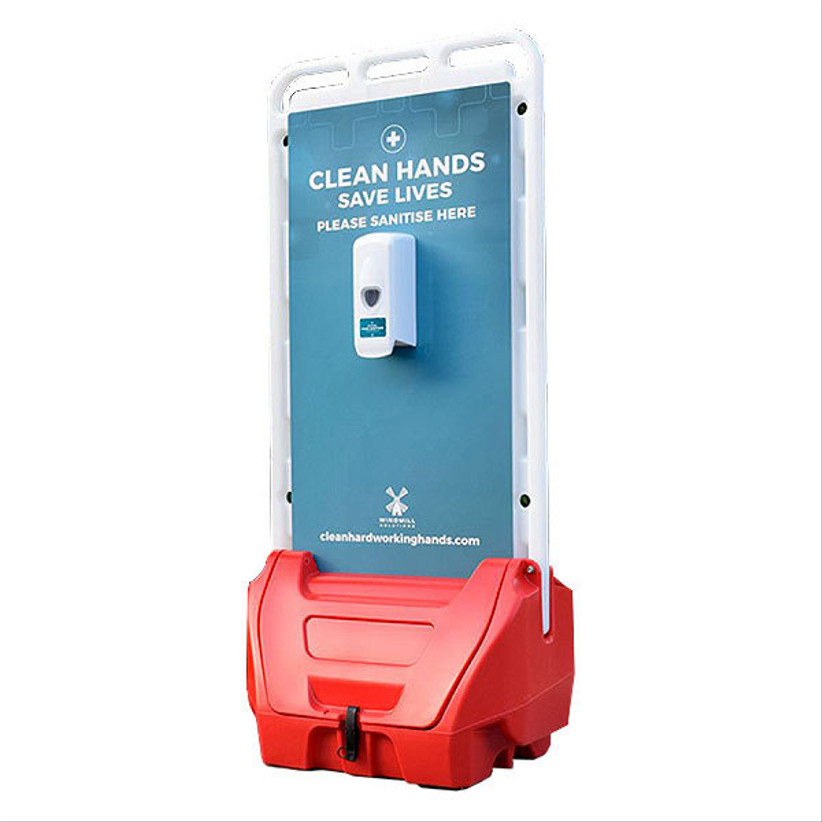 UK companies are now offering hand sanitiser dispensers for hire. This outdoor station may not be the prettiest thing we ever saw, but it would do the job at the entrance.
Wedding Hand Sanitiser Signs
Signs are ideal for brightening up your sanitiser points, as well as the not-unimportant business of reminding guests to clean their hands. You can usually buy wedding hand sanitiser signs as digital templates, so you can edit them and print as many as you like at home.
Etsy Acrylic Wedding Hand Sanitiser Sign - from £10.95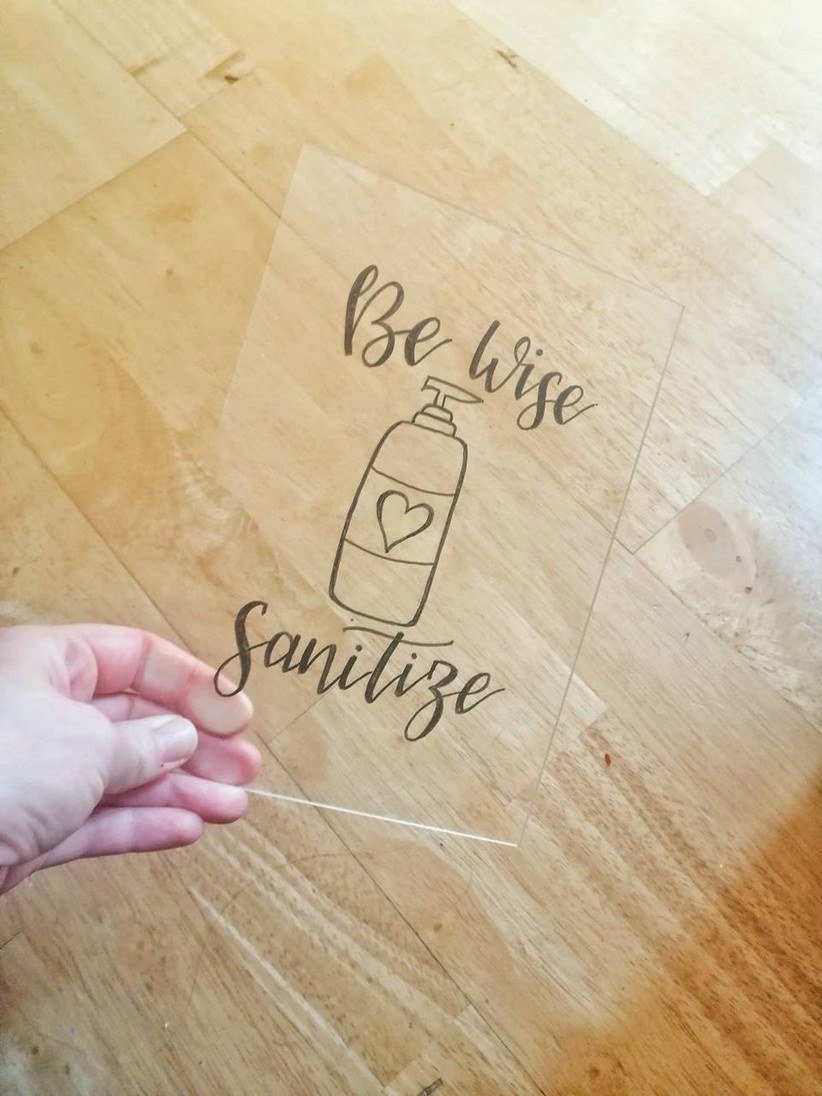 Acrylic is a popular material for contemporary wedding signs, giving a clean finish. This sanitiser sign is simple and to the point.
Wedding Hand Sanitiser Sign With Statement Frame
One of the easiest ways to liven up a wedding sanitiser station is to use an eye-catching frame for your signs.
READ MORE: How to Find Your Wedding Venue During COVID-19
Etsy Sanitiser Sign - £16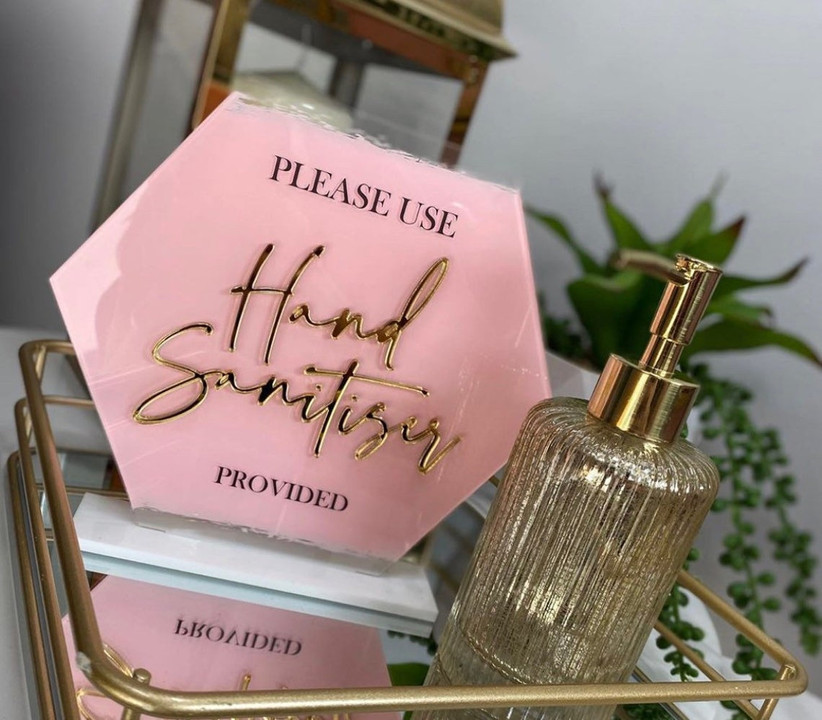 Who knew a sign asking you to sanitise your hands could be so glamorous?! The laser-cut writing on this sign looks simply gorgeous - note that you need to buy the back shade separately.
Etsy Greenery Sanitiser Station Sign - £6.72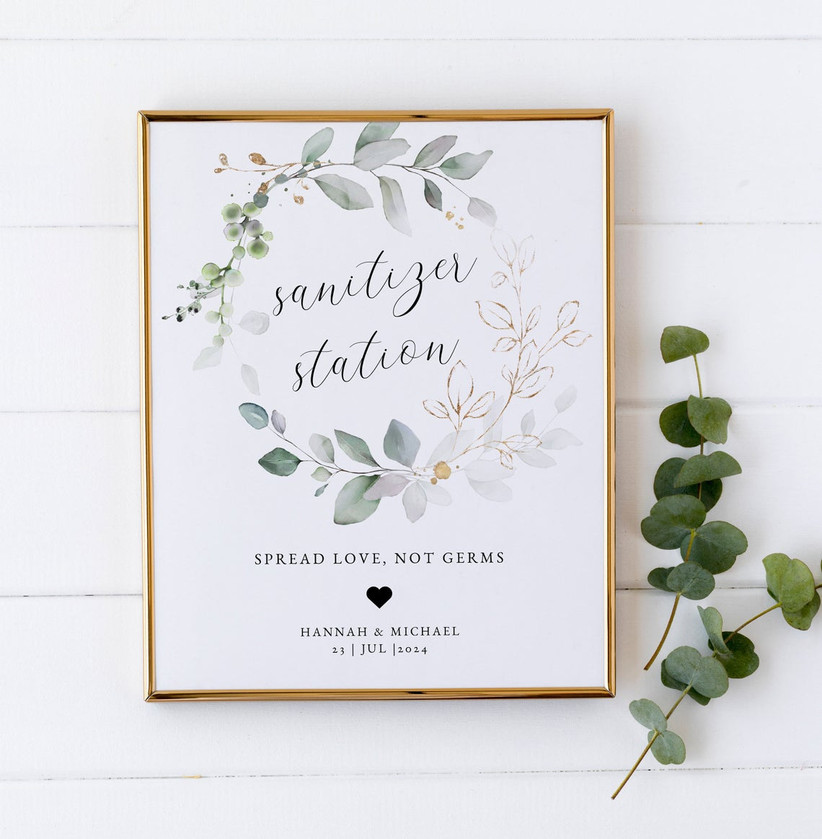 Bring the outside in with this elegant sanitiser sign - you can edit the wording and print it from home, or use a professional printing service.
Etsy Lemon Sanitising Station Sign - £4.06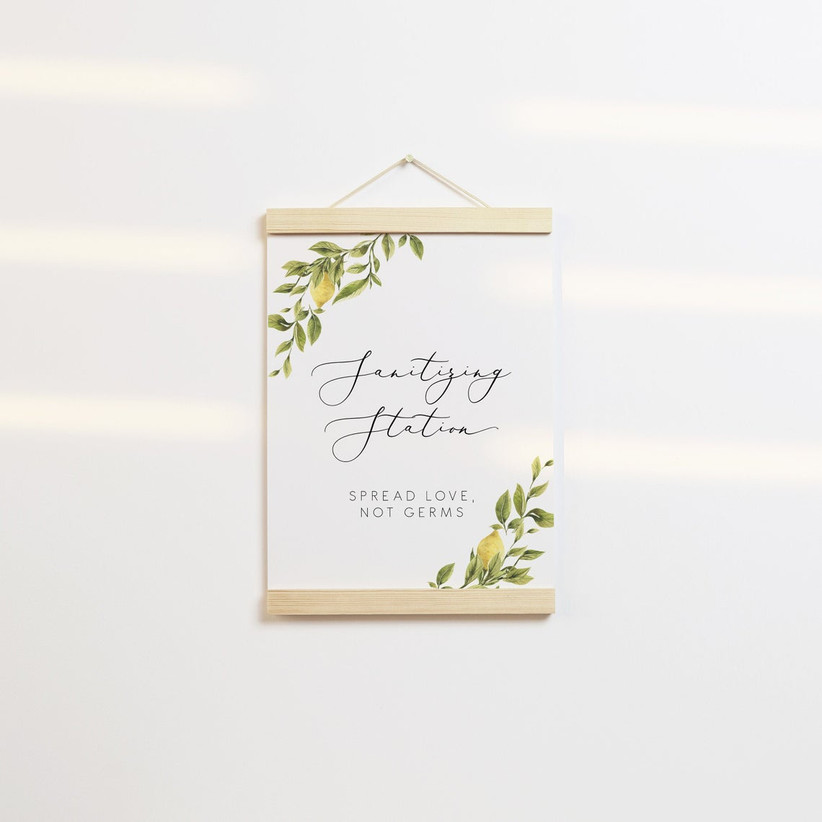 Want to bring a hint of Mediterranean warmth to your celebration? This lemon design will certainly do the trick.
Geometric Hand Sanitiser Sign - £6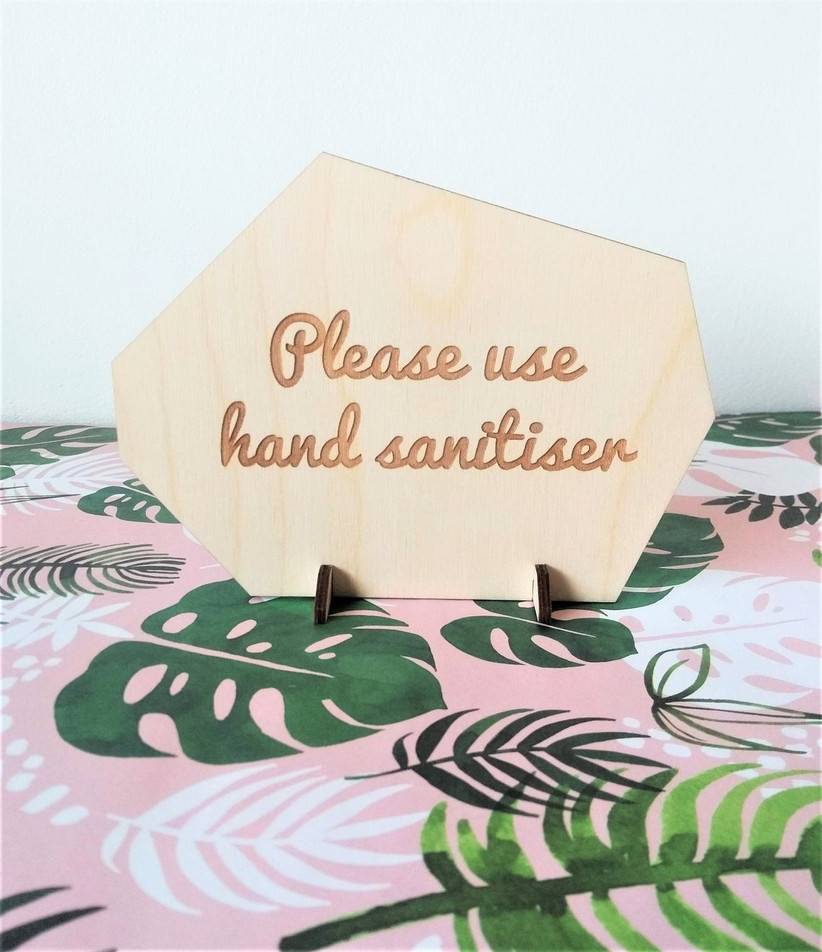 Having a rustic wedding? Wooden signs would fit perfectly, like this geometric design, crafted from untreated wood for a natural feel.
Etsy Minimalist Sanitise Station Sign - £4.85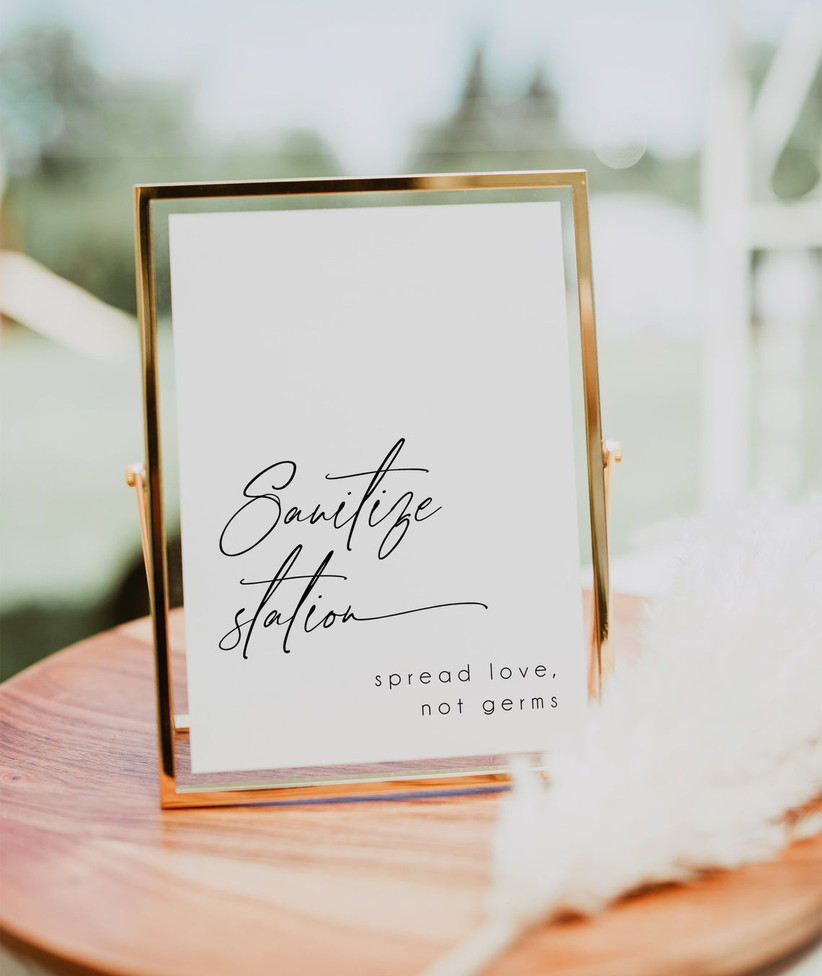 We love the elegant font used in this minimalist sanitiser sign template. Simply print and frame for an elegant look.
Does the Coronavirus pandemic mean you're keen to do as much planning as possible from the comfort of your sofa? We explain how to plan every last detail of your wedding online, from venue to makeup artist!