26 of The Most Thoughtful Postponed Wedding Gifts
Thousands of couples have had their big day put on hold this year. These thoughtful postponed wedding gifts will brighten their spirits even on the toughest day, from flowers and candles to doughnuts and cheese
We have included third party products to help you navigate and enjoy life's biggest moments. Purchases made through links on this page may earn us a commission.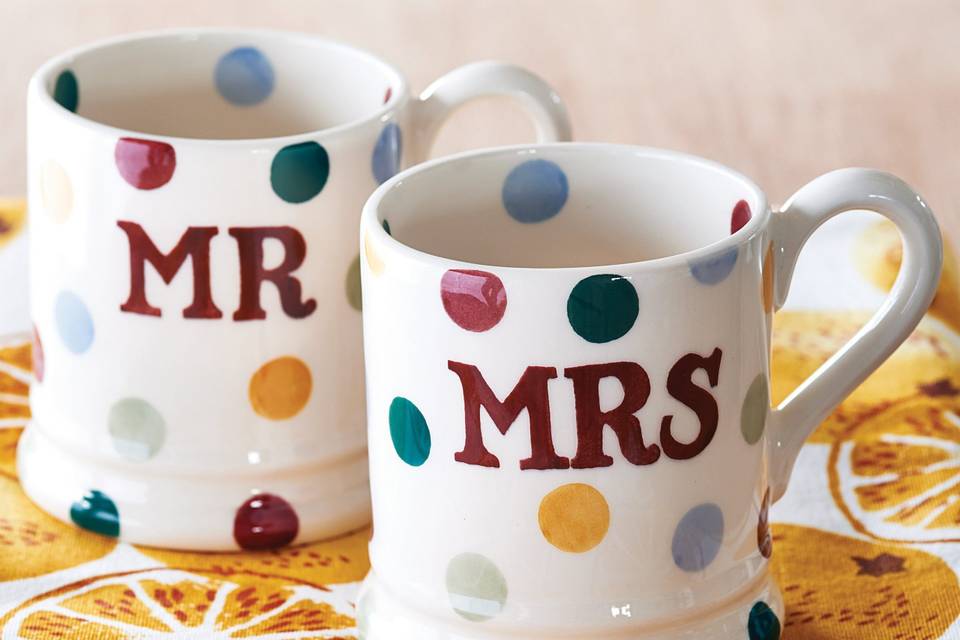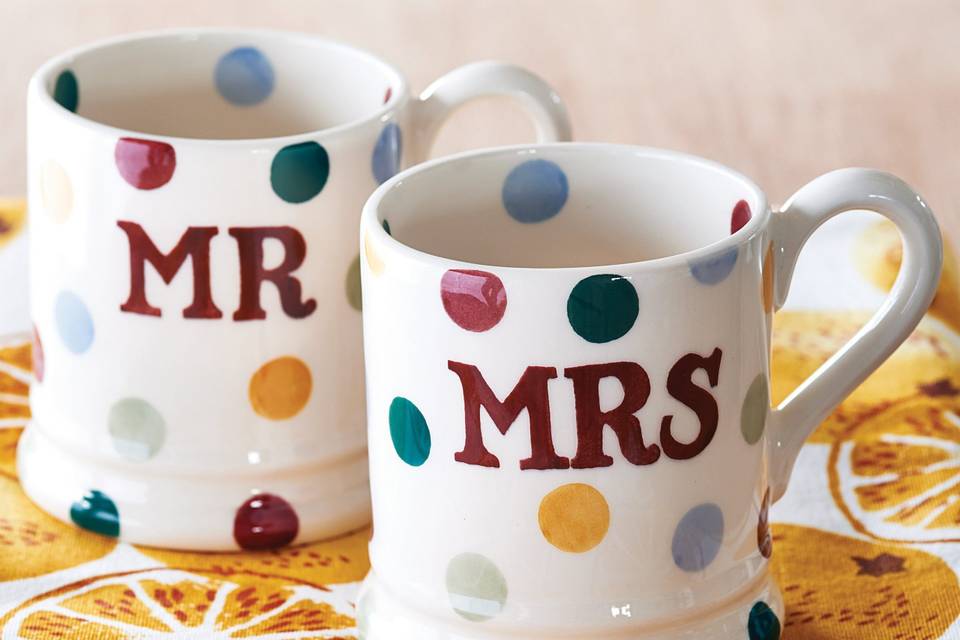 It would be fair to say that 2020 didn't go according to plan for any of us, but it was been particularly disappointing for those who were planning on getting married. Thousands of couples across the country had to postpone what should have been the happiest day of their lives.
If you know someone this is happened to, you're probably feeling pretty gutted on their behalf, and also a bit lost as to how you can help. This is why we love the idea of sending a postponed wedding present – a token of your affections to cheer them up, especially if the date that should been their wedding is fast approaching.
From little lifts to luxe treats they'll treasure for years to come, we've got plenty of inspiration for heartfelt early wedding presents to tide the newlyweds-to-be over until their big day actually arrives.
You don't have to spend a fortune on these postponed wedding gifts – in fact, lots of our suggestions will leave you with change from a £10 note. But just knowing that your thoughts are with them at this tricky time will make all the difference to their spirits as they crack on with the rescheduling!
£10 and Under
1. Postponed Wedding Day Token Card – £5.50, Etsy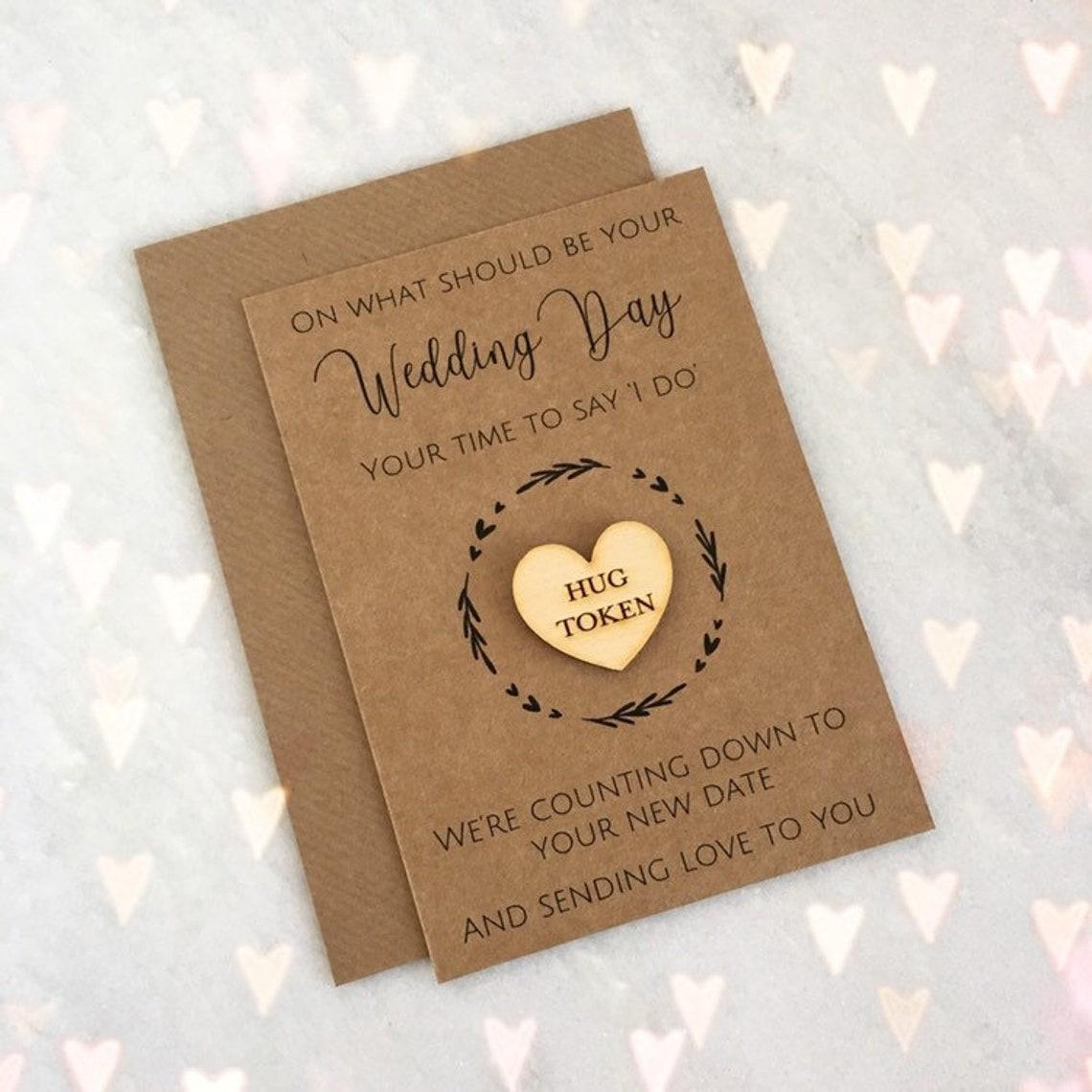 If you just want to pop a simple something in the post to let your friends know you're thinking of them at this tough time, this cute card from Etsy is a great option with the most important message: love is definitely not cancelled.
2. Personalised Wedding Date Keepsake – from £9.50, Etsy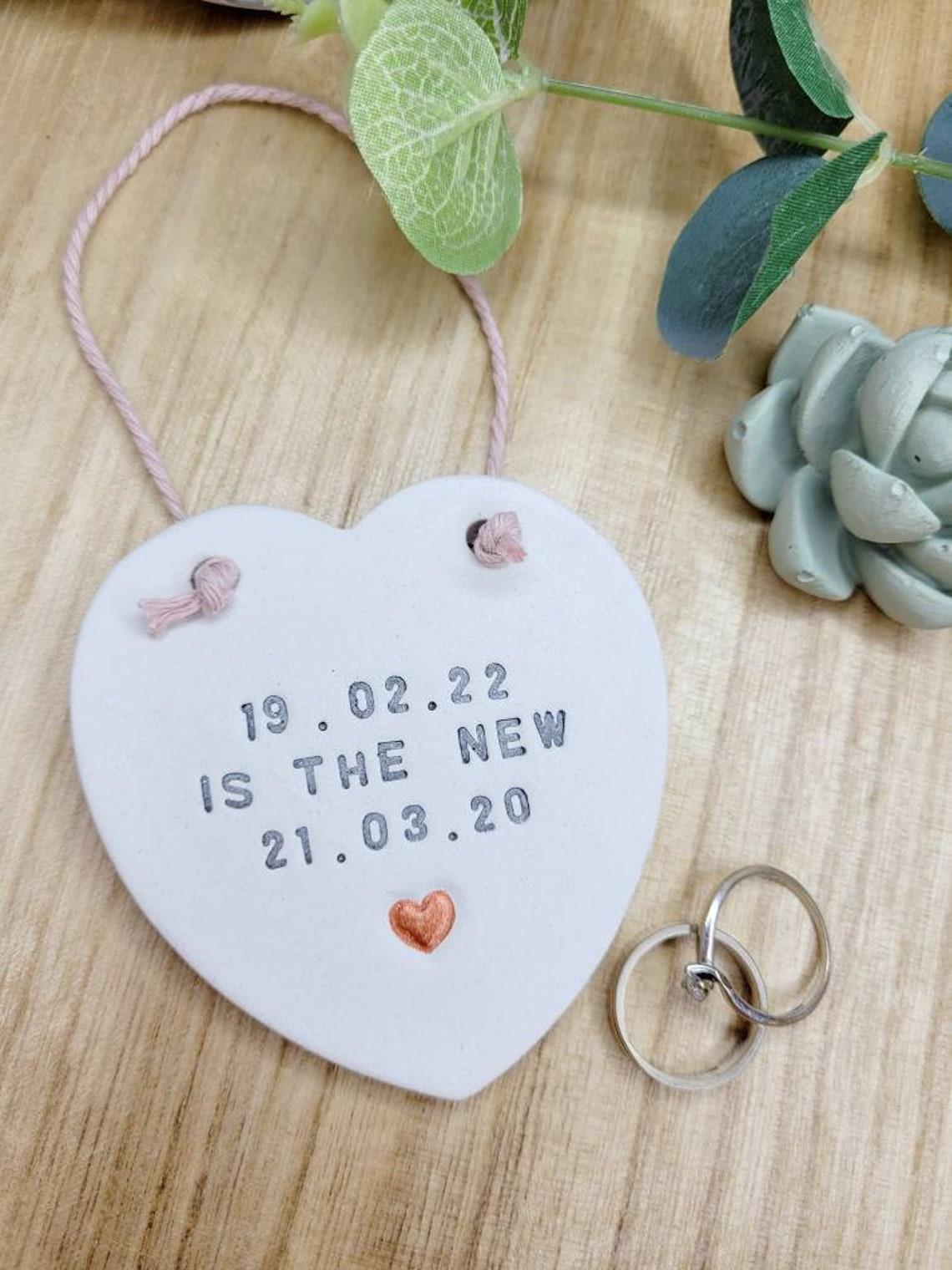 Keep the focus on the future with this personalised keepsake. It's a sweet way to honour the old wedding date, as well as look forward to the new one.
3. Postponed Wedding Wine Label – £3.49, Etsy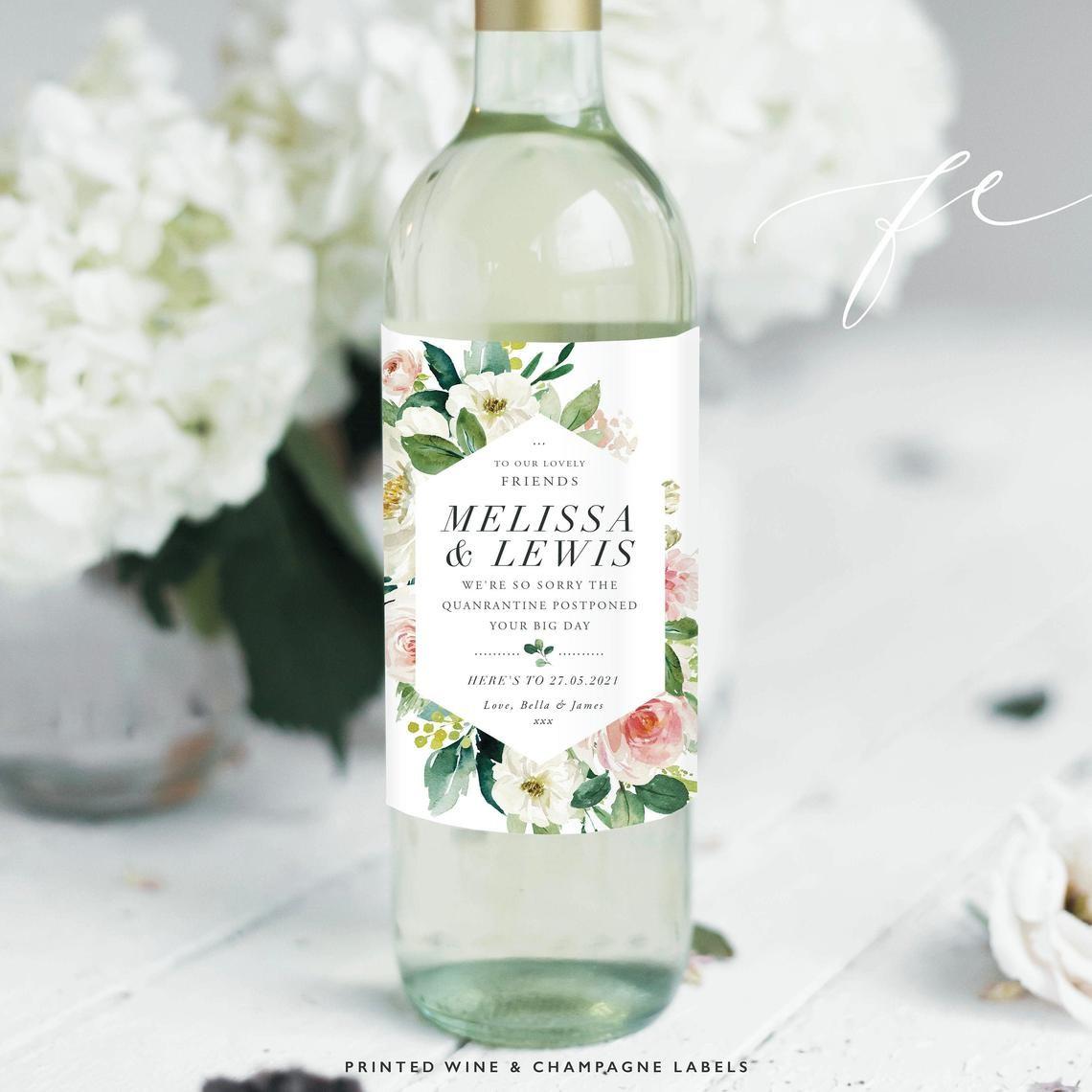 Okay, so you still need the actual bottle of wine for this gift, but this label allows you to spend as much or as little as you're able to and still have your gesture feel special. The waterproof wrap can be customised with the couple's name and wedding date – leave it on their doorstep so they can toast to what would have been their big day.
4. Venus Maidenhair Fern – £10, Patch Plants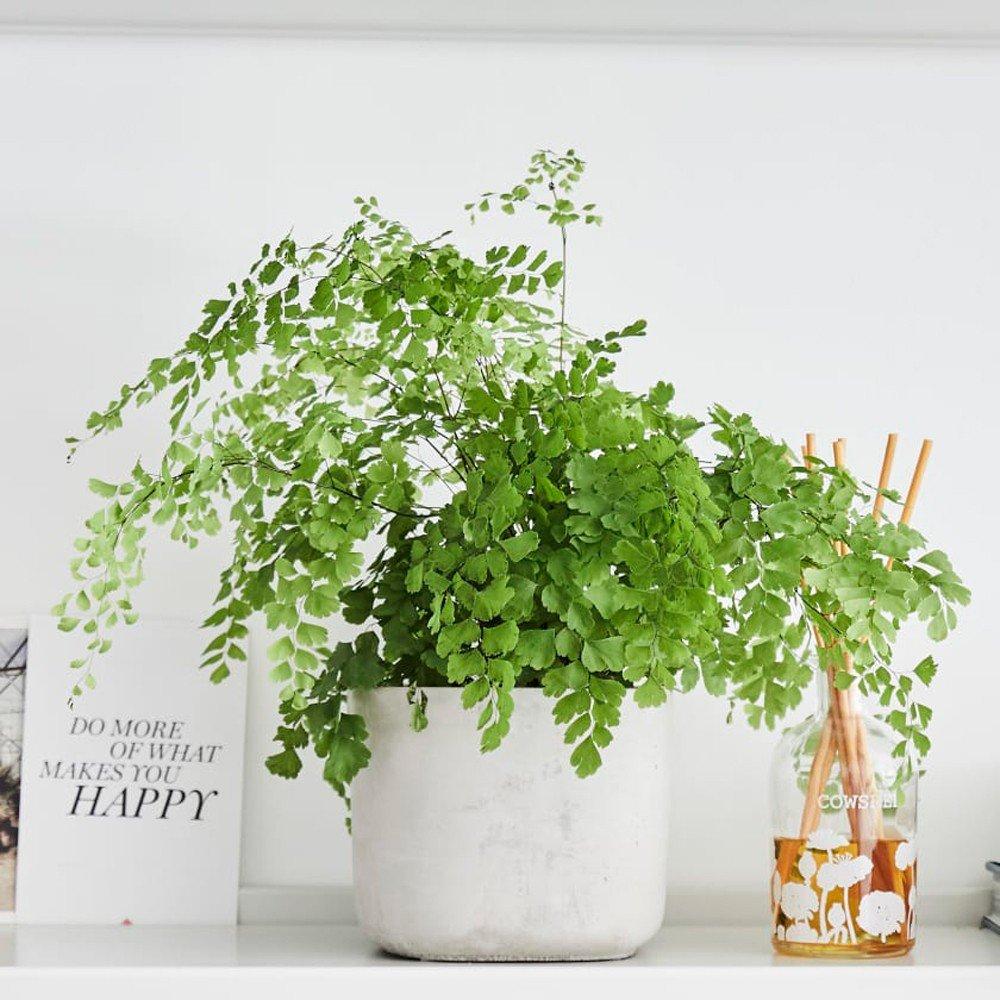 Patch delivers countless varieties of gorgeous plants across the country for amazing prices, but as a postponed wedding gift, our top pick has to be the Venus fern, named for the goddess of love. If budget allows, you can also include a plant pot or stand to keep it in.
5. 'Almost Mrs' Customised T-Shirt – £13.99, Etsy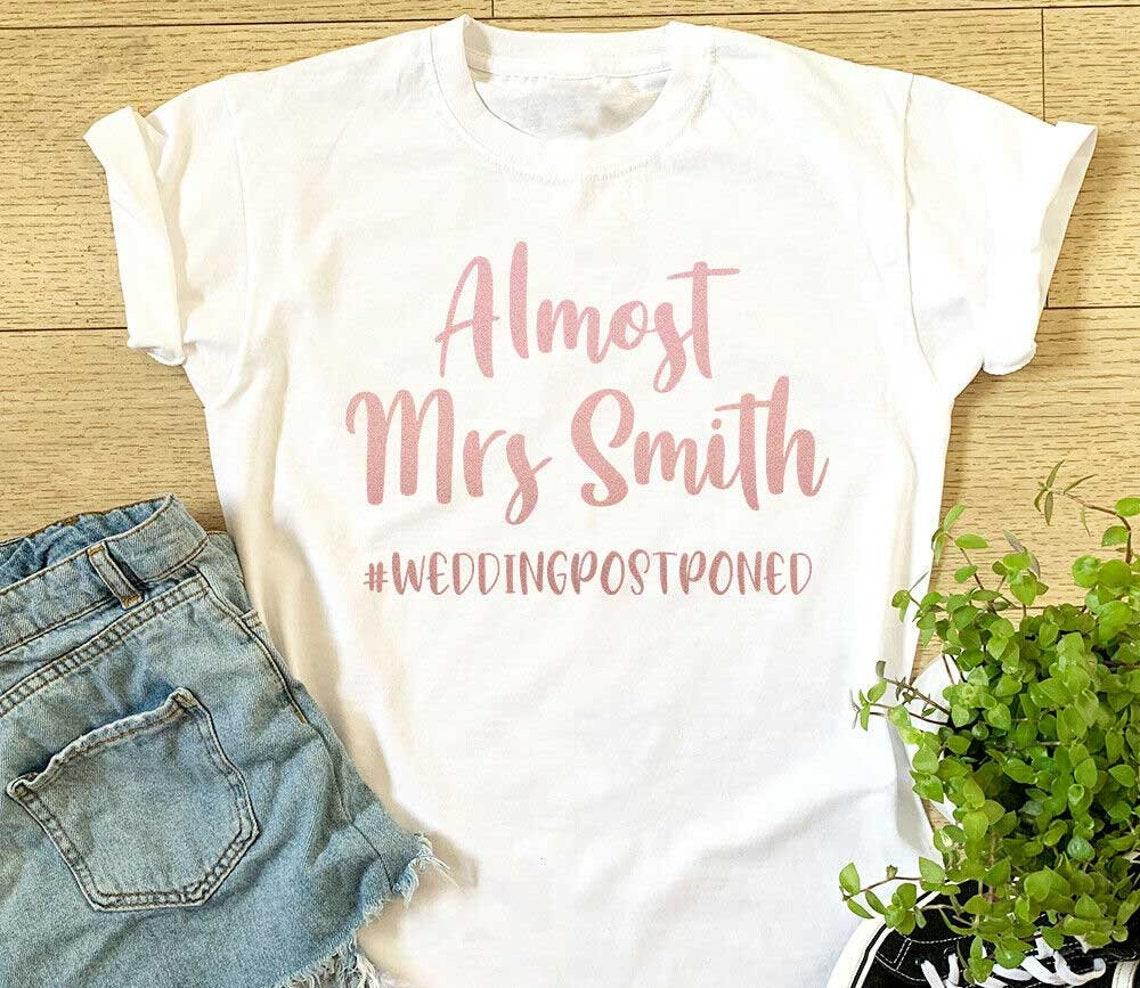 A tongue-in-cheek take for those who don't want anything too sentimental, this shirt (which comes in a range of different colours) is perfect for a day-of photo shoot so they can remember their original wedding date with a smile.
READ MORE: 21 of the Biggest Wedding Trends for 2021
6. Lego Bride – £11.99, Lego
The most adorable project to keep them both busy, you can buy Lego brides and grooms so they can create their own miniature lookalikes. You also get a range of hairstyles to make them as accurate as possible!
7. Grow Me Be Happy Sunflower ­– £6.99, IWOOT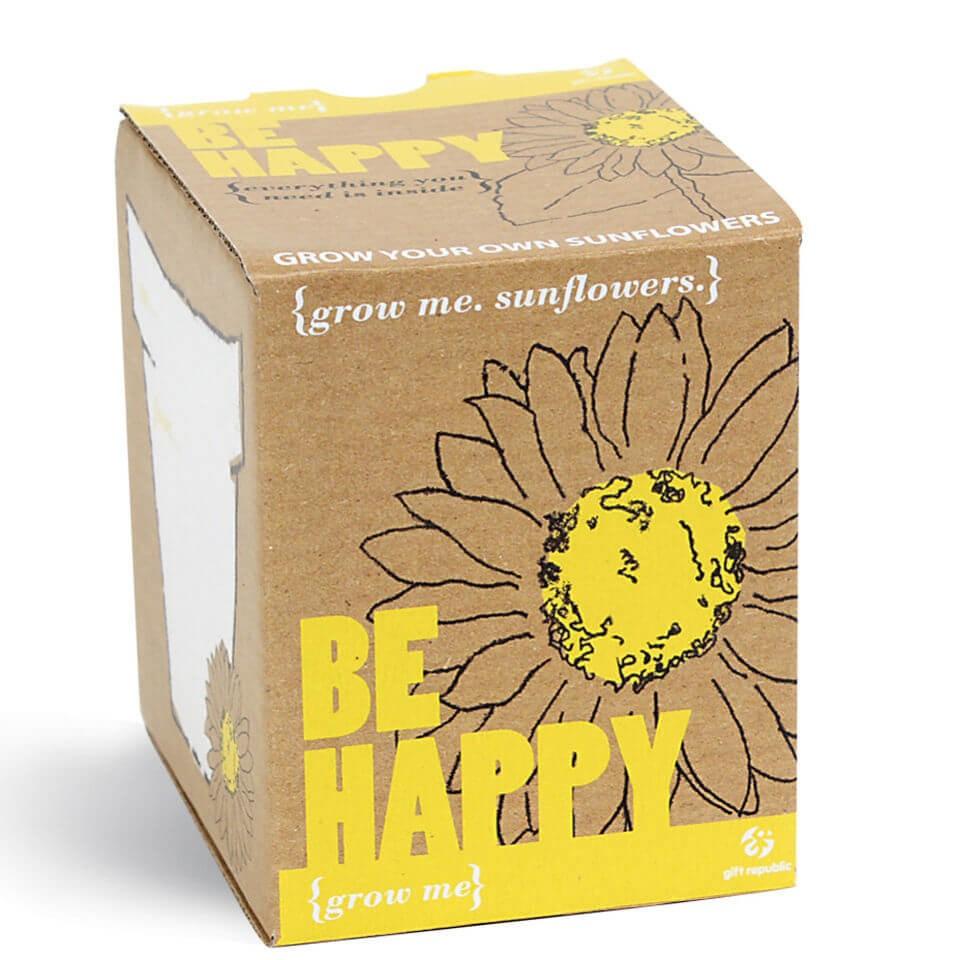 For green-fingered couples, this box provides a little something that they can nurture and grow together gradually as they count down to their new date. Sunflowers are said to symbolise joy, adoration and longevity; all the ingredients for a strong marriage, whenever it finally happens.
£20 and Under
8. Personalised Reasons Why You're Wonderful – £19.95, Not On The High Street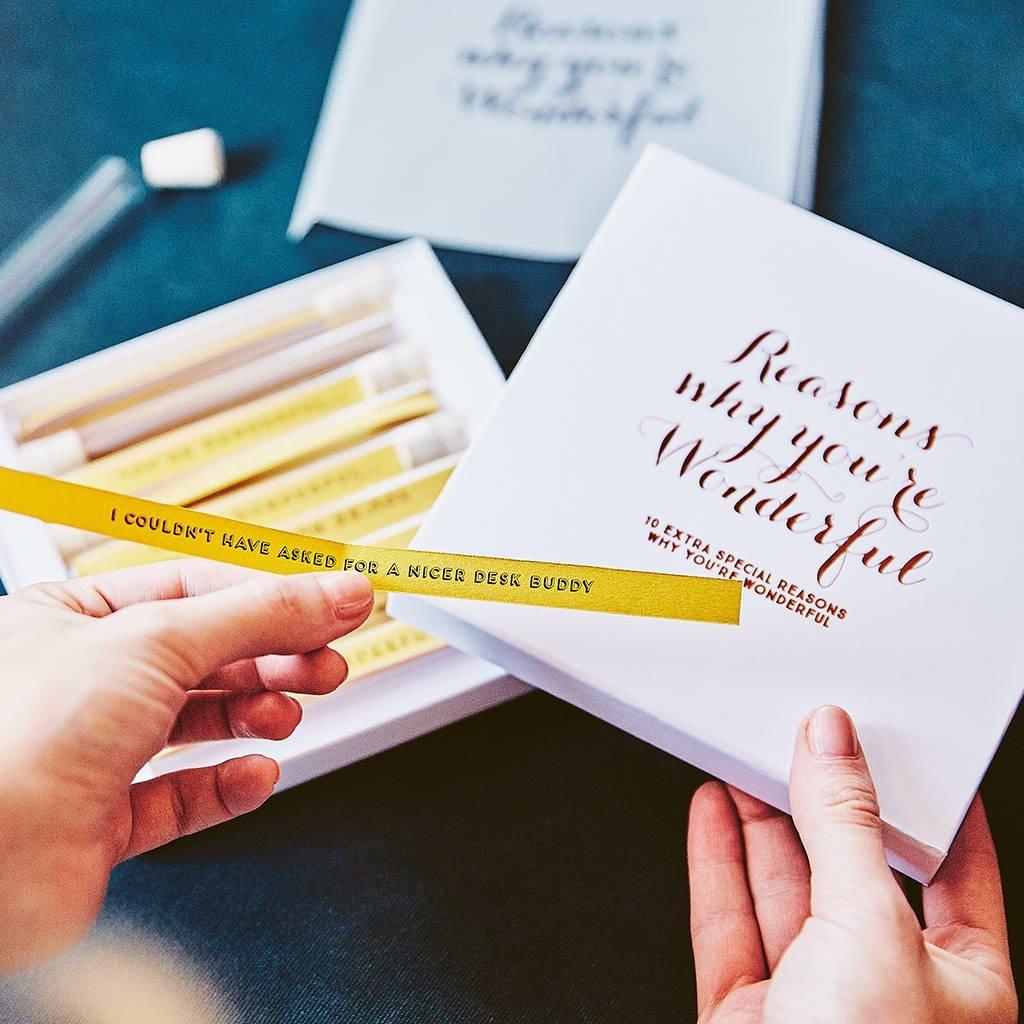 If you'd love to pen a heartfelt letter to a pal who's had to postpone their wedding but don't know where to start, this customisable set is the gift for you. It allows you to include ten of your own messages, each in a keepsake glass tube – when it arrives, they can decide whether to open them all at once or save some for a pick-me-up on darker days.
9. Postponed Wedding Planning Glass – £10.17, Etsy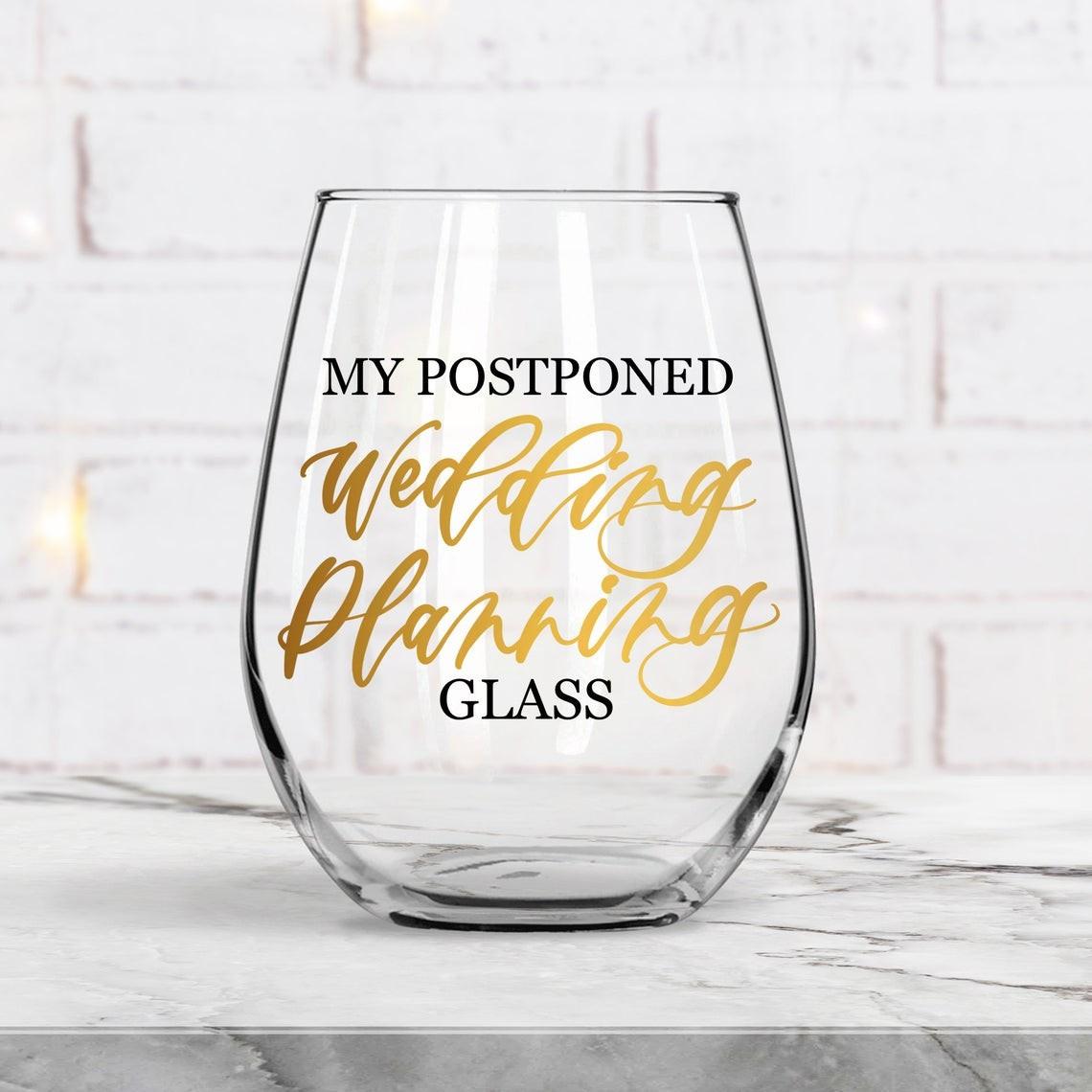 With most couples having to start wedding planning almost from scratch again, a very large glass of wine is on the cards right now, and this hand-lettered glass is just the thing for your friend to serve it in. Of course, they can also use it for spirits, juice or even iced coffee – whatever tipple is getting them through!
10. Love Crystal Healing Set ­– £14, Orelia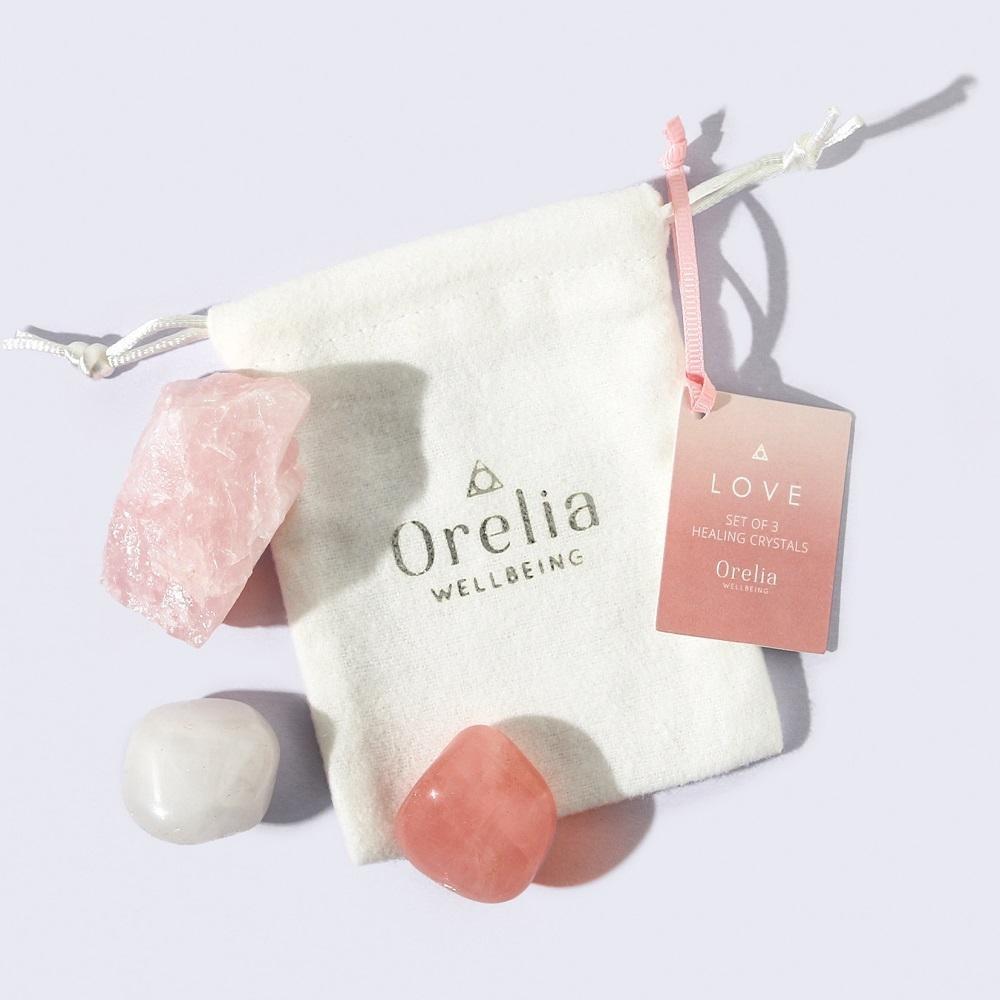 If it's not your thing, feel free to scroll on by, but if you're shopping for someone who's into the spiritual, healing crystals could be the most meaningful gift they've received for a long time – especially if they're dealing with the turmoil of a cancelled wedding head on. The three stones inside represent love, harmony and happiness.
11. A Massive Hug Personalised Retro Sweet Shop Jar – £14.95, Personalised Gifts Shop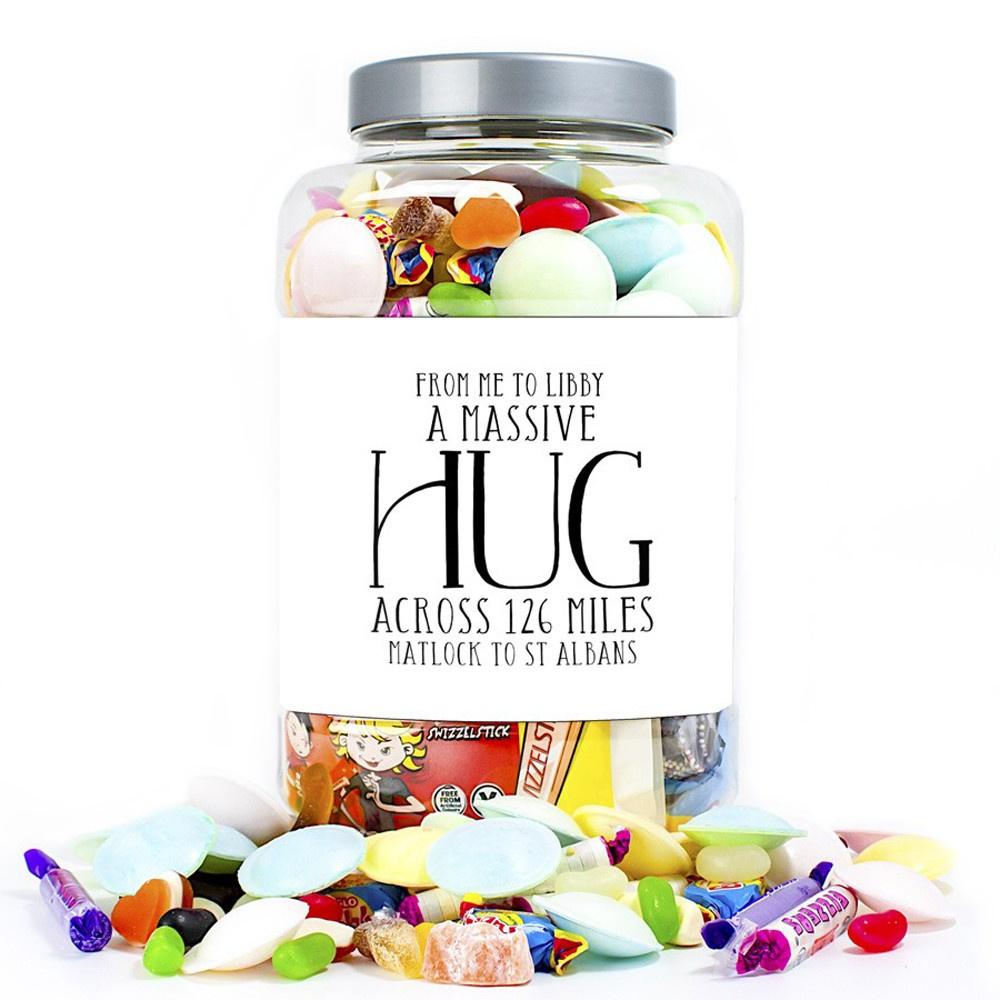 If the couple you're gifting loves to drown their sorrows in sugar, they'll definitely appreciate this gesture! This huge 1.8 litre jar is packed with retro treats like flying saucers, parma violets and foam shrimps – a comforting taste of nostalgia amidst the madness.
12. Heart Shaped Organic Cheddar Gift Box – £16.15, Godminster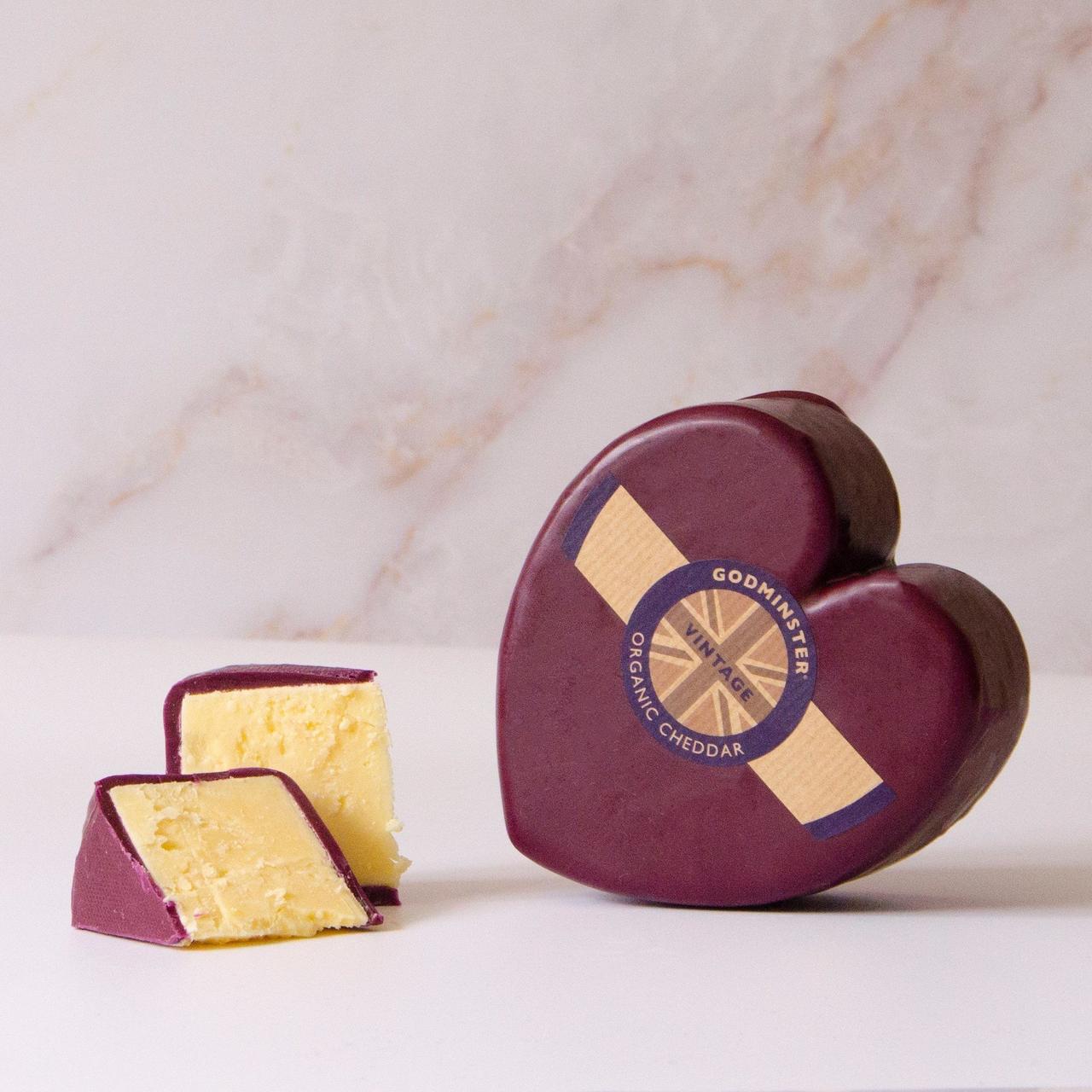 This box is a rather cheesy idea, we'll admit, but if you're sending a present to people who treat cheese with the respect it deserves, it's one that they'll be bowled over by. Sending your heart out to someone never looked so delicious.
READ MORE: 26 Indoor Date Ideas You Can Do Without Opening Your Front Door
13. Kylskapspoesi Beach Hammock 1000 Piece Jigsaw Puzzle – £18, Oliver Bonas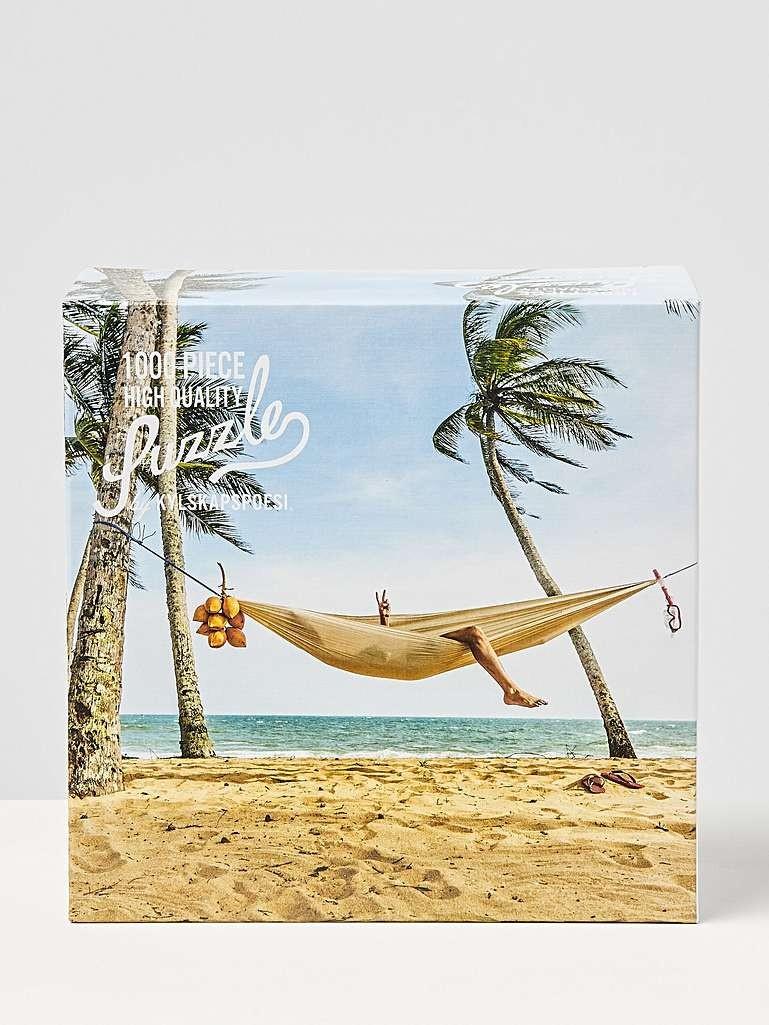 Honeymoons feel a long way off at the moment, but this dreamy beach scene puzzle from Oliver Bonas will help your bride- or groom-to-be escape in another way. It's a project they can work on together and will provide some much-needed distraction from wedding-related stress.
14. Good Vibes Only Candle – £12, Joy The Store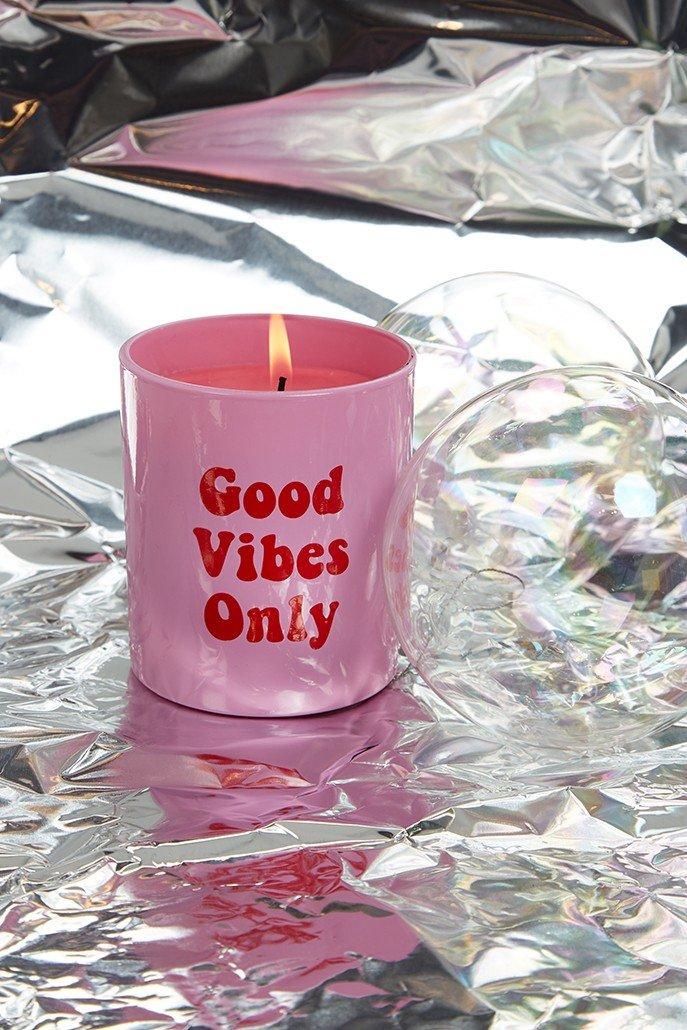 Negativity? We don't know her! This cute candle can sit in pride of place on the mantelpiece to chase away any bad mood clouds hanging over your loved ones' heads. As a bonus treat, it comes in a range of luxe fragrances including velvet rose and oud, and lychee and peony.
15. The Design-Yo-Own 2.0 Kit – £20, Doughnut Time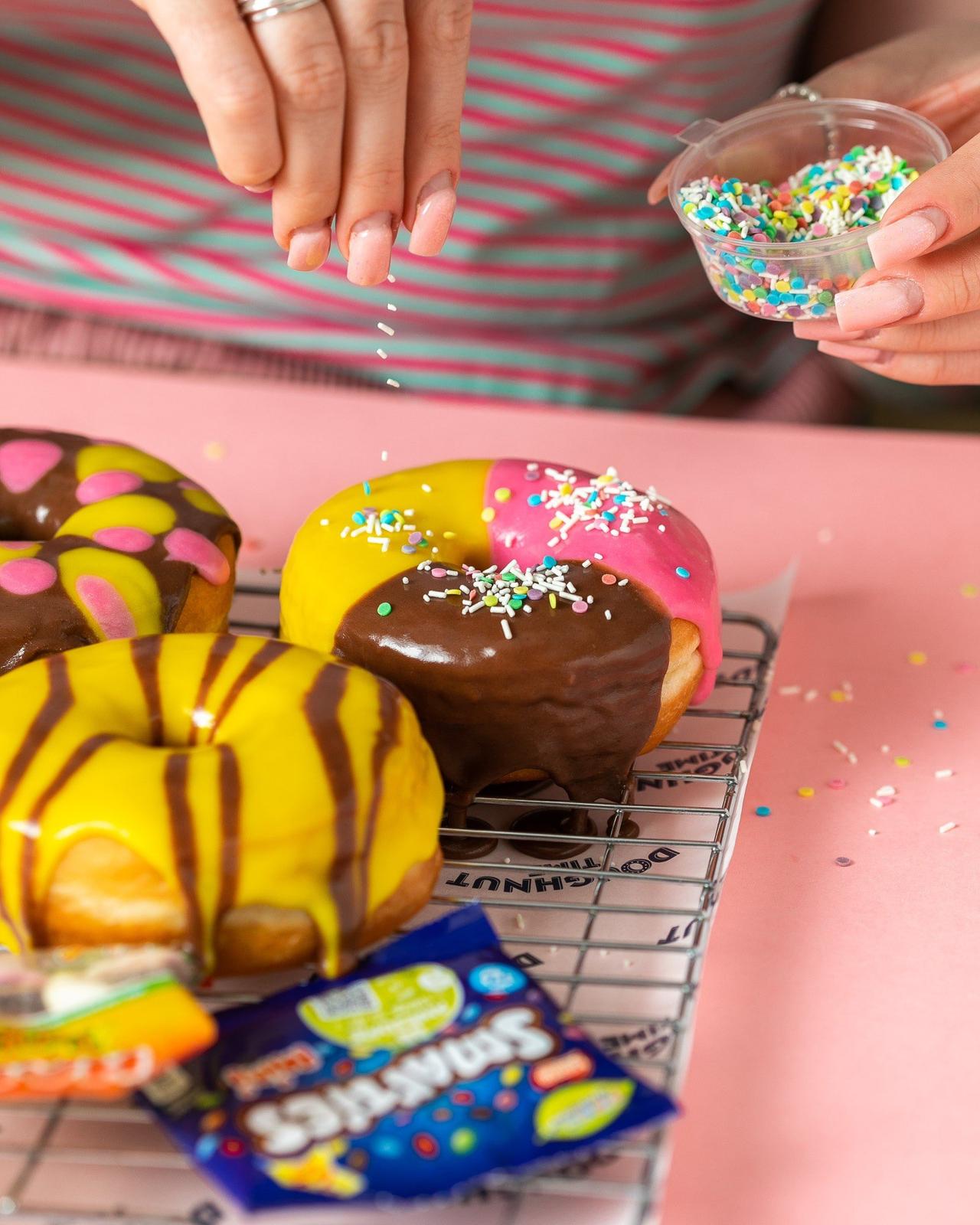 Few things say 'I'm thinking of you' quite as well as a box of fresh doughnuts, and this Doughnut Time kit is a snack and an activity in one. There's two doughnuts each for them to decorate, with toppings like Haribo, Smarties and sprinkles included as standard. Who needs wedding cake?
£50 and Under
16. Zelda Frames ­­– from £22, Anthropologie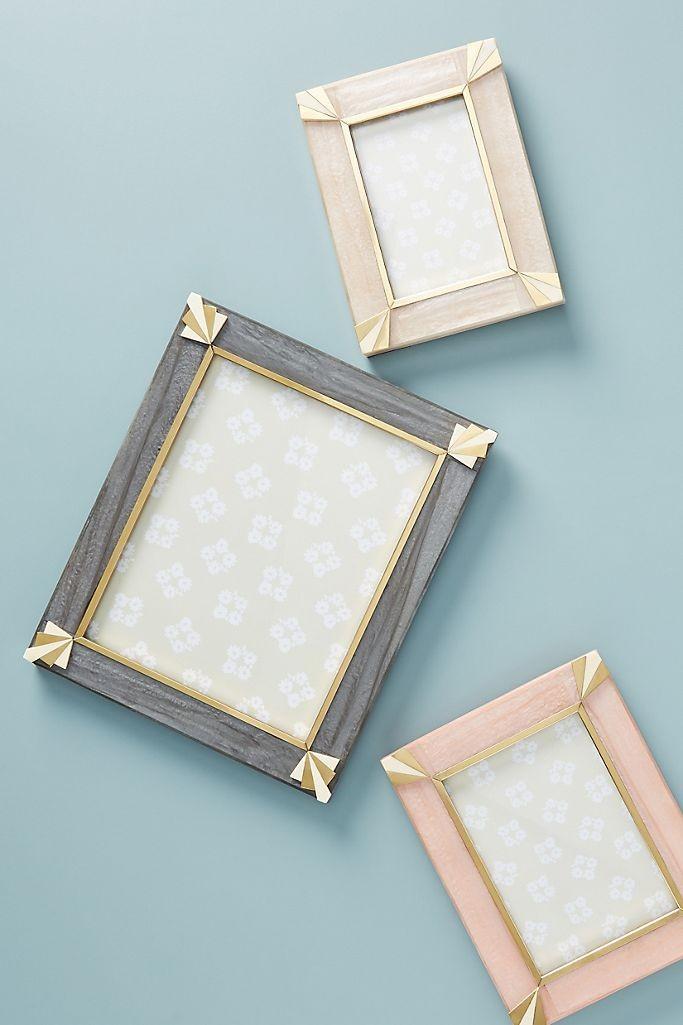 Anthropologie just might be the ultimate destination for beautiful homeware buys that feel really special. These gorgeous art deco frames would make a stylish present, especially if the ceremony is set to have a Gatsby-esque flair. Send yours with a note advising that they're to save it for their favourite picture from the wedding, when the day eventually arrives.
17. Personalised Letterbox Biscuits – £25, Biscuiteers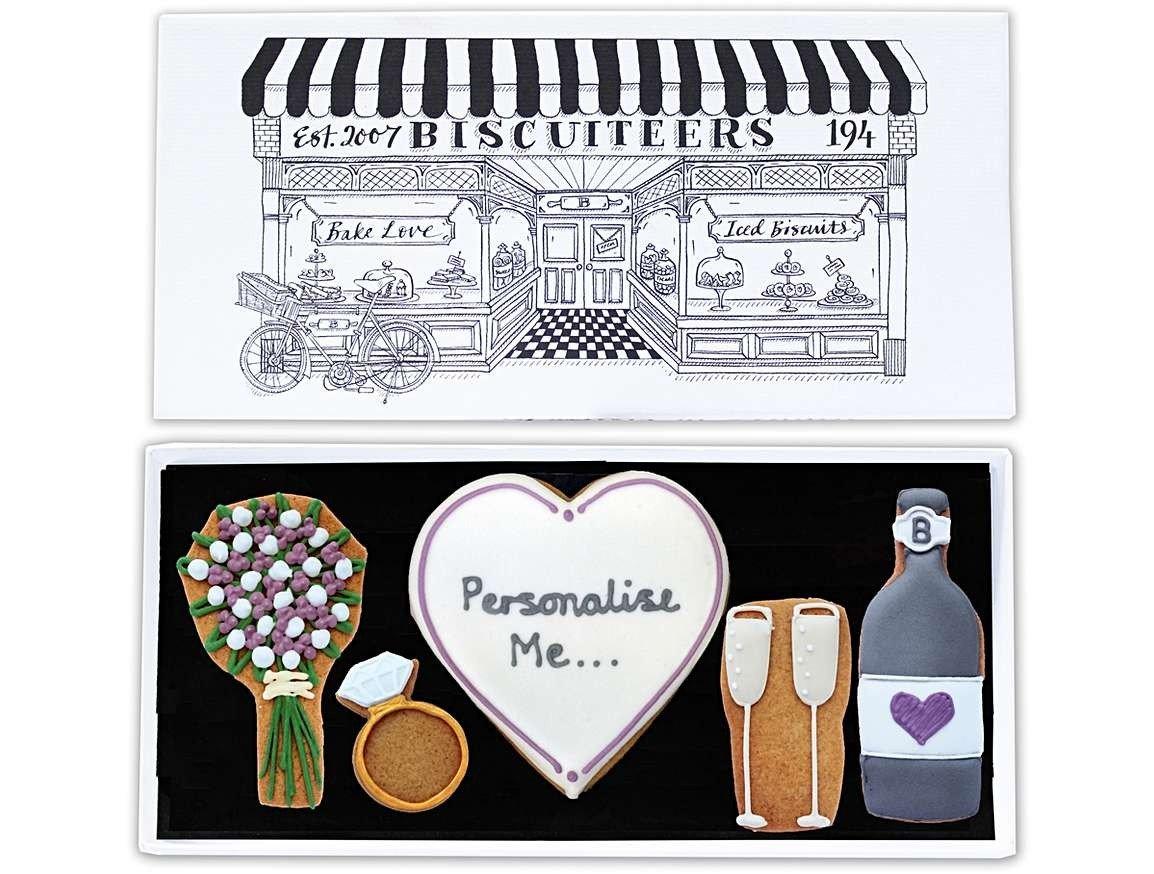 These letterbox cookies were originally designed to send as an engagement gift, but the message can be personalised. So swap the 'Congratulations' for 'We love you' or 'Can't wait 'til 2012!' and they become a sweet postponed wedding gift in every sense of the word.
18. Letterbox Flowers – from £23, Bloom & Wild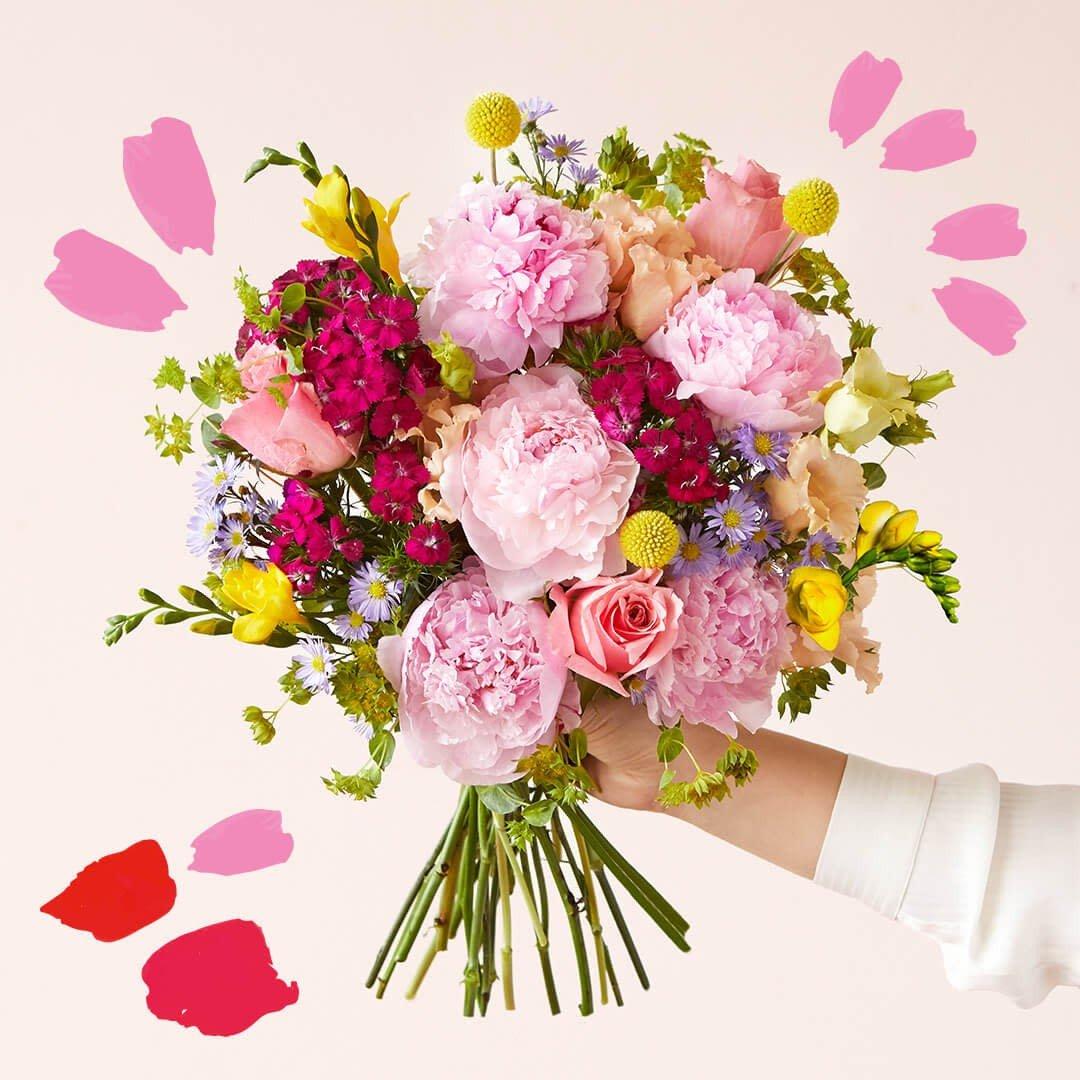 There are very few things as cheering as a bunch of fresh blooms, and Bloom & Wild will slip them straight into your recipients' letterbox, so they don't even have to be home to receive them. Prices start from £23 for a bunch – we like the idea of choosing a package that includes flowers they're planning to have in their wedding bouquet.
READ MORE: The 30 Best Wedding Gifts for 2020
19. Polka Dot Mr & Mrs Mugs – £39.50, Emma Bridgewater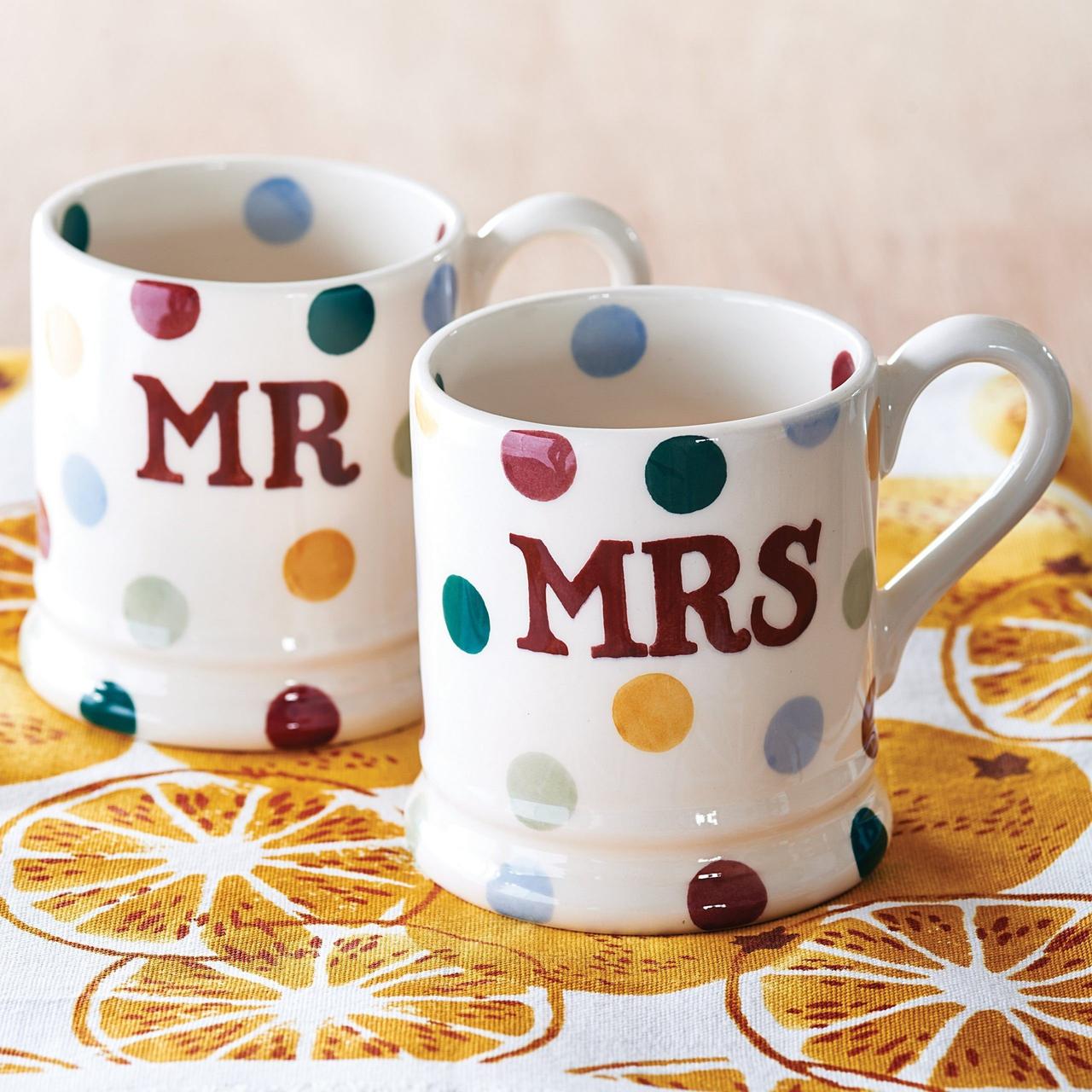 What do us Brits do first when times get tough? We put the kettle on for a cup of tea, and these impressively oversized mugs can hold a whole half pint of it. This design is always super popular as a wedding gift, but under currently circumstances, we fully advocate sending them early. They also come in Mr & Mr or Mrs & Mrs options for the same price.
20. Scent to Destress Candle – £32, Neom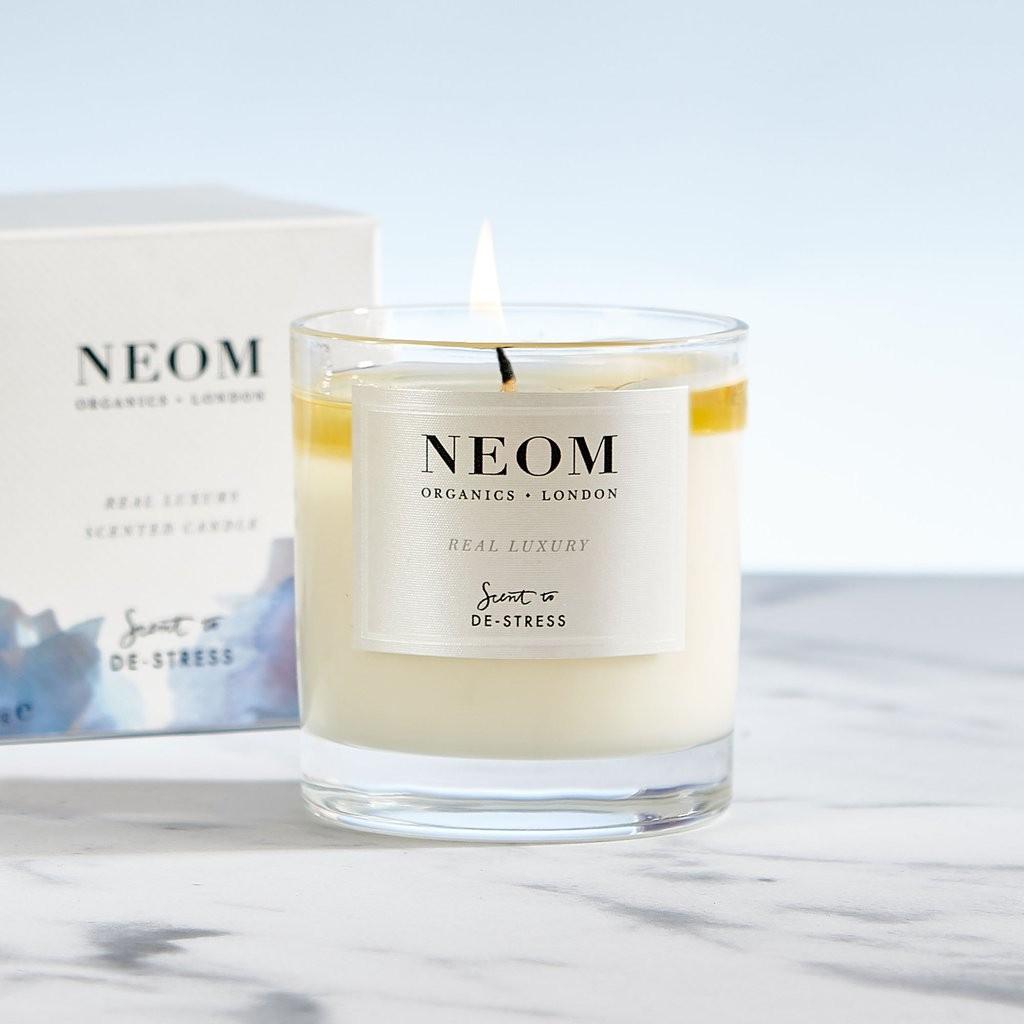 This Neom candle is designed to help you relax and switch off – essential for a couple who is not only dealing with a global pandemic, but the stress of having to rearrange things that have taken a year to plan. As we're all spending more time at home than ever, filling theirs with a soothing scent is a really lovely idea.
21. The Date Night Package – from £34, Don't Buy Her Flowers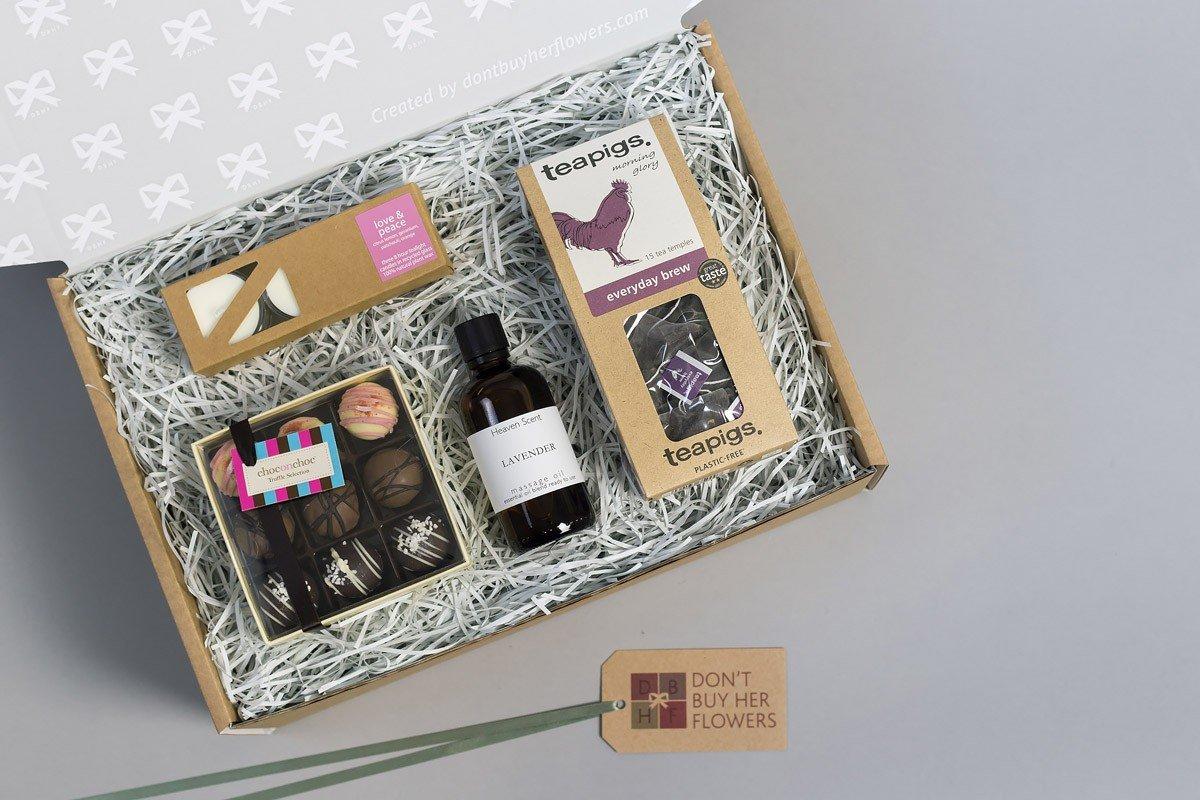 Going out for dinner or drinks may be off the table for the foreseeable, but a date night at home could be just what they need to reconnect and unwind. All of Don't Buy Her Flowers' genius care packages allow you to pick and choose what's inside, from handmade truffles and lavender-infused massage oil to craft beers or bottles of prosecco.
22. Something Cute Gift Box – £38, Gigi & Olive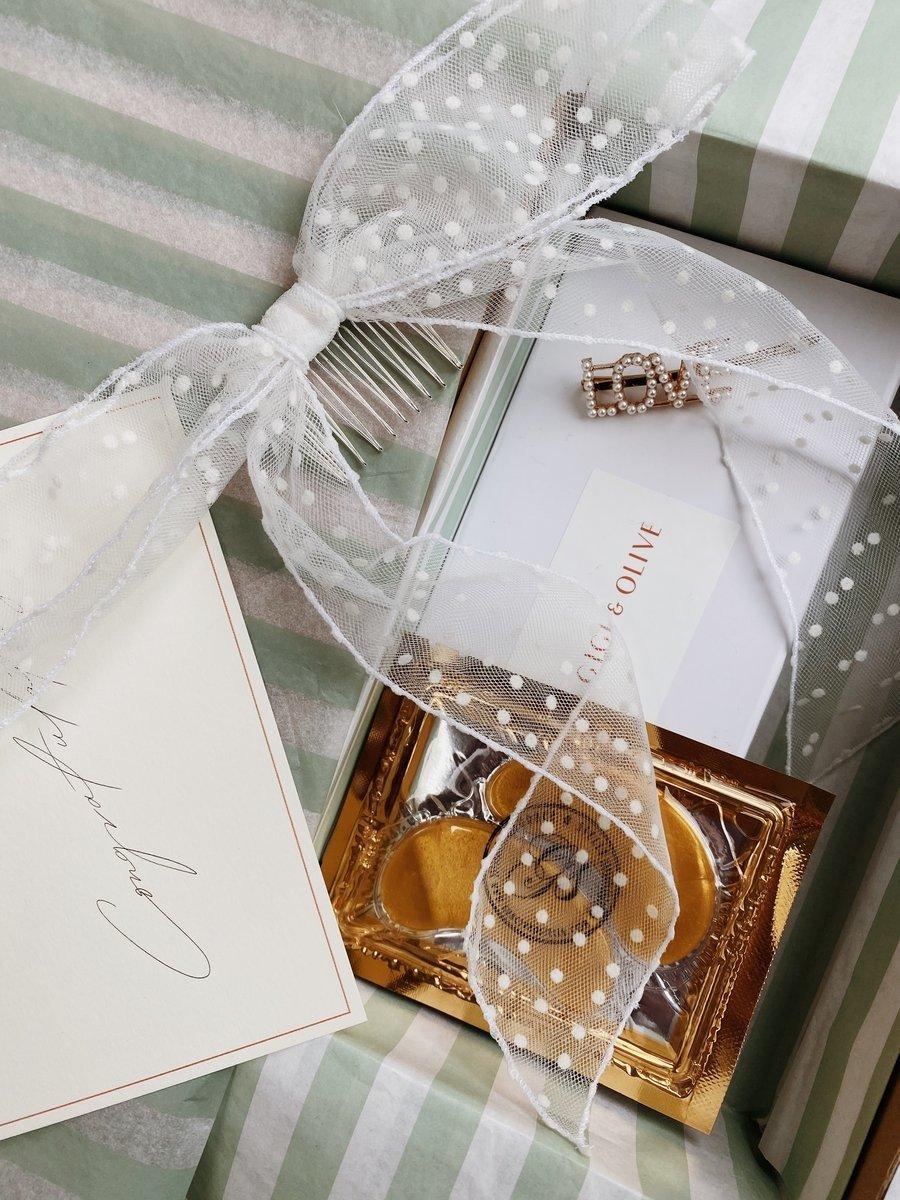 The team at Gigi and Olive specialises in wedding party gifts, so they definitely know how to brighten a bride's day even when she can't see her crew IRL. The Something Cute parcel is the most affordable, with a handmade hair ribbon, set of cooling eye masks and a hair clip of your choice, but there are various similarly pretty offerings on their website.
23. Good Things Take Time Print – £40, Papier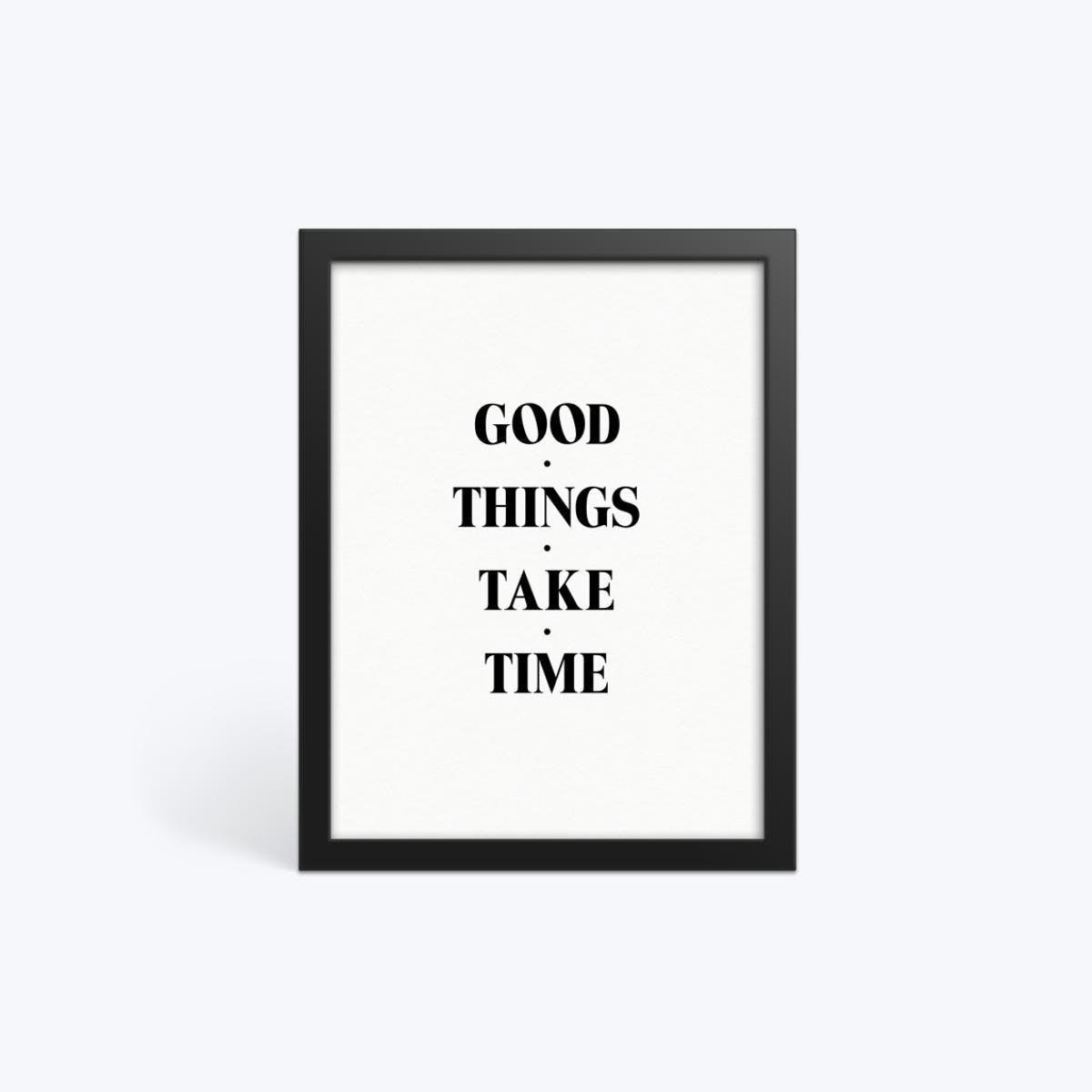 Wherever the couple hangs this print in their home, it'll serve as a reminder that better days are coming – including their wedding day! You can get it in varying sizes, and choose between a black or a white frame to make sure it fits in with their décor.
READ MORE: How To Shop & Try On Wedding & Bridesmaid Dresses From Home
24. Afternoon Tea For Two – £29.50, Cutter & Squidge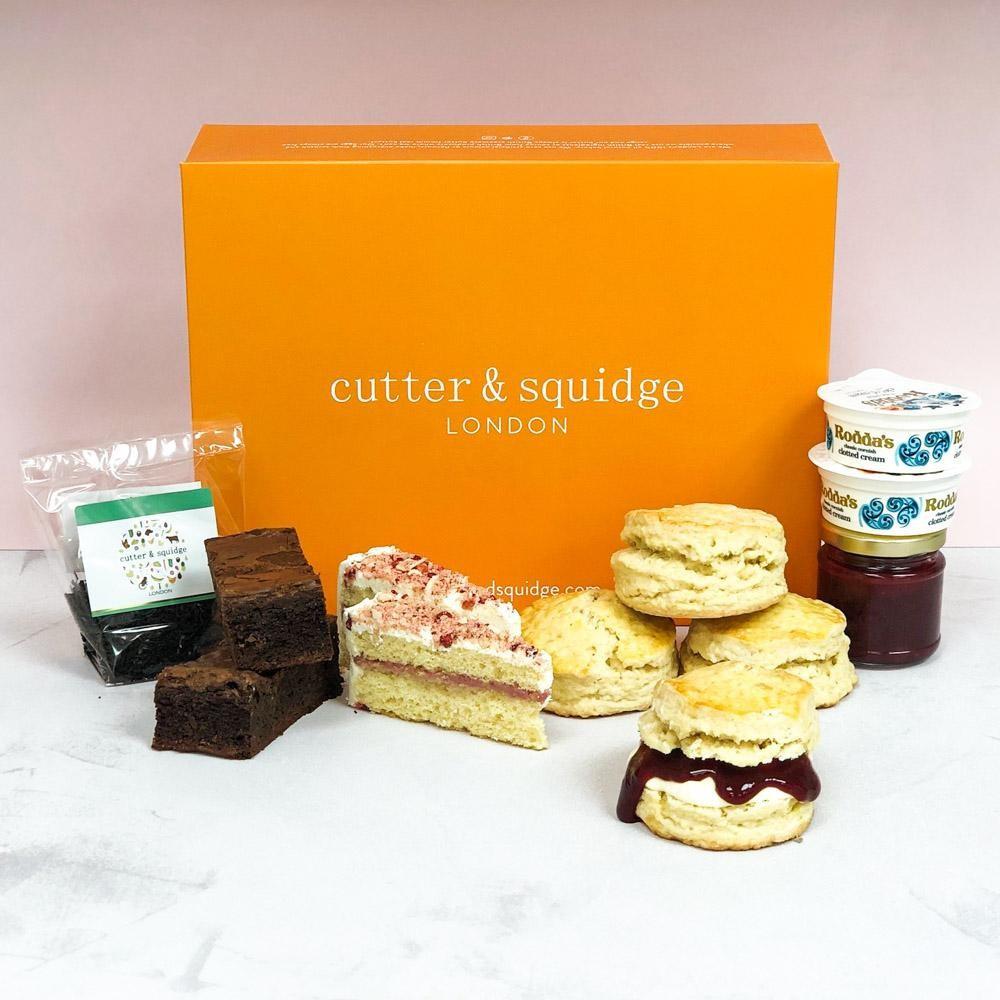 Well, if there was ever a time to eat your feelings, it's probably now… This afternoon tea box from London bakery Cutter & Squidge can be delivered nationwide, and is stuffed with decadent treats including brownies, scones with cream and jam and slices of their signature Dreamcake.
25. A "Hamperful" of Love – £41, Whittard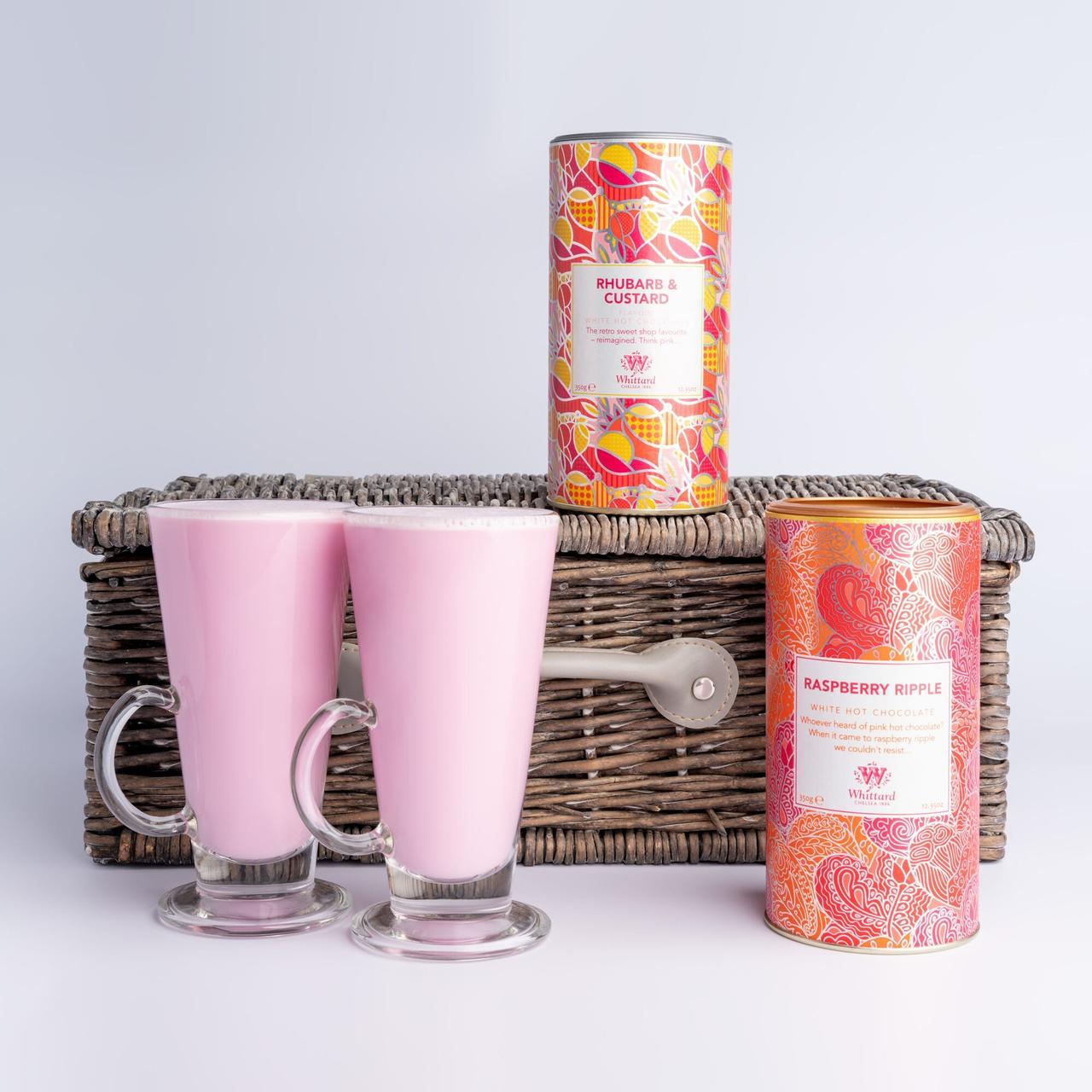 When you can't be there to give your love in person, a hamper full of love is the next best thing. This thoughtful package from Whittard contains quirky hot chocolate powers in Raspberry Ripple and Rhubarb and Custard flavours, plus a tall glass each and a hamper they can keep forever.
26. Sloane Stationery Happily Ever After Wedding Planner – £40, Liberty London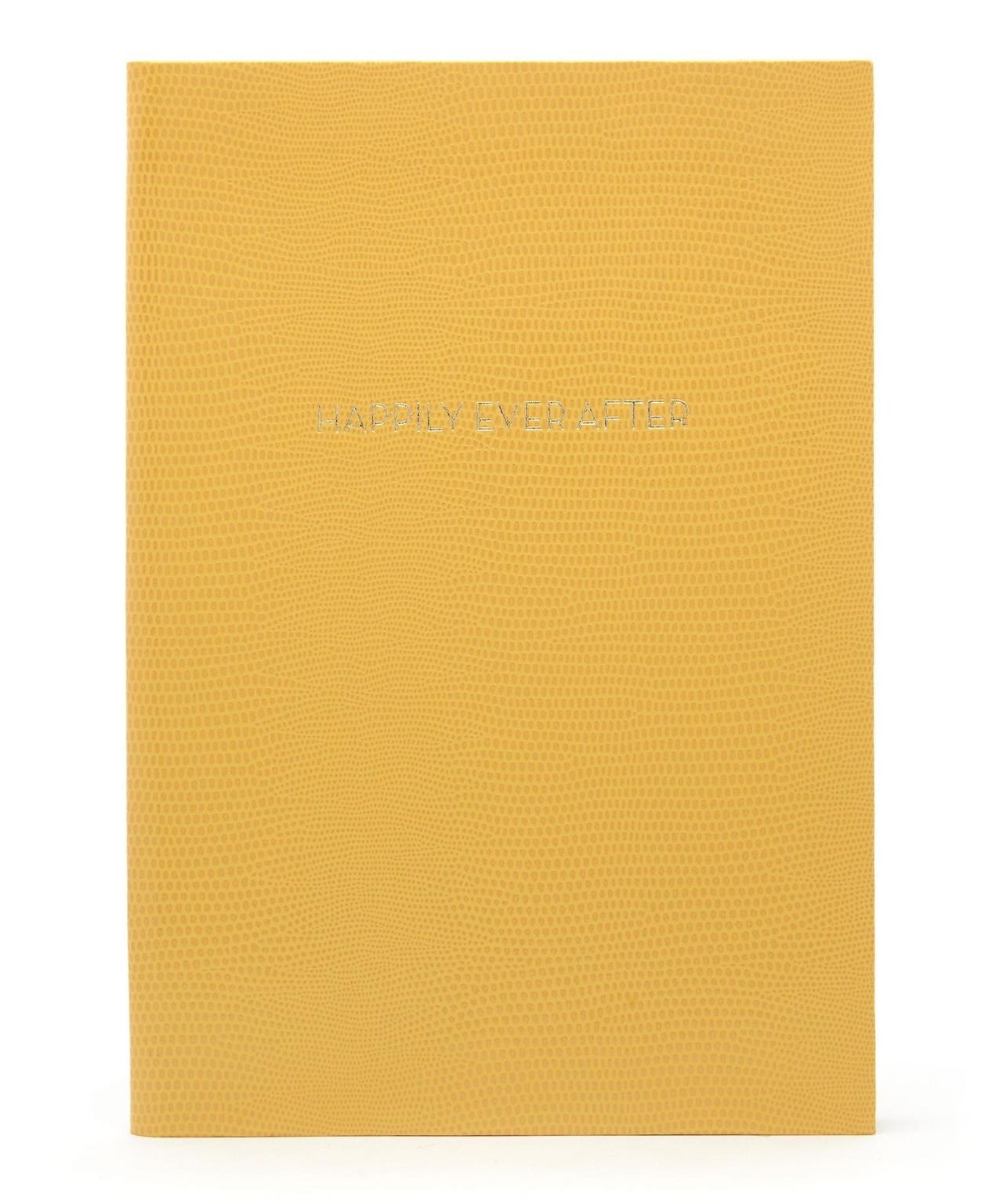 With more time on their hands, most engaged couples are doing a lot more #wedminfromhome and this elegant planner is the ideal way to organise it. Even if they're having to reschedule and rethink, having all their ideas in one place will help to make the whole process feel a little more bearable.
Here are 17 things guests really hate about weddings – do these ring true for you?