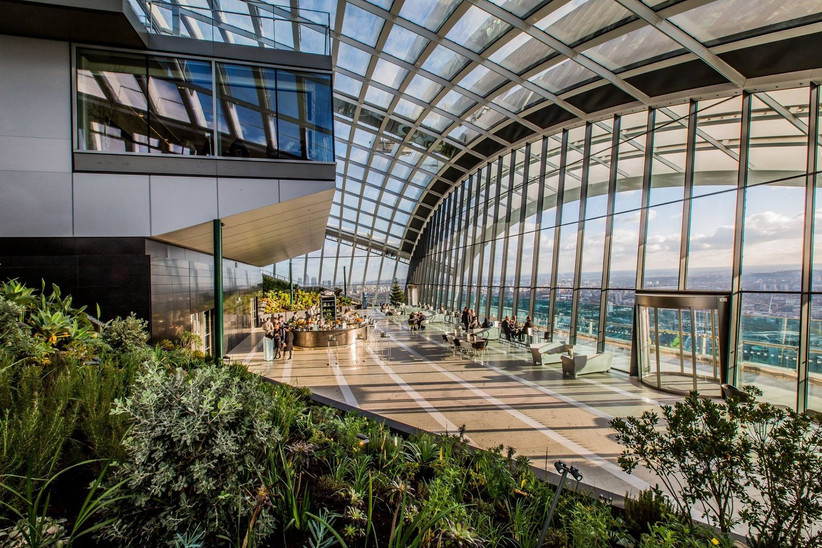 If you're planning to propose in London you're clearly onto something. It was voted the one of the world's most romantic cities, second only to Paris, bien sûr.
Whether you're a born and bred Londoner, living in the city, plotting a romantic weekender or just in town for the day, London offers up countless unique landmarks and hidden corners that provide the perfect backdrop to all manner of proposals.
From serene gardens to flower-filled markets and swanky rooftop spots, here's all of the best places to propose in London. Good luck!
 1. St Pancras Station
If the idea of a romantic station proposal makes you want to grab your suitcase and jump straight into a 1920s movie scene, the gothic glamour of St Pancras will provide the perfect setting in which to get down on one knee. Propose right next to The Meeting Place statue of a couple kissing for even more poignant romance points before celebrating at Searcys Champagne Bar on the Grand Terrace within the station. Feeling really extravagant? Hop on the Eurostar to Paris afterwards.
2. The British Library
If you prefer to keep romantic declarations a little more low key, next door to St Pancras you'll find The British Library, aka, every bibliophile's calm, quiet, book-filled dream. Pop the question in the presence of your partner's favourite author or just pick a hidden nook by a quiet shelf in which to do the asking. Just don't make too much noise about it – silence is not just golden here, but a regulation. Did we mention that champagne bar next door?
3. The Kyoto Garden at Holland Park
As serene as any library, Holland Park's Kyoto Garden is guarded by peacocks and has stood as a place of contemplation and tranquillity since it was gifted to the UK by the city of Kyoto in 1991. With traditional Japanese landscaping, waterfalls, maple trees and ponds teeming with koi carp, it makes for one of London's most peaceful places to propose.
READ MORE: This Is How Much You Should Spend On An Engagement Ring
4. Columbia Road Flower Market
Equally floral but a little more energetic, Columbia Road Flower Market in the East End comes to life every Sunday, showcasing flowers, plants and trees from all over the world with little delis and galleries dotted in between the stalls. The market provides a ready-made flower wall for post-proposal ring shots and you can pick up a glorious bouquet to take home after the morning's excitement.
5. Primrose Hill
It may have a flowery moniker but it's the city panoramas and candy-coloured homes that make this Regent's Park beauty spot such a winner for popping the question. Come at dawn or sundown to make those vistas even more breathtaking.
6. The Royal Observatory in Greenwich
This UNESCO World Heritage site makes for a starry proposal – you could get down on one knee in the planetarium, on the Meridian Line that divides the east and west hemispheres, on the Cutty Sark or simply in the historic grounds of the National Maritime Museum. If all goes to plan you could even book your wedding there afterwards – the Queen's House is home to world-famous artworks, a painted gold leaf ceiling and a tulip staircase that's crying out to be featured in wedding shots.
READ MORE: 13 Things That Every Newly Engaged Couple Should Do
7. The Serpentine in Hyde Park
Push the boat out in a very literal sense by proposing while rowing or on a pedalo on the Serpentine. The latter option is admittedly riskier – hold on tight to the ring. Plan a picnic in Hyde Park when you're back on dry land to toast your newly engaged status.
8. A Swanky Cinema
From The Electric on Portobello Road to the waiter-serviced Everyman in Hampstead and cushy Screen on the Green in Angel, there's a luxe cinema in most corners of London providing a more sophisticated proposal backdrop than your average big screen. Pick a film you know your partner will love, let the staff know and then sit back to enjoy bubbles and a sharing platter served straight to your seats (or velvet sofa in some cases). Keeping schtum during the film could prove challenging though… If you can't make it that far, get your proposal written on the outside of the building, like you can at The Ritzy in Brixton?
9. Ronnie Scott's
If jazz is more up your partner's street, locations don't come more sexy or iconic than Ronnie Scott's. Reserve a prime table, order a Boogie Woogie cocktail or two and pick your moment. Again, it's probably advisable to let the staff know first to choreograph a seamless proposal, but it's totally your call.
10. Kensington Palace Gardens
Harry and Meghan announced their official engagement here so you'd be following in very recent royal footsteps if you chose these elegant gardens as your proposal venue. With meadows full of wildflowers, ornately manicured gardens or the romantic Cradle Walk to choose from, it's got variety going for it too.
READ MORE: 13 Things That Happen To Every Bride After Getting Engaged
11. Richmond Park
If you crave more extensive outdoor space with plenty of wild drama, Richmond Park's grasslands provide space in spades and no doubt at least one herd of deer looking on as you bring out a ring. Head to Pembroke Lodge tea rooms afterwards to clink teacups/ champagne flutes.
12. St Dunstan in the East
St Dunstan's Church may have been damaged in both the Great Fire of London and the Second World War, but its ruins live on in the City in the most spectacular of ways. Now a designated park, the ivy-wrapped columns and leaf-bordered windows look like they belong in a fairytale rather than London's financial heart. If seclusion and eerie beauty appeal, head east.
13. Horniman Bandstand
Overlooking treetops and with London's skyscrapers on the horizon, the teal-hued Horniman bandstand is striking and special without being too obvious. Go on a stroll through Forest Hill first to settle your butterflies before getting down on one knee.
14. Kew Gardens
There's no shortage of plant-based proposal ideas at Kew Gardens. If you like it hot, go for the indoor rainforest at the Palm House, get some fresh air and weave your way among the branches on a walkway high in the trees, or keep it trad in the rose garden. You've got 37 acres of woodland to play with too if you're feeling more spontaneous.
READ MORE: 23 Ways To Start Saving For Your Wedding
15. On a Canal
Venice may be renowned for picturesque gondola proposals, but London's Little Venice has a subtler enchantment about it. Kneel down next to a narrow boat, or better still, have a bottomless brunch on one – Darcie & May Green doubles as an Aussie restaurant and a floating art gallery. Situated on the Grand Union canal, it's open for early morning flat whites, evening espresso martinis and smashed avo with a side of fizz in between. If 'casual yet cool' is part of your proposal criteria, get on board.
16. Sky Garden
Soar up to the top of the Walkie Talkie to London's highest public garden (and probably the only one where your spirits won't be dampened if it's raining). The light-filled Sky Garden rooftop offers up 360º skyline views, cocktails, music nights, sunrise yoga and enough space to find a hidden corner from which to ask a very big question…
17. The Top Deck of a London Bus
Proposals don't come more British than on a Routemaster, unless you produce a ring in a scarlet phone box or down the local boozer (which are equally viable options). Choose a scenic bus route – routes 24, 9 and 11 take in the big sights – then head to the top deck and do the asking as you sail past Big Ben or Trafalgar Square. Just go early doors or at night-time to up your chances of alone time.
Decided to pop the question? Here's how much you should spend on an engagement ring. If you're going to take some photos after your special moment, here's some engagement shoot tips.