25 Questions to Ask Your Live Wedding Band, Musician or DJ
What should you consider when you book a live band, DJ or musician for your wedding? Welcome to your complete guide!
We have included third party products to help you navigate and enjoy life's biggest moments. Purchases made through links on this page may earn us a commission.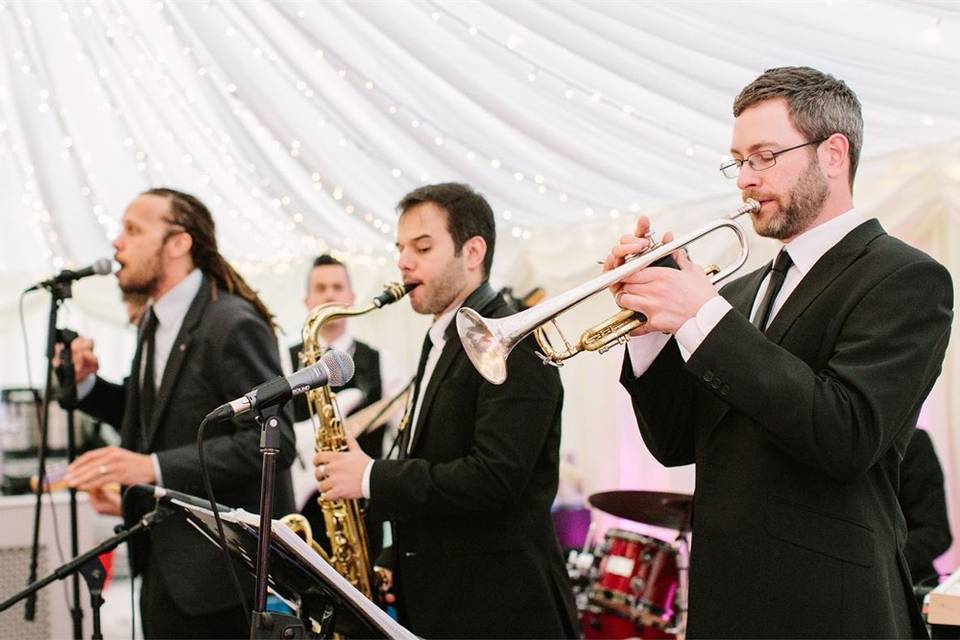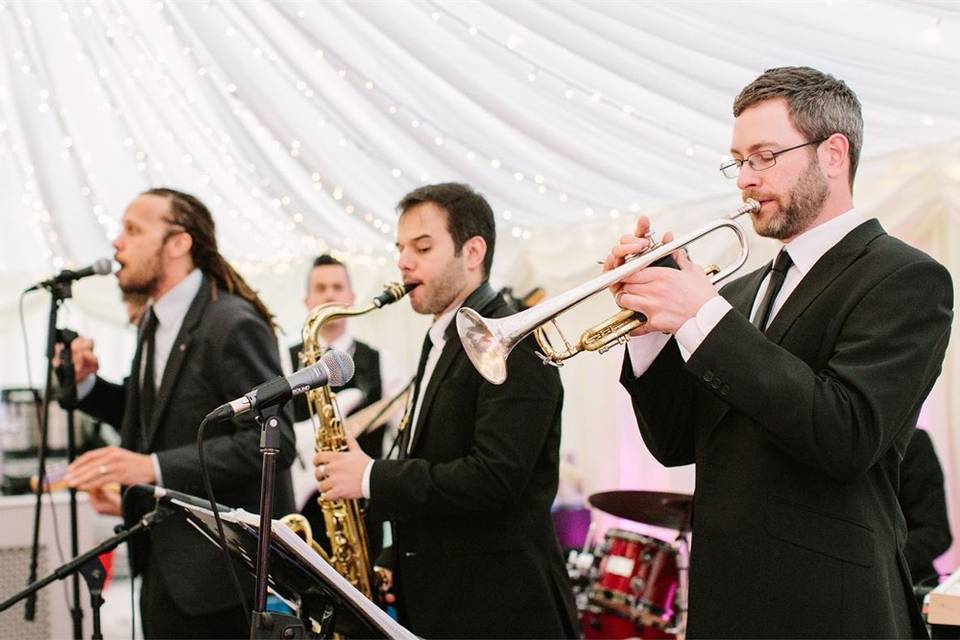 When it comes to your wedding, the right music is key to creating the perfect atmosphere. So you need to make sure you ask your wedding band, DJ or musician the right questions before you book them.
Depending on the theme of your wedding, there are so many options to choose from: live music for a festival vibe, a swing band for some sophisticated glamour or a DJ to help dance the night away.
And music isn't just part of your wedding entertainment - it can play a part in setting the mood at different times of the day, such as a string quartet to accompany your reception drinks or some laidback tracks at your wedding breakfast.
But if you don't know where to start with booking a band or DJ for your wedding, how much they'll cost or what essential information you need to know, we've got the answers.
Read on for the 25 key questions you need to ask your wedding band, musician or DJ.
READ MORE
The Basics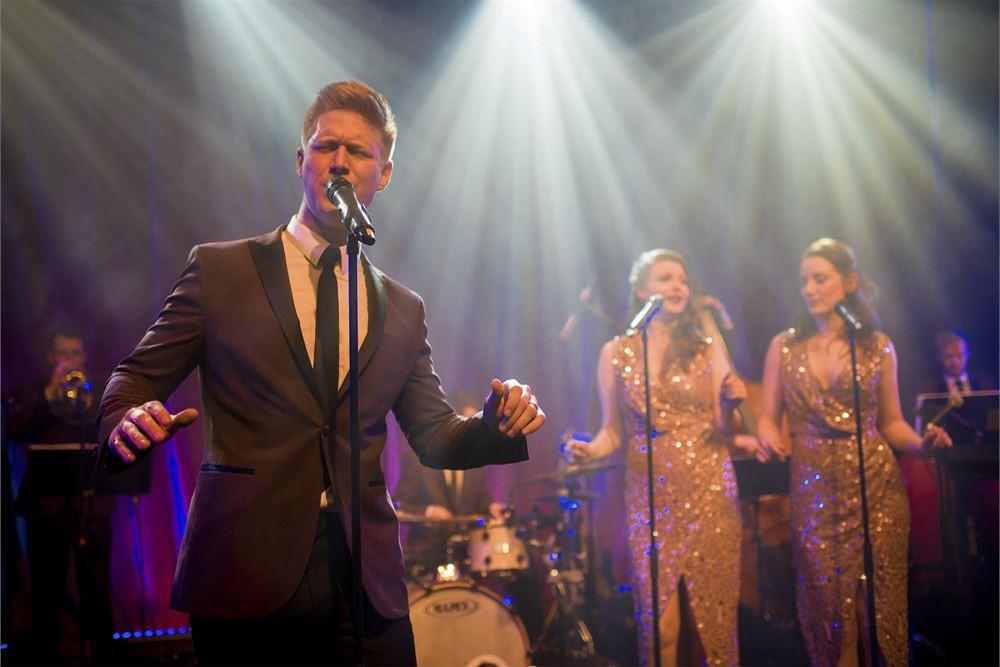 1. Is My Wedding Date Available?
You'll have set your wedding date long before you try to book the entertainment, so if you have your heart set on a certain band or DJ, enquire right at the start of your planning process and see if you can hold a date for both the venue and the band as you decide. Try to book musicians at least six months before the date, as certain times of year get very busy.
2. How Many Weddings Have You Played?
Check how long the band/DJ have been working professionally and how many weddings they've done. A student musician might be cheaper, but the success of your reception can ride on having good music that everyone wants to dance to. A live band, musician or DJ with experience will know what songs work, how to get people dancing and when to change up the tempo.
3. Do You Perform at More Than One Event In A Day?
You don't want your band to be exhausted or potentially turn up late because they're rushing from another gig to your wedding or have an event after. Ideally, they'll just be playing your wedding that day.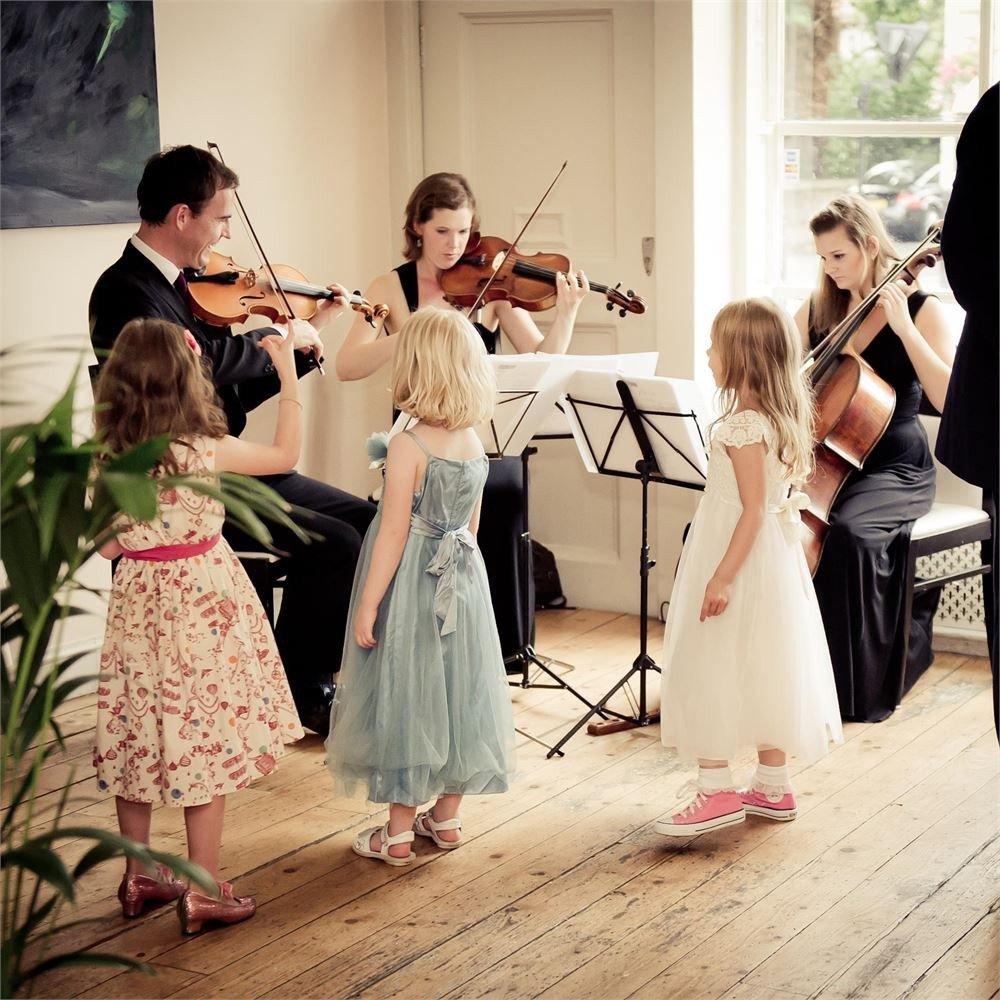 4. Is it Possible to Hear You Before Booking?
You can watch YouTube recordings but nothing will give you a better feel of a band than to see them in action. Many will have showcase events every few months, as well as work with local bars and music venues to get the band out there for people to see.
5. What's the Minimum Amount of Time We Can Hire You For?
Two or four hours in usually the minimum. This will help you decide how much you can budget for and it what points to have live music. Maybe you only want it during your cocktail reception and in the background during dinner, and will have a different option for evening dancing.
6. Have You Performed at My Venue Before?
It's not a deal-breaker, but it's definitely handy if the musicians or DJ know the set-up of the venue and any restrictions it has. Ask if they plan to visit before to speak to the venue coordinator about acoustics.
The Music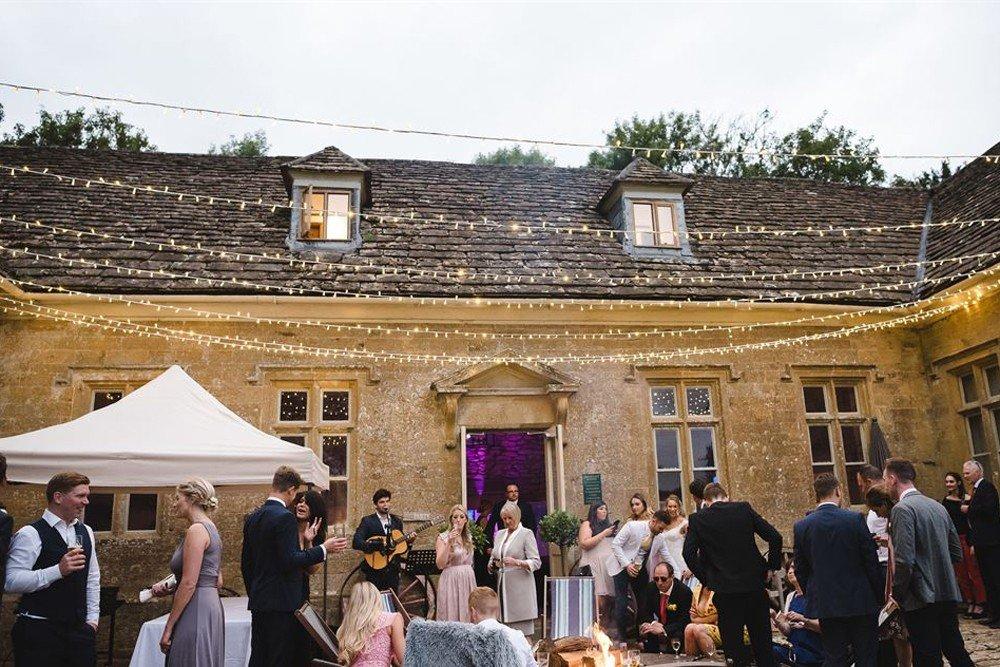 7. How Would You Describe Your Style?
You've probably already looked up their style of music, but make sure they're comfortable with what you want for the day. You might love a harpist to do a cover of Bruno Mars' Marry You but if they only play traditional songs, it's not going to work. Find out how extensive their song list and range of genres is.
8. Can We Help Put Together the Set List?
This will depend on the group or DJ. Some will have a huge set list you can pick from for the whole day and will be willing to learn a few new songs just for you. Others will have a repertoire and let you pick your entrance and exit music and really leave the rest up to them. Gauge from the beginning the band or DJ's willingness to let you choose the music to avoid any arguments further down the line.
9. Can You Help Me Choose the Music for My Processional, Recessional, Father-Daughter Dance, etc?
Your band will have lots of experience of what works, including songs you haven't heard before or thought about. Having a range of music, from Motown and soul through to modern day pop and rock, is the key so everyone can enjoy something. Ask them what they've seen work best for when the guests arrive, to the drinks reception, to the evening dancing. The band or DJ should also be able to recommend some guaranteed party starters and songs to end the night too - Mr Brightside, we're looking at you.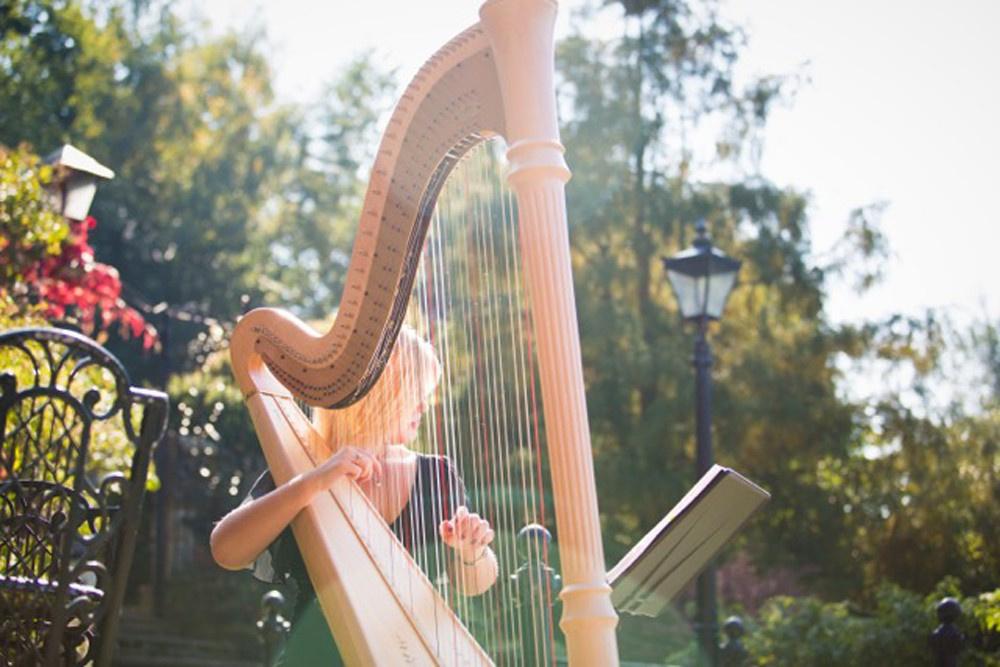 10. Are You Willing to Learn New Songs?
A live band or musician will often learn a few more songs for an extra fee. There may be a limit to the number.
11. Do You Have Alternatives If Our Venue Has Restrictions?
Songs or pieces with religious connotations, such as Schubert's Ave Maria, are not allowed at a civil ceremony. An experienced group will be aware of this rule and suggest alternatives.
12. Can We Have a 'Do Not Play' List?
Some of the things guests request will surprise you. A 'do not play' list means there'll be no nasty shocks on the night.
13. What Information Do You Need from Me Before the Wedding Day?
At the very least, the band/DJ will need your schedule for the day and list of song choices.
On The Night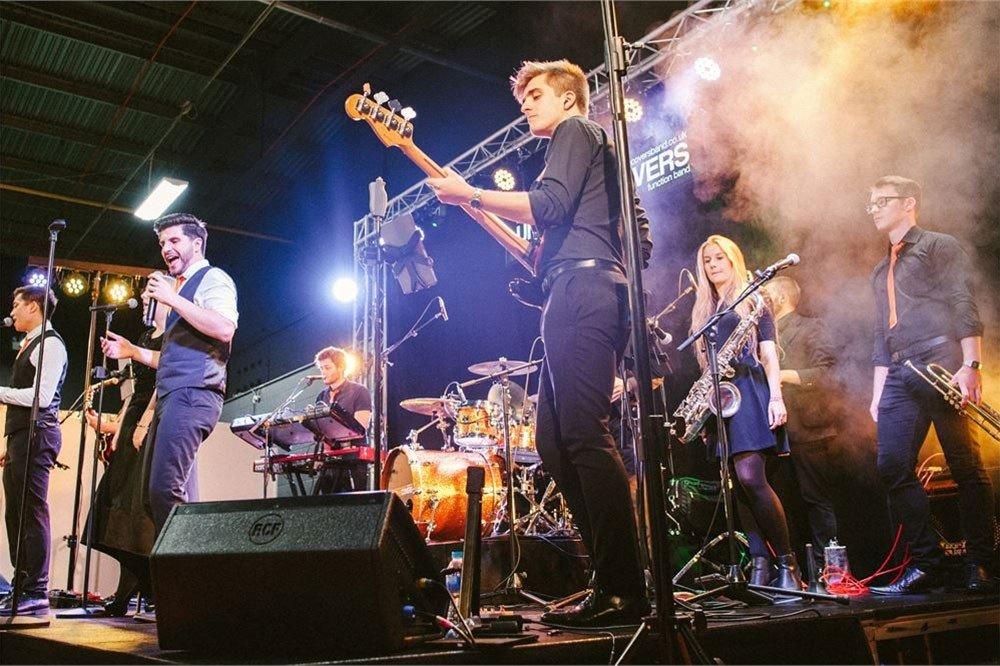 14. Who Will Set Up? What Time?
Get a confirmed arrival time and their names so that the venue can allow them in and point them in the right direction. You'll need to know how much time the band or DJ needs for set-up, sound checks and set down.
15. What Will You Wear?
This depends on the theme of the band, but most will dress smartly. However, if your wedding is really fancy (black tie) or super relaxed (festival, boho feel), let the band know this as they don't want to feel uncomfortably over/underdressed.
16. Does Your Equipment Require Any Special Electrics?
Most bands or DJs will have all their equipment or be able to hire what's needed for your venue so you shouldn't need to provide any. However, they will need to know about the facilities or restrictions at your venue early on. Is there amplified sound? What level is the sound limiter? Are there enough outlets? Remember, if you're having an outdoor venue that doesn't have access to power, you may need to arrange a generator. If your venue doesn't have a stage, you many need to rent one.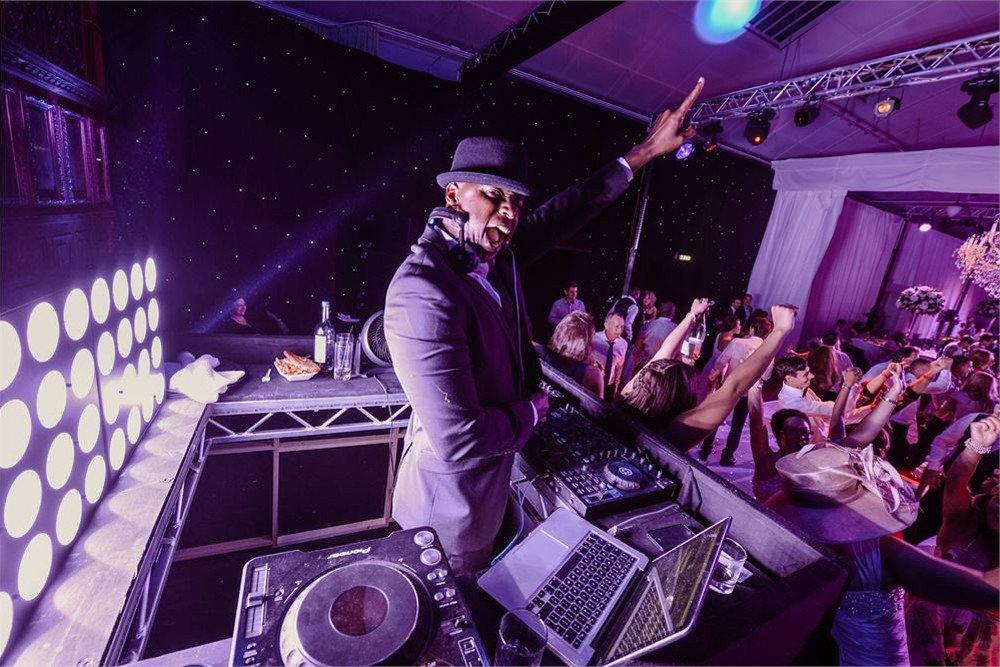 17. Where Would You Recommend Performing at My Venue?
Find out what's possible at your venue – it might be there's only one area that could accommodate a band or DJ – and check if this is OK for the band. If it's a summer wedding, you might want them to play outside, but direct sunlight (and rain) is not good for expensive instruments or performers, so listen to the band and be prepared to compromise. If your ceremony room or reception is small, the band may recommend reducing to a trio or a duo.
18. Do You Take Any Breaks? How Many and When?
Naturally they'll need to take a break at some point. Letting the band/DJ know the schedule for your day will help to plan in breaks during a lull or when something else is going on. Ask if they can provide other music during these breaks, like cueing up a playlist.
19. What's Your Back-Up Plan if One Member is Ill?
Bands normally work on a roster of members so there'll be someone to step in. However, you might not be very happy if it's the lead singer who has to drop out due to illness and someone you've never met steps in. See if you can meet the back-up lead too.
20. Do You Require a Meal?
If the band is there all afternoon and evening, you'll need to check what food and refreshments they need. Do they provide this or will you? Will they drink alcohol during the event?
Price and Payment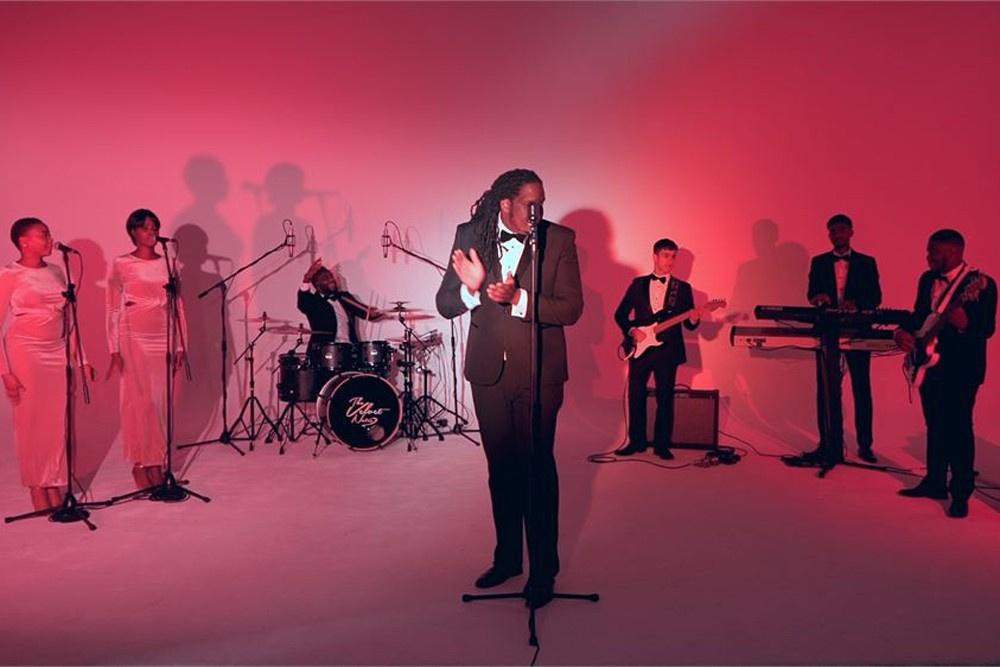 21. How Much Do You Charge and What's Included?
Most live groups charge by the hour so talk to them about realistically how long you'll need them for and include set-up and set-down time in that. Find out if they charge for travel and travel time too. Is there an overtime rate?
22. Can I Negotiate the Price?
The date of your wedding is likely to influence your ability to negotiate. If it's a Saturday in summer and the band is in high demand, then probably not. If it's a winter wedding or a midweek wedding, you're more likely to be able to get a deal. Remember, more money doesn't necessarily make for better quality musicians. Budget-conscious couples should shop around, and it's often better value to book groups directly, rather than through an agency.
23. How Much Deposit Do You Require? Do You Have a Payment Plan?
Many bands or musicians would like to be paid in full before the date but this can often be done in stages. Paying a vendor on the night can be chaos.
24. How Much Do You Charge Overtime?
Most venues will have a noise curfew, but should they allow you to continue playing music later (you can apply for a late licence or move to a quieter sound system, for example) or it takes longer to pack away than expected, check if there's a big overtime fee.
25. Are You Insured?
Most bands or DJs will have their own liability insurance for themselves and their equipment as many venues require it. You might also want to check whether your own wedding insurance covers cancellation or illness.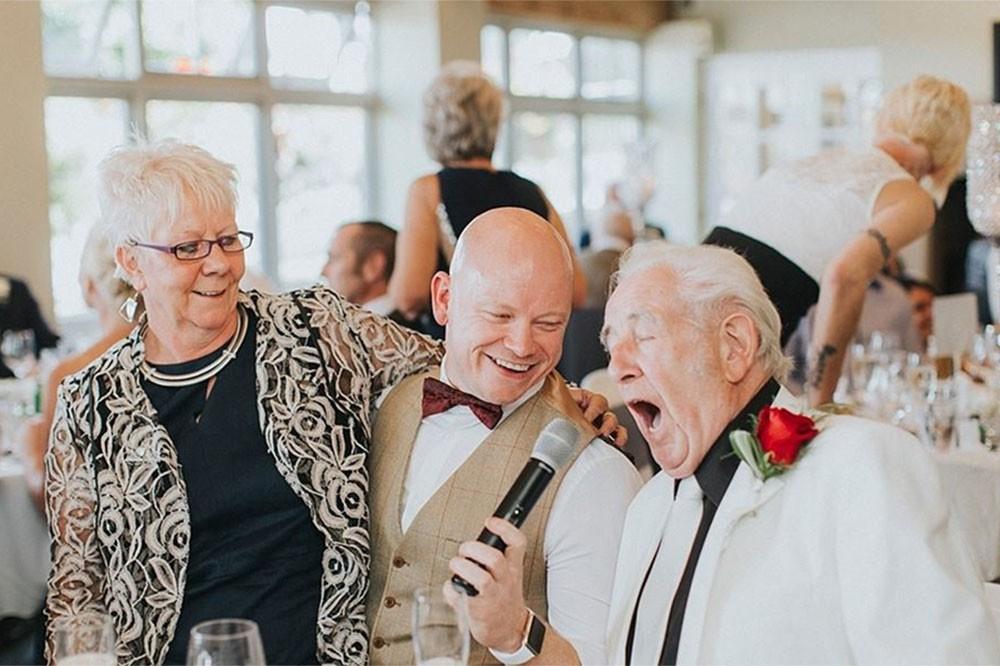 The Ten Most Popular Music Choices for Weddings:
Still deciding what type of music to have your wedding? Take some inspiration from the top ten!
1. Book a band: Find the perfect wedding band by researching groups with wedding experience and ask for a demo and testimonials before meeting them.
2. Choose a crowd-pleaser: Wow your guest with a celebrity act (well, sort of) - some companies can secure a former X Factor or Britain's Got Talent contestant, for example.
3. Pay tribute: If you have a favourite band or artist but your wedding budget won't quite stretch to a public appearance from your idol, find out if a tribute act is available.
4. Classical delight: Hire a string quartet or harpist to play your wedding ceremony song or the can help create atmosphere during your wedding breakfast.
5. Country cabaret: If you love country music or can't resist a céilidh dance, you could theme your wedding around the music and book a country or céilidh band as the centrepiece.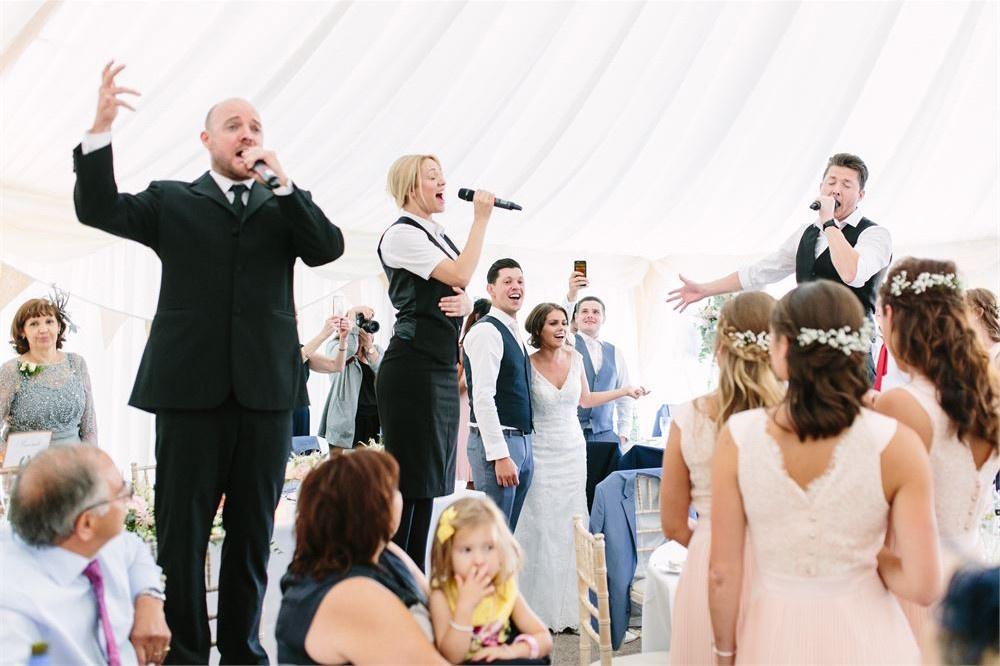 6. Opera opulence: Opt for an experienced opera singer to seriously impress your guests. You can also hire leading West End and opera singers as a surprise for your guests through The Singing Waiter Masters. They'll hide among your waiting staff until the perfect time to break into song and astonish guests!
7. Heavenly choir: Find out if your local choir is available to perform at private events.
8. Get down with a DJ: As well as playing your favourite tunes, a good wedding DJ can act as a master of ceremonies and toastmaster too.
9. Karaoke kings and queens: Hiring a karaoke machine (or karaoke DJ) is a great option if you want a fun activity that everyone can get involved in!
10. DIY: Keep costs down by prepare your own wedding playlist, using the hitched.co.uk wedding songs section for inspiration. And you could ask your guests to pick a favourite party tune so everyone will hear at least one song they love during the day.
Now you know all the right questions to ask, visit our suppliers directory to see some of the best DJ's and wedding bands around!
Thanks to the Matt Strafford Band and Rondino Strings for their insight and advice.