Wedding Stamps: Our Favourite Personalised Wedding & Save the Date Stamps
Put your own unique stamp on your wedding stationery with these personalised save the date and wedding stamps.
We have included third party products to help you navigate and enjoy life's biggest moments. Purchases made through links on this page may earn us a commission.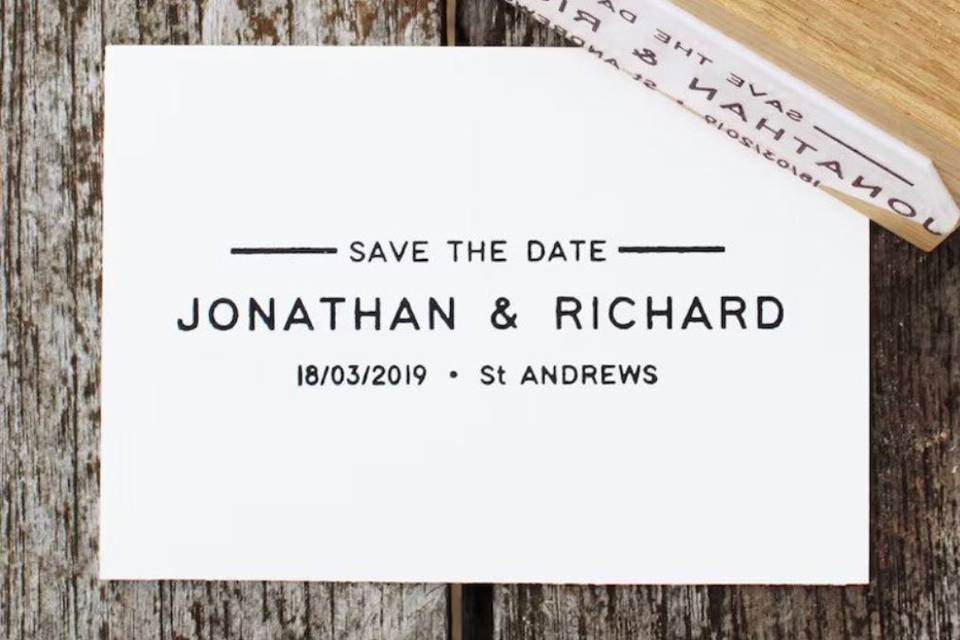 Wedding stamps are a great way to personalise your wedding stationery and can leave you with impressive looking cards that won't break the bank. And with endless supply of wedding stamps to choose from, you will be spoiled for choice when you are looking for save the date ideas and wedding thank you cards.
There are a couple of things to bear in mind when choosing your personalised wedding stamp. If you have spent your money on high quality card or paper then make sure you have a practice with your rubber stamp on some scrap paper before you even think of letting the ink touch your precious card! This will help you get a feel for the pressure you need when stamping into the ink and onto the paper.
Speaking of ink, it's easy to get swept up in picking a gorgeous custom wedding stamp, but the colour of the ink is just as important a decision. Classic black will be a failsafe option but if you want to add a pop of colour then a vibrant shade could look great – just make sure it will show up clearly on your chosen paper, which should have a good quality gsm - avoid anything with a silk or satin finish!
18 Personalised Wedding and Save The Date Stamps
If all this talk of DIY save the dates has got you in a creative mood then take a look at some of our favourite save the date stamps right here...
Personalised Save The Date Stamps
1. Personalised Calendar Save The Date Stamp - Pretty Rubber Stamps, £18.50
This save the date calendar stamp from Pretty Rubber Stamps is effortlessly elegant. Your chosen wedding date will be circled and you can also personalise with your names, alongside the phrase 'invitation to follow' to get your guests excited for what's to come.
3. Nautical Wedding Save The Date Stamp - English Stamp Company, £34
If you are planning a wedding with a seaside wedding venue then a nautical themed save the date will be the perfect way to kick-start your wedding style. This anchor stamp from English Stamp Company is simple and effective - why not use blue ink to keep with the nautical theme? To embrace the theme fully, browse these cute beach themed wedding invitations.
4. Save The Date Ticket Design - Etsy, £15.99
This personalised stamp from Etsy is designed like an old-school playbill theatre ticket, making it the ideal save the date stamp for a vintage wedding. As well as providing the essential information, it's a good way to hint to your guests about the theme ahead.
5. Wedding Invitation Stamp - Etsy, £36
Keep things simple with this minimalist stamp from Etsy, made from environmentally sourced European oak. The simple detail and strong text create an effortlessly classic look which will pair well with high quality white or cream paper. If sustainability is at the forefront of your wedding planning, check out these sustainable wedding dresses.
6. Jar of Hearts Save The Date Stamp - Pretty Rubber Stamps, £16.50
Mason jars, along with bunting and seasonal flowers, have been a staple of rustic weddings since time began. Keep a consistent theme with this Jar of Hearts stamp from Pretty Rubber Stamps - and if you want to include more Christina Perri references in your ceremony, have a look at our list of best songs to walk down the aisle to.
7. Personalised Wedding Venue Stamp - Letterfest, £26
Take your personalisation one step further by getting a hand drawn sketch of your venue on your stamp. These personalised wedding rubber stamps from Letterfest are a truly unique way to get guests excited about your venue - or even to reveal it to them for the first time. To continue the personalisation theme, why not opt for illustrated wedding invitations too?
8. Garden Wedding Save The Date Rubber Stamp - Etsy, £18
If you're planning an outdoor wedding ceremony, then these garden stamps from Etsy are the perfect way to introduce your friends and family to your earthy ceremony. It doesn't matter whether you're having it at home or at a gorgeous garden wedding venues, these meadow-inspired stamps will fit any occasion.
9. Finger Print Save The Date Stamp - Etsy, £45
Talk about unique! These stamps from Etsy include different coloured ink pads so the couple can print their individual fingerprints before joining them together to make a heart. They're colourful, cute and completely unique - it's impossible for someone to have exactly the same stamp as you.
Personalised Stamps for Wedding Stationery
10. Personalised Autumn Wedding Rubber Stamp - Get Stamped
Pumpkins, mushrooms and falling leaves in gorgeous hues of red, orange, yellow and green - what could be a better accompaniment to an autumn wedding? This versatile design by Get Stamped can be added to your stationery to keep a consistent theme.
11. Custom Wax Seal Kit - Etsy, £5.01
For an oh-so-regal feel, use this wax seal to seal your envelopes and order of service. This wax seal from Etsy will feature your initials and a pretty circular wreath design - and it comes sealed with our approval. Harry Potter fans will appreciate the nod to the magical films - browse more Harry Potter wedding ideas here.
12. Wedding Stamp With Names and Dates - Etsy, £25.47
We absolutely love dried flowers, so we can't get enough of this gorgeous stamp! This delicate design by Etsy features some beautiful sprigs and dried flowers, perfect for achieving that timeless and rustic effect. It's also a great way for couples to incorporate flowers into their wedding stationery without having to have an overtly colourful look.
Wedding Thank You Favour Stamp
13. Personalised Thank You Wedding Rubber Stamps - Pretty Rubber Stamps, £14.50
Writing dozens of thank you messages can be exhausting right, so why not say it with a stamp? These personalised thank you stamps from Pretty Rubber Stamps are the perfect way to show your appreciation to your guests without getting any hand cramps.
14. Wedding Thank You Stamp - English Stamp Company, £29
Foodie couples may want to take a look at this stamp from English Stamp Company, which thanks them for sharing the first meal as a couple. Keep the food theme going by attaching these to a chocolate wedding favour. And while we're on the topic of food, here are our recommendations for wedding venues for foodie couples!
15. Wedding Favours Initials Botanical Rubber Stamp - Etsy, £12.50
This initials-only botanical stamp from Etsy is the perfect way to add an understated personalised touch to your wedding favours. Try stamping it on a label and attaching this to your favours for a timeless effect your guests will really love.
16. Lace Wedding Thank You Rubber Stamp - Etsy, £17.50
Add a romantic feel to your thank yous and favours with this elegant lace design by Etsy, which will pair perfectly with a lace wedding dress. Use with black ink and high quality white paper to create an elevated elegant effect.
17. Personalised Arrows Wedding Favour Stamp - Mint Maker Studio, £22
We're all familiar with the tale of Cupid and his famous love-dipped arrows, so why not incorporate this into your stamp? This favour stamp from Mint Maker Studio features the couples name and a heart well on it's way to being pierced by Cupid's arrows.
18. Personalised Ampersand Wedding Favour Stamp - Mint Maker Studio, £22
Ampersands are a popular figure used in weddings to show the joining together of two people. This stamp from Mint Maker Studio emphasises this, showing the importance of the joining together of the couple - use this in your wedding favours to remind your guests what your big day is really all about.
If you are still feeling stumped for save the date ideas then check out our roundup of save the date magnets, or browse 43 different save the date ideas.