135 of the Best Bride Entrance Songs For Every Kind of Bride
That emotional moment you walk down the aisle to meet your partner deserves an epic soundtrack! We've got 135 bride entrance songs to inspire you
We have included third party products to help you navigate and enjoy life's biggest moments. Purchases made through links on this page may earn us a commission.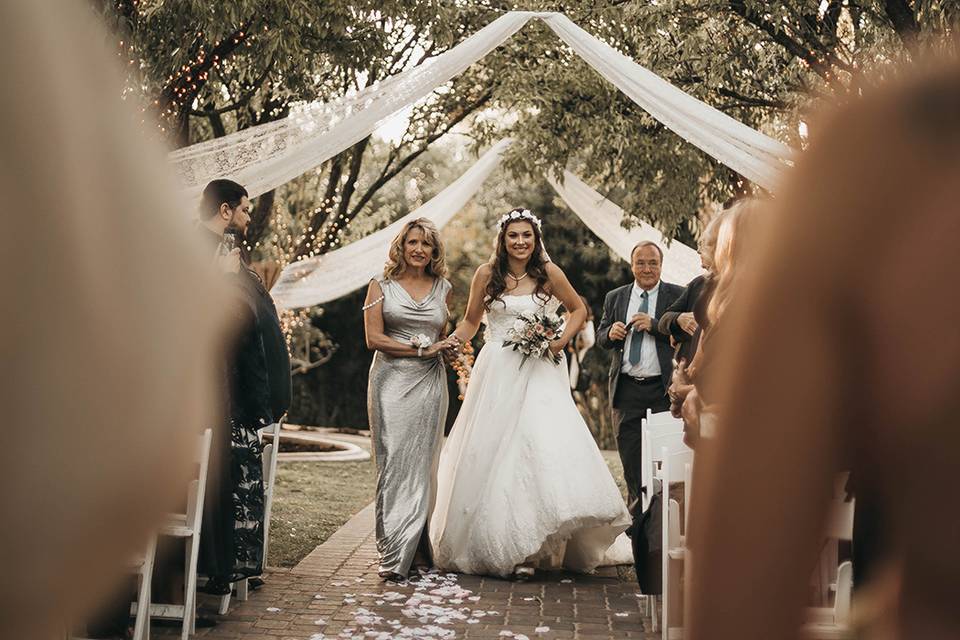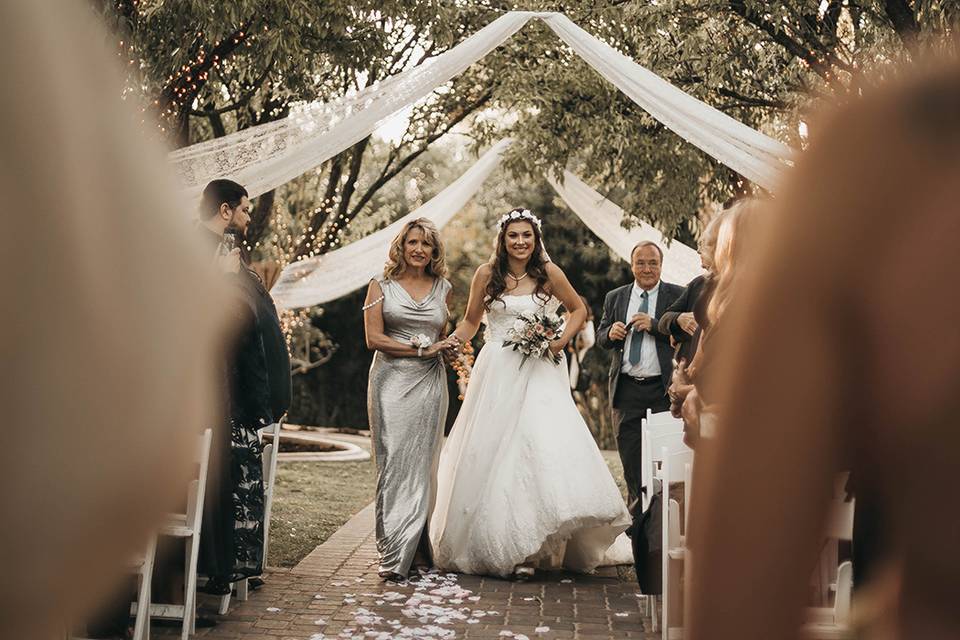 Walking down the aisle is one of the most special parts of the wedding day. Expect a few tears as your partner sees you for the first time in your dress and having your Dad by your side only adds to the emotion.
We recommend checking out our best wedding songs of all time as well as this curated list of songs to walk down the aisle to find your inspiration – the song really has to speak to you.
You'll have two importance entrances during your big day: the bride's entrance and your wedding reception entrance as newlyweds (and we've got plenty of wedding entrance songs to help you pick that!) But the bride's entrance is the real start to the wedding day.
While you'll have picked prelude songs while your guests arrive, and processional music as your bridesmaids walk down ahead of you, the moment everyone is waiting for is your arrival. All eyes on you can be quite scary, and having wedding songs or music that you really love can be comforting – as well as help you set the pace for your walk!
How to Choose Your Bridal Entrance Song
Normally couples decide together the bridal entrance song together. There's a couple of key things to think about.
Firstly, the pace: you don't want something really fast as you want to walk at a slightly slower than normal pace. If your chosen song is a little too up-tempo, see if there's a slowed-down acoustic version available. Secondly, decide whether you want a piece of classical music, a song with lyrics or an instrumental version of a song. You'll need to work out when you want the music to fade (if it's not a live band) so time your walk to avoid arriving at the front mid-verse or crescendo.
If you'd rather have the song you walk down to be a surprise, that can be a great idea. We know one bride who chose an instrumental version of the Jurassic Park theme tune as it was her husband's favourite film! Your guests will love to see your partner's reaction, and it'll be a great shot for your photographer to capture.
The 135 Best Songs to Walk Down the Aisle To
We've got 130 ideas for songs to walk down the aisle to. Lots of these bridal entrance songs you know, but some will be new to you. Take a listen to our playlist or scroll down to the full list and you might find one you both love.
At Last – Etta James
Over The Rainbow/What A Wonderful World – Israel Kamakawiwo'ole
Songbird – Fleetwood Mac
Here Comes The Sun – The Beatles
Thinking Out Loud – Ed Sheeran
Lucky – Jason Mraz ft. Colbie Caillat
A Thousand Years – Christina Perri
Canon in D Major (Pachelbel's Canon) – J.S. Bach Orchestra
Your Song – Ellie Goulding
I'm Kissing You – Des'ree
Everybody's Free (To Feel Good) – Quindon Tarver
Butterfly Waltz – Brian Crain
From This Moment On – Shania Twain & Bryan White
What A Wonderful World – Louis Armstrong
Bella's Lullaby – Carter Burwell, Dan Redfeld and Elizabeth Hedman
The Secret Wedding (From "Braveheart") – David Arkenstone featuring Kathleen Fisher
Marry You – Bruno Mars
Make You Feel My Love – Adele
Just the Way You Are – Bruno Mars
The Prince of Denmark's March (Trumpet Voluntary In D Major) – Royal Philharmonic Orchestra & Christian Rainer
Glasgow Love Theme – Craig Armstrong
Air On the G String, from Orchestral Suite No. 3 in D Major, BWV 1068 – J.S. Bach Orchestra
Love Never Fails – Brandon Heath
Iris – The Goo Goo Dolls
Wonderful Tonight – Eric Clapton
Arrival of the Queen of Sheba from "Solomon" – Bela Banafalvi & Budapest Strings
Paradise – Coldplay
Tale As Old As Time (Instrumental) – Beauty and the Beast
How Long Will I Love You – Ellie Goulding
The First Time Ever I Saw Your Face – Roberta Flack
The Dream of the Dolphin – Enigma
All Of Me – John Legend
This I Promise You – Ronan Keating
Air – Handel's Water Music
Kiss from a Rose – Seal
Amazing Day – Coldplay
Turning Page – Sleeping At Last
Feels Like Home – Edwina Hayes
This I Swear – Nick Lachey
Halo – Beyoncé
Eye of the Tiger – Survivor
Highland Cathedral – The Regimental Band of The Royal Scots Dragoon Guards
No One – Alicia Keys
The Rose – Bette Midler
I'm Yours – Jason Mraz
Chapel of Love – The Dixie Cups
Romeo & Juliet : Act I, Scene XVIII, Gavotte – Valery Gergiev & London Symphony Orchestra
Songbird – Oasis
Superman Theme ("Superman" the Movie Theme) – Toners
You Had Me From Hello – Bon Jovi
Come Away With Me – Norah Jones
A Whiter Shade of Pale – Procol Harum
A Fifth Of Beethoven – Walter Murphy
Falling In Love With You Again – Imelda May
I'll Be There – Jackson 5
Rigaudon – Empire Brass & Michael Murray
The One – Kodaline
Time After Time – Eva Cassidy
Us Against the World – Coldplay
All My Life – K-Ci & JoJo
I Love the Way You Love Me – John Michael Montgomery
La Vie En Rose – Edith Piaf
Rhapsody On a Theme By Paganini, Op. 43: Introduction – Lang Lang, Orchestra of the Mariinsky Theatre & Valery Gergiev
River Flows In You – Yiruma
A Million Love Songs – Take That
Can You Feel the Love Tonight – Elton John
Celebration – Kool & the Gang
Colid I Have This Dance – Anne Murray
Heaven – DJ Sammy & Yanou featuring Do
On This Day – David Pomeranz
(Everything I Do) I Do It For You – Bryan Adams
Crystal – Fleetwood Mac
Gabriel's Oboe – Ennio Morricone
Giving Myself – Jennifer Hudson
I Fall Apart – Rory Gallagher
If I Fall to Your Heart – Derwent Hannon
She – Charles Aznavour
Young Hearts Run Free – Kym Mazelle
Beneath Your Beautiful – Labrinth & Emeli Sandé
Marry Me – Train
The Luckiest – Ben Folds
Can't Help Falling In Love – Elvis Presley
Chasing Cars – Snow Patrol
Dance Me to the End of Love (Live at Eddie's Attic) – The Civil Wars
Kiss Me – Ed Sheeran
Latch – Sam Smith
Nothing's Going to Stop Us Now – Starship
Spectrum (Say My Name) – Florence + The Machine
Wind Beneath My Wings – Bette Midler
Beautiful in White – Shane Filan
Canon in D Major – Pachelbel Orchestra
Come Rain Or Come Shine – Ray Charles
Endless Love (From "The Endless Love" Soundtrack) – Lionel Richie & Diana Ross
Hey There Delilah – Plain White T's
Love Me Like You Do – Ellie Goulding
Suddenly – Angry Anderson
The Book of Love – Peter Gabriel
12. Wagner Bridal Chorus – Wagner
All I Want Is You – Barry Louis Polisar
And I Love Her – Beatles Celebration
Beautiful People – Labrinth
Earned It – The Weeknd
Halo – Beyonce
Here and Now – Luther Vandross
I Colid Not Ask for More – Sara Evans
I Get to Love You – Ruelle
I See You [Theme From Avatar] – Leona Lewis
Linger – The Cranberries
Look At Me – Carrie Underwood
Sweet Disposition – The Temper Trap
Till There Was You – The Surreal Beatles
Truly Madly Deeply – Savage Garden
Unchained Melody – The Righteous Brothers
Verdi: Aida: Triumphal March & Ballet – Giuseppe Verdi
What Are Words – Chris Medina
All About That Bass – Meghan Trainor
Budapest – George Ezra
Europa (Earth's Cry Heaven's Smile) – Santana
Have I Told You Lately? – Tony Bennett
If I Colid Be With You – Duke Heitger's Big Four
Isn't She Lovely – Stevie Wonder
Moon River – Frank Sinatra
One Day Like This – Elbow
Past Lives – BØRNS
Sweet Child O' Mine – Guns N' Roses
Tenerife Sea – Ed Sheeran
The Final Countdown – Europe
With You – Chris Brown
Grow Old With Me – Mary Chapin Carpenter
Haven't Met You Yet – Michael Bublé
Here Comes the Bride (Wedding Version) – Dannie Marie
Love Song – Tesla
Only Time – Enya
Sweet Louise – Passenger
This Guy's In Love with You – Herb Alpert & The Tijuana Brass