Wedding Card Quotes: 45 Funny, Wise and Romantic Quotes
Whatever the kind of couple or occasion, we've got a huge range of wedding card quotes that'll you'll find the perfect thing to write among
We have included third party products to help you navigate and enjoy life's biggest moments. Purchases made through links on this page may earn us a commission.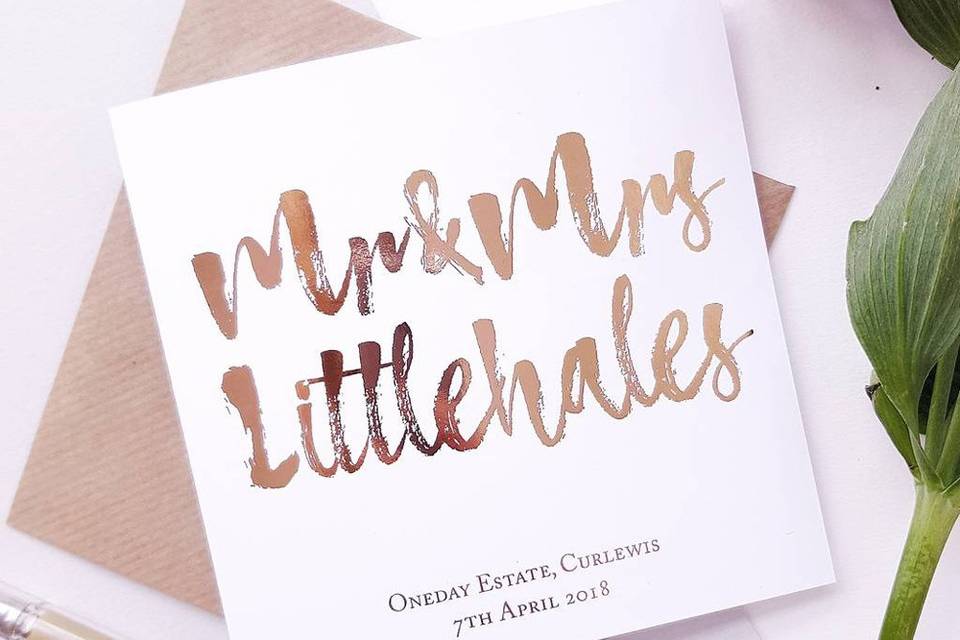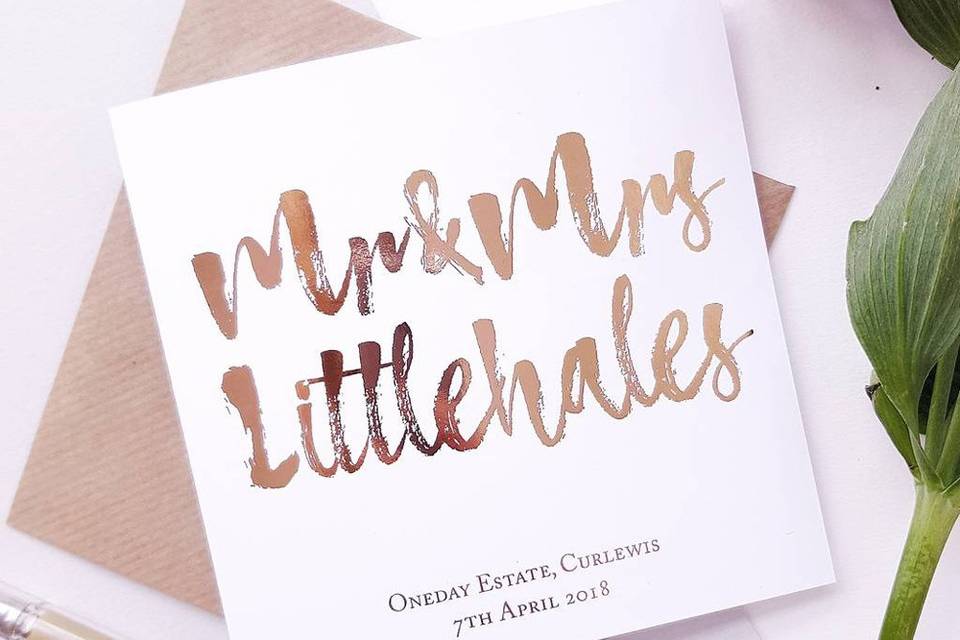 Deciding what to write in a wedding card can be a really tough task. Do you go for a funny line, a wise proverb or a favourite movie quote? 
Image: Rich Little Things
We've rounded up the best wedding card quotes: from sentimental to funny to philosophical, there's something for every couple. Whether you want to leave the newlyweds laughing or crying, these wedding card quotes will do the trick!
Don't think these are just limited to wedding cards though. These quotes about love and marriage are ideal for the father of the bride speech or best man speech too!
Funny Wedding Card Quotes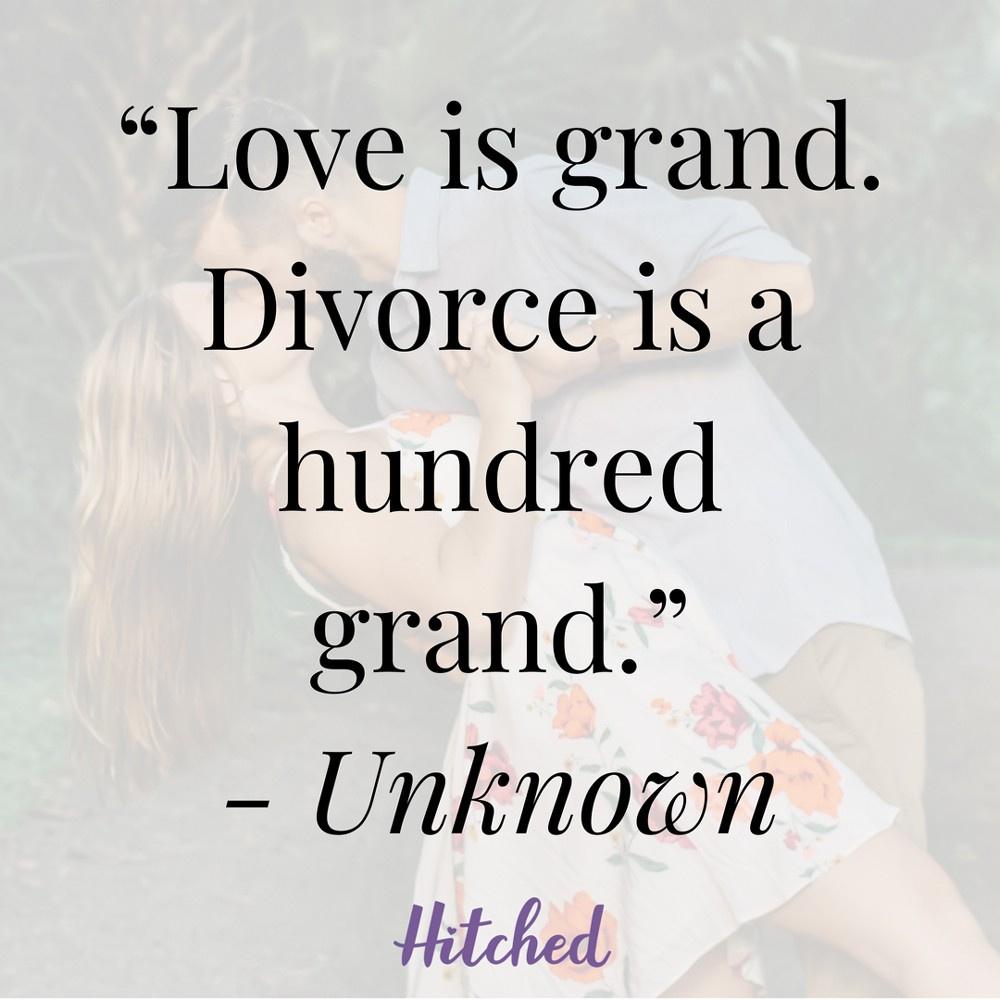 1. "Love is grand. Divorce is a hundred grand." – Unknown
2. "There are only three things women need in life: food, water and compliments." – Chris Rock
3. "After 7 years of marriage I am sure of two things. First, never wallpaper together and second, you'll need two bathrooms…both for her. The rest is a mystery, but a mystery I love to be involved in." – Dennis Miller
4. "I love being married. It's so great to find that one special person you want to annoy for the rest of your life." – Rita Rudner
READ MORE: What to Write in a Wedding Card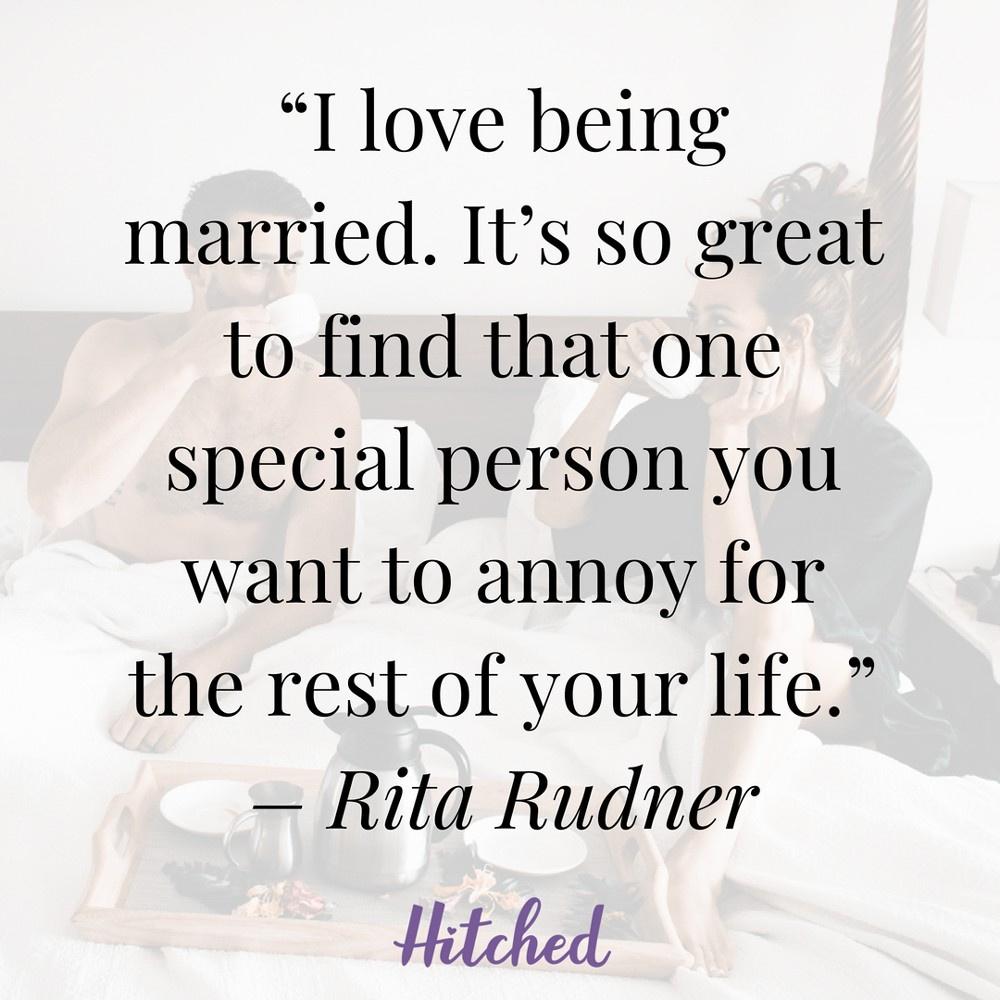 5. "The longest sentence you can form with two words is: I Do." – H. L. Mencken
6. "By all means marry. If you get a good wife you'll become happy. If you get a bad one you'll become a philosopher." – Socrates
7. "Take care of him and make him feel important and if you can do that, you'll have a happy and wonderful marriage…like two out of every ten couples." – Neil Simon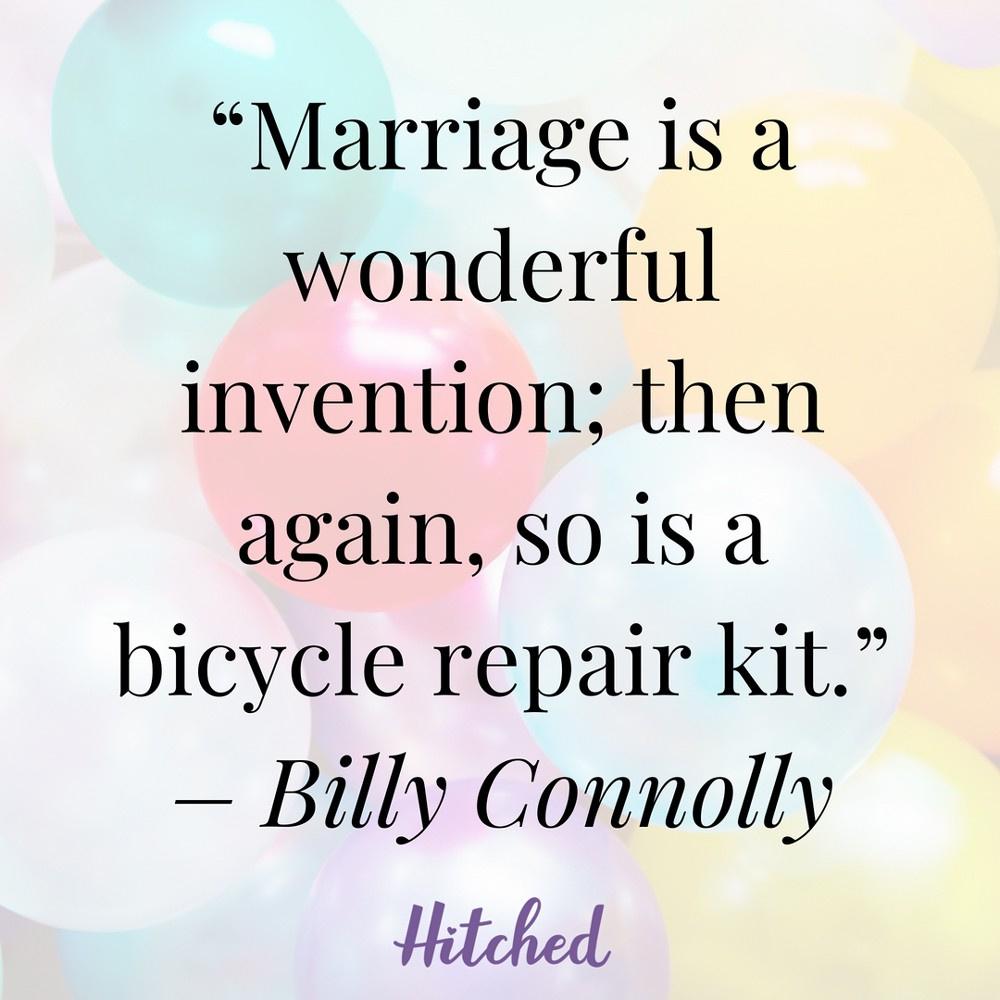 8. "Marriage is a wonderful invention; then again, so is a bicycle repair kit." – Billy Connolly
9. "Being a good husband is like being a stand-up comic. You need ten years before you can call yourself a beginner." – Jerry Seinfeld
10. "Like good wine, marriage gets better with age – once you learn to keep a cork in it." – Gene Perret
READ MORE: 35 Hilarious Quotes on Love and Marriage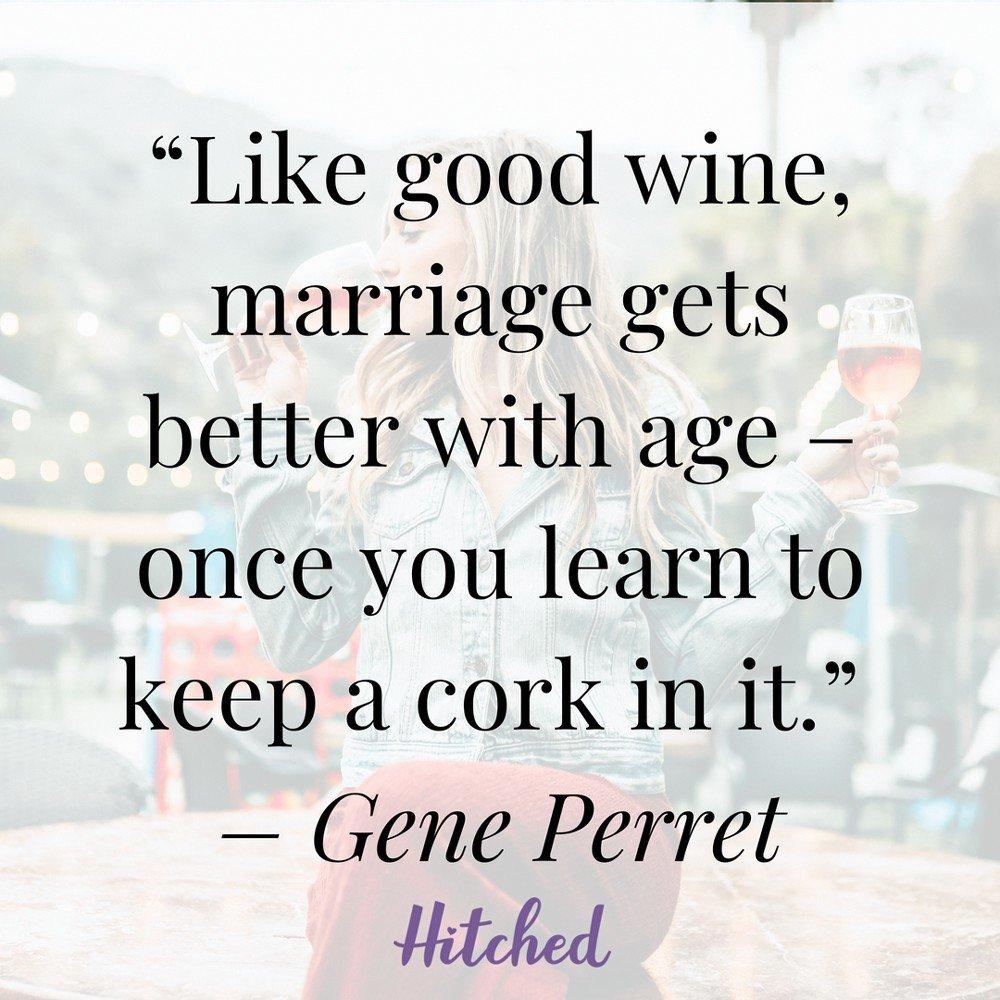 11. "A man doesn't know what happiness is until he's married. By then it's too late." – Frank Sinatra
12. "There is so little difference between husbands you might as well keep the first." – Adela Rogers St. Johns
13. "A happy marriage is the union of two good forgivers." – Robert Quillen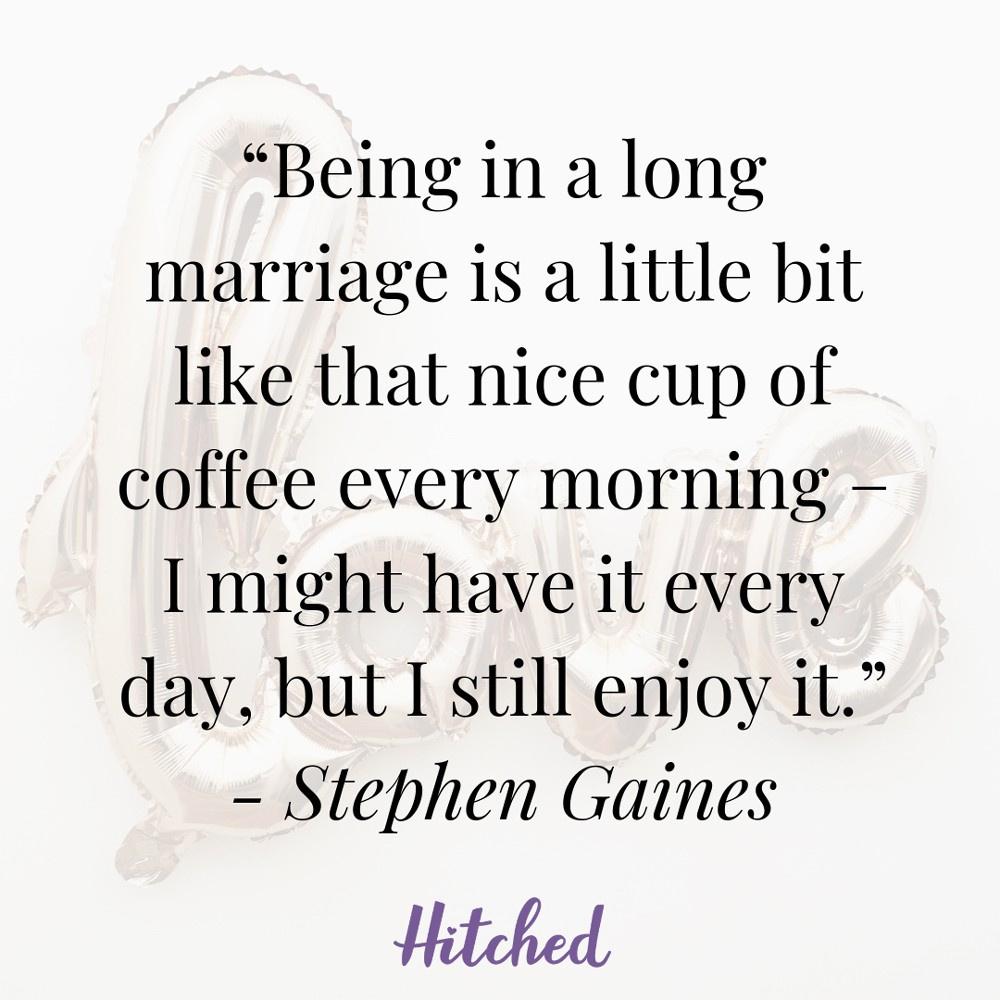 READ MORE: The Best Disney Quotes for Weddings
14. "Being in a long marriage is a little bit like that nice cup of coffee every morning – I might have it every day, but I still enjoy it." – Stephen Gaines
15. "Marriage is the triumph of imagination over intelligence. Second marriage is the triumph of hope over experience." – Oscar Wilde
Wise Wedding Card Quotes
16. "The first duty of love is to listen." – Paul Tillich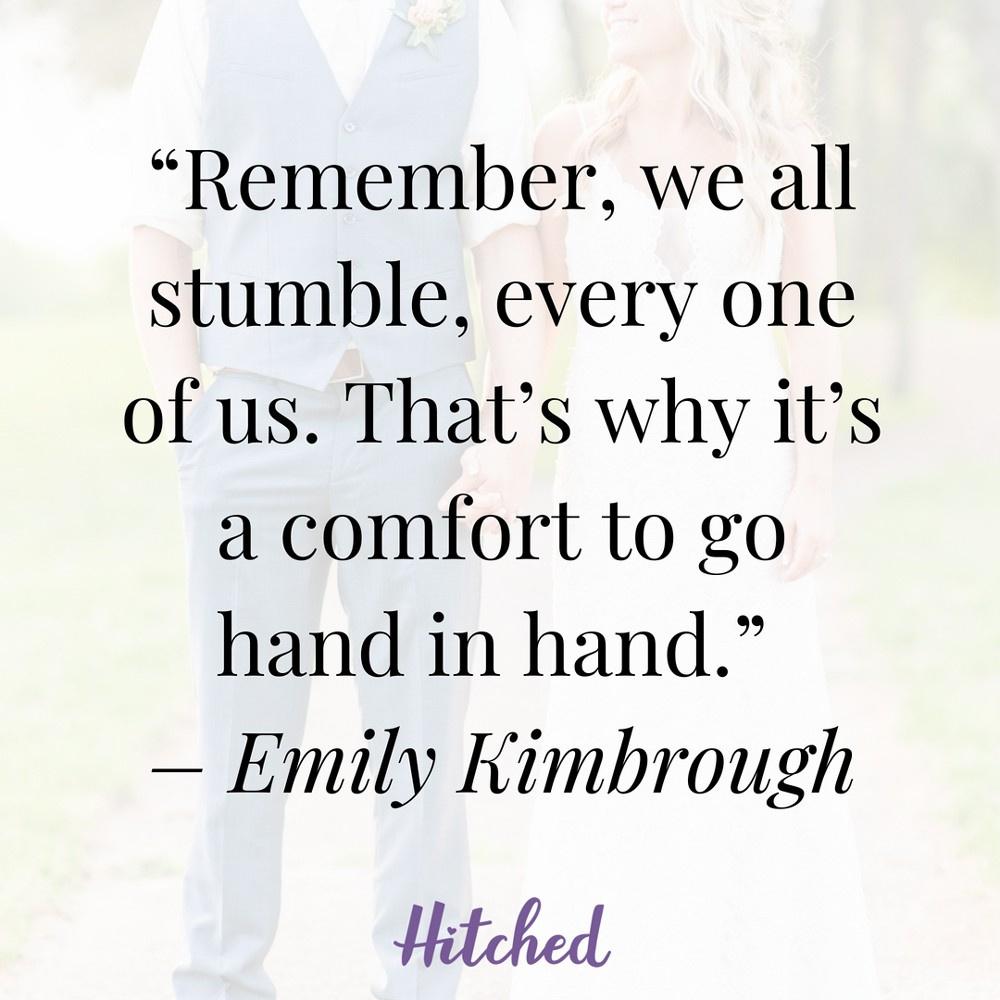 17. "Remember, we all stumble, every one of us. That's why it's a comfort to go hand in hand." – Emily Kimbrough
18. "One word frees us all of all the weight and pain of life: that word is love." – Sophocles
19. "The grass is greener where you water it." – Neil Barringham
20. "You don't love somebody for their looks, or their clothes or for their fancy car; but because they sing a song only you can hear." – Oscar Wilde
READ MORE: 33 of Our Favourite Romantic Wedding Quotes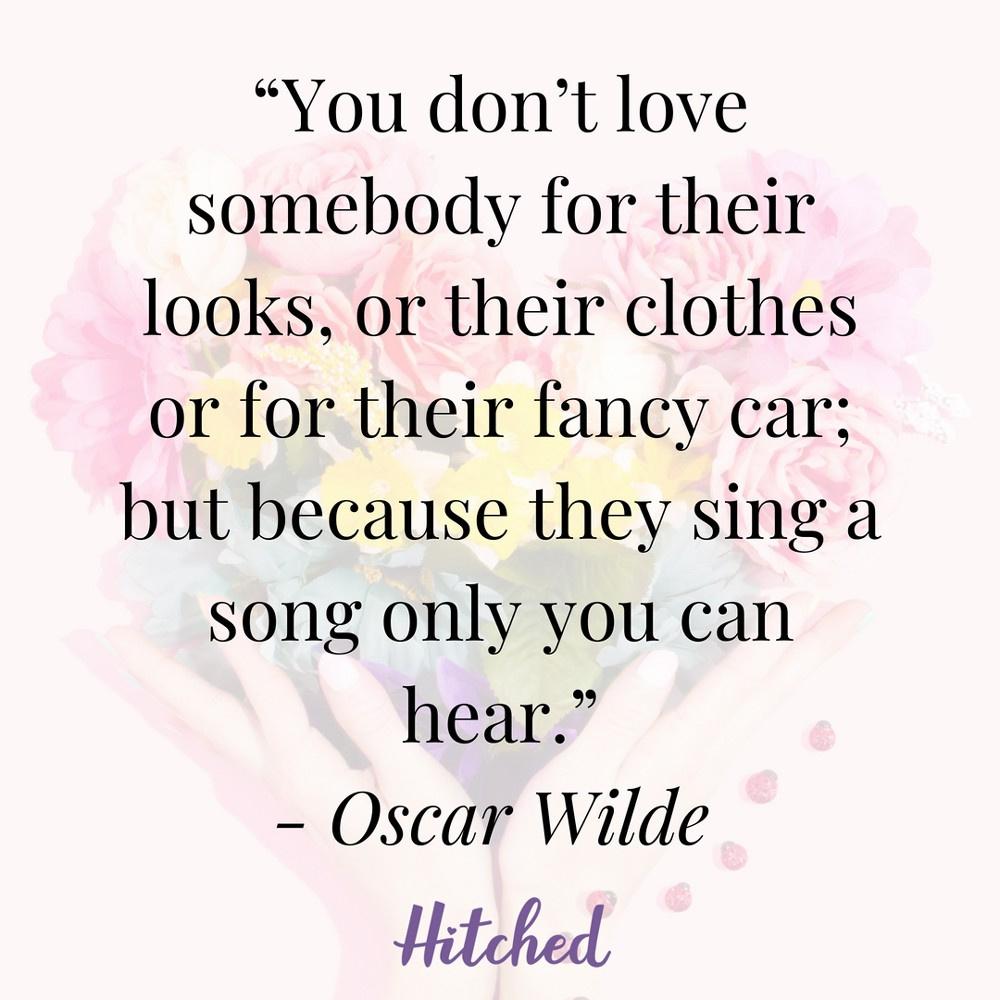 21. "A heart that loves is always young." – Greek Proverb
22. "One's not half of two, two are halves of one." – e e cummings
23. "Love one another and you will be happy. It's as simple and as difficult as that." – Michael Leunig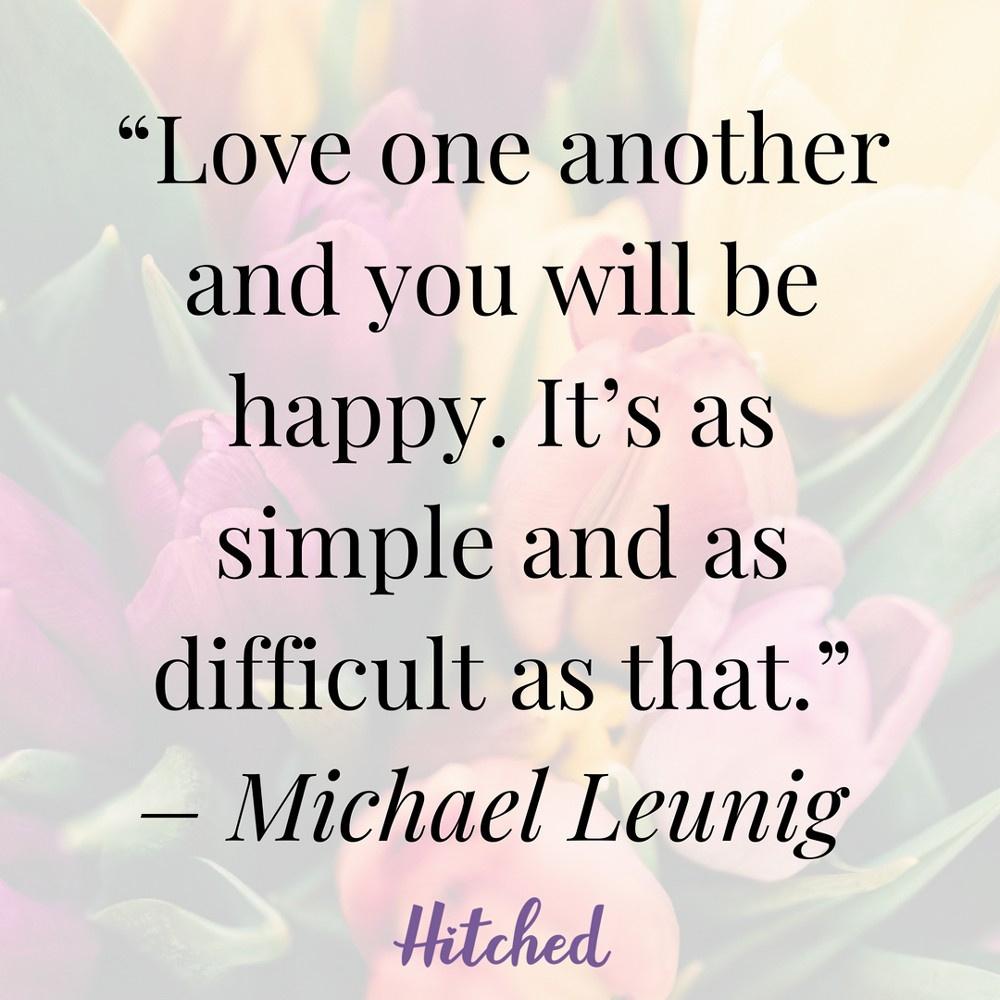 24. "The secret to a happy marriage remains a secret." – Henny Youngman
25. "I believe that two people are connected at the heart and it doesn't matter what you do, or who you are or where you live; there are no boundaries if two people are destined to be together." – Julia Roberts
READ MORE: 37 Inspiring Quotes about Love and Marriage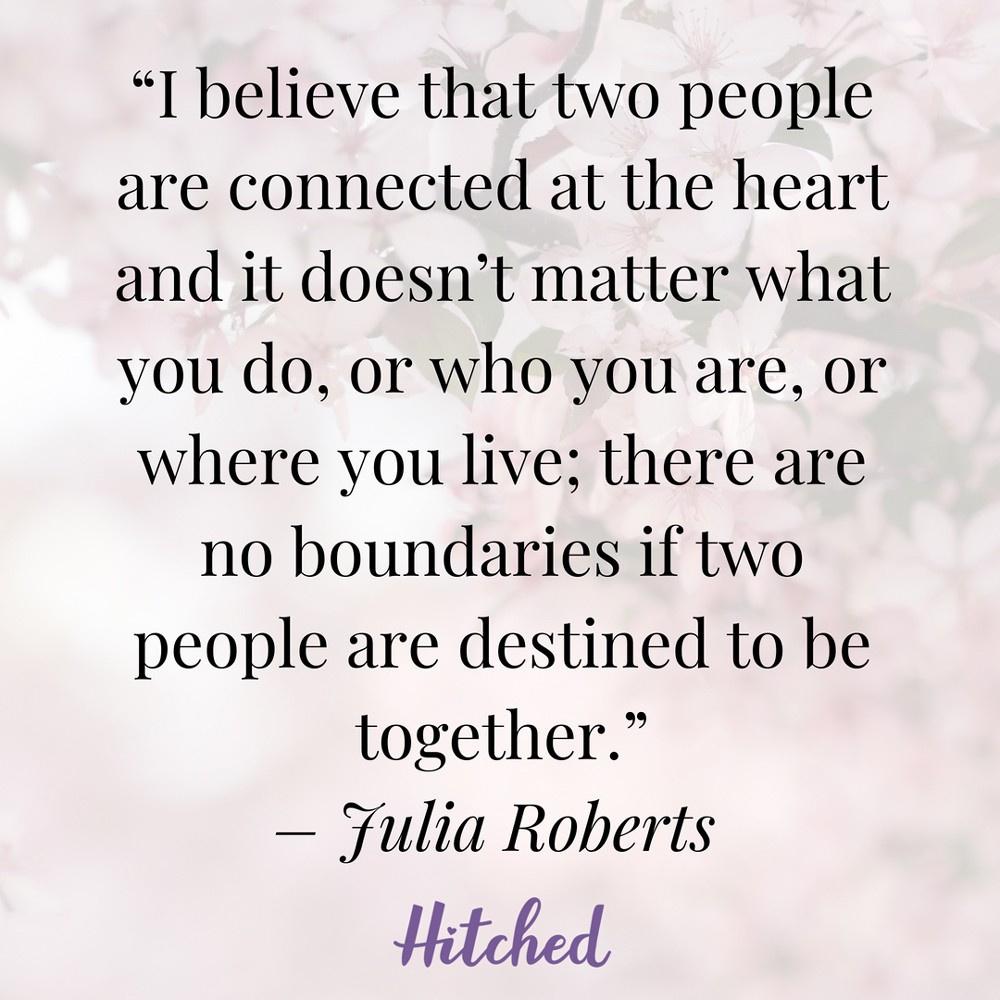 26. "A happy marriage is a long conversation which always seems too short." – Andre Maurois
27. "What counts in making a happy marriage is not so much how compatible you are, but how you deal with incompatibility." – George Levinger
28. "A successful marriage requires falling in love many times, always with the same person." – Mignon McLaughlin
READ MORE: The Best Harry Potter Quotes About Love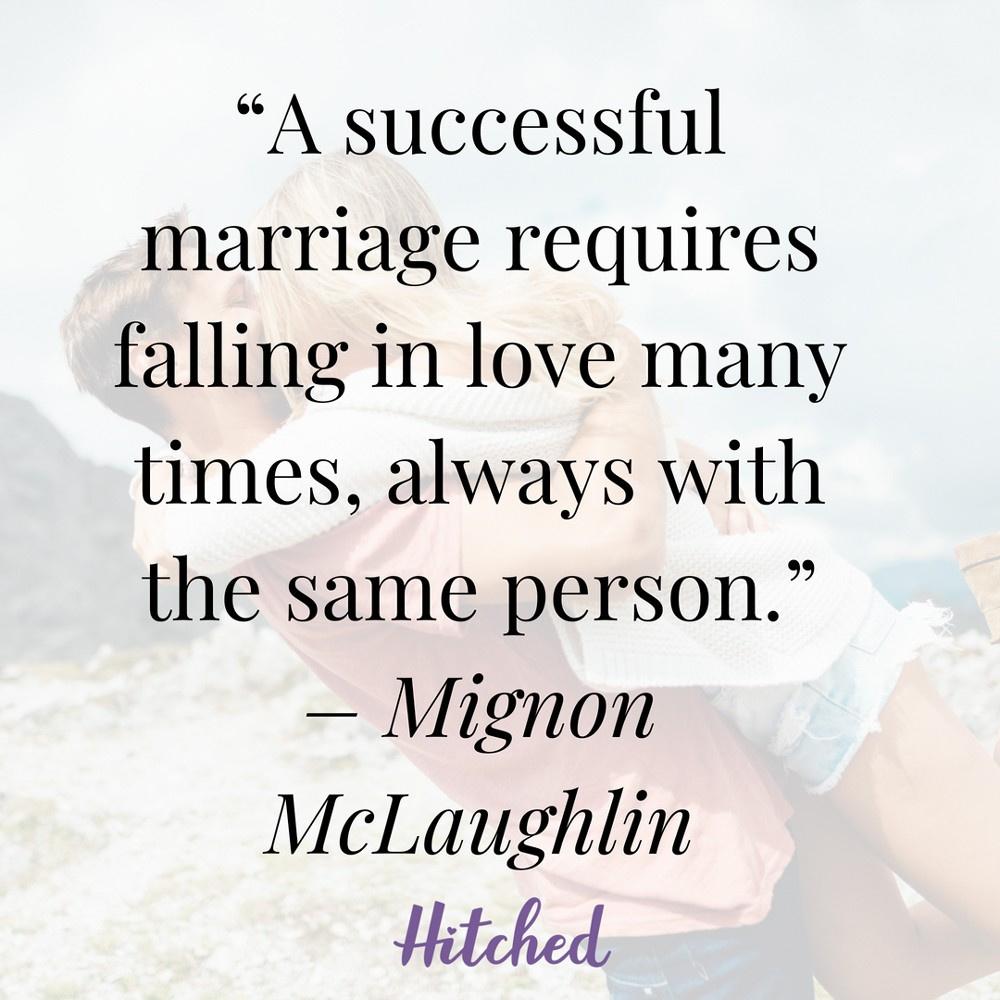 Wedding Card Quotes from TV and Movies
29. "Happiness is only real when shared." – Into the Wild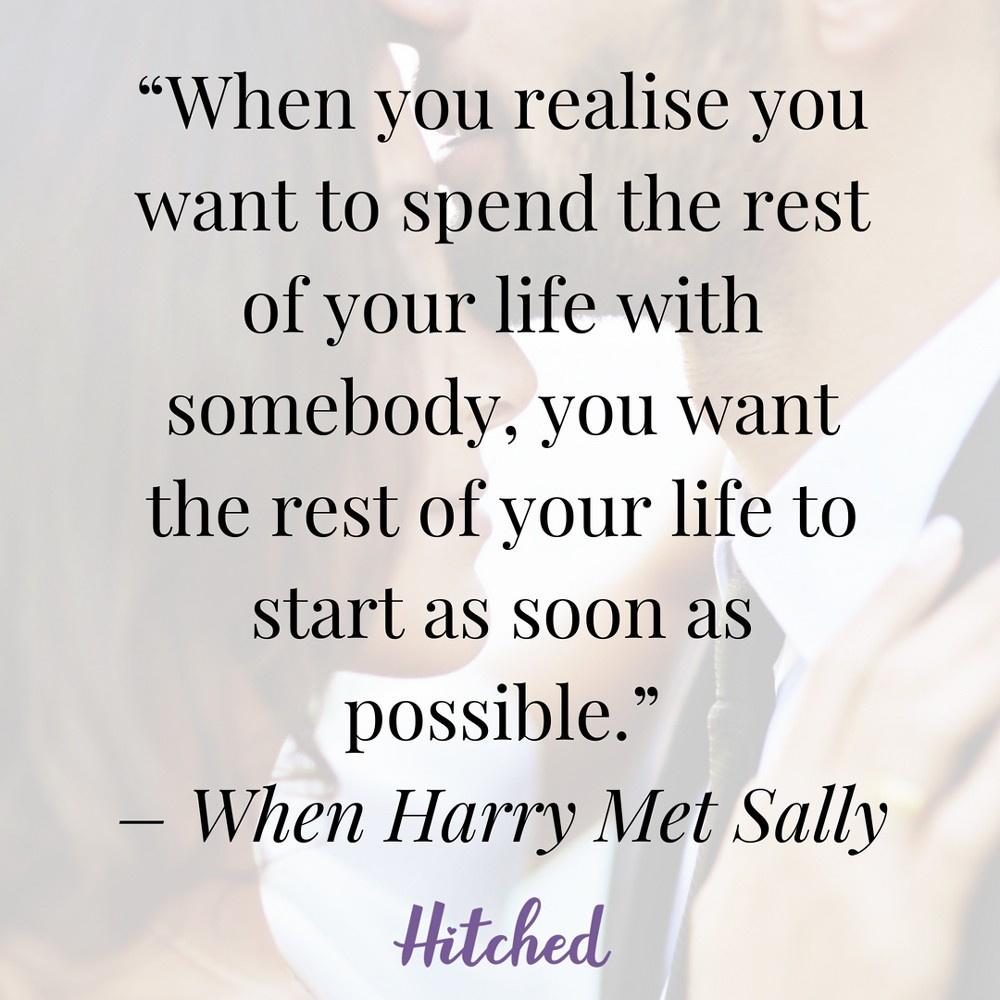 30. "When you realise you want to spend the rest of your life with somebody, you want the rest of your life to start as soon as possible." – When Harry Met Sally
31. "It doesn't matter if the guy is perfect or the girl is perfect, as long as they are perfect for each other." – Good Will Hunting
READ MORE: 35 Utterly Romantic Movie Quotes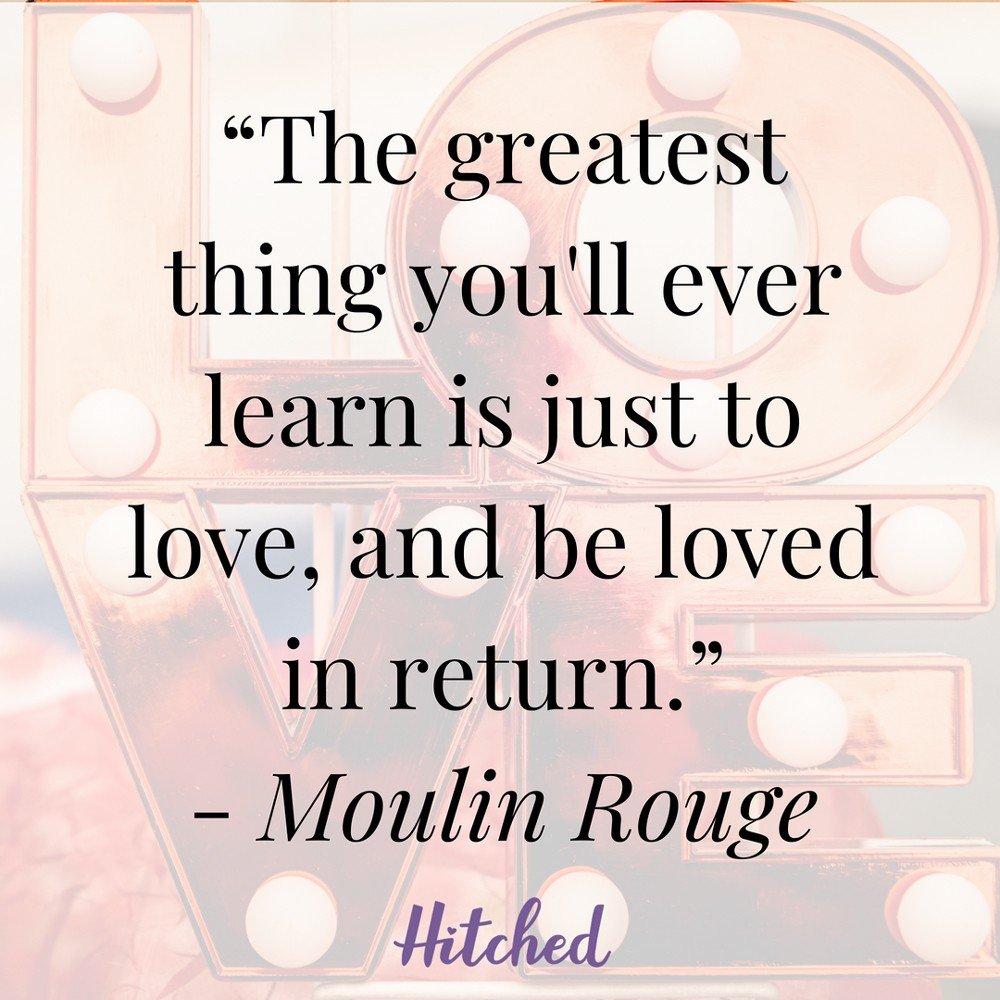 32. "The greatest thing you'll ever learn is just to love, and be loved in return." – Moulin Rouge
33. "This is true love — you think this happens every day?" — The Princess Bride
34. "The most exciting, challenging, and significant relationship of all is the one you have with yourself. And if you can find someone to love the you you love, well, that's just fabulous." – Sex and the City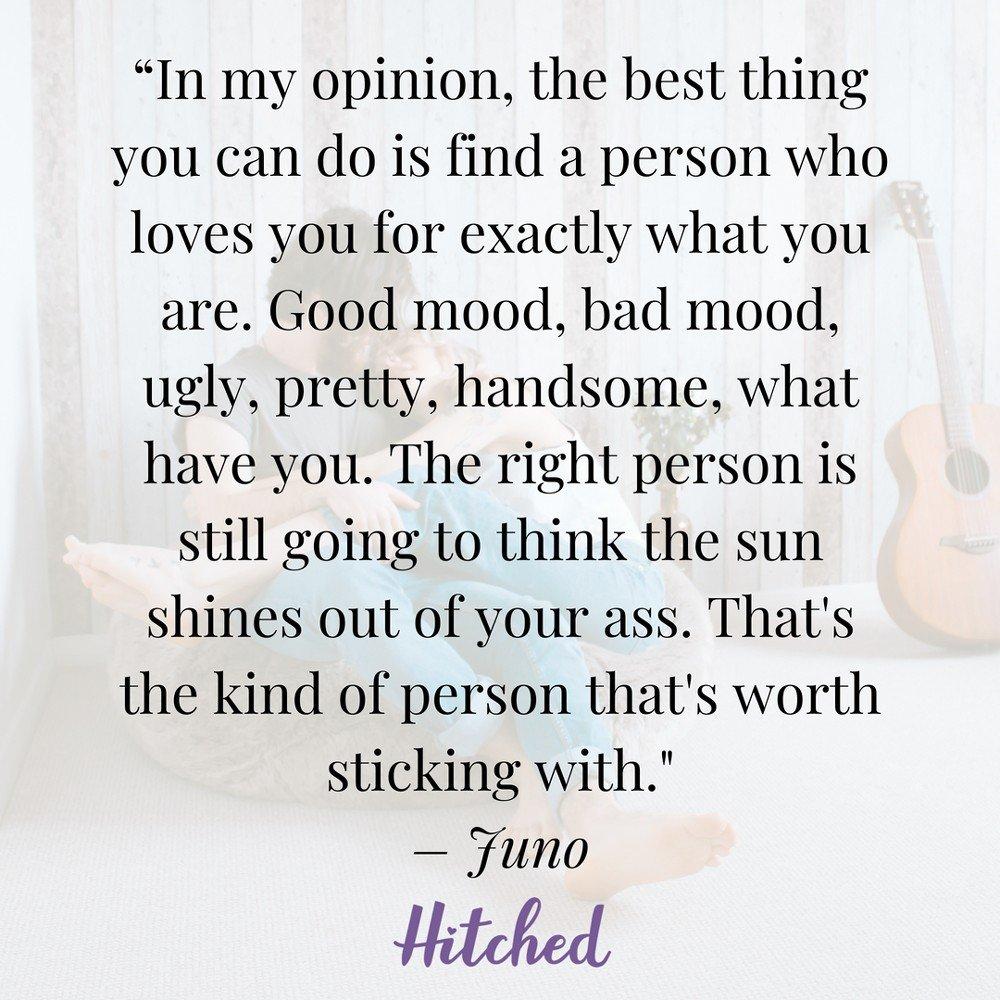 35. "In my opinion, the best thing you can do is find a person who loves you for exactly what you are. Good mood, bad mood, ugly, pretty, handsome, what have you. The right person is still going to think the sun shines out of your ass. That's the kind of person that's worth sticking with." – Juno
36. "Marriage is punishment for shoplifting in some countries." –  Wayne's World
READ MORE: 13 Beautiful Wedding Quotes From Songs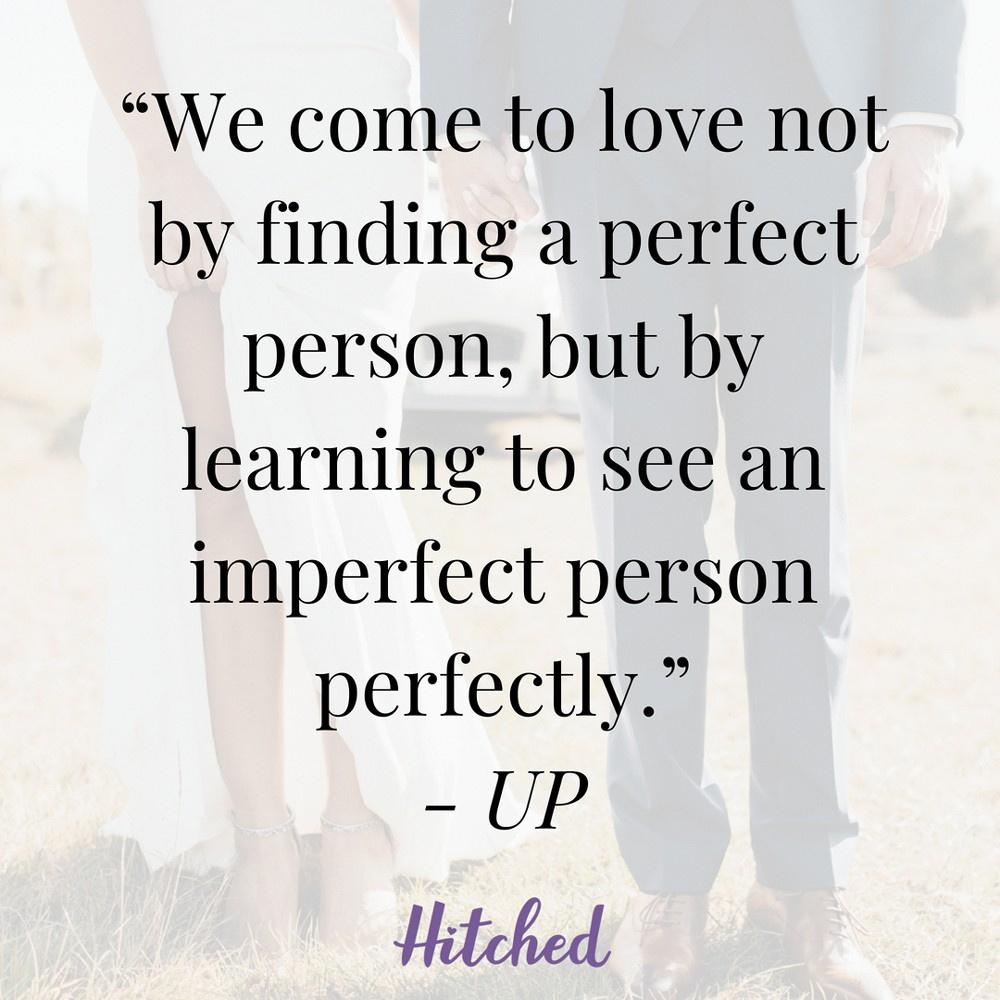 37. "We come to love not by finding a perfect person, but by learning to see an imperfect person perfectly." — UP
Wedding Card Quotes from Books 
38. "And she's got brains enough for two, which is the exact quantity the girl who marries you will need." – P. G. Wodehouse, The Adventures of Sally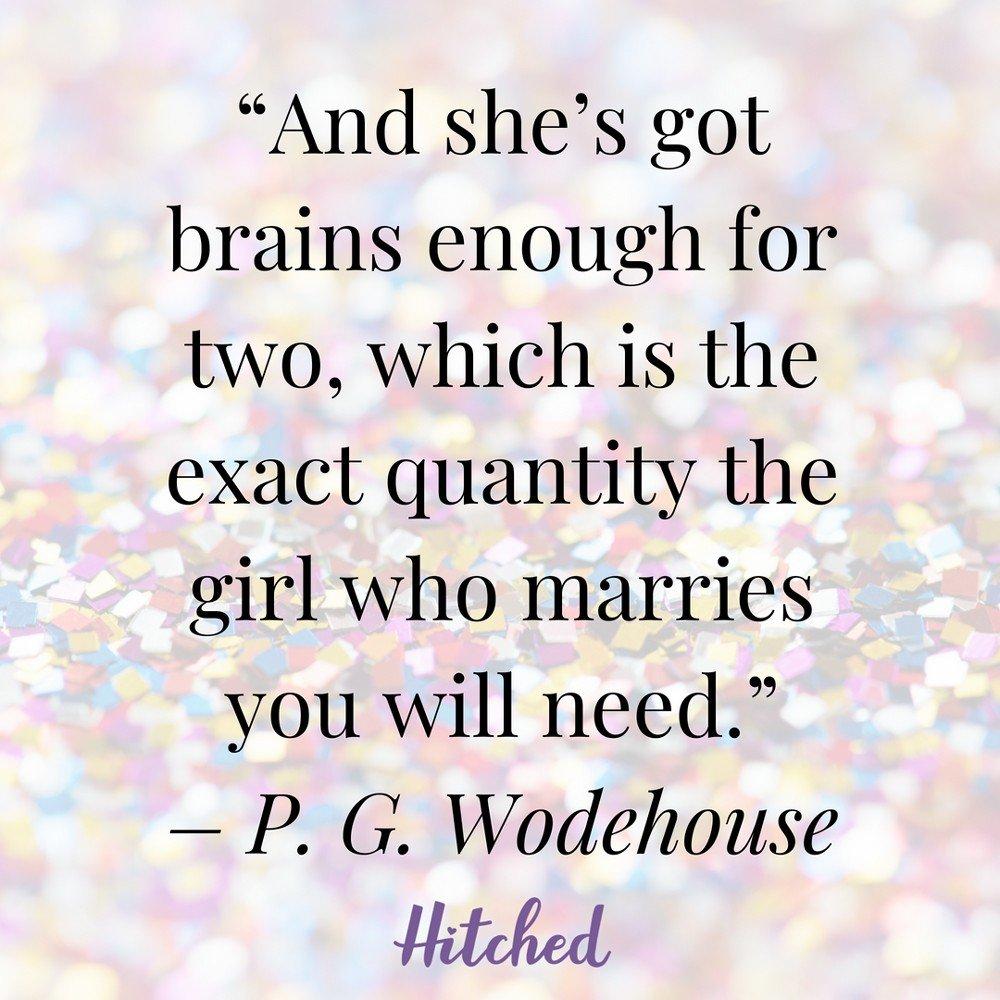 39. "Love is the longing for the half of ourselves we have lost."– Milan Kundera, The Unbearable Lightness of Being
40. "A marriage is always made up of two people who are prepared to swear that only the other one snores." – Terry Pratchett, The Fifth Elephant
READ MORE: 35 of the Most Romantic Quotes From Literature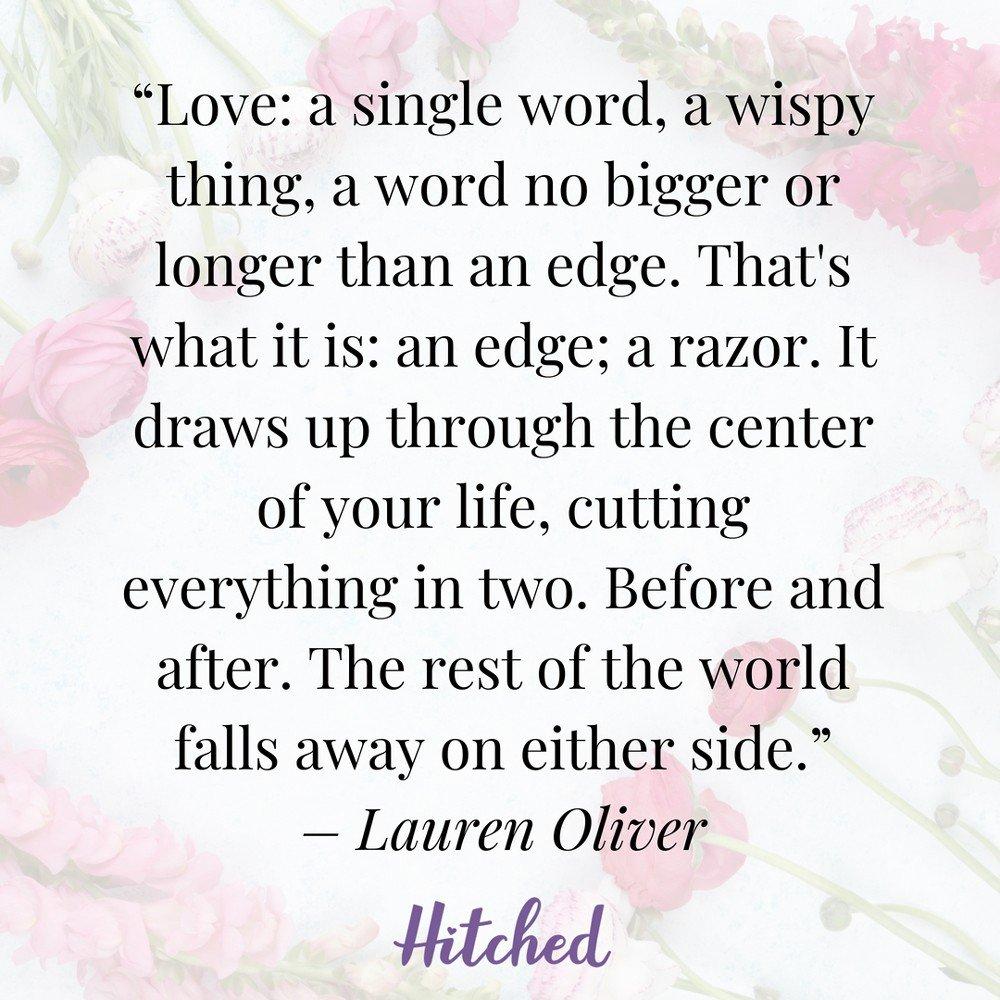 41. "Love: a single word, a wispy thing, a word no bigger or longer than an edge. That's what it is: an edge; a razor. It draws up through the center of your life, cutting everything in two. Before and after. The rest of the world falls away on either side." – Lauren Oliver, Delirium
42. "Love itself is what is left over, when being in love has burned away. Doesn't sound very exciting, does it? But it is!" – Louis de Bernieres, Captain Corelli's Mandolin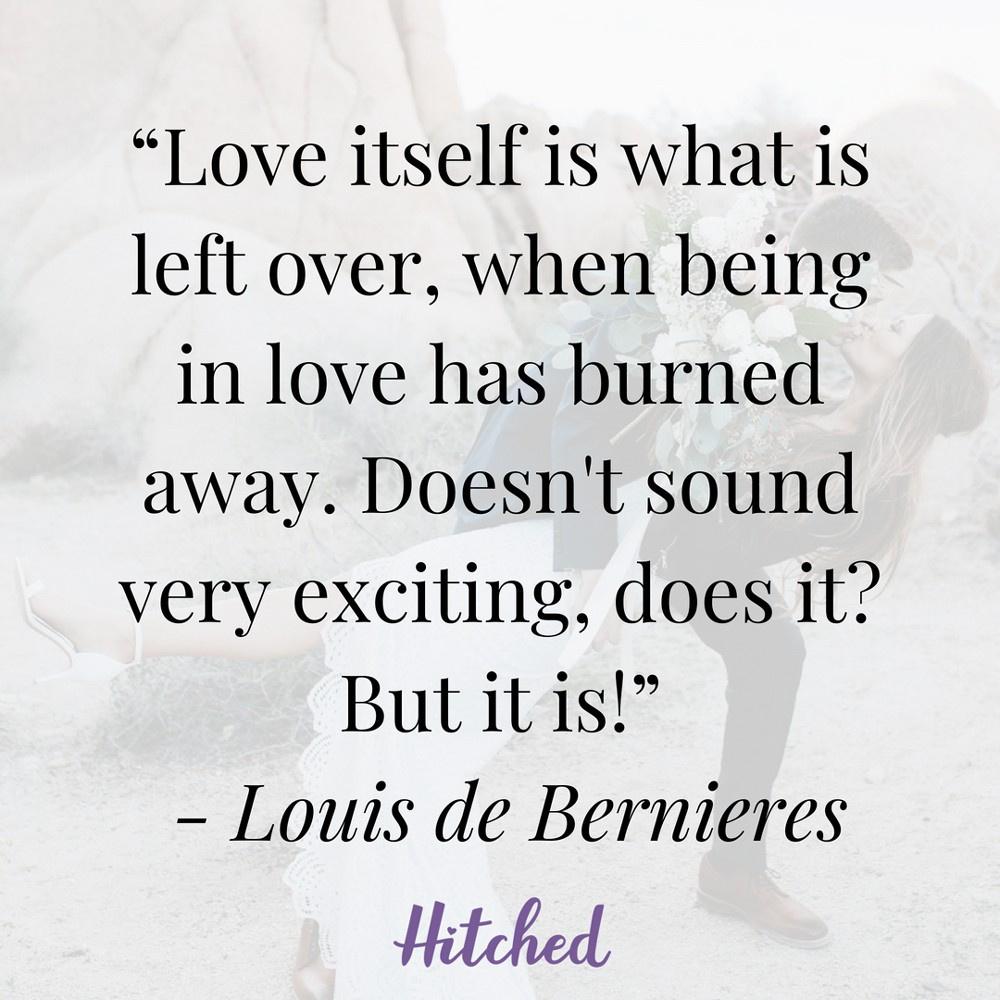 Wedding Card Poems
43. "We, unaccustomed to courage
exiles from delight
live coiled in shells of loneliness
until love leaves its high holy temple
and comes into our sight
to liberate us into life.
Love arrives
and in its train come ecstasies
old memories of pleasure
ancient histories of pain.
Yet if we are bold,
love strikes away the chains of fear
from our souls.
We are weaned from our timidity
In the flush of love's light
we dare be brave
And suddenly we see
that love costs all we are
and will ever be.
Yet it is only love
which sets us free."
– Maya Angelou, 'Touched By An Angel'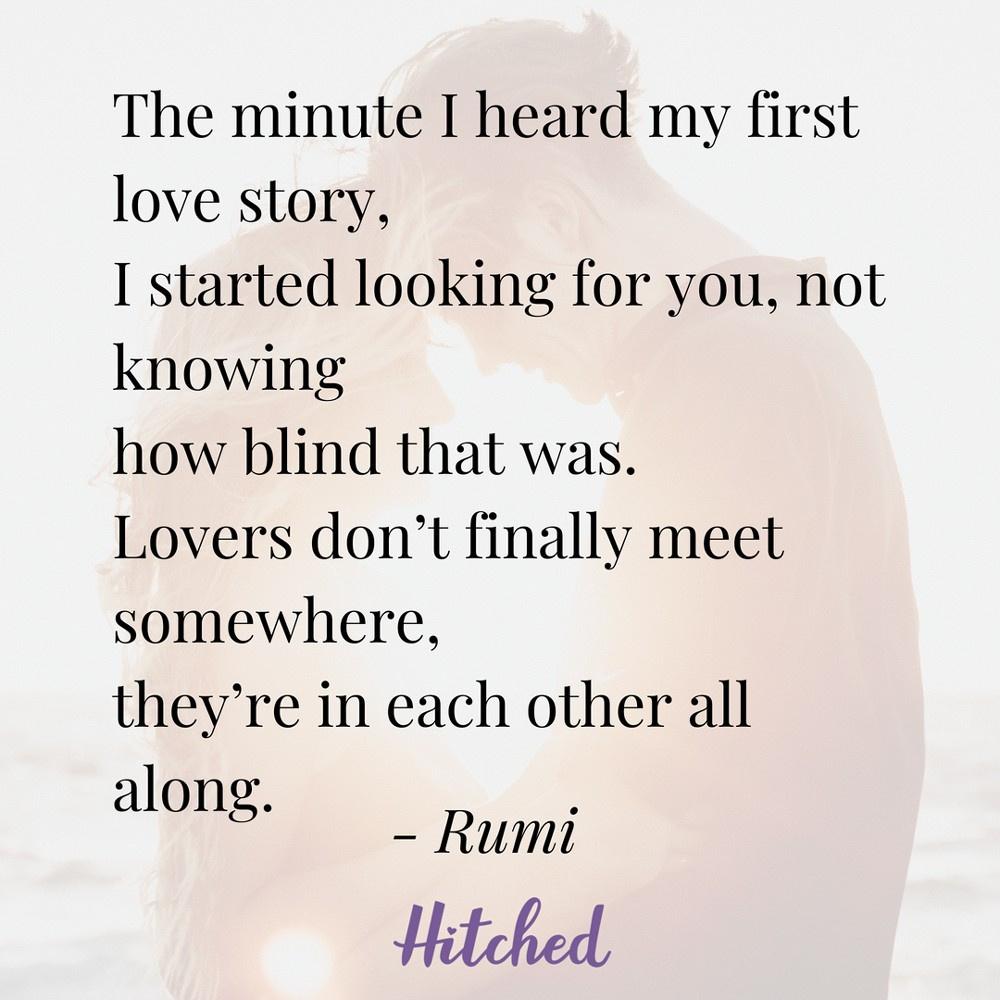 44. "The minute I heard my first love story,
I started looking for you, not knowing
how blind that was.
Lovers don't finally meet somewhere,
they're in each other all along."
– Rumi
45. "Love is the voice under all silences,
the hope which has no opposite in fear;
the strength so strong mere force is feebleness:
the truth more first than sun,
more last than star…"
– e e cummings, 'being to timelessness as it's to time'
If you're looking for more quotes to use in your wedding card, or even in a wedding speech, try our pick of perfect wedding poems and search our readings section.