What to Write in an Engagement Card: 63 Original Ideas
Relationship expert and presenter Anna Williamson shares her take on what to write in an engagement card, and the one thing you should never say
We have included third party products to help you navigate and enjoy life's biggest moments. Purchases made through links on this page may earn us a commission.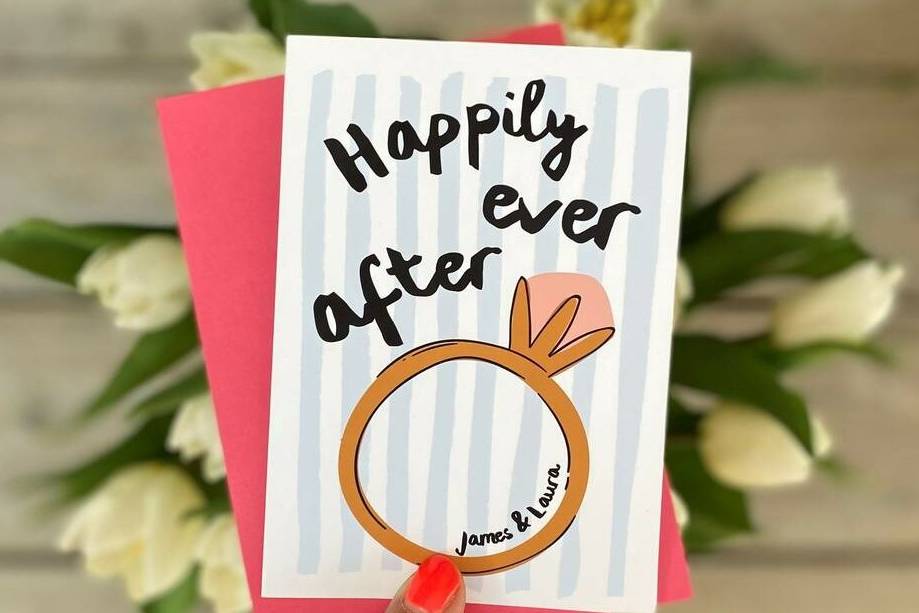 Amazing! Your friend, sibling, son or daughter is engaged, which means it's time to decide what to write in the engagement card.
In a recent Hitched poll*, almost half of couples (47%, to be precise) said it what was written in an engagement card was super important to them - no pressure folks! And when asking what messages they prefer to receive, 57% said they want to read something personal and heartfelt, just under a third (30%) said a simple congrats is enough, while the remaining 13% sought out funny messages.
Deciding what to write in an engagement card can be tricky - you really want to nail your engagement card wishes, but, as the above stats prove, different engagement card messages suit different couples.
Fear not as we have all of the advice you need to perfect your engagement card message. Whether you're looking for advice on what to put in an engagement card from a best friend, or what to write in an engagement card from parents, we have message examples, along with expert advice from The Relationship Place founder and Celebs Go Dating presenter Anna Williamson.
What to Write in an Engagement Card & What to Completely Avoid
Anna Williamson, relationship expert and founder of The Relationship Place believes the most important thing you absolutely must include in an engagement card insert is a congratulatory message for the happy couple. Here's her best example: "Congratulations to you both on your happy news, here's to the next exciting chapter in your lives!"
When it comes to what not to write in an engagement card, Anna lets us in on one of the biggest faux pas you can make congratulating the happy couple. It's important not to be presumptuous or put pressure about the wedding onto the couple when they have just got engaged, and Anna.
"I would encourage anyone to avoid writing things like 'I can't wait to be a part of your big day!' inside an engagement card," she explains. "This is presumptuous and you might not actually be invited to some/any of it!"
As well as avoiding that massive faux pas, we have advice and examples of funny engagement wishes, simple engagement messages and even engagement quote examples to help you on your way to writing a perfect note to the newly-weds to be.
What to Write in an Engagement Card From Parents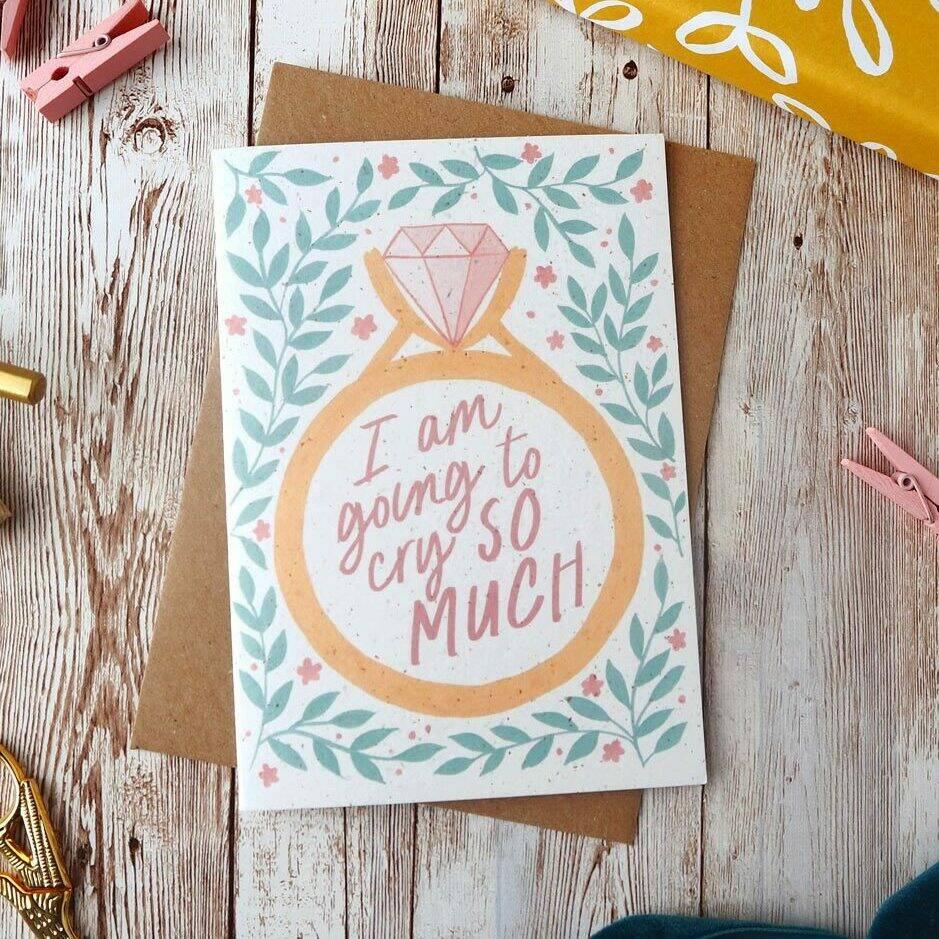 Writing an engagement card to one of your children and their spouse requires more than just the simple 'Congratulations' message. Here are some ideas for you along with a top writing tip!
"Your father and I have always tried to set an example for you of what a marriage should look like. May you always have each other's back and each other's heart as you navigate a new life together."
"We're the luckiest parents in the world to have watched you grow into the beautiful person you are today. The moment you first introduced us to [insert name] we could tell you were head over heels and now we're so fortunate to welcome them into our family too."
"We've been waiting for this day since you were in nappies! No turning back now..."
"I always knew this joyous moment would come, and I'm honoured to call you my son/daughter as you take this exciting new step to starting your own family."
"Once of the proudest moments of a father's/mother's life is when they get to watch their little girl/boy walk down the aisle. The second proudest is when they ace their father/mother of the bride speech."
"May the love you share only grow stronger as you grow older."
"Enjoy every moment of planning your wedding. This is just chapter one of the most exciting book."
"We couldn't be happier to welcome a new son/daughter into our family. I hope you warned them what to expect!"
"It makes us so happy to see how happy [insert name] makes you. It's all you could ask for your child and we hope you stay this madly in love forever."
"To our wonderful son/daughter and his/her new fiancé: may this relationship blossom into endless beautiful memories."
Writing Tip for Engagement Wishes to Your Child: As a child, no matter how old you get, hearing that your parents are proud of what you have achieved is one of the nicest things you can hear. Any kind words about being proud of the relationship your child and their partner have worked hard at will definitely go down well.
Don't forget to ensure your engagement card to your son or daughter is inclusive of their partner as well - a note welcoming them into the family is always a nice touch.
What to Write in an Engagement Card From Siblings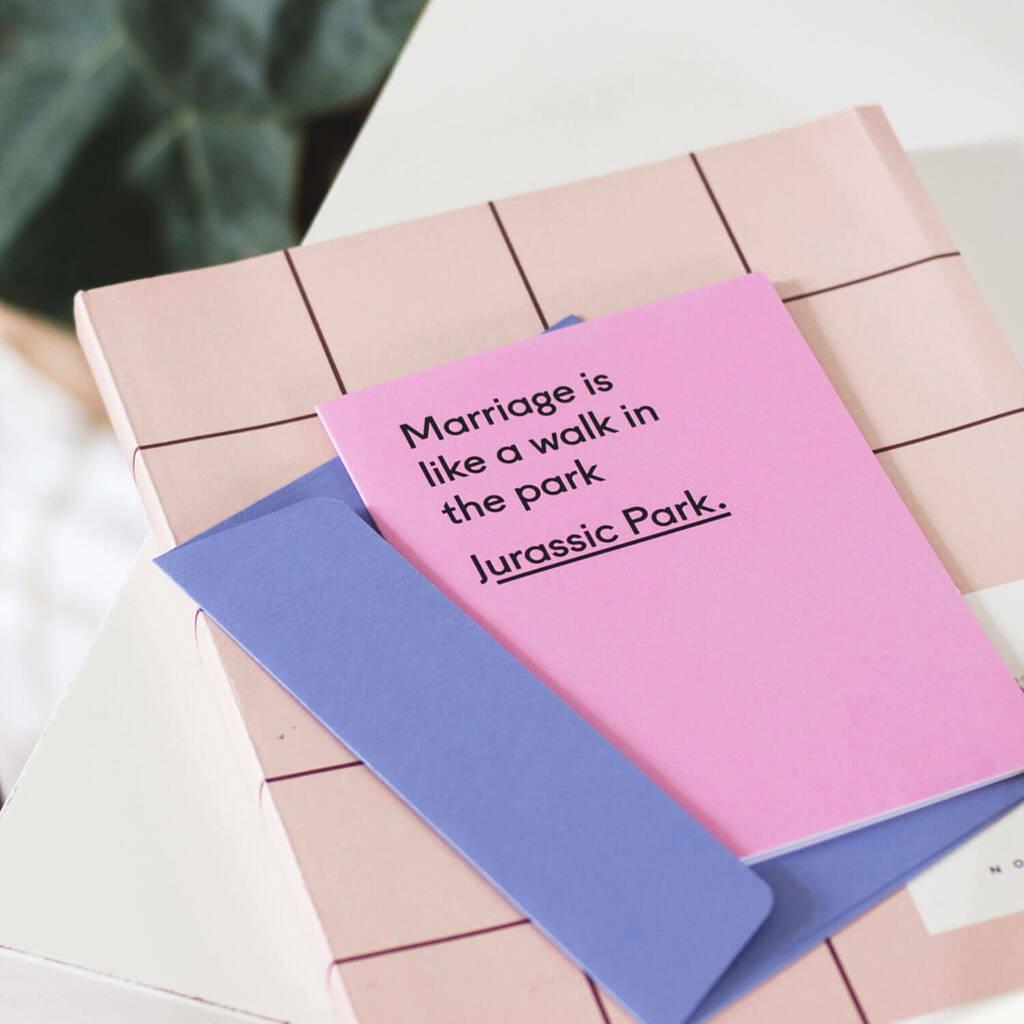 Writing an engagement card to your brother or sister is always going to be a huge moment, whether they are older or younger than you.
"I've spent my whole life looking up to you but you've never made a decision as wise as asking [insert name] to marry you. Well done."
"This engagement stuff has worked out so well. You get a fiancé and I get a new brother/sister. Wicked!"
"I just can't believe my brother/sister is getting married. I couldn't be happier!"
"I always knew we were a little weird and I'm so glad you found another weirdo to join our family who'll love you forever."
"I remember the day you were born – all red and wrinkly and screaming your lungs out. It's hard to believe you're old enough now to get engaged! Couldn't be prouder of my little sister/brother, congratulations."
"Words can't even describe how happy I am my sister has found true love. I remember when we used to talk about who was our perfect crush. Well, he isn't Ryan Gosling, but [insert name] is a pretty good substitute. Welcome to the family."
"I don't want to get ahead of myself, but I've already assumed I'm best man/maid of honour, put down a deposit for the stag/hen and signed us up for dance classes. You'll look pretty silly if you give the job to someone else now, bro/sis."
"You might be losing your last name, but I'm gaining a brother/sister so that's a deal I'm pretty happy with. Love you both and can't wait to celebrate with you."
"You have no idea the embarrassing stories I'm going to bring up in my maid of honour/best man speech – good luck (and congratulations)"
"I didn't tease you for nothing as a kid. It was preparing you for how mercilessly I'm going to mock you when you've had one too many at the hen/stag. Bring it on, sister/bro."
"You deserve the world and I'm so happy you've found someone that makes you beam with happiness. To many more adventures."
Writing Tip for Engagement Wishes to Your Sibling: When writing an engagement card to your sibling, a reference to a funny memory is always nice.
Sibling relationships tend to be more playful than others in the family so you can definitely crack a joke or two. It's also important to reference your new sibling-in-law and give them some light-hearted 'words of approval' - or warning!
What to Write in an Engagement Card For a Friend or Best Friend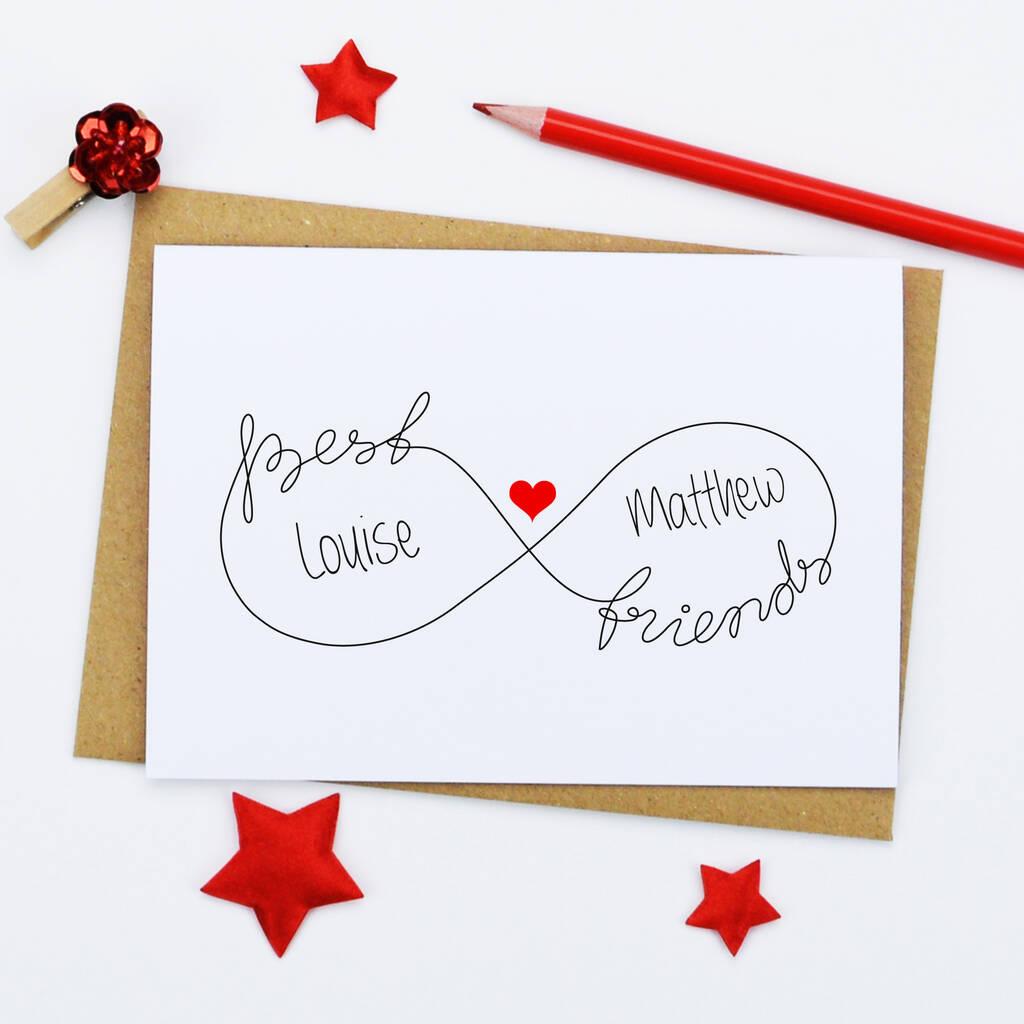 The moment one of your best friends gets engaged is going to be one you will remember forever.
Whether they are your ride-or-die bestie, or a good friend from work, these engagement wishes for friends and best friends will have you sorted.
"May you bring each other as much happiness as your friendship has brought to my life – congratulations!"
"We've been through school and uni and that phase where we both dyed our hair together, so its strange to see you start a whole new chapter of your life with someone else. But I can't wait to watch the journey you're about to take – I love you both."
"You two are a perfect couple and two of my best friends – I can't wait to celebrate with you!"
"You gained a ring and I gained permanent third-wheel status – and honestly, I couldn't be happier."
"You two are perfect for each other. I know your marriage as going to be as strong and last as long as our friendship."
"Of all the moments we've celebrated in our life together, this is the best so far. Congratulations."
"You're engaged! When is too soon to start planning the hen/stag party? Asking for a friend…"
"I'm so lucky to call both of you my friends and I can't wait to be able to call you husband and wife/husband and husband/wife and wife too."
"Congratulations! It feels like only yesterday we were moving into halls at uni and now I'm about to help you get married!"
"I couldn't be more excited to be part of your wedding journey. I'm here for everything you need, whether that's addressing 100 envelopes or bringing round wine at 11pm when you're stressing out. Actually, there's never been a time when I wouldn't have brought round wine at 11pm… but now we'll have a proper excuse."
"You're a match made in heaven and I'm over the moon that I get to watch you make that official."
"You've been my best mate since school. I got to be front-row for all the detentions, shocking football tackles, girls'/boys' holidays, first love and first heartbreak – plus that time you accidentally shaved off your eyebrow – and now I get to be front-row as you say 'I do'. I couldn't be prouder of that nerdy, spotty teenager right now."
"I finally booked us into that spin class we're always talking about. We're going to need the cardio for all the wedding shopping we're about to do!"
"I remember when we planned our weddings when we were seven with a toilet paper veil and Haribo rings. This is a glow-up and half! Congrats, queen. I can't wait to try on tiaras with you."
"I'm so proud of you for making the best decision of your life. No, not [insert partner's name] – I mean choosing me to be your bridesmaid/best man."
Writing Tip for Engagement Wishes to Your Best Friend: If you're a close or best friend, it's likely that you were around when your pal and their partner first met. A reference to the early days is a nice way to bring some nostalgia into your engagement card message.
Note that if you are going to make any jokes or write any stories from the past, to ensure they are in jest and will be received well by your best friend and their spouse-to-be.
Simple Things to Write in an Engagement Card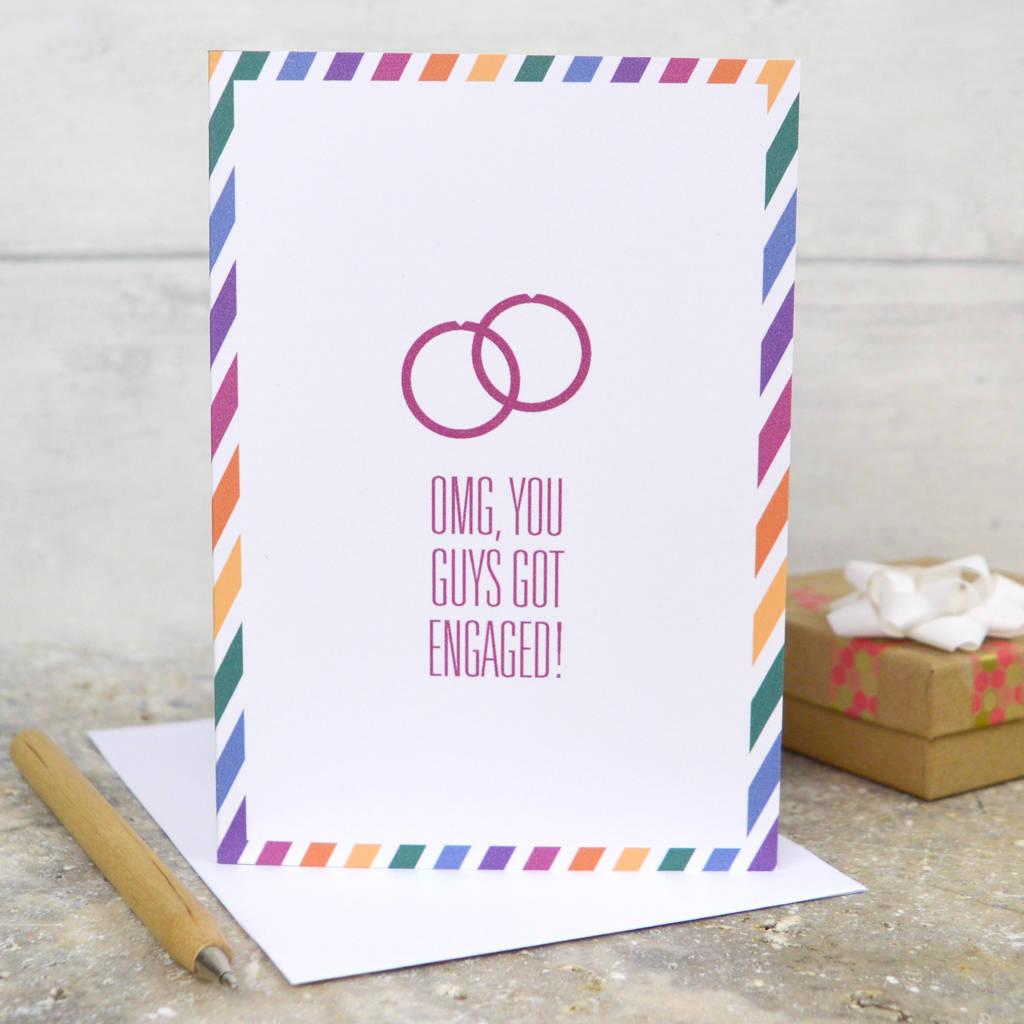 Whether you're wondering what to write in an engagement card to a best friend or you're writing an engagement card as a parent, sometimes less is more.
"Congratulations on the engagement. I'm so happy for you both."
"You're getting married! Congratulations, wishing you all the best together."
"May this engagement be the beginning of everlasting happiness and commitment to one another."
"It's a truly wonderful thing that you have found each other. All the best with your wedding plans."
"So happy to hear your news – you really are a perfect couple. Sending you all my love as you start planning the wedding and your future together."
"Congratulations on your engagement. Very excited to watch the new adventure you're about to share."
"Well done on getting engaged – it's about time! Wishing you a long and happy life together."
"May your engagement just be the beginning of the happiest times together. Can't wait to celebrate with you."
"Cheers to the newlyweds-to-be. Now to get planning."
"Warmest congratulations on your engagement. Here's to endless love, happiness and adventure."
"Love and happiness to you on this special day."
"Go make a beautiful life together! Happy engagement to you both."
Writing Tip for Writing Simple Engagement Wishes: When writing a simple engagement card message, it's important to remember the basics.
Ensure that you address the couple, congratulate them on their engagement and include some sort of simple well-wishes for their future together. If you can tick all three of those boxes, you're guaranteed an excellent, simple engagement card wish.
Funny Things to Write in an Engagement Card
There's a lot of seriousness around engagements and weddings - so why not make your engagement card message funny?
If you're the joker of the group, or just like to make people laugh, we've got some great ideas of what to put in an engagement card to make it funny.
"I'm so happy that the two of you are engaged! Now for the fun part — the open bar! I mean, wedding. I definitely meant wedding."
"Congratulations on finding that one person you get to officially annoy for the rest of your life."
"Congratulations on that gorgeous ring... I mean, fiancé."
"Excellent, a wedding I actually want to attend!"
"You're engaged! I'll drink to that...but let's be honest, I'd drink to anything!"
"Now you've put a ring on it you can't change your mind - I've already bought a hat."
"Best of luck – you can never laugh at your partner's choices again; you're now one of them."
"He/she said yes! Now keep quiet and try not to mess this up, okay?"
"Warmest congratulations to you both. Enjoy this time wedding planning before all the bills arrive."
"Congratulations, you're now officially off the market. Tinder is now a much better place."
"I couldn't be happier that you've managed to avoid becoming a crazy cat person."
"I'm 90% happy for you and 10% jealous. But 100% up for an open bar!"
"I guess you two are pretty serious then. Cool."
"Engaged is a synonym for busy. Now you officially have an excuse to get out of every party you don't want to go do, you jammy things."
"I can't wait to Instagram the heck out of your day! (You better keep it up to my followers' expectations.)"
Writing Tip for Writing a Funny Engagement Card Message: To ensure your funny engagement message packs a punch, don't go on for too long. If your funny engagement wishes are too long, you may lose your audience. Keep it short, sweet and of course, hilarious!
If you are making any jokes about the couple's relationship or telling a funny story about one of the nearlyweds, ensure you know it'll land well. You don't want to offend after all. Keeping your jokes light-hearted and using the right tone will guarantee you a perfectly funny engagement card note.
Quotes to Write in an Engagement Card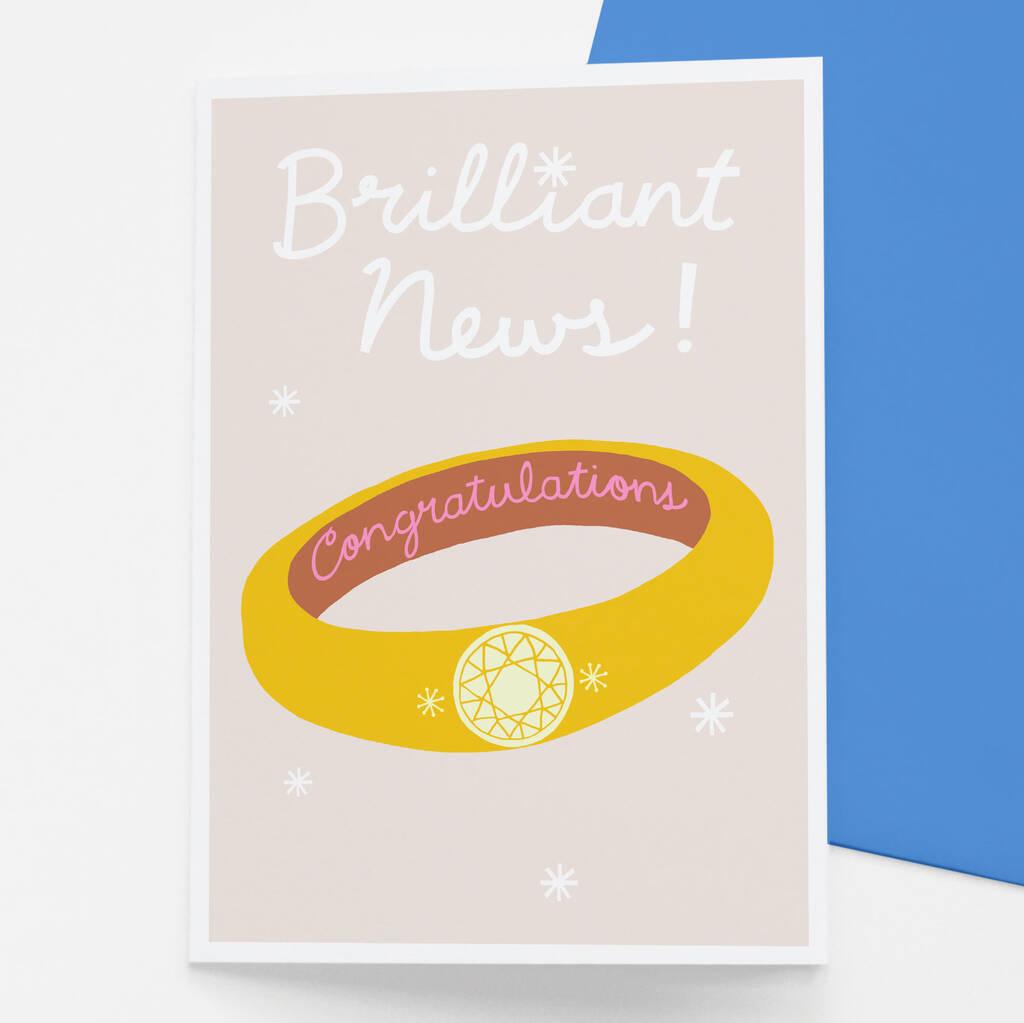 If in doubt, a quote about love and relationships will always go down well in an engagement card.
You can go for something funny – "Like good wine, marriage gets better with age – once you learn to keep a cork in it" – or something romantic – "There is only one happiness in this life, to love and be loved."
We've got so many brilliant articles bursting with quotes for you to browse. Here are our favourites:
How Do You Congratulate Someone on Their Engagement?
You should congratulate someone their engagement as soon as you hear the news by sending an engagement card, but don't feel you need to send an engagement gift too.
While you might like to give an engagement present to the couple if they're having an engagement party, it isn't a necessity. Instead, send a card for the engagement and buy them a wedding gift in line with your budget.
These are the three things we recommend you include when you congratulate someone on their engagement:
Congratulations to the couple, which can be as simple as "Congratulations to a beautiful couple" or "Congratulations on this exciting new journey together!"
An engagement message to the couple that's relevant to your relationship with them. You can use one of the above examples from this article.
A wish for their future which should be short and sweet, such as, "Wishing you a lifetime of love and happiness" or "Wishing you all the best with your wedding plans."
Now you know what to write for an engagement card, it's time to actually buy one. Considering it's such a special occasion, we've put together a list of our favourite engagement cards and trust us when we say, there's some really special designs in there.
*Instagram poll on the Hitched UK account of 211 users conducted on 3rd September 2023.