Hen Party Invites for the Bride: 15 Ideas to Get Her Super Excited
From boarding passes to surprise scratch cards, these hen party invitations for the bride will make her feel so special. We've also included invites for the whole crew too!
We have included third party products to help you navigate and enjoy life's biggest moments. Purchases made through links on this page may earn us a commission.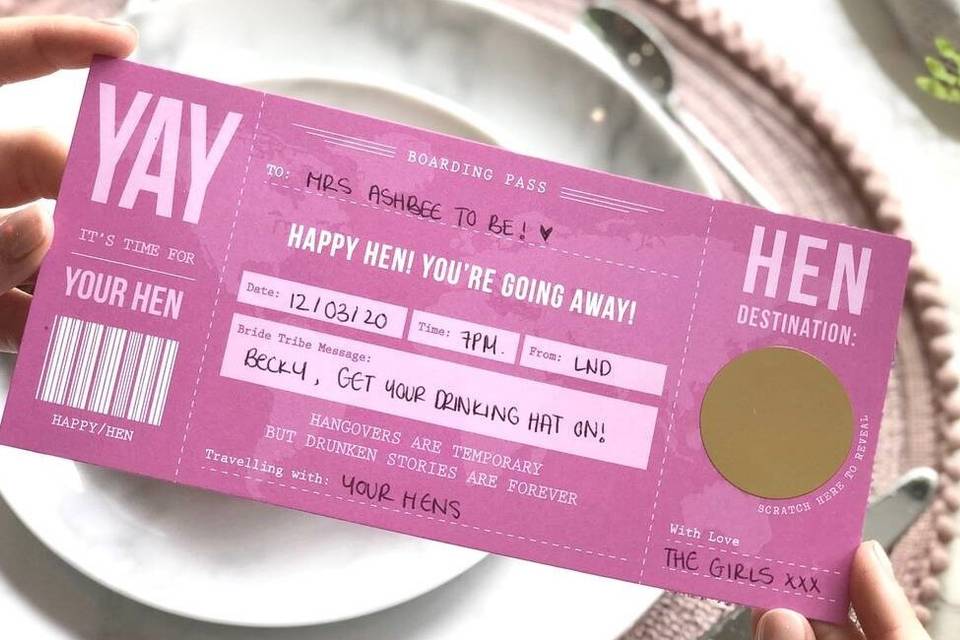 So you've planned your bestie an epic hen party and are looking for ways to invite the bride-to-be to her own bash? Well you've come to the right place as we've compiled an edit of the best hen party invites for the bride that will leave her super excited for the big event.
A great hen party invite should match your hen party theme, whether you're hosting a hen party at home or are jetting off to sunnier climes. You'll find chic beach designs below, as well as adorable faux boarding passes and scratch to reveal surprise cards.
Whichever hen do invite for the bride you go for, it'll make a really lovely gesture that you can have loads of fun with. We've even included hen party invitations for the whole group so you can send them all at once.
Haven't quite finalised all the details? Our guide on how to plan a hen party will ensure you've left nothing off the list.
Hen Party Invitation for the Bride
1. Hen Do Surprise Invite - £3.65, Etsy
Whether you have planned to take the bride to a hen party house in the UK, or she needs to get her passport out, this scratch heart invite is super sweet. The simple botanical leaf design is so on trend and we love the contrasting fonts. You can personalise the card with whatever wording you like, but the example is great inspiration.
Pros & Cons: Scratching off the gold heart to reveal the surprise destination is a really fun and unique way to get the bride-to-be excited. Remember to pop a penny in the envelope too to save her nails!
2. Bride To Bee Card - £4.45, The Hummingbird Card Company
Although this card is not strictly a hen party invitation for the bride, it will work just as well. You can personalise the card with her name and it can be sent directly to their door which is excellent if you live far away. The reviews state that it had quick delivery and it has a high quality finish. It goes really nicely with a bride-to-be gift too!
Pros & Cons: The 3D bee embellishment is a really nice touch, as is the glittery gold envelope. Personalisation does cost an extra £1 but it is an easy way to make this gesture even more special and thoughtful.
3. Beach Hen Weekend Invitation - £9, Etsy
From a Brighton hen party, to the coastlines of Marbella, a beach getaway is a brilliant hen party idea - once your bestie receives this invite she won't be able to contain her excitement. It's a sophisticated and chic design that classy brides will love. See even more fabulous hen party ideas here.
Pros & Cons: As this is a digital download, all text and text colours can easily be amended to suit. You won't receive a physical invite as it will have to be printed yourself - this means you can opt for a high-quality printing service.
4. Neutral Digital Hen Party Invitation - £6.50, Etsy
If you want to keep the hen party theme under wraps, a neutral invitation will be do the job. This design is also a digital download so can be personalised with whatever information you need. It's also super easy to pop into a WhatsApp group.
Pros & Cons: We're obsessed with the personalised wedding hashtag. The minimalistic design doesn't give too much away which is ideal if you haven't quite thought of the theme yet!
5. Hen Party Scratch Off Boarding Pass - £8.99, Rodo Creative
How fun is this boarding pass invitation? It features a playful scratch off circle that'll reveal the surprise destination to the bride-to-be. You can either handwrite the details yourself or have the brand print them straight onto the hen party invite. Chose between a standard white, Kraft brown or gold envelope.
Pros & Cons: Envelope liners are available and you can choose between a Europe, Australia/Asia or USA map. It's quite pricey for a single invite but the level of detail makes it worth every penny. We bet your bestie will keep it for years to come.
READ MORE: 17 Stylish Hen Party Sashes
6. Hen Party Reveal Invitation - £2.80, Etsy
Another scratch to reveal hen party invitation is this adorable pink pick. Switch up the sticker between silver, gold or holographic and personalise it with the destination, date of the hen party and a special message. Your invite will be posted first class and placed in an eco-friendly pouch.
Pros & Cons: The white or Kraft envelope included has a hard-back to ensure the hen do invite for the bride arrives in perfect condition. There is only one colour choice but this shade of pink is so lovely.
7. Hen Party Invitation for Bride - £4.25, Etsy
Designed by hand in the UK, this card provides ample space for lots of hen party information such as an itinerary. The minimalistic design is perfect for chic and sophisticated brides and reviews comment that it came really nicely packaged.
Pros & Cons: This card is hand finished with a letter pressed copper foil heart for a luxe finish but this does mean that each card will be slightly different to the next.
8. Personalised Bride-To-Be Card - from £3.45, Etsy
This beautiful postcard is the perfect size to send to your bestie and invite her to the hen do! You can choose from A5 or A6 and write a special personalised message inside. This seller has tons of 5-star reviews, with highlights being that the product is high quality and a lovely design.
Pros & Cons: The cost of delivery is free. Some of the reviews state that delivery took longer than expected - we recommend sending your hen party invite for the bride well in advance so that it gets there in time.
9. Hen Party Reveal Card- £3, Etsy
The bride-to-be won't be able to contain her excitement when this surprise hen do invitation turns up. It's a brilliant price at just £3 but you'd never guess it was so affordable as the card quality and design colour is amazing. Choose from a silver, gold or rose gold heart.
Pros & Cons: This card will be posted first class within 1-2 days for £1. The hammered card gives it a luxury look and feel.
10. Happy Hen Do Card - £2.50, Etsy
Inviting your bestie to a festival hen party? We've found the perfect invitation to match the theme for only £2.50! This quirky, hand-drawn card is vibrant and playful - just the thing for a fun-loving bride-to-be. The card is blank so that you can write your own personal message and include as much information as necessary.
Pros & Cons: It is posted with a hardback envelope for added protection. This will make a lovely keepsake, especially if you get it framed post-party.
READ MORE: The Ultimate Guide to a Barbie Hen Do
Hen Party Invite for the Bride Poem
A unique way to invite the bride to her hen do is by writing her a poem. You could recite the poem to her in person, or pop it inside one of the hen party invitations for the bride above. You'll want to come up with your own words so that it is customised to suit her, but we recommend adding a few personal jokes in there as well as remembering to let her know where and what the hen party plan is! Find some inspiration below:
Your hen party plans are underway,
So we have put a few words together to say,
As you celebrate becoming a wife,
We're inviting you to one of the best nights of your life!
Hen Party Invites for the Whole Crew
11. Hen Party Invitation - from £21.50 for 10, Papier
This Papier party invitation is so fun! We adore the L plate, lipstick, Champagne and cupcake illustrations and it'll make an excellent choice if you are going all out with the decorations. Made from matte eggshell card, the quality is brilliant.
Pros & Cons: Papier use plastic-free packaging and paper from FSC-certified forests. Plain white envelopes are free and you can upgrade to a customised colour.
12. Personalised Hen Party Invitation Bottle - £10.50, Chips & Sprinkles
If you're looking for an innovative way to invite everyone to the hen party, these message in a bottle invitations are ideal and lots of fun. Each bottle contains a slip of watercolour paper, is sealed with a cork and packaged in a teal, glossy box.
Pros & Cons: These invitations are a bit more expensive but they are super unique and will get everyone so excited for what you have planned. Perfect for a beach hen party theme!
13. Hen Do Polaroid Invitation - from £2.99, Etsy
This polaroid invitation gives you the perfect opportunity to use all those amazing pictures you have on your camera roll. Choose from lots of different fonts and foil colours, including rose gold and silver. You can also pick your favourite invitation shape - from angular to an arch there so many to suit your style and taste.
Pros & Cons: Reviews state that this invitation arrived quickly and was great quality. The shape choice you go for will determine how much you have to spend so it can cater to different budgets.
14. Pom Pom Hen Party Invitations - £2.90, Confetti Designs
Pom-poms and glitter? If this invitation isn't the best hint that the hen party is going to be a night of fun we don't know what is! The colours can be changed to suit you and the text personalised with your information. The attention to detail here is what really sets it apart from the rest.
Pros & Cons: You have to order a minimum of five invitations but if you do require less they might be able to accommodate at an additional cost.
15. Cocktail Hen Party Invitation - from £21.50 for 10, Papier
If the plan of action is cocktails, cocktails and more cocktails, this invitation from Papier is for you. The design is contemporary and cool, with playful illustrations of flaming shots, martinis and more. It's also printed on textured mohawk paper for a luxe finish.
Pros & Cons: You can order a sample before you commit to buying a whole set. This can be personalised or un-personalised. With a minimum order of 10 required, these suit a hen party with a larger guest list.
Make sure you look the part now you've got your hen party invitations sorted with these stunning hen do outfit ideas!